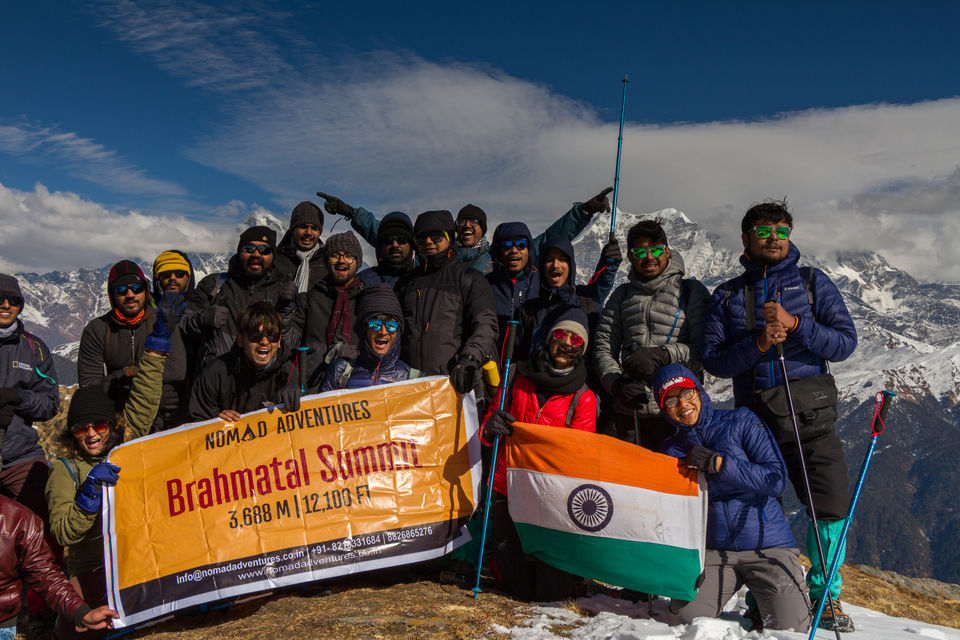 After my 3rd semester exams were over I was eager to travel to some place and I wanted to go on a trek for a long time but none of my friends agreed . One day I was scrolling through tripoto and came across Brahmatal. The first company I talked to was Nomad Adventures the owner was polite and knew the place well and was convinced to go with them .
Brahamtal is a high altitude glacial lake in the Uttarakhand state of India, situated at the elevation of 12100 ft / 3666 m . This is one of the few winter trek that can be done in December to Feburary. It offers brilliant views of Mt. Thrishul and Mt. Nanda Ghunti and this is the reason enough to go on this trek. The amount of snow on the trek makes trekking a little challenging for the trekkers. This trek passes through some of the stunning and exotic landscape of Himalayas with short stretches of rhododendron, oak forest and snow fields.
This was my first trek ever,had no prior experience so had to do a lot of homework in terms of gear shopping and convincing my parents to go solo . Lucky for me this was my birthday week and they agreed. So booked my bus ticket, packed my bag and camera and I was all ready to go .
The first day includes travelling to Haldwani from where the travel agency had arranged for the pickup to our next location Lohajung. the trek begins from day 2.
I dont know in what hurry was my driver in I reached Haldwani at 4:30 AM and my pickup was no before 6 Am, had no place to go so waited at the bus terminal for about 2 hours (there was no place even to sit ). Finally the driver showed up and we left for Kathgodam where the other members of the group joined Vinay, Jayanth, Poonacha, Sandeep and Vineeth ( The Bangalore boys ) , later the Hyderabad trio joined Yusuf, Firoza and Ali and lastly R.K sir. We started our 210 km journey to Lohajung which was the starting point of our trek .
At around 8 am we stopped for a little light breakfast as there was a long day ahead of us 11+ hours from there we first saw the majestic mountains and took our first groupfie .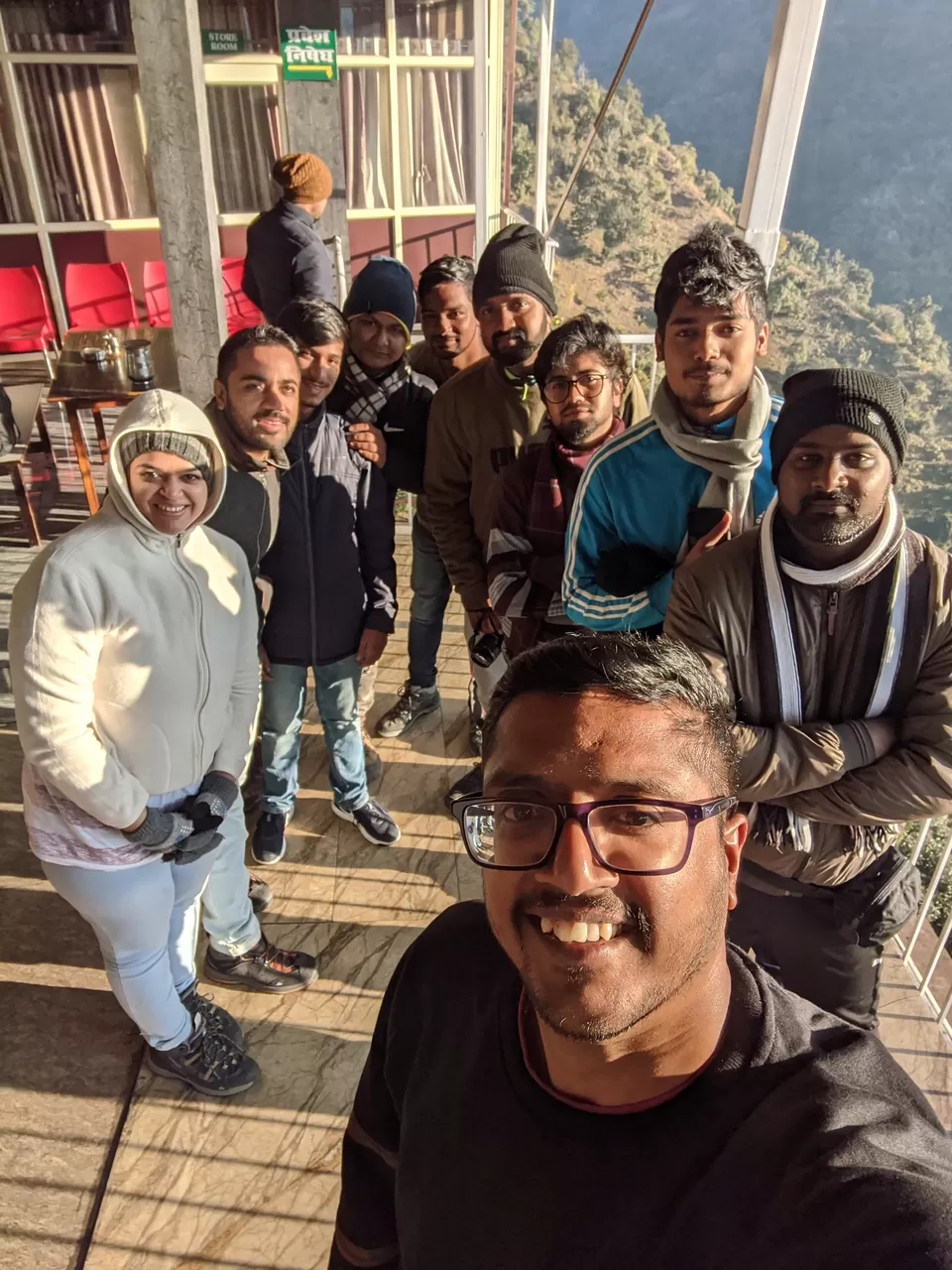 The journey continued and we stopped for lunch at Kausani .
We finally reached Lohajung around 7:30 in the evening and we were hell tired. we took our rucksacks and went to our lodge were we were briefed by Narendra Sir our trek leader about the trek ,do'es and dont's along with the common medical issues of mountains like AMS(Acute Mountain Sickness) and frostbite. Followed by this we were served dinner which we didn't expect to be so delicious that we lost count of how many chapatties we have stuffed . This was our acclimatization night because we were at a relatively high altitude of 2300 m. At around 9 PM i went down with my camera to shoot some stars . The sky was so clear like I have never seen before.
Woke up early to see the sunrise around 6:30 am went out to get fresh as soon as I put my hands under the tap they froze , couldn't feel them the sub zero temperatures at night made it like glacier water , somehow washed my face and went to capture the sunrise.

Packed our bags and got ready for the breakfast after that we grouped together and were briefed on today's route.
We stared our trek around 10:00 AM it was fun and games in the start, the assent was very gradual but I got tired very soon after the slope stares getting a little steep since I was carrying 2 bags , my rucksack and my camera bag . Had to take frequent breaks and at one point I almost gave up but Narendra sir came to the rescue he kept me indulged in his tales of other treks and I made it to the major stop, this place had a Dhaba , maggie, bottled water and other stuff were available here so we stayed here for about half an hour or so and then we continued back on the trail. Around 2:30 Pm we reached our base camp around 5.5 km from Lohajung . We gathered to warm down and we gave each other a much needed shoulder massage by forming a circle. Had a great lunch . This place was locally called GUJRANI. We all gathered did a little chit chat and then our leader took us for a little acclimatization walk and told us how to walk in snow and not to play with this snow as it was frost and can hurt somebody .
The stars soon took over the sky and it was mesmerizing. The temperature was dropping pretty fast too. we had dinner at about 8:30 PM and it was already -1. I went out to capture stars around 9 and it was freezing cold. Jayanth and Poonacha accompanied me captured some frames and went back to the tent and snuggled into my sleeping bag , it was a looong night everyone could only sleep in half hour spells .
The morning was spectacular with sun rays shining on our tents it was just heavenly , we were served our morning lemongrass tea.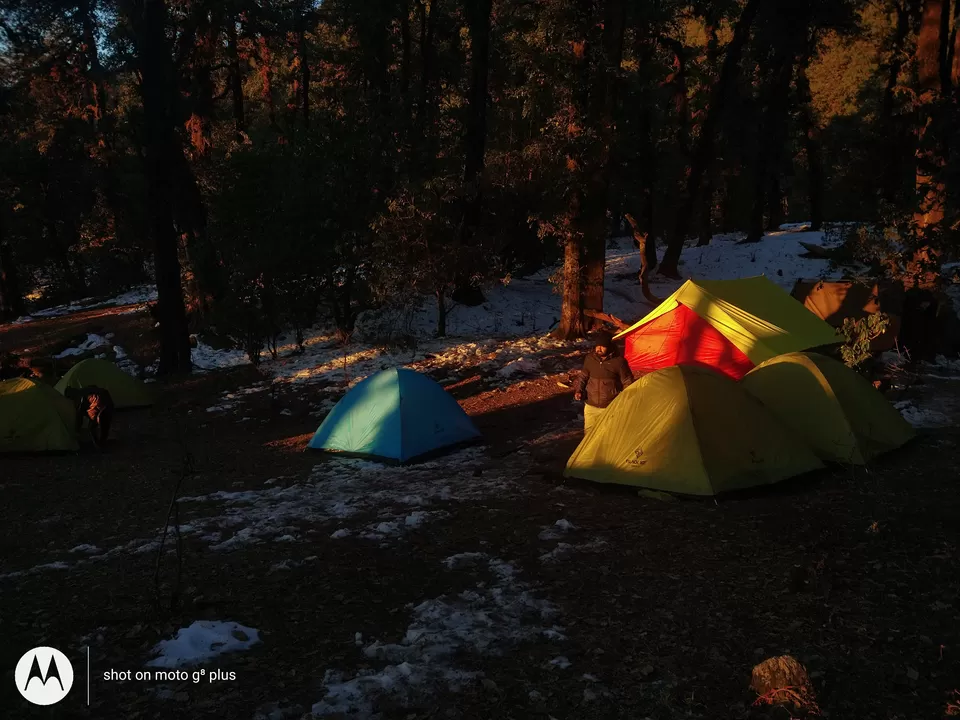 We had breakfast and were asked to take a day bag as we were going to return to the same camp and move towards our advance base camp later in the day .
We had breakfast and were asked to take a day bag as we were going to return to the same camp and move towards our advance base camp later in the day .
Our today's trek was till Bekaltal around 7 km up and down from our camp. It was comparatively easy climb as the weight on our shoulders was limited , we came across a few water crossings on our way up . There was a little snow on the trail but as we were about to reach this view awestruck us !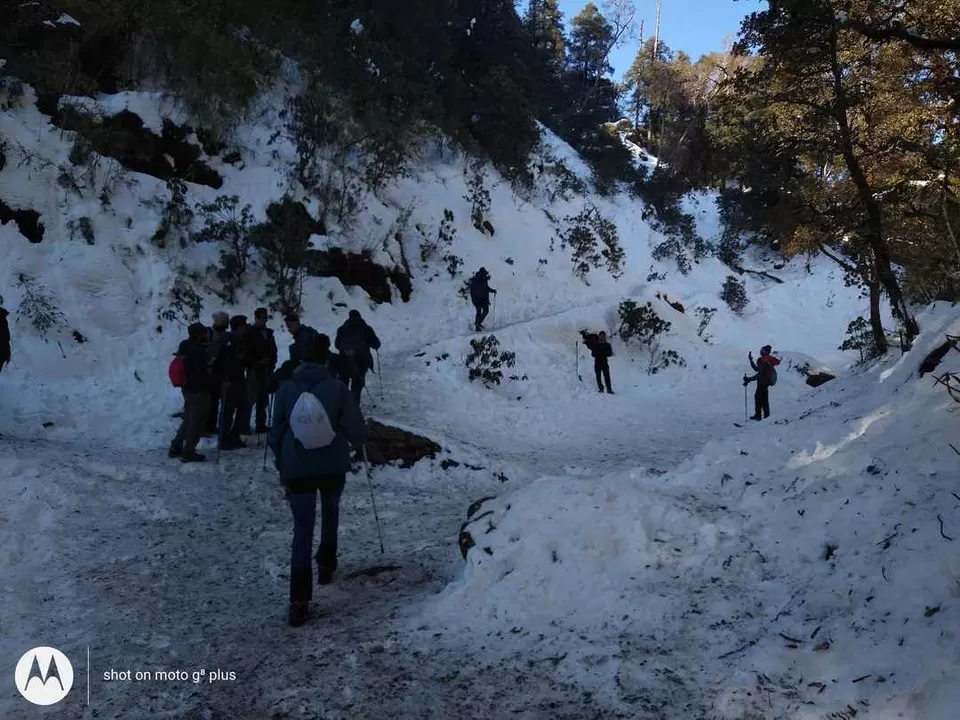 So much snow upto our knees around the trail slippery as hell too , slipped at the same spot thrice XD. Bekaltal is also a frozen lake at 3013 m .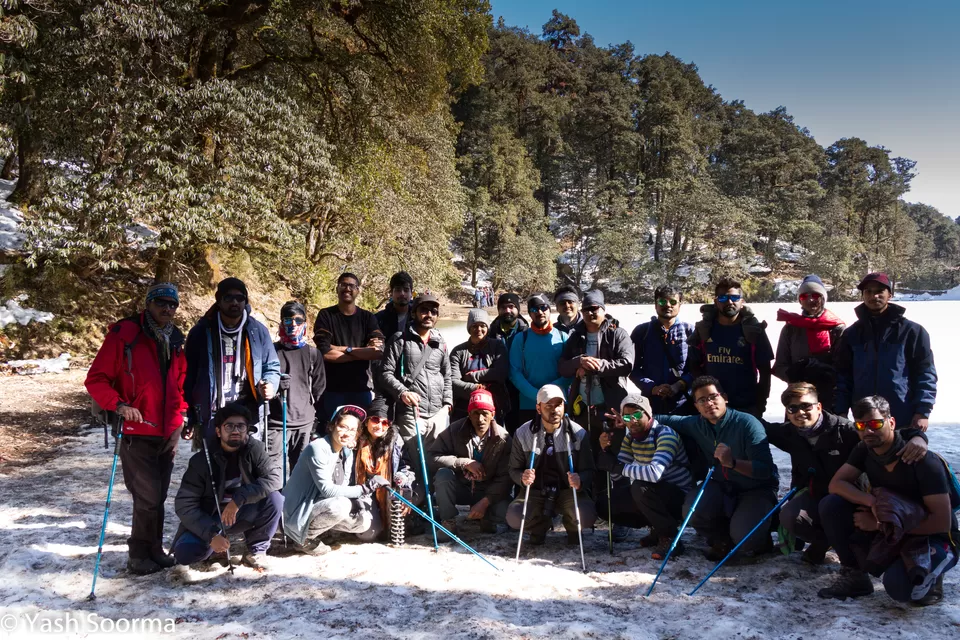 We gathered our gear and stared our trek it was very difficult due to all the slush from the melted snow and steep downhill slopes, we crossed a major stream and went to our advance base camp around 4 km from camp 1 .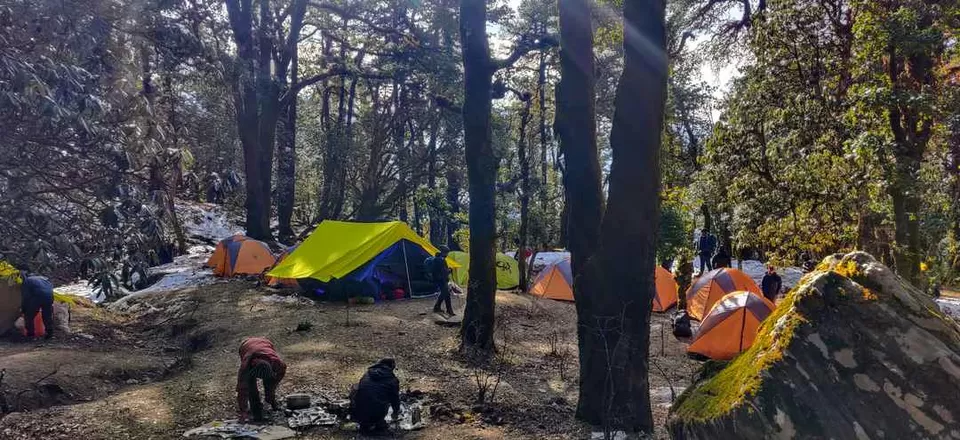 Tomorrow was going to be the big day , New Years eve and our summit day we pitched in some money and asked the kitchen staff if they could arrange for some cake or non veg meals they agreed . later we went on a little walk on our own to explore the place . Had our dinner later and went to our tents so we could rest and wake up fresh and energetic for the summit .
The day was here woke up at 7 because we were so excited we were served maggie for breakfast and were given packed lunches and were briefed about our deadline of 1 pm (final turn around time even if we didn't reach the summit so that we don't descend in dark) .Gathered our geat , tightenend our shoes put on the crampons and we started our climb at 8:15 am and with all our excitement and energy we reached Jhandi Top at 11:30 Am which was our mid point and there was no more steep climbs to the summit , the views were amazing . We stayed there for sometime for others to regroup and then we continued towards the summit . It is so peaceful and enjoyable to walk on the powdery snow with a panoramic view around , you forget every trouble that you ever had in your life and live in that moment .
We reached our summit at 12:30. it was the most amazing feeling , you feel like you are at the top of the world even though you are just at 3688 m and 7000m behemoths like Mt. Trishul and Mt. Nanda Ghunti are overlooking you .
The wind speeds were high and the snow crystals were flying around and piercing like needles still we didn't wanted to leave this view and go down but the turnaround time was reached we had to go back . We recited the National Anthem and started our way back .
Went back to Jhandi Top and had a cup of tea (which got chilled as soon it was pored ) to have with our lunch . We took shelter behind a huge rock to have lunch as it was too windy and our fingertips were frozen .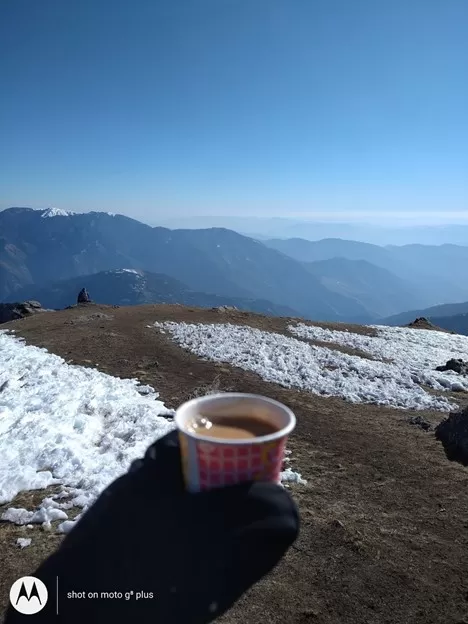 We regrouped and started going back down the trail . Soon we reached back to our camp , Poonacha and I were practically racing down the hill but were soon defeated by 'Chacha' the local guide of our group.
Back at our camp we waited for the night to fall and greeted the next group who arrived .Had a great Chicken Dinner and played cards to spend time which is so hard when you dont have internet connectivity and days are so long . Eventually went back to our own tents and slept before 12 .
Next Morning wished greetings of the new year to each other and we were ready to go back to the lodge in Lohajung.
Around 12 we were back at the lodge and network was available here so everybody was calling their near and dears and wishing them new year . Took a bath after 4 days , never knew baths can be so peaceful too . Later in the evening we had a debriefing and were asked by the leader for pros - cons and scopes of improvement .
As the night fell the clouds covered the mountains , around 11 pm we heard some sounds like rain , went out to see light snowfall ! The first snowfall of my life , felt like tiny bits of cotton which disappeared as soon as they touched your skin such an amazing feeling but it dint last very long about 4 or 5 minutes .
Went to sleep had to wake up early to leave for Haldwani .
Woke up at 6 to a snow covered balcony and this awesome view!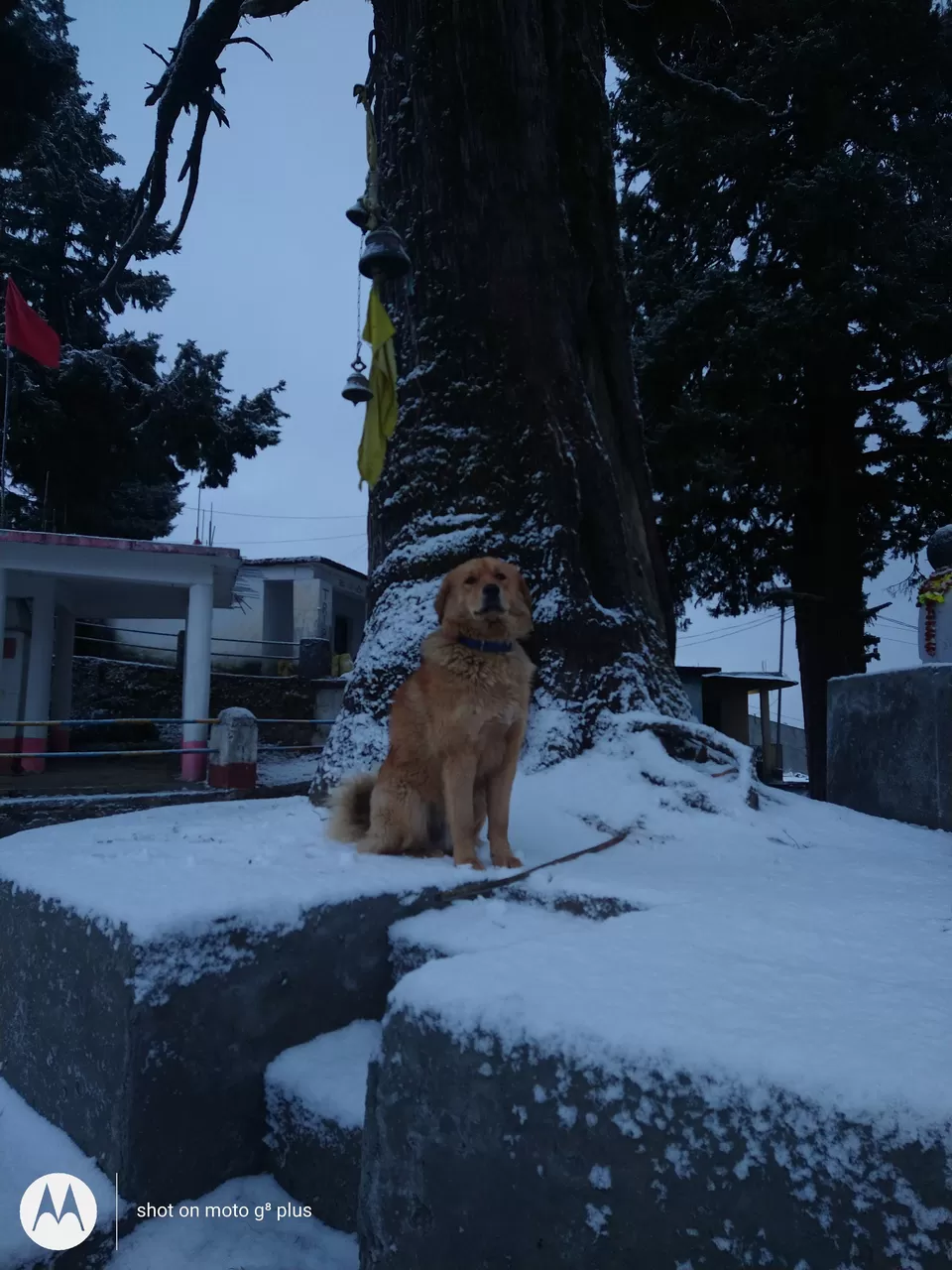 It was time to head back home now saying adieu to this place was a difficult task but I will be back soon .
This was such a great experience that will I cherish all my life , met some great people had some great memories with them , learned a lot what to carry what not to carry , how to pack . Looking forward for joining them again for another trek .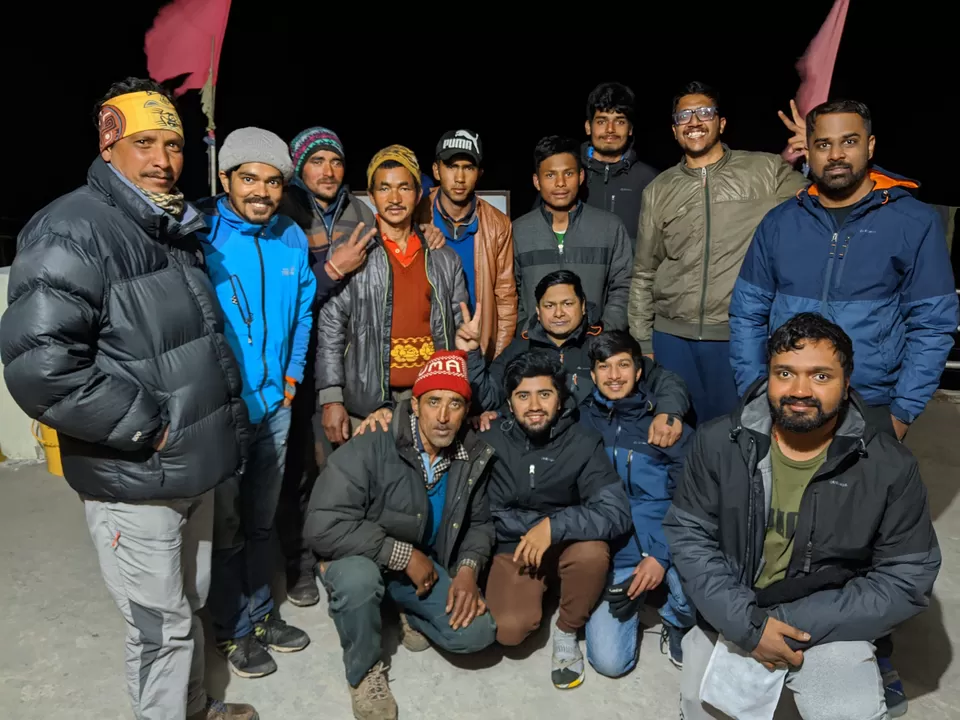 Thank you Nomad Adventures for such a great time .
Total cost :
Nomad Adventures: 10,400/-
Bus : Delhi - Haldwani + Haldwani - Delhi : 800+800=1600/-
Overall cost excluding the gears: 12,000/-