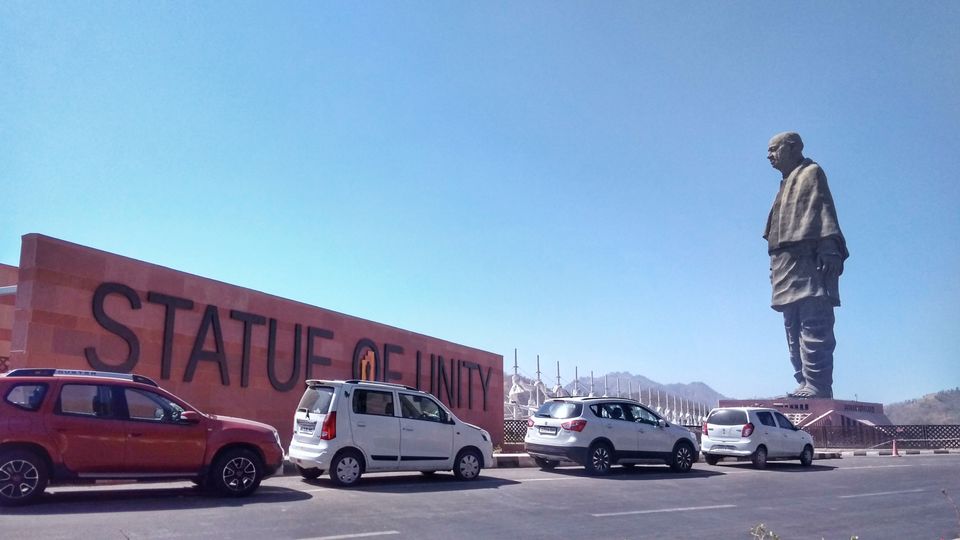 The one who won over British leaders in the Satyagrah of Kheda and Bardoli, Sardar Vallabhbhai Patel was the Bismarck of Modern India, who led the welfare of farmers. He is renowned as the architect of independent India, as he united all diverse 562 princely states to build one great Republic of India. Shri Narendra Modi decided to pay honorable tribute which will be cherished for centuries by the whole world and it will become a matter of pride for every Indian for this great man. Built in less than five years, it is the world's tallest, grandest and giant statue. It is a tribute to the man who united India, Sardar Patel. THE IRON MAN IS OUR SARDAR!
Weekdays went by quickly with work and daily routine. Then the phone kept ringing for the weekend plan to visit statue of unity. After a couple of calls, decided to go for it and the plan was successfully scheduled. Early morning bus ride from Gandhinagar to Vadodara and then a car ride from there to statue of unity. After another call of trying to go as early as possible to Vadodara I dozed off on a Friday night at 2 am with alarms set up from 4 am. As I was in my land of sleep I didn't hear the alarms which made sounds till their last breath and then gradually snoozed off. After many alarms and couple of calls I woke up at 5:50 am. Looking at time and wondering whether my hearing was under maintenance or the ear buds were not functioning properly I decided not to think too much about it and went on my way to finish early morning routines, get ready and packed my bag by 6:30 am. I took an auto and went on my way to bus stop. After a couple of stops and a small help to an early badminton enthusiast by swapping a 10 rs note for a paytm cash, I reached pathikashram bus stop. By the mercy of either driver oversleeping for few minutes or karma for helping out a girl few minutes before, I got the bus which was set to leave at 6:30 and which left at 6:45.
After a long playlist and few broken sleeps I was near to Vadodara when I saw the time was around 9 am. After a bit of tracking the location in maps and looking for an auto from bus stop, I reached by 9:30. I quickly took the cash out of ATM and booked an auto and left on my short auto ride to an apartment. After a quick five minutes break and a toilet flush I was set out to another 2 hours car ride. After lot of laughs and sharing breakfast which had hot box full of poha and sev tea made it's way into life all along on the way without any break. The ride followed by listening to music, small talks, grazing out the windows and crusing fast through villages.
After about one and a half hours we reached the point where we had to take left to follow the straight road for around 10 kilometres to statue of unity. After a couple of minutes we could see a small statue making it's appearance through the middle of hills and kept growing on us as we rode mile after mile. It played hide and seek for a while and had no options to hide when it grew bigger than ever into the sky. We crossed through a village which had no fancy stores or magnificent malls yet so beautiful and charming in it's unique way. After a couple of checkpoints and blocked roads we finally reached the main gate of statue of unity. Once we got the permission to take the car inside we decided to have a look around as we knew there were some lakes, dams and tent city to look at. We drove through empty roads and crystal clear lakes looking at the beauty of all. We crossed a dam and then reached to tent city where stood a colony of big white tents which were properly set up besides each other. After another short ride and deciding to come back as it was afternoon and we wanted to spend ample time walking around statue and it's premises. We drove back to valley of flowers area which was a small park where different flowers were set up which lit up the area with colourful flowers and plants. It was a perfect place for flower photography and to spend around all the colours.
After a short walk around the valley and a glass of sugarcane juice we went all the way to entry point of main event of the day. It will take around 10-15 minutes to walk from entry gate to statue. There is a wall at the entrance which states about unity and a bit about construction of the wall. After walking a bit and then going through a slow escalator which reduced the walking and then after another short walk we were at the feet of the world's biggest statue ever looking at the far distance into space. After examining the statute and looking at it's peaks we decided to go to museum which showcases a short statue of unity and a shirt video of the iron man running through his life story and his work toward unity.
After a samosa break at the food court we decided to call it a day as we had to travel back. I would say it was just a short good trip for it's hype and statue. It would be best to visit in monsoons when the greenery around the place is at it's best and also the lake full of water. There is a lot of scope to make the place even more interesting to make memories and have an awesome experience altogether and I hope the work is still in progress and there seems to be lot more to happen in the coming years.
Notes :
Book tickets online and Get there early and enjoy less crowd till afternoon.
Normal rate is 150 rs/- and viewing gallery from the chest of statue is 350 rs/-.
There are food courts, drinking water, washrooms available outside the statue.
Evening there is a laser show around 7 PM that is not to be missed.
Lakes and Dam site is a good spot for some photography.