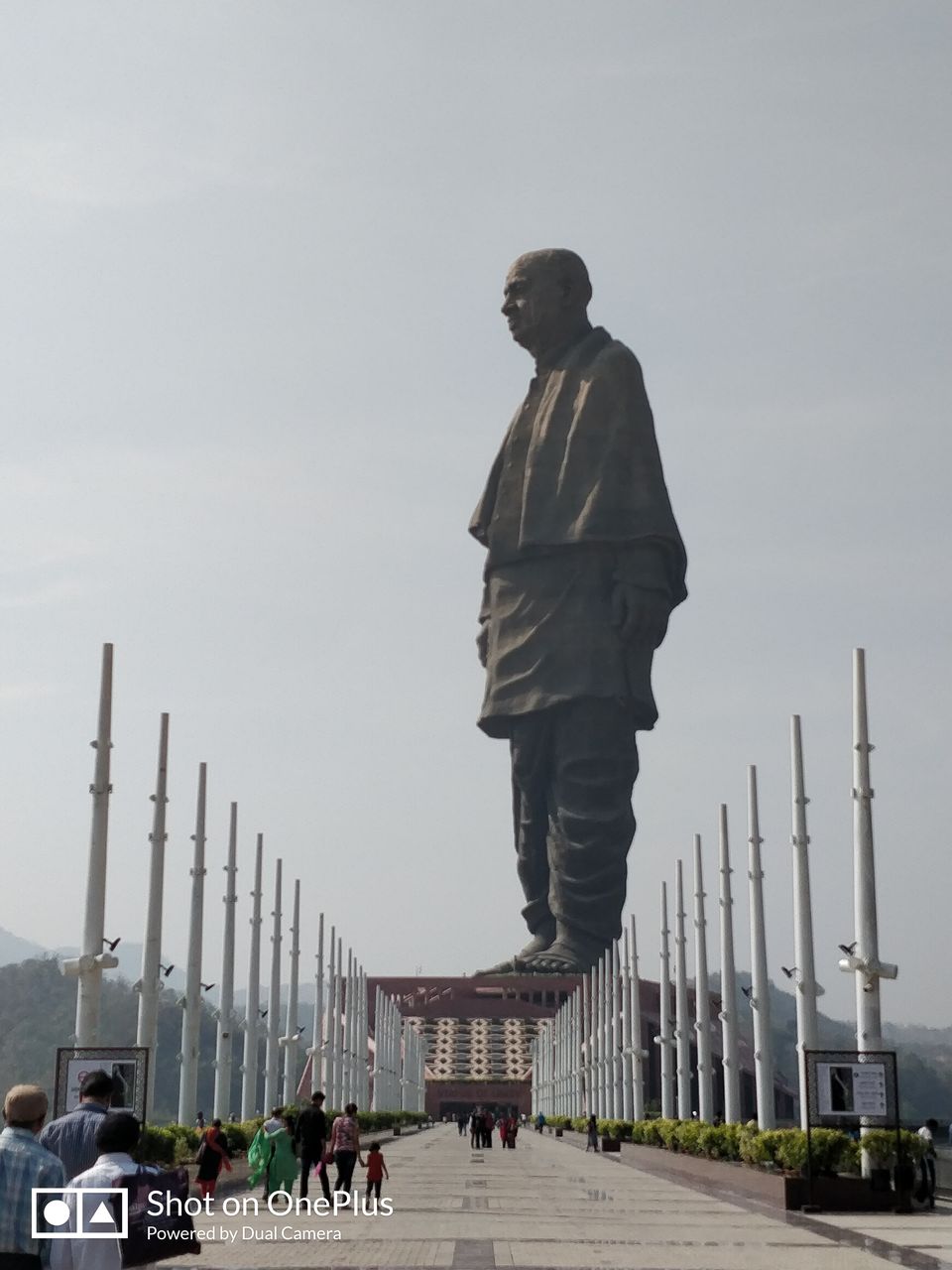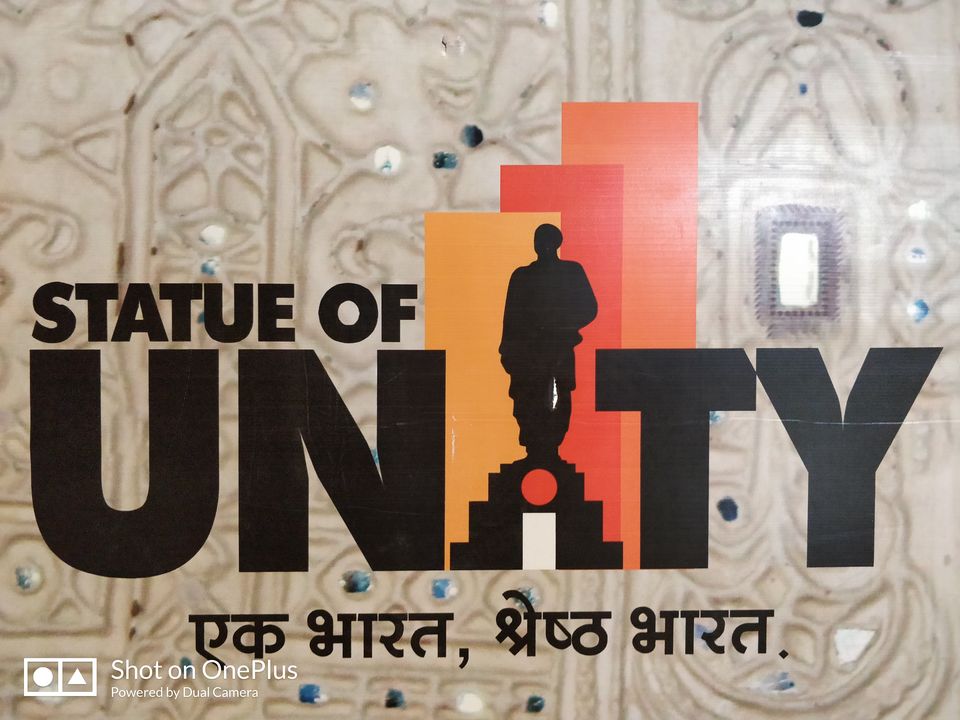 A quick summary:
From: Mumbai
Duration: 2D/1N
Cost (Including everything): ₹4000 for 2 people
Places visited: Statue of Unity, Lakshmi Vilas Palace, Sayyaji Baug
Day 1
First stop: Statue of Unity!
Statue of Unity is located in Kevadia Colony in Gujarat. At present, it is the world's tallest statue (183 meters!), twice than the Statue of Liberty, USA. It has been made in honor of Sardar Vallabhbhai Patel, the man who united more than 500 different princely states into India after independence. And hence, the name.
How to get there?
We took a train from Mumbai Central Railway station to Bharuch. Once at Bharuch, we freshened up at the railway station itself and took auto rickshaw for Zadeshwar Chokdi Bus Stop. (Click here to see on map).
From here, you can a get bus for Kevadia. The bus frequency is very less. One bus is at 10:00 AM and if you miss that, the next bus is at 2:00 PM! We were having chai-biscuit when the bus went…we thought next bus will come in 20-25 minutes!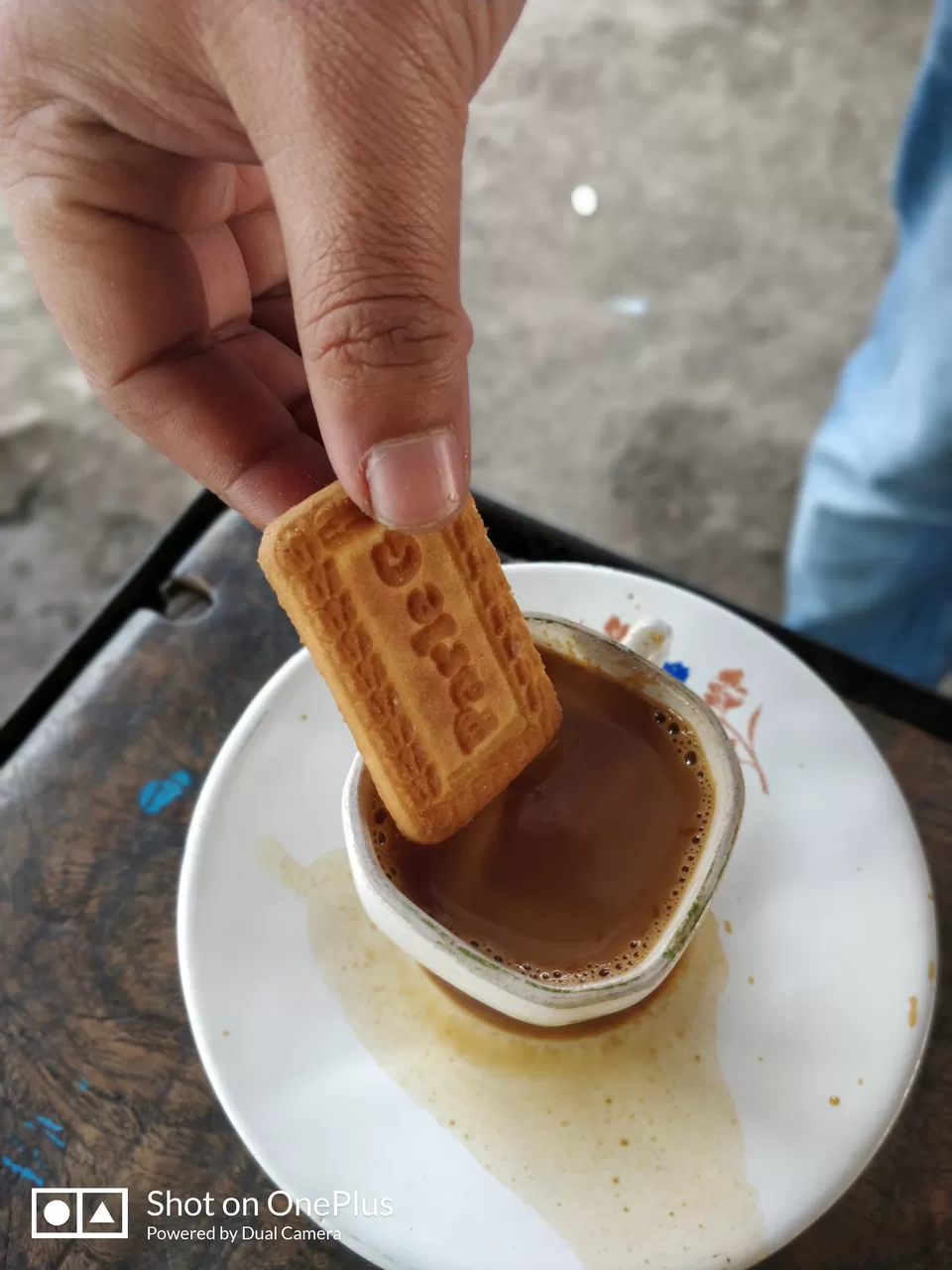 But don't worry even if you miss the bus. You can always take auto's to get there and that's what we did.
You'll find auto's near the bus stop itself. If possible, try to sit in front as they keep adding people in the mid and back seats while en route. Here's where you'll have to change autos:
-Zadeshwar Chokdi – Jhagadia (30 minutes)
-Jhagadia – Rajpardi (20 minutes)
-Rajpardi – Rajpipla (30 minutes)
-Rajpipla – Kevadia (30 minutes)
Click here to see it on maps the whole route from Zadeshwar Chokdi to Kevadia
In Kevadia, the auto will drop you at ticket booking center for Statue of Unity. From here, it's another 10 minute ride to Statue of Unity. Buses for Statue of Unity leave continuously from here which are included in your entry ticket of Statue of Unity.
The ticket costs are as follows: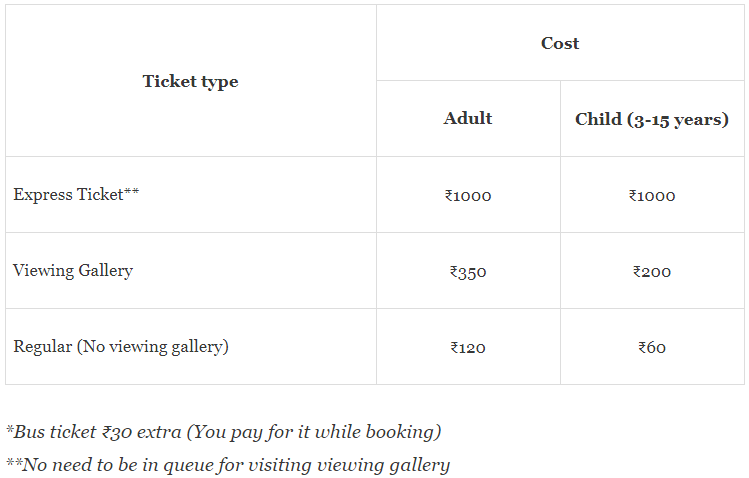 The first thing you'll notice about the statue is how humongous it is!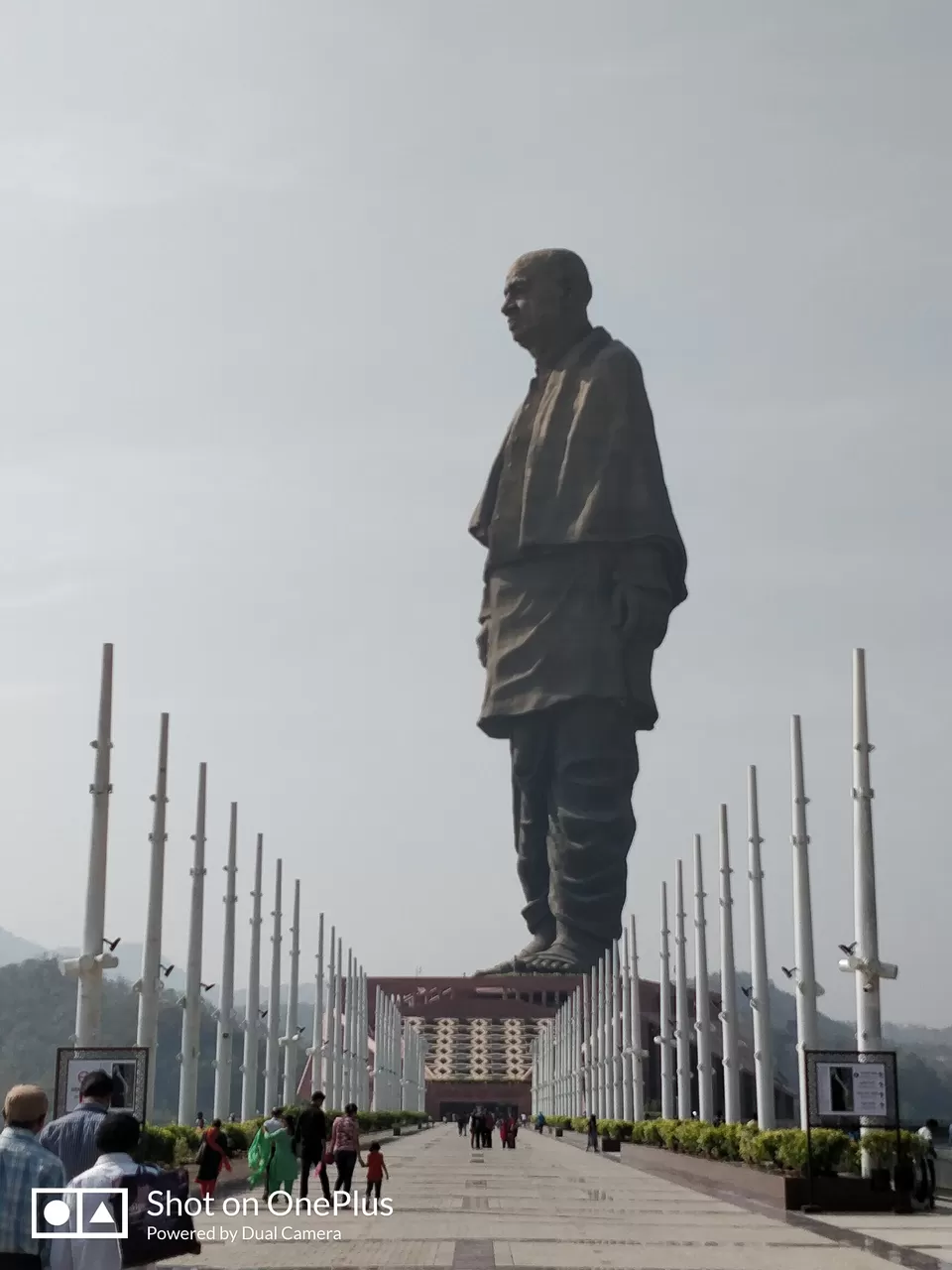 Here's a puny little me in front of the statue so you understand how big it is: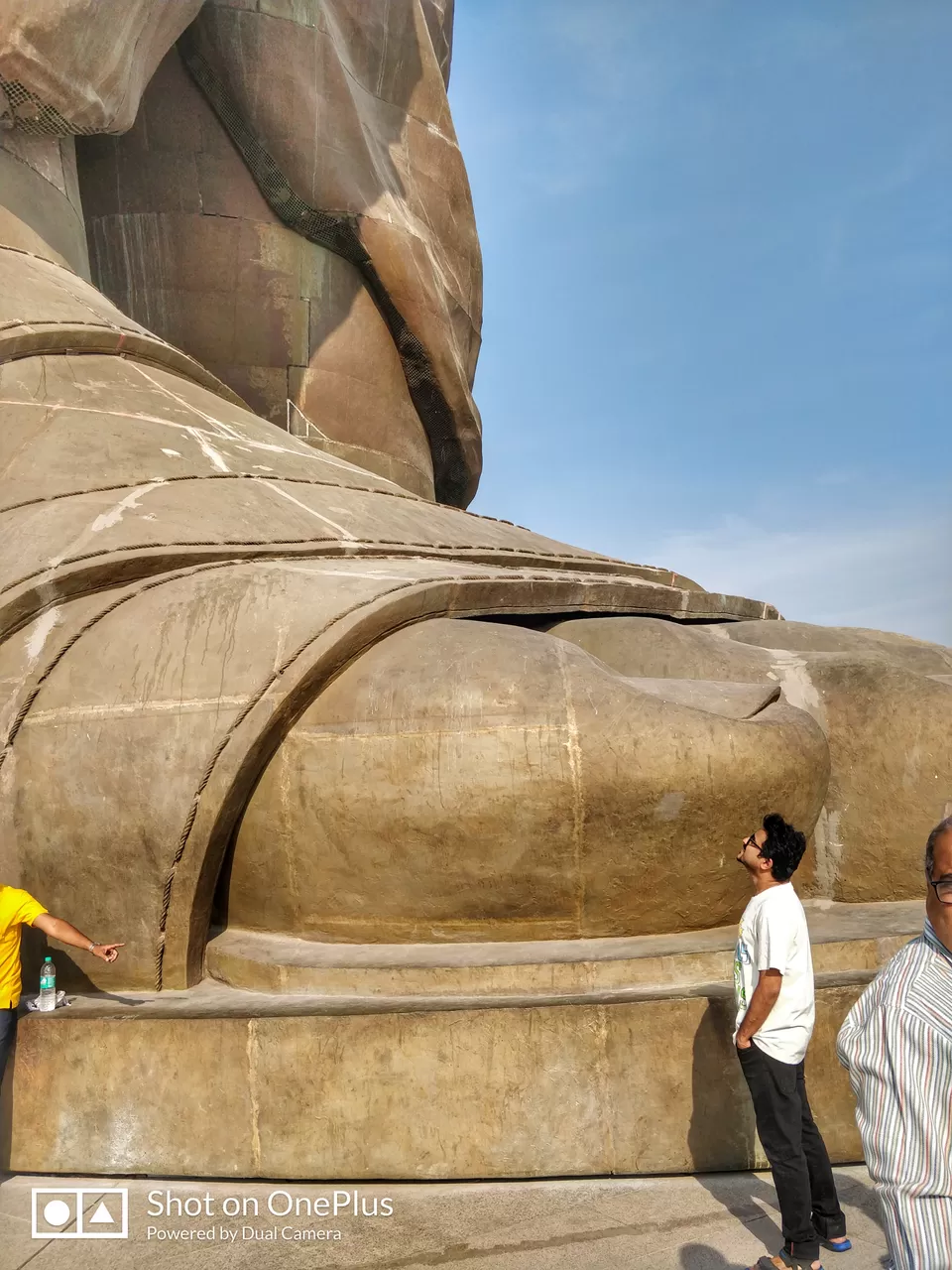 The base of the statue has a smaller version of the statue along with other sculptures. They also play a documentary on Sardar Vallabhbhai Patel's life here.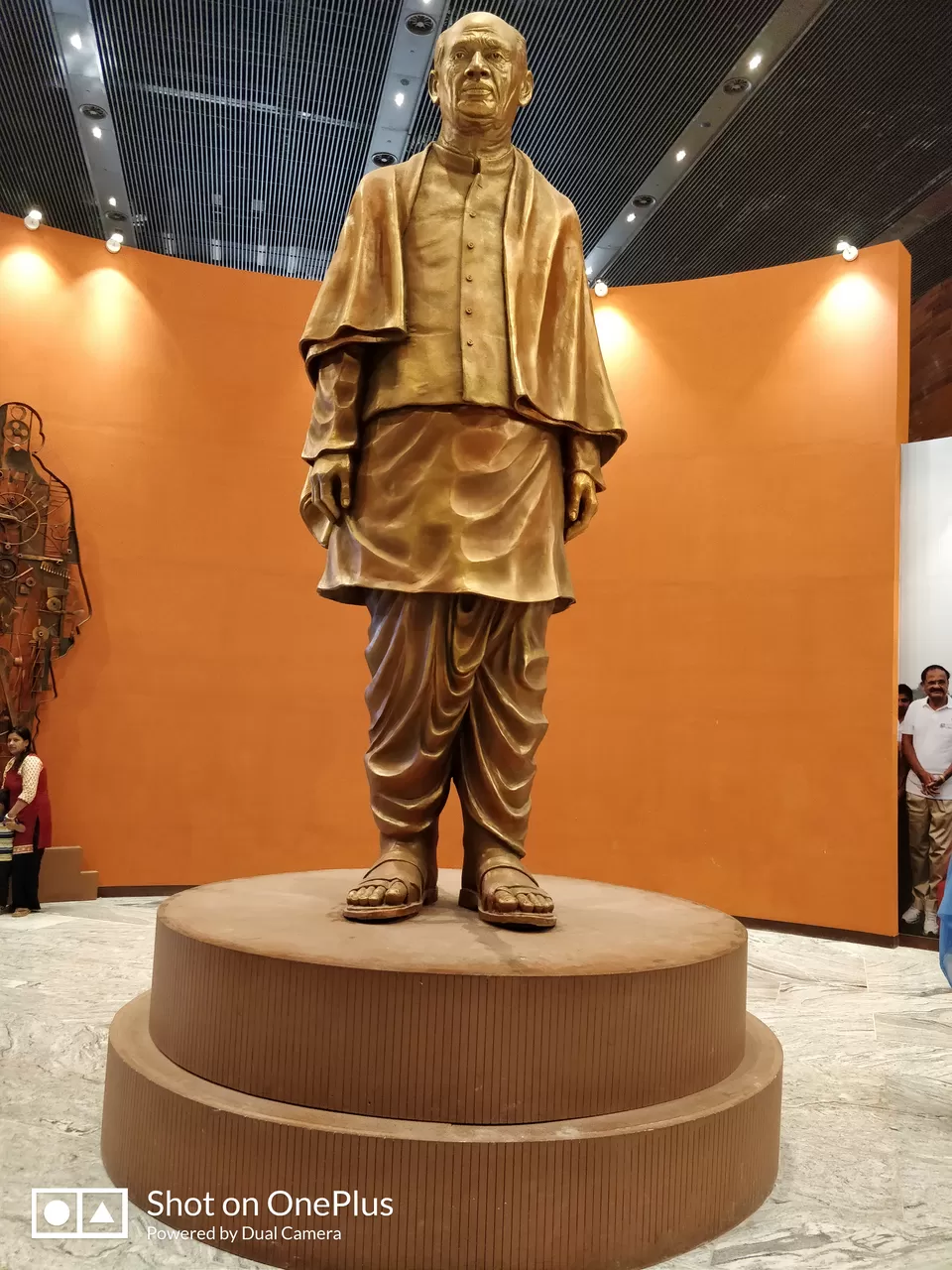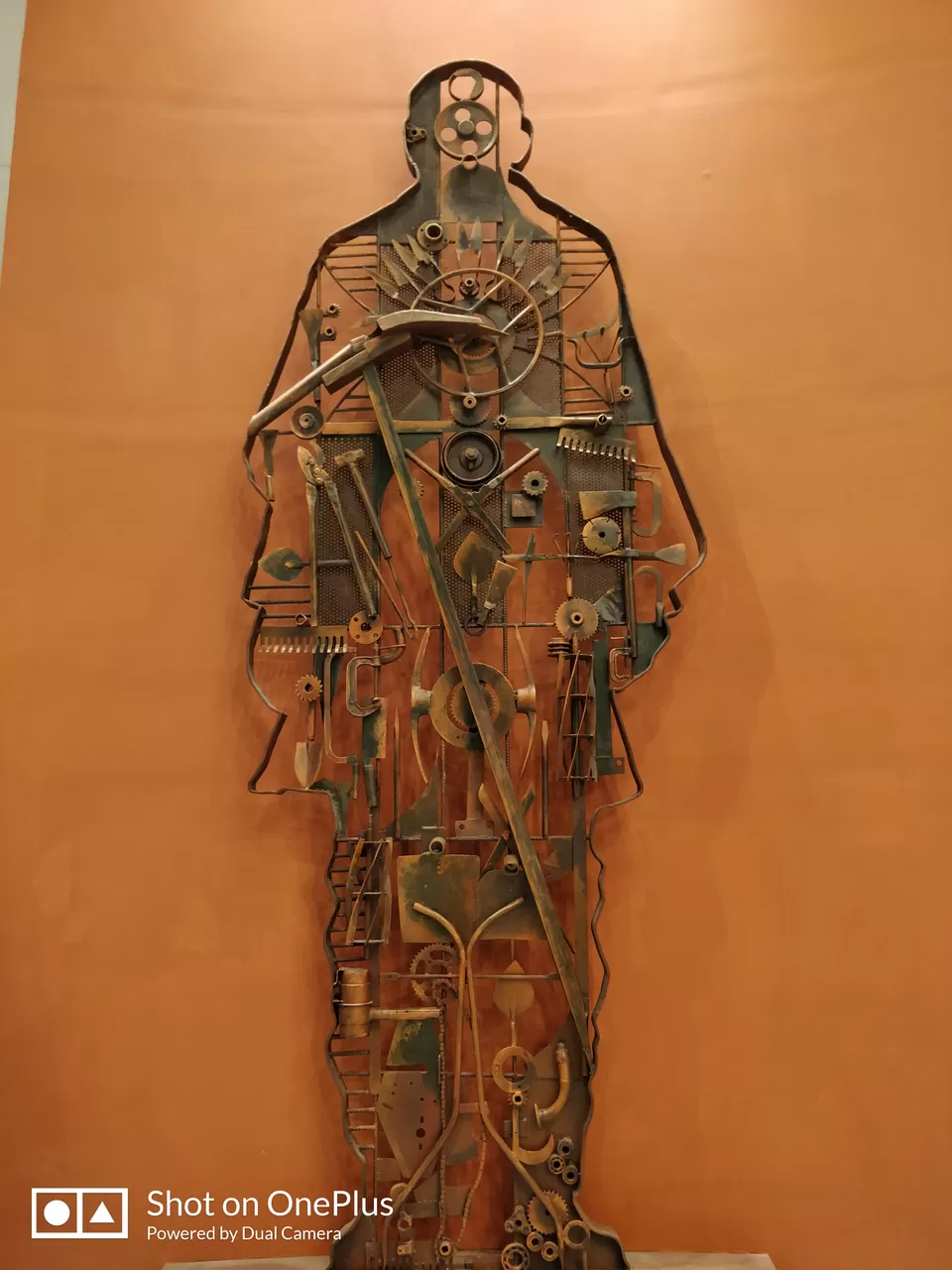 In order to go to the viewing gallery, you have to take an elevator which is also located here. When we went, it took us approximately 1 hour in the queue for elevator. Depending on the number of visitors, it could take anywhere from 1 hour to 3 hours during weekends. One way to avoid queue is taking the express ticket.
The two elevators are built inside the two legs of the statue and take approximately 1 minute to take you up to viewing gallery located at a height of 153 meters. You get a panoramic view from here which is amazing and you can also see the Sardar Sarovar Dam from here.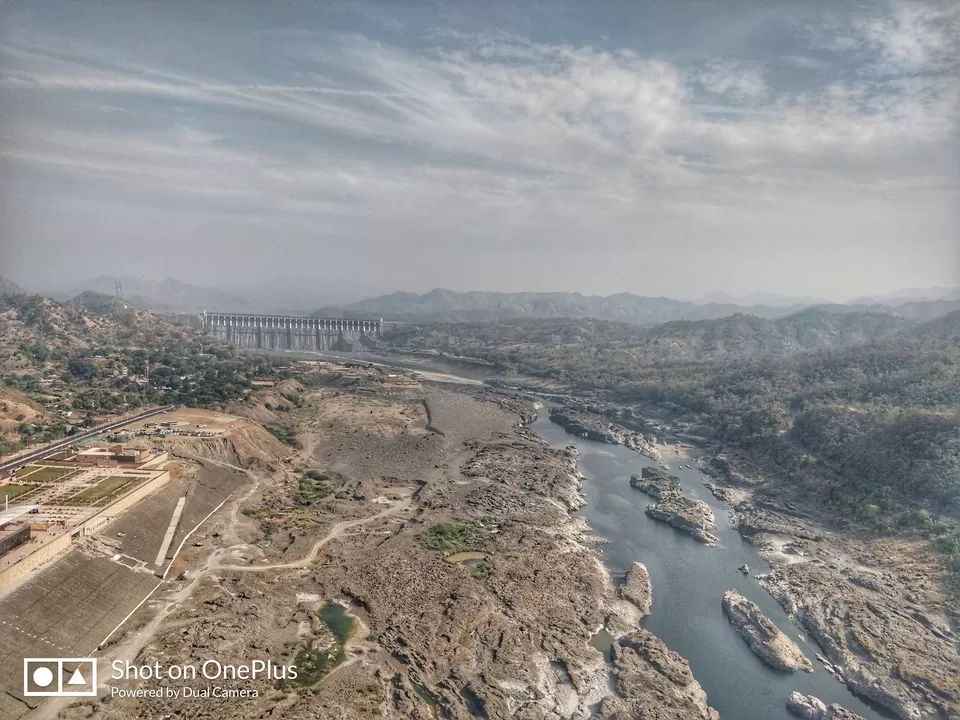 Once you are done seeing the statue and taking photos here, hop in to any bus leaving from the statue and get to your next stop – Valley of Flowers.
*The bus ticket of ₹30 covers travelling between any points in the area. So you can get into any bus (AC as well as Non AC)
Valley of Flowers
Valley of Flowers is still being developed so there's not much to see here at present.
But once it is complete, it will have 1 lakh flowers stretched across a 17 km area along the banks of River Narmada. From here, again hop in any bus and get to Sardar Sarovar Dam
Sardar Sarovar Dam
Sardar Sarovar Dam is one of the largest dam in the world and the largest one among the 30 dams planned on River Narmada. The dam helps Gujarat, Maharashtra, Rajasthan and Madhya Pradesh for water and electricity requirements. Here's a photo of the dam I clicked:
That's it for day 1. We took a bus here to the ticket booking place for travelling to Vadodara.
The cost of your ticket also includes laser show which takes place at 6.30 PM. Due to time constraints and poor connectivity (as of now) from statue to other places, we decided to not wait and watch it.
From Statue of Unity to Vadodara
Near the ticket booking counter, you'll easily get autos for Kevadia Bus Depot. They charge ₹10 for it. Once at the depot, take a bus to Vadodara or wherever you want to get back. It takes approximately 2 hours from Kevadia to Baroda Bus Depot.
Vadodara
We had booked Hotel GRG in Alkapuri, Vadodara using the GoIbibo app. After applying various discounts, it cost us only ₹585/night. You can use my invitation code for registering at GoIbibo. It will give us both a flat discount of ₹150 in GoCash+. Click here to sign up on GoIbibo or insert the code: 5238346 while signing up.
The hotel is located very near from the Vadodara Bus Depot and Vadodara Railway Station. The rooms are spacious, clean and well maintained.
Day 2
Lakshmi Vilas Palace
What a palace!
If you are in Vadodara, you MUST visit this palace. Such magnificence and royalty! The palace is huge with gardens and fountains inside it. If you are a history buff like me, then maybe even you could imagine the king and queen sitting in one of the gardens and being romantic to each other. Or imagine the King addressing his people in the durbar which, by the way is huge. The interiors, design, stained glass, statues and other myriad things inside the palace are beautiful. The armory inside the palace has some great collection of weapons. It even has a sword used by Aurangzeb.
Few more photos from the palace: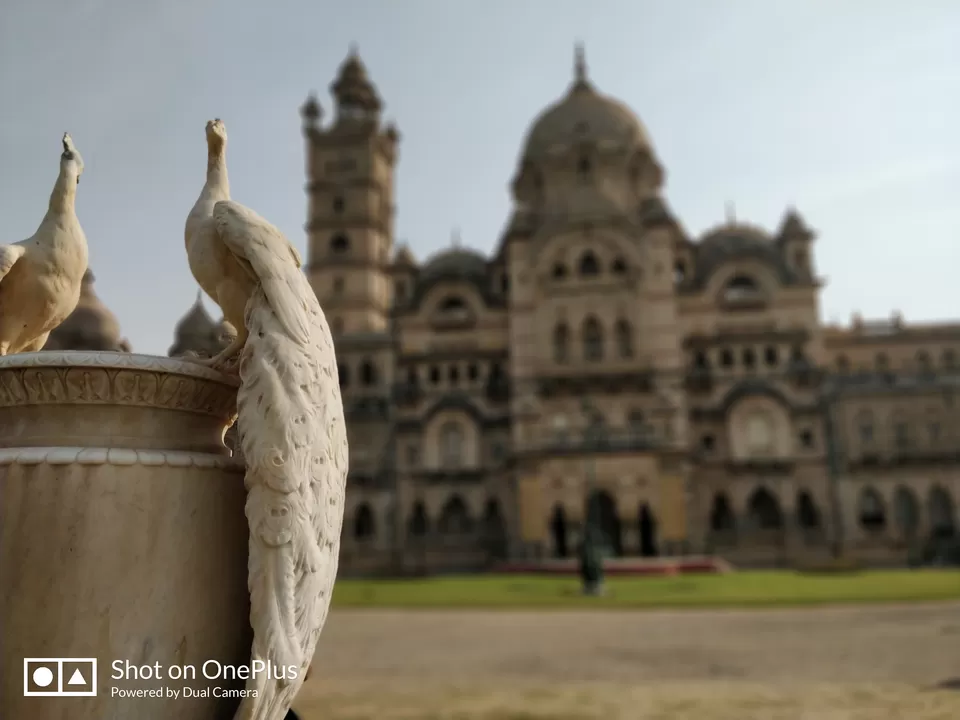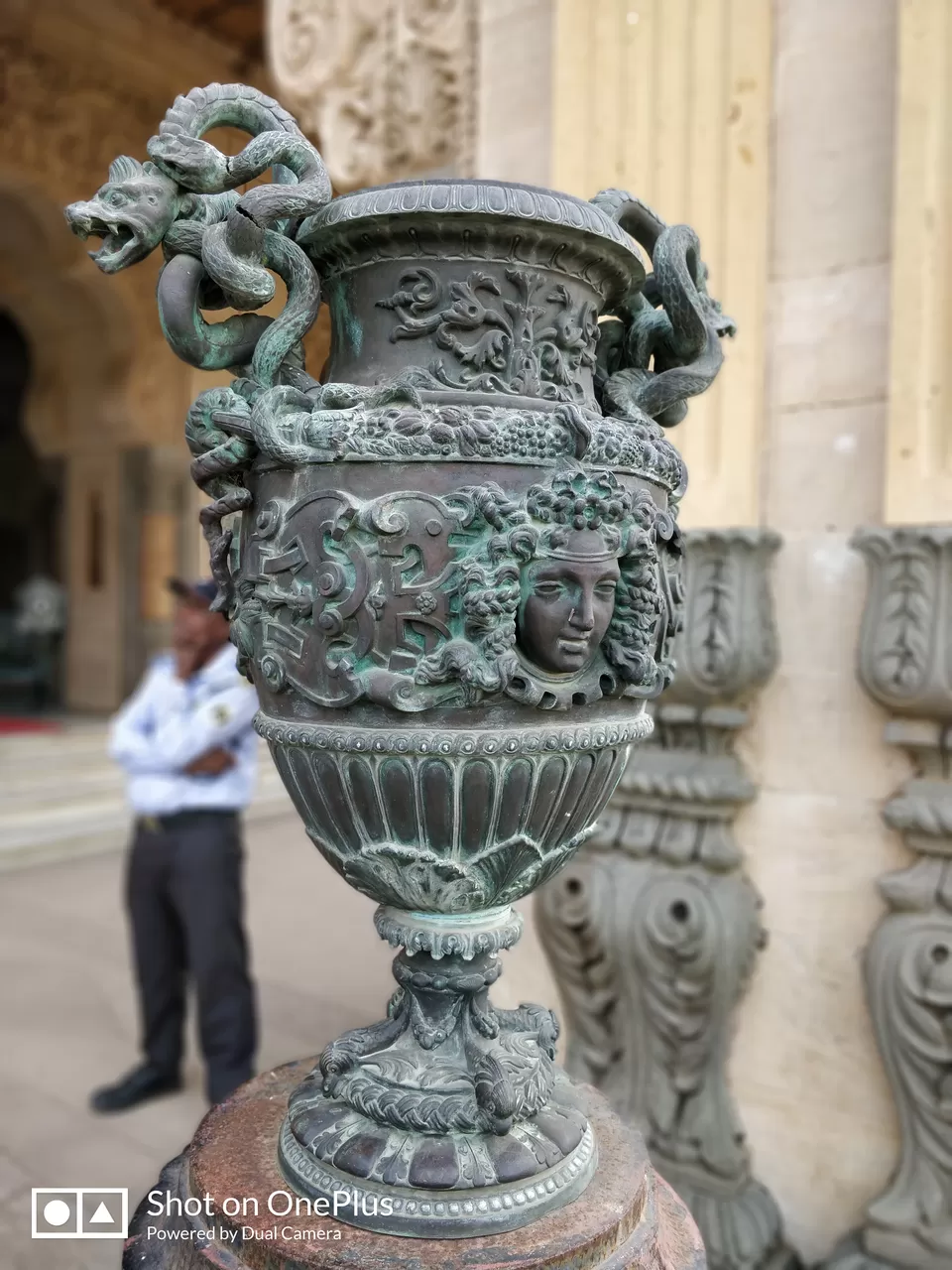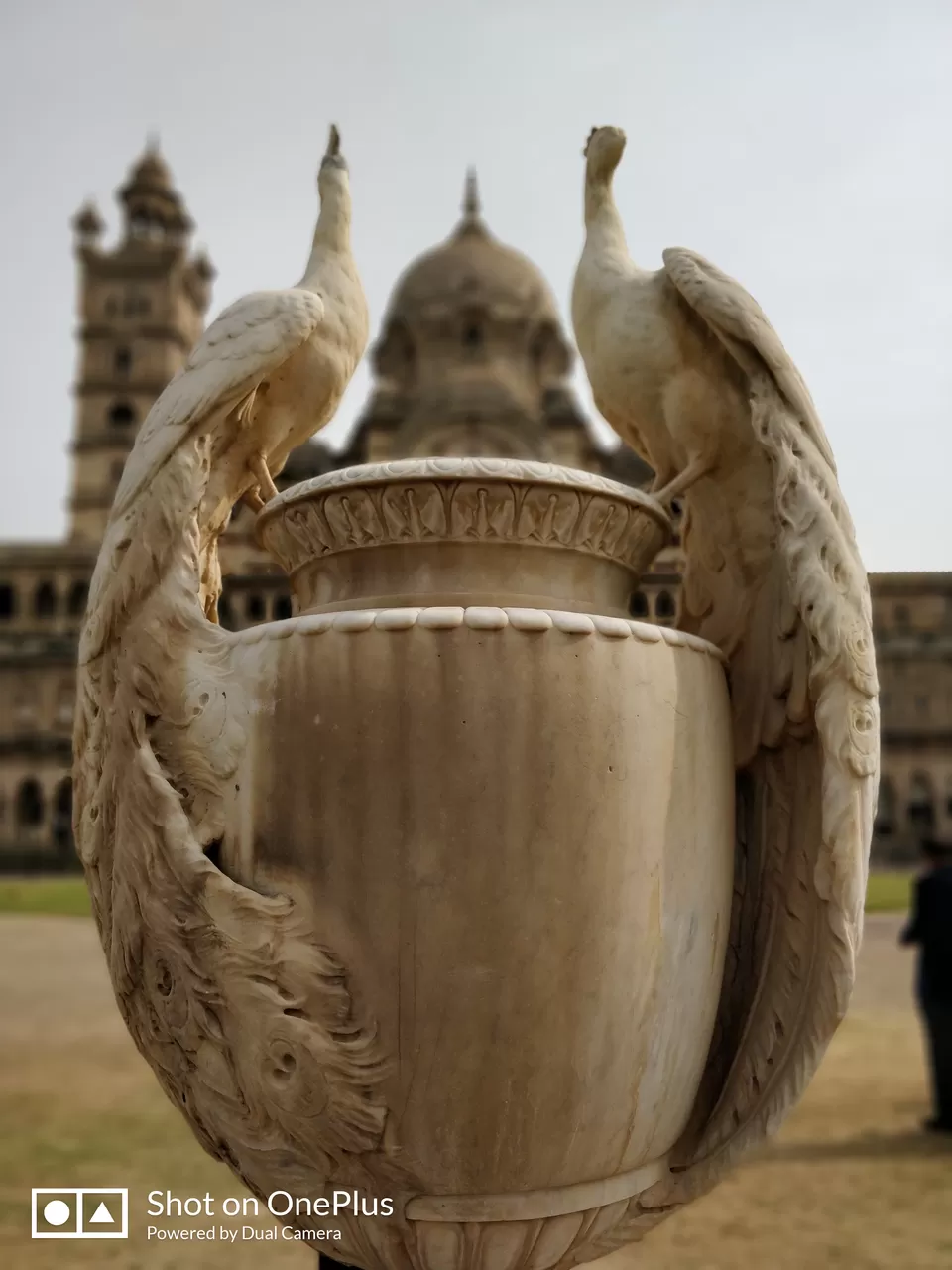 Ticket cost: 250
Time: 2-3 hours
Here's a tip:
If you really want to enjoy the palace in all its glory, then do listen to everything the palace audio guide has to say. I saw many people with audio guide not listening to it but busy taking photos. If you don't know the history of such places, then you can't appreciate it completely.
Note: Photography inside the palace is NOT allowed.
From the Lakshmi Vilas Palace, we went to Sayaji Baug.
Sayaji Baug
Sayaji Baug is largest garden in Western India. The king, Sayajirao III had dedicated this garden to the citizens of Baroda. It has a zoo, a planetarium and a museum inside it.
We visited the zoo and the museum but skipped planetarium as we had to catch a train later.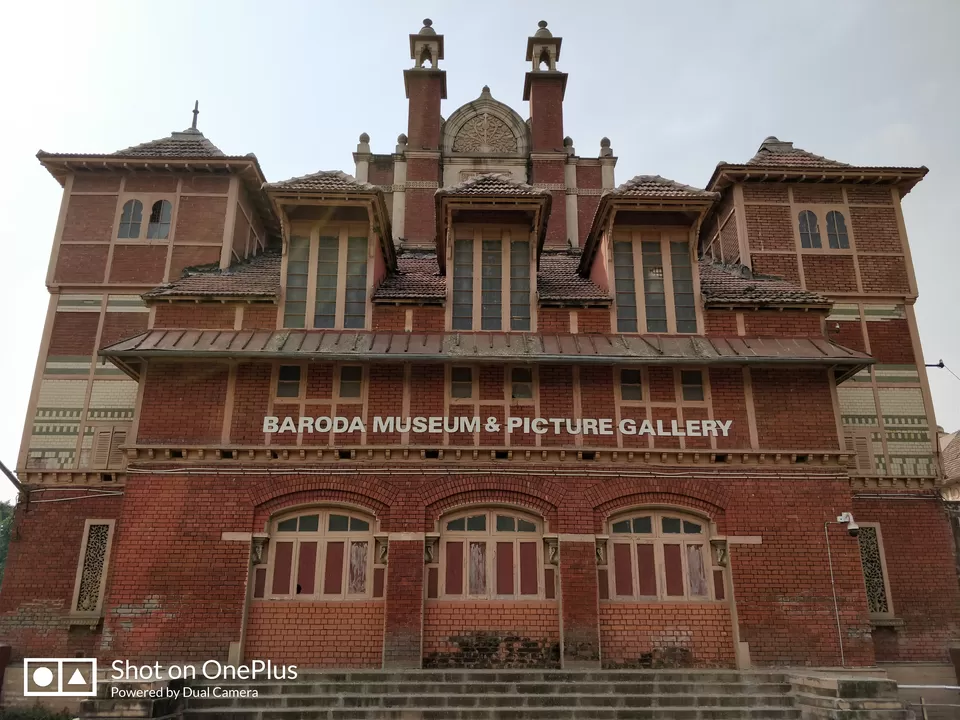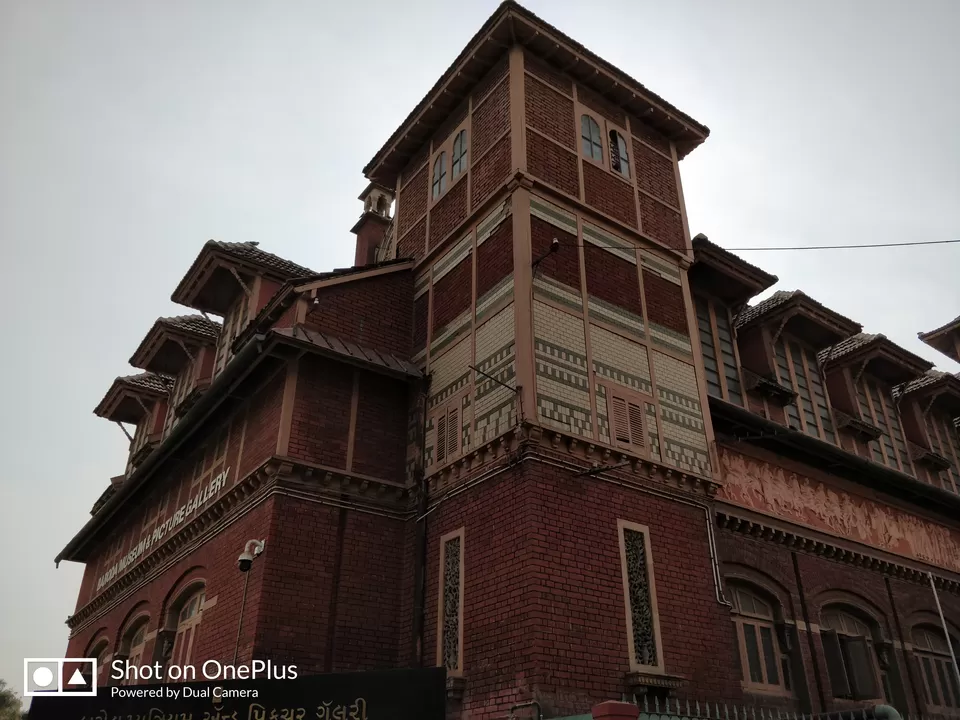 The zoo houses quite a lot of birds and animals from various places around the world. Here are some photos: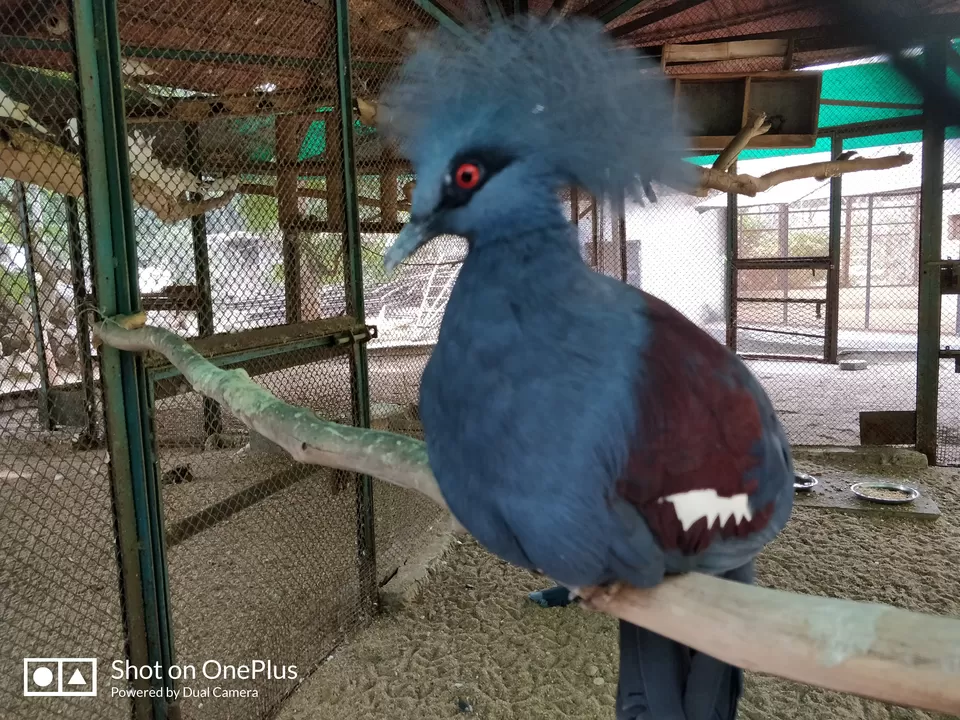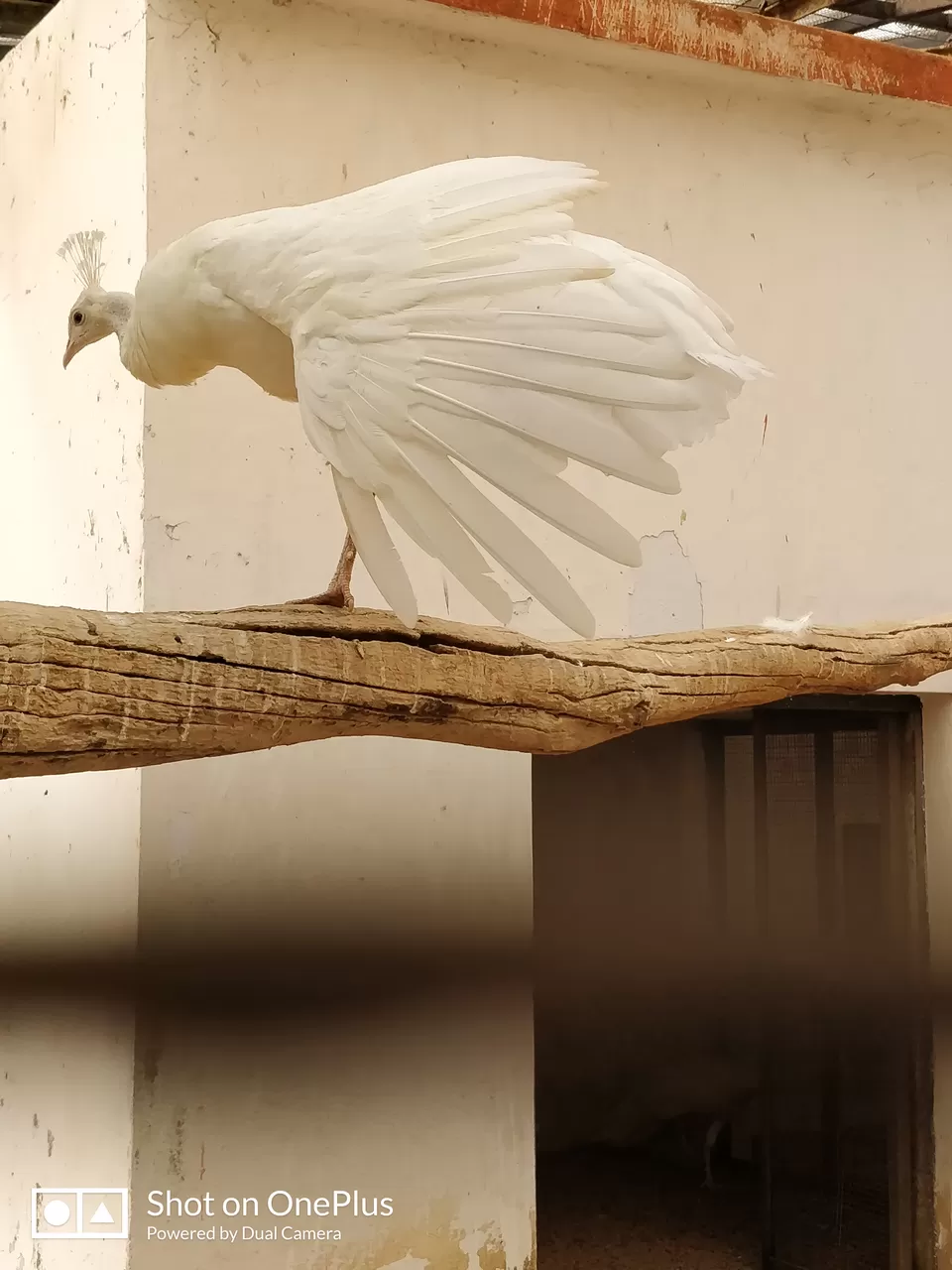 The museum is rich in its collection. The main attractions in the museum are Egyptian Mummy (Yes, it has an actual Egyptian Mummy!) and the original skeleton of a blue whale! The skeleton is over 70 feet long! Photography is not allowed in the museum but, you can pay extra and get a pass for it.
After the museum, we left for railway station to get back to Mumbai! If you have any queries, feel free to comment below. :)
#baroda #bharuch #budget #gujarat #ironman #kevadia #sardarpatel #sardarsarovar #dam #sardar #vallabhbhai #patel #statueofunity #Travel #traveler #vadodara