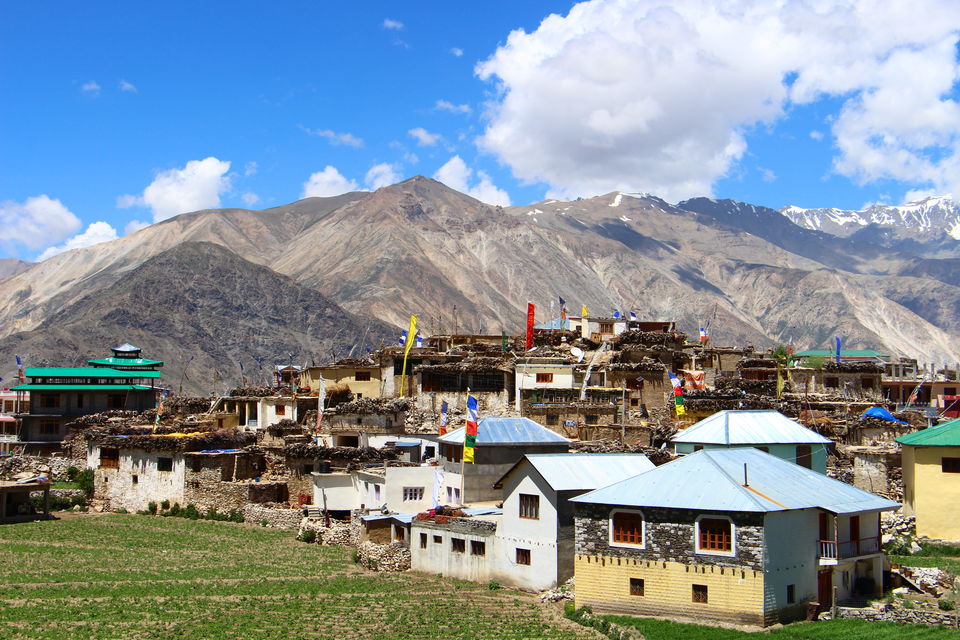 The beautiful remoteness and a deep sense of adventure of Kinnaur region and Lahaul-Spiti valleys in the transhimalayan zone with its spectacular landscapes are mesmerizing for people living in the plains. As a backpacker, I have always desired to travel into the trans-Himalayan region. Little I had realized that with its deep valleys, dangerous roads (mostly unmetalled/kachha), cascading rivers, high mountain passes, plenty of fruit orchards, tasty peas, and lentils; I will lose myself into its wilderness. I had planned for two weeks in Kinnaur and Spiti valley and skipped the Lahaul segment for the next journey.
As I planned for the route, we decided to enter via the Shimla-Narkanda route and exit from the Rohtang Pass. The journey in this region is not for comfort-seeking travelers, as it is a roller coaster ride. Counted as among the most dangerous roads on the planet, it challenges the mind and body alike. If one ignores the rough and rugged landslide-prone terrain and soak in the pine and spruce trees, the diversifying moon land landscapes, the grand rivers of Baspa, Sutlej, Spiti, the snow-covered ranges and rugged mountains, then nature welcomes every traveler warmly. The journey is quite hectic and physically exhausting, and dangerous too but surrounding beauty keeps everyone glued.
Day 1, June 11. (6.30 pm) HRTC bus from ISBT Kashmere Gate, Delhi to Rampur Bushahr via Narkanda
Day 2, June 12. (9.30am) Arrived at Rampur; via Jeori to Sarahan Bushahr; Night stay at Sarahan
Day 3, June 13. (6.30 am) the first bus from Sarahan to Jeori; Then from Jeori to Sangla valley via Wangtu, Karcham; Night stay at Sangla Village
Day 4, June 14. Hired a vehicle to Chitkul via Rakchham; Lunch at Chitkul village and then back to Sangla village by 2.30 p.m; By 4 p.m. hired a vehicle to Kalpa. Traveled via Karcham & Reckong Peo (6 p.m) to reach Kalpa
Day 5, June 15. Explored Kalpa, Chini, Roghi, Kothi, Reckong Peo; Night stay at Chini village
Day 6, June 16. Lift from Chini to Reckong Peo bus stand: 9.30 am a bus to Moorang fort from Peo; 11-11.30 arrive at Moorang and visit the Panadava's fort of Moorang; 1.30-2.30 pm bus from the highway across the Moorang for Nako Village in the Upper Kinnaur; 5.30 pm arrive at Nako and night stay
Day 7, June 17. Explored Nako; Hiking
Day 8, June 18. Nako Village to Tabo village via Chango & Sumdo; Night stay at Tabo
Day 9, June 19. Tabo to Kaza town via Sichlling (Deboarding point for Dankar); Afternoon bus from Kaza to Kee/Key/Kye gompa; Night stay at the Kye gompa
Day 10, June 20. Hike to Kibber from Kye gompa; Kibber sightseeing, a tiring hike to Kibber Dogri; Night stay at Kibber
Day 11, June 21. (8.30 a.m.) Morning bus from Kibber to Kaza. Deboarded at Komic Crossing; Hitchhiked to Komic village; Sightseeing and night stay at a camp
Day 12, June 22. Sumo from Komic to Kaza town; Booked taxi for Manali; Kaza sightseeing and night stay
Day 13, June 23. (7 a.m.) Shared taxi from Kaza to Manali via Losar, Kunzum pass, & Rohtang pass; Night stay at Manali
Day 14, June 24. Explored Manali; HRTC Bus to Delhi
Day 15, June 25. Arrived in Delhi
Destination 1 - Sarahan Bushahr
My journey to explore the Kinnaur and Spiti Valley started from the famous ISBT Kashmere Gate at Delhi. We boarded the HRTC bus to Rampur Bushahr. It is a town located beyond Shimla and Narkanda and home to the Asia's most massive Hydro Power Project - The Nathpa Jhakri Hydro Power Station (formerly known as Nathpa Jhakri Power Corporation) at Jhakri. This town has a rich history. We arrived at Rampur around 9.30am and found a private bus leaving for Sarahan Bushahr. The bus takes a detour from Jeori into mountains for more than two hours. Jeori is a small kasba on the National Highway.
Sarahan Bushahr: Though located in Shimla district, the place is famous as the Gateway to Kinnaur. Sarahan is the abode of the famous Bhimakali temple complex, one of the Shaktipeeths. It is by far one of the most well maintained and beautiful temple complexes that I have seen during many years of my travel. Surrounded by a small village and hills, it is an excellent place to relax, connect with you before embarking into the deep ravines of Kinnaur and Spiti valley.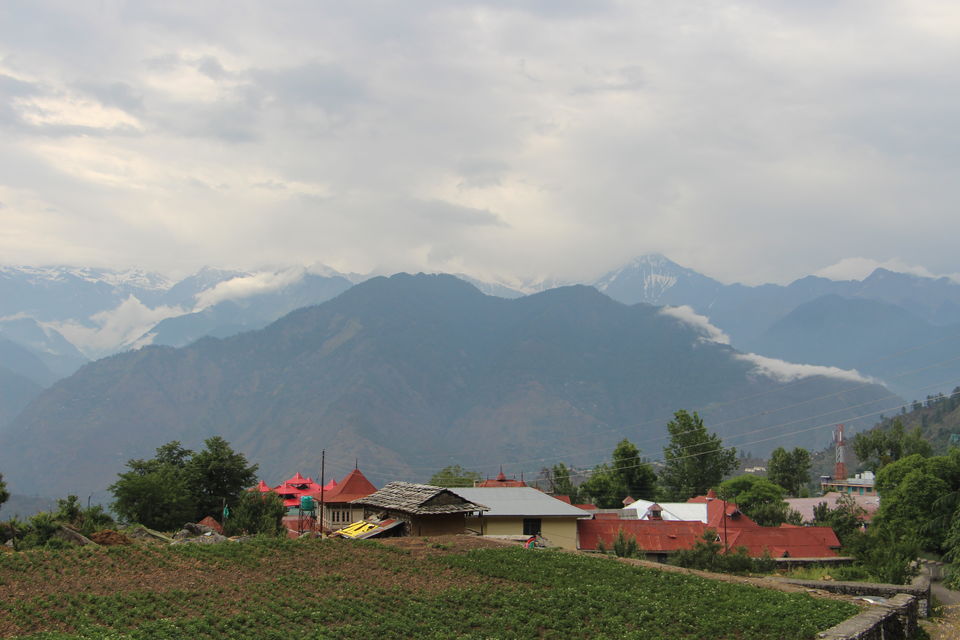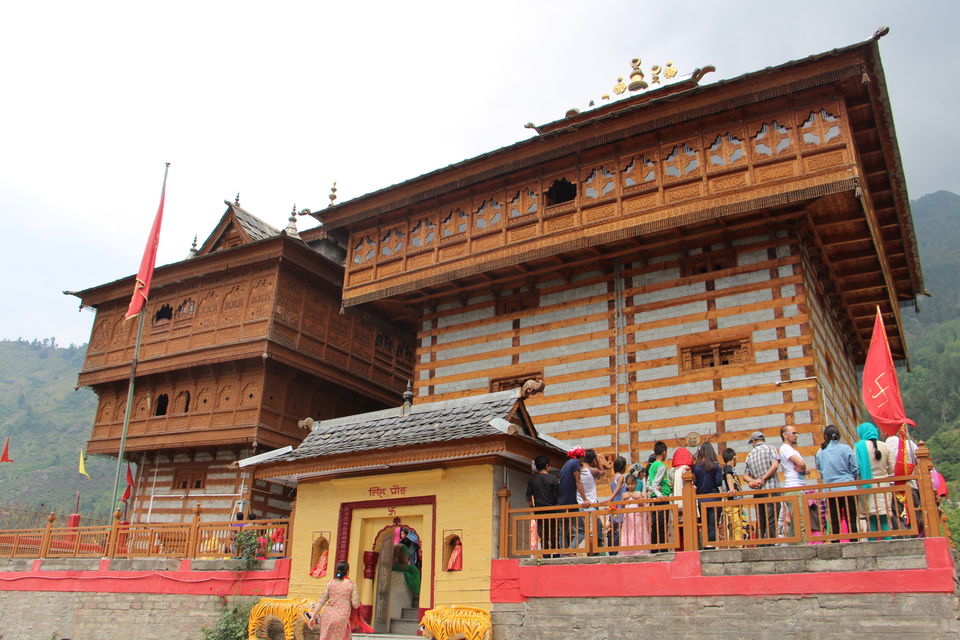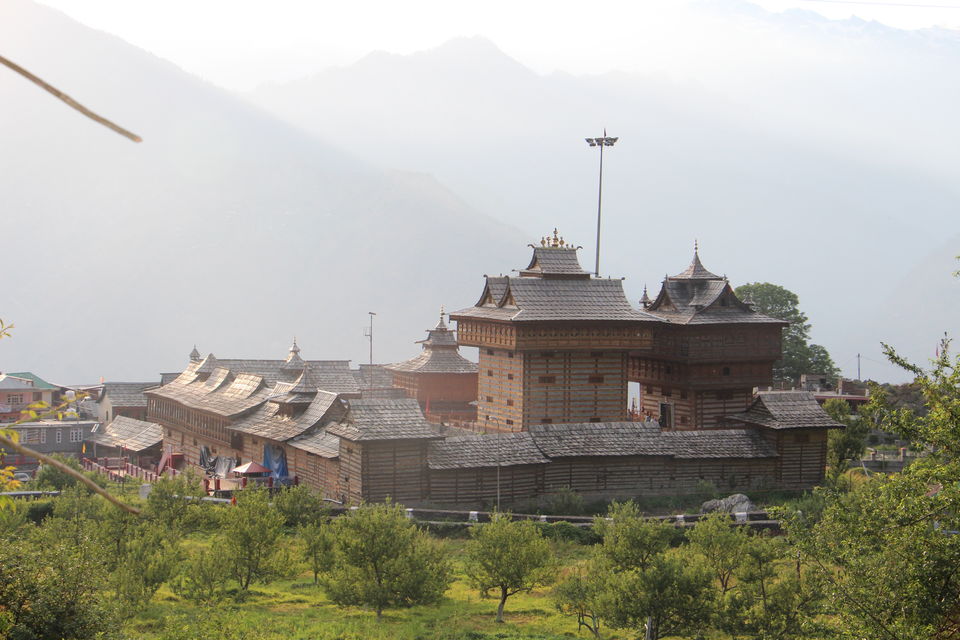 Where to stay: As a Shaktipeeth located in the Himalayas, it attracts tourists from Bihar, West Bengal, and many other states. Many Bengali styled hotels are available which are moderately maintained as it mostly caters to the needs of Bengali tourists and pilgrims. During the peak season, the price can vary from Rs. 700 to as much as they wish to charge. The Bhimakali temple guesthouse is the best place to stay for which prior booking is essential.
Destination 2: Sangla Valley: Next day, we boarded the first bus leaving for Jeori crossing to catch the bus for the Sangla valley. Traveling with public transportation demands a high level of coordination, quick planning, and supreme patience as there are not many options. By 8.30am, we had reached Jeori crossing. We got the bus for Sangla around 9-9.30am.
Our journey from Jeori to Sangla valley involved a Himalayan traffic jam. Being stuck in a Himalayan traffic jam is an experience in itself. Hopefully, many travelers get to experience it. What has happened is that after passing Wangtu by Tapri; due to colossal water discharge from a nearby dam, the main NH road was flooded. All the vehicles had to take a risky detour via the old Hindustan-Tibet Road (Tapri-Urni road), which is not the most maintained one. Just imagine being stuck in a jam in the mountains for more than 2 hours where it is difficult to move forward or go backward especially on a bus.
The road to Sangla takes a detour from Karcham. Sangla is approx 16-17 km from Karcham. Karcham to Sangla village is one of the most dangerous ways on the planet Earth. Baspa River flows through the valley, and therefore it is known as Baspa valley as well.
Important - Many travelers end up going to Peo/Kalpa first and then travel back to Sangla valley and then head towards Kaza. If you are coming from Shimla-Narkanda area, then the best option is to visit the spectacular Sangla valley first and then continue the journey further deep into Kalpa/Peo, the other regions of Kinnaur and then in-route to the Spiti Valley.
For the second part of my journey, please visit Sangla Valley and Chitkul Village, Kinnaur, Himachal Pradesh .