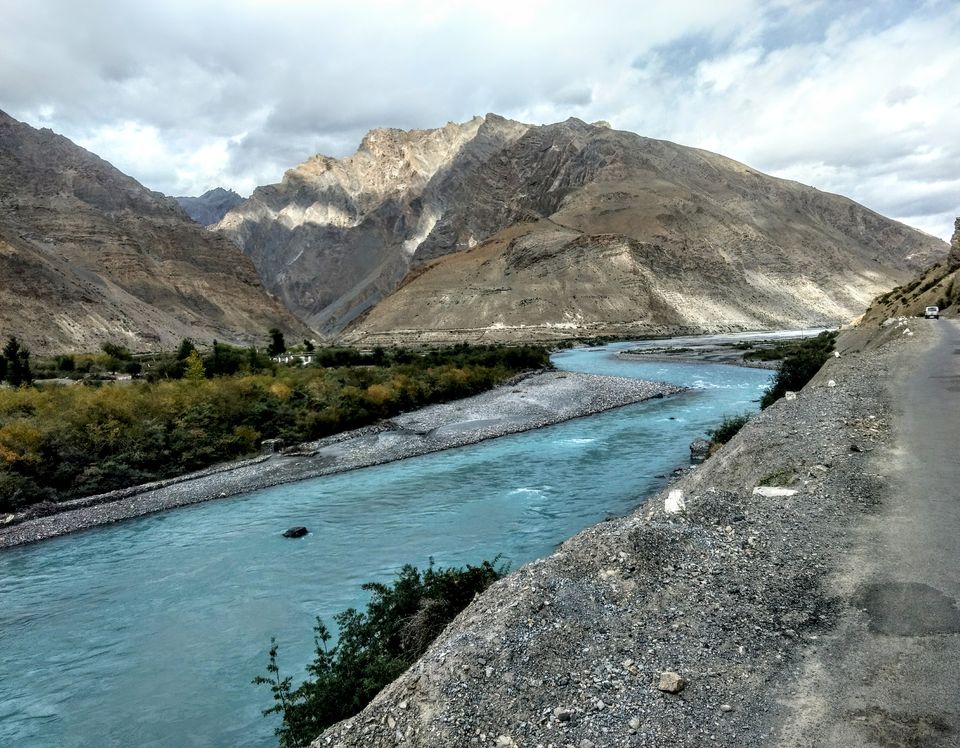 Kinnaur-Spiti Valley circuit is widely known as the most treacherous road to travel on. It is an adventure worth for many bikers, backpackers and trekkers. Many prefer to take the challenge on their Royal Enfield but visiting these valleys by public transport has its own charm. The entire circuit starting from Shimla and ending at Manali can be done by HRTC bus. It is worth mentioning the courage of HRTC drivers who ply on this route regularly. The route remains open only during summer from June to October and is closed from Manali side as there is heavy snowfall on the two passes of Rohtang La and Kunzum La which are closed for the rest of the year. Below is a 10 day itinerary of the circuit using public transport
Day 1: Delhi - Shimla - Narkanda
There are many buses that start from Delhi and going towards Shimla between 6 pm to 10 pm. You can take any of these to drop at Shimla enroute. There is a bus starting around 8 pm that goes all the way up till Reckong Peo which is the district headquarters of Kinnaur district. You can take this bus straight upto Narkanda without having to stop at Shimla. Narkanda is a small hillstation around 60 kms from Shimla. The famous Hatu peak (It is the tallest peak in Shimla district) is 8 km uphill hike from Narkanda bus stop. One can easily walk up to the temple or hitch hike along the way. If the weather is clear, many adjacent peaks are visible from here and the temple too is built out of wooden architecture. A guest house here will be roughly 500-600 for a day. The Negi Dhaba near the temple is an excellent place to eat.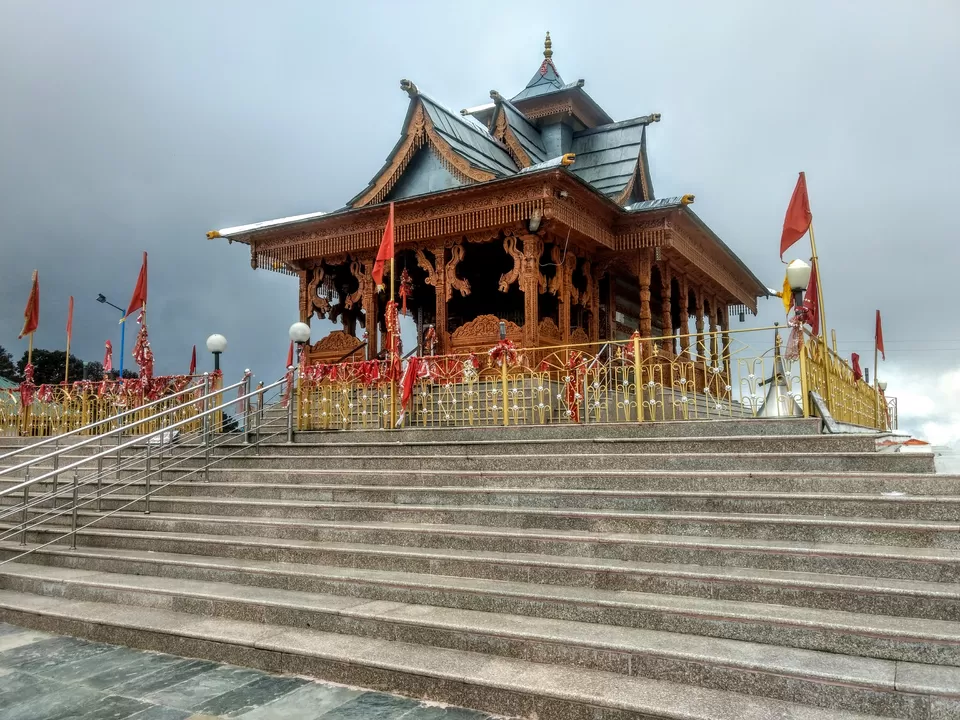 Day 2: Narkanda - Jeori - Sarahan
After having breakfast at the Dhaba, one can leave towards Sarahan via Jeori which is on the highway. Take any bus going to Kaza/Peo from Narkanda in the morning and you should be reaching Jeori around noon. . Take another bus going to Sarahan from the junction. Sarahan is a small town situated on hill around 18 kms from Jeori. It is called the gateway to Kinnaur and was once the capital of Bushahr kingdom. The famous Bhimkali temple is visible as you get down. There are many options to stay here but if you dont drink or smoke, best is to stay at the temple complex for a dorm at 100 for a day or a separate room for 350 a day. The Bhimkali temple is one of 108 shaktipeeth and considered a big religious place for the locals and tourists. There is good data connectivity here and also an ATM close to the temple. A thali at the dhaba would cost no more than Rs 70. A walk around the apple orchards and spotting rare Himalayan birds is why one should definitely visit Sarahan.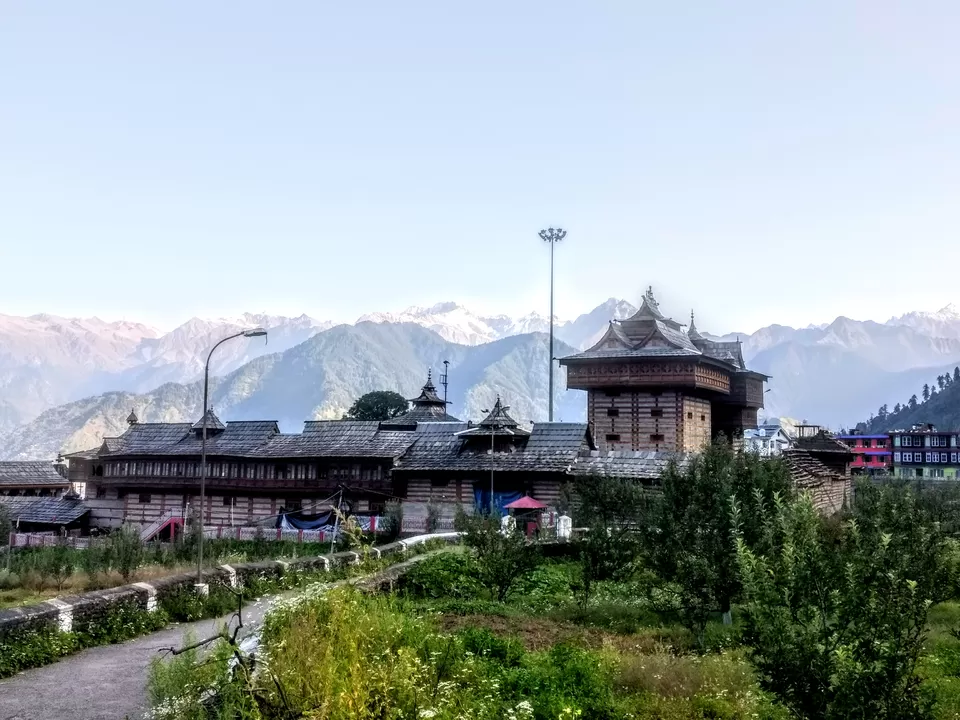 Day 3: Sarahan - Jeori - Karchham - Sangla - Chitkul
There is a bus that leaves in the morning at 9 am from Sarahan and drop you at Jeori around 10. Any bus going to Peo from there will take you to Karchham around noon. Buses to Sangla and Chitkul are rare but you can find a shared can from here till Sangla and if lucky till Chitkul. It may be too many connections and travel on this day but its best to stay in Chitkul for its a very peaceful town and the last indian village on that route. There is a bus from Karchham at 3:30 pm and in Sangla at 4:30 pm that goes to Chitkul around 7:30 pm. Its best to keep a note of bus timings while traveling in these valleys. There are typically one or max two buses on routes which are off the highway. On way between Sangla and Chitkul is Rakchham which is the apple town. The Tibet cafe at Sangla serves good Tibetan food. There are not many eating options in Chitkul. There is Hindustan ka Aankhri dhaba run by Mr Negi near the bus stand. The dhaba has great view of the Baspa river which flows in the valley. A night stay at homestay can take you back by Rs 400-500.
It can get very chilly in Chitkul especially at night and in the morning. The evening bus that comes from Sangla is the one that leaves early morning at 6:30 am and goes till Peo. There is another bus that leaves at 2 pm in the afternoon. Its best to take this bus as it gives you enough time to explore Chitkul. There are many temples here and walk around the village can cover most of them in couple of hours. Walking down to the Baspa river and hearing the chirping of birds in the morning is special and must do. Mr Negi serves you great parathas made from faafda (a varient of wheat grown locally in Chitkul). There may not be any touristy spots in Chitkul but its a beautiful town to relax and spend time with nature.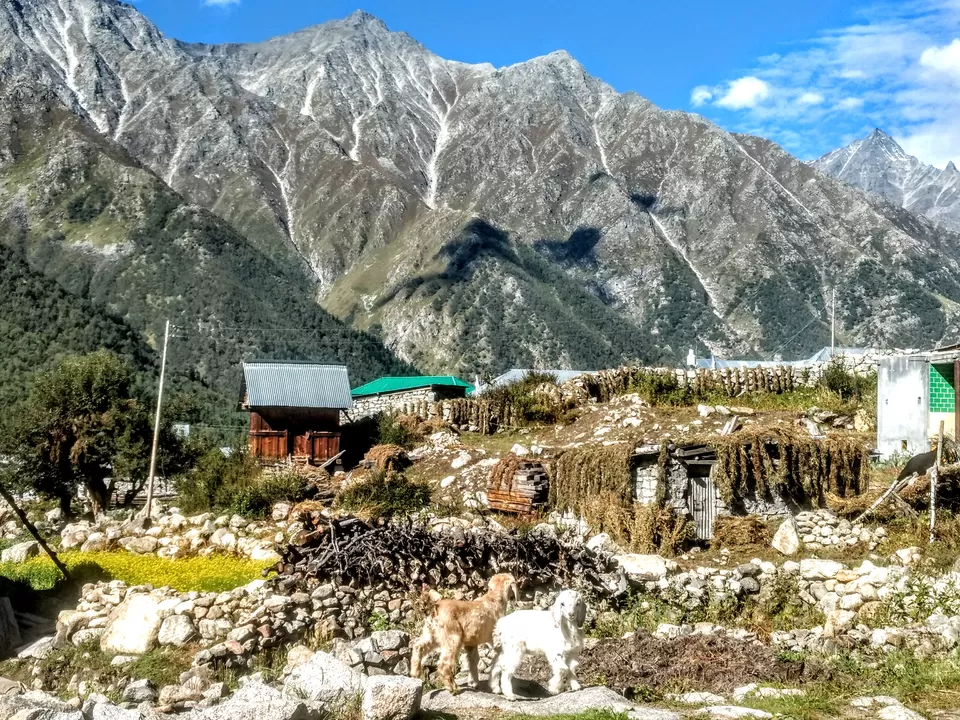 One can take the afternoon bus from here to Reckong Peo which reaches around 5:30-6 pm. One can break for day and stay back in Kalpa which is 10-12 kms away from Peo. Else you can find a place near the bus stand for 400-500 for night and leave towards Kaza early next morning.
Day 4: Reckong Peo - Nako - Tabo
Bus to Kaza leaves early morning at 7 am from Peo bus stand. Since its a day long journey, tickets with seat numbers are issued an hour before the bus departs. The bus stops at Spello on way for breakfast. You can try the parathas at Little Tibet cafe at Spello. The road then turns from bad to worse until you reach Pooh. The road can be dangerous for bikes as there are stones falling from above and constant road work going on here. The route after Pooh gets very scenic with red mountains without any vegetation and water flowing below. There are many small villages that come on way. Beautiful mud houses with apple orchards around.
The bus stops at Nako around 1 pm for lunch. One can do a night stay in Nako. There is a monastery and a man made lake here. It is also around 3.5k meters and can get very cold in the evening. Otherwise you can head to Tabo further towards Kaza.
The bus reaches Tabo bus stand around 4 pm. You pass by beautiful small villages along the way. The Tabo monastery is more than 1000 years old and the longest continuing monastery in India. The old monastery made of mud is preserved and new monastery is built now for Lamas. Tabo is a beautiful small town in the Spiti & Lahaul district that has a Jawahar Navodaya school for the district. There are plenty of staying options available. One can stay in the guesthouse run by the monastery Lamas for 100 for dorm bed or 300 for a room for a night. Tabo is famous for star gazing and if the weather is clear, you can get an amazing sight of the stars in the sky with milky way clearly seen in its entire stretch. There is a cafe attached to the guest house that serves good food.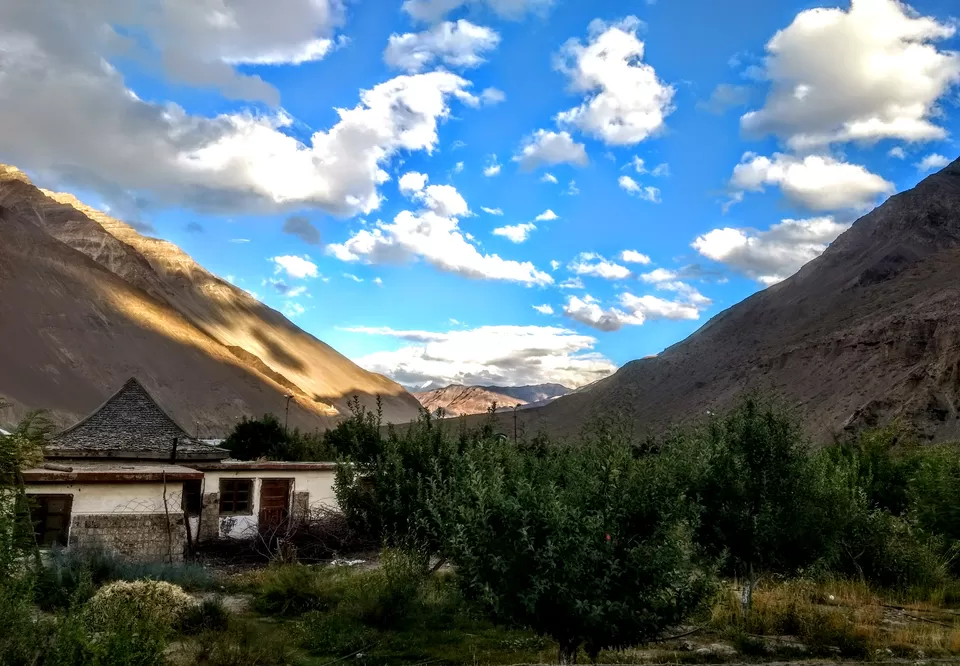 Morning views of the monastery with sunlight falling on the mountains nearby are incredible and a small hike up to the caves on a nearby mountain gives and awesome top view of the village. The bus to Kaza leaves at 9 am and is the only bus in the day going that way. On the way to Kaza, the valley broadens up and the river bed stretches enough to make the other side seem long away. You cross the confluence of Pin river and Spiti river enroute with breathtaking views of the valley. The bus reaches Kaza bus stand at 11:30 am. There are numerous options to stay in old and new Kaza. The budget stays are mostly in old Kaza and the luxurious ones are in New Kaza. There is Zostel available right as you enter Kaza but it will be expensive if you are on a budget. Another hostel called the wanderers nest can get you a bed for 250 for a night. Kaza is the headquarters of the district and you can expect to find a good market and eating options here. Some of the dhabas near the stand serve good vegetarian thalis and there are other fancy cafes like the Himalayan cafe, German Bakery and Soul cafe that are slightly expensive. The Sakya Abode which is hotel chain run by Incredible Spiti group is a good place to visit near the monastery. The cafe has excellent collection of books on Spiti culture and nature and wildlife in the himalayas. This is pet place for most bikers from foreign countries coming to Spiti. The Kaza town has a city feel to it if you compare it with others in Spiti but there are numerous options to explore nearby - Kee, Kibber, Hikom, Langcha, Dhanker, Mud etc. One can easily spend a week in Kaza visiting places around.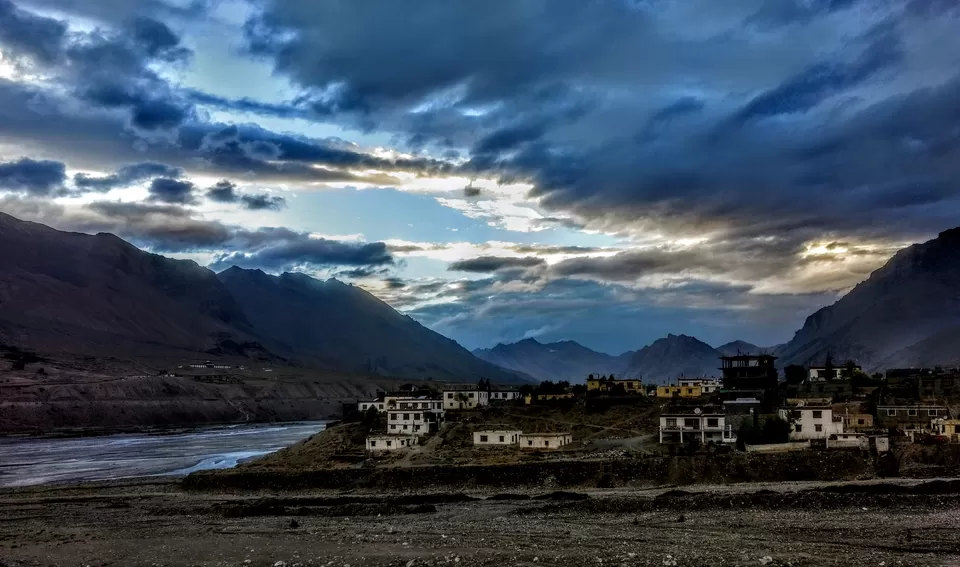 There is a bus that leaves from Kaza at 5 and goes to Kibber village which is 22 kms away. The bus stops at Kee monastery on the way. One can get down at Kee village and head straight to the monastery where you can find a place to stay at 250 per night including 3 meals. If the monastery is completely booked for guests then there is small guesthouse next to the monastery. The key monastery resembles a fort. Its has been destroyed and resurrected multiple times in history due to invasions and calamities. Its the biggest school of Lamas and holds lot of importance in Spiti culture.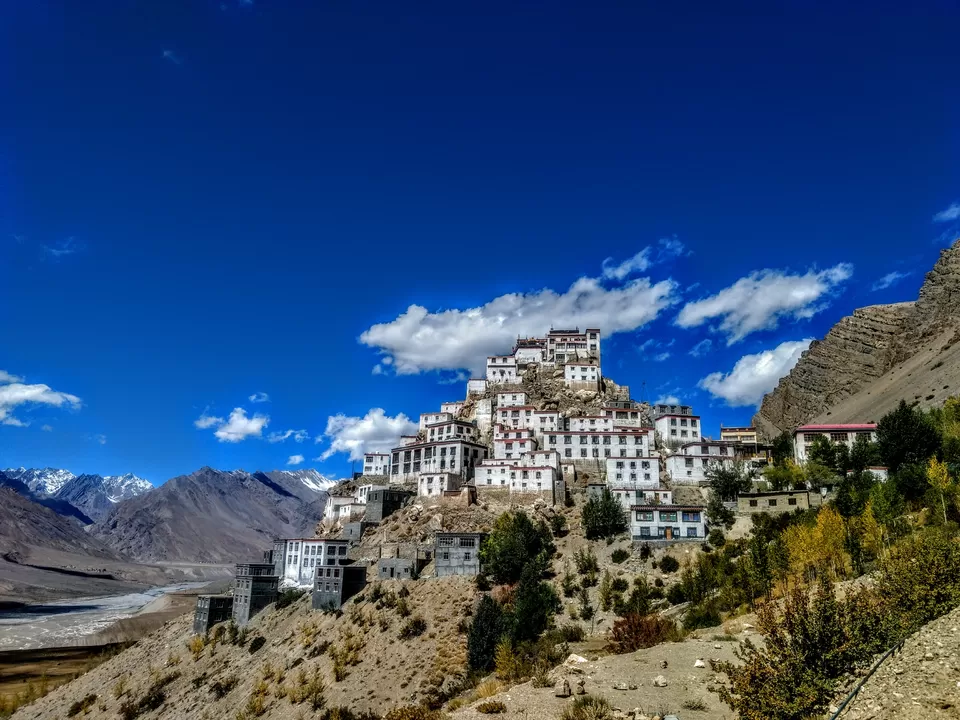 Day 7: Kee - Kibber - Kaza
Morning views of the monastery with mountains and the valley are worth dying for. The monastery opens at 8 am and one can attend prayers along with the Lamas. Breakfast is served to guest in the morning around 9 am. One can visit the Kibber village from there which is 5 kms from Kee monastery. Its easy to hitch a ride along that route as bus is infrequent. Its a good way to interact with locals too. The locals are extremely friendly and want more people to come and visit their places. Kibber is an extremely small village perched on a mountains with 360 degree views of the peaks around. There are not more than 50 houses in Kibber and some homestays and restaurants. If you have more time, a night in Kibber is worth it. Once you are back to Kaza from Kibber, make sure you advance book the bus to Manali. This bus starts at 4 am in the morning and reaches Manali in the afternoon around 3-4 pm depending on the road. The booking happens when the bus from Manali reaches Kaza the previous day around 5 pm. There is lot of rush for this bus and its good to be alert and book a seat as the journey back is long and hard.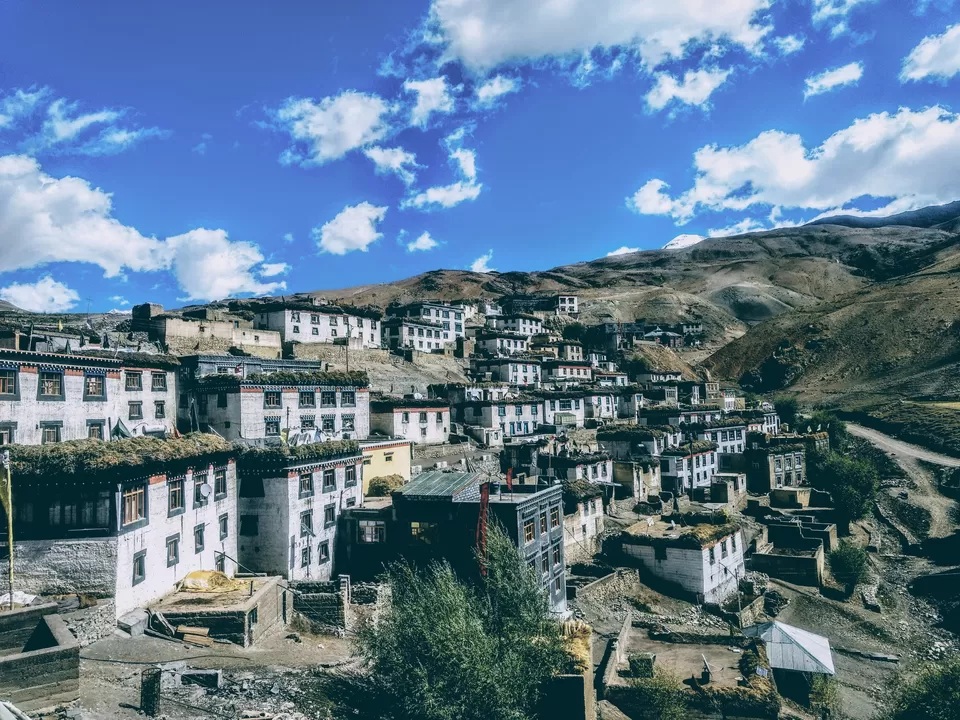 Day 8: Kaza - Losar - Kunzum La - Batal - Rohtang La - Manali
Its an early start to the day if you are taking the morning bus to Manali. If you thought the Spello Pooh route was bad, this is not a route at all. Its as though the bus is going on the river bed. Good luck if you get the back seat. At dawn the bus reaches Losar which is small village near Kunzum pass. The bus then goes up to the Kunzum La to take two turns as religious faith and comes down to Batal. It can get really cold at Kunzum La and be prepared if you want to get down here to go to Chandratal. Safer option and mostly used it to get down at Batal. There is PWD guest house and the famous Chacha-Chachi dhaba run by two locals here where you can get food and shelter. Chandratal is 14 kms from here and there are many camping options available there for 500 per day. Temperatures at Chandratal can drop really low and camping by the lake is not allowed any more. One can stop by for a day and visit Chandratal and stay at Batal to the catch the next day bus to Manali around 8 am. The road ahead from Batal is no good till quite some distance but the thrill of the ride and of course the the jerks keep you well awake. As you cross Rohtag and head down to Manali, the road starts to get better and it starts getting hotter.
Points to note
Approximate budget - An 8 day trip with public transport, dorm stays and local food can be as low as Rs 6500.
Bus fares in Himachal are typically 1.5 times the kms travelled.
If you are traveling in September, you will find orchards laden with famous Kinnaur apples. Buy them or get them free from the locals. They are more than happy to share.
For more travel stories, you can visit my blog here.