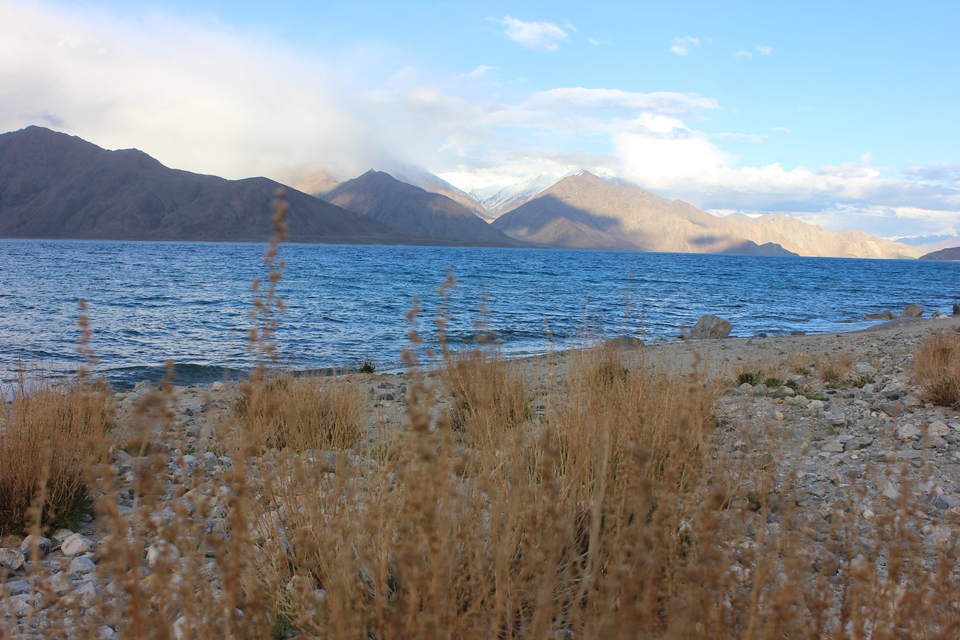 We woke up to a cloudy day again, but in Tegar. The guesthouse we stayed at, Mayur, was still new and was run by a very kind Ladakhi gentleman and his small family. He went out of his way to make our stay comfortable, providing us with extra linens and blankets, cooked us his special chicken dinner which was delectable to my high-altitude taste buds, and fantastic masala chais. Before dinner that night, the three of us co-travellers rapidly turning friends, sat sharing beers and stories out under the open Himalayan sky littered with a thousand stars. It reminded me of my childhood when we used to try counting them and obviously fail each time. To see that many stars again made me realise how precious the things we take for granted are!
The inn owner made us breakfast of paranthas and chai. He briefed us on how to get around the valley by public transport. He also offered to drive us to the bus stand at Sumur to find transportation for our further journeys. Heroshi wanted to continue his quest for Turtuk - the last Indian Village. Alessio and I had originally planned to head back to Leh to continue with our respective original plans. We both had Pangong on our rather flexible itinerary. As luck would have it, the Khardung La pass was closed that day due to inclement weather. The only motorable route to Leh that was open was through the Chang La pass via Durbuk. Our guesthouse owner, who was now our tour agent, suggested that we could go to Pangong from Durbuk and it made absolute sense for both of us. So we improvised quickly yielding to the demands of the weather conditions and public transportation and decided to go to Pangong instead before heading to Leh for our other plans. I wanted to go to Lake Tsomoriri, too, before the returning to Delhi via Manali. Alessio, on the other hand, was to undertake a weeklong trek to the Markha Valley with a Buddhist Monk who was also a practitioner of Tibetan Medicine.
We said goodbye to Heroshi at the bus stand with a group selfie, which we all agreed was a good picture and shared amongst ourselves later on. The guesthouse owner who was now our private chauffeur helped Alessio and I get a shared cab heading for Leh. We were to stop at Durbuk and find another ride to Pangong. Our cab was a maroon Tata Sumo driven by a middle-aged, bald man of interesting character. Our journey commenced shortly afterward. In the cab were a distinguished looking Buddhist Monk who took the passenger's seat in the front, some local women with child in the middle row, Alessio, I, and some other local fellas in the last row.
The journey to Durbuk was eventful and frightening primarily because of the recklessness of the driver who drove us at breakneck speed through both good and untamed roads. He did not care for boulders or speed breakers, nor did he bother to manoeuvre the many sharp bends with any care. He would look at us through the rear view mirror and smile when he just driven through potholes or rocks sending us half flying, almost hitting our heads against the roof of the car. At first, we thought it was funny, if not fun, but later we detected a very sinister side to his grins and decided to no longer make eye contact with him.
Along the way, there was a rockslide that had created a hold up of about a hundred vehicles. Our driver, certainly not one to wait behind the last car with patience and etiquette, drove on rocks and ditches to overtake a good fifty odd vehicles until he could no longer drive an inch. He parked the car diagonally in between two already held up vehicles and jumped out to find out what the problem was. Everything was quiet suddenly. We had some waiting to do. The stop was boring as there was nothing interesting to see except for the Shyok River flowing in its full glory along the road. We walked around, took some funny pictures, listened to music, ate biscuits Alessio brought, sat on some rock, and reapplied sunscreen. Time seemed to have stopped for a good while until we heard our driver honking menacingly, signalling it was time to go!
Of course, we were the first ones to leave, thanks to our driver's complete lack of empathy and respect for others. We wondered why he was in such as hurry. We wondered if he needed to be somewhere urgently, or if it was the Monk in the front passenger's seat who needed to be somewhere urgently. A few hours of reckless driving and head bumping leaps later, we reached Durbuk, a sleepy little town in the middle of nowhere. It was a junction town, where one road led to Leh, and the other to Lake Pangong. The fast-and-the-furious cab continued its dash to Leh, whereas we were going to find conveyance towards Pangong. There was no public transport to take at that time of the day. Hitchhiking was our best bet.
So without any delay, we started asking random people with vehicles moving towards Pangong for a couple of seats. Alessio quickly found us a ride with this group of young Ladakhis who were bringing their NRI friend for a day's trip to Pangong from Leh. They were a happy group, quite chatty, hep, and very stoned. We reached the Pangong viewpoint after about an hour's ride. This was the famous spot where the Bollywood super hit 3 Idiots was shot. There were replicas of the props from the movie, which were essentially tourist traps: take a picture on the iconic yellow scooter or the colourful bum-seats for a ridiculous fee. I was happy to take pictures by the vibrant fluttering prayer flags along the edge of the immaculate blue waters for free. I noticed the lake was undeniably beautiful but the thronging tourists at this particular spot made it rather less impressive. I was yet to see Pangong in its full glory. For this, we had to go further to the next village called Spangmik about seven kilometres from here and spend the night there.
We had cheap but scrumptious lunch at a shack by the highway while taking in the view of the lake. It is said the waters change colour according to the time of the day. At this moment it was the brightest blue. Soon we found another free ride to the Spangmik. It was a small settlement with a few guesthouses and tents for travellers to stay. We strategically chose an inn closest to the lake called Amma's. After quickly settling in, it was now time to explore the lake. It was almost sunset when we headed out; the wind was chilly and thin. I was dressed for the occasion, however, in a hoodie, a bomber jacket, a pair of warm socks, a woollen cap, and wayfarers.
Everything about Pangong Tso was magnificent and spellbinding! The pebbled shores, the blue pristine wonder, the bare mountains with snowy peaks, the open blue skies, and the whitest fluffy clouds all come together to enchant you, astound you even. Everywhere I looked seemed like a classic masterpiece or a postcard - only here I was in it. Little did I know this walk I was going to take would turn out to be the best I had ever taken in my life. There was no one else on the shore except for Alessio and me; we gradually drifted apart and were strolling good yards away from each other. The sounds of the little waves lapping on the shore, the cold mountain breeze, and the vast nothingness were all there was. I came across this little garden like spot with dozens of prayer stone stacks. The aura here was unmistakably divine and overwhelming. I marvelled at creation, its grandeur, its intricacies, and its sheer variety! Sitting on a rock by the shore I had to send up a prayer of gratitude. I was grateful, truly, for everything around me, for the kind strangers I had met, for dear constants, for time, for life. And today, looking back at this moment and writing about it on a plane ride home, I am still thoroughly grateful.