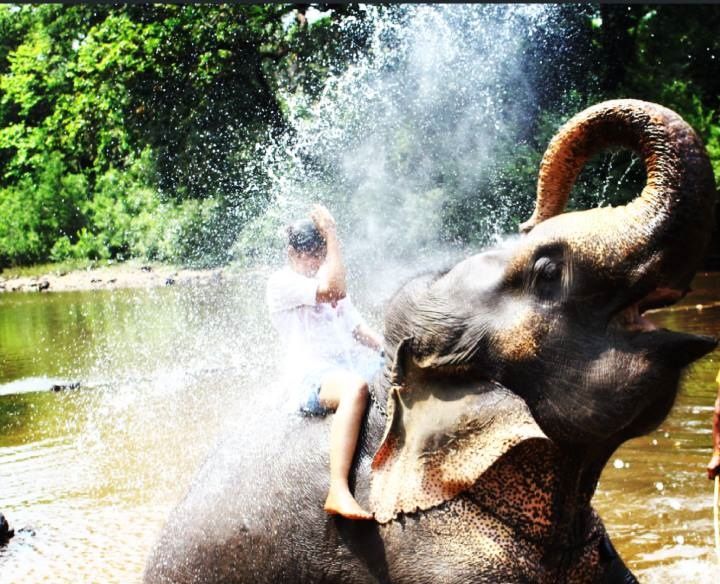 #CoffeeWithTripoto
My birthday was just around the corner and I wanted to do something special. Goa had long since been one of my favourite destinations and while I had visited Goa on several occasions in the past, I always came back feeling incomplete.
You see, I don't drink or smoke. And while I do dance, I don't party. And Goa is famous for all of this. However, while trying to figure out what all one can do in Goa, I discovered an entirely new side to the place that most people don't talk about, especially most people my age. I'm the sort of person who likes to do off-beat stuff even in the most popular of places for two reasons:
1) a new experience
2) it wouldn't be crowded.
So, I dug deeper and I found a place in Bardez where one can stay in a tree house and a mud house! The place is absolutely eco-friendly and everything is made out of organic matter, including the houses. I loved the what the pictures showed me and I knew I'd want to stay there. After a few hours of research, I knew I wanted to remember this birthday by saying that I spent it in a tree house. How often does one get to say that! I researched a few more websites and found a lot of off-beat stuff to do.
I quickly booked a train for 2 and told my friend about it. A few days later, we were sitting in the overnight train to Goa! It was a night I remember distinctly because I was finally going to a place I had always felt incomplete after visiting with a plan of my own. I had always gone with family so I couldn't always go wherever I wanted. Now, I could, and with old Hindi songs playing on my phone, the rocking of the train rocked me to sleep.
My first challenge the moment I got out of the train station was to find this tree house. It's called Saraya and since it's way out of the popular zones of Goa, no one knew where it was. We got into a taxi who offered to help us find the place. When we got to Sangolda and onto Chogm Road, we circled around the location provided by Google for Saraya at least half a dozen times. It was 8 in the morning and the phones at Saraya were ringing continuously with no one in sight. It was at this point that my friend - who was lazily looking out of the window - said, "heeey, what's that weird calligraphy writing?"
After a hard long look, we read it out loud: SARAYA. Annoyed by the fact that we had passed the place the entire time and somewhat relieved that we had finally found it, we got our bags out, paid the cab, and walked to the front gate. Saraya has a cafe out at the entrance followed by a bridge that leads to an art gallery of sorts, and then a kitchen, and that's it. One has to walk outside the main building and past the garden area hidden away from view to get to the huts, and this was a beautiful walk!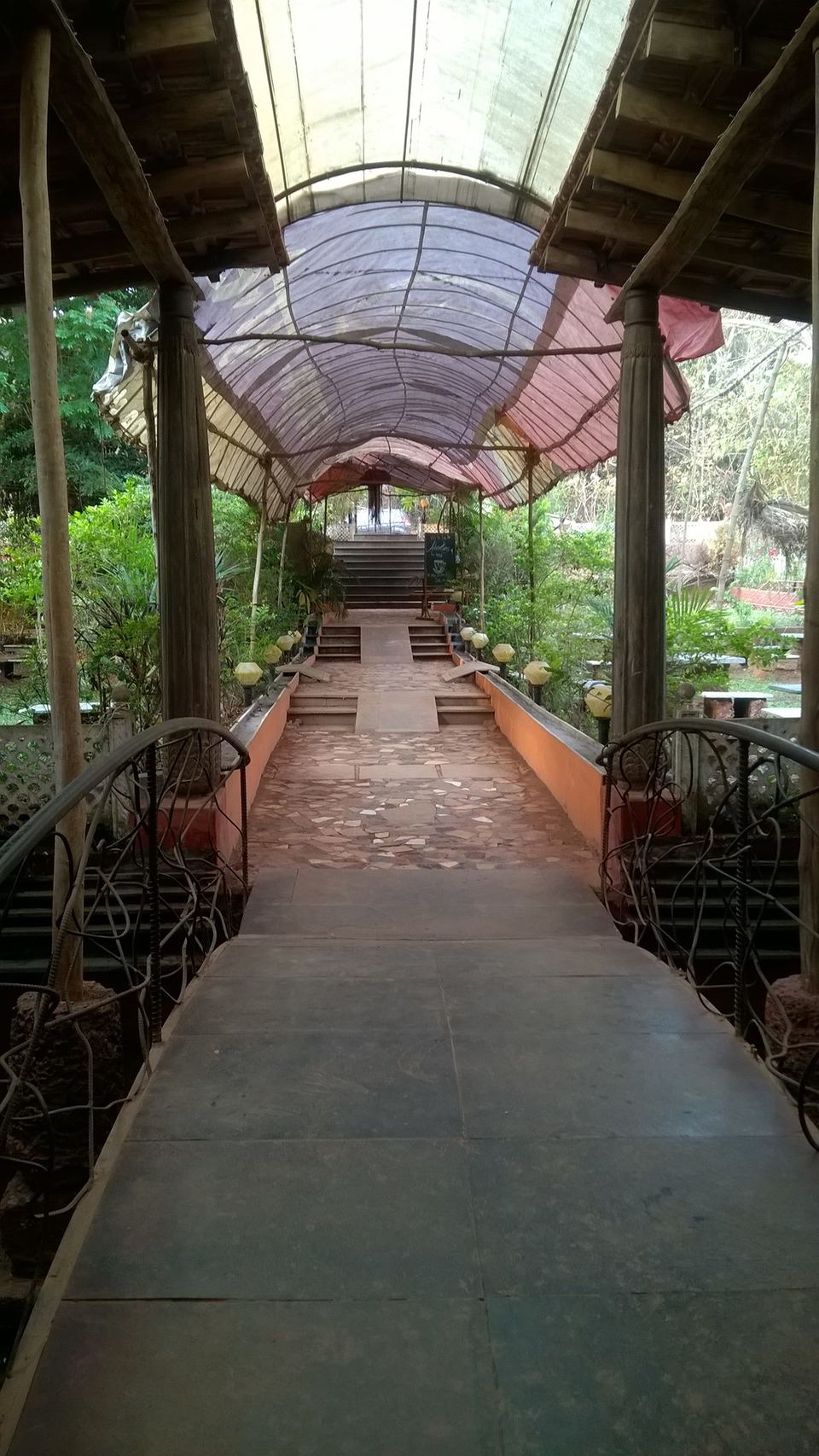 But, we had to wait for 30 minutes before anyone could open the gates and help us out in showing the tree house. Apparently, no one had woken up yet. I had decided that I wanted to stay one night in a tree house and one night in a mud house. The mud houses are a little more expensive compared to the tree houses. We walked past several mud houses which looked simplistic from the outside. They even had a tree house dormitory to house upto 10 people with bunk beds!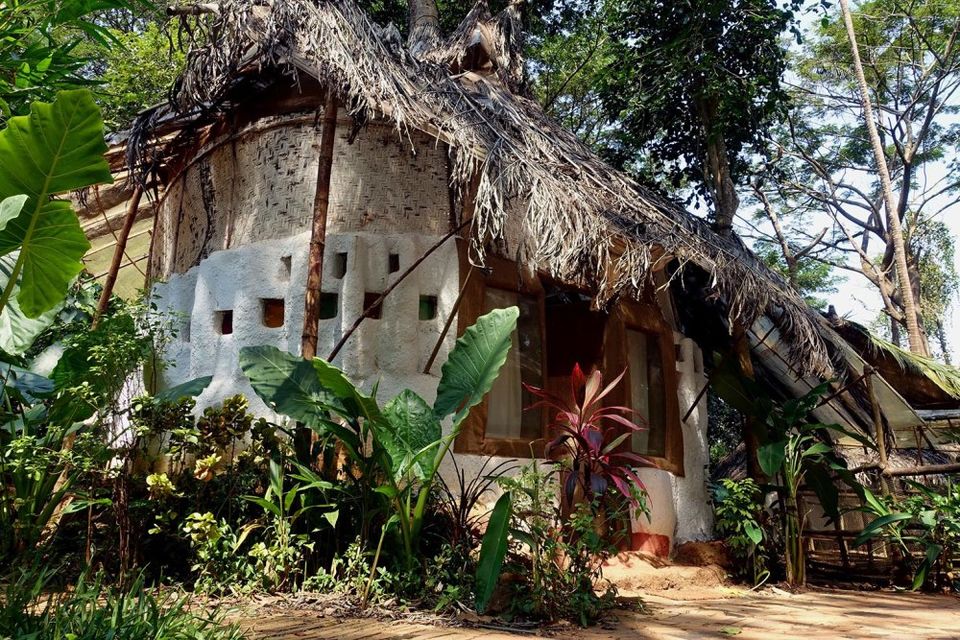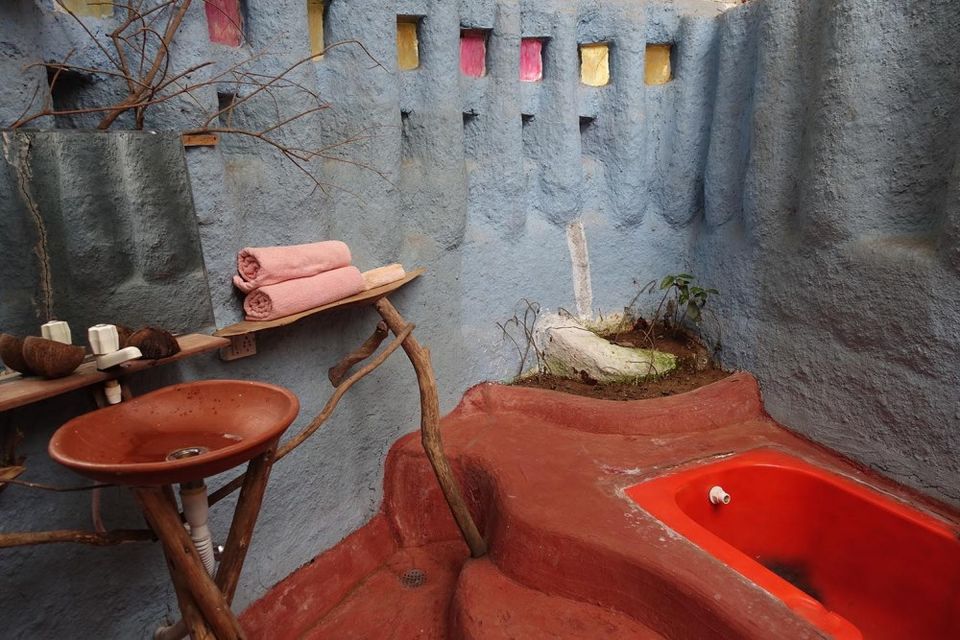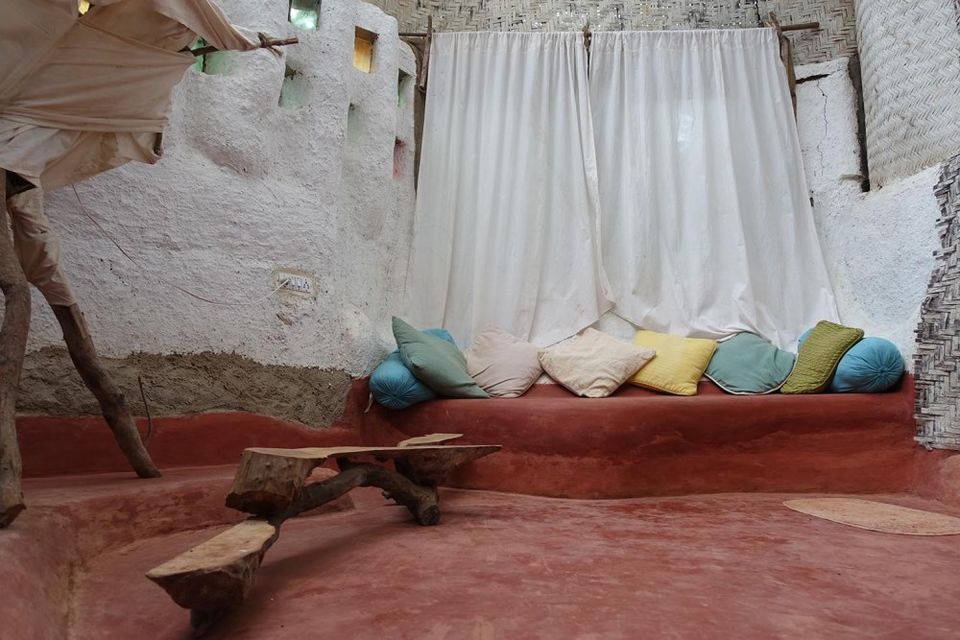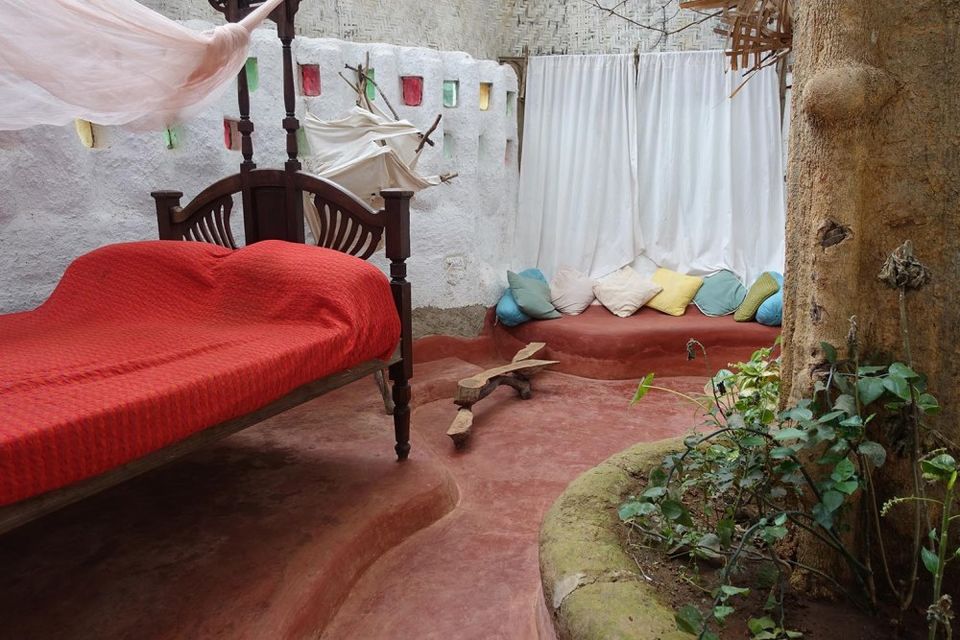 Our tree house was right at the end. The bathroom was at the base of the tree covered in bamboo and a narrow flight of stairs leading above the bathroom was our room. The floor was made of layers of thatch work on a firm base of bamboo. So while it felt soft on your feet, it still felt safe. The low bed was covered with a convenient mosquito net and a huge table fan sat by the side of the bed.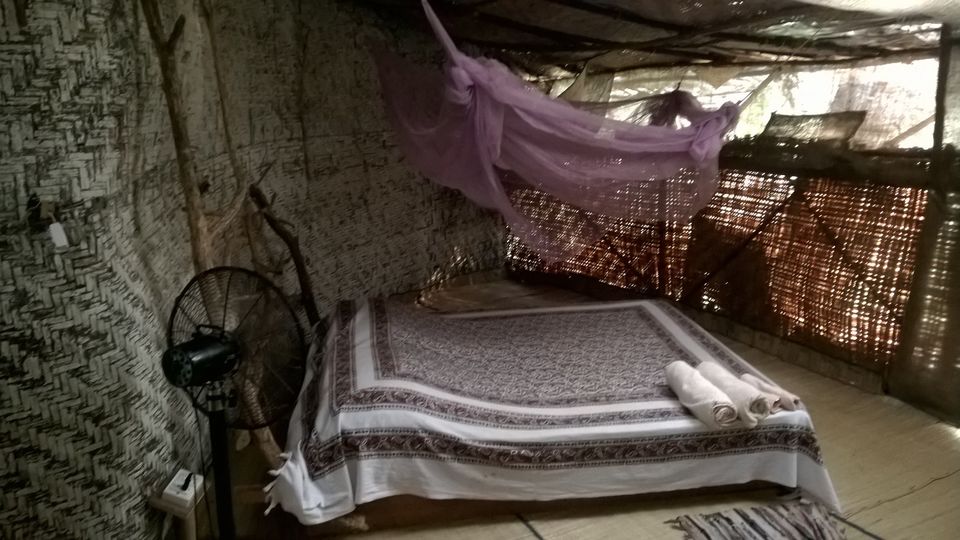 I quickly unpacked my stuff, took some photos, and we decided to head out and explore Goa before it got any hotter. It was still quite early in the morning, so we got out, requested the gardener (a white handsome guy) to let us borrow his bicycle to get around, and headed out. We rode out towards some stores to by snacks to munch on. As the sun came up, we decided we'd head back and got back surprisingly quickly. Slept for a few hours and decided to go out for lunch. Saraya being an ecostay made completely organic food, which means no non-veg food at all! Healthy leafy food items and they had a clay oven to make pizzas in the evening.
Wanting something more than leafy meals, we called one of the numbers on display, rented a car and headed out. As much as I don't drink and party, we ate in Calangute in one of the shacks while planning and figuring out how to get to our next destination: Tropical Spice Plantation.
Tropical Spice Plantation is a good 35-40 km from Panjim and is easily more than an hour's drive. I insisted on hiring a car because I knew we would be getting around a lot in the sun and I didn't want to tan unnecessarily. Plus music and drive is always a good combination.
After 90 minutes on the road the next day, we reached the driveway of Tropical Spice Plantation. There's a restaurant/cafe right at the entrance of the plantation which looked very green. It was covered by plants of all sizes. Pots hung from every free space available and pots rested on every table while you ate. It felt extremely refreshing to be in the midst of so many plants while eating!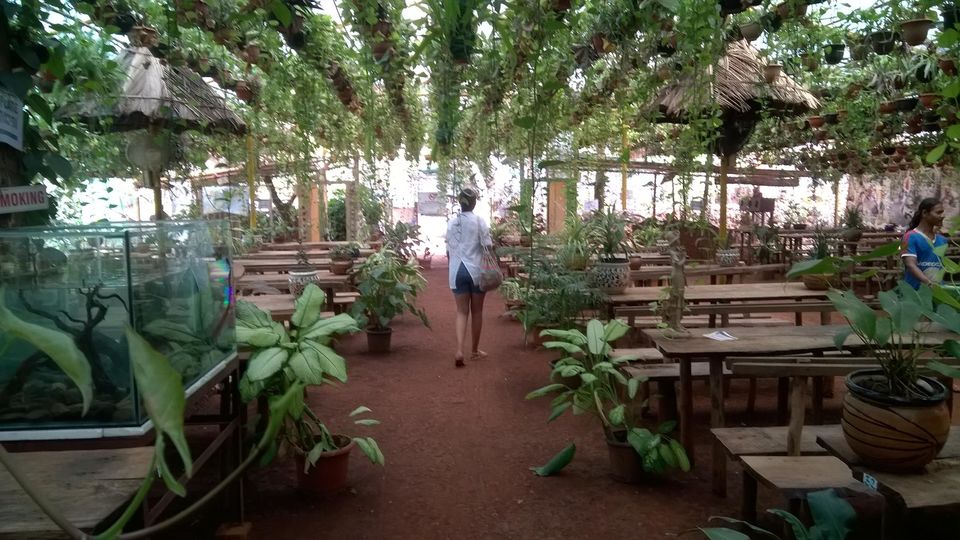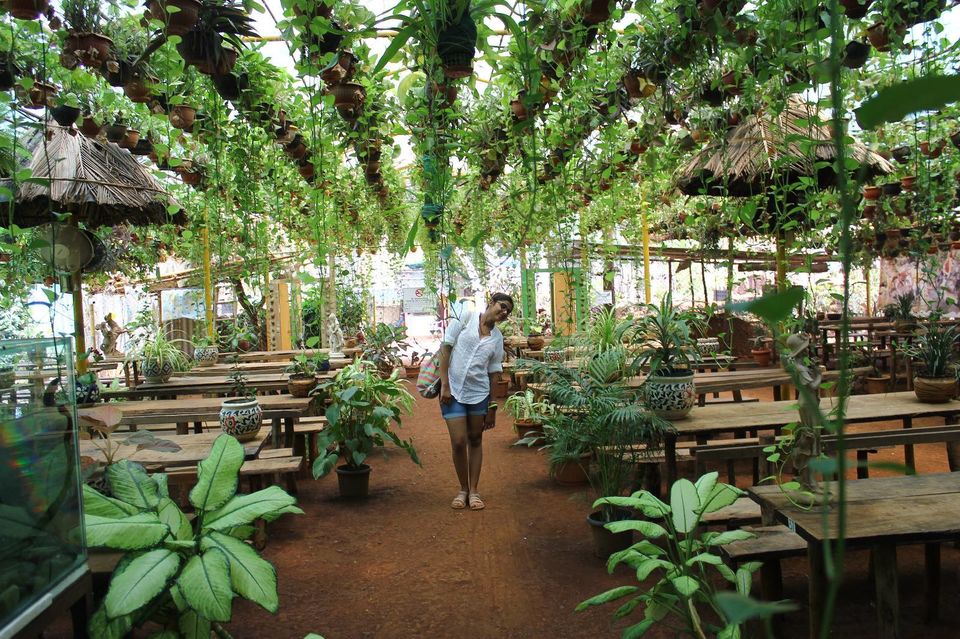 After lunch, our guide took us through the plantation to show us all about the spices. He showed us different types of plants and how we use them in our food as spices. From turmeric to cinnamon and fenny, I saw it all. Finally, he took us to my most favourite part: the elephants!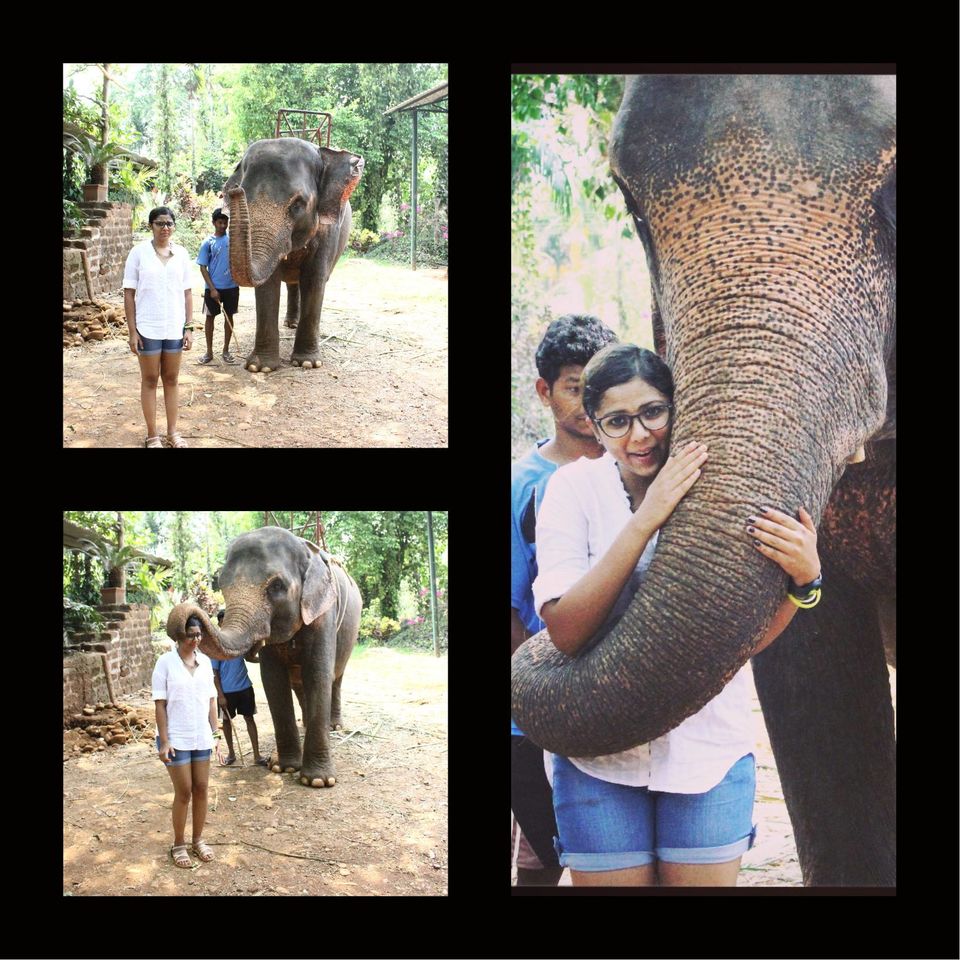 The speciality of this place is that not only do you get to go on a ride on the elephants, you also get to bathe them, and sit on them while they blast a canonball of water at you! Officially called the Elephant Splash, it involves sitting on the elephant while the big guy sucks water into his trunk, aims back at you over his head, and fires it at you. Not sprays or pours, but fires. It literally feels like a water ball hitting you. On a hot day in Goa, there's nothing better!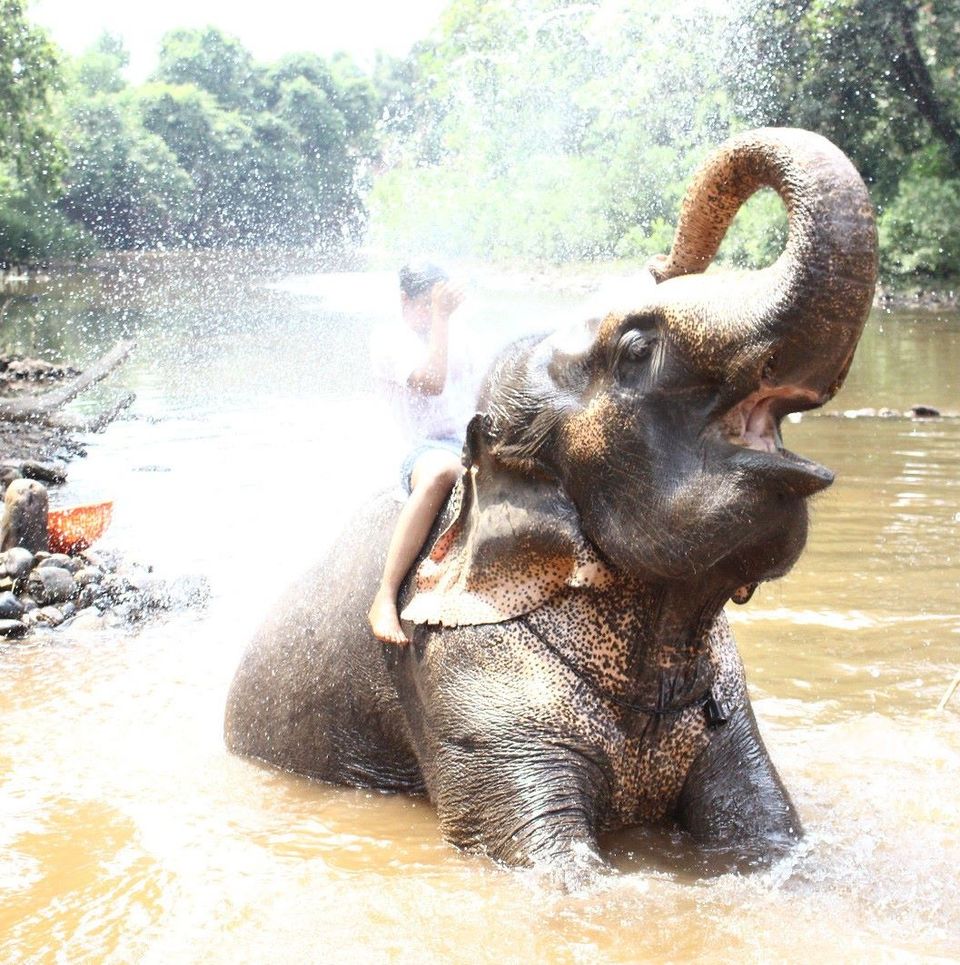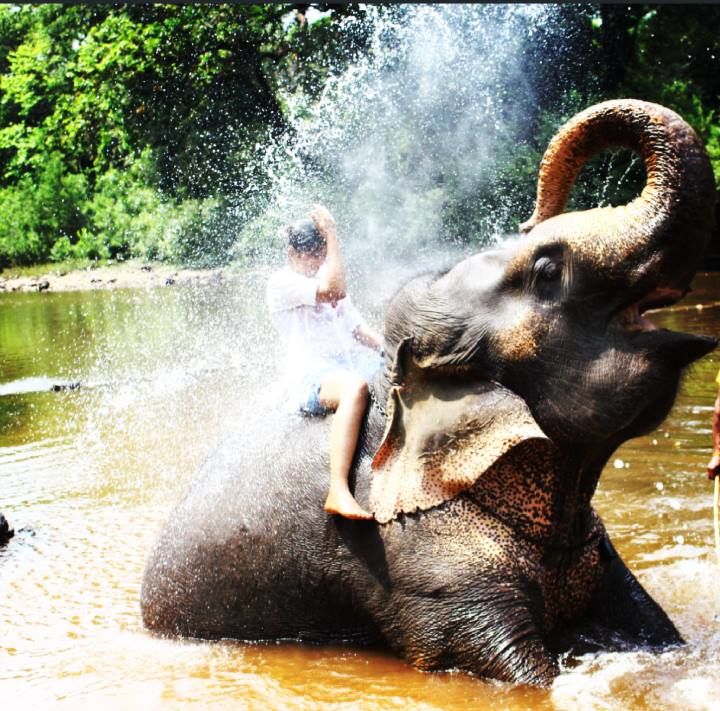 Next our guide took us through a small store where everything from models and statues to paper was made out elephant dung. As much as that doesn't sound like the coolest thing, it was extremely interesting. The paper felt like high quality hand made paper and the souvenirs felt quite solid and firm as well. I bought a few items and we headed out.
My plan was to drive quickly from here to south of Goa to get to Butterfly beach. This beach is supposed to be one of the least crowded beaches in Goa simply because of how inaccessible it is. There's no direct road or path to get to the beach. The only two ways possible are by trekking through the forest or by boat from Palolim beach.
By the time we reached anywhere near Panjim, I knew we'd be late. We decided to call it a day and push it to the next day.
Normally, to ferry you to this place, the guys charge quite a bit. I wanted to be adventurous and trek. The trekkable path is from Palolem and even then it isn't easy. After breakfast the next day, we took the car and headed to Palolem. After reaching the path where the locals said we could reach the beach from, we parked the car and began our travel by foot.
Two hours 20 minutes, several scratches and mosquito bites later, I reached the famous beach. The reason it's called Butterfly beach is because of the variety of butterflies, fish, and crab species it holds. While I stood watching the ocean, it was a high tide and you spot a lot of these creatures only during low tide. Nevertheless, after spotting the most colourful of fish and crabs, I felt satisfied that we'd done it. Dolphins were visible in the distance if you observed long enough. We had carried lunch with us which we ate on the sand and carried the disposable bags back with us. I do not pollute and I absolutely hate when others do it.
It took us much longer to get back this time and at one point, I was afraid that we were lost. But, we managed to find the right track by following a few other tourists up ahead and got back to our car. The biggest mistake my friend made at Butterfly beach was to leave the camera in the car and get to the beach. To this day, I hate him for it. But, I guess some memories are meant to be in one's mind only!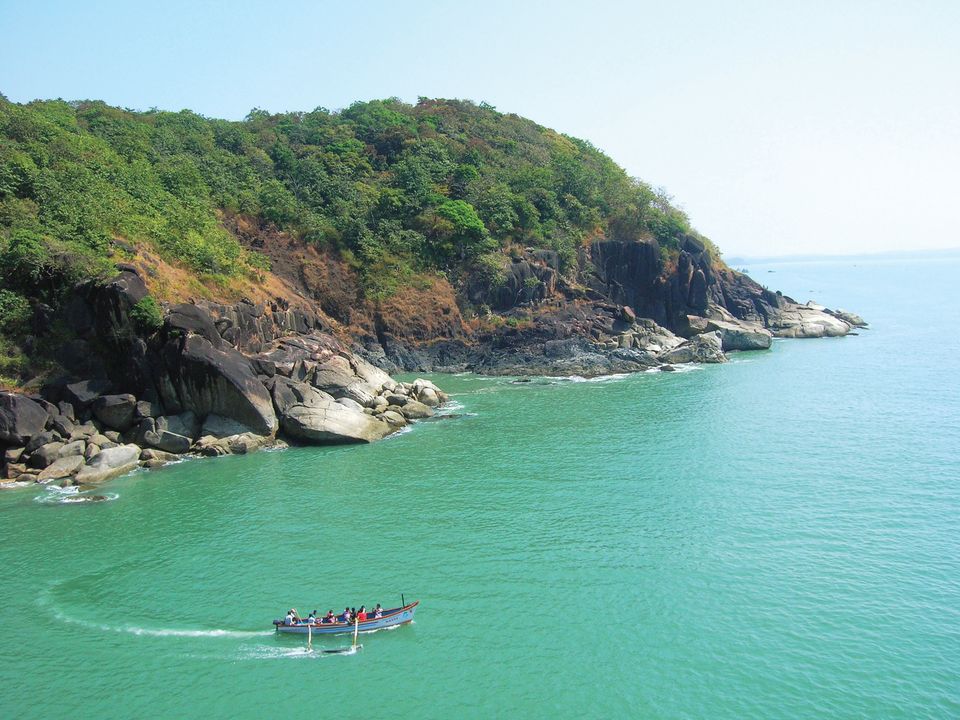 From there, we headed back towards Saraya. It was already well past 4 in the evening by the time we reached and I had just heard from someone at Saraya that you get the best chocolate cake in Candolim. We instantly got into the car and rushed there. Candolim isn't very far from Calangute, but the cake shop is a very famous one: Chocolatti. This place is notorious for being closed during off-season times much to the frustration of travellers who frequent Goa during the non-seasonal times. Their food and service is brilliant, but nothing beats their plain chocolate cake. One slice was enough to fill me for a meal! Ahh, I can still remember the taste ... maybe this calls for another trip to Goa?
The night before my birthday, I wanted to be out on the beach, under the stars. I wanted to eat dinner in my all-time favourite restaurant: KFC. My friend and I got ready, took the car out to the KFC in Calangute, ate Zinger burgers and walked out into the cool sand under the night sky. We sat and spoke for what seemed like hours and that's how I welcomed my birthday. To a bouquet of flowers and a night in a tree house.
Saraya was filled with people from around the world. They would come down for several months at a stretch, stay for free, work at the cafe, the kitchen, and garden in exchange, work on their personal art projects. A lot of them would come down to explore music and art, and some others would come down to volunteer at teaching.
One of them told me that there was a beautiful restaurant called Gun Powder on the way to Anjuna beach that was supposed to be romantic and classy. So on the very last day of our stay, on my birthday, we decided to go to Gun Powder. But before we did, we headed to the famous churches of Goa!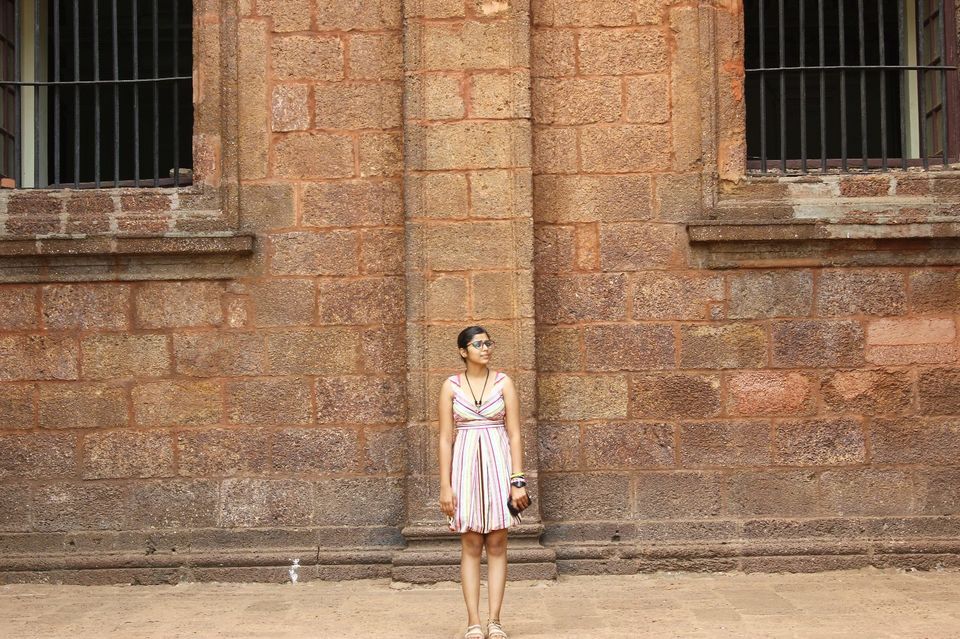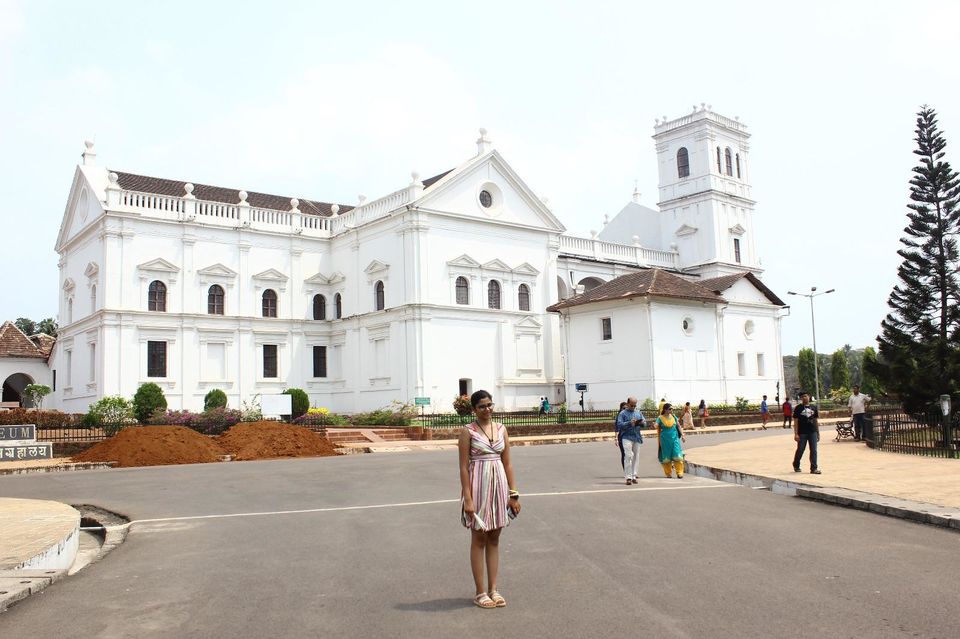 We even stopped at a very innocent looking, secluded church! The church itself was closed, but I managed to take some amazing pictures!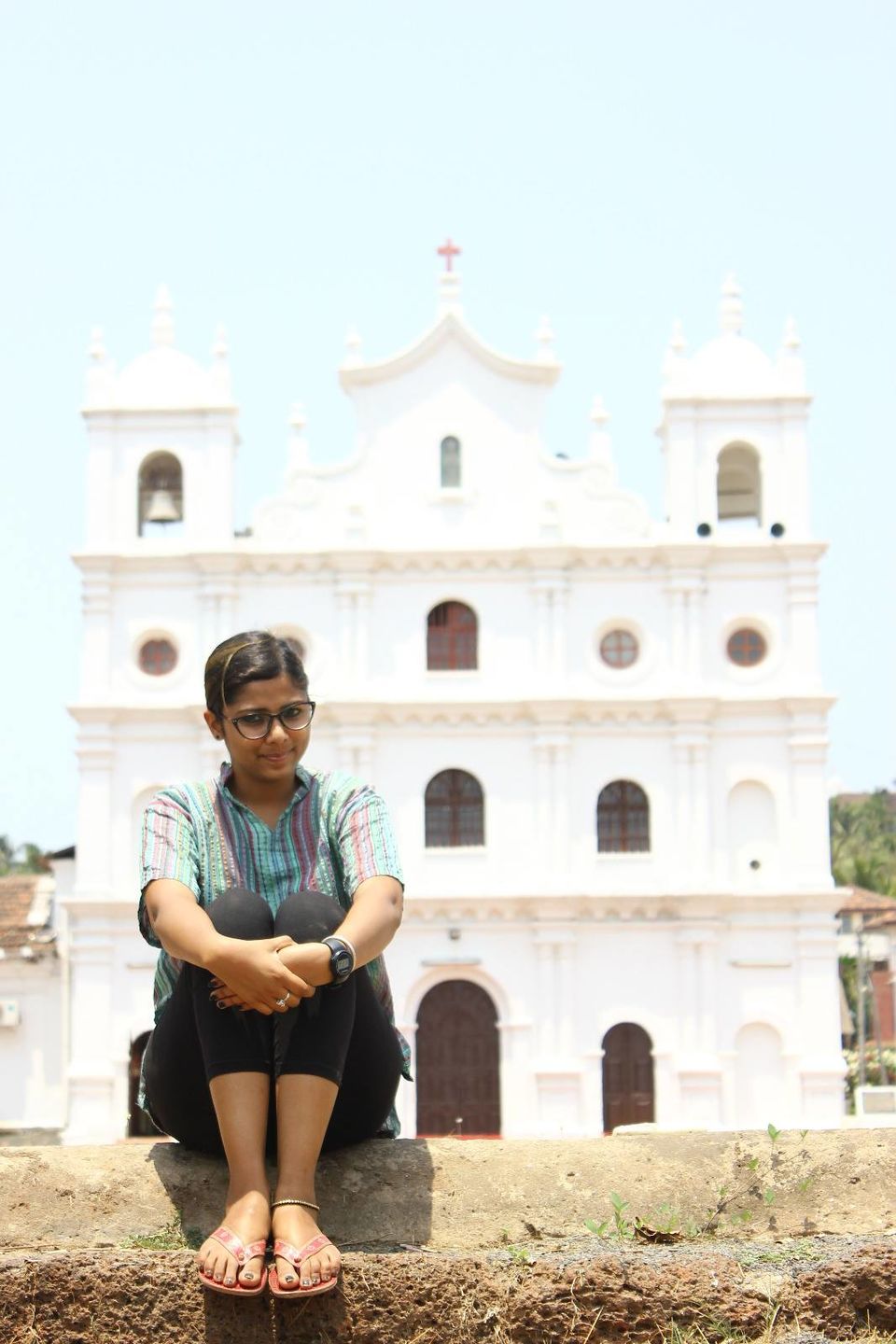 Gun Powder was colourful; the seating was under a tree and they had tied coloured ribbons to hang from above you. As sunlight filtered down to the ground, it would cover you in colours. The cuisine was authentic Goan food, but I didn't like the food much. It wasn't cooked that well and while the presentation was good and the food expensive, the taste wasn't.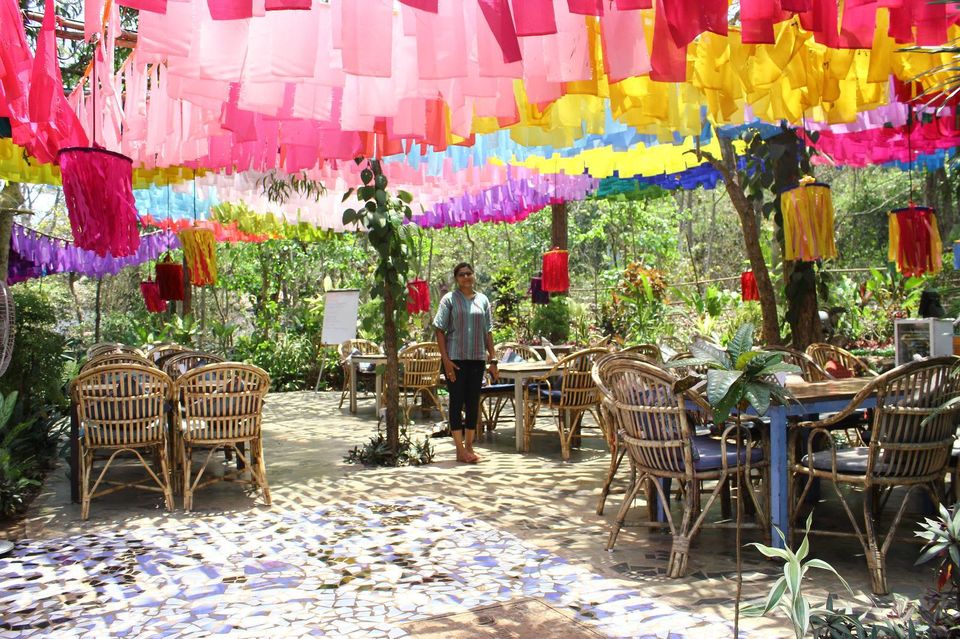 But, what's amazing about this place is that they have a store out in the front that sold accessories and colourful items from wristbands to antique lanterns for your house.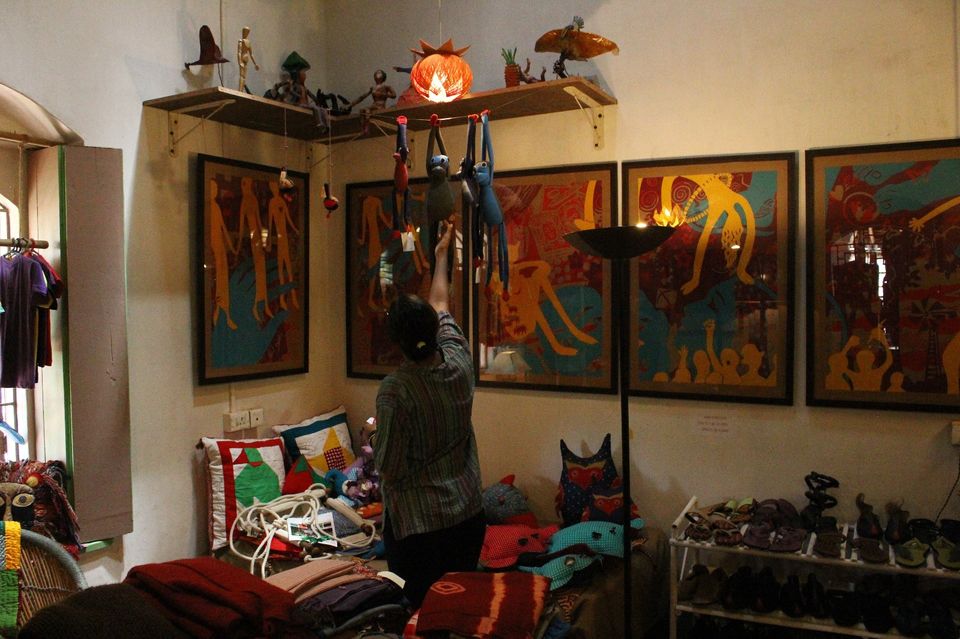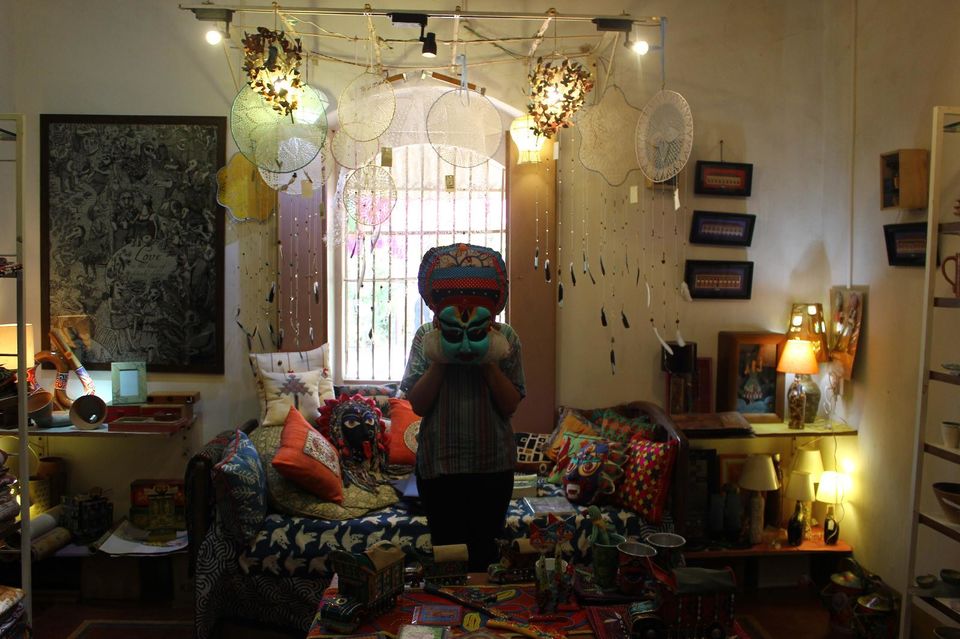 At the end of the day, I was happy. We had booked return bus tickets. This was probably the worst bus ride back to Bangalore. While it's normally a 12 hour overnight journey, this time it was going to be a long night.
It was during this time of the month that there was a festival in Canacona town that had a 2 km long procession of people on the road blocking the only highway to Bangalore. Our bus left at 6 PM, and at 1 AM the next day, we were still in Goa, stuck on the highway.
My friend and I got out, saw that 12 other buses and other vehicles were stranded on the road with no access to a washroom or restaurant. Someone had allowed the people to let their procession onto the road illegally. Since I had worked previously at RedFM and NDTV, I managed to get the ACP of Goa on the phone. He blabbered something about his superior giving the go-ahead and I gave him a mouthful and a peace of my mind. It was my friend and I who drove the police to move the people out of the way so that the buses could continue.
Finally, at around 2:15 AM, we managed to get the buses moving with every driver thanking me along the way. I had verbally yelled at the ACP enough for him to turn off his phone for the entire night. We got onto the bus, told the driver that he needed to drive his best. Because of how tired we were, we dozed off instantly. The next morning at 7 AM, we were miraculously in Bangalore! This is one of those few moments in a lifetime that I am immensely proud of. As a journalist, I felt I'd done my duty. I had even sat in one of the police cars and told them I wouldn't leave until they cleared the road for us. Believe it or not, that's what finally worked!
As much as we didn't touch the usual in Goa, it felt complete. I'd spent years looking at beaches in Goa, but never had a chance to explore the underrated. And this time, I did it. It felt absolutely complete. But, a few days after reaching back, I realized that there's a whole lot more I hadn't discovered. And that's something I did on my next trip to Goa, but more on that next time!
Here's a short compilation of one of my trips to Goa! Please like, share, and subscribe!
Frequent Searches Leading To This Page:-
Places to Visit in Goa, Best Tour Packages for Goa, Goa Tour Package for Couple, Best Travel Packages for Goa, Best Goa Trip Packages, Goa Holiday Tour Packages, Top Goa Packages for Family