1. THALASSA
Situated: Small Vagator, Ozran, Vagator, Goa (Closed for monsoon till October)
Specialty: Seafood, Mediterranean and Greek
What to eat: Seafood cooked in authentic Greek style, Baklawa, homemade Desserts and Cheesecakes!
What's so unique: Sit on the cliff overlooking the ocean and watch the sun setting along with having a leisurely dinner, which you will not forget at least in this lifetime!
Why to visit: This scenic restaurant will give you a dominating view of the Indian Ocean! White curtains, terrazzo flooring and wood & cane furniture. There can't be a more idyllic setting for an al fresco restaurant than Thalassa; perfectly rustic and Mediterranean!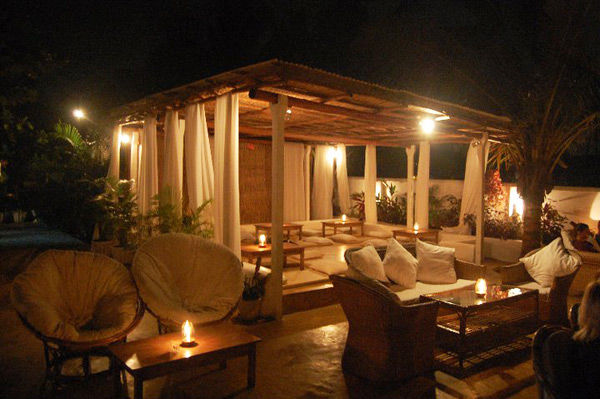 2. GO WITH THE FLOW
Situated: 614 River Road | Baga, Arpora, Goa
Specialty: Seafood, International, Mediterranean and Fusion
What to eat: Pumpkin Hummus, Pork belly and Beef Steak!
What's so unique: ALL profits of this Restaurant 'Go with the Flow' is donated to the Samarpan Foundation.
Why to visit: This restaurant is housed in the premises of a restored Portuguese mansion. Choose the sky dining platform and you will get a spectacular view of the Baga Beach! The guests can also choose the color theme of the light spheres around their tables. The esteemed Brazilian Chef Guto Souza, and his son Gabriel Souza run the Kitchen and the menu has a strong Brazilian influence. They have successful restaurants running in Belgium, Brazil, Portugal, Holland and India.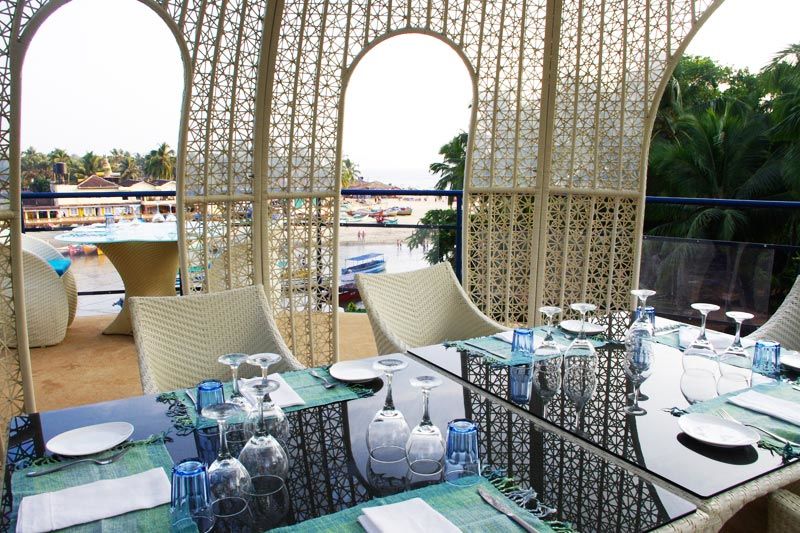 3. A REVERIE
Situated: Holiday Street | Gauravaddo, Calangute, Goa
Speciality: European, Asian, Fusion, Seafood and International
What to eat: Gazpacho Pani Puri, Wasabi Potatoes, Beef Tenderlion and Chicken Lollipops!
What's so unique: Crystal chandeliers dripping from between the branches of the trees and the luxurious wood paneled, temperature controlled wine room!
Why to Visit: Great attention to detail has been given to the entire design to create an incredibly cozy and romantic space. The décor is sophisticated, elegant with theatrical embellishments. Owners Aakritee & Virendra use the finest ingredients, the most innovative techniques from all over the world to create a real treat for the connoisseurs of authentic food! Also, the wine list features classics and rare heavyweights from Bordeaux and Burgundy along with an excellent selection hailing from India's finest vineyards!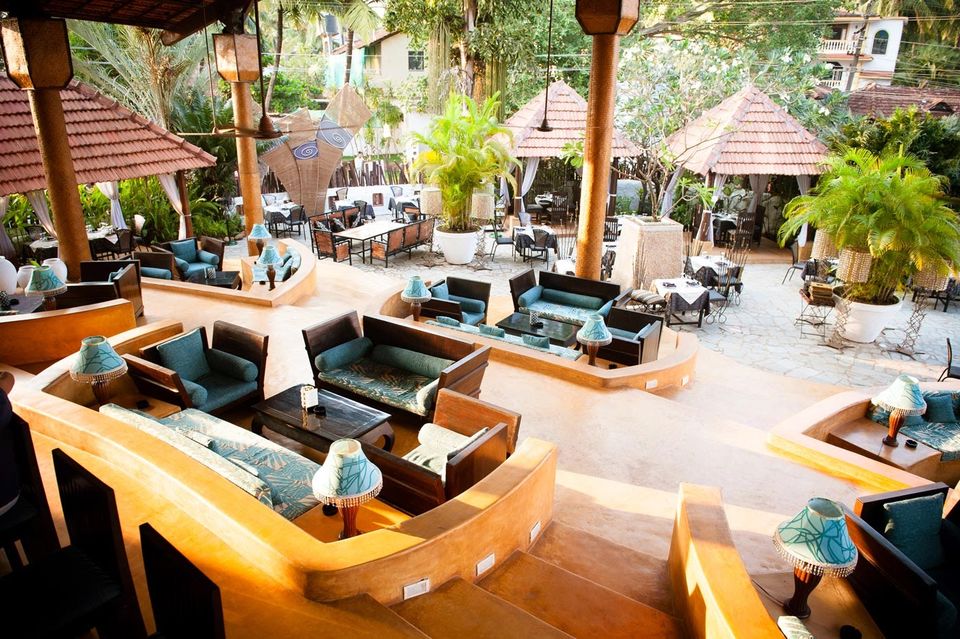 4. TUSCANY GARDENS
Situated: 7-SH-1, Don Hill Enclave Main Road, Near Kingfisher Villa, Candolim, Goa
Specialty: Italian, Pizza
What to eat: Tuscan Sun Pizza, Ravioli with Ricotta and Spinach, The Fungi Arrosta (garlic and mushroom in a tasty white sauce wrapped in cheese), Gelato Affogato al Coffee (ice cream drowned in coffee with dark chocolate and coffee liqueur)
What's so unique: The proud winner of the prestigious Italian "Ospitalita Italiana" quality seal -a symbol of the highest standards in Italian quality and Italian hospitality, this restaurant is nestled in a cozy little garden which won't make you feel far from home!
Why to visit: The owners have lived and worked in Europe as chefs and managers of different restaurants for many years, thus acquiring the best knowledge of this business. They received Trip Advisor's Certificate of Excellence for the 4th year running, Traveller's Choice Award 2015 and have also been suggested in the newest edition of the Lonely Planet. You might even forget you are in Goa for a little while!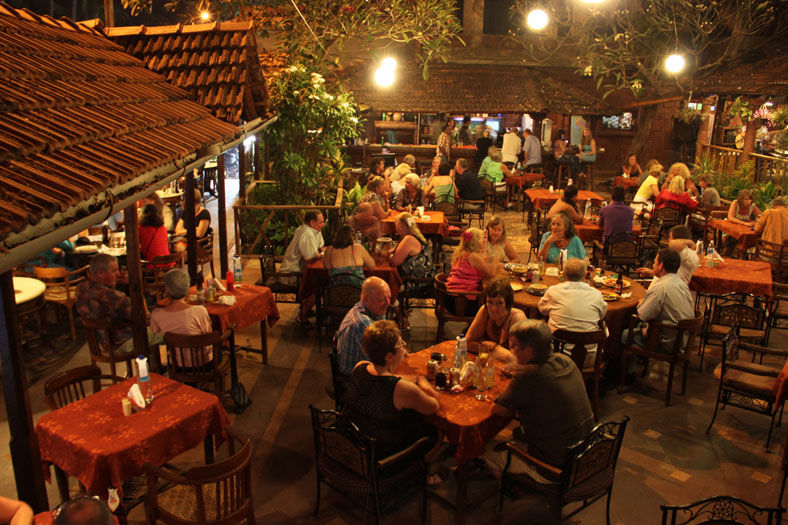 5. POUSADA BY THE BEACH
Situated: Holiday Street | Bardez, Gaura Vaddo, Calangute, Goa
Specialty: Seafood, International, Indian, Asian, Gluten Free Options
What to eat: Calamari served with flavoured rice, Vegetable Verdora South, Pork Fejoida and Veg Caldin!
What's so unique: Incredible sunsets are synonymous with Pousada Beach's tranquil surf!
Why to visit: When you think about fine dining by the sea, you think about Pousada! A perfect location, mind-blowing ambiance and excellent seafood! The Pousada Beach Sea Front Restaurant is the perfect place on the Arabian Sea to enjoy a costal meal on their private patio or for simply sunbathing on the beach. You might just get lost while you enjoy the Goan coastal food with the amazing local beer Kings Pilsner!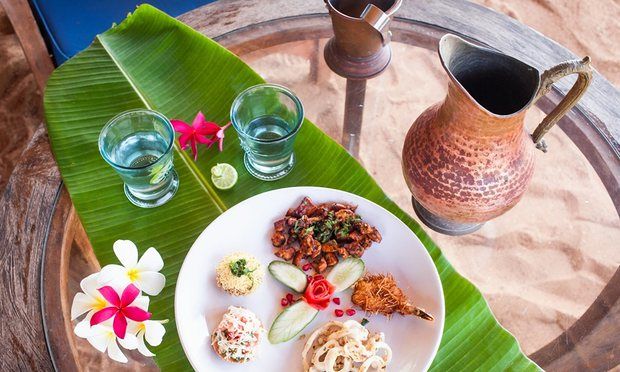 6. CHOCOLATTI
Situated: Fort Aguada Rd, Candolim, Bardez, Goa
Speciality: Cafe, European and British
What to eat: The English breakfast, English Cream Tea with freshly baked scones and homemade strawberry jam, home-made chocolates, chocolate brownie and other chocolate desserts!
What's so unique: This elegant cafe, snuggled in a lush walled garden, has been elegantly designed as an extension of the owners' villa premises and is serving the best home made food!
Why to visit: This café and chocolatier offers some of the most delicious sweets and snacks and it's surely a paradise for dessert aficionados! You will find a plethora of sandwiches, salads and desserts served with hand-made accompaniments, which are all made with love at home. This elegant café is conceived and run by a native Londoner residing in Goa for over 15 years and it acts as a relaxing haven from the bustling street right outside its garden walls!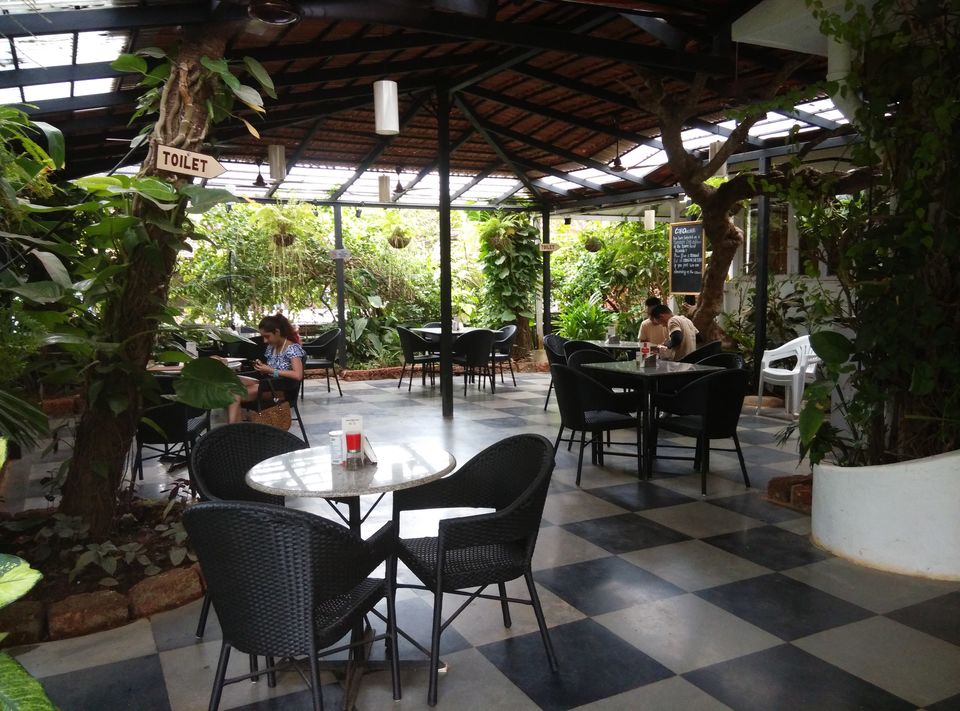 7. COTINGA CAFE, THE TAMARIND HOTEL
Situated: 1286, Kumar Vaddo, Opposite St. Michael's Church, Anjuna, Goa
Specialty: Seafood, International, Indian, Asian, Chinese
What to eat: Chicken & Mutton Seekh Kebab, Blueberry Cheesecake, Apple Crumble with ice cream, the signature Banofee pie, Chocolate Ecstasy cake, Mustard cream Fish. Not to forget- their Salads and signature Pasta & Pizza!
What's so unique: Inspired by the brightly coloured, blue songbird of the tropical forests of America, Cotinga Cafe will serve you the best homemade desserts! Oh, also, the extremely courteous staff will specially craft the experience for you.
Why to visit: Open all year round for breakfast, lunch and dinner, Cotinga Cafe at The Tamarind is truly a haven of peace. The restaurant overlooks the hotel's beautiful natural garden and the food presented here is not less than music to one's soul! The menu offers multi cuisine flavours from around the world, including Indian, Chinese, seasoned Italian, Kebabs, Seafood and signature Pastas and Pizzas. You can enjoy a game of pool or sip some wine at the interesting bar table that they have!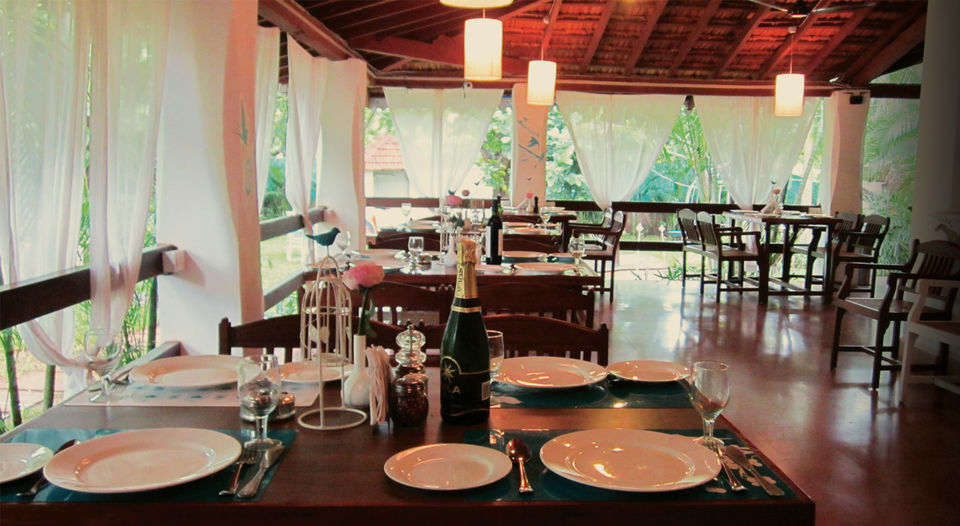 8. EARTHERN OVEN
Situated: Acron Place, 283, Fort Aguada Road, Candolim, Goa
Specialty: Indian, Asian, Vegetarian Friendly
What to eat: All tandoori dishes and the Kebabs!
What's so unique: 'Unique' preparations learned from the grand Master Chef Imtiaz Quereshi of the Bukhara fame! Tandoori food is cooked on charcoal in front of the guests in a visual kitchen; Meanwhile they can enjoy live folk music in the evenings! Are we really in Goa?!
Why to visit: Tandoori food, famous from the times of Afghans & Mughals, has been refined, mastered & developed by the chefs at Earthern Oven. It surely offers the best Indian food in Goa! The sizzling aromas will definitely beckon out in the open. Oh, the open participative kitchen will also let you see the 'Shahi Handi' section!

9. LA PLAGE
Situated: Ashvem Beach, Mandrem, Goa (Open- Late November- April)
Specialty: French, Seafood, European and Gluten Free Options
What to eat: Chicken Burger, Mascarpone Ice Cream and The Chocolate Thali!
What's so unique: The most stylish shack ambience and finest French food in Goa!
Why to visit: Deck chairs, bright muslin curtains, soft jazz or eclectic hip-hop & a finger-licking French cuisine will make this one of the few shacks you need to reserve in advance. La Plage takes beach shack experience to the next level with its simple yet elegant ambiance & gourmet French-Mediterranean food. Food here is more than cooking- its super chef Morgan Rainforth's creative talent. Along with luscious seafood, salads and delicious desserts, don't forget to have some wine!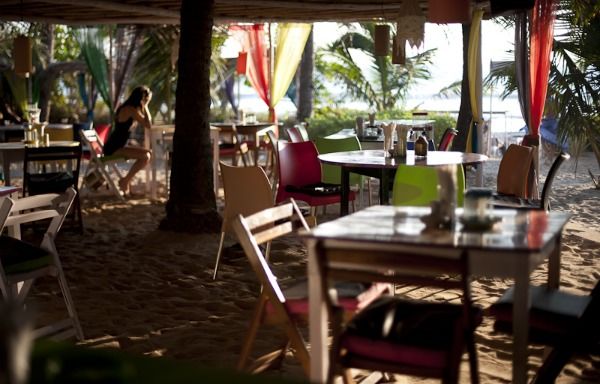 10. SOUZA LOBO
Situated: Calangute Beach, Near Bandhodkar Statue, Calangute, Goa
Specialty: Indian, Seafood, Chinese, Asian, Portuguese
What to eat: The Sausage Pulao, Baked Crabs and the Sea Food Platter!
What's so unique: Years of tradition has not detracted from the taste of the food. It is a place that has ruled Calangute Beach for the last 78 years!
Why to visit: After three generations, Jude Lobo, who took over at the age of 17, successfully runs Souza Lobo. The menu features many of the preparations of Maria Lobo, Jude's mother. A large, airy, unfussy, rustic restaurant serving some delicious meal where you will hear the song of the wind and the sound of the waves! At night, there are tables out on the beach under the star lit sky with live music so infectious that you'll have get up to dance on some numbers.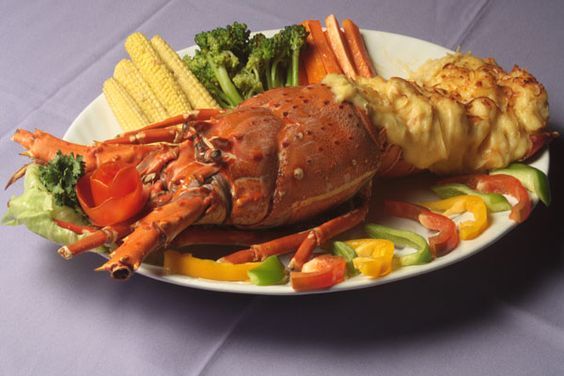 11. THE MERMAID
Situated: 441 A, Vaddy, opposite Hotel Whispering Palms, Candolim, Goa
Speciality: Indian, Seafood, European, British
What to eat: Steak, Jacket potatoes, Hawaiian Salad and Seafood!
What's so unique: On of the best places to have British style dinners!
Why to visit: The owner Manu and his wife are the perfect hosts. The service is excellent and the staff is courteous! The Mermaid has lots of competition as a fish & steak restaurant in Candolim but it has a lot of regular customers.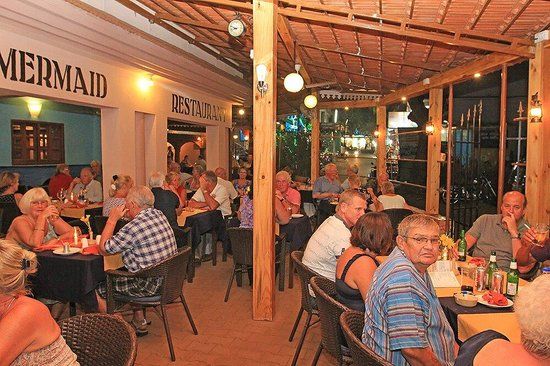 12. GERMAN BAKERY
Situated: Market Road,Grande Peddem, Montero Waddo, Anjuna, Goa
Speciality: Indian, Asian, Vegetarian Friendly, Seafood, European, Healthy, Vegan Options
What to eat: Breakfast, their freshly baked Bread, Organic Food, Herbal Teas and home made Ice cream!
What's so unique: A spacious charming garden property which goes an extra mile and serves unique blend of energetic juices such as aloe vera, carrot cleanser, crazy coconut juice!
Why to Visit: Wheat grass, herbal teas, espresso, fresh tofu, hummus, salads, pizza, sandwiches, fruit juices, milkshakes, smoothies, lassi and soups! All of that wholesome food freshly prepared and a bottle of Mulshi (India's number one certified organic spring water) in a superbly relaxing space. What more can you ask for? The organic health food menu will rejuvenate you while you relax in the garden. Light music and entertainment every Wednesday with some of the most talented artists that pass through Goa at this time of year!