Goa, the party capital of India is a famous beach destination all around the world. The food of this place is something that everyone who has been to Goa will tell you about. But, to savour the flavours, you need to absolutely try them yourself. I had been to Goa recently, and I visited some of the must-visit restaurants in Goa, for which I had done my research earlier and trust me, I loved each and every place. Goa is mostly famous for its delectable sea-food but one will find a wide variety of flavourful recipes, which are 'Goan' specialities. So, lets start with the must-visit places to eat in Goa.
1. ARTJUNA, ANJUNA
Artjuna is a garden cafe and lifestyle shop located in Anjuna area in North Goa. Set in a big and beautiful garden, surrounded by mango trees and frangipani flowers, this cafe is a lively place with a charming ambience. The cafe serves Mediterranean and Middle Eastern cuisine mainly and is open all day starting from breakfast till dinner.
They serve a wide variety of salads and sandwiches, fruits and vegetable juices, the very popular hummus, tahini, falafel and Turkish lentil soup. Their cookies and cakes are all home made and they ensure all ingredients are freshest and best.
To top it, they also have a boutique inside where they sell unique handmade leather bags, belts, pouches and jewellery designs.
Average Cost: Rs 800 for 2 people(approx.)
Must Try Recipes: Homemade Granola, Chia Seed Bowl, Tuna Sandwich, Shakshouka, Mediterranean Platter, Honey Ginger Lemonade, Passion fruit smoothie
Official Website: https://www.artjuna.com/
2. PURPLE MARTINI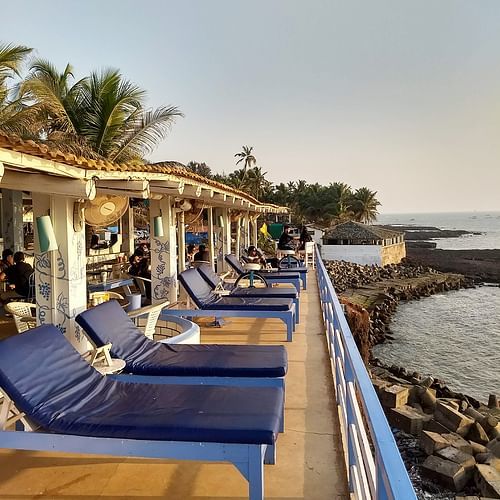 Want to experience a little bit of Santorini in Goa? Then Purple Martini is the place for you. Located against a backdrop that offers magnificent views of sunset and the Arabian Sea, Purple Martini is a picturesque place and has a capacity to host over 150 people. The best time to visit the place would be sunset, owing to the amazing views it offers, but any time of the day would be equally perfect too. In the evening, a saxophonist plays music with instrumental versions of popular tracks.
Average Cost: Rs 1500 for 2 people(approx.)
Must Try Recipes: Chicken and Cheese Burger, Tandoori Stuffed Mushroom, Yakki Sobba Noodles, Chicken Rara, The Smoky Chocolate Martini
Official Website: https://www.mypurplemartini.co.in/
3. THALASSA
If you are looking for some lip-smacking deliciousness and exotic views, then Thalassa is the place for you! Thalassa (spirit of the sea) was started as a small tavern that only had three tables but the Greek food served by them coupled with locally available spirits, drove people crazy. Today, the restaurant exudes the jubilant culture of Northern Goa not only for their authentic Greek and Mediterranean menu but also the exotic views of the water front which it faces.
The beautiful white interiors set against the sunlit shores make this place an idyllic place, anytime of the day. What sets it apart and absolutely unmissable is their weekly entertainment featuring cabaret dancers, fire dances and the Grecian form of dance, Sirtaki that is concluded with everyone smashing plates on the floor.
Average Cost: Rs 2000 for 2 people(approx.)
Must Try Recipes: Horiatiki, Mediterranean Prawns, Seafood Platter
Official Website: http://www.thalassaindia.com/
4. BRITTOS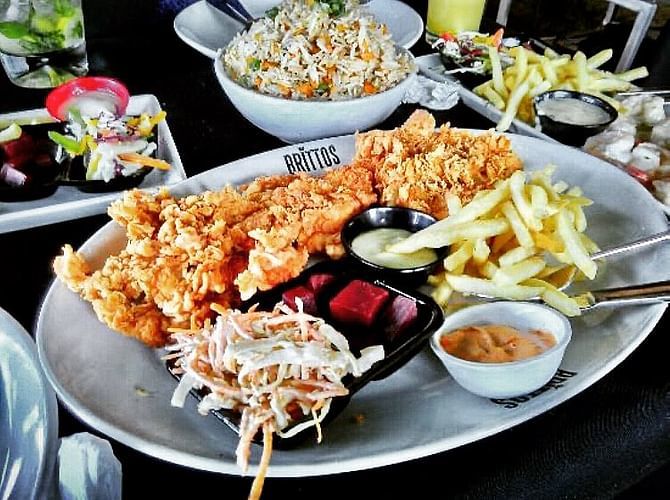 Brittos is present near the very famous Baga beach and is flocked by patrons throughout the day. While there are loads of beach shacks in Baga Beach, Britto's Bar & Restaurant absolutely rules and is totally worth visiting. It started out as a simple outlet serving homemade food in 1965, and today it is a very famous multi-cuisine restaurant.
The lip smacking delicious food along with the beach shack kind of ambience give it that perfect Goan vibe and make it ideal for a meal, anytime of the day. One can find here everything starting from traditional Goan curries to Indo-Chinese and North Indian recipes.
Average Cost: Rs 1400 for 2 people (approx.)
Must Try Recipes: Prawn Stuffed Crabs, Fillet Steak, Rechado Masala King Crab, Chicken Tikka, Prawn Curry and Rice
Official Website: https://www.facebook.com/brittosgoa/
5. CURLIES
Curlies Goa is a very famous restaurant in Goa and is located in Anjuna. Overlooking the Anjuna beach, this place has a beach shack like ambience and a very tropical touch to it. It has two floors with two restaurants, bars, internet cafe, sea view veranda, tea house and much more.
Average Cost: Rs 1500 for 2 people (approx.)
Must Try Recipes: Golden Fried Prawns, Butter Garlic Prawns, Seafood Platter, Grilled Chicken
Official Website: http://curliesgoa.com/
6. MARTIN'S CORNER
Martin's Corner is a multi-cuisine a la carte restaurant serving Goan, Indian, Tandoori, Continental, Oriental and known especially for Seafood along with an impressive Bar Menu. What started as a small eatery has expanded to host 300 patrons at a time. Live music, tropical ambience and scrumptious food, Martin;s Corner has it all and is a much sought after place not only for the local foodies but also for tourists.
Note: It is located in Betalbatim which is in southern part of Goa. It is 80 kms away from northern part of Goa.
Average Cost: Rs 1600 for 2 people (approx.)
Must Try Recipes: Butter Fried Calamari, Prawns Biryani, Prawns Masala Rawa Fry, King Crab Masala Fry, Serradura (a unique dessert).
Official Website: https://martinscornergoa.com/
7. POUSADA BY THE BEACH
Pousada by the Beach is a small beachfront restaurant run by a family. As soon as you walk into this place you are greeted by two cute dogs Chai & Biscuit. You can enjoy your food with charming views of the sea here.
Average Cost: Rs 3000 for 2 people (approx.)
Must Try Recipes: Prawn curry, Peri peri fish, Butter fried Calamari, Bebinca & Dodol (Desserts!)