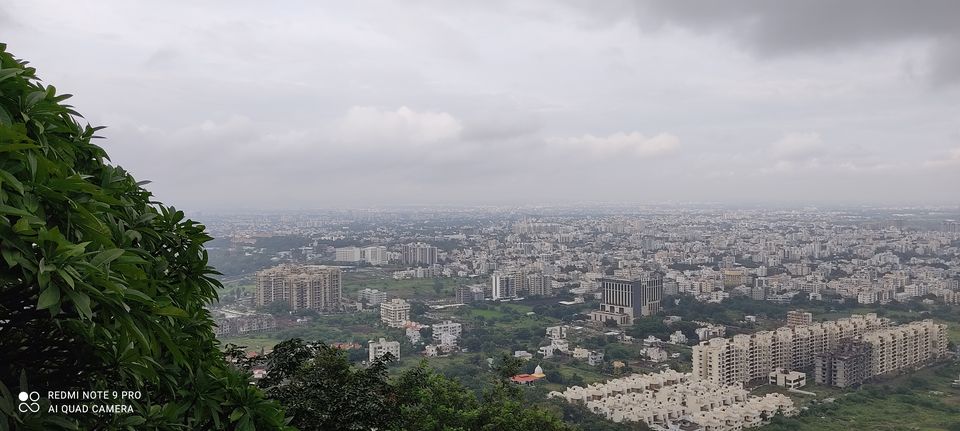 Also known as the wine city of India, Nashik is a beautiful city with a moderate climate and a lot of temples. The city has its fair share of greenery and weather is mostly pleasant. We visited in the month of August which basically was rainy season. The weather was wonderfully pleasant (this comes from someone who's from Himachal, so you gotta believe me on the weather part) accompanied by frequent drizzles. We had come to Nashik on an official tour. Yet we made the best use of available time to explore around. Below are the places we visited on our short trip:-
Panchvati
Every picture has a story and when we're at a place of historical significance, every picture is like a doorway spiralling to the times once witnessed in that space. Panchvati is one such place of historical and mythological significance. It is located on the banks of river Godawari in the city of nashik. Panchvati is one of the places associated with Lord Rama and a significant part of Ramayana is said to have taken place in this land. Lord Rama along with his consort Mata Sita and brother Laxman lived here during the last few years of their exile. This place is therefore an important pilgrimage site for Hindus.
Panchvati has a lot of temples and it is no wonder that it is also called as the Banaras of western India. Among these temples, Kalaram mandir, Sita Gufa, Ram kund, parn kutir, tapovan are the holy sites very closely associated with Ramayana and are frequented by visitors. Kapleshwar temple is another famous temple close to the Ram ghat.
Now, talking about our visit to Panchvati, we visited during this time when major temples in Maharashtra are closed due to covid. Still it didn't dampen our spirit. We couldn't go inside a few temples, but nonetheless we found peace and contentment. Allow me, if you please, to take you to the holy sites that we visited in Panchvati:-
Kapleshwar temple: We started from Kapleshwar temple. As soon as we bought flower basket on the front gate, it started drizzling. We headed towards the back gate ( front gate was closed due to covid) and rainfall started in full swing. Midst the rain, we found our way to inside of temple. We sat inside for some good 15 minutes since it was raining outside. The temple is dedicated to lord Shiva and it is the only temple in India where nandi is not present besides shivling. According to the legends, it is said that Lord Shiva once killed a cow due to which he became guilty of bramha hatya. Nandi then guided him to take bath in the Ram kund to atone his sin. Lord Shiva took bath there and also accepted nandi as his guru. This is why nandi is not present in Kapleshwar temple since his stature as guru is higher.
Kalaram temple: The temple was closed. So we couldn't go inside.
However, the story associated with temple is something like this:-
"The temple derives its name from the statue of Lord Rama that is black in colour./Thousands of devotees visit it every day. The temple was funded by Sardar Rangarao Odhekar. It was built around in 1792. It was said that Sardar Odhekar had a dream that the statue of Rama in black colour is there in the river Godavari. Odhekar took the statues from river and built the temple. The place where statues were found was named as Ramkund."
Sita Gufa : This is the place where it is said that Sita meditated and prayed to lord Shiva. There are five banyan trees ( vat vriksh) here and this is how the place has got its name as panchvati.
Parn kuti: Just a little distance away from Sita Gufa, there is a small temple, which is called Ramji ki juni parn kuti. As the local pujari told us, lord Rama meditated with Agastya Rishi for an year in dandak arnaya, and after that Agastya Rishi gave him this place to set up his kutir. Lord Ram, lakshman and Sita lived here in this kutir. It is from this very place that Sita was kidnapped by Ravana. Just a few meters from parn kuti, there was Laxman rekha marked for her protection. When Ravana assumed the form of a sadhu and asked Sita for bhiksha. While doing dan, Sita had crossed the Laxman rekha and was kidnapped by Ravana. This place is thus called Danbhumi parnkuti charan paduka.
Just a few meters from parn kuti and next to the believed Laxman rekha, there is a very small temple from where Sita is believed to be kidnapped and after she walked from parn kuti till that point to provide bhiksha.
Lakshmi narayan temple: On our way to tapovan, we went to lakshmi narayan temple. It had vibrant pink and green colored pillars and it is one of the important temples from the point of view of administration during kumbha. A goshala is also run by the temple.
Tapovan: Tapovan is the point of confluence of river Godawari and river Kapila. It is believed that kapil muni did sadhna here to bring kapila river to emerge here. It is also believed that Lakshman also meditated in tapovan. It is where lakshman cut the nose of Ravana's sister Shrupnakha and threw it across the kapila river. The city has derived its name nashik from this incident.
Tapovan has bramha, vishnu and shiva kund. Ashrama of kapil muni is also believed to have been here.
Sarv Dharam Mandir, Tapovan: Across the road, on the other side of tapovan, there is sarv dharam mandir. It is beautiful in terms of architecture and has a vibrant color scheme.
Tapovan concluded our journey to Panchvati.
Someshwar:
Afterwards, we visited navshya ganpati temple and someshwar temple.
Navshya Ganpati temple: This is a very old temple and believed to be about 300 years old. It is believed that if you wish for something here, that wish is fulfilled. Temple was closed. So we had darshan from outside only.
Someshwar temple: This temple is situated on the bank of river Godawari and is dedicated to lord Shiva. It is also one of the famous temples. There is boat ride also available on the Godawari ghat.
We skipped the someshwar waterfalls and concluded our trip at someshwar temple.
Triambkeshwar
Triambakeshwar: We also visited triambkeshwar temple in Nashik which is one of the twelve jyotirlingas. Temple gate was close due to covid 19. So we said our prayers from outside only. We then visited the June जुने Mahadev mandir which was open (june means ancient in marathi) in the vicinity of triambkeshwar. Next to Mahadev temple, there was gorakshnatha matha. Flower vendor had recommended us to go there as well and it was indeed a beautiful navnath temple inside. We sat inside, offered our prayers and came back.
Besides these two places of religious significance, we also visited these two places in Nashik:
Sula vineyards: It is the oldest winery of Nashik. The road leading to the vineyards is beautiful with greenery and plantation on both sides across the road. There is a tour and tasting session which I would recommend to all visiting for the first time. There is a rooftop cafe and there is beautiful scenic view from up there. There is a gift shop and bottle shop as well.
Pandav leni caves: Pandav Leni are the rock-cut caves which served as a viharas or monasteries for the monks to meet and hear sermons. Also known as Trirashmi leni, these are a group of 24 caves carved between the 1st century BCE and the 3rd century CE.The Buddhist sculptures are a significant example of Indian rock-cut architecture initially representing the Hinayana tradition
Since we had limited time, we did not go to a few other notable recommended spots like Bramhgiri trek, Saptashrungi, Ajanta and ellora caves and Shirdi.
This sums up our short trip to Nashik.