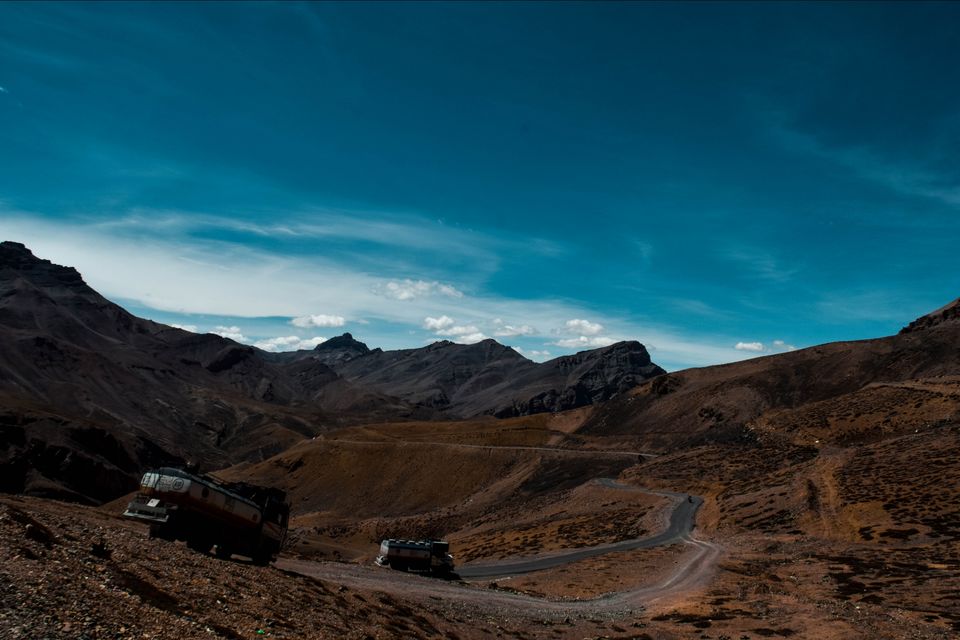 Is Ladakh in your bucket-list and you're trying to plan a trip? This article might help you a little with the necessary information like public transport, accommodation, permit, networks etc to plan a trip.
TRANSPORT:
Manali – Leh : There is a direct bus from Manali to Leh which departs at 4 a.m every morning. The bus departs from Manali bus stand which is at the Mall Road. You can book the bus tickets online at Goibibo or else you can book at the bus station one day earlier. It takes about 16 hours to reach Leh; sometimes it can extend 2 or 3 hours more depending on the condition of the roads.
The one way ticket price is around 830 to 850 INR p/p (HRTC AC bus).
GET THE DRIVER'S SIDE WINDOW SEAT TO GET
THE BEST VIEW OF THE VALLEYS FROM MANALI TO LEH
 Leh to Manali : There is no online booking from Leh. The buses are available at the bus station which is about 800 meter from Leh Main Bazar. You can book your tickets in the bus (which you'll find at the bus stand) from the bus conductor one day earlier. Collect your tickets in the morning time because the seats get filled early. The bus leaves at 4a.m every morning and reaches Manali around 9.30 p.m.
Delhi -Keylong -Leh : There is another bus that goes direct from Delhi to Leh (daily bus). It takes two days to reach Leh from Delhi. The bus starts at ISBT Delhi and heads to Leh via Manali. The bus takes 24 hours to reach Keylong from Delhi and stays over night. Next morning the bus starts from Keylong in the morning and reaches Leh at the time of sunset.
The one way tickets cost around 1300 INR p/p. From Delhi to Keylong it costs 800+ INR and Keylong to Leh it is 400+ INR. The ticket price does not include accommodation and food at Keylong.
 Leh-Keylong-Delhi :  The tickets needs to collect from the bus conductor at Leh bus stand one day earlier. There is no online booking from Leh. The bus starts at 4.30 in the morning and reaches Keylong in the evening. The bus stops at Keylong and stays overnight. Next morning the bus heads to Delhi from Keylong via Manali. It takes 24 hours to reach Delhi.
But if you want to reach Manali at the same day and don't want to travel for 24 hours from Kelong to Delhi then you can take other buses at the same bus stand which go to Manali from Keylong. The last bus from Keylong to Manali leaves at 6 p.m. and it takes 5 to 6 hours to reach Manali. Next morning you can take bus to Delhi from Manali.
       THERE IS NO BUS SERVICE IN WINTER.
LOCAL TRANSPORT:
In Leh you will find penalty of options for transport to go to the places. But if you want to plan a budget trip then public transport is the best option because the taxis are quite expensive.
Pangong Lake- There is a local bus which goes to Pangong lake every Tuesday, Thursday and Sunday from the Leh bus stand. The bus leaves at 6.30 a.m and it takes 6 hours to reach Pangong. The tickets can be collected from the Leh bus stand which is 800 meter away from Leh main market. The tickets cost 270 INR p/p (one way).  And the same bus returns from Pangong next morning at 7a.m.
PERMIT:
As you reach Leh you'll need a permit to go to different places like Pangong Lake, Nubra Valley, Tso-mo-riri etc. Which you have to show at different check points on your way. In the permit the details will be mention where you want to go, for how many days you're staying and stuff. There is a online form which you need to fill up. You can do it by yourself or there are penalty of internet cafes at the Leh main Bazar which will do it for you (costs 100 INR). The form needs verify at the Permit office which is in front of the DC office (Google maps will help you). The permit office is around 100 m. away from Leh main market. Get your ID proof and passport size photos with you for verification. The permit costs 440 INR p/p (for Indians).
ACCOMODATION:
  Leh– There is a lot of options for accommodation in Leh. It depends on your budget what kind of accommodation you want. There hundreds of guest house. If you want a budget friendly stay then search in the small lanes of Leh main Bazar.
Some guest houses provide one bed for 300 INR.
Also you'll find rooms that charge 800-900 INR for 3 people.
And there are some guest houses which give a bed for 200 INR which are especially for the bagpackers (try to make puppy face if you're in a tight budget like we were. People are kind enough to help you).
Pangong Lake– There are cozy and beautiful home stays at Pangong. It costs 300 INR per bed.
There are also some luxurious tents which are around 1000 INR and it gives the view of the lake from the tent and some other luxury as well.
NETWORKS THAT WORKS AT LEH:
The networks that work at Leh are Airtel and BSNL (postpaid). But there is no signal at Leh- Manali Highway.  Leh. Networks will be available after entering Leh. But the Airtel network works only at Leh it does not work at place like Pangong and Nubra valley. Only the BSNL postpaid network that works at these places