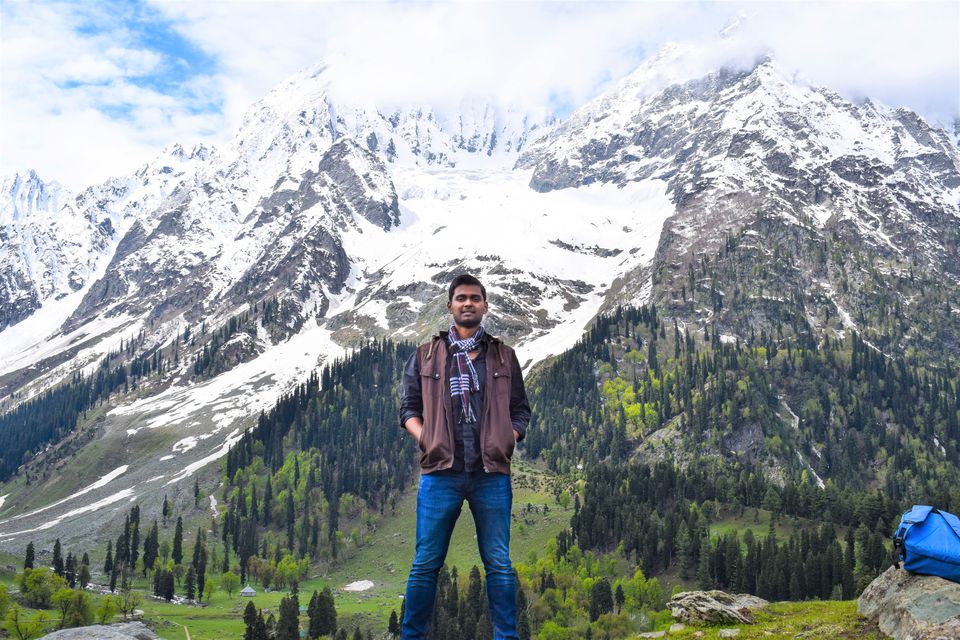 College had finally ended, and I did not want to waste the 5 odd weeks lying before me before I joined my company. And so, I decided to do the journey of a lifetime, the Ladakh circuit. Much has been already written about the beauty of Kashmir and Ladakh, and so in this blog I would try to concentrate on the cost aspect of the trip, and how you can complete the circuit without shelling out too much. And no, we did not sleep on footpaths or starved ourselves to cut costs. The post will be pretty long, so please bear with it.
Leh can be reached either via the Manali-Leh highway or the Srinagar-Leh highway. The latter is preferred because it reduces the risk of altitude sickness as the increase in altitude is gradual than the Manali-Leh highway. Since the Manali route was not open that time, we decided to enter via Srinagar and exit via Manali. This was our initial plan.
Delhi -> Udhampur -> Banihal -> Srinagar -> Doodhpatri -> Pahalgam -> Aru Valley -> Sonamarg -> Kargil -> Leh -> Pangong Lake -> Nubra Valley -> Tso Moriri -> Keylong -> Manali -> Kiratpur Sahib -> Delhi
I had left out Gulmarg as I had already visited it during my first visit to Srinagar in 2012. Our family was accompanying us till Sonamarg, post which me and my 2 cousins would proceed to Leh and my family would go back to Delhi. The journey was to begin at 22nd May.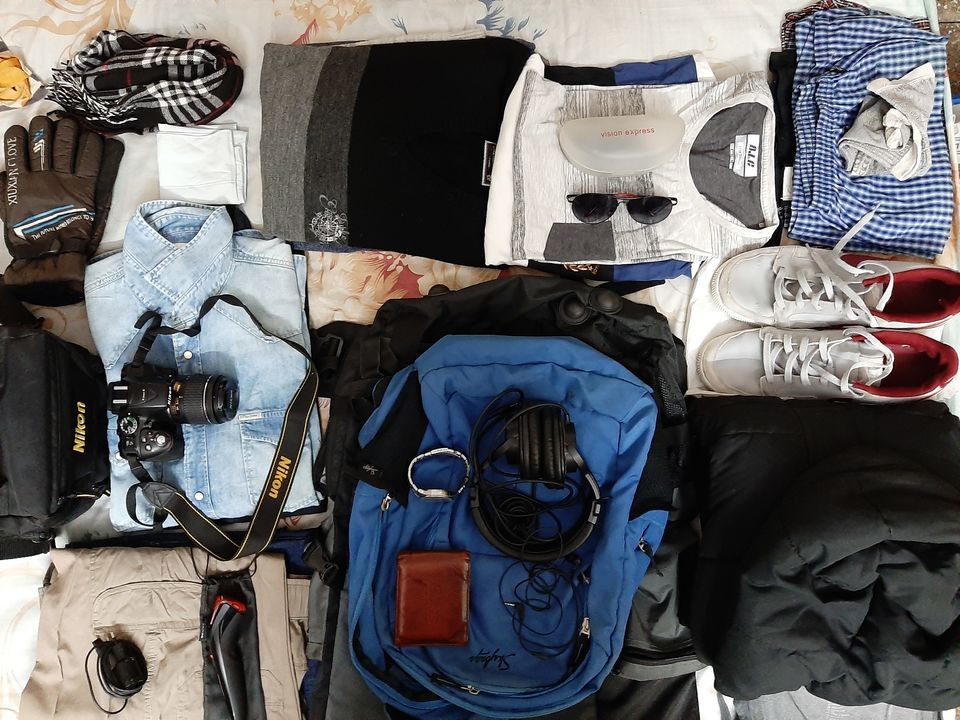 Day 1 : Delhi -> Udhampur (23rd May)
The first task at hand was to reach Srinagar. Daily flights depart for Srinagar from Delhi, but since we were on a budget, we decided to complete our journey by road. The cheapest way to reach Srinagar by road is as follows.
Board a train for Udhampur, preferably Uttar Sampark Kranti (12445) as its timing is the most suitable. The fare per person for sleeper is ₹370. Just outside the railway station, buses leave every 30 minutes for the bus stand, more popularly known as the MH chowk (₹20 pp). Be wary of auto valas as they charge ₹200 for one auto and might tell you that there are no buses for the bus stand.
Once you reach MH chowk, you need to find a bus for Banihal. Direct buses to Banihal are available from Udhampur, but with a very low frequency. If you are unable to find a direct bus, you can do your journey in parts. From Udhampur, board a bus for Ramban, which has a good frequency (₹110 pp). The stretch till Ramban is dusty at few places because of the ongoing 4-laning of the Jammu-Srinagar highway, however it is mostly traffic free and took us 2 hours to cover. You also pass through the Chenani-Nashri tunnel, India's longest road tunnel.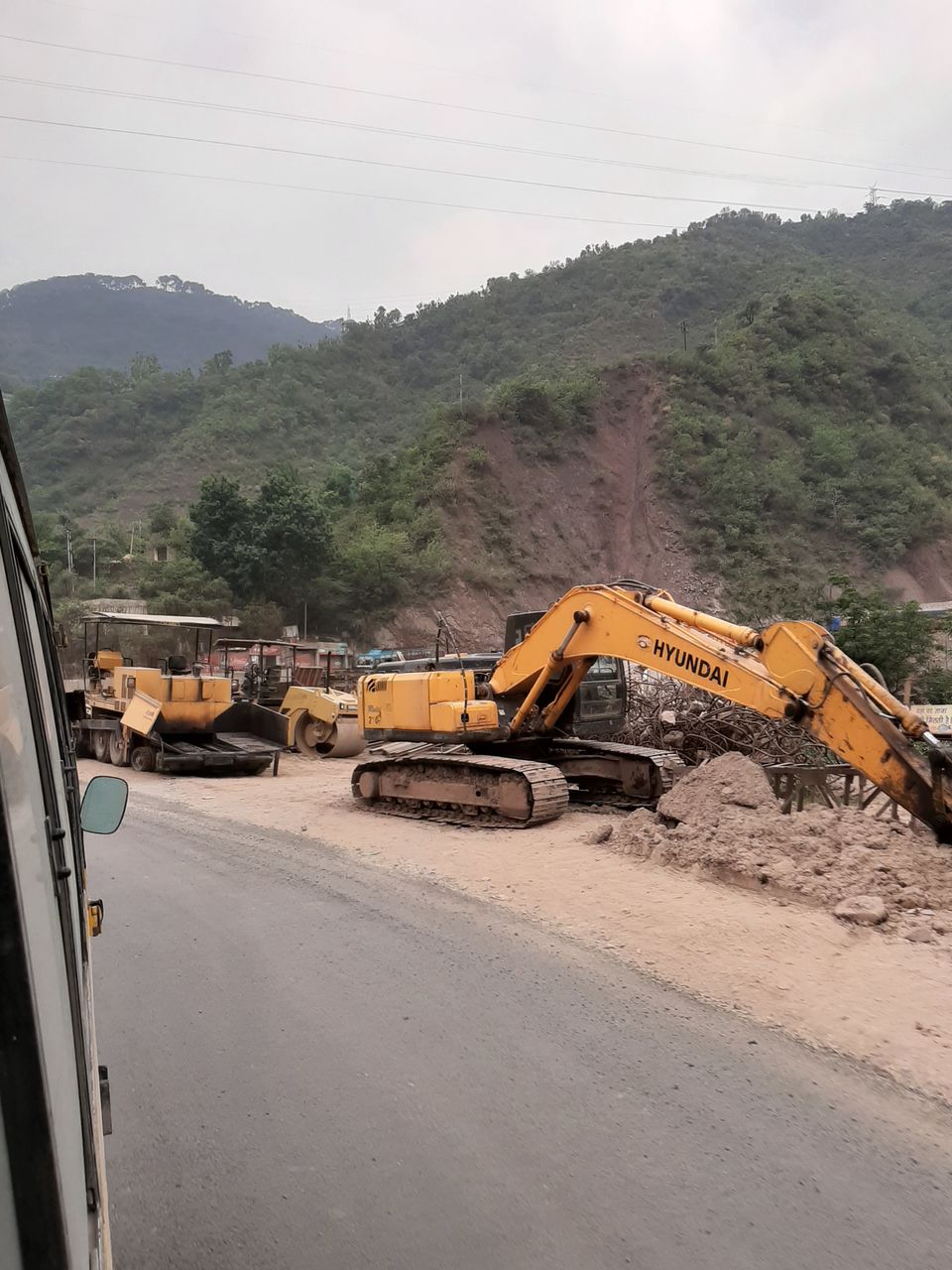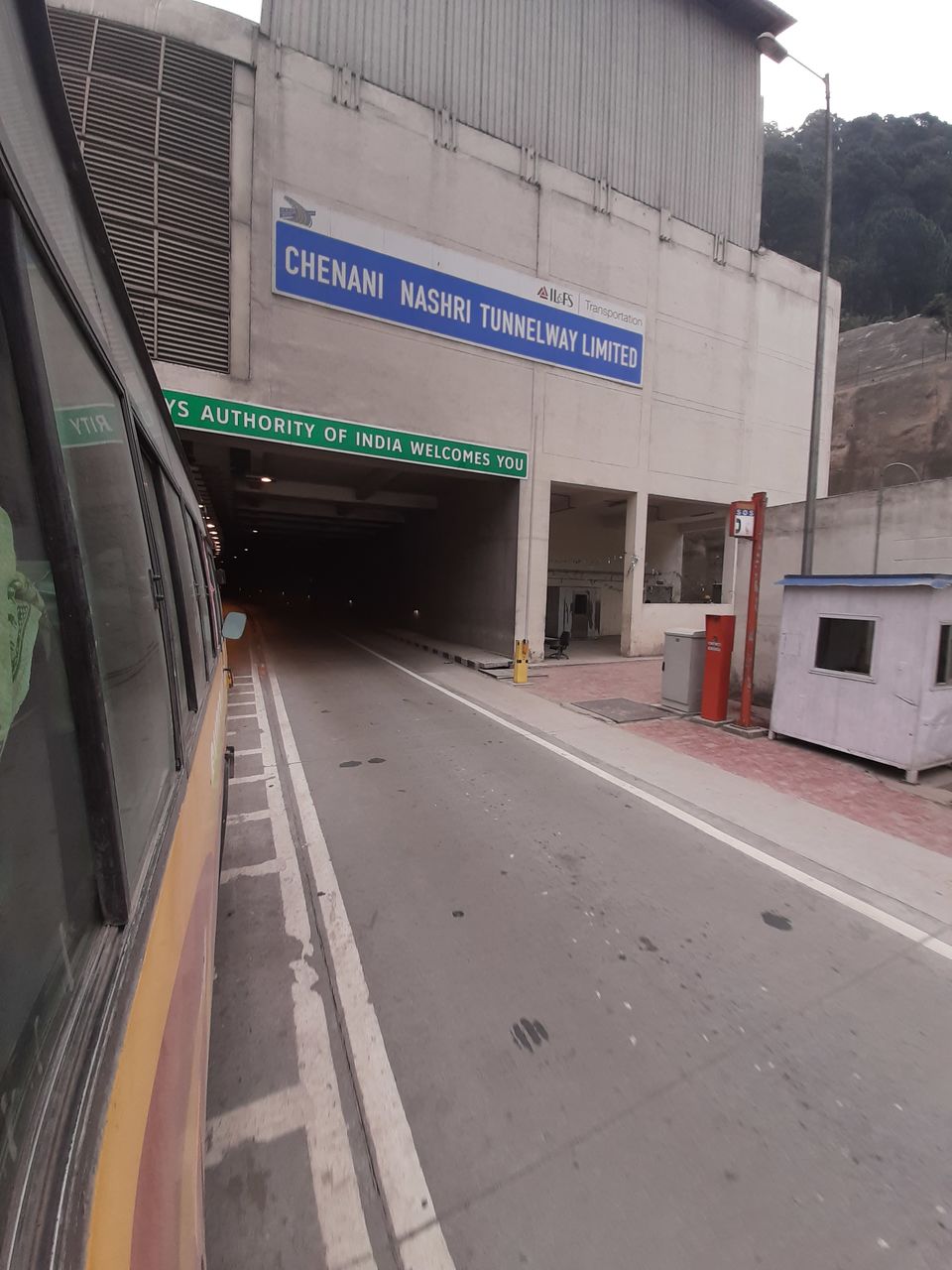 Once you reach Ramban, you can find many buses leaving for Banihal (₹50pp). The journey till Banihal is quite picturesque with the Chenab river flowing along side the road. It also began raining as we neared Banihal and we encountered a massive traffic jam. Even though Ramban to Banihal is just around 30 kms, it took the bus more than 3 hours to cover this stretch. As we reached Banihal, it started raining more fiercely and we had to take shelter in a shop. Once the rains receded, we hired a Maruti van to drop us at the Banihal railway station (₹30 pp), around 6 kms ahead of where the bus drops you.
We reached Banihal by 1:30 PM and the next train to Srinagar was at 3:00 PM. In the meantime, we had our lunch and captured the station, which looked all the more astounding in the rain.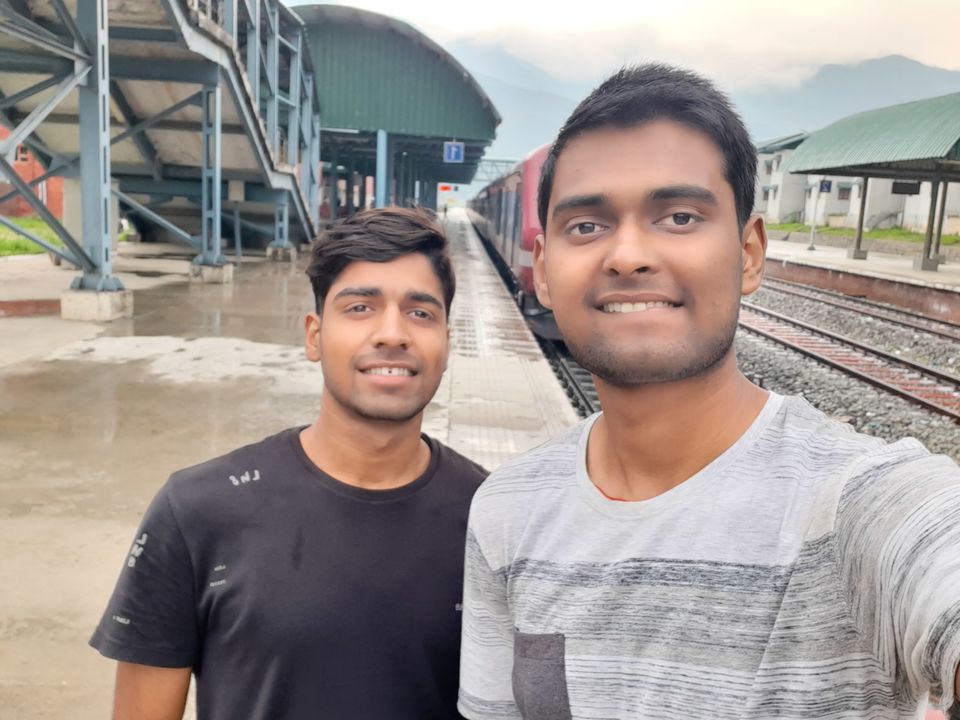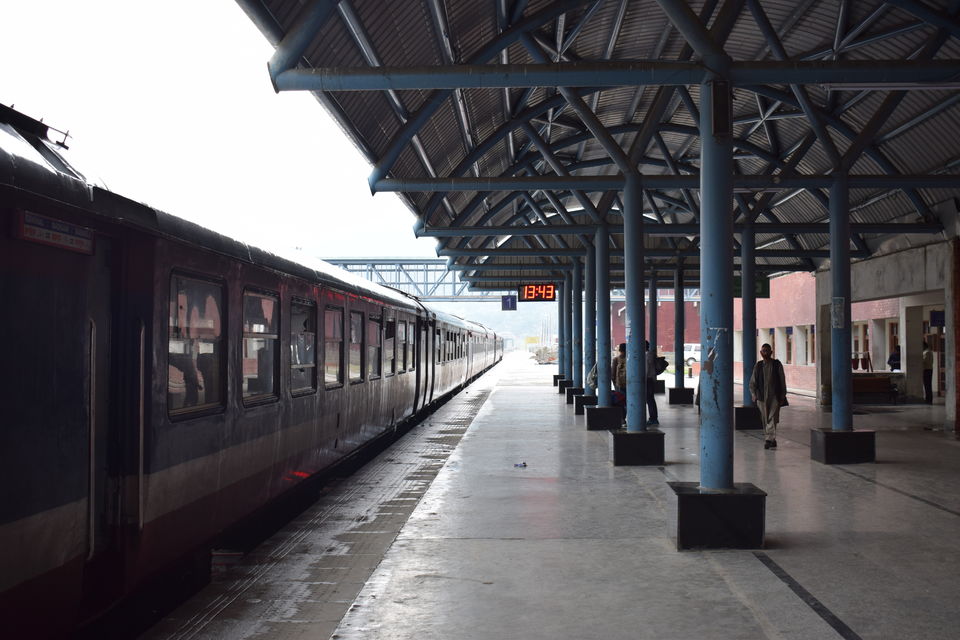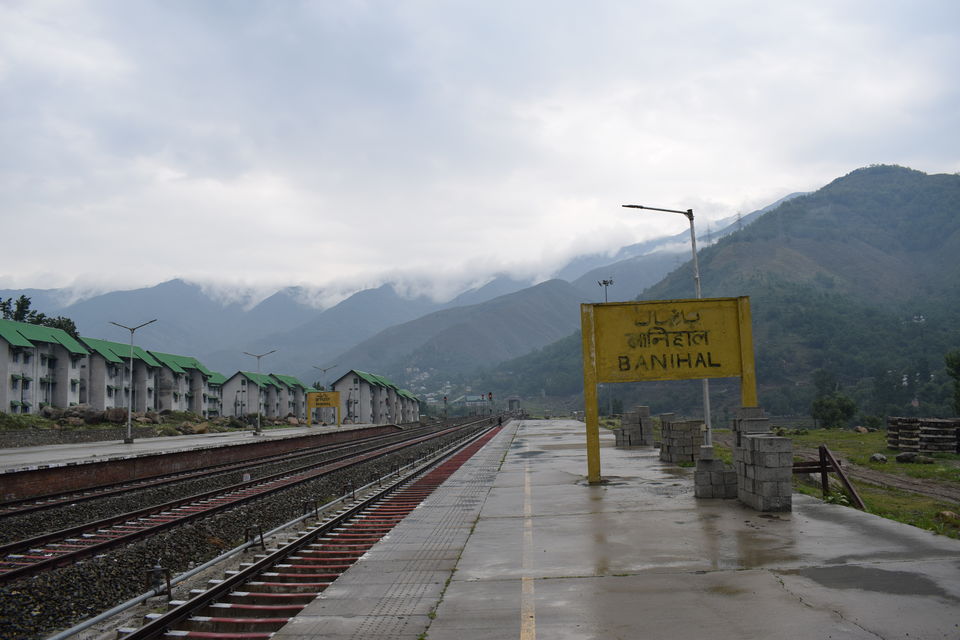 The train for Srinagar left at sharp 3:00 PM and the fare is ₹20 pp for an 80 km journey, which is pretty cheap considering the difficult terrain in which the line is built. Once the railway line construction on the Udhampur-Banihal stretch is completed, the Kashmir valley will get connected to the rest of the country by rail.
The Srinagar railway station is situated around 10 kms from the city and the houseboat's owner had already sent a Tavera to pick us up. It charged us ₹350, and since we were 7 people, it cost us ₹50 pp. I saw a state transport bus just outside the station but was not sure whether it goes to the city.
We were staying for the next two nights in Matchless Houseboats, on which I got a pretty good deal on Booking.com. The cost per room was ₹360, and we booked 3 rooms for 2 nights, bringing the total cost to ₹2160 (₹155 pp per night). The houseboat is situated on the Jhelum river and is at a walking distance from Lal Chowk and TRC, and is pretty good and comfortable for the price. However, if you are coming for tourism purpose, then always book a houseboat on Dal Lake, albeit it will be costly.
Meanwhile, it was already 6 PM by the time we reached our houseboat and it was still raining outside, so we had to cancel our plan of visiting Doodhpathri.
Note : Doodhpathri is a less explored spot of Srinagar and can only be visited by hiring a cab, and it's very difficult to reach there by shared cabs or buses. So, if you are a solo traveler or just one or two people, then ditch Doodhpatri and instead cover Gulmarg or Pahalgam. Buses ply to both of these places from the TRC bus stand.
After resting for a while, we set off to have our dinner and visit Lal Chowk. However, surprisingly, most of the people had shut shops in Lal Chowk even though it was just around 8 PM. We found one cafe Hungry's to be open and went there to have our dinner. The place has a nice ambience and has funky wall arts. We ordered biryani and a medium pizza (₹205 pp).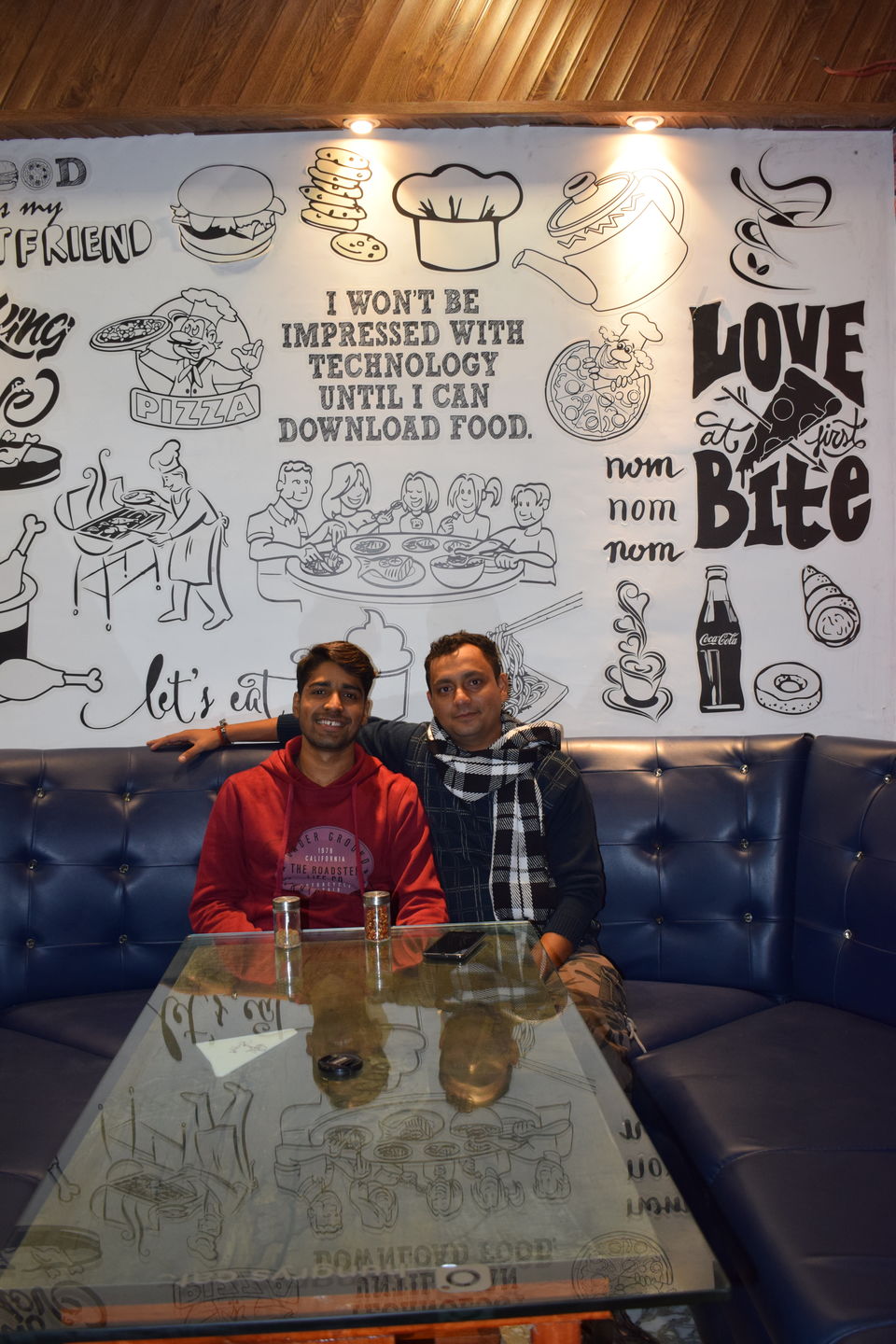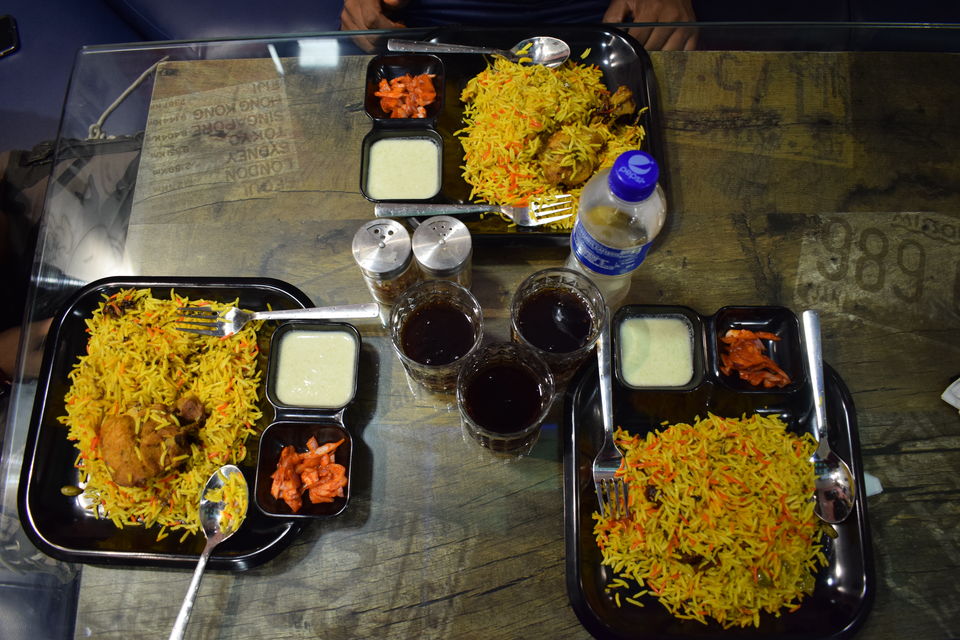 In the midst of having our food, the radio in the cafe suddenly started blaring out news loudly that a certain militant Zakir Musa has been killed by the security forces. Apparently, he was a very high profile militant and little did we know that this encounter would severely affect our plans in the coming days. The cafe owner also requested us with a sense of urgency to quickly finish our food and leave.
On reaching our houseboat, we had a discussion and had to choose between visting either Doodhpathri or Pahalgam the later day. We decided to cover Doodhpathri along with Dal Lake and shikara ride. The houseboat owner arranged a cab for the following morning for Doodhpatri for around ₹2100 (₹300 pp). However, he warned us that post the encounter, curfew was likely to be imposed and he can't guarantee whether the cab driver would agree to go to Doodhpatri. Leaving everything to fate, we dozed off to sleep.
Day 1 cost : ₹650 transport + ₹350 food + ₹155 stay = ₹1155
Day 2 : Dal Lake and Chashme Shahi (24th May)
When we woke up the next morning, what we feared came true. A curfew had been imposed in town, mobile internet services were snapped and the taxi driver refused to go to Doodhpathri. Adding to our misery was that it was still raining heavily outside. It looked as if our 2nd day in Srinagar too will be wasted.
Finally, it stopped raining at around 10:00 AM. We moved out and decided to do the shikara ride at Dal lake. Autos charge ₹25 pp from Lal Chowk to Dal Lake. There was also very less traffic on the road today, maybe because of the curfew. However, the area around Dal Lake is almost always filled with tourists. We hired two shikaras for a 1.5 hour ride for ₹900 (₹140 pp) after some haggling.
Pro Tip : Try to avoid shikara rides during morning and evening as the rush is more and the prices are high. Try to do them in the afternoon as the rates will be half of what they charge in the morning or evening.
Even though rain had played spoilsport, I have to say, Kashmir looks a different beautiful during monsoon.
Post the shikara ride, we had our lunch in a restaurant of which I can't recall the name, which served some amazing mutton korma. We still had a few hours to kill before the sun set and had two options - either visit the Hazratbal shrine from where I would go to NIT Srinagar to visit two of my friends, or visit Chashme Shahi. We chose the latter as locals said that very less autos were plying to dargah because of the strike. A taxi driver agreed to take us to Chashme Shahi and then return drop at TRC for ₹600 (₹85 pp).
Chashme Shahi is basically a large Mughal garden from where you can get a nice view of the city. Entry charges are ₹30 for an adult.
The taxi driver then dropped us at the TRC. I then went to the TRC bus stand to enquire about buses for Sonamarg, for which we were leaving tomorrow. The person there told us that there is no exclusive bus for Sonamarg, however we can board the daily bus bound for Leh and deboard at Sonamarg. The bus left at 7:30 AM and took about 3 hours to reach Sonamarg. He quoted a price of ₹250 pp. However, he warned us that today's bus had been cancelled because of the strike and he was not sure whether the bus will leave tomorrow or not.
Just as we were leaving the bus stand, we were approached by a taxi owner who was listening to our conversation and said that he will take us to Sonamarg tomorrow for sure. Since our family members were to be returning from Sonamarg, we asked whether he would also take 4 people back to Srinagar after a night's stay in Sonamarg. He agreed and quoted a price of ₹3800. We agreed and took his number. He just requested that we leave as soon as possible in the morning because of the strike.
We then walked the 2 odd kms from the TRC to our houseboat and it was evening by that time. After resting for a while, me and my cousins decided to get some dinner packed from outside as most of the people were too tired to go back out again.
It was when we went out to get dinner that we faced an incident which I don't think I would ever be able to forget in my lifetime, details of which can be read here.
I can't write this incident here as it would make this post too long, however, requesting you guys to read it to witness the non-touristy side of Kashmir.
Day 2 cost : ₹110 transport + ₹155 stay + ₹360 food + ₹170 misc. = ₹795
Day 3 : Srinagar -> Sonamarg (25th May)
We had an early start and left Srinagar by 6:30 AM. The road till Sonamarg is in a perfect condition without any bad stretches. Mountains start appearing just after Ganderbal and so is the chill in weather. The vehicle stopped at Gund where we had tea and maggi (₹60 pp) at a roadside restaurant. We also spotted the JKSRTC bus which was proceeding to Leh. It was bitterly cold but the stunning mountain views along with the Sind river flowing compensated for it. We also stopped the vehicle at a few places whenever the views suprised us.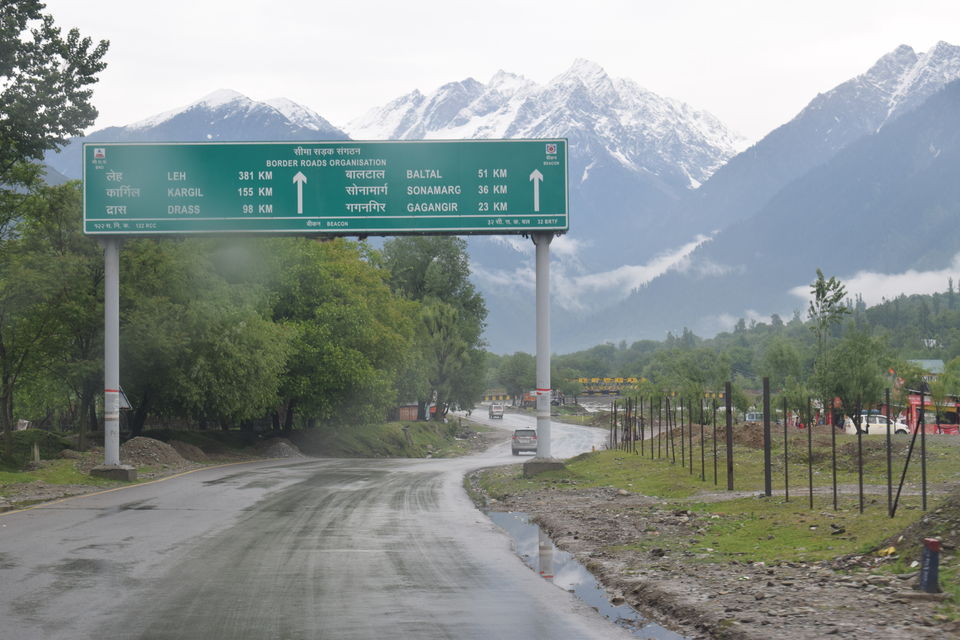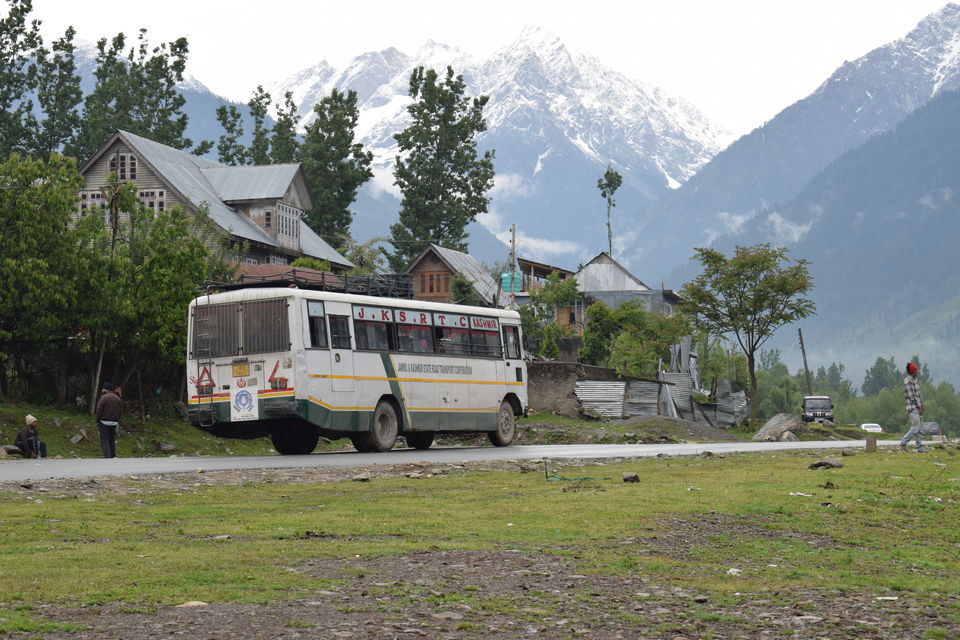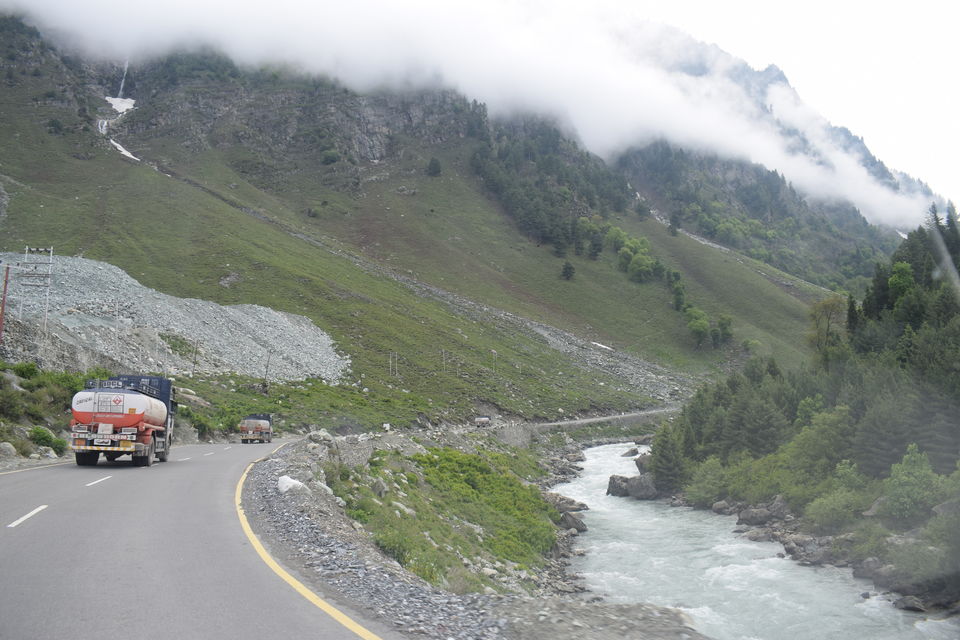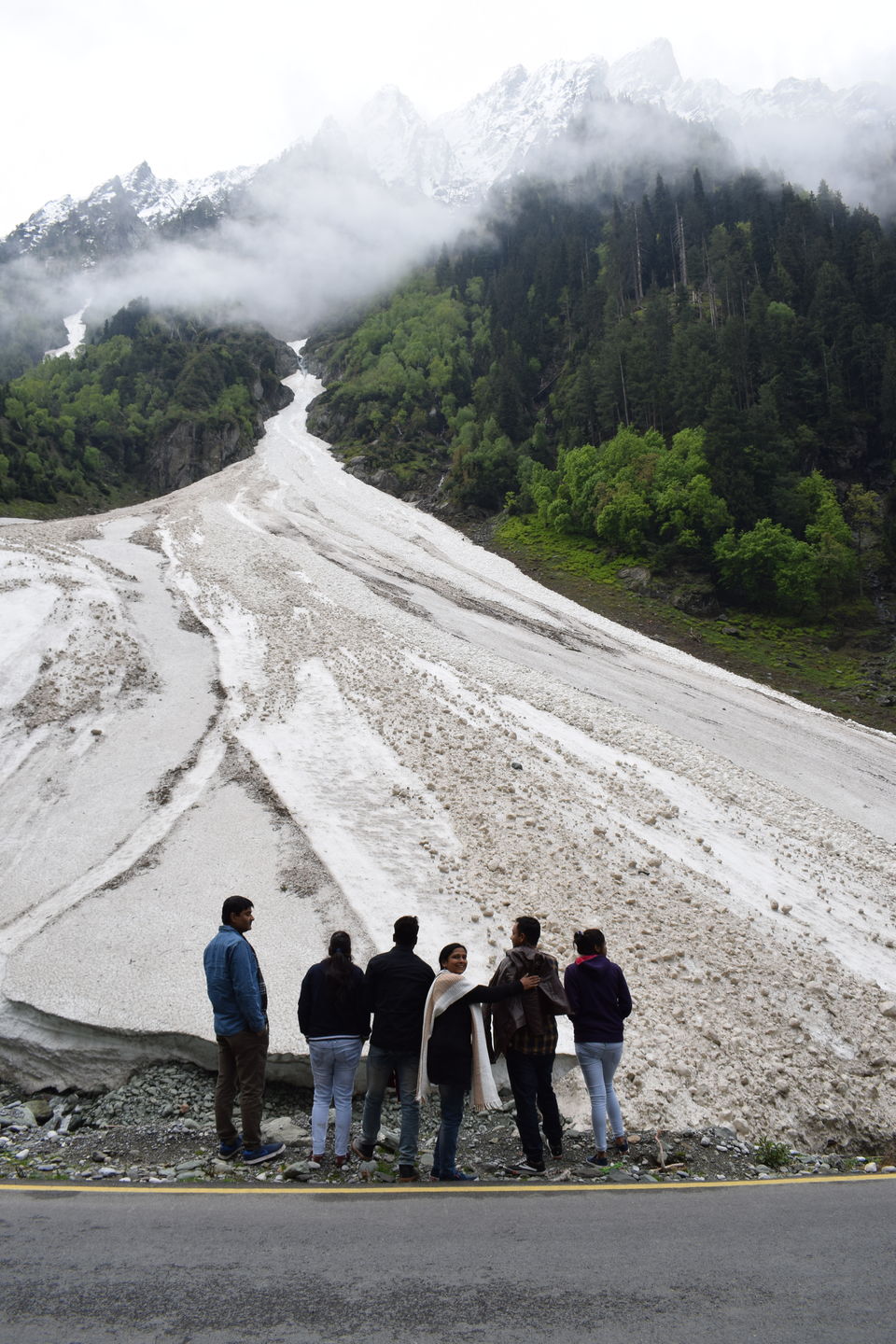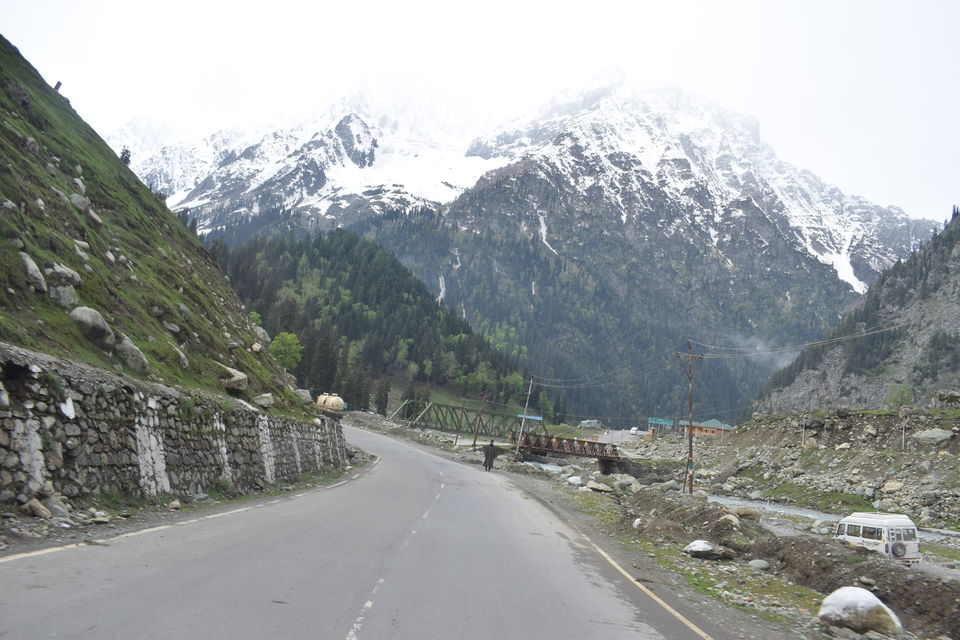 Just as you reach Sonamarg, you get the first sight of the Thajiwas glacier and man it looks so so grand and beautiful. Pony walahs will surround you as soon as you get off your vehicle and will tell you all sorts of things that it's 7 kms to Thajiwas and you can't reach there by walking and you have to hire a pony, however, if you have moderate fitness, then you can easily complete the 3 km trek (one way). Hire a pony only if you have elders or if you want to contribute to the local economy.
We hired a pony for my mother and nephew after bargaining and getting the price to ₹500 for one pony from ₹1600. The trek basically comprises of 3 phases. Only phase 1, of about 1 km, is steep and a bit difficult to traverse by foot because of the mud track. However, after phase 1, the track is very smooth and you won't face any problem. Hiring a pony means you'll also miss out to get clicked with some amazing backdrops. Every turn throws a new vista leaving you spell bounded. I'll let the pictures do the talking.
At the end of phase 3, you reach the base of the glacier where snow can be found in ample quantities. A small river flows by and you can find all sorts of snow activities like sledging, skiing, etc. Sip a cup of hot tea at any of the small eateries by the glacier and just soak in the surroundings. After playing for sometime in the snow, we began our trek back to Sonamarg.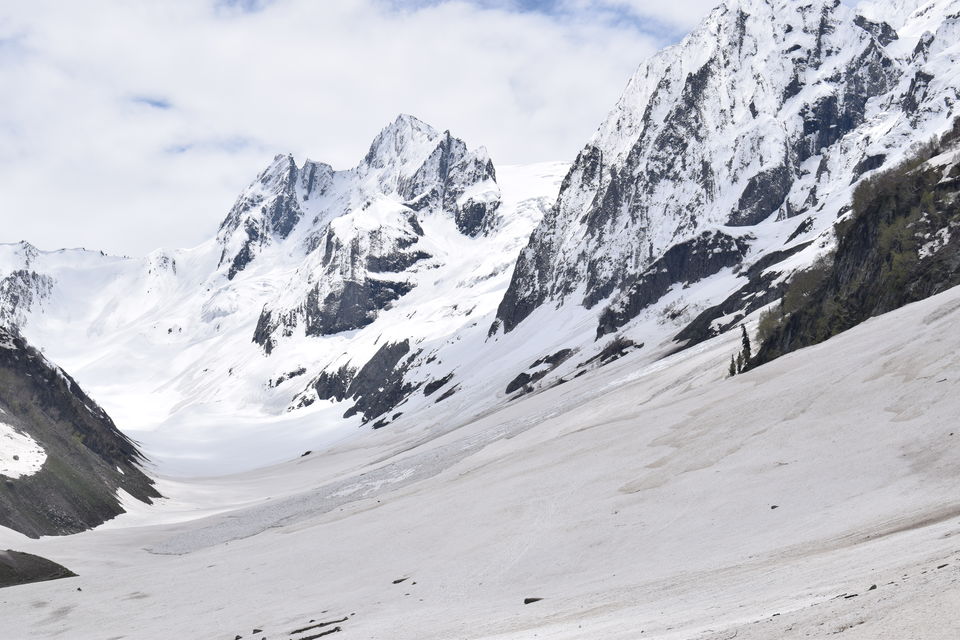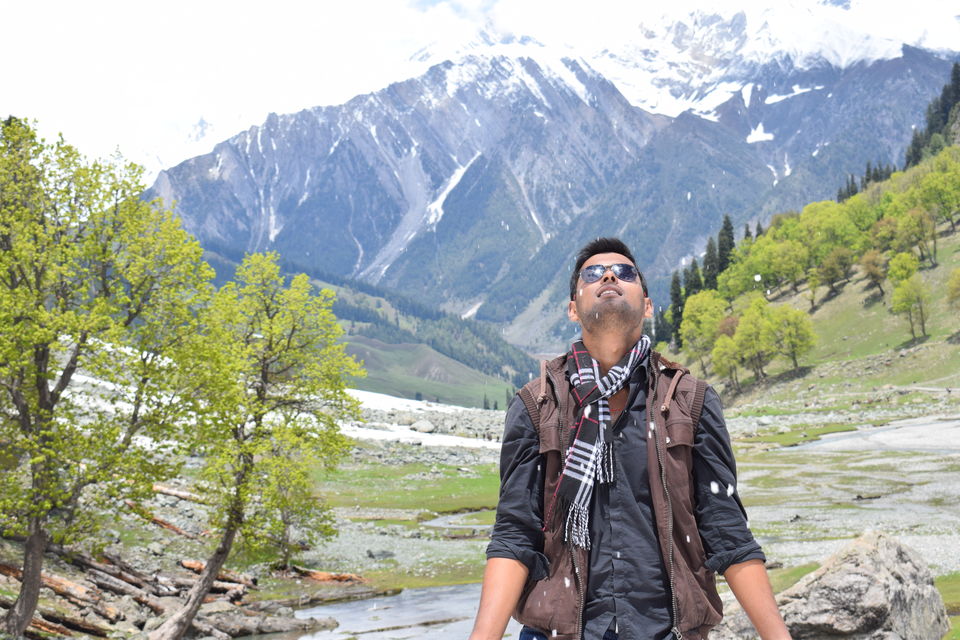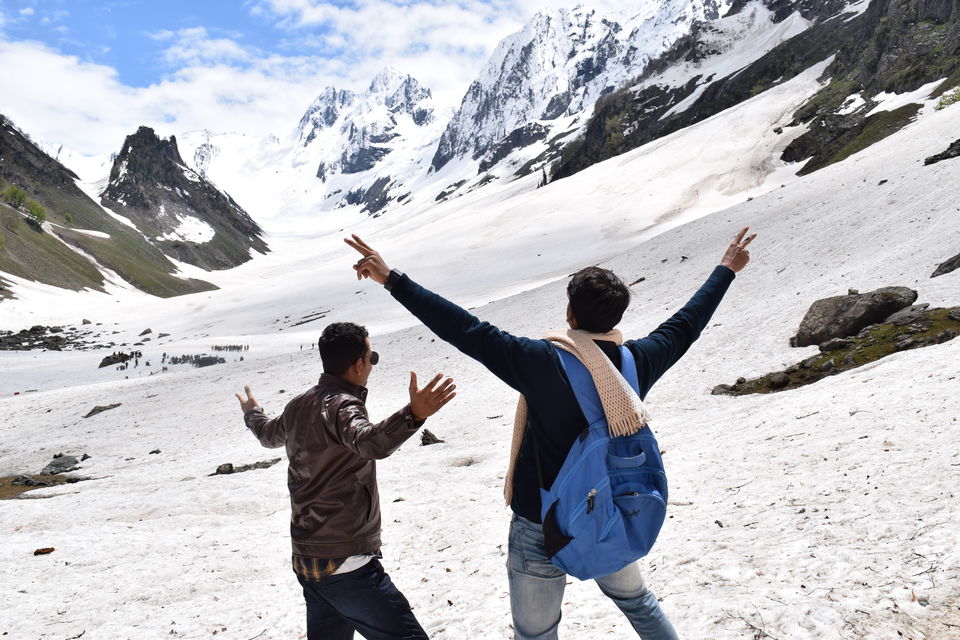 While returning, we noticed that we were the only guys who had walked till the glacier. We also noticed a peculiar thing, a well laid concrete path was also available till the glacier, but it was closed. On enquiring, we got to know that the path was closed last year as it was hampering the earning prospects of the ponywalahs as electric vehicles used to ply on that path till the glacier.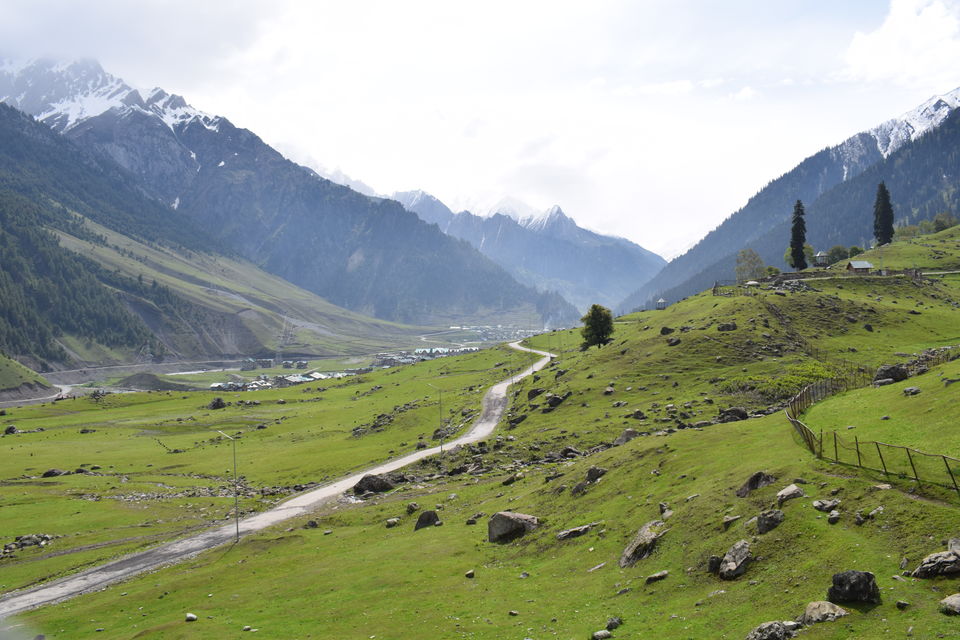 Our taxi driver then dropped us at JKTDC Sonamarg, where we had our reservation for the night in floor dormitory (₹200 pp). However, when we reached there, the caretaker informed us that there are actually two JKTDC hotels in Sonamarg, the other one was near the Thajiwas glacier and involved an uphill walk of 1 km. Unfortunately, the floor dormitory was in the hotel at Thajiwas.
Everyone was tired from the trek and did not have the energy to again walk back uphill. The caretaker took note of our situation and offered us the 10 bedded hall whose cost was ₹500 pp. However, he did not ask for the exact amount but instead asked to pay whatever we felt like :) . Kashmiri mehman-navazi at its best! He also helped us sort out another problem, cash shortage. Sonamarg has only one ATM of J&K bank, and it was closed that day, and we had almost run out of cash. He introduced us to a shop owner, who agreed to give us cash after transferring money in his account.
Note : Cashless payments are still not the norm in J&K, so it's advised to keep adequate cash with you. Also, withdraw cash at whatever ATM you find, and do not leave it to the next day or the next place.
All the problems sorted, we had our lunch in JKTDC's cafeteria and then basked in the afternoon sun. The hotel has a huge lawn with chairs for sitting. In the evening, we went for a walk around the town and enjoyed some mutton seekh kabab followed by dinner, again in the hotel's cafeteria. The hotel's bill came out to be ₹3400 (₹385 pp), including the cost of stay and food.
Day 3 cost : ₹350 transport + ₹500 food and stay = ₹850
Day 4 : Sonamarg -> Kargil (26th May)
We woke up to a beautiful view of golden sun rays falling on the snow capped peaks. It was bitterly cold in the morning and our hands were going numb in a few seconds. The taxi driver was waiting and our family members left by 7:00 AM for Srinagar railway station. They were to leave in the same way in which we came, i.e., bus from Banihal to Udhampur followed by a train to Delhi.
Note : If you are returning from Srinagar by rail and road, then you can find shared taxis like Tavera from Banihal that will directly drop you at Udhampur (₹300 pp), so no need to change buses in between.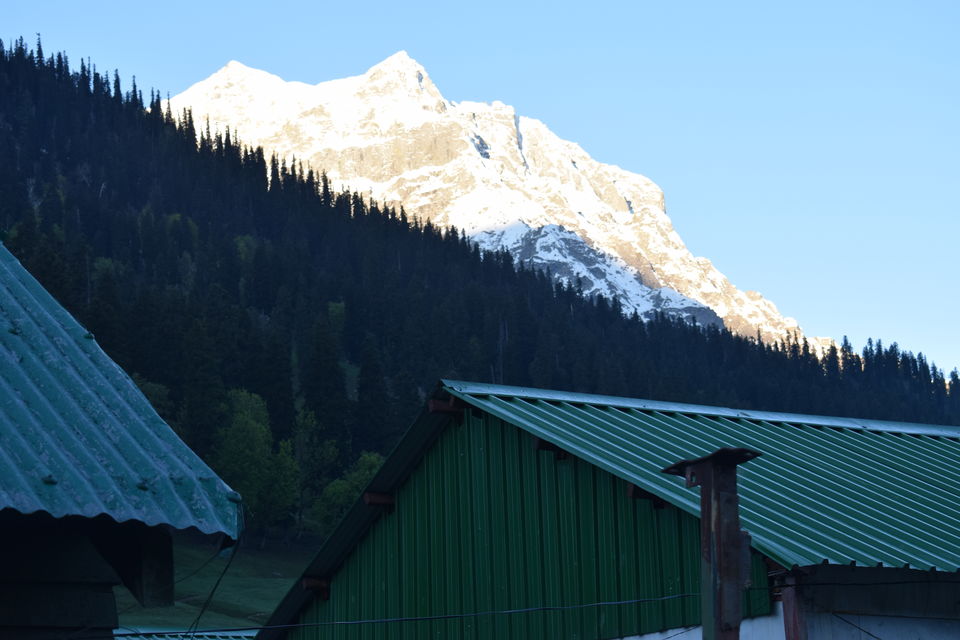 In the morning hours, Sonamarg is heavily crowded with vehicles as most of the vehicles that start from Srinagar early morning and have to proceed further from Sonamarg make their pit stop here. If you wish to go to either Drass or Kargil, then try to leave by 8 AM as you will find plenty of shared taxis.
Today, we were leaving for Drass, 60 kms ahead of Sonamarg, visit the Kargil War Memorial, and then proceed to Kargil, 65 kms ahead of Drass. We made a mistake here and decided to leave by 10 AM, thinking that we could still find a shared taxi or bus to Drass. However, to our dismay, we were unable to find a single shared taxi, leave alone buses. We found one shared taxi, who quoted a price of ₹600 pp for Drass, which I found to be pricy.
At around 10:15 AM, we spotted the JKSRTC bus approaching and thought that the day is saved. We signaled him to stop, however to our dismay, he didn't. I understood that it was because of the monopoly of the taxi drivers. The shared taxi driver again approached us and I managed to convince him for ₹400 pp for Drass.
The journey to Drass began with snow capped peaks surrounded by lush green meadows becoming more prominent. Some 15 kms ahead, the ascent to Zoji La (11,575 ft) begins. It is the only poor stretch of road you will encounter on the Srinagar - Leh highway. The pass itself is scary with thousand foot drops on one side and remains covered in snow for about 5 months.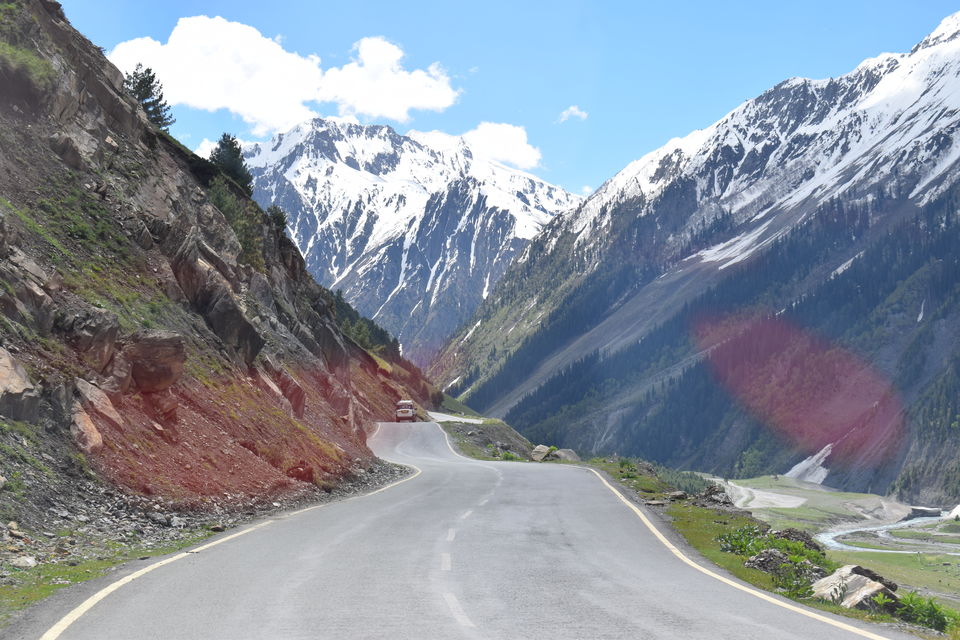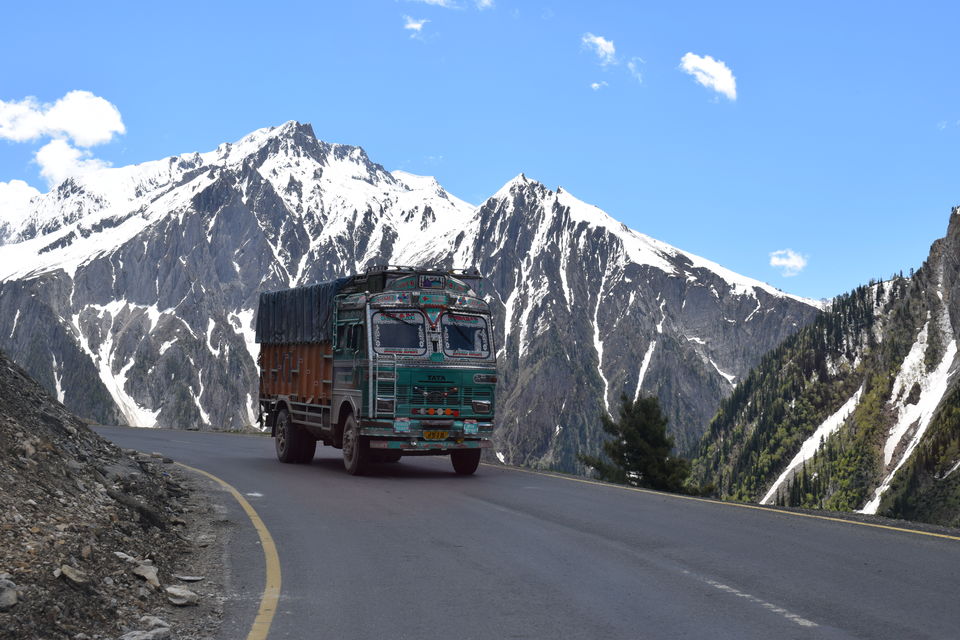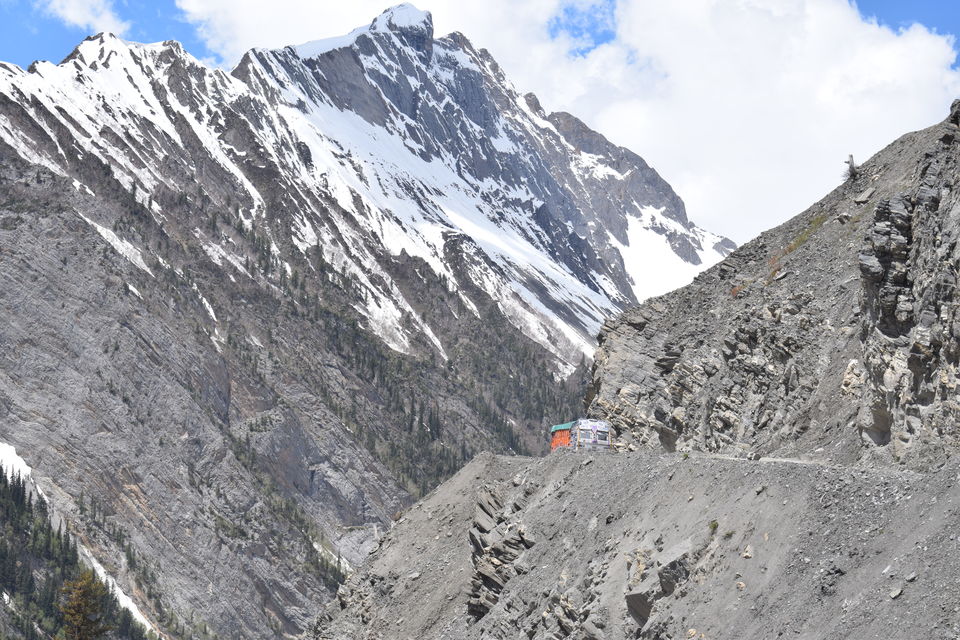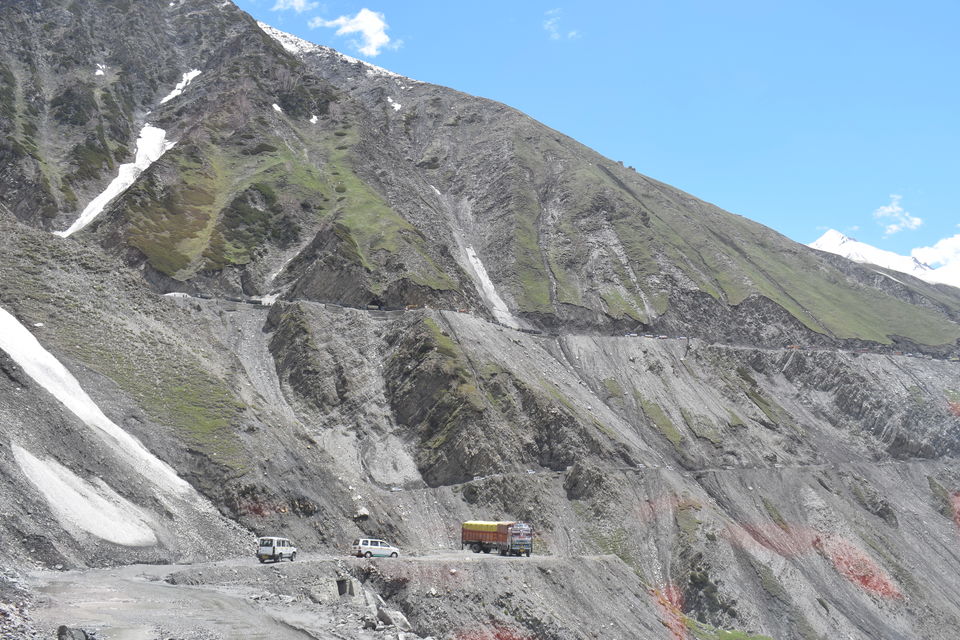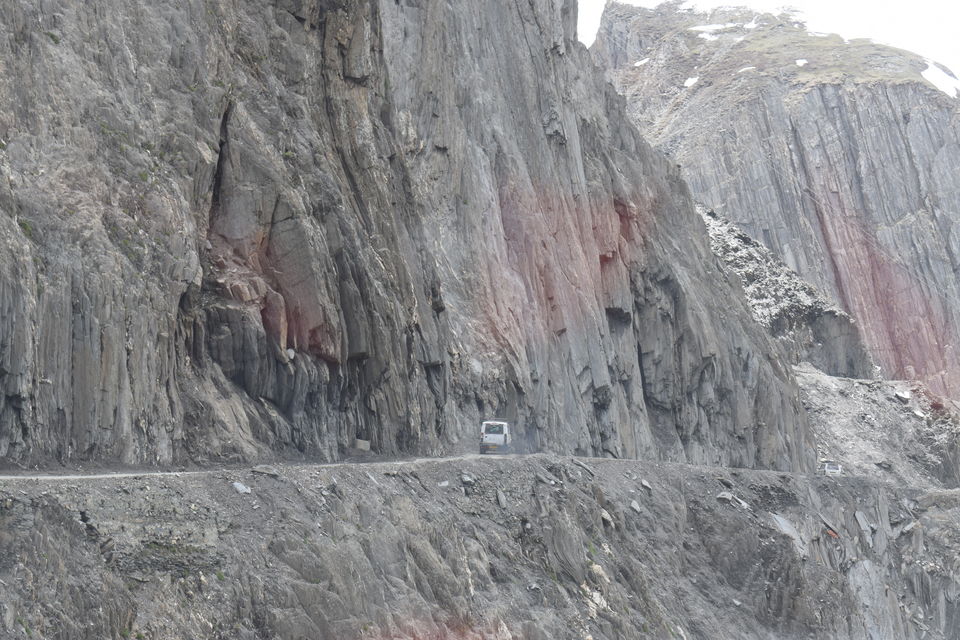 Once you cross Zoji La, the road condition becomes better. A few kms ahead lies Zero Point, similar to Thajiwas glacier and a major tourist attraction. Traffic jams are common here, as a part of the road is always parked with tourist vehicles.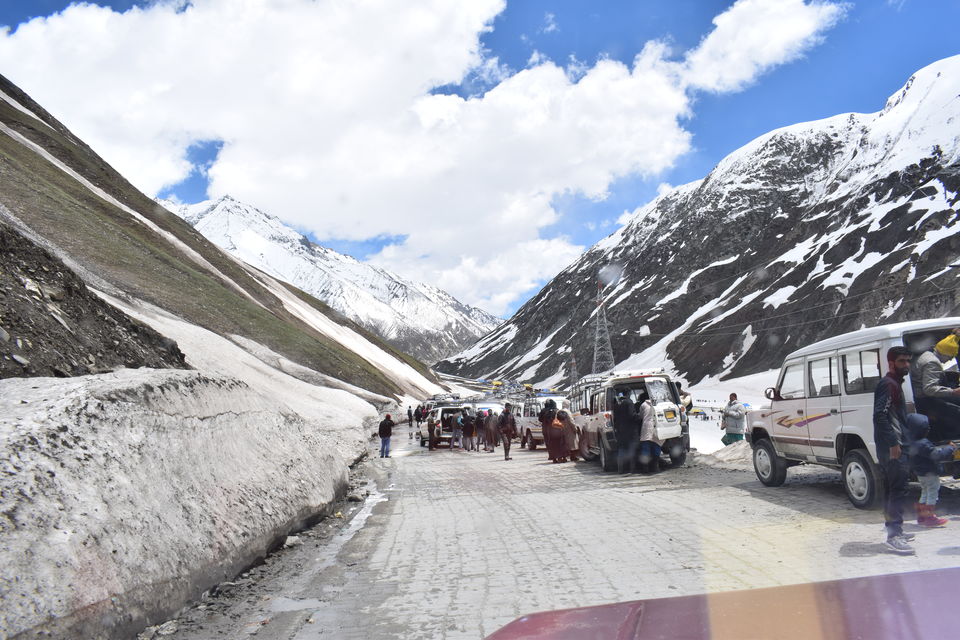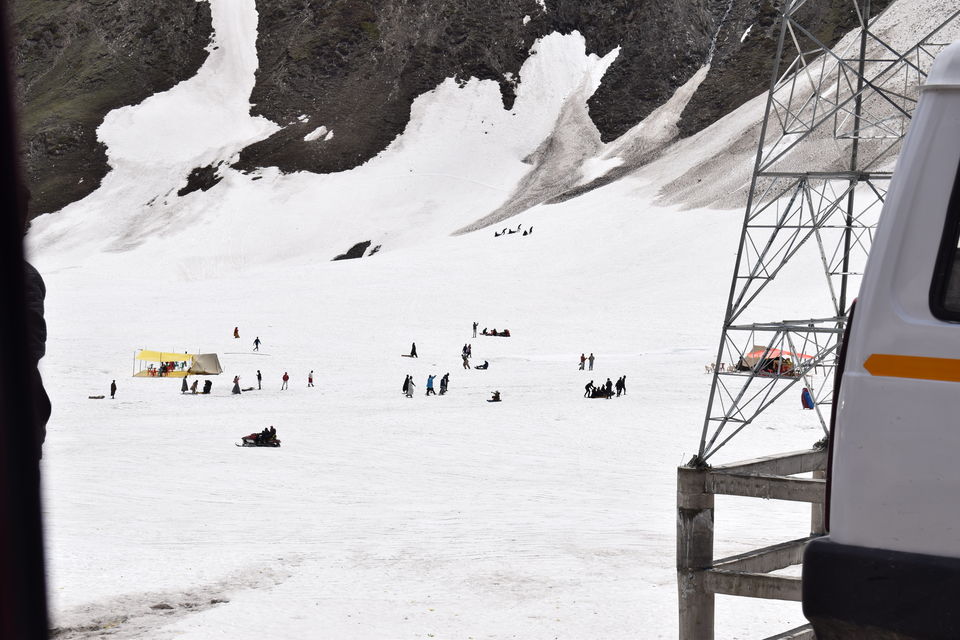 The scenery becomes more grand after Zero point with walls of snow on both sides of the road. You have a river flowing on one side of the road and snow capped peaks. For me, the stretch after Zero Point till Drass was the most beautiful on the Srinagar - Leh highway and pictures can't do justice to it.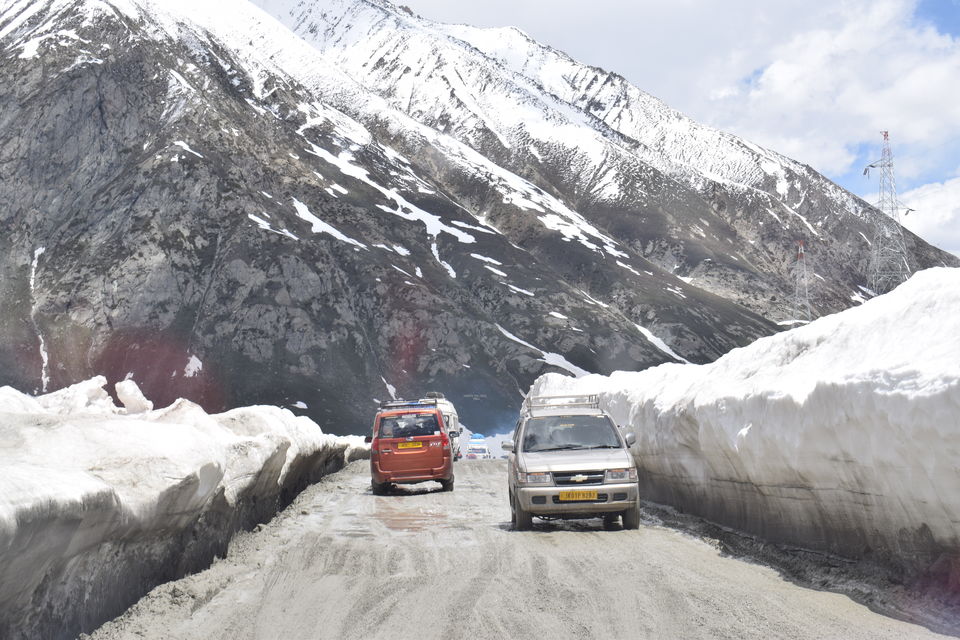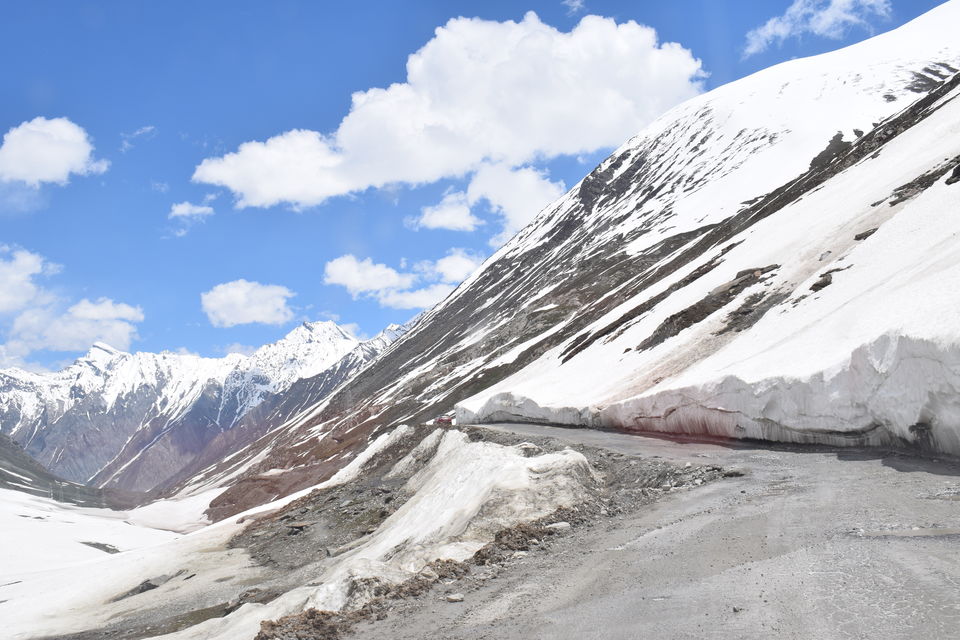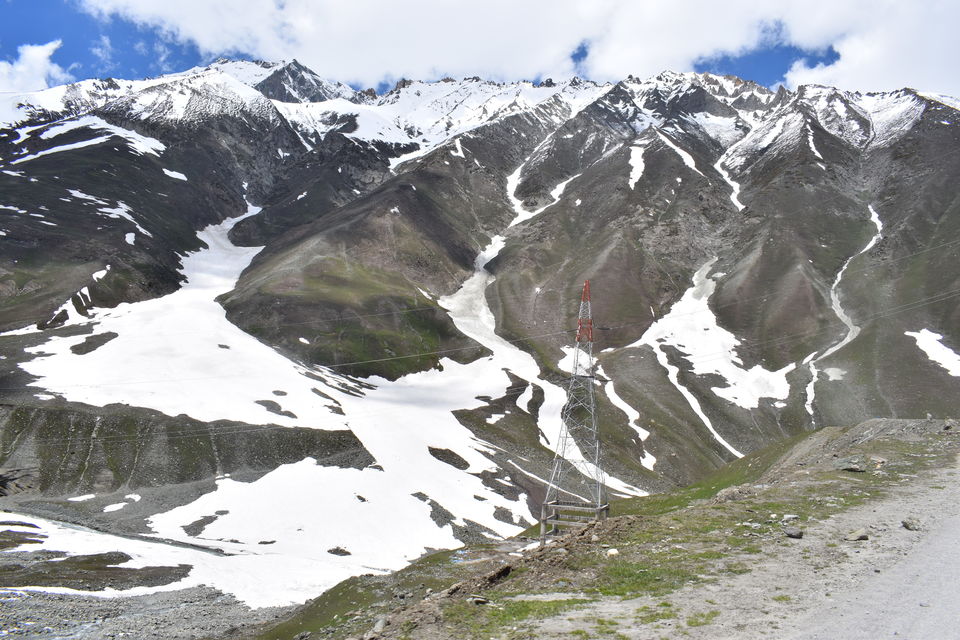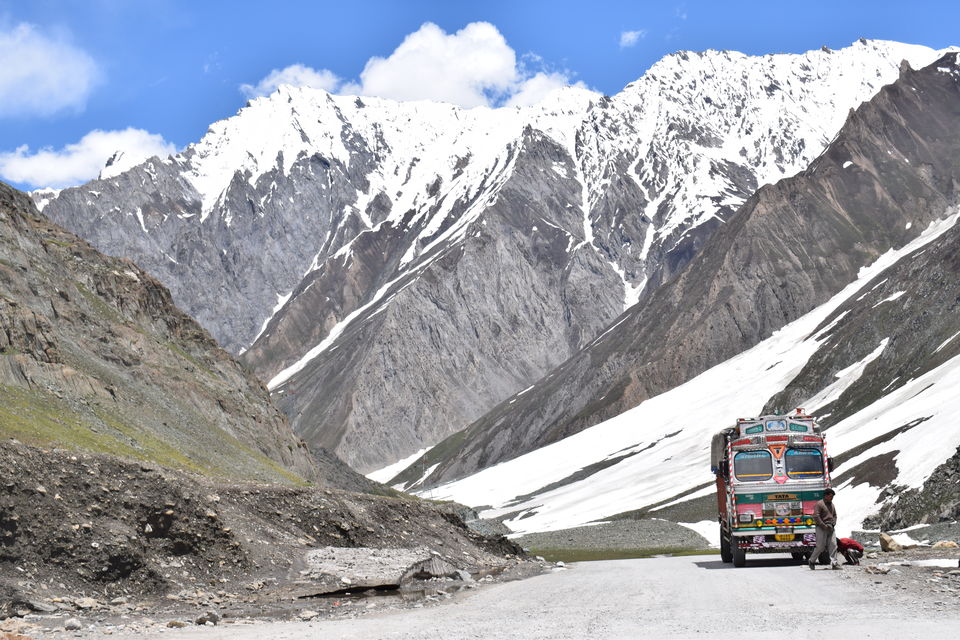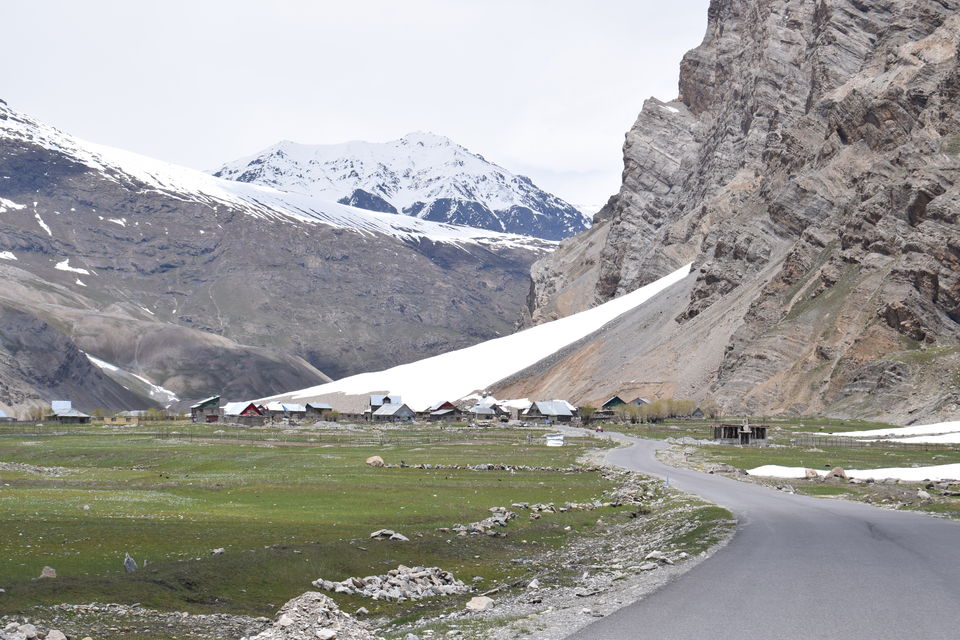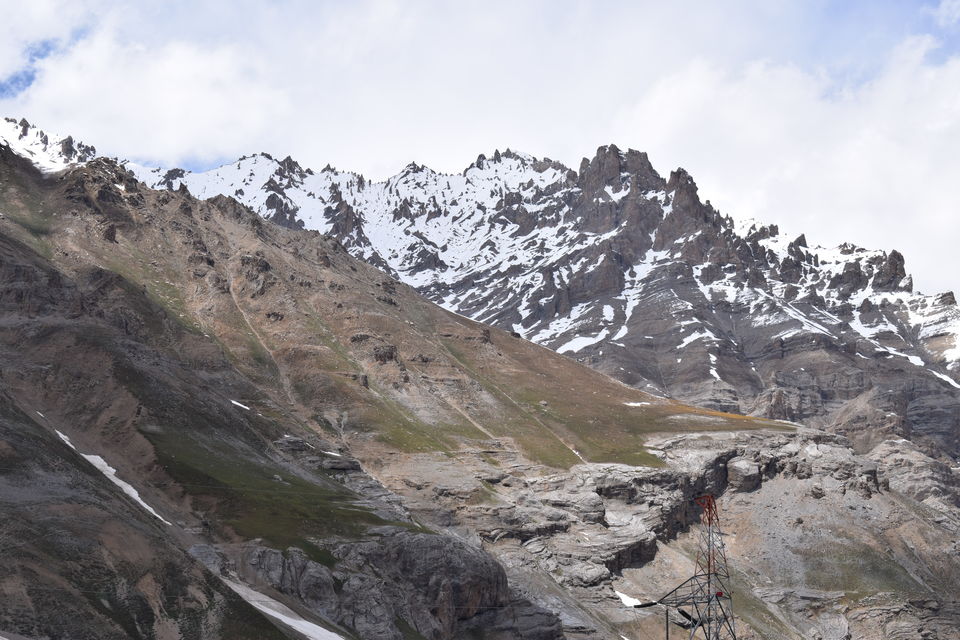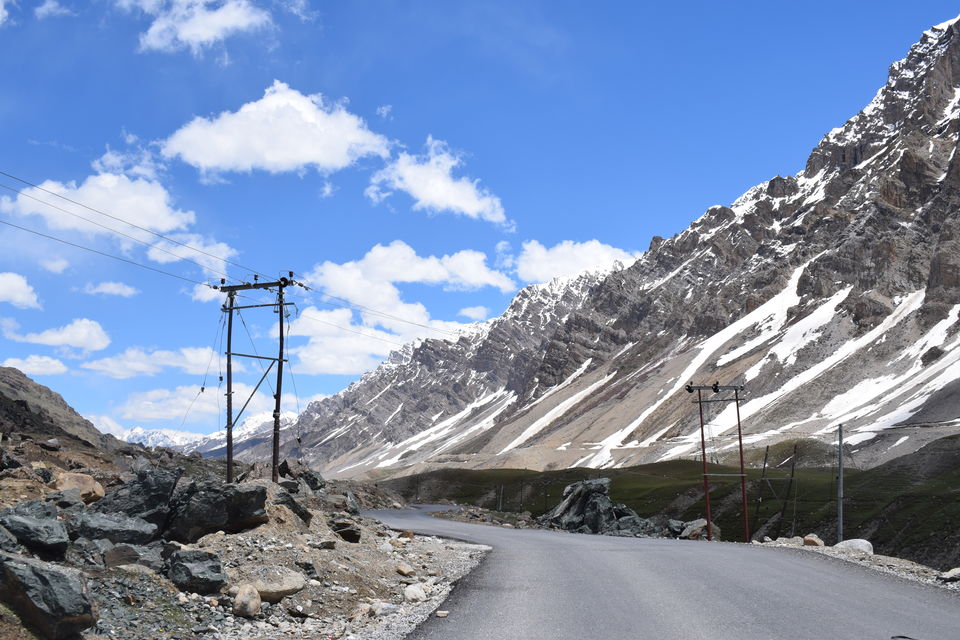 We finally reached Drass at around 1:30 PM, 3 hours from Sonamarg. Drass is slightly bigger than Sonamarg and has the distinction of being the second coldest inhabited place in the world, so getting clicked with the signboard was obvious.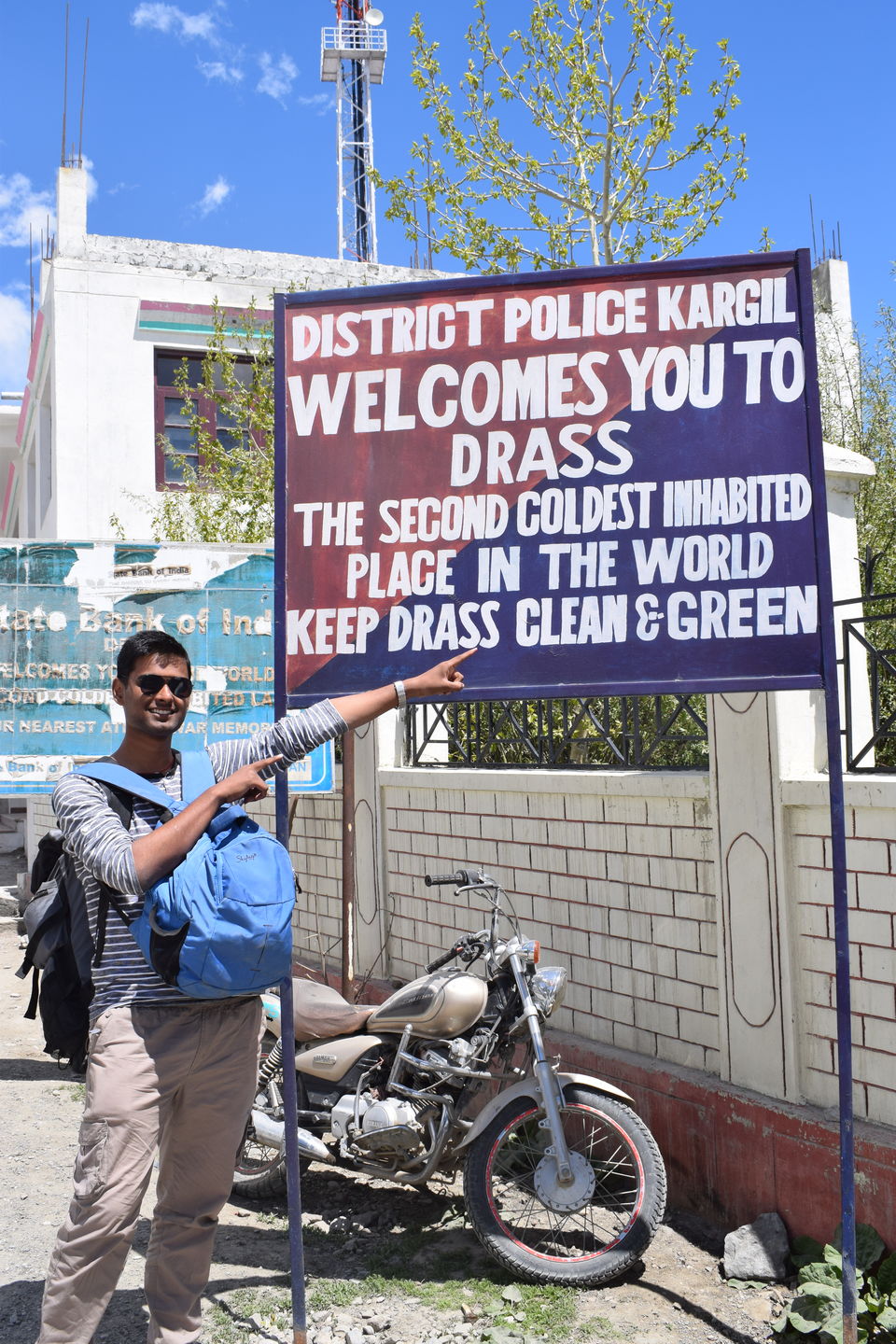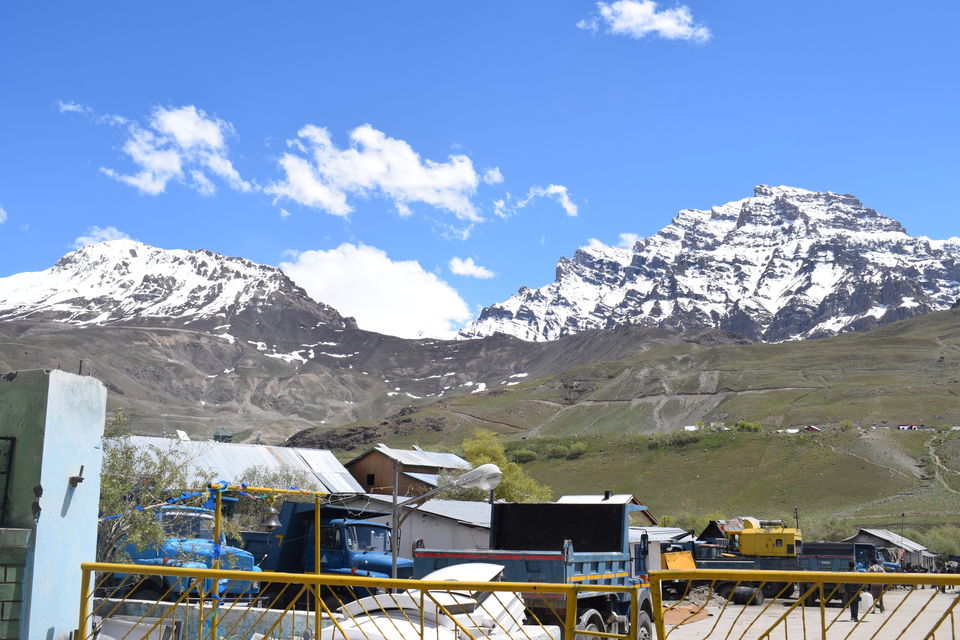 The shared taxi drops you near the taxi stand. Kargil War Memorial is a further 6 kms ahead from the town. We first had our lunch at a roadside dhaba before proceeding for the memorial. Shared taxis ply from the taxi stand to the memorial frequently (₹20 pp). We struck a conversation with the locals in the taxi about how they survive the harsh winters here among other things.
The Kargil War Memorial is built in honour of the soldiers who sacrificed their lives for their motherland during the Kargil War. Visiting this place and seeing the tricolor flying high will fill your heart with pride for sure. The place is entirely maintained by the Army. You are not allowed to carry your bags inside and there is a charge of ₹50 if you have a camera.
If there is a large group, then a soldier gives a briefing about the war on request. The peaks of Tiger Hill and others where major battles were fought are clearly visible from here.
We then decided to leave for Kargil. You can also stay at Drass and cheap accommodations are available, but it is preferred to stay in Kargil as the Srinagar - Leh bus makes an overnight halt at Kargil. The problem we were facing was that we were unable to find a single transport that would take us to Kargil. We waited for around 30 minutes, but to no avail. The people there informed us that even if we find a vehicle, it would most likely be full as it starts from Drass.
We decided to return to Drass, find a transport from there and if fail, stay overnight in Drass. We found one shared taxi going towards Drass. Barely 2 minutes into the journey, we spotted the JKSRTC bus approaching again. We signaled the bus from the car itself, and this time, it stopped. In the middle of the highway, we quickly pulled out our luggage from the Innova and ran to board the bus. The taxi driver was kind enough not to take any money from us. The bus was half filled with parcels and luggage, and the other half with people. We somehow found a place to sit and just marveled at our sheer luck. Day saved!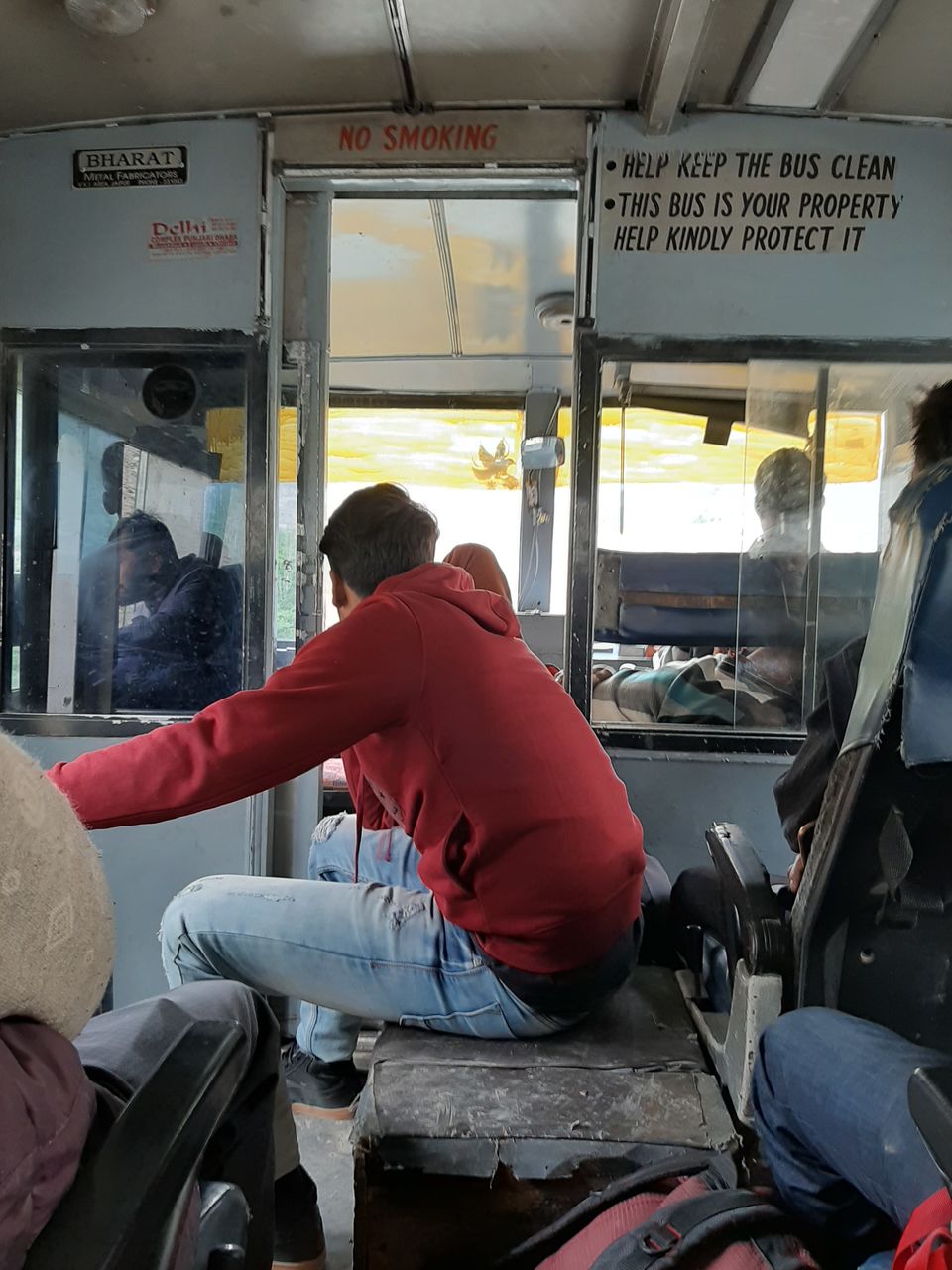 We boarded the bus at around 3:30 PM and it dropped us at Kargil at 5:00 PM (₹70 pp). Kargil is slightly bigger than Drass and Suru river, a tributary of Indus, flows by it. The bus driver had recognized us from Sonamarg and told that he did not stop there because of the strong opposition from the taxi drivers. However, if you walk for 10 minutes till the edge of the town, outside the area of taxi drivers, then the bus will stop - a thing that we should have kept in mind. He also informed that the same bus will leave tomorrow for Leh at 5:30 AM from the bus stand.
Just when we deboarded the bus, we were approached by a hotel owner. He offered a triple bed room with shared bathroom for ₹600 and the hotel was at a walking distance from the bus stand and the main bazar. We struck a deal for ₹500 (~₹170 pp). The guy, Ibrahim, was very nice and I'd recommend his guest house if you are staying overnight in Kargil (Mobile : 9469472899, Himalaya Guest House). We then strolled for sometime in the main bazar followed by dinner.
Day 4 cost : ₹490 transport + ₹170 stay + ₹280 food and misc. = ₹940
Day 5 : Kargil -> Leh (27th May)
We left our hotel by 5:00 AM and reached the bus stand. The bus left at sharp 6:00 AM. The landscape after Kargil takes a drastic change from what we had witnessed so far. Lush green meadows are replaced by barren, brown mountains covered in snow. Even though Srinagar to Kargil gets blocked off during winters because of snow at Zoji La, however Kargil to Leh remains open round the year. The road till Leh is in an excellent condition and kudos to BRO for this.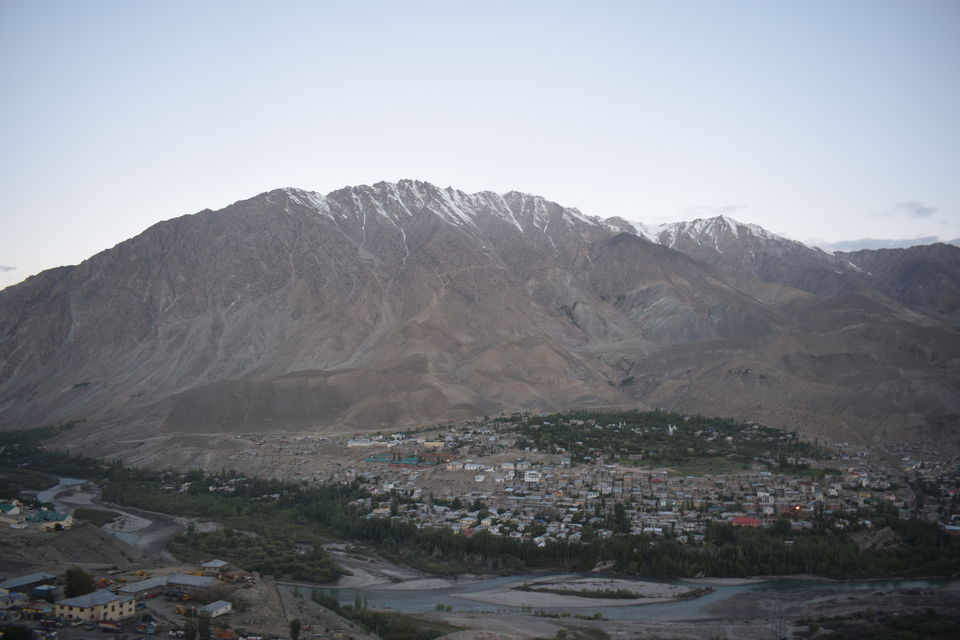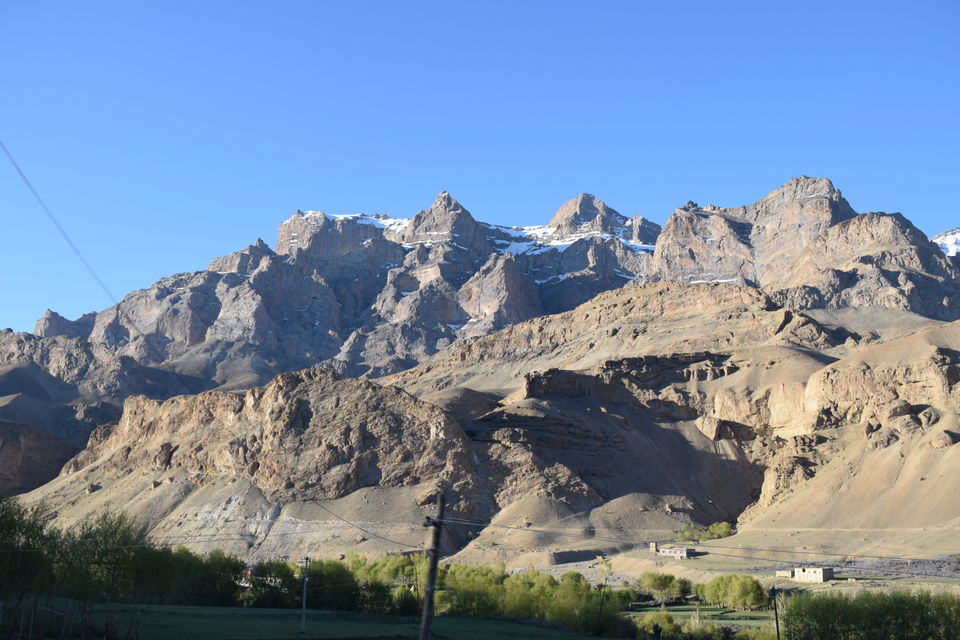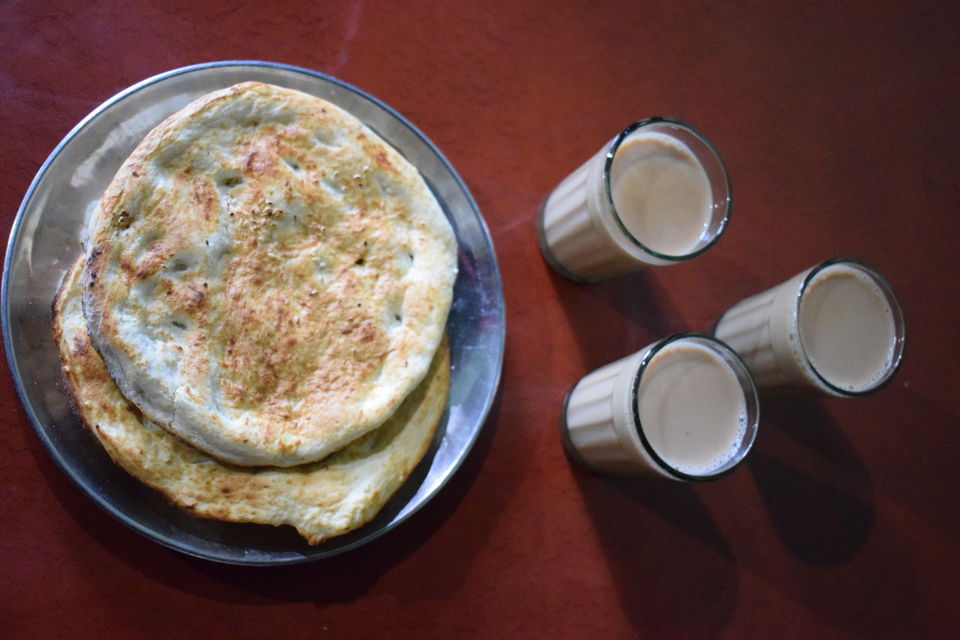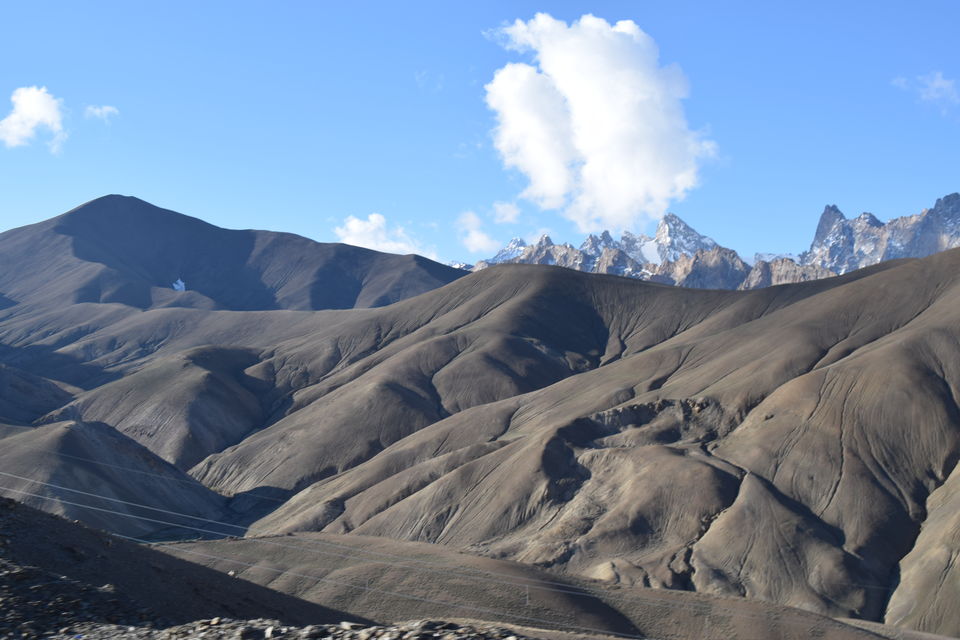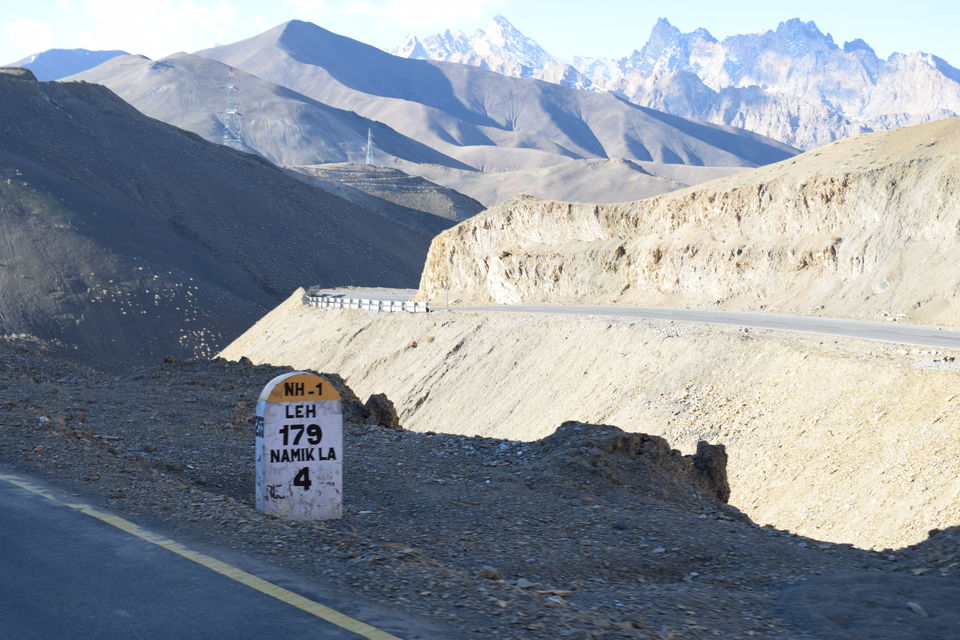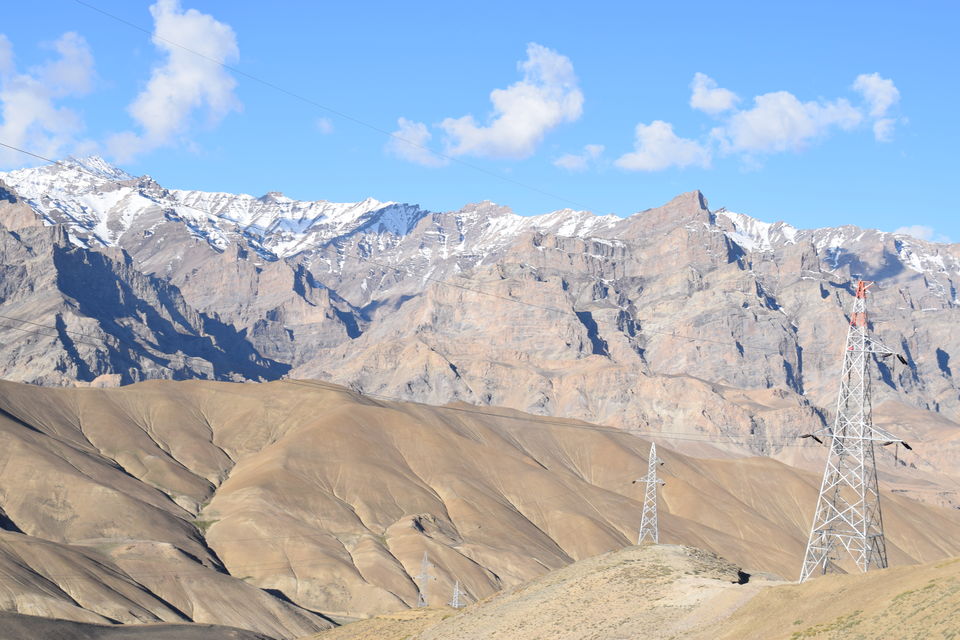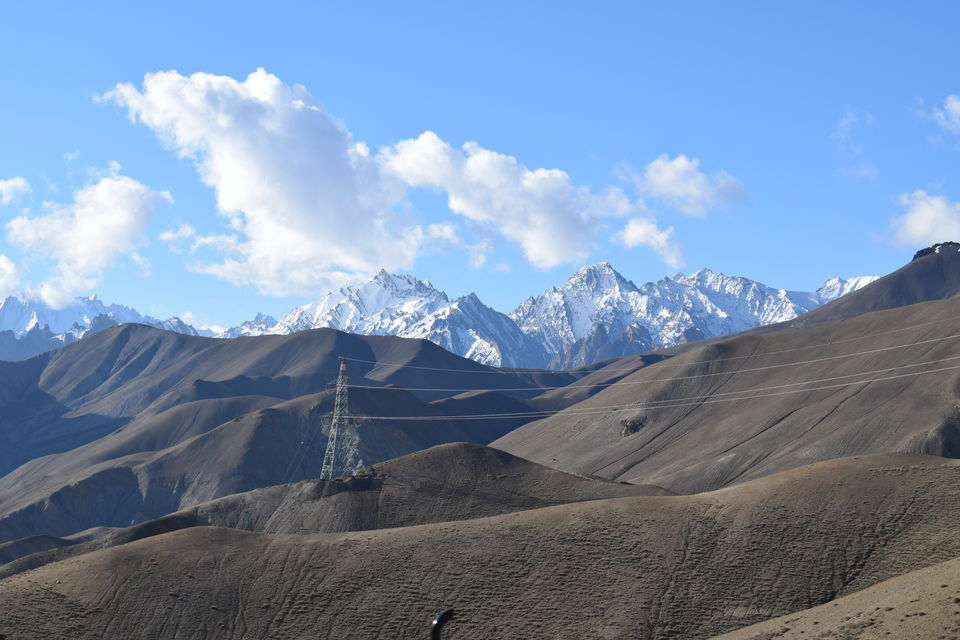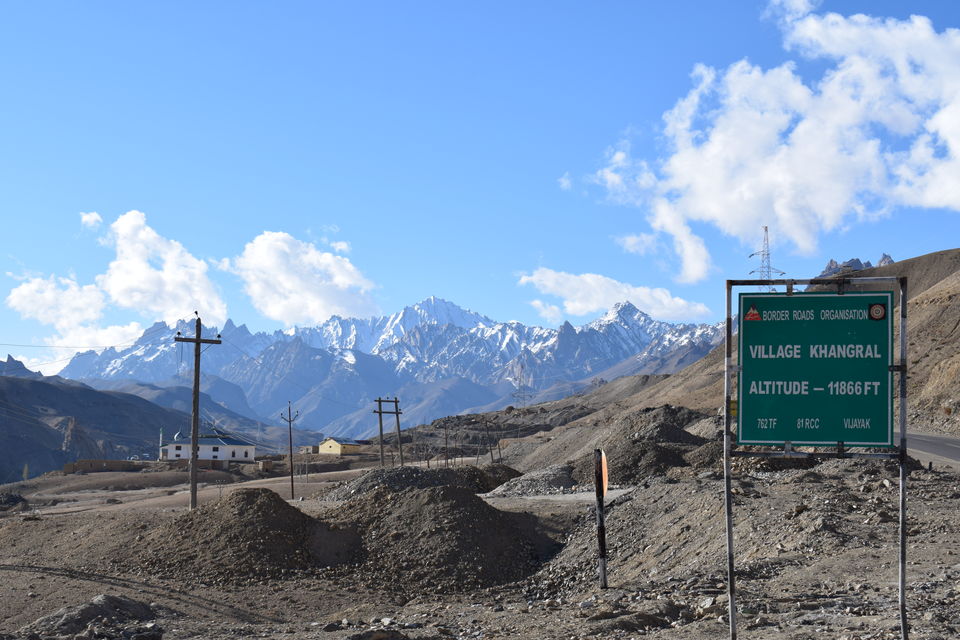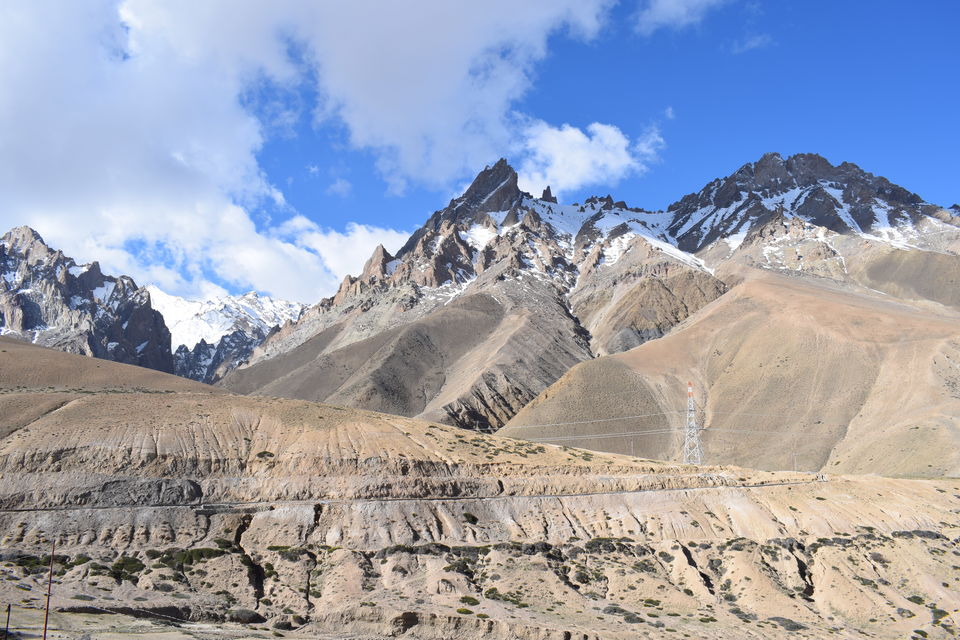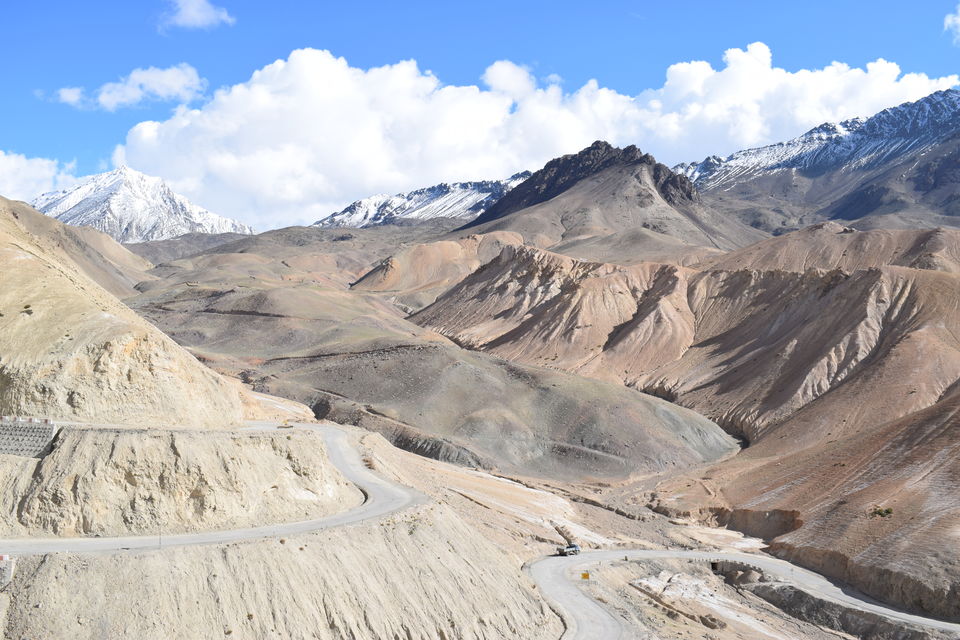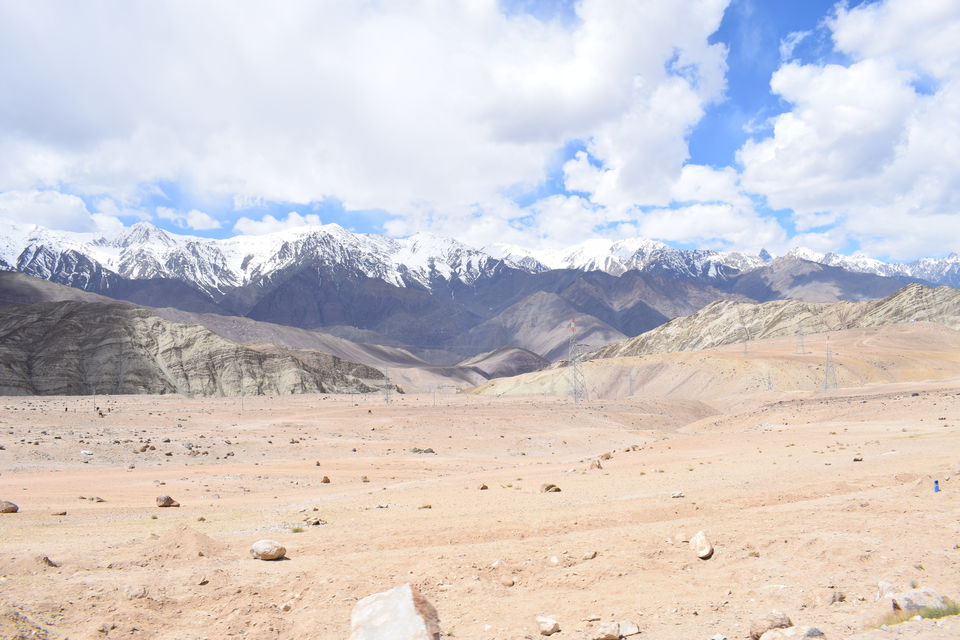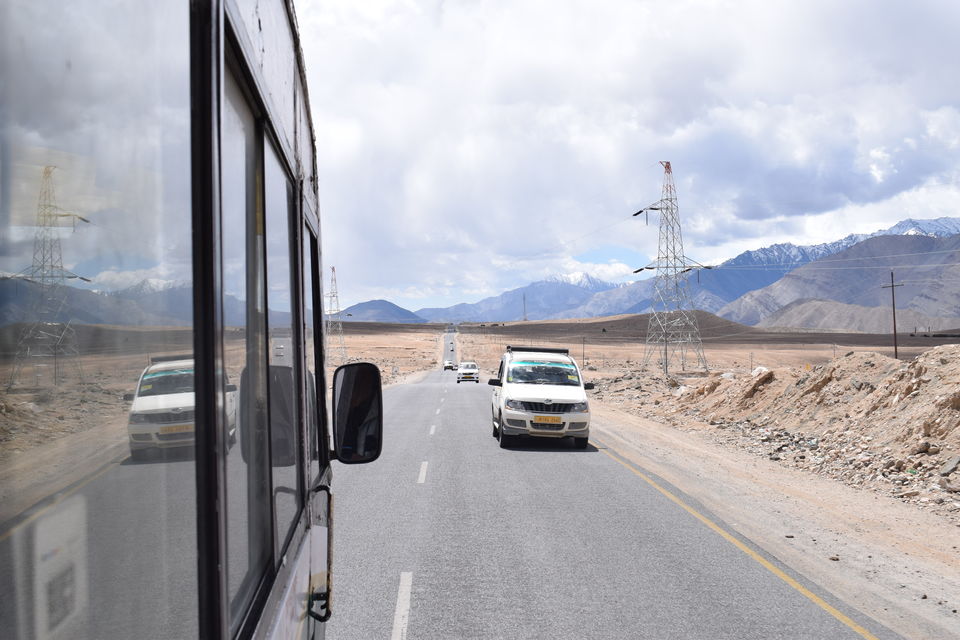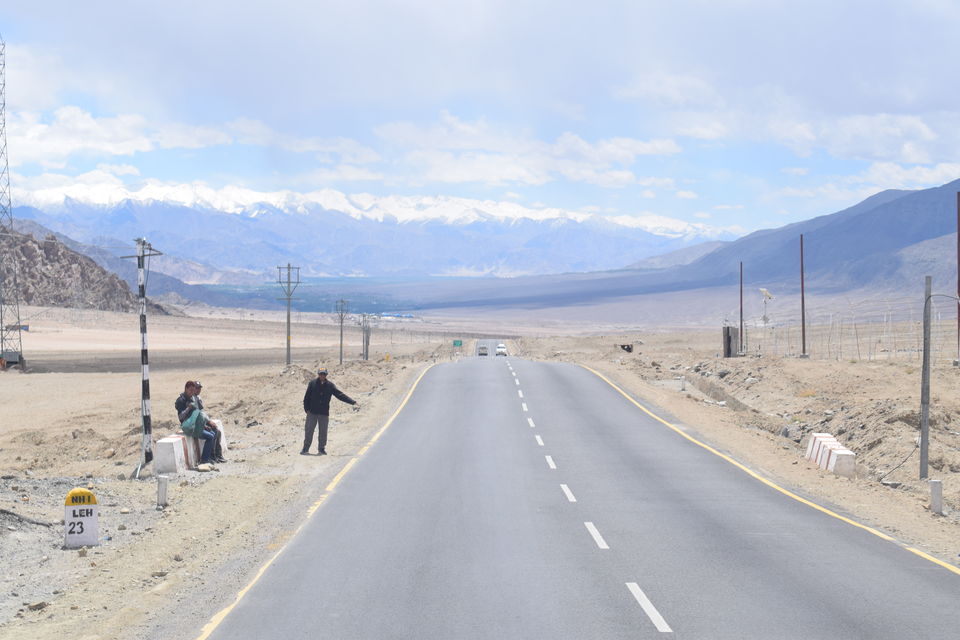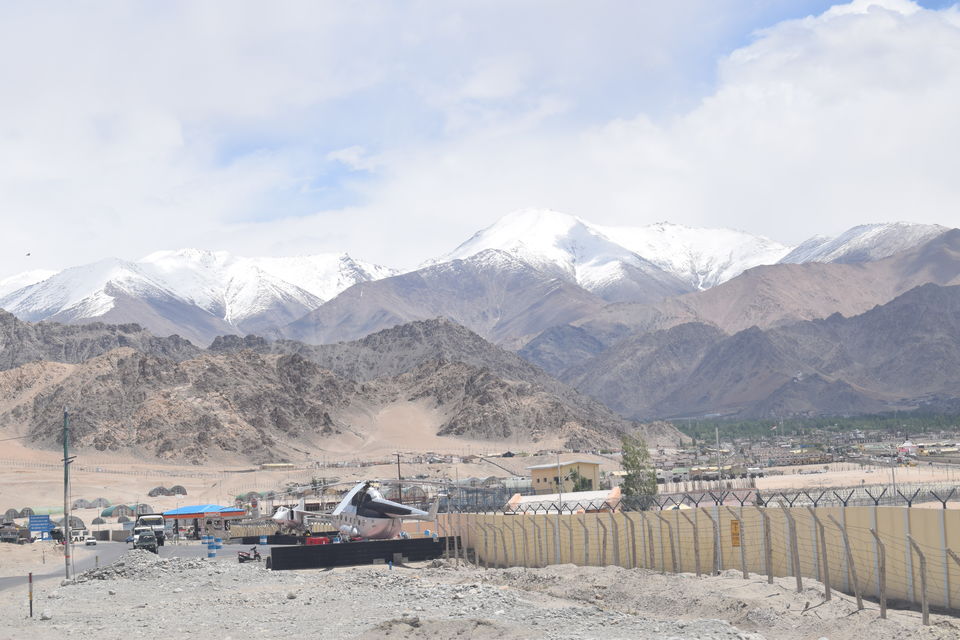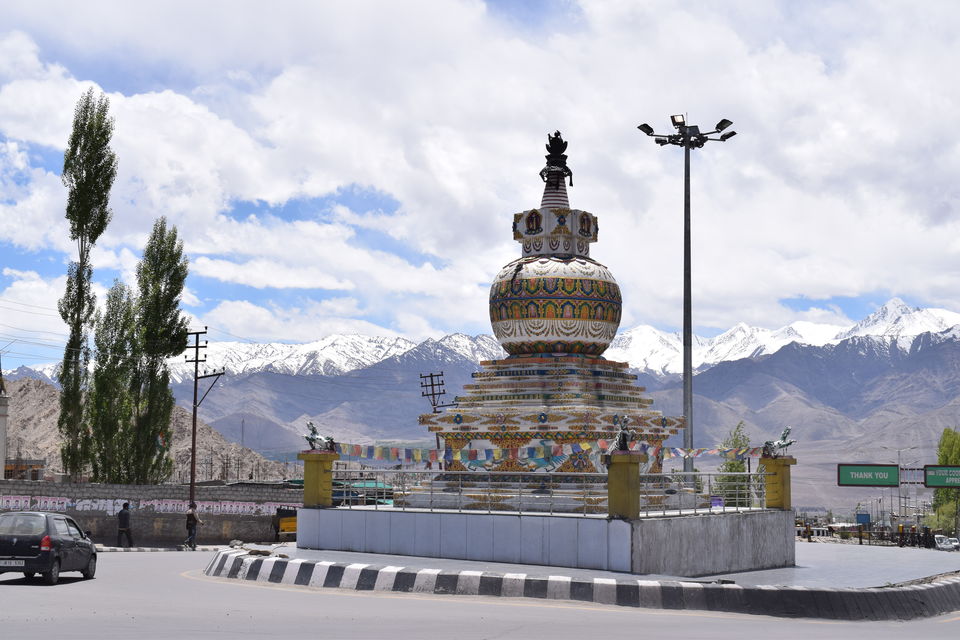 The bus stops twice on the way - once for breakfast and the next for lunch. We had some Kashmiri bread and tea for breakfast (₹30 pp). We skipped lunch and decided to have it 0nce we reached Leh. The bus passes through several sightseeing points on its way to Leh - the Sangam, which is the confluence of Indus and Zanskar rivers, along with the Magnetic Hill and Hall of Fame.
We finally reached Leh at around 1:30 PM. The fare per person is ₹630 from Kargil to Leh. Since we were to visit all the famous landmarks like Nubra Valley, Pangong Tso, etc. by buses, we decided to look for a cheap hotel nearby the bus stand. We found one, Dey-Skit Guest House at a stone's throw from the bus stand. The price per bed per night is ₹150 pp and we took a 3-bedded room with shared bathroom. The guest house is on the main road and is just towards the left of the prayer wheel near the bus stand.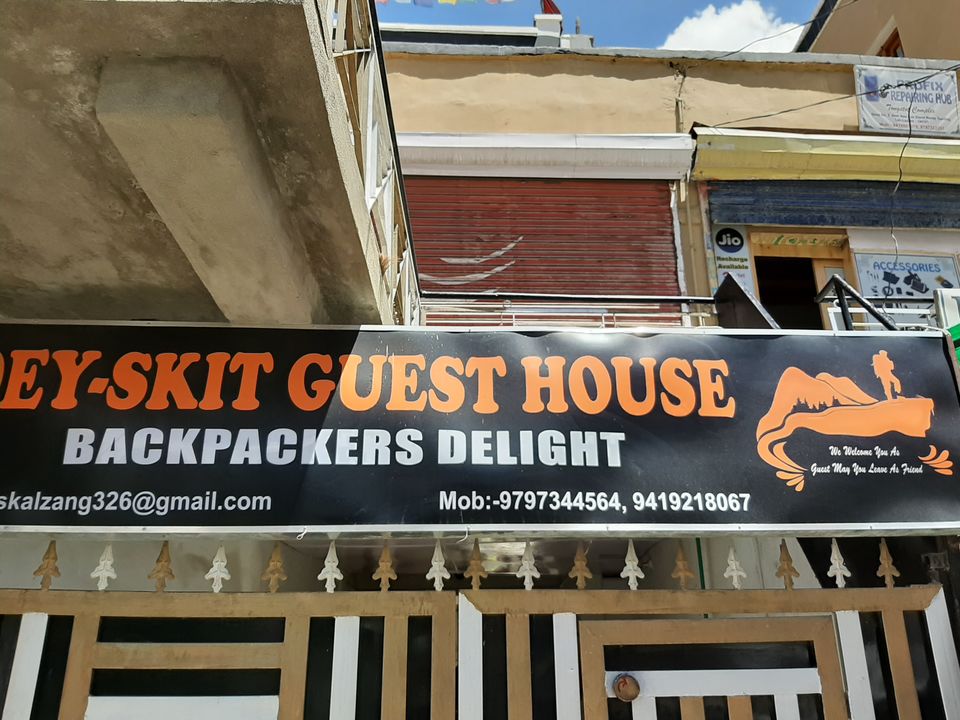 After dumping our bags in the hotel, we set off to get our permits stamped from the DC Office. You need an ILP (Inner Line Permit) to visit most of the important landmarks in Leh like Nubra and Pangong. The permits can be taken online from here. Always keep multiple copies of the permits with you. The permit fees can be paid either online or in the DC Office. We chose the latter option, with the expense being ₹1680 (₹560 pp). The process was very smooth and got over in less than 5 minutes.
Now came the most important part, looking for transport to visit all the landmarks. We had planned to cover Nubra Valley, Pangong Tso and Tso Moriri, staying overnight in each of the three places. From whatever information I had gathered from the net, the bus to Pangong left every Tuesday, Thursday, Sunday, the bus for Nubra (Diskit) left every Tuesday, Thursday, Saturday and the bus for Tso Moriri left every 10th, 20th and 30th of the month. All of these buses returned the next day.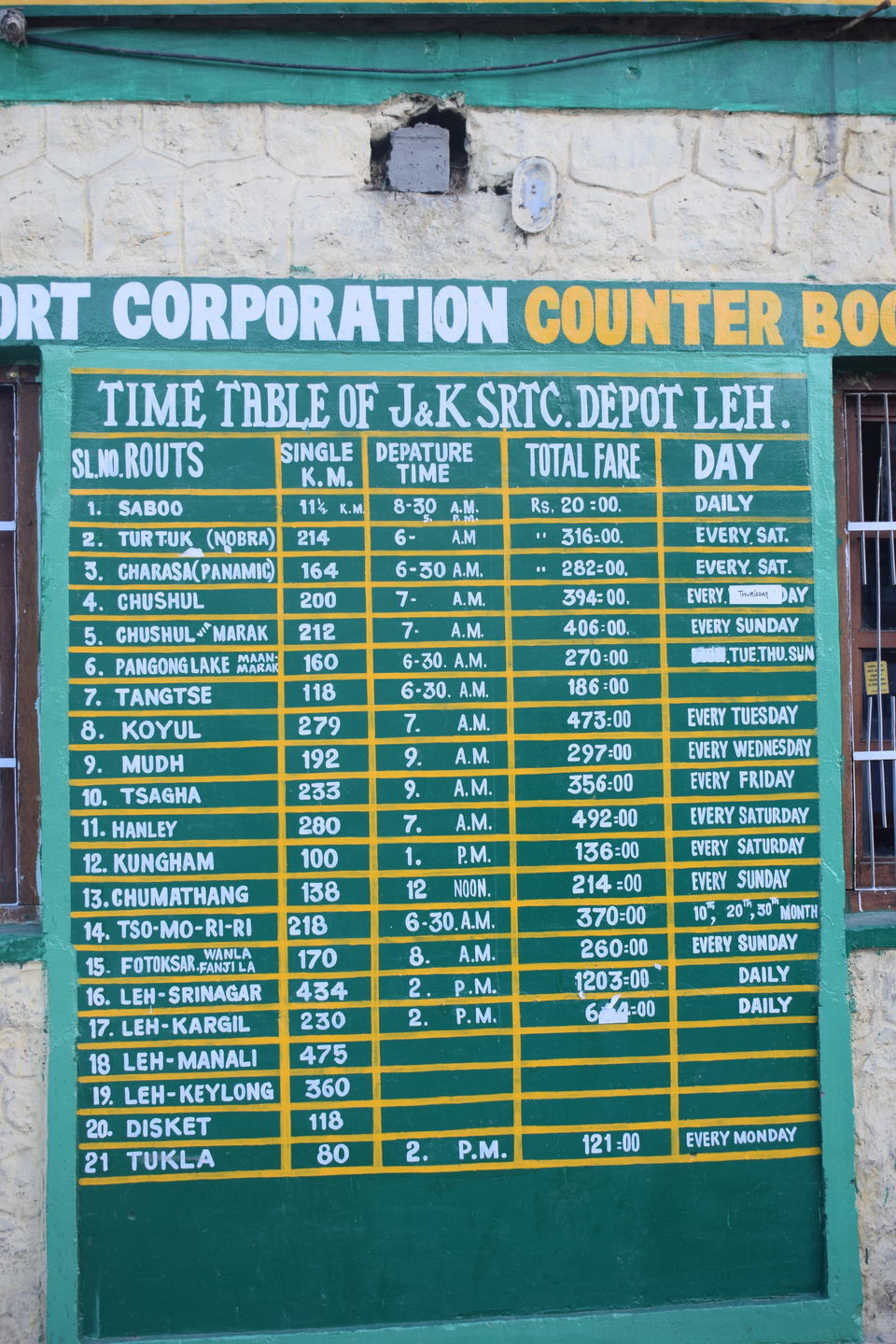 Our plan was this. Leave for Pangong Tso on 28th May (Tuesday) and return to Leh on 29th. Leave for Tso Moriri on 30th and return to Leh on 31st. Leave for Nubra on 1st June (Saturday) and return to Leh on 2nd. However, fate had some other plans. We reached the Leh Bus stand and I went to enquire about the buses from the person in charge. To our dismay, he told that the bus to Tso Moriri will not be running as the demand is low. He told that the bus runs only in the peak tourist season (post mid-June). The bus to Pangong also will not be running thrice a week but instead just once a week, i.e., the coming Thursday (30th May). However, the bus to Nubra, he said leaves every day, albeit of a private operator.
We then weighed our options. We decided to leave for Nubra tomorrow (28th May) and then return to Leh on 29th. We then leave for Pangong on 30th and return the next day. If we are able to find a shared cab to Tso Moriri, we visit there or else leave it.
On enquiring from the people at the bus stand, they told us that the bus no. 1138 will leave for Nubra. We went in the bus and purchased the tickets till Diskit (₹210 pp). The bus was actually going all the way till Turtuk and was scheduled to leave at 7:00 AM from the bus stand. Finally, we had our lunch (₹150 pp) and then went to sleep, tired from the day's journey.
In the evening, we went to the Main Bazar, lined with rows and rows of shops, where we purchased prayer flags. We had our dinner at Leh Ling restaurant, which served amazing chicken momos and thukpa (₹120 pp).
Day 5 cost : ₹840 transport + ₹370 food and misc. + ₹560 permit + ₹150 stay + ₹75 prayer flag = ~₹2000
Day 6 : Leh -> Nubra Valley (28th May)
We checked out from the hotel and reached the bus stand by 6:30 AM. We had tea bread (₹15 pp) at a nearby eatery. The bus arrived after a few minutes and our seats were on the left side.
Note : Till Khardung La, the views are on the left side, but post Khardung La, the right side has the better views.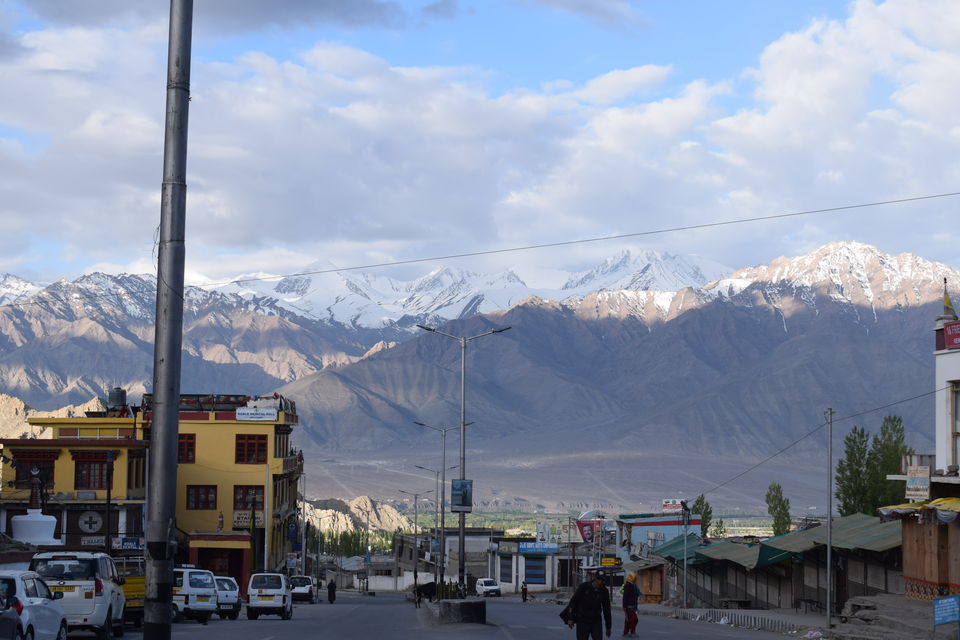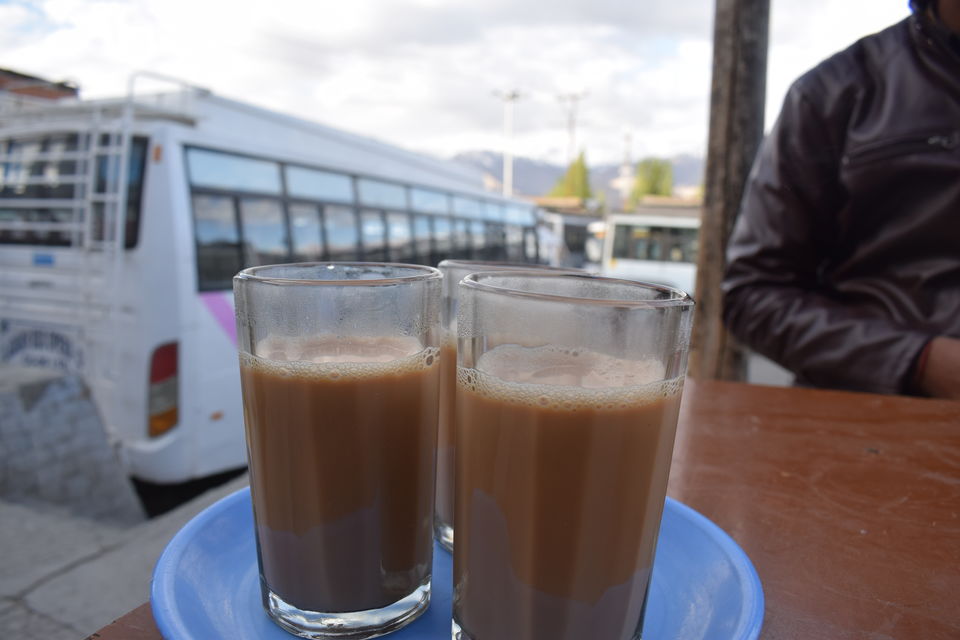 Apart from we three, there were six DU students also in the bus. The bus is primarily used by the locals, however, since there were a few tourists too, we convinced the driver to stop the bus for a few minutes at Khardung La. The bus left at 8:30 AM and it was a bit crowded. Always purchase the tickets before hand if possible.
Till Khardung La, it is mostly a steep ascent and you keep on gaining altitude. The bus stops at South Pullu, where the permits are checked. We also encountered some snowfall at South Pullu.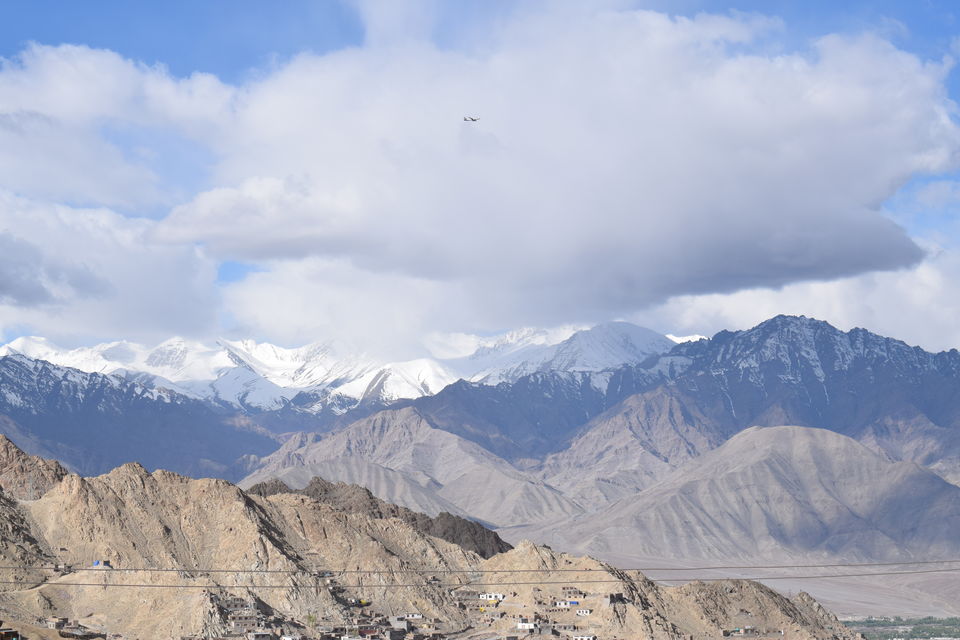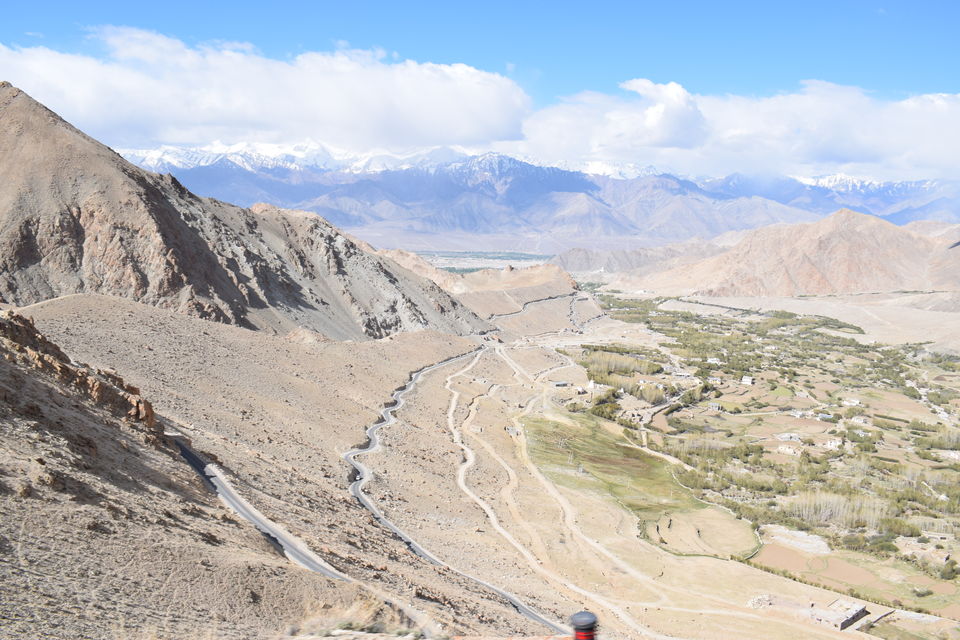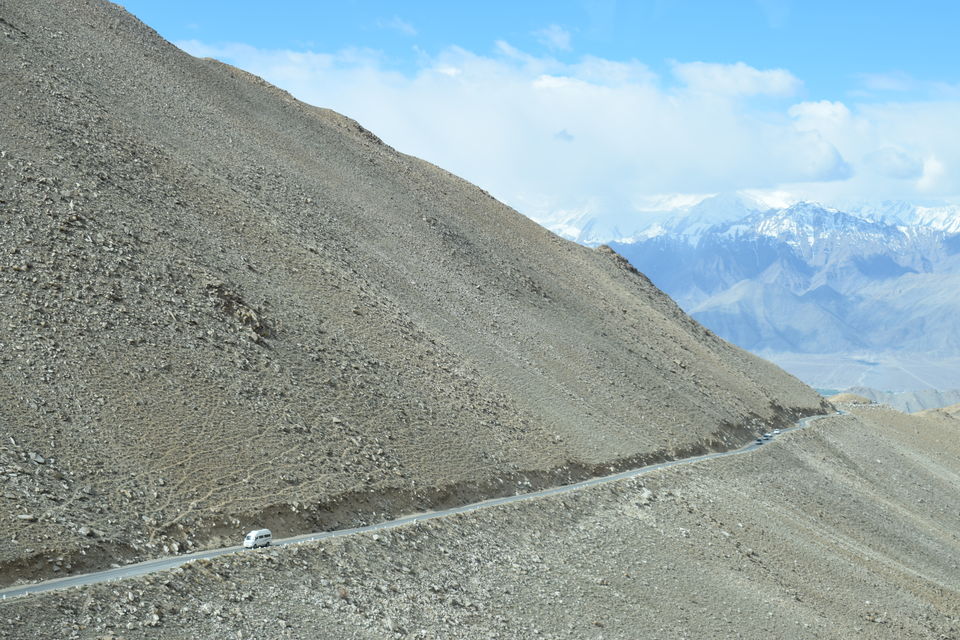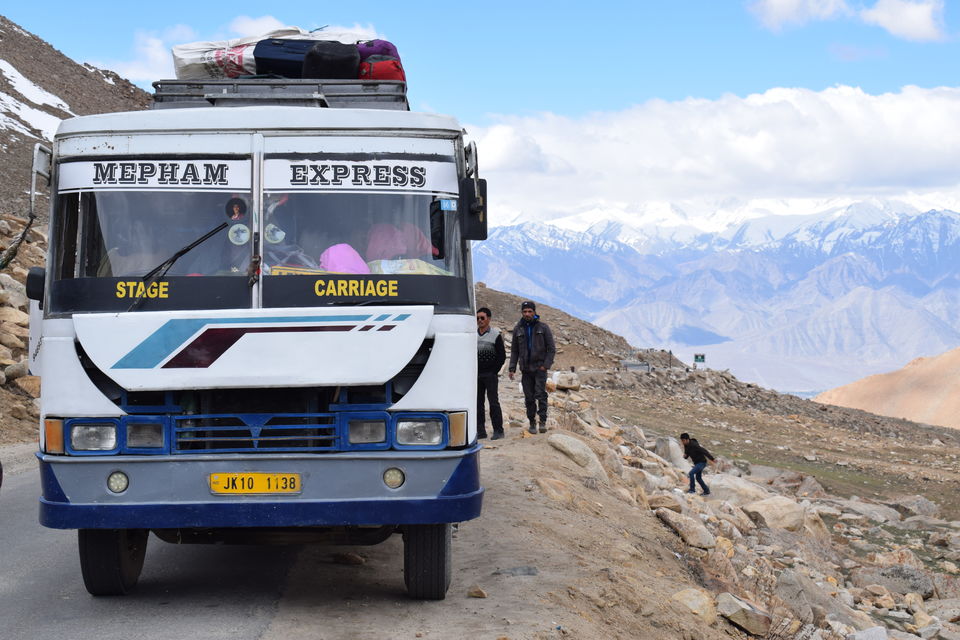 After South Pullu, the cold and snow increases manifold providing gorgeous views. You can see vehicles moving far below you as well as far above you. After about 2 hours, we reached Khardung La. We did not face any sort of headache or nausea as is generally experienced at such high altitudes if not acclimatized properly, however we did face a bit of breathlessness as the air was very thin.
Note : Khardung La (17,582 feet) is not the highest motorable pass in the world. It's the 11th highest pass, with the highest being Umling La (19,300 feet), also in Ladakh.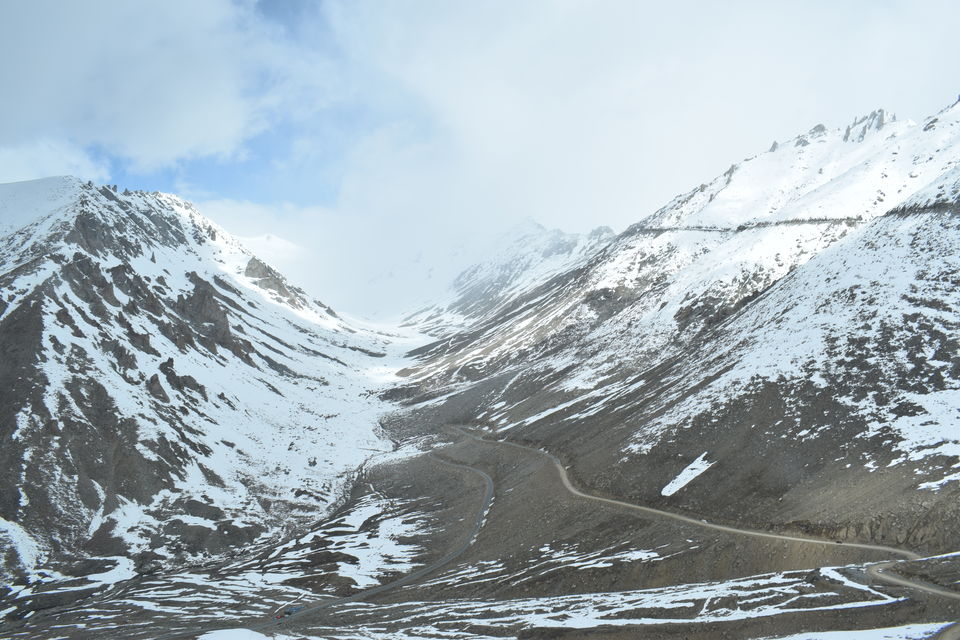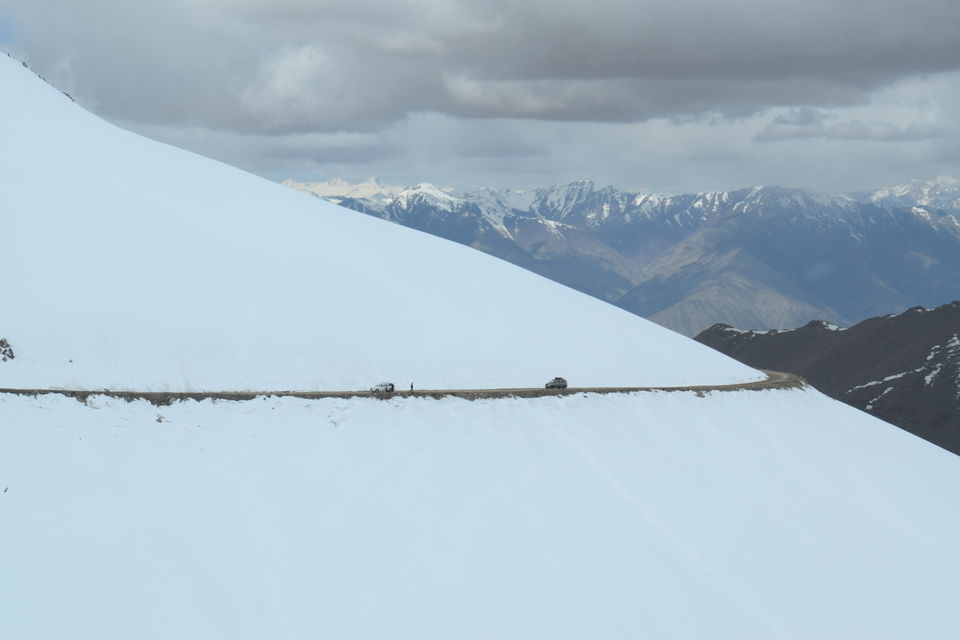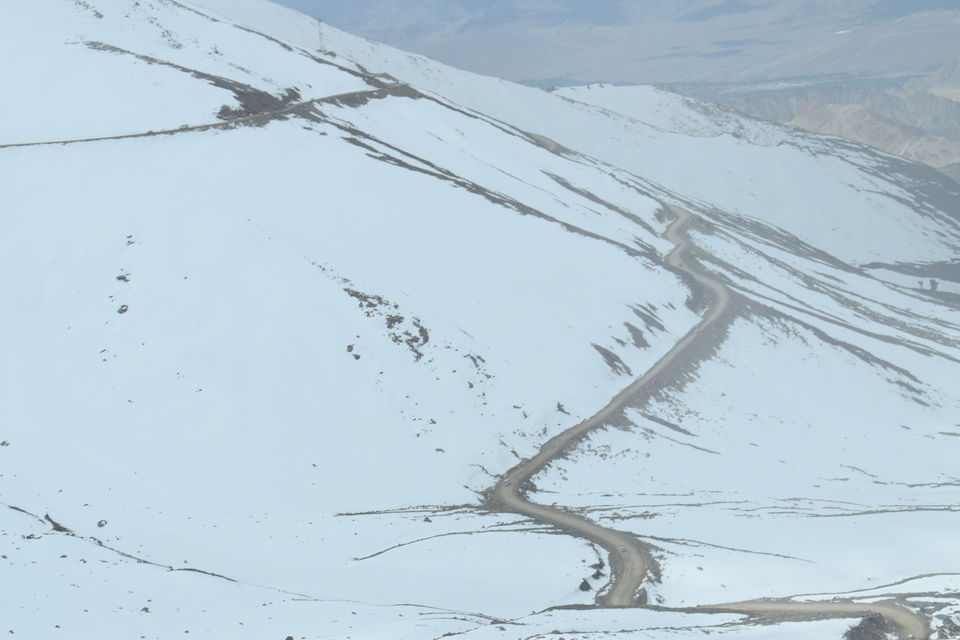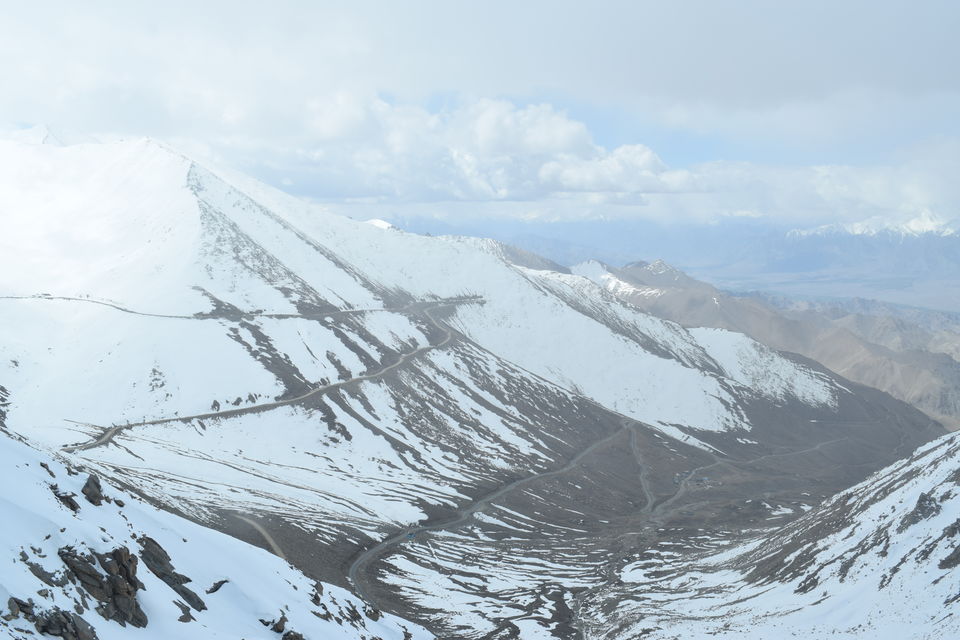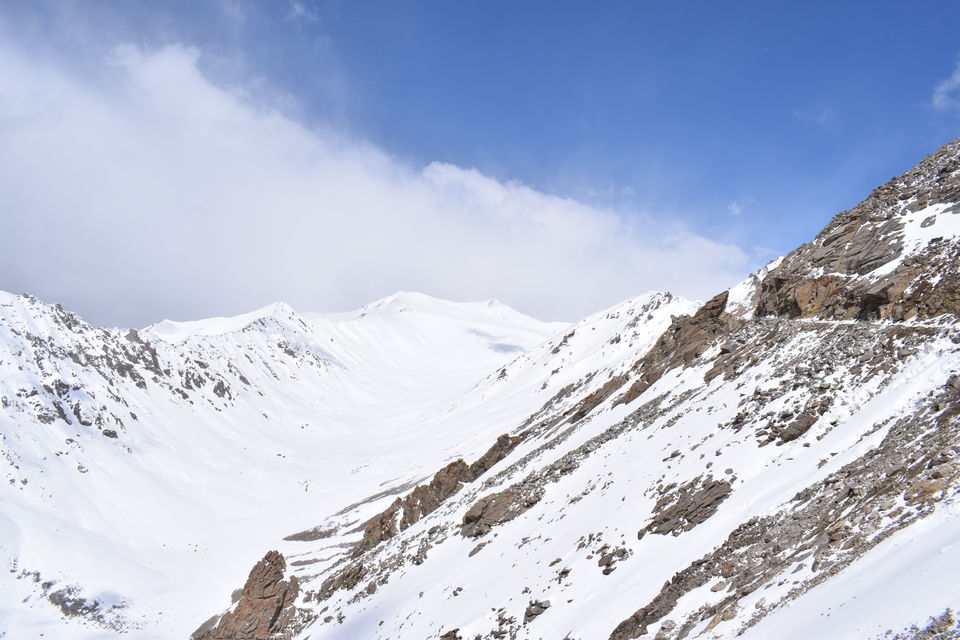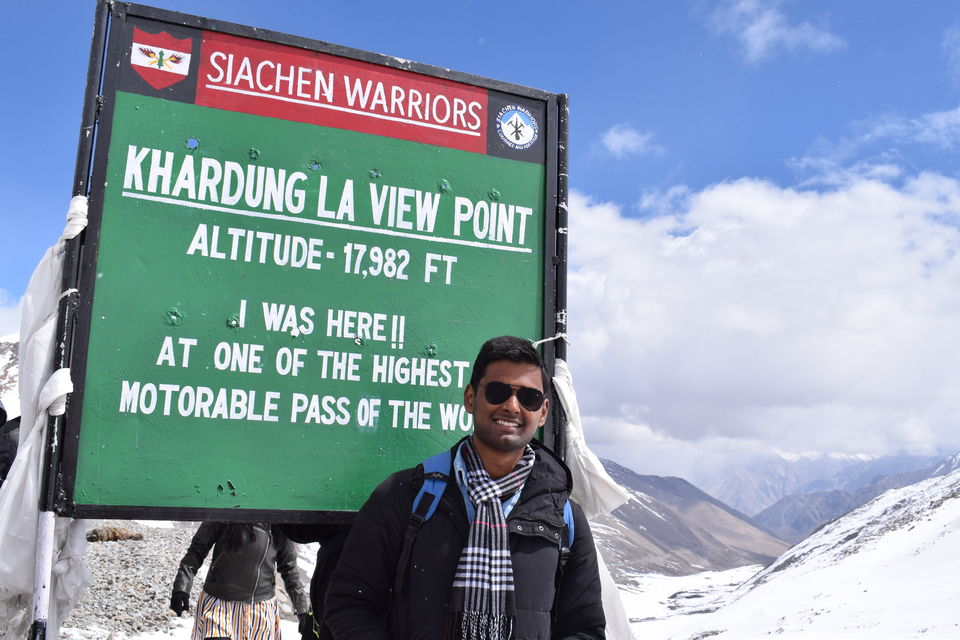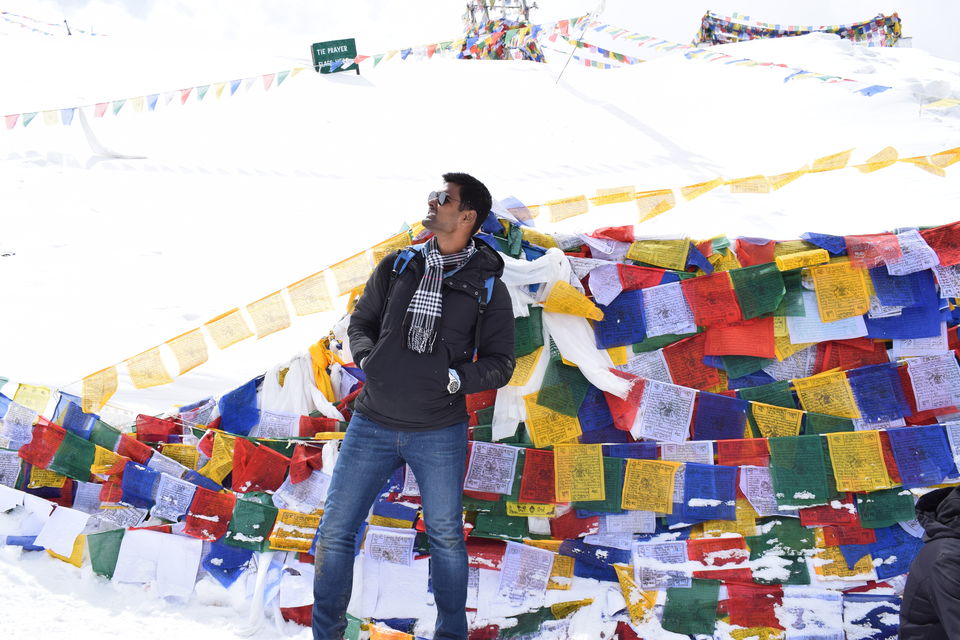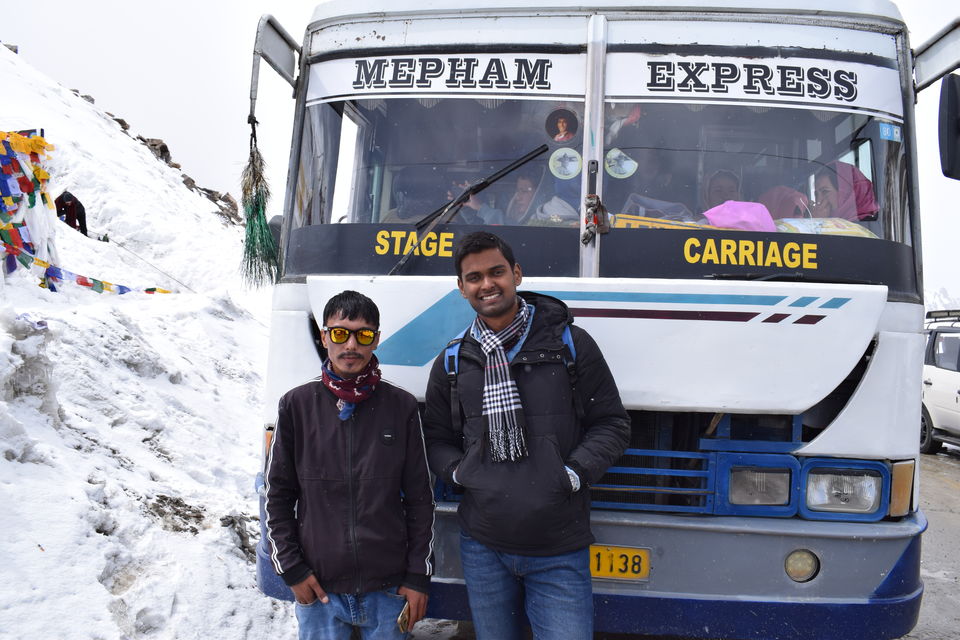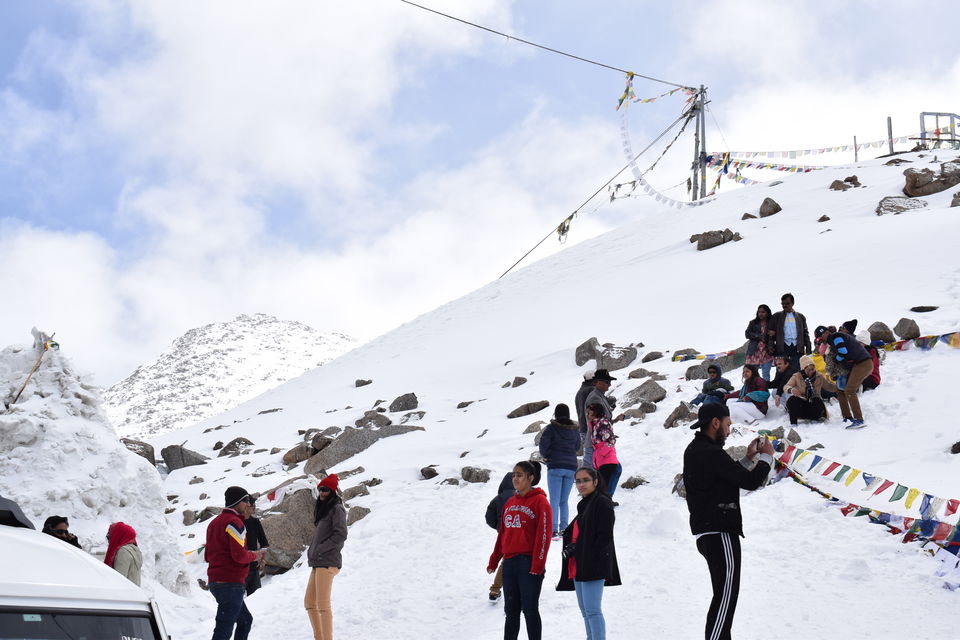 It started snowing a bit more heavily as we left Khardung La, and we encountered some BRO workers engaged in snow clearing ops.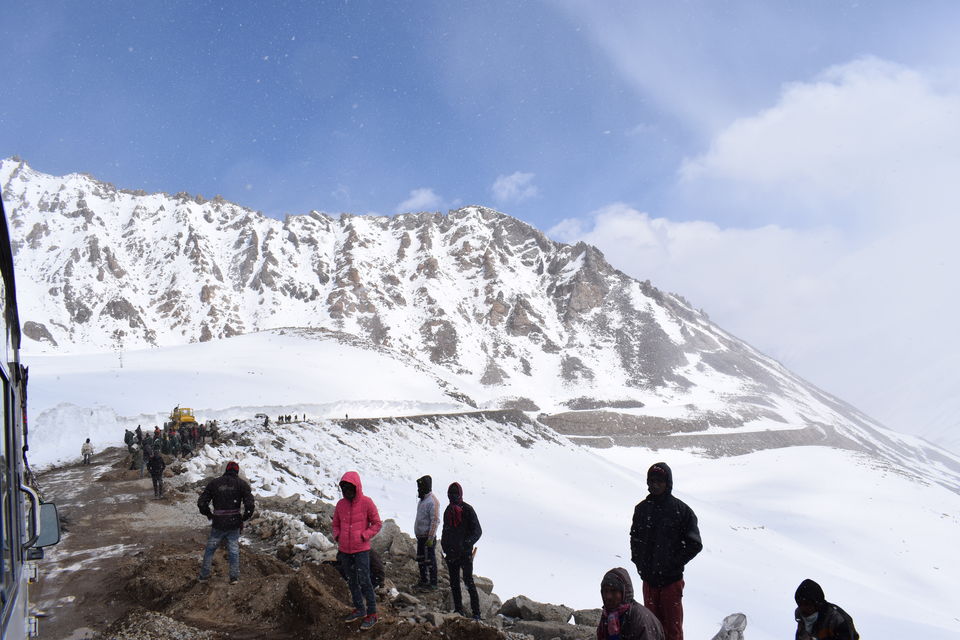 The path after Khardung La is mostly a descent and the views are now on the right side. The bus stops for lunch in the village of Khardung, where we had maggi (₹40 pp). Post Khardung, the snow capped peaks get replaced by barren mountains. Shyok river accompanies you for most part of the journey and you also encounter the place where Bhaag Milkha Bhaag was shot. Nubra Valley is the gateway to Siachen Glacier and you can find significant military presence of Siachen Warriors.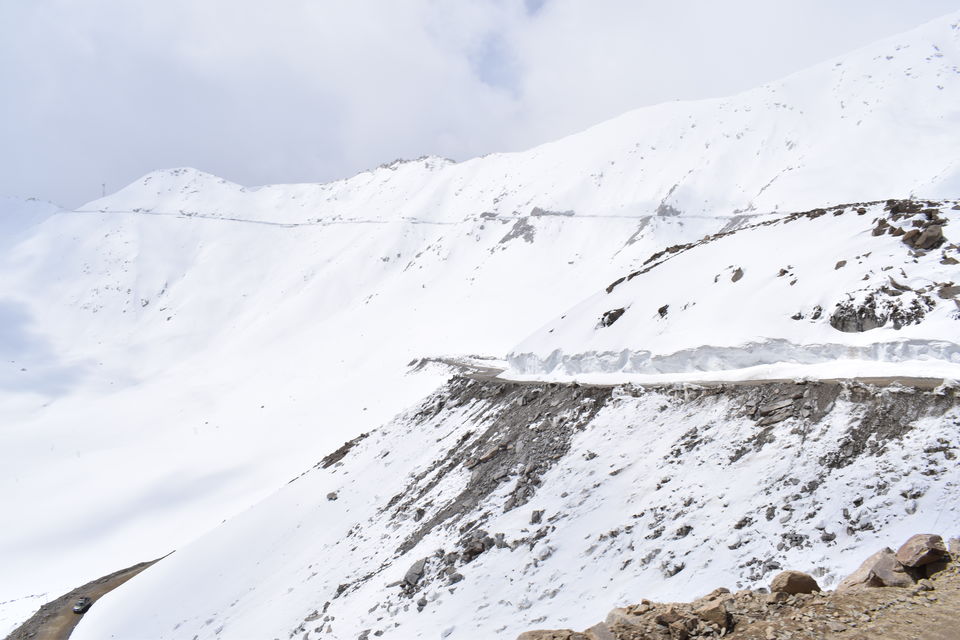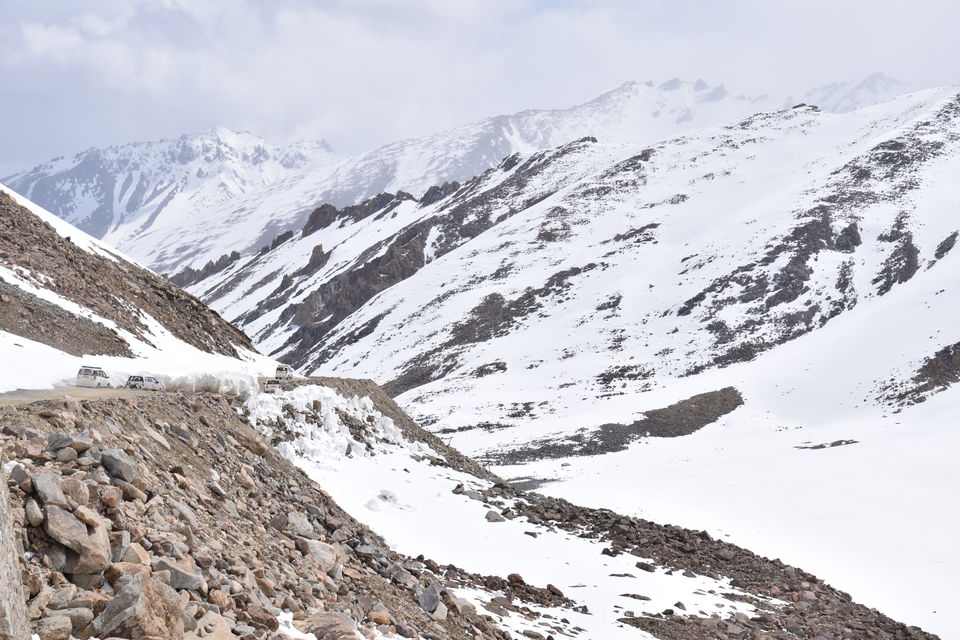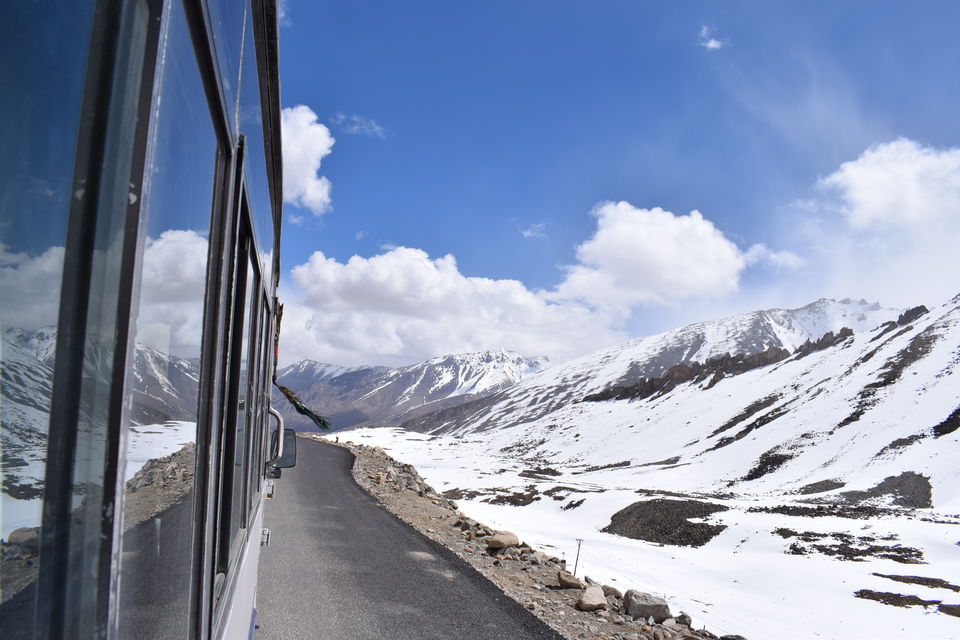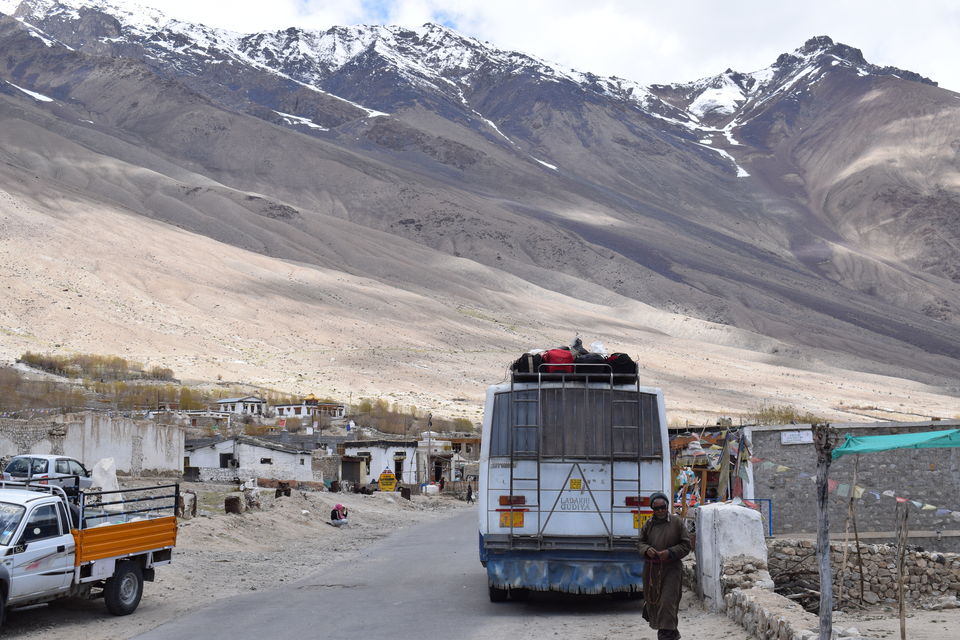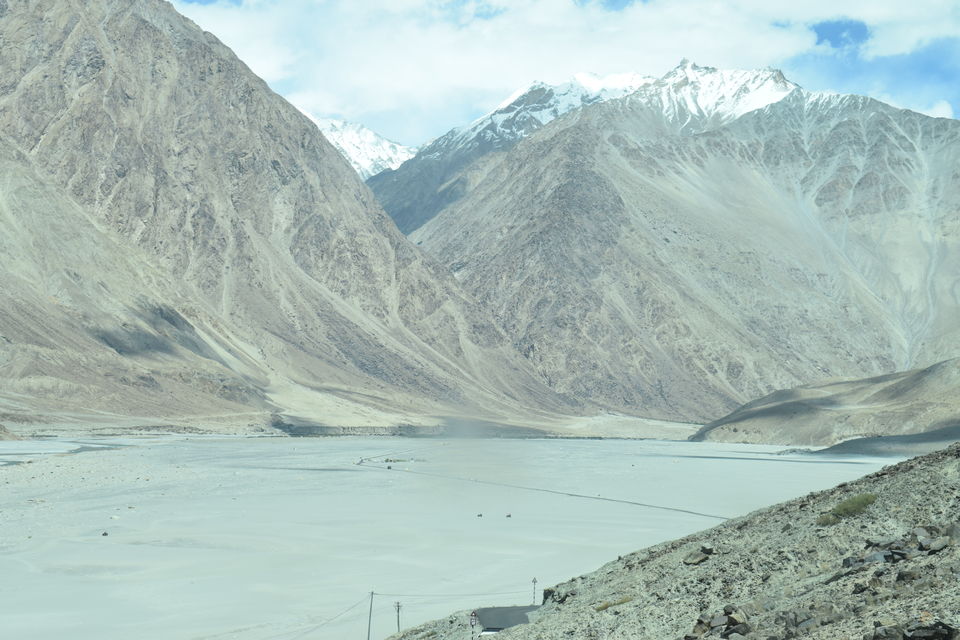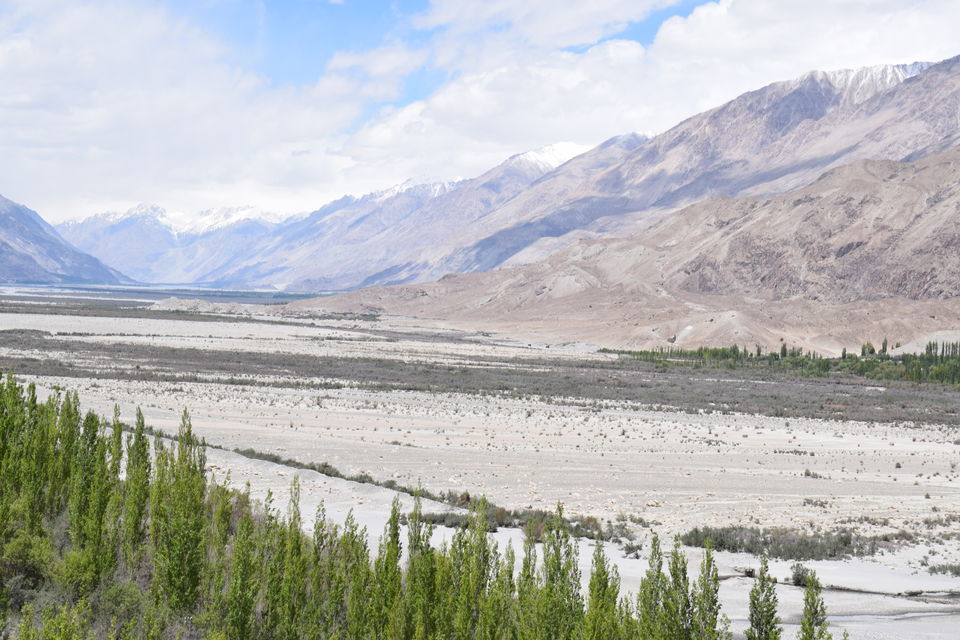 At around 2:00 PM, the bus dropped us at the Diskit bus stand. Diskit is famous for the Diskit Gompa, which has a 32 metre statue of Buddha, quite recognizable from a distance. Unfortunately, the Gompa is a little before the bus stand, and the only option we had was to walk till the Gompa or hitchhike. We got lucky as we got a lift from a person who dropped us at the path leading to the Gompa, saving us a good 30 minutes. However, from there it is an uphill trek. A lot of vehicles passed by us but none stopped because all of them were private taxis. We walked the entire distance and were tired by the time we reached the top. However, the view from the top is just breathtaking. There is an entry charge of ₹30 pp for the Gompa.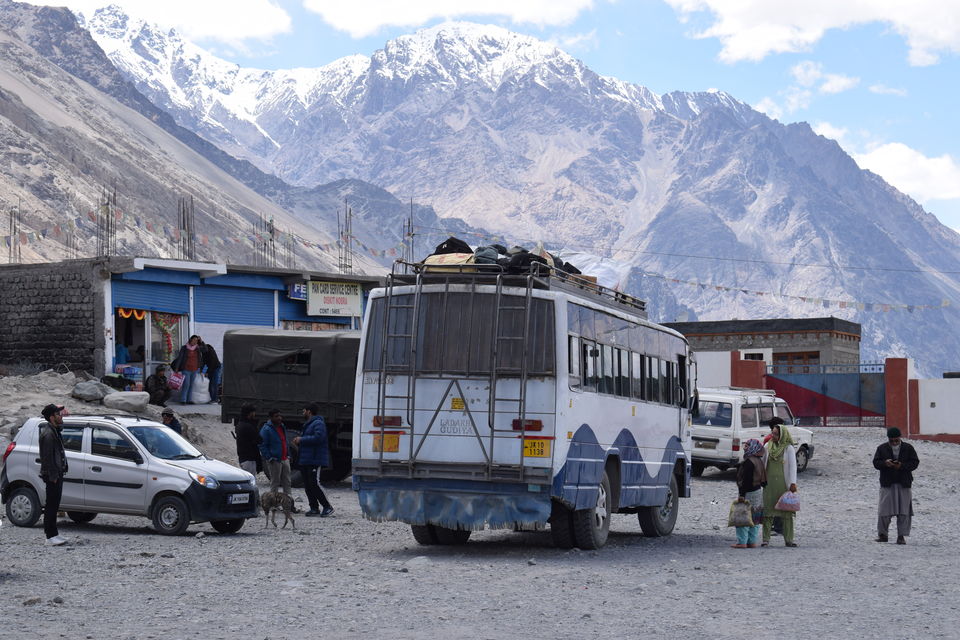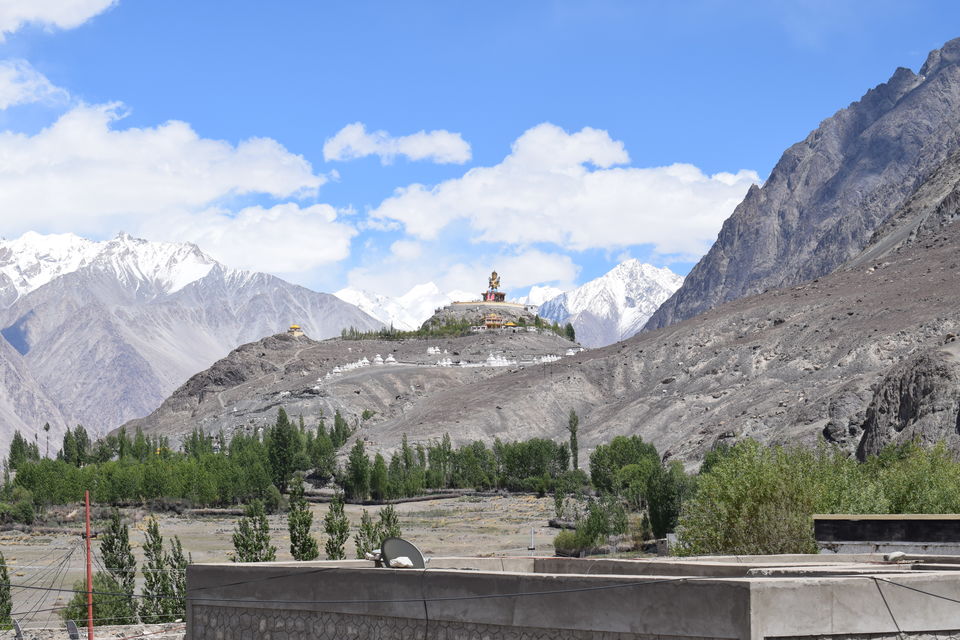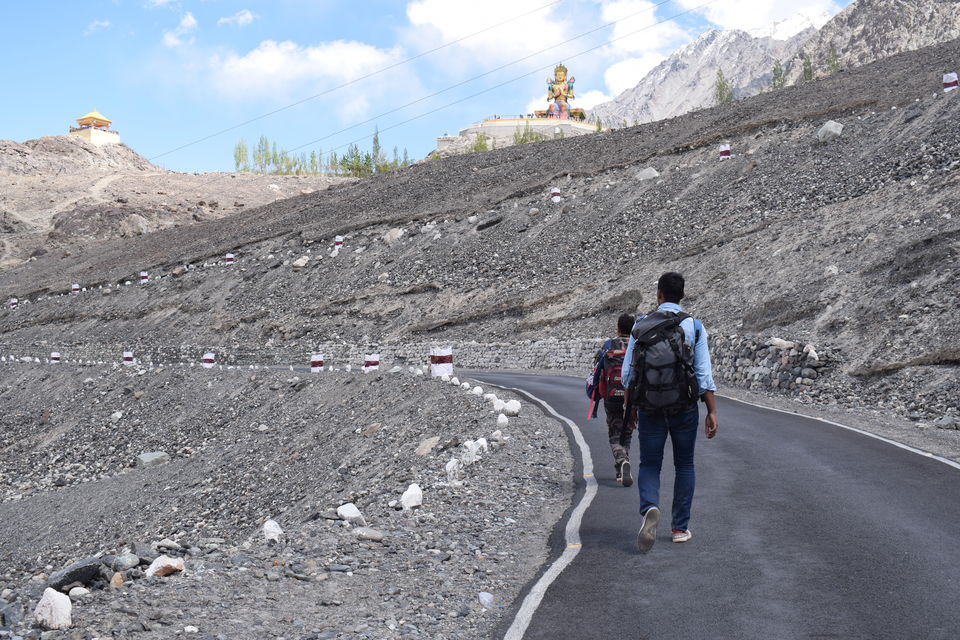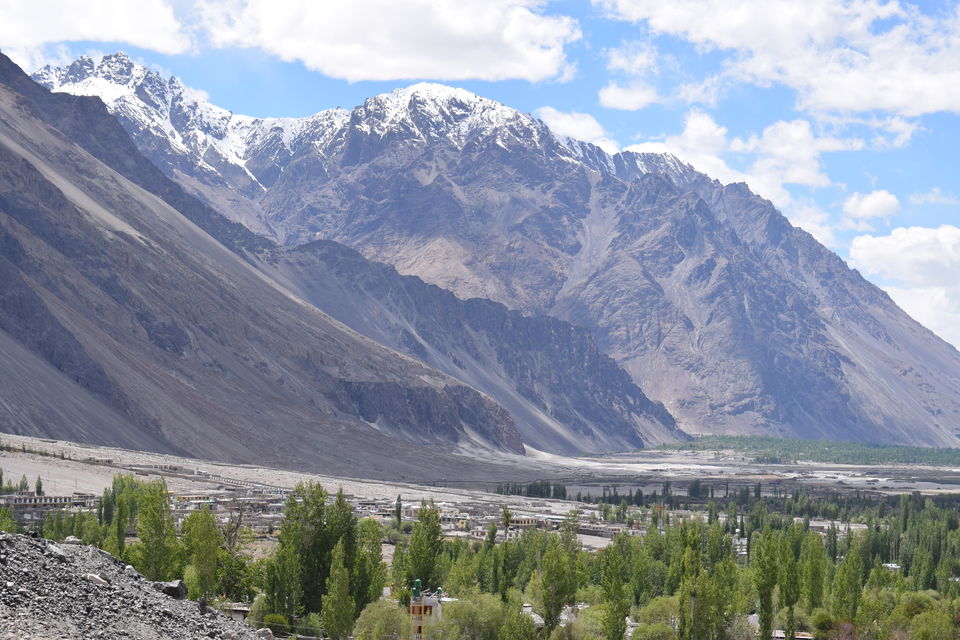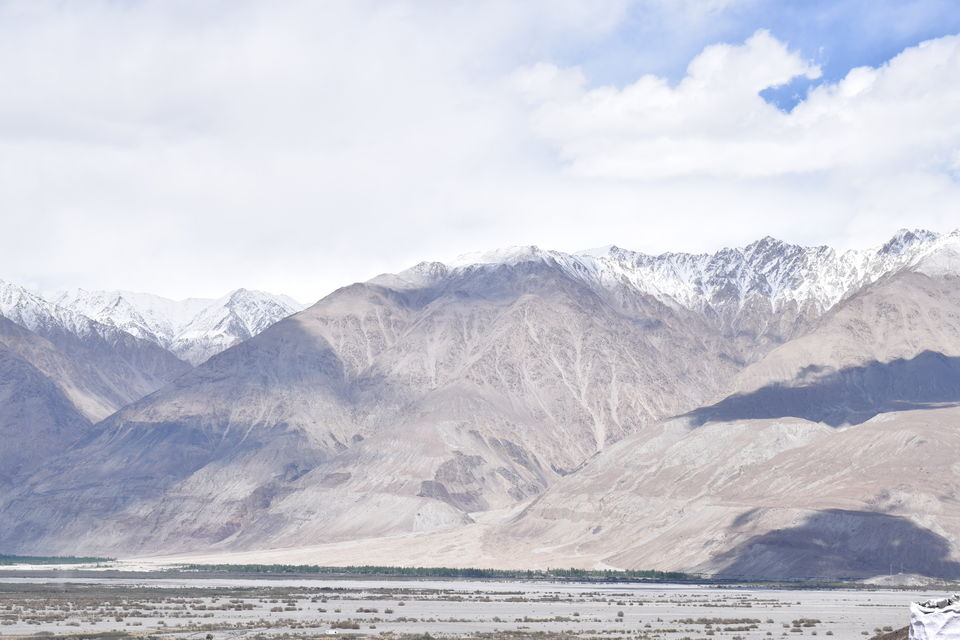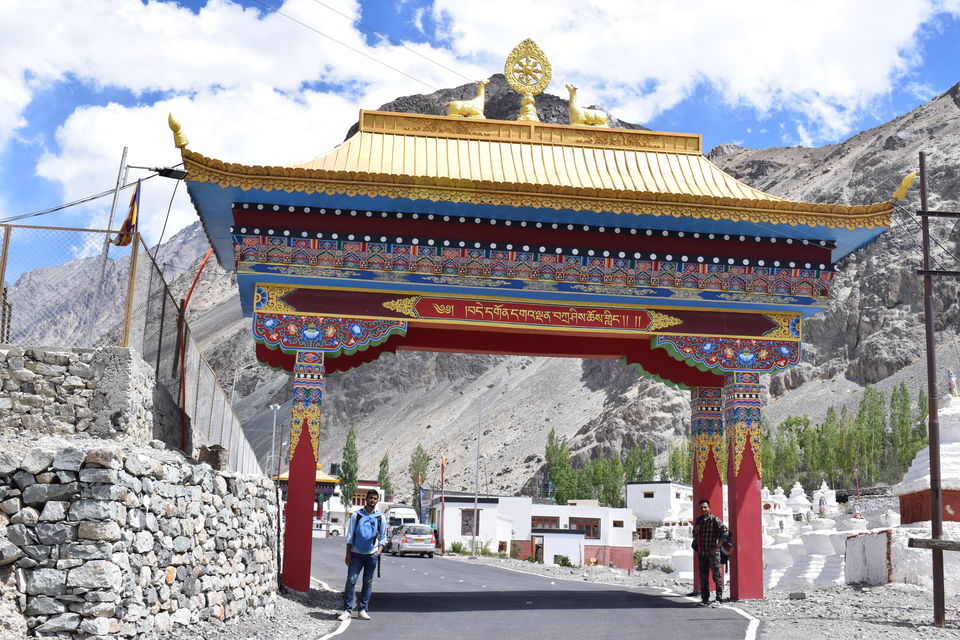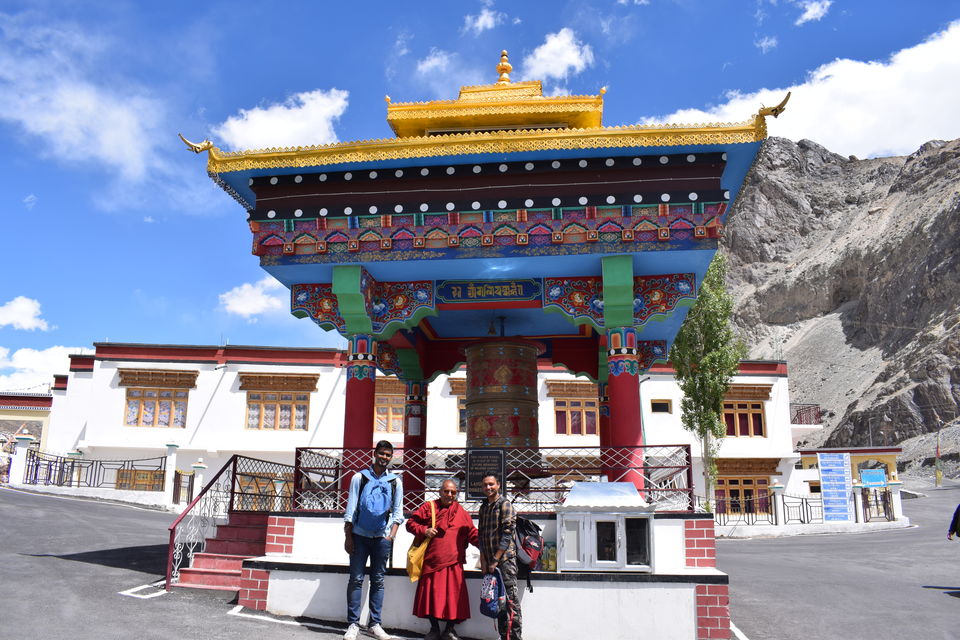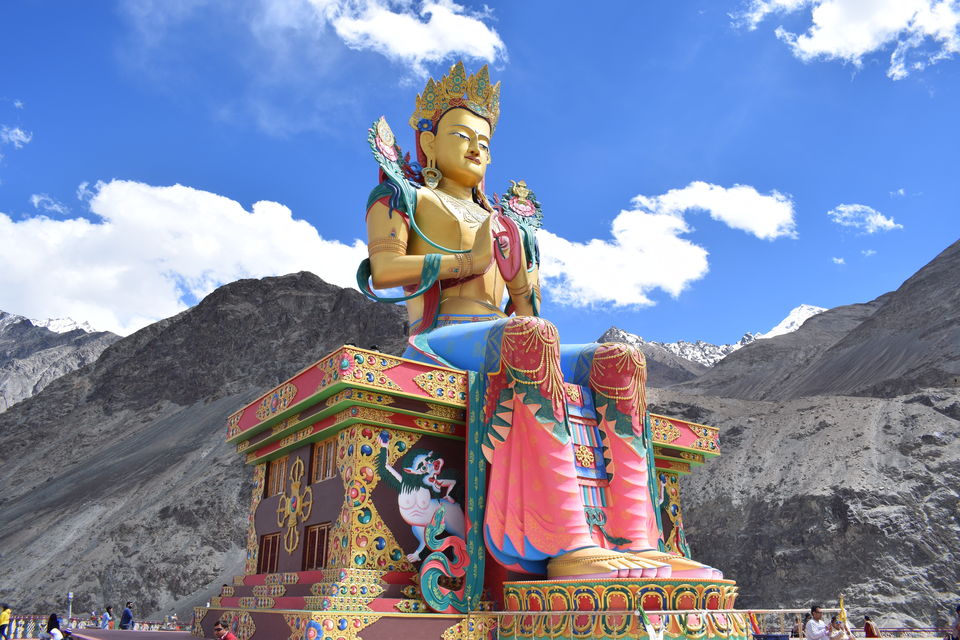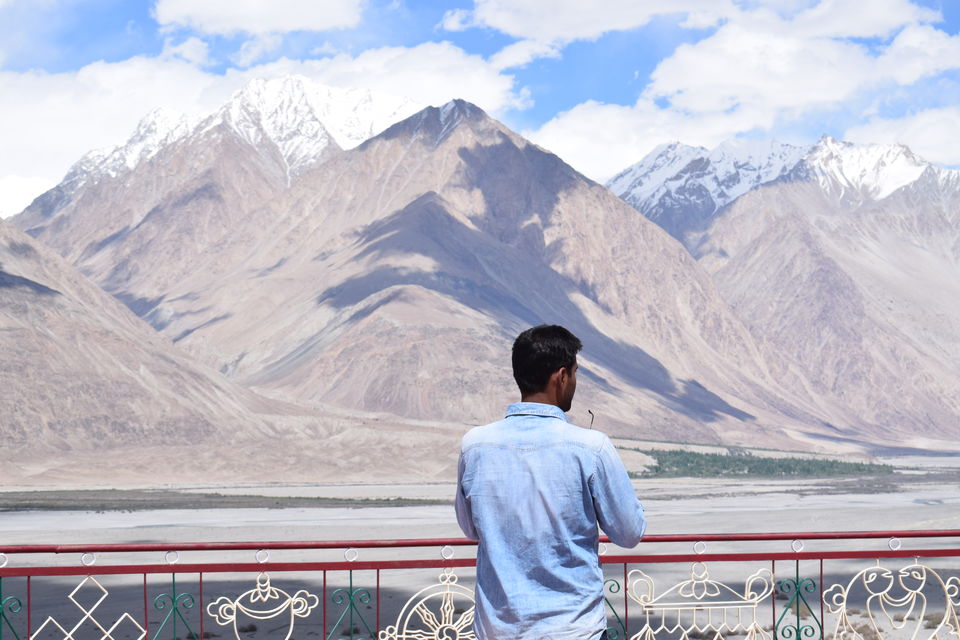 After spending about 30 minutes at the top, we began our descent back to Diskit. This time, we were unlucky as we could not get a lift till the bus stand and we had to walk the 3.5 kms till there. Our next stop was Hunder, 10 kms ahead of Diskit, which is famous for its sand dunes and the two humped camel.
Just as we reached the bus stand, a shared taxi left for Hunder. It was unclear as to when the next taxi would leave. Fortunately, we found a family that was going towards Hunder and requested them to give us a lift in their car. They readily agreed. As you reach Hunder, the landscape takes a change and you will feel that you are in the midst of a desert, with sand dunes surrounding you.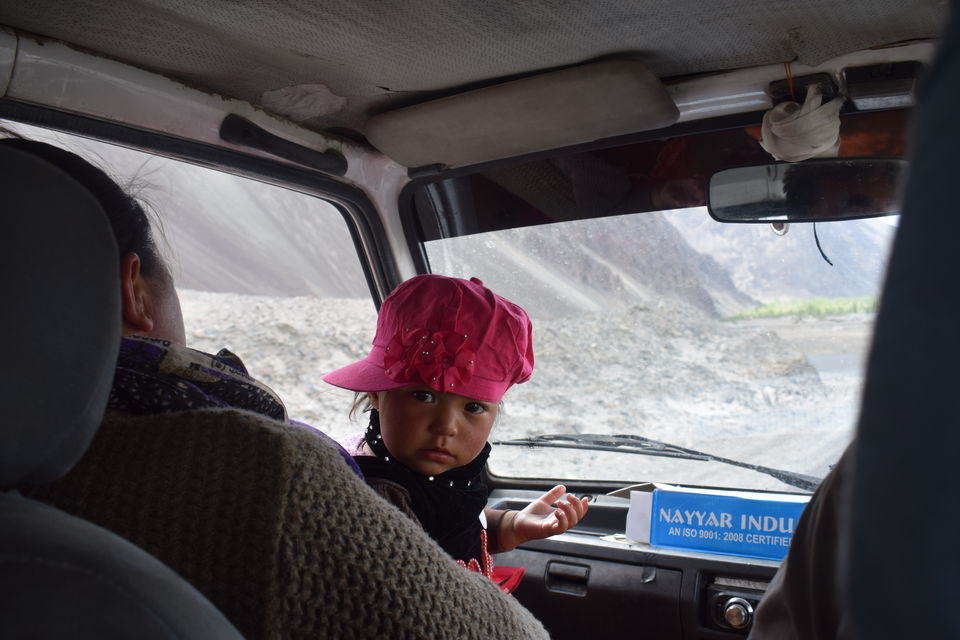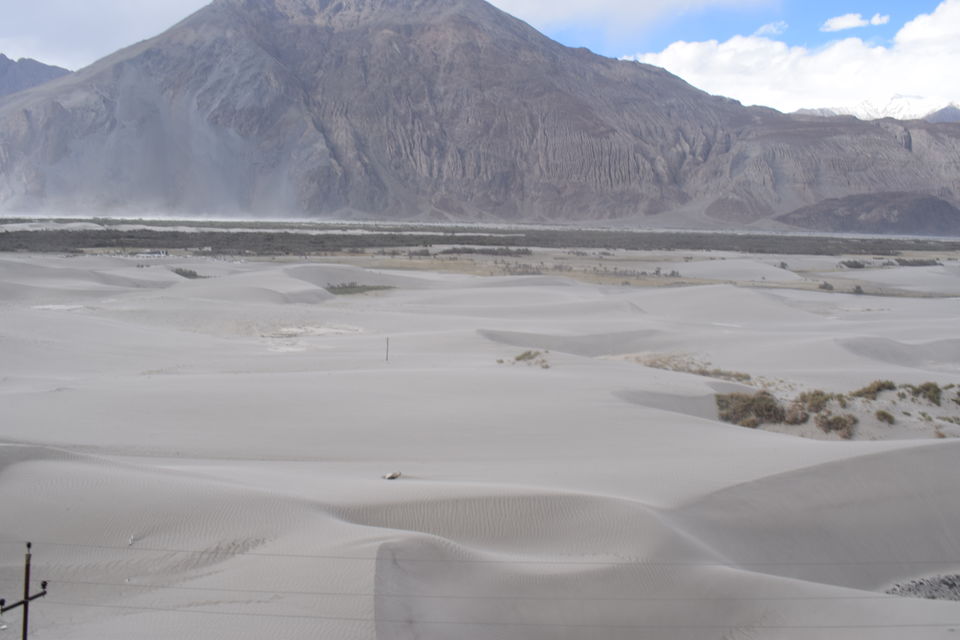 The car dropped us at Hunder Sarai and we paid ₹100 to the person as a goodwill gesture even though he was refusing to take the money. We decided to look for an accommodation first and then visit the sand dunes. The owner of Hunder Sarai told that they were full and quoted their charge as ₹7500 for a double bed room. Quite ironical price for a 'sarai'.
Meanwhile, a sandstorm had started forming and was getting severe with every passing moment. The accommodation in Hunder was way out of our budget so we ultimately decided on skipping the sand dunes and returning to Diskit. After walking for around 5 minutes, we found a pickup truck going towards Diskit, which agreed to give us a lift. I had always dreamt of hitchhiking on a truck, and this dream finally turned into reality in Ladakh. The truck driver refused to take any money after dropping us at Diskit. On reaching there, we got a good view of the sandstorm.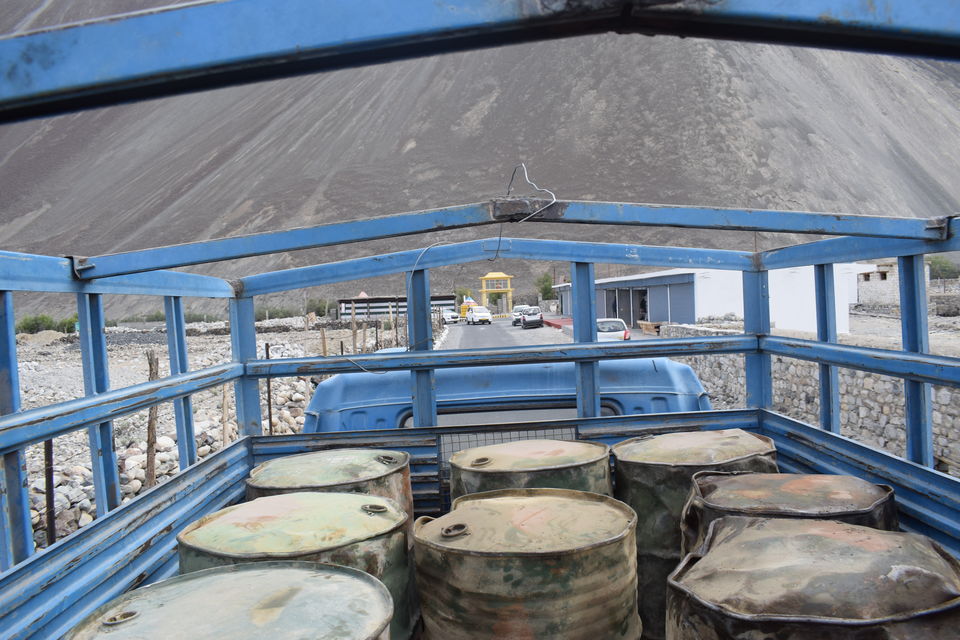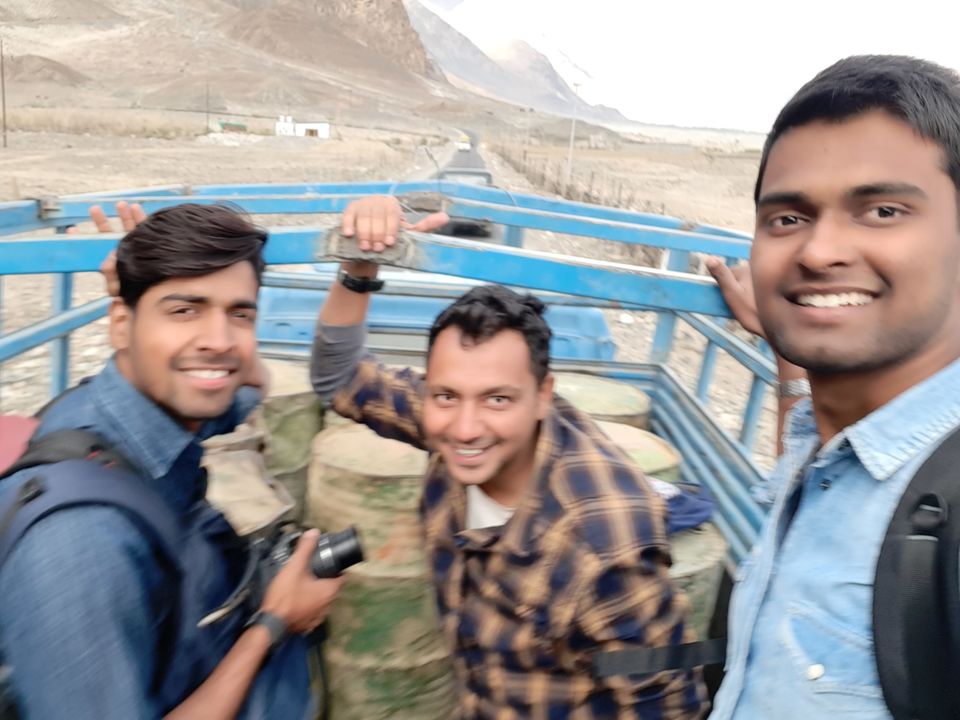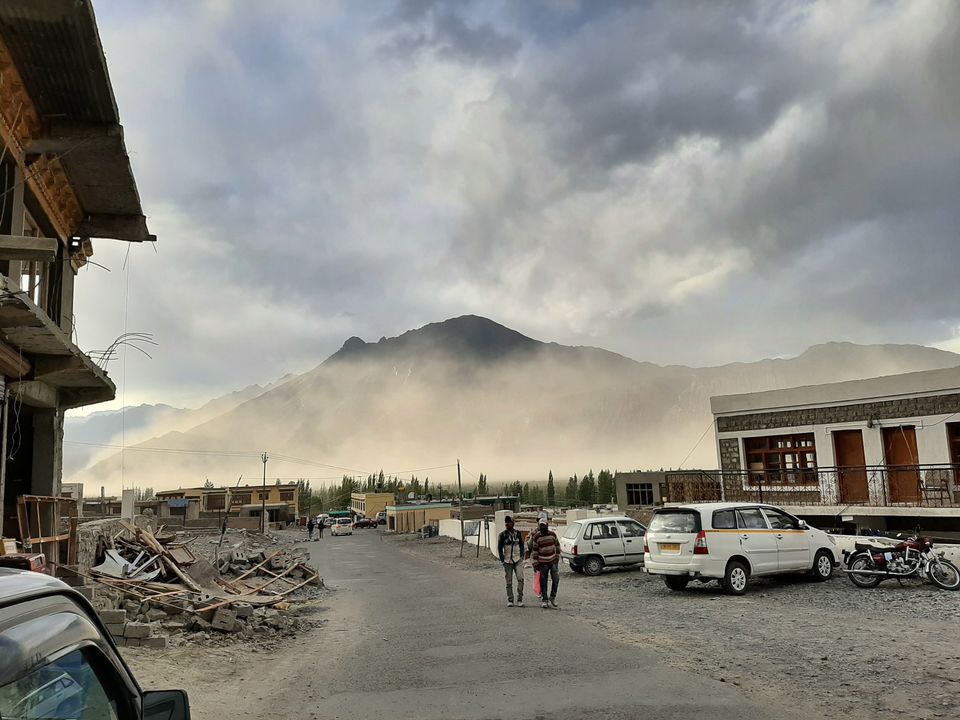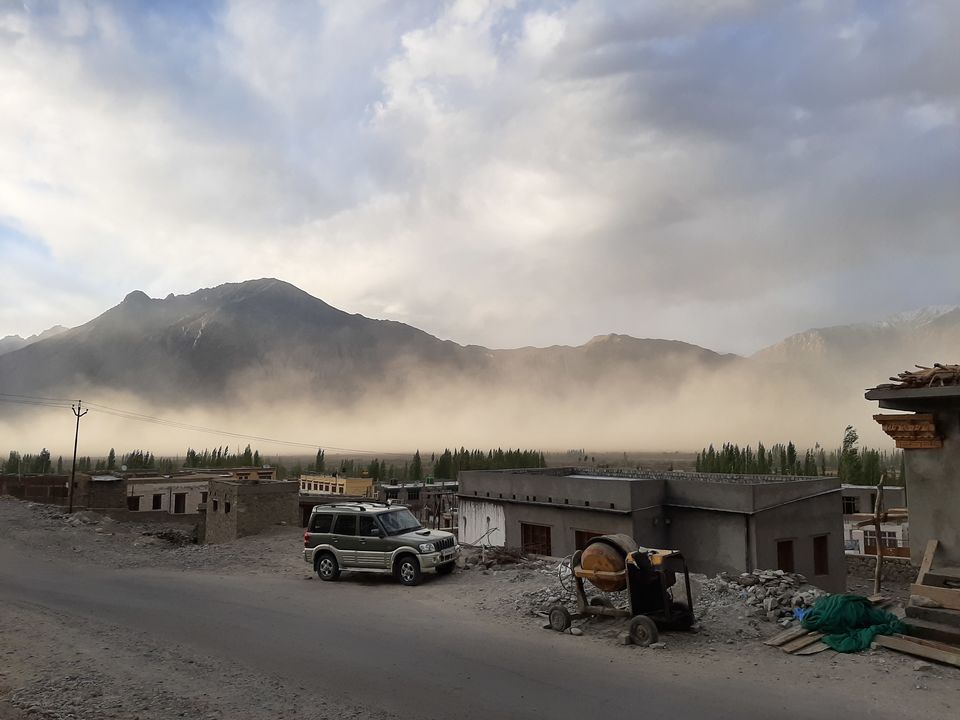 We then began our hunt for an accommodation and found one, Zambala Guest House, which charged us ₹1000 (~₹335 pp) for a room with attached bathroom, vfm for the price. After freshening up and having maggi (₹40 pp) in the hotel, we set off to have our dinner at around 6:00 PM. Shops close pretty early in Diskit, so it's advised to have your dinner early or get it packed.
The eateries on the Turtuk highway are pricey, so we had our dinner in Lasha Restaurant, at the intersection of the roads leading to the main village. The owners were very sweet. We had egg chowmein and momos, given in ample quantity for just ₹110. They told that the village receives electricity for only 4-5 hours daily, from 7:30 PM till midnight, and asked whether we liked Ladakh. We then went back to our hotel and retired for the day.
Day 6 cost : ₹235 food + ₹335 stay + ₹65 transport and misc. = ₹635
Day 7 : Nubra Valley -> Leh (29th May)
The bus driver had informed us that the bus will leave Turtuk at 6:00 AM and reach Diskit by 8:30 AM. He also told that there won't be much crowd and not to book the tickets beforehand as we would easily be able to get a seat in Diskit. To our dismay, when the bus arrived, it was jam packed. After standing for about 30 minutes, we got a seat in the last row with very less legroom. The journey to Leh took around five and a half hours and we were completely exhausted by the time we reached.
Note : Always prebook your bus tickets whenever possible. Most of the buses in Leh are marked with seat numbers and you'll be given a ticket with your seat number.
After reaching Leh bus stand, we proceeded to the booking office and booked our tickets for tomorrow's bus to Pangong, scheduled to leave at 7:00 AM. Even though the board outside quoted a fare of ₹270 pp, we were charged ₹292 pp for Pangong. I guess they failed to update the fare on the schedule board. We then checked in again in Deyskit Guest House, the hotel in which we had stayed previously. Too tired from the journey, we skipped our plans of local sightseeing and just remained in the hotel all day.
Day 7 cost : ₹502 transport + ₹360 food + ₹150 stay = ~₹1010
Day 8 : Leh -> Pangong Tso (30th May)
Today, we were leaving for the much awaited place, Pangong Lake. The bus left at sharp 7:30 AM and was mostly occupied with tourists. We reached Karu within an hour where the bus halted for breakfast and our permits were checked. A few minutes after Karu, the ascent to Chang La begins and is mostly a bumpy ride till Chang La.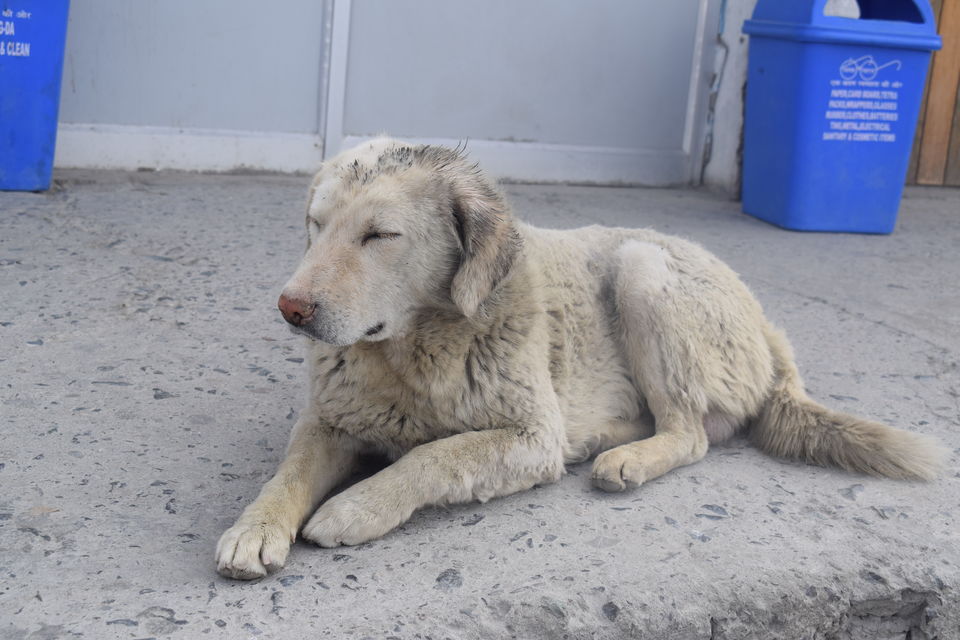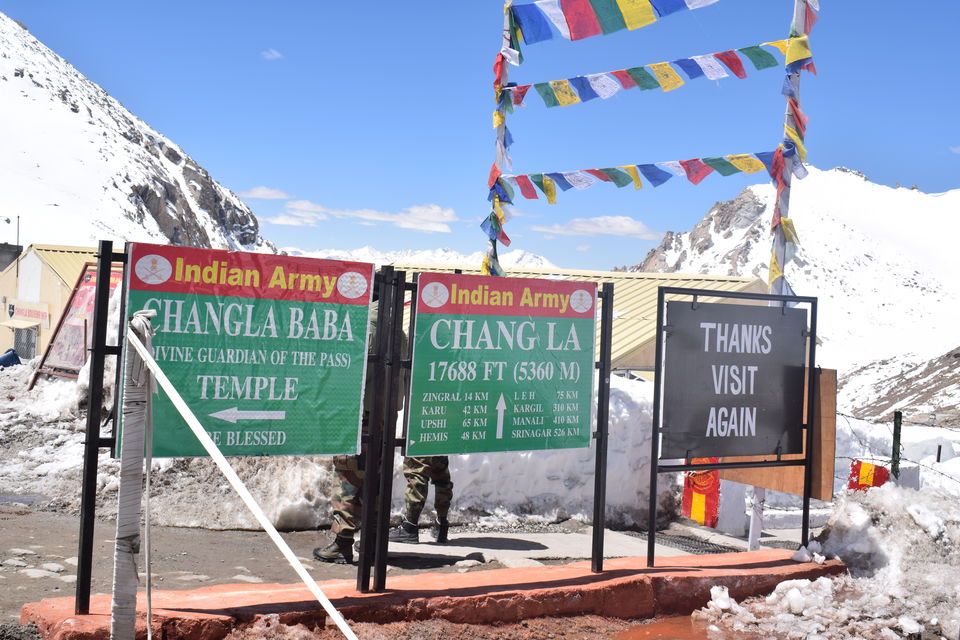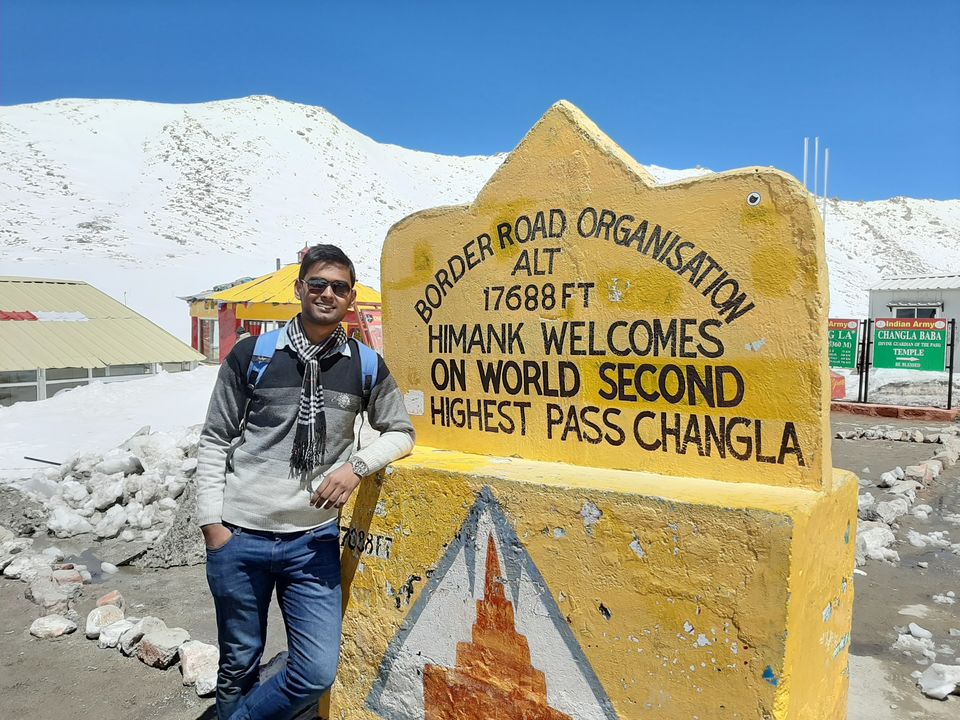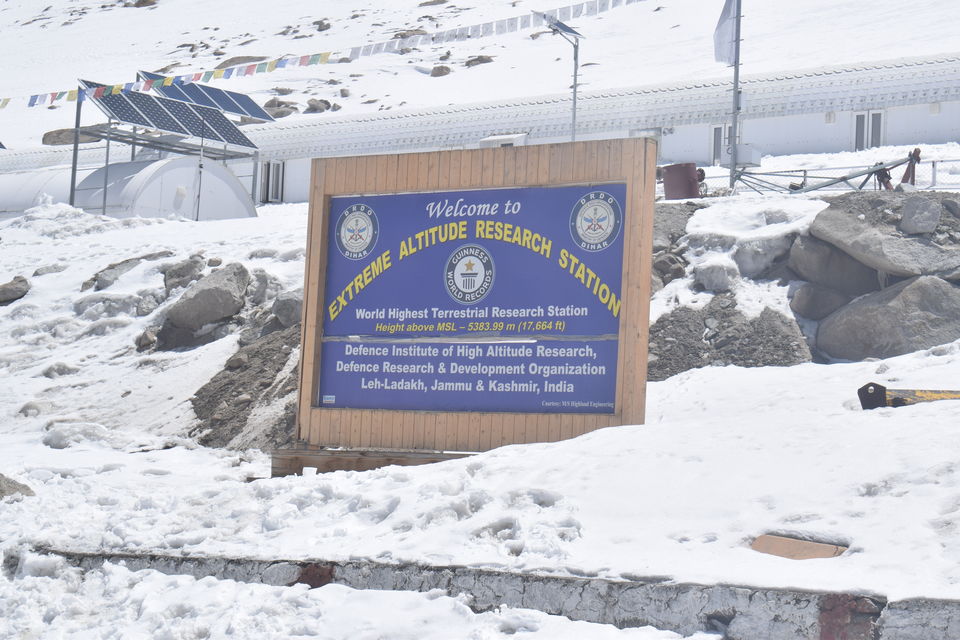 If you did not face any difficulty at Khardung La, then you will not face any problem in Chang La. Although it is claimed by the signposts there as the world's second highest motorable road, I can't vouch for the veracity of it. Similar to Khardung La, you will find snow in ample quantities here during both the ascent and descent.
The bus stops in Durbuk for lunch where we had maggi (₹30 pp). After Durbuk, you reach Tangtse from where the road to Pangong diverges. Apart from a few minor stretches, the road till Pangong is mostly in a good condition. Marmots too can be found playing around.
Note : Please, please do not feed the marmots. I managed to catch a glimpse from the moving bus of a tourist group trying to feed the marmots. Signboards are also installed at many places to not feed the wildlife. The junk food damages their metabolism and they die during the winter months when the region is cut off from the rest of the world, unable to find the junk food after getting habituated to it. They are perfectly capable of hunting their own food, so just let them be.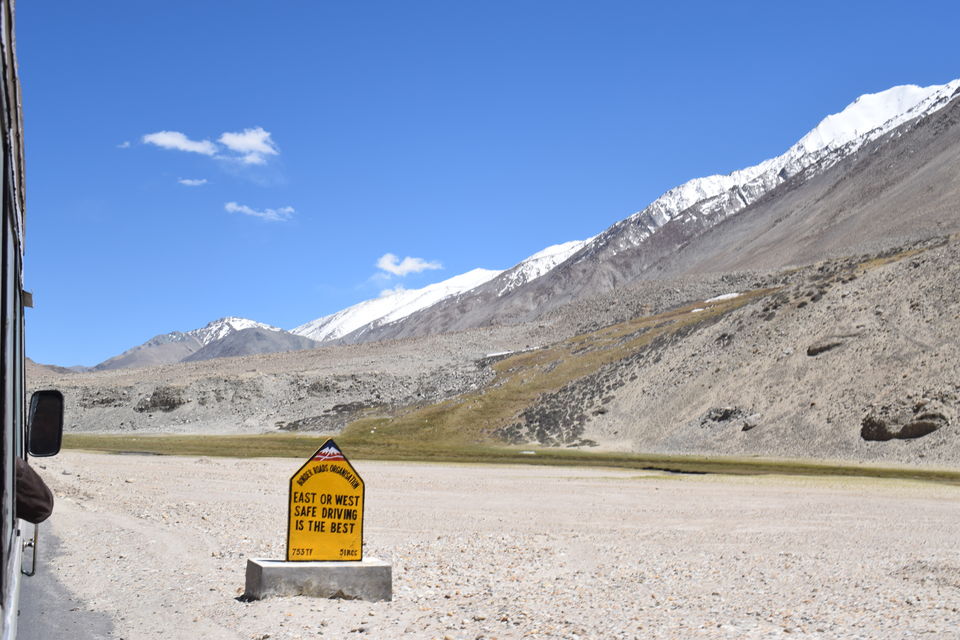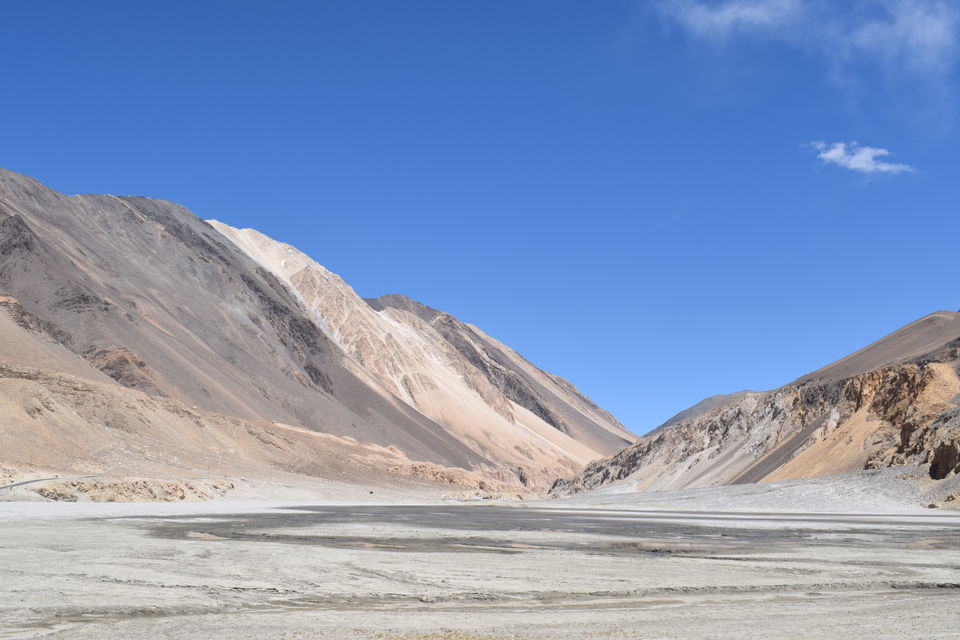 You then catch the first glimpse of the lake, shimmering in clear blue against the brown mountain backdrop, enough to get you excited. The views keep getting grander, and you finally get to see the lake in all its entirety, just as you've seen in the movies. No words can do justice to the beauty of the lake, and it's an experience of a lifetime.
The lake actually is very huge and there are many small villages besides it. All the tourist vehicles go near the 3 Idiots point, where you can get clicked with Kareena Kapoor's scooter and other stuff. Personally, I'm not a fan of such things as the picture of three asses in the backdrop of such a pristine lake just ruins it's beauty. Anyways, it's just a source of income for the locals, so you really can't complain.
The bus goes all the way upto a tiny village called Spangmik, where you can find a few guesthouses. We stayed in Bharma Guest House, paying ₹1000 (~₹335 pp) for a four-bedded room with common bathroom, sans any meals. The fourth bed was taken by an elderly tourist from Bangladesh, who had accompanied us in the bus. He was charged ₹550 including breakfast and dinner. After reaching Spangmik, we purchased our return tickets to Leh for tomorrow from the bus driver.
We then left for the lake and clicked many pictures in different poses. The water was pretty cold and you can't last more than 2 minutes in it. Cold winds blow here day in and day out, so that was another problem. However, accompanied with our woollens, we stayed near the banks of the lake till around 6 PM.
As the sun sets, the blueness of the lake fades away and it becomes near colorless by late evening. Then we had maggi (₹40 pp) at a local eatery and told them that we'll come and have dinner in the night. These guys need to prepare beforehand so it's better to inform them in advance. We met a few foreigners, 2 English and 1 German, who were also dining there. The German told us that she too was planning to complete the circuit like us. We rested for a while in the hotel and then had our dinner, chowmein for ₹100 pp. Nights get very very cold in Spangmik, owing to the cold winds, and the min. temp. that day was -8 degree Celsius.
Day 8 cost : ₹247 food + ₹292 transport + ₹335 stay = ₹875
Day 9 : Pangong Tso -> Leh (31st May)
Pangong Tso is situated at an altitude of around 14,000 feet. Even though we had passed through places at much high altitude than this like Khardung La and Chang La, it was the first time that we were sleeping at such a high altitude.
At around 2:30 AM, I woke up with a start, very thirsty, to find my throat completely dry. I gulped down the entire water from my 1 litre bottle. When I went to sleep again, I found out that it was proving very difficult to breathe through my nose. I had been breathing all night with my mouth, explaining the reason for the extreme thirst. My cousins too were facing the same problem. At such altitudes, the air is very thin and you will face some difficulty in breathing, especially if staying overnight. At around 3:30 AM, I woke up again with the same problem. Since my water was exhausted, I gulped down water from the Bangaldeshi tourist's bottle. Fortunately, I did not face the same problem again over the later course of the night.
The bus left in the morning at 7:30 AM for Leh. The other tourists in the bus, mostly youth, requested the bus driver to stop the bus for sometime near the 3 Idiots point. While the others went to get clicked with Priya's scooter, I went to another point to capture pictures.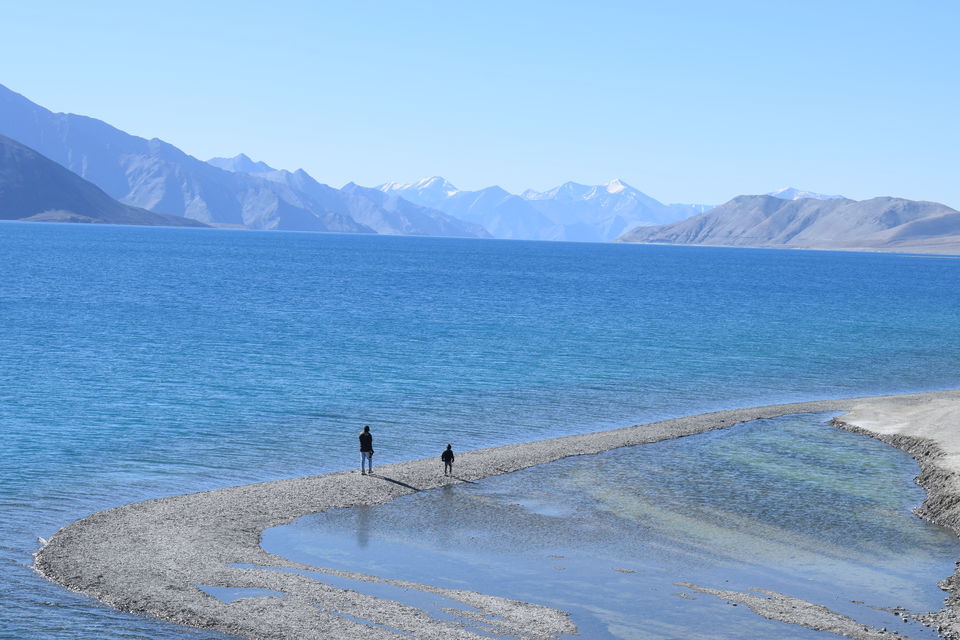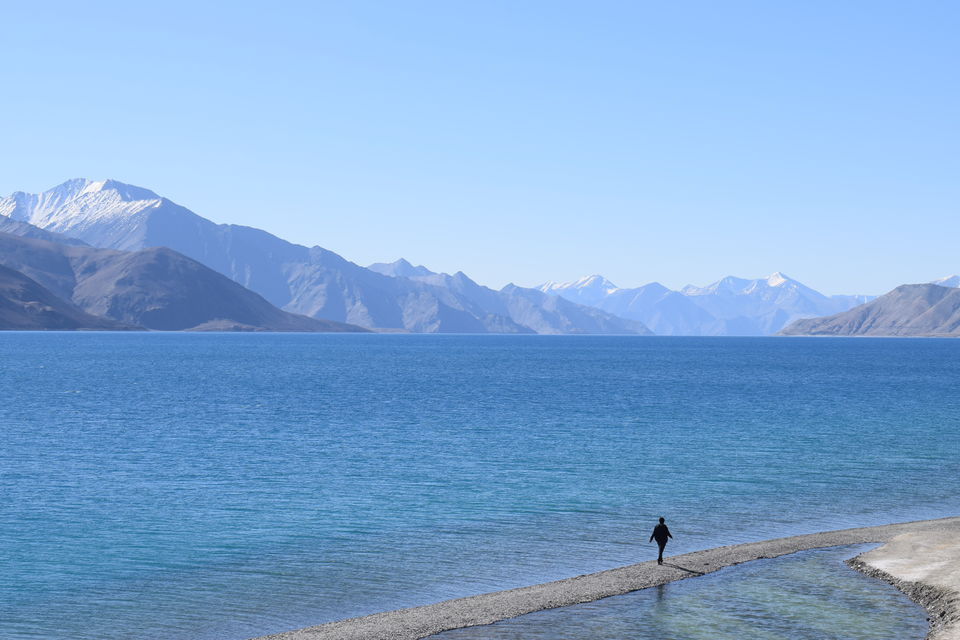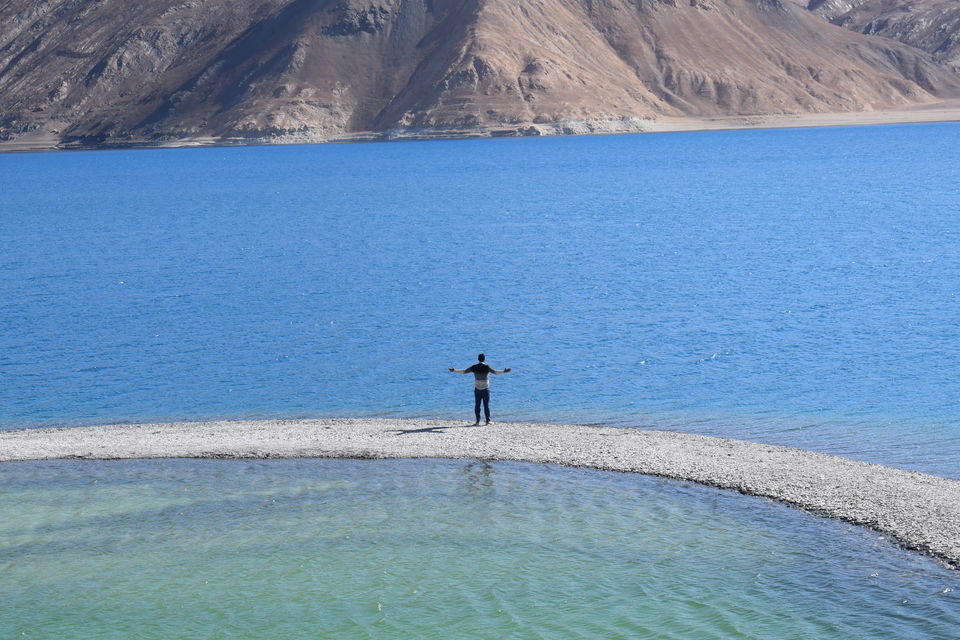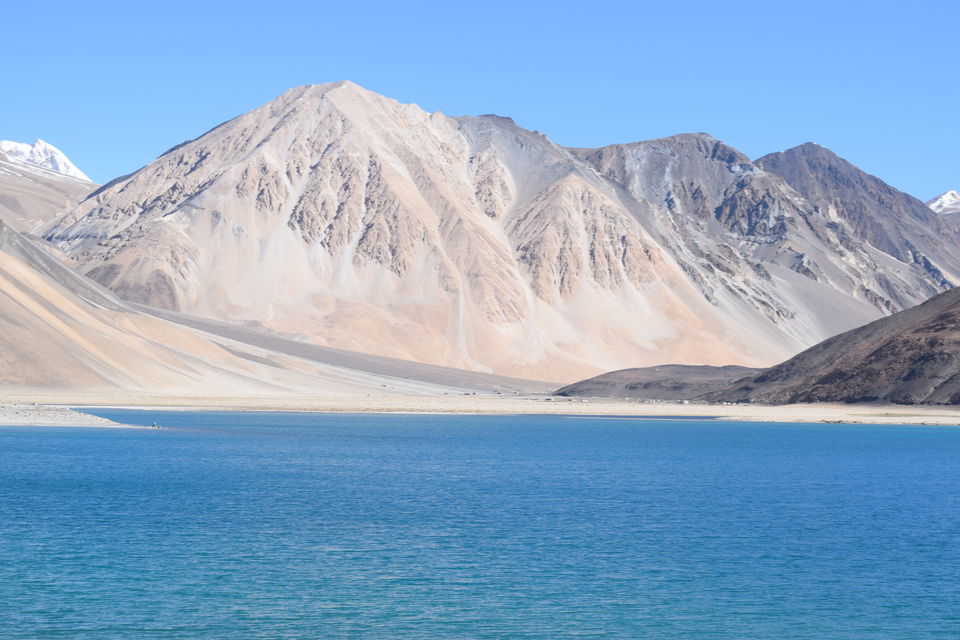 The bus dropped us at Leh at 1:30 PM. We decided to cover local spots such as Hall of Fame, Shanti Stupa, Leh Palace, etc. for tomorrow. In the evening, we went to the bus stand to enquire about the status of Manali - Leh highway, only to find it still closed.
Note : HRTC buses from Leh to Manali and vice versa ply only after around 10 days from the day of opening of the highway. However, shared taxis will start plying as soon as the highway opens. The price per seat is around ₹2500 and you can bargain for a lesser price if you opt for a seat in the last row (not recommended though, very less legroom). Mostly Innovas and Xylos ply and have 7 passengers (1 front, 3 middle, 3 back), excluding the driver. Here are the contact numbers of a few drivers plying on this route (9906101584, 6005577598, 9469696688, 8899115286). These numbers can also come in handy if you want the most recent updates for the Manali Leh highway.
The taxi drivers there informed us that their vehicles were not being allowed after Sarchu. Manali - Keylong and Sarchu - Leh was open, however Keylong - Sarchu was closed because of snow at Baralacha La. We thought to wait for 2-3 days hoping that the highway would open by that time, however the taxi drivers told that the road was unlikely to open before 7th June, involving waiting for one week in Leh. Flight tickets from Leh were too expensive, around ₹10k and so we were left with no option but to return back via Srinagar, unable to complete the circuit. We booked our flight tickets from Srinagar to Delhi (₹2500 pp) for 3rd June evening and decided to leave Leh on 2nd June.
Day 9 cost : ₹150 stay + ₹300 food + ₹2500 transport = ₹2950
Day 10 : Local Sightseeing (1st June)
We started off for Leh Airport in the morning for some plane spotting, as the Spituk Gompa near the Airport provides some excellent views for plane spotting. Leh has an excellent local bus network providing connectivity to most of the nearby villages from the bus stand. The bus service to airport begins at 7 AM.
If you only want to catch a bus for the airport, take the one which is going towards 'Skanzaling', leaving every 5 minutes. However, if you want to go to the Spituk Gompa, take the bus going towards 'Spituk', leaving every 15-20 minutes. We made a mistake of boarding the Skanzaling bus, only to find that the Gompa was around 4 kms from the point where the bus dropped us. Luckily, after walking for around 5 minutes, we found a bus for Spituk. Charges were ₹10 pp for the Skanzaling bus and ₹10 pp for the Spituk bus.
We reached the Gompa by around 10:30 AM and saw 2 landings and 1 takeoff in the next 30 minutes. On a lucky day, you can also witness IAF's beasts, the C-17 Globemaster and the Ilyushin IL-76.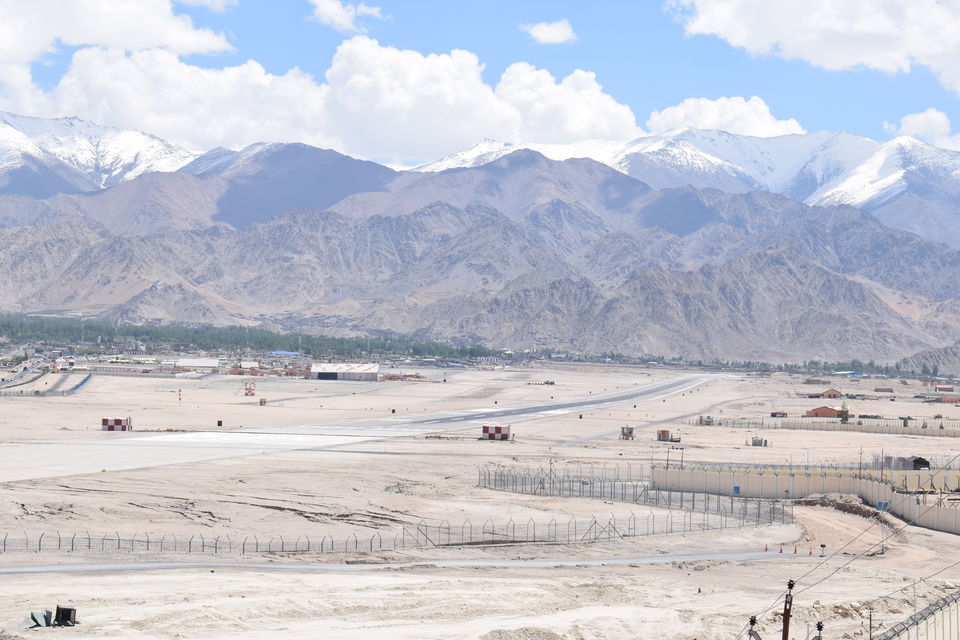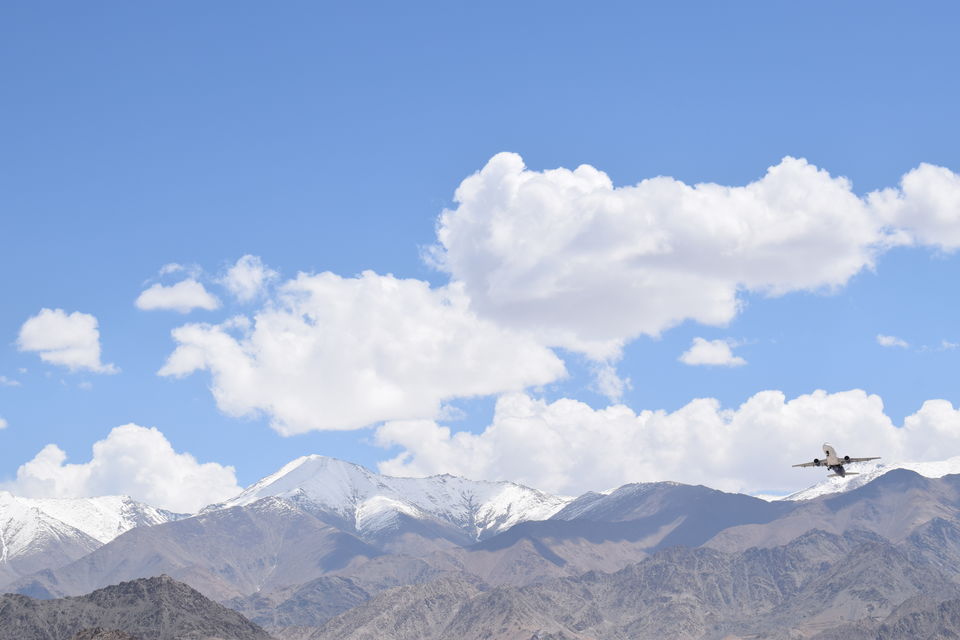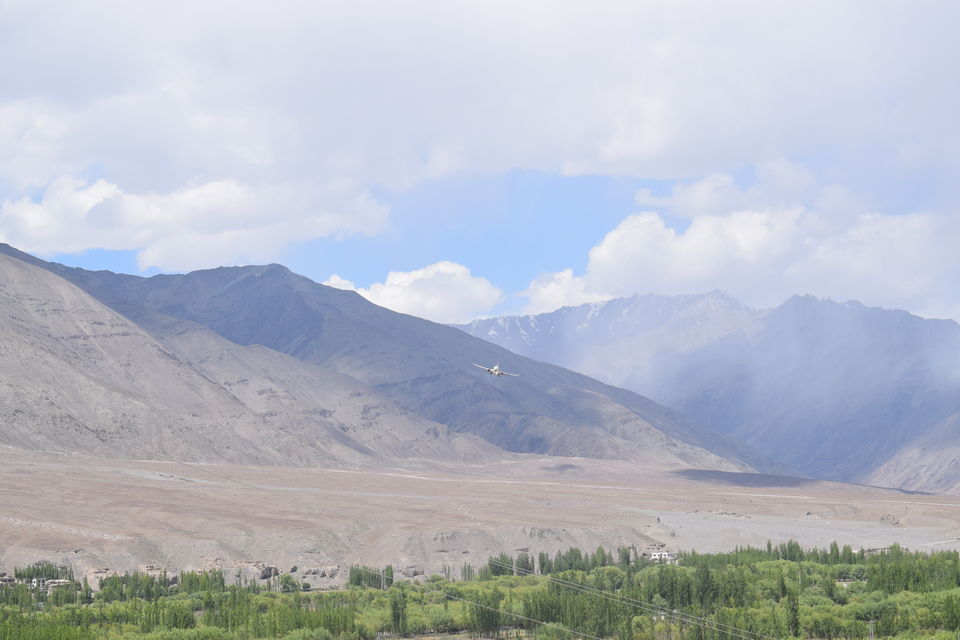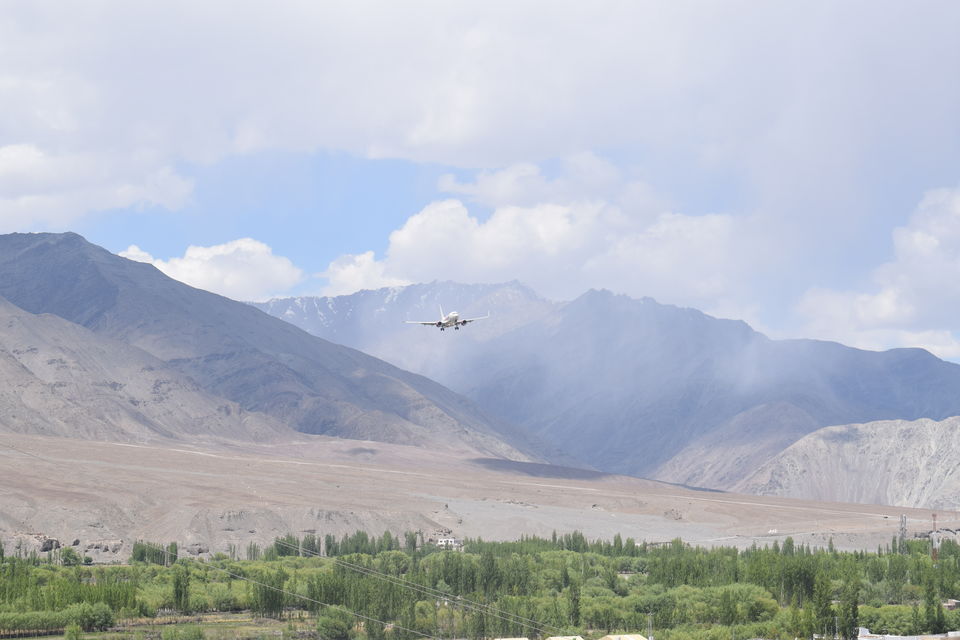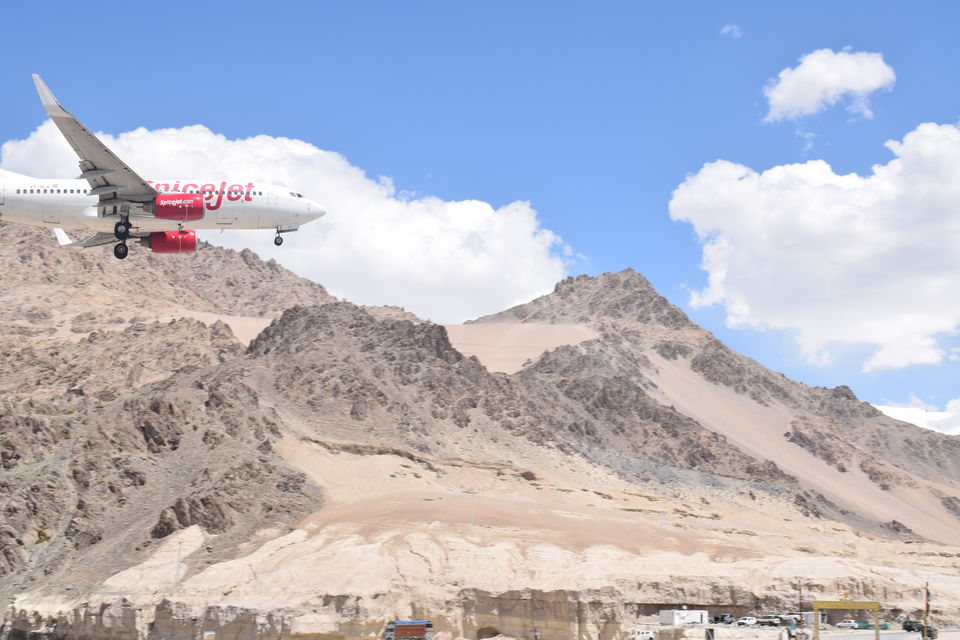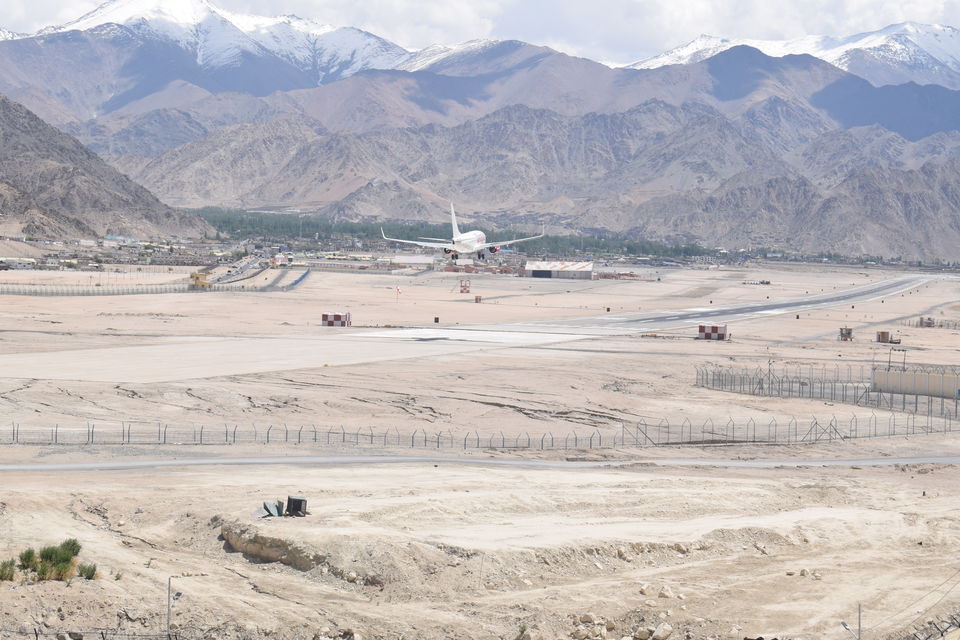 The same bus which dropped us at Spituk left for Leh and dropped us at our next stop - Hall of Fame (₹10 pp). Hall of Fame is usually the first place in Leh most of the visitors who arrive by air go, as it's adjacent to the airport. The entry charges are ₹100 pp, along with a charge of ₹50 for camera. The place contains various memoirs on all the four battles fought with Pakistan and is a must visit to know about the bravery of our soldiers in the battles.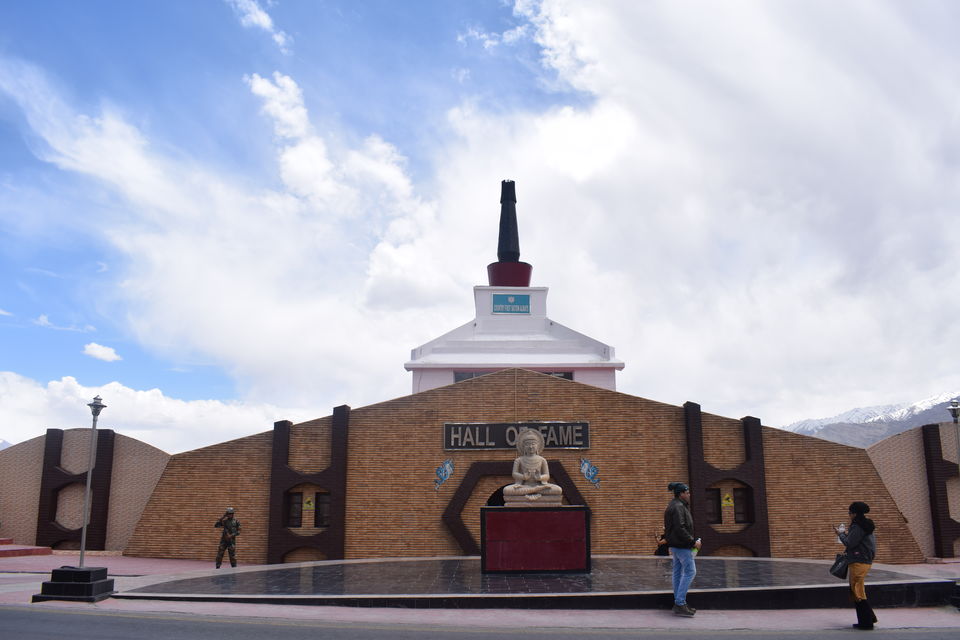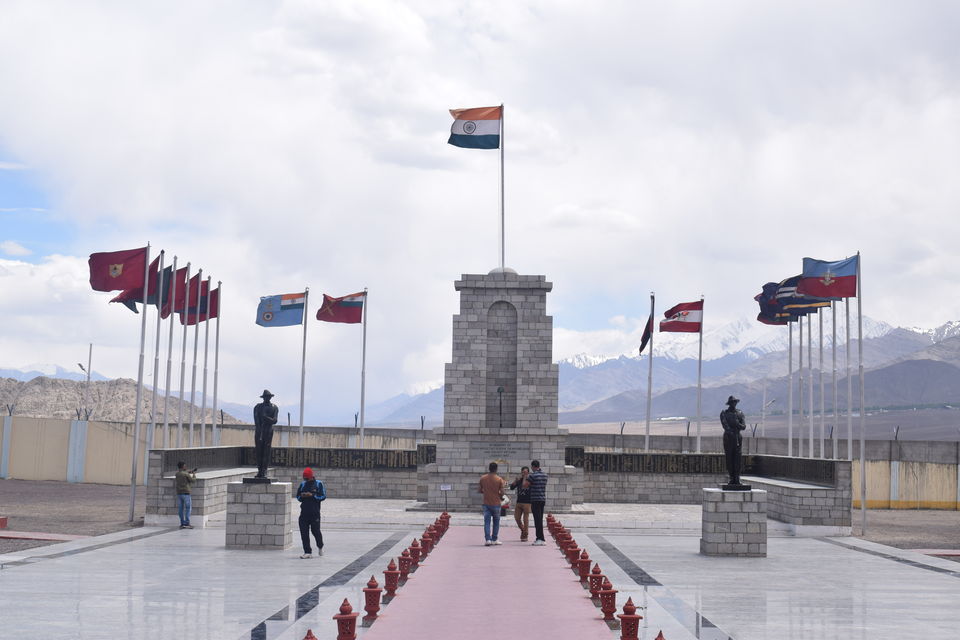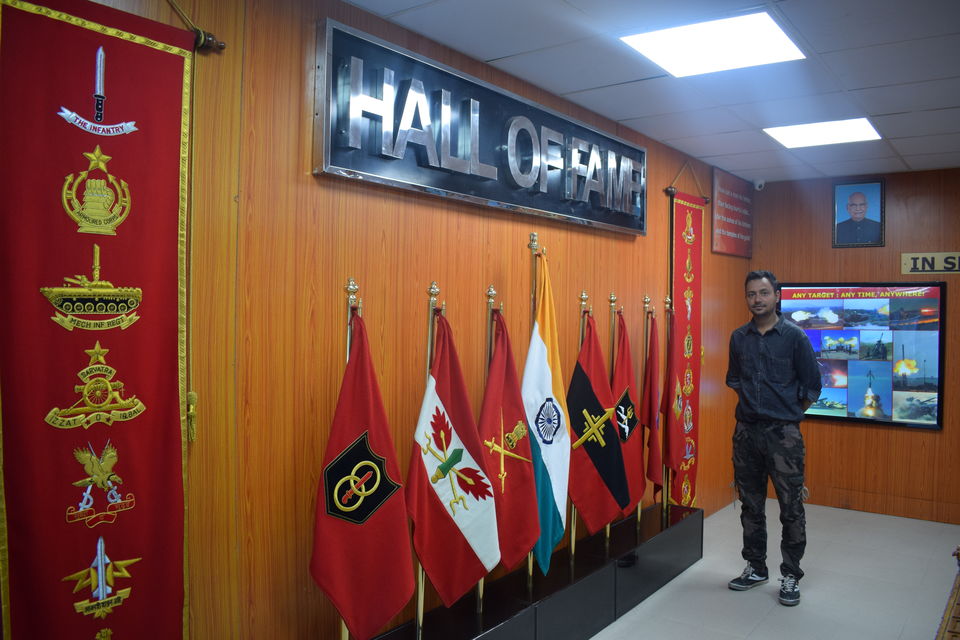 After spending about an hour here, we boarded the bus bound for Leh (₹10 pp). Our next stop was Shanti Stupa, however, unfortunately, there are no buses for there. We were in no mood to walk the 3 odd kms till there, and decided to skip both Shanti Stupa and Leh Palace. The rest of the day was just spent catching up on some afternoon sleep and packing for tomorrow's journey to Srinagar.
Day 10 cost : ₹280 food + ₹140 transport and misc. + ₹150 stay = ₹570
Day 11 : Leh -> Srinagar (2nd June)
The bus from Srinagar to Leh departs daily at 2:00 PM and reaches Leh next morning 7:00 AM travelling overnight. The fare per person is ₹1305, however, since it was not a peak season, the fare was ₹822 pp. We also enquired about the shared taxi fares, and one of the taxi drivers (Mr. Ali, 8492020396) agreed for ₹1500 pp for the middle row in an Innova. The fare was ₹1000 pp for the last row and ₹2000 pp for the front seat. He assured us that he will drop us at Srinagar in 12 hours. We decided to go with the shared taxi rather than the bus, as it was an approx. 18 hour ordeal with the bus. The taxi was scheduled to leave at 4:00 PM and reach by 4:00 AM next day in Srinagar, dropping us at the TRC taxi stand.
Most of the afternoon was spent chatting in a small eatery besides the bus stand, Zambala restaurant, having cups after cups of tea. The taxi left at sharp 4:30 PM and maintained an average speed of more than 60 kmph for most part of the journey.
Note : We made a big mistake by taking the taxi. The sharp turns are really felt by the body, making it difficult to sleep. It was not the case in the bus when we came from Kargil to Leh, which moves at a slow pace and the turns are not at all felt by the body. Also, the bus is much more comfortable in terms of the seating. Moral of the story, take the bus if you have enough time with you. The journey will be much more comfortable and it is almost half the cost of taxi. Take a taxi only if you are having a time crunch.
Day 11 cost : ₹290 food + ₹1500 transport = ₹1790
Day 12 : Srinagar -> Delhi
We reached Kargil by around 10:00 PM and made it to Zoji La by around 1:00 AM. It was raining cats and dogs when we reached Zoji La and there was a huge traffic jam there. The taxi did not move an inch for the next 3 hours. Finally at 4:00 AM, we crossed Zoji La and reached Srinagar by 7:30 AM.
Since our flight was at 5:00 PM and we had slept for barely 1 or 2 hours in the night, I had prebooked the same hotel in which we stayed when we came to Srinagar 10 days ago, Matchless Houseboats, costing ₹360 for a triple bedroom (₹120 pp). We hired an auto from the TRC for the houseboat (₹20 pp). After catching up with some sleep and freshening up, we went to Hungry's, Lal Chowk, and had biryani and pizza. Compared to our previous visit, Lal Chowk was bustling with activity today. Finally, we hired an auto from Lal Chowk for the airport for ₹200 (~₹65 pp).
Note : Buses also ply for the airport from the TRC bus stand. When we enquired, there were around 4 buses that day, beginning from 8:30 in the morning and continuing till 12:30 in the afternoon, at 1 hour intervals (₹50 or ₹60 pp, can't recall).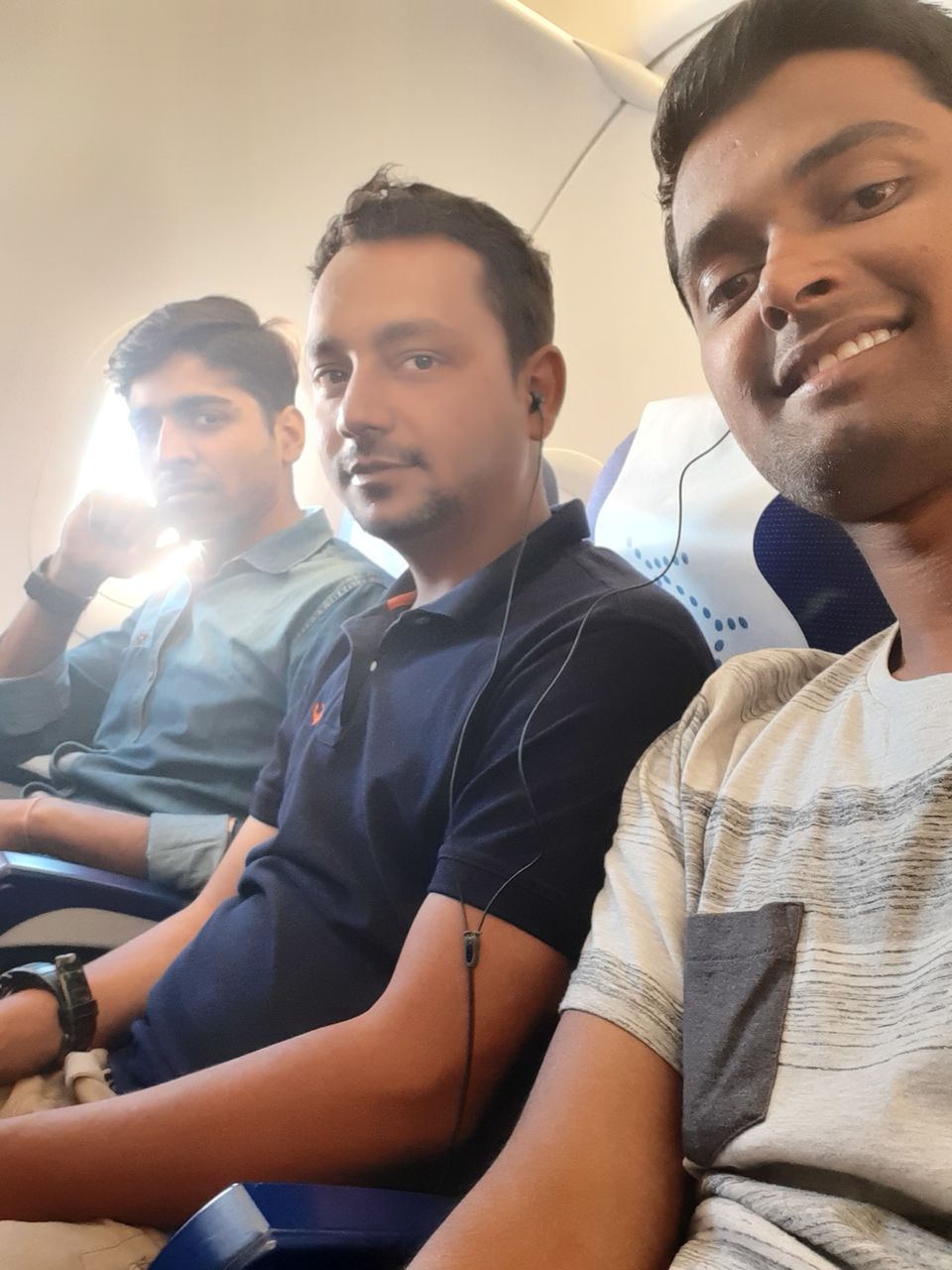 Day 12 cost : ₹120 stay + ₹85 transport + ₹205 food = ₹410
Total cost : ~₹14000
I had expected the trip to cost around ₹12k, but since we took a flight from Srinagar as there were no seats available in trains from Udhampur, our cost escalated.
Places where we stayed
Srinagar : Matchless Houseboats (https://www.booking.com/)
Sonamarg : JKTDC Guest House (https://www.jktdc.co.in/)
Prebooking was done only for the above two places. For all the remaining places, we booked on the spot.
Mobile network connectivity
Prepaid SIM card does not work in J&K. So always carry a postpaid connection with you. Most of the travel forums had stated that a BSNL connection will be your best bet, and so I took one along. Here is what I experienced at different places.
Srinagar : Good 3G connection throughout.
Sonamarg : Patchy 3G service but good for making calls.
Drass : Decent 3G service.
Kargil : Excellent 3G service.
Leh : Good 3G but network outages for a few hours are common during which you will neither be able to browse internet nor make calls. You will still be able to receive calls though.
Nubra Valley : 3G service in Hunder and 2G in Diskit. You will barely be able to browse internet in Diskit but can make calls, albeit there will be a lot of call drops.
Spangmik : 2G service only. Very difficult to make calls (only 1 of 10 tries gets connected, lot of call drops, leave aside internet).
Apart from this, you will get a network connection near every small town on the way, decent to make calls to your near and dear ones.
Tips to reduce costs
1. Your transportation and accommodation will cost you 60 to 70 percent of your trip . If you are able to minimize these, then half your budget problem is sorted. Regarding food, I try to stick with ₹300 per day (₹50 breakfast, ₹100 lunch, ₹50 supper, ₹100 dinner). You can have a stomach full of meal in just ₹100 at most of the local eateries. It's okay to splurge once in a while at some good cafe though.
2. Keep the following preference order to reduce transport costs.
Train > Bus > Shared Taxi
For the same distance, the cost for train will always be lesser than the bus (Non AC).
Consider for example, McLeodganj. 90% of the tourists I met there had come by bus, charges of which are around ₹800 for a non AC ride from Delhi. With a little bit of help from Google Maps, try to find the nearest railway station from that place, which is Kangra, around 30 kms. Some means of transport will always be available from there, basic demand and supply. So, we took a train to Pathankot (₹305 pp) and then a toy train to Kangra (₹25 pp), followed by a shared taxi ride to McLeodganj (₹50 pp). We reached McLeodganj in just ₹380, less than half the charge of a bus ride, much more comfortably.
3. For accommodation, ₹200-₹300 pp per night should be a safe bet for a bit popular areas like Srinagar, Leh and Manali. For the lesser crowded areas, ₹400-₹500 should be ideal. This price is strictly for backpackers and not if you are travelling with family.
Advance booking is the key to cut costs on such trips. I know unplanned trips sound glamorous and exciting, but they are mostly heavier on the pocket. Also try to travel in groups of 2 or 3, as it will help you to cut down on accommodation costs, since many places in Ladakh do not have dormitory options.
Points worth mentioning
1. We were unlucky not being able to cover the Manali Leh highway. It opened on 10 June this year, and buses began to run only from 20th June. Had the bus service been running, this was our plan.
Board a bus from Leh to Keylong with an overnight halt at Keylong. From Keylong next day, take a bus to Manali, stopping overnight at Manali. The bus should cost you slightly over ₹700. In Manali, we had prebooked our stay in Vatika Hostel, costing us ₹250 pp with breakfast for a dormitory bed.
Now, multiple buses run from Manali to Delhi, taking around 16 hours. The charges are around ₹750 for HRTC's ordinary service and ₹1700 for Himsuta AC service. Personally, I am not a fan of bus journeys and take a train whenever possible, which are generally cheaper and more comfortable. What you can do is, take a bus from Manali to Kirtapur Sahib (~₹300 pp) in the morning, preferably around 10:00 AM. From Kirtapur, you can board the Himachal Express (14554) for Delhi, departing at 10:20 PM and arriving at 5:30 AM (₹210 pp for sleeper). All the buses which go to Delhi pass through Kirtapur. Voila, you will reach Delhi in just ₹500 from Manali, much more comfortably. Do note that this train gets booked quickly and you might need to book at least one month in advance.
3. I was surprised to find that most of the packaged items in the Ladakh region are sold at MRP, considering that they are transported more than 400 kms from Srinagar or Manali. This is in stark contrast to cities, where many of them take ₹5 extra for a cold drink bottle as cooling charges.
4. It is a must to carry sunglasses while visiting Ladakh, otherwise you are bound to get struck by snow blindness at the high passes or on glaciers.
5. Always prefer the Srinagar Leh highway over the Manali Leh highway . Not only for acclimatization, you will also save a lot of headache on permits. If entering from Manali, you need a 'Beyond Rohtang' permit, which is available only in a limited quantity daily. However, no such permits are needed when going from Leh to Manali. You can also visit Tso Moriri on the way as its permit is only available in Leh. The same is not possible when going from Manali to Leh.
6. You might be aware of the 8-10 hour long traffic jams to Rohtang this season. The Manali administration recently started electric buses to and from Rohtang for the sole purpose of tourism. You also do not need a permit if availing the bus service. The cost is ₹600 pp for a round trip. So, save yourself from the hassle of traffic and permit and contribute towards a greener environment.
Respect the mountains and please do not litter.
Happy traveling!