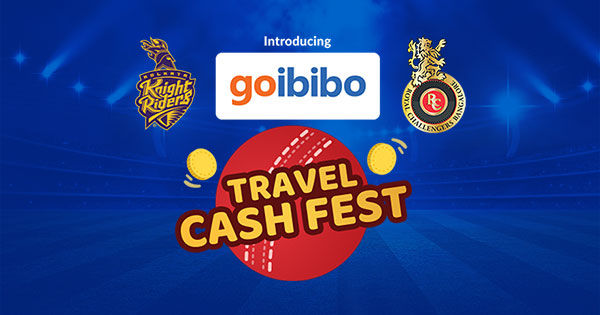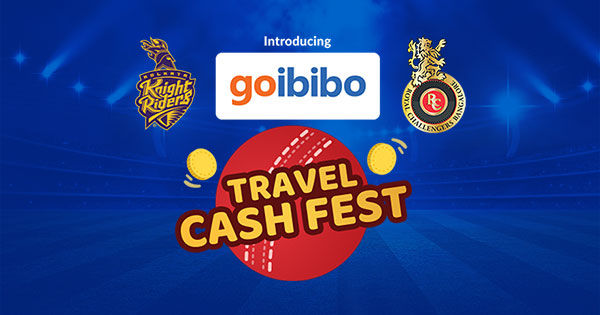 Yes! this IPL season 2019, brings to you boxes of goodies and surprises which would help you save thousands of bucks for your upcoming travel ventures. All you have to do is install the app and login and watch every match being played by KKR and RCB.
Abb Puri Duniya IPL Dekhegi...
This is what this travel hack did to me...It saved me thousands of bucks on my flight bookings and I want this surprising thing to happen to you as well.
I had my travel plans booked for a place but I was hesitating upon booking the tickets as the fare for a one side journey was around 6200 bucks.
So, on a fine day when KKR(Kolkata Knight Riders) had their match against RCB(Royal Challengers Bangalore)-which is usually called as the 2x Super Match, I opened my Goibibo app and clicked on the match which was about to begin. You wont believe, but by the end of the match I had earned around 2000 points which I could redeem 100% for my flight/hotel/train booking and without much a do, I booked my flight tickets which I was procrastinating due to the sky touching fare it reflected. So, with 2000 travel cash and around 450 go cash in my account, I easily got the same ticket for about Rs 3900 with the flight convenience fee included.
So, isn't it a savior for all of us...Saving thousands of bucks for your upcoming trips lined up.
Wanna know more of how it works and how you can increase your travel cash and also upgrade yourself from a goibibo bronze member to a silver to a gold and to a platinum member.....
Here it goes......
1)On a 2x Super Match Day-KKR vs RCB:
You earn 100 points(travel cash) when the match just begins,another 100 points when the teams (both KKR and RCB) scores a 100, 50 points when the teams (both KKR and RCB) scores a 50, 6 points when the teams (both KKR and RCB) hit a 6 and 4 points when they hit a boundary(four). For every fall of wicket of either team you score 20 points and 3 points(travel cash) for every dot ball faced by either of the teams. Also, in between you keep getting scratch cards worth Rs 150 and 100 etc. and some easily answerable questions to increase your travel cash further of points worth 20/15/10/5.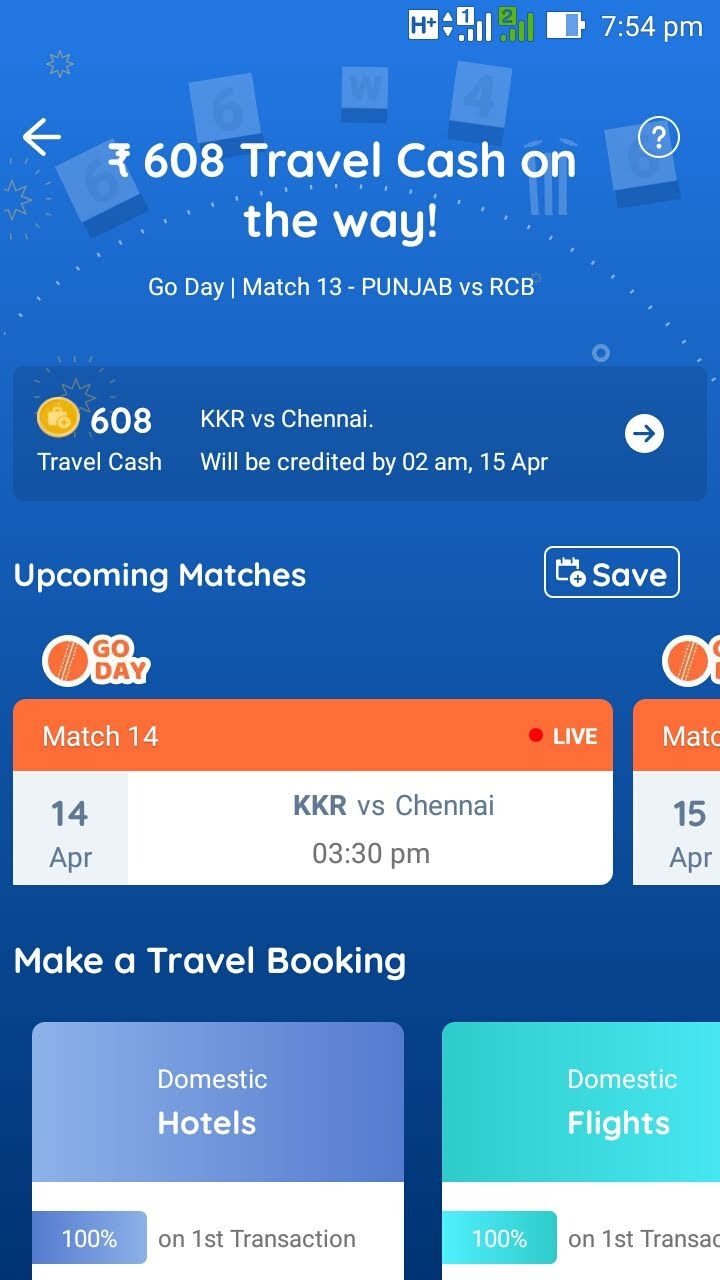 Also, you could refer a friend for the same and earn 20%of their travel cash that they get during the same match. This is how I could easily earn the travel cash worth 2k value. This travel cash will be credited to you by 2 am the next day and you have to ensure to book your travel tickets or stay at a hotel before 12 am the very same day or else it expires.
If you don't have any travel plans made as if now, you could also convert these travel cash into go cash which however, extends the validity of its usage by 3 months but reduces the value of the points or travel cash earned.
Say, I got 2000 travel cash, if I convert it into go cash then its validity extends by 3 months but its value reduces to Rs 200 in my goibibo wallet. So, by keeping my goibibo app open on every 2x Super Match day or every day when KKR or RCB has a match with some other IPL teams and not with each other(hence, its not called a 2x Super Match Day), I have upgraded myself from bronze goibibo member to a gold member which entitles me with free insurance, free meals, avail free cab service from the airport, free up-gradation to a hotel room, etc. and also saved thousands on my one sided flight ticket booking.
I am looking ahead to the next 2x Super Match days where I could again save around 2500 bucks over my return flight tickets.
Also, make sure to keep a good watch at your flight fare and analyse them for their prices so, that you could make use of this travel hack at its best to get the cheapest of all deals.
Please feel free to comment if this hack helped you.
A travel hack used by me and now I want you to make the best use of it!