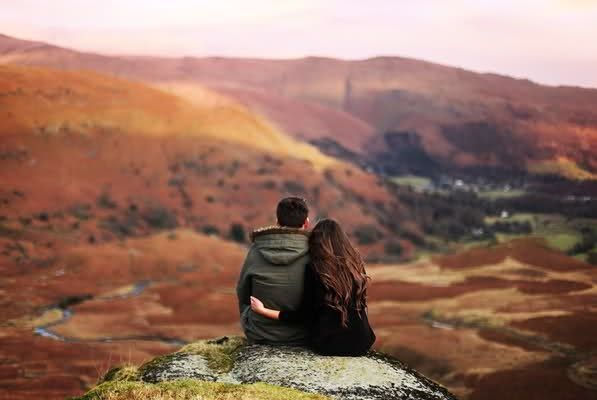 To start with, you don't need another human being to make your life complete. But let's be honest, having your wounds kissed by someone who doesn't see them as disasters in your soul but cracks to put their love into is the most calming thing in this world. And, this is one of the reason which just makes you to get married to someone. At some point of time, you would like to be with the one who would be just afraid of loosing you, who would be there for you whenever you want them, who would be there to make you smile and wipe your tears when in pain, and to get over that feeling of being alone and to feel to be in love we just get hitched. Sometimes the only reason to get hitched can also be the parents or the society, because even if we live in democratic country we don't stand for ourselves for not getting married. It's the emotional aatyachaar of the parents, relatives or just to be socially acceptable we become the main characters of the Big FAT Wedding.
Ooops! by now, you must be thinking that I am just going off the title of my article. But, No! Have Patience! I am on track, I know what I am supposed to type here, so that the trap you fall in after a certain age don't seem to be trap/hell for you. Instead, this would help you to make life after marriage beautiful.
"I have found out there ain't no surer way to find out whether you like people or hate them than to travel with them." – Mark Twain
Yes, the great American author already said it all in one sentence but, still here I am & I will give you another several reasons as to Why you should travel with your partner before you get married?
• Travel can help you know very quickly whether or not you have found your life-long partner-in-crime! - I remember really well, when I met him for the first time after the long distance between us and decided to travel, all I wanted to do was just to know him. Just to know how he behaves in public with me, whether is proud to hold my hand or not, whether he knows how to tackle the smallest to the biggest problems or not. That little moments of his which can be the memories to cherish and would help me to get to know about him better. Again, what he like to explore, what he can compromise on, whether that small child exists in him when he gets sick or he will act crazy if he is not well & vice versa whether he'll even care if I am not well and If yes, how does he feed me those medicines which I hate to the core.
I wanted to know so much, so so much - like what he loves to eat, how much can he drink, how much he loves me, and whether we will be one of the couples who will fight for the remote because I want to watch something else which he just doesn't want to watch. Last but not the least I figured out our best memory which I cherish still -WRESTLING, with him, fighting with each other and believe me it was not a pillow fight, it was a serious wrestling competition and was so much fun, that when we still think about it there is always a huge smile on both of our faces which make us laugh insanely.
All the above was just because I traveled with him and was there with him for those complete 5 days, which made me realize - Yes, I want him. He is my partner in crime!!
• Learning to Compromise:
Every couple has always the one person who will compromise more than the other. While you plan for a trip with your partner, in both the planning stages and while on the trip you realize that you cannot get your way all the time. Your ideas and his will contradict or may be similar. But once you have learned to compromise with each other, and start respecting and treat each others opinions and decisions equally, life becomes a lot more easier which in result will lead to a Happy Marriage.
• How you deal with problems/issues:
Believe me, There are always going to be issues and conflicts that come up in life, and they seem to happen even more frequently when traveling. Some days you may even be lucky enough to see how you interact with your partner after the 20th thing goes awry in one day! At that moment, do you have each others back or will you just turn and complain! How each of you would deal with being tired after some 12 hours journey together or being hungry, or for that matter how you deal with the other one if he/she is just angry for a moment and the reasons may be just the mood swings. It is a wonderful thing when you can make each other laugh and relax when you are frustrated, you learn to do that little by little which will surely make your relationship stronger, because you'll understand each other better by then.
• Traveling will help you to face your fears and will help you to grow as a couple:
Fears, we all have them. Whether, it is a fear of heights, getting drowned in water since you don't know swimming or as silly as going for a camel ride. But, your partner can help you face all those fears and overcome them. It would help you to know how compatible you both are for each other and will help you to grow as a couple.
• Last not Least, Test your wedding Vows :
On a final note, by the time you'll reach to the stage when you'll be getting married you both would be well aware about each other. There is no better way to test if you really are ready to make that pinky swear of all pinky swears; are you in it for good times and bad, for richer or poorer, in sickness and in health? Whether, you'll be there for each other even if one snores like a beast and other cannot sleep, are you still in if she prepares half burnt food for you and you will reply back sweetheart: This time I'll manage but before you repeat this again, I'll teach you cooking :)
If you don't enjoy all of those times with your partner after a month of traveling, do you really want to swear to a lifetime?
Twenty Years from now you will be more disappointed by the things that you didn't do than by the ones you did do. So throw off the bowlines. Sail away from the safe harbor. Catch the trade winds in your sails.
Explore. Dream. Discover.
Travalive Tours - for all your travel needs
http://www.travalivetours.com/
Make your Marriage a happy Married Life.

P.S : Tripoto gives you 10 more reasons to travel before you get married.
http://www.tripoto.com/blog/10-reasons-to-travel-before-you-get-married/