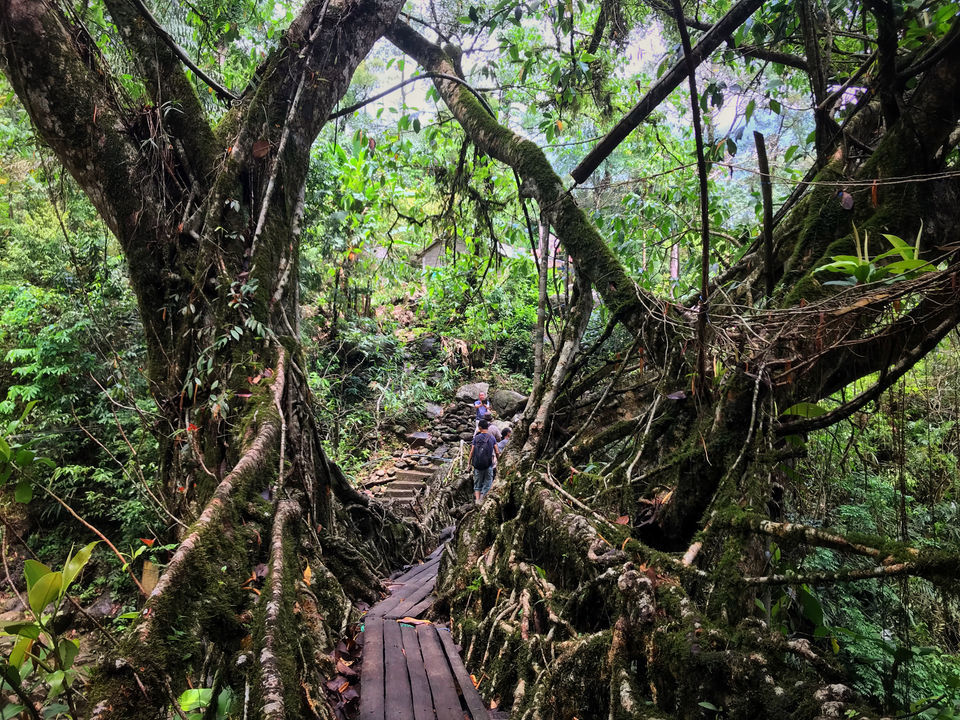 We started by 7:00 a.m morning from Shillong and it took nearly 90mins to reach Cherrapunjee.
Cherrapunjee is also know as Sohra , which is a high altitude town of Meghalaya, a north east indian state.
Cherrapunjee is also the most wettest place on earth and popular for its living root bridges.
The journey from Shillong to Sohra was breathtaking. The road was covered with fresh greenery and enthralling clouds.
We finished our breakfast (Maggi)in a small hut near Nongrihat and started the hiking with our guide.
With full of energy and enthusiasm we four started.
It was raining but after few 100 steps rain get stopped.
Greenery on each side of path and it was pleasing our eyes.
After one hour of hiking we reached to the first bridge , the narrow steel suspension bridge over the raging river.
There was total three bridges before reaching our destination. Two steel suspension bridges and single living root bridge.
We reached to double decker living root bridges by 11:45 a.m.
There was few small shops , where water bottles, Frooti, juices, biscuits and chips, chocolates etc were available.
The root bridges provide a stable alternative to wooden bridges in the dense tropical forest of Meghalaya.
It takes around several years for a new root bridge to become strong enough to bear the weight of people crossing it. However, it will continue to grow and strengthen even more over time. Some of the bridges are believed to be hundreds of years old, although no one knows the exact age.
From there we Started by 12'o clock for Rainbow Falls. We reached there within two hours.Though the path was little difficult but the view just worth it.
It was simply spectacular and very picturesque.
The most difficult part of the journey took 3500 steps and hike up.
But we made it.Completed this whole trail within 9hrs.
A journey to remember and bringing your friends & family closer