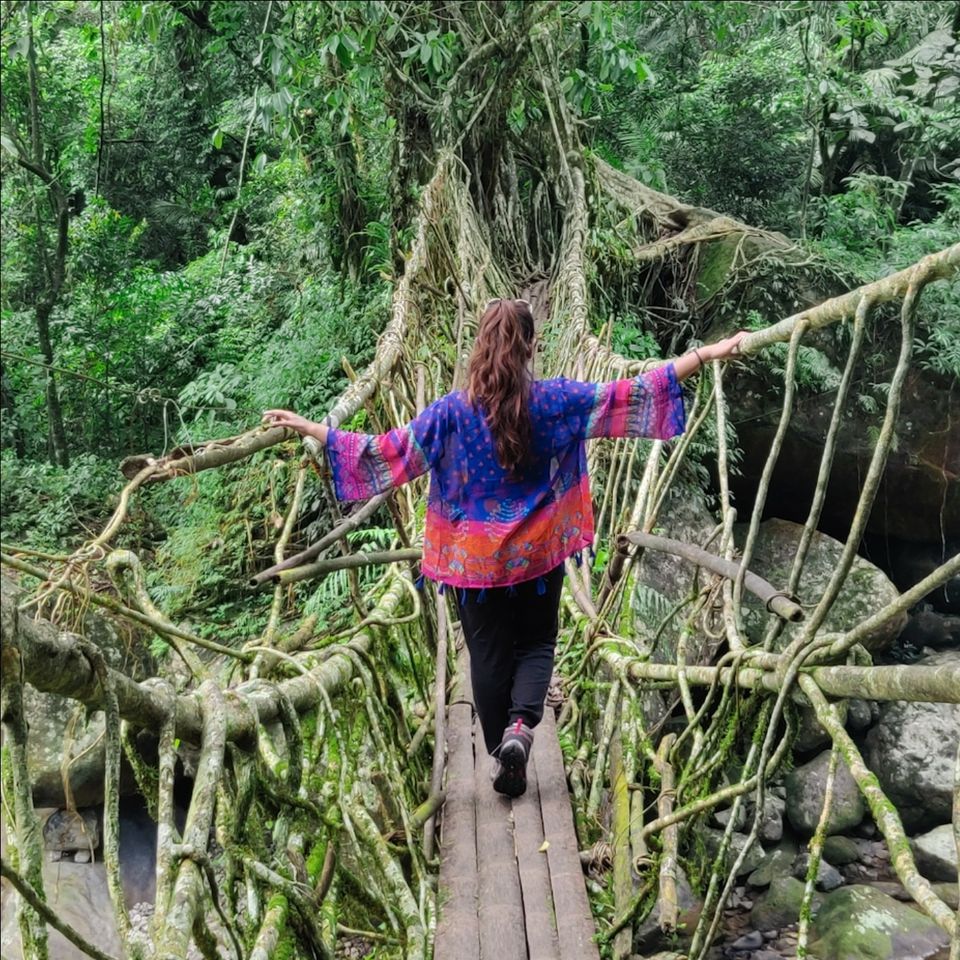 Deep in the dense tropical forest of Meghalaya, and enveloped in clouds and rain for much of the year, are some astonishing man-made natural wonders. Known as living root bridges, members of the Khasi tribe have trained them to grow from the roots of ancient rubber trees, native to the North East region of Imdia. The root bridges provide a stable alternative to wooden bridges, which would decay and get destroyed during the heavy rainfall in the forest.
I started my trek from Tryna Village (30 mins away from Cherrapunji aka Sohra)
The way to the double-decker root bridge is three kilometers (nearly two miles) long. It has approximately has 3,500 stairs and descends 2,400 feet. These numbers may be intimidating, but don't let that kill your vibe!
There are three parts to the trek.
The steepest and most challenging part is the first part, down the hill to Nongthymmai village. It takes roughly about 45 minutes, along a seemingly endless trail of steps that plunges deeper and deeper into the forest. The dense forest is like a paradise with jack fruits and pineapples growing wildly amid the jungle full of vegetation.
Nongthymmai is a lovely village of friendly bee keepers with beautiful flower gardens along the pathway and a blue and white painted church nestled between the lushious trees.
From this village, it takes at least another hour to reach the double-decker root bridge.
The remaining two parts of the trek, which involve crossing narrow steel suspension bridges over rivers with a tremendous flow gushing through the rocks.
after another ascending staircase you'll be greeted with a sign announcing Nongriat village. Drag yourself up the final set of stairs, look down, and there it will be like a still taken from a forest fairyland ~ The Double Decker Living Root Bridge.
You can grab some water or Maggi near the bridge while you take in the nature. Also be sure to have a pleasing fish pedicure while your there.
All in All, The Double Decker Living Root Bridge is sure to blow your mind with it's thick intertwined roots and serene beauty which is sure to leave you in awe!