"My name is Well." I wasn't sure if I was hearing it right. This was my guide from Tyrna, taking me to the double decker living root bridge at Nongriat, introducing himself for the first time.
There's a soft accent that the people of Meghalaya have, which would sometimes make it very difficult for me to understand what they were saying. I told him to write it down in my diary. As he wrote it, I read, 'Graceful Well Wahlang'. This guy's name was Graceful. I was not at all surprised.
The trek to Double Decker Living Root Bridge
Well and I continued our walk along the 3,000 stairs leading to the Nongriat Double Decker Living Root Bridge. I intended to reach there by nightfall. The hike was too beautiful to rush through. He told me about his village in Tyrna, about how he wanted to join the army but was too short for it, and how to tell if the honey sold at Nongthymmai was of good quality. When we reached the single root bridge, he also took me to a cave where not many hikers reach.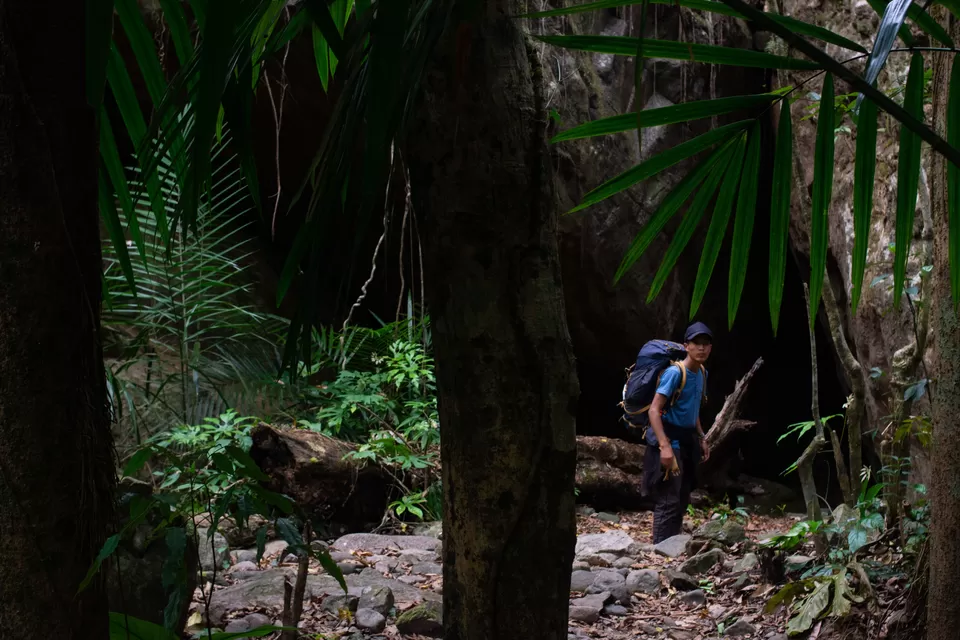 During my time in Shillong and Sohra I realised that the people here didn't speak much . Well was probably the only person I met here who loved talking. When we stopped at Nongthymmai on the way, I told him about how the jungle was overwhelmingly dense and green and I hadn't felt this quiet and meditative in a long time.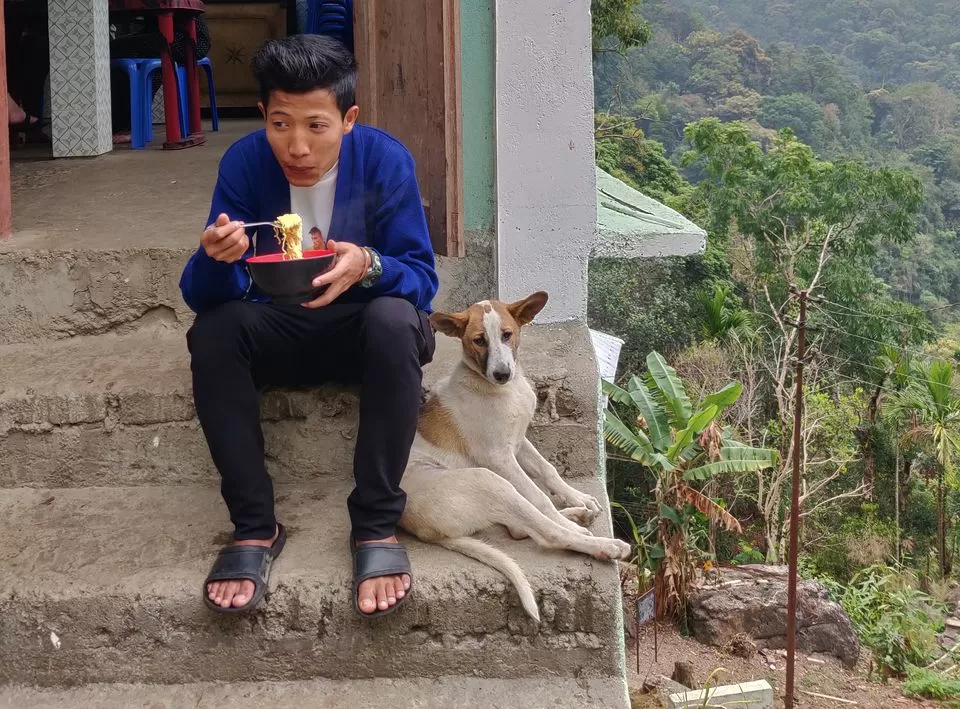 We had stopped for a bit to eat something. I realised that even the simplest of foods taste out of the world when you're surrounded by nature. "The forests here mean everything to the people. You must have seen how clean these trails are," said Well, slurping on a big bowl of soupy Maggi.
I couldn't agree more. Even after the great influx of travellers in this region in the last few years, the locals had managed to keep the hiking trails clean. In the last two days I had spent in Shillong, I had noticed how clean the public spaces were. Not too far away from Nongriat was Mawlynnong, another Khasi village, which is now better known as 'the cleanest village in Asia'. In fact, on my visit to Mawlynnong a few days after this, I saw locals cleaning the streets at the end of the day.
"People have made these forests their homes. These living root bridges that you see, have survived so many modern bridges we see these days." Well said. He was, in fact, quite right.
We reached Nongriat at the end of that day after crossing three root bridges and two suspension bridges. Well told me that the double decker bridge in Nongriat was 250 years old. The oldest one is more than 500 years old. These root bridges were made out of a type of rubber tree specific to this region and the aerial roots are 'trained' and entwined around the beetle tree shoots to form bridges. The traditional ingenuity of the Khasi people and the know-how regarding the biodiversity surrounding them has made the community capable of surviving here.
After the long hike to Nongriat, we stayed at Byron Homestay near the double decker living root bridge. This lovely lodge overlooks all of the dense green of Meghalaya that is marked with turquoise blue rivers.
Spotting glow-worms in the dark and devouring freshly cooked dal, khasi style rice while sitting in the balcony, I was filled with gratitude. We washed down our meal with an aromatic cup of chamomile tea. The simple meal and the brilliant companion that night made it all unforgettable. This hike was, in fact, all about these little joys that often go unnoticed.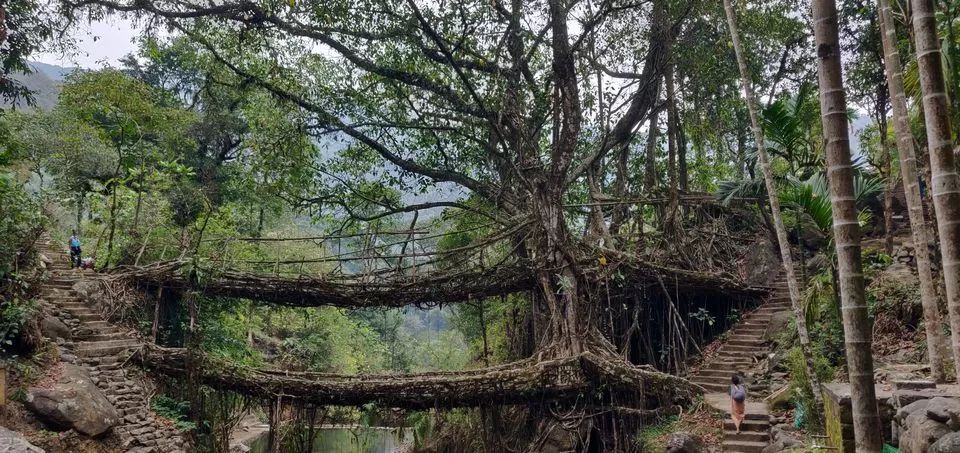 Even though we were far away from civilisation, my morning began with a hearty breakfast spread. I gorged on a delicious bowl of porridge, freshly plucked pears and peaches as well as some boiled eggs. The English breakfast at Byron fuelled me for the challenging day ahead.
In less than an hour, we climbed up these 3,000 stairs back to Tyrna. On the way, we encountered at least a dozen people asking us how long it would take to reach. I, on the other hand, don't remember feeling exhausted because I had a great company, and we took so many well-deserved breaks on the way.
Have you seen the double-decker root bridge? Tell us all about it here on Tripoto.
Tick all hidden gems like the Double Decker Living Root Bridge off your bucket list. Check out Kitkat Travel Breaks on Tripoto here.
The readers are hereby informed that the views, thoughts, images and opinions expressed in the article belong solely to the author, and Nestlé India Limited assumes no responsibility or liability for any errors or omissions.
Frequent Searches Leading To This Page:-
double decker living root bridge meghalaya, double decker living root bridge steps, double decker living root bridge nongriat tyrna, umshiang double decker living root bridge, meghalaya itineraries which include root bridge