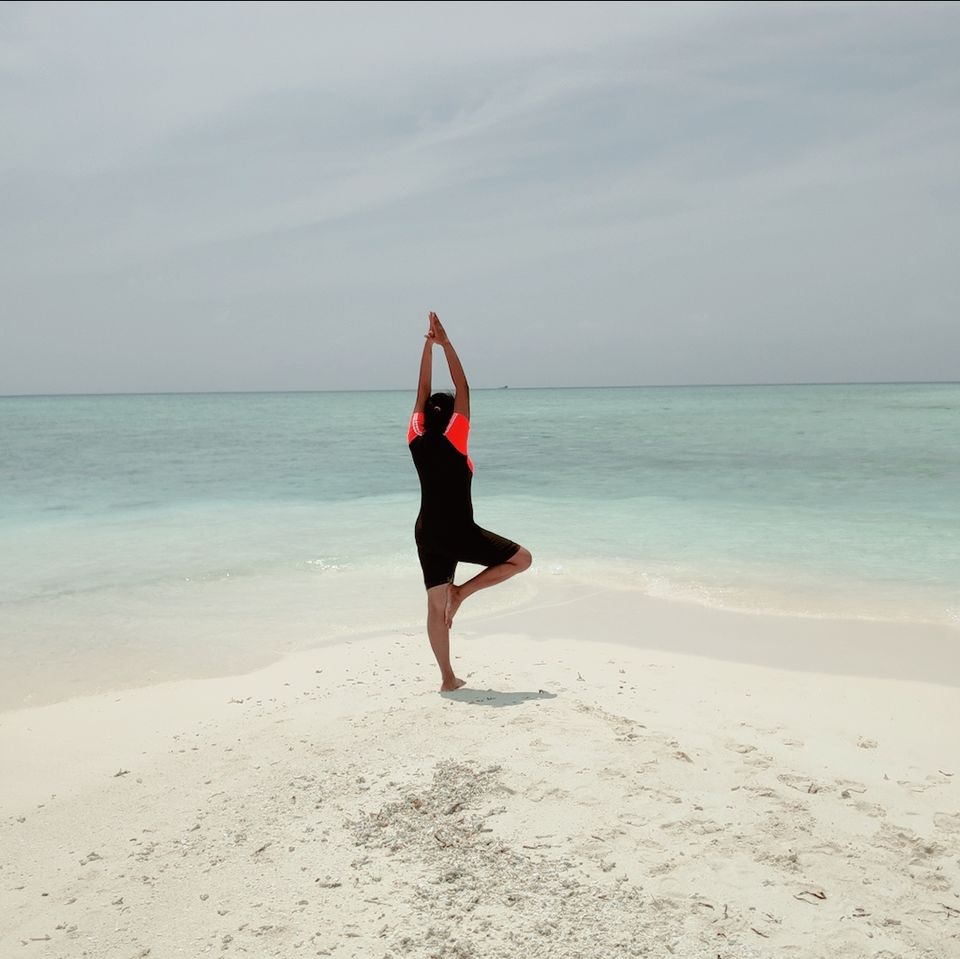 It was sudden plan to go somewhere and when I googled found the flight tickets to Maldives damn cheap.
All excited, We booked Goair from Bangalore for 25k to n fro with 2k cash back after 60days with Citibank card.
We didn't do any research on the cost of accommodation and that was the biggest blunder. Since our journey was only 10 days ahead most of the good budget hotels was full and we cannot afford 25k to 50k for a resort per day.
Still i never gave up.. kept searching day and night and finally a week before got an accommodation booked.
For budget travellers and mostly indians there is an island called Maafushi with many good accommodation and pocket friendly price but the negative side is that it is overly crowded also the beach is very small for the crowd.
I am a kind of traveller who always want to explore the less explored path and that's how I found this beautiful Small island called "Gulhi". This island is in between Male and Maafushi and there are hardly some 10 guest houses and 4 restaurants. This island has a big bikini beach compared to Maafushi and very cheap accommodation with good amenities.
So our home for next 4 days was in this beautiful island "Gulhi".
With all excitement we boarded our goair flight to Male which was half empty and since it was a brand new flight the take off and landing was smooth. The travel time was 2 hours and 15 mins but we landed in 2 hours. Maldives is half an hour behind IST. Keep a watch while landing for some stunning views of indian ocean.
The immigration happened in just 5 mins and we were out of the airport in 10mins.
Male airport doesn't have a wifi and our scheduled speed boat was at 17.30 and we had good 1.5 hours to spend in the airport.
As we came out of the airport exit , it opened to a beautiful view of the indian ocean.
We waited till 18.00 and still we couldn't find the boat to the island. All vexed, we entered the food court and bought 5ml black coffee for 300₹ or 4$ to get access to wifi. Once I got wifi access, i immediately called the hotel manager and was shocked to know that the boat has left. We were right at the jetty and couldn't really guess how we missed the boat or was the hotel guy fooling us. The hotel manager told that the next boat is only at 22.30 and we had to push our time till then.
Please note: There are private speed boats and government ferry for commuting between islands but the con is that government ferry is available only once in a day whereas the private speed boats are a available once in 2 to 3 hours and cost more than 10 times the cost of ferry. Yes, the ferry will cost you hardly 2$ per person while the speed boat to Gulhi is 25$ per person.
Coming to our story, we were bugged up waiting in the airport so we thought to go and explore the Male city. We quickly exchanged 40$ to MVR and went to the taxi bay. We enquired the taxi guy to take us somewhere and bring us back to airport by 10pm. One of the local there suggested us to visit an island called "Hulhulmale" for indian dinner as there is an indian restaurant called "Bombay Darbar". So we boarded the taxi and paid him 100mvr for hardly a distance of 5kms from airport. This island "Hulhulmale" is a artificial island planned and made by chinese. The roads are well laid and the infrastructure is too good. This island also has an artificial beach. After having yummy indian dinner at Bombay Darbar , we roamed around in the island for a while and decided to go back to airport by bus.
We waited in the bus stop for a while and boarded the air-conditioned bus to airport. It was so spacious and had good air condition with space for the luggage too. With just 40 MVR for two we reached the airport by 9.20pm. We clicked few pictures and went back to airport lobby to wait for the hotel manager.
The hotel manager came by 9.35pm and appologized. He later told us that there is an information desk at the exit of airport from where we can make calls for free. If he had told this earlier may be we wouldn't have missed the boat. However, our boat arrived at 10.20pm. We boarded the boat by paying 50$ and reached the island by 11.15pm.
We were greeted by our hotel supervisor at the jetty and finally we checked in to our small room with beautiful interiors by 11.40pm.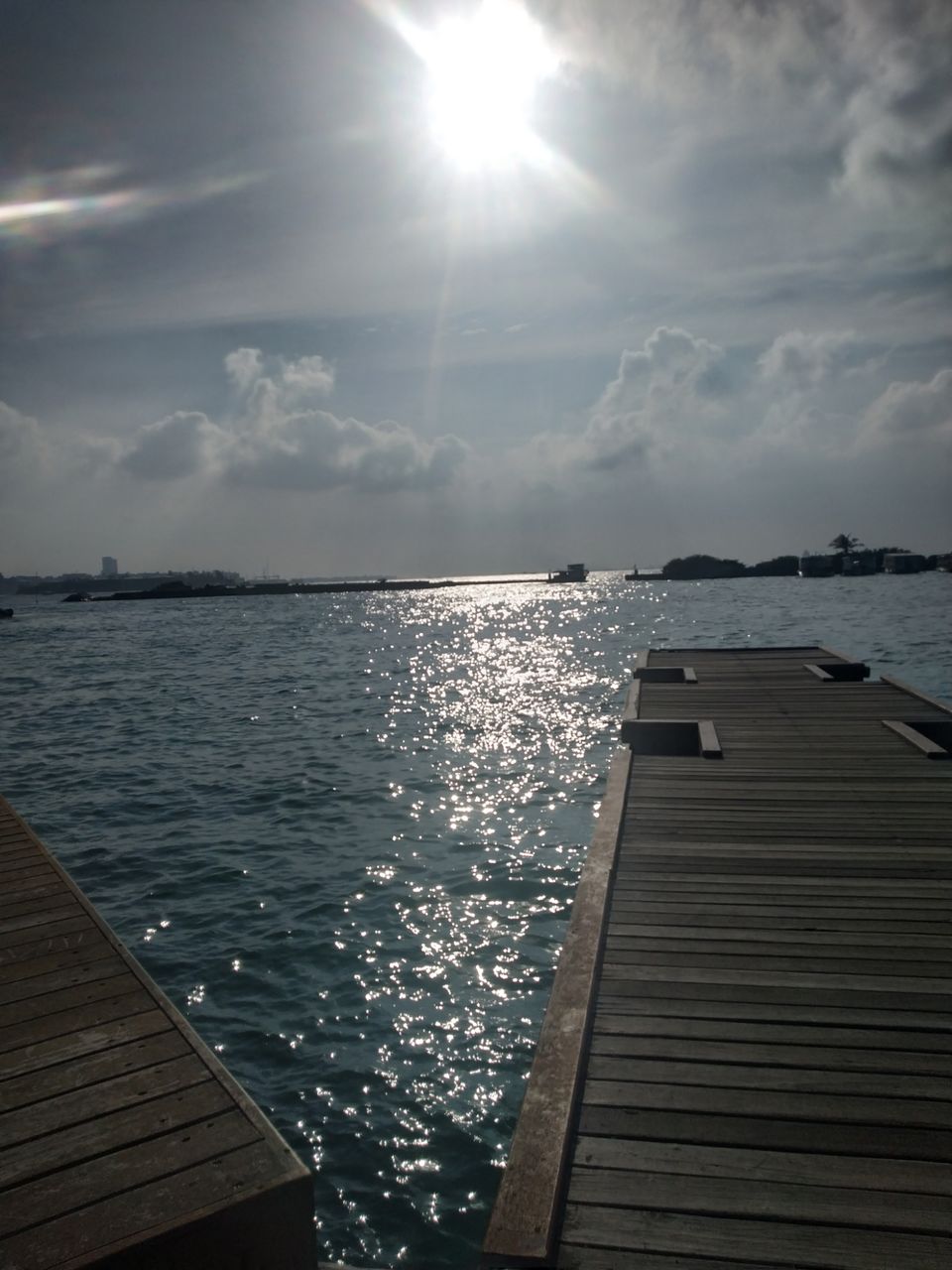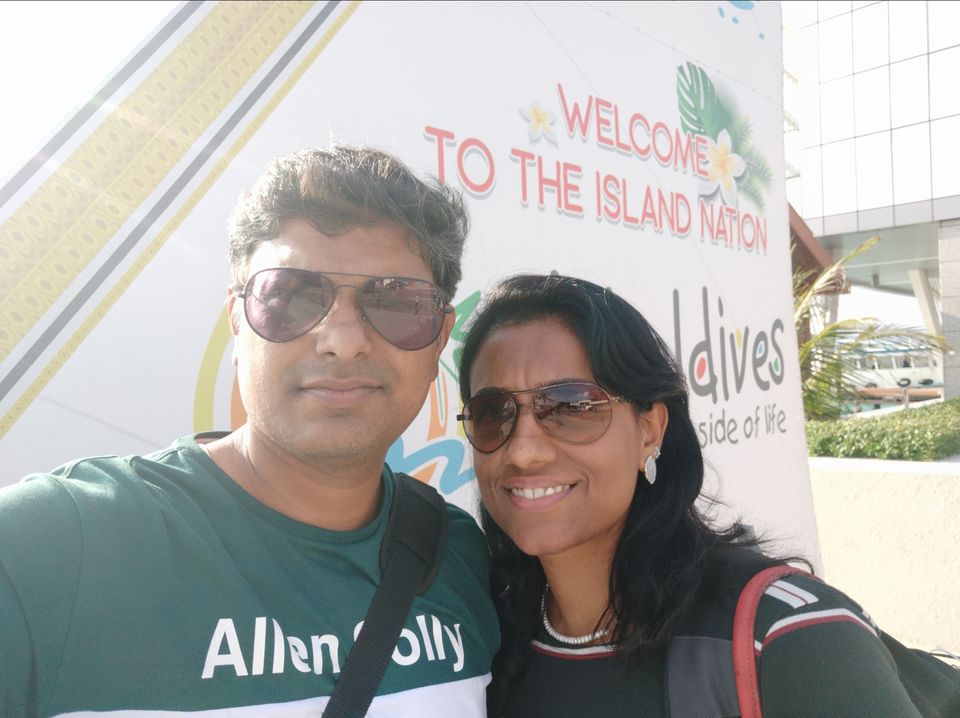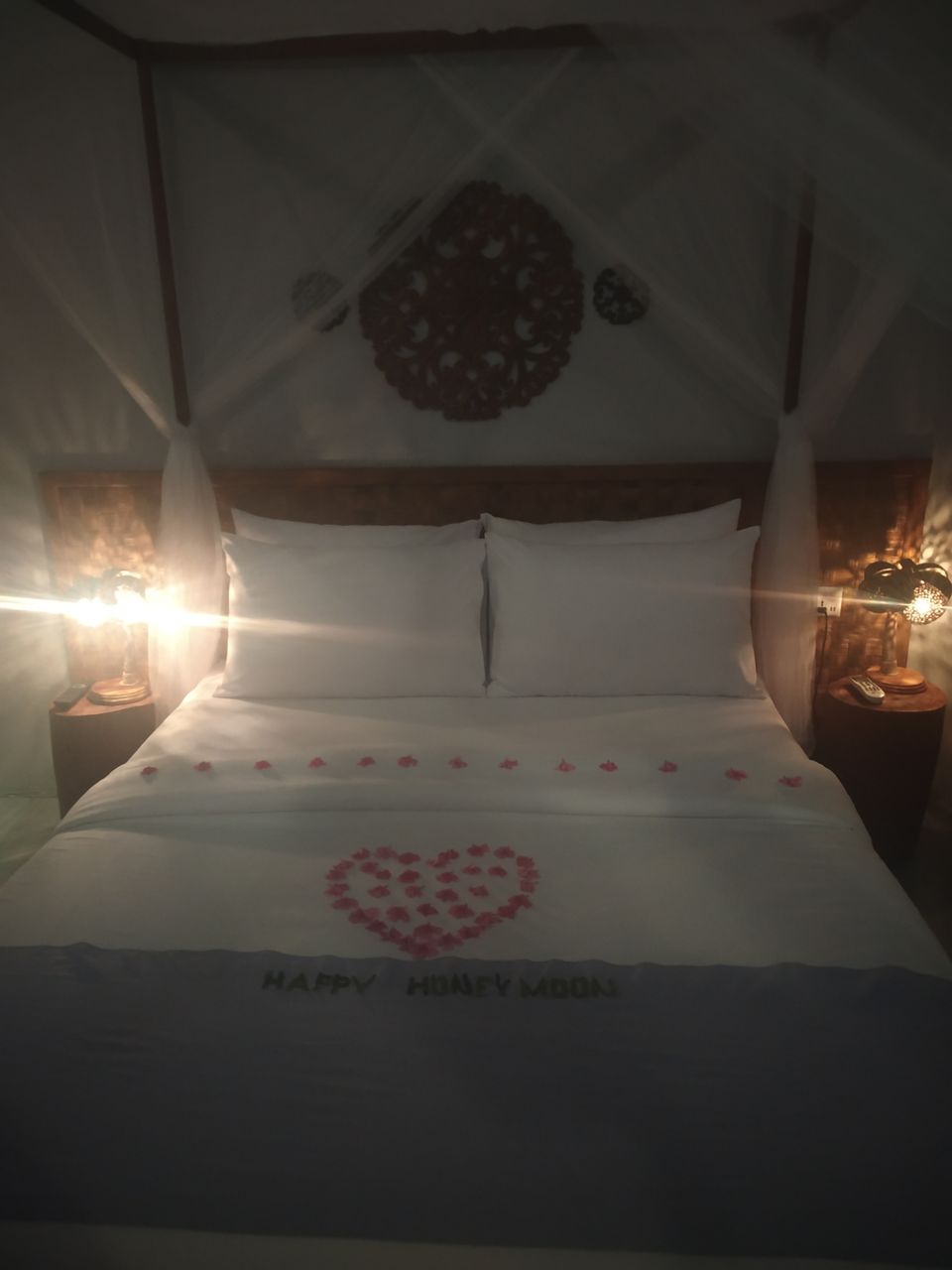 After the tiring day yesterday, our second day started at 8am with continental breakfast at the hotel.
We enquired the hotel for excursions and got to know that it's full for next 2 days. We booked snorkeling trip for 4th day and went off to explore this beautiful island.
The bikini beach was just 200mts from our hotel and was very big with a beautiful swing in the center of the beach. That's the landmark for this island.
We spent good time roaming around in the beach and playing in the crystal clear water and soaking ourselves in the hot sun.
Vegetarian option is very less and so the food wasn't great for me but my hubby enjoyed the tuna fish rice.
We had good nap in the afternoon and headed out in the evening for some snorkeling in the beach and to enjoy the sunset.
For dinner, we tried the mint hukka and Maldivian dinner. Me being vegetarian had my ready-made MTR umpa for dinner.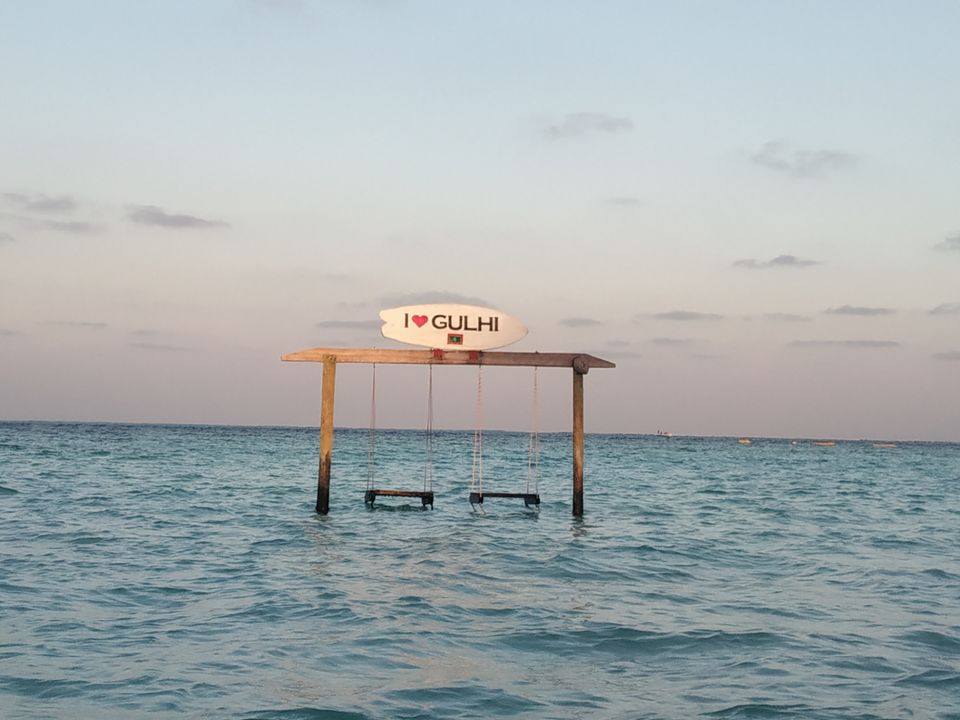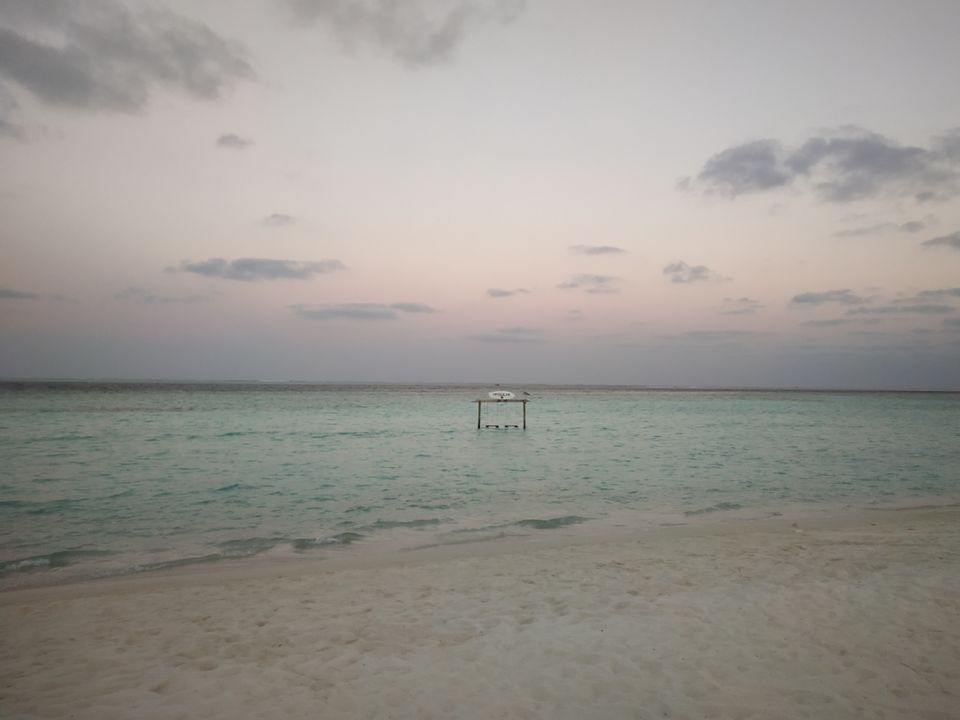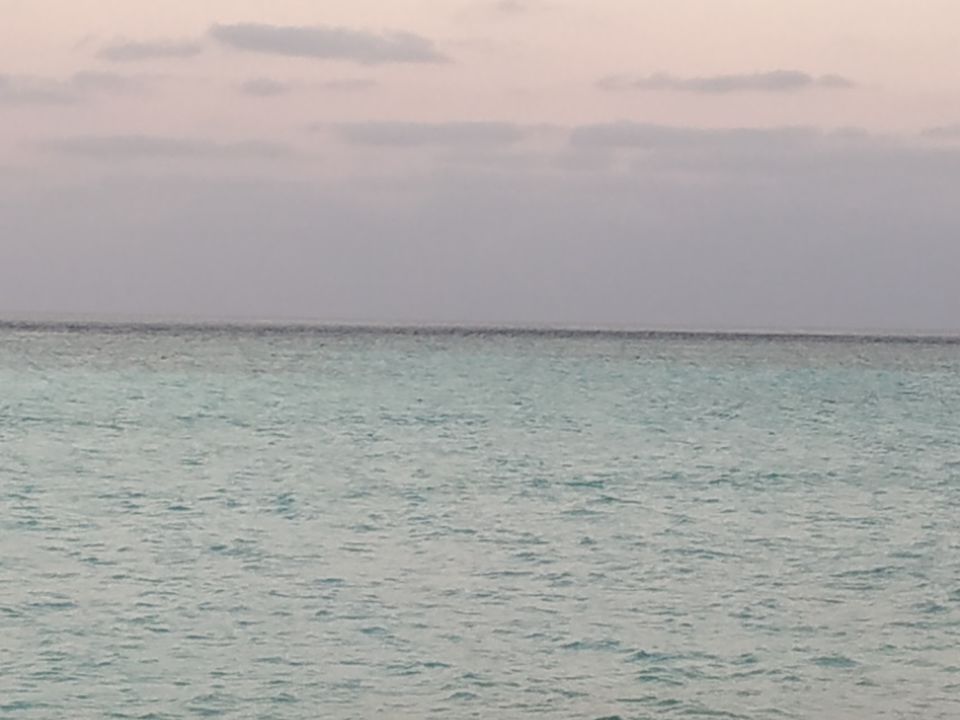 Since all excursions was booked, we decided to go island hopping to Maafushi Island. This island is the popular island for all backpapers and budget traveller.
We had to shell out 20$ to and fro to this island which was at a 10 mins distance by speed boat  We headed straight to bikini beach and felt it too small when compared to our gulhi beach.
We roamed around in the island for a while and stopped for lunch at Stingray Beach inn. We ordered garlic bread and veg.pasta. The garlic bread turned out to be a single piece of bread toasted with garlic and they charged 4$ for it. Better avoid this place.
Later we had a local icecream, sat by the beach and left back to our beautiful island by 4pm.
After being in Gulhi, Maafushi didn't impress us and we felt it more commercialized. If you are looking out for excursions, then this island has good deals at cheaper price. If you are looking for a "us" time away from commercialization and more in to nature than go for "Gulhi".
We felt happy for choosing Gulhi over Maafushi
Today was the day I was waiting for.. our day of snorkeling. We were all excited and got ready by 9.30 am. We were accompanied by 2 france girls and italy couple. We sailed in the speed boat for almost an hour to spot the beautiful dolphins. Yes, it wasn't just one or two they were some 20s.. all happily swimming. Wow!! What a beautiful sight to see them so close and the next moment everyone jumped in to the water. We are beginners and hesitated to jump, our boat captain jumped along with us to make us feel safe. I have no words to describe how beautiful it was to swim with the dolphins, see them jump in and out of water and feel them so close. Happy us!! But this was just a beggining, we still had turtles and reefs with lunch in the sandbank in the list for the day.
Our next stop was to spot turtles swimming underwater. They took us on a 15mins ride further and halted in the mid sea. The captain and his help jumped into the water first to search the turtle spot. After 10mins they found the spot little far from the boat. And bang!!! Everyone except us jumped in to water and we waited another 10 mins for captain to come and help us in the sea.
As we jumped in to the sea and saw underneath.. wow!! It was like someone had lit the sea with lights and the corals were so beautiful and colourful. There were many varieties of fishes each with different colours and patterns. It was a wonderful feeling to feel them swim around you and see their world underneath. Suddenly there was a sound from the other side.. it was the excitement by someone who spotted the turtles. We too rushed that side pushing the water as much as we can.
As we saw underneath , it was 2 big turtles swimming happily without worrying about people around them. The life underwater is so so beautiful and the happiness that you get seeing them is beyond words.
After turtle watching, it was time for some lunch on the sandbank. We halted at a sandbank, the captain stuck the umbrella in the sand and our lunch was laid. We happily had our vegetarian lunch and headed to enjoy the beauty of sandbank. After 45mins, the captain told us its time to move.
Heavy-hearted, we headed to the boat not wanting to go back. As we sat on the edge of the boat to enjoy the ocean, the boat started to sail. After half an hour sailing the boat suddenly stopped. The captain told us there is one last snorkeling left to feed the fishes. He took out a pack of bread and jumped in to water which was no so deep. Everyone followed him and as he opened the bread pack 100s of fishes surrounded us to have the food. Some bit the captain too but seeing all these at one go was most amazing.
That's it.. after an hour we reached our island with happy smiles of satisfaction and a feeling of accomplishment.
Later in the evening aa we were strolling near the harbour we saw fishermen throwing the spoiled fishes that they caught back in to water. Curiously as we moved closer, we were surprised to see giant stingrays on the shore eating those fishes. They were around 10 all huge and fighting with each other for food. Thus, in just one day we saw everything that we wanted to and headed back to the cafe for some last day dinner at island.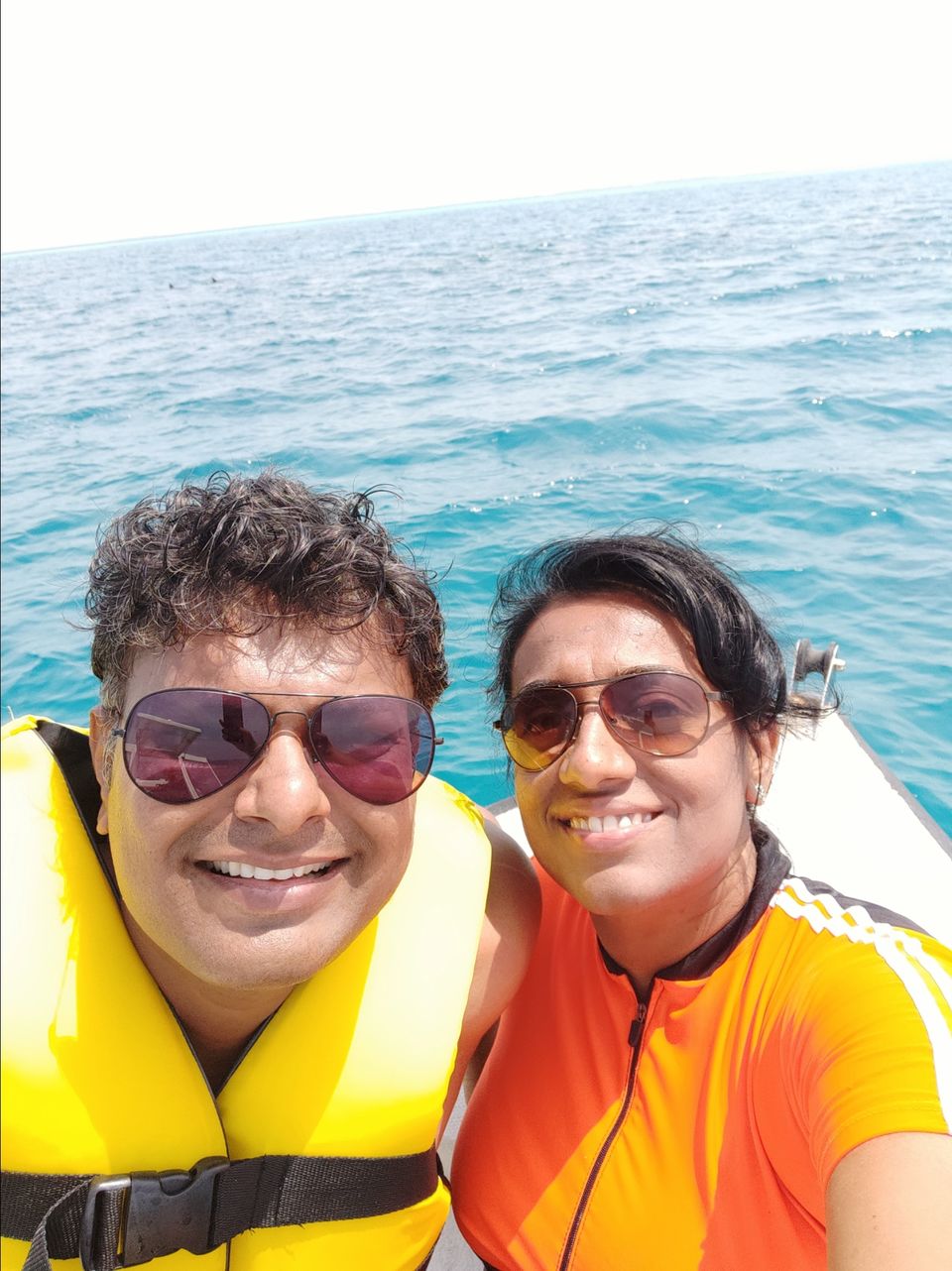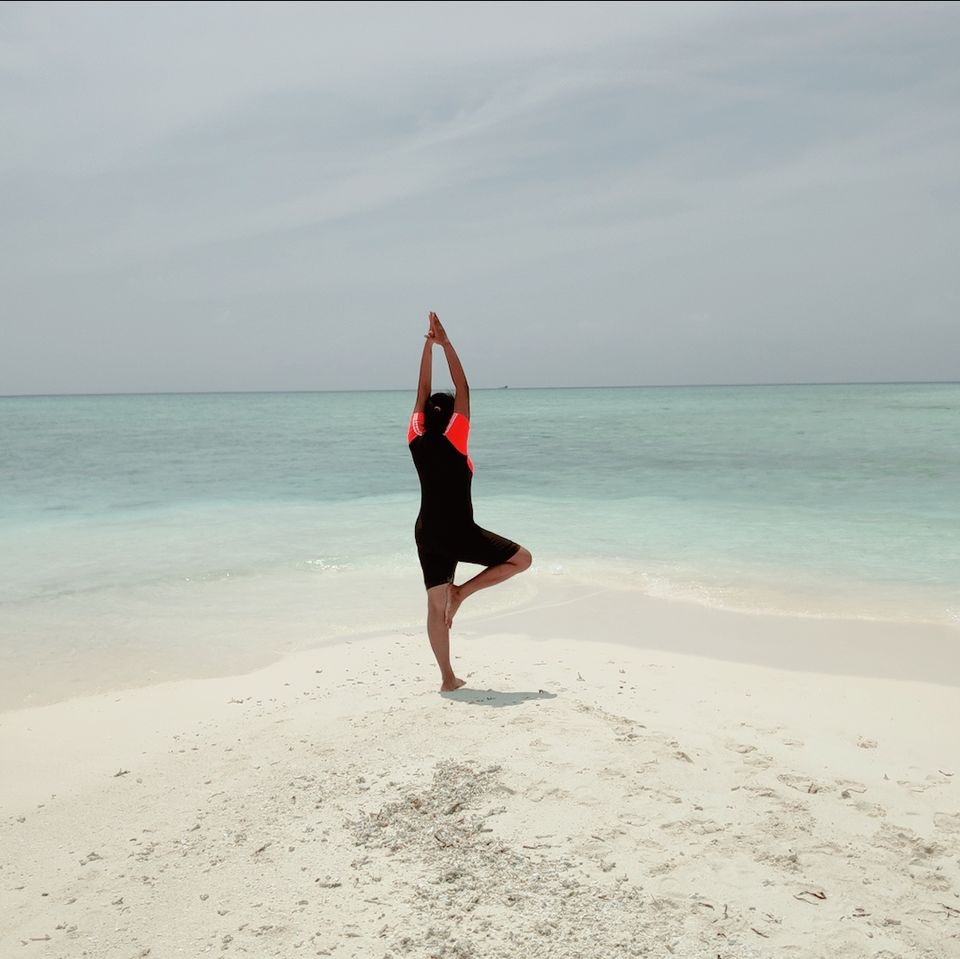 Our last day in Maldives. We started early by 7.45am to catch the government ferry and it was a ride of 90mins to reach Male. The ferry was very clean and wide. The toilets were sparkling and roof was open to view of ocean. We enjoyed our ride to Male watching the ocean waves and the islands far away.
We landed at Villingili ferry terminal Male by 9.30 am and went in search of a hotel to keep the luggage for few hours. After being denied by few hotels, finally we got a kind hotel manager who was ready to keep our luggage free of cost.
We headed back to ferry terminal to go to villingili island. The ferry coated us 7MVR for a 10mins ride to the island. This island is less touristy and has locals mostly. We were looked upon like aliens when roaming there. This island too has beautiful beaches but there is no bikini beach. We roamed around the well planned and neatly maintained island for an hour and headed back to terminal.
We reached Male in next 15 mins and headed out in search of food. We found a cafe and went in. The menu had indian food and we were excited to have indian food. After having yummy biriyani for lunch with lemonade we enquired about the airport ferry terminal with the waiter, tipped him happily and went out to pick our luggage from the lodge.
We boarded the cab to the airport ferry from the lodge and reached jetty in 15mins. The ferry to airport was just 20 MVR for 2. Boarded the ferry and sailed to the airport bidding bye to the paradise.
It was our 10th anniversary trip and of course, we had a wonderful and most memorable time in Maldives.
Our expenses are as below
Flights from Bangalore to Male : ₹.25000/-
Accommodation: $195 =₹. 14400/-
Speedboat:$70 = ₹.5000/-
Snorkeling:$70 = ₹.5000/-
Food:$80 = ₹.5600/-
Soveigner: $15 = ₹.1000/-
Other misc: $50 = ₹. 3500/-
All in all under 60k for 2.
Other possible expenses to opt for
Scubadiving :$60 per dive
Sandbank trip: $15 per person
Candle light dinner on the beach:$.70 for 2
Sunset Fishing with BBQ : $90
Resort day trip from Maafushi: starts @ $100
Hope my review is useful for those planning a trip to Maldives on a budget.