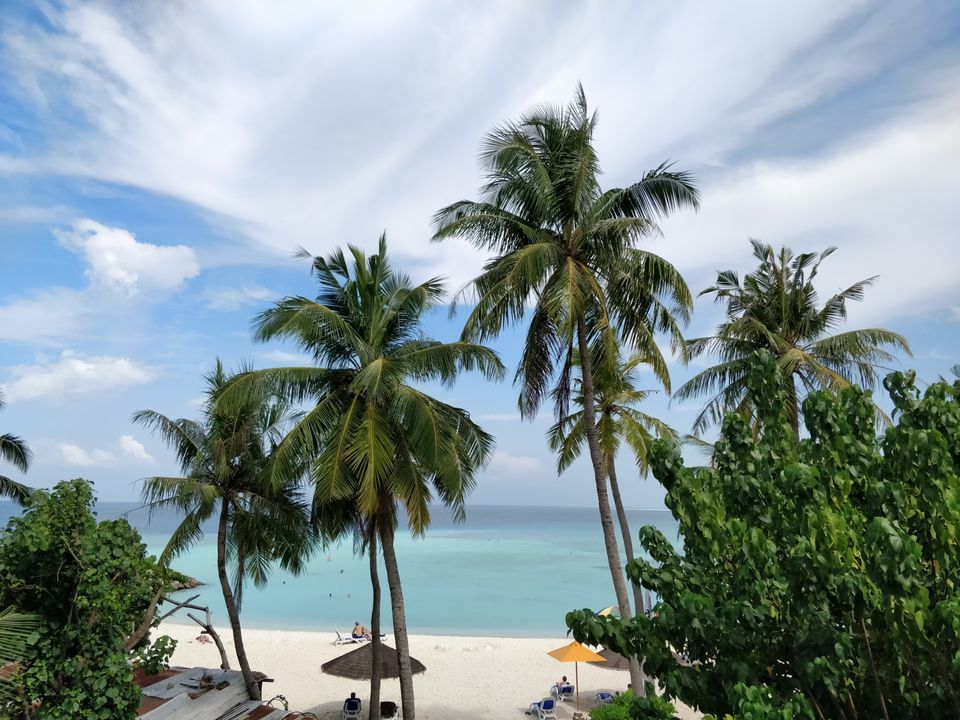 Hi, this is my 3rd review on tripoto for my international trip. This time I have planned my second honeymoon for Maldives. I booked rountrip tickets from go air@ ₹19500p.p including luggage . Maldives grant tourist free visa upto 30 days. Hence, we saved our fees.
Our flight was@ 12-45 pm . We had our lunch at premium plaza lounge.
Tip – If your card doesn't have lounge access one can get a Paytm debit card at very nominal price that offers lounge access at various airports in India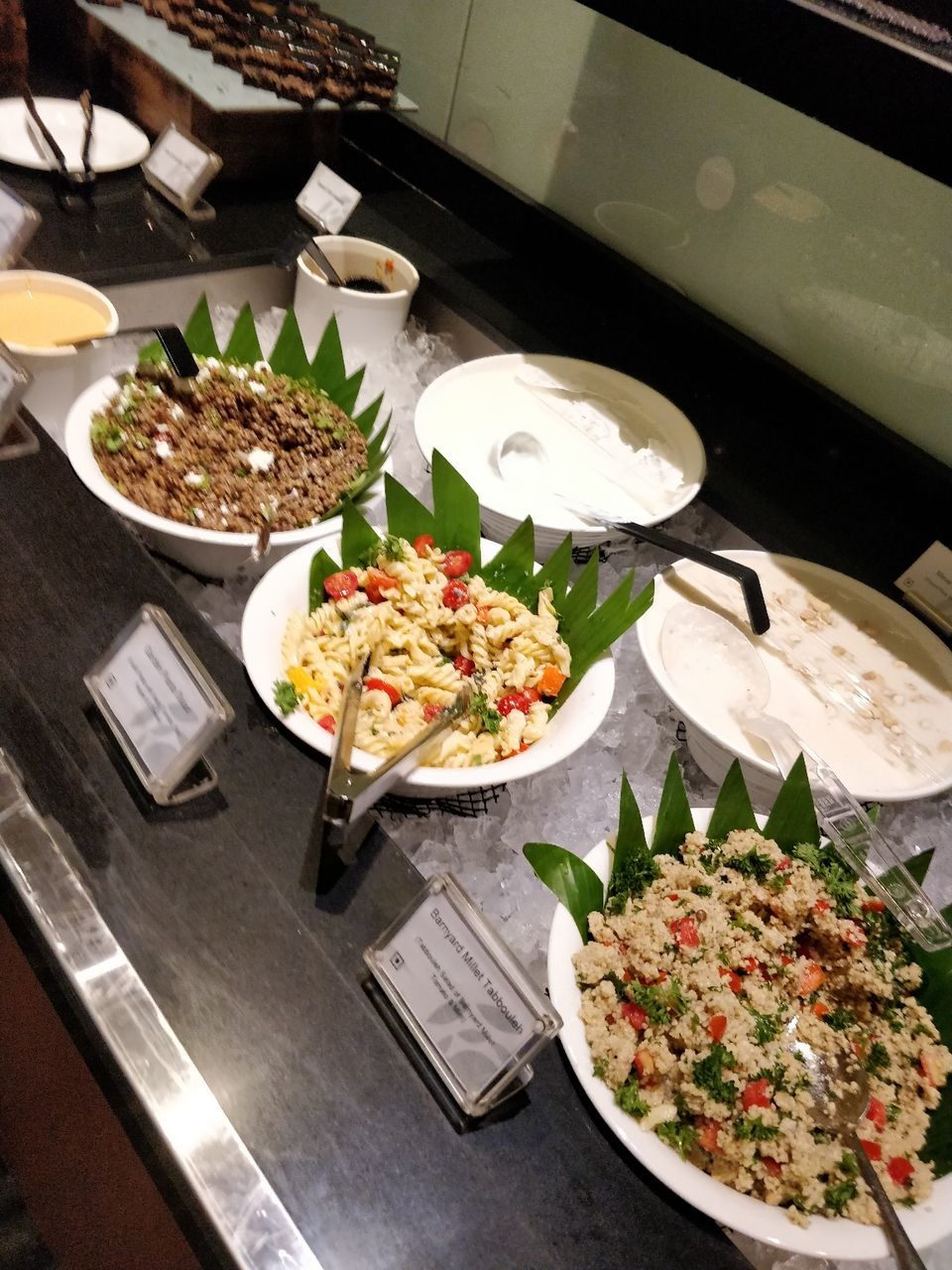 Finally we reached Male Airport at 5 pm. The airport is not much appreciating. I purchased ooreedeoo sim worth 30$ with 17gb internet for 14 days validity that is the best I can get. After about 15 minutes wait our hotel sent cab for us with a charge of 8$.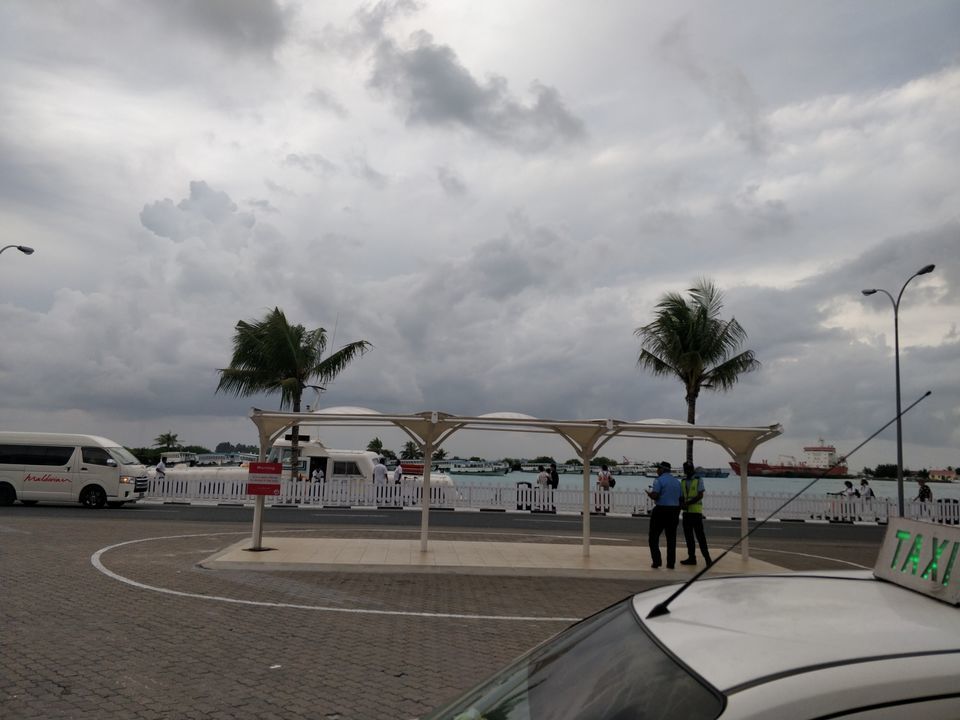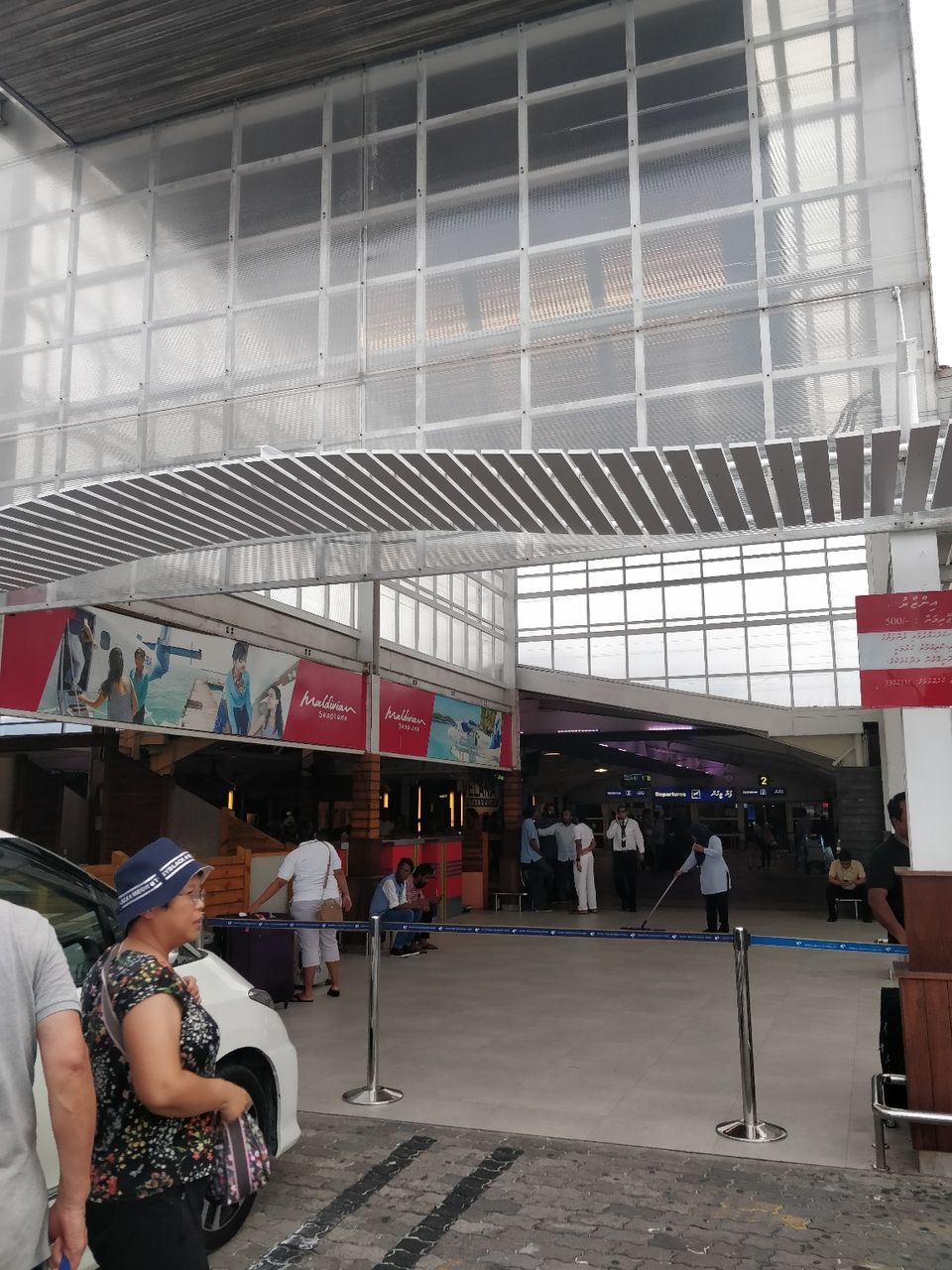 Our 1st hotel was beach front hotel i.e UI hotel. We did it for 2days via agoda.com @ 4000 per night including breakfast. The hotel was good at this budget. During evening there is not much things to explore . So we roamed around street but it was empty. We had black coffee in front of our hotel at the beach worth ₹ 50 only. So we reached our hotel and had our dinner with home bought ready to eat Haldiram meals i.e Dal Makhni Chawal and that is how we ended our day.
Tip - Maldives doesn't have nightlife . Hence, do not expect as well.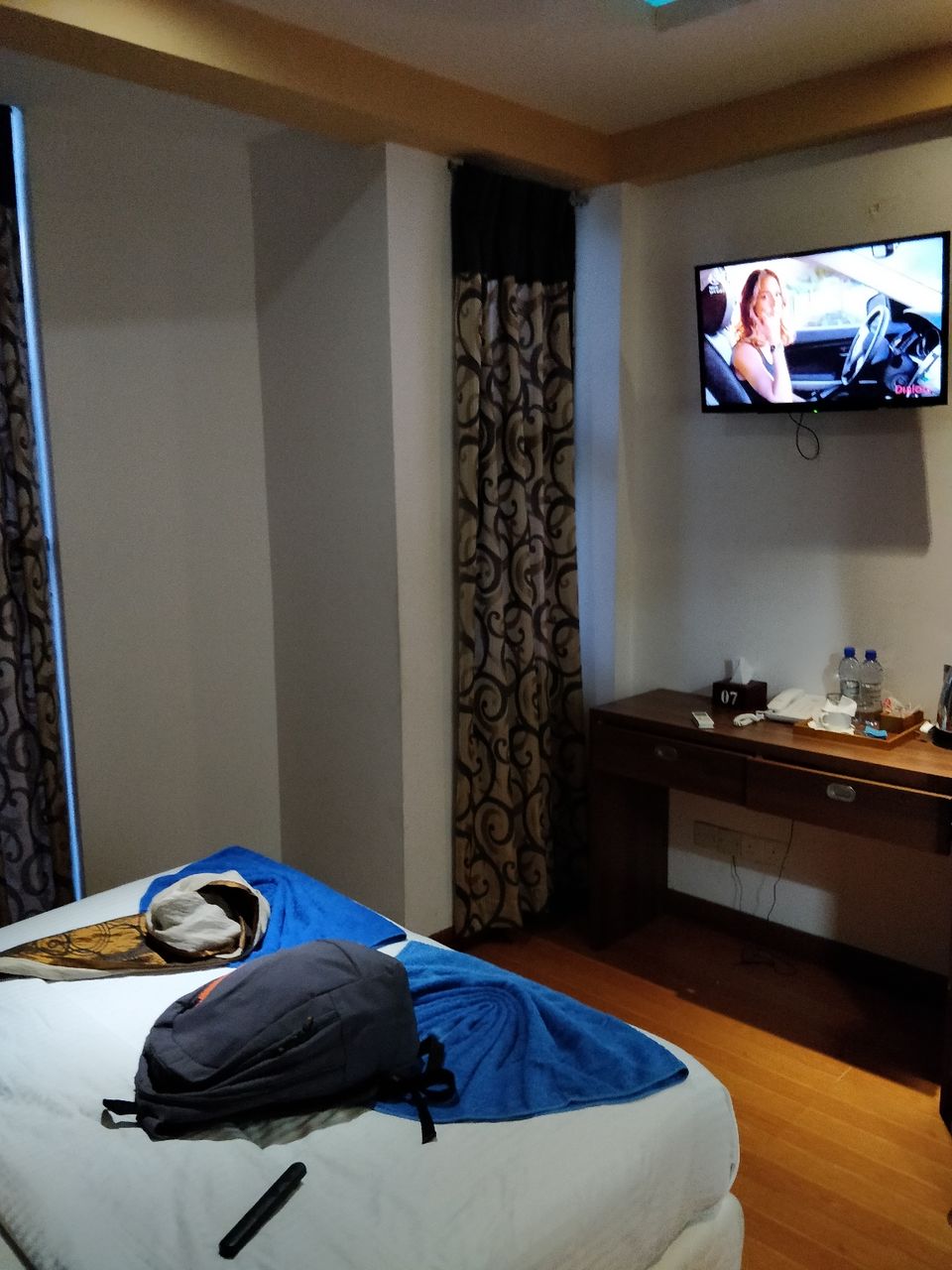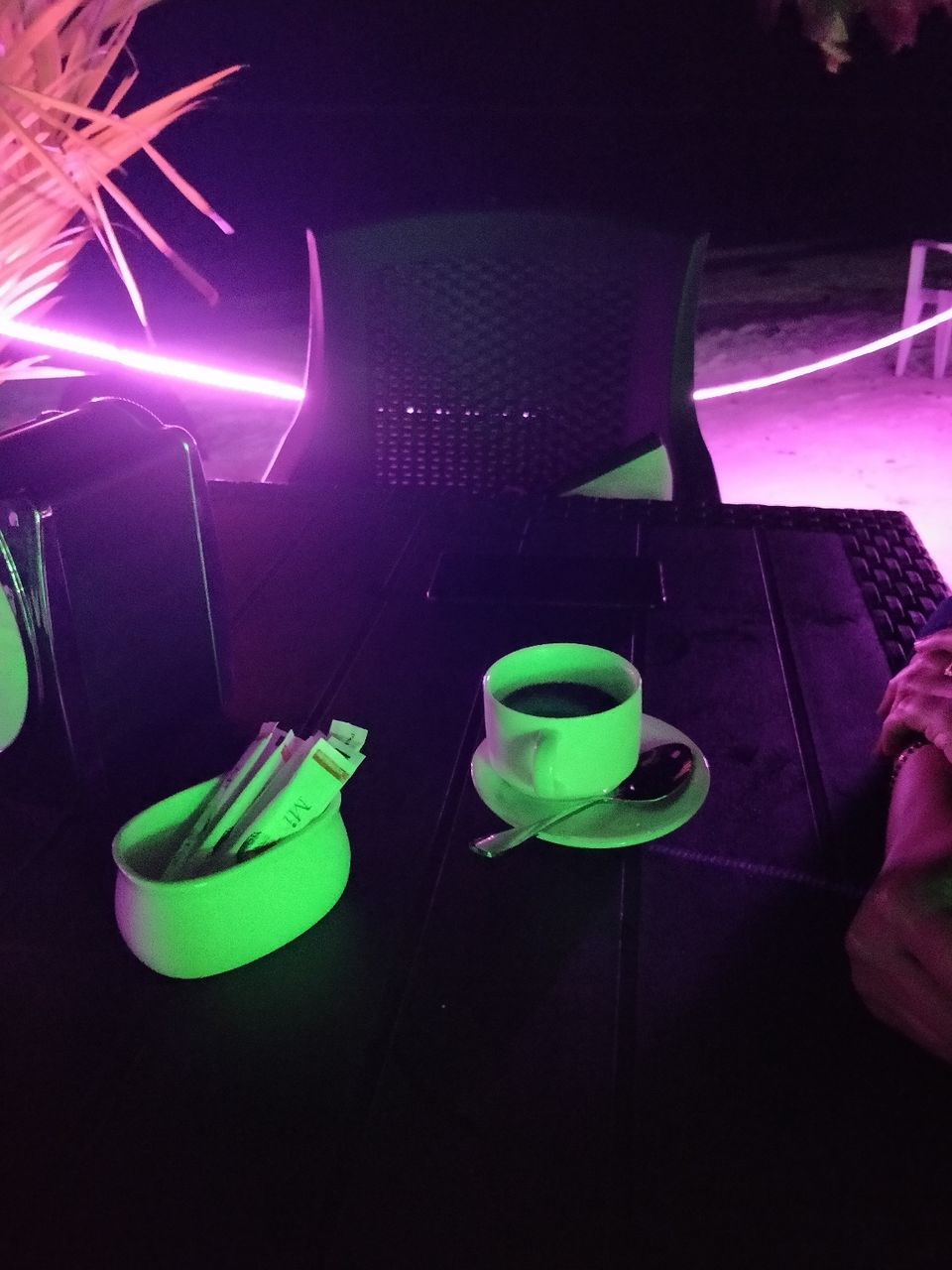 The second day we started with great zeal. We had breakfast at the hotel with limited vegetarian varieties. The dessert was good as provided by hotel.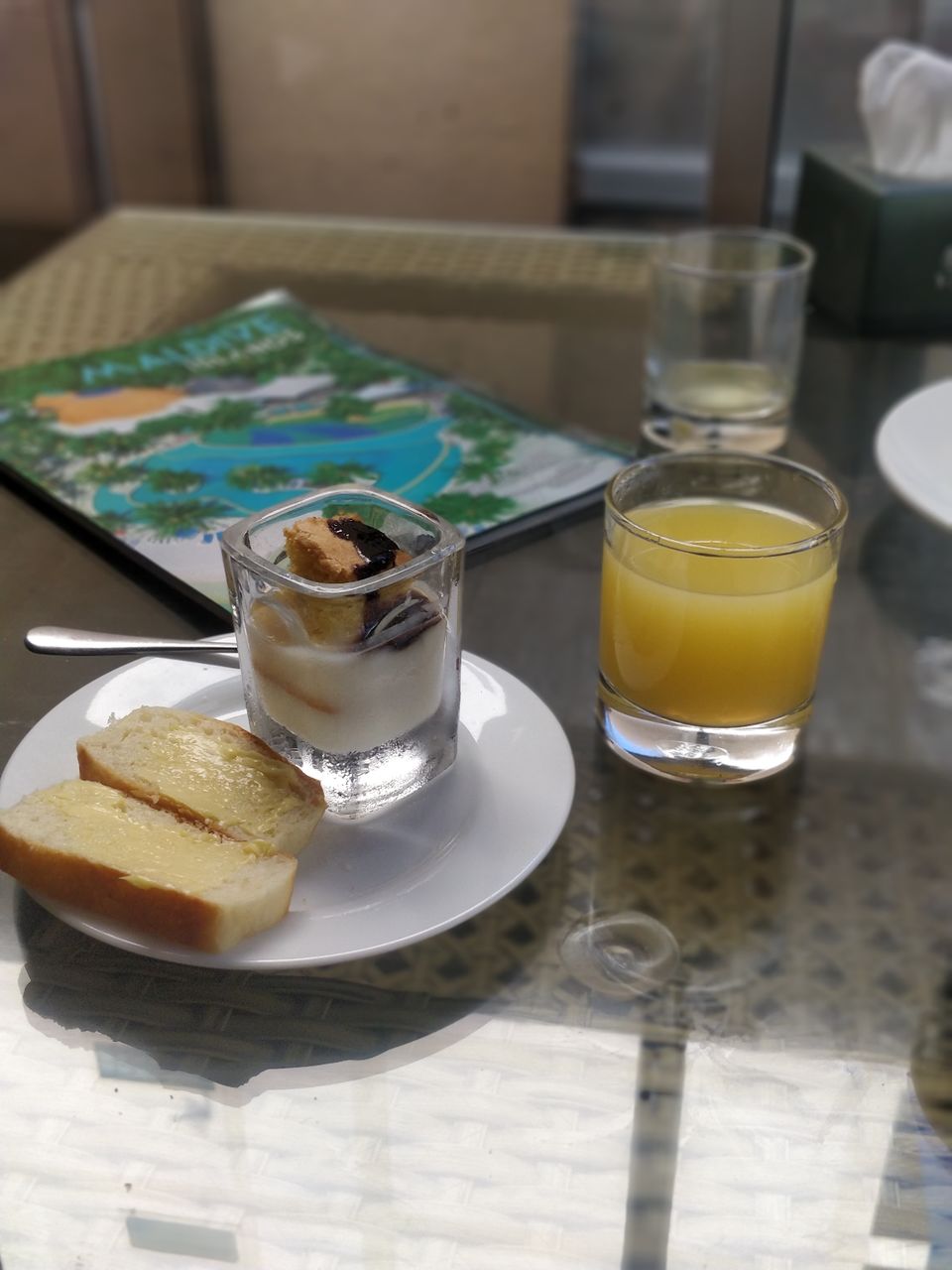 We decided to do city tour of Male from our hotel. We headed off to ferry terminal which was walking distance for about 1.5 km from our hotel. The ferry operates to Male city every 20 min and that cost ₹50p.p.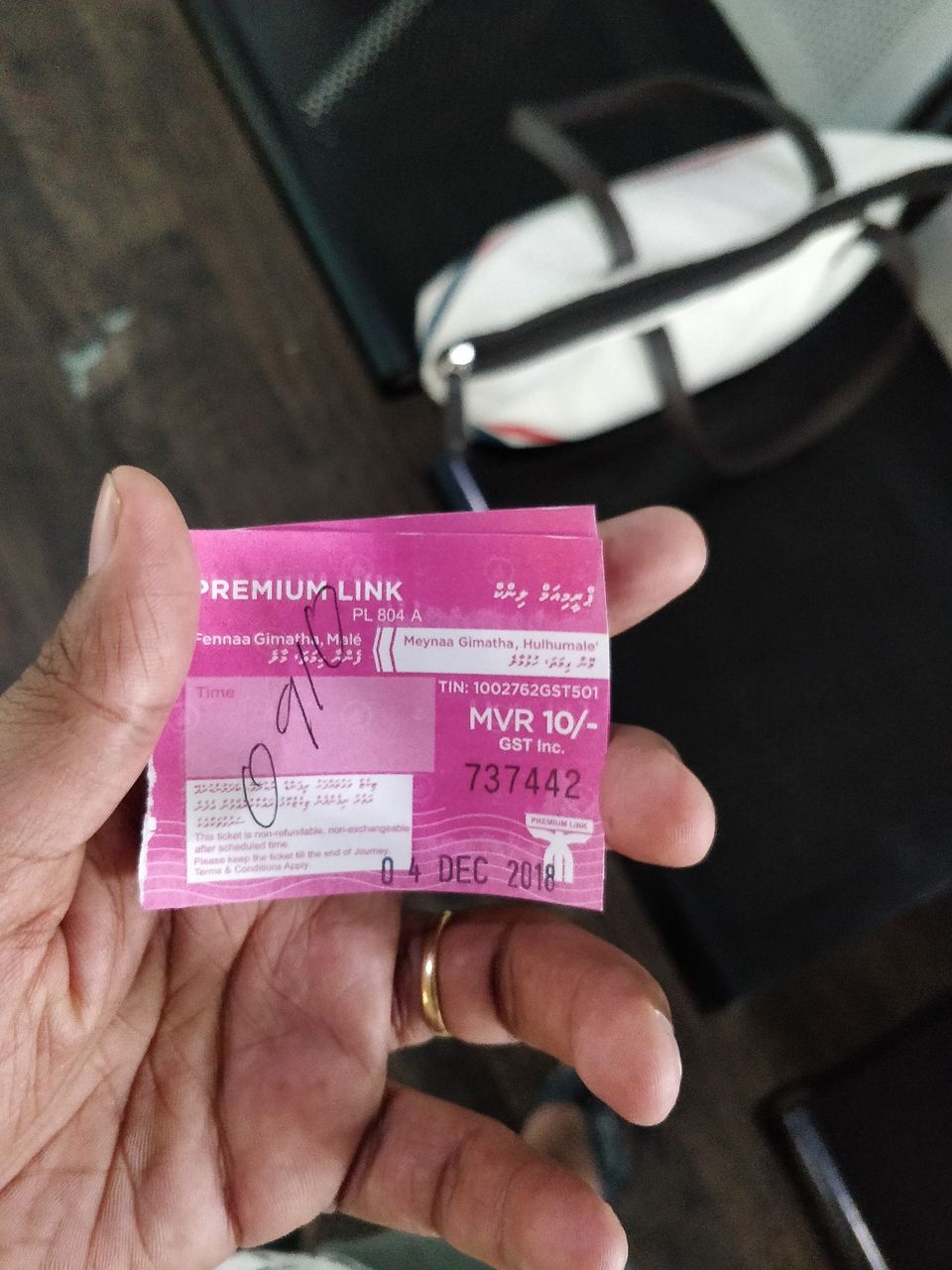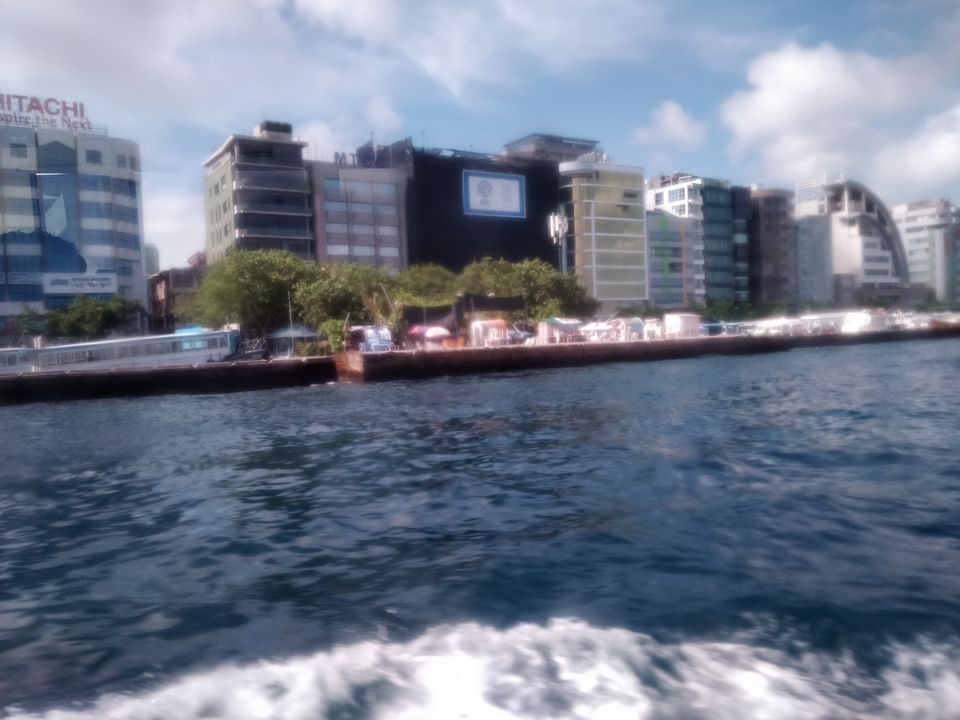 We reached Male at 10 am. We explored city by walking. There is not much to explore in the city. We roamed in the streets. We didn't enjoyed much roaming. We headed to Marry brown burger chain but it didn't have any vegetarian options. With Google we found out symphony restaurant for our lunch. It offered 3-4 vegetarian options.We had Margherita pizza @110MYR. It was more than expectations coz we couldn't found any vegetarian option.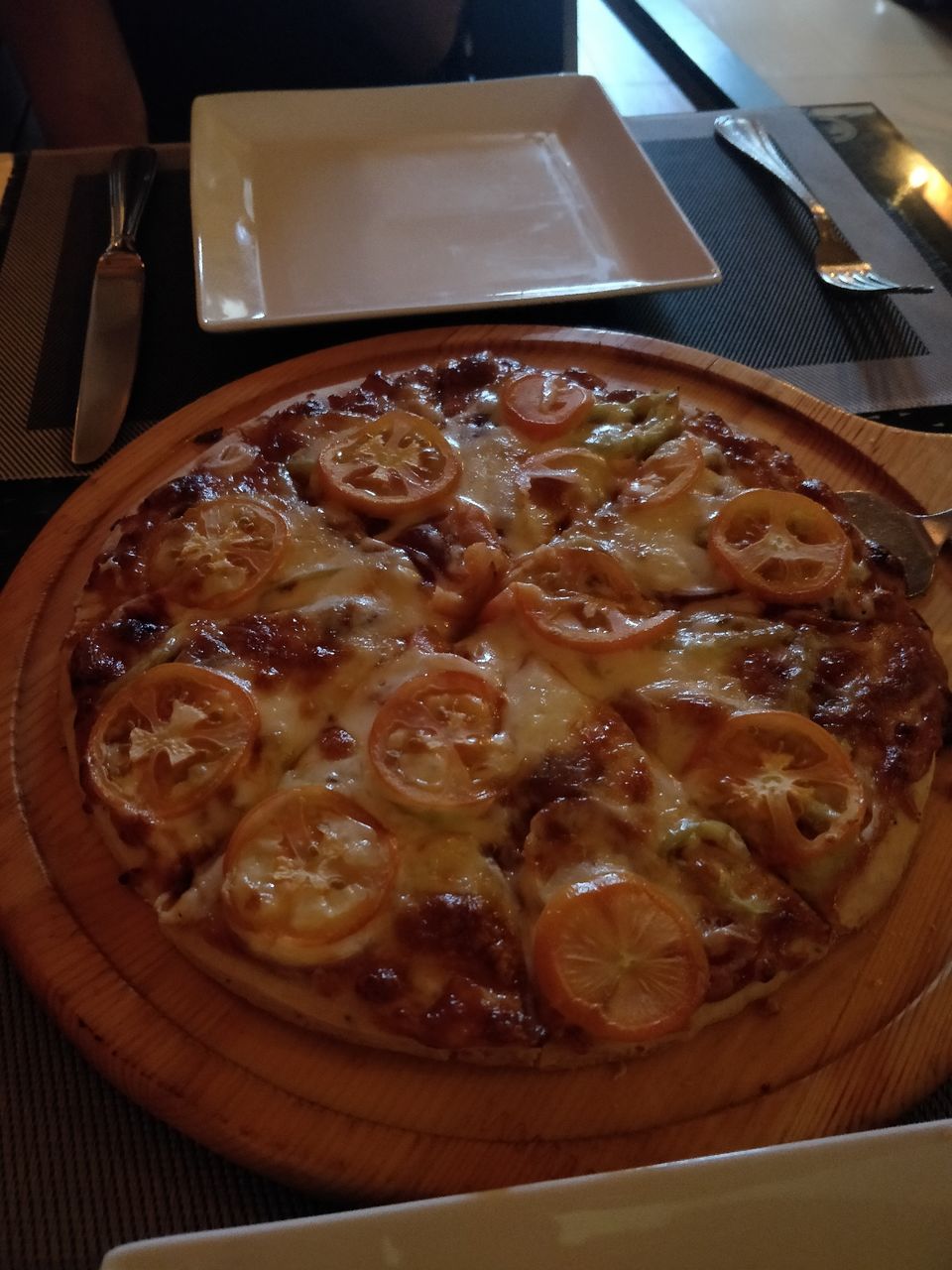 After that we headed off to bus terminal that was 1km away from restaurant. Bus operates every 20 min to airport and hulhumale. Bus is provided free of cost. We took bus and came back to our hotel. We had little sleep.
After that we enjoyed the hulhumale beach for about 2 hours.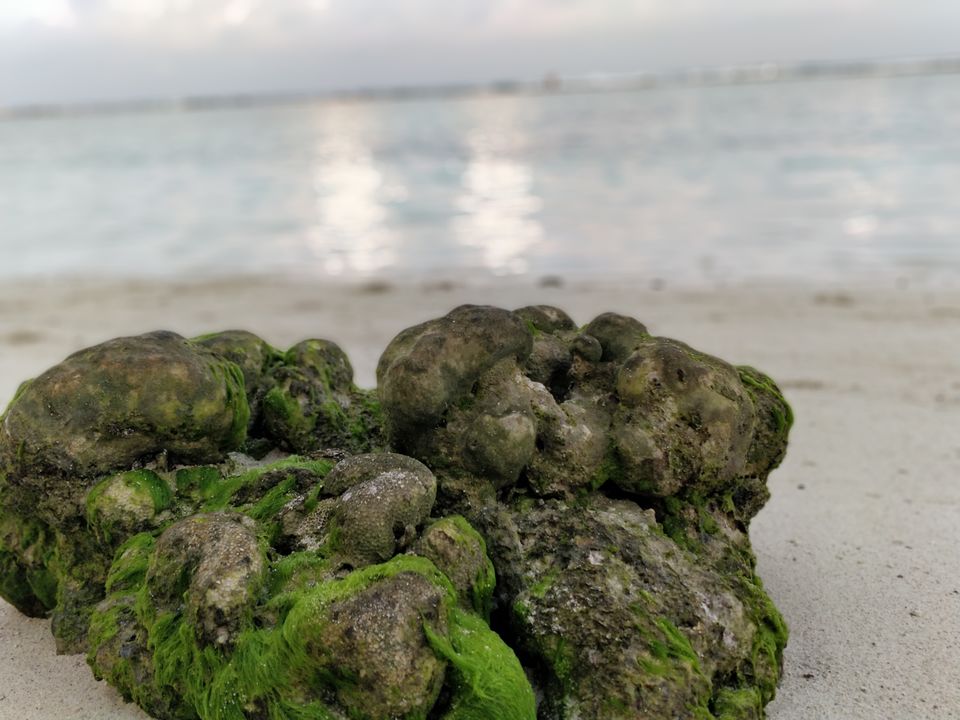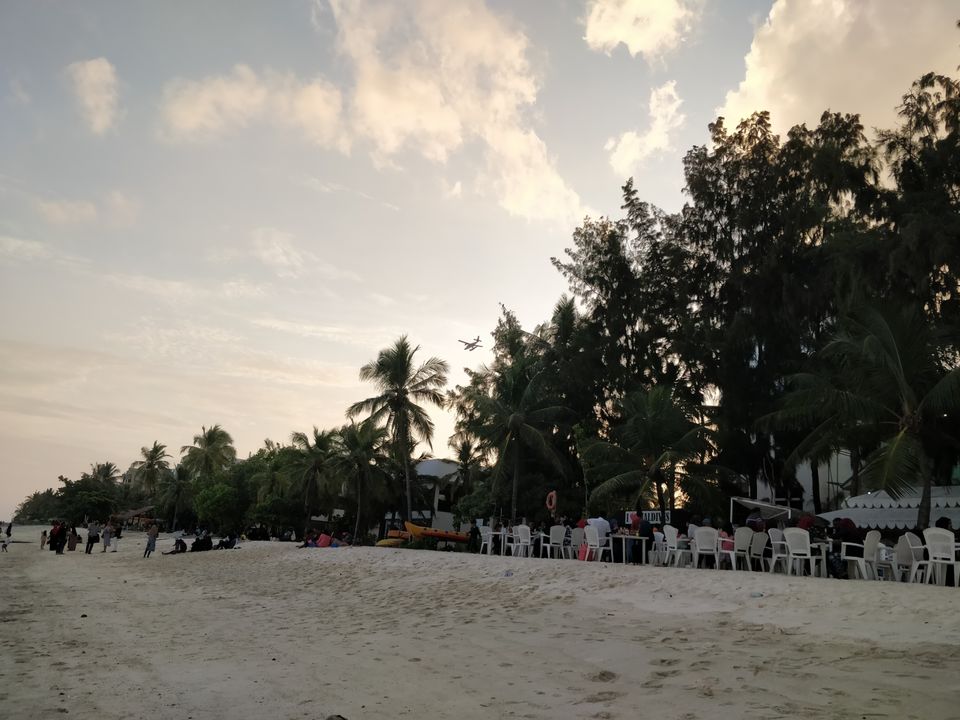 We explored market of hulhumale. There is not much to explore there but I found it better than male. We came back to hotel and had our home made parathas for dinner. We ended our day relaxing on beach during night with lovely wind and stars in the sky that we couldn't found in polluted Delhi.
The next day we booked full day activity excursion from our hotel @ ₹4250 p.p. We had same breakfast at the hotel. We left hotel for the excursion @ 9 am. We were sent to a boat including 5 other tourist. Firstly we saw dolphins that was an amazing experience.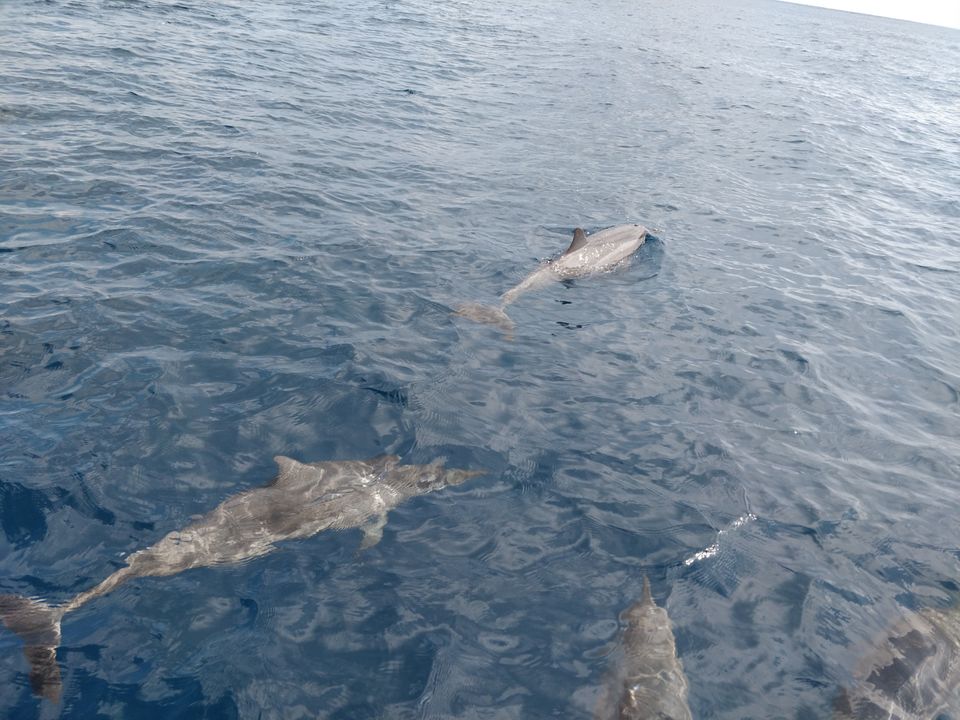 After this we were taken to famous sandbanks. Here we spent around 2 hours enjoying pics and little snorkelling. It is one of the must visit place. One can also see little corals while snorkelling.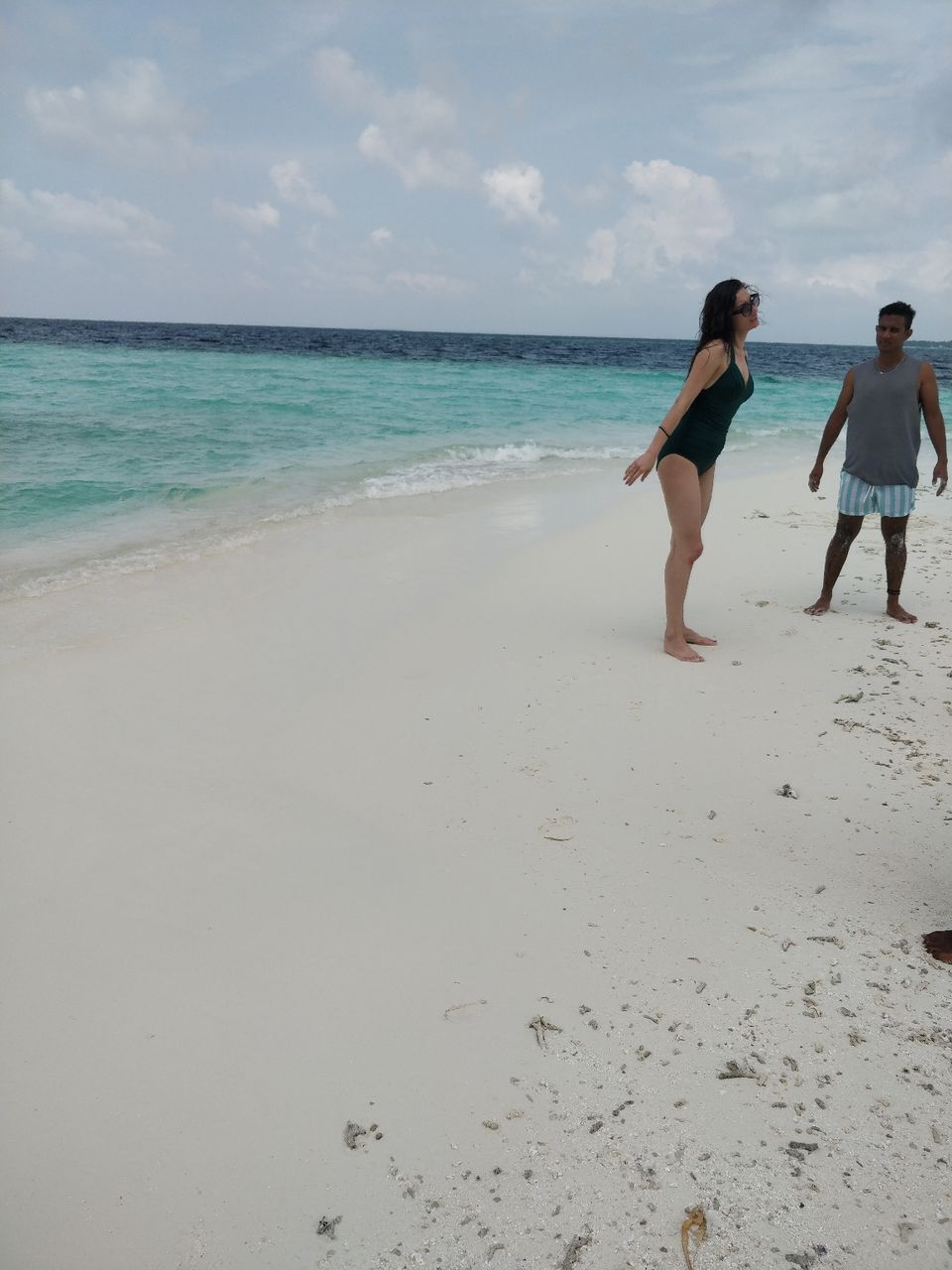 The rain started to ruin our excursion but again it was amazing experience with heavy rains within sea. We were provided with lunch with noodles, mango juice and fruits.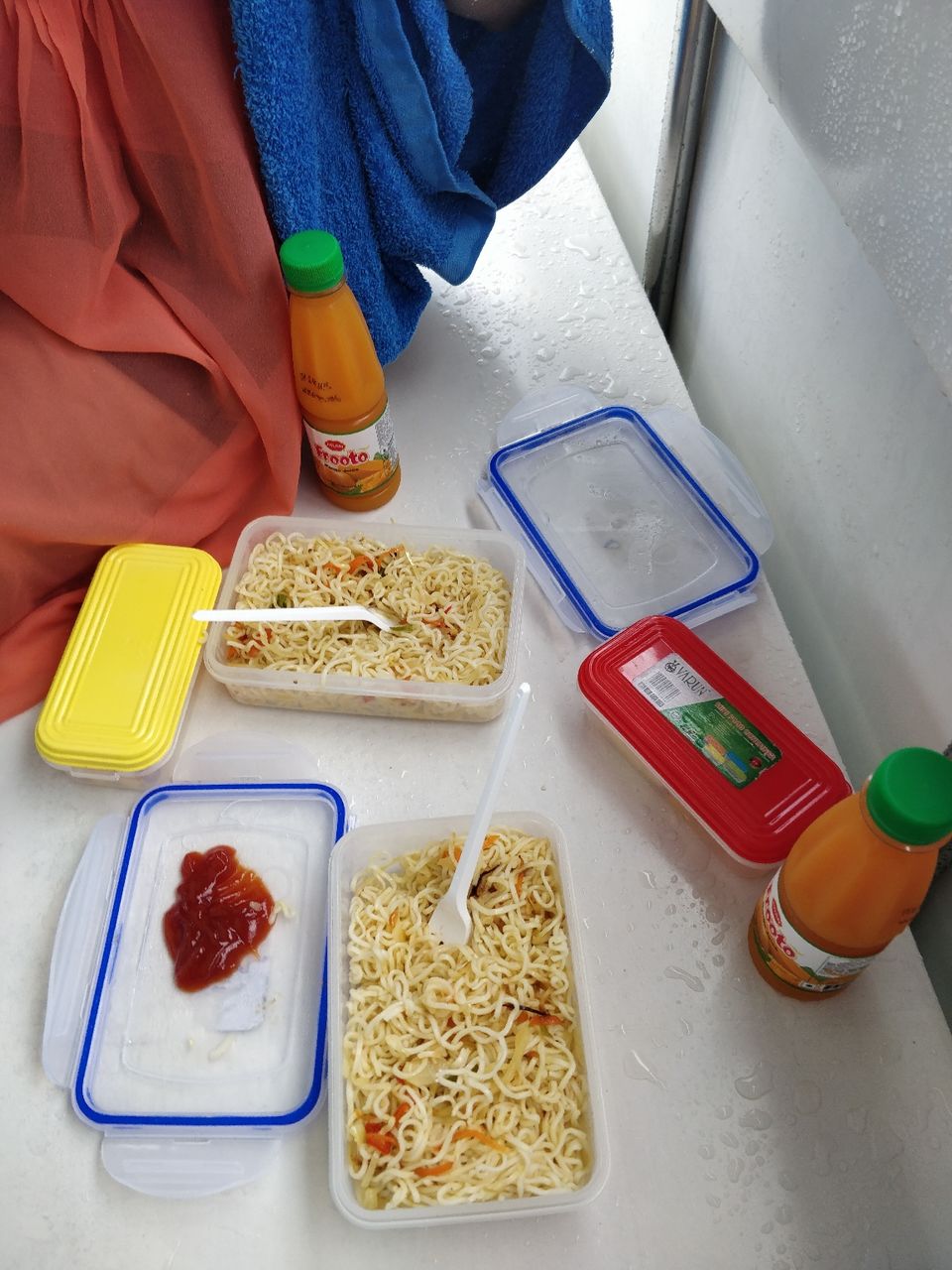 Even though there was huge rainfall we decided to give a try to snorkelling. We did it for half hour and it was an amazing lifetime experience exploring corals inside the beautiful transparent sea. I couldn't click coral pics as I didn't have waterproof camera. Due to heavy rainfall we were transferred back to hotel and the day activity was finished early.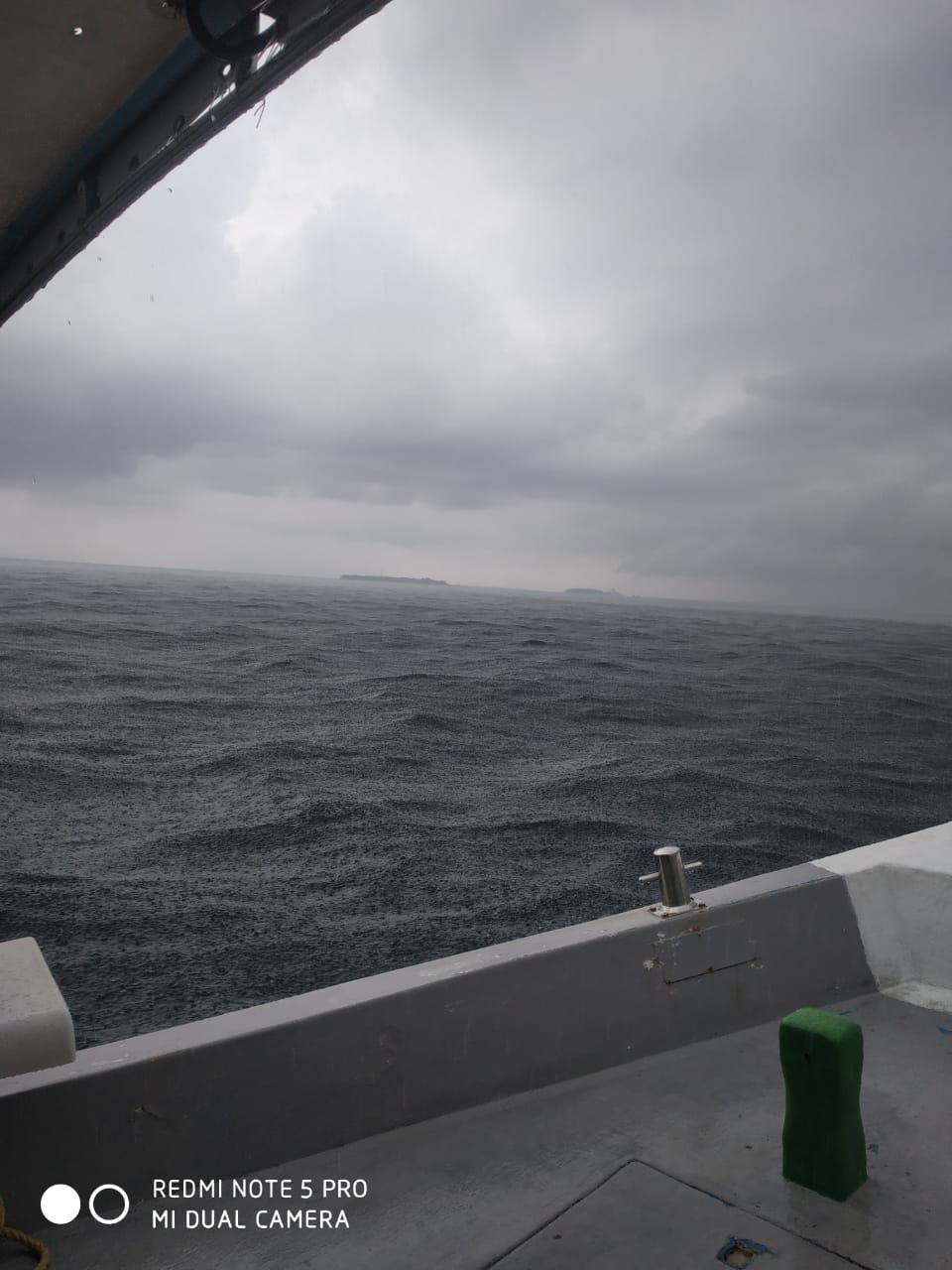 We did cab for 35 MvR and were transferred to our new hotel i.e Noomoo hotel in Hulhumale. We did from agoda.com @ ₹ 4800. It was a much better hotel with better facilities.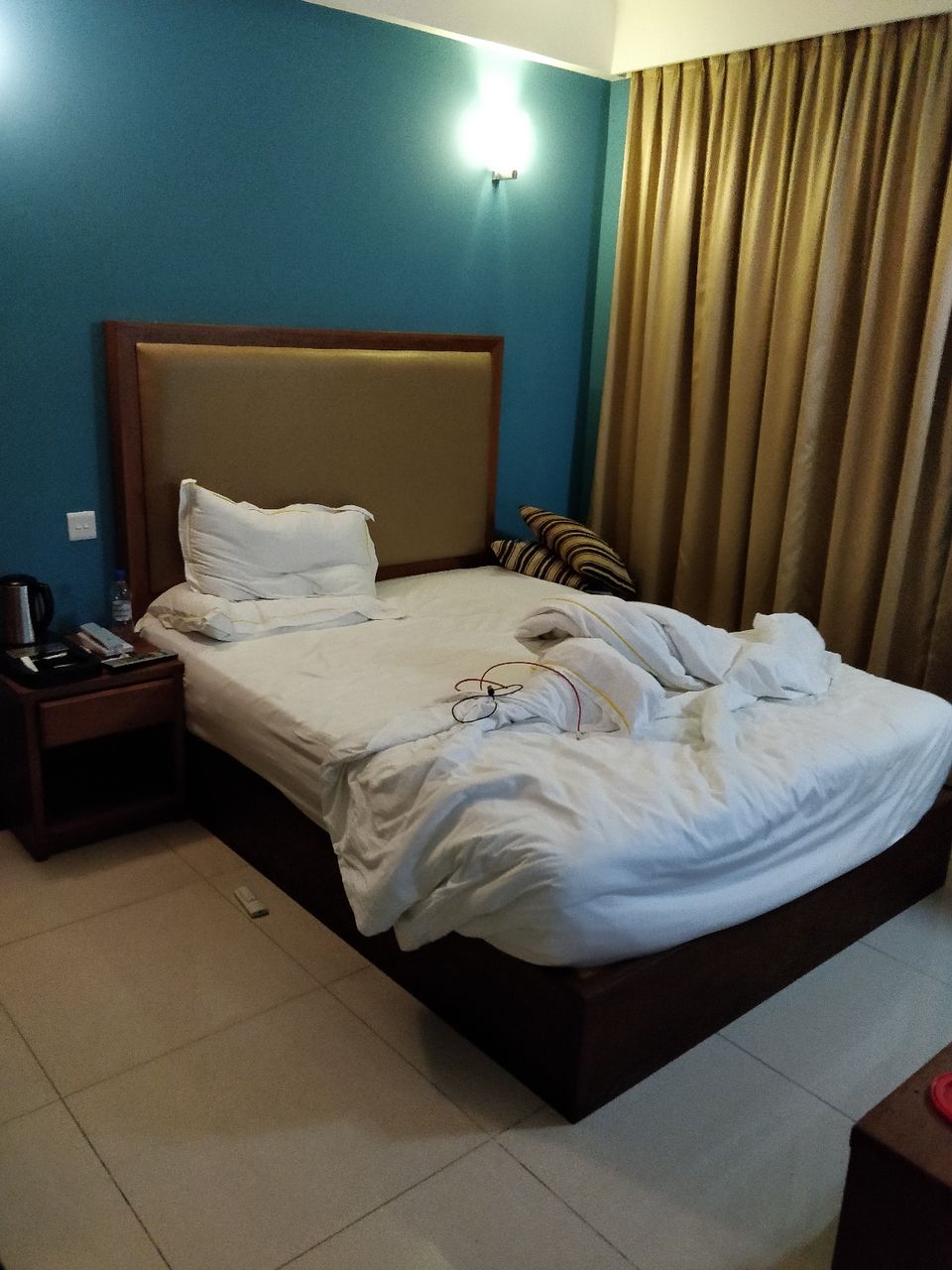 Due to heavy rains we didn't go out and had our home bought dinner at the hotel and ended our day with memories.
Next day we saw early morning sunrise on the beach and had some beautiful time there.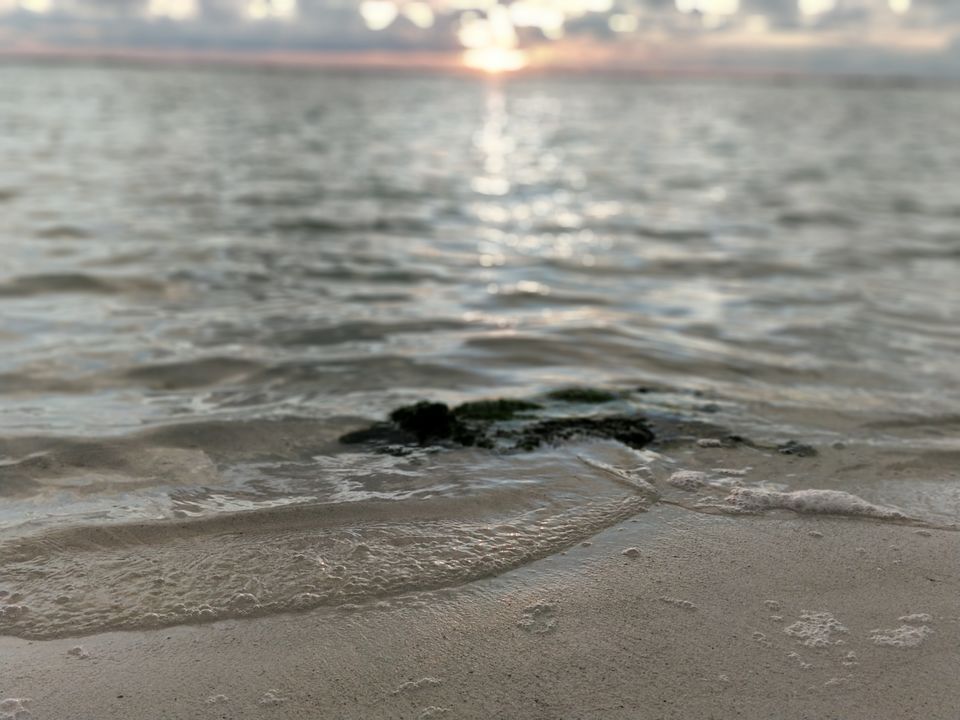 After that we went back to hotel and had breakfast. We were provided with fruits , toast and eggs.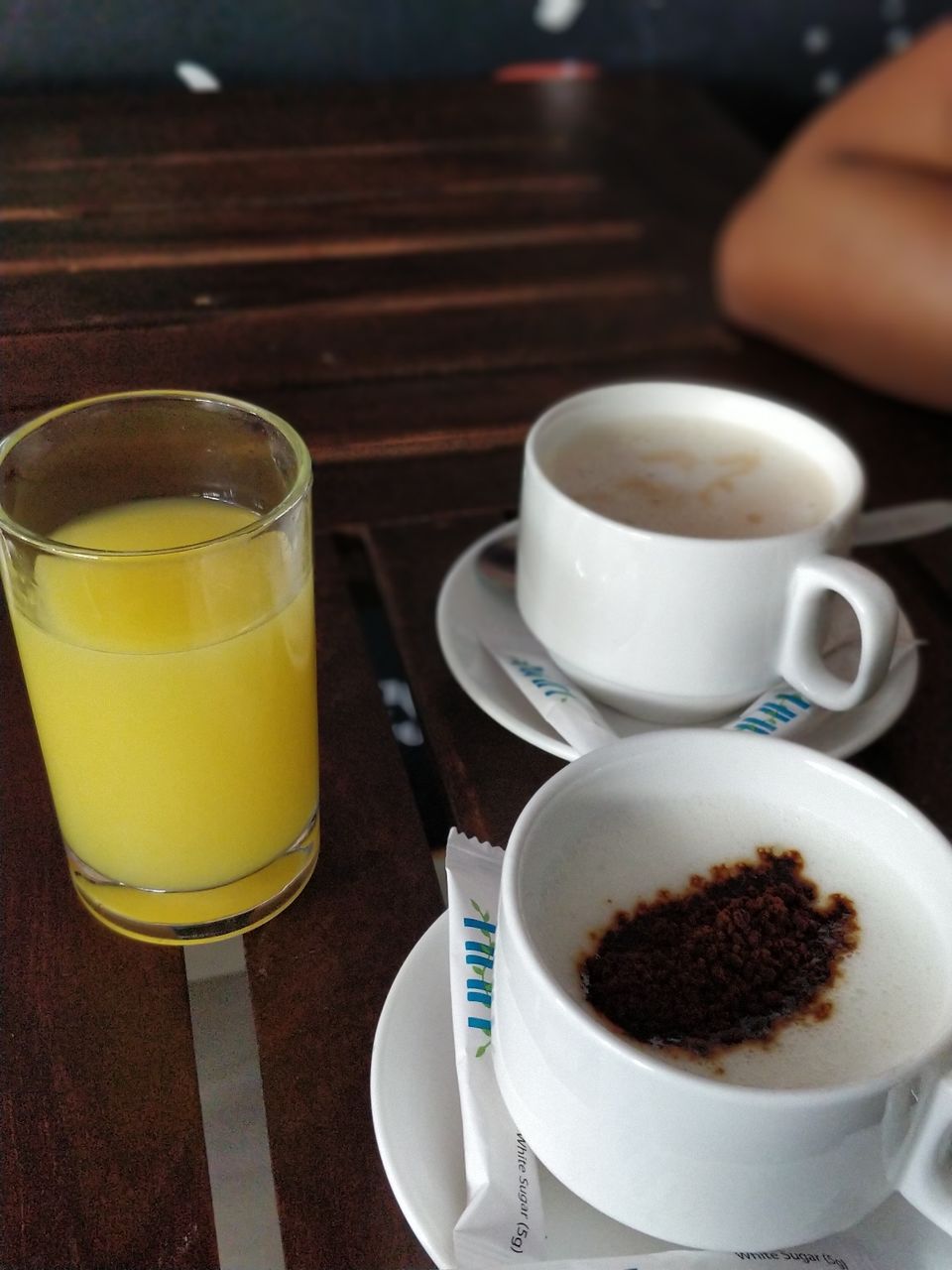 we than did rest in our hotel and there was early checkout at 11-30. We than did a taxi from our hotel to velangili ferry terminal. The taxi charged 100 MVR. We tried to catch a bus for ferry but the bus didn't allow passengers with luggage. We had ferry to maafushi at 3 pm. We reached early at 1 pm. We spent our time by sitting at food court in front of the terminal. We had to adjust with veg noodles and onion pakoda from ala carte restaurant as we didn't find any vegetarian options at any restaurant .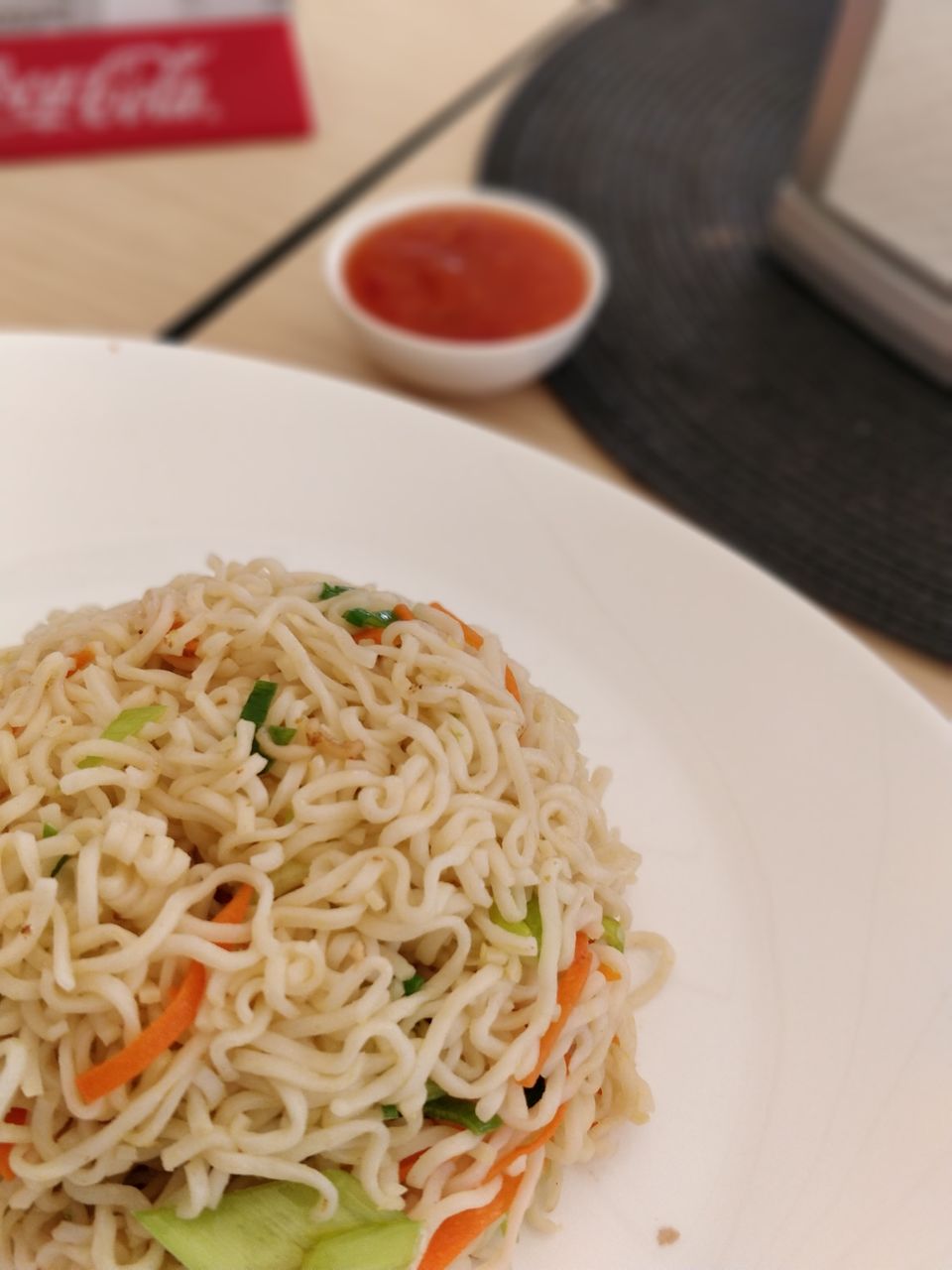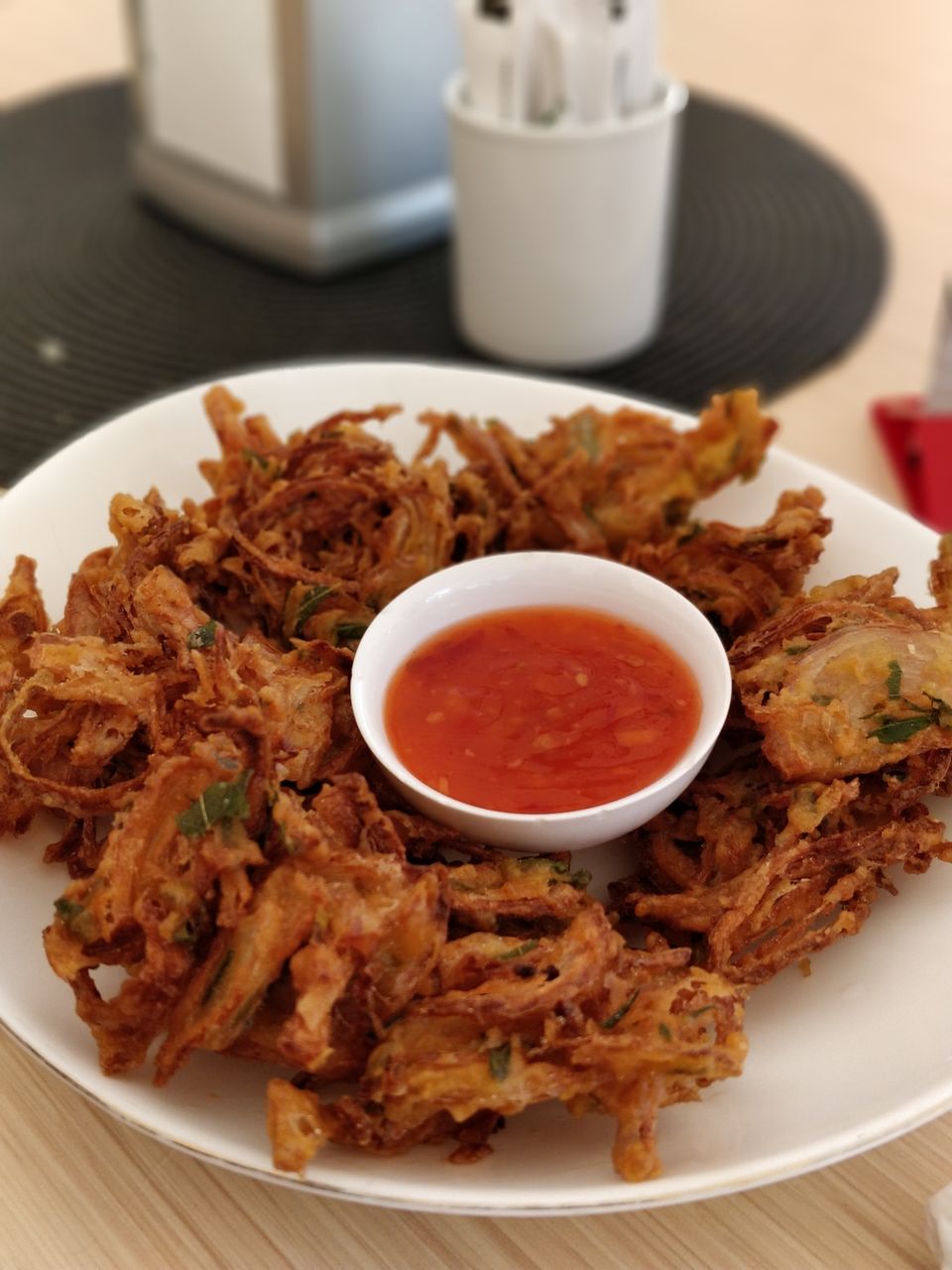 We booked public ferry for 22 MVR . It is recommended to travel via ferry as it is very much cheaper option as the speedboat option charges 25 dollars. The ferry took 2 hours and finally we reached maafushi at 5 pm.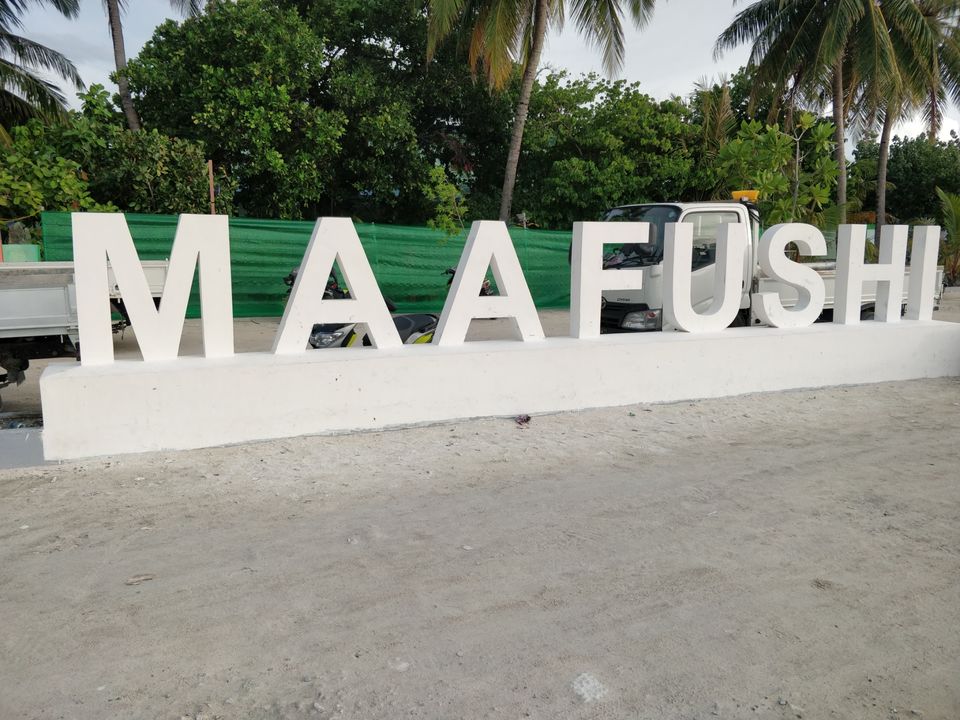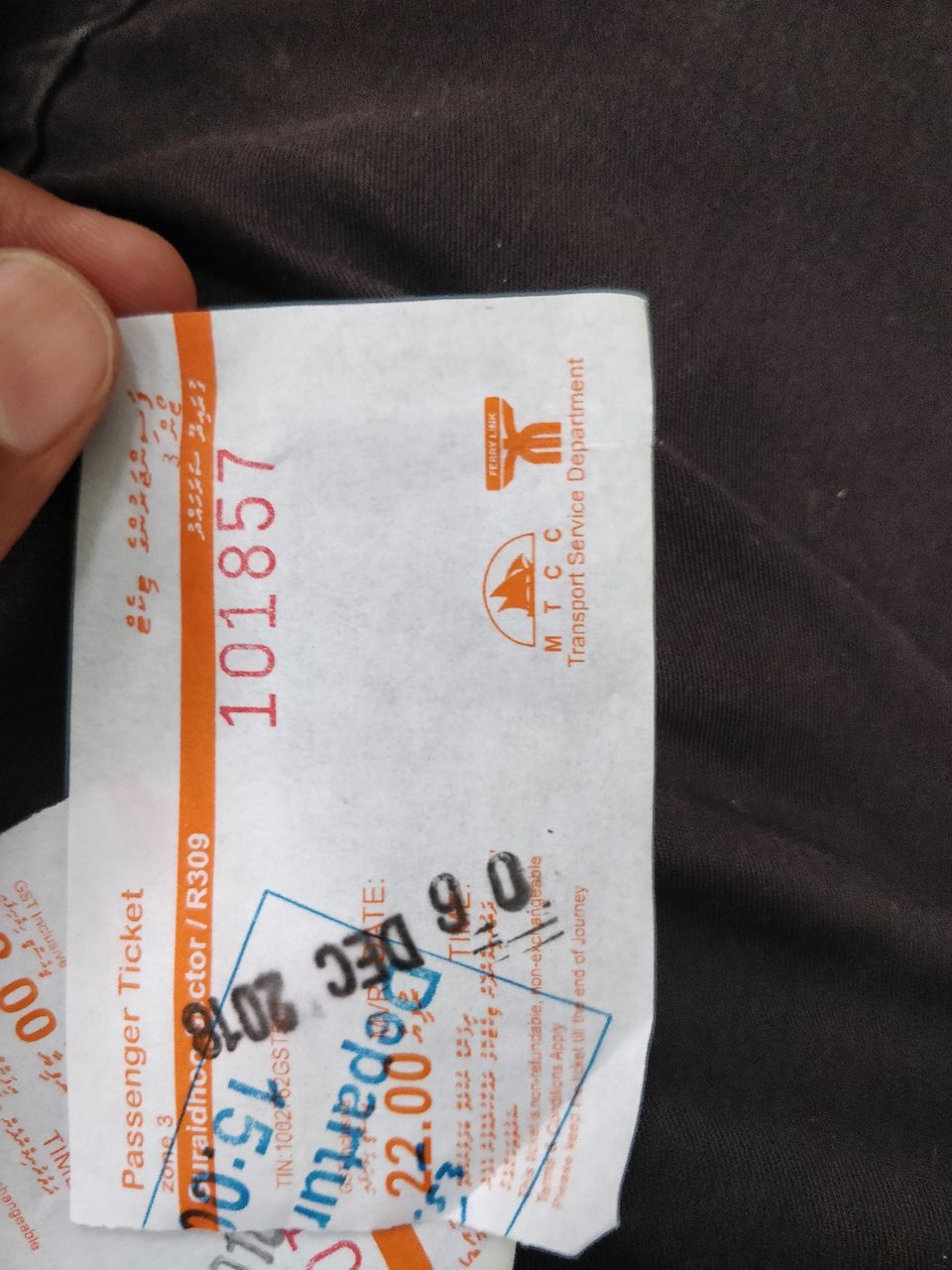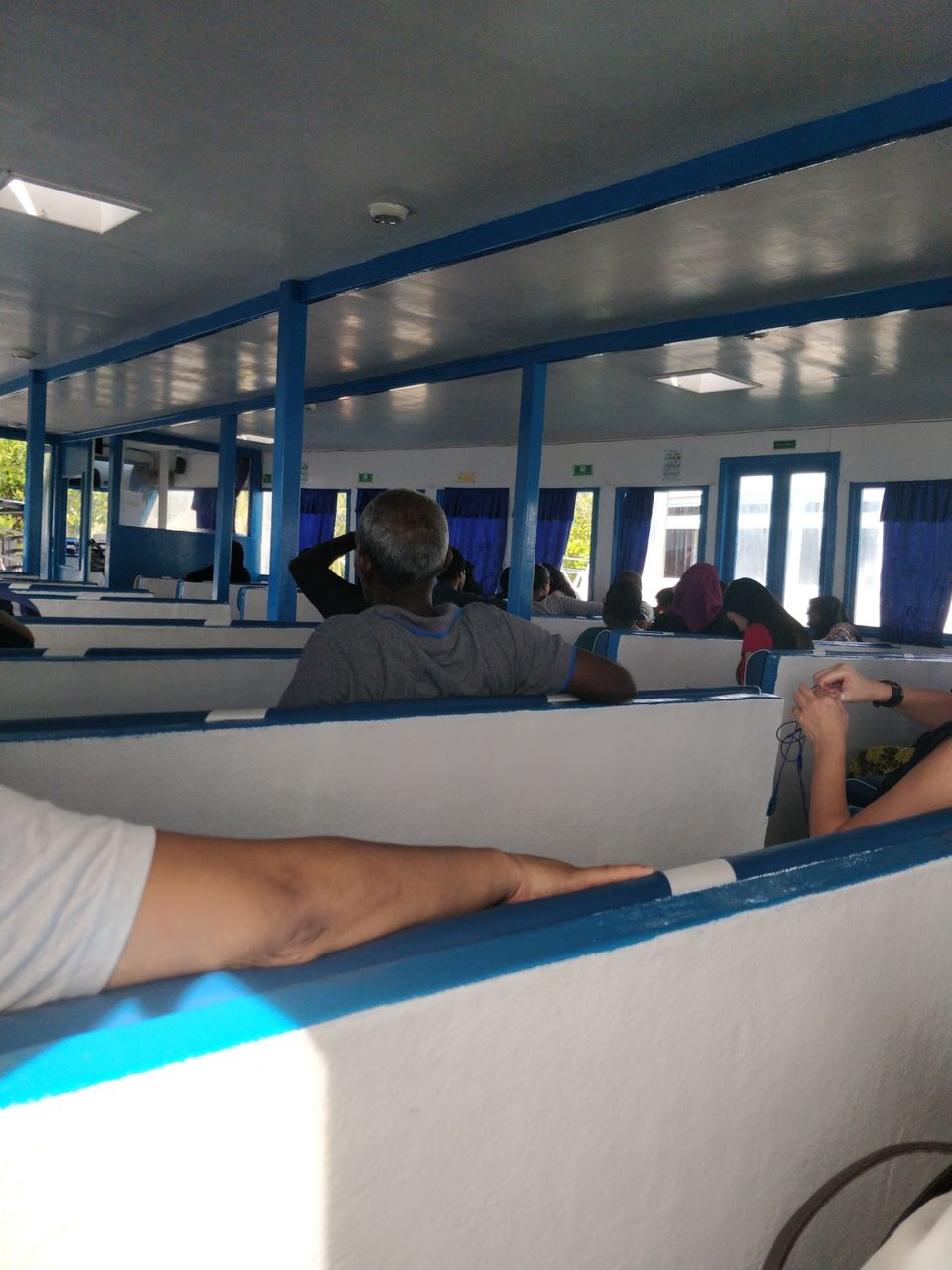 The person from hotel was waiting for us at the ferry terminal. The hotel was 5 min walk from the terminal. I booked arena beach resort hotel at 6700 per night. The hotel provided us yummy welcome drink. The hotel was amazing. Finally we have feeling of a foreigner here as there were enough tourist at this place. The room was amazing. We got a room with beach front view as well. We just went to the private beach area of the hotel and had some time there swimming.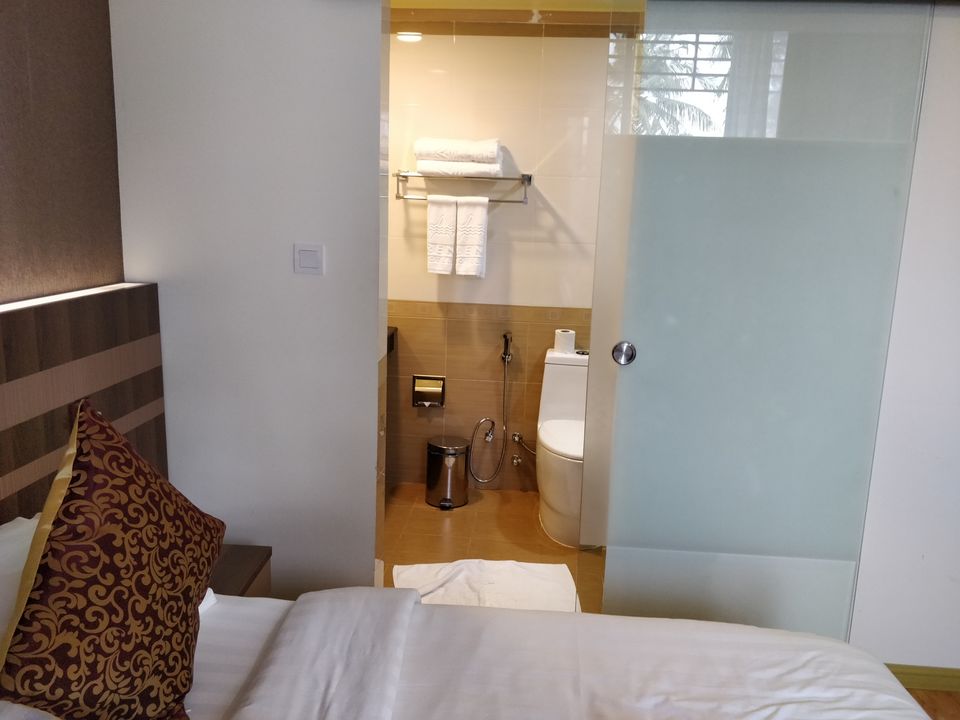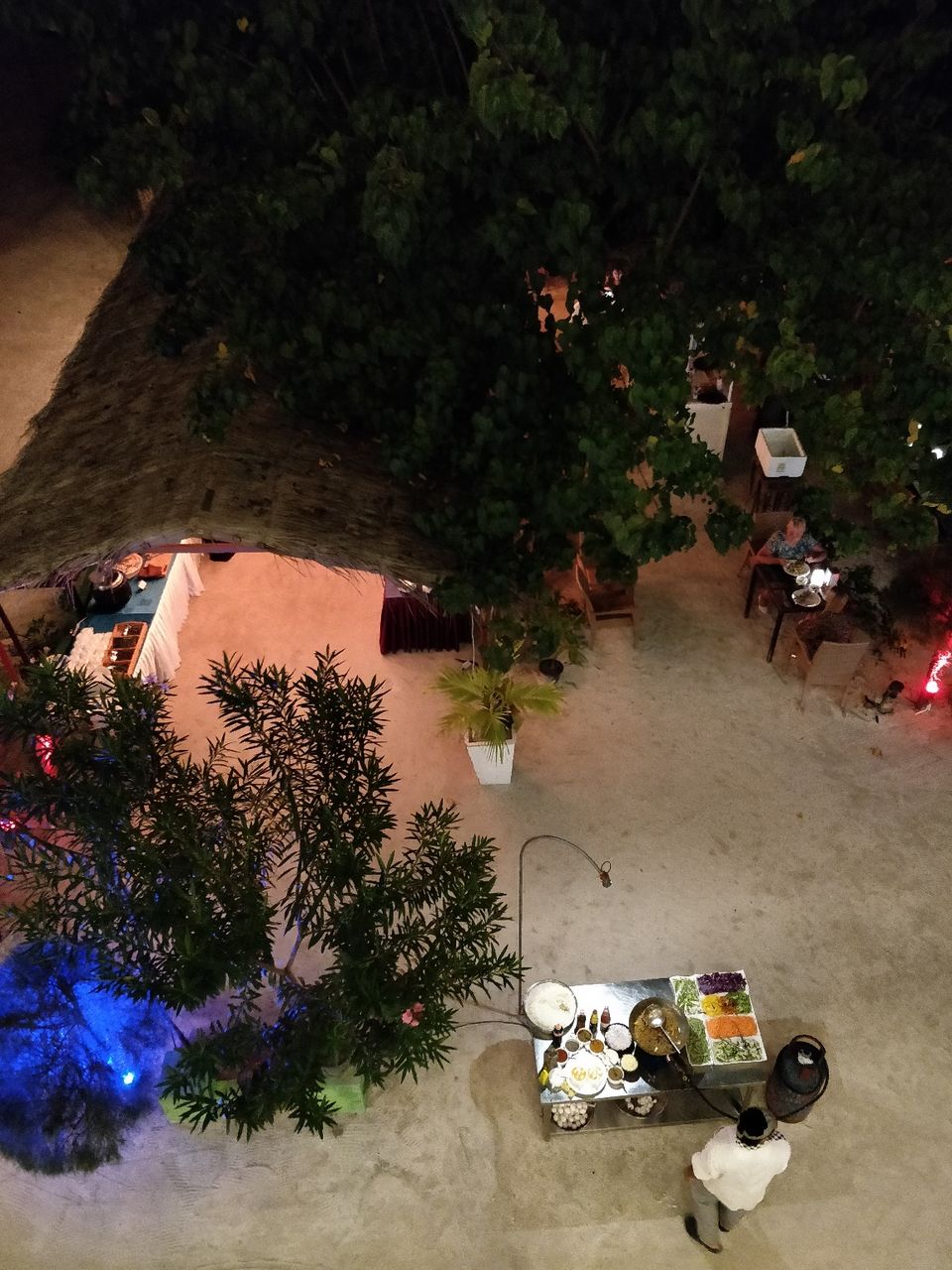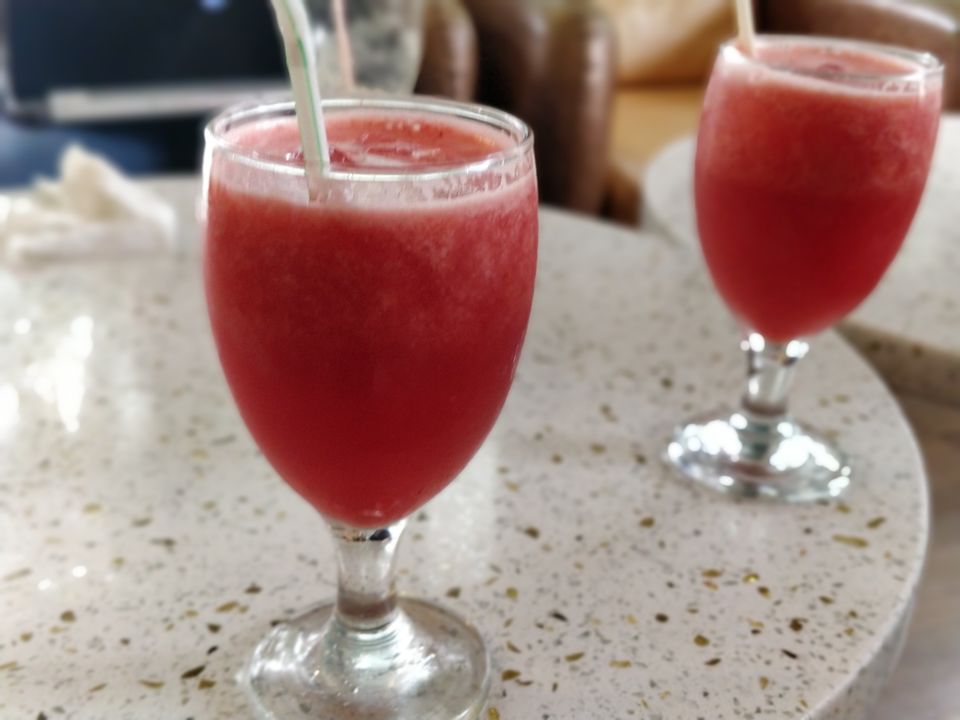 The hotel provided dinner buffet for 12$ but we didn't had that coz it didn't had veg options. We had Haldiram ready to eat pav bhaji. We than did walk nearby and finally ended our day with memories.
The next day we woke up early to enjoy the breeze with early morning sunrise on such a fascinating beach. I went for early morning cycling on the island. After that we had buffet breakfast with very little less options.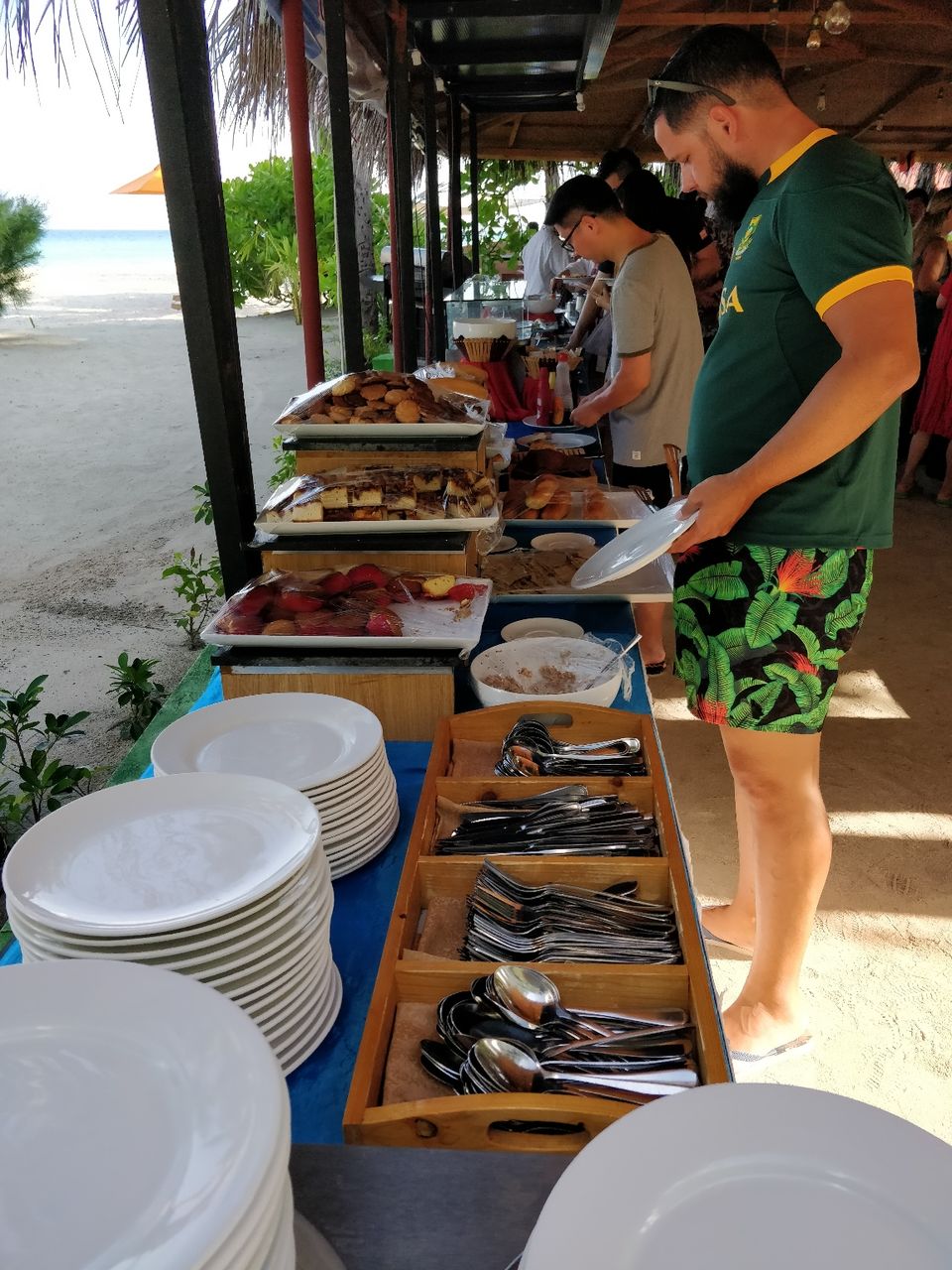 Than we had good time playing snookers. I went for beach bath and had wonderful time.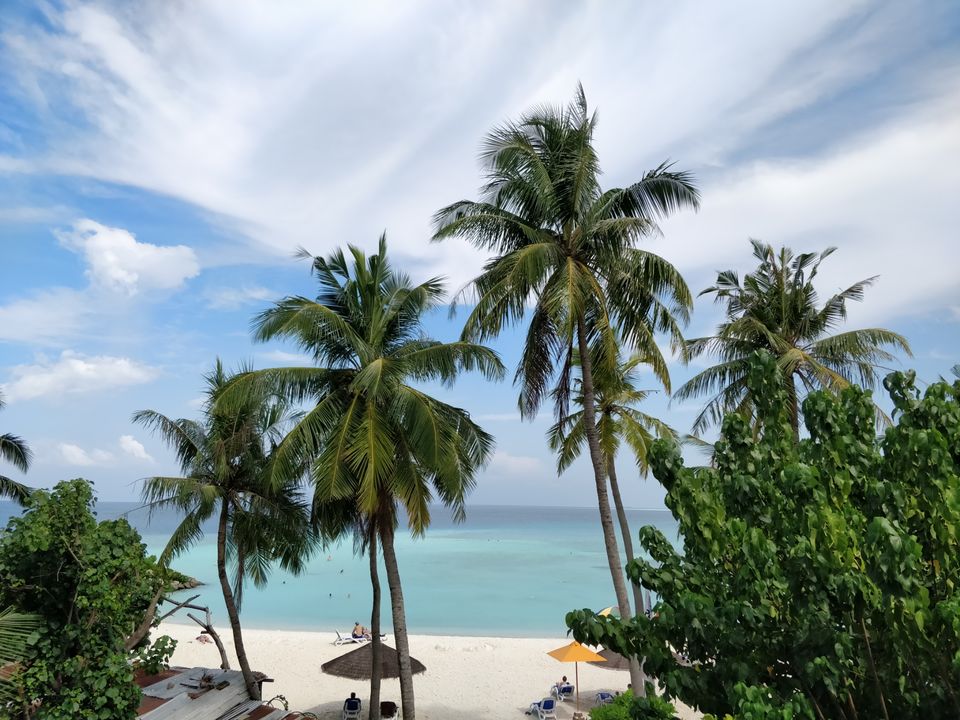 We did not opt for lunch and dinner as they only had non veg dishes. We roamed the island for some food but couldn't find any. Even the grocery shops have costly products due to high transportation cost.During dinner they have live music so we enjoyed the time from balcony. We ended our day with a whole day leisure.
Next day we requested chef for vegetarian options in buffet breakfast and he gave us some options. Finally we had some good breakfast.
After relaxing on beach we changed our hotel to salt beach hotel. i booked the hotel through agoda @ 5500 INR. The hotel staff was very courteous. They upgraded our room and gave us garden view room.
Tip - we did full day tour from male @59$ p.p. However one can get such option from maafushi @ 25$ p.p.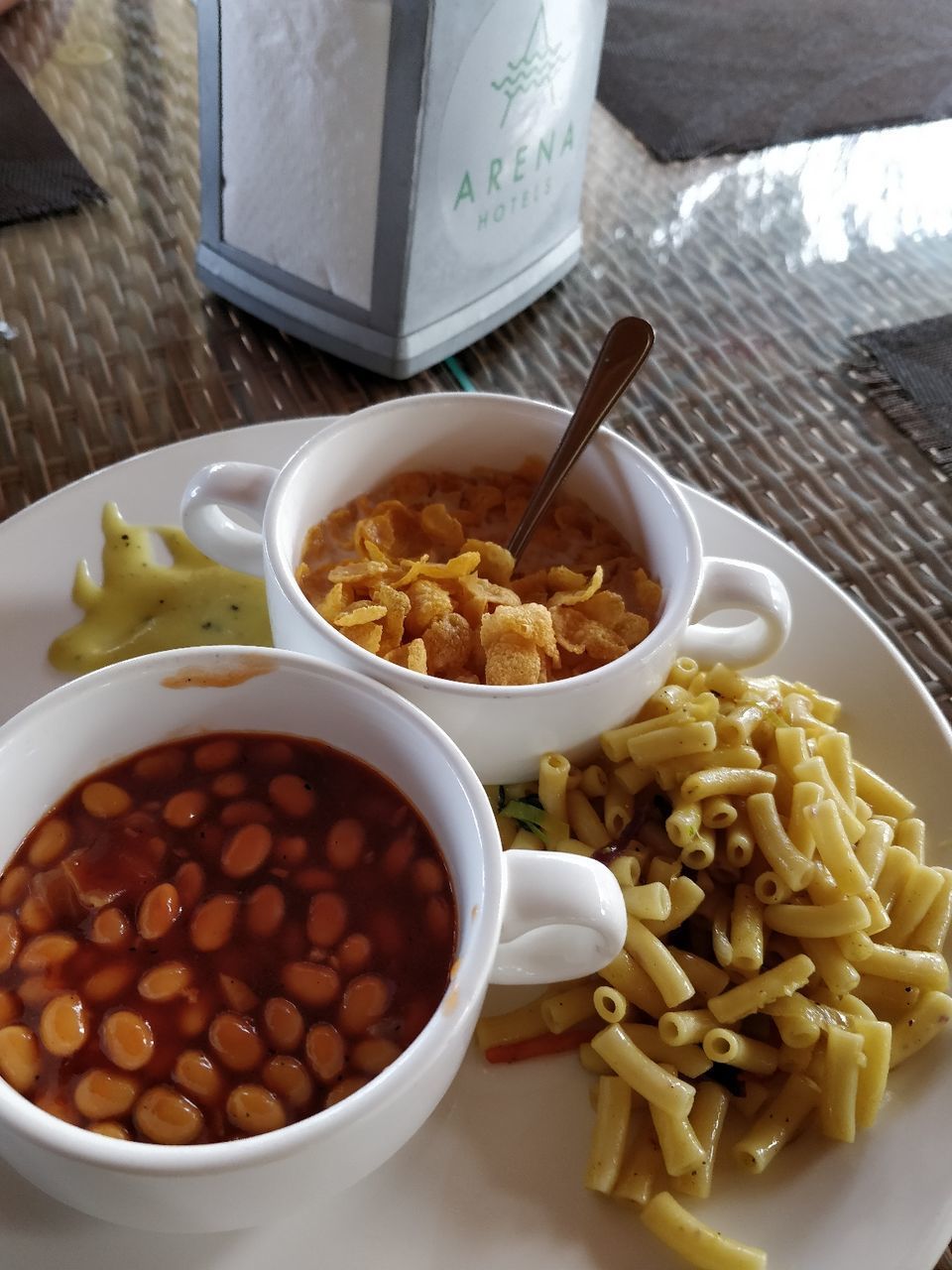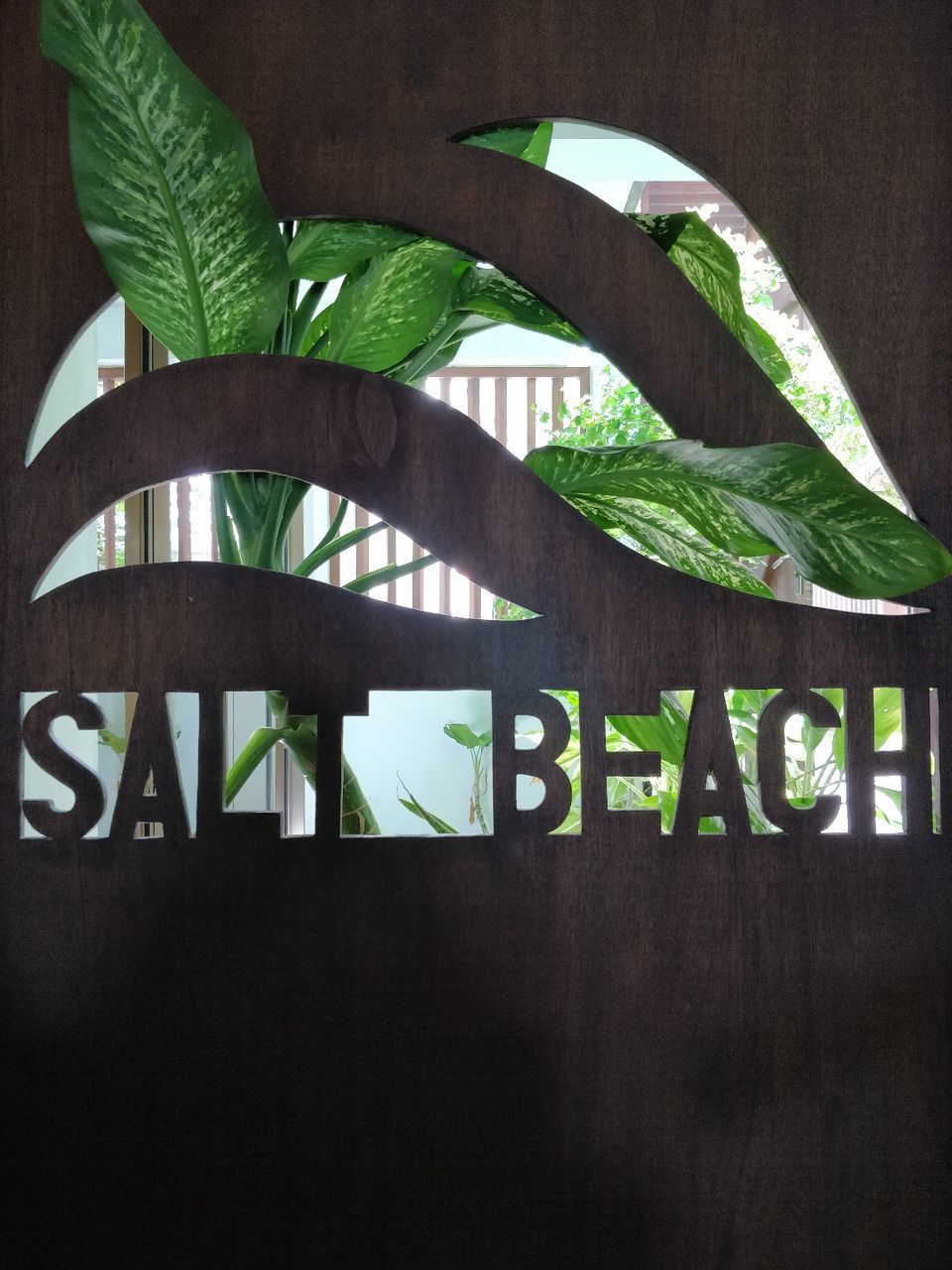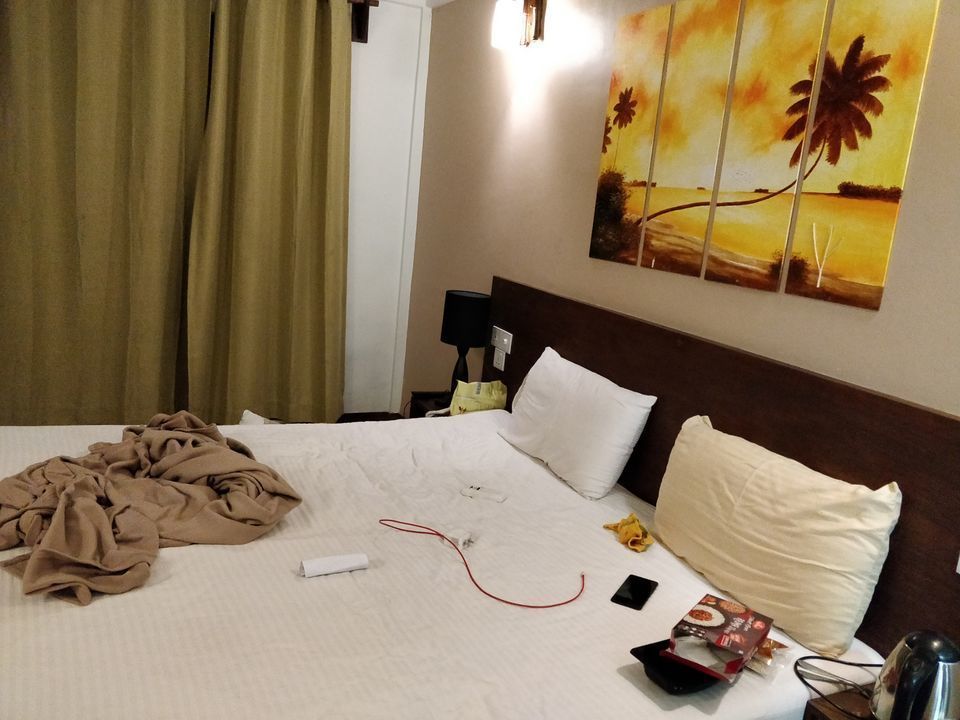 Maafushi had 2 bikini beaches for relaxation. On other part of island beaches bikini is not aloud. So there is no crowd.
We than went to bikini beach and had some relaxation on the beach. During night we roamed around the island and had Haldiram rajma chawal and this is how we ended our leisure day.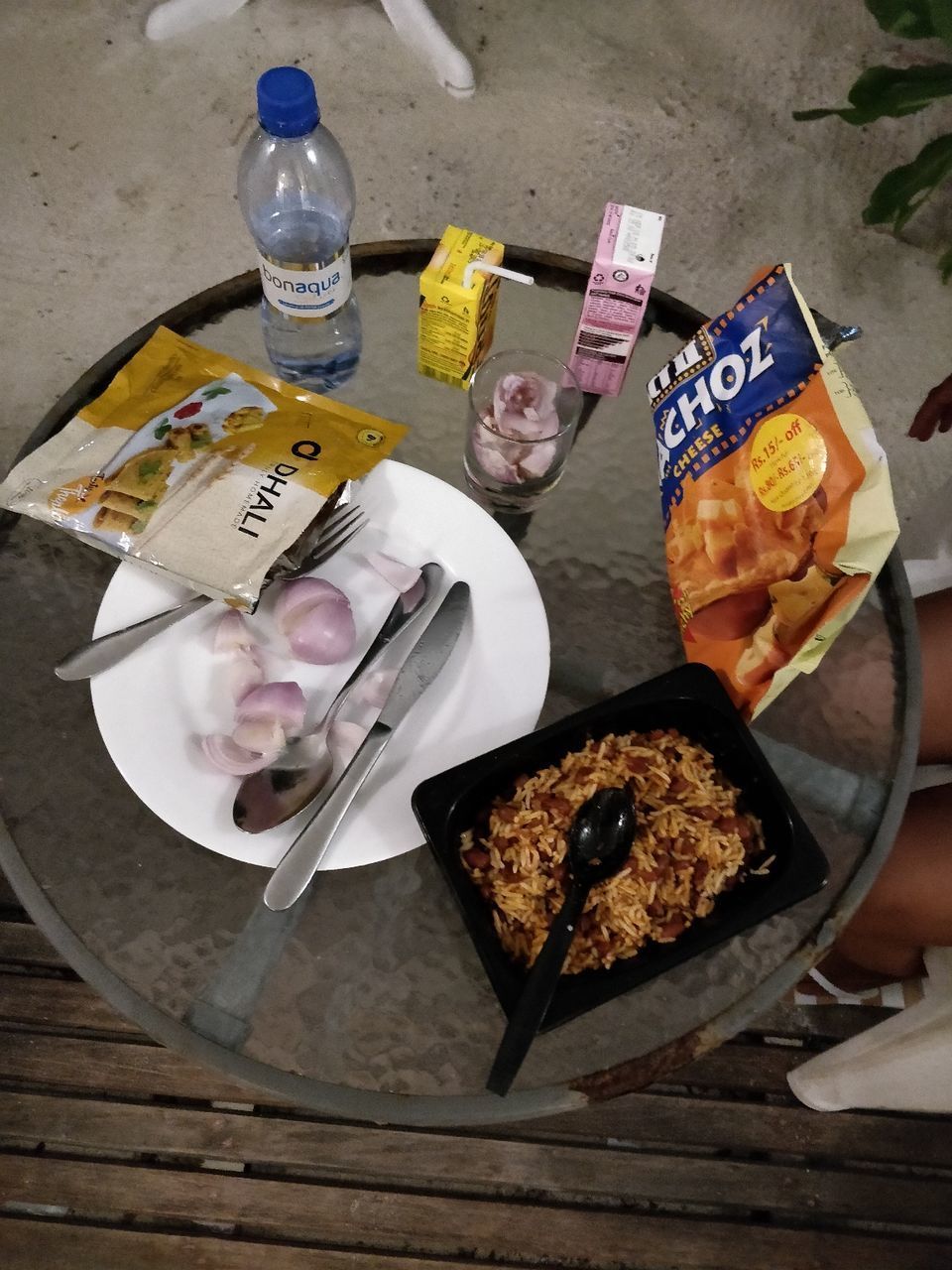 The next day we had breakfast at the hotel. There are lot of resort day trips available to explore but at very high prices. They are inclusive of food and drinks. We selected Fihalahohi island day trip @ 70$ p.p as there was an option available without food and drinks. On all island day trips only non veg food is available. Hence it is recommended not to take inclusive meal plans and go for ala carte saving good amount of money.
We left our hotel @8-30 am. We reached the resort via speed boat @ 9am. We entered this beautiful island with great feelings.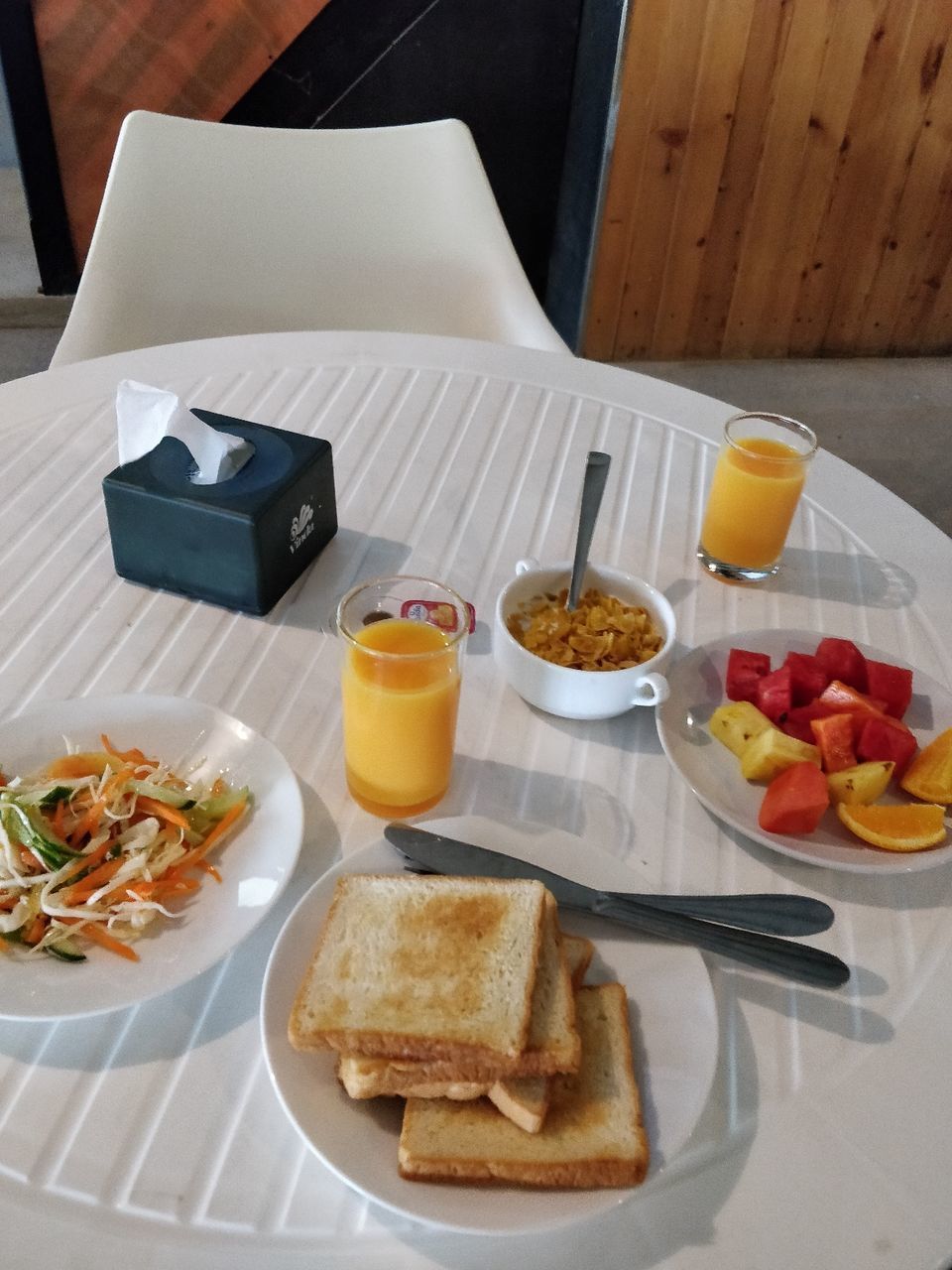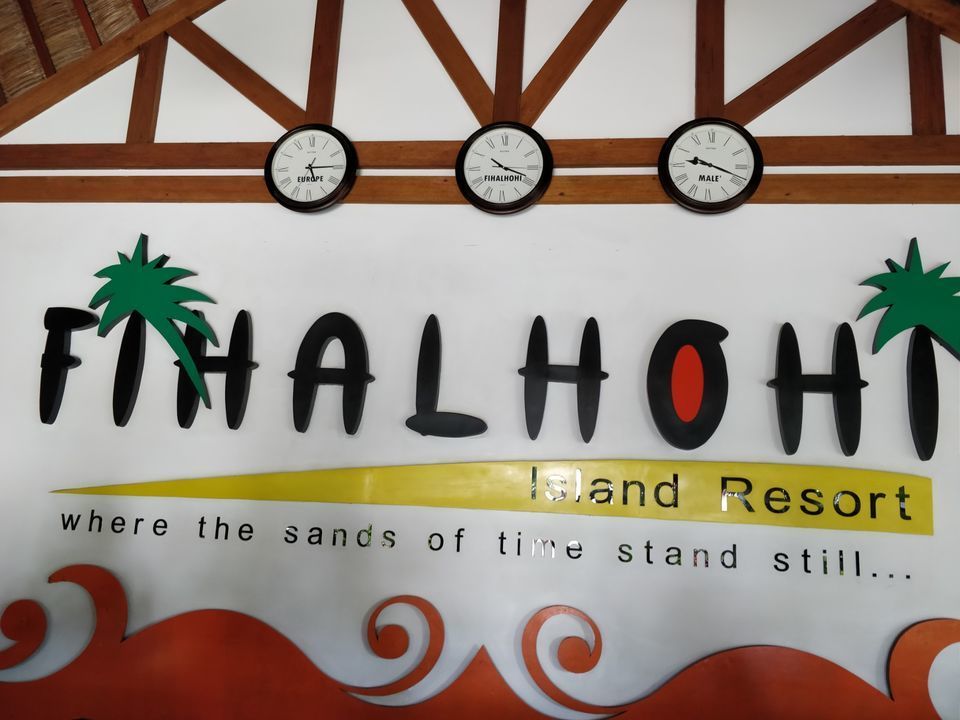 The resort has entrance charge of 40$ p.p. We played pool table , had a good sleep on the beach and spent enough time clicking pics on water bungalows. In the lunch we had yummy pizza at blue lagoon restaurant. It costed us ₹ 950.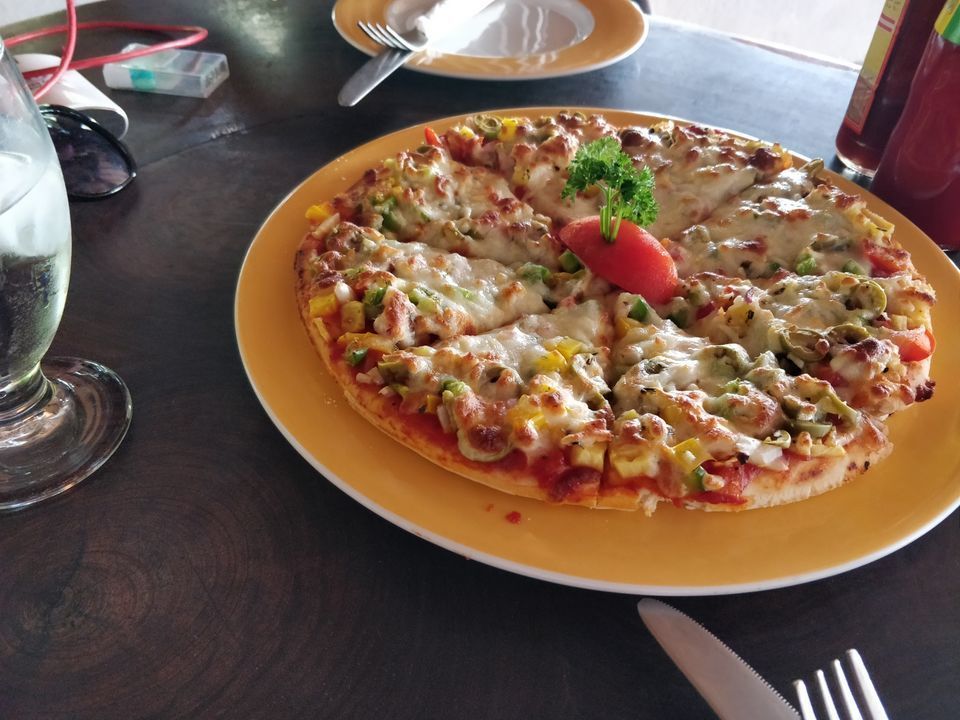 The water bungalows and the beach were extraordinarily beautiful and we felt like heaven.
Even the water was crystal clear. One can swim along with fishes and do snorkelling as well.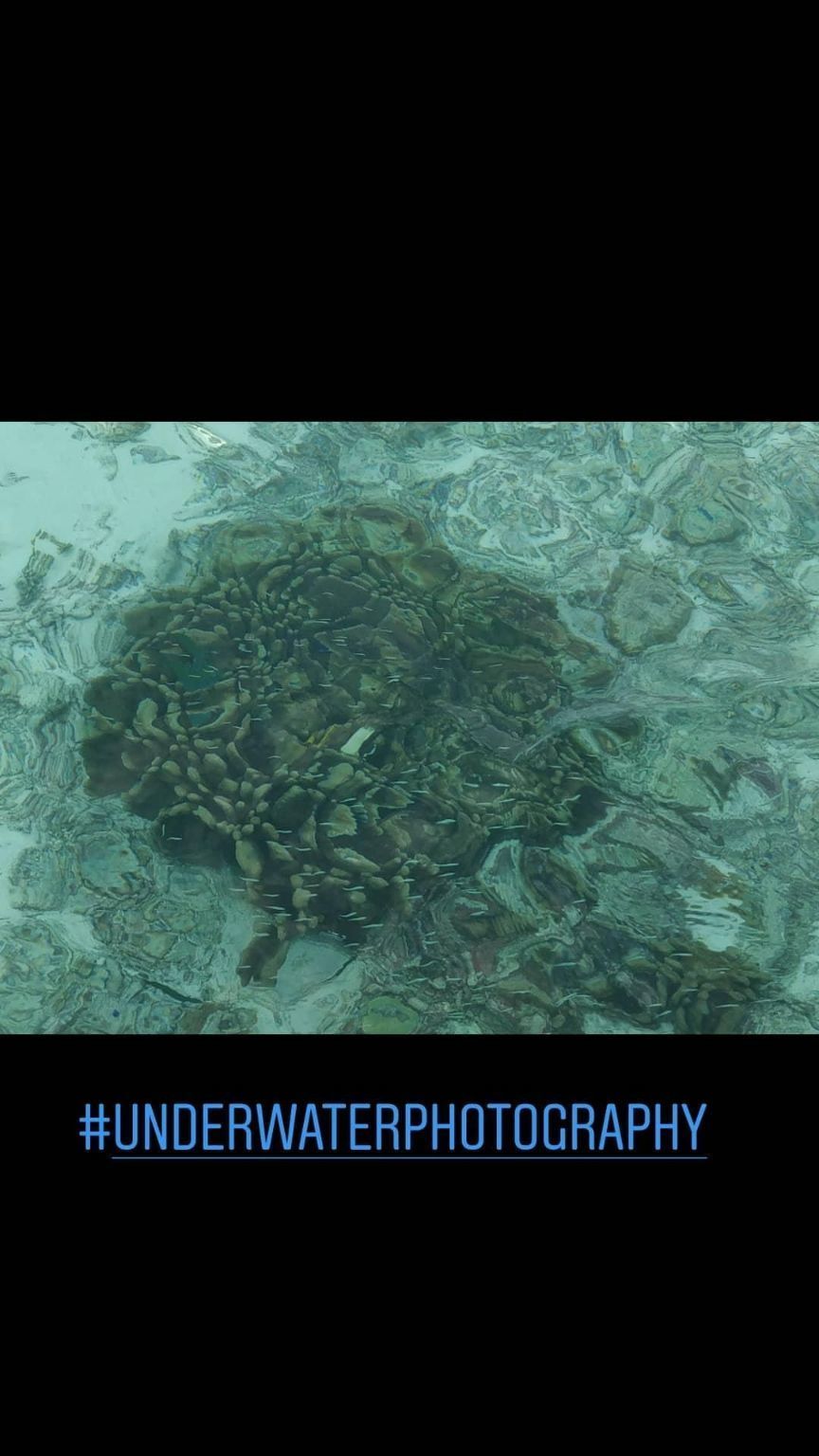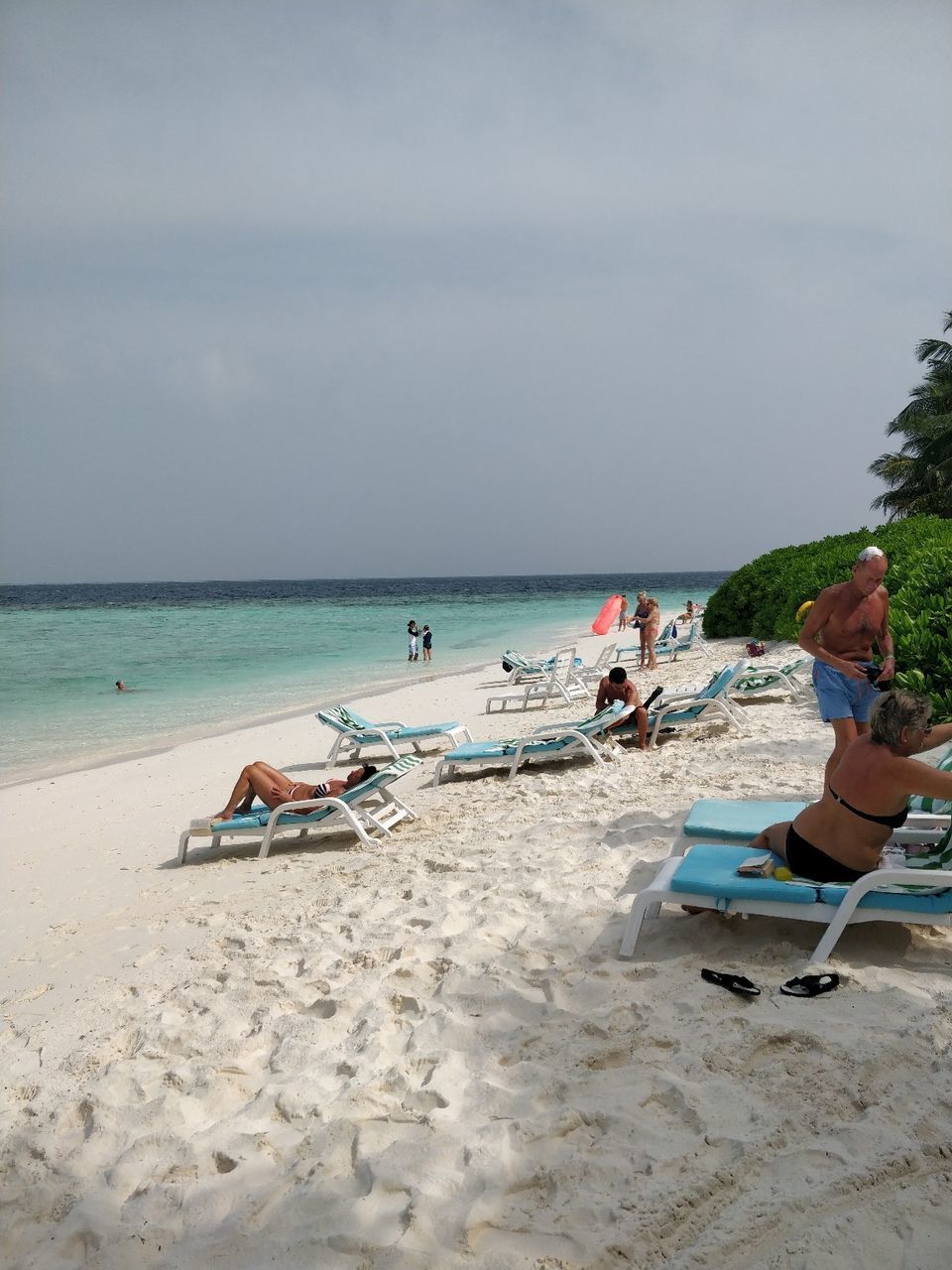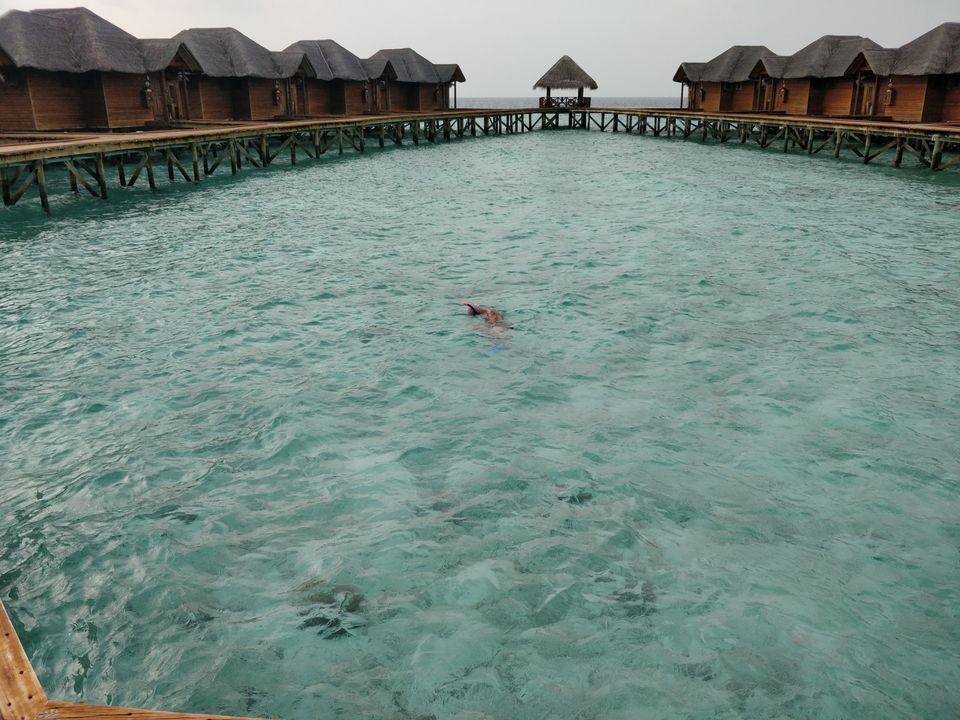 We left the place at 5 pm and reached our hotel within half hour. We changed our hotel to Crystal Sands.
I booked this hotel for ₹8000 per night via booking.com. I recommend using Agoda because on booking.com the charges are exclusive of tax. The hotel has less amenities and is far more costly when compared to nearby hotels.
The room was beautiful. We than had walk at nearby beach and finally ended our beautiful day with Haldiram chole chawal .
We woke up early in the morning and After doing early beach walk we had scrumptious breakfast at the hotel. After that we had a nice sleep.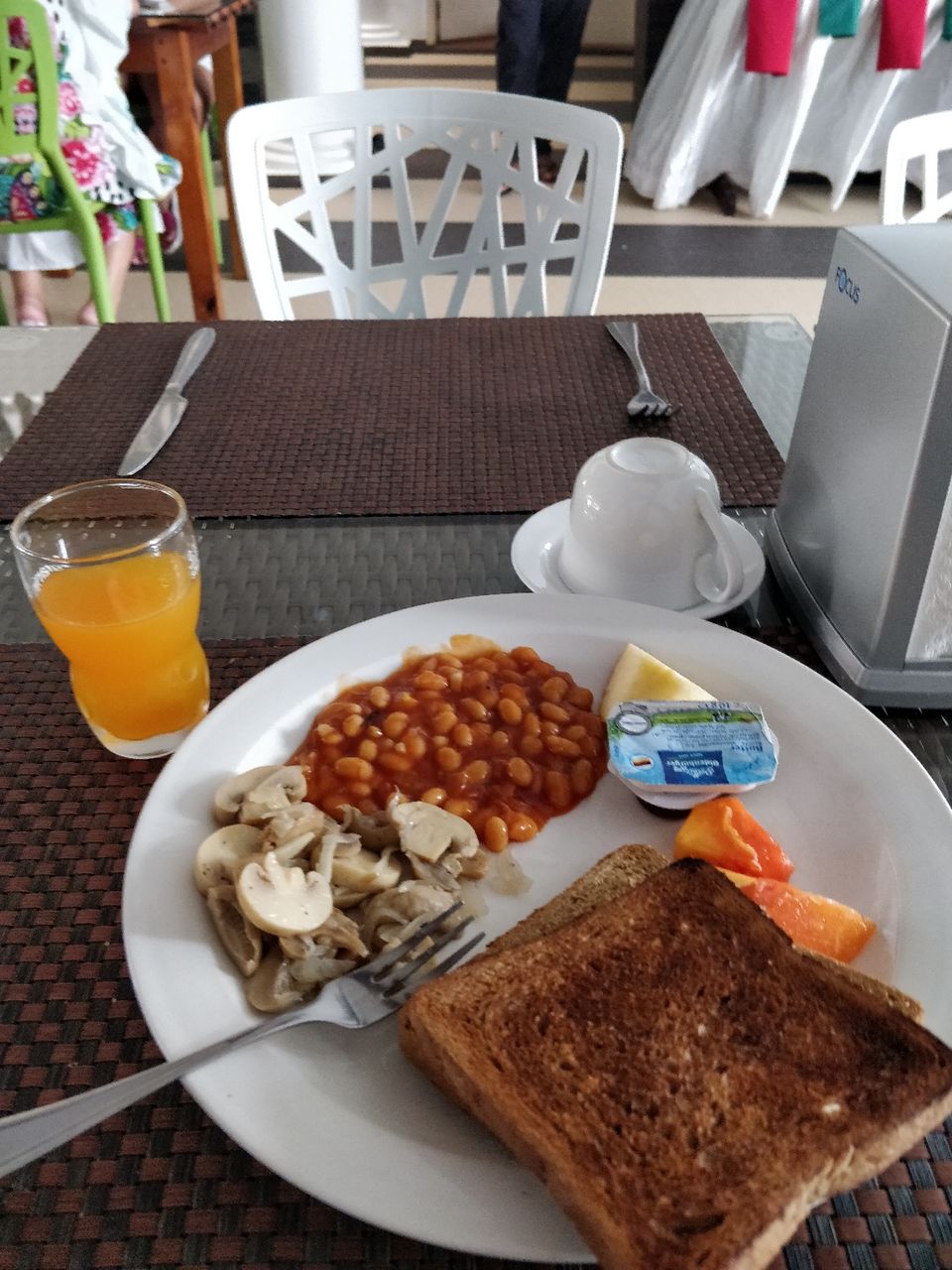 We than had some lunch of home bought snacks i.e oats, theple and tea.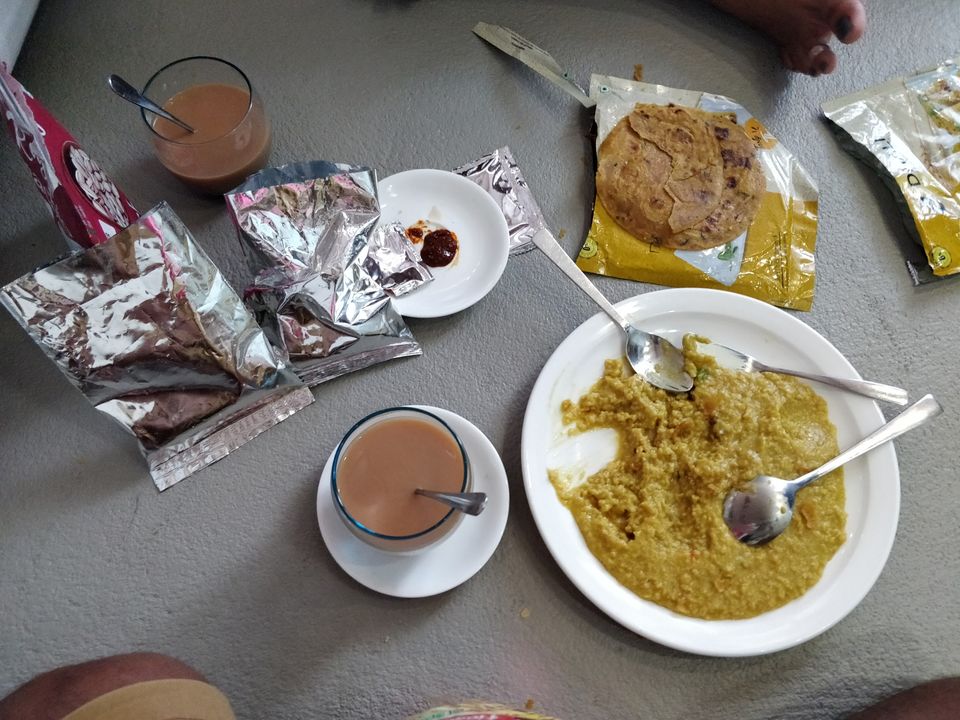 After lunch we did swimming in the heavenly sea and some picture session. We roamed around the street in the evening and ended our day with Haldiram dal Makhni chawal.
After some rest at hotel we changed our hotel to arena beach. This time the provided us with more beautiful and bigger room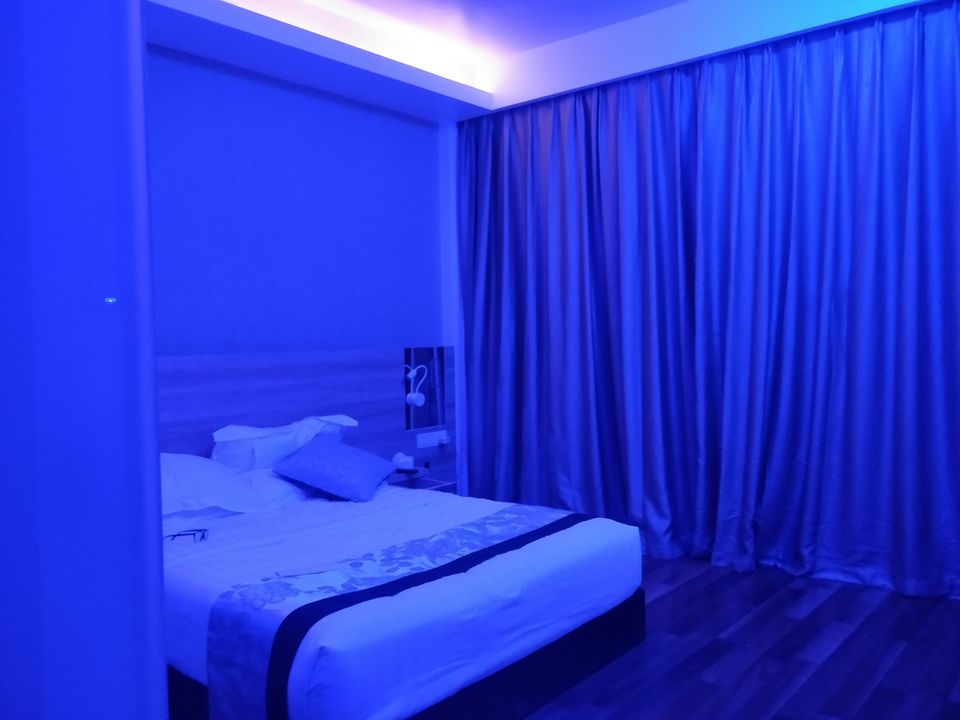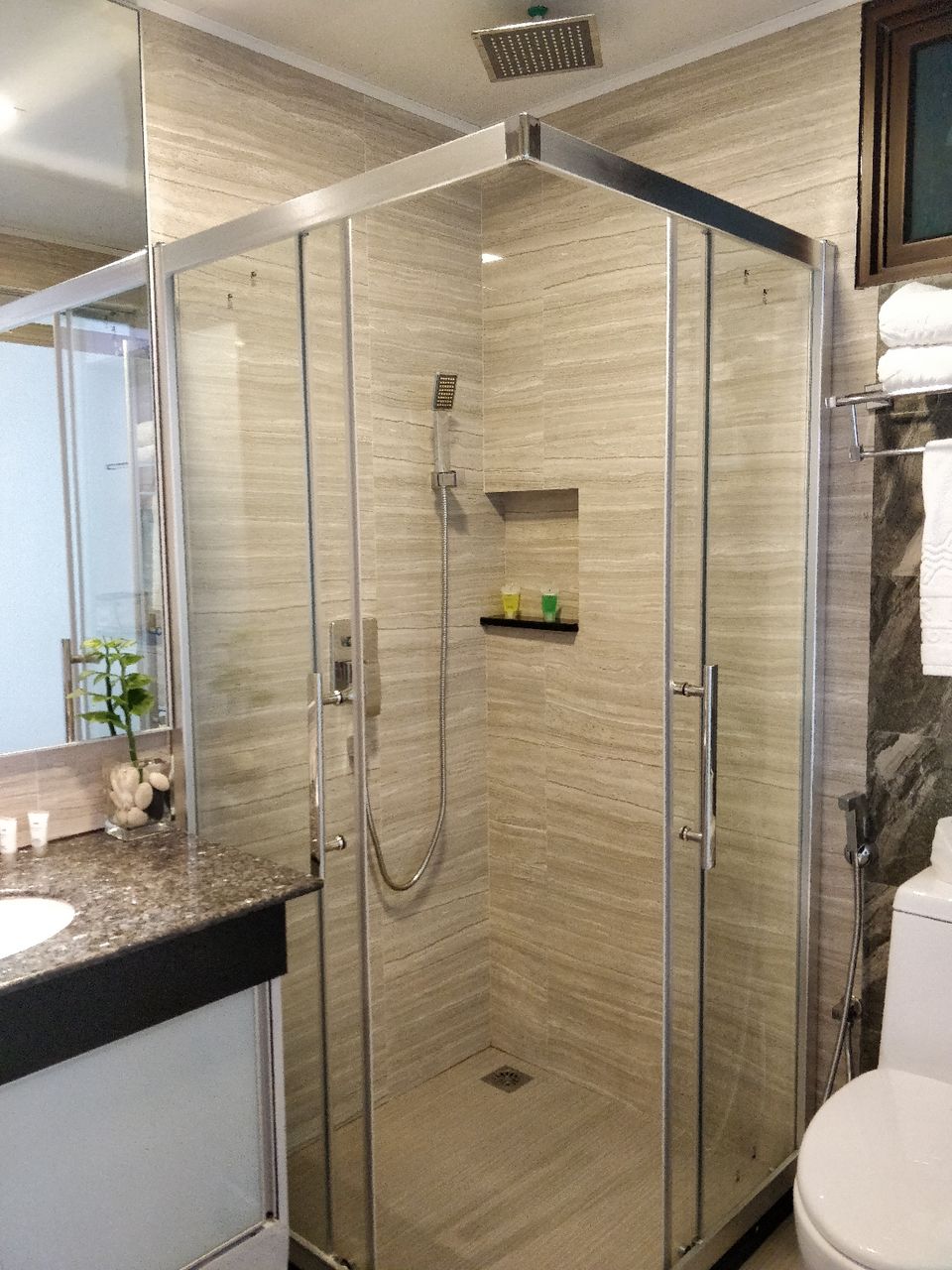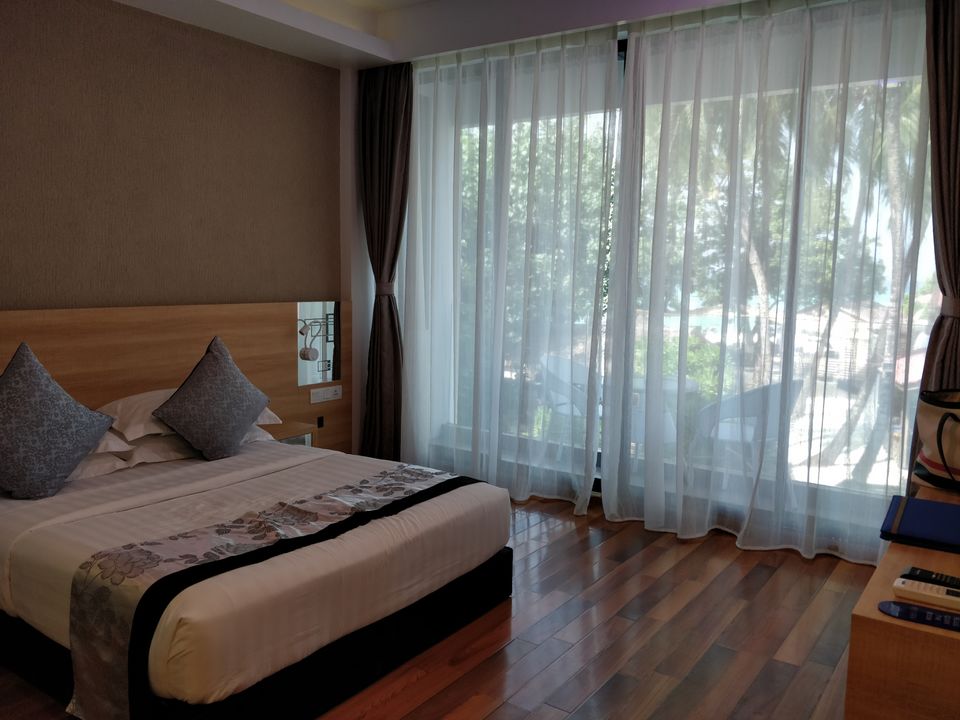 At 2 pm I booked beginners diving at 65$ . We went through the boat for diving and we reached a place called sexy beach where we were supposed to dive. I would say diving in Maldives is one of the most amazing experience and a must to do activity. I did diving for half an hour. Seeing the sea life so close is an awesome experience. At 4 pm I came back.
In the evening we saw beautiful sunset and roamed around streets and had icecream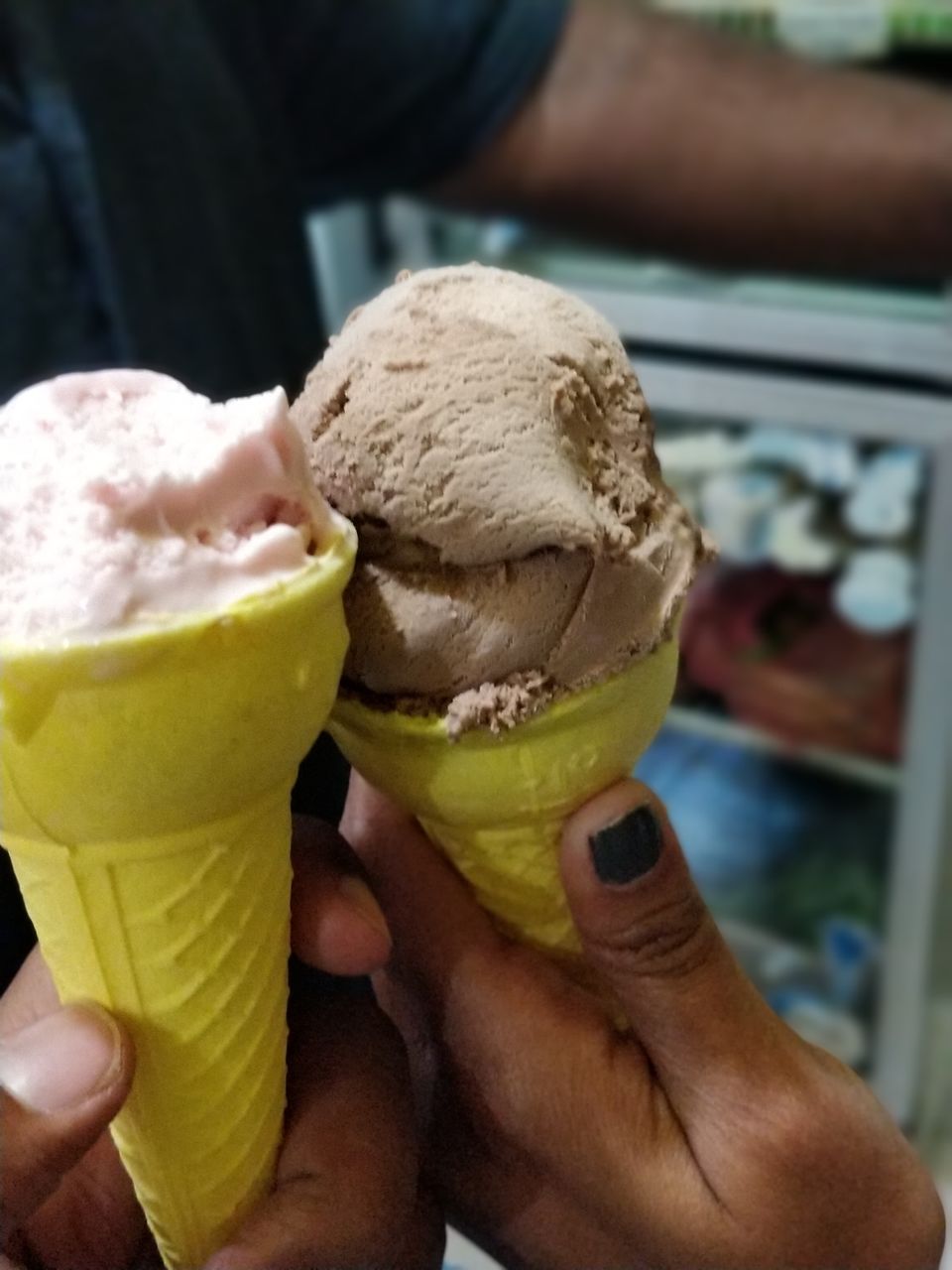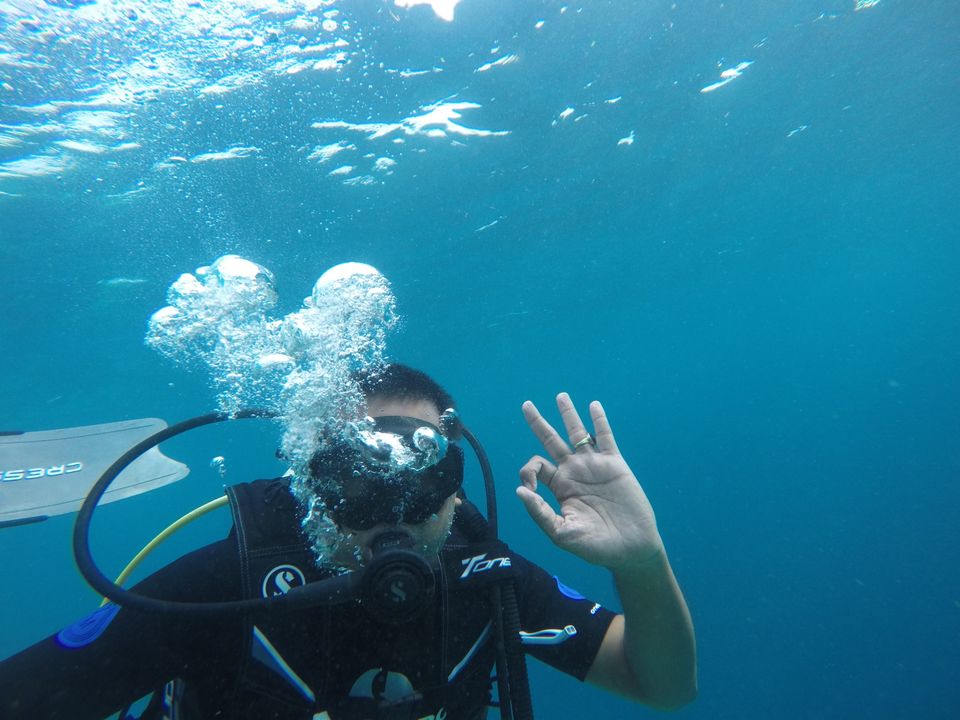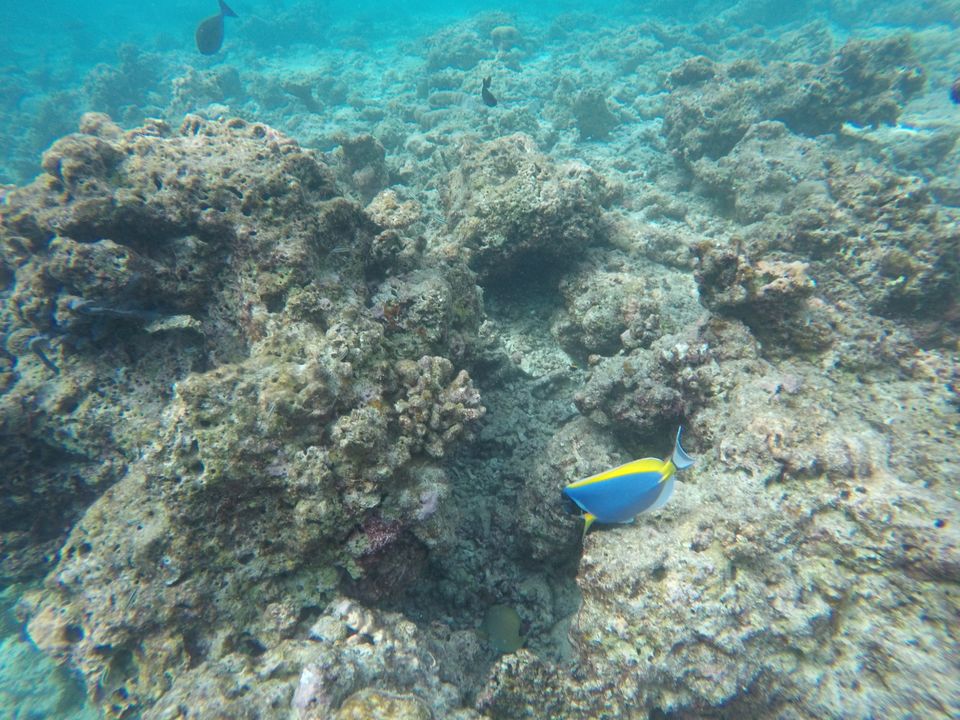 Even bread costed us ₹150 for a packet. We ended our day with Haldiram pav bhaji.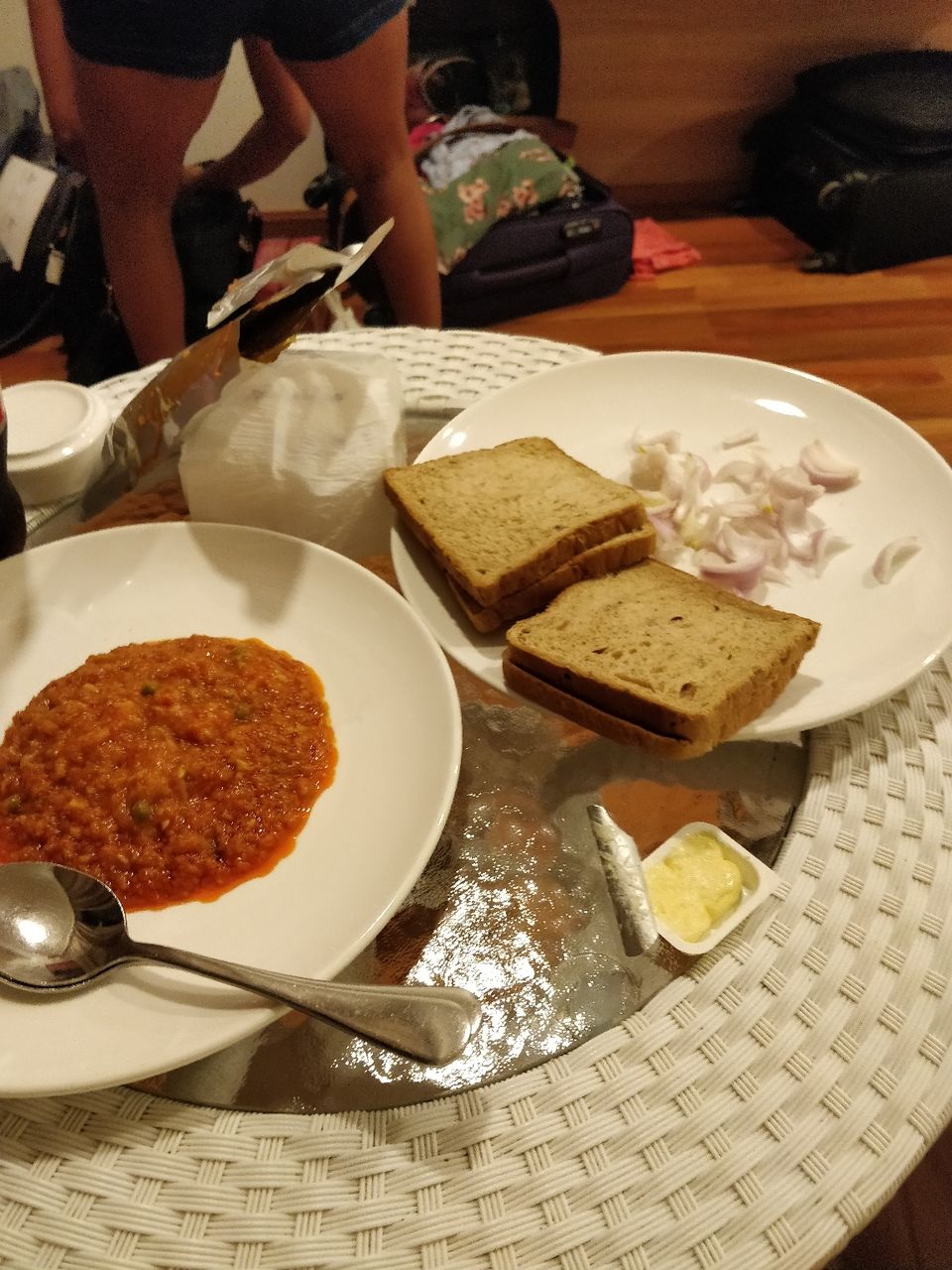 In the morning after having beach walk we had breakfast buffet.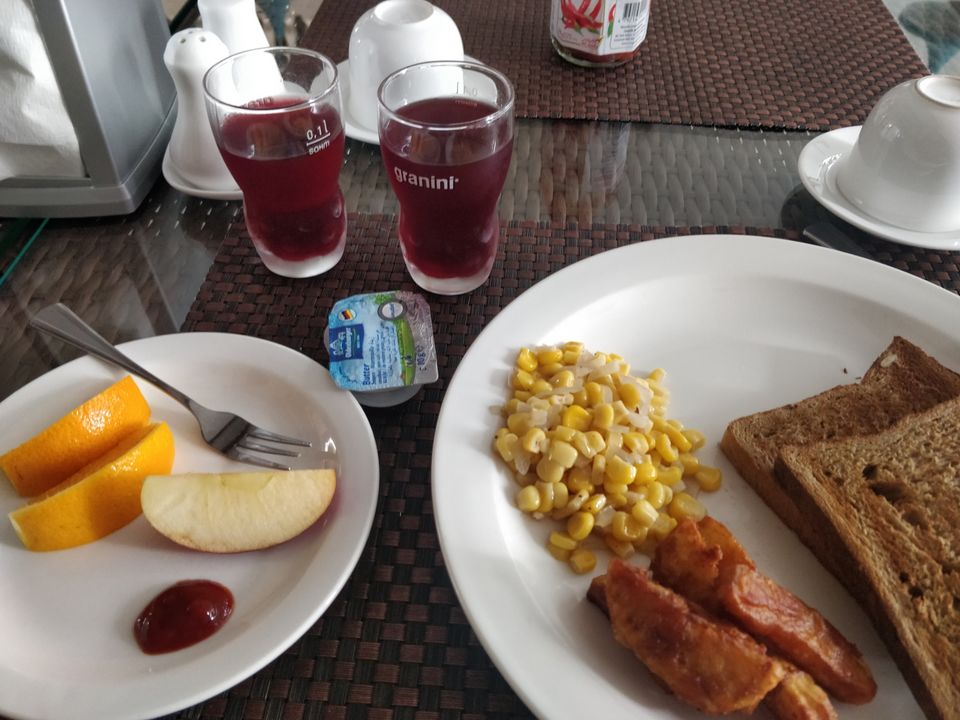 The next day after morning walk we had a great buffet breakfast.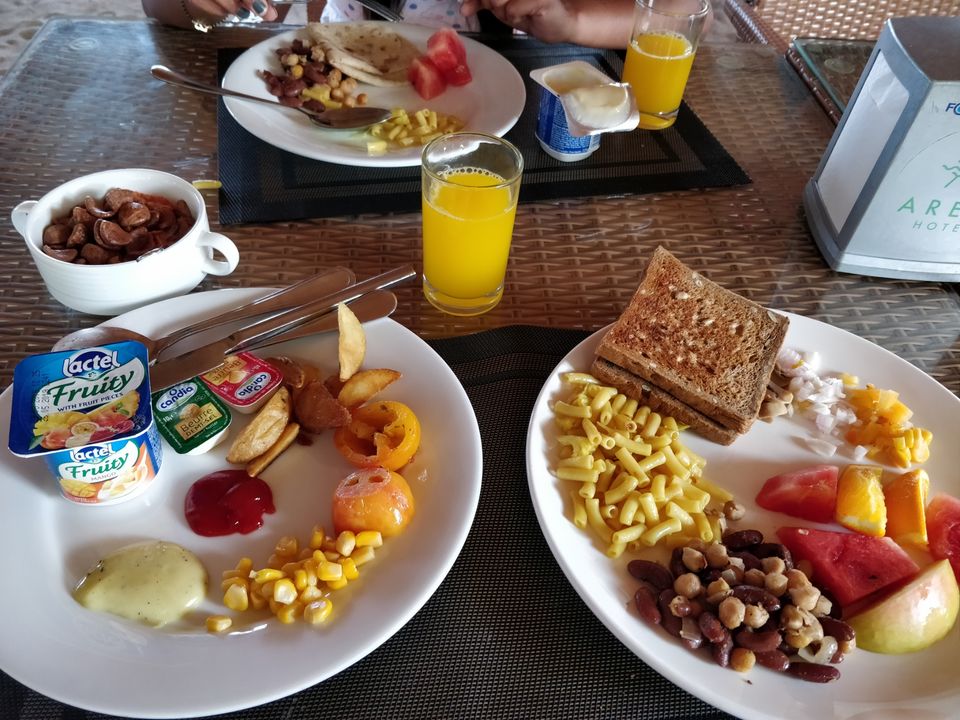 After that I had little swimming in the sea and in lunch we had Haldiram chole chawal and rajma chawal. After some pool game we had little rest.
We had little shopping in the market. For dinner we visited sting ray cafe that offers some veg option. We had spring roll there at 74 MVR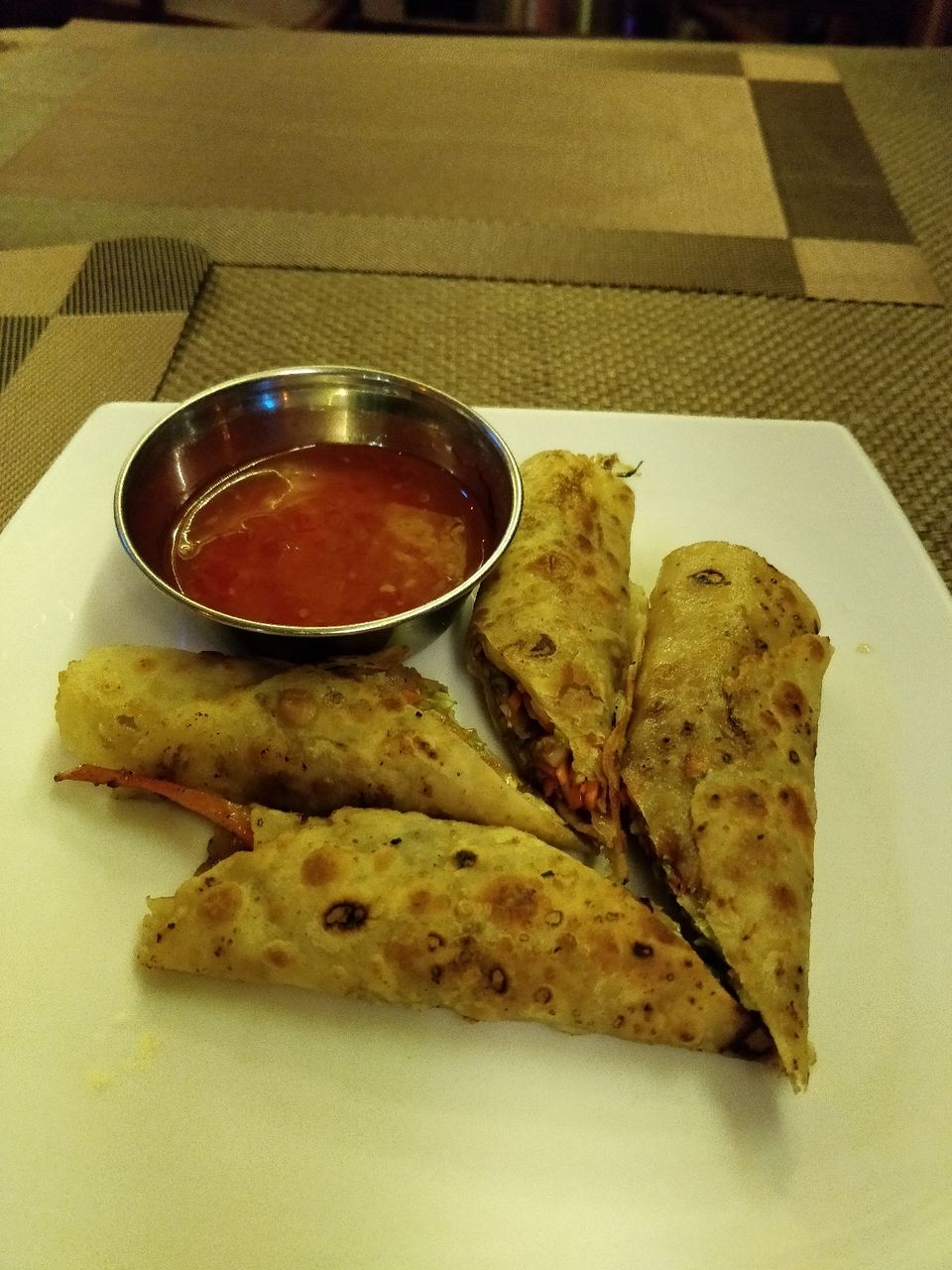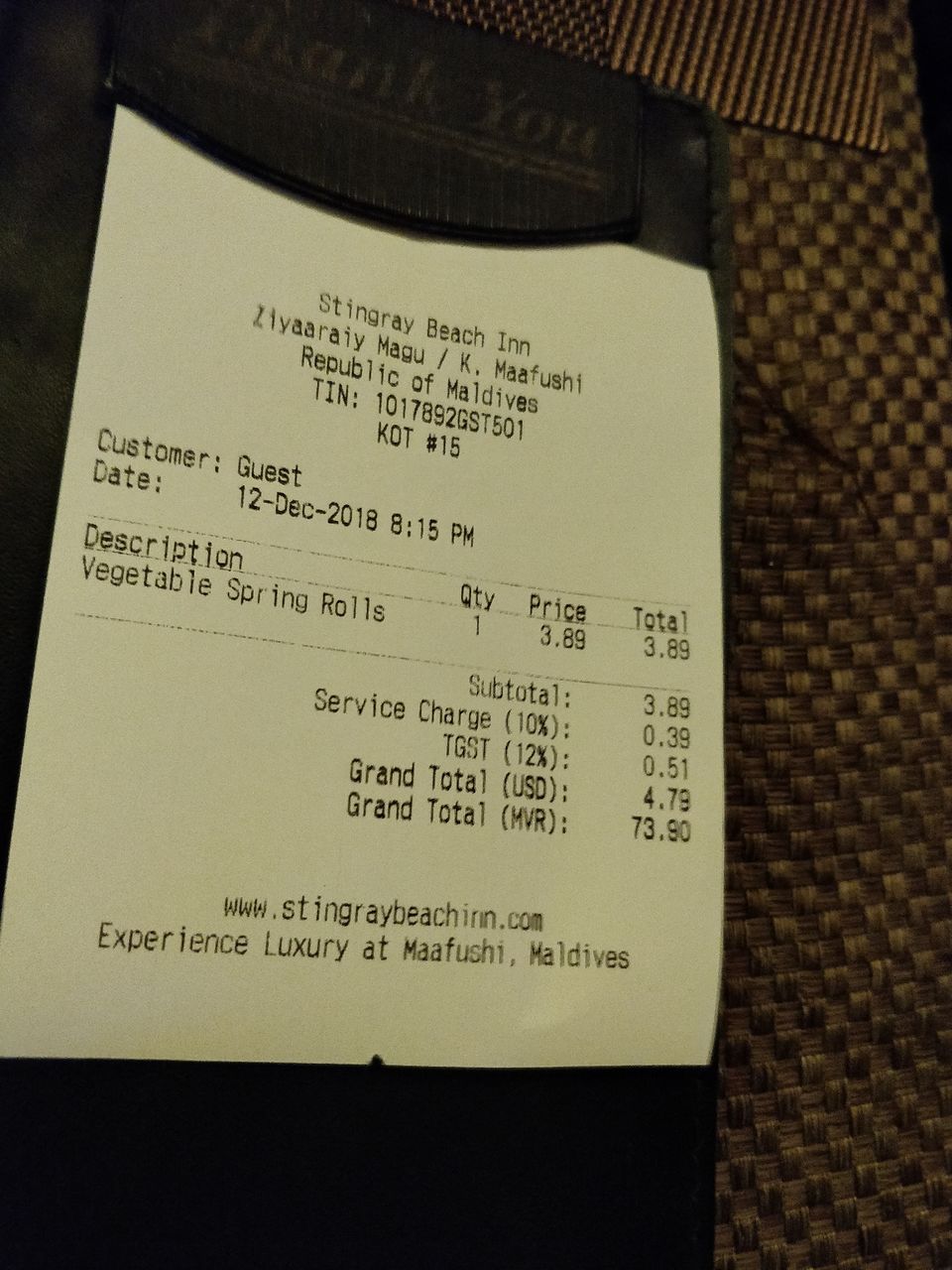 We than visited nearby restaurant Hot boys and had vegetarian pizza along with coke at 115 MVR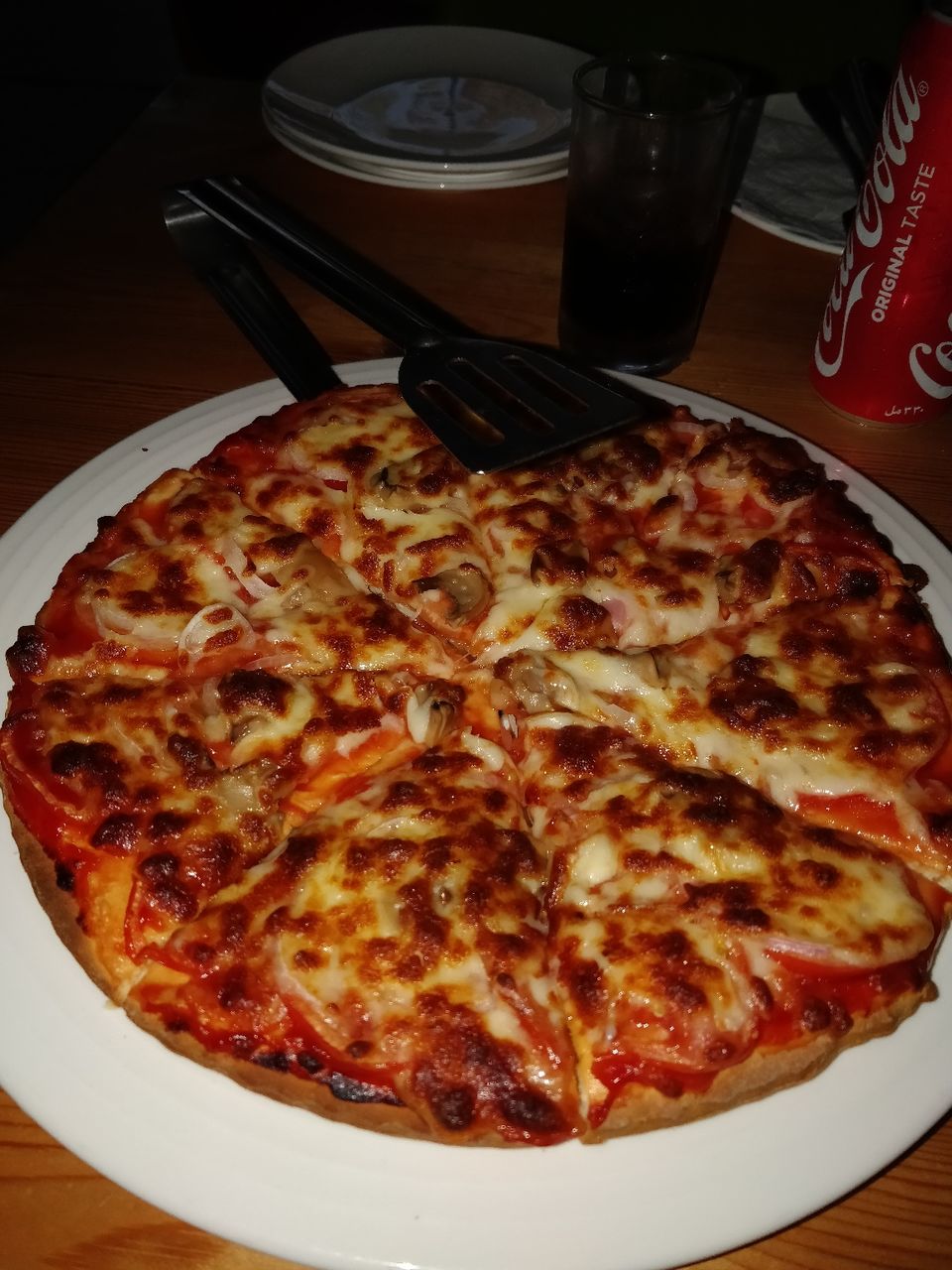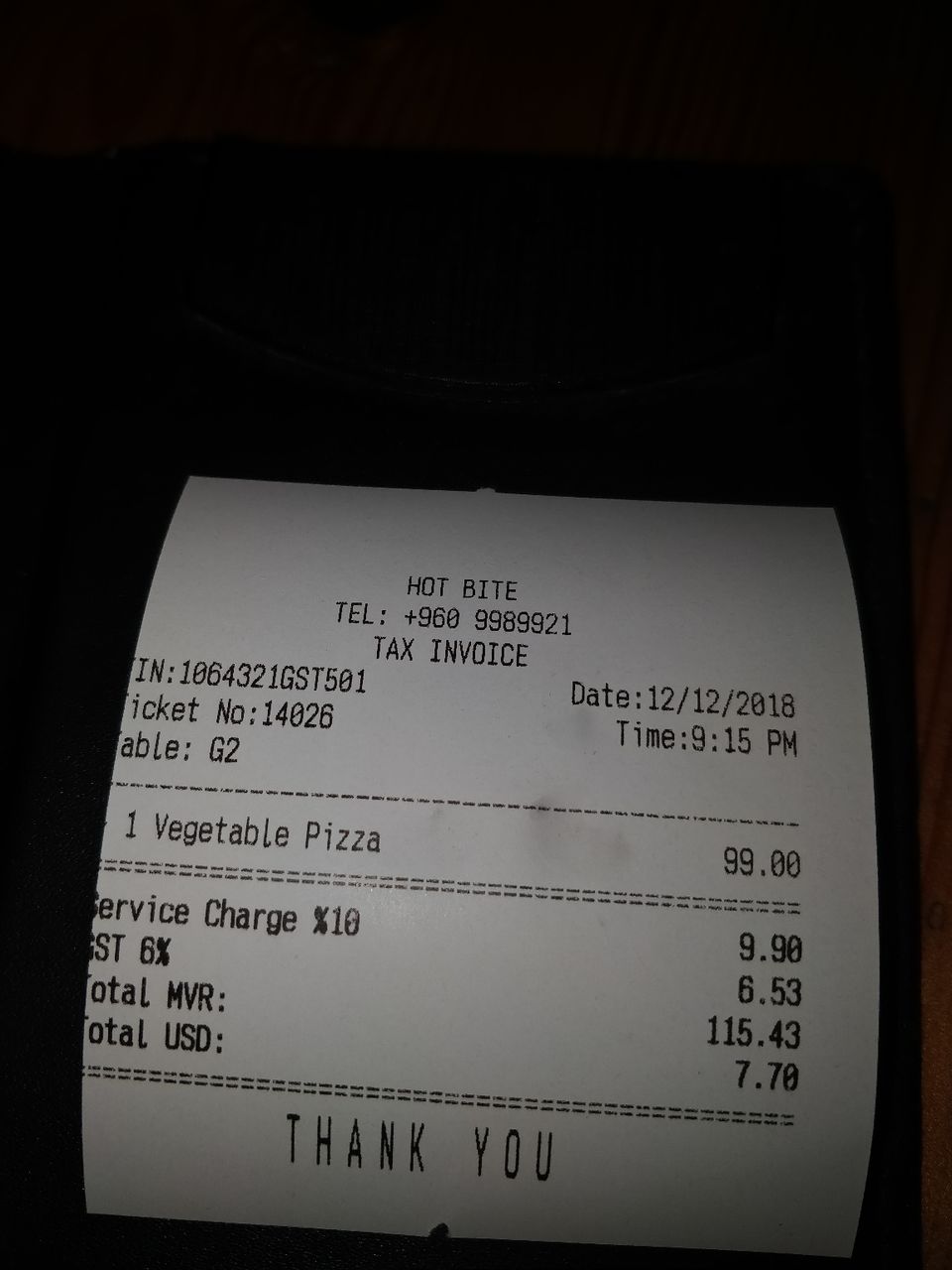 The next morning after some cycling in the island I had scrumptious breakfast.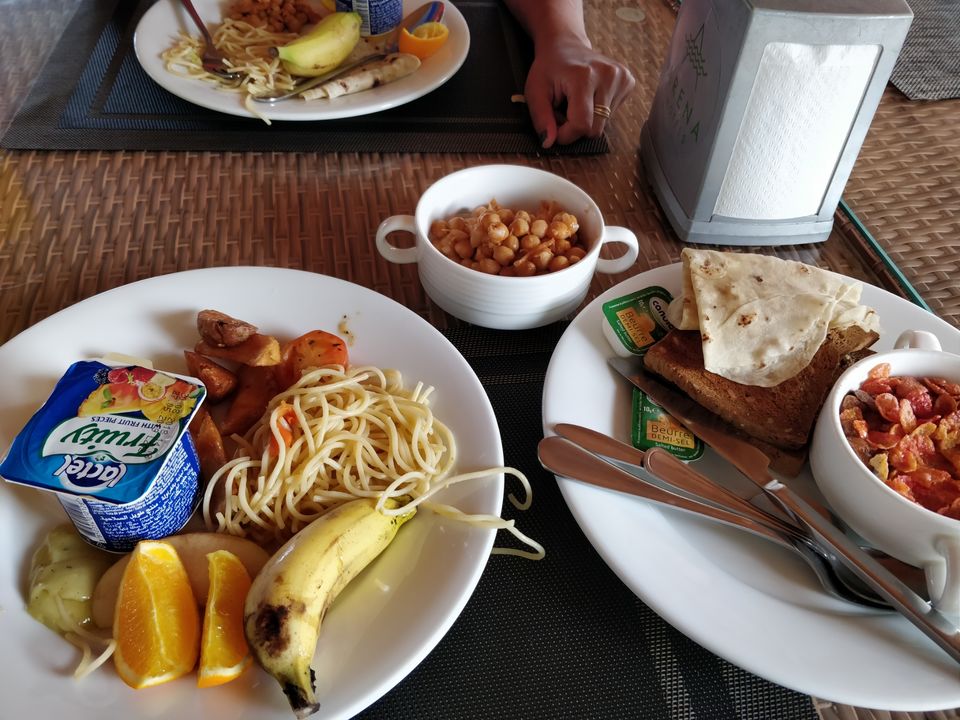 After breakfast we did our last dip in the beach and had lot of fun.
We booked speed boat transfer via maafushi tours at 1 pm for 20$ p.p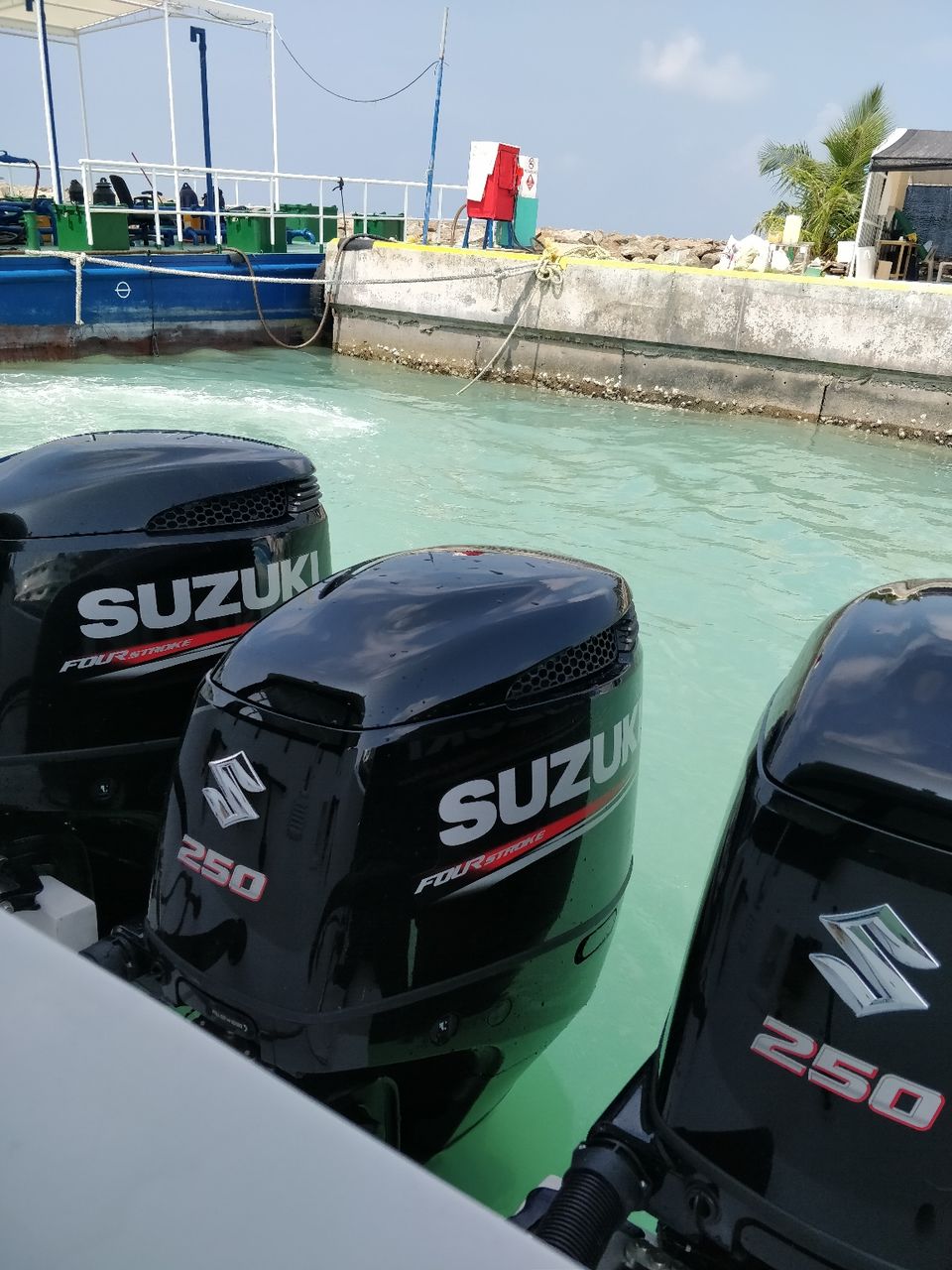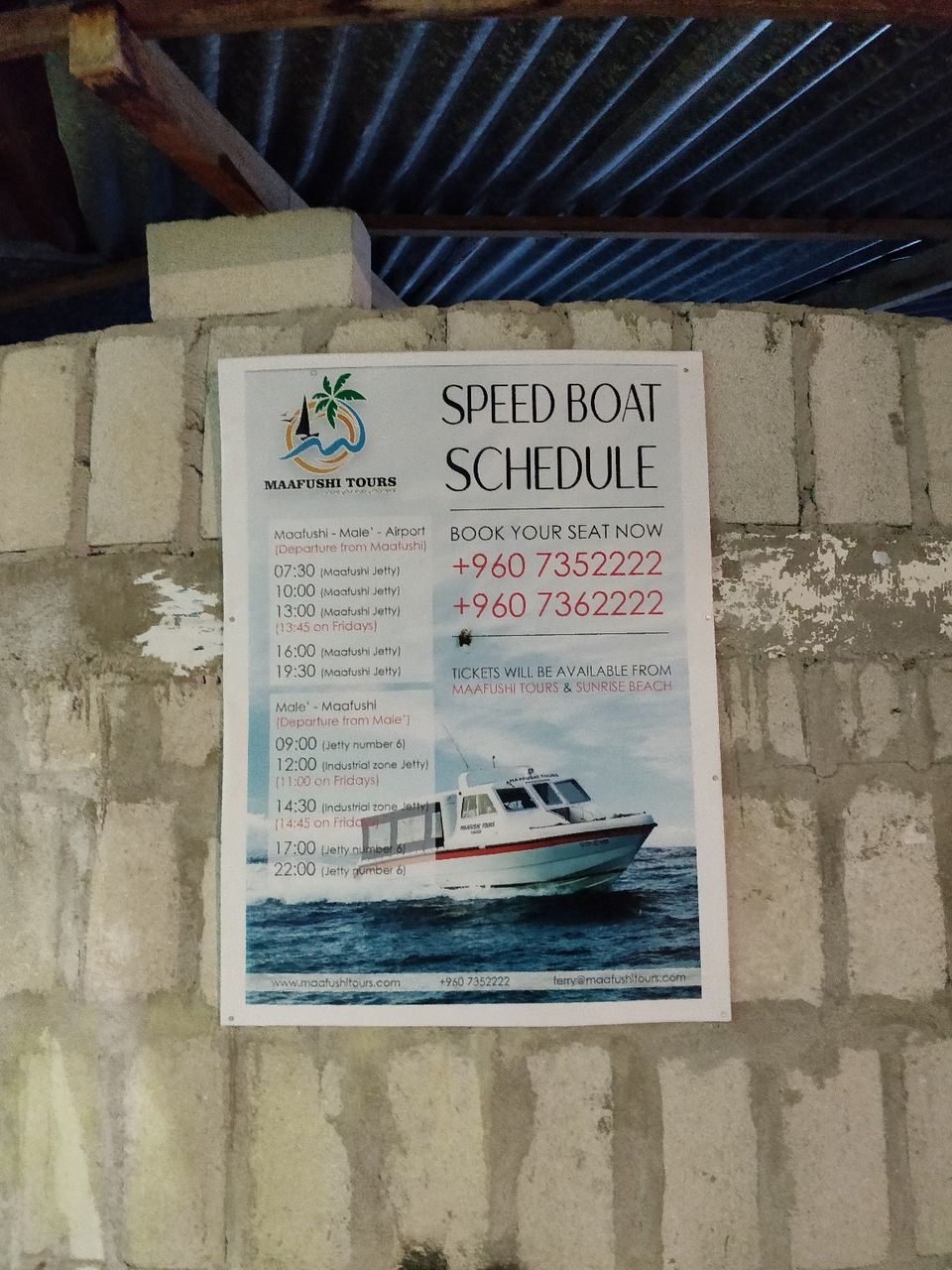 After breakfast we did our last dip in the beach and had lot of fun. We booked speed boat transfer via maafushi tours at 1 pm
We reached the airport within 45 minutes. The airport is very small and has limited shops and only 2 food court inside.
We had burger King veg whooper at ₹600 p.p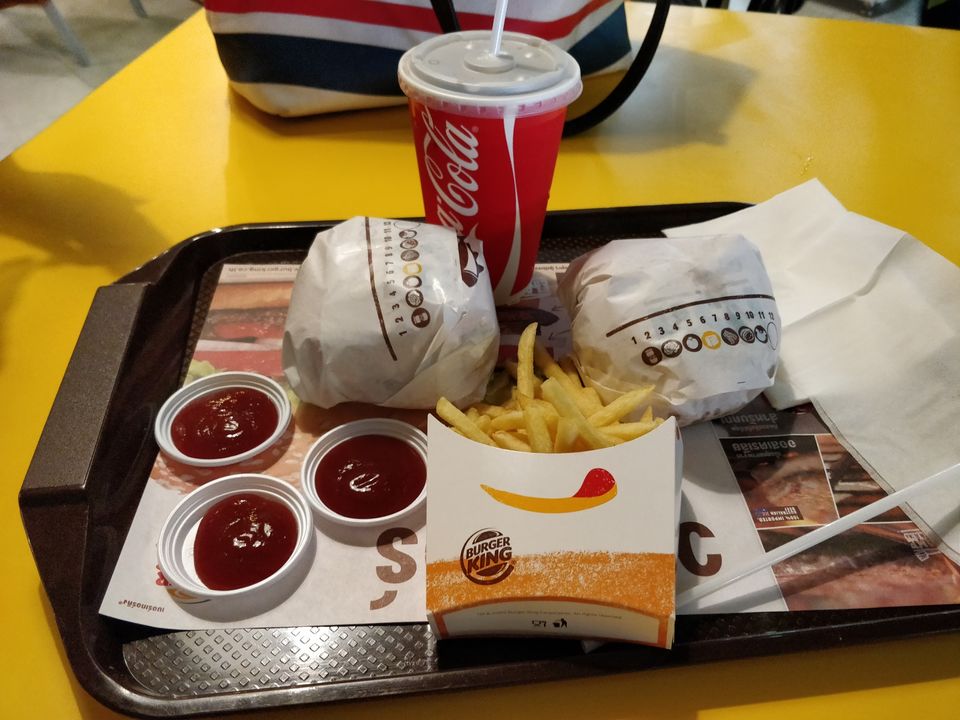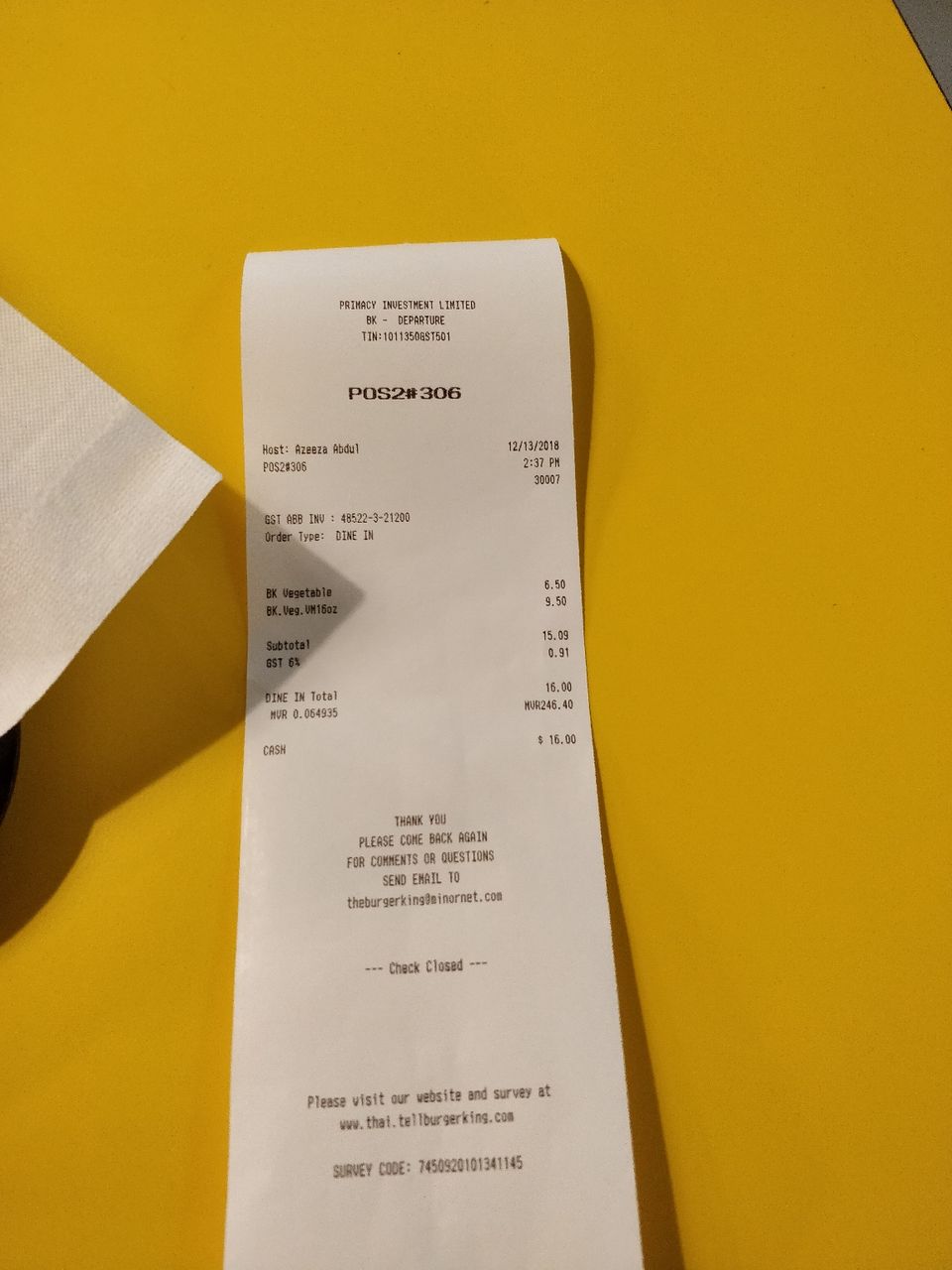 we left airport at 5 pm with great memories
note
1 $ - 72 ₹
1 MVR - 5₹
Check my other trips @