Tripura: Small, silent yet beautiful...
One of the 7 sister states of India.
Tripura is serenic , less heard yet achievers like Deepa Karmakar, tennis star Somdev Devvarman, national women's' football team goalkeeper Laxmita Reang and Dronacharya awardee Bisweswar Nandi were born here .
We started to Tripura by boarding flight from Chennai to Agartala.
Mostly the mode of transport to this state is via air from major cities.  There are train facilities available but the journey takes longer duration.
We reached Agartala at 10pm and checked in at "The Ginger" hotel. This hotel is  3 stared hotel which is very clean, cozy, with Wi-Fi availability , is cost effective and has all the basic amenities.  Both north Indian and South Indian cuisines are available and They also provide complimentary breakfast everyday.
We hired a local taxi for sightseeing , one can also hire a two wheeler for solo adventure. We started to Tripura Sundari Devi Temple which takes around 2 hours to reach as govt is undertaking road extensions which delays commuting.
We had our peaceful darshan around 2pm in the afternoon.  We were provided Prasad as lunch by temple priest.  Lunch served was very tasty included bamboo stem pickle , curry of spinach fried in ghee in an earthen pot , brownish organic rice , dal cooked with baby tomatos, sweet doodh peda and rice payas.
To be honest , this was more like a thali than Prasad and nevertheless very tasty and healthy.
We returned back to hotel room around 4 pm and rested for a while
Around 5:30 pm we headed towards Indo-Bangla border where closing ceremony takes place everyday by Indian Army.
It gave us goosebumps watching the procession taking place. Later, we took some pictures with Army people and returned back to hotel.
We started to Neermahal Palace on day 3. Even from a distance , this palace was breathtakingly beautiful. White in colour, sitting in middle of lake was a sight where you forget all your tiredness. They provide boat ride to reach the palace which takes around 20 min. Gentle breeze, calm surroundings and gently swaying of boat on lake was heavenly.
If the sight from outside was one thing , the feel inside in this palace was amazing. It was sunny and sweaty outside but very cool and silent inside. They say its even more beautiful on a fullmoon night.I can say It is one of the best palaces in have visited in India and is a must visit in Tripura.
In evening we decided to taste some local cuisine of Tripura. Myself being a vegetarian it was difficult to find vegetarian  local food as mostly Tripura cuisine consisted of various meats
One such vegetarian dish was  a plate of Panch Phoron Tarkari. you can smell the influence of Bengali tradition. Panch Phoron is an important Bengali spice which is a perfect blend of five spices, and hence the name of the dish. This dish is prepared a number of vegetables such as brinjal, pumpkins and potatoes and other add ups like Red chilies, Bay leaves, Green chilies, Turmeric powder. This delectable dish is best enjoyed with paratha or puri.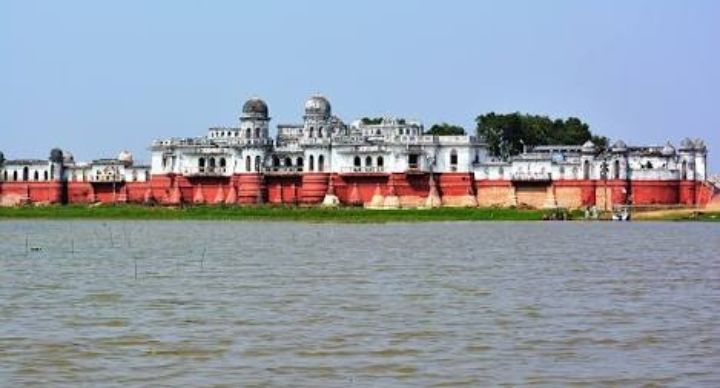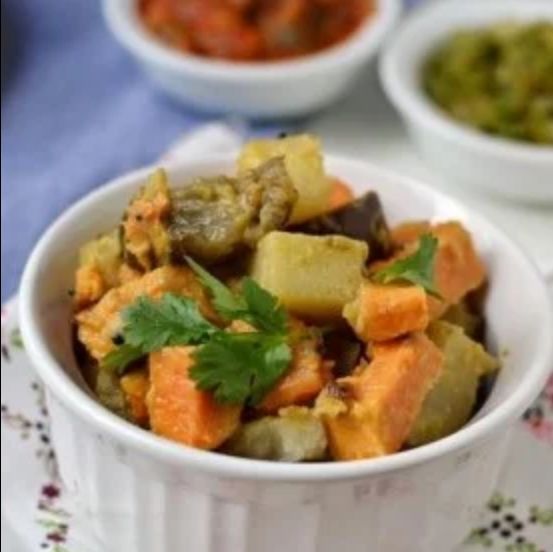 On final day of our tour, we visited  palace of royal family given to govt of India which now houses Tripura state museum.
Many paintings , craft and handlooms, tribal embroideries and utensils are displayed there. It was great feeling to learn about wars of tribals and stories of folk.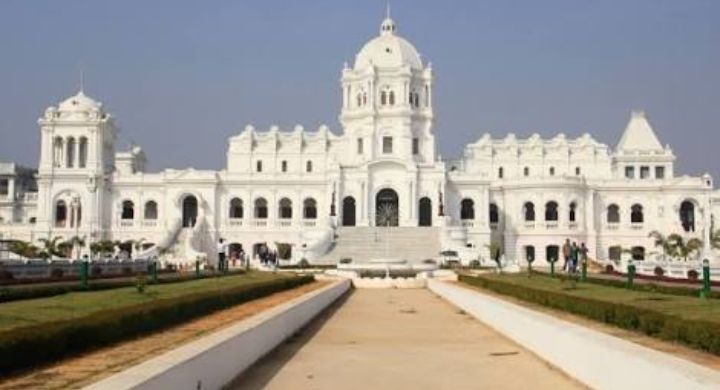 We started back to Chennai boarding flight from Agartala. It was a worthy trip Both economical , educational and recreational to a lesser known state of India. I would recommend adventure enthusiasts and people who are interested in history and travel seeking cultural education to Tripura