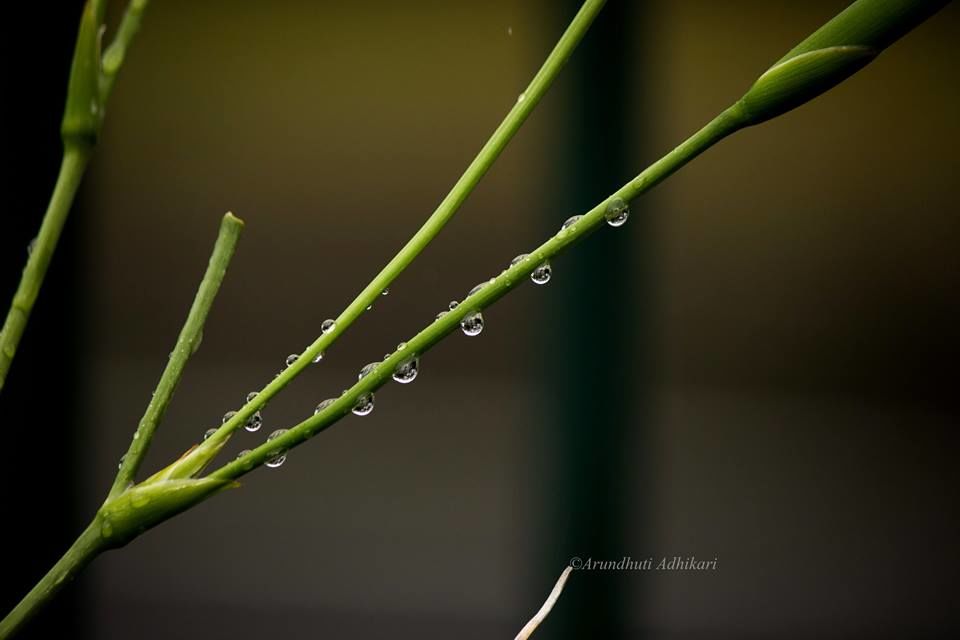 I am like a every single person who has a heart to follow the individual dream whom he/she is chasing after. And dream catcher is one who never stop to chase or follow what he/she wants. They say travel is one thing which make one mature and independent and more over if it is solo travel than nothing like it. Huh! again...., "Solo Travel" word has become cliche nowadays. Everybody travel solo in their life, no one always get accompanied by family/friends, there will be once in a life to travel alone, and that is what we call "Solo Travel". Anyways, let me not carried away with this cliche thing, or else I won't be able to share my experience with all of you about my native town-Kailashahar which is a small town of Tripura. I belong to Tripura, however for Job purpose, moved to New Delhi. Whenever in middle of work, I get few days off, I always try to make for my native at least once in a year. So, my first travel blog will start with my native trip. I have booked my air ticket from New Delhi to Agartala, both to and fro which did cost me total 6000 rupees, provided you book at least 3 months prior. This time I intentionally went during monsoon season which is on July'2017. I have boarded Indigo flight early morning 6.00 am from Delhi and reached Agartala at 9.45 am. So once I have reached Agartala (only Airport in Tripura), I have boarded my own car. You can reach Kailashahar (my native town) via Bus from new motor stand in Agartala, which is 20 minutes driving from Airport to Motor stand. Once you are in exit gate of Airport, you will find plenty of Auto and it will charge 100 bucks to reach motor stand if it is reserve. Once you reach motor stand, look for buses to Kailashahar which will cost you 200-300 bucks depend on season. I was enjoying my journey till Agartala. Rainy season bring life to the hills and one cannot miss the opportunity to witness the beauty. Since my home is in Kailashahar, so staying was never a challenge for me. However, there are plenty of places to stay in Kailashahar, first and foremost, if you want to feel the home stay experience, then of course you can contact me via my email address (arundhutia@gmail.com). Secondly, there are guest houses like Unokoti, Hotel Nirmala. This bus journey is 8-9 hours journey which you will enjoy. You will see, plenty of rubber tree cultivation, crop field, farmers Ploughing field.
One can see the greenery of Rubber Tree only during Monsoon. Moreover, Tripura ranks second in Rubber cultivation across India post Kerala. In 1963, rubber cultivation in Tripura was introduced.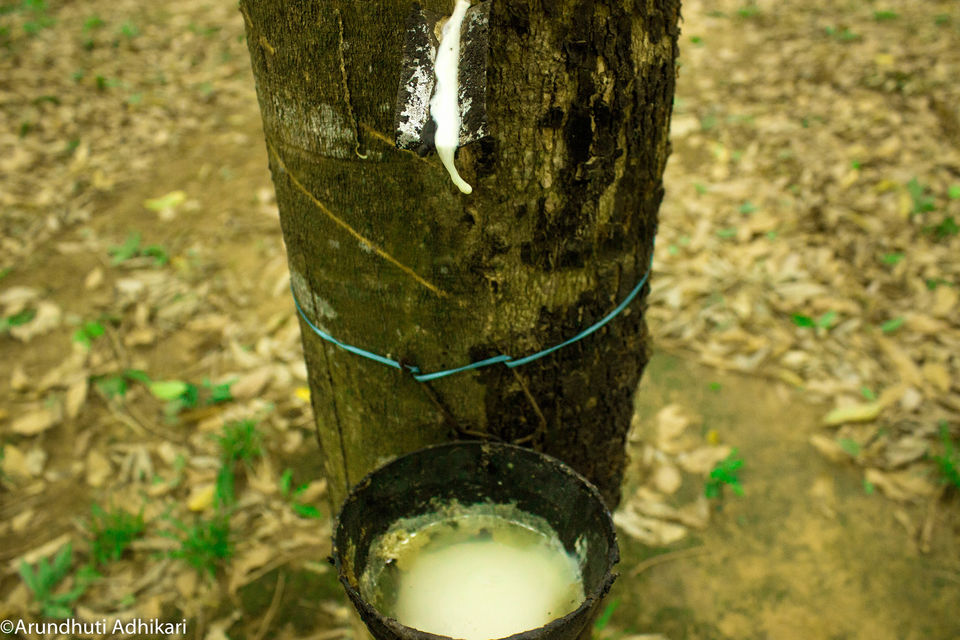 Main occupation/source of livelihood of Tripura is agriculture, half of the population is depend on Agriculture. However, due to hilly terrain, only few percentage of land can be utilized for agriculture.
Above pictures have been taken during my journey from Agartala till Kailashahar. I have reached Kailashahar at around 4 pm same day. I have got fresh and had my dinner (rice and fish curry), famous Bengali cuisine.
Next day morning, I headed for kailashahar local tour. Town is very small, so I preferred to walk, of course early morning walk ;). I headed towards Ramakrishna Mahavidyala which is only college in Kailashahar district. While walking beside the college, I have got a chance to look around the pure beauty of monsoon. Chirping of birds, trees looking really fresh and pure, smell of soil, old aged people getting ready for morning walk, kids are playing.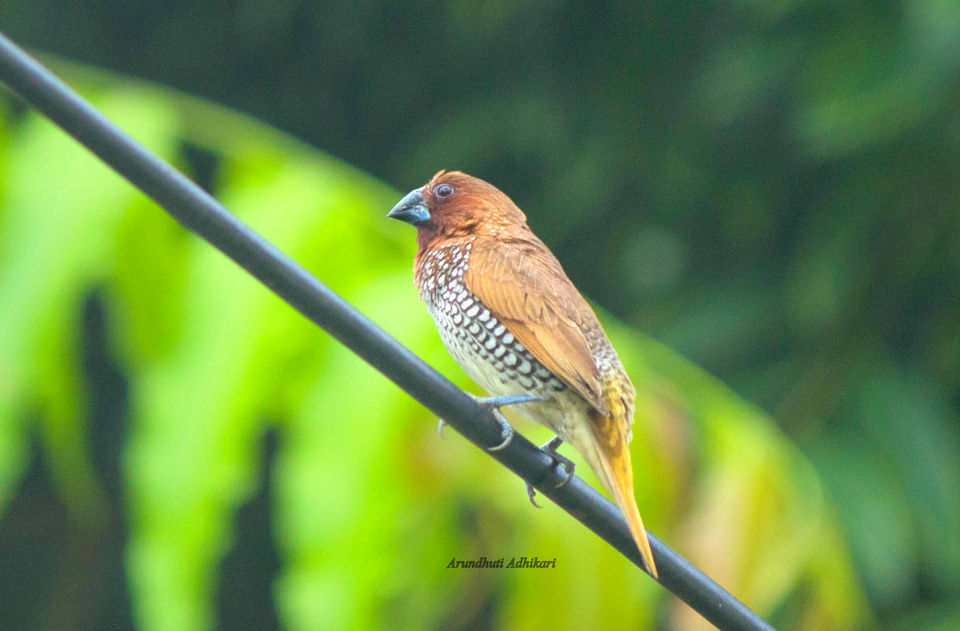 While taking a morning walk, I have been encountered with my two naughty friends. I was taking few pics of the place, when I saw two kids were looking at me from far. I walked down the street and asked them if they want to talk to me. Looking at my huge lens, and out of innocent curiosity, they asked if I am any media person. Basically, they wanted to get them click and see it on TV.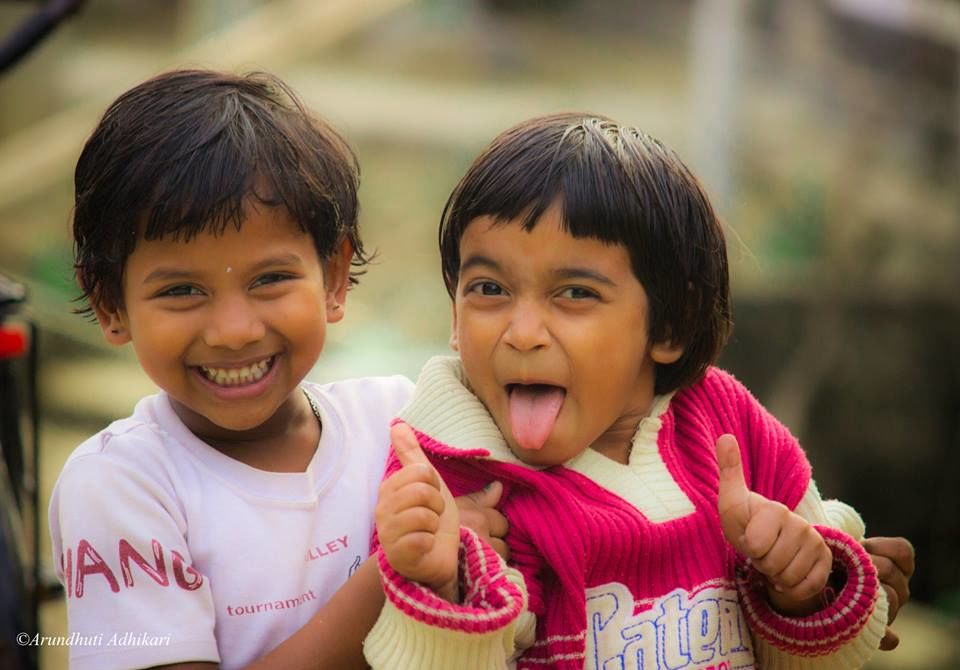 I clicked them and showed them their picture. Oh! wish if I could capture the happiness on their face, oh God! that was out of the world experience. After long walk, I came back home and rested for a while and then headed back for local sight seeing just before an hour of sunset as I wanted to capture some moments during sunset. So, in the evening I took long walk starting from west Gobindapur to New Motor Stand.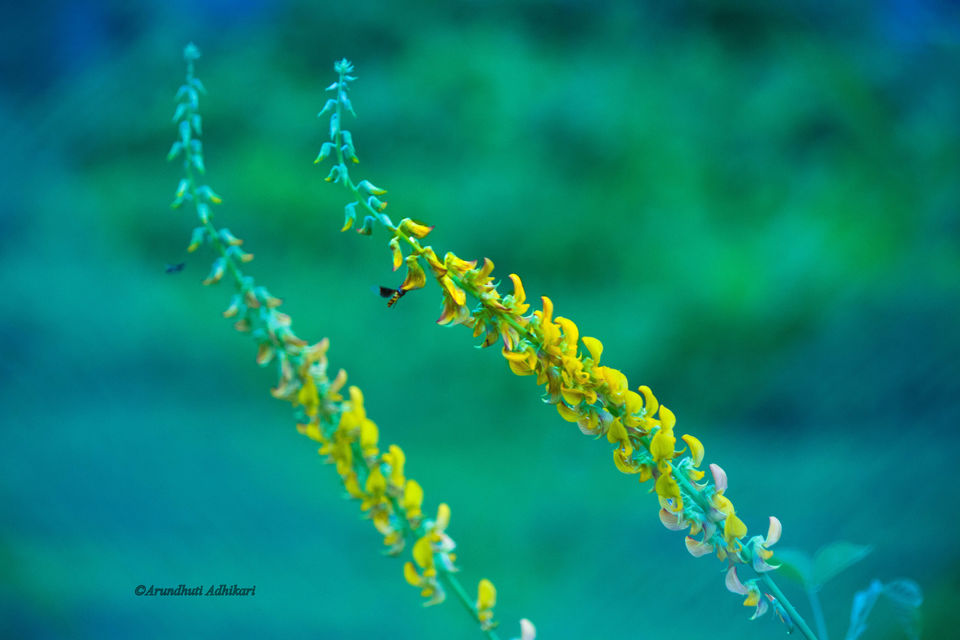 Day was quite drenched as it was lightly raining. But, that has added a value to my captures. Walk till Motor stand from west gobindapur is hardly 30 mins. One can take a stroll in the evening and enjoy the beauty of sunset.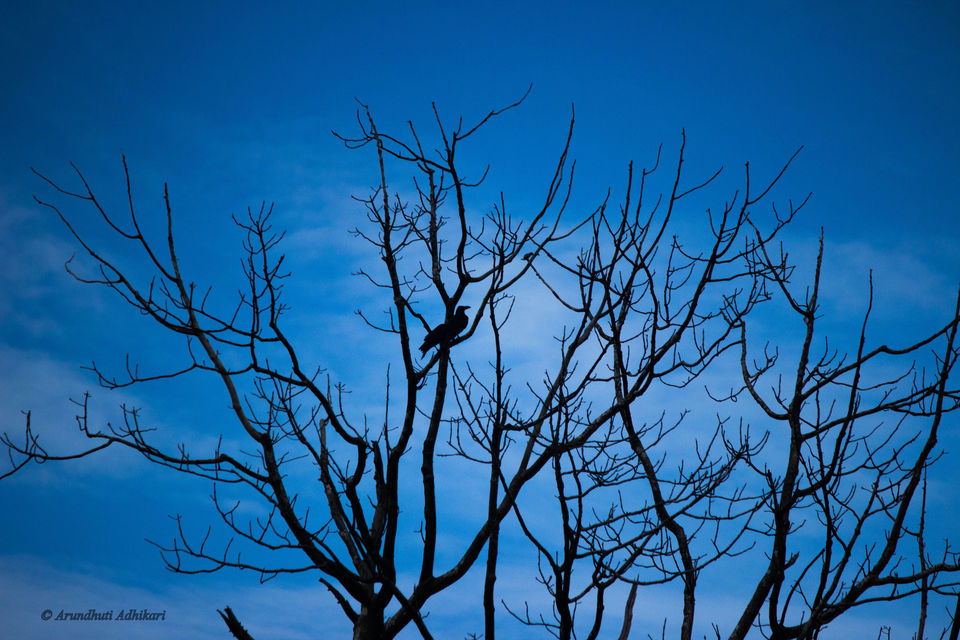 There is a river called "Manu River", locally it is called "Manu Nodi", I have taken a stroll beside that. This river flows in between city only.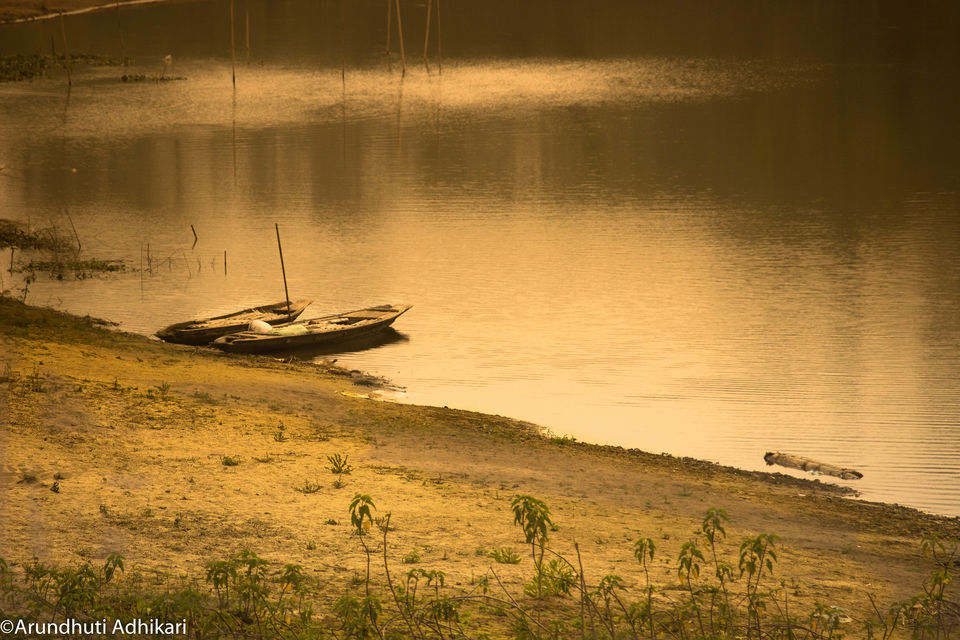 If you are a food lover, then there are many street food, starting from samosa, parantha, dumplings, pakoda, chap, tea, mughlai etc for evening snacks. I highly recommend, Nirmala hotel for mughlai and samosa and chop. They are very famous for such street food. However, if you are sweet lover, then go for Vivekananda Mishtanna Bhandar, they are well know and age old place for sweets. Very famous are, rasogolla, rasmalai, posto laddoo, gulab jamun. Nirmala Hotel is in the heart of new motor stand of Kailashahr and Vivekanda MB is 5 mins walk north of NH. If you are not able to find, then ask localites, they will certainly help. I didn't require help as I am well versed with the place.
Day 3 was my long awaited place to visit time. Unakoti (one less than crore) primitive place with Marvelous rock carving and main tourist spot of Tripura. From Kailashahar, I have taken my car which took me 40 minutes to the place. One can reserve a car which will cost you around 500 bucks to and fro.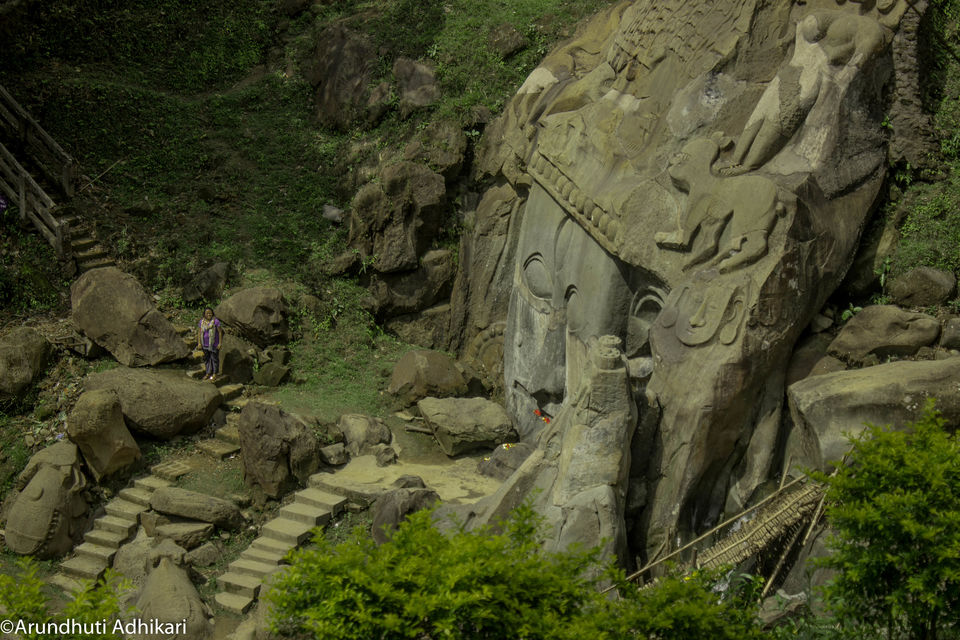 There are many local stories behind this rock carved mountain. I have heard a story from my mother, which starts with "Once upon a time" ;)....."Lord Shiva was visiting Kashi (Varanasi) along with other god and goddesses. In total there were 10 million god and goddesses for the journey. So on the way, they decided to stay in Unakoti for the night. Before going to sleep, Lord Shiva instructed everyone to wake up before sunrise. But next day, only Shiva woke up when dawn broke the next day and rest were asleep.So, Lord Shiva continued his journey till Kashi and cursed everyone and turned them into stones."
I have taken my car at around 10 am in the morning and reached Unakoti at 10.45 am.
There are more than 1000 steps in Unakoti to take and explore the mountain.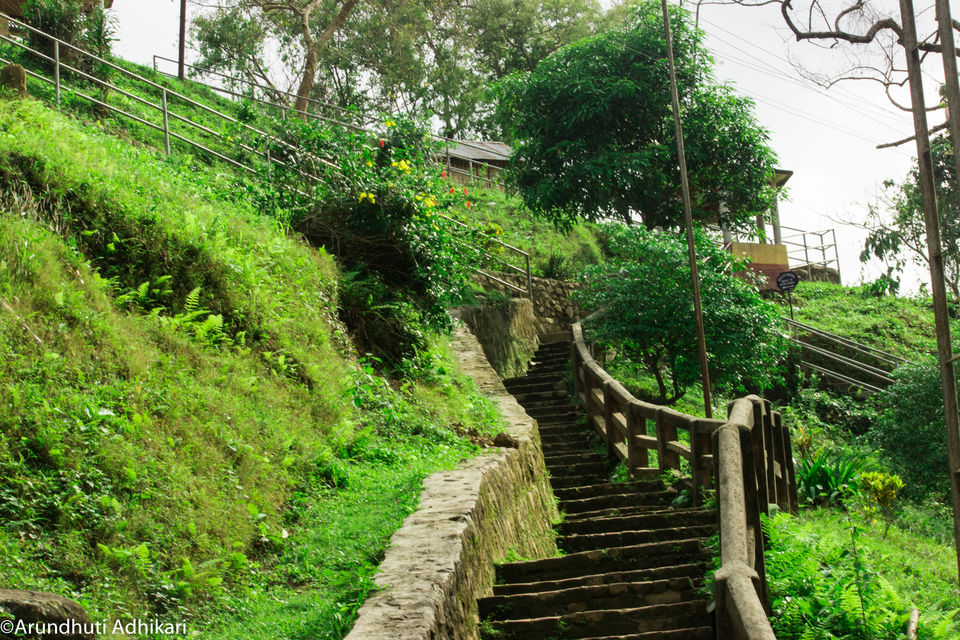 There are many waterfalls as well in this mountain which takes time to across as they are hidden in the lap of mountain.
I have spent around 4 hours there, talking to few localities which is very rare to find. Mostly, they are workers and saint staying in the temples within Mountain. I came back home in the evening.
Next day, I was curious to visit tea garden, very famous one is "Kalishashan " Tea Garden which is again 30 mins drive from my house (West Gobindapur). I have a car, so travelling for me was not a issue. One can hire a car from motor stand which will cost around 500 bucks to and fro.
I have started my journey at around 10.00 am and reached the place within 40 mins. This time my mother accompanied me, reason is there is an ancient temple in the tea estate and she is also fond of tribes. Mainly, my Mother is a school teacher and her career started with teaching those tribes only. So she has a soft corner for them. Anyways, we reached Tea Estate and went to Kali shahan temple which is very very serene and calm and quite. Unlike, other temples, it was surprisingly very less crowded, hardly there were 12-14 people including kids.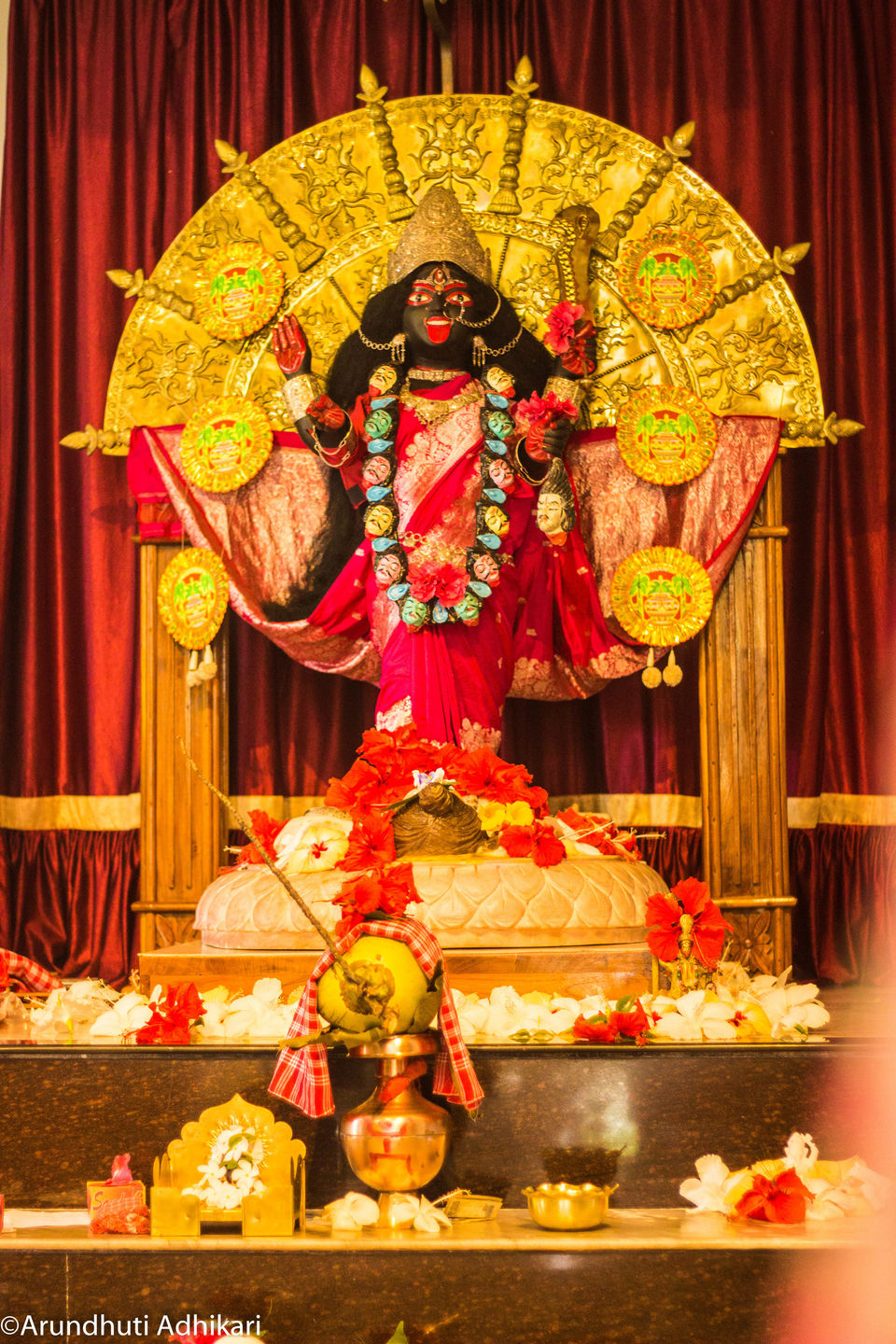 Main crowd of this temple was tribal and their kids, my mother was enjoying their presence.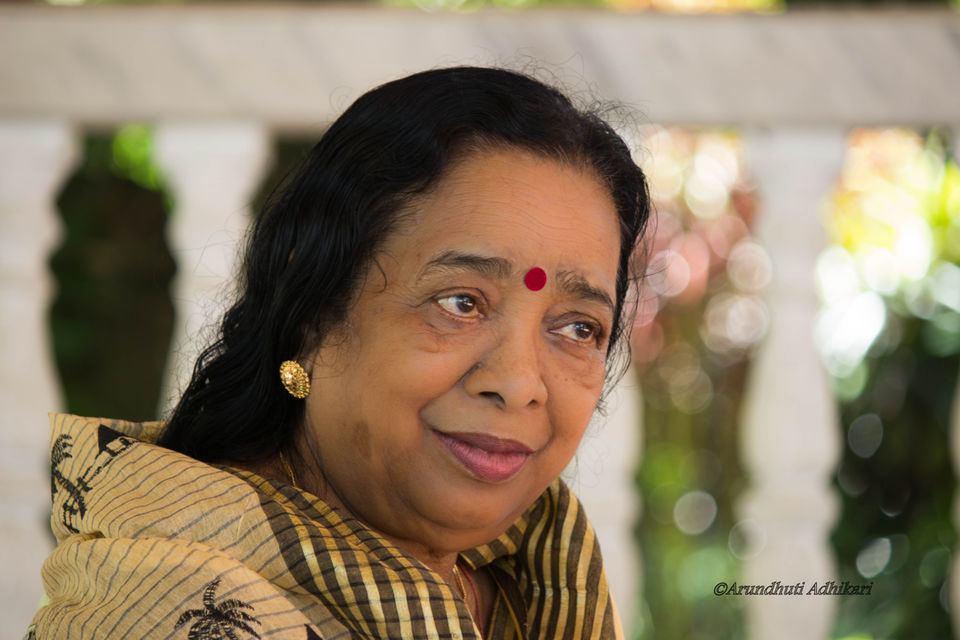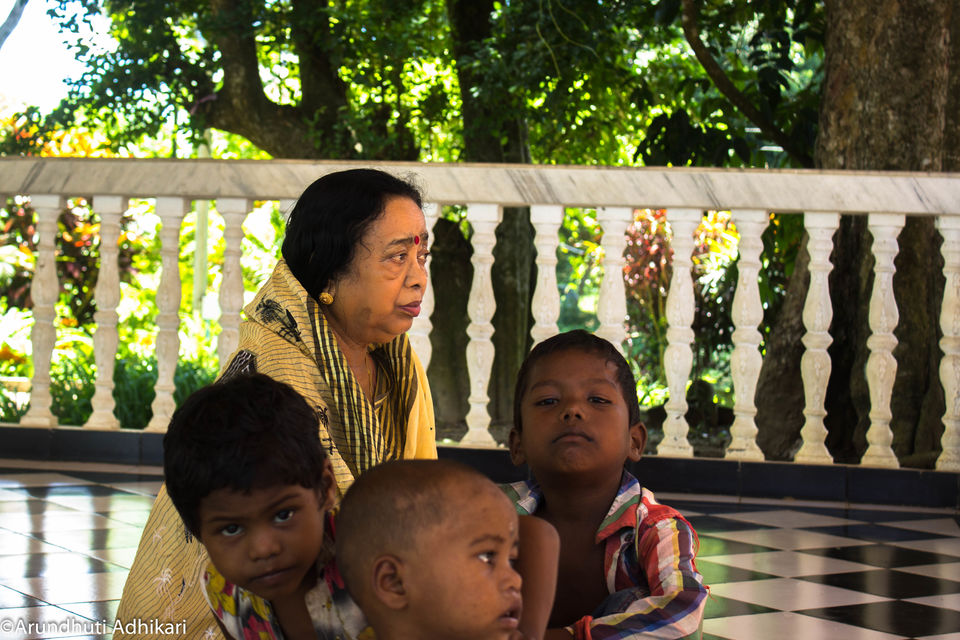 After puja got finish, I headed towards tea estate and to capture it's presence.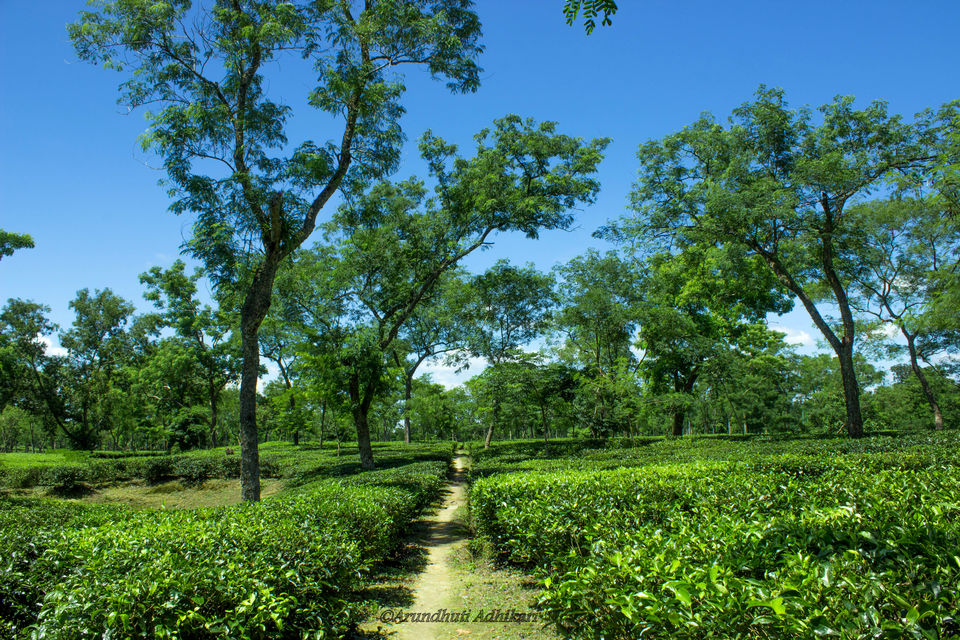 As beauty this place is, livelihood is also difficult.Tea estate laborer earn their bread and butter by working in Tea factory, doing some household work for Tea estate manager and etc.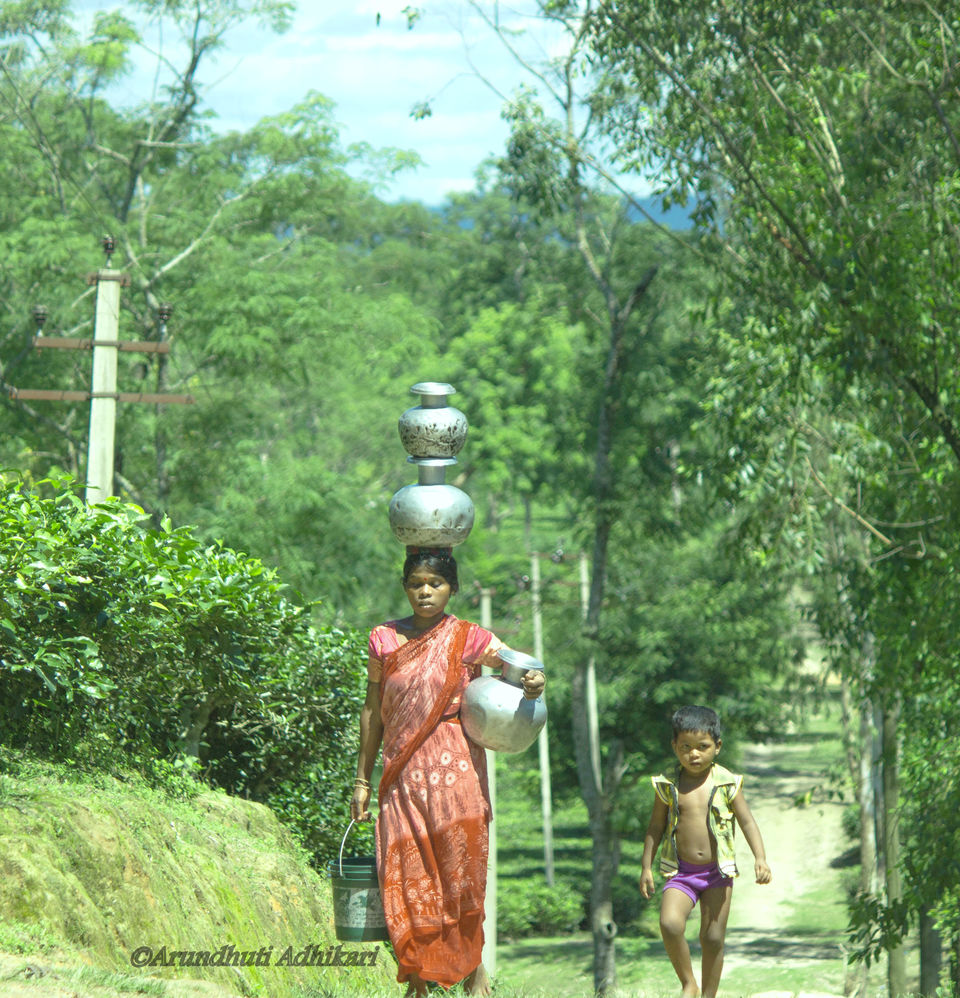 While taking a stroll, I came back to my Mother, where she was sitting and talking to tribe. I saw few of them eating some leaves. Upon asking, got to know that, these were fresh baby tea leaves which they eat every day with green chilly and mashed potatoes. These give immunity and strength to work whole day.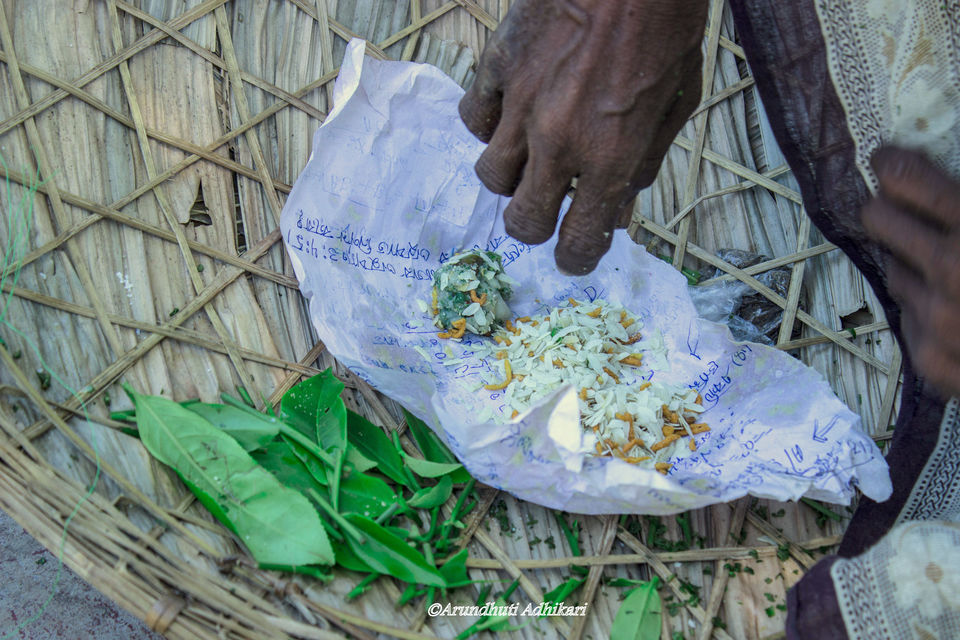 One of them has offered bunch of leaves to my mother as they loved her so much while talking. It was 3.00 pm in the afternoon, when I realized, so it was time to go back to our nest. We took their leave and headed towards our house in West Gobindapur. On the way, got to see many beautiful scenic places, including brick factory far behind the crop field.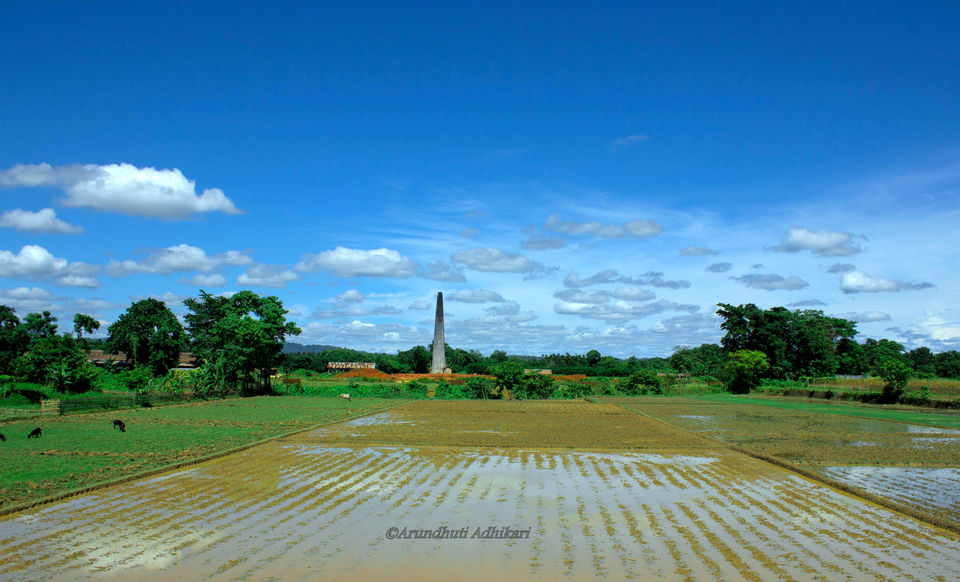 Next day, I headed for "Chouddo Devatar Mandir" which is again 30-40 mins drive from West Gobindapur. One can take auto from new motor stand which will cost 200 bucks. I started my journey at around 10.00 am in the morning and reached by 10.45 am. One the way to this temple, you will find plenty of food stall, so no worries for food and water. This temple is very ancient and believed that this is dedicated to mother of people of Tripura, also known as Tripuri. The idol belongs to 10th or 12th century. Very popular festival, "Kharchhi Puja" is celebrated at this temple compound. Many people tie bands or clothes for their wishes to fulfill.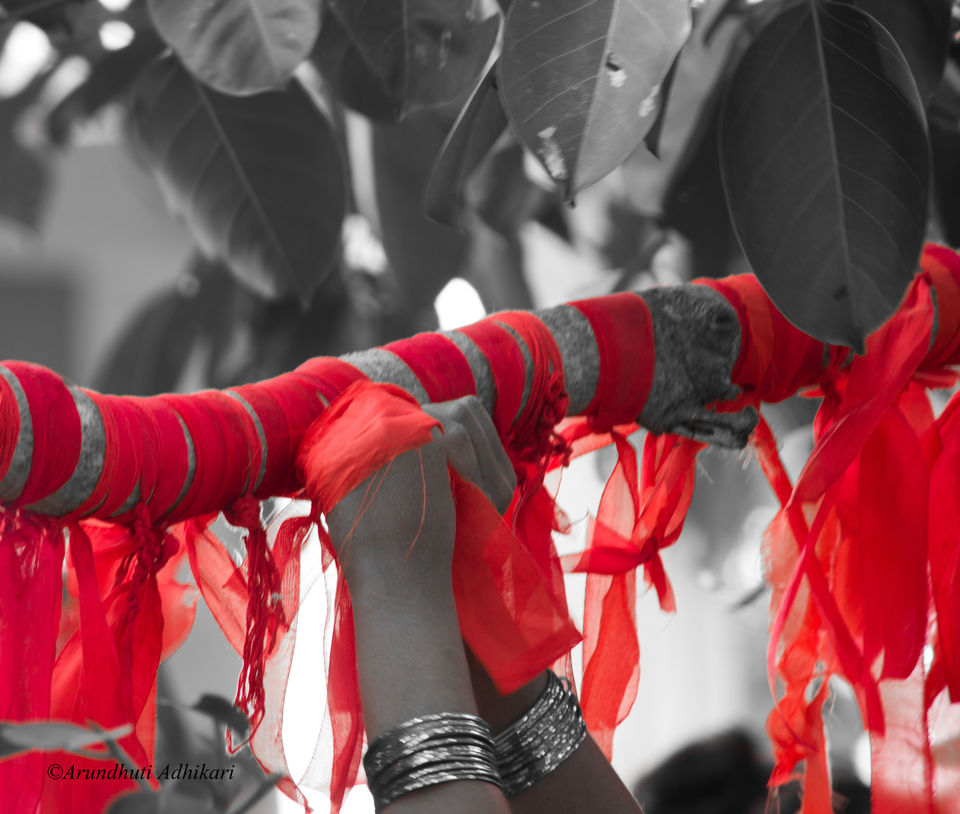 Many saints across India, come and visit this ancient place and stay for a month or so. They cook their food by themselves, grow organic food, sing song and spread happiness and peace in the society.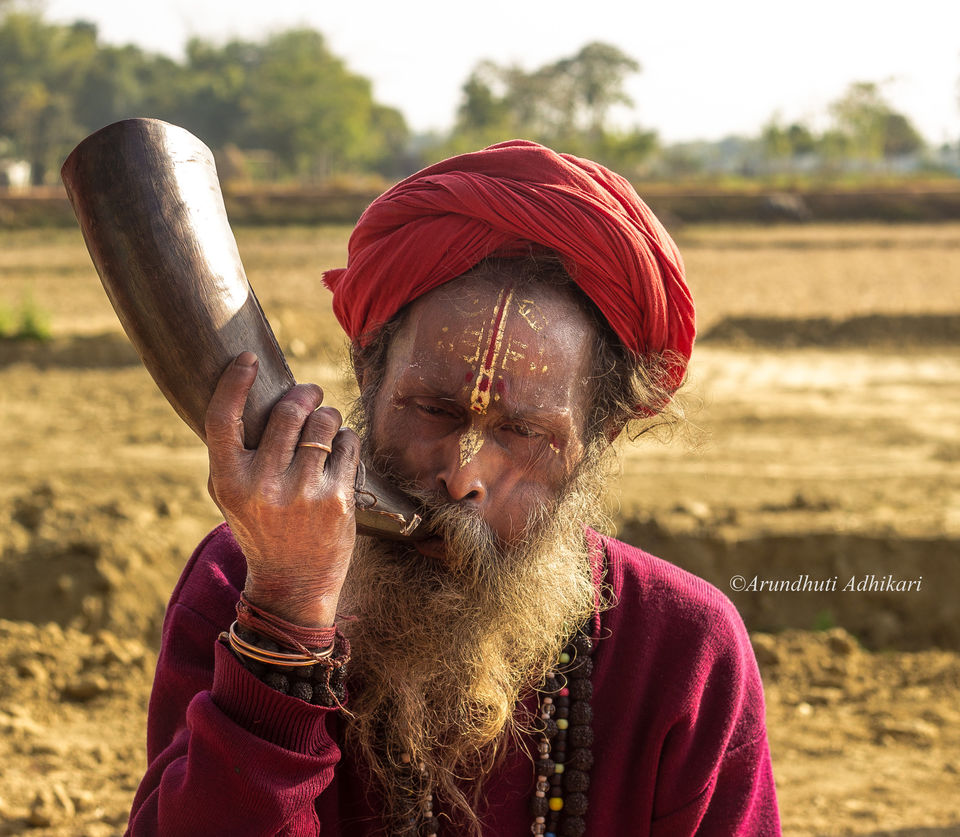 Devotees spend entire day of Kharchhi Puja singing song and celebrating life.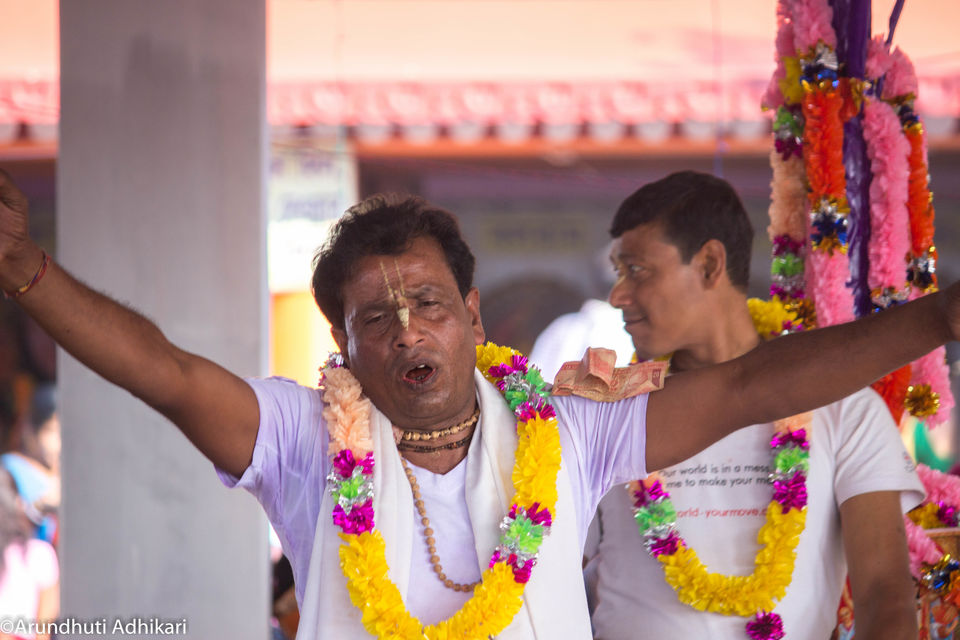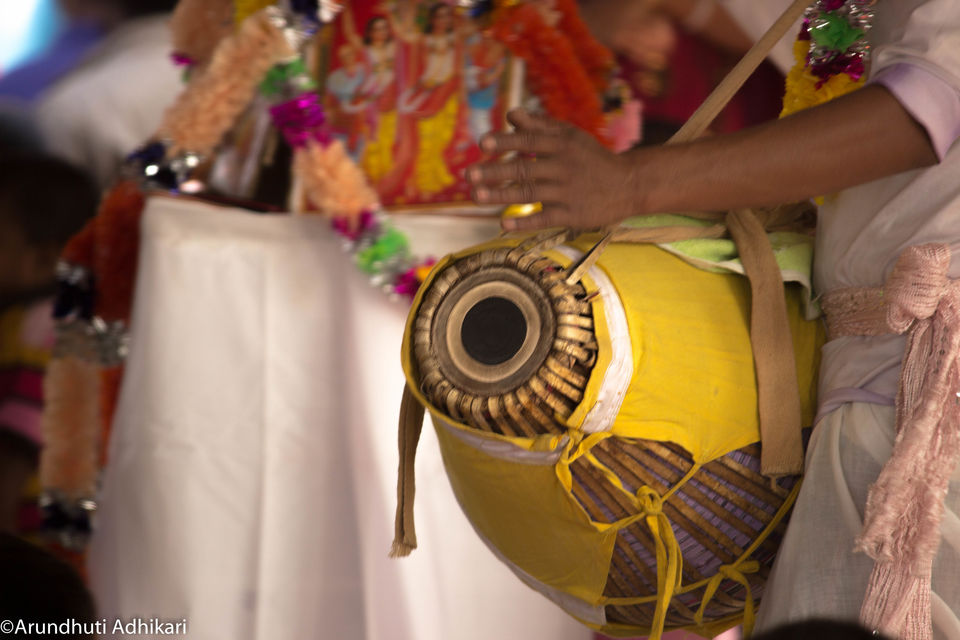 After a long day of visit, I reached home by 5 pm. Now that's a sad part, as I have to go back to Delhi next day. I wanted to visit Maharaja palace which is in Agartala main city, so I have postponed my return ticket by another day by talking to Indigo customer care. So, next day I left kailashahar early morning 6 am. My mother was really sad to say Good bye, but she knew that I am taking memories with me which is enough to relish for few more months before I come back to her.
I took my own car, my driver was with me. I have reached Agartala, main town at around 3 pm. My journey from Kailashahar was very scenic and beautiful.
There were plenty of Tea estate with lush green and freshness all around and clear blue sky.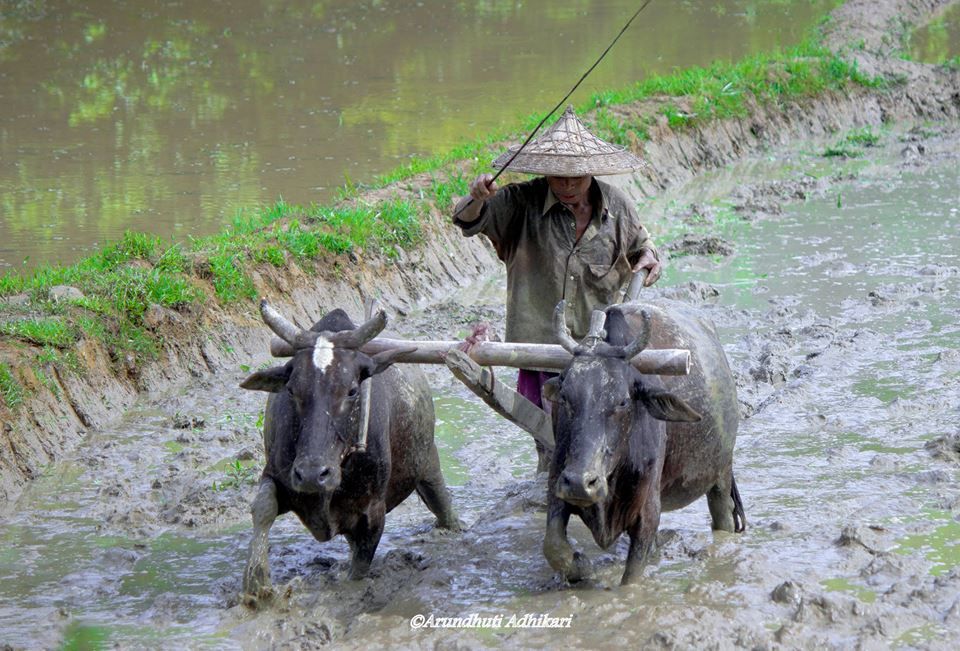 Morning is always full of energy and one can witness in the eyes of farmer. They start their day early morning after having cup of tea and biscuit.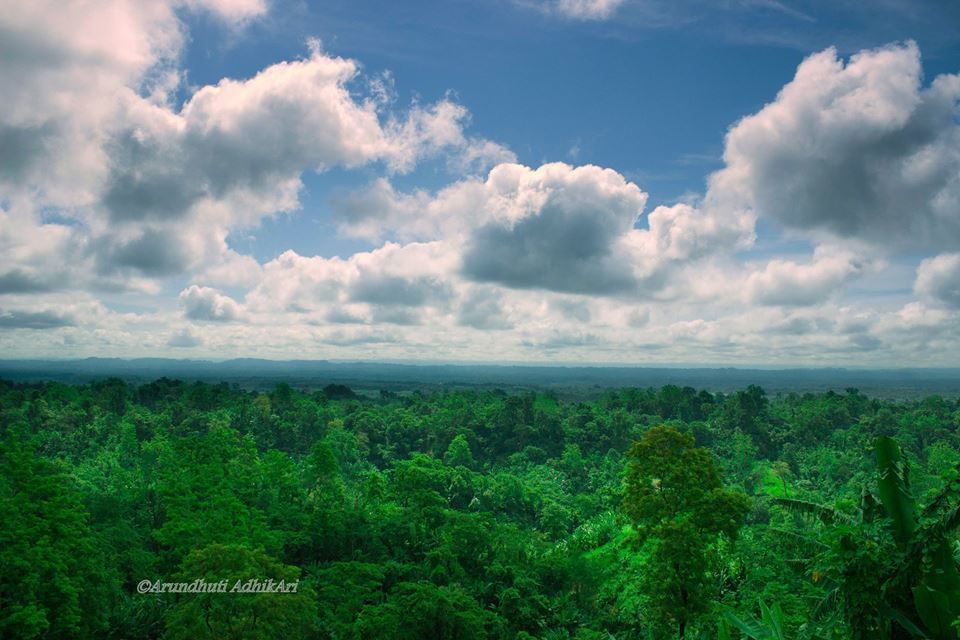 On the way to Agartala, lush green hills made me feel pure and full of life. There are ranges of terrain and hills with banana tree and crop cultivation field.
Finally, I have reached my my Aunt's place which is in the heart of city. One can find plenty of hotels near Agartala thana, motor stand, Rajbari. Range will vary from 500-2000, so better to call them prior and fix the rate. After having good meal at my Aunt's place, I headed for famous Agartala Rajbari (Ujjayanta Palace), which has been built by Tripura King, Maharaja Radha Kishore Manikya between 1899 and 1901.
There are many auto rickshaw and auto to take you to that palace from Agartala Motor Stand. Auto driver will ask for 10-30 bucks but depend upon the distance from where you are boarding Auto. Opening hours -10.00 am-05.00 pm. Nowadays, king palace is a museum which showcases the arts, lifestyle, culture and traditions of people residing in north east India.
Next day, day 7 my trip ends and back to Delhi. Trip to my Native was full of memories and colors which I have gathered during my visit.So here comes the end of my short trip to Tripura. Next day early morning, I have boarded my afternoon flight from Agartala to New Delhi (Indigo, 01.00 PM)