Gorudongmar Lake: Gurudongmar Lake, is one of the highest lakes in the world and highest lakes in India , located at an altitude of 17,800 ft (5,430 m) in the Indian state of Sikkim.
-Yes correct, that's straight from wikipedia.
So I have been to Sikkim twice earlier and never heard about this one... It was only recently that people started suggesting this one and it got added to my "bucket list". So when at Hatari (an almost famous south Kolkata-n restaurant) the girl gang (meet PA1, PA2, AB, SD and AG) was celebrating my birthday, no actually let's put it this way, I was throwing a birthday treat (almost willingly :P), and somebody suddenly said in the midst of our main course, let's do a trip, I immediately came up with one of the google images for Gurudongmar Lake, and everyone seemed to agree. So there were 5 girls agreeing (yes, big deal it is!) on the location for our first Girl Vacation!
Now followed by months of planning, short-listing the packages provided and let's not forget the several meet-ups to discuss the multiple issues revolving primarily around application and rejection of leaves, we finally were waiting and Sealdah station, and waiting for our very own Darjeeling Mail to arrive. Now, I have a policy, whenever I think something to be too good to be true, I actually wait for the day when all of us are present at the boarding point, to be that this is actually happening (do refer to all the Goa plans' memes and you will understand my point). So it was actually happening for US!
Skipping the episode where we reached Gangtok and bought 5 litres multiplied by 10 crates of mineral water, yes, because we are fussy Bengali girls! And were made fun of at multiple occasions in all sorts of languages regionally possible..but guess what, we never ran out of water for the entire trip, so that's the point :D, and now fast-forwarding to us reaching Lachen, and realising that it's going to be a cold night! Nevertheless, I had my pseudo mommy (PA1) with me who carries her electric kettle everywhere so that she can instantly prepare maggi/soup to keep her baby (me) and herself warm, oh, and by the way, that's my sister! So there we were having soup and then out for a walk to try local beer/momo (Don't judge, food and vacation drive us primarily) And what do we do when we go too far to get momo and beer? Simple: we call our driver and ask him to pick us up, because again we are Bengali girls!
So next morning we are ready with our 5 layers of clothing including thermal and a coat of vaseline for the exposed areas, we start our journey to Gurudongmar. The roads don't really welcome us and it is a bumpy ride till we reach the last 5 KMS where the landscape is very similar to Ladakh and boom, out of nowhere there is this half frozen view and we cant believe that there we are!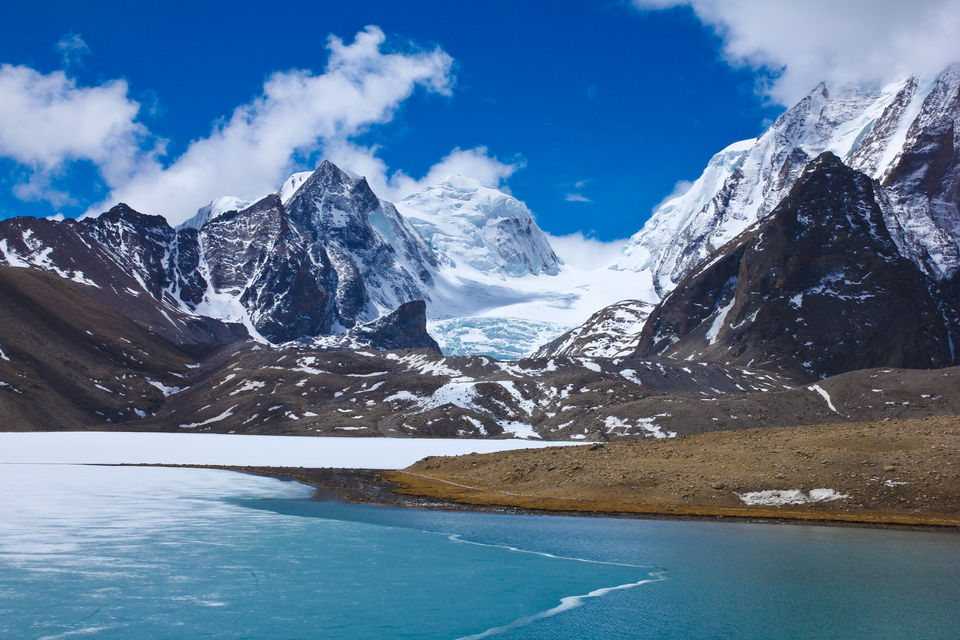 Now multiple selfies, failed polaroid shots, me and one other friend decide that we are going down to touch the water. Let's just say we are the 'paka' ones of the lot and we go down the stairs and touch the freezing water and take multiple photos (coz, we are what?) of the prayer stones. Now after ascending the stair and almost feeling my heart in my mouth (take it slow, while attempting this one) just when we took a sit, AG came running to inform AB is almost dead... Nothing much to worry as that's typical AB, she gets sick in everything but we were at such high altitude that we did not want to take any risk, and so we started our journey back to Lachen with 4 girls and an almost dead-body whom we had put under the seat belt and who later on found comfort on the driver's shoulder!
The next day we moved to Lachung and then back to Gangtok to continue with the rest of the trip.
Now, while writing this, and while deciding on the next location for our Girl vacation number 2, do we realise what we (four girls and one almost dead-body) had achieved that morning! And we proudly flaunt that on our next FB/Whatsapp DeePees :v