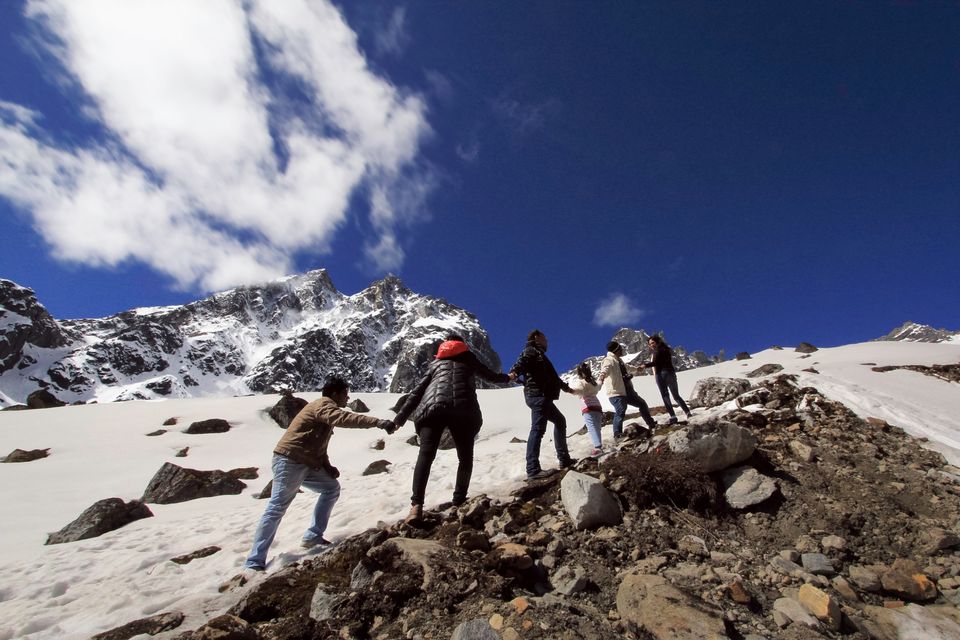 If you want to visit North Sikkim and if you are an inhabitant of West Bengal, a long weekend prefixed and suffixed by 2 Personal leaves from work will provide you enough time to enjoy the beauty of North Sikkim and the Himalayan villages of Lachen and Lachung. The tour will typically look like this if you do not want to expand your exploration to farther parts of Sikkim.
Day0:
A nightly train will carry you from Kolkata to New Jalpaigudi from where your trip for Sikkim starts.
You can book an on spot cab to Gangtok from the NJP station itself or to avoid the last minute unavailability of cabs you can do a pre-booking of your cab. It will take 4-5 hours to reach Gangtok giving halts for breakfast and Lunch and if you wish to, some sight scenes as well on the way. Now you have reach Gangtok and you don't have a plan to explore the city in detail, the minimum you could do is to have a quick ropeway ride, visit the flower exhibition Centre and post sundown enjoy the ambience of the Mall and try out some local wines over there.
Gangtok, though have a lot of interesting places to visit nearby, like Roomtek Monastery, Tsang Po Lake, Nathula Pass etc. our main focus of this trip will be the villages of Lachen and Lachung of North Sikkim. We had a quick breakfast next morning and start for Lachen at the earliest. An early start  will allow you with multiple halts in this road trip considering bad road conditions here.
Gangtok, though the capital city of Sikkim, doesn't have broad and enough roads, the city suffers from the perennial issue of traffic jams and the rule of "One ways/No entries". To avoid inconvenience have a prior discussion with your cab driver of when to go and where to go the next morning to board the cab to Lachen, at worst you may have to walk down till the taxi stand with all your Luggage to get your cab.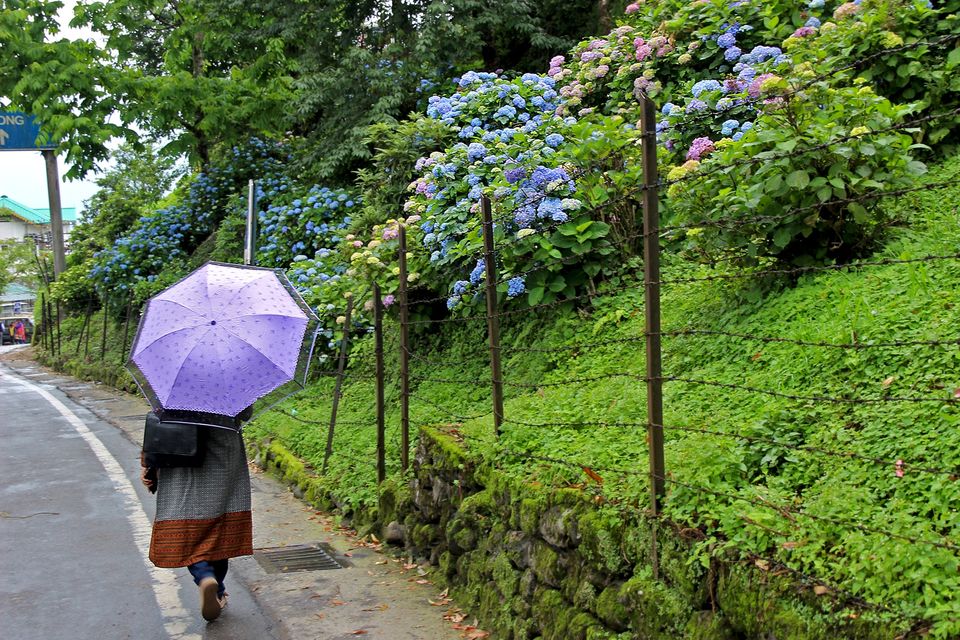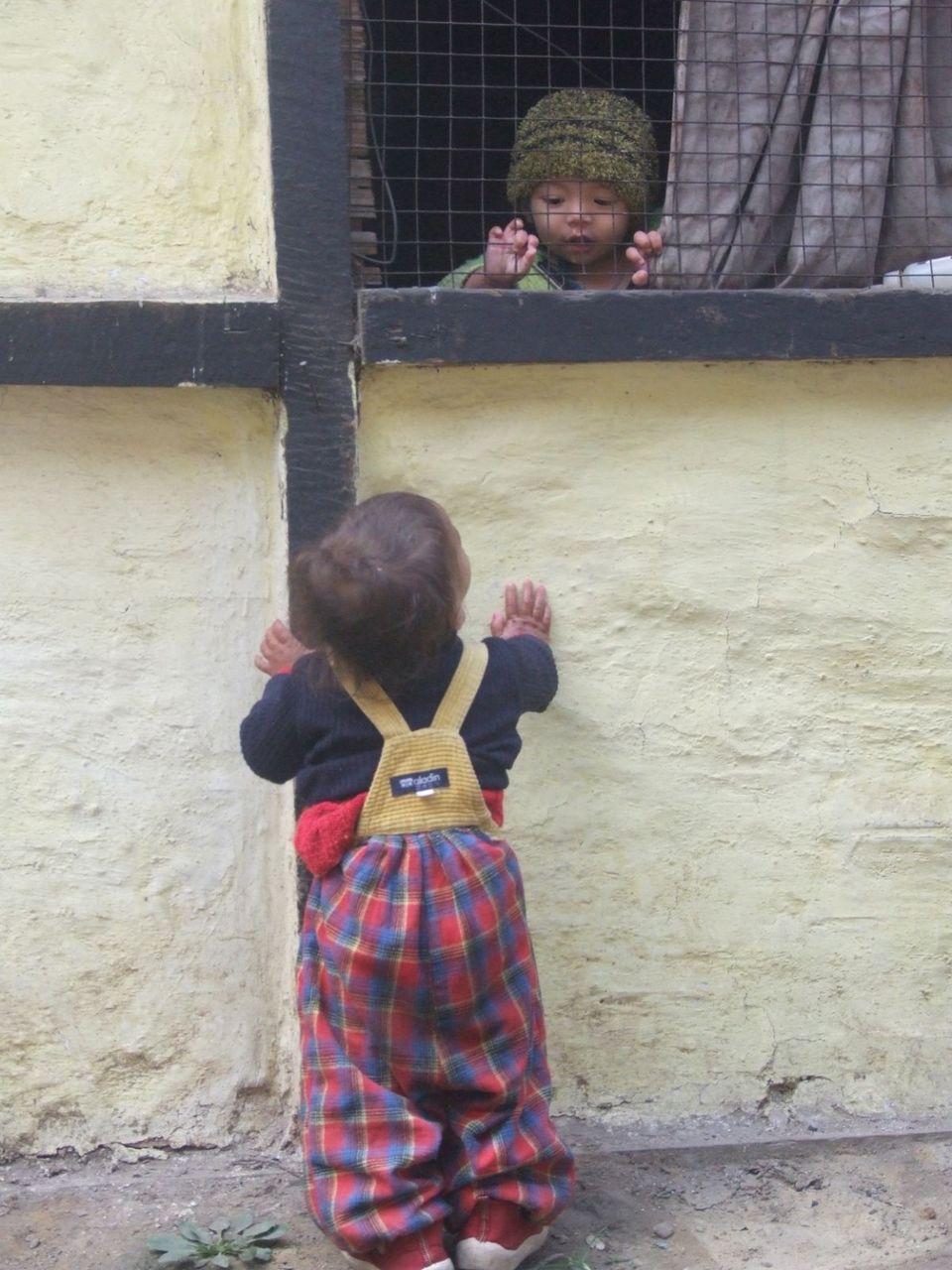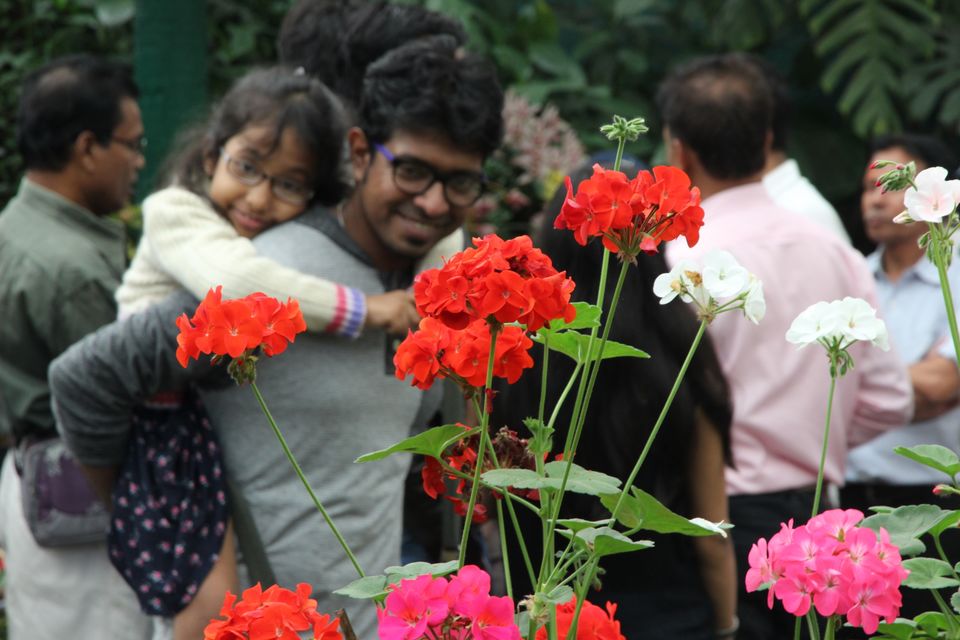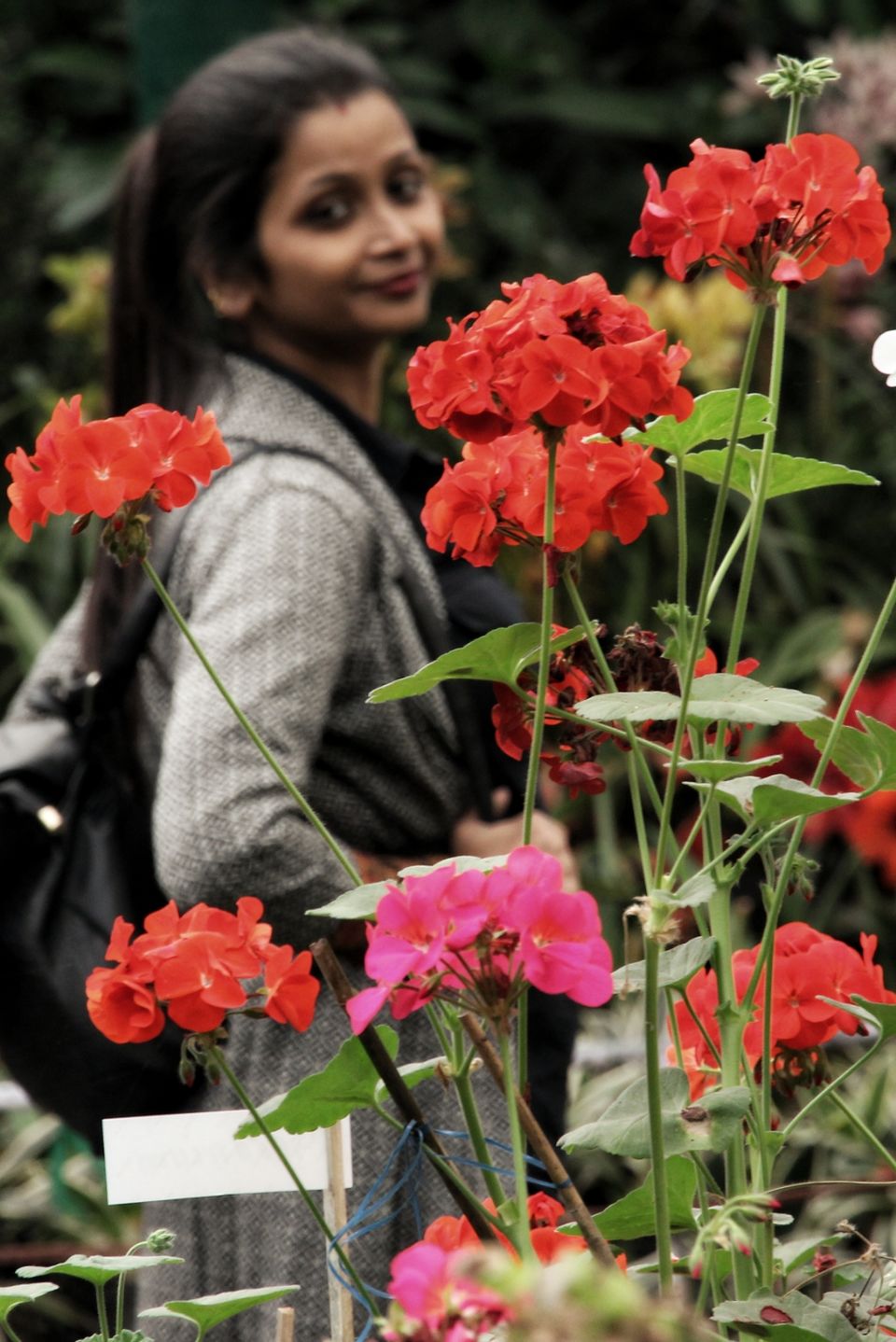 The state of Sikkim over one and a half decades ago took the Nobel decision of becoming a no plastic state but sadly with no proper infrastructure for alternatives, due to which the tourist faces a huge amount of inconvenience. The natural beauty that you will get to see over here may compensate to all your inconvenience, but you will certainly end up getting thirsty and de-hydrated.
In our case since we should not carry plastic water bottles, one will run out of drinking water during the long and bumpy journeys of North Sikkim. If you carry one, you may fall to a random check from traffic personals and if they find you with a bottle of water, they may force you with a penalty of INR 2000. Sad right? But this is how it is here in Sikkim.
The most pathetic part of the state are its roads, which since built never had any maintenance activities scheduled, as the huge craters reveal and you will surely generate a good appetite at the end of your bumpy journey. I am highlighting these drawbacks not to demoralize you, my honest attempt is to caution people for proper mental and physical preparations that they should take in prior before planning the trip of North Sikkim.
Tourists come to Lachen mainly to visit the famous & picturesque high altitude Gurudongmar Lake which is located further up at an altitude of 17,800ft near Indo-China (Tibet) border.
There is no proper tourist accommodation beyond Lachen. So almost all tourists visiting Gurudongmar Lake stay at Lachen overnight before proceeding to the lake the next morning.
The road at Chungthang bifurcates. The one towards right goes to Lachung which is about 22kms towards north and onward to Yumthang Valley. The road on the left known as Lachen road goes to Lachen settlement which is about 26kms from Chungthang and takes over an hour.
From Mangan (which is about half way between Gangtok and Lachen), you will see river Teesta flowing aside all the way up to Chungthang. Note that Chungthang is the place where River Teesta actually becomes a river although its source lies far above in the glacial lakes of Gurudongmar and Tso Lhamo, which you can also visit after reaching Gurudongmar Lake.
Lachen
Lachen means 'Big Pass'. This small village at an altitude of 9,000ft is a valley with grassy land and scattered forests of Rhodendrons and conifer. The mountain stream Lachen Chu flows through it in deep gorges and on the other side of the river are large mountains with pine forest and snow peaks.
Road condition from Gangtok up to Lachen can be quite rough in patches. Due to landslides, roads are frequently damaged and requires continuous maintenance. 
While tourists get to Lachen mainly to visit Gurudongmar Lake, there are reasons to spend some time in Lachen itself. Lachen Monastery is one of the oldest in Sikkim and built in 1858. It was then a small hut like structure with only 6 monks. But later in 1977 with financial aid from Sikkim Government, it was reconstructed to its current form. 
The Monastery follows Nyingma Sect of Tibetan Buddhism. Couple of noteworthy artifacts in the monastery includes a stone in a casket having footprint of Kham Gomchen who stayed at the monastery, another one is a stone looking like a decorative container which has been kept on the altar and preserved by the monks as a religious artifact. There is an open area in front of the monastery offering lovely view of the valley and mountains surrounding it.
You should also visit the Handicraft Center of Lachen located in the market area. The original residents, the Lachenpas have been weaving carpets, shawls, blankets, bags etc. since ages. They are made of yak and ship wool. This is a great place to see many such samples and watch some of the local ladies weaving them. There are wood crafted items as well like Buddha's idols.
There is also a Tourist Information Center at Lachen. You can get post cards, maps etc. here.
Journey to Gurudongmar Lake
This is the largest lake in Sikkim, one of the highest in the world and considered very sacred by both Buddhists and Hindus. You should start from Lachen early in the morning, may be by 6 AM. Although many websites will recommend a more early start, but it will be of no point as there will be an army security outpost on the way, at Thangu, which will only allow a pass after a specific hour of the day and not before that and hence the early birds will have nothing to do apart from lining up on the road and wait.
We are at Thangu now and the barometric pressure suggested an altitude of 12500 ft. Quite a height to initiate a mild breathing problem. If this is the case with you it should be immediately brought into notice and there will be no bravery in concealing the same. This may later aggravate to a more serious condition and you are at least 6 to 7 hrs. away from the immediate medical treatment. As a preventive measure one should munch popcorns throughout this ascending road from this point and have a cup of warm coffee wherever you get a chance.
After the gate opens and after proceeding a little further a little de-tour will get you to Kala Patthar, the zone of Black Mountains towering all around you. This place will give you a chance to walk on snow and play with it in the springs if you have a desire to do that. In the winters, snow will be in abundance and you really don't need to visit such an altitude to touch the snow. The scenery all around is extraordinary and unless you receive frequent time checks from the cab driver the desire will be to sit there and enjoy the serenity and the beauty of the hush nature for hours. Here you will frequently observe herds of Yaks led by the Shepard and protected by the Shepard dog, who will be ever agile to save the entire team from external attacks, whether it is from man or wild!! Don't go closer!!
I would like to personally recommend you to insist your cab driver to take you to this place as you wont like to miss it at any cost.
After the brief stay we were on our way to Gurudongmar which will be an hour journey from here with a steep rise of 3500 ft. more. So one word of caution for all my wanderlust friends will be not to forget munching popcorns from time to time as this really helps fighting breathing problems.
The last and the final defense check post on our way will be at Gaigaon which is at 15000 ft. and the final point where it will be decided whether you will be able to reach Gurudongmar depending on the weather and the time you reached there. The only reason of putting such restrictions is for your own safety. At Gurudongmar a strong wind initiates after 12 in the noon and anybody left back will hardly be able to bear that. So strong is the wind that you will be able to fill the vibration sitting inside a car with all its panes closed? Hence, the wise approach will be to bid your respect to Mother Nature and try to get back to the safety of your cars by 12 noon after enjoying the beauty of the blue lake of Gurudongmar.
From Thangu onwards you are on high alpine plateau (known as the Tibetan Plateau), there is hardly any vegetation and you will see rocky mountains all around other than some scarce rhododendron bushes. If you have been to Ladakh, you can see a striking similarity between the two terrains.
The road is known as Gurudongmar road and eventually splits. A narrow road on the right goes uphill to the Gurudongmar Lake, while the other one continues to Tso Lhamo Lake which is about 5kms away. From there the main road continues further north-east to the Indo-China border (another 4kms from Tso Lhamo). Tso Lhamo Lake is fed by glaciers and is one of the main sources feeding River Teesta.
Gurudongmar Lake is located at an altitude of 17,800ft and covers an area of 290 acres making it the largest lake in the whole of Sikkim. It's surrounded by snow clad mountains making it a stunningly picturesque site. During winter, the lake freezes except for one small area. The Buddhists and Hindus believe that this specific area is blessed. In fact the whole lake is considered holy and is believed to be having many healing powers. You will see Buddhist prayer flags fluttering on the sides of the lake.
The Gurudongmar Lake has been named after Guru Padmasambhava (an 8th-century Indian Buddhist master) who came here on his way back from Tibet. There is a legend associated with him and the lake. Since the lake used to completely freeze during winter and could not be used as a source of drinking water during such time, the locals pleaded to Guru for a solution. 
Guru agreed and placed his hands on one point of the lake, and it is this point where the water never freezes any longer. Since then the lake is considered holy and devotees collect sacred water in containers. There is a small temple of Guru Padmasambhava next to the lake and you can see hundreds of colorful prayer flags fluttering as a cool breeze flows in from the lake.
After all the hurdles we were lucky enough to see Gurudongmar and manage to start our return journey by 12:30 PM considering everyone's safety.
We reached Lachen after a tiring 4 hours journey, had lunch there and made a hasty start for Lachung. Again a painful and long, though picturesque journey came to an end with our checking in at the Lachung hotel late in the evening. After freshening up, we had an early dinner, chatted with friends with whom I am in the trip and called it a day early as we would be starting for Yumtham and Zero Point early next morning.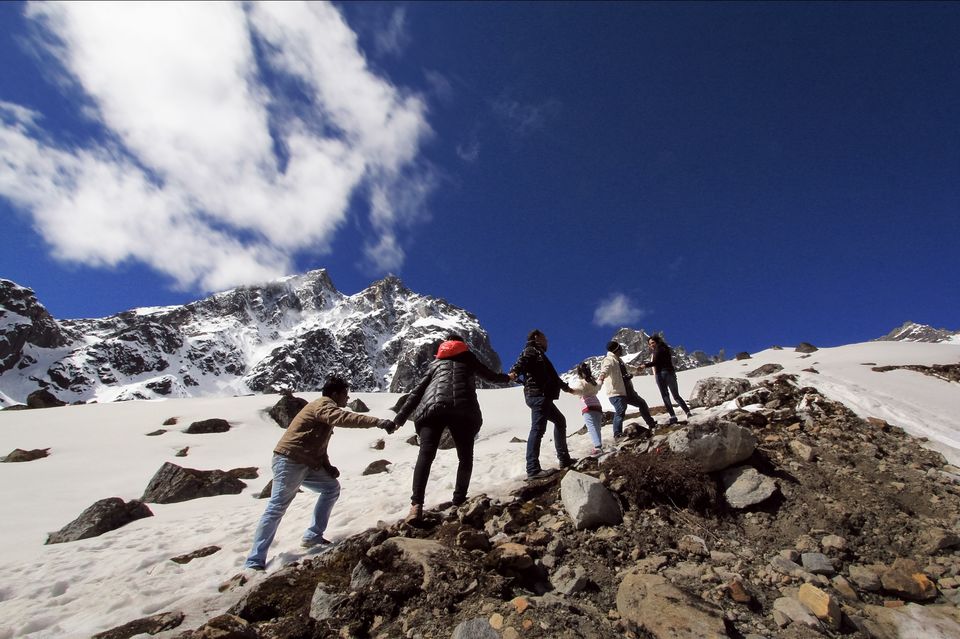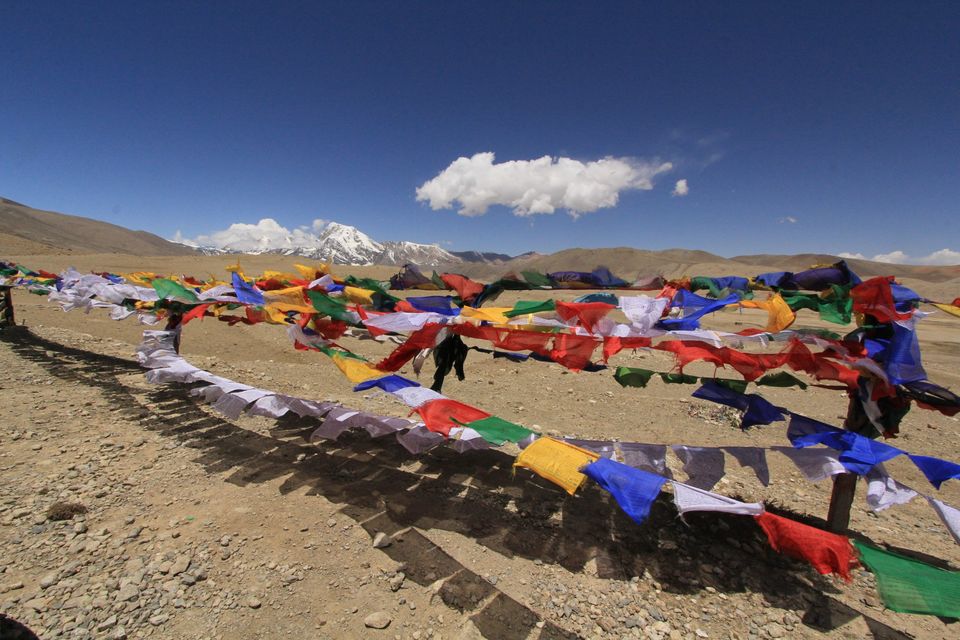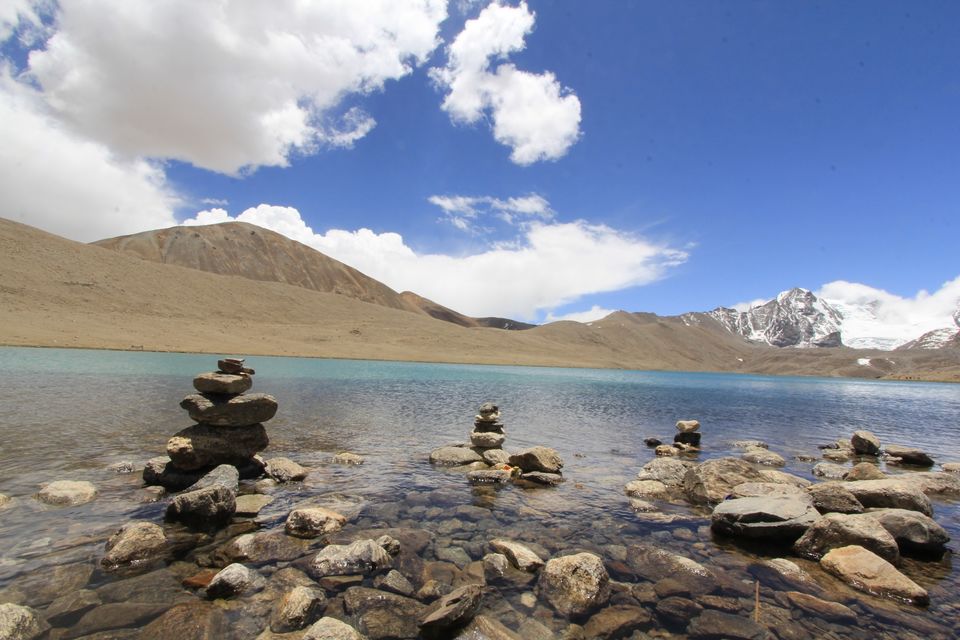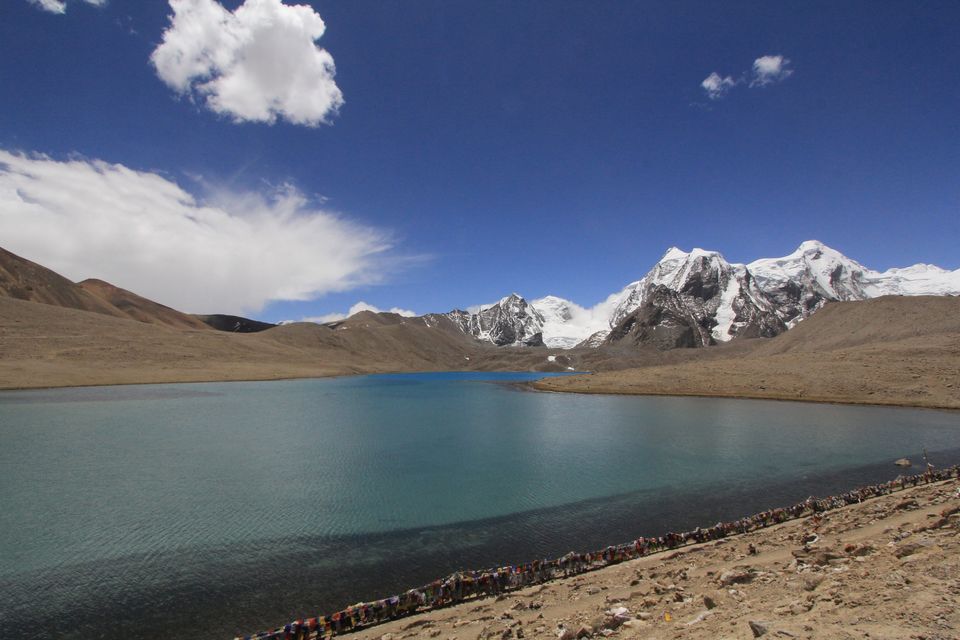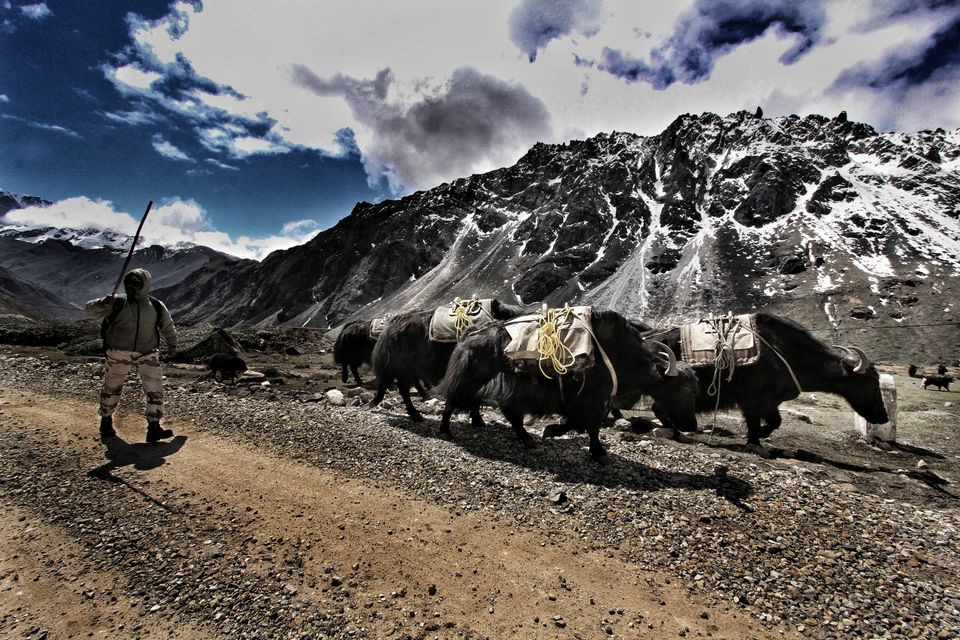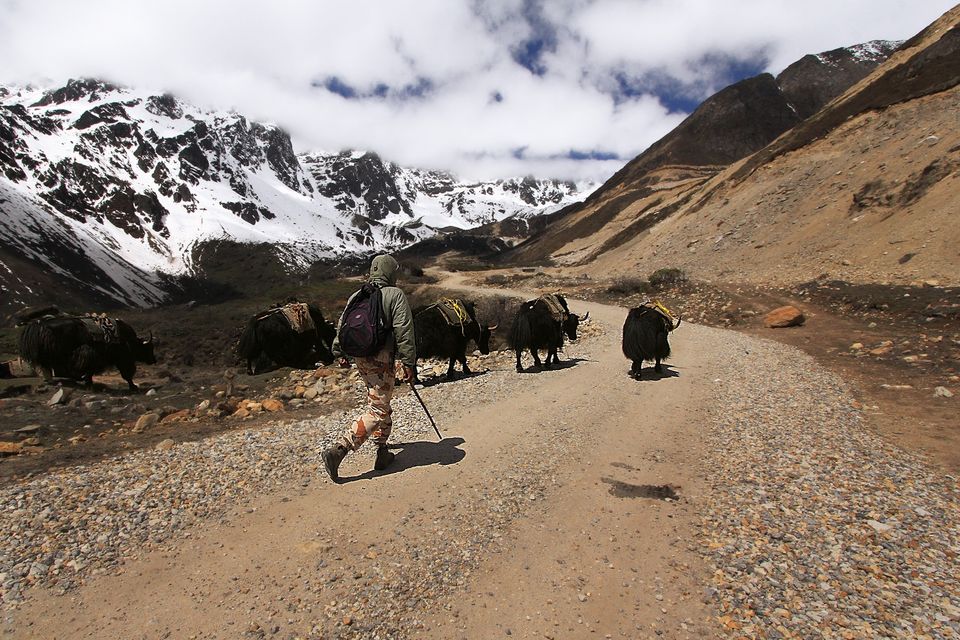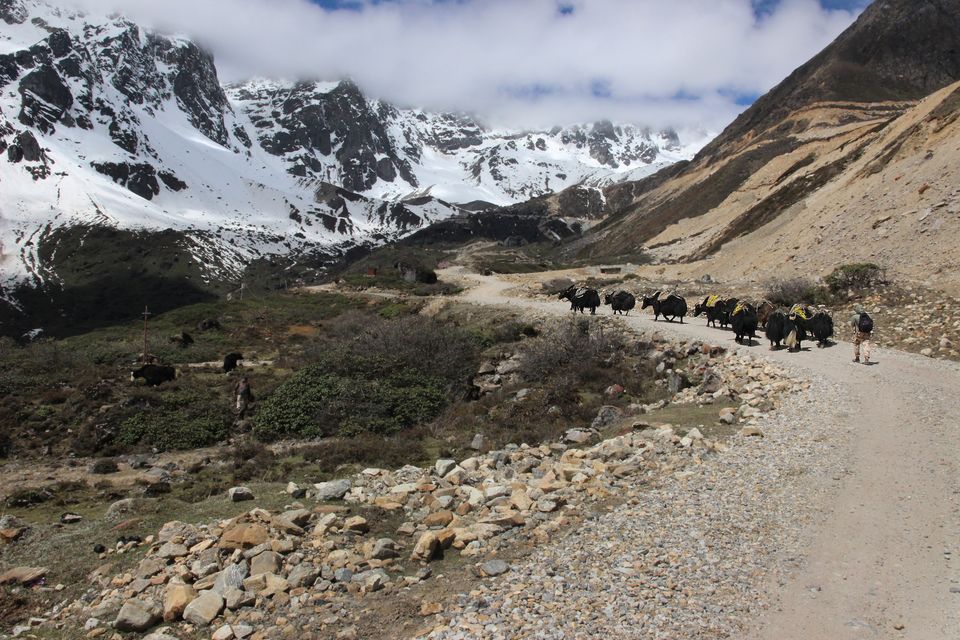 Last night the discussions and chats that we had on several topics which is usual when childhood friends after a long halt get a chance to go out in a trip, happened among a background music created by the gushing of a fast flowing stream. Today morning we discovered the hotel sight to be extremely picturesque and just beside the Lachung Cho. Cho being the local term for river. This is the only reason why we were a little late to start. Last night the darkness did not quite revealed the scenery and suddenly today morning, as if someone removed the curtain and we were watching one of the great works of the most finest photographer of the World.
At least an hour late than schedule we started for Yumtham and Zero Point and the delayed start did not quite created an issue. We reached Yumtham on time and road was not that bad as the one we travelled while going to Gurudongmar. Yumtham is called The Valley of Flowers and we got the proof while we were driving down the hilly wilderness decorated with flowers of different colors. Rhododendron was in surplus and were compelled to give some definite halts along the road, just to enjoy the scenery. Don't touch the flowers if you want to avoid paying a penalty of INR 5000, a rule by the Sikkim government but this time a logical one, no one should have the right to destroy the beauty of nature prevailing there.
We passed through a zone on our way which was badly devastated by the 2011 Sikkim earthquake and all through the zone we only saw scattered boulders, some of them having the sheer size of a 2-3 storeyed building or may be bigger. The actual road which existed there is now had more loops and turns as it guided down around these boulders.
We reached Yumtham, had our breakfast there and then went down straight to the river bed. Absolutely serene scene, orchestrated with the lovely music of the fast flowing stream. You can enjoy a Yak ride if you want to or just take a selfie with the lovely animal. You can go through the pictures attached to the blog as I personally don't have the correct vocabulary to describe the beauty of the nature in this part of the world. Even the pictures can't give you the idea of the entire ambience as no camera can capture this panaromic beauty.
We cancelled our visit to Zero Point because of some health related issue of one of our team members and came back to Lachung. Not disappointed at all for not visiting zero point as we all were already saturated with the utmost beauty that we have enjoyed for the last few days.
With this our trip came to an end with some very happy memories enough to boost us till we plan our next trip and we were on our way back to Siliguri the next day, eventually caught the train and back to Kolkata.