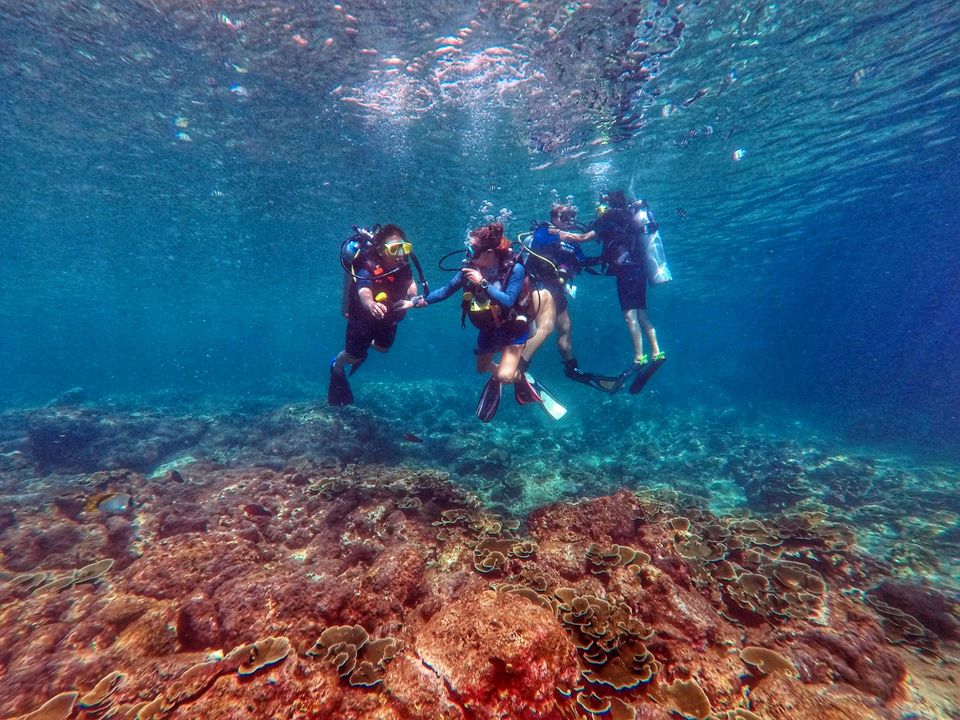 In our trip to Phi Phi Island,where the sea is crystal clear, far you can see the beautiful blue colors , we decided to go for Scuba diving with "Princess Scuba Divers" . I have always liked swimming (having spent hours in water as a kid) and as excited as I was to go live my mermaid fantasy , I did not know what was down there. A blue abyss? Many fish and animals around me? Sharks? Will I Survive? …
I jumped into the wáter, and after some skill sessions, when the instructor(Niki) asked us to turn down into the water .. IT. WAS. SPECTACULAR., WOW! I could not believe it, everything was amazing, a huge pool with many colored rocks in the sea, sand like a gigantic cotton and some fish swimming around.
The instructor helped us go deeper into sea gradually and I was awestruck . When we touch the sand, I turned up and realized how amazing it was to be in that place at that momento, nothing else mattered.The world slowed as I tried to savour every moment, remember every detail. It was more beautiful than I imagined. And the tranquillity was far unparalleled .I was so lost that could have been hours swimming and sailing across the ocean. I saw uncountable fishes dancing in their ever impressive formation. Candy-hued coral swayed underneath like a colourful Monet.
Life underwater is a serene, slow-motion world, almost tranquil and unreal. And the many known and nameless fish – both tiny and moderate in size – zigzagging their way around you, makes even more magical. Fairy-tale like, perhaps!
One of the most surreal experience of my life and I can't wait to do it again .