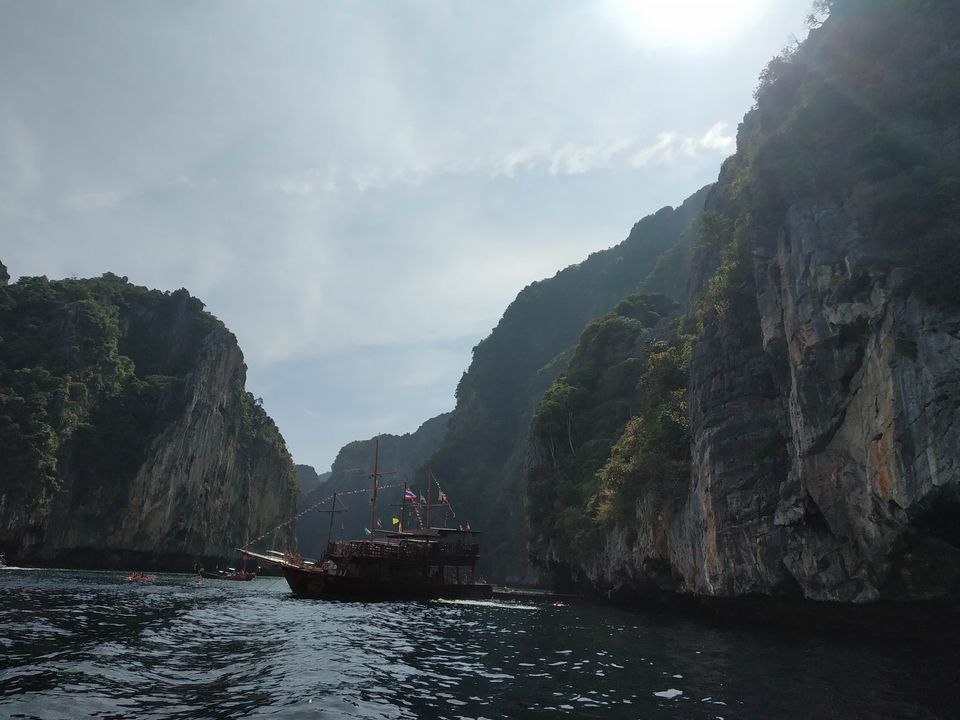 Before i start, kindly support my travel blogs by following me on Tripoto and Instagram- www.instagram.com/the_erratic
So as mentioned in my previous story PART-1, the itinerary for my trip was:
Kolkata-Bangkok-Pattaya-Phuket-Phi Phi Islands-Krabi Islands-Bangkok-Kolkata.
In this article, I'll be sharing the story of my experience at PHI PHI ISLANDS.
DAY 5: PHI PHI ISLANDS TOUR
After booking the Phi phi islands tour, we took off early from our hotel. Got picked by a mini van at around 7 in the morning and got transferred to the Laem Sai Pier (Laem Nga). There are multiple tour operators and each group is distinguised from the other by a colored wrist band. Ours was purple. Free medicines are provided before the tour for sea-sickness/motion sickness. Over there, they'll tempt you to buy aqua shoes by telling you that those are necessary to protect you from certain sea creatures with tentacles. Obviously we ended up buying those for 700 baht (rs.1400). Many other products like phone covers and water-proof cases are available for 100 baht (rs.200).
TIP: Carry your own Aqua shoes or not. They wont be needed anywhere!!! But they are fancy looking though...
So we hopped on to our boat and set off. The day was bright. Too bright. Not the kind I like.
KHAI NAI ISLAND
This was our first halt. The KHAI-NAI Island (Koh Kai Nai). The cleanest water I have ever seen till then. The corals were clearly visible from the water surface and this was our first snorkeling point. So, with life-jackets on, in no-time, I was in the pleasantly cold waters.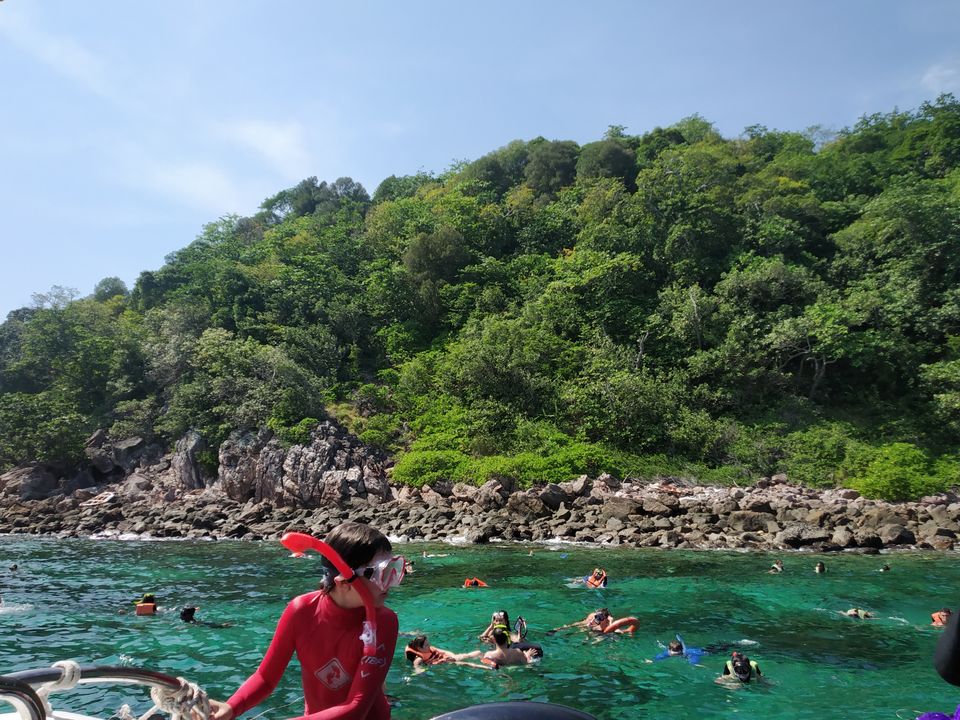 After some snorkeling, i felt tempted to swim around but with life jackets on,that felt hindered. So off went the life-jackets and the shackles of body shame....dived right into it!! And trust me...no one cared. No even ever does. And that was my first realisation in that trip. Love yourself...the way you are. Get over that self-undermining part and bury it in the ocean!!!!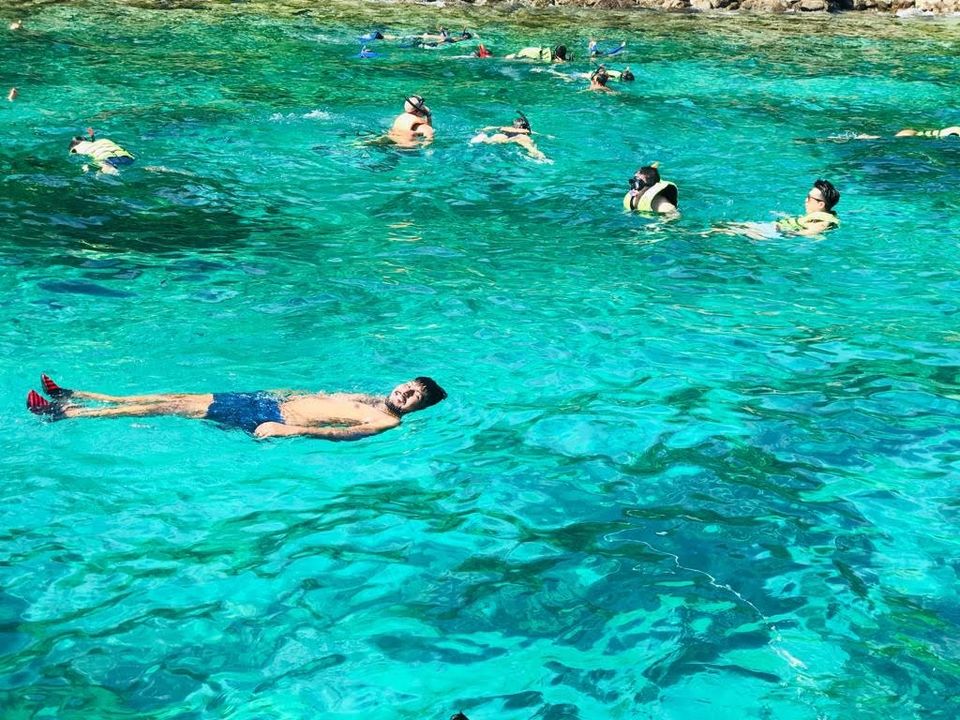 MONKEY BEACH
After having a wonderful time at the Khai Nai island, we sailed off to beach which are home to a number of not-so-shy monkeys: The Monkey Beach. As soon as you get off on that beach, you'll be welcomed by monkeys who dont want to be disturbed. pose with them, click photos and move on. My advice would be not to get too friendly and touch them. Trust me...dont!! Or you may try it...who knows the monkeys ,ight actually like you and take off your sun-glass or even your phone and keep those for themselves...you know, just saying, if its worth it.
Our tour guide clicked some pictures with one of the primal and we went on too explored some parts of that beautiful beach with high-rocks. Hopes for the yet-to-be-seen islands were even higher, though.
MAYA BAY
Now this was the highlight of the tour. Leonardo di Caprio's favourite beach. The beach, where the famous movie, "The Beach" was shot. However, you know, you cant get it all. So similarly we were deprived of going to that beach and had to watch it from a distance as it was being ecologically restored. There were incidents of some ecological disbalance and some sharks arrived on the beaches, back in July'2018. It was December, and no reports of any sharks but still, the government forbid any tourists to be on the beach. The beach was supposed to be oven in N0vember'2019. So went past the islands. So close, yet so far!!!
PHI PHI LAY LAGOON
Disheartened, not being able to explore the Maya Bay, within minutes, we came across the Phi Phi Lay Lagoon. And that was some beauty!! Cant say that it made up for the Maya Bay, but still, it acted as an adhesive to the broken parts. That was some sight!! Judge it yourself...
PHI PHI DON ISLANDS
From the Loh Samah Bay, it takes some time to arrive at the Phi Phi Don Islands, which is a cluster of a number of small islands.
In between, we were asked if anyone want to scuba dive. Heck, YES!! Never have I scuba dived before, this was the perfect opportunity for me!!
TIP: If you want to scuba dive, dont dive during this tour. Dive at the Coral Islands (you can go there from Pattaya). Reason? Dive is good. Professional, as well. Though, they tell you that they'll be taking you at 40 meters, but they dont! Further, the flora (corals) at the bottom of the sea are almost dead. The fauna is good. You'll get to see the famous "Nemo" fish and others as well. But dont expect it to be an Atlantan Paradise.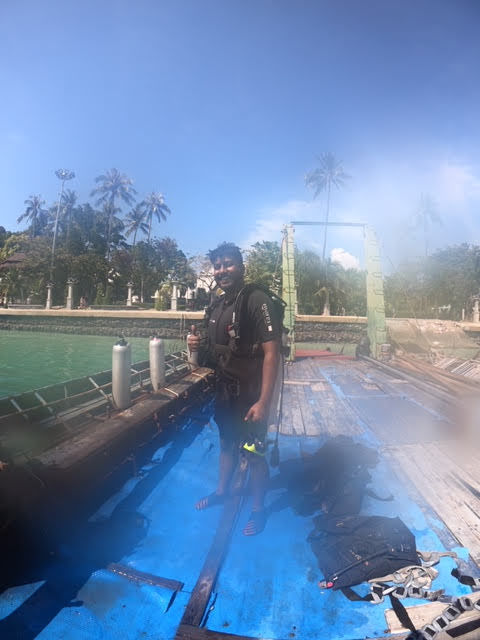 They charge you 3500 baht (rs.7000) for the dive. There's extra 1500 baht (rs.3000) if you want the entire experience to be captured or video'd. Luckily, a Vietnamese friend of mine, Loi Ngyuen, who I came across during that tour managed to click this photo with his Go Pro and record the experience under the sea but he had to lower the video quality in order to compress and email it to me. But you'll get the idea...
View this post on Instagram Into the Blue.....at Phi Phi islands A post shared by Kunal Singh (@the_erratic) on Sep 29, 2019 at 12:54am PDT
After the scuba, we had lunch. Thai cuisine, it was.
Moving on to the island tour once again at one of the parts of the Phi Phi Don......The specialty? White Sea Beaches!! Clusters of rocks hanging over the white beaches. Doesnt that sound tempting? It was, undoubtedly. With stalls set up over there for beer and fruits in abundance, the price is the same which you get to come across while watching movies in PVR or IMAX or INOX. But, as you know, we still buy it...and come on, its beer. No one sees the price while having beer!!
This was the last part of the tour. From there, we headed towards the Laem Sai Pier (Laem Nga). Once we reached the pier, we were taken back to our respected hotels via mini-van and were dropped off.
It was the 30th of December and Phuket was ready for the new year's pre-party celebrations on the Patong Beach....an open-for-all Beach party!!
So after the mesmerizing view of the islands...it was time for the night Beach party. With Live Dj's and and a huge stage, we spent the night off partying, bringing the day to an end.
My opinion? If you are in Thailand for a vacation, never ever miss the Phi Phi islands. You'll be relaxed...the trip also fills you up with adrenaline. The scuba will calm you. Just you and the gurgling of the sea current and nothing else. You'll be able to feel each and every breath of yours. From the partying land to the rush of the streets, this tour is bound to give you an unforgettable experience. As they say, "Yehi Zindagi hai..."
Dont forget to follow me on Tripoto and Instagram- www.instagram.com/the_erratic
Show your love and dont miss the next story on the Krabi Islands Tour.