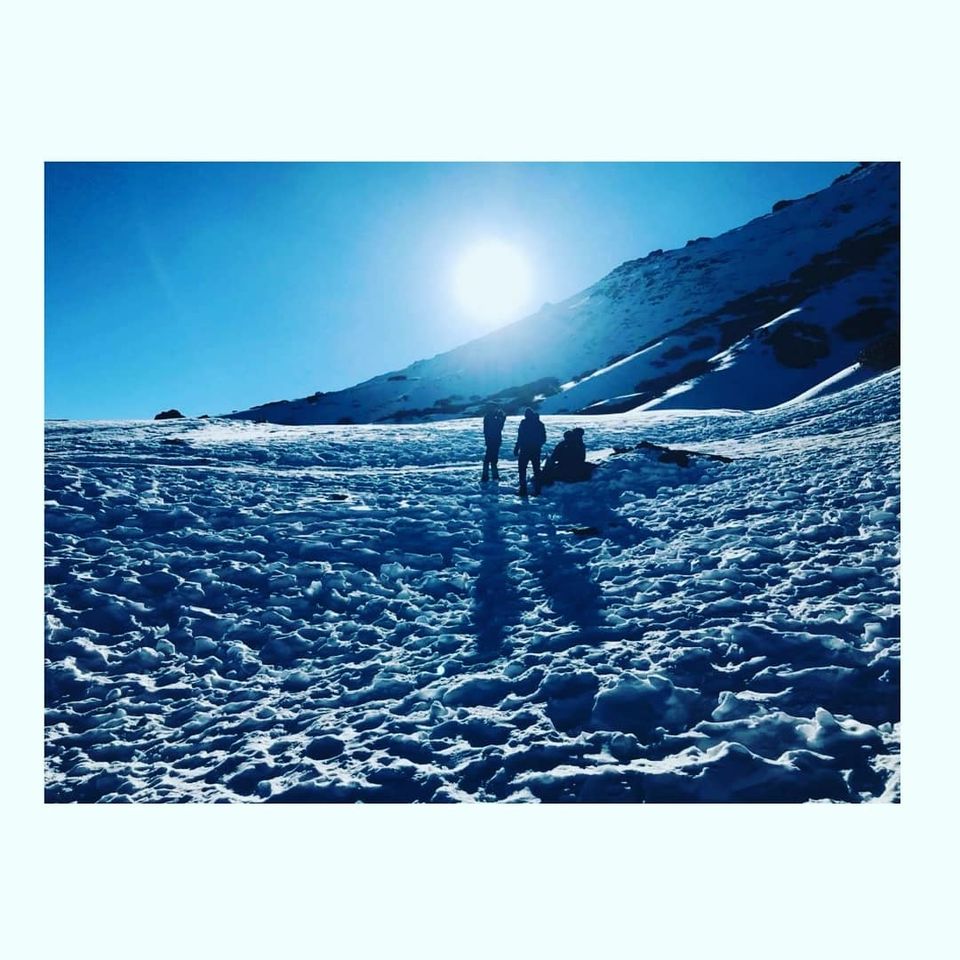 The journey to Kedarkantha peak begins from Sankri, which is situated at around 6400 ft, in Uttrakhand almost 8 hours away from Dehradun. So if you leave early in the morning at around 7 a.m. you will be able to reach by 5 p.m. (keeping 2 hours for lunch and to enjoy the kempty falls, mussorie which comes on the way)
Sankri is a beautiful village, and a night stay at Sankri gives you an idea about the lowering temperature which you need to get accustomed to, the temperature touches 0° or in minus at night and in the morning you can hardly find water in the tap as it's frozen. And hence the journey of adventure begins.
Though the stay in Sankri is the luxurious one as you are staying in the cemented house and you using a western toilet.
In the evening through whichever Trek group you have chosen to go (India Hikes, Kailash Rath, etc..) they brief on what's the journey going to be.
So let's goo.
My personal favorite is Kailash Rath.he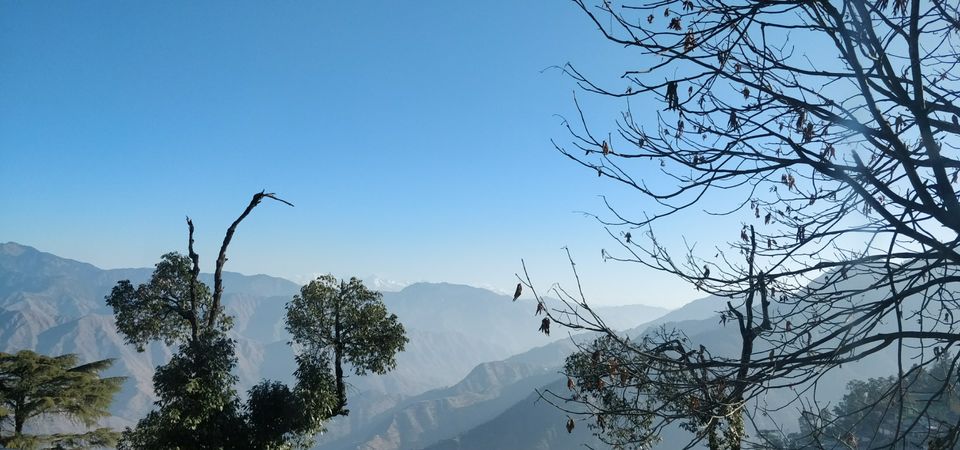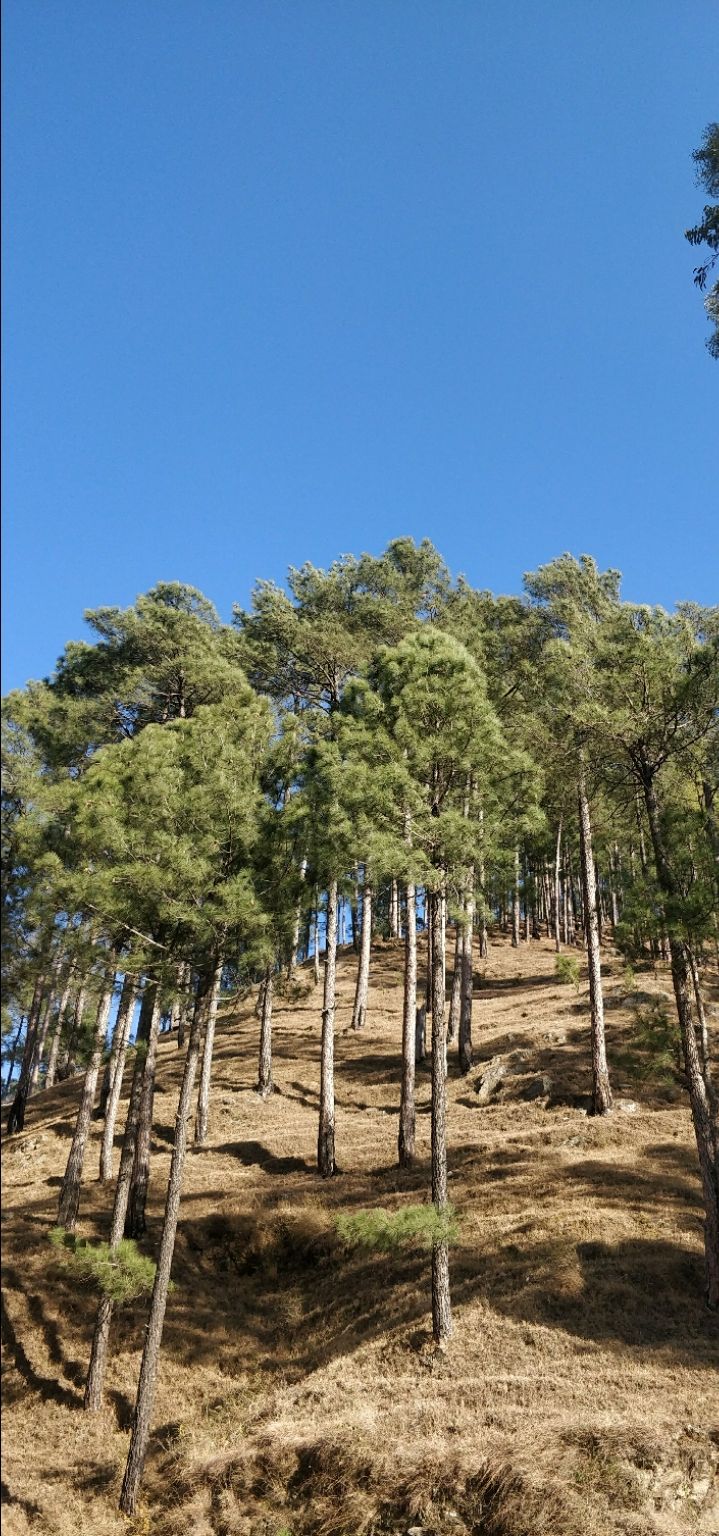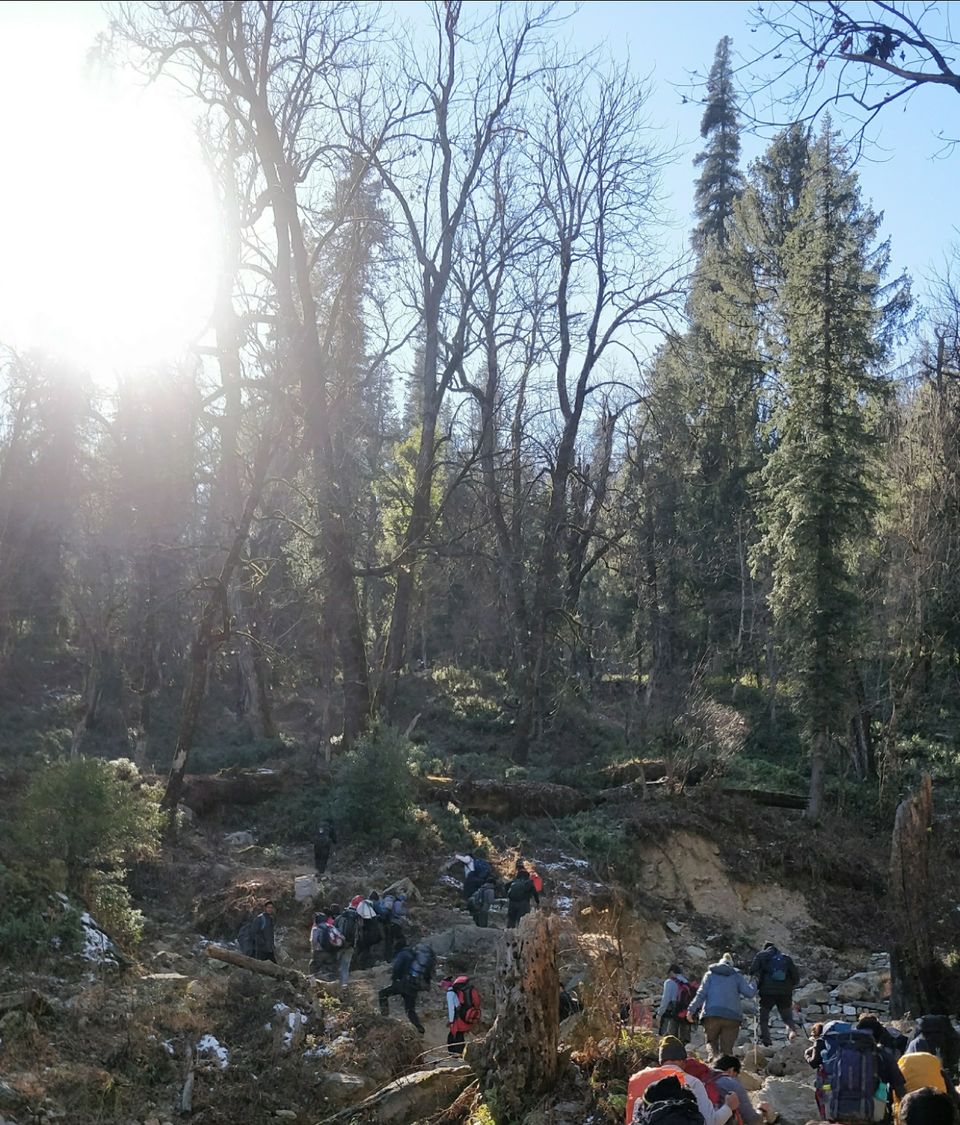 The second day is a beautiful March from Sankri to the camp near Juda ka talab which begins at around 9.30 a.m.
It's a beautiful journey in between beautiful forest, the Tall Pine Trees with very few miles you climb you can feel the fresher air filling your lungs and see the clearer blue sky, which looks nothing but like a dream.
But the steep ascent might take a toll on your stamina if you have stayed away from physical activity for a long time, but anyhow you will definitely manage to reach the base camp because I did with the histoyof  ligament injuries on both my ankle. And as the base comes closer you can see yourself walking in the mountains half covered with snow and already feel close to the summit.
We had reached to out camp near Juda ka talab at around 2.30, then changed into warmer clothes as the temperature was dropping tea, followed by soup, followed by dinner which further followed by Bornvita was surved in the duration of 4 hours. (Precaution don't over eat)
As there is no electricity, and it becomes dark really early by 6 o clock we are expected to be back to our tents inside the sleeping bag and have a peaceful sleep. Though you can extend your day with few hours and chill around with your newly made friends.
But 7 o clock you have to sleep as the other steeper climb is waiting for you.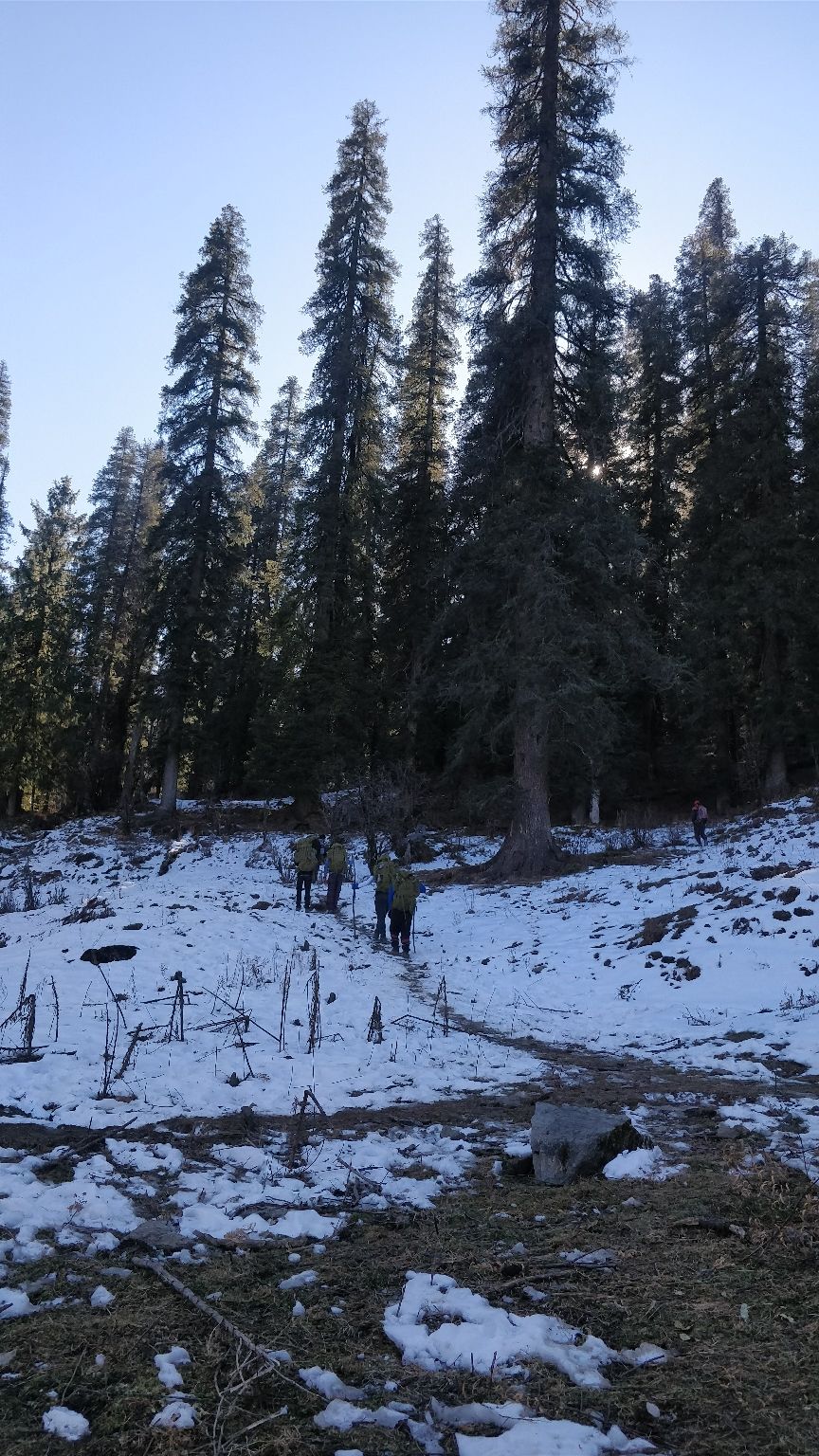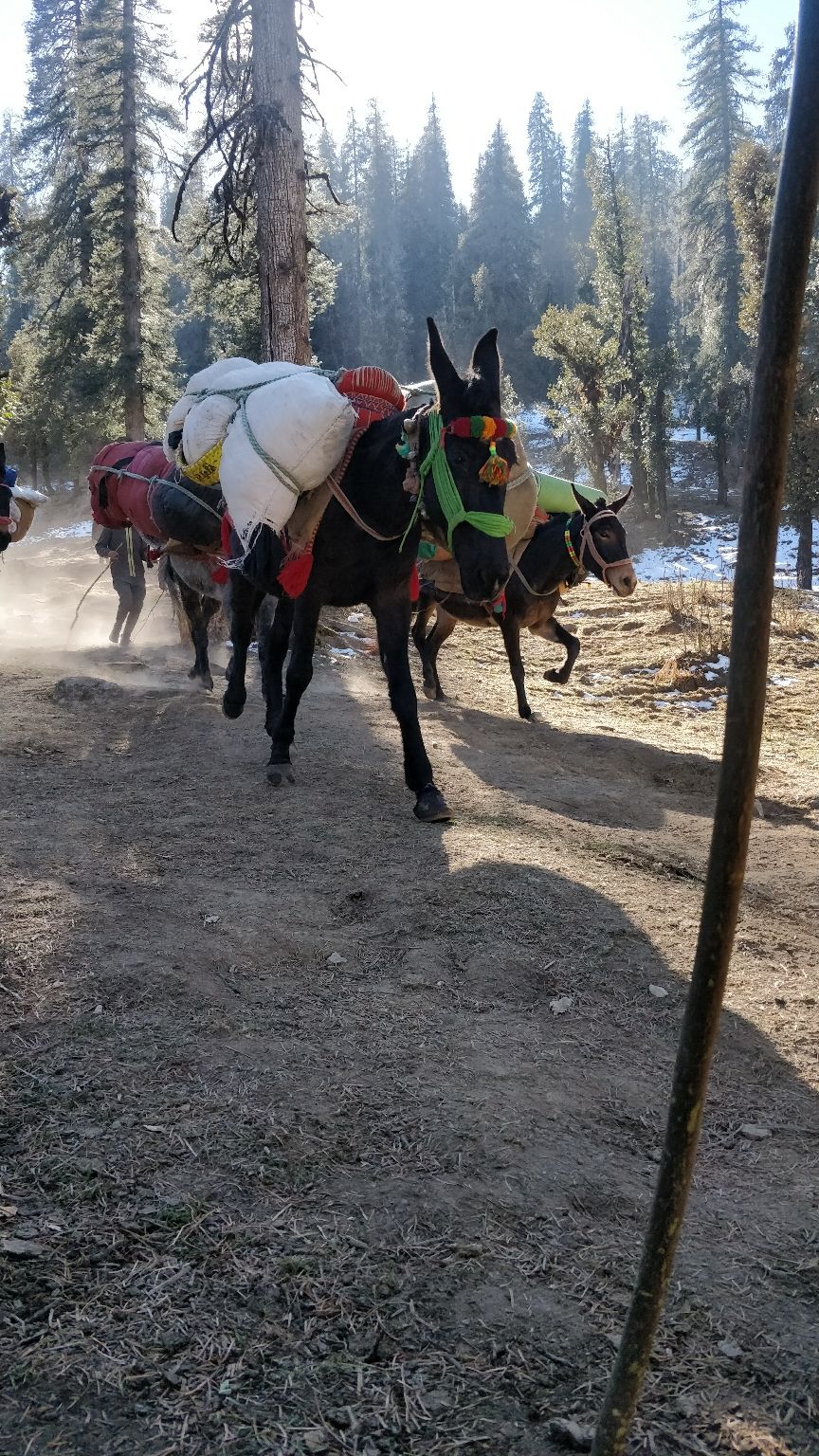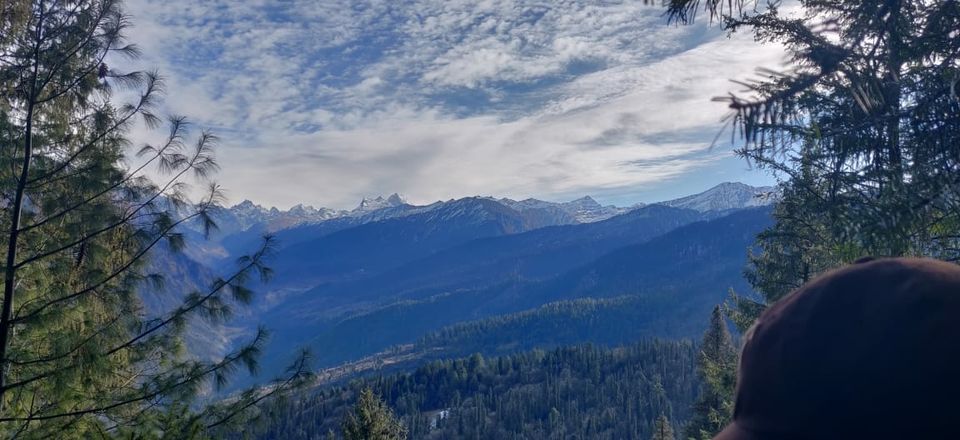 The journey from Juda ka talab to Kedarkantha base camp. The kilometers are lesser but it's steeper which makes the journey challenging and also you will come across melting snow at some part which makes the way slippery and you have to be very careful with your steps.
The journey begins with narrow slippery path but the struggle comes to an end as soon as you get to JUDA KA TALAB. It's a frozen lake. And you can just enjoy playing with snow. Throwing it at each other as by the time you reach there, it's noon and sun is keeping it warmer.
You can play, slide, make a snowman and fulfill all your childhood dreams.
By now you are use to the temperature and the climb, you start enjoying every bit of it.
And after a good play you again start marching towards the base camp, enjoying the mountains covered with snow and now you can see the Kedarkantha peak and cannot wait to reach there.
By 3 p m. mostly you reach the base camp and here you can have few hours to play with snow and chill with your buddies or enjoy the beauty of Himalayas.
This day you have to sleep by 6 p.m. at Max because the next day is the night trek at 2 a.m.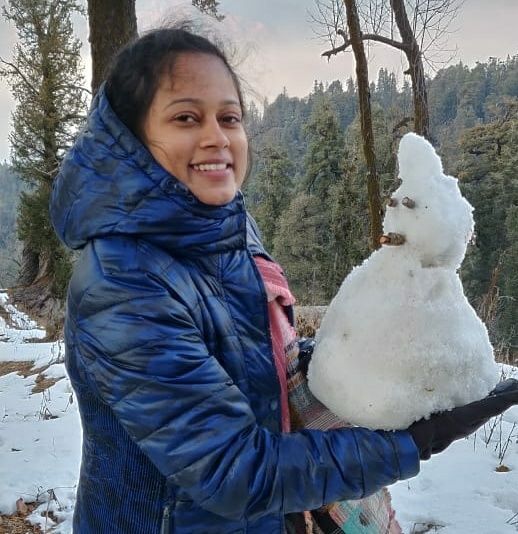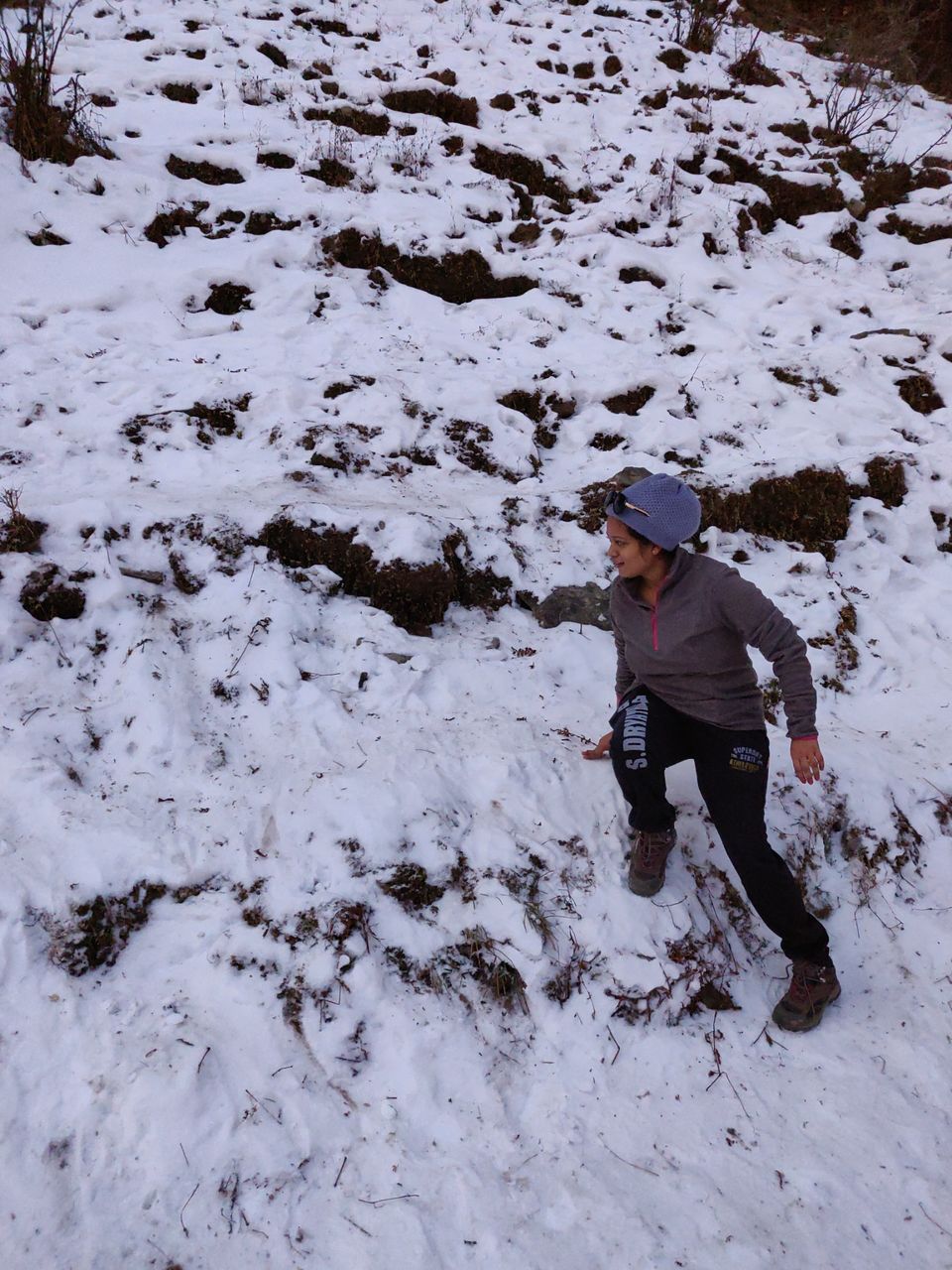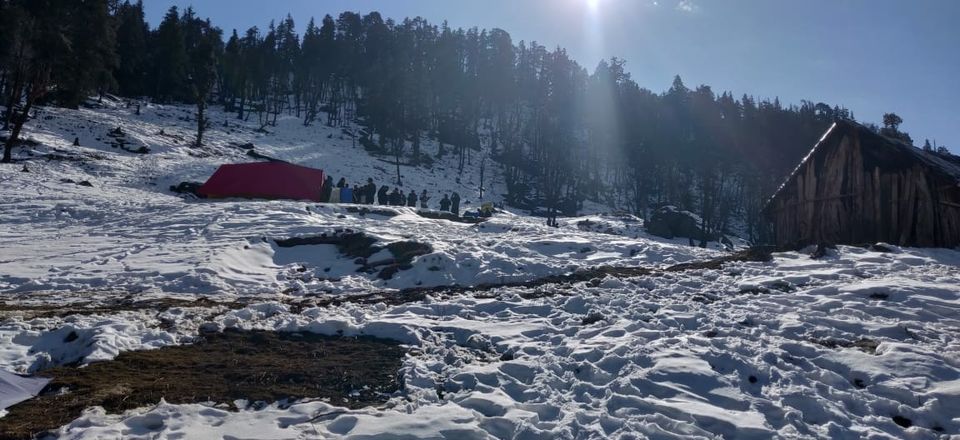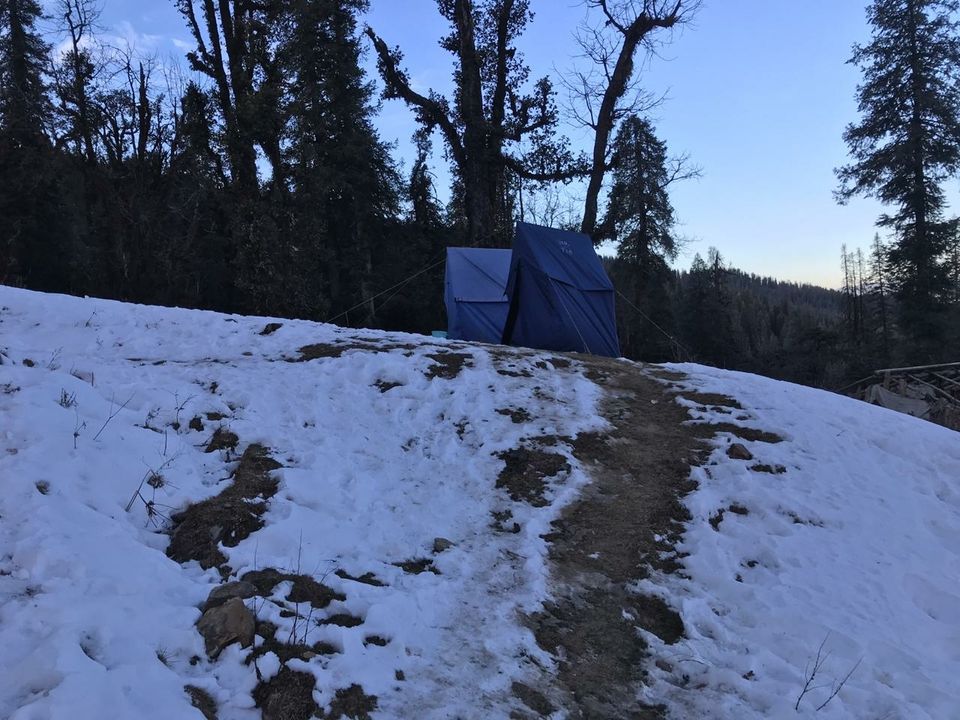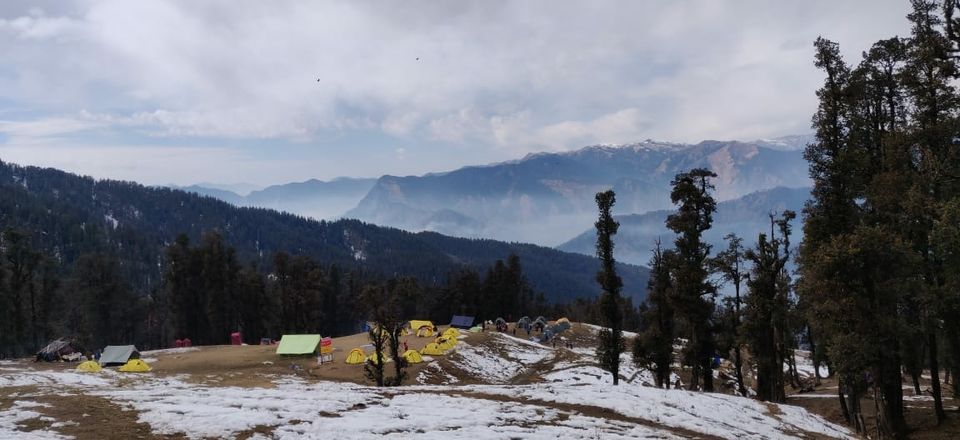 The day begins really very  early at 2 a.m., you can feel  your numb hands and shivering body but the spirit keeps you going. Putting your gathers and spikes (equipments required for snow trek)  and holding the torch in your hand you begin the journey to reach the top. It's dark and freezing cold but the excitement is double and the you can't wait to be on the top.
The steep narrow path is all fine till it's dark, once you start seeing the path it's becomes scary with every step but the spikes keeps a check that you don't loose balance.
And by 6 a.m. you are at the Top of the world, metaphorically.
You can see the sun rise from the top and so beautiful it looks, you cannot take off your eyes.
Very soon you see the mountains and the clouds flouting around. Serene indeed.
You enjoy the view for 2 hours and now it's time to return with a feeling of accomplishment.
And from here the easy journey begins, till you don't loose the balance. And as I had weak legs I took precautions and walked slowly and enjoyed my journey rather than secretly competing with anyone in my tribe.
You can slide down the snow and cover the distance of    few kilometers in few minutes.
Descent doesn't take toll on your stamina but the pressure is on your knees now, but anyhow it's an easy happy path.
By 11 a.m. within 3 hours of playing and walking down you are back to your base camp. Where you need to grab your lunch and make a move quickly within few hours to harrgaon.
It's again a 3 hours descent from the Kedarkantha base camp to hargoan.
A happy journey from snow to forests.
After reaching to the camp in Hargoan, you aren't tired, though it's the longest day of the trip and can make the most of the night.
Enjoy the stars in the clear sky. I would always recommend you to choose your trek days during full moon, so you can enjoy the beautiful sky.
You can party, sing and enjoy. Or rather introspect and feel like a speck in this universe.
Nights are beautiful silent and dark. You can hear the breeze and feel them in every inch of your body even after many layers of clothes. Life is nothing but beautiful here you don't worry about how you look and  you tend forget about life problems and feel blessed to be a part of this beautiful beautiful world.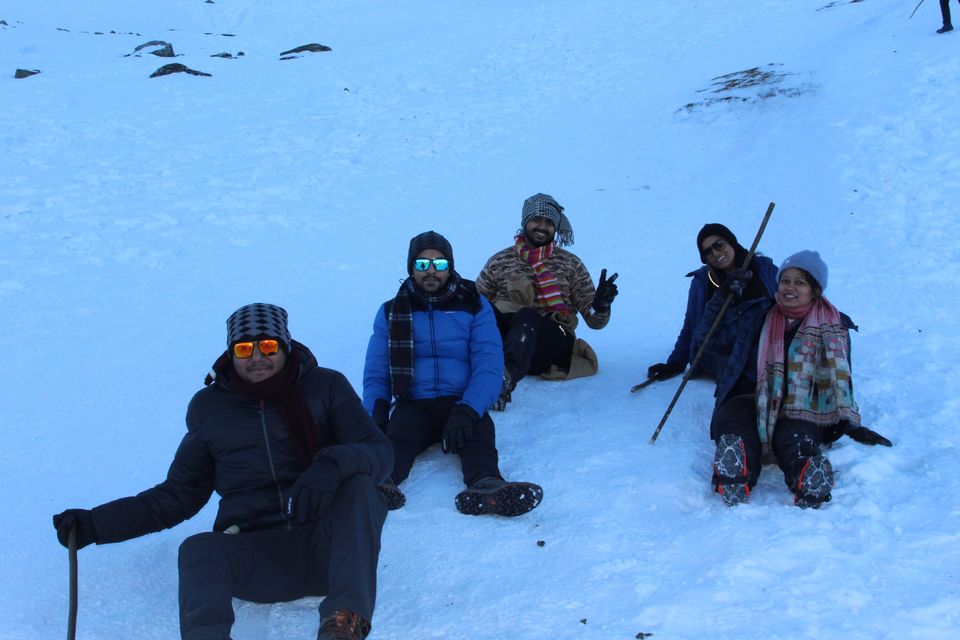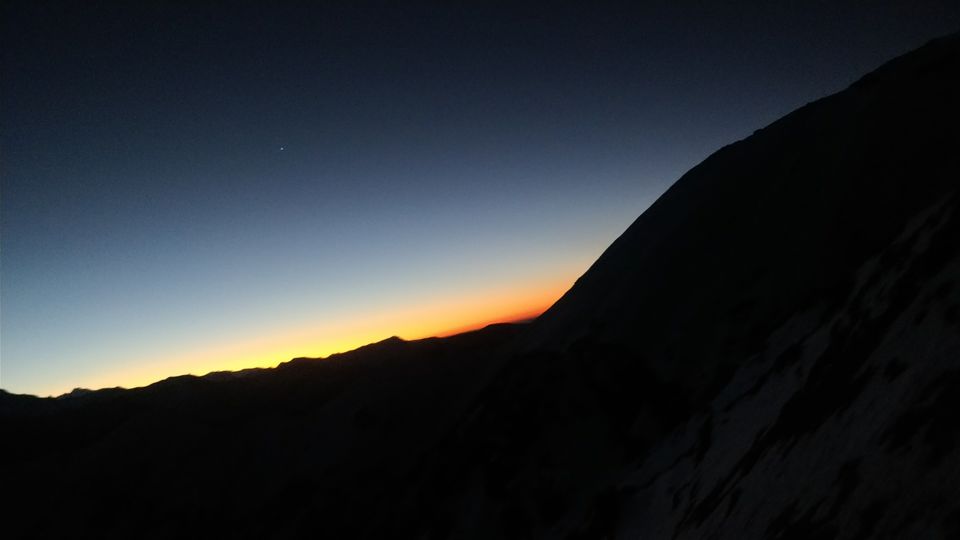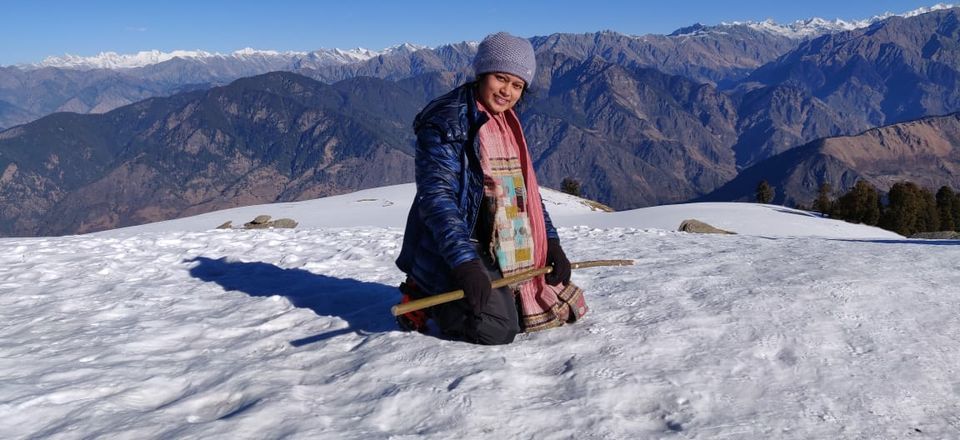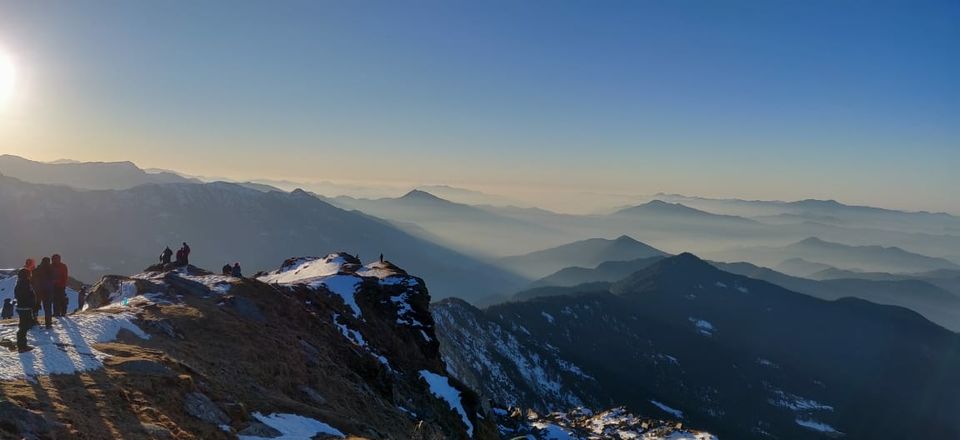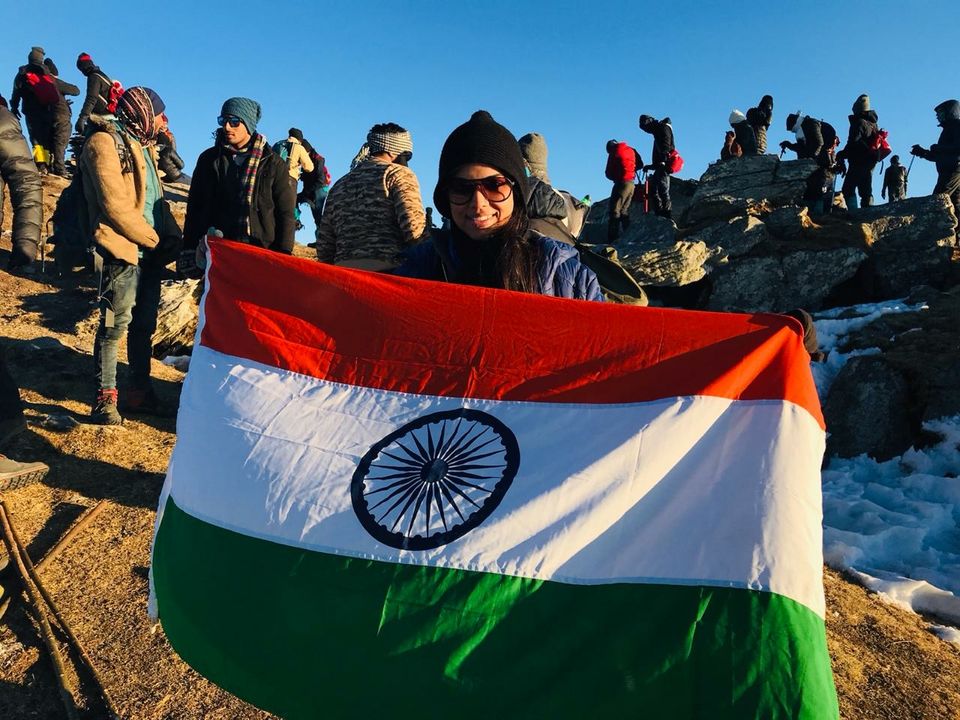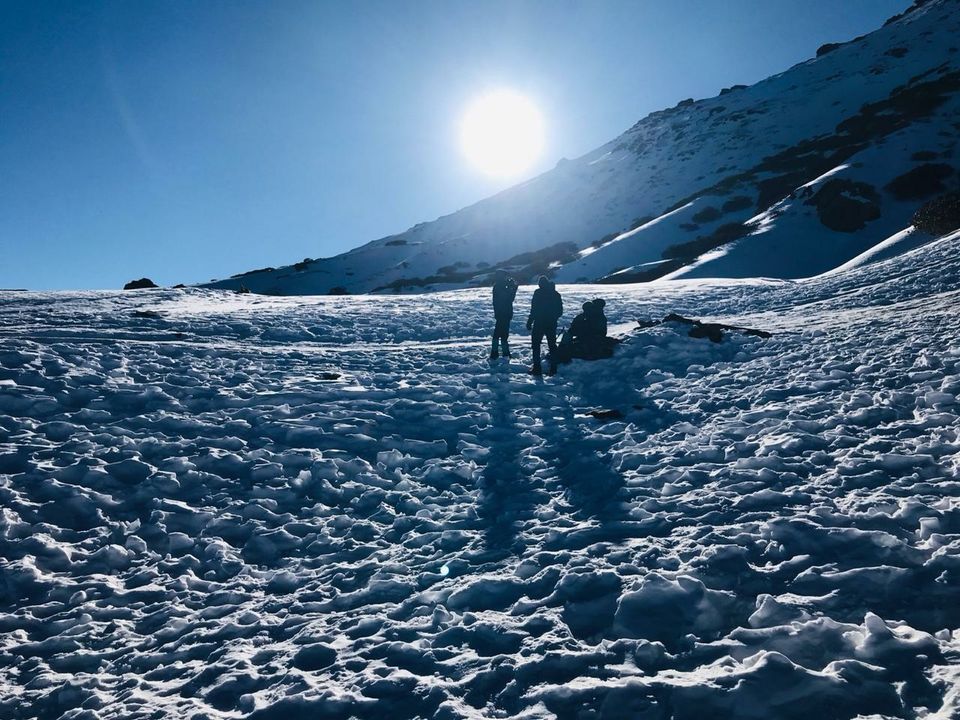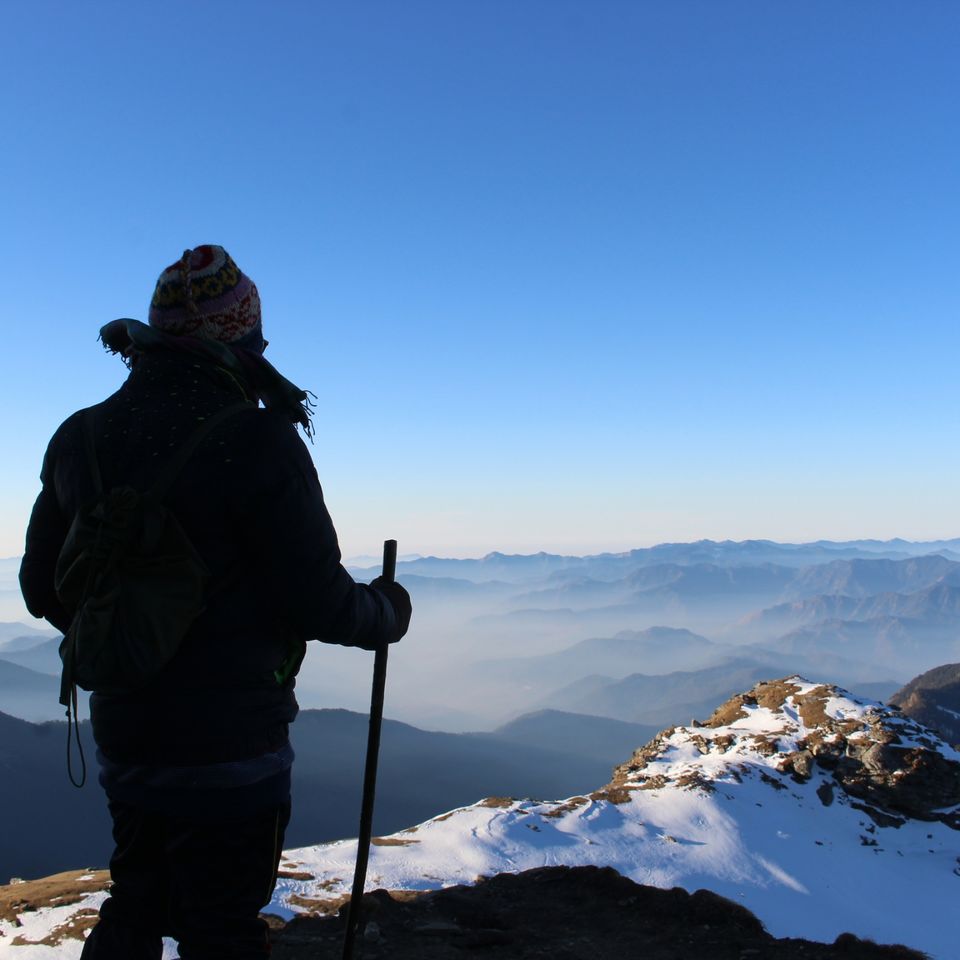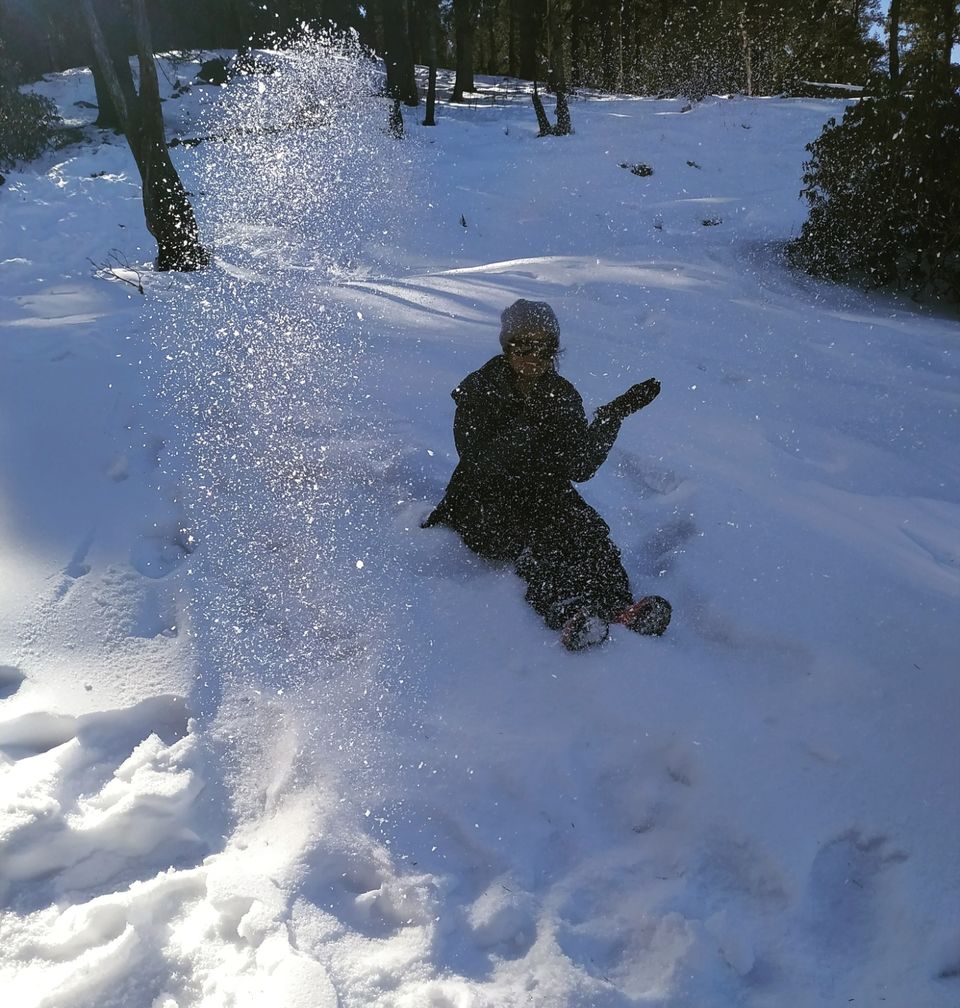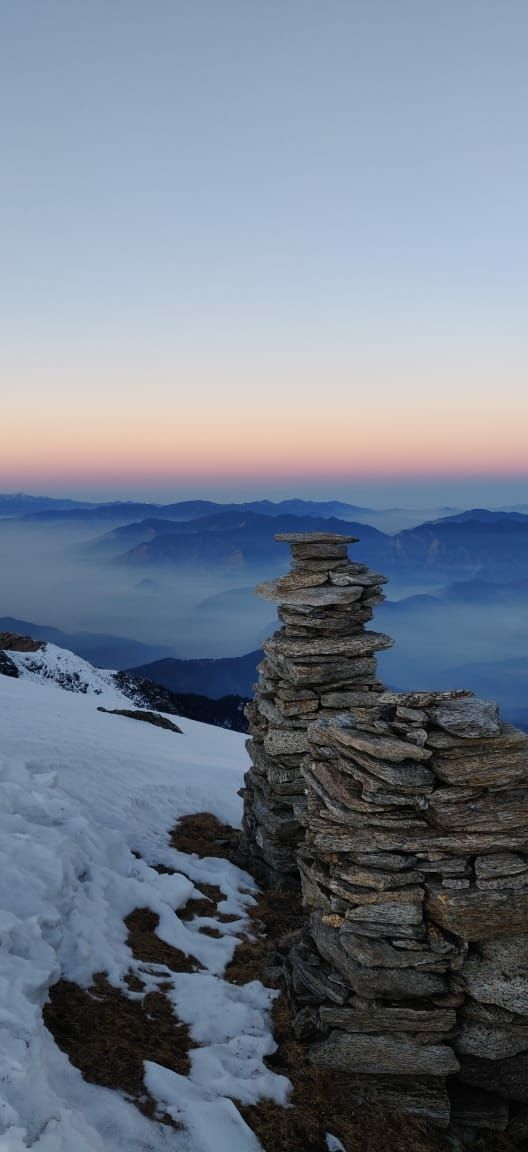 Before the journey begins you need to keep in mind to carry the essential medicine (and also painkiller if you injure yourself you can take the tablet and walk down because there is no other way to go back, you have to help yourself) and also go for a medical examination and you need to start exercising at least a month before and also start drinking minimum of 2 liters of water everyday before the trip to keep yourself hydrated. And carry wet wipes dry tissues because using water is a struggle and especially women need to carry a pee safe to avoid UTI.
The last day.
This is the day when you can't wait to get back to your friends and family.
It's a 3 hours journey from hargaon to Sankri base camp.
It's a smooth journey and after an hour you start meeting people who have just started ascending the mountains and when you see them you get a sense of achievement.
You can collect pine trees miniature for the memories from the trip and very soon you reach Sankri.
And now you get the opportunity to be back in the luxury take bath, use western washroom. You feel like burning your cap and jackets for wearing it for past few days but you do nothing just pack your things, change and go back to the normal life with a baggage of memories and experiences.