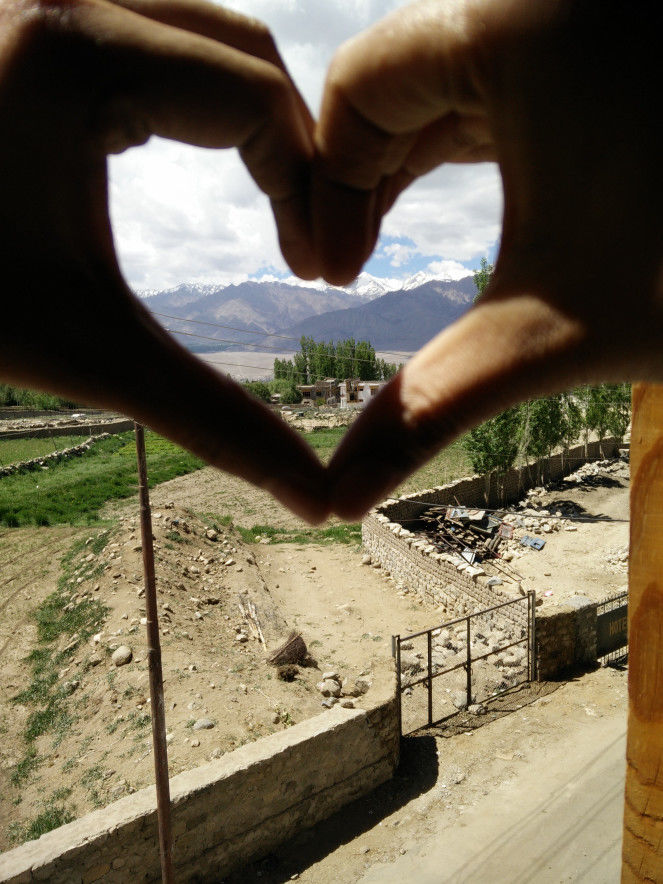 The moment I landed in Ladakh I fell in love with it!❤ & then the next moment I hated it & then the 3rd I loved it again, a little more this time❤❤ … & this "love-hate" relationship with Ladakh lasted for about a week, & now that am back I officially declare – "I am in love with Ladakh".❤❤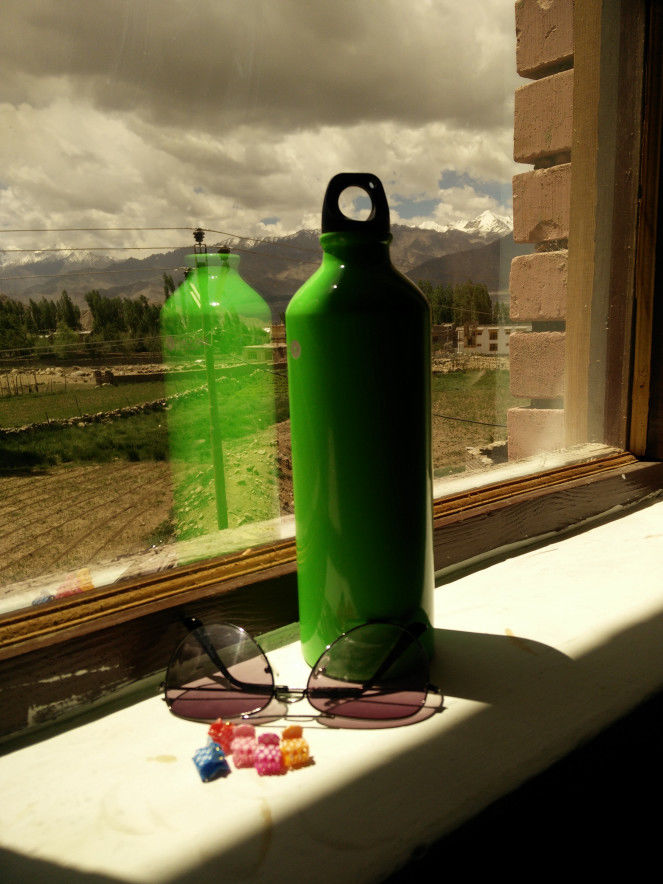 My trip to Ladakh was a much awaited one! I had built in up so much inside my head … I had read so much about it, seen so many of its photographs, watched & re-watched all scenes from bollywood movies (especially 3 Idiots) that were shot there, imagined being there so much … & the moment I caught the glimpses of the snow-laden magnificent mountains from the plane window I knew I was not in for a disappointment! I knew it would be just the way I had imagined it to be!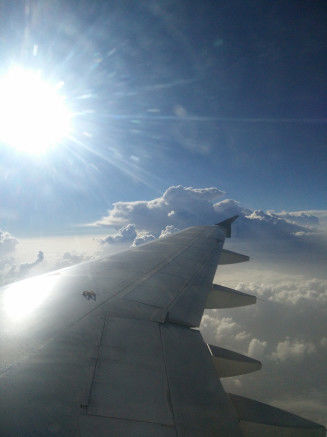 But!
It turned out nothing what I had imagined. It was something I could never have imagined in spite of reading all about it & in spite of seeing all of its pics & videos! It confused me & intrigued me for so long. It was like – ' I don't know what to do with you!? Should I love you, should I hate you! What!!??" & hence, my "love-hate" relationship!!
Ladakh's beauty is not one of those regular, obvious ones! It's brown & barren & harsh, in your face, almost challenging you to love it!
In the first look, I thought the coppery naked mountains were ugly, since they are mostly infertile, rocky, tree-less, & then I realized how perfect they were, how stunning! I saw so much of brown around me, I think I might be love with brown too (which is one color, by the way, that I have always disliked!). This is how this trip has changed me – I know how to appreciate beauty in all different forms. For beauty is not always pleasant!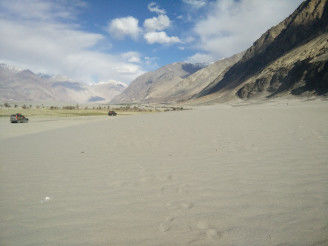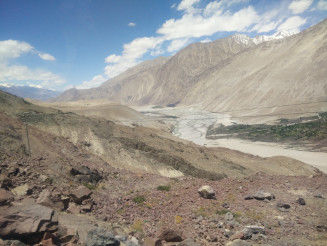 Ladakh has the strangest landscapes, which, by the way, are spectacular! There is a rustic charm to the place. The mountains are so well-defined. The brown mountains seem to perfectly separate from the blue sky (I have never seen or imagined the sky so blue!) & brown & blue apparently make a perfect color combination. Brown & blue ! … Really!!?? … That's what, it's so unusual, & perfect!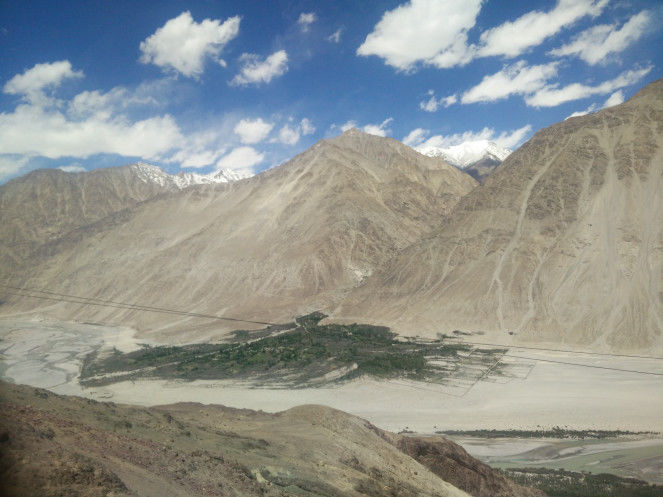 Day – 1
Our escapade started from Leh, the most inhabited region in Ladakh & also the place from where all the thrills originate! & it's huge!! So many people, big flourishing market places, and no dearth of hotels or home stays or of places to eat … it was almost intimidating. Most of the first day was spent – 'acclimatizing' to the high altitudes & also to the cold dry wind. The place is constantly windy … the tall, almost branch-less, white trunked trees are always dancing to the music played by the winds.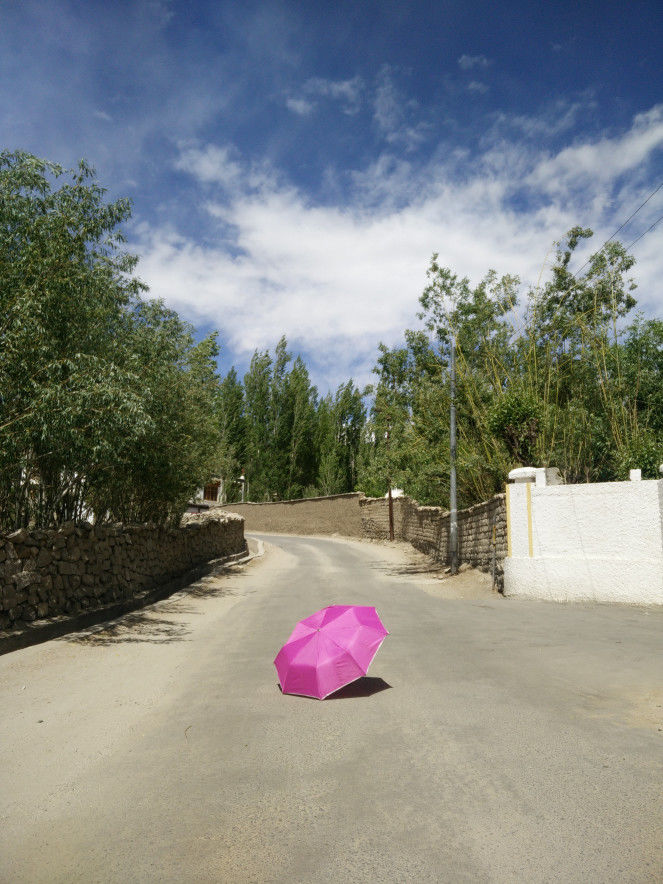 We had a wonderful hotel, K-2 Continental. It was only 10 minutes from the airport (hence, much away from the main city so it was very quiet, which I loved!), with spacious rooms & all probable facilities, served great food & had a beautiful green lawn with lawn chairs & lawn umbrellas covered with trees all around! Ahh!! It was beautiful. Perfect ambience to sip tea & read! & that's just what I did on all evenings I got to spend at the hotel.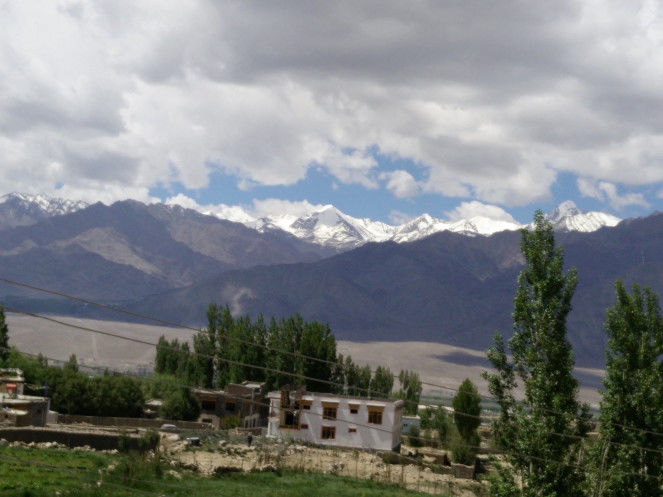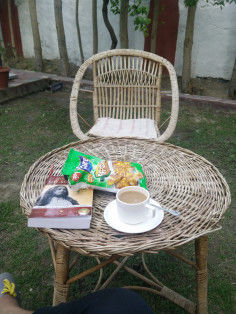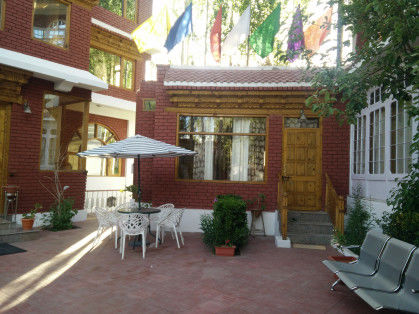 I have to mention the trees again here – they were so intriguing. They had a white trunk & they were really tall & flexible … & had few leaves mostly towards the top & almost no branches. & they had these really small cute birds on them, chirping & singing along. While they could give no respite from the sun, which was quite hot during the day in spite of the cold wind, yet they looked perfect against the magnificent backdrop. I, in fact, found no trees at all in the entire Ladakh that could give any respite from the glaring sun … & so I say, the beauty there is so harsh!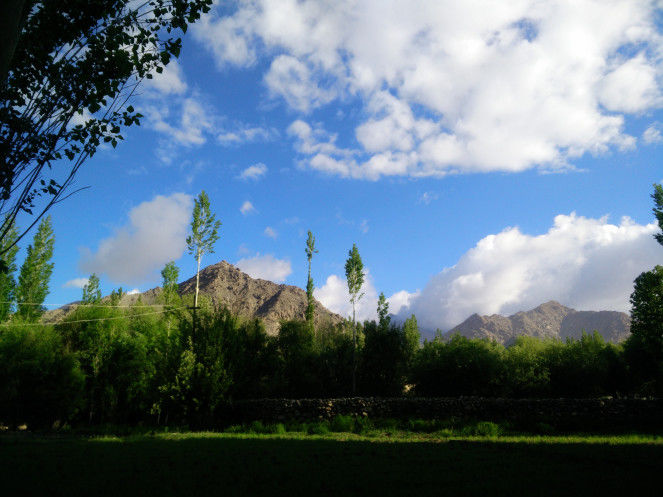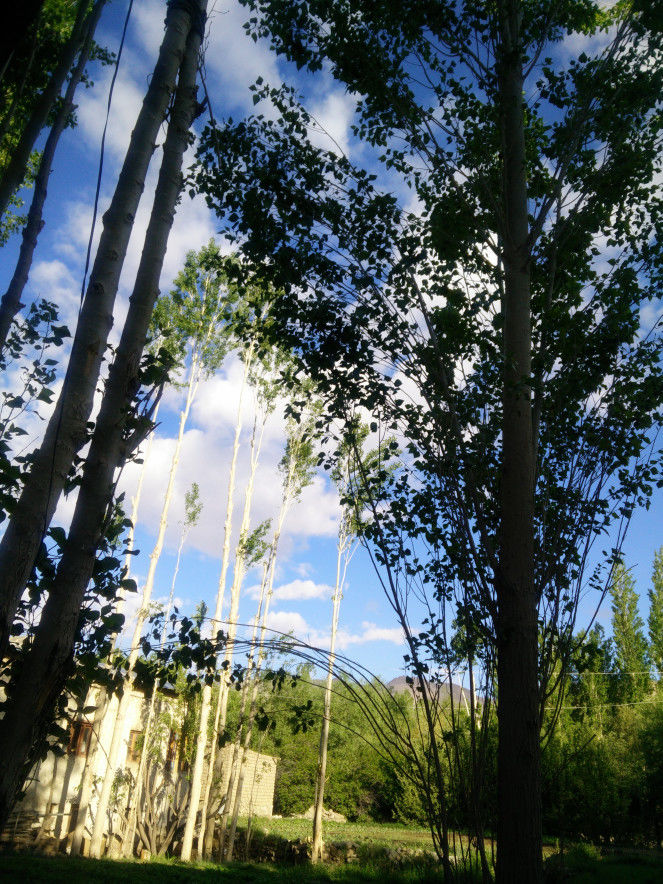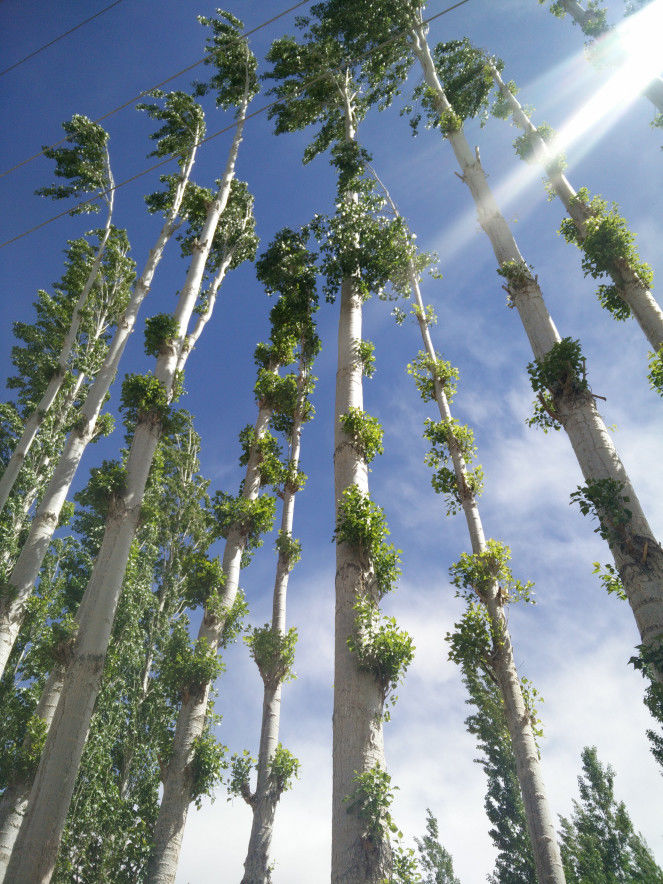 Day – 2
Next day, we mostly spent exploring the city of Leh. Magnetic hill, the famous "gravity hill" is not one to be missed. I would say, not so much for the gravity-magic it's known for but for the elaborate & impressive background it offers to the prolonged quaint road. Picture perfect!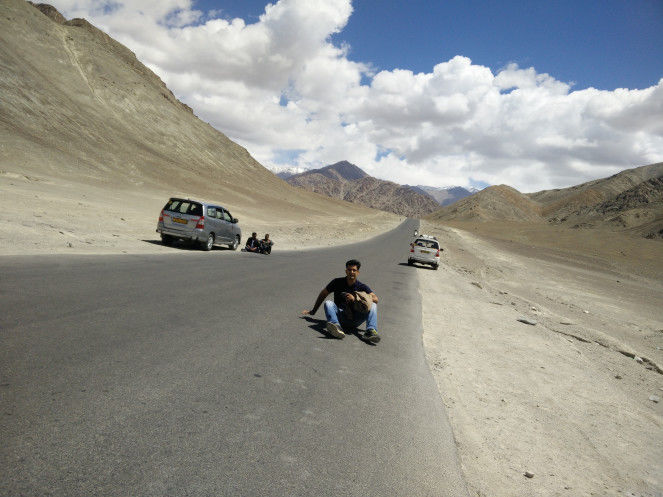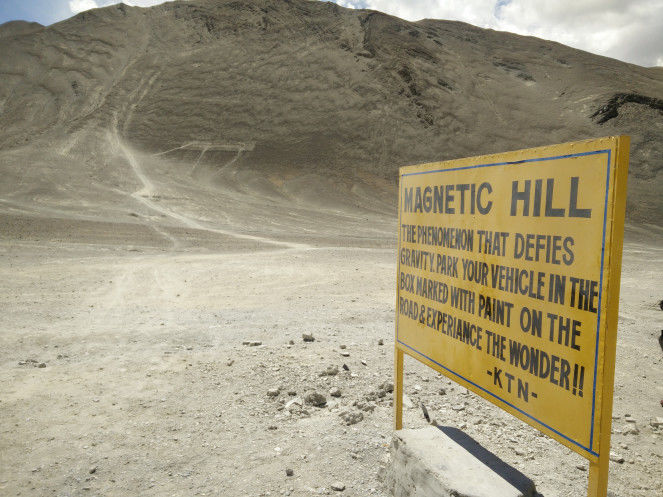 On the way, we stopped at Gurudwara Pathar Sahib. Taste the tea here, it's the best I have ever had!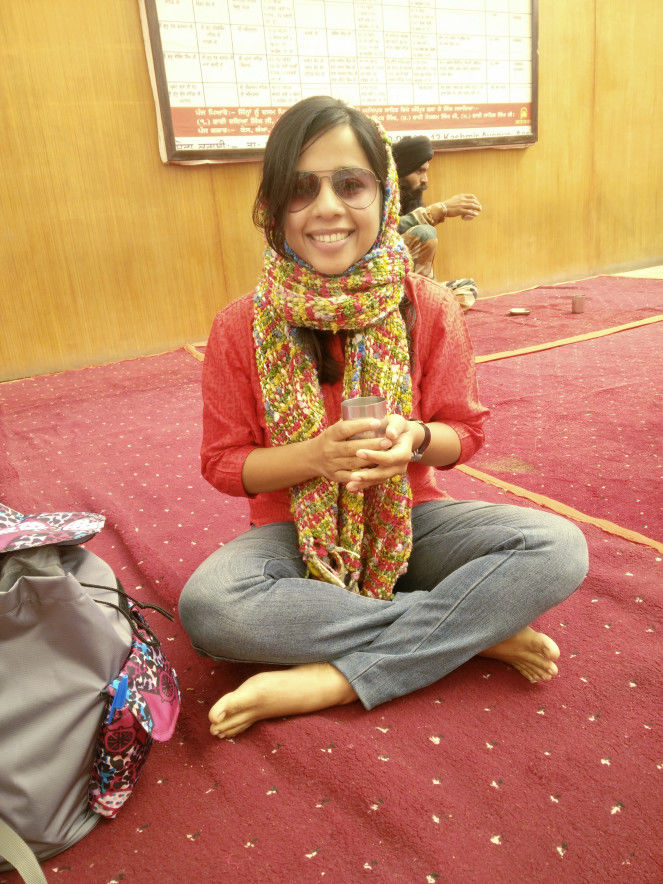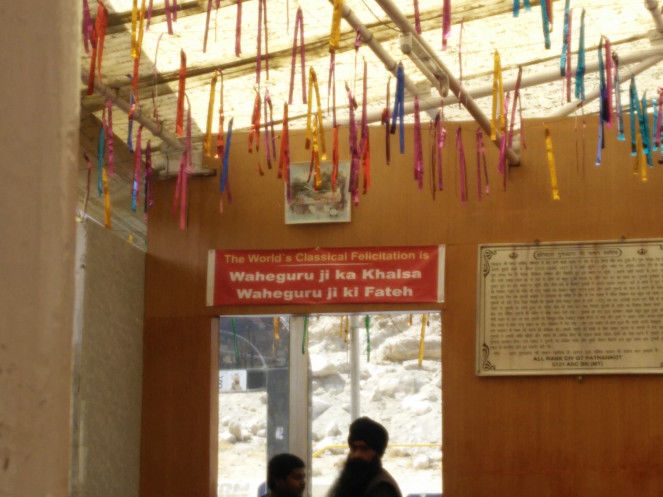 Next destination was Sangam – perfect confluence of two diverse rivers – The Indus & Zanskar. The view is divine & the convergence of the rivers is so obviously visible. The brave could also jump in for some rafting here!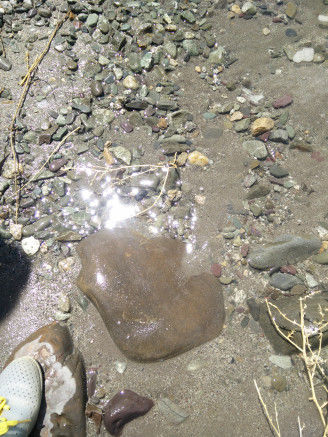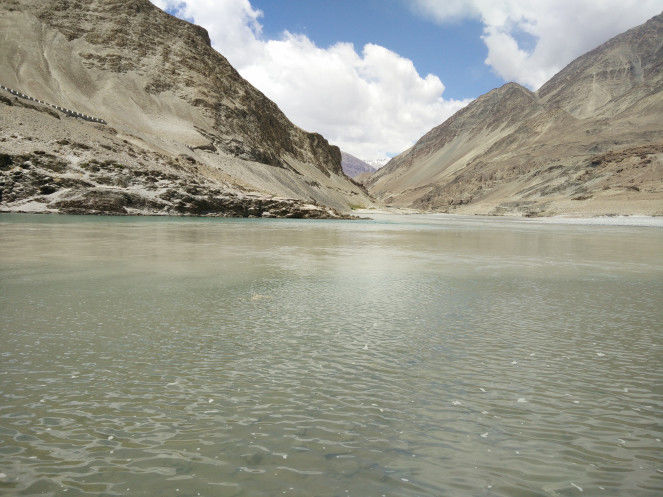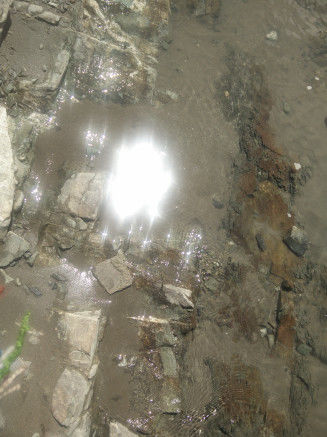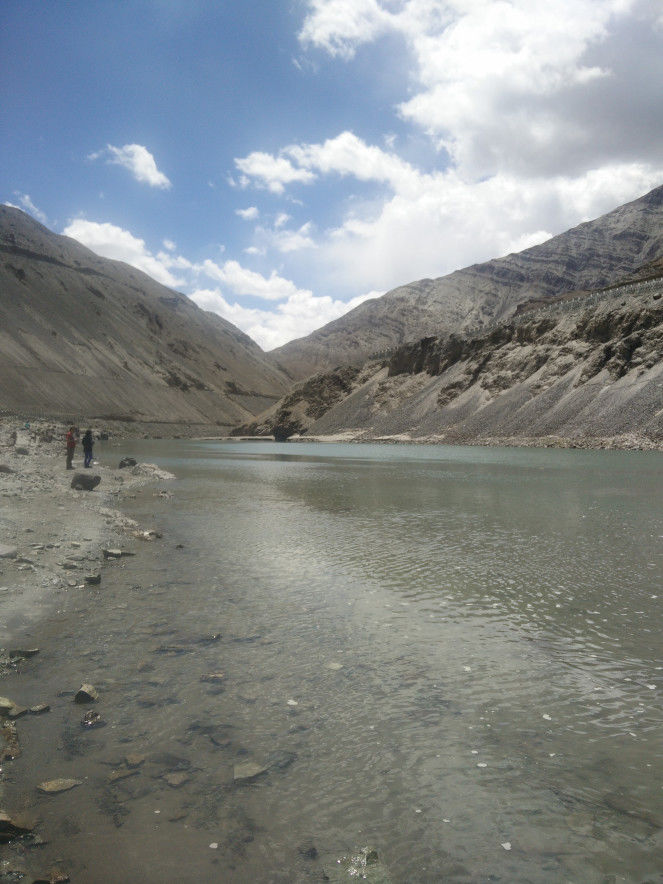 Next was Shanti Stupa – a Buddhist white-domed stupa on a hilltop in Chanspa. From the top of it, you can see the impressive geography of Leh.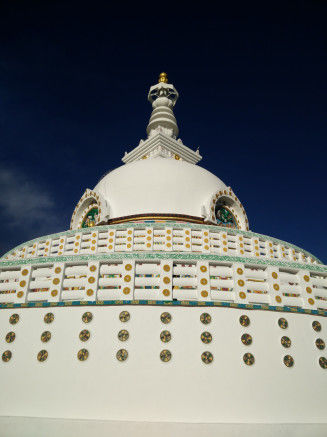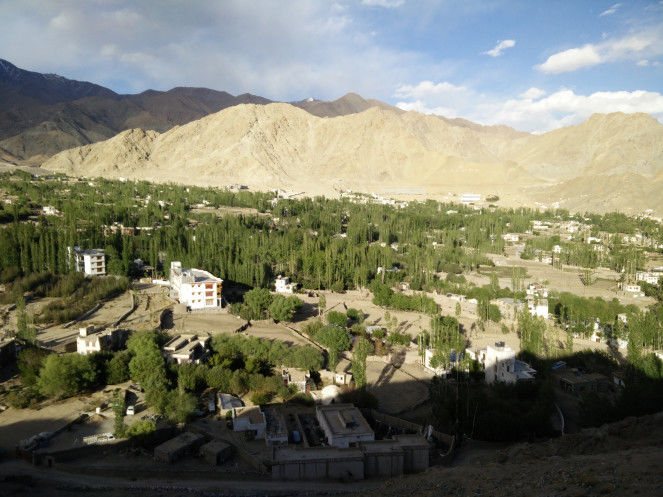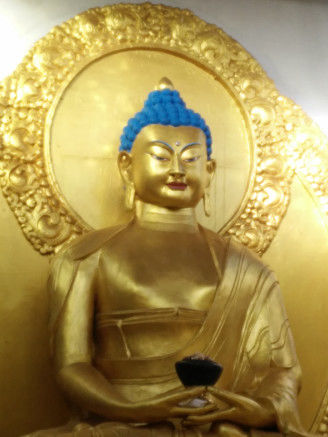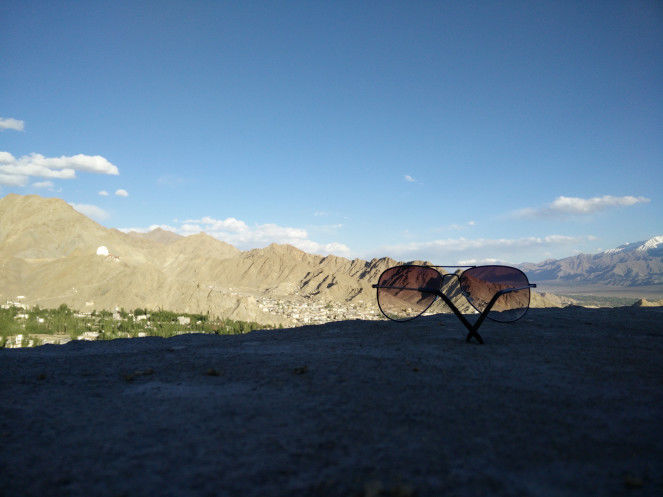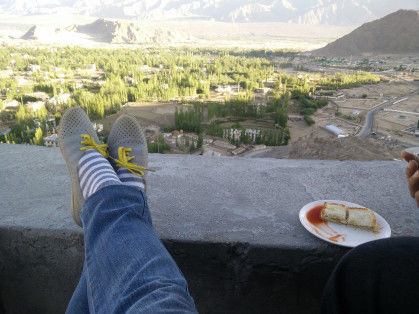 We then headed to the worthy Leh Palace. It was the spookiest palace I have ever been to. Dark passages, several dead-end, so many closed doors! It seemed to be keeping so much to it. It had 9 stories! It was quite enjoyable, (& spooky!) to venture up to the uppermost rooftop for the view. It was made in the 17th century, & is an architectural icon!!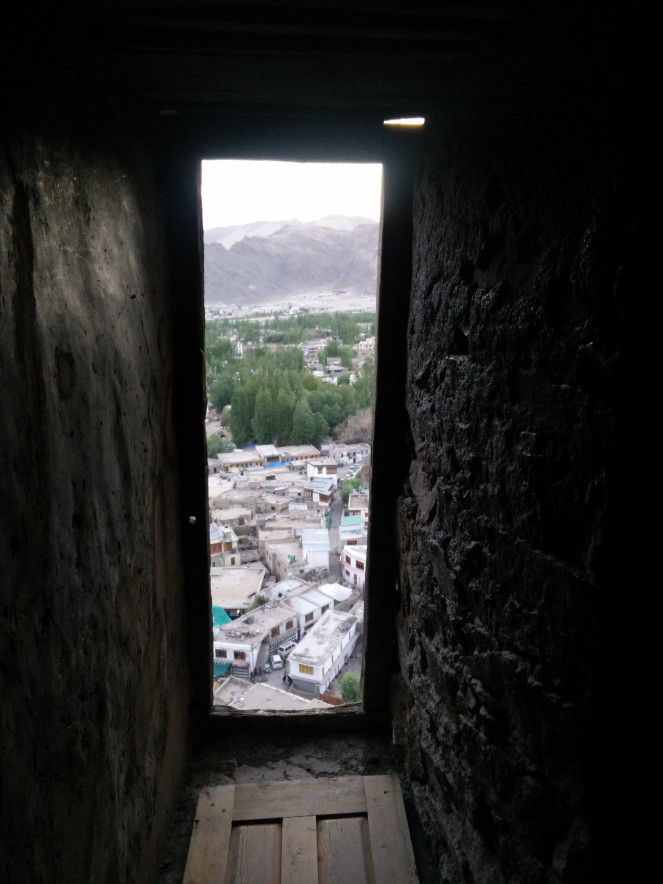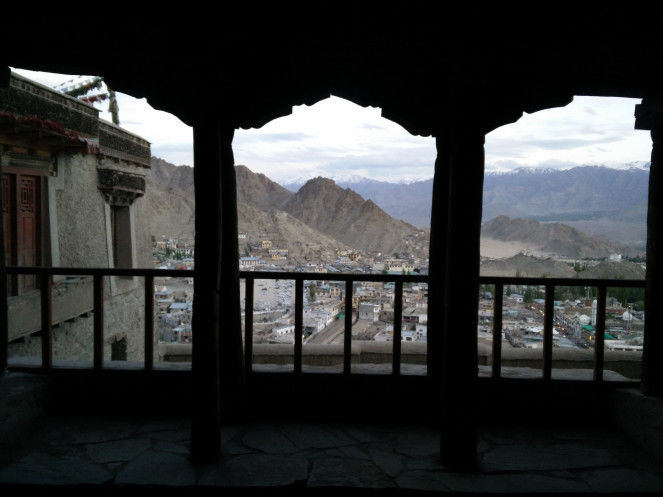 We finished our day wandering in the Leh market & then walked back to the tranquility of our hotel.
Day – 3 & 4 (Leh to Nubhra Valley – ~ 135 KM's / ~ 5 hours, back to Leh)
We started off in the morning for Nubhra Valley. It was approx. a 5 hour drive & most of the way is rocky. The drive is quite jolting & bumpy … almost shocking at times! Every few minutes we cursed our decision of driving to this place. & in the minutes in between of the curses we were amazed with the stupendous scenery the way offered – with river Shayok flowing silently on one side & the raspy dry mountains on the other!
On the way we passed through the highest motorable road in the world – Khardoongla Pass, at a whooping 18,380 ft! That felt like quite an awesome achievement. Within about 5 hours we went from 13,500 ft to 18+ & then down to about 9500 ft (the valley)!!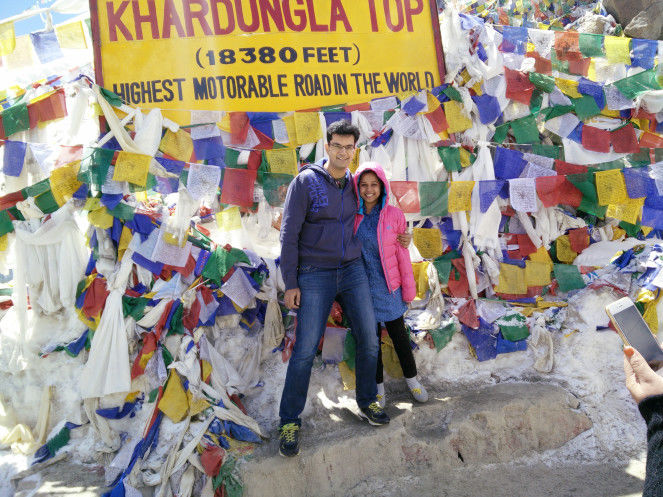 The valley offers so much – green villages surrounded by thrilling stark slopes, spectacular sand dunes!! I was amazed. Any picture taken here was a combination of – blue, brown, some green, some white … sand dunes & water in the same picture. I am running out of words to describe this place – it was dramatic & glorious. The drive was totally worth it. (I have to mention here – None of the pictures are edited & have been taken from a very standard phone. Yes, all of this is real! Un-edited!!)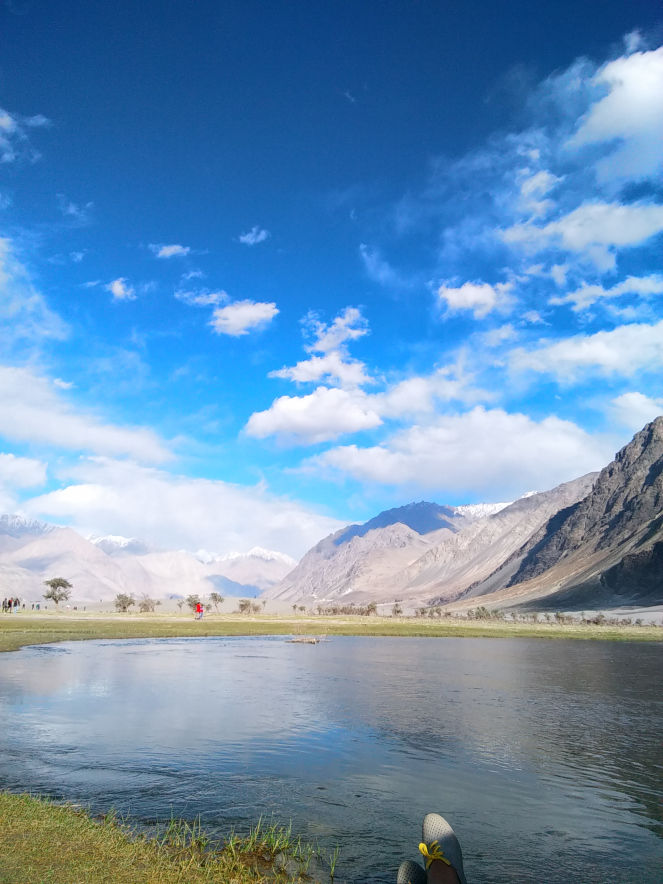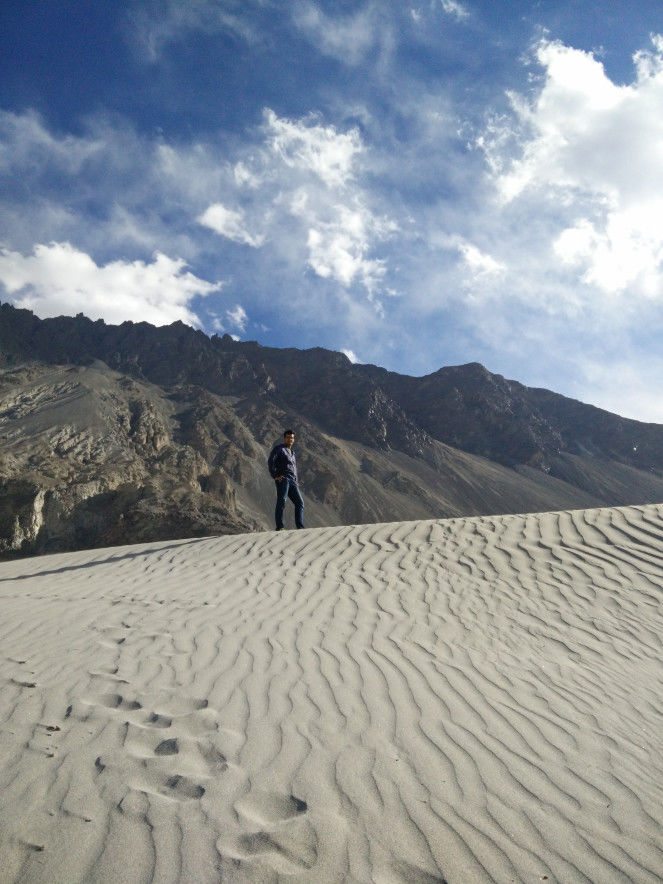 We camped (K2 camps) at the valley. It was a beautiful & comfortable set-up with beautiful trees around, promising deepest sleep ever.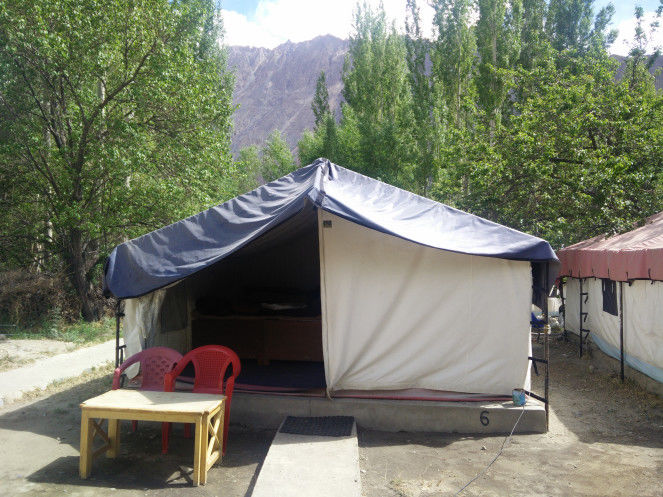 Next day we headed back to Leh. On the way we visited the Diskit Monastery.
Day – 5 & 6 (Leh to Pangong Lake – ~ 165 KM's / ~ 6 hours, back to Leh)
We had no idea what was in store for us!
On way to Pangong Lake we visited Shey Palace, Thimskey Monastery, Hemis Monastery & the very famous "Rancho School", from 3 idiots! In the school, they actually have a wall called the Idiotic wall which is painted with memories from the movie. That was very cute!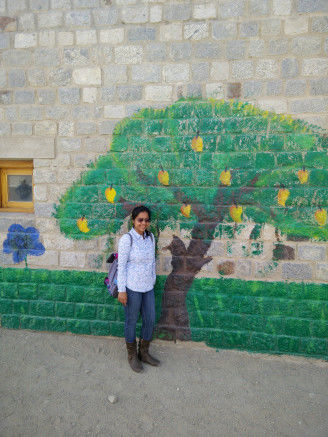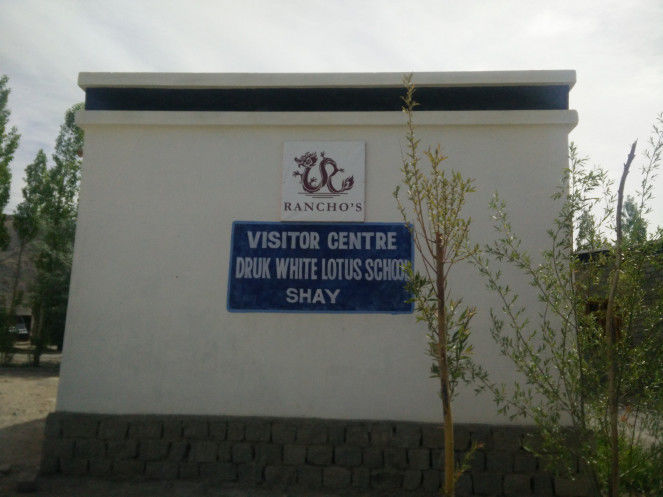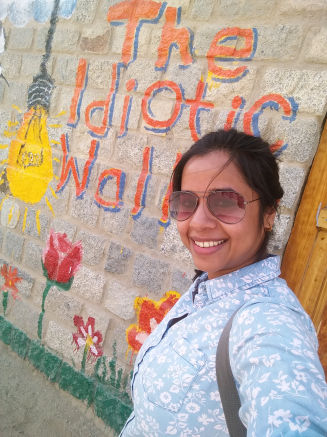 The drive to Pangong Lake was equally bumpy like it was to Nubhra, only this one was a bit longer. The cursing continued & so did the amazement! However, the last 30 KM's drive to Pangong is out of the world! It has been the most beautiful drive of my life so far, & would be so for anybody else. The road suddenly became perfect (way better than regular city roads!), only with occasional bumps. We were driving alongside white sand mountains which glowed golden under the sun (to me it looked like a white water river!) & then occasionally we were driving alongside green pastures of endless land with horses & sheep carelessly grazing. Remember that poem from school – "What is this life full of care; we have no time to stand & stare!" – Well, perfect setting to stand & stare without any care! I don't think my words have done justice to what I saw & experienced, am going to let some of these pictures do the talking!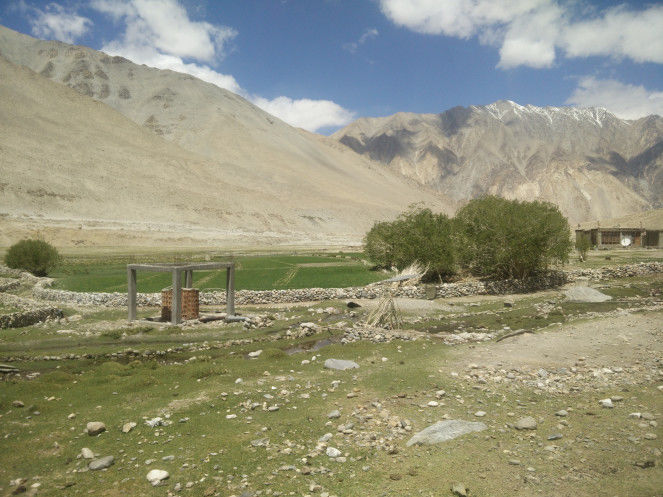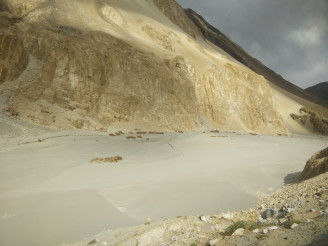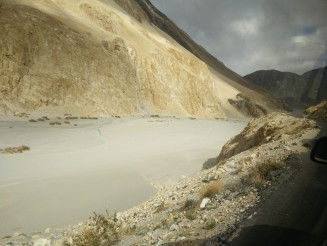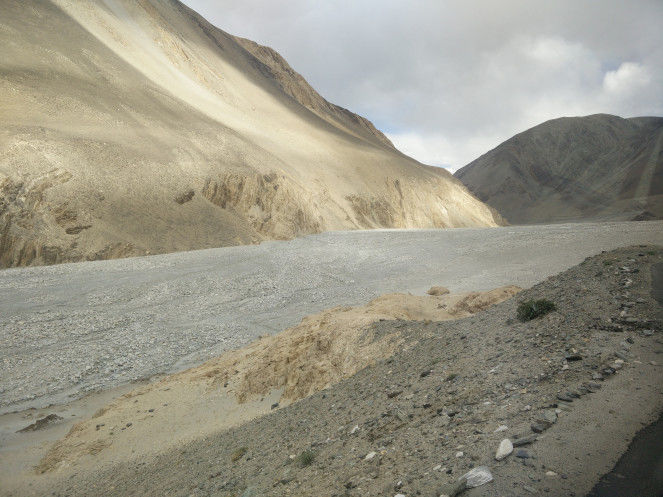 Our excitement was so fueled up by the drive & by the lake's 'official' first view.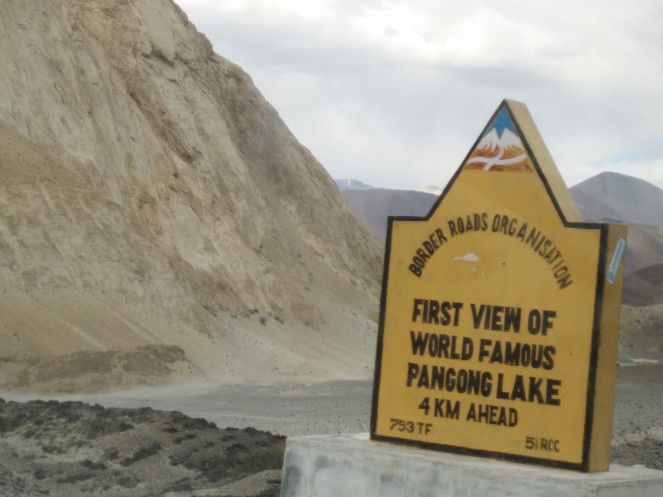 & then we had finally 'arrived'. It was heaven. Nature's masterpiece!, crafted with such brilliance. Endless blue water, occasionally changing colors. I think I lost my mind for some time, I didn't know what to do! Every time we looked at the lake, it looked some different. We took so many pictures, but could never capture the lake's real beauty. Again, I'll let these pictures do the talking!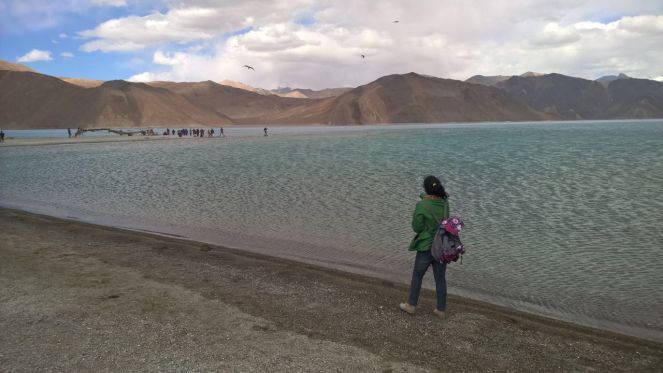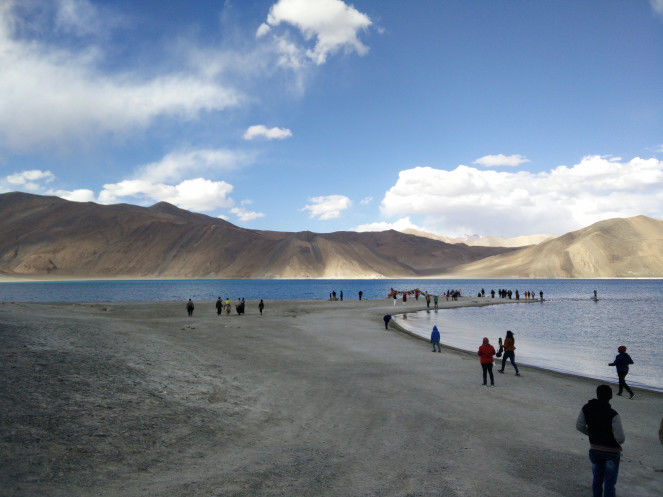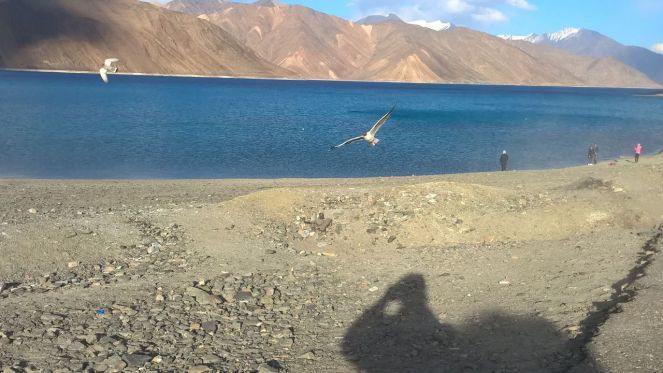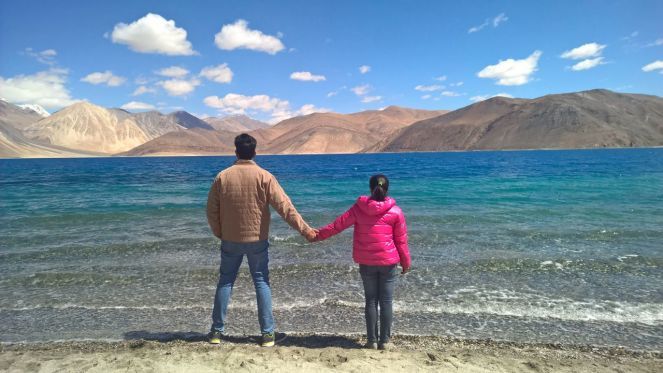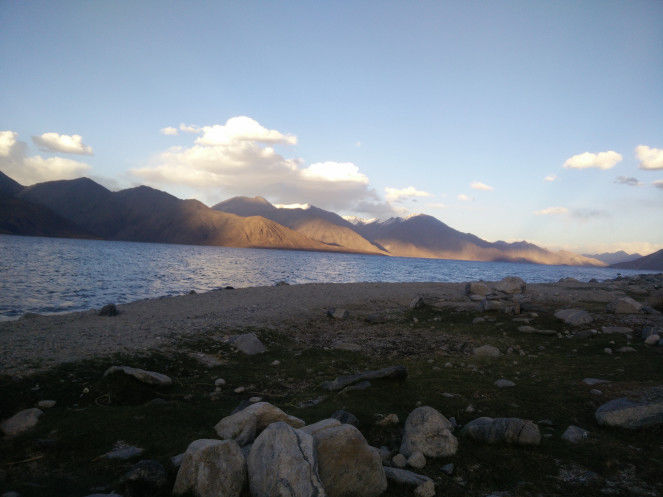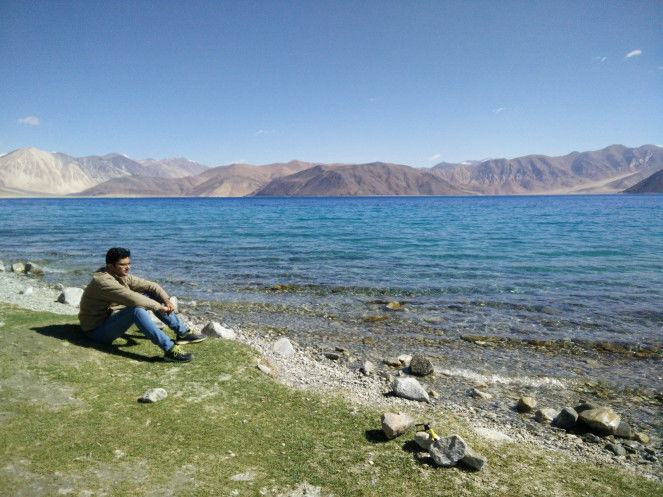 We camped at the lake side (Himalayan Retreat Camp). It was a divine experience. One of the best I have had so far!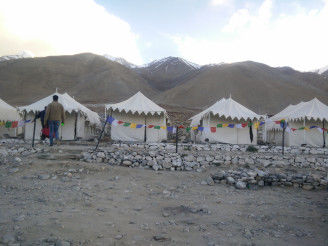 Next day early morning we started our way back to Leh for another leisurely evening at our hotel.
One hell of a journey it was!
There is so much to see, so much to cherish & so much to bring back from a trip to Ladakh. For me, it was a trip that has given me memories worth a lifetime, a trip that has permanently carved stunning sights of this dazzling place in my mind!
The memories from this one will twinkle in my eyes for very long.❤
Frequent Searches Leading To This Page:-
Best Tour Packages for Ladakh, Ladakh Tour Package for Couple, Best Travel Packages for Ladakh, Budget Trip Packages for Group to Ladakh, Ladakh Holiday Tour Packages, Top Ladakh Tour Packages For Family, Ladakh Tour Package for Couple from Delhi