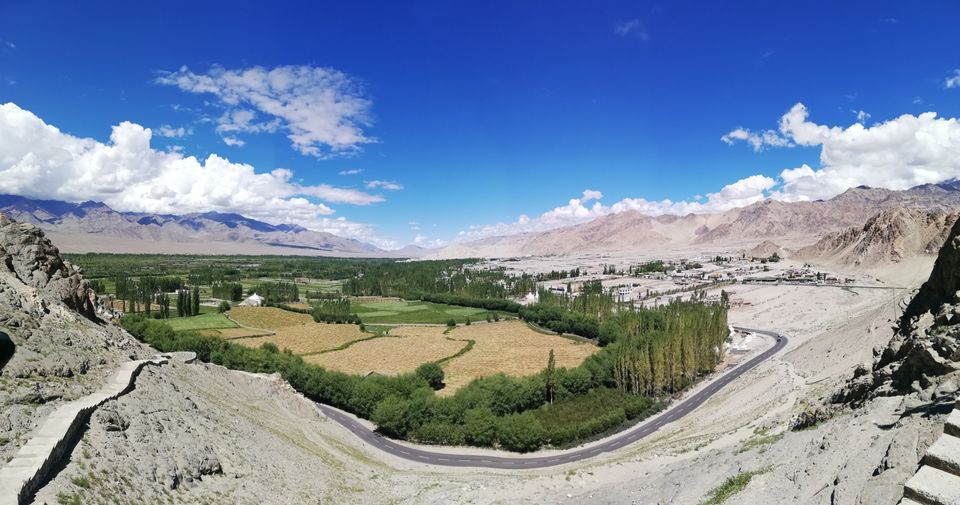 After arriving at Kushok Baluka Rimpochee Airport in Leh early morning, one can already feel the chill inside them. Although the capital city of Ladakh is situated in a valley surrounded by Ladakh and Zanskar mountain ranges, it is on it's own 10,000 ft above sea level. So, buying oxygen cans from Airport for elderly people is recommended.
We booked the trip from Tripoto offers. Oyo Total Holidays arranged our trip and in most of the aspect the trip was more than satisfying. Our driver greeted us at the Airport and took us to our hotel, Dimbir Regency at Skara Road. After pleasing our visual organs with heavenly views of Himalayan and Karakoram Ranges from our flight, it was time for some rest and acclimatisation.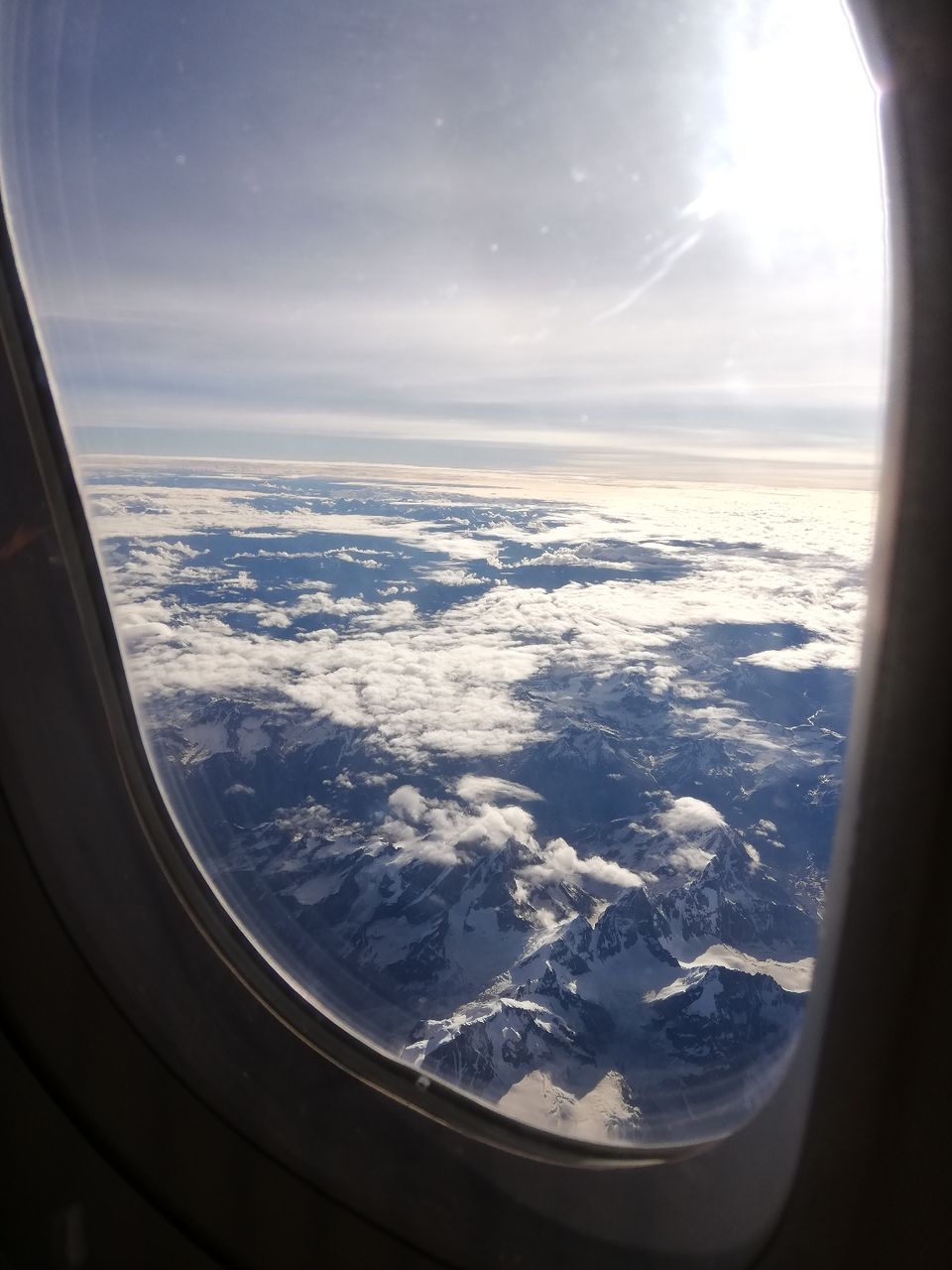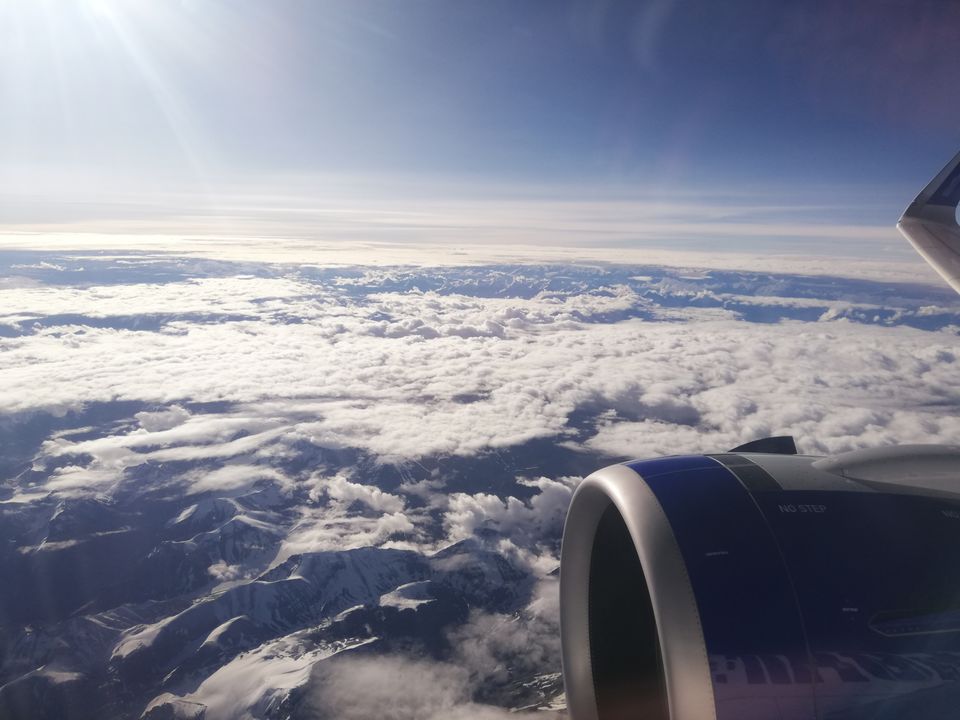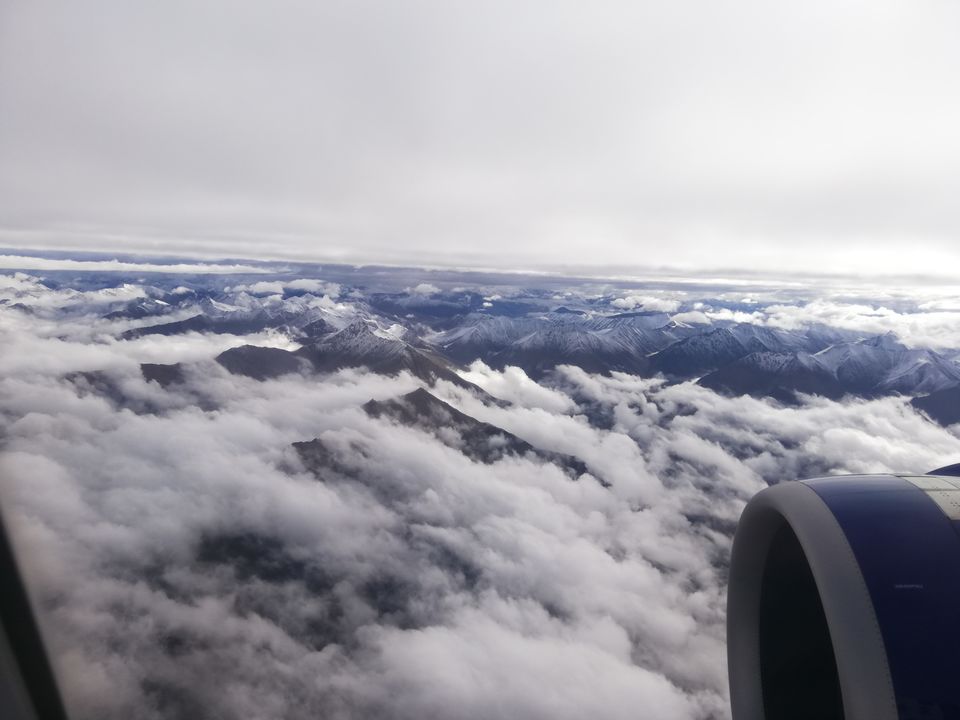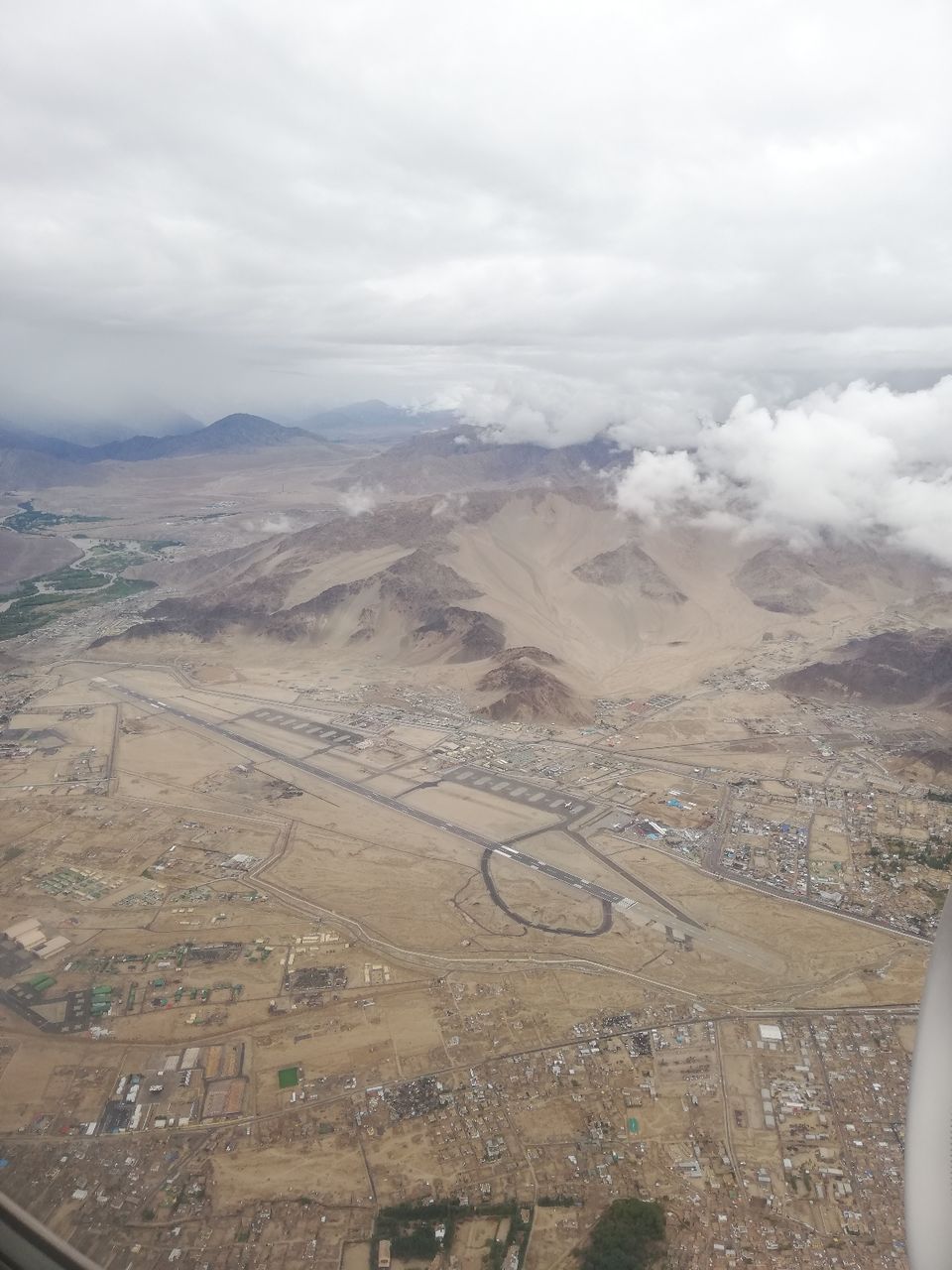 We destined for Shanti Stupa completing lunch at hotel. Shanti Stupa is a Buddhist monument created with the help of Japanese Govt. at 1983 to celebrate the buddhist architectures of Ladakh. It is very scenic, situated on a hill overlooking the city. You can get a panoramic view of the city from here.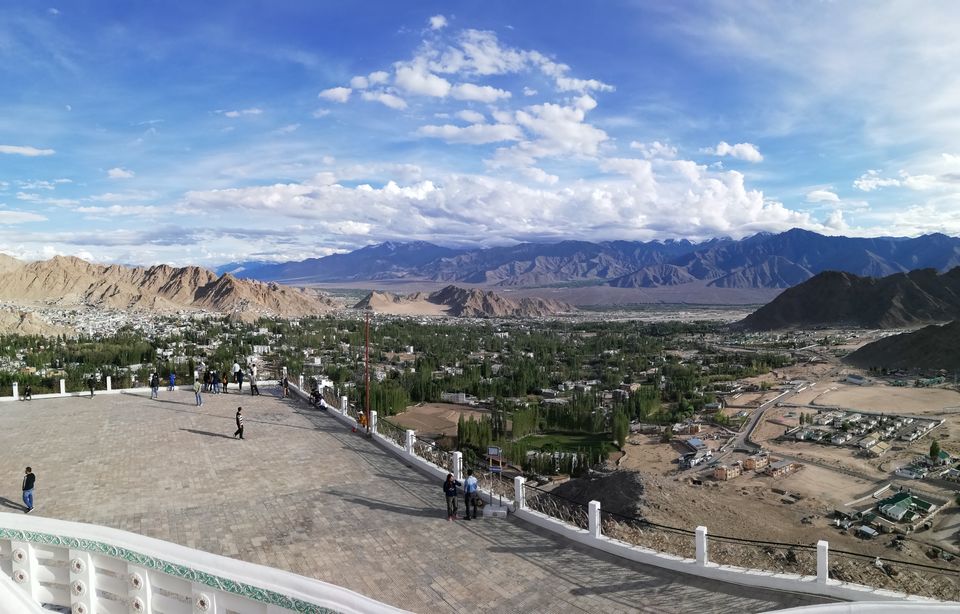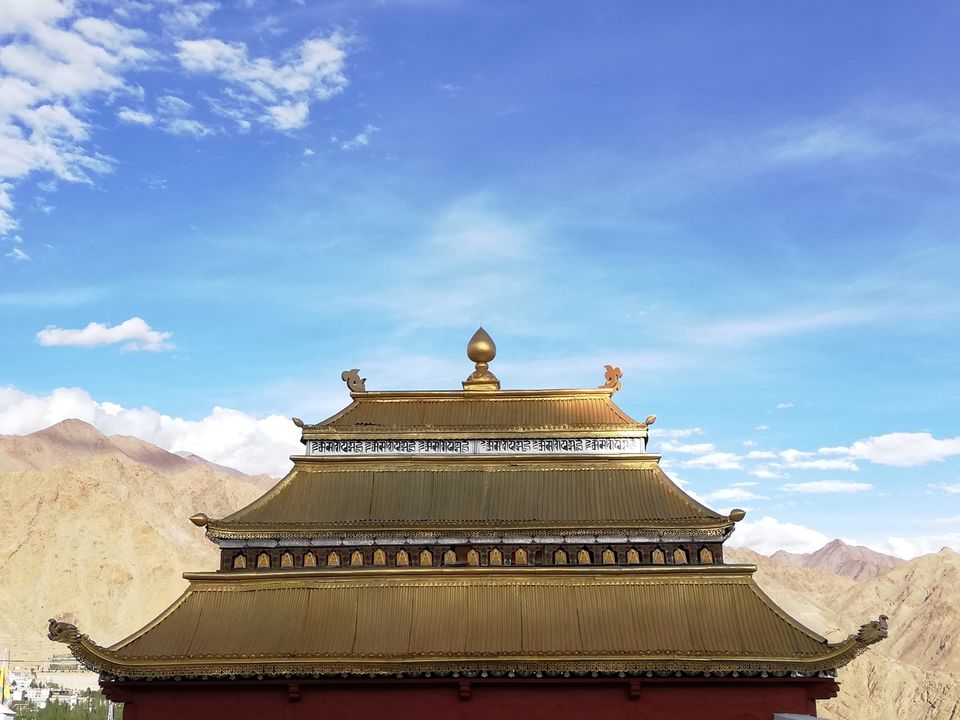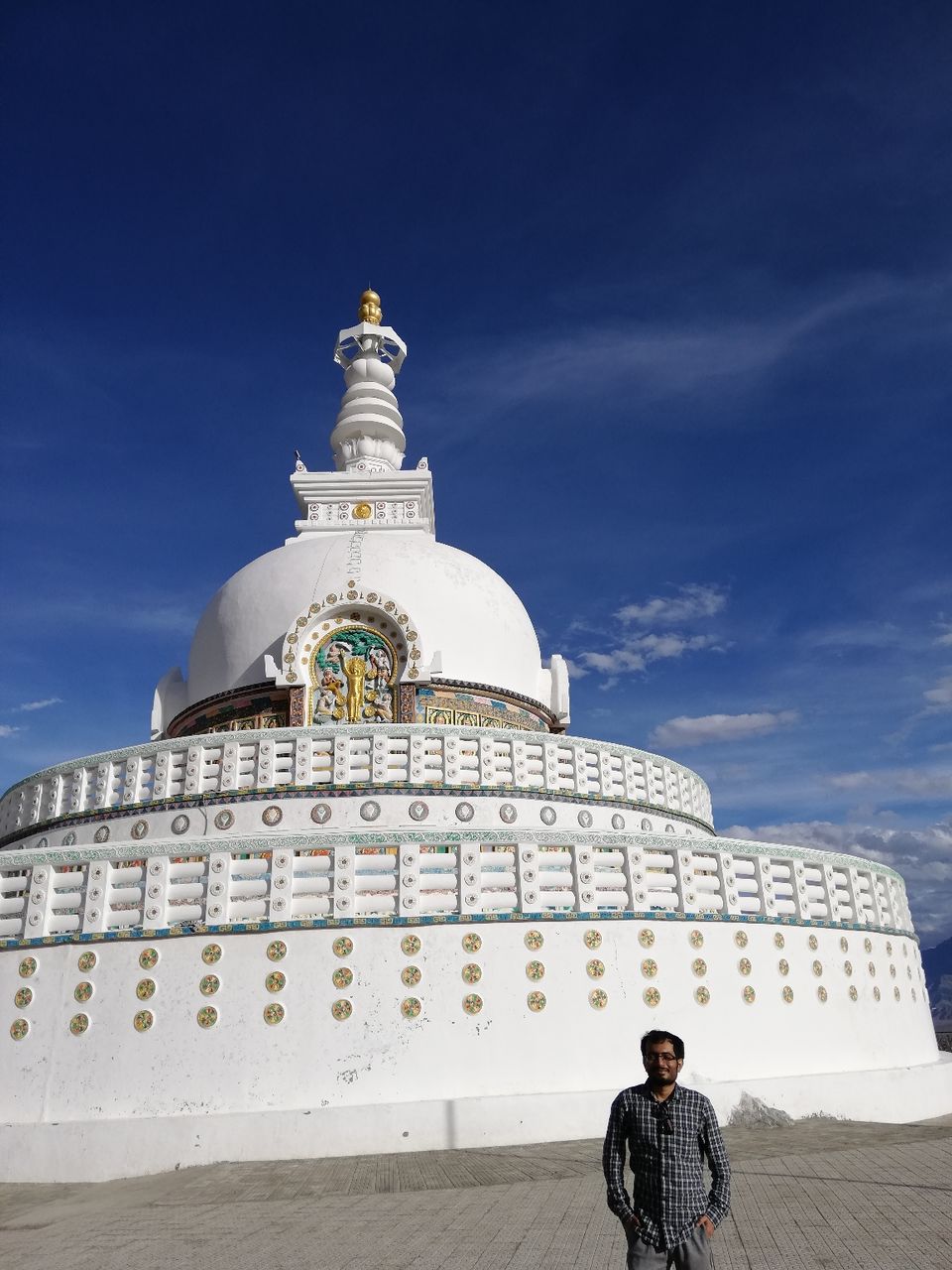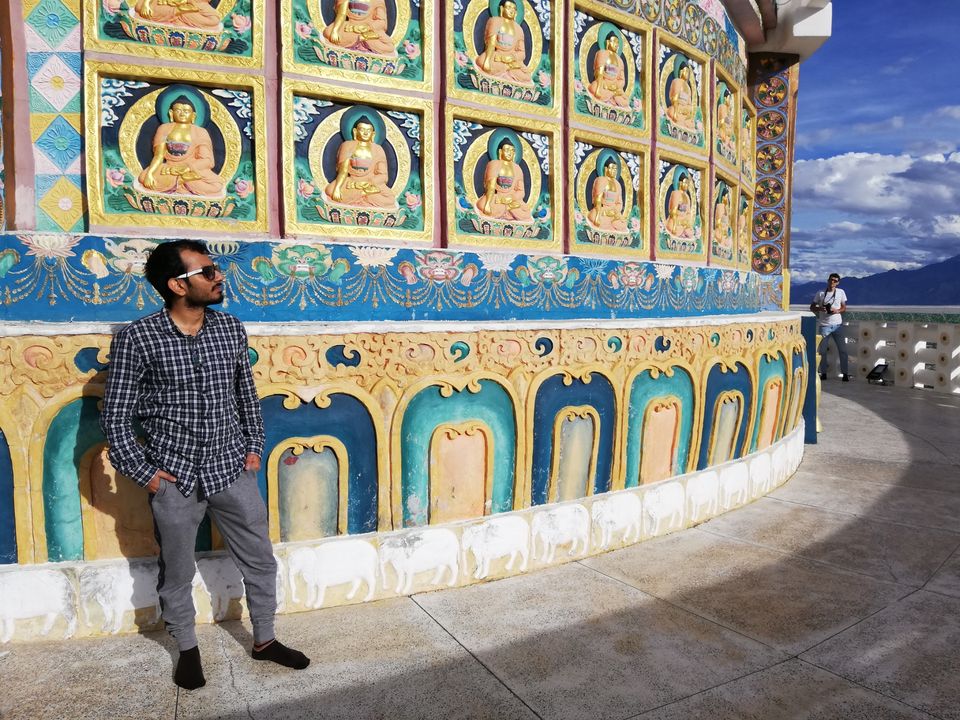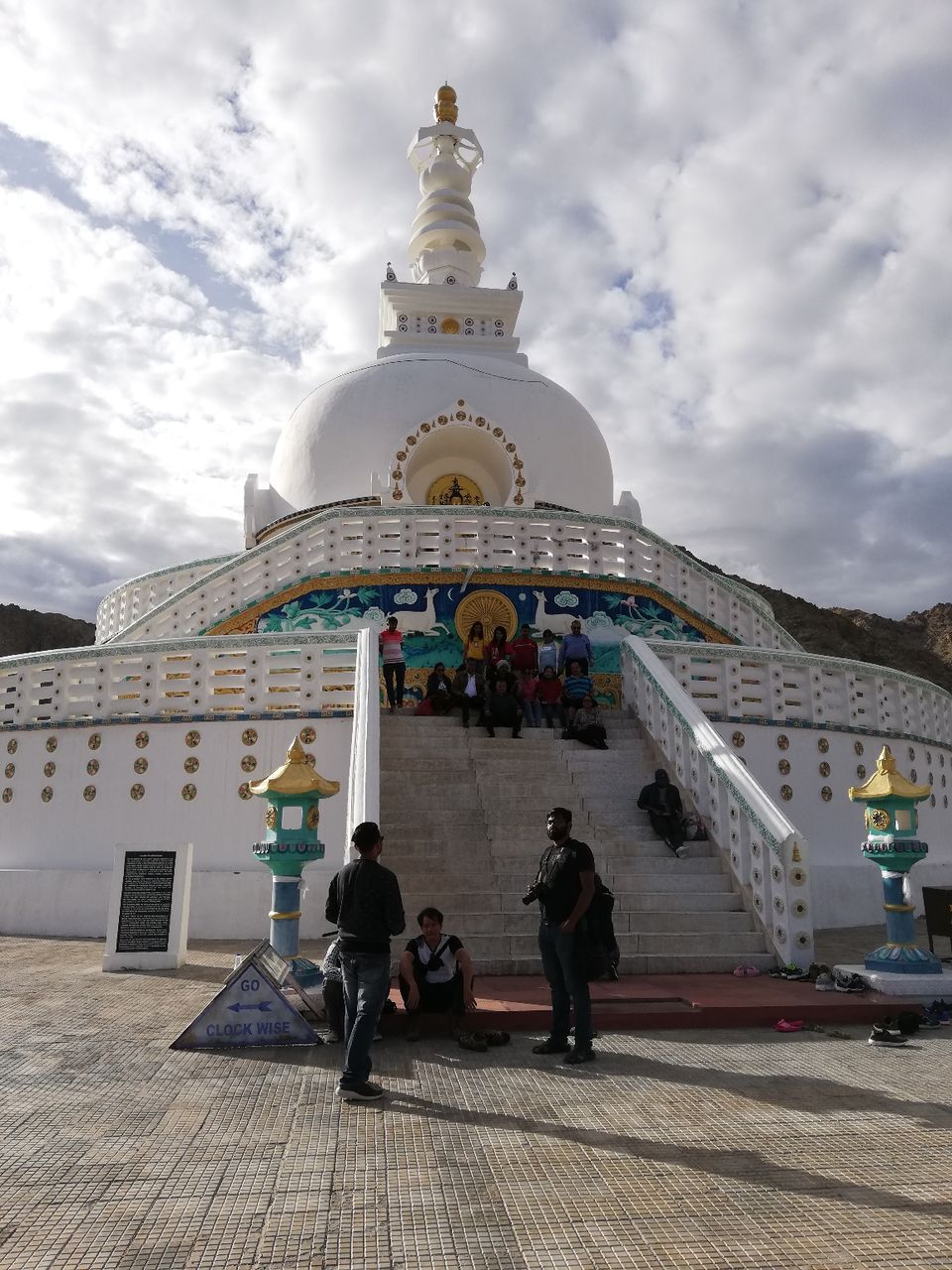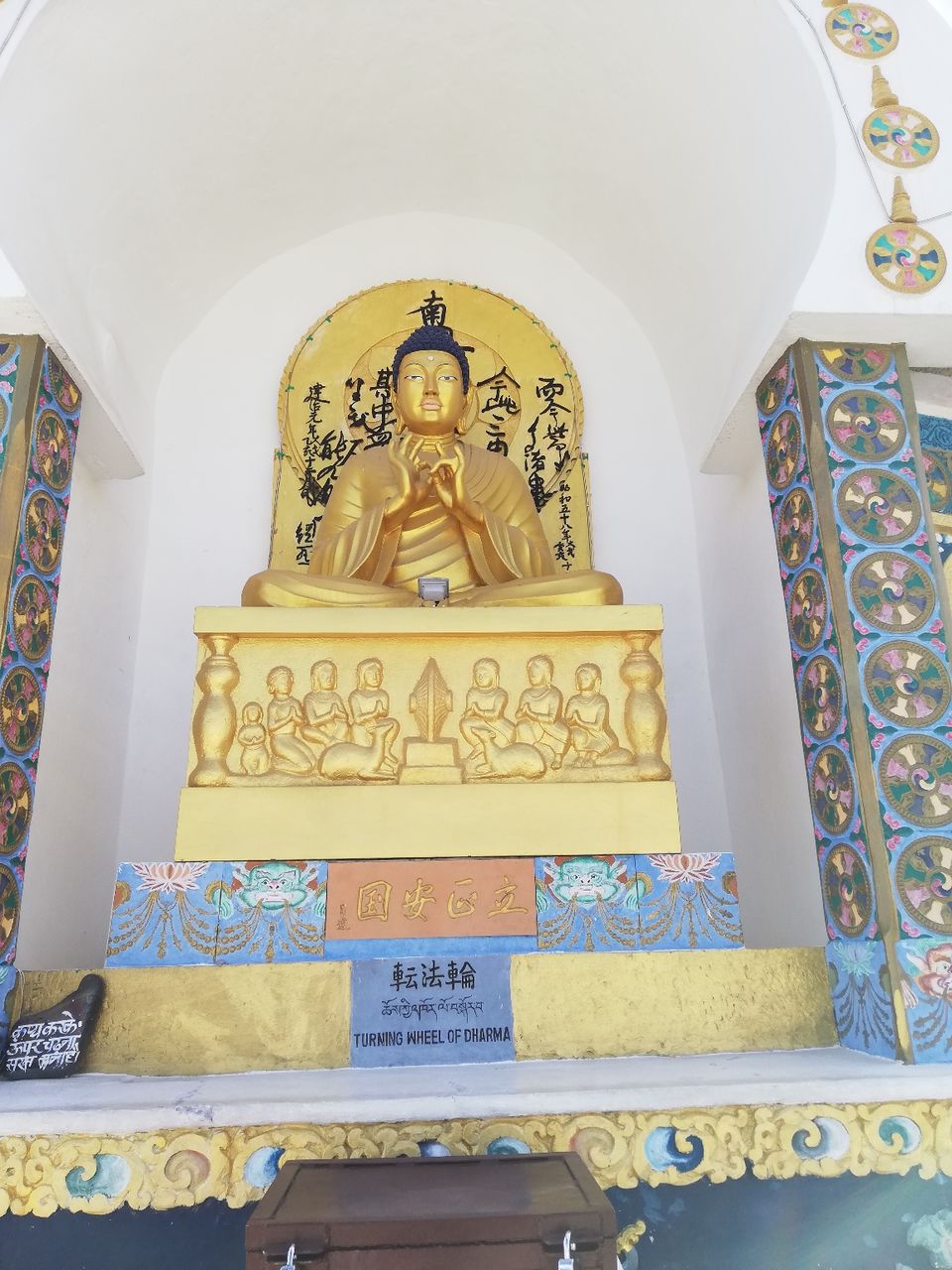 From there, we went to Leh Palace, on the other side of the city. It was built by legendary Ladakhi monarch Sengge Namgyal in 1600s. It is a 7-levelled fort, with a museum and a prayer hall inside of it. The roof of Leh Palace also offer a great view of city soaked in the light of setting sun.
Afterwards, we went on a shopping spree in Leh Market( which is just downhill from Leh Palace) and completed day 1.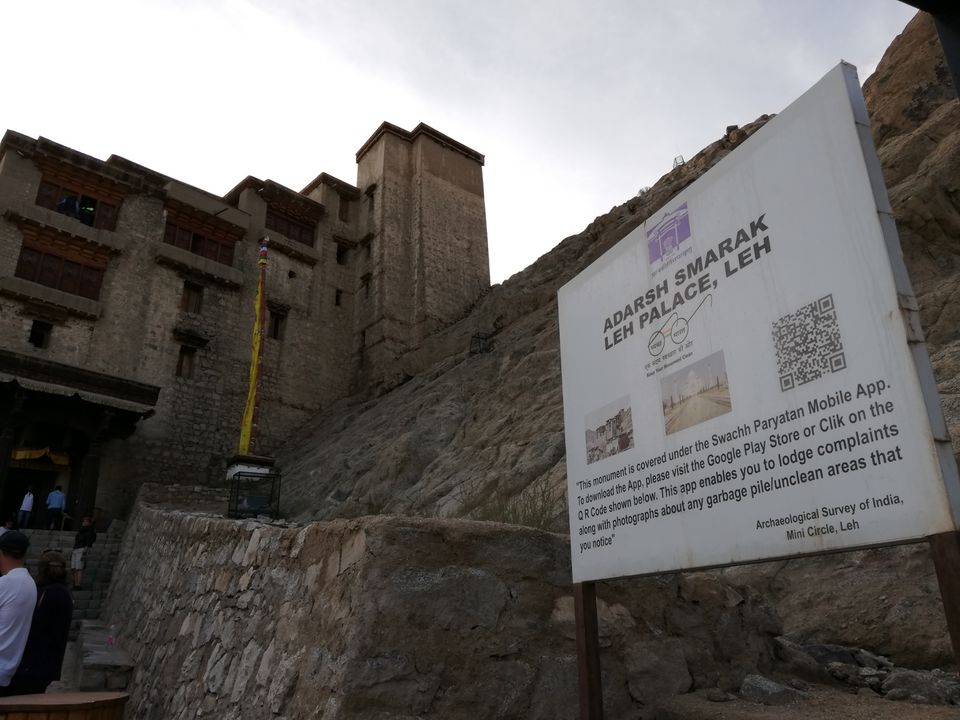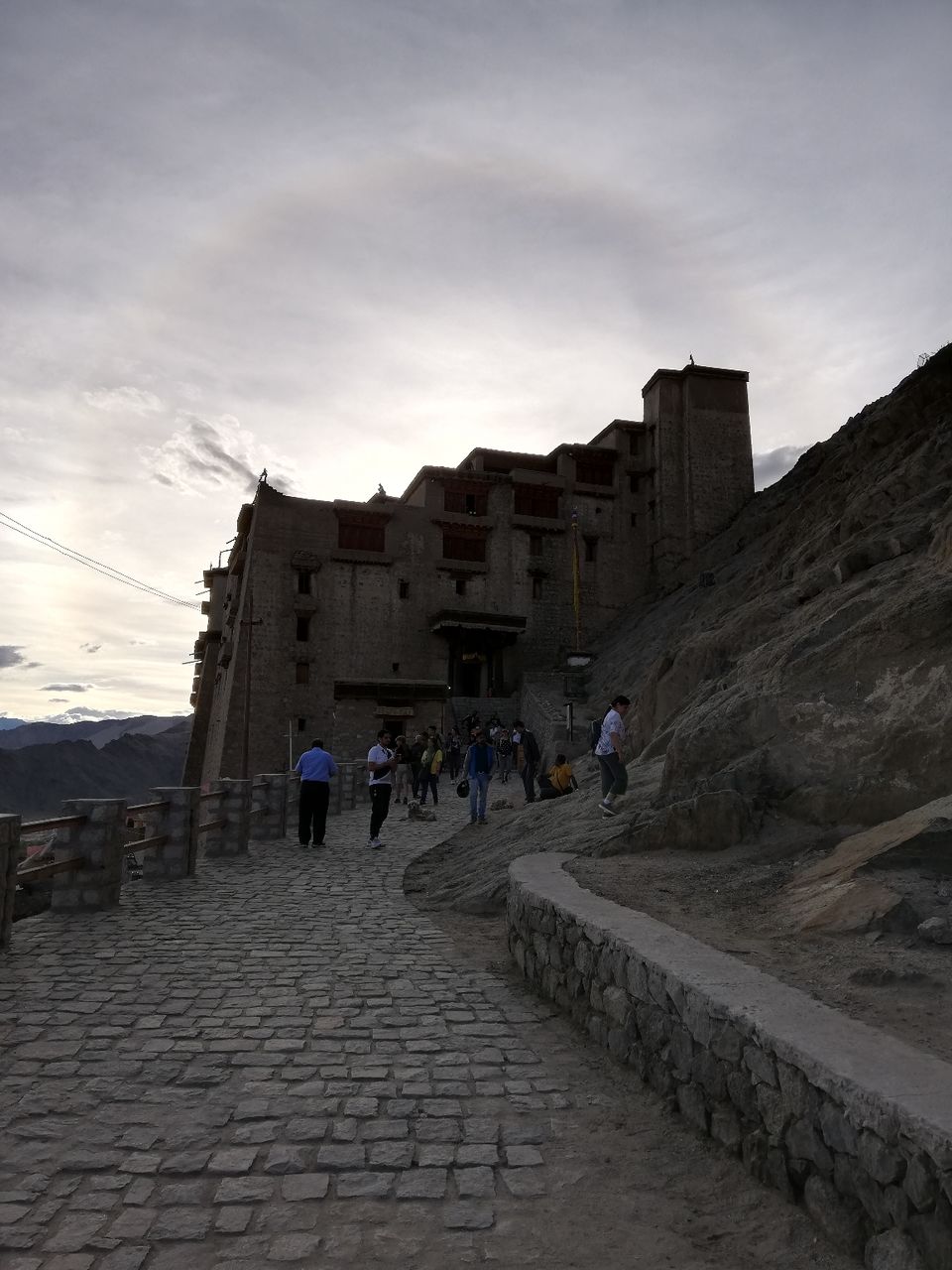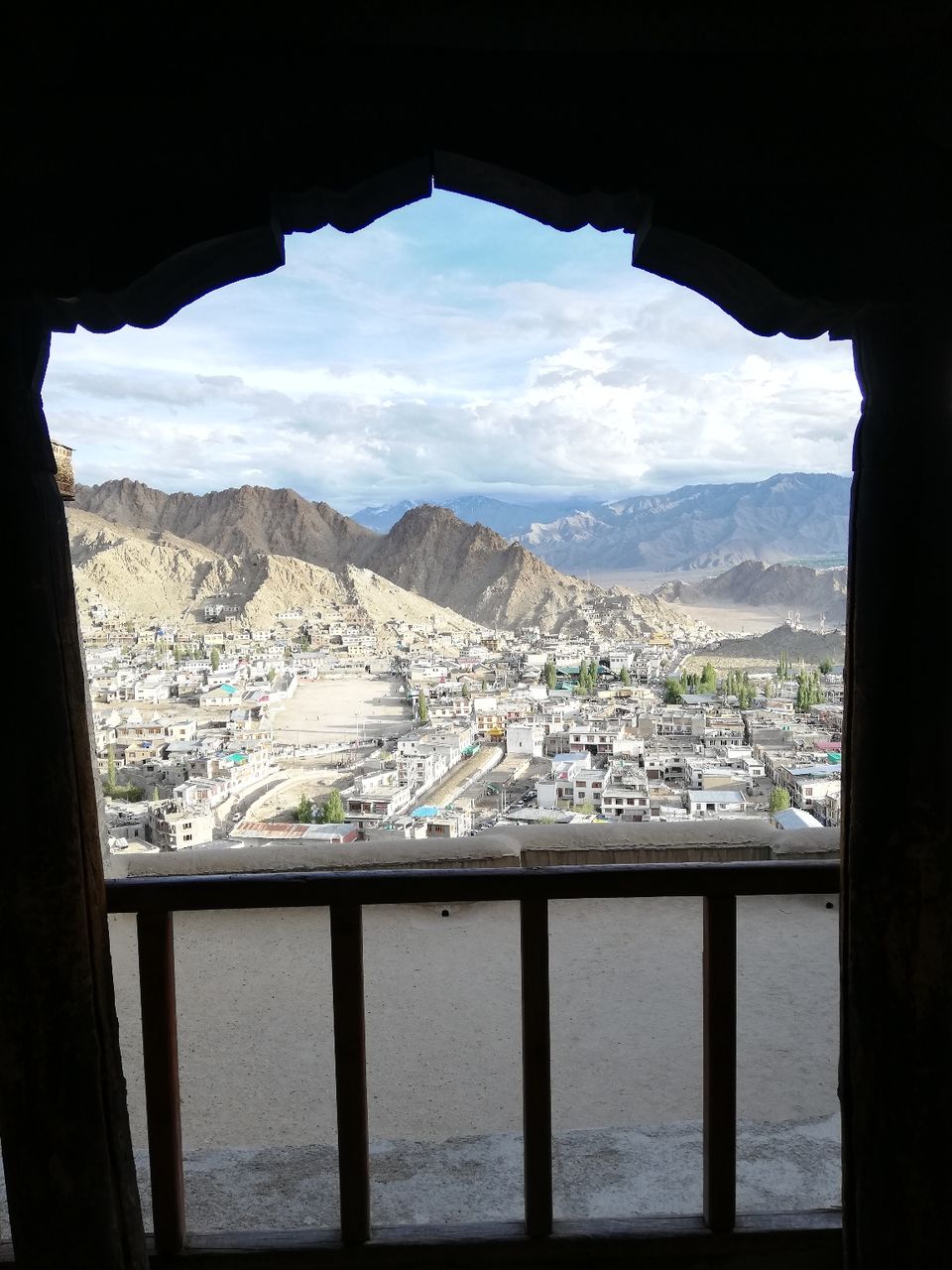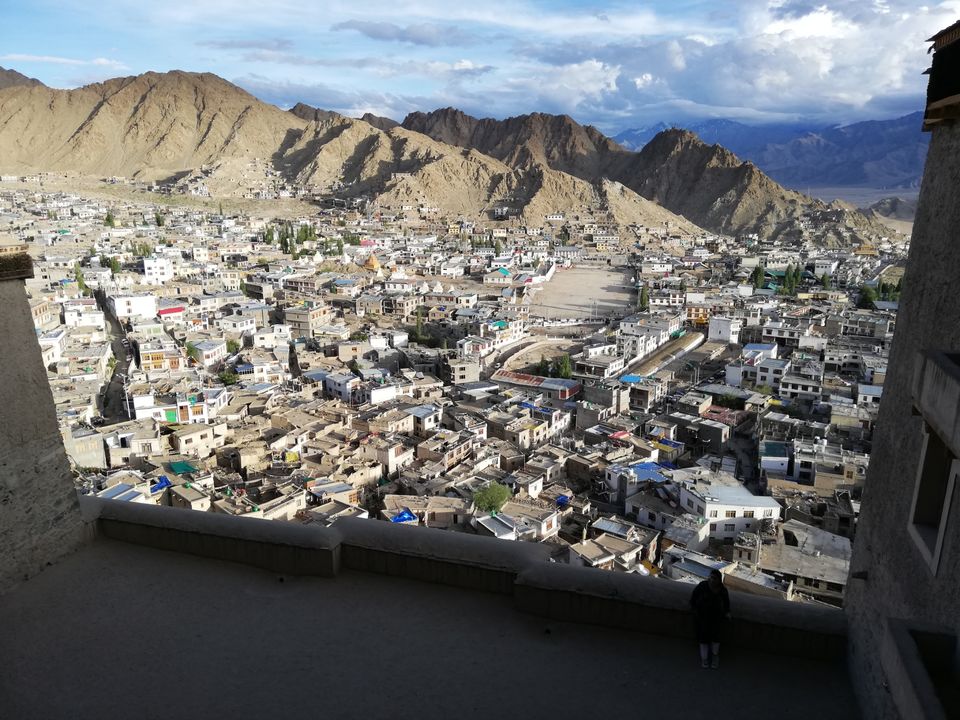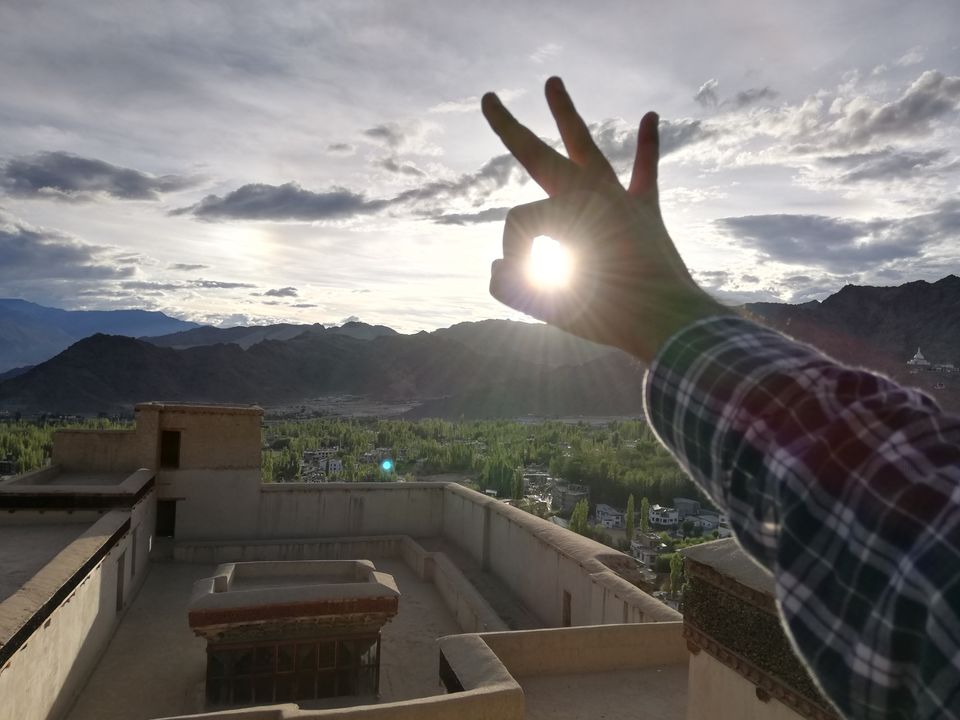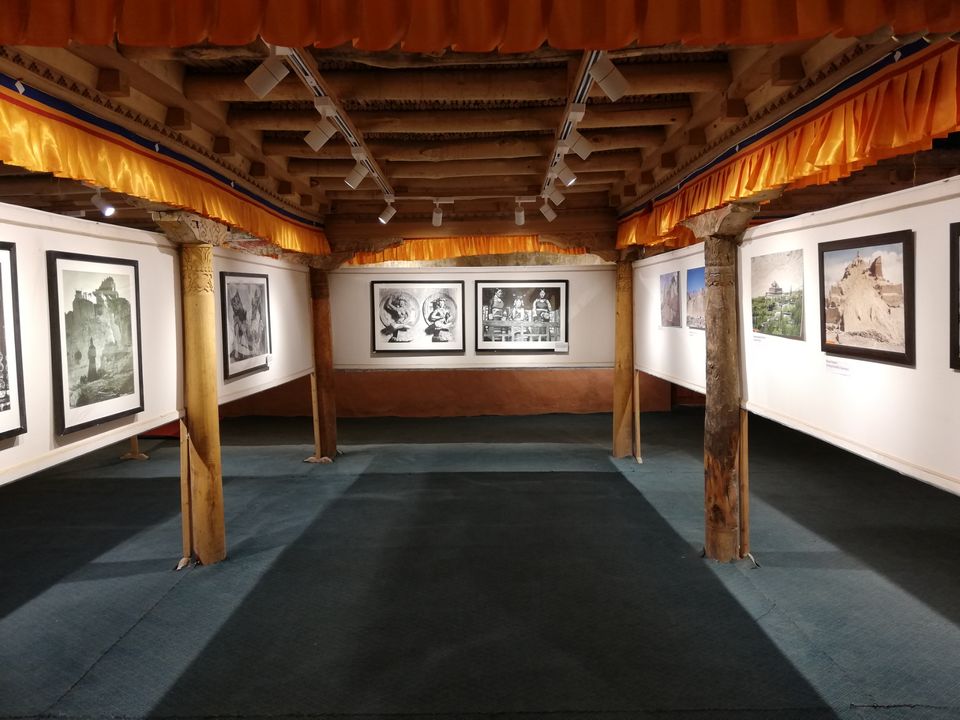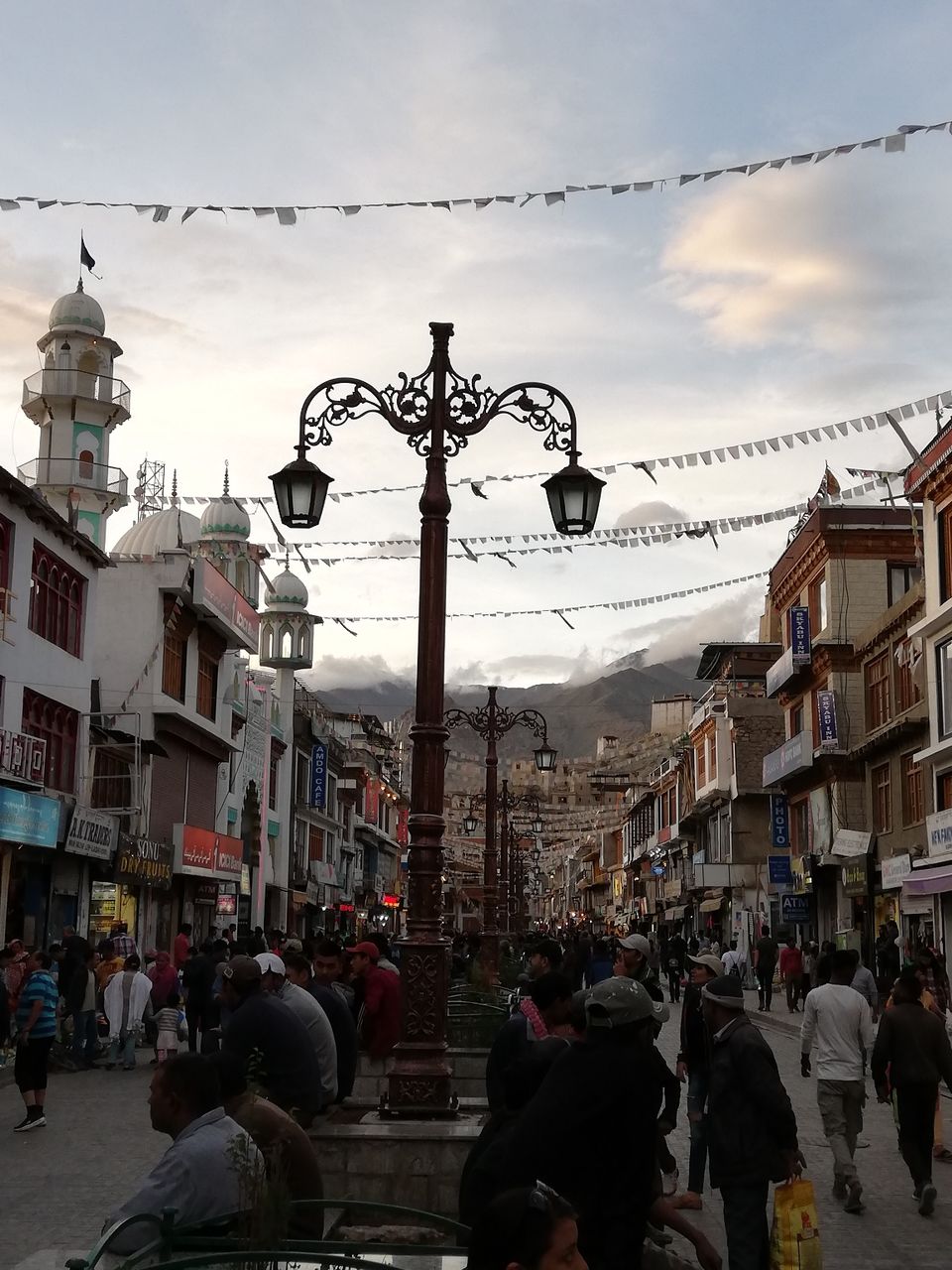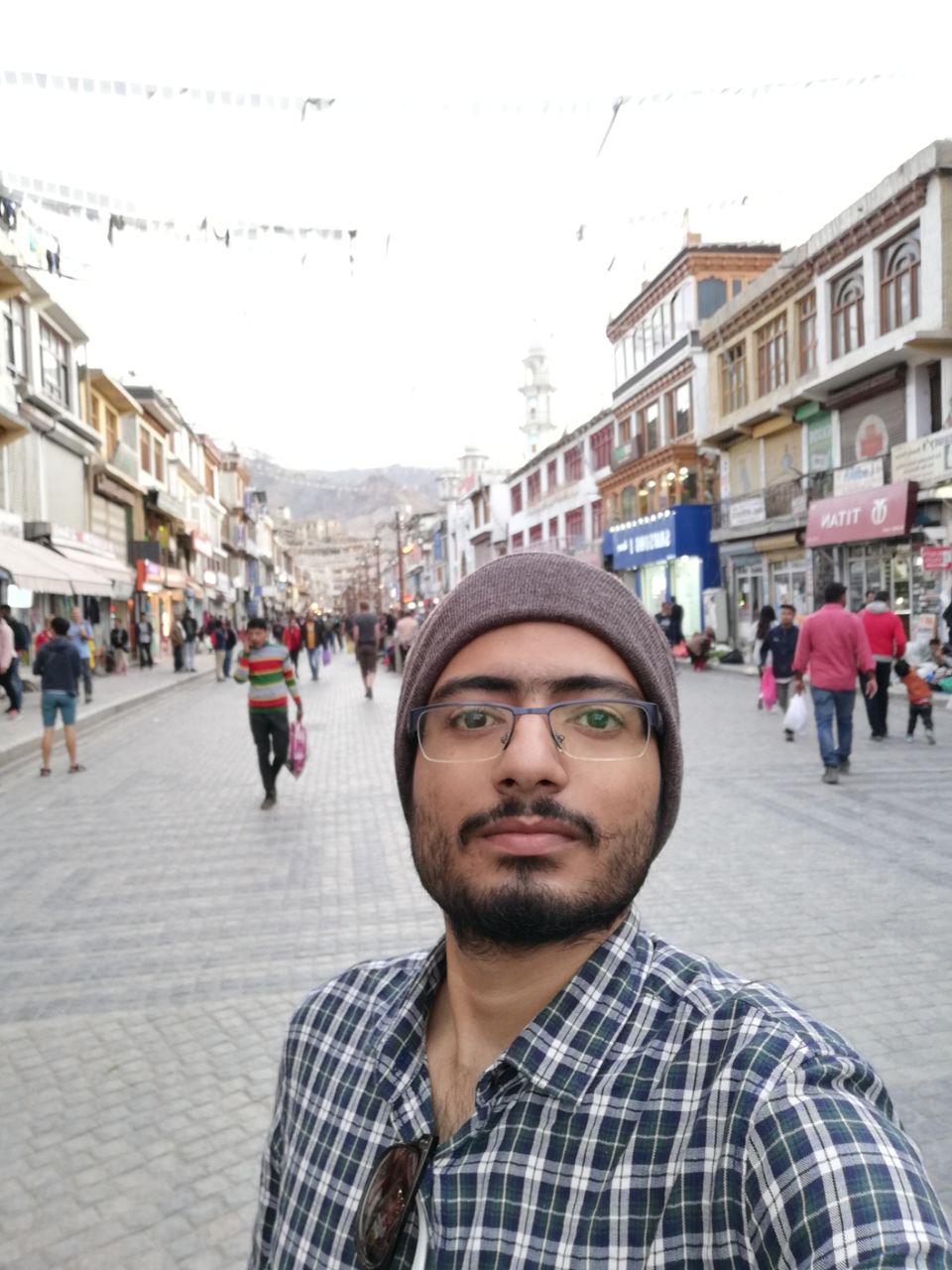 Day 2 was dripped with patriotism. We started the day with Hall of Fame Museum. Here you will have everything you want to know about Ladakh; it's geography, history, demography, culture.
And, the history of the wars fought here with a brilliant scribes of the brave soldiers who gave their life defending our home country. The weapons taken from Enemy frontiers are also showcased in the museum.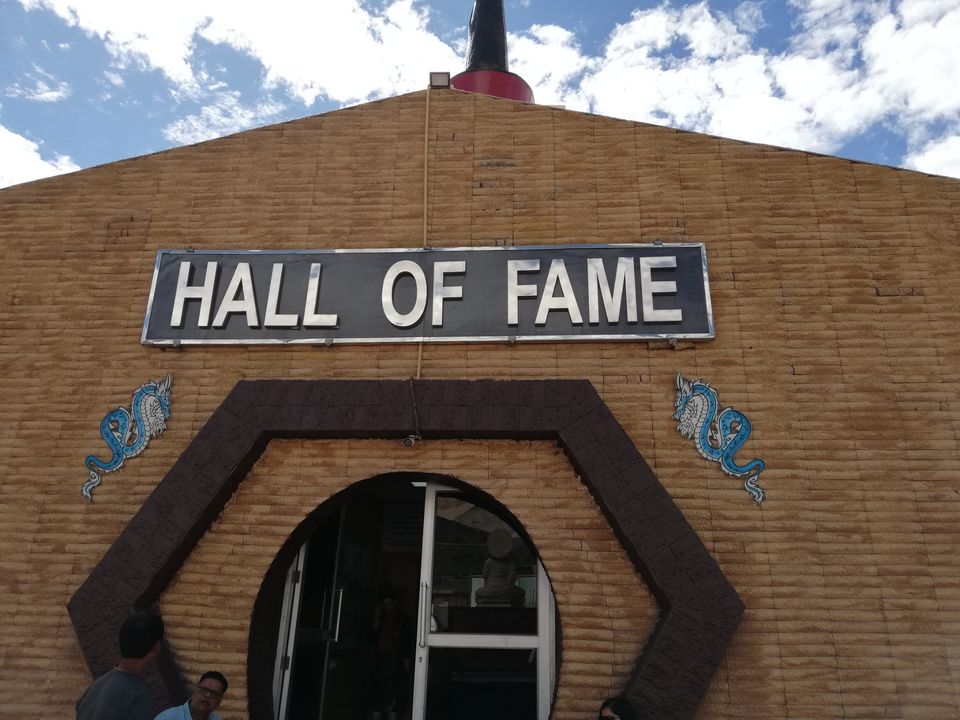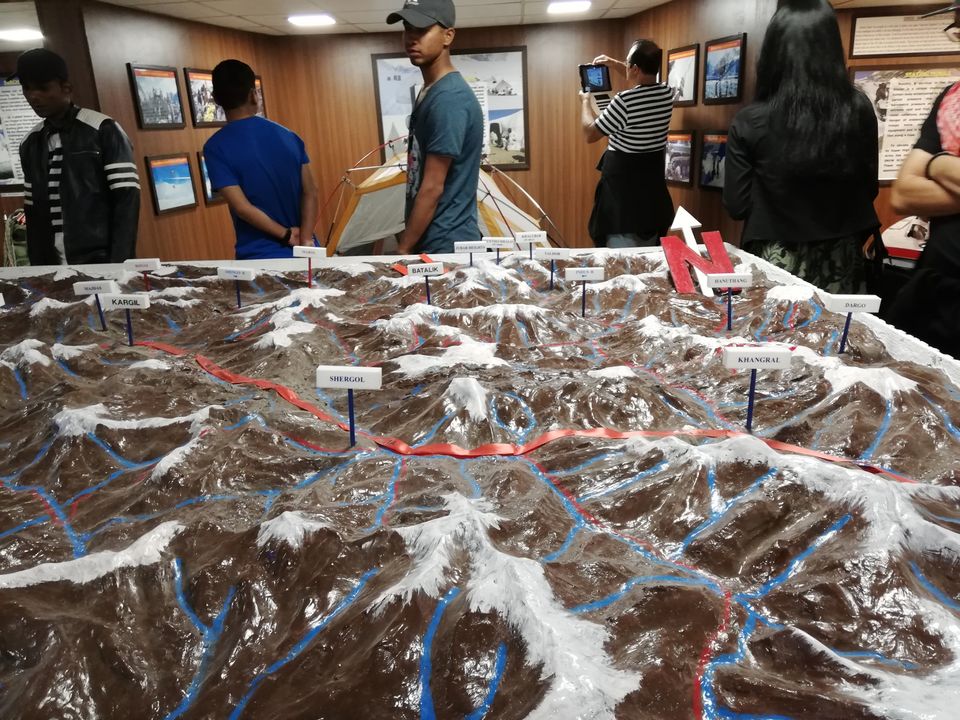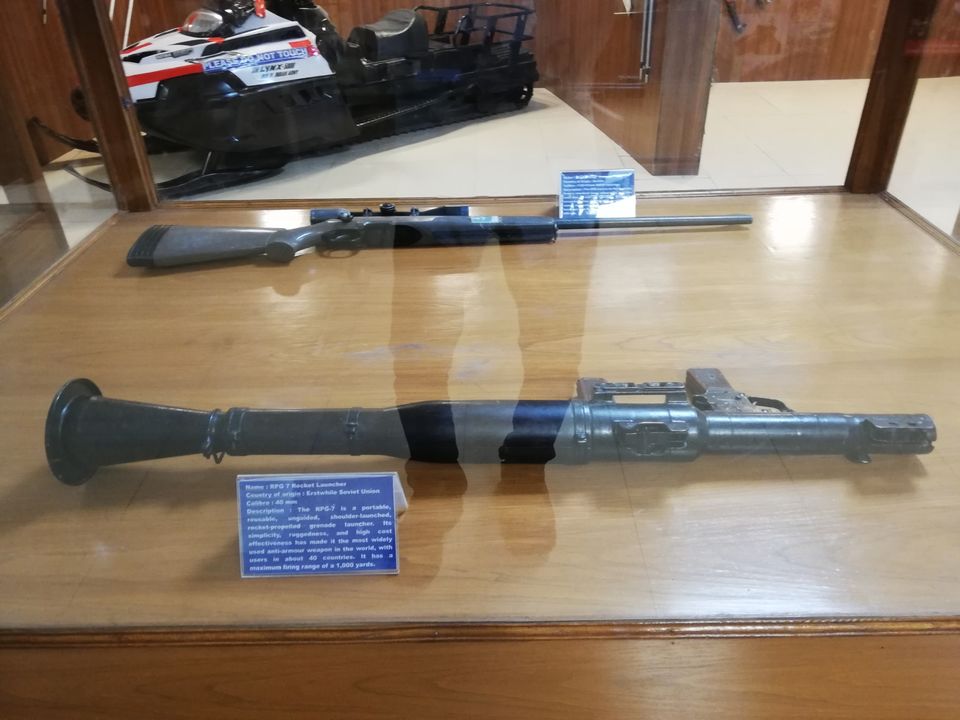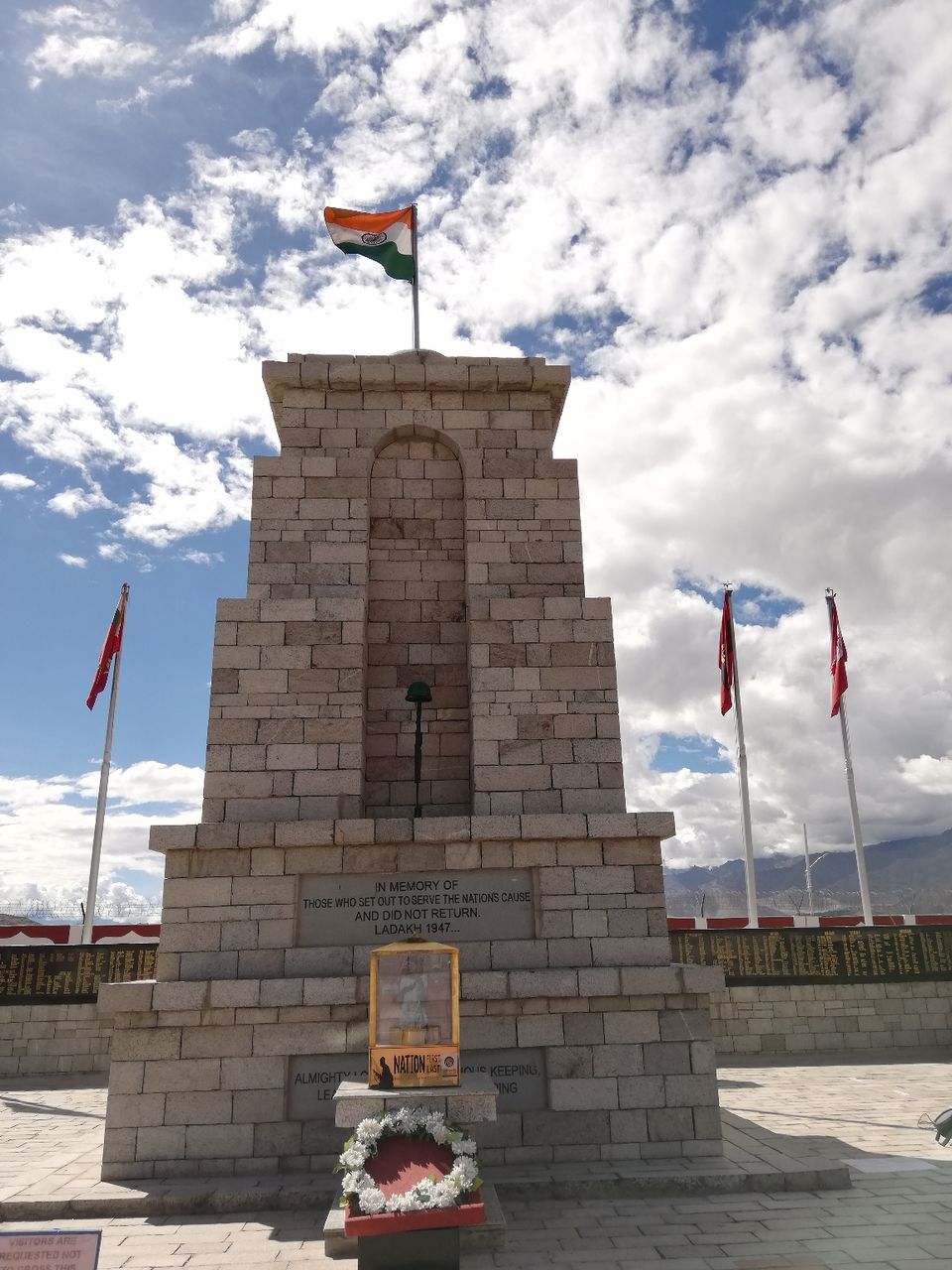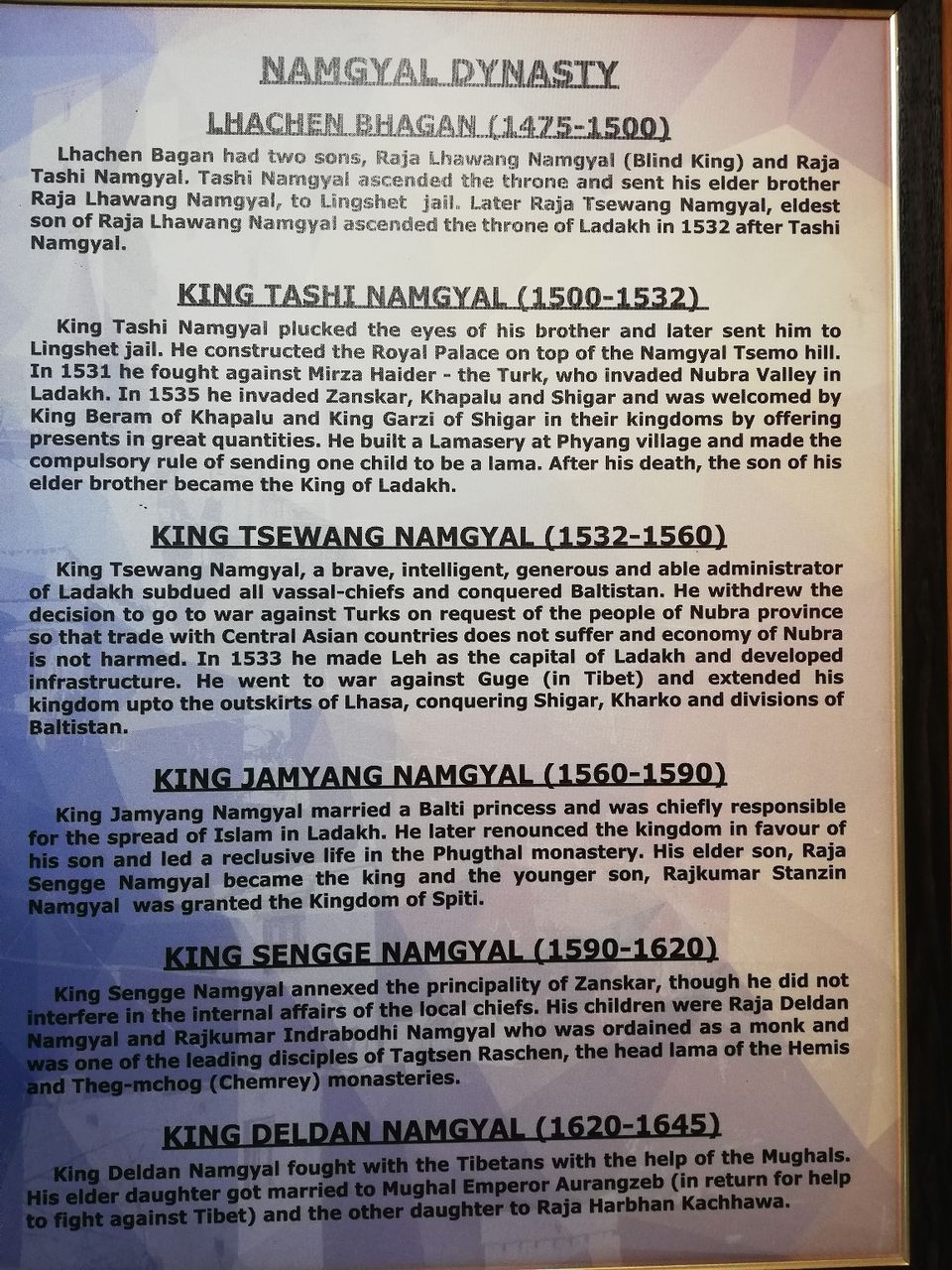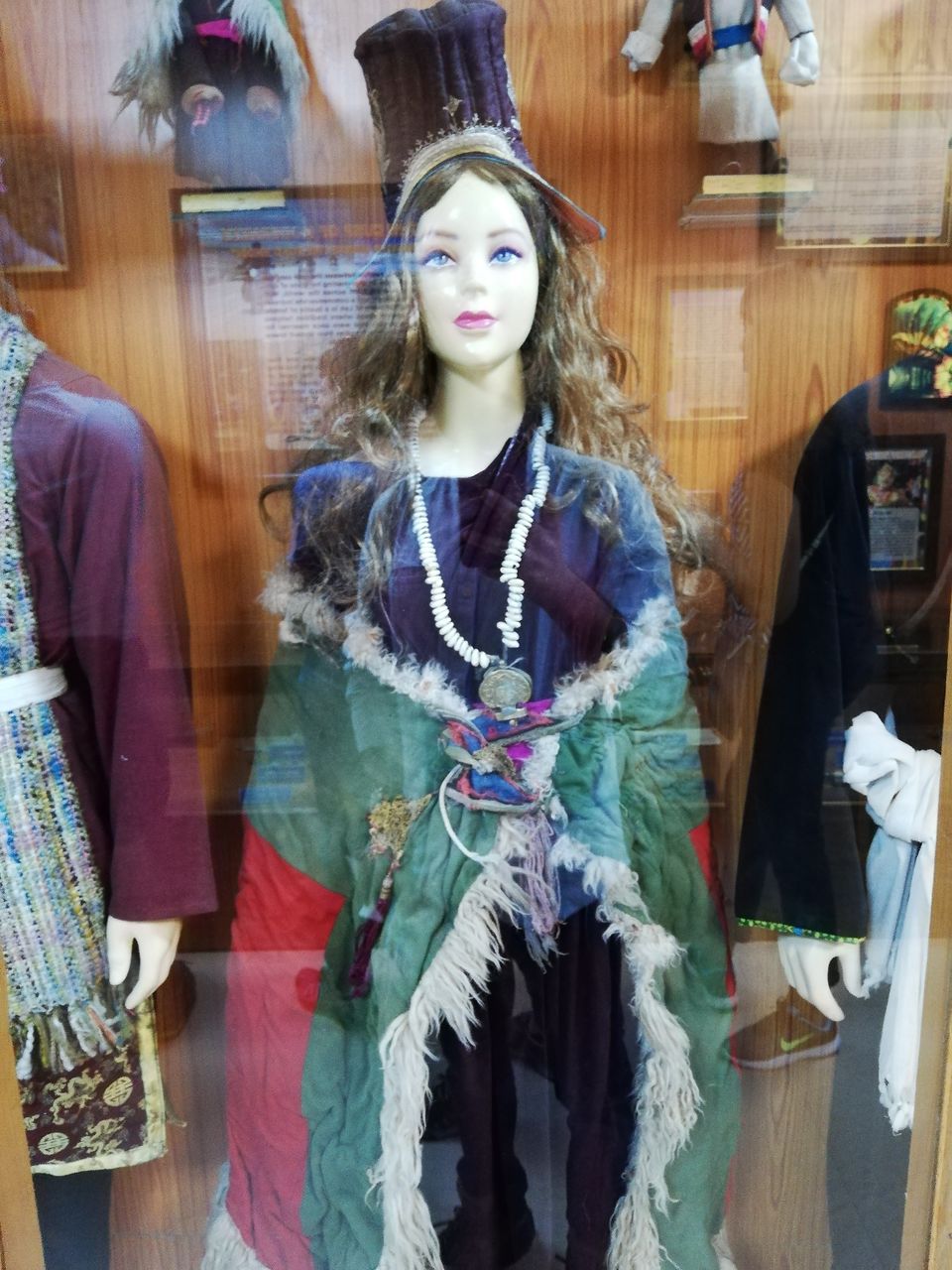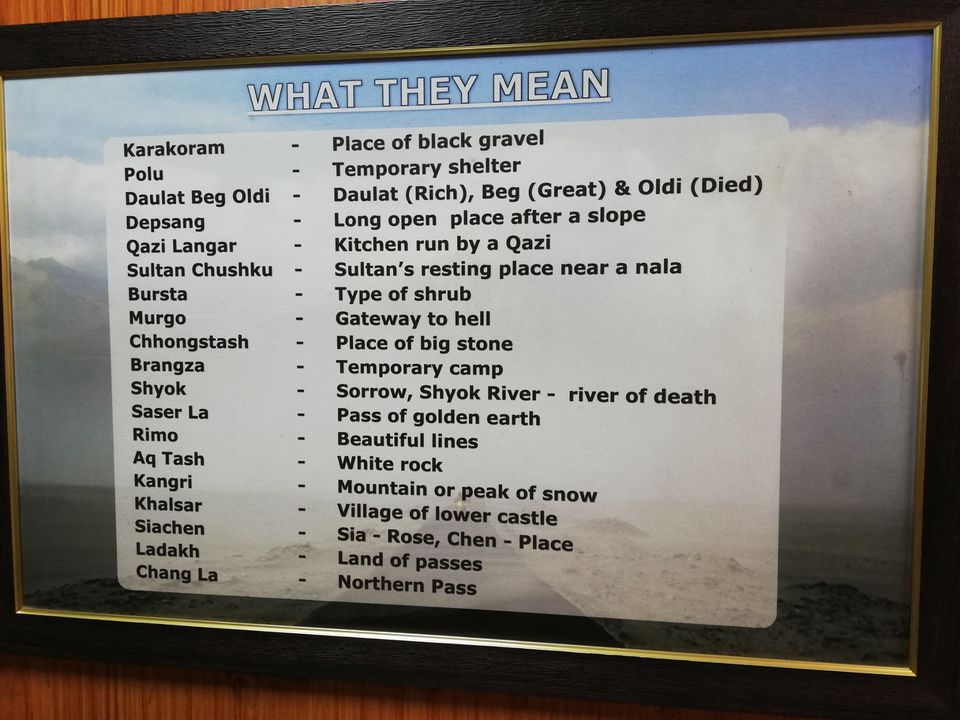 From there, we went to Spituk Monastery or Pethuk Gompa. This Monastery is very near to the Leh airport runaway. One can enjoy the Plane landing and take off from the steps of Monastery.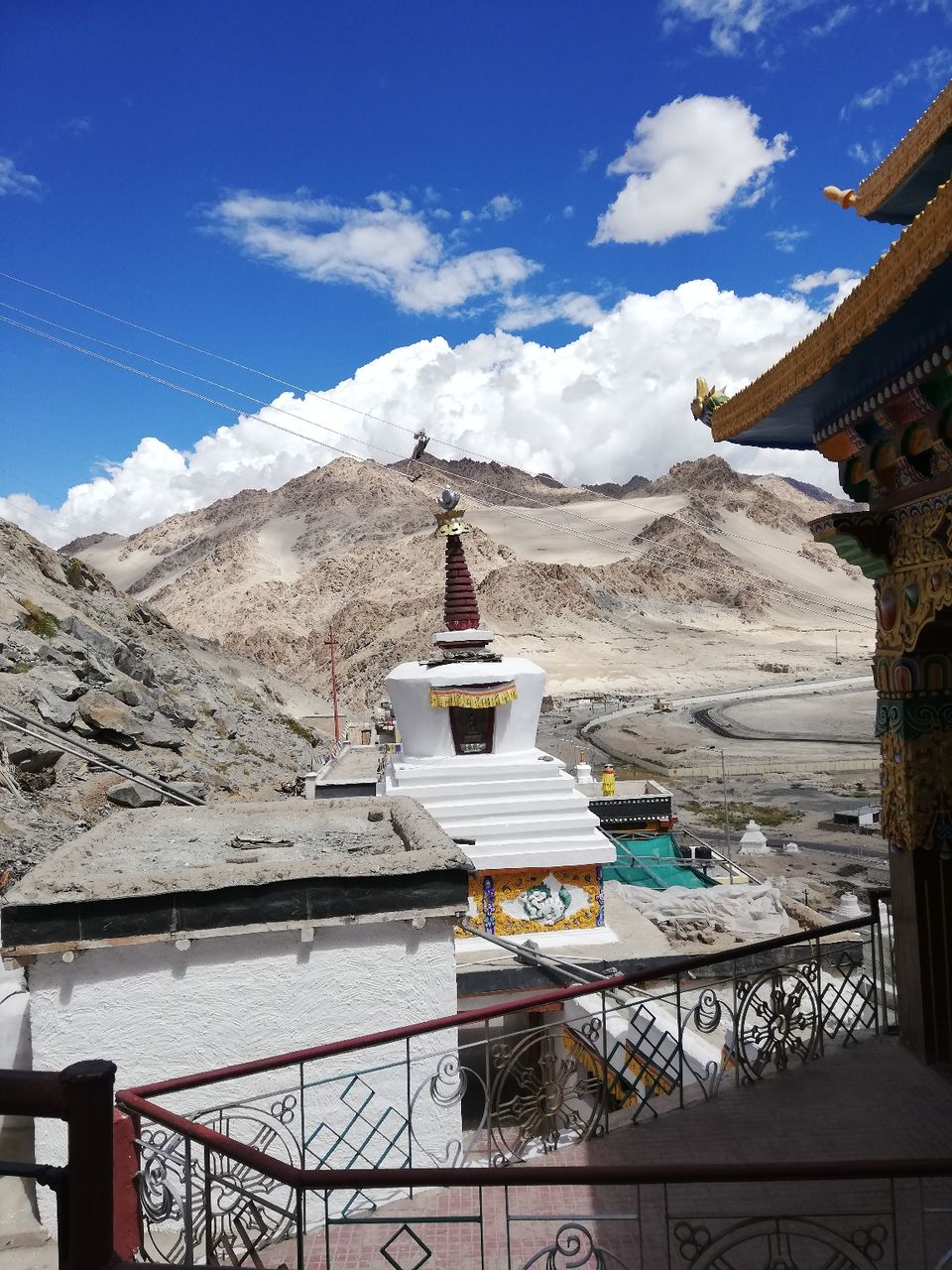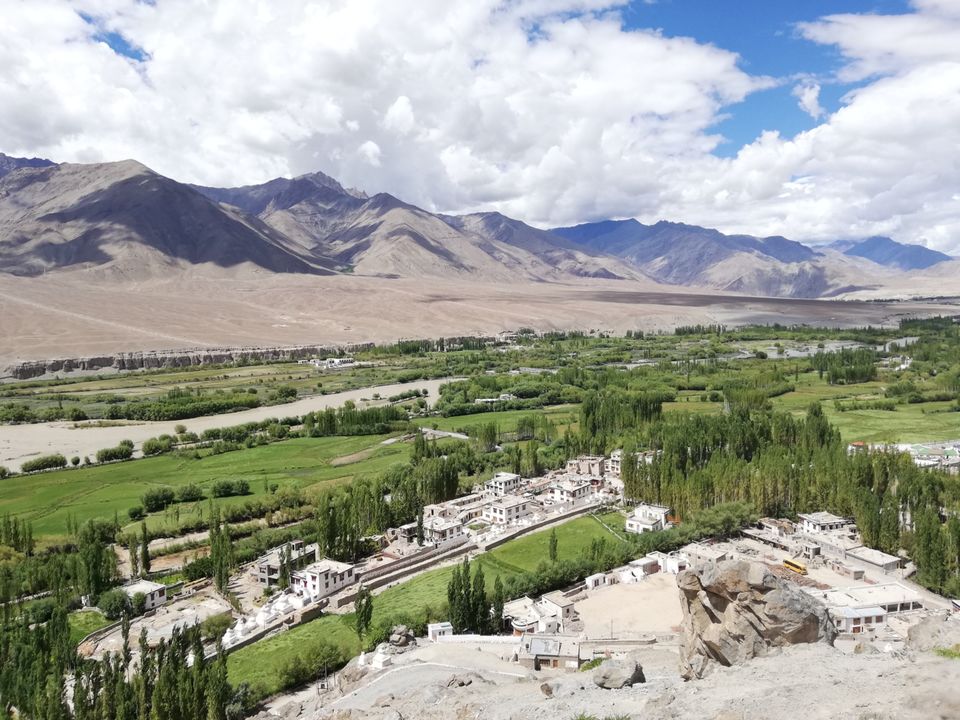 We continued our drive through Srinagar-Leh highway( NH1), crossing Gurudwara Shri Patthar Sahib, to reach the famed Magnetic Hill. There is one red box place where if you put your vehicle on neutral gear, it will start moving in the uphill position. Actually, it's an optical illusion. We stopped there for some photography sessions and then went to Nimmo to see the Sangam. Sangam is the confluence between Rivers Indus and Zanskar. A clear demarcation of the waters can be seen from above. We also drove down near the banks and enjoyed some coffee in Sangam Cafe. ( This place is also the World's highest Rafting origin point).
On our way back we ate at the Langar of Gurudwara Pathar Sahib.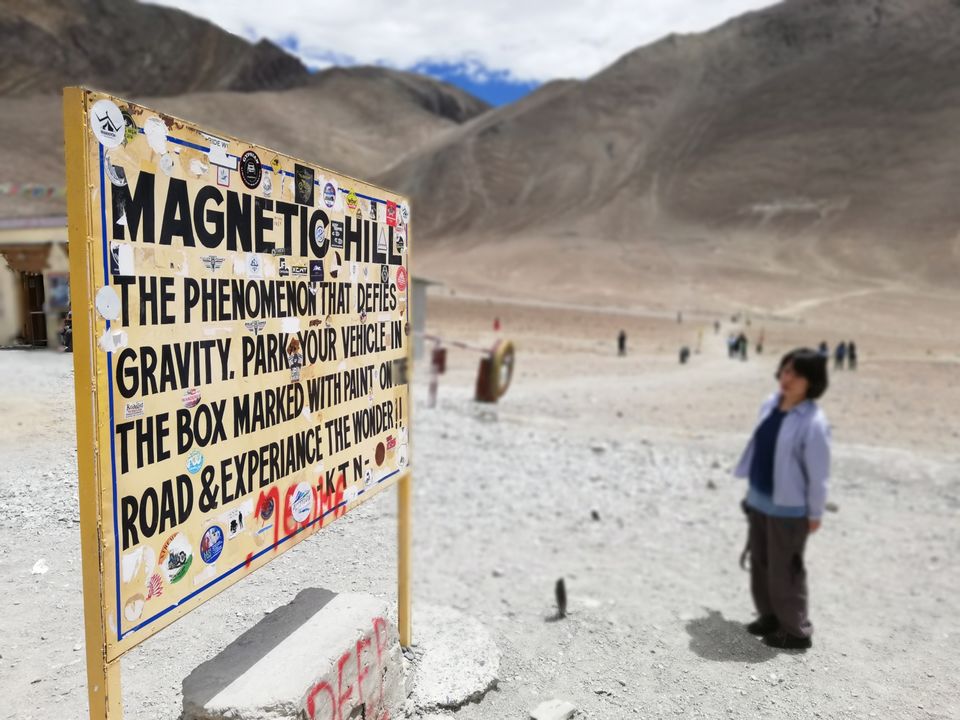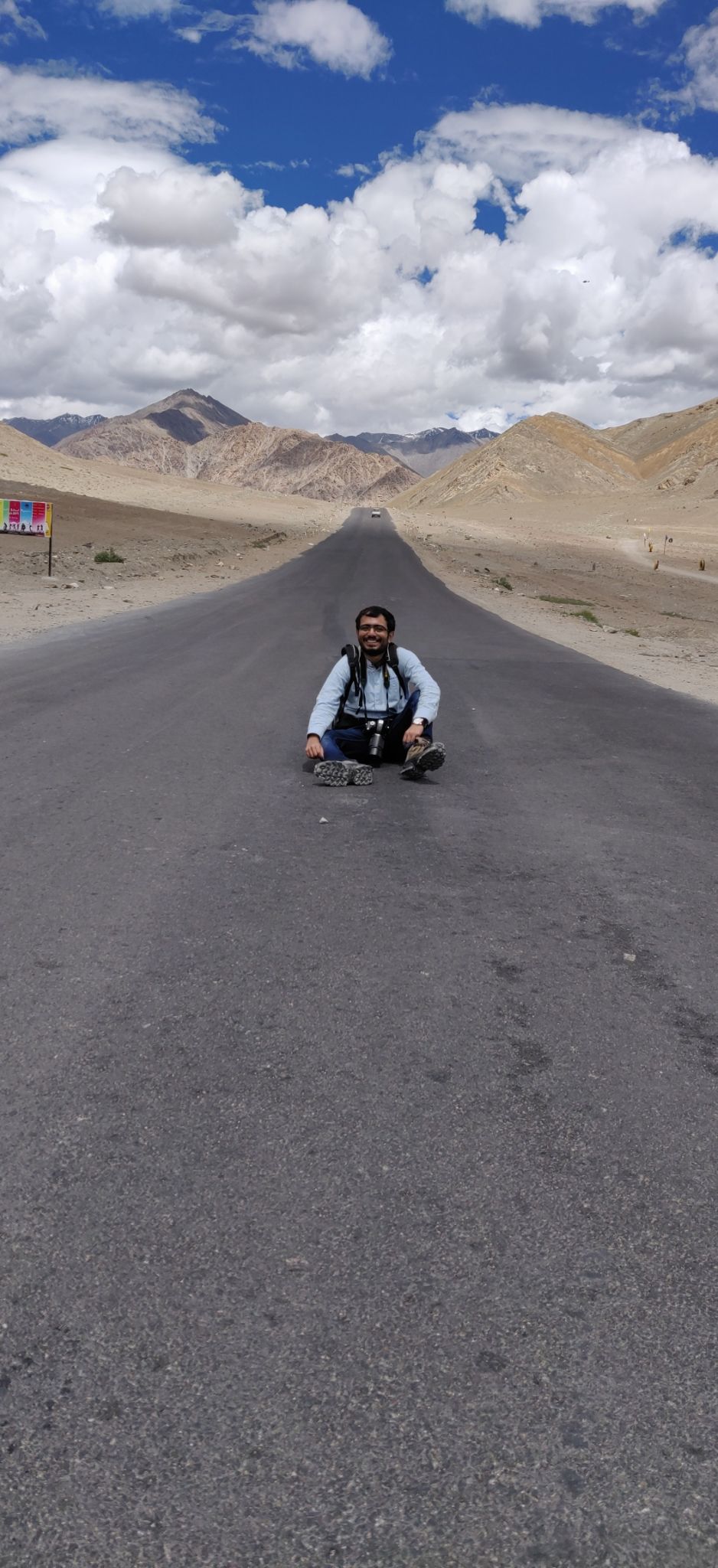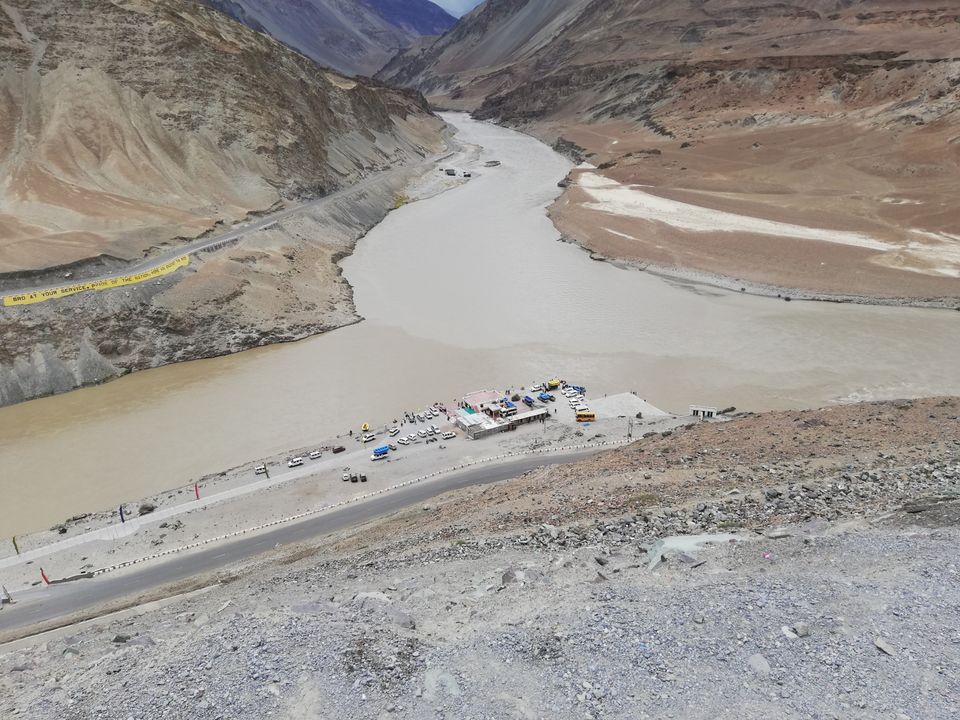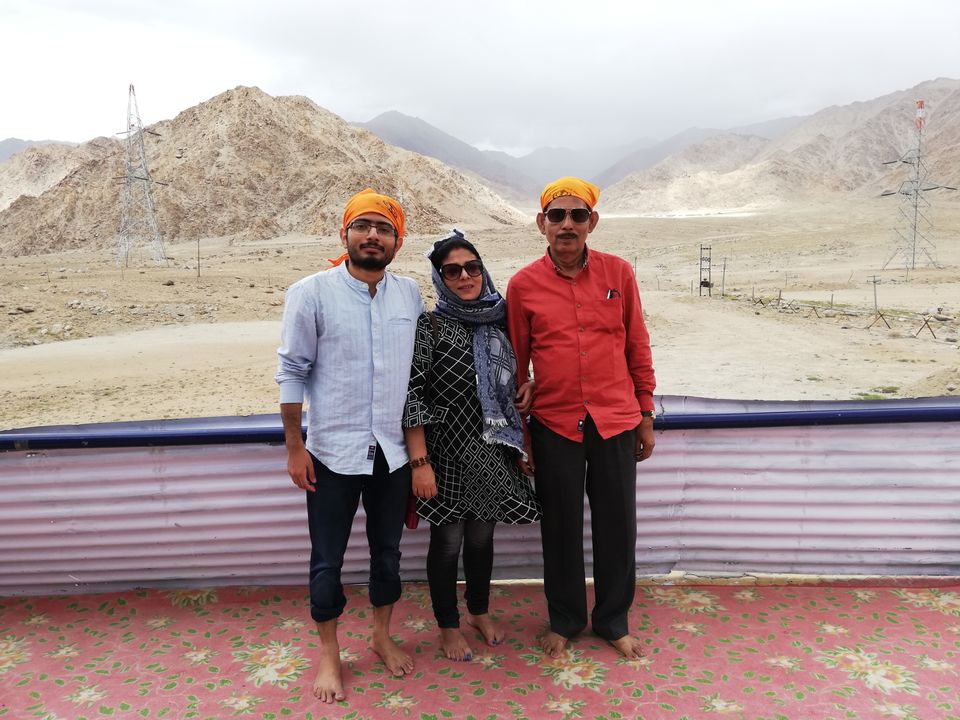 In the evening, we witnessed the Light and Sound show at War Memorial, Leh. The show was preceeded by flag de-hoisting ceremony. The show was about Kargil War and it was very nicely performed. You could visit the museum and L&S show in a single ticket.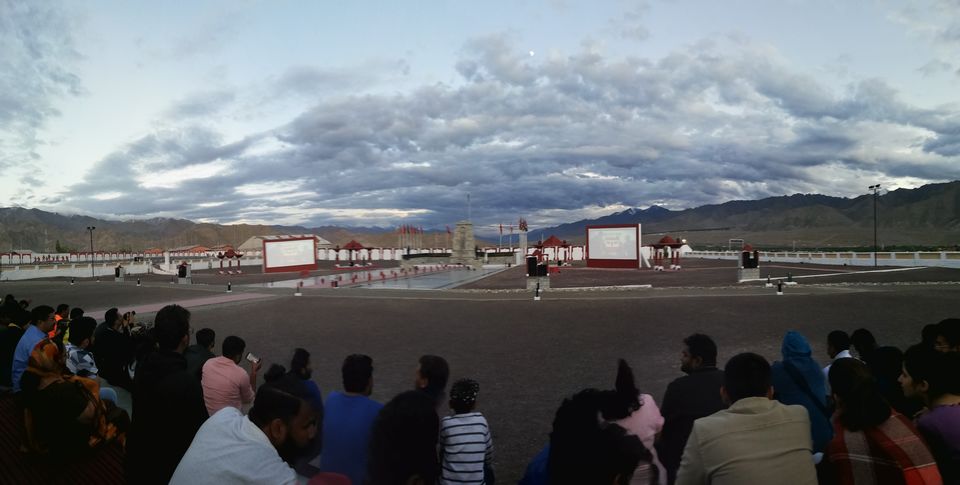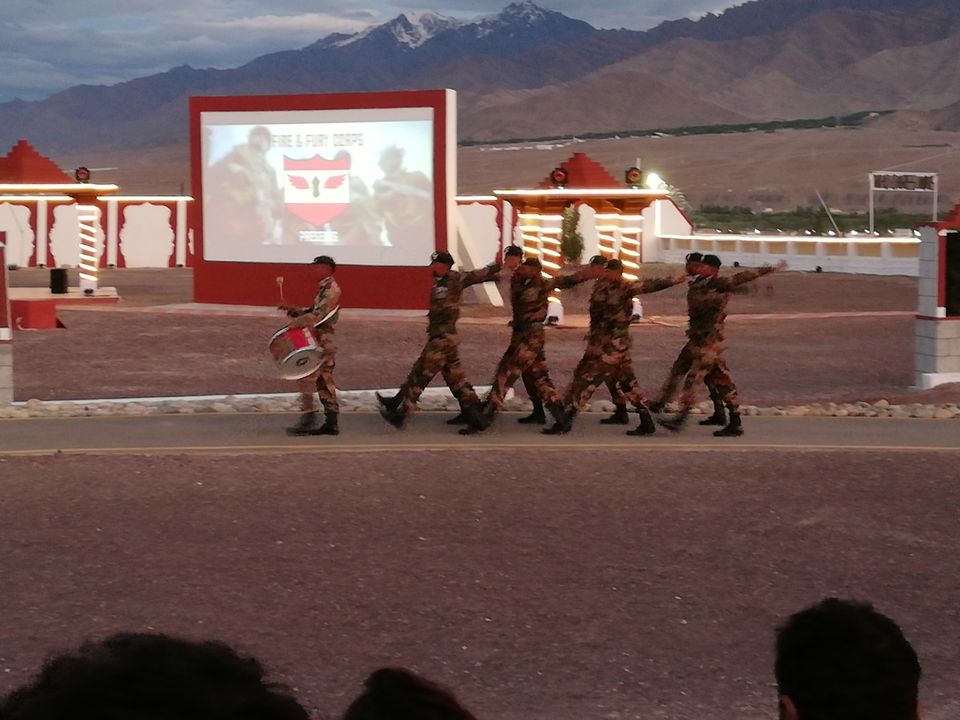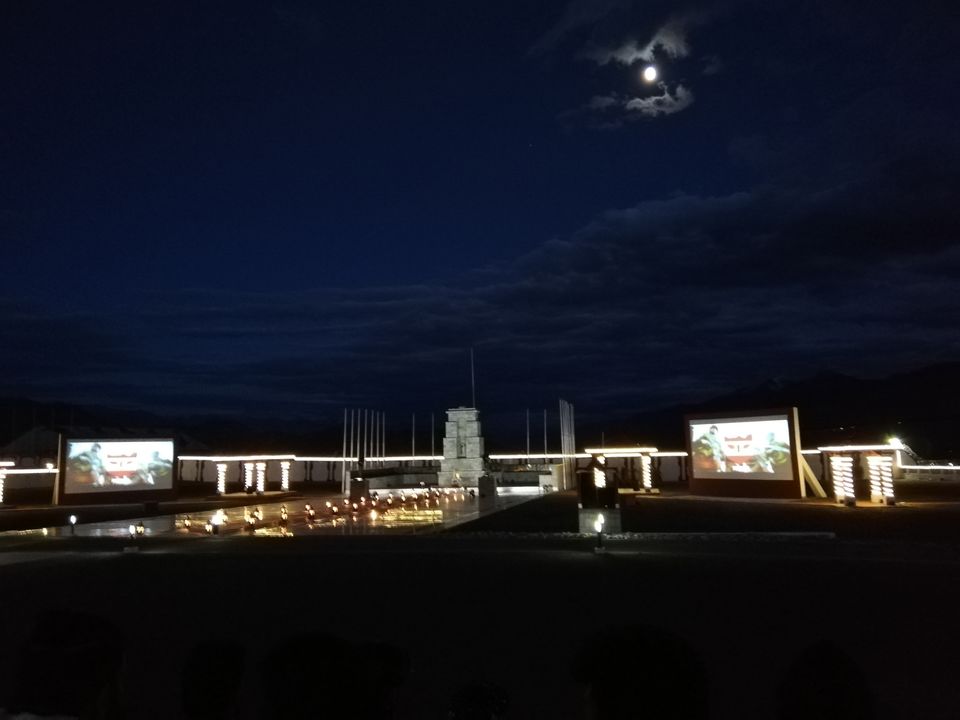 This day started early as we head towards Leh Manali Highway to reach Shey Palace. It is a very old Tibetan sculpture, and also very beautiful. Most of the part of the palace is closed for tourists. It used to be the ancient buddhist capital of Ladakh region.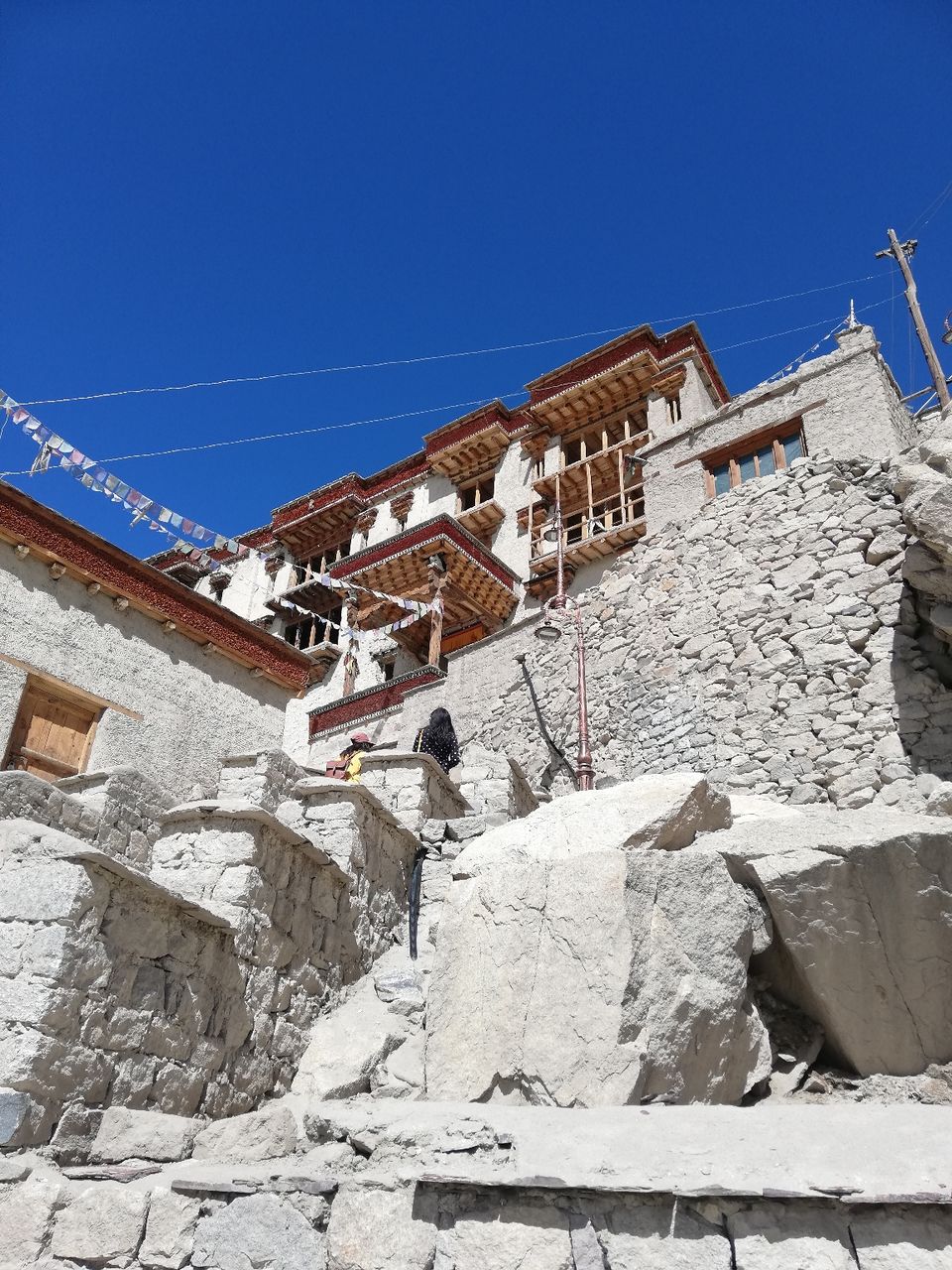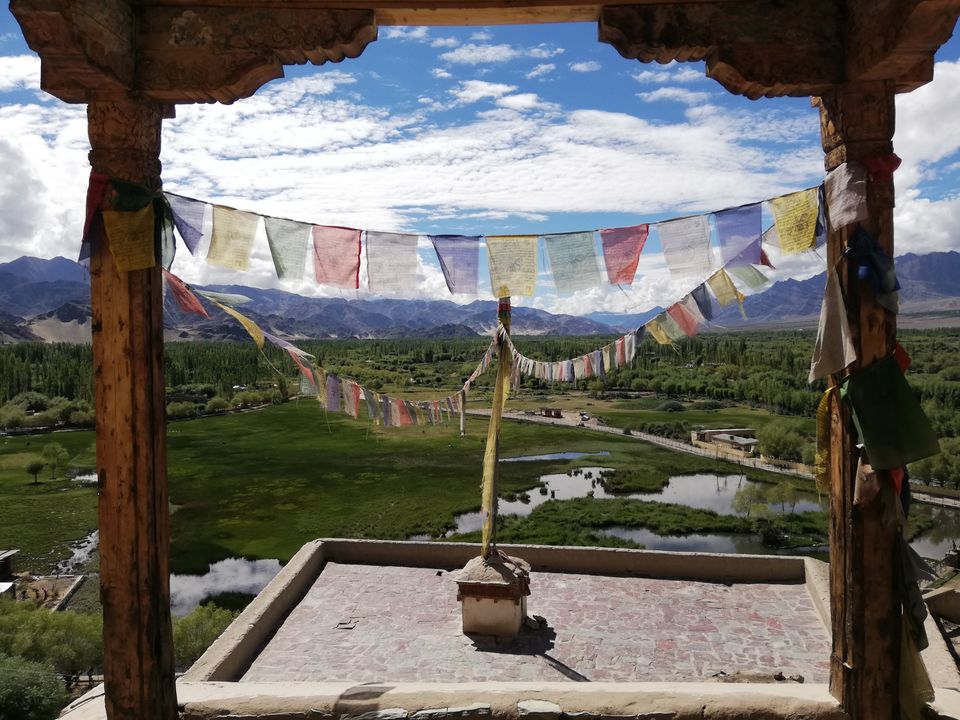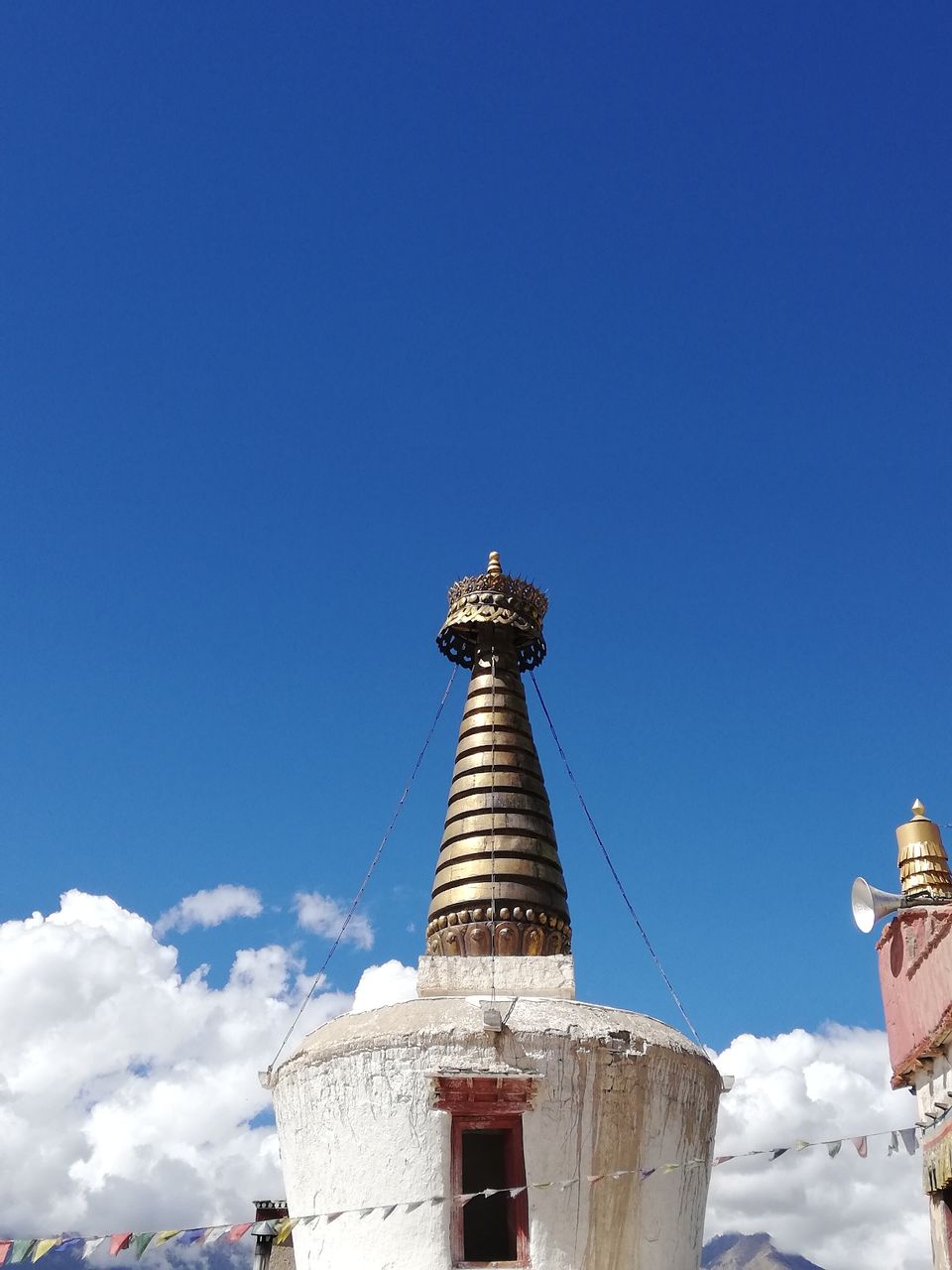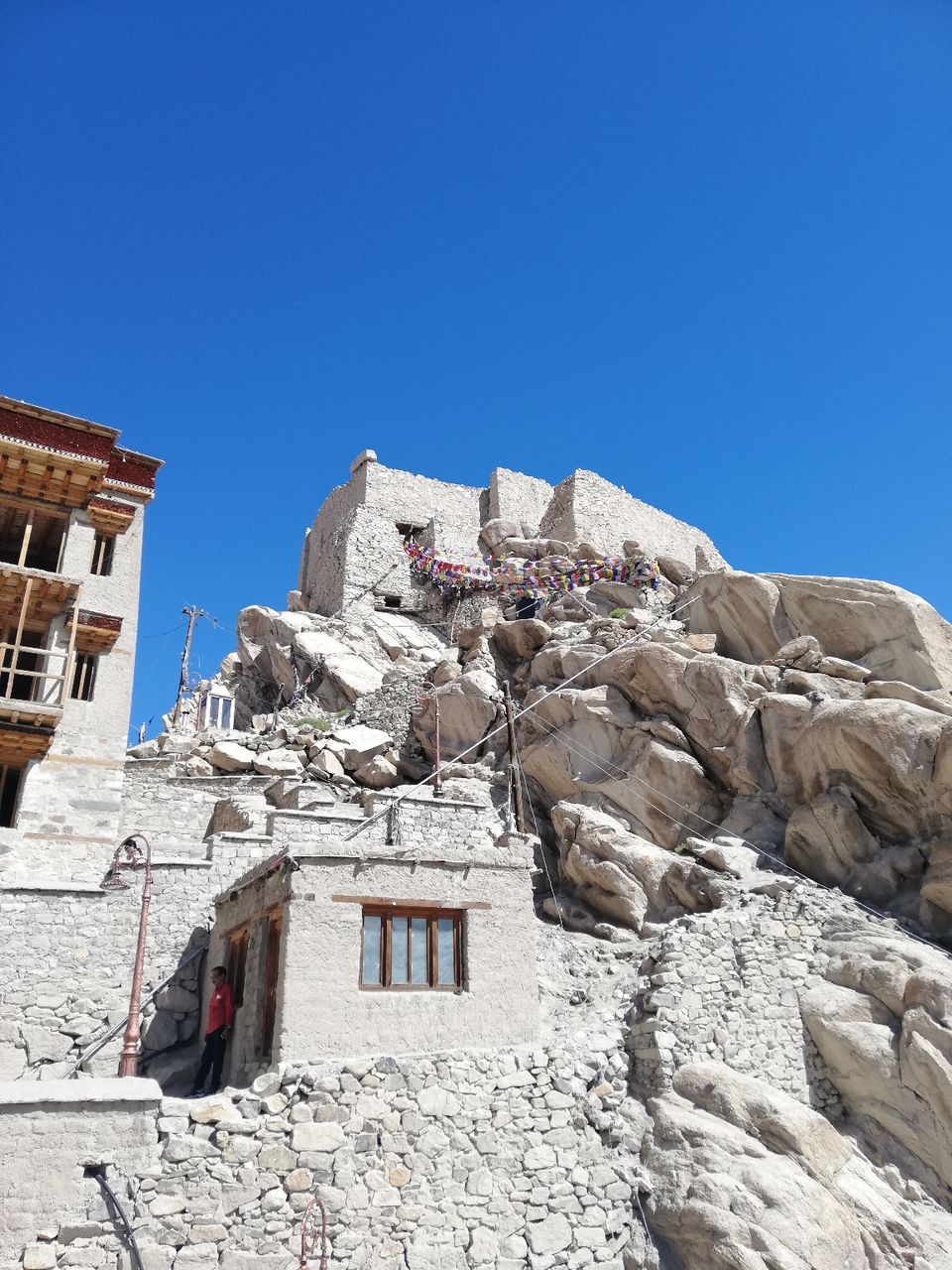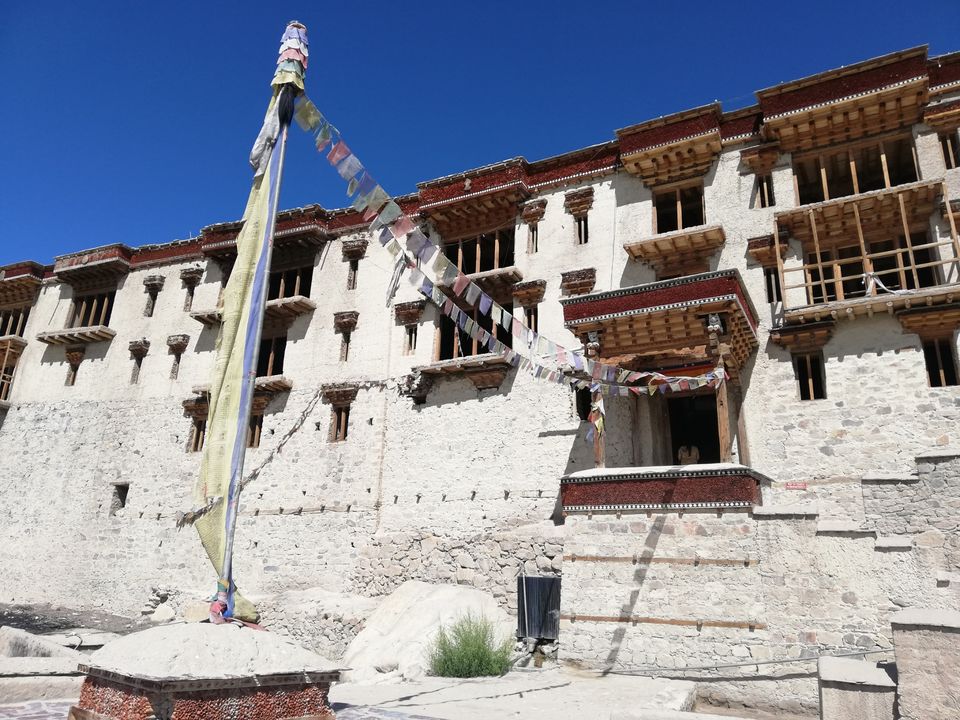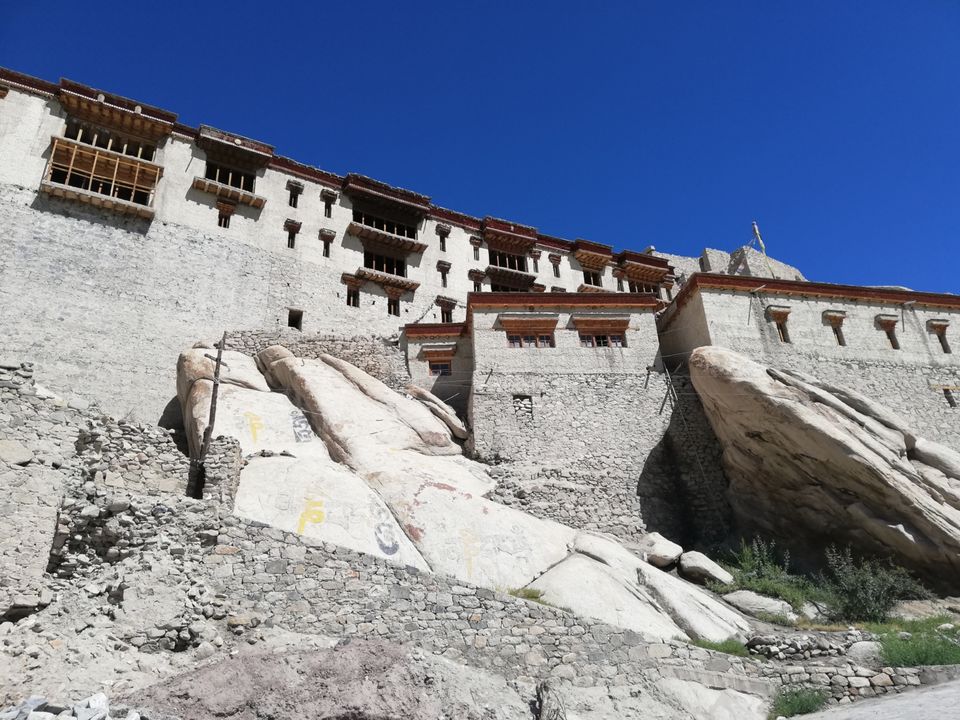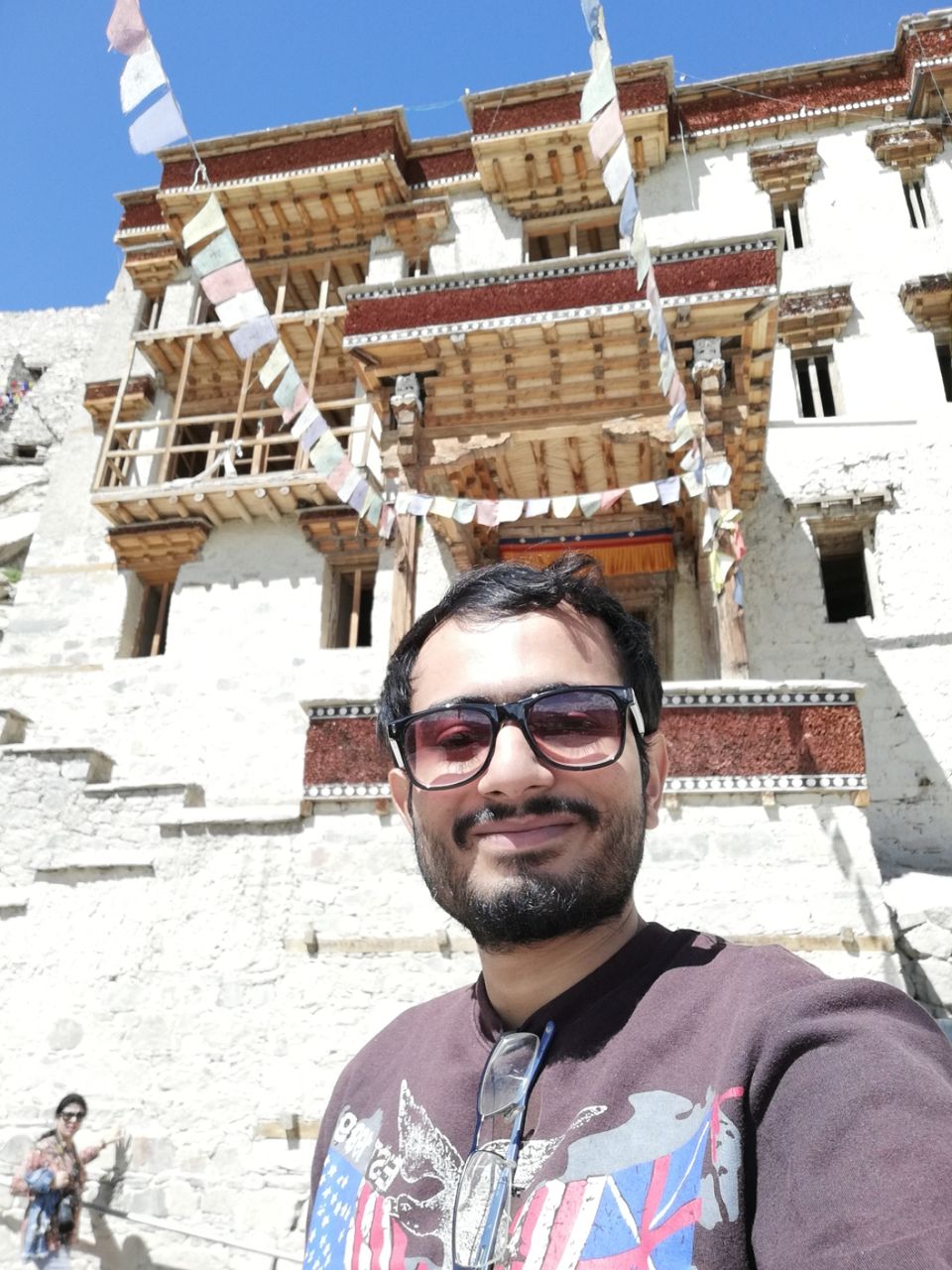 From Shey Palace we went to Thiksey Monastery. It is the largest monastery in whole Ladakh and arguably the most beautiful also. It is a twelve-storied structure with a statue of Budhha in the highest level. There are at least 30 temples inside the total Monastery. This was a divine experience.
The cover photo of the trip is the view of Ladakh valley as seen from Thiksey Monastery.
En route to Thiksey, we also sneaked at the famed 'Rancho's School', shooting spot of blockbuster movie, 3 idiots.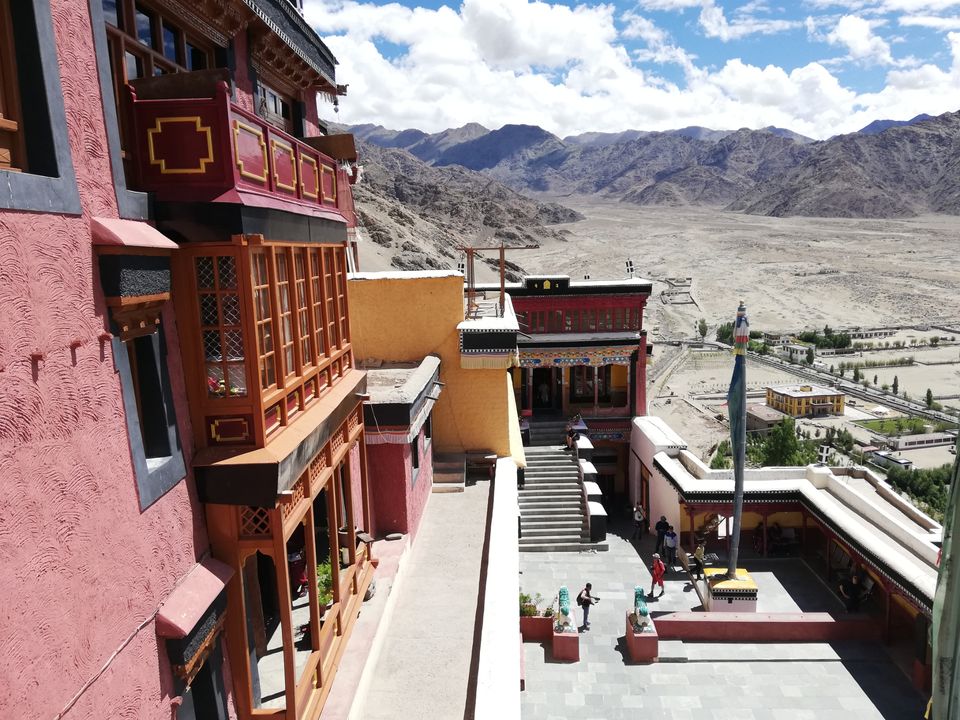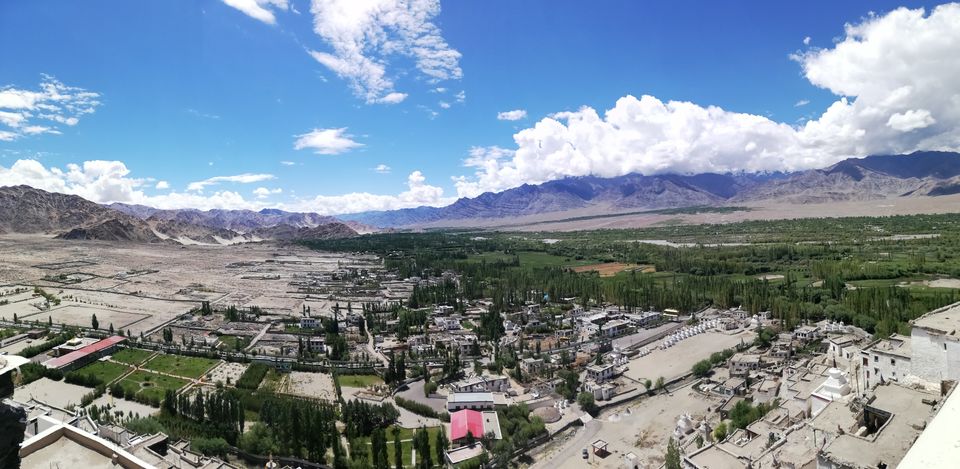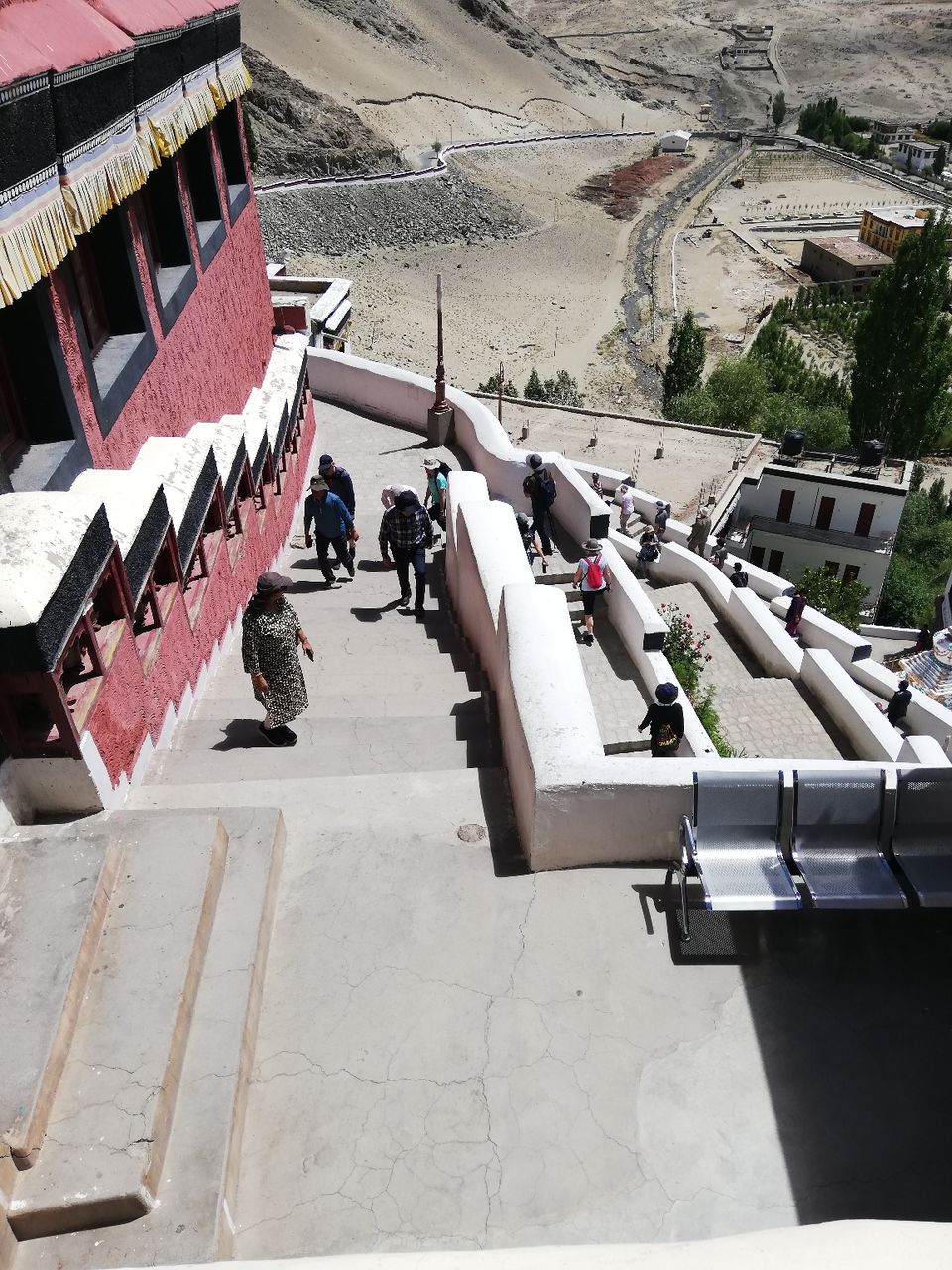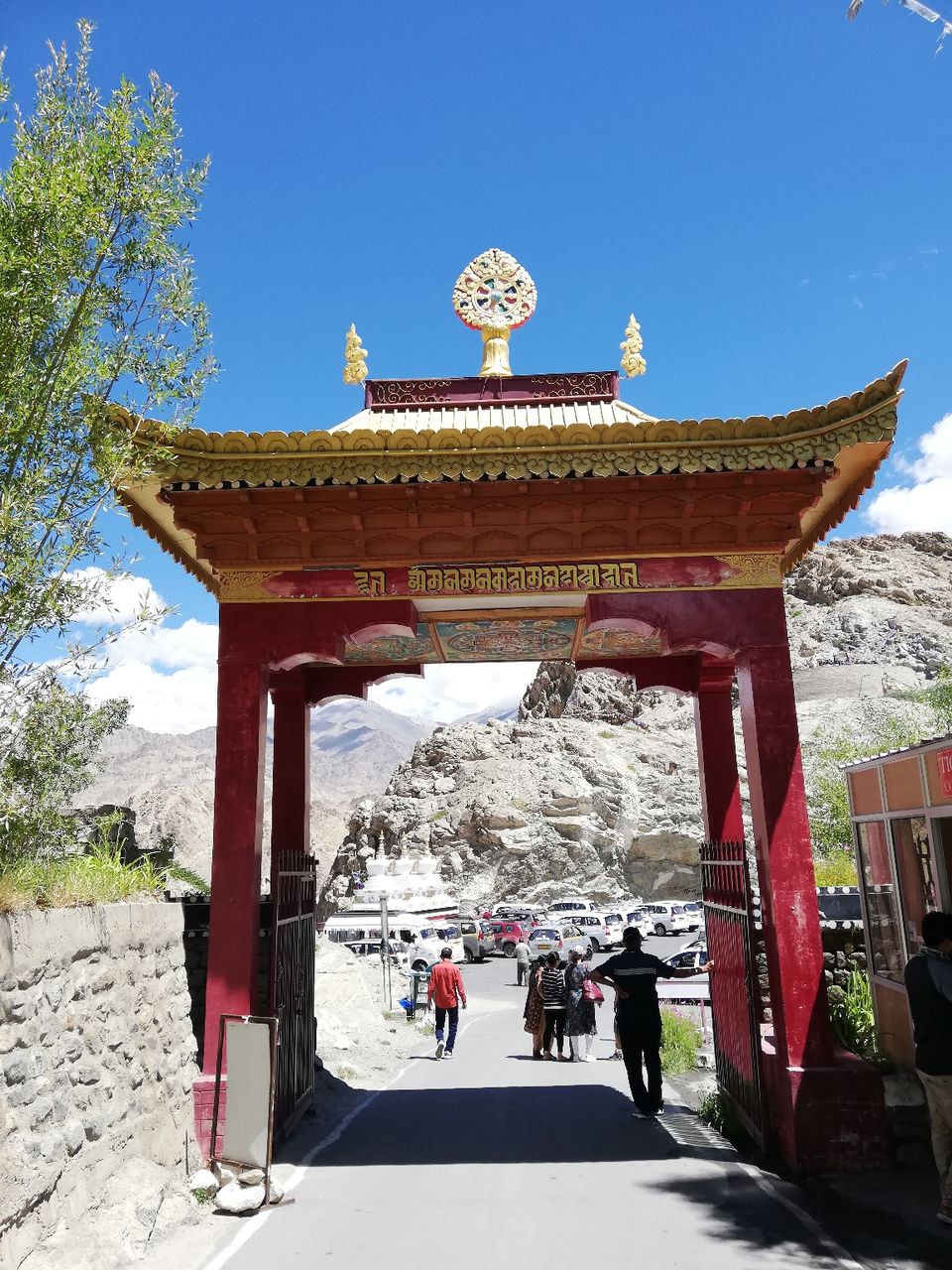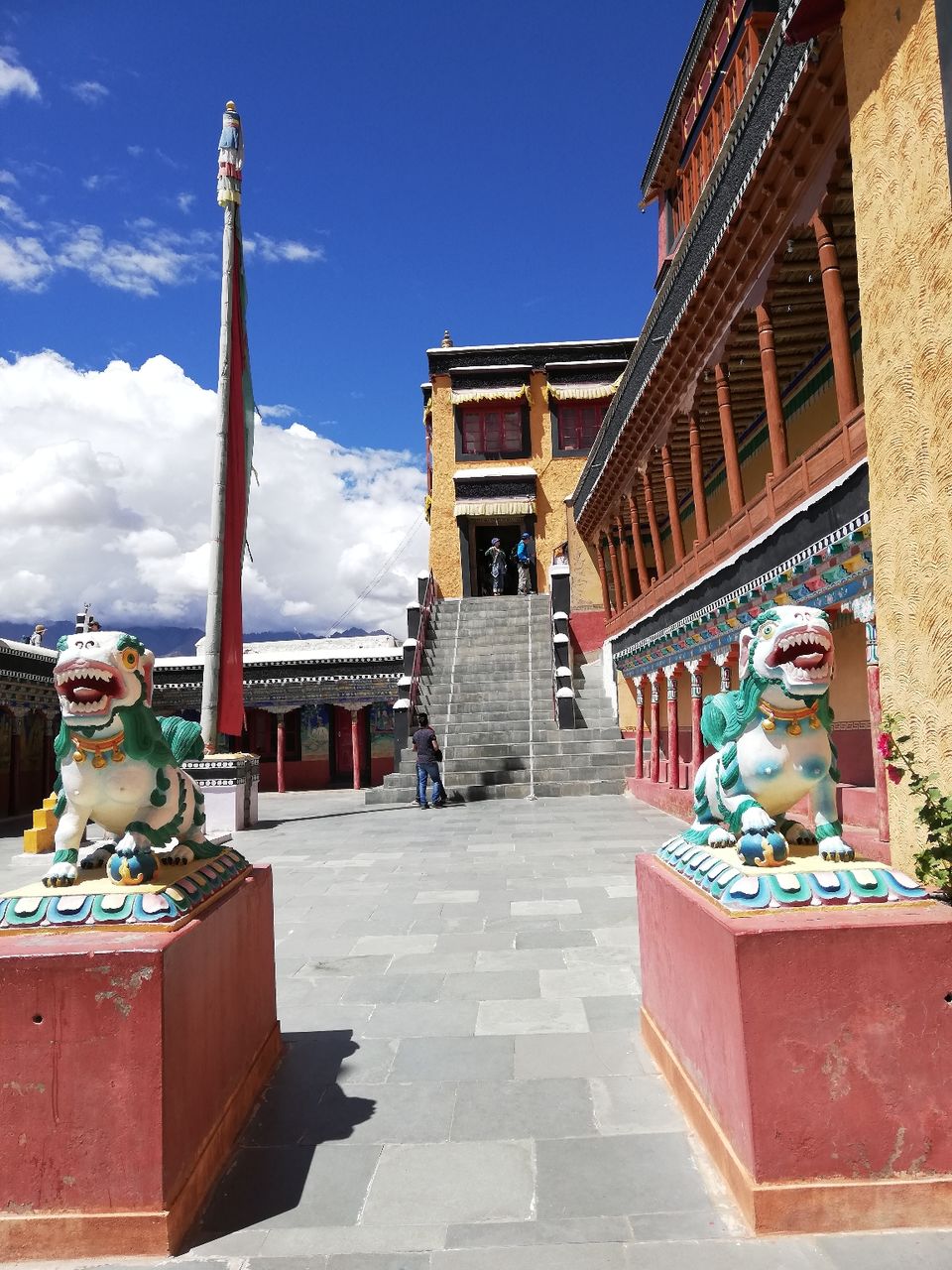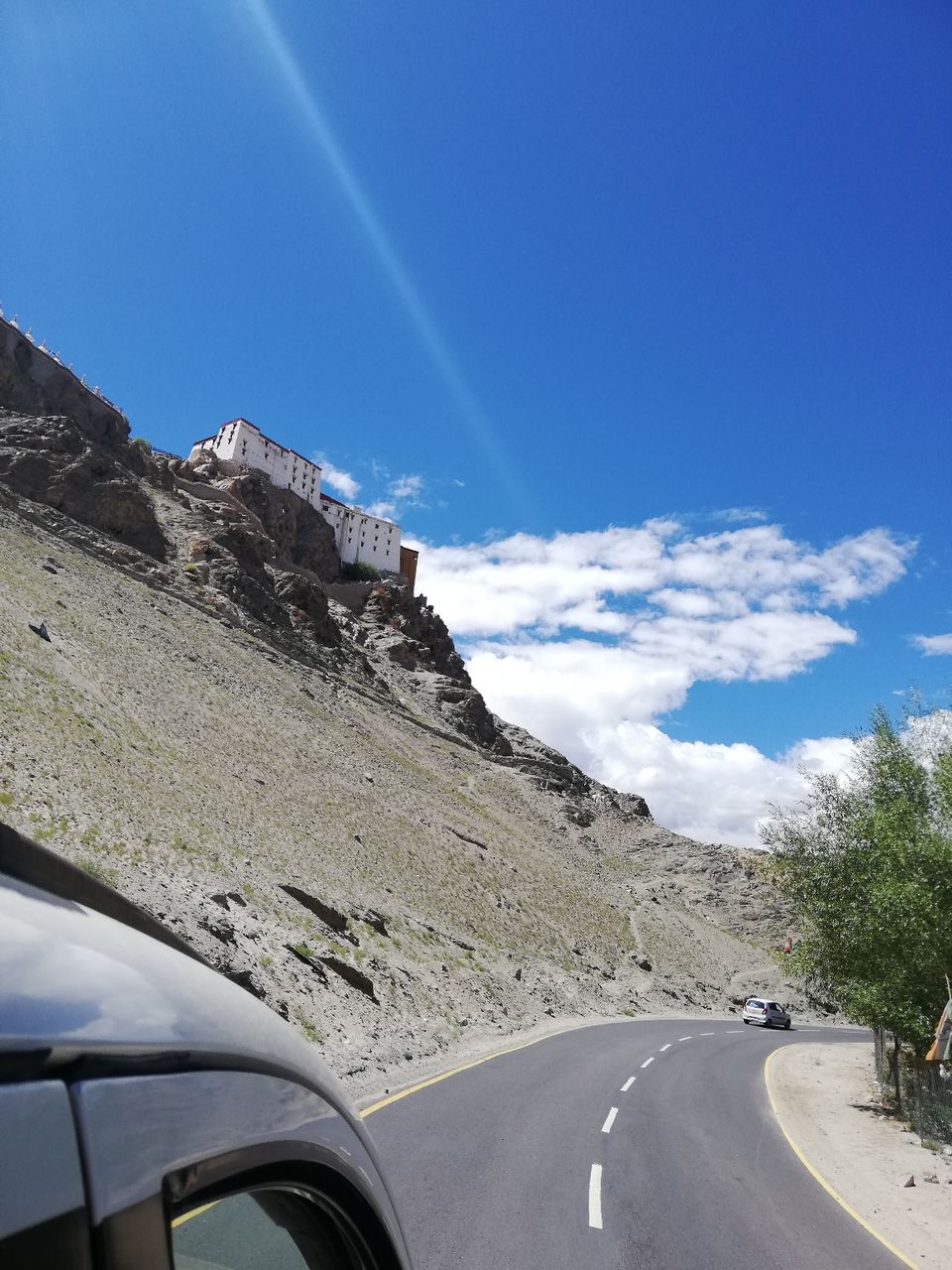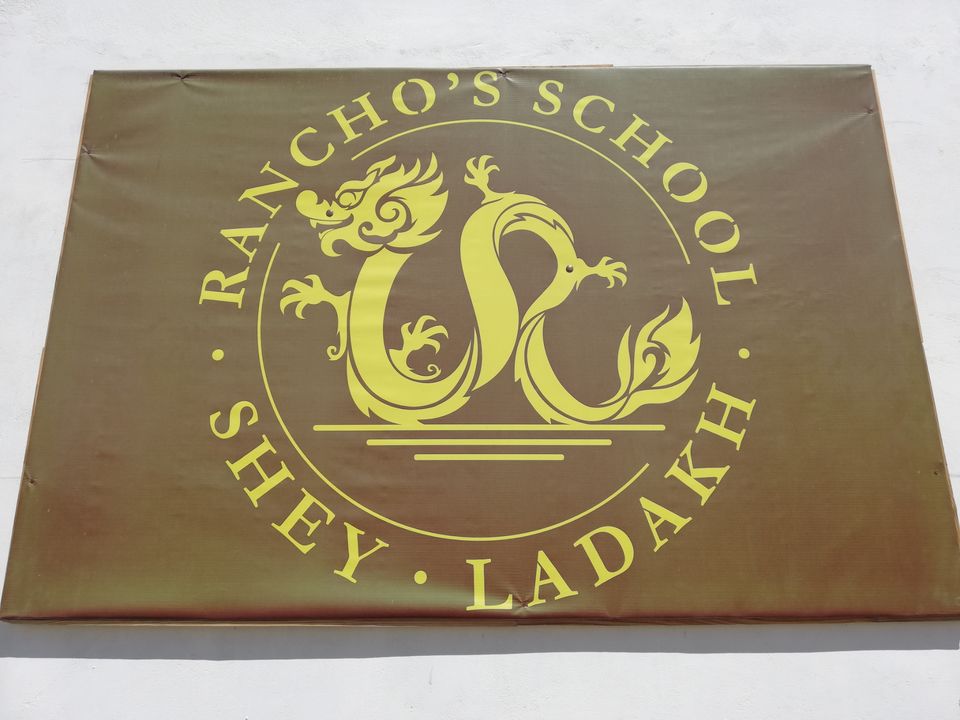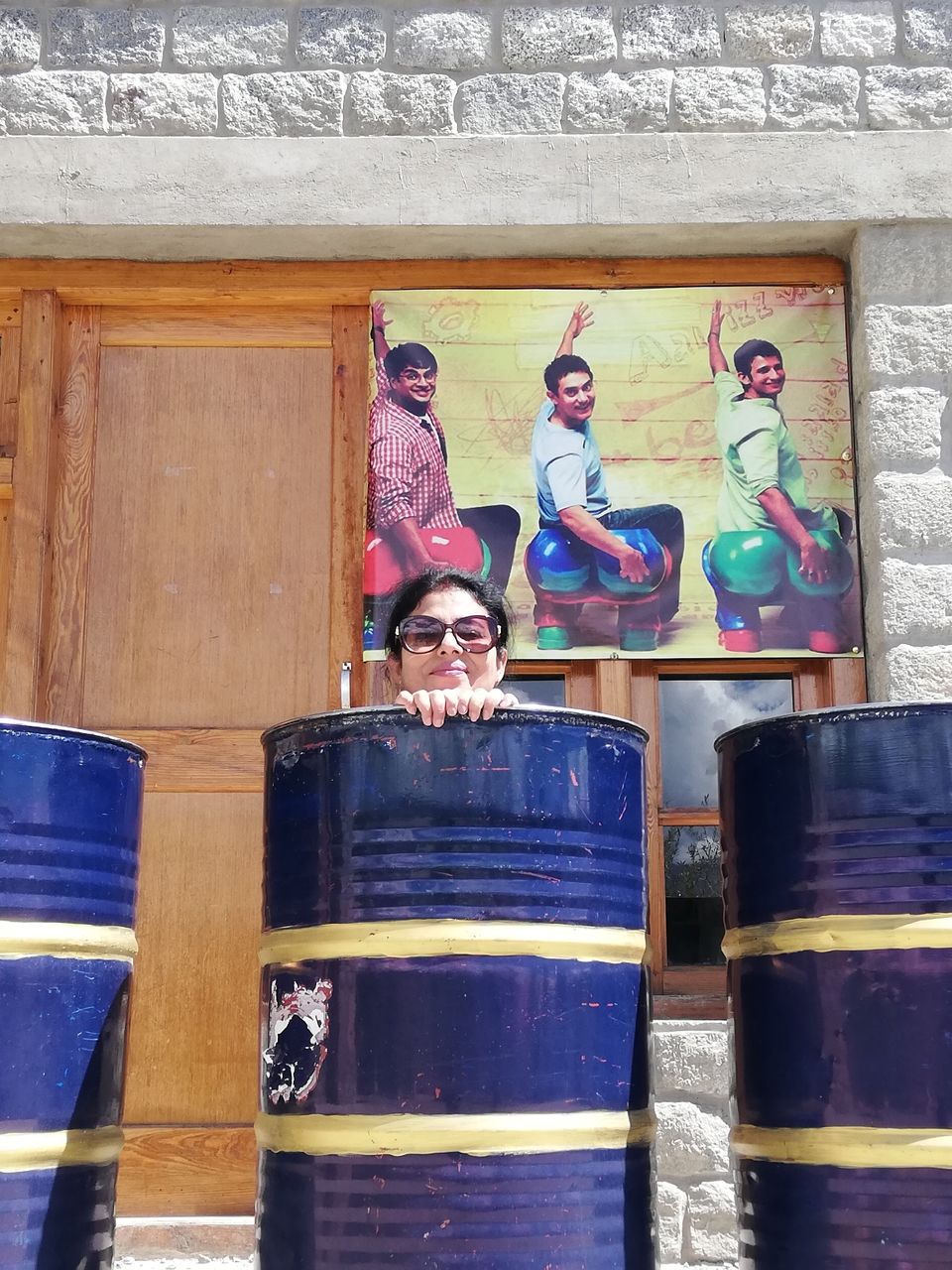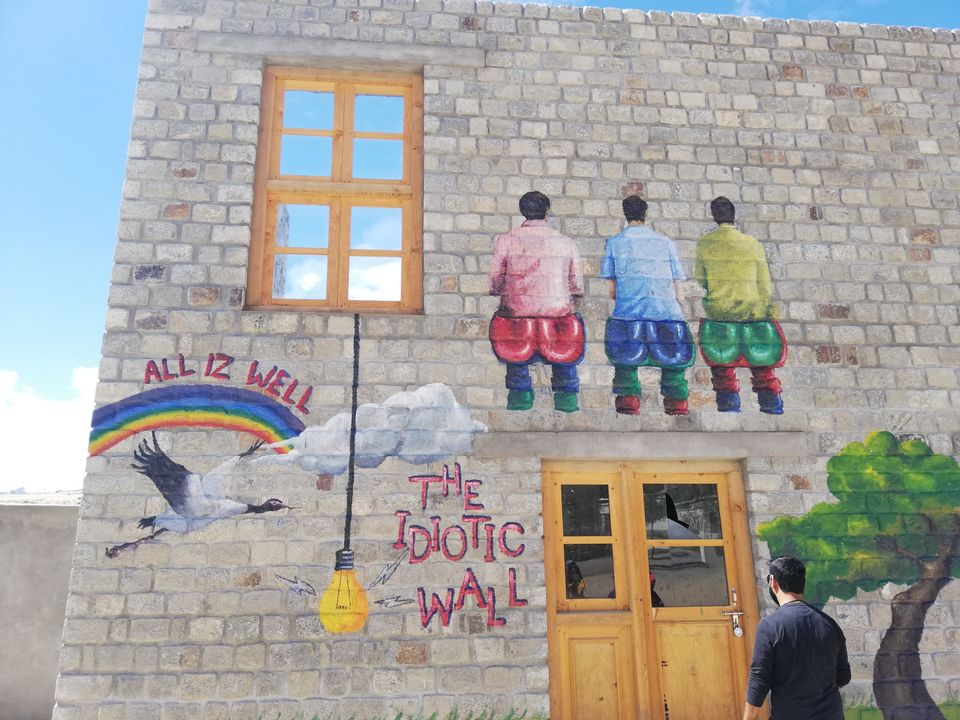 Rest of the day was the best journey of the whole trip. The drive down Kharoo, crossing Chang La( World's second highest Motorable road) and then upto Pangong via Tangste, Burduk villages was the perfect thing to beat the blues.
I have never experienced so much diversity and richness of nature anywhere else. The world seems to change it's painting canvas with every 10km we travel. From Snow-clad glaciers of ChangLa, to the brown mountains of Kharoo, from the lush greenery of Tangste with streams flowing beside us to the enormity of colours when we are approaching Pangong looking like a Ladakhi Tapestry all over. It can't be described by any means. You just need to go to experience it.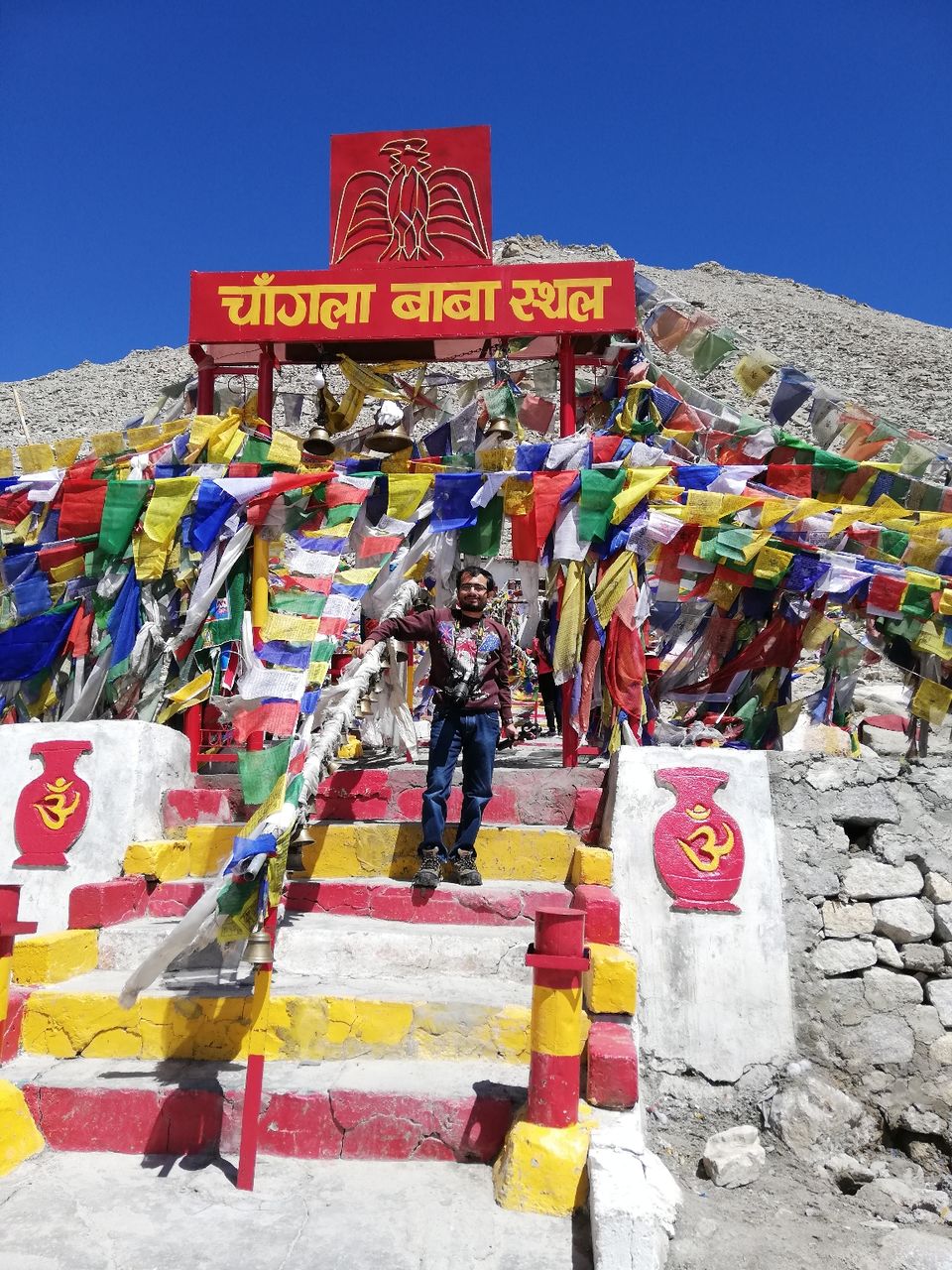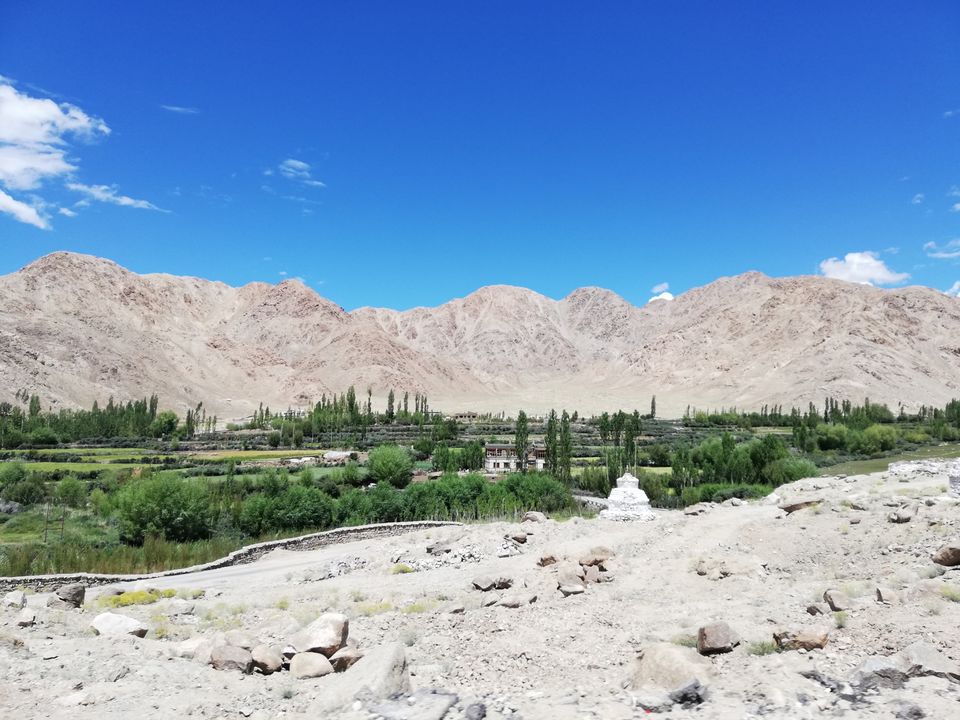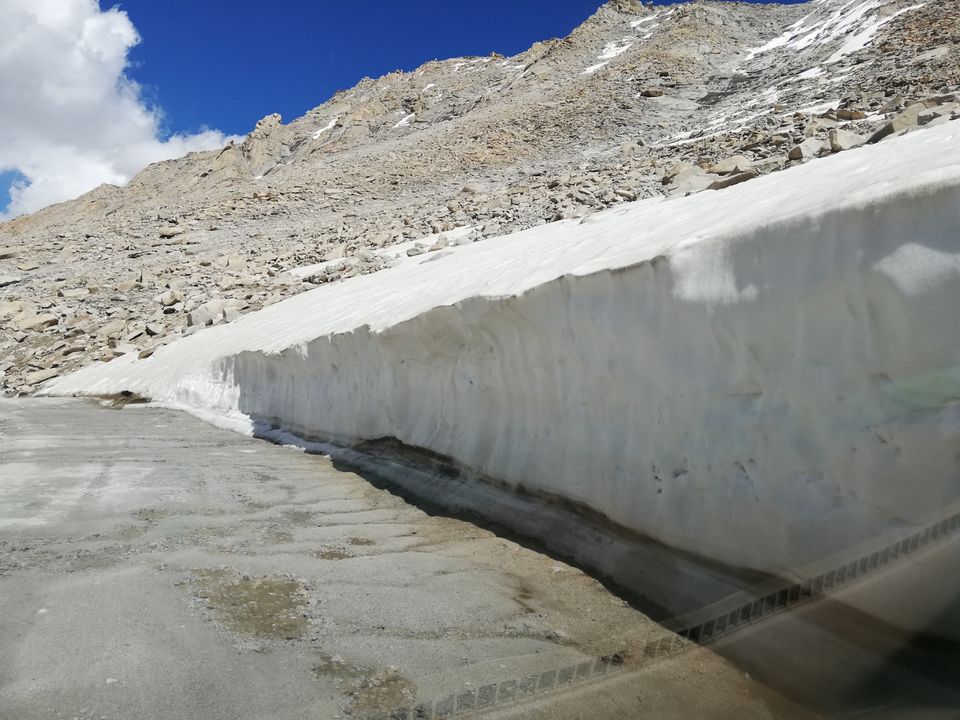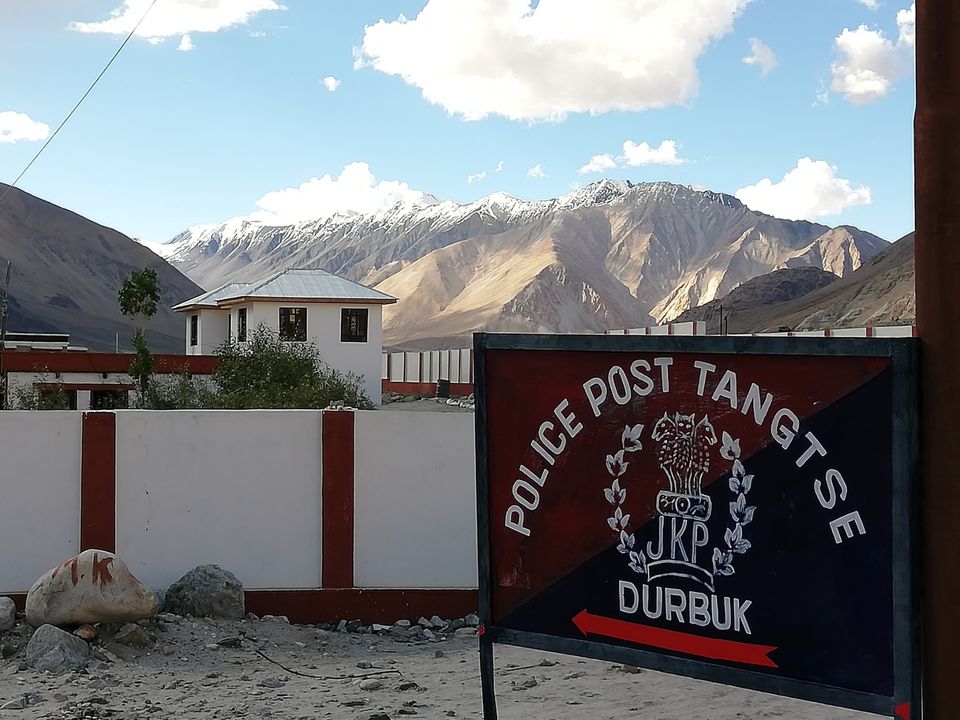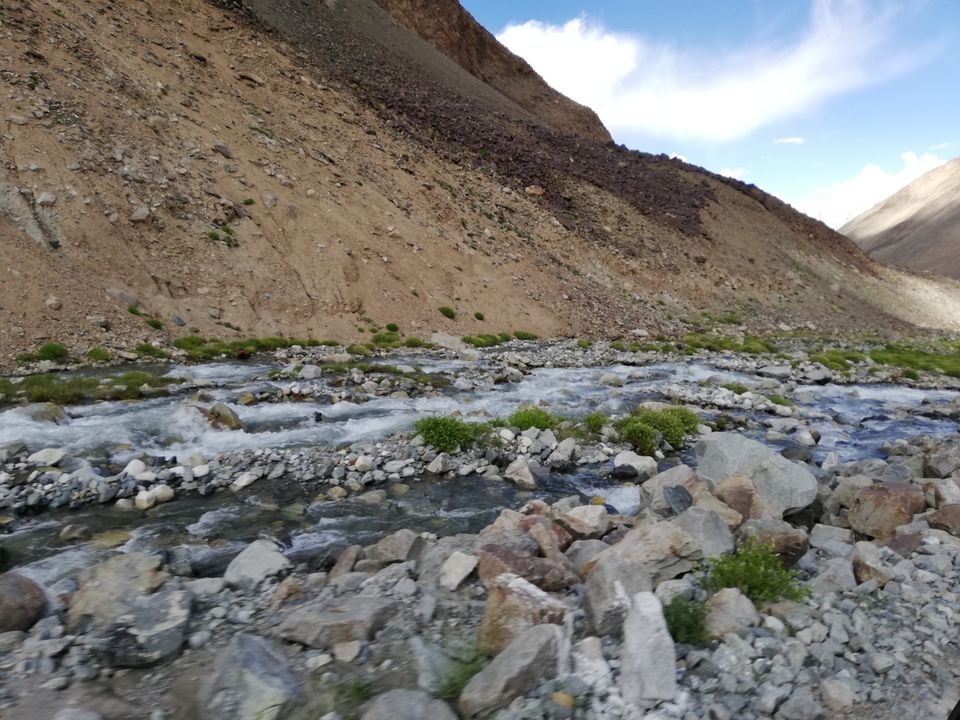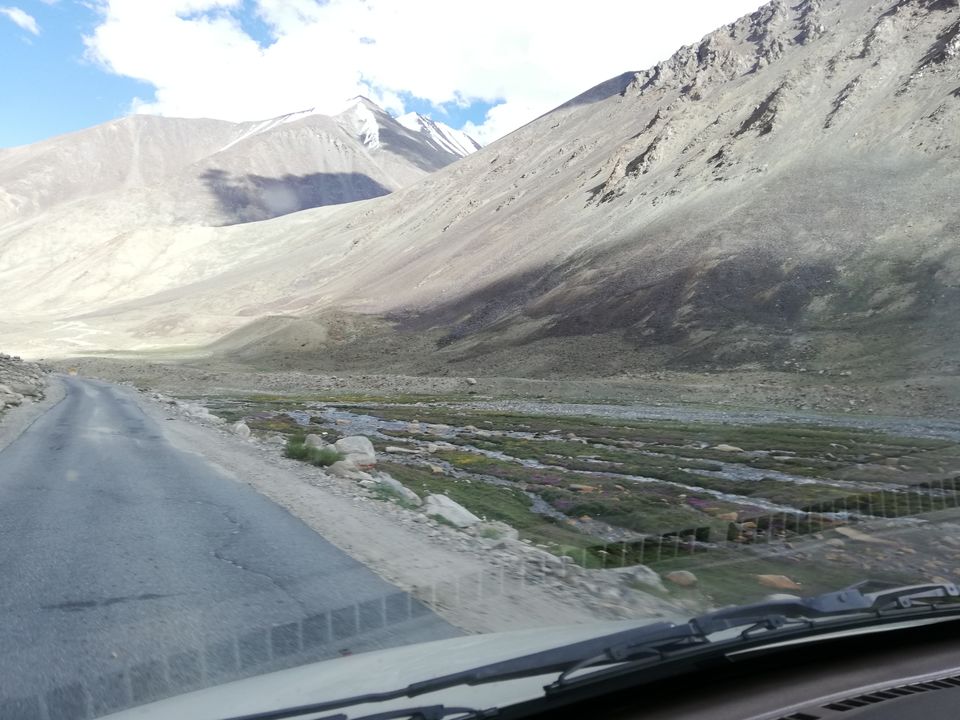 At last, after 7 hours of eye-pleasing yet weary journey, we glimpsed the majestic lake from 5km away. The lake, besides being the fact of highest salt-water lake in the world, is a wonder. It changes colour as you drive along its shore. From white to turqoise blue, from green to sky blue! With the backdrop of White-capped brown mountains Pangong is every nature lover's dream destination.
We reached at 5-30 am, and after spending some time, we reached our Tents beside the lake at Spangmik.
The experience was great to spend the night in tent at 14,000 ft altitude.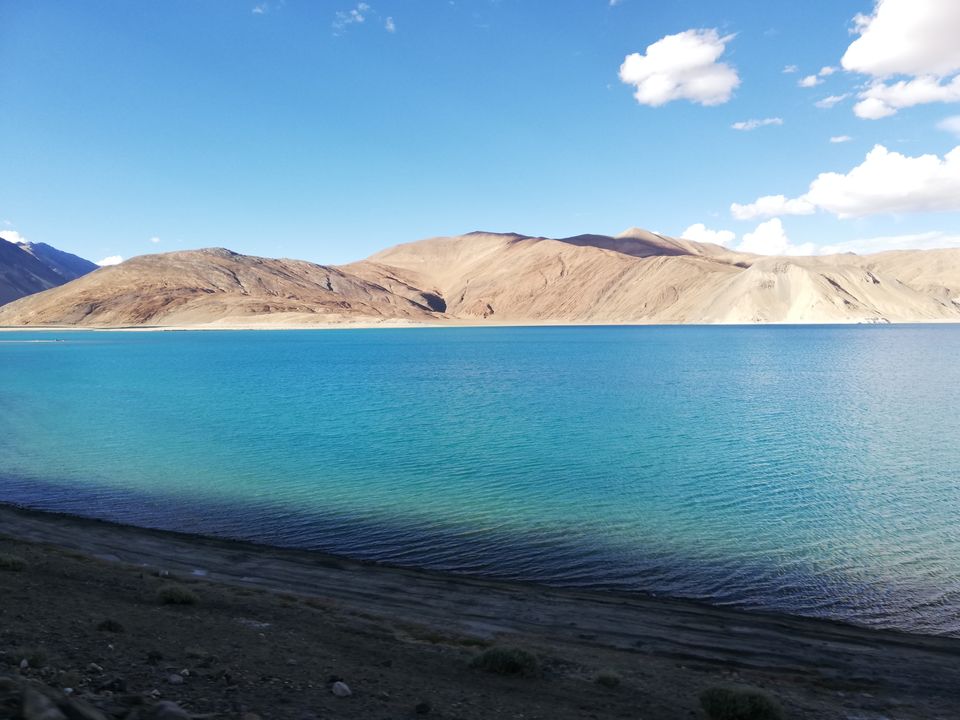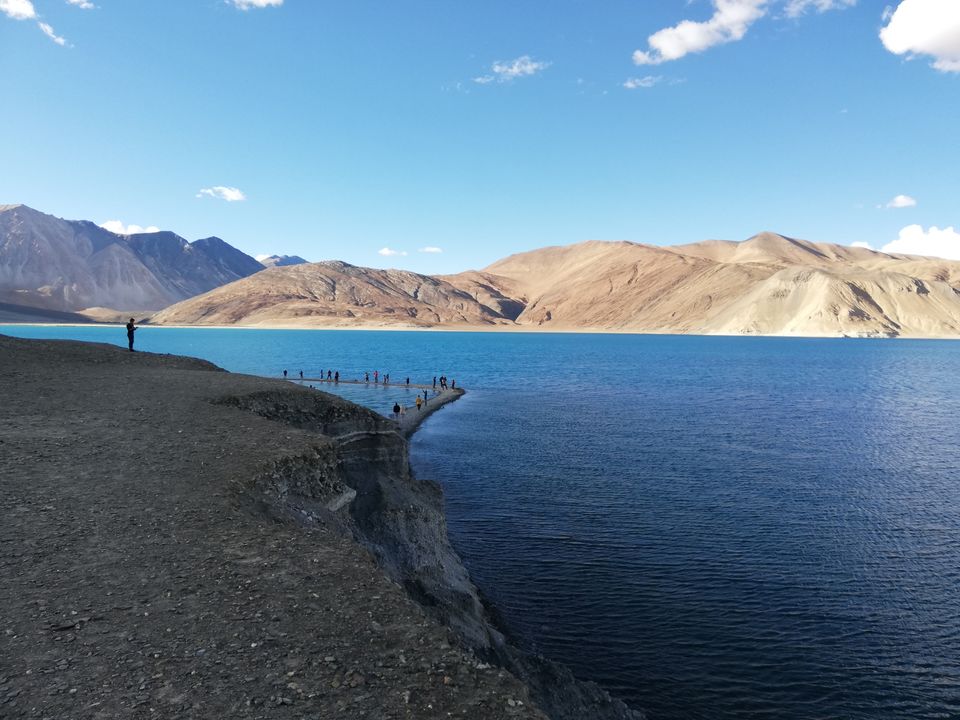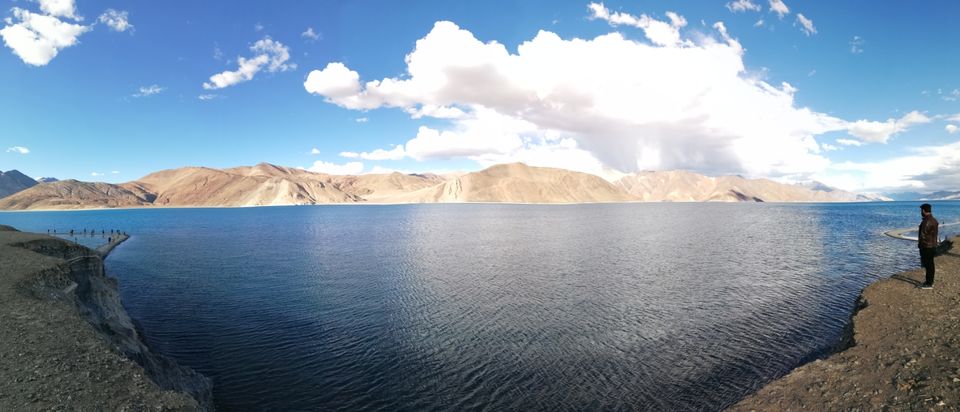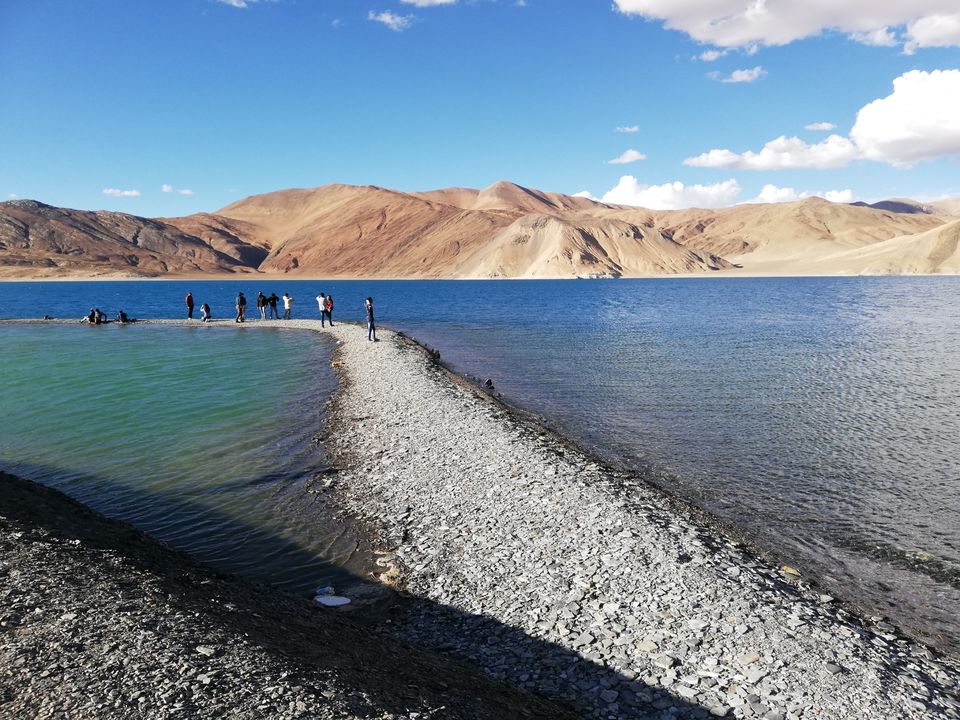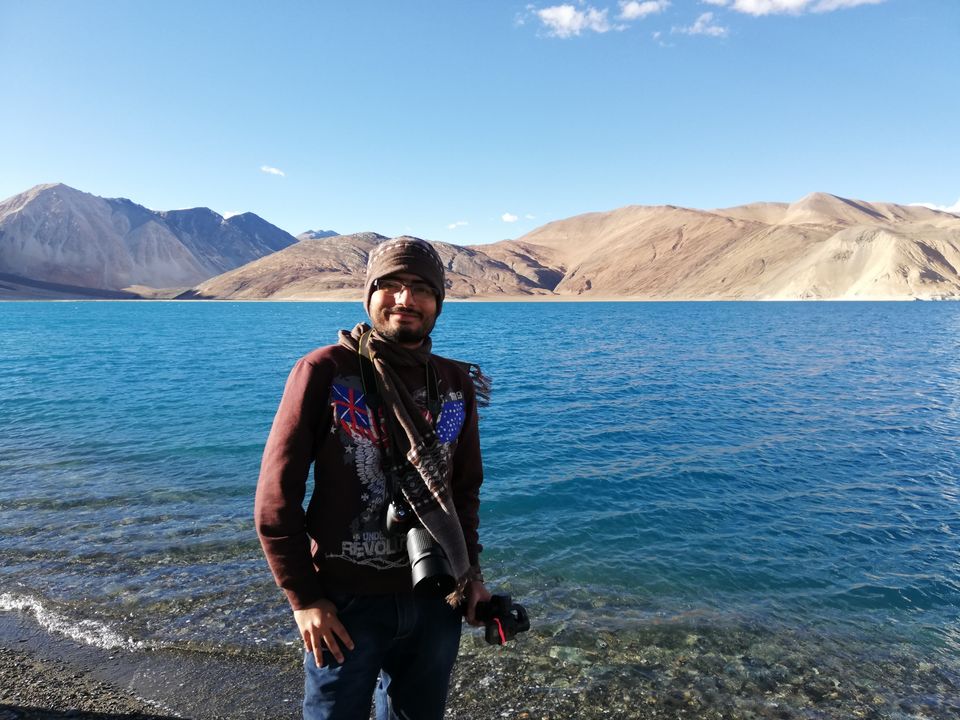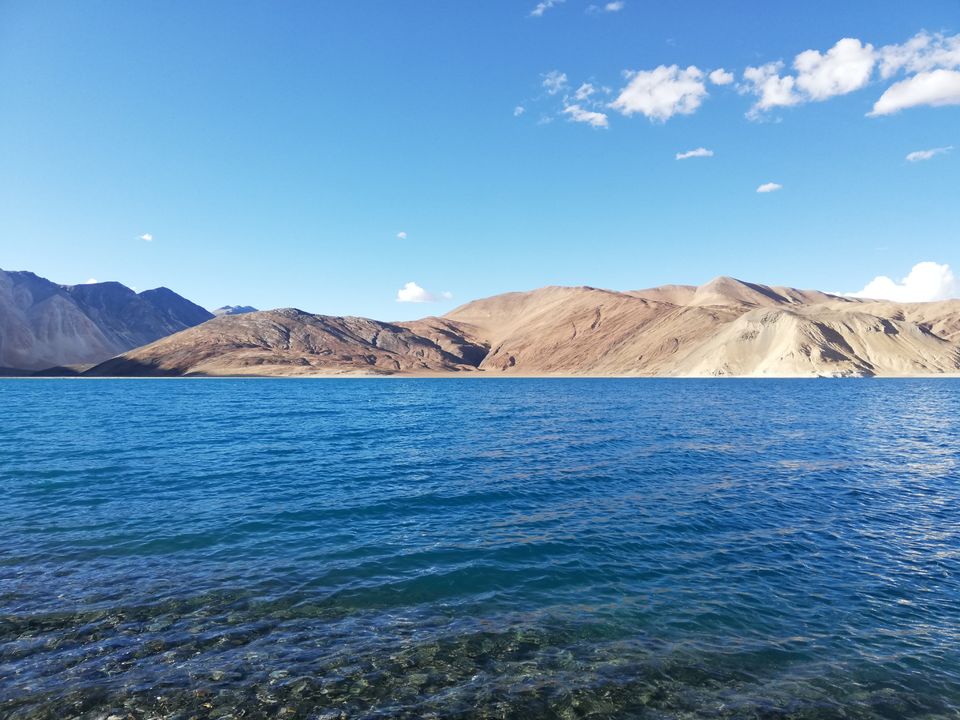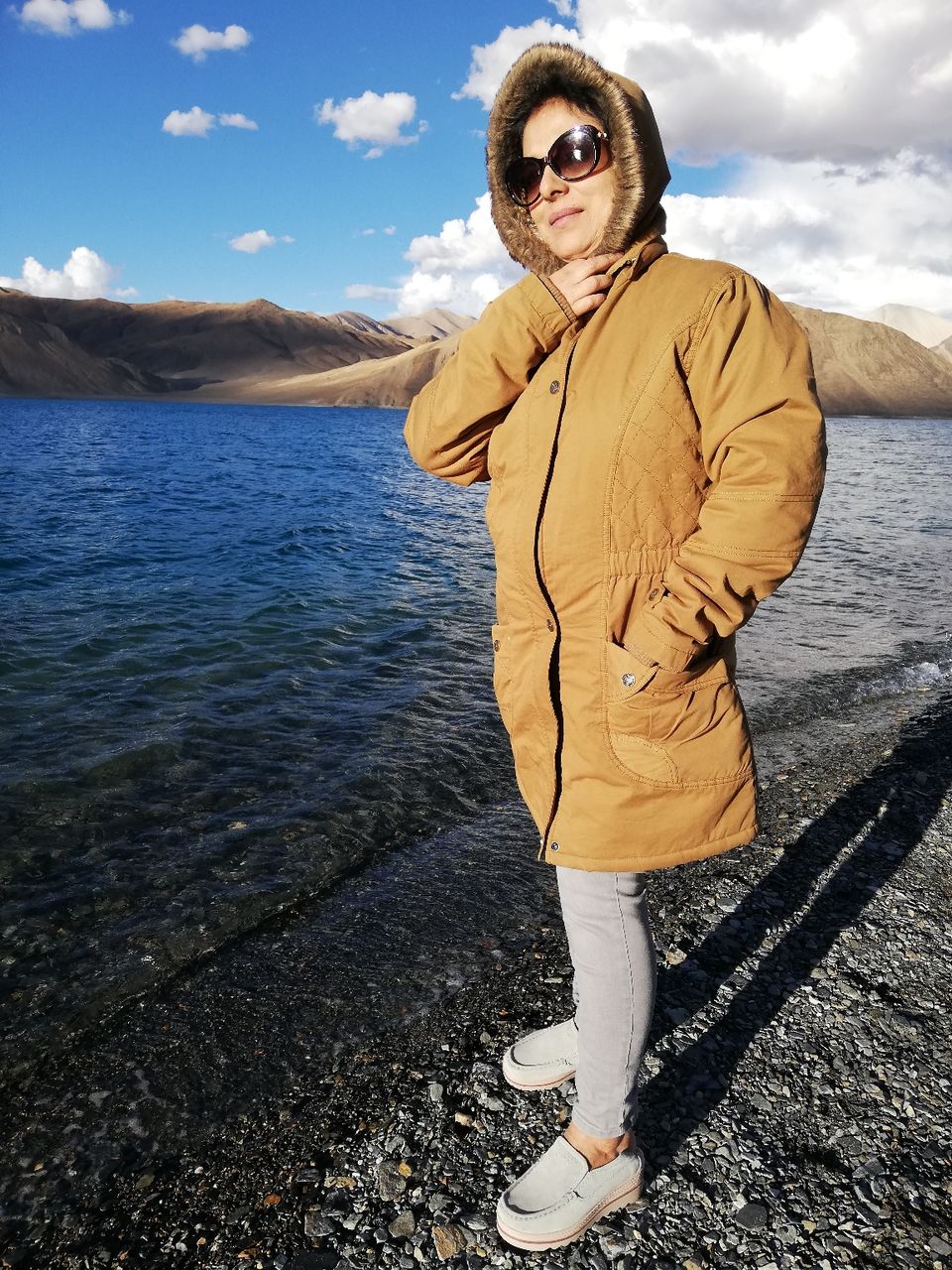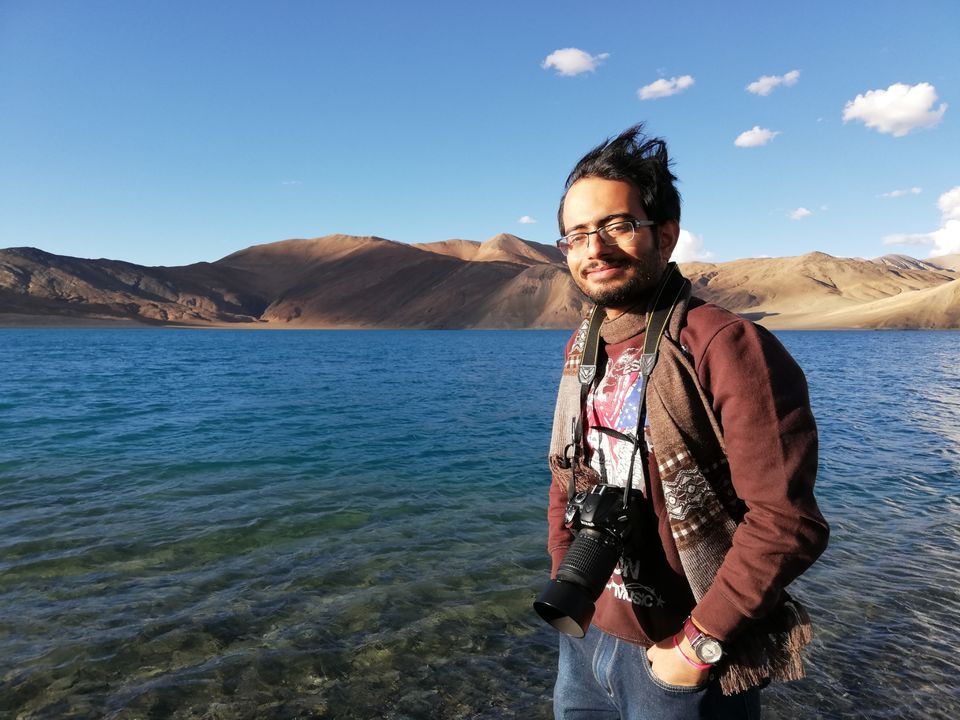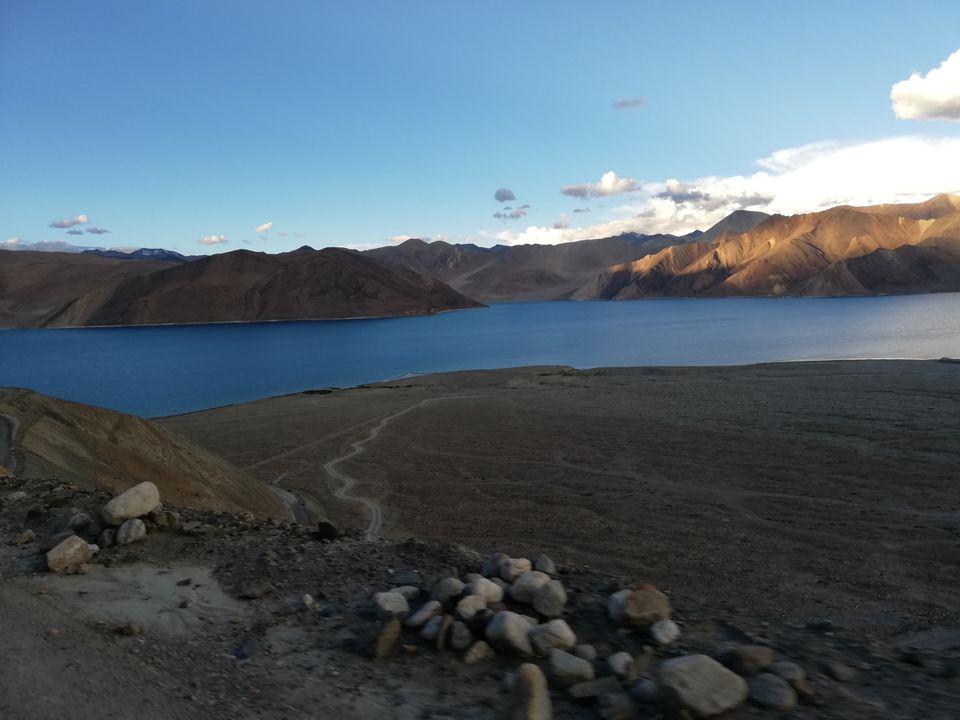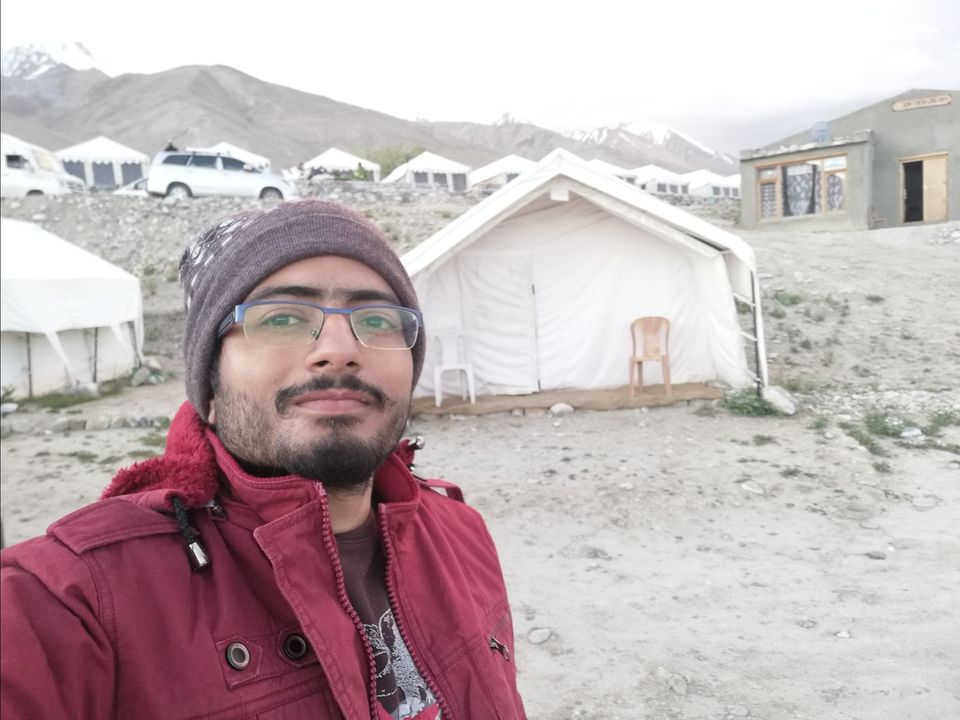 This day, we had to just reach Leh from Pangong. We departed at 9am. En route we had encounter with the cutest animal ever. The Ladakhi Mermoot. They were very photogenic and even stood for a pose. We glimpsed the famed Hemis Gompa on our way back to hotel.
In the afternoon, I strolled in the streets of Leh to get to it's people and culture alongwith food. They are very friendly at the situation in Ladakh is very peaceful, inspite the skewed reports of some news outlets. I also visited the Zarawar Fort.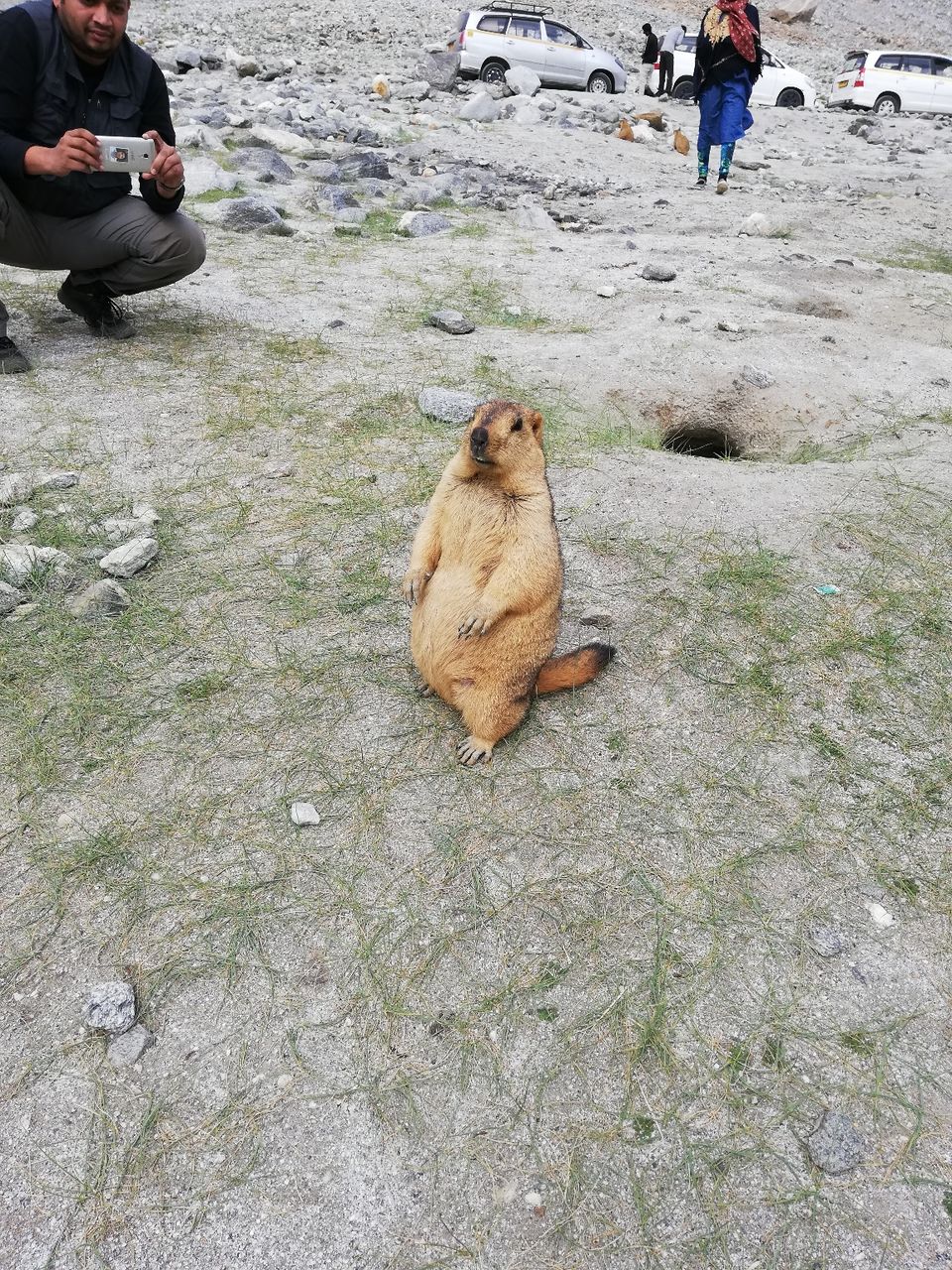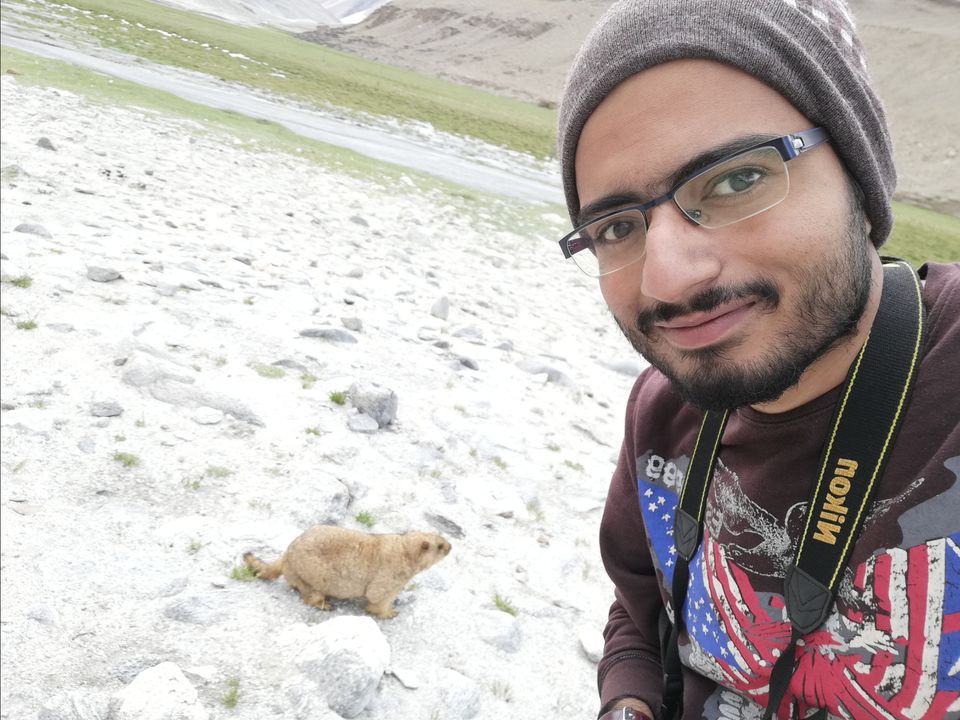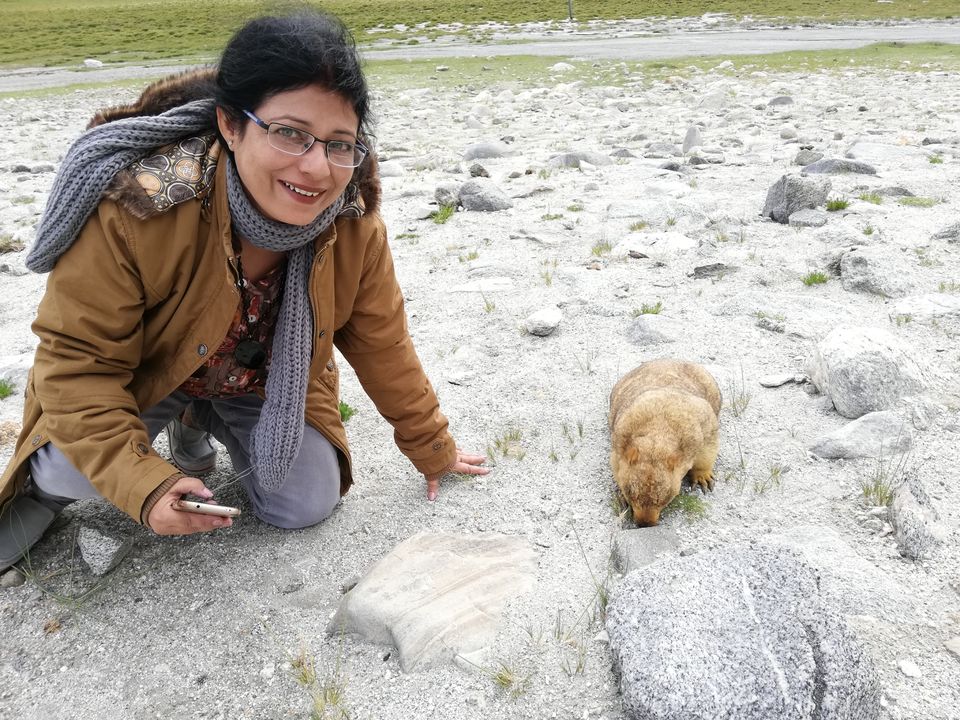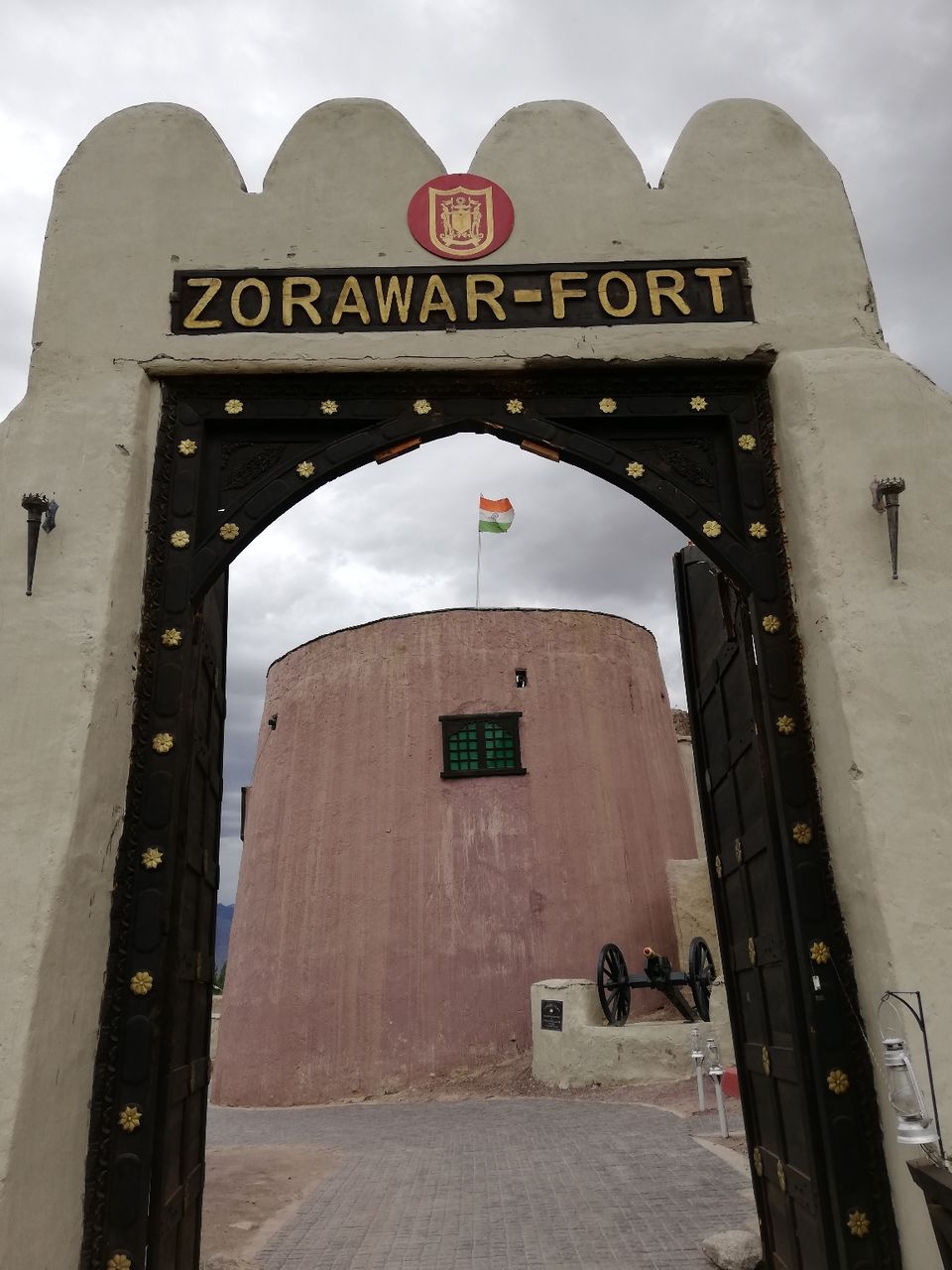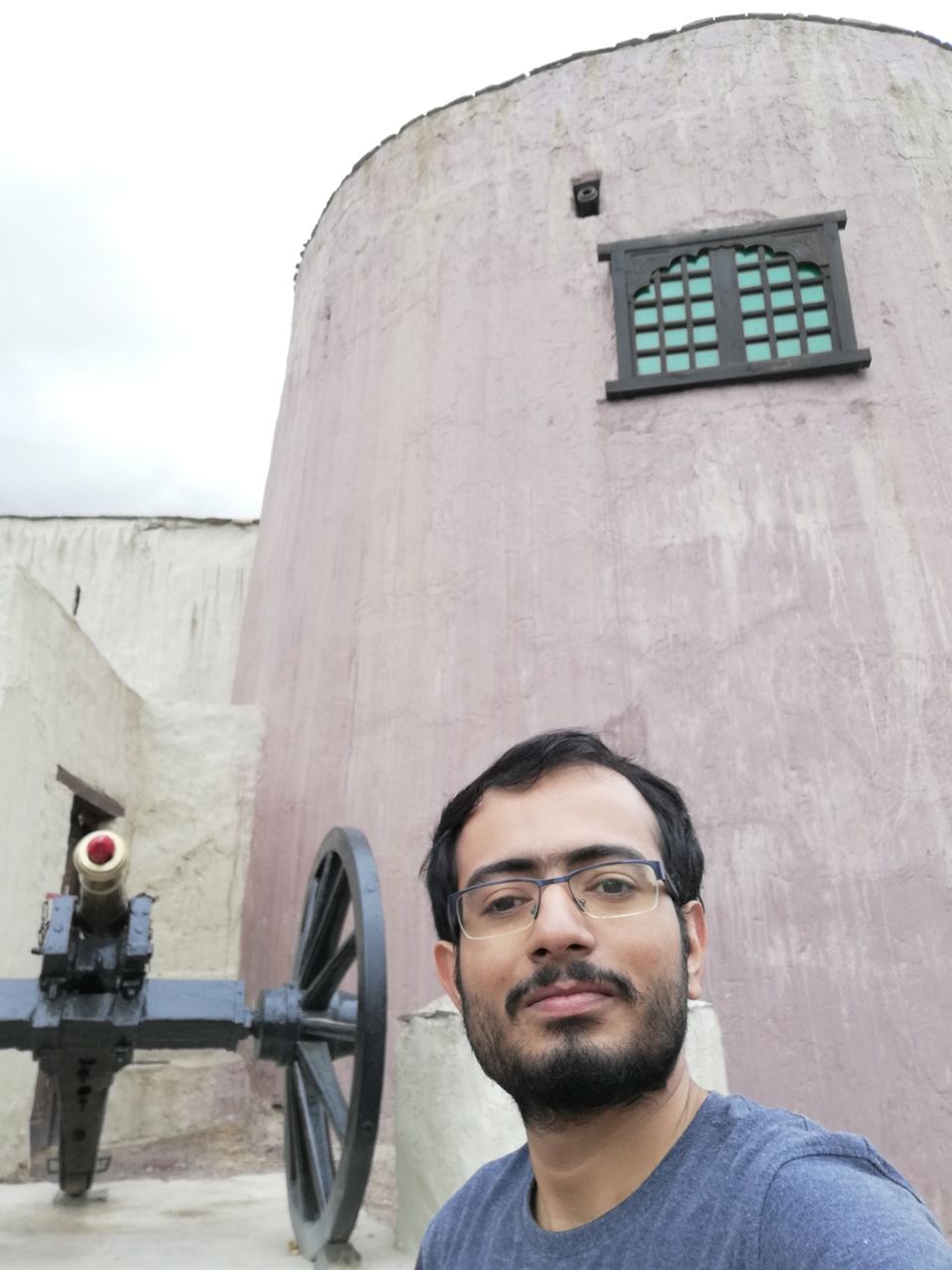 This day was the most eventful and also was an adrenaline rush throughout.
We hopped on the Khardung La Road, crossing world's highest motorable road at around 18000 feet! It was freezing cold up there. From there crossing north pullu, Khardung village we came upon Khalsar, on the banks of River Shyok and did our lunch there. Nubra valley started from there and the beauty was unimaginable. I practiced some archery there, failing miserably.
Then we came across Siachen Sand Dunes. A desert in the mountains! And guess what, an adventure was awaiting us. Mom and I took on our Desert Storm avatar and geared up the ATV Bike. That was total adrenaline rush, speeding Quad Bike in Sand Dunes in a river valley surrounded by Large Mountains.
If this don't kick you to start planning to Ladakh, then nothing will.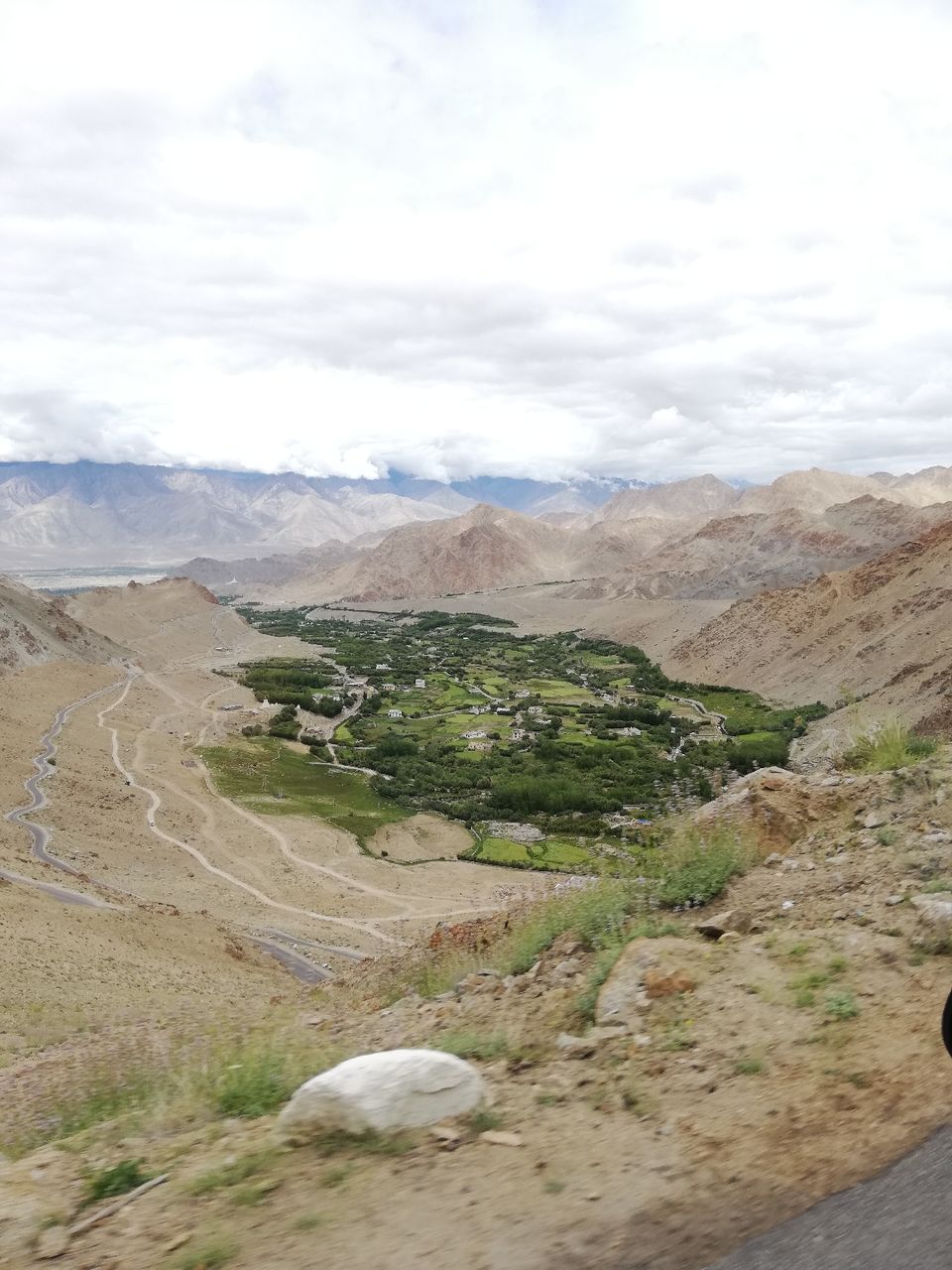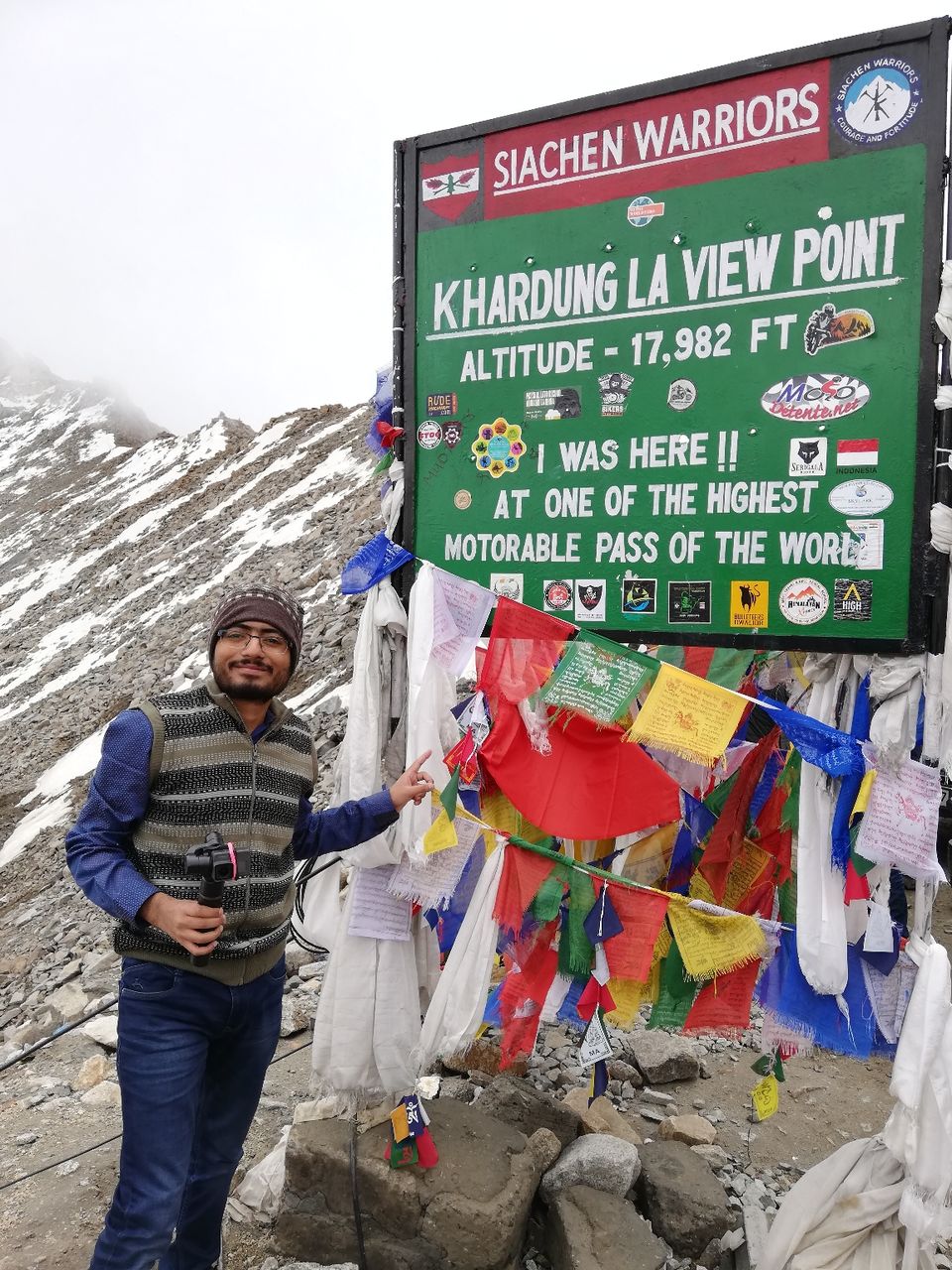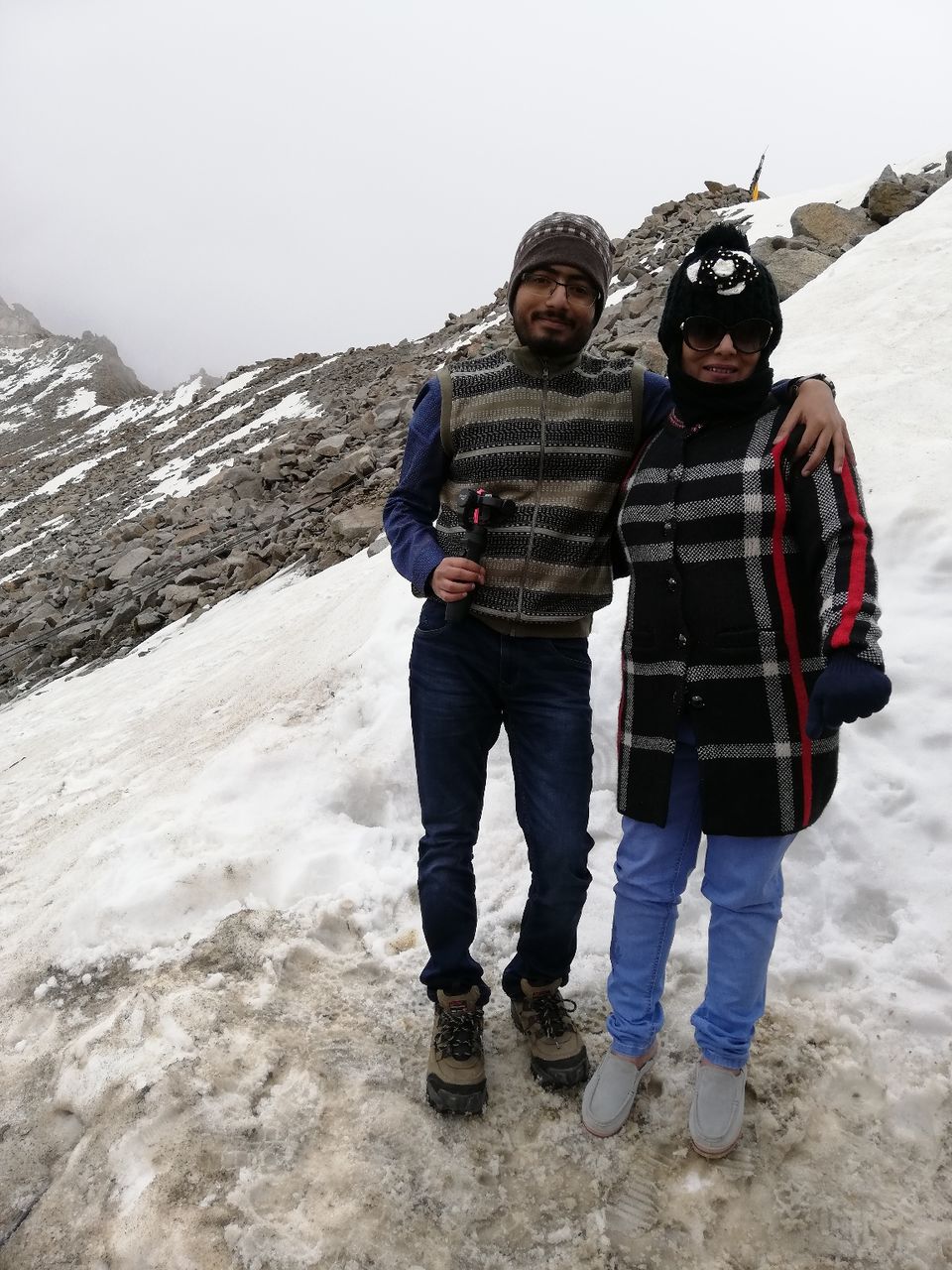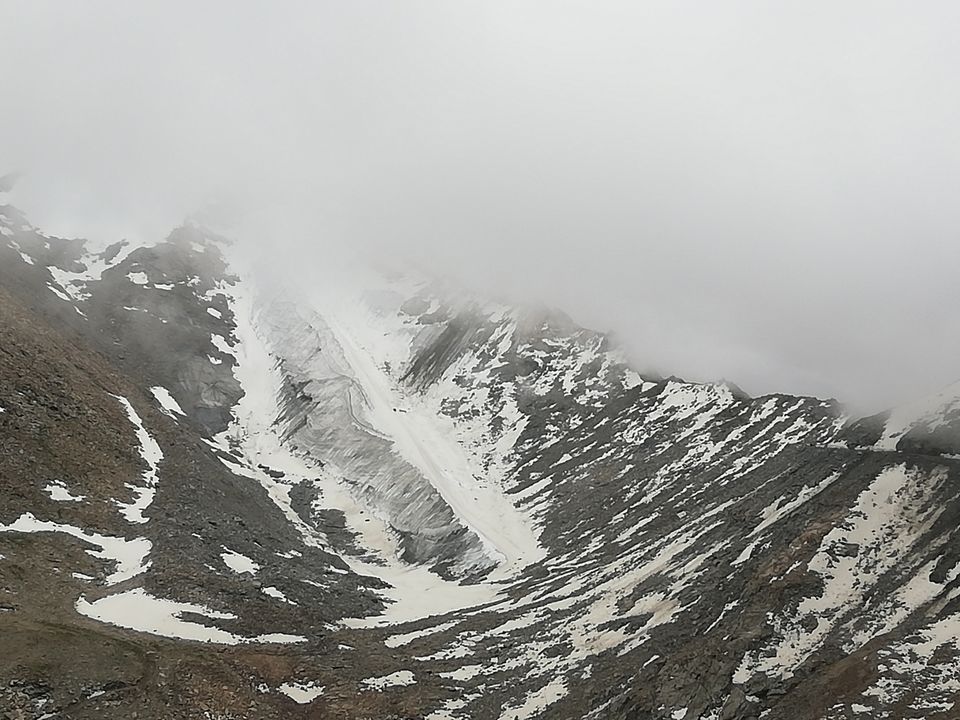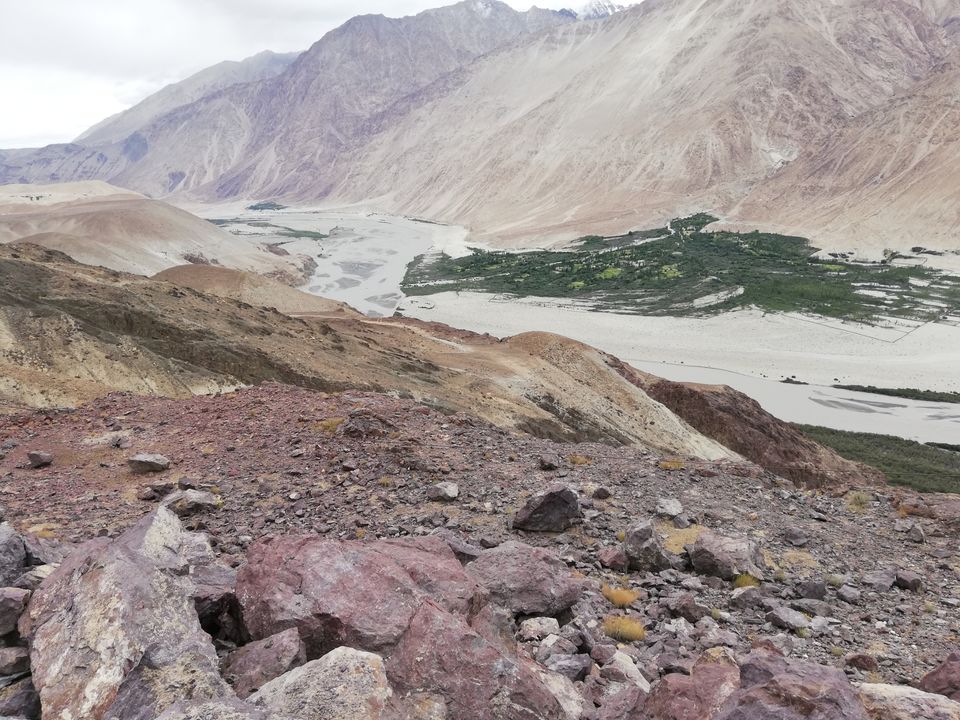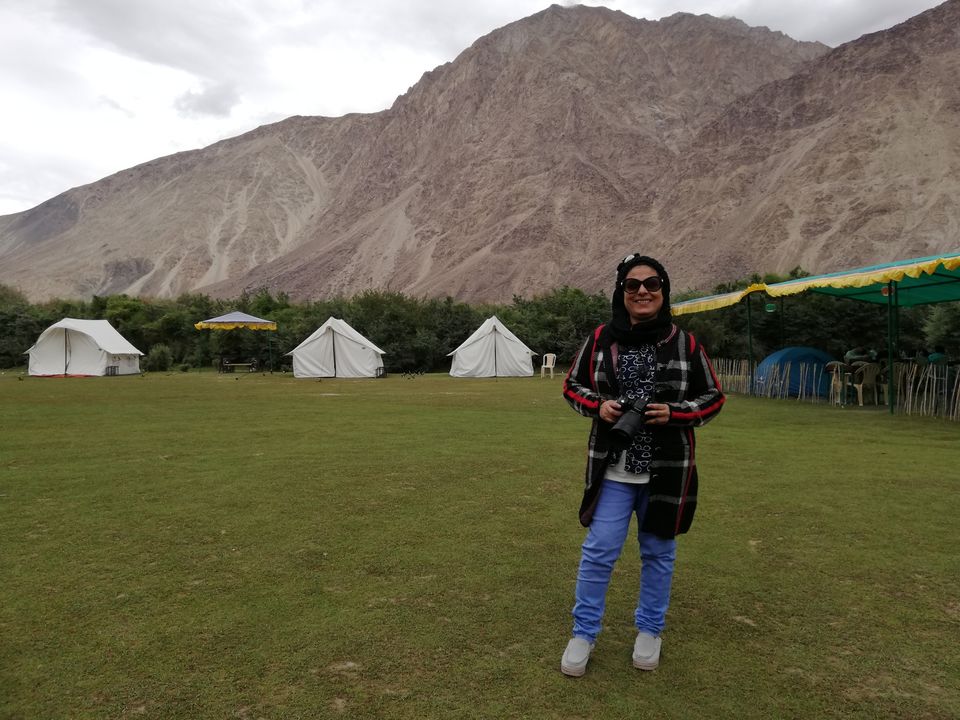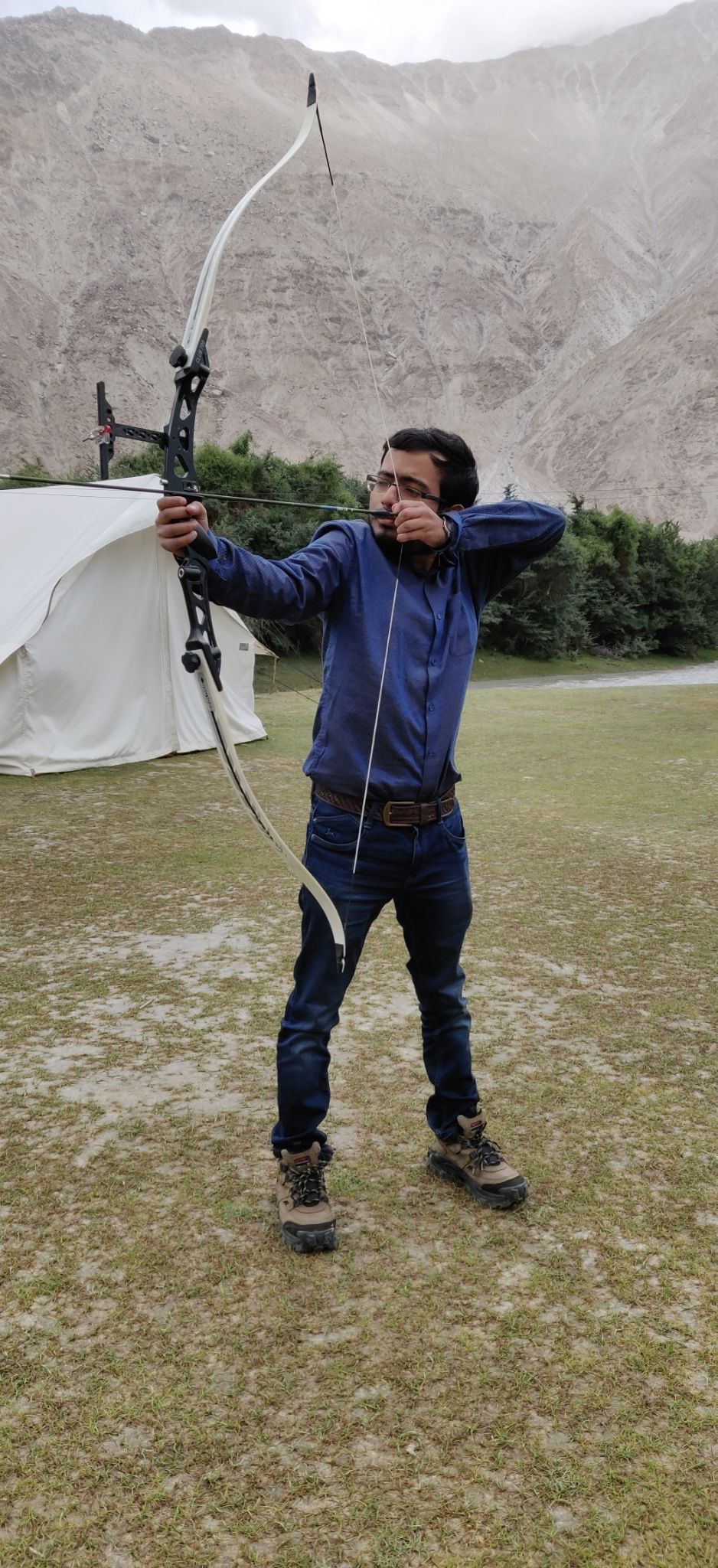 After ATV ride, it was time to visit the most well known Monastery in the Nubra Valley. The Diskit Monastery. A huge sitting statue of Maitreya Buddha, or the future budhha, looms large and can be seen from 10kms on either side of the Diskit-Turtuk highway.
The monastery is situated in a elevated rock, and from there a 360° panorama of Nubra Valley can be seen.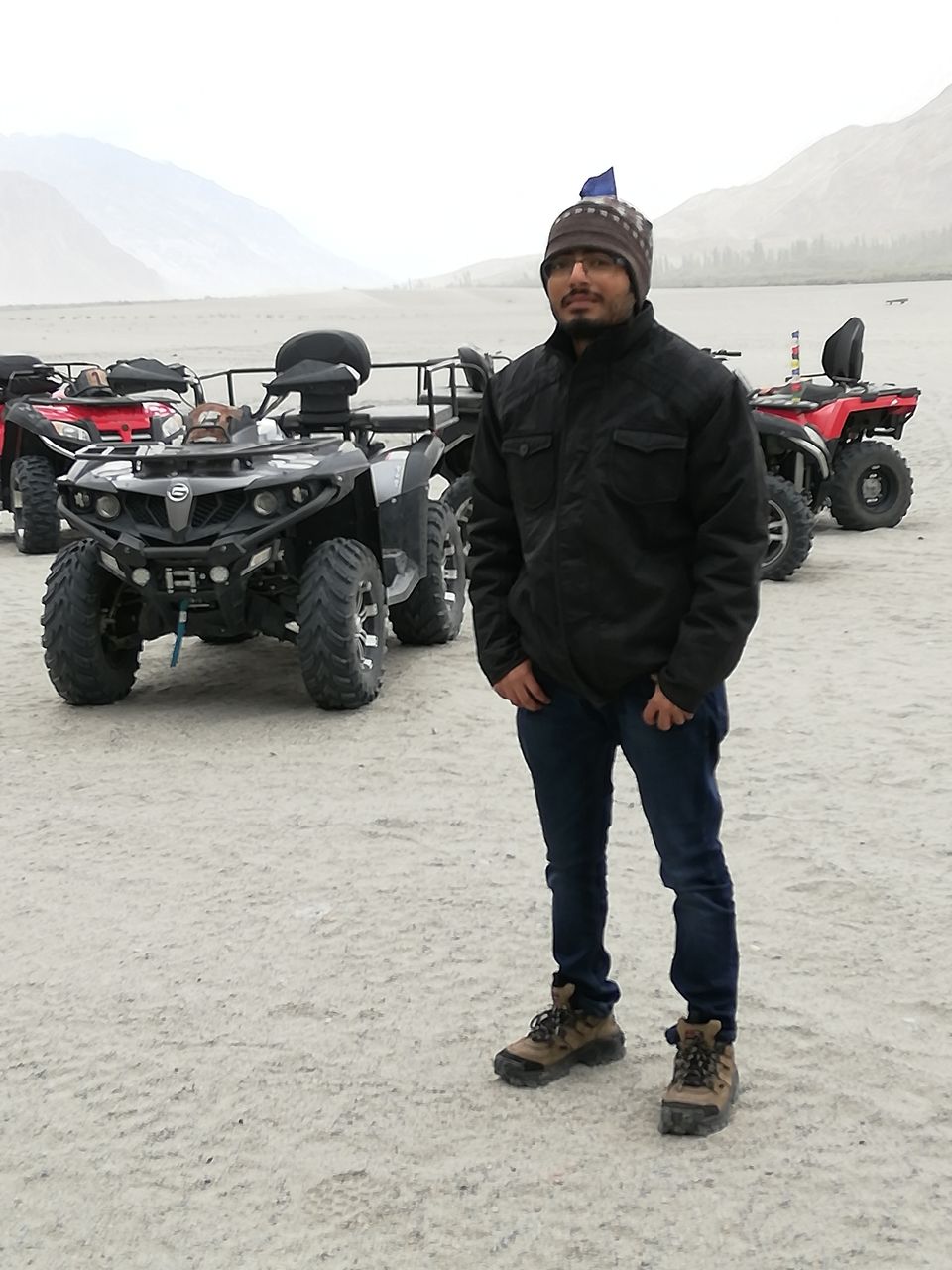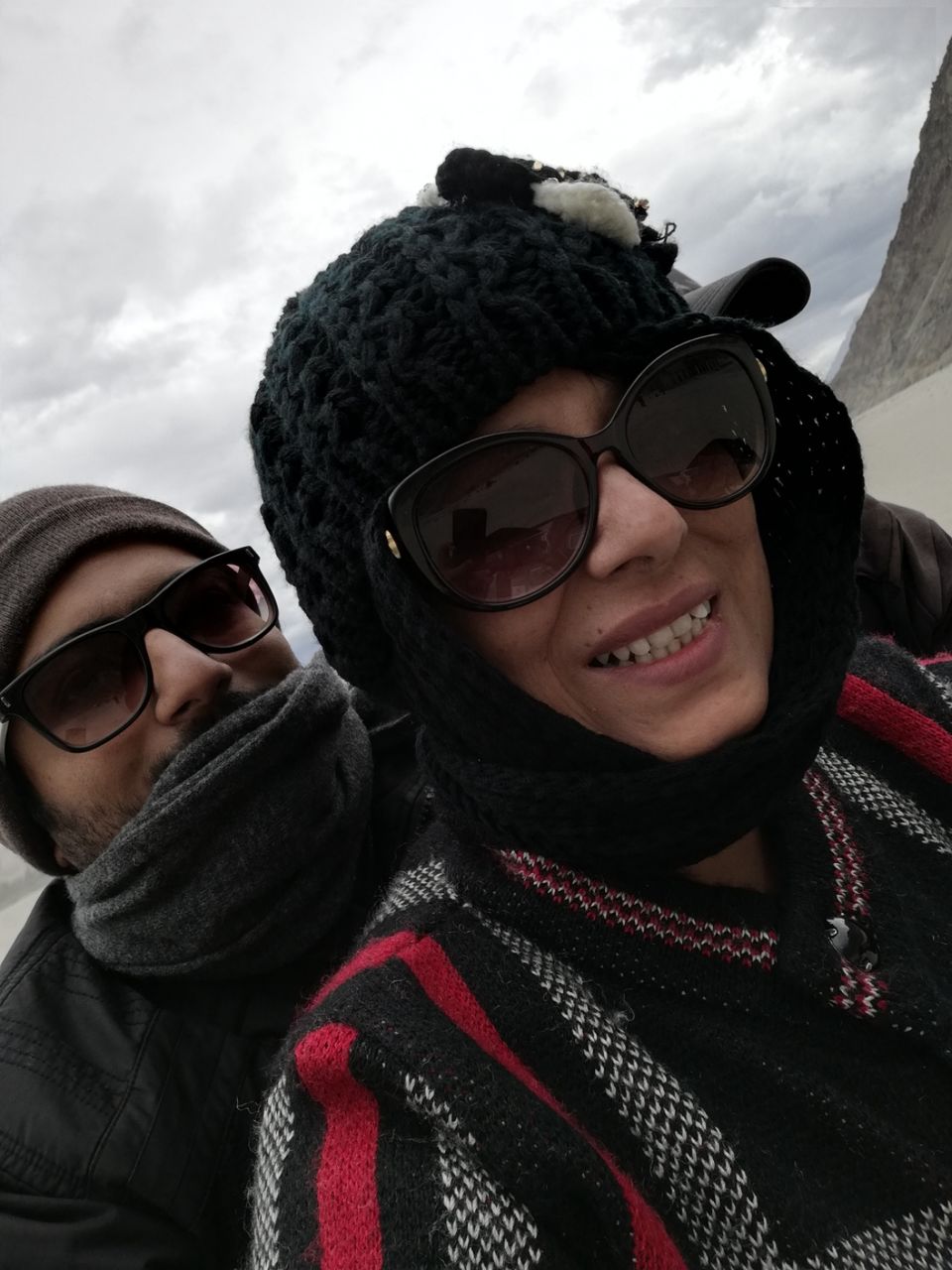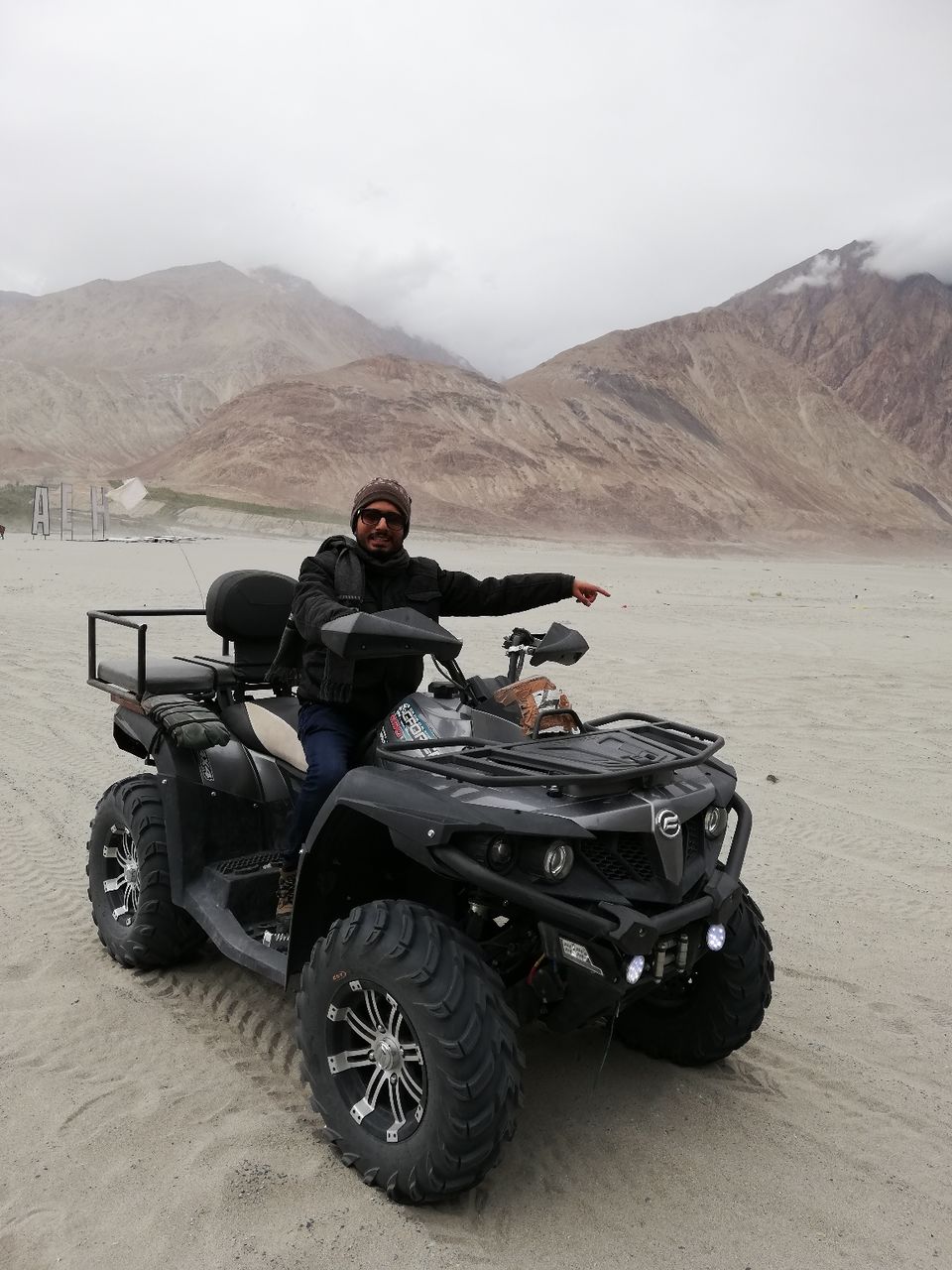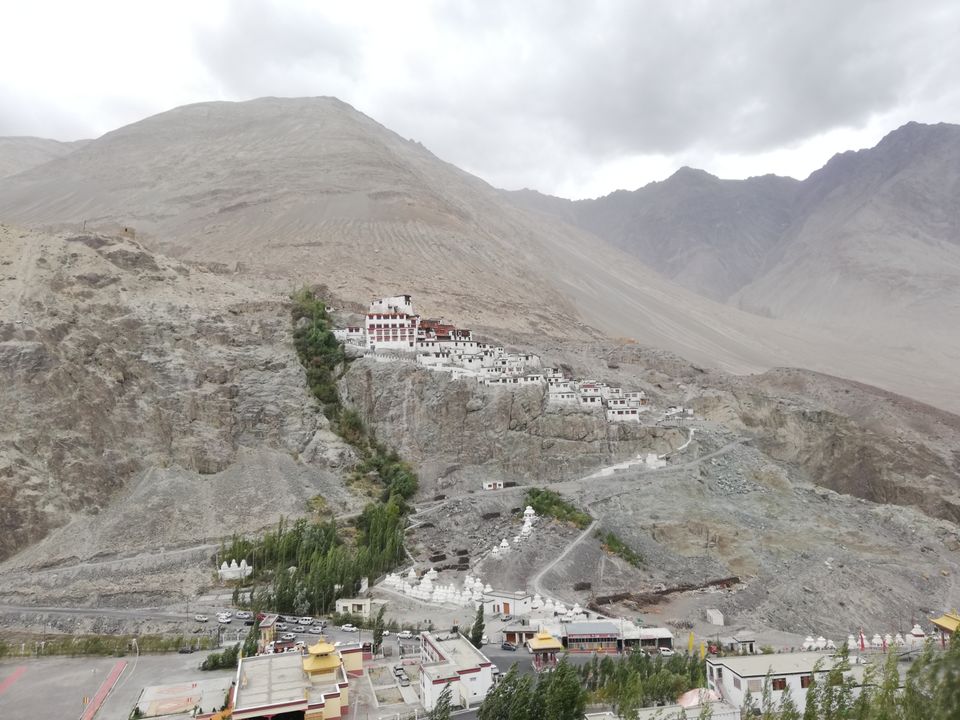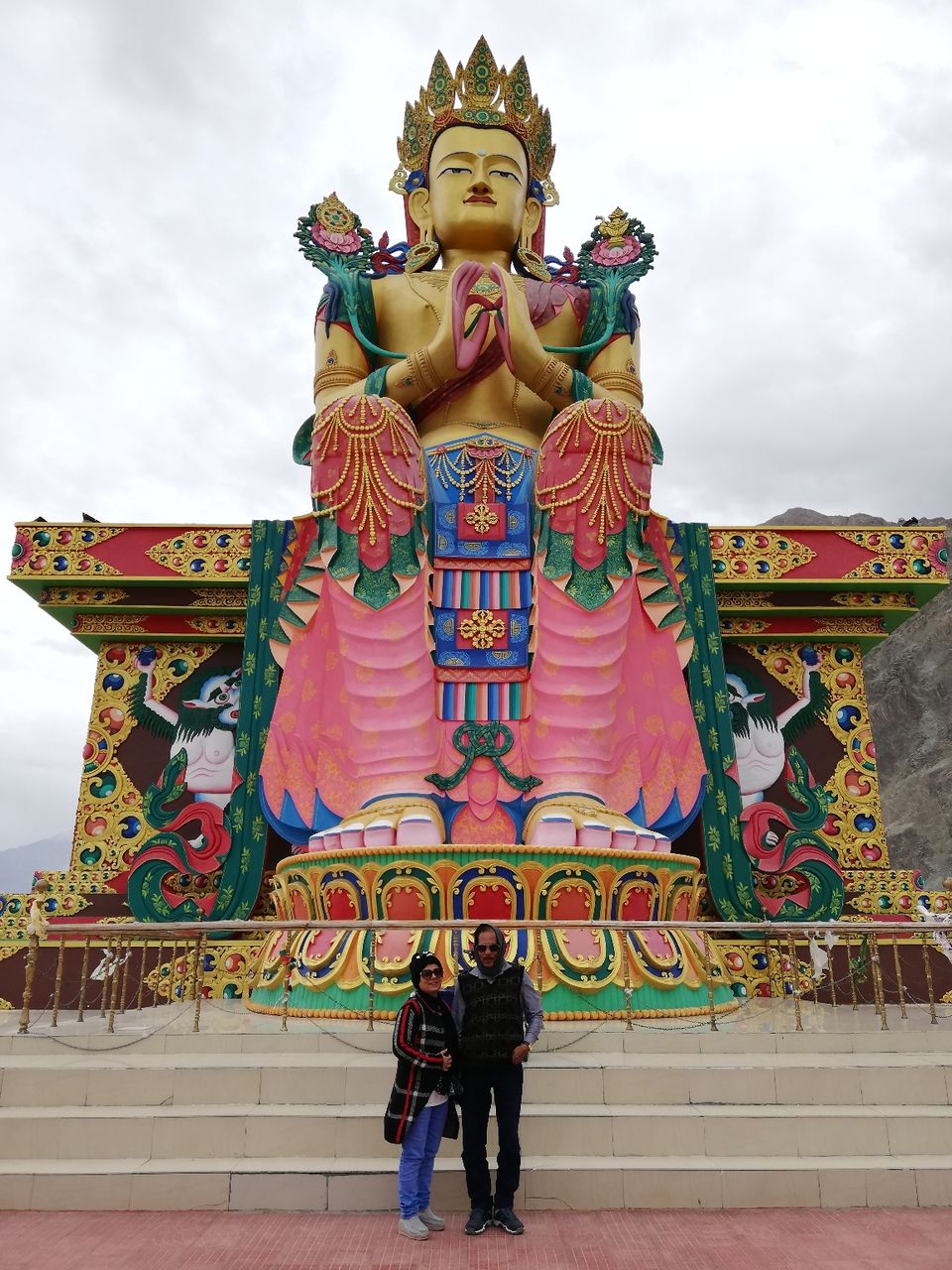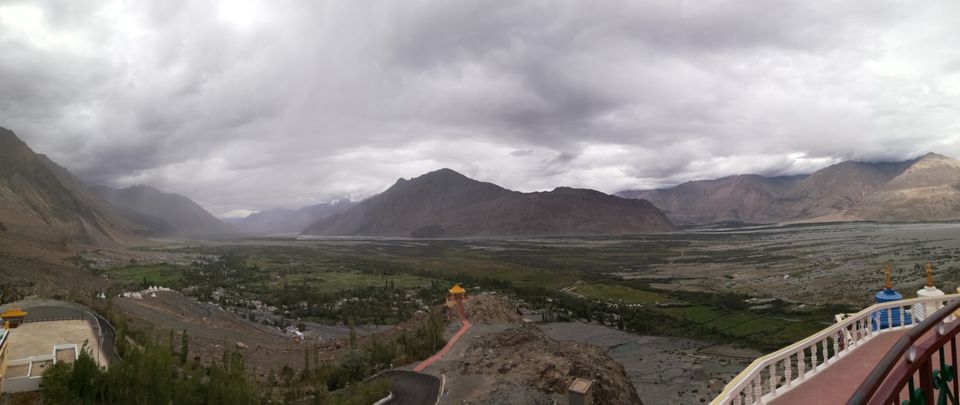 From Diskit, we went straight to the Sand Dunes of the cold desert of Hunder. Here we did the famous double-humped back camel ride. 15 min ride is 300 rupees and 30 min ride is 450. Obviously, we did the later, and the experience was very enriching. Riding the camel with Karakoram range in the left, Ladakh range in the right, with Shyok river flowing right beside and a dense forest in front of the sand dunes. So you can get everything in a single frame. I bet you won't find this anywhere in India.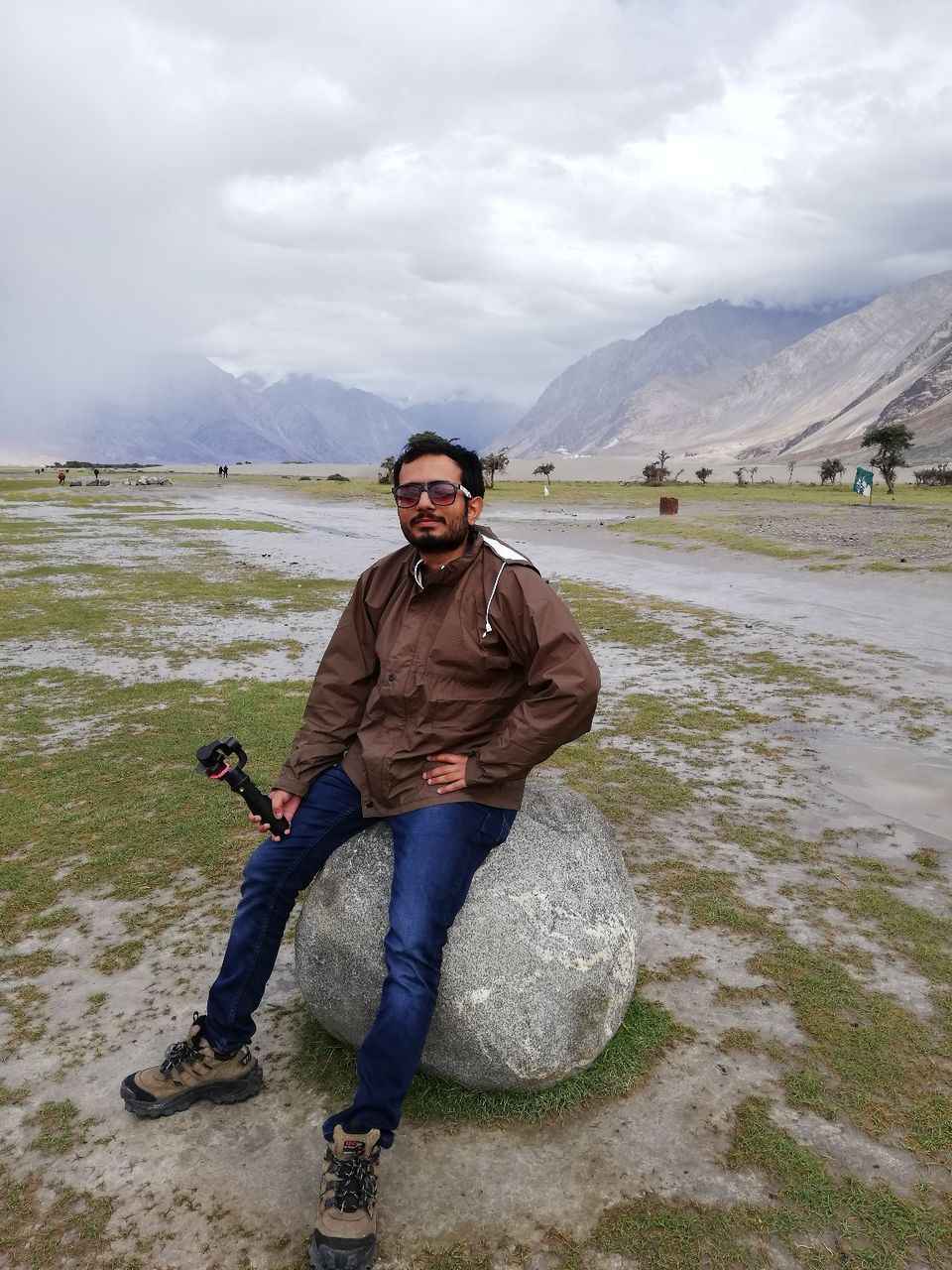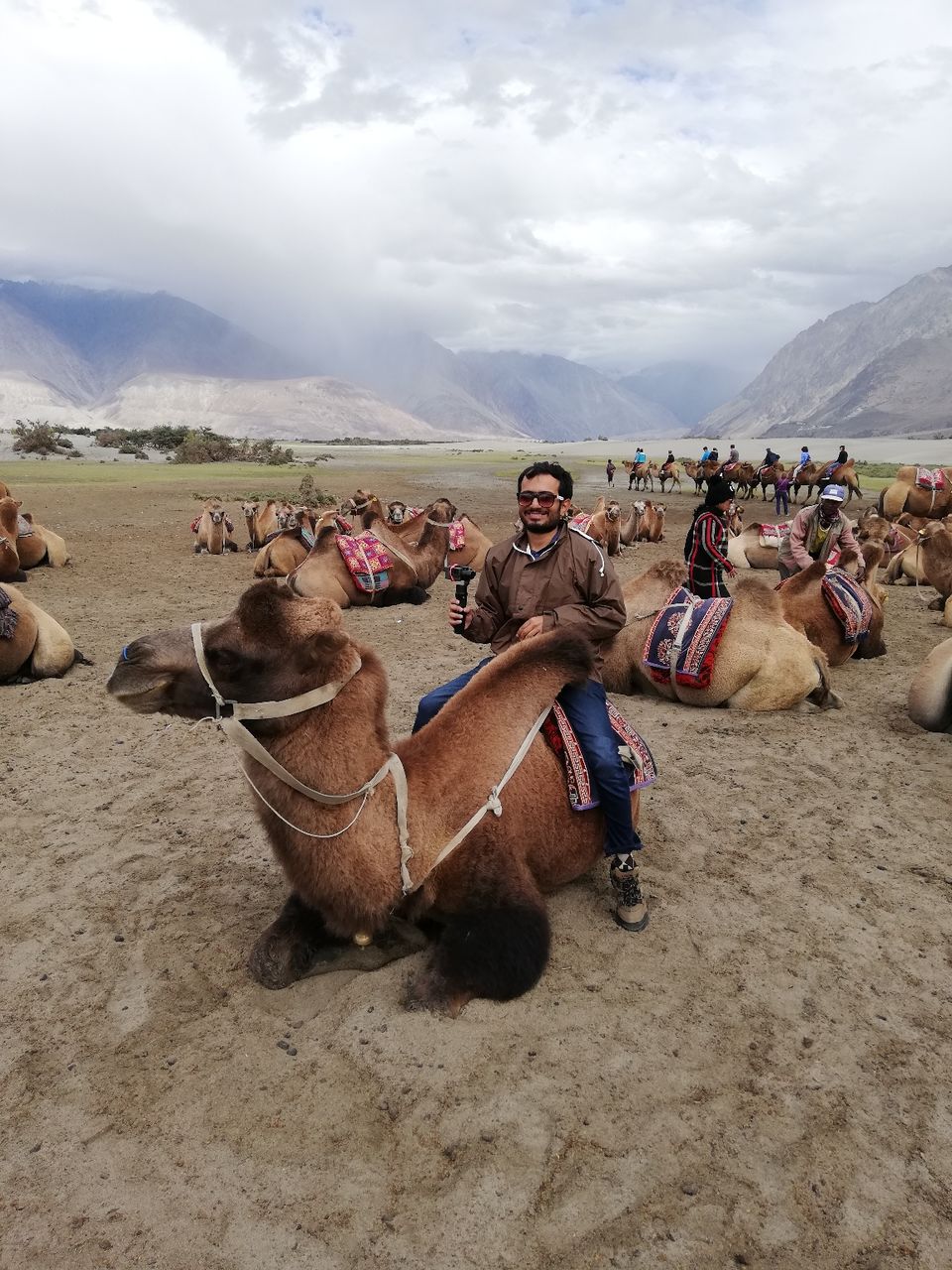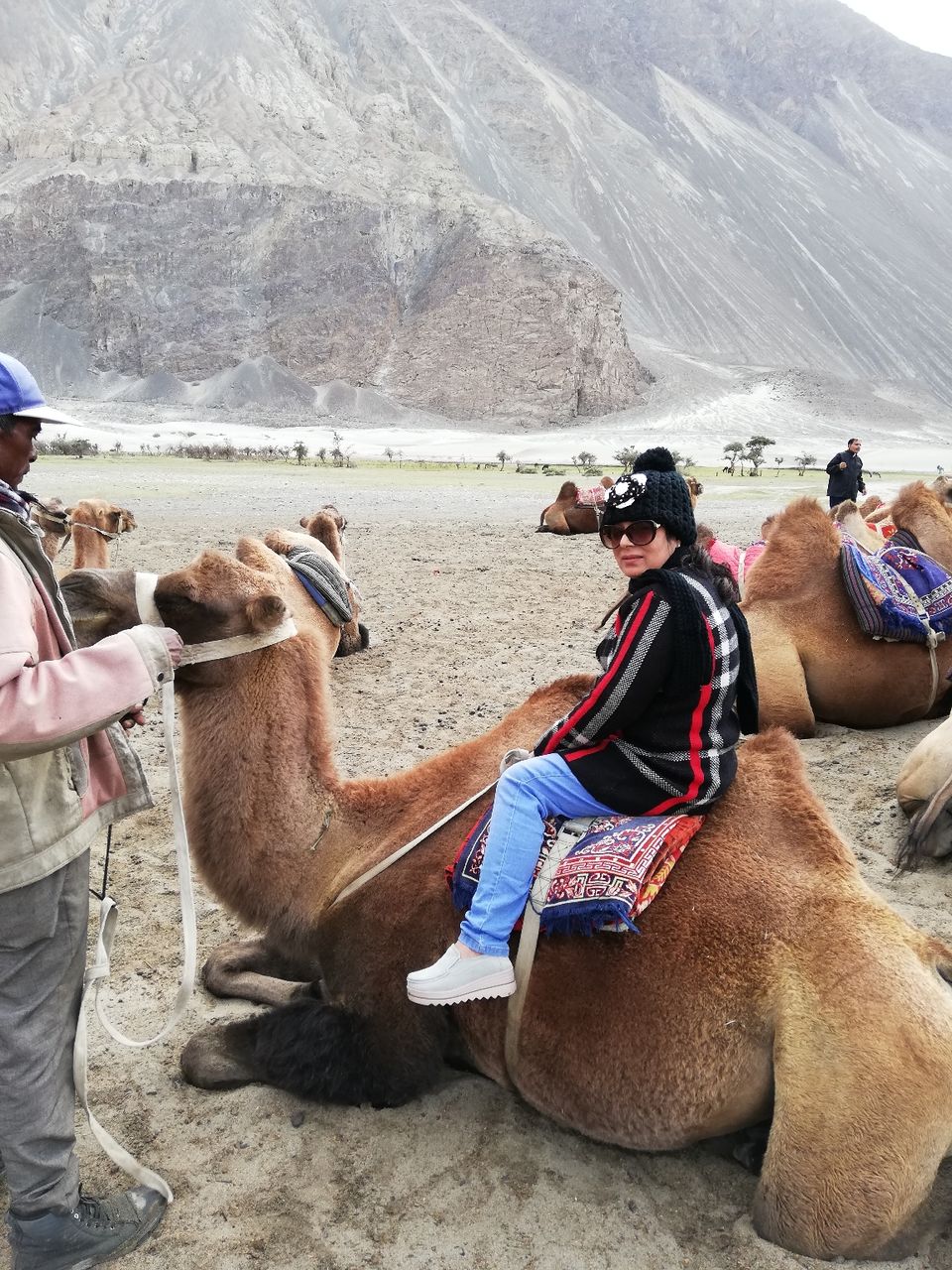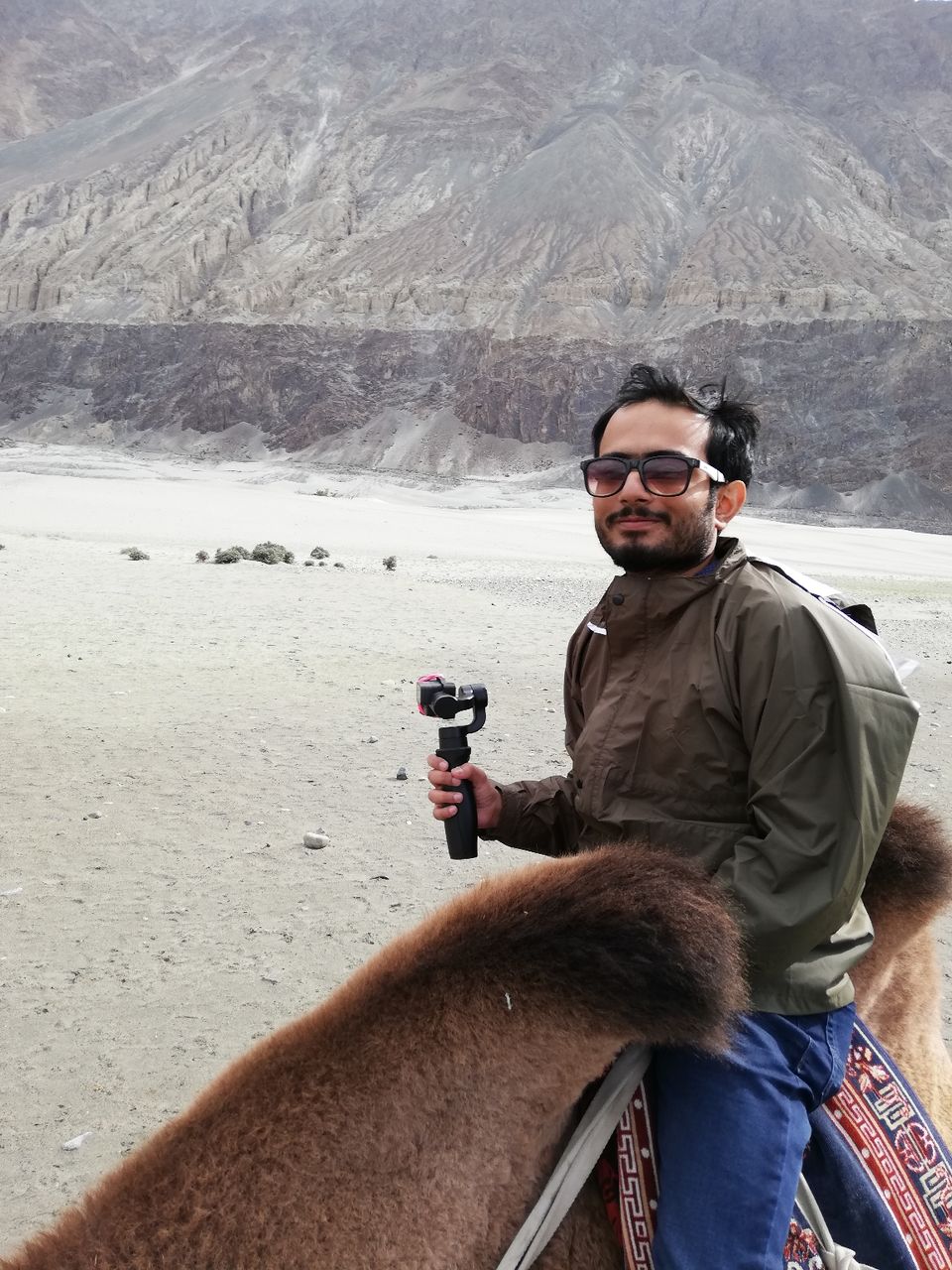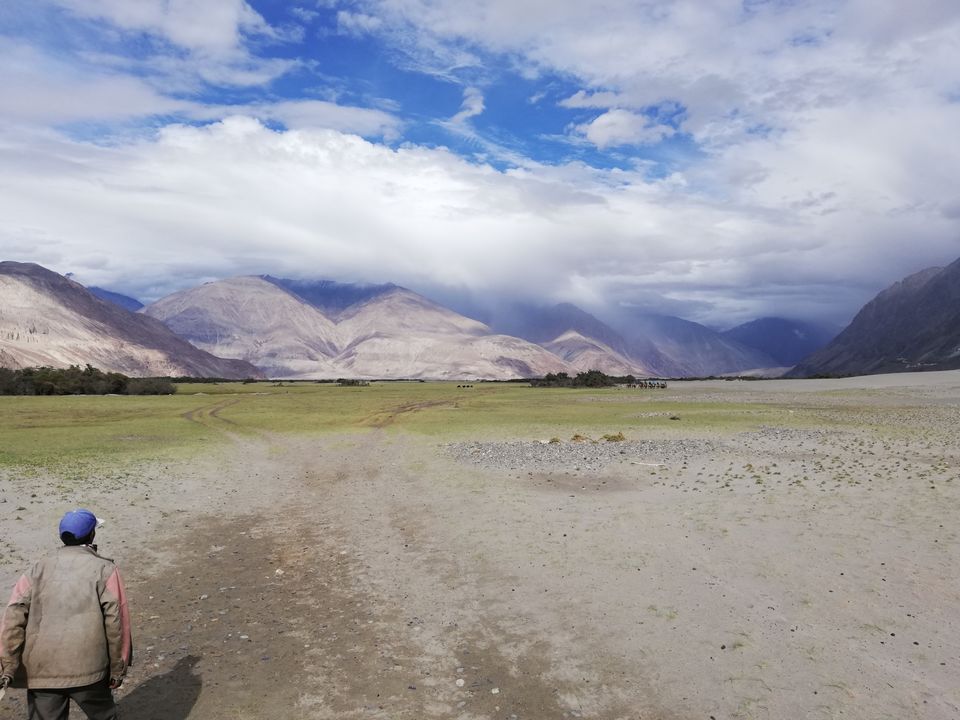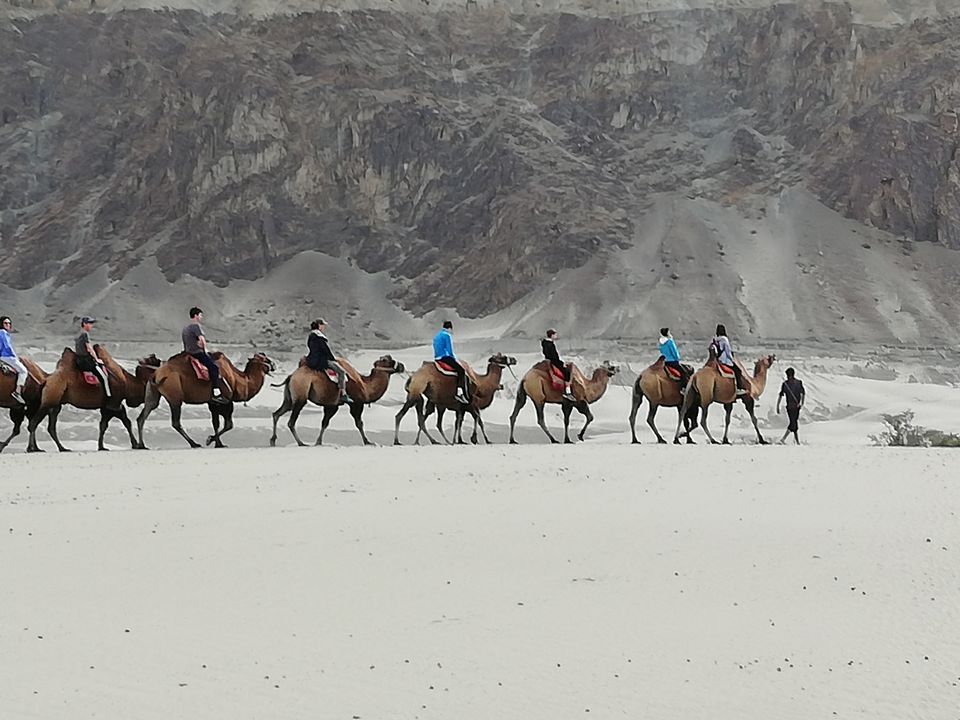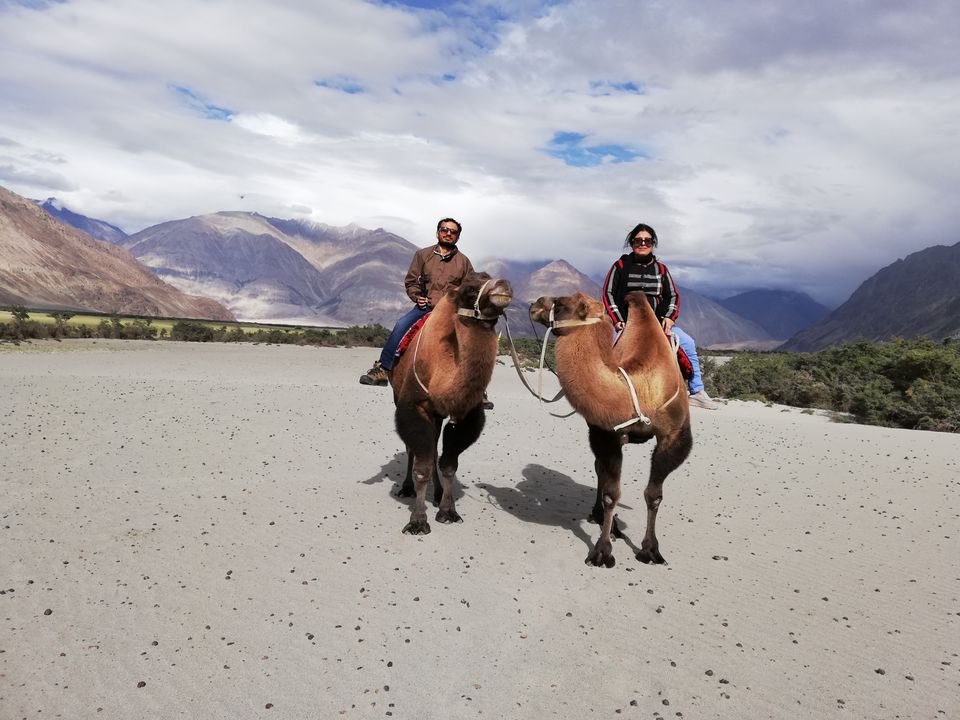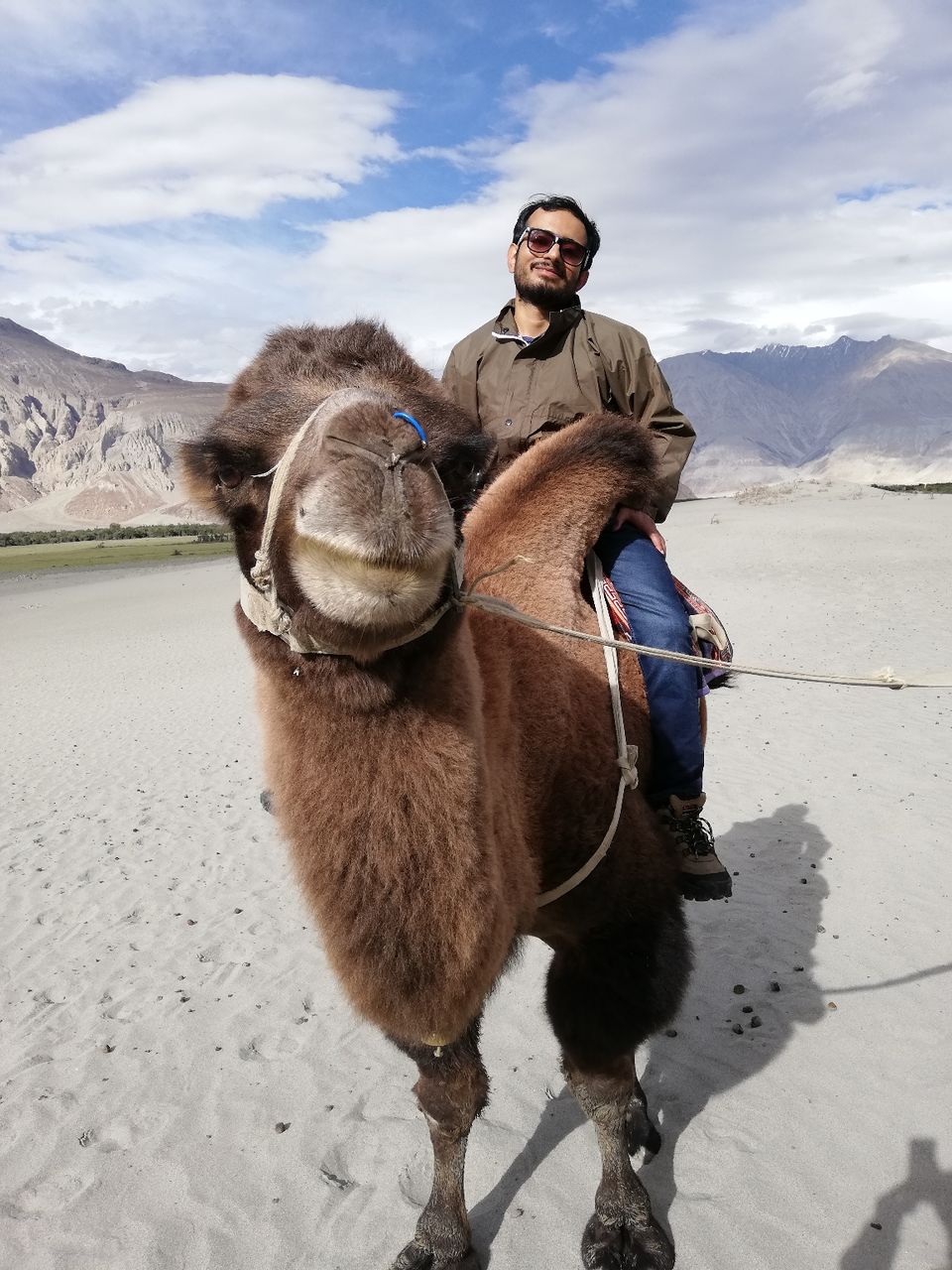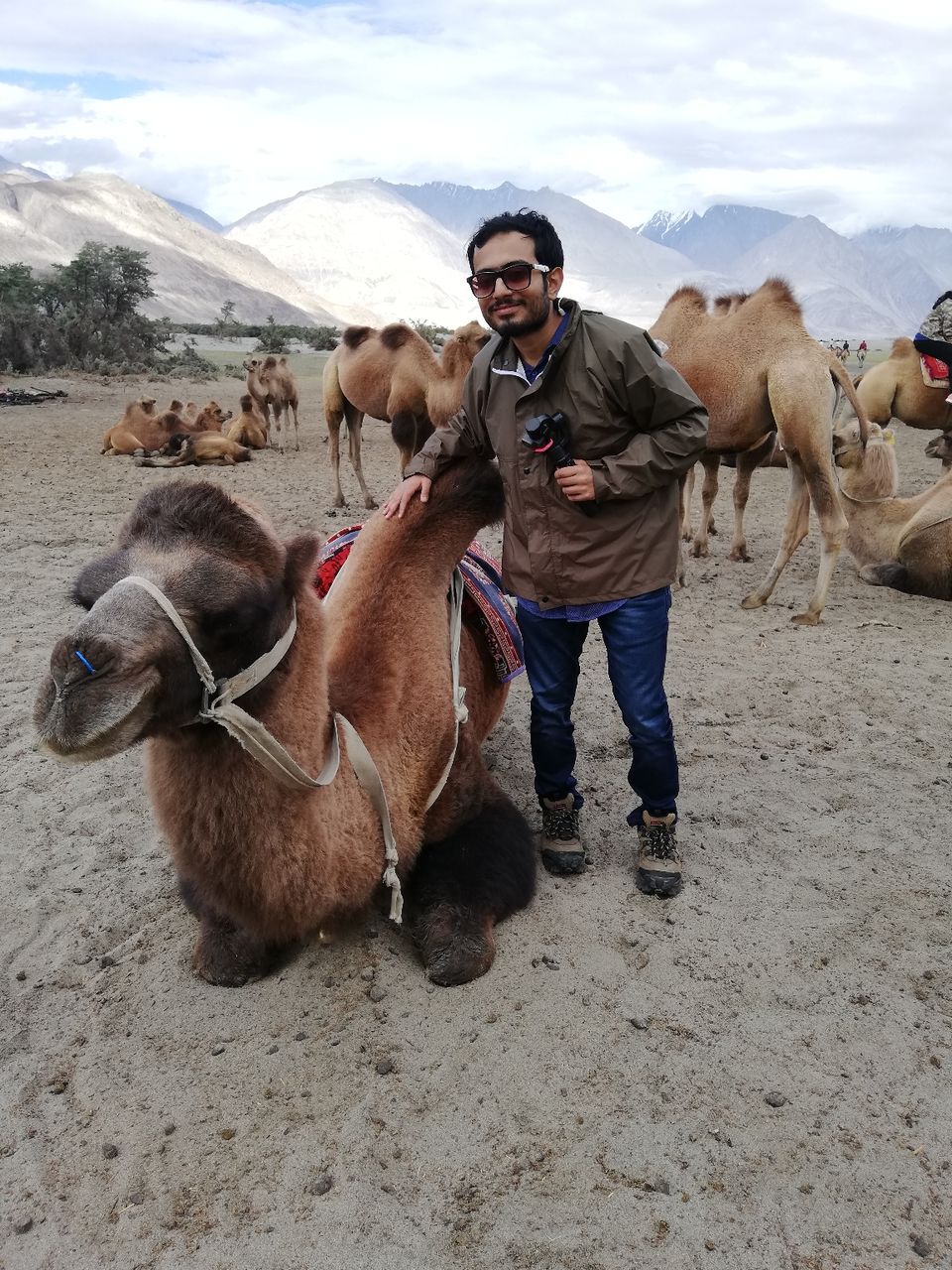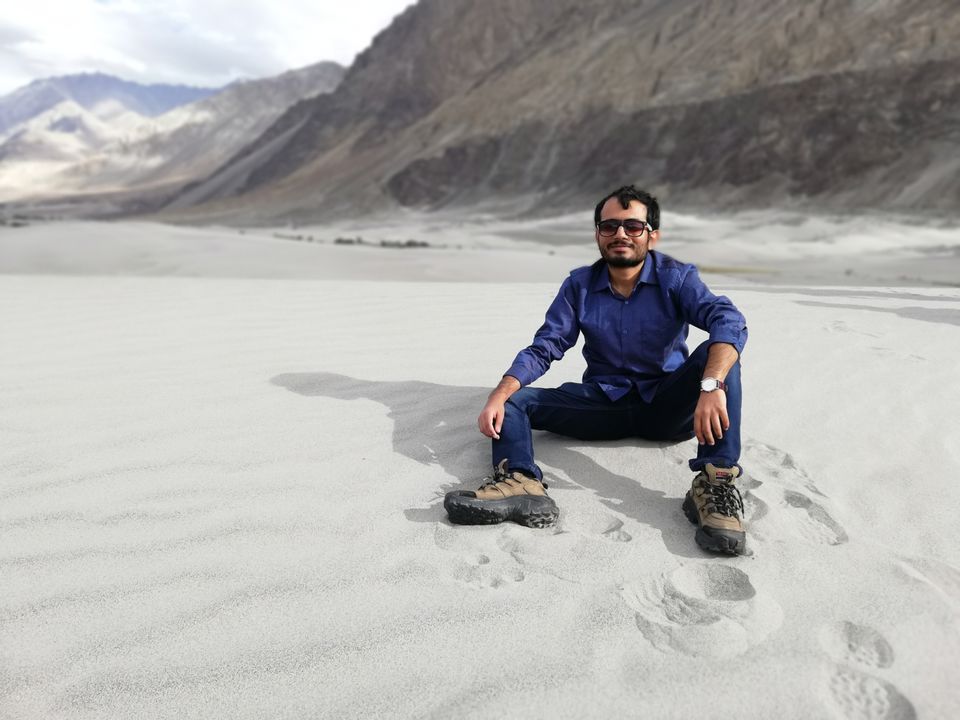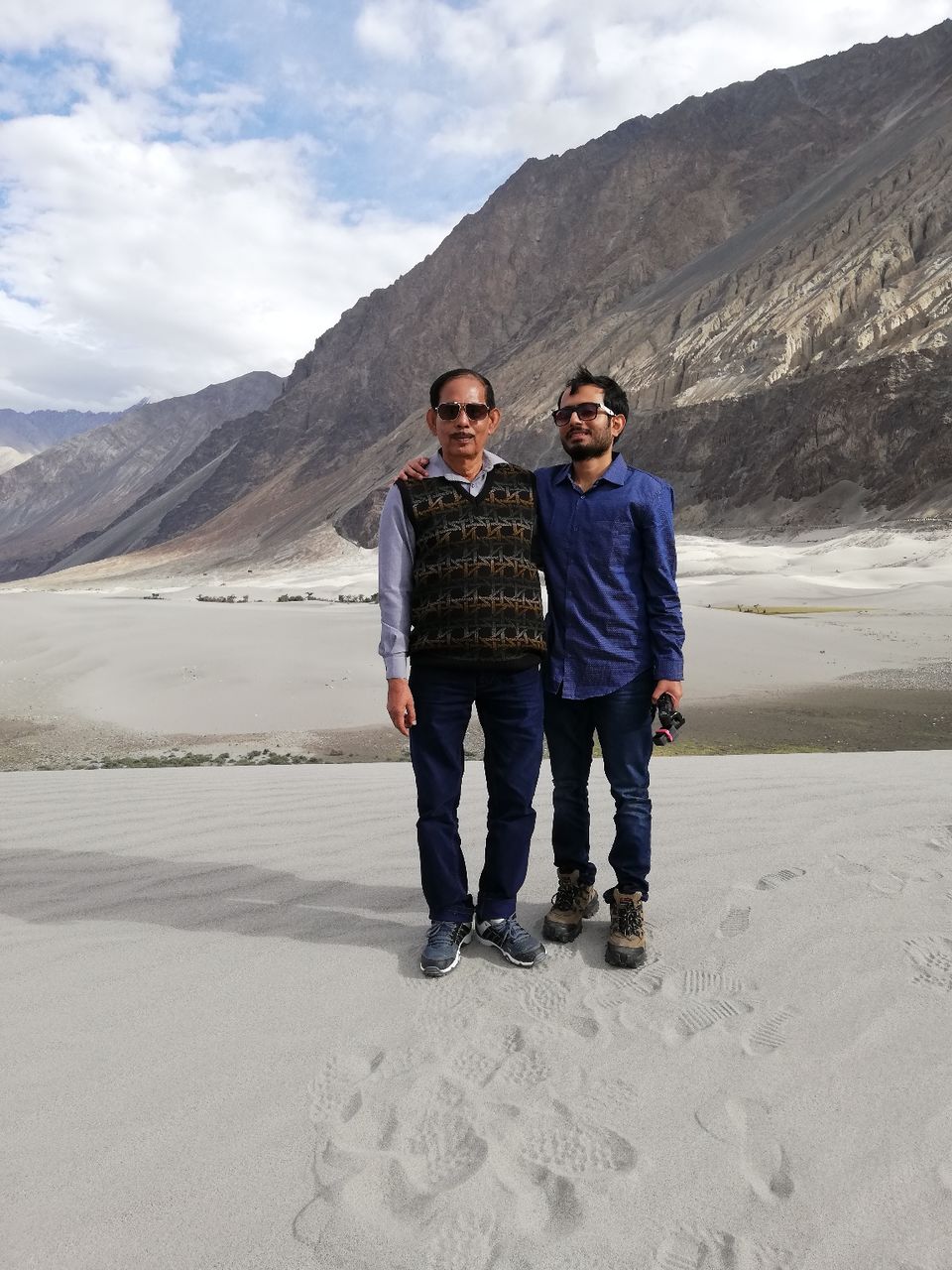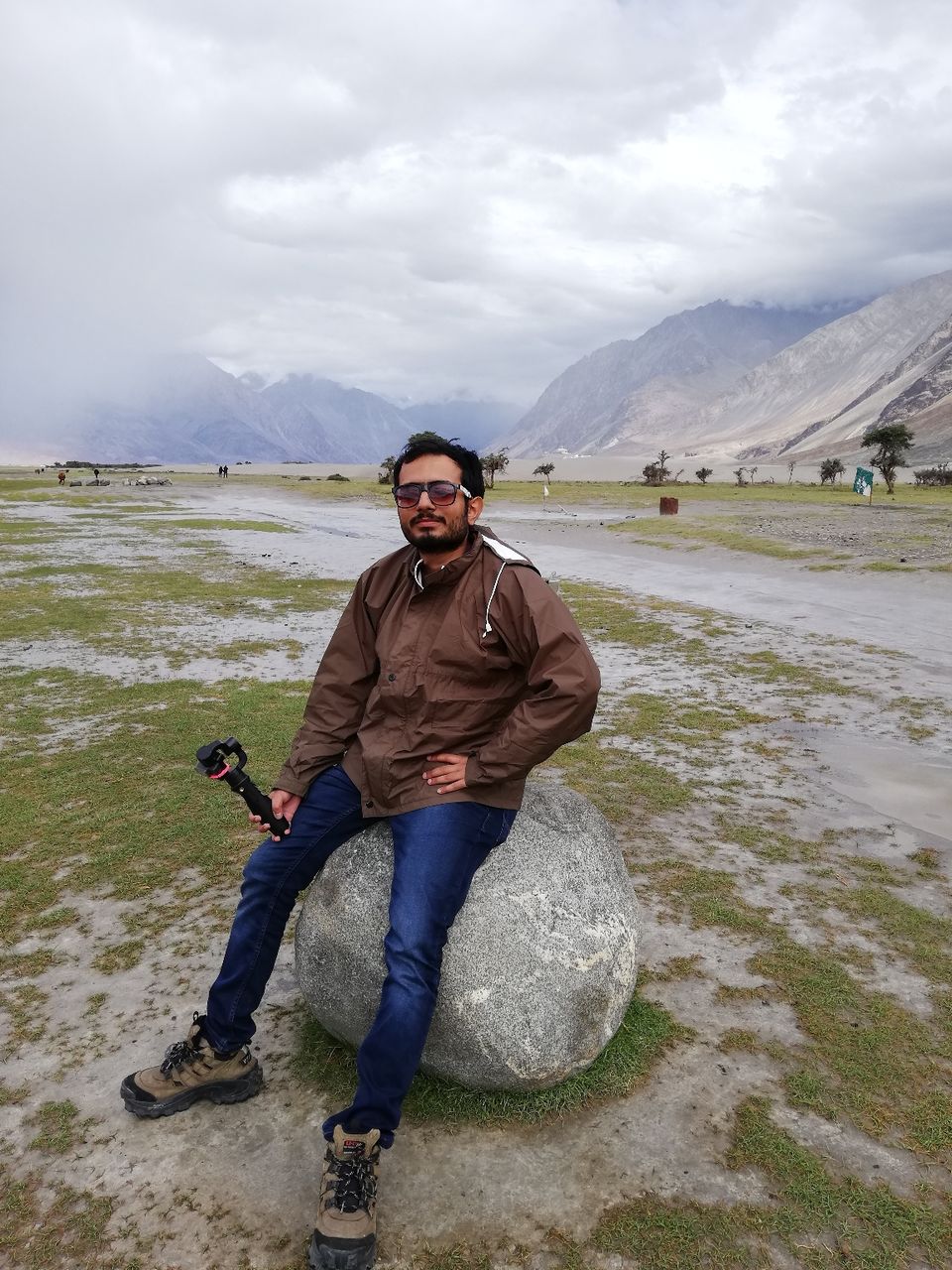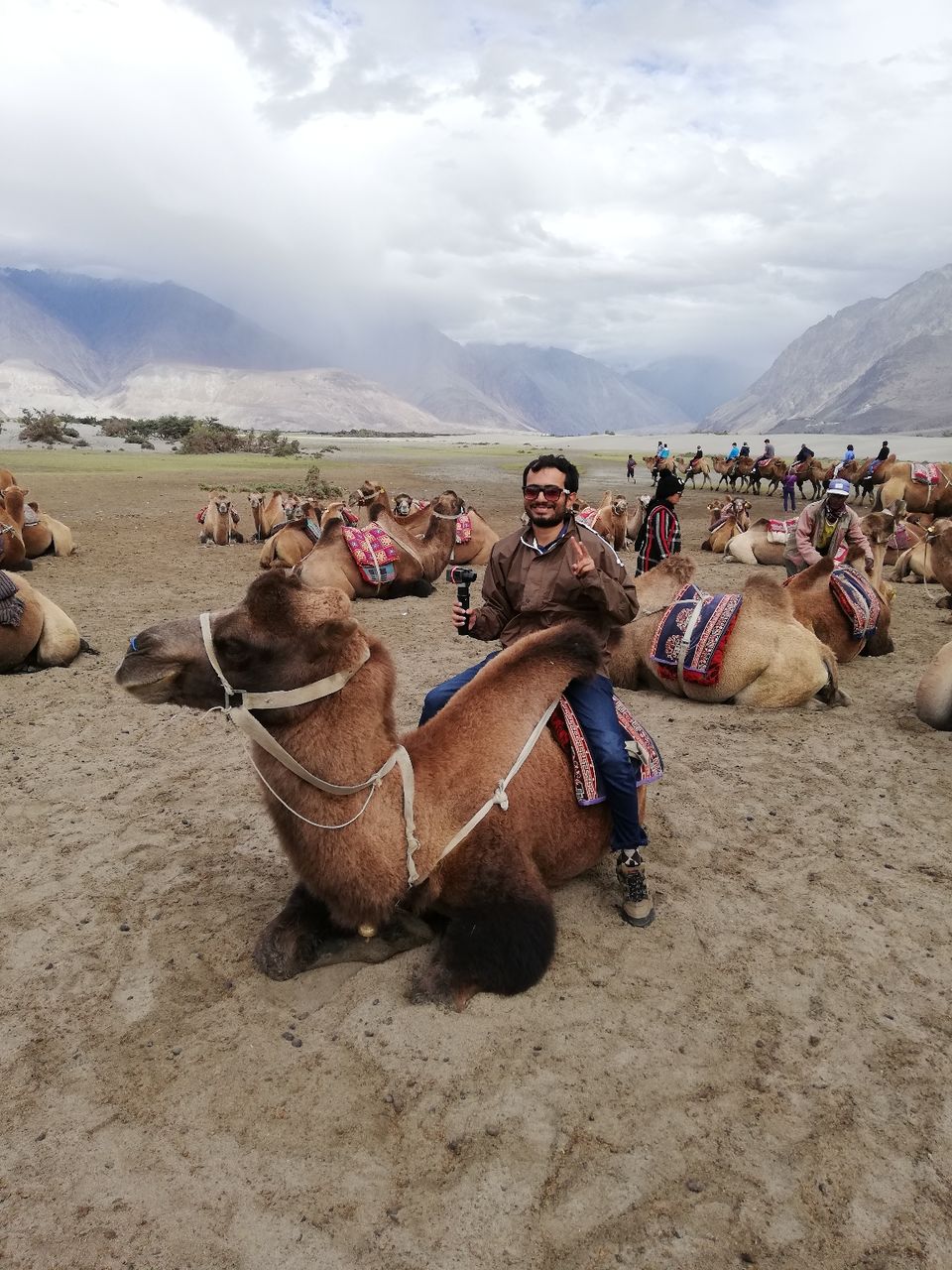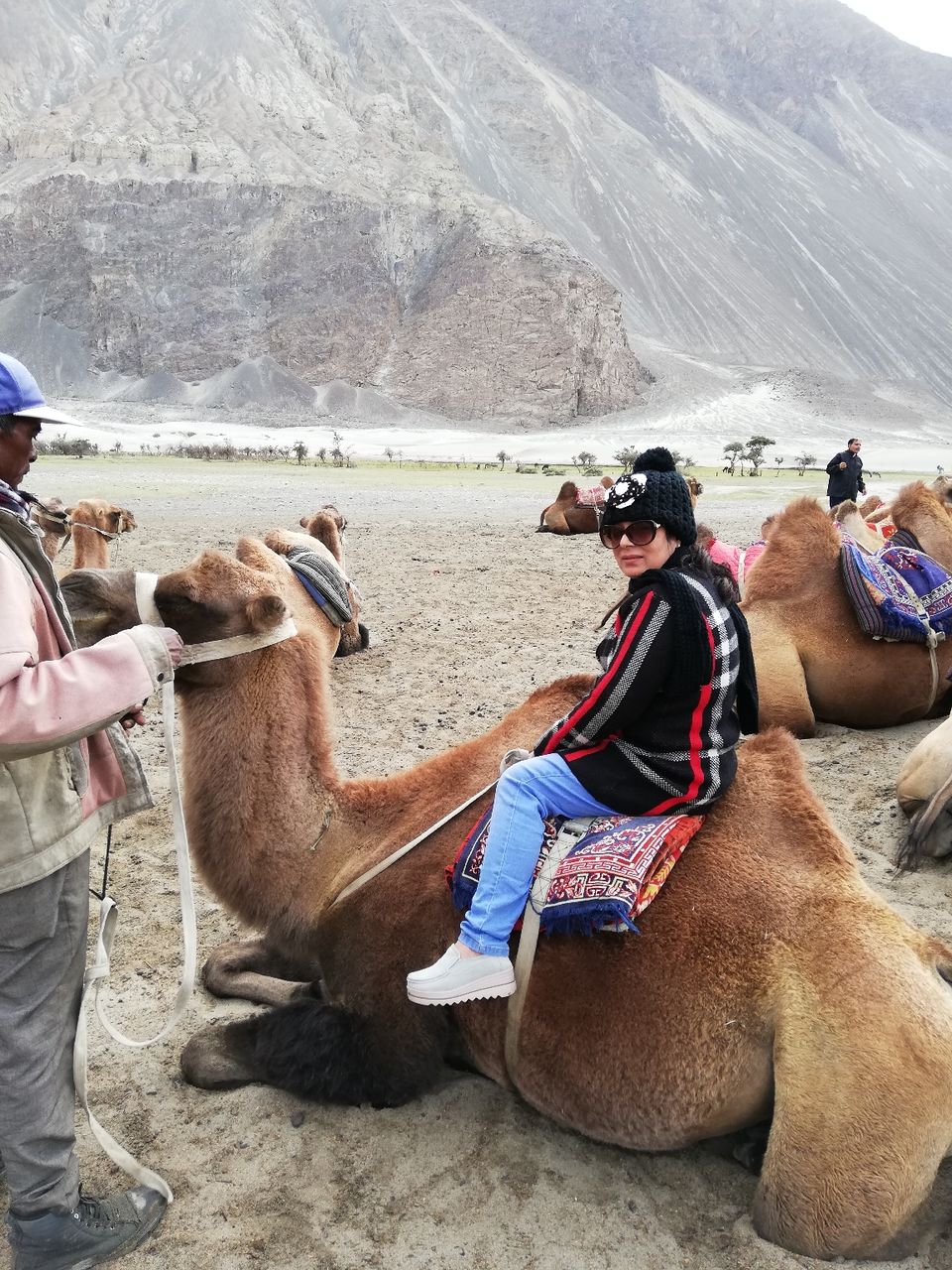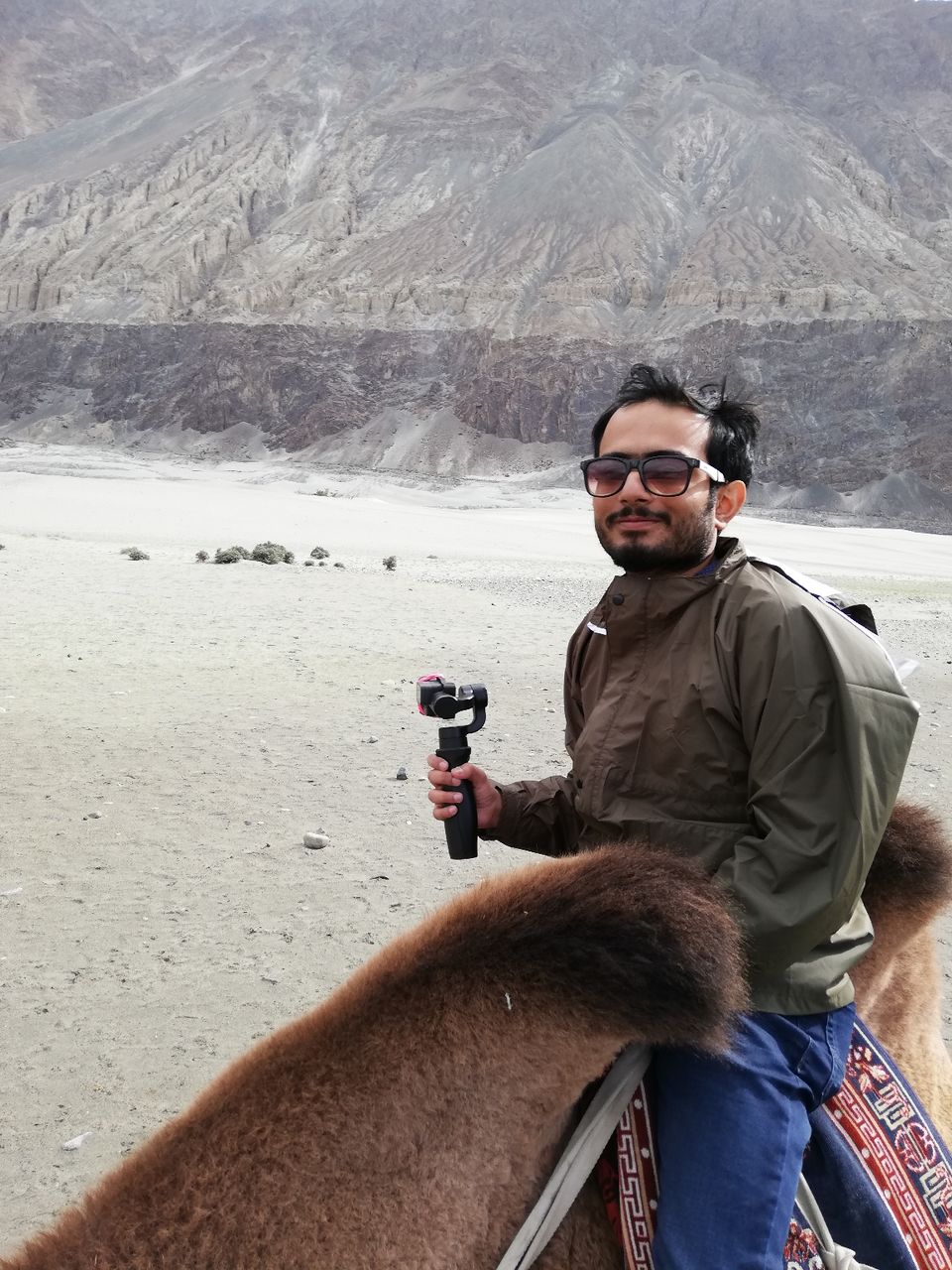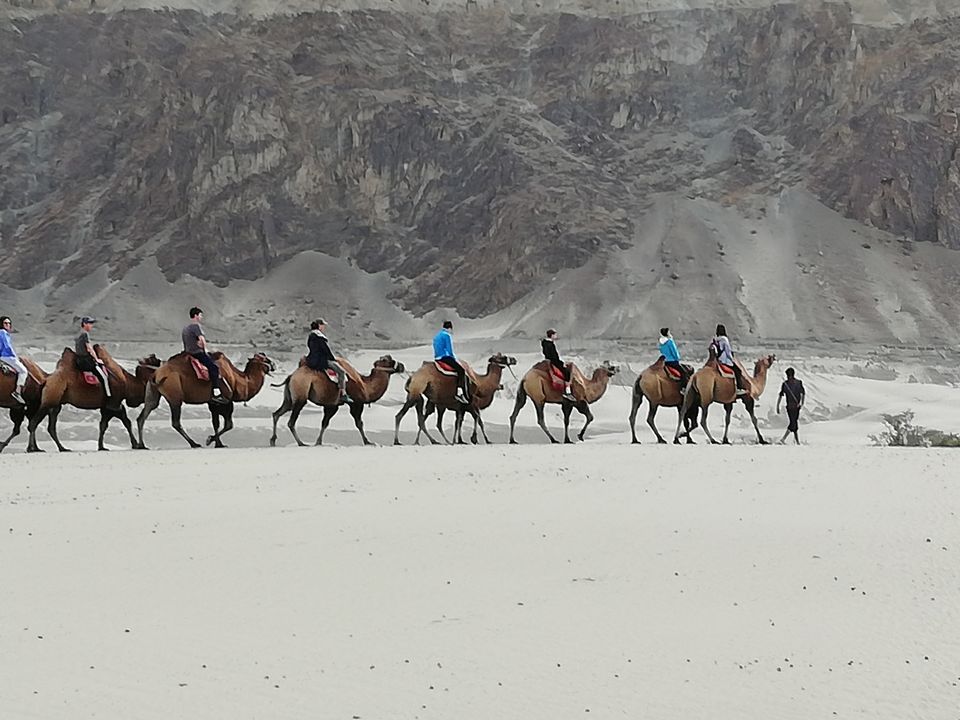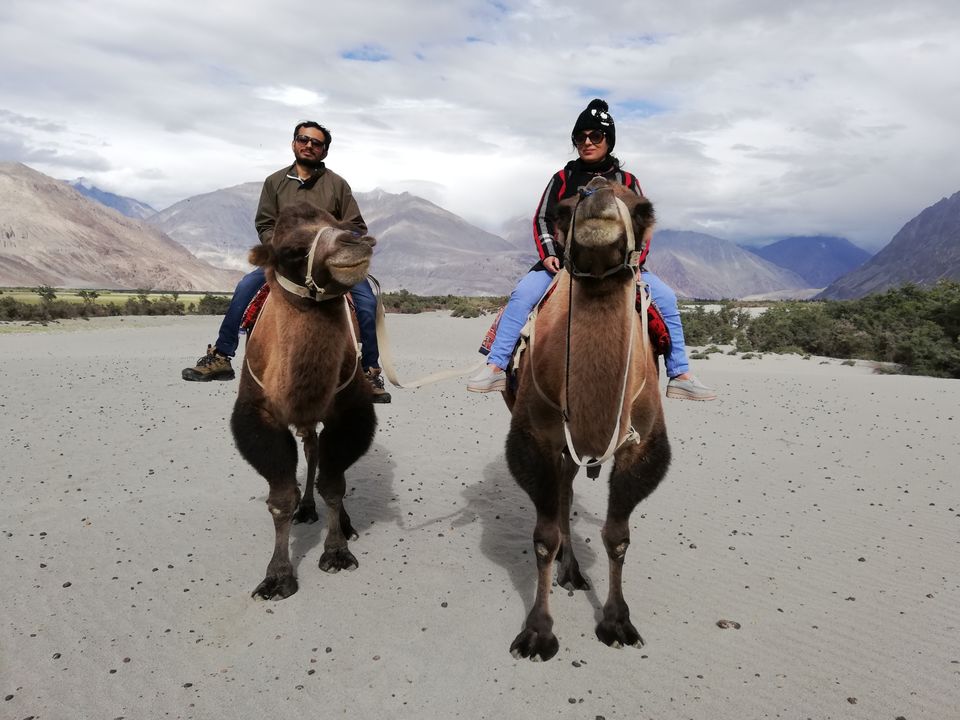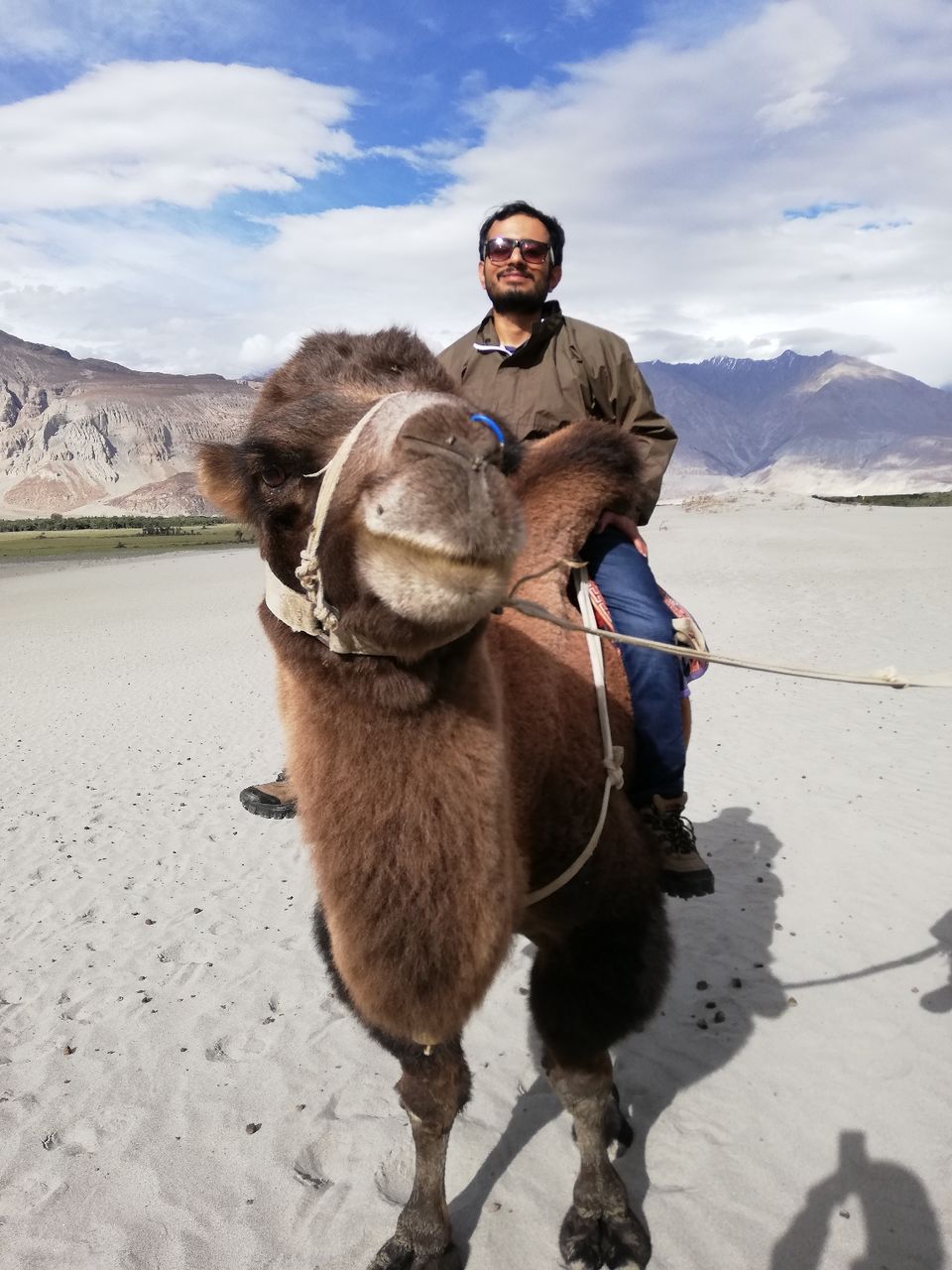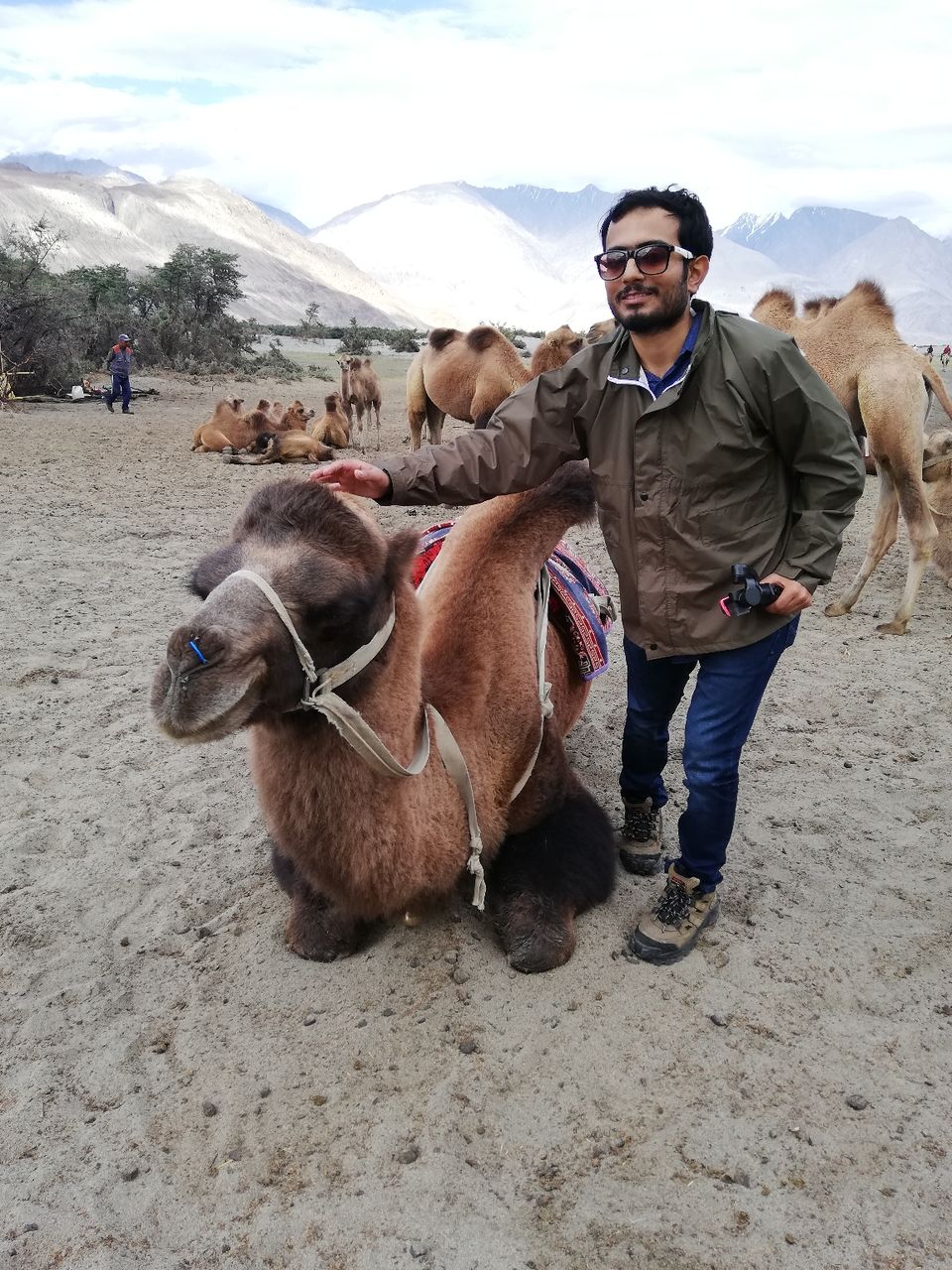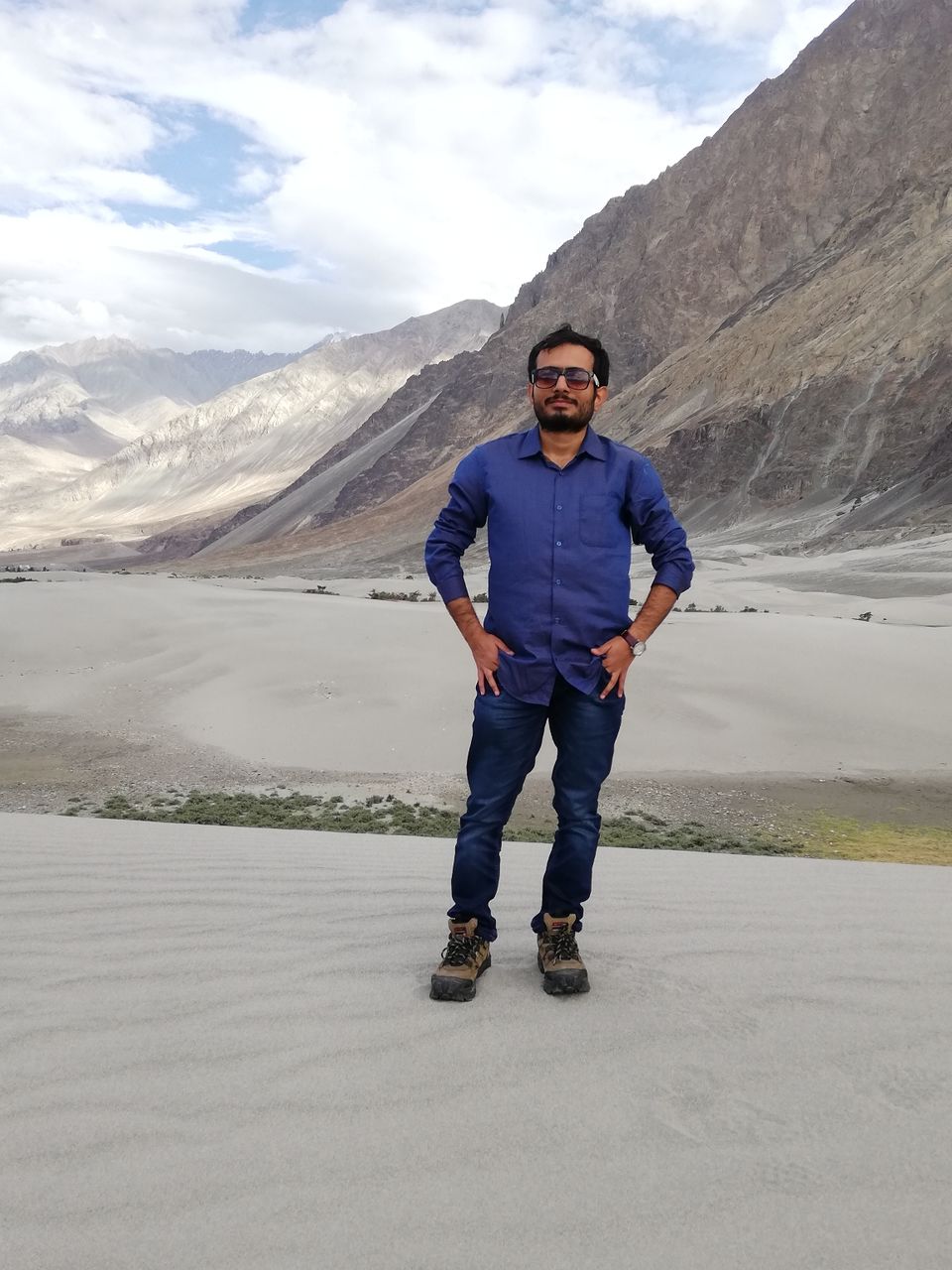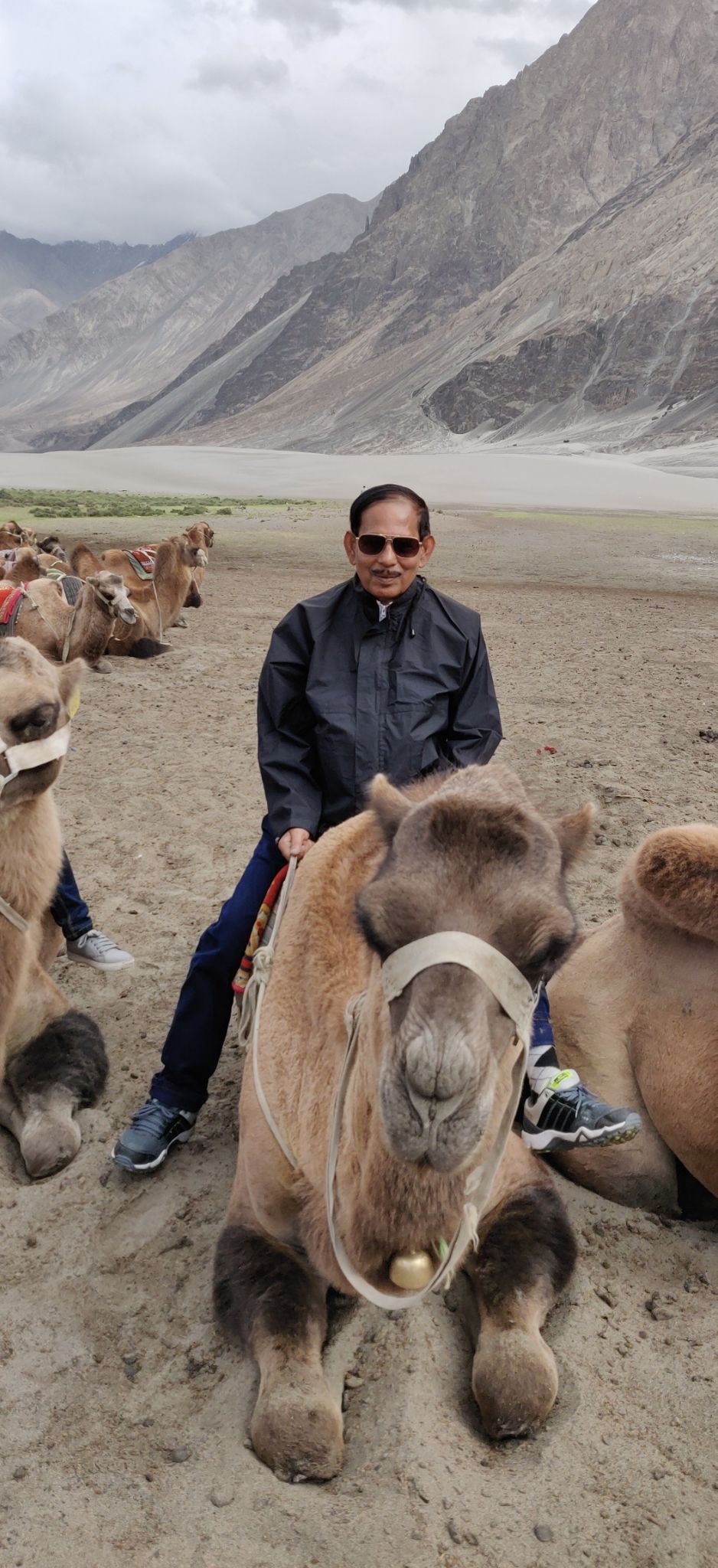 After the camel ride, we resorted back to our tent in Hunder. The hotel resort was as beautiful as it gets. Lots of flowers and a brilliant bonfire to put the cherry on the top.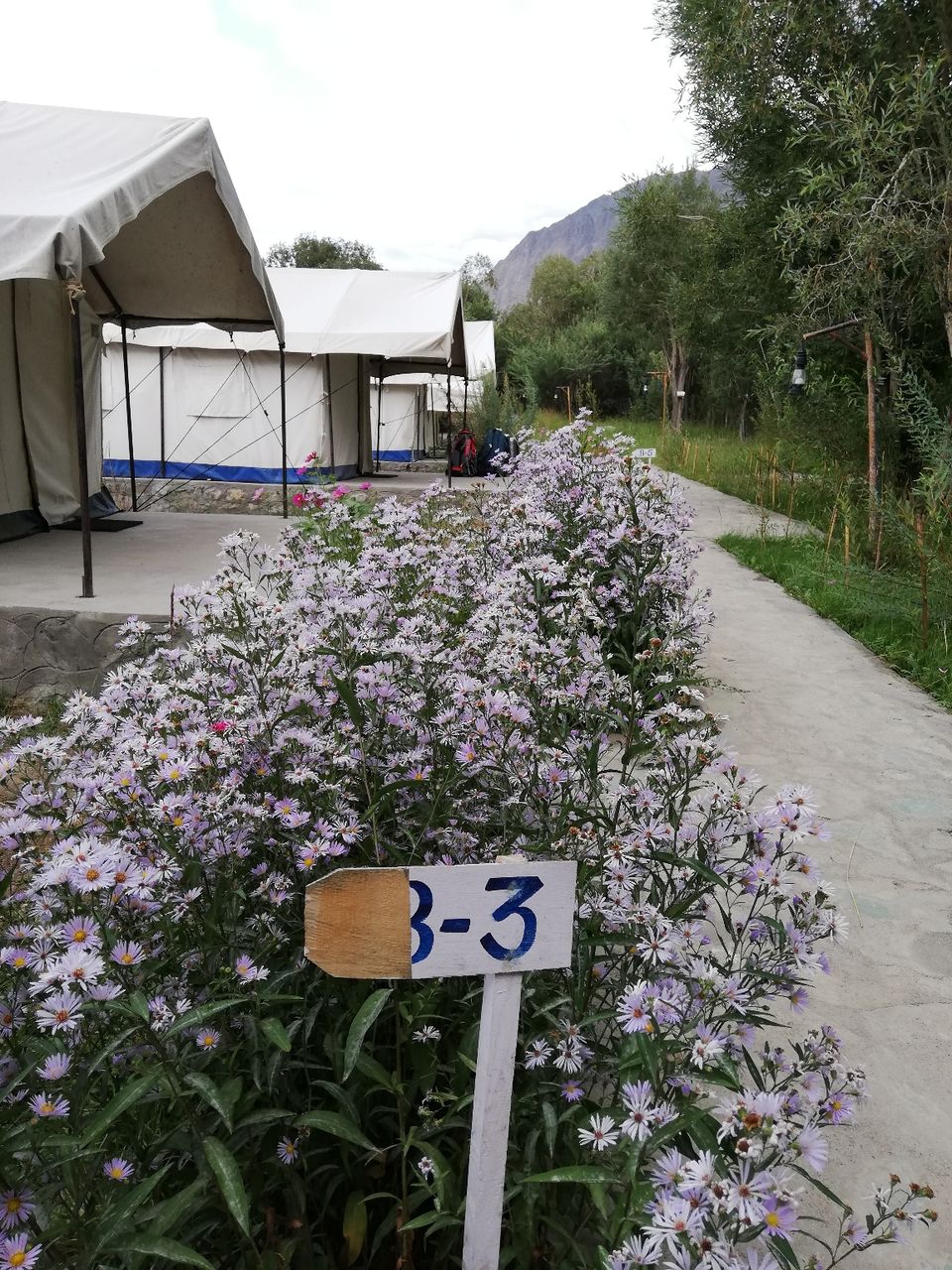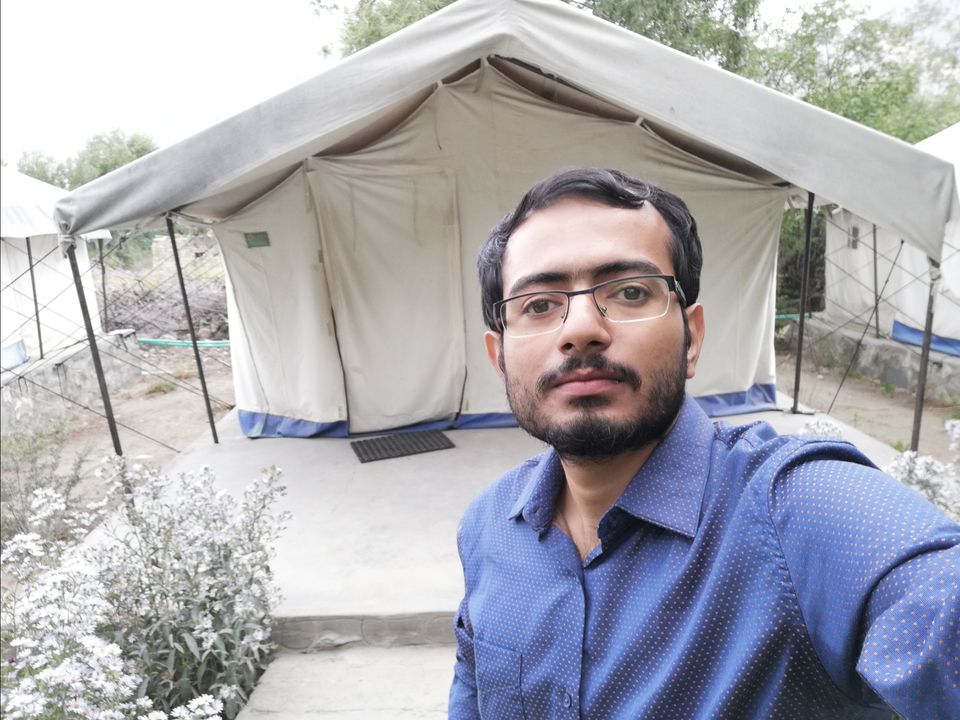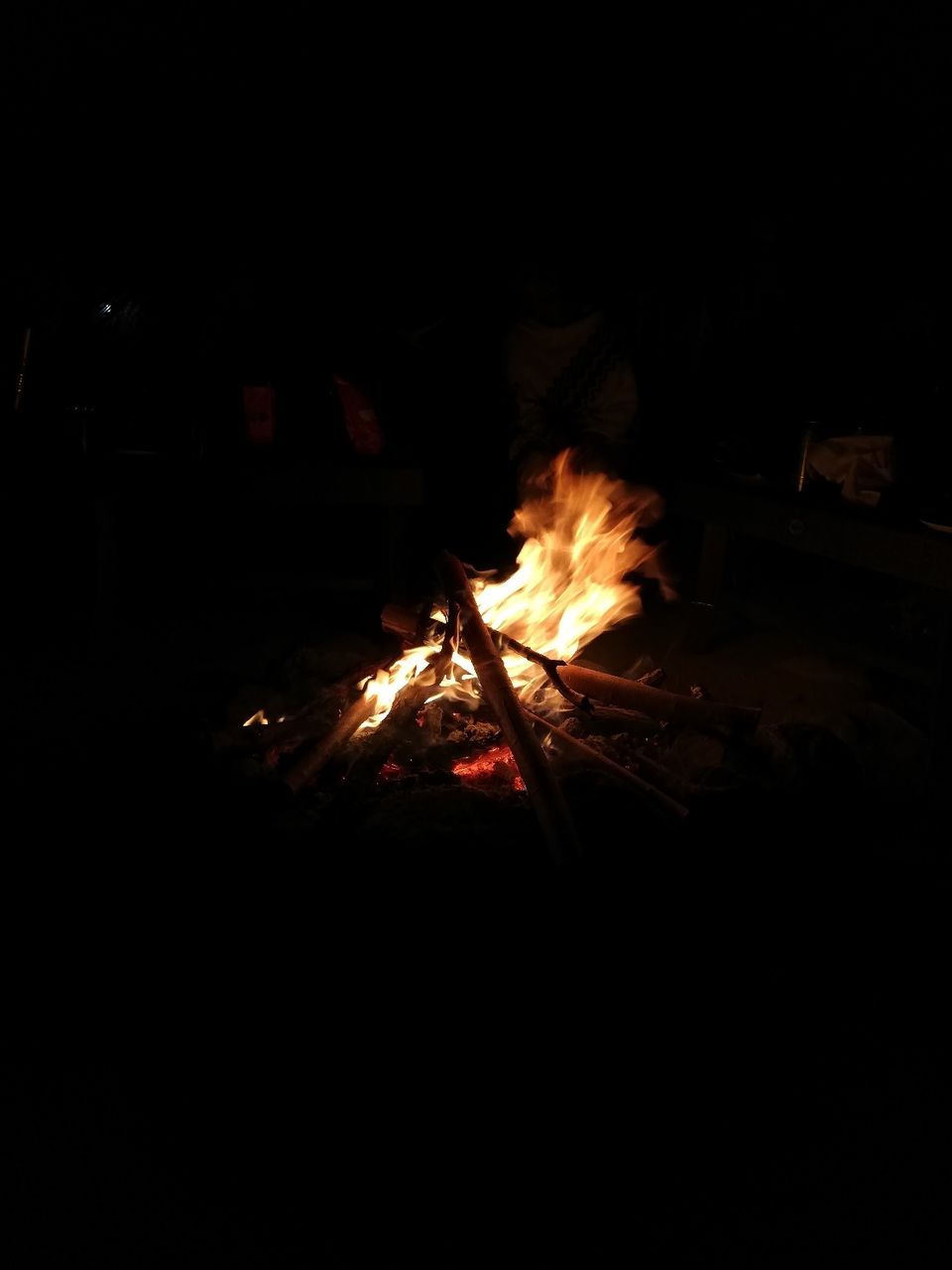 We started our journey from Nubra back to Leh. We experienced snowfall at Khardung La in this day, incidentally it was also my first snowfall. That ensures total 'Paisa Wasool' trip of ours.
After arriving Leh, we lunched in one of the fancier restaurants in Leh, Grand Wazwan.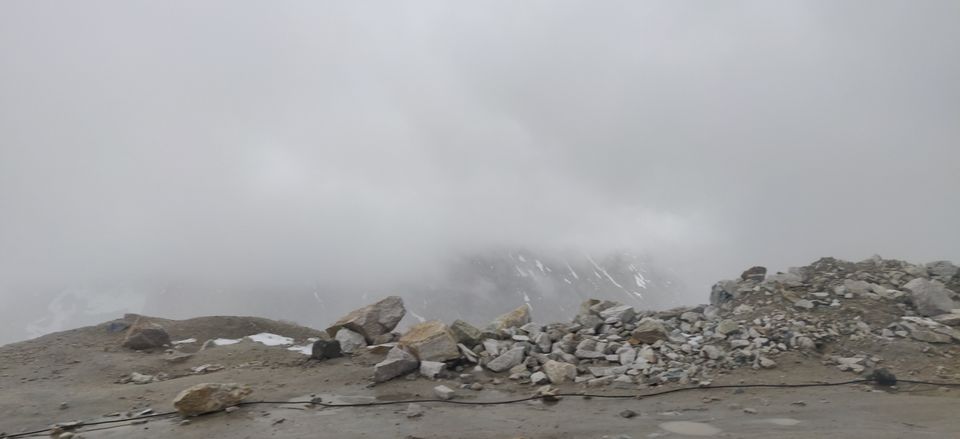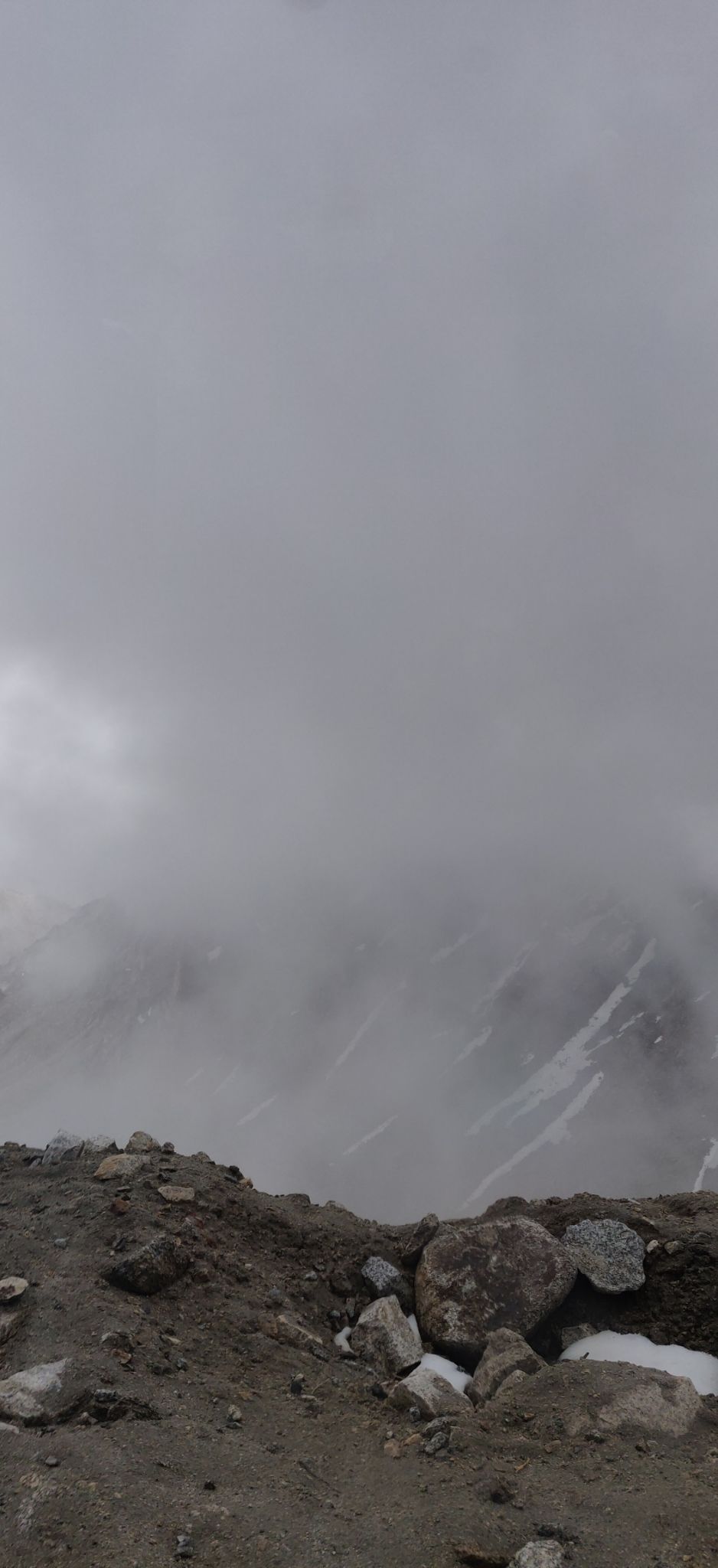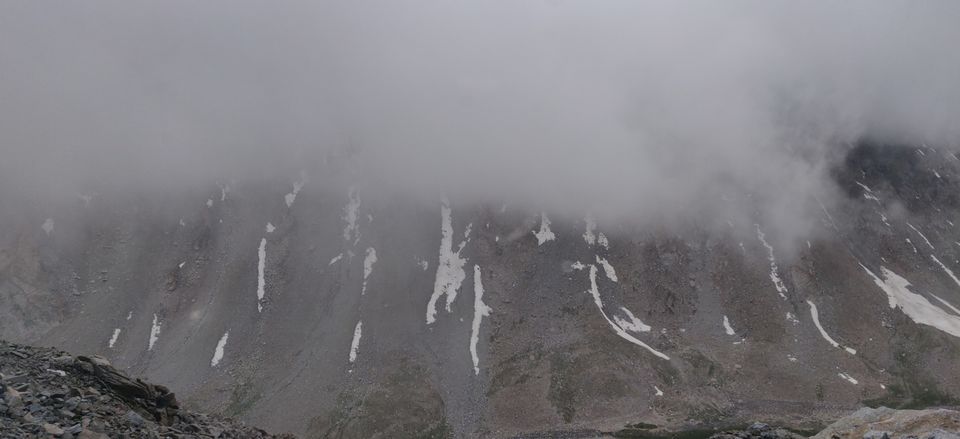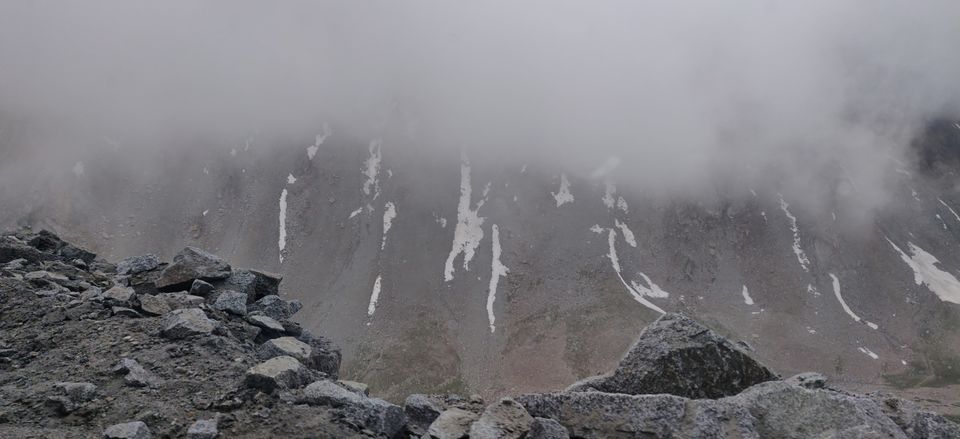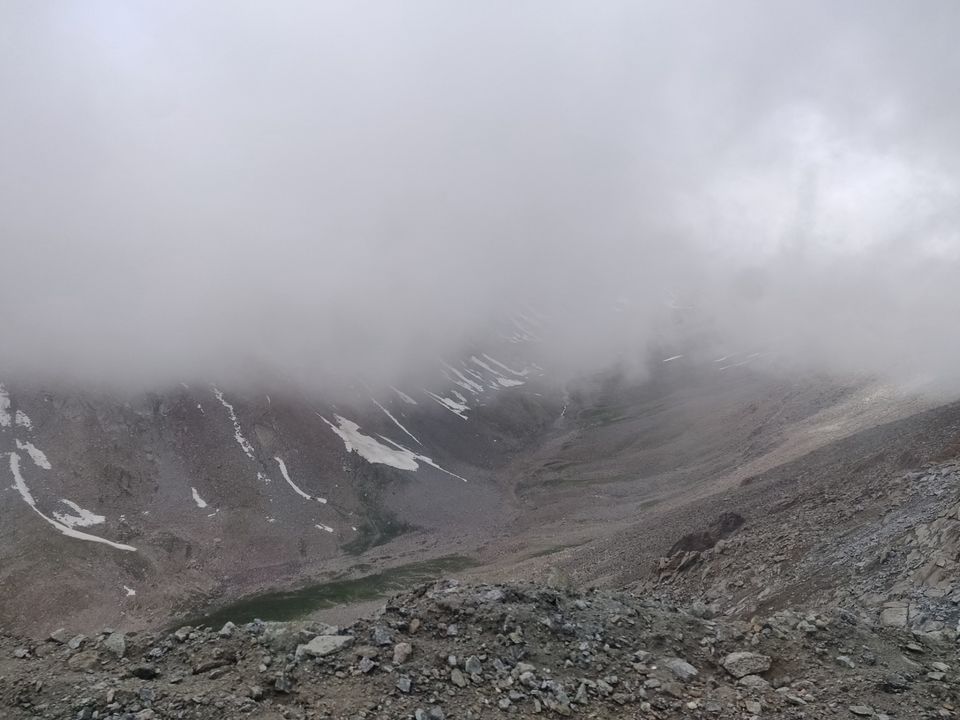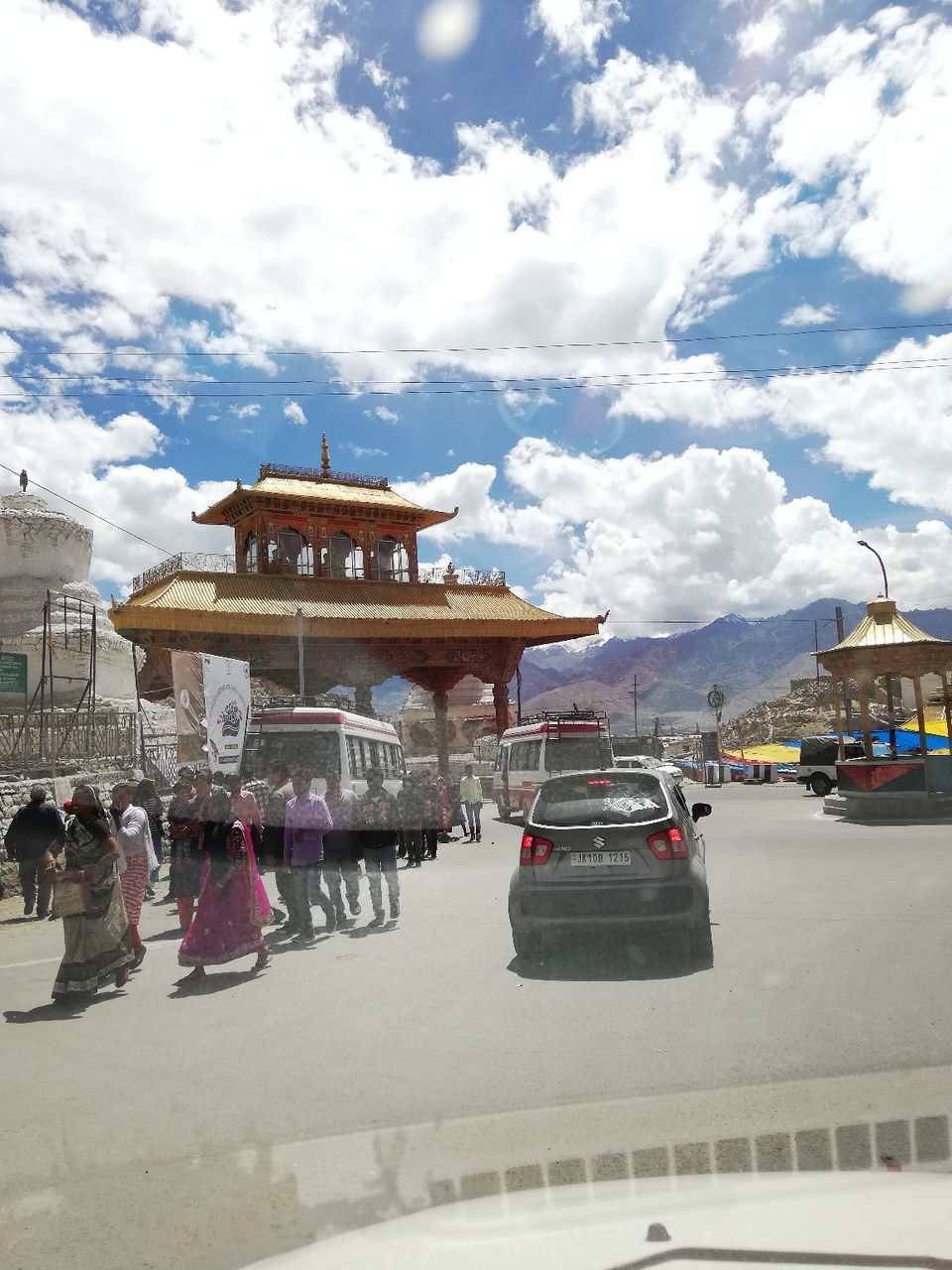 Today was our last day at the mystical place. We boarded early morning flight and returned to Delhi.

Cost:-
We booked via Tripoto and as I've had coins to redeem I got an offer. It costed us 32000 per head, Delhi to Delhi.
Lunch, personal costs, camel ride and ATV ride costs were excluded from this. Duration was 7D6N
*DOS AND DONTS*
. Ladakh is one of the nature's wonders and we are lucky to have it in our country. So don't litter the place. Preferably use less plastic.
. The people are very friendly. The Army people also. They don't have luxury facilites all the time. But, they make up more than enough for it by their behaviour. So try not to be rude.
. The journeys are lengthy and in a high altitude. Acclimatise well. And may take some Diamox tablet with you guys.
. You can travel via bike or flight. There are lots of hidden gems in Ladakh, so try to visit Ladakh taking time.