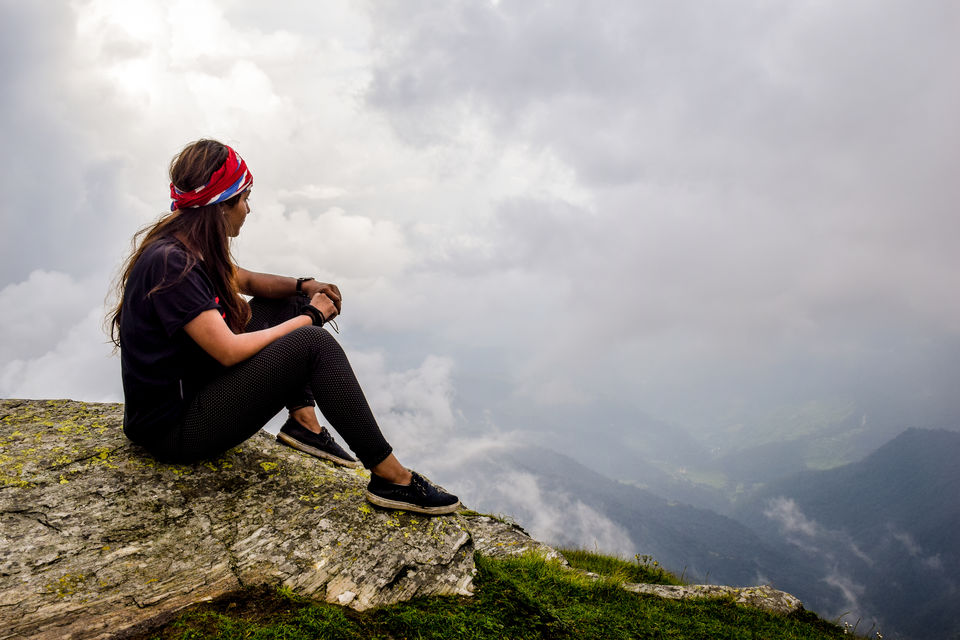 It was my first tour to Garhwal, although I am a kumaoni(the other part of Uttrakhand) Garhwal is always on my bucket list from childhood because of its beauty and the thrilling road adventure I used to hear from my Dadi-Nani about Garhwal. ;)
Uttrakhand - Kumaon Mandal, The hilly area starts from Haldwani and above including the Kailash Parvat, Munsyari, Ranikhet and many famous hill stations.
Garhwal Mandal - The Hilly area starts around Rishikesh and above including Chopta, Rudraprayag, Tehri and all other beautiful stations you have heard of.
We started our journey from Anand Vihar ISBT around 12'o clock night, that day was Friday. Well, I have the idea that I have to travel like 24 hours continuously as I am From the North but two of my friend who is travelling to Pahad(Hills) for the very first time are unaware of it, but like everybody journey is more beautiful than the destination - the traveller's Bible verse 01 :D
We reached Haridwar, what a beautiful sunrise and moreover the calmness of The Ganges. Amazing, only the Kal-Kal of Ganga is there and the chirping of birds and the chanting all around the atmosphere, it was 4 am in the morning what else you expect from The city of Holy Ganges.
We changed another bus to Rishikesh, that's where the endless switching buses started, anyway, the weather was pleasant, mild rain and clouds and a mild breeze and the Safar. We reached Rishikesh easily but then got in a little difficult situation with local cab drivers, trying my pahadi charm but then suddenly I realised even if we both are from the Hills, Uttarakhand but there are a major cultural and language differences, they saw us like only a green paper page nowadays and I expected more than that. Poor me, well dealing with the local cab drivers for the seats(we wanted a window seat), and off-course they are charging us a lot for it, what I prefer is more difficult, rogue but the best way possible if you want to enjoy the journey.
As there is a term motion sickness, and fear of Hills amongst us and we decided first to hire a cab but then budget hits us like death, so we moved towards the bus station, from there we took a local bus to Srinagar(UK).
Srinagar (Uttarakhand)
Enroute Srinagar somewhere in between Rudraprayag we stuck in a little "Bhasad", our speeding bus bumped an Alto Car, nothing to freak out it usually happens in the bends(curves) of road, just a small "boom". They are resolving it peacefully and we were enjoying the nature, the bridge and underneath it a small "Gadhera", the small sub-streams forming main river stream :).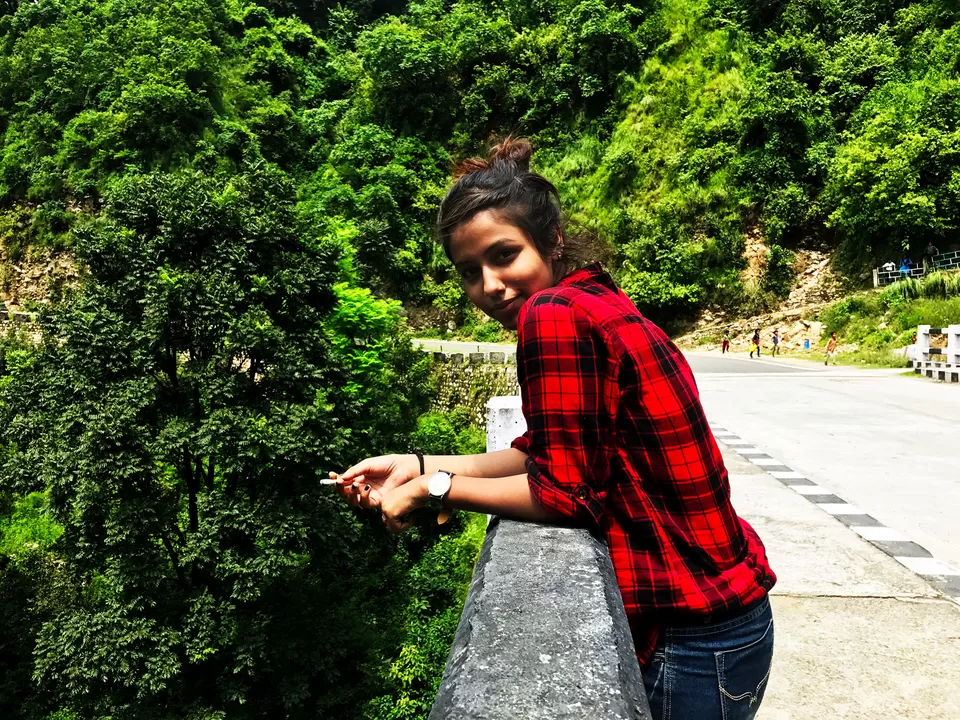 Finally, we started moving forward, the exhausting bumpy bus ride till Srinagar around 5pm in the evening and then another interchange to Ukimath. We were exhausted indeed as it's been a 24hour journey till now, no sleep as I cannot fall asleep while travelling and this sometimes fry out my brain.
So, we took another bus to Ukhimath, the only big kind-ish bazaar of that area. We travelled for 2 to 3 hours non-stop and reached Ukhimath. Well, man, the journey from Srinagar to Ukhimath was breathtaking. Talking about the sceneries, not the roads :D :D.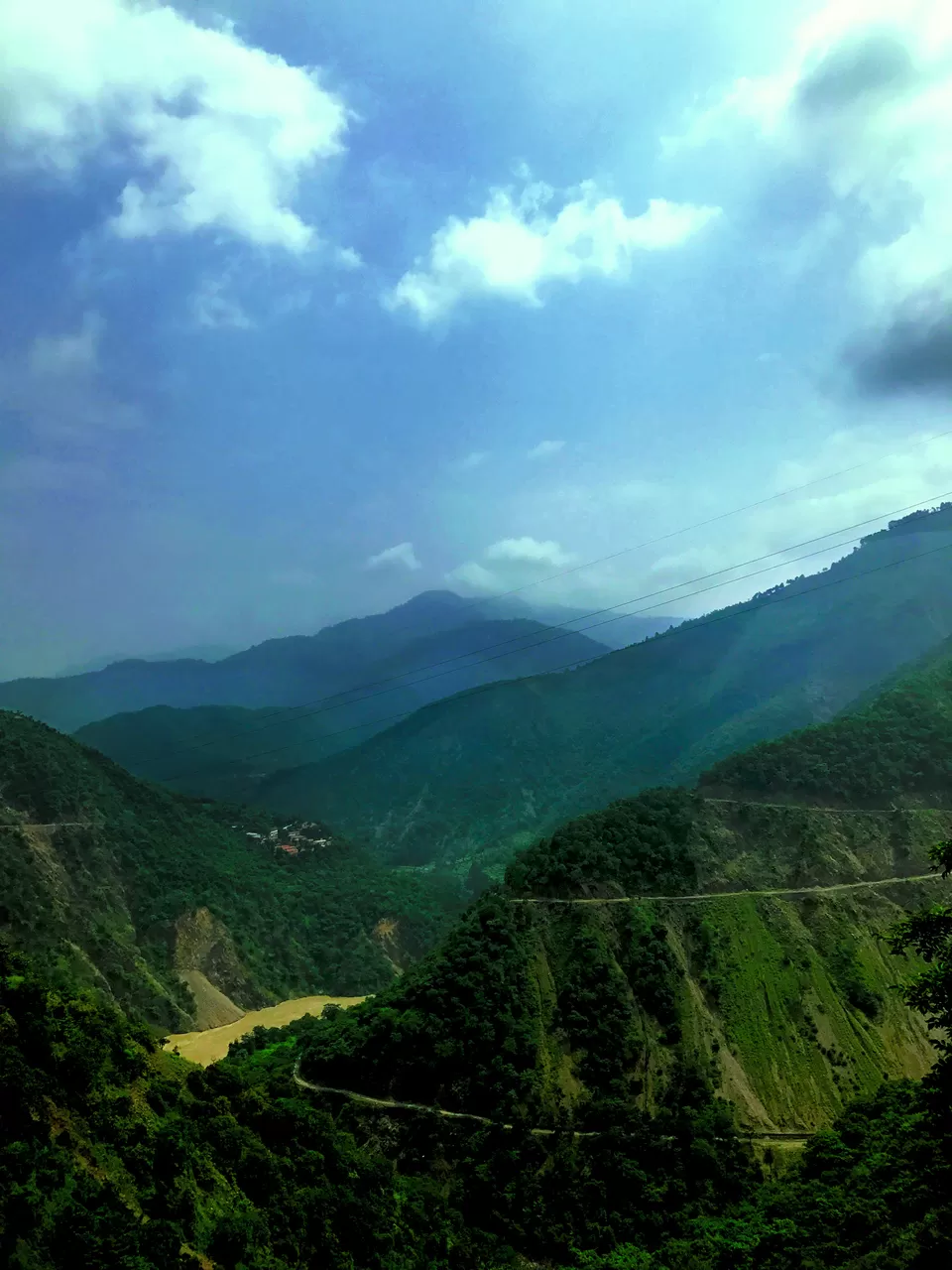 Finally, we reached Ukimath, a must Chai Break and a healthy discussion with the local cab driver, he was so helping but charged us 600 INR for half an hour long journey as there are no bus or any public conveyance available for Chopta, if so then it is time bounded and only one-way one-time stop from Ukhimath. So, finally to Chopta..!!
Conclusion - we almost changed 5 buses to reach Chopta.
But no worries at all because the pain is worth taking for Chopta. I can never forget what I experienced in that small half hour journey from Ukimath to Chopta and when we finally reached Chopta I was in tears seeing the nature in its true form. I have never sen hills this beautiful, naive, unexplored and unexploited. Water on my eyes
Here are some pictures.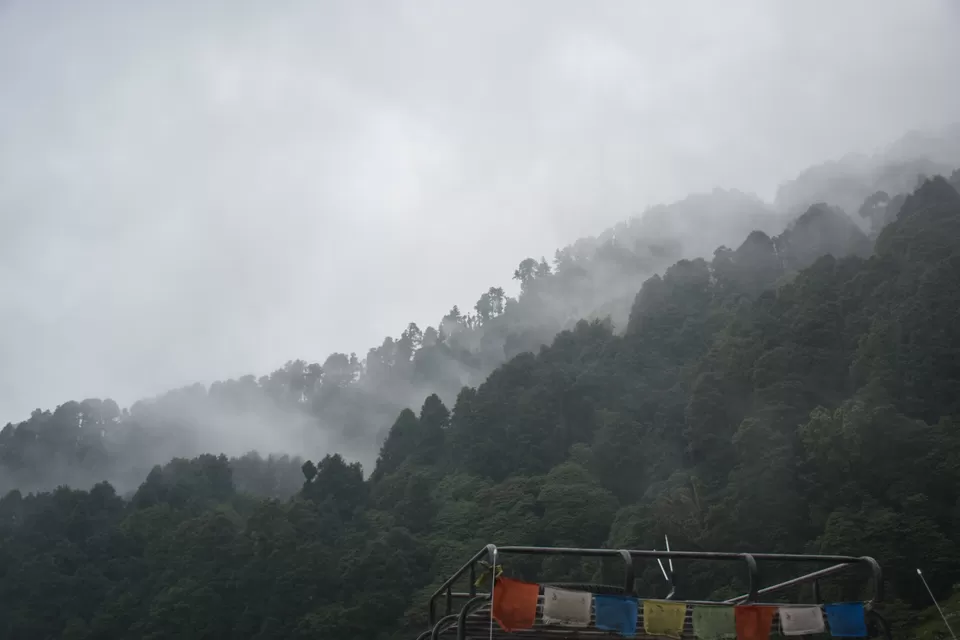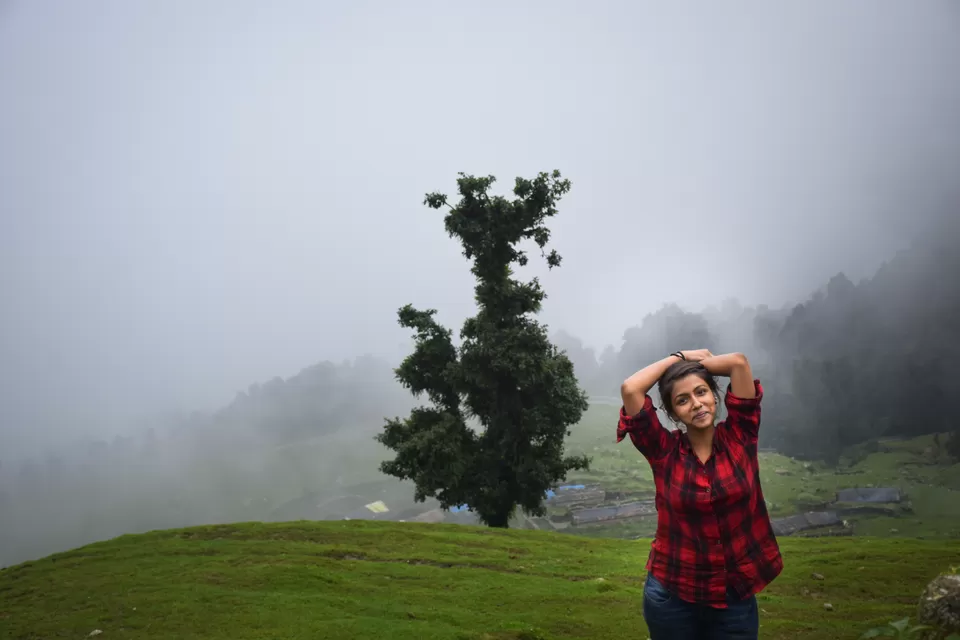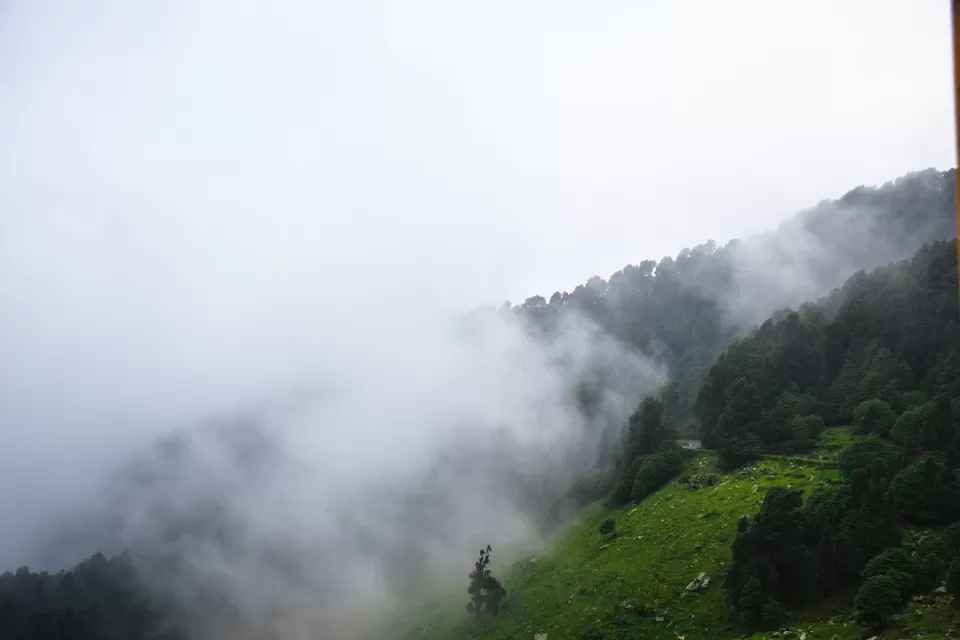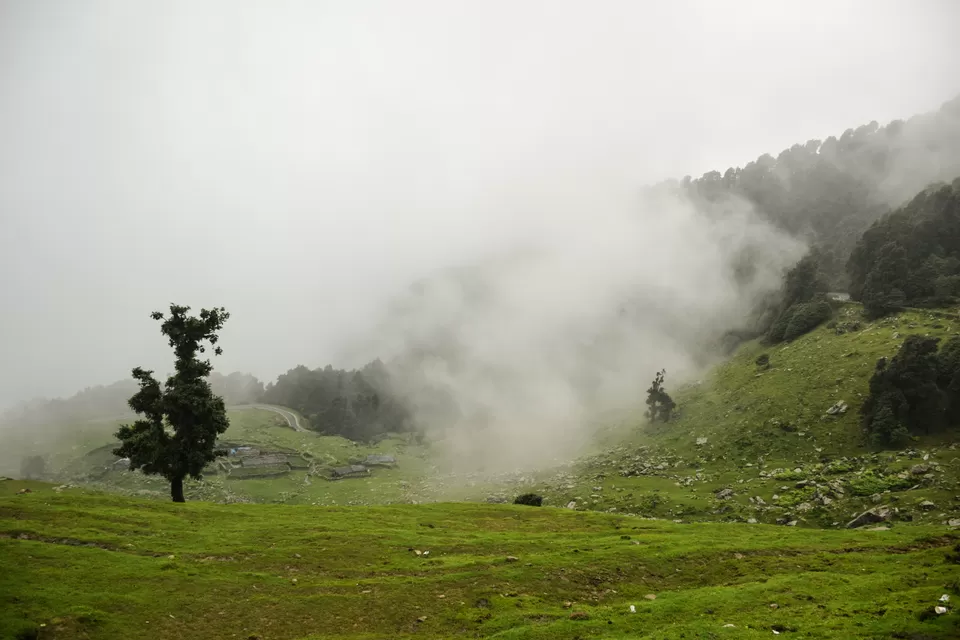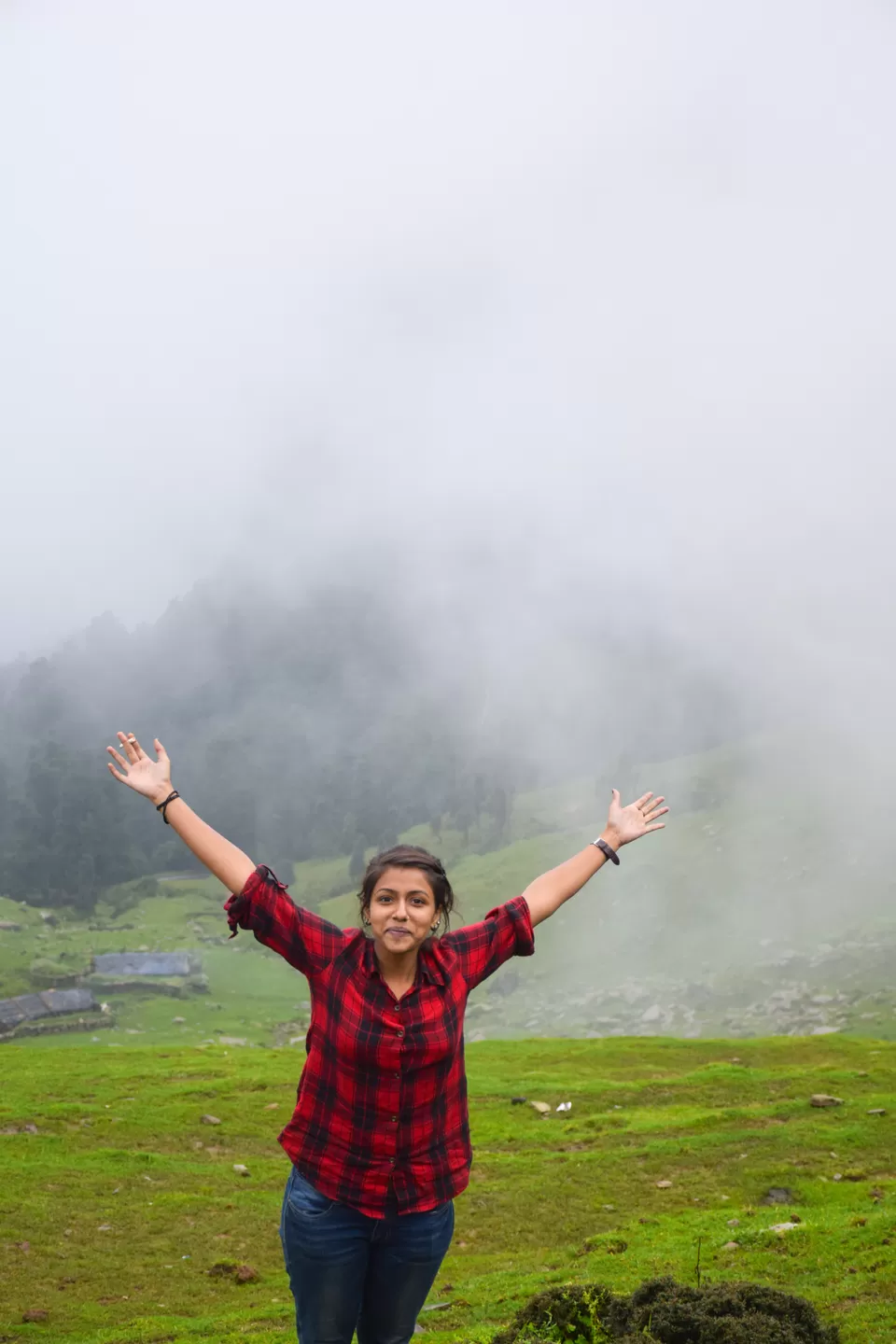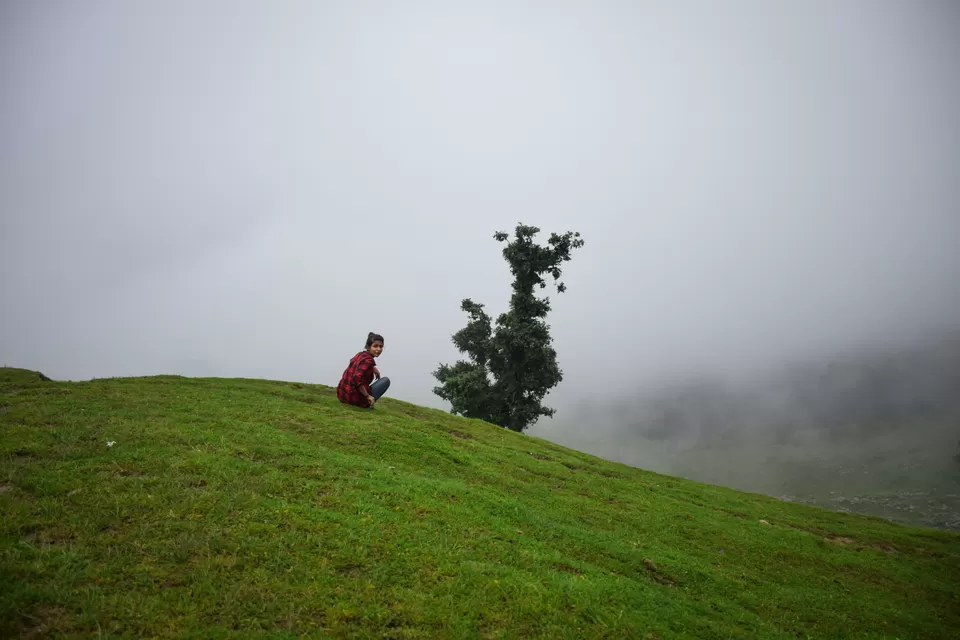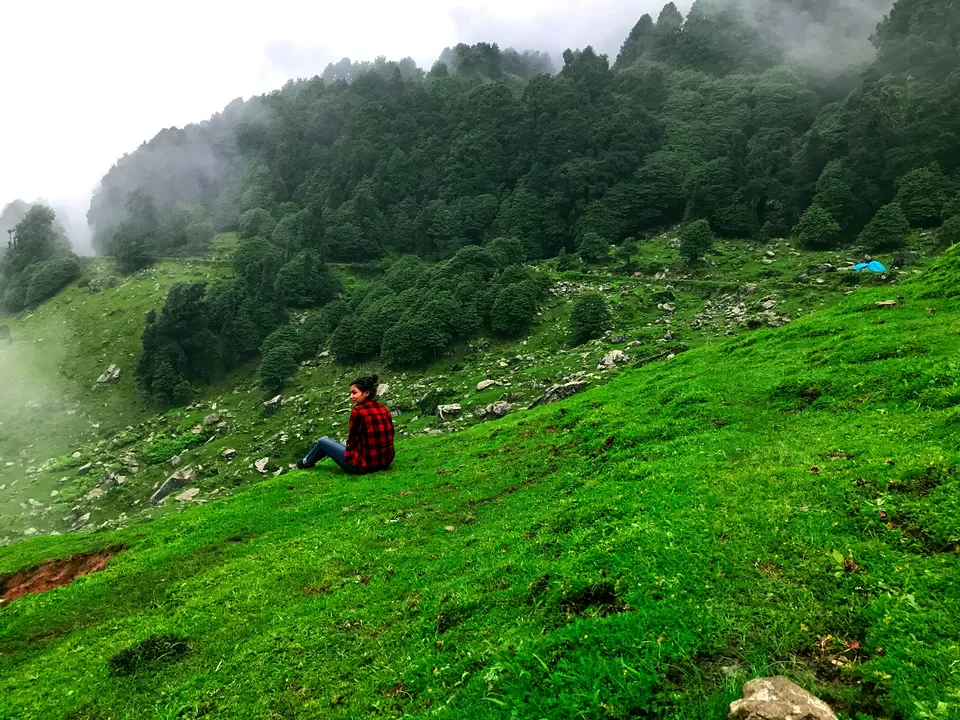 Our day started with Chai and Maggie. Luckily the taxi driver bhaiya also helped us for our stay, a very old, primitive Pahadi Ghar, some of you might even found it a little haunted but I swear they just look horrible inside out :D but are very comfy unless you'll get clean mattress and quilts, Alas!! fortunate enough we got em'll.
We also dealt with a little landmass obstacle in between our room and the bathroom :D, yes we choose to travel in monsoon for the perfect greenery so we were also ready for such hurdles, nonetheless I saw an amazing heater with LPG meanwhile it operates from LPG because Chopta has no electricity and everybody charges phones and all other electrical assets they have from downtown Ukimath. The homestay bhaiya took our phones for charging without knowing how much monetary value aka iPhone he actually is carrying with him because for him they were just another phone with a screen. That is innocence :)
Today we have to trek to Tungnath, a very moderate trek with beautiful scenery. It took around 2 to 3 hours to reach Tungnath Temple because we took every single scenery in between the trek.
Located at an altitude of 3680 m (12073 ft) and just below the peak of Chandrashila, Tungnath temple is the highest Hindu shrine dedicated to Lord Shiva. The temple is believed to be a 1000 years old and is the second in the pecking order of the Panch Kedars.
You must be in shape or not but should have loads and loads of physical plus mental health to climb that steep trek till Tungnath, it was exhausting, every part of my body was yelling not to stop, I was exhausted but I don't want to stop.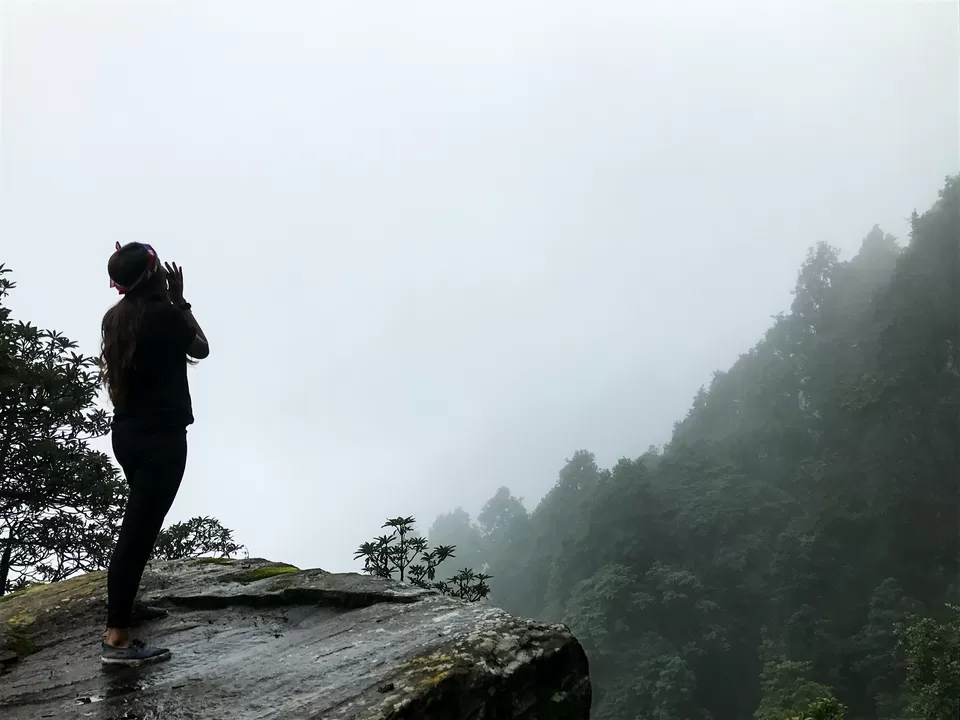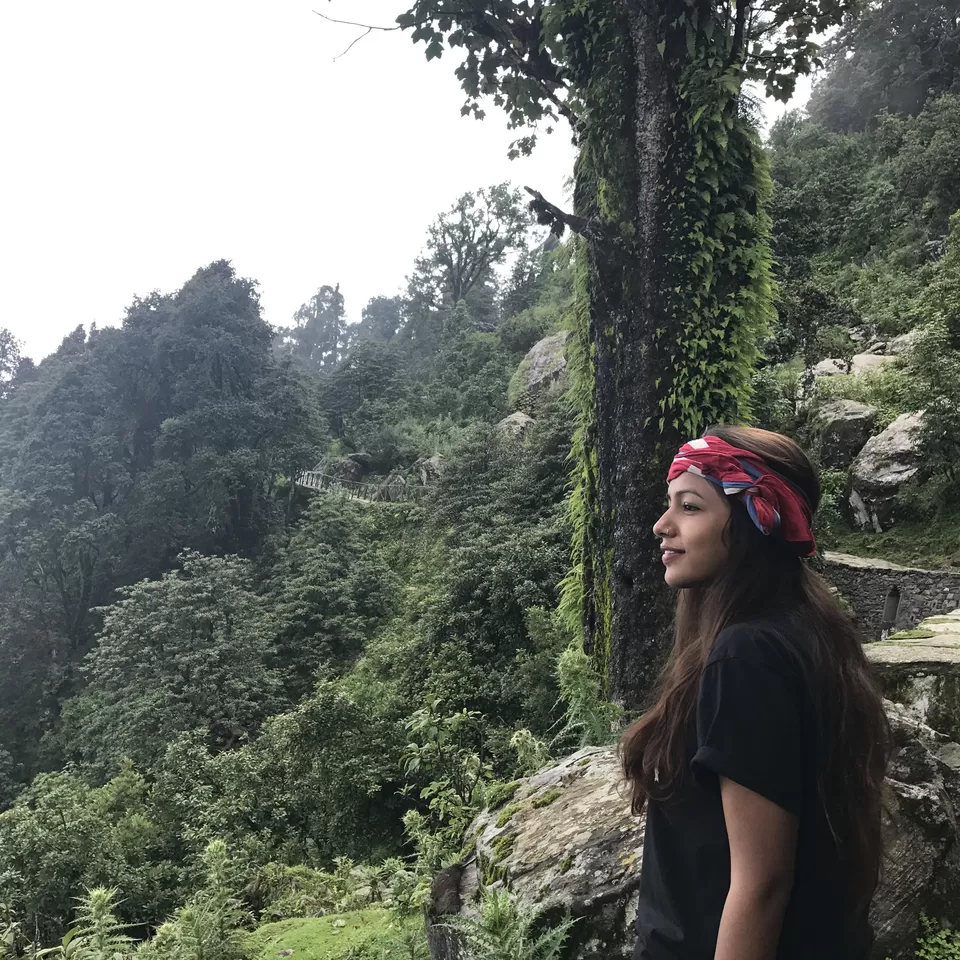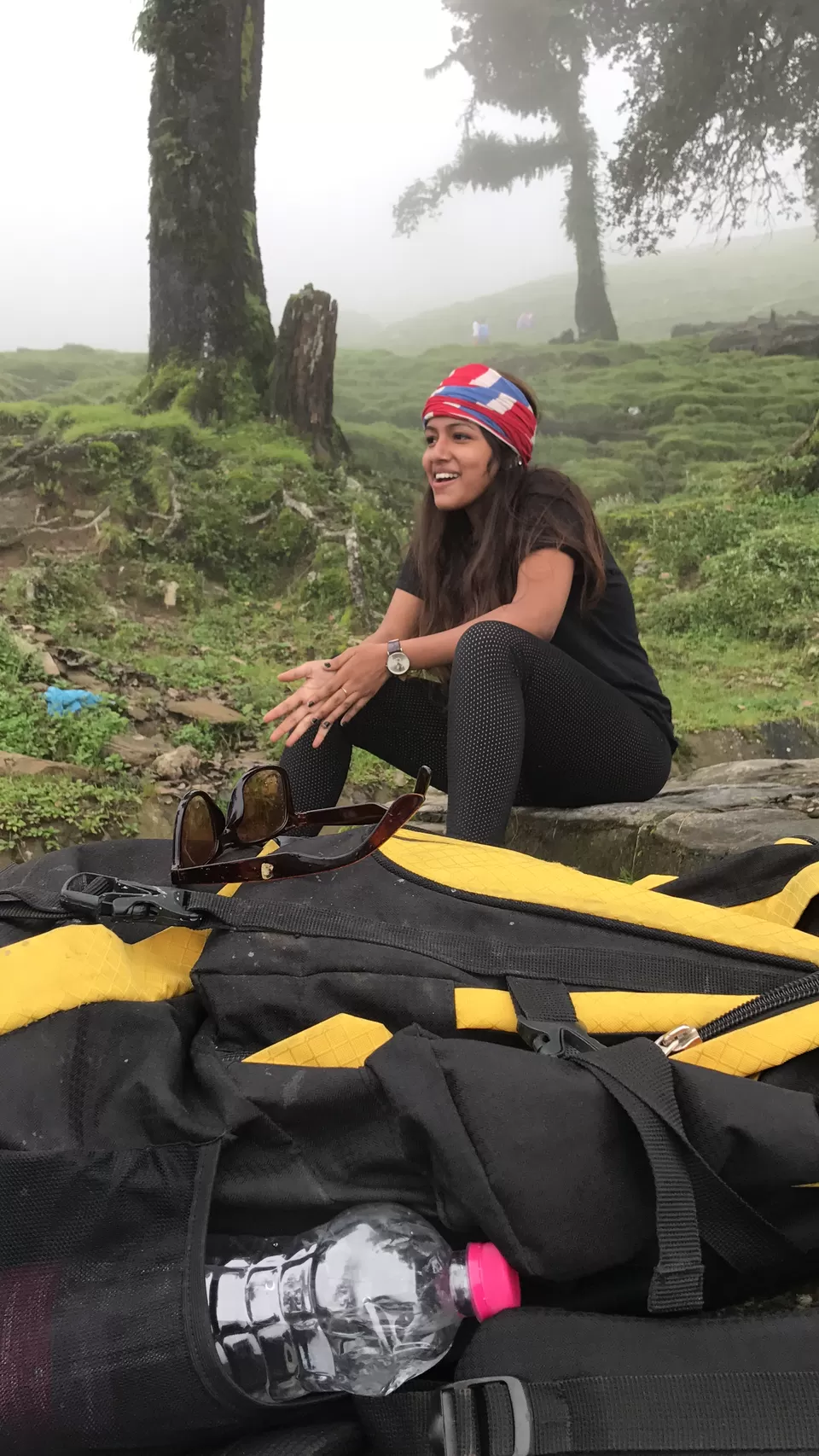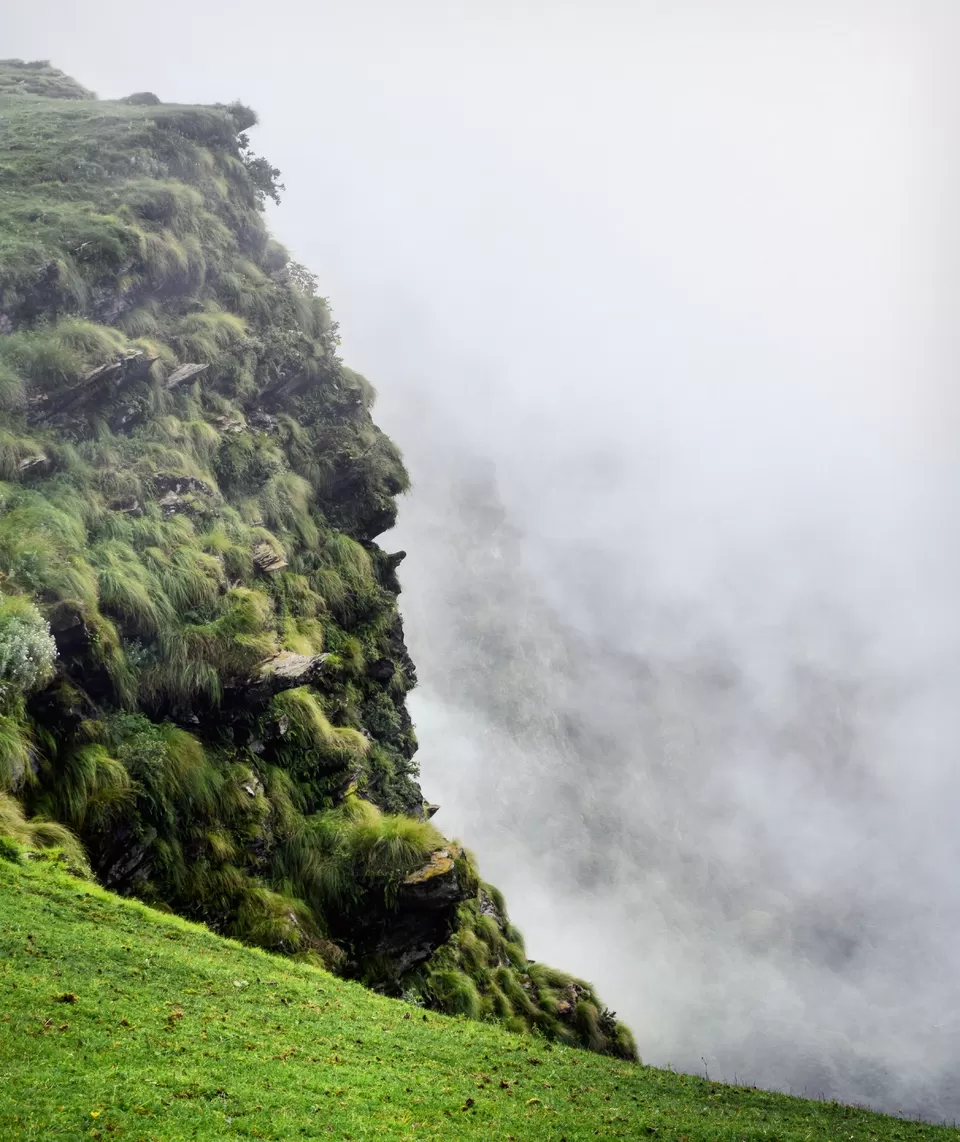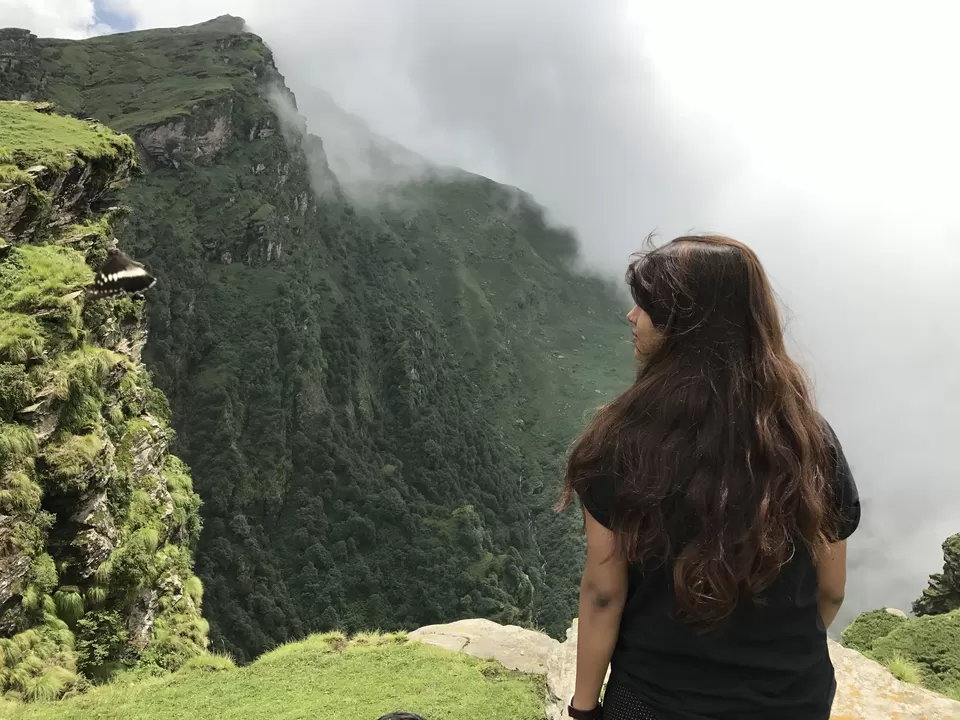 We completed our trek and here it came the Mighty Shiva Temple - Tungnath. Hopefully, the weather was on our side, Started with Little raindrops and then Extreme rain like cats and dogs, we had planned for Chandrashila Peak and how can I back off, it is not an option!!
Some more pictures from Tungnath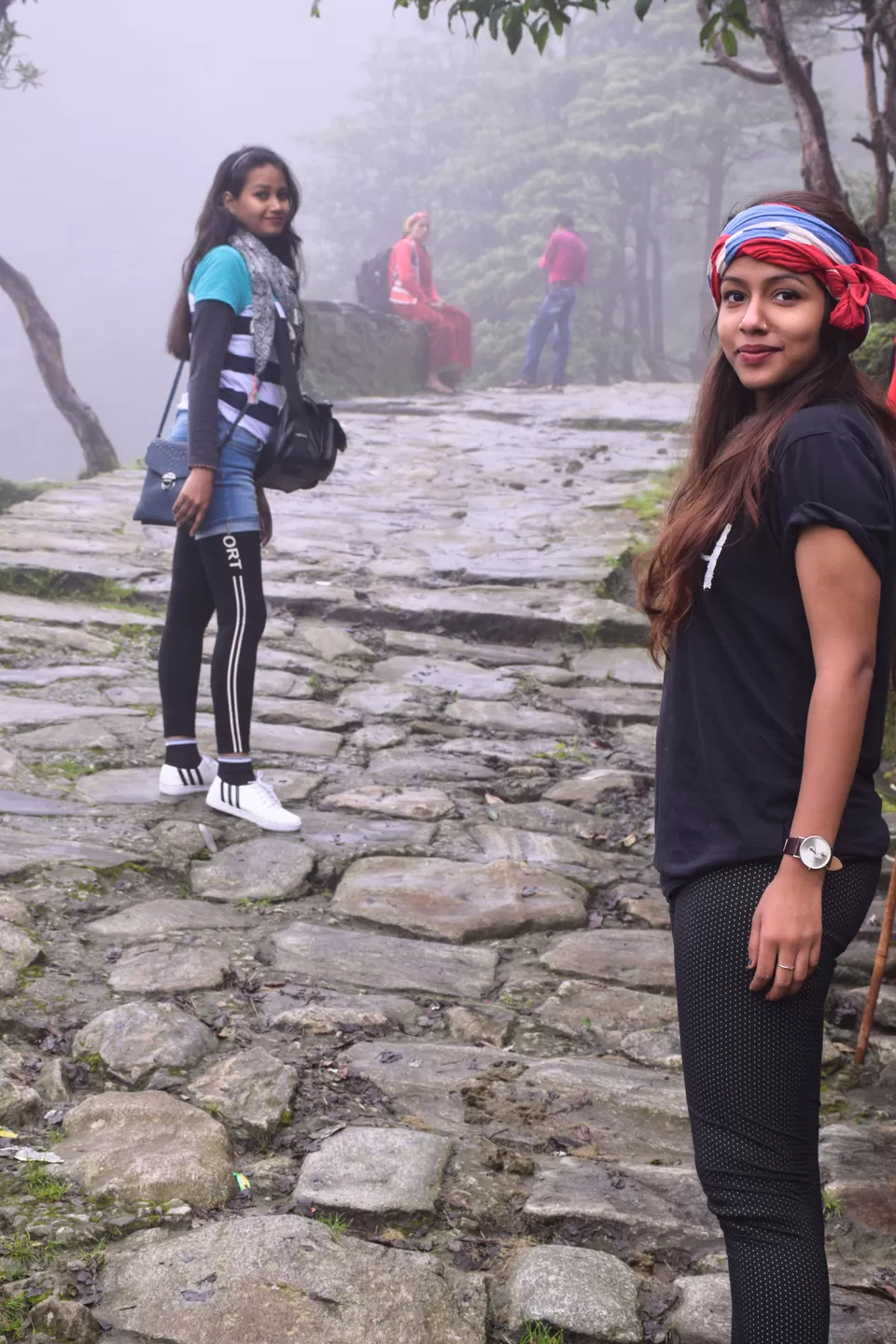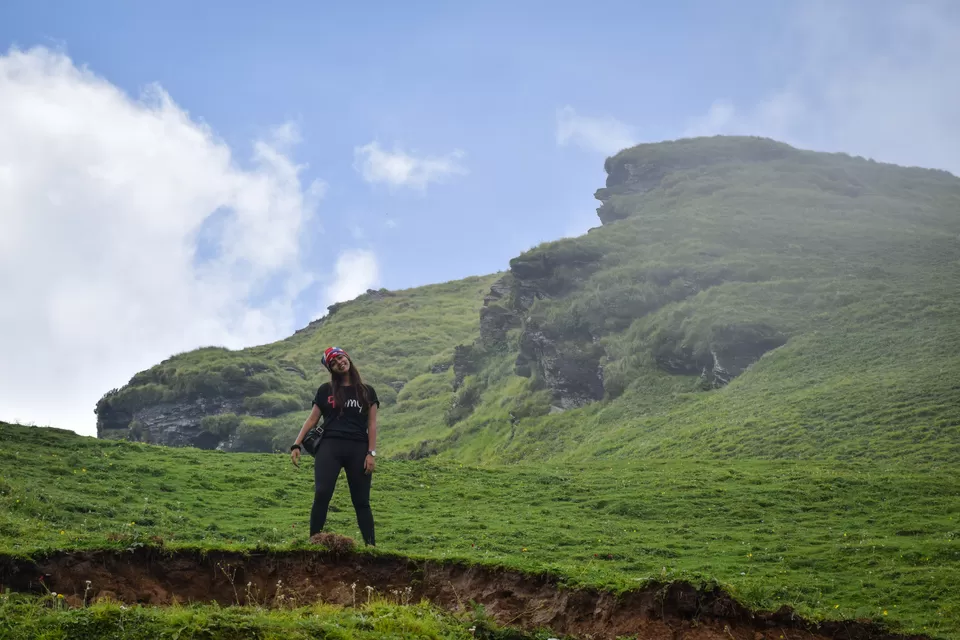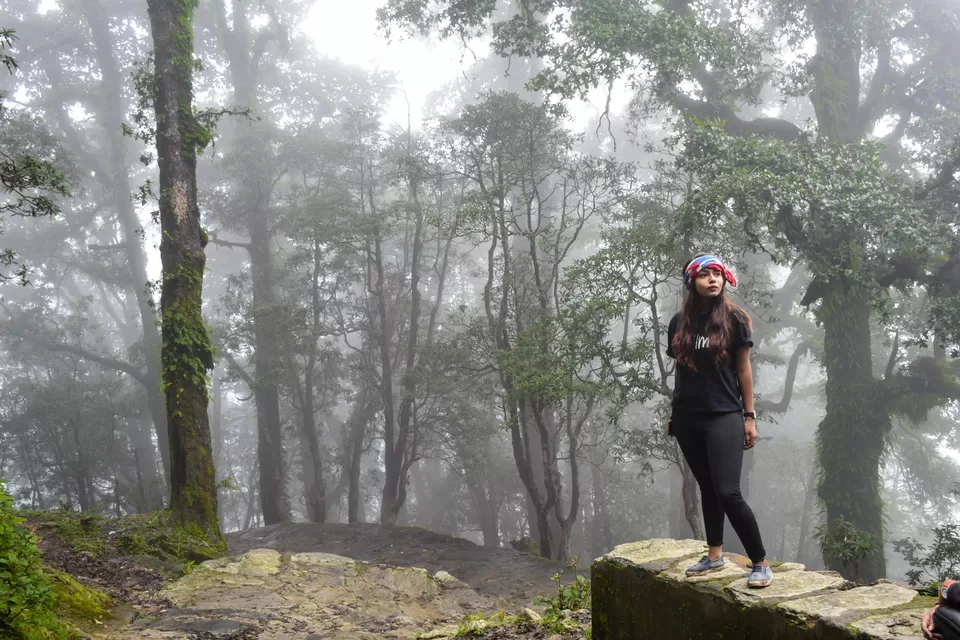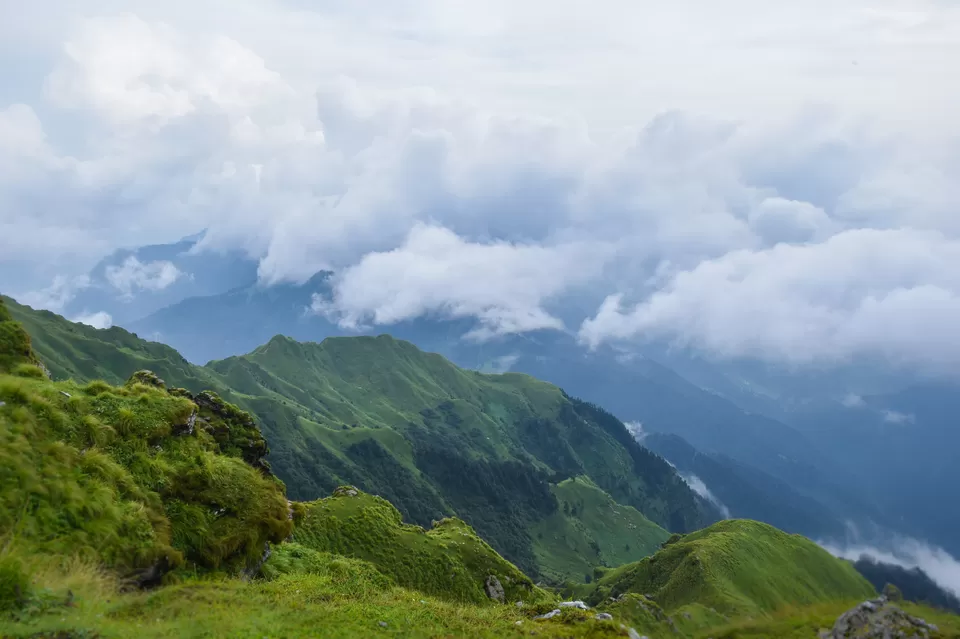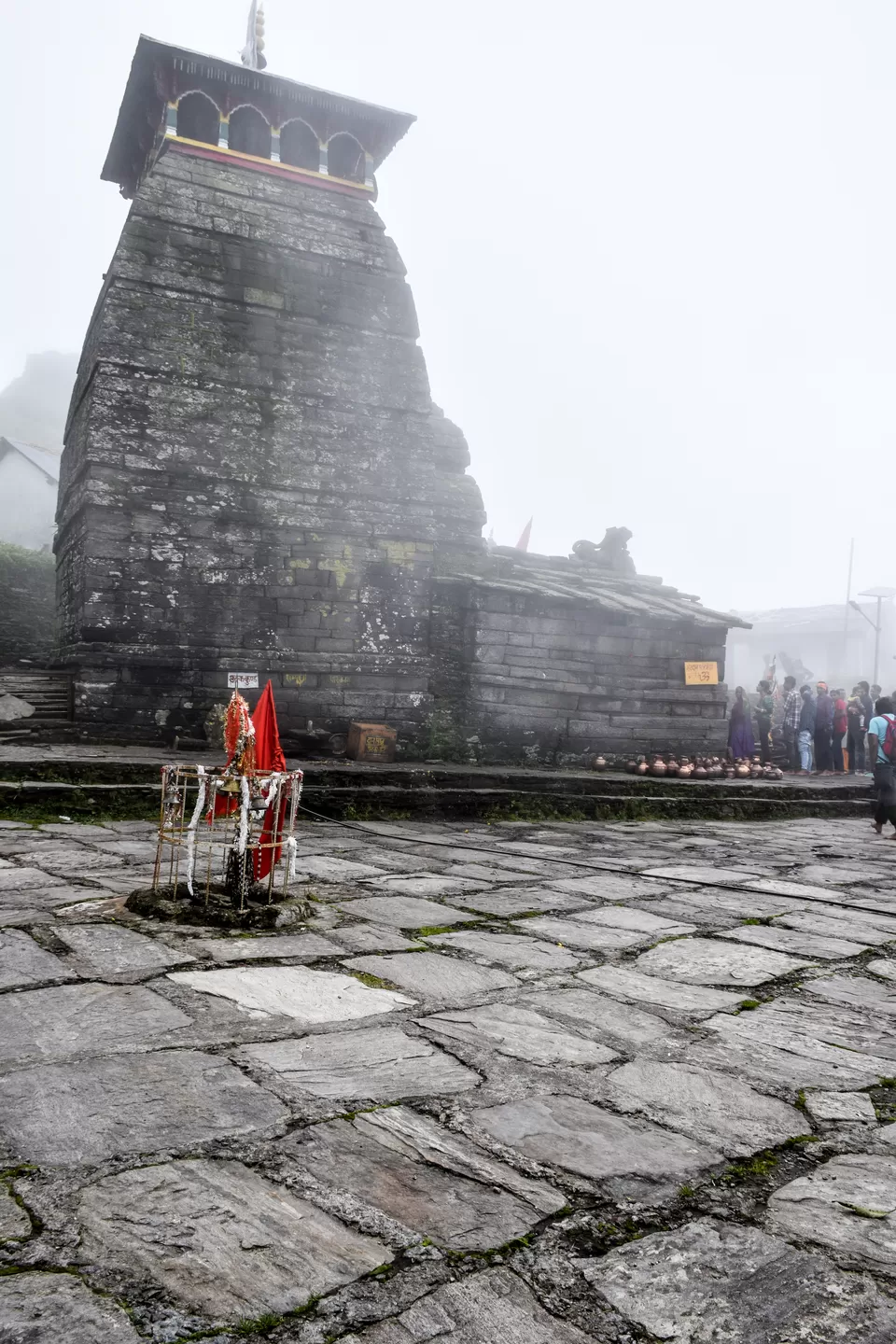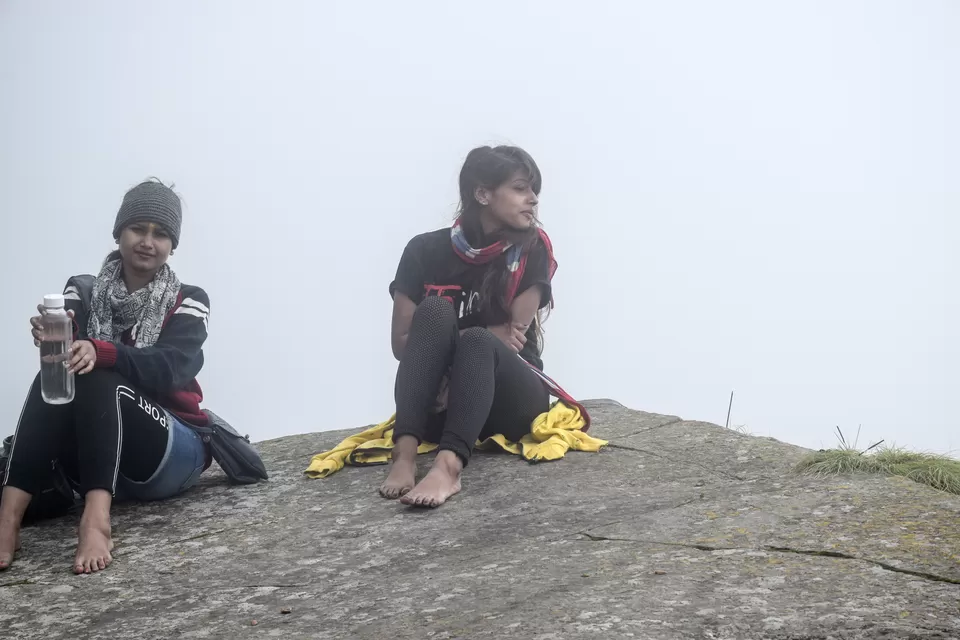 We stopped nearby a small shed at Tungnath, I had amazing kadi there, Chai and a halt from the insane raining. We stayed back for an hour to start our trek to Chandrashila, no stopping of rain, we only had one umbrella by chance and then we found raincoats, not a typical raincoat but ya some shelter thingy from rain, out of the blue, God's plan may be, we just steal it in another way :d as it was hanging outside the shed with no owner :D though on our return we put that back also.
Moreover, who cares about the path or the slope or the slippery route if the prize is Chandrashila.
So we started walking towards Chandrashila, I suggest to not choose this trek on Monsoon season because it will risky, like literally can be dangerous to your life
Well, by god's grace nothing happened to us, just some small slips and falls on the mud but yeah, we made our path up as the rain has destroyed the path completely.
Here are some amazing footages from the Chandrashila trek.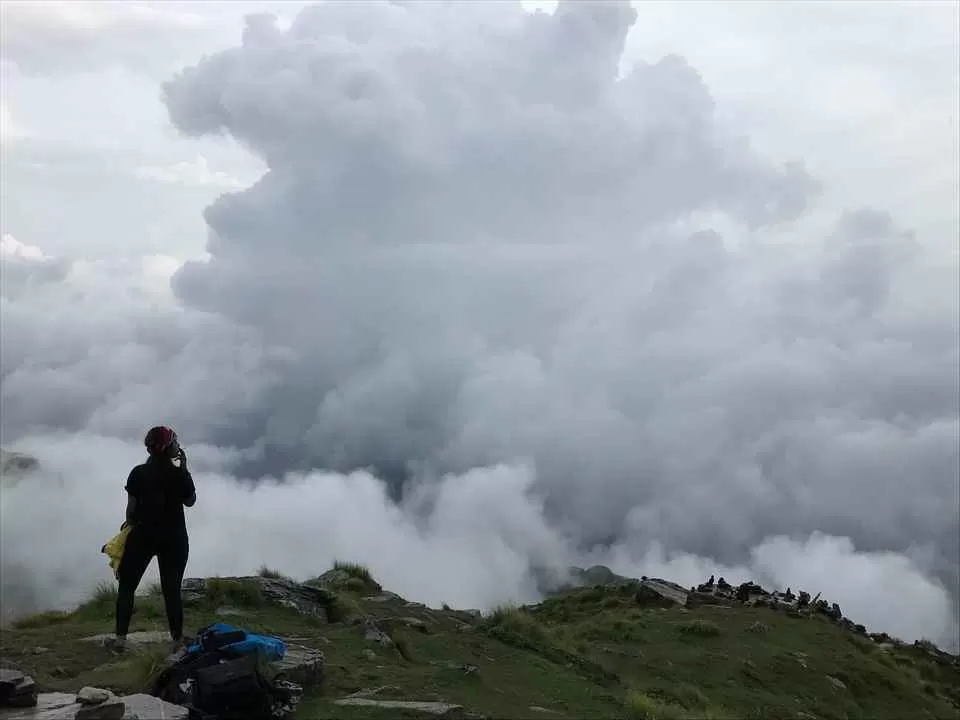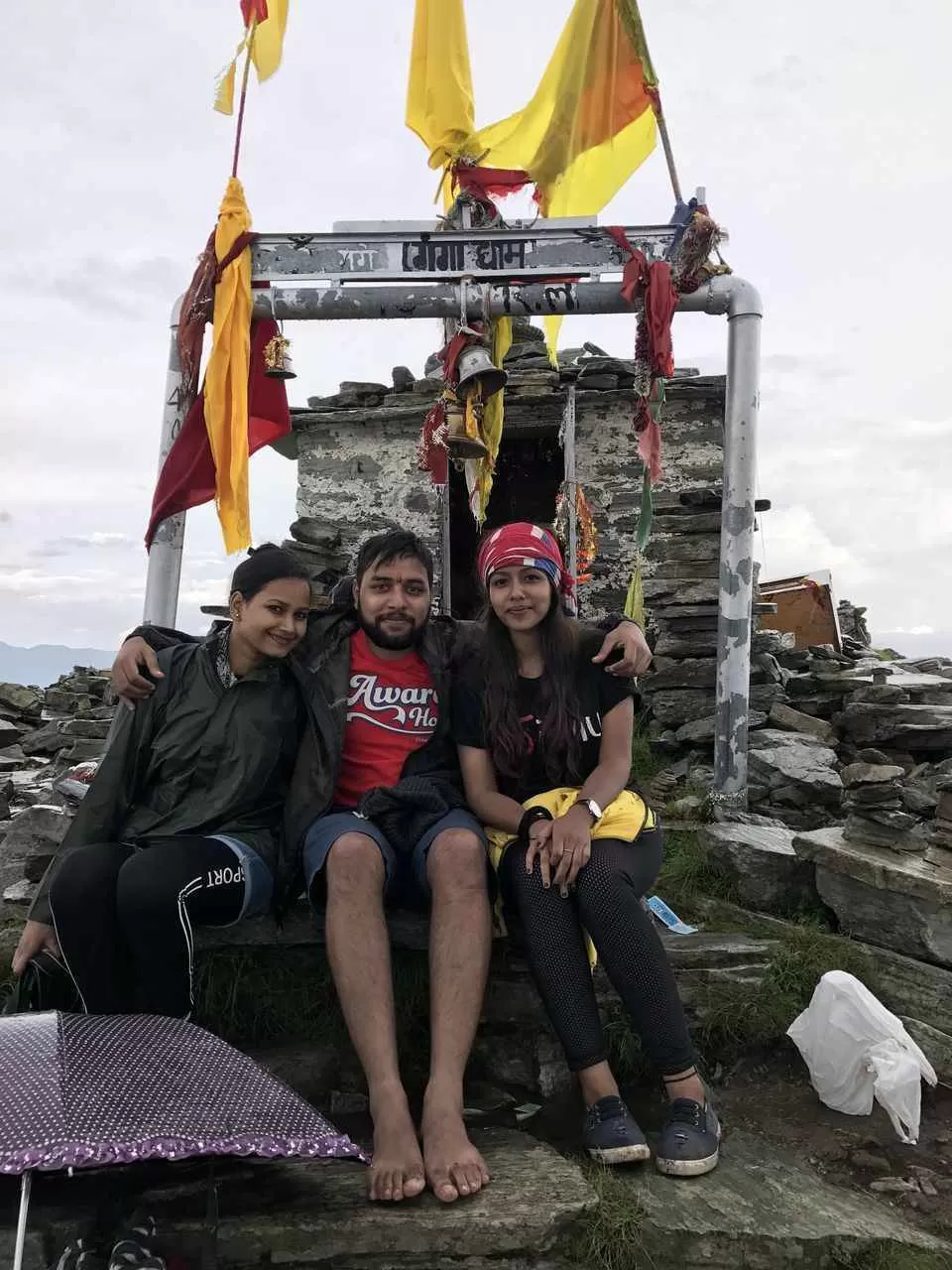 This was a life changing trek for me!!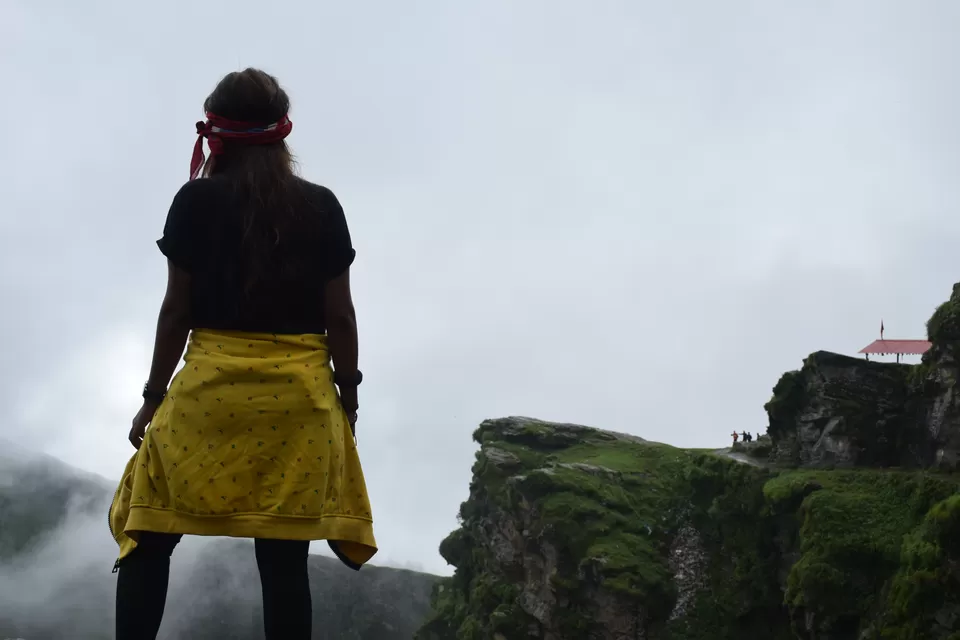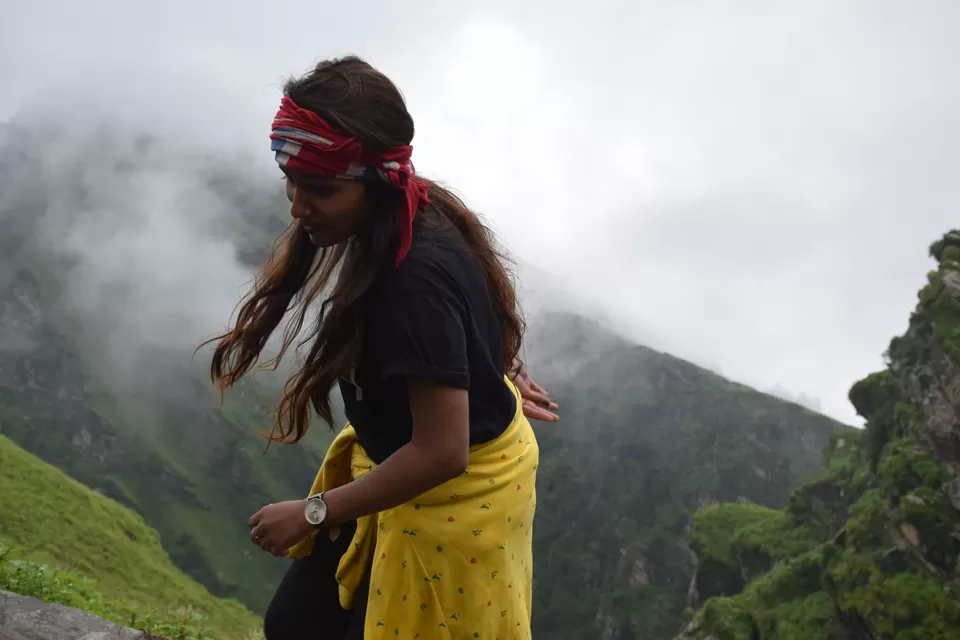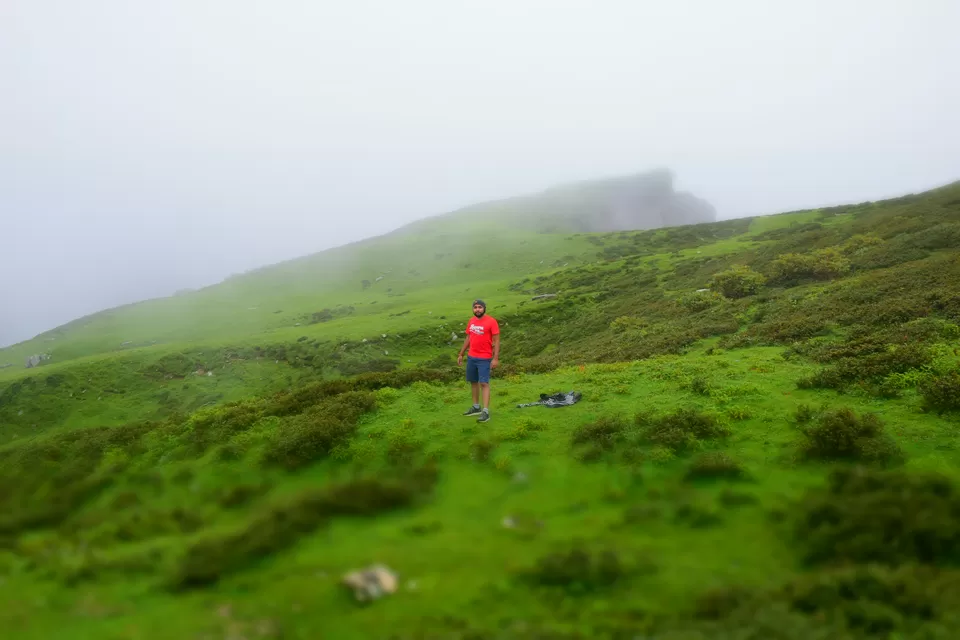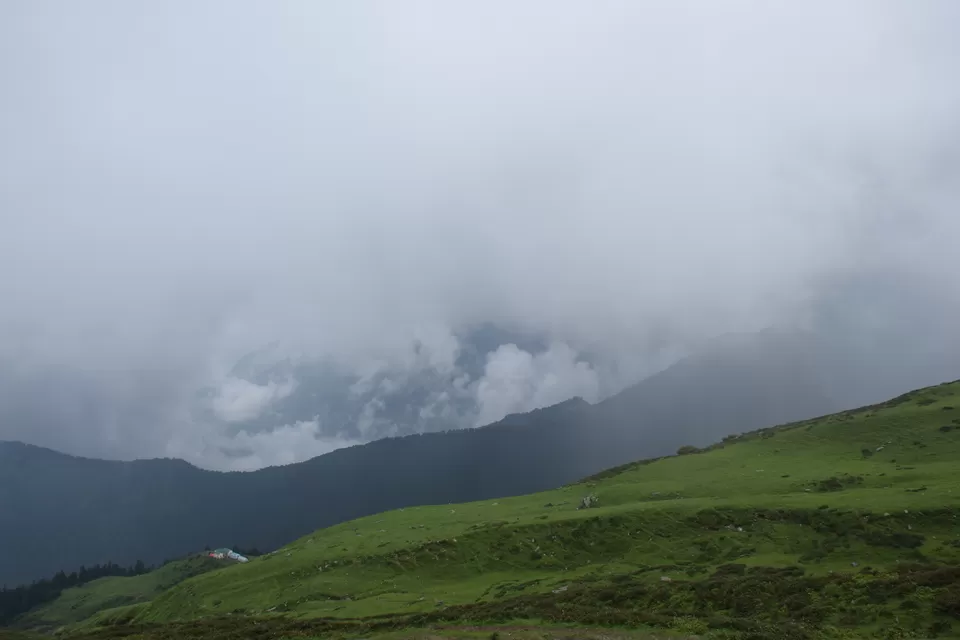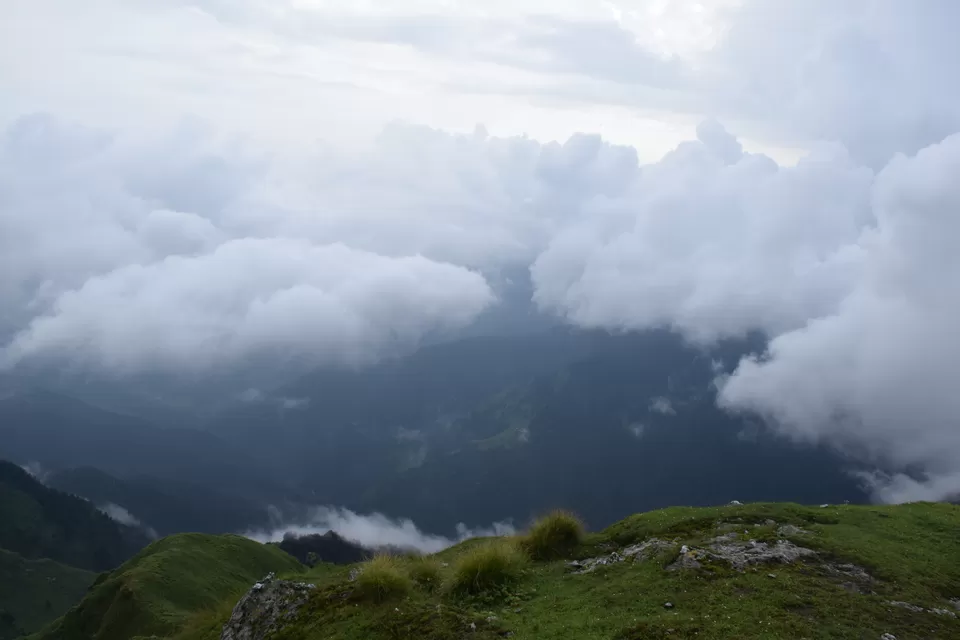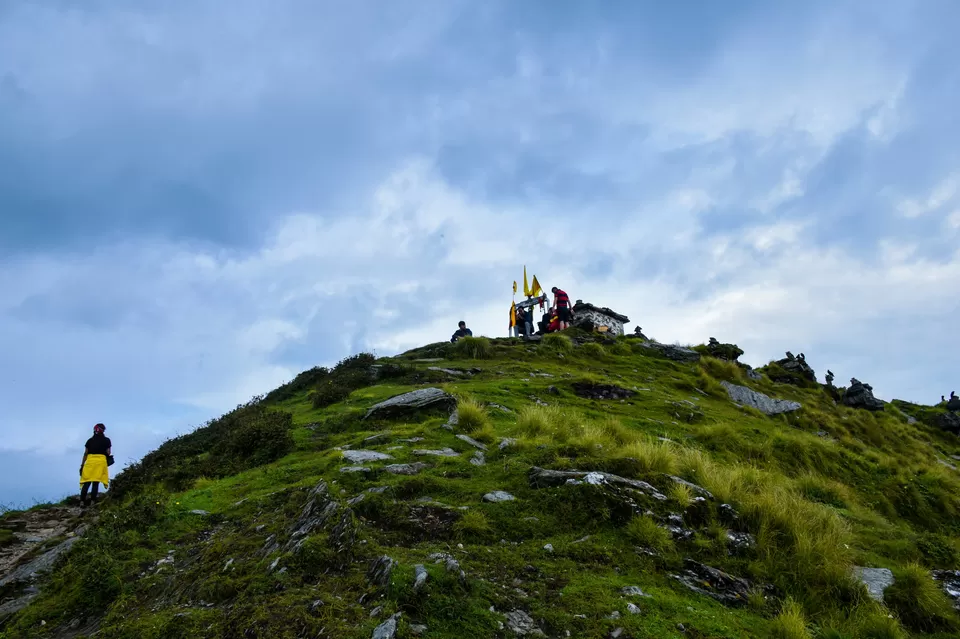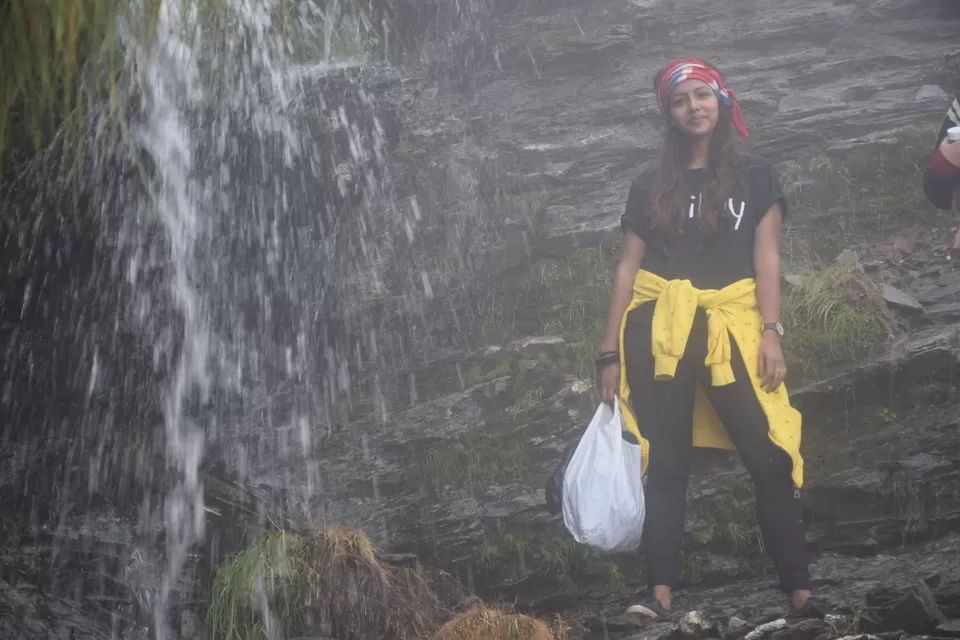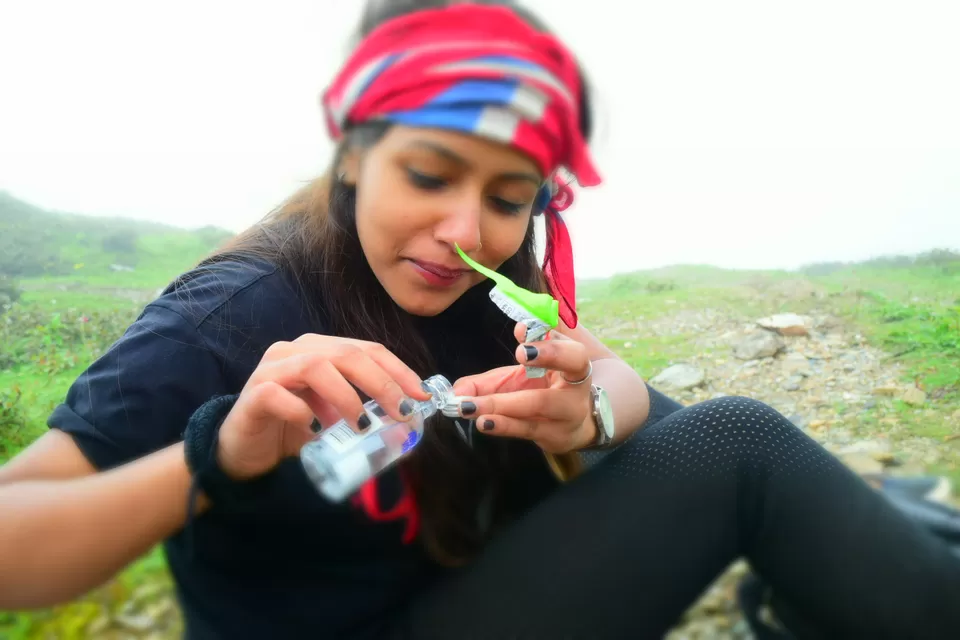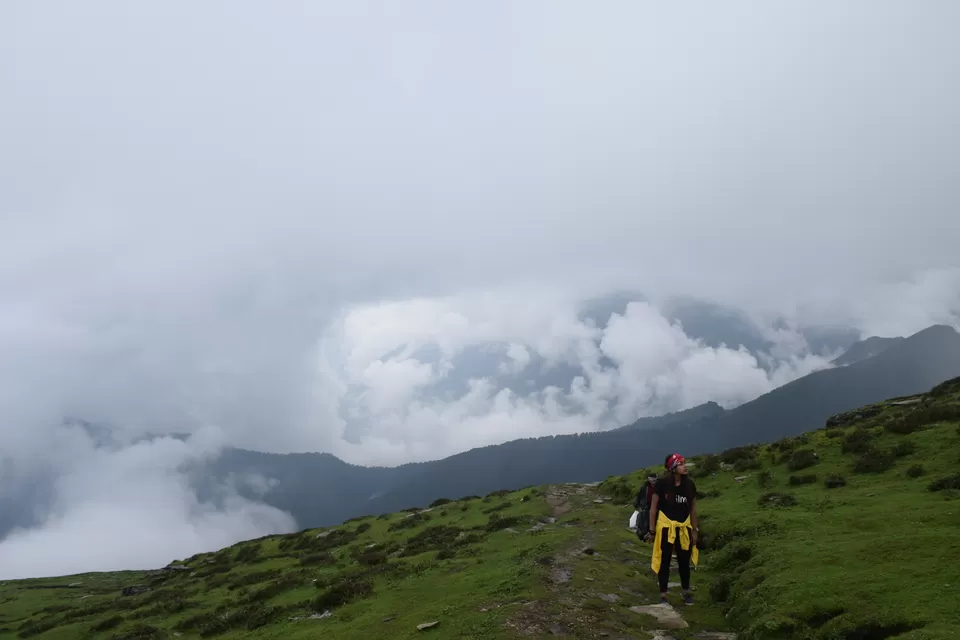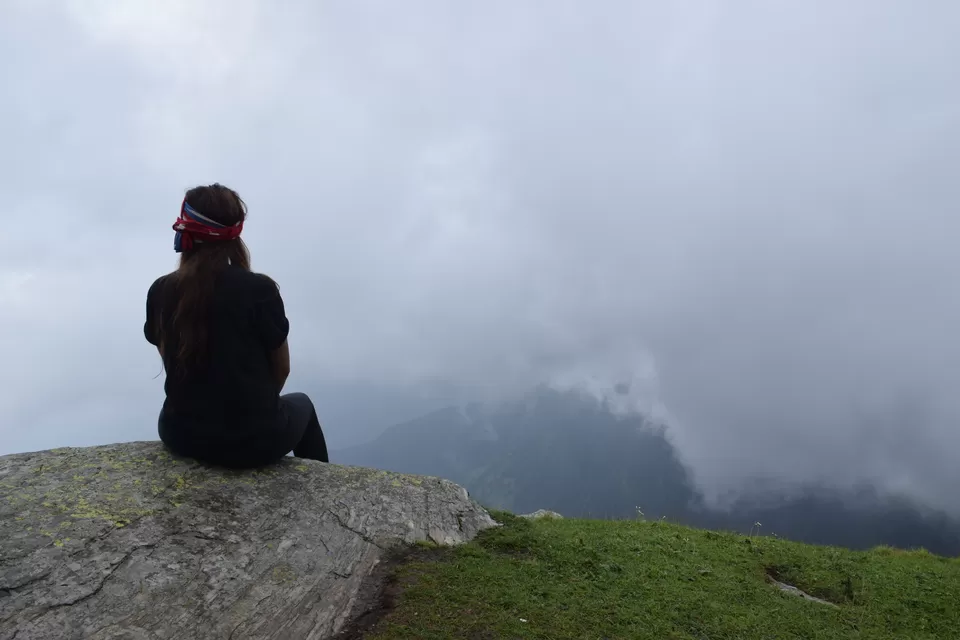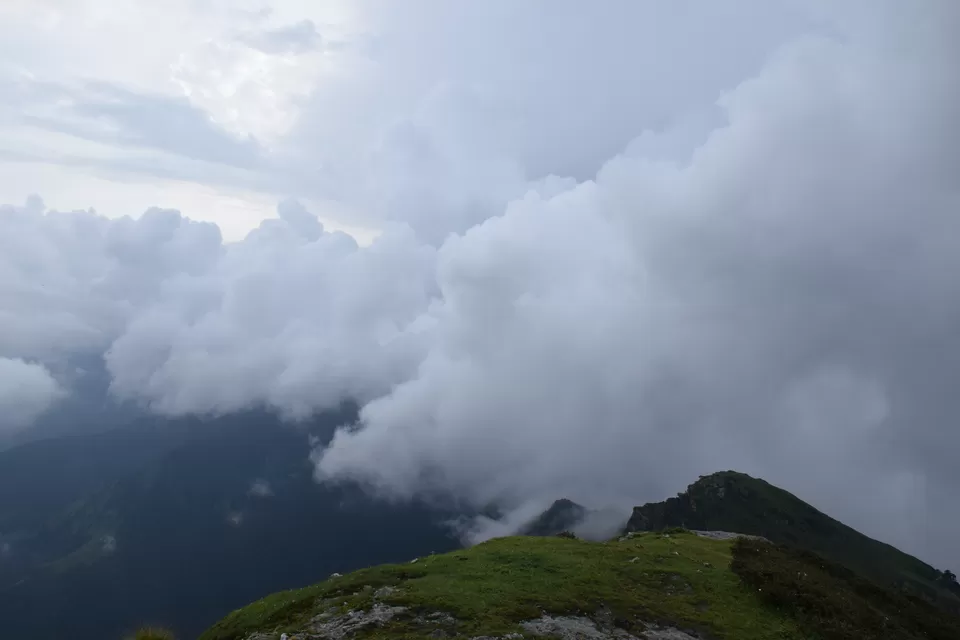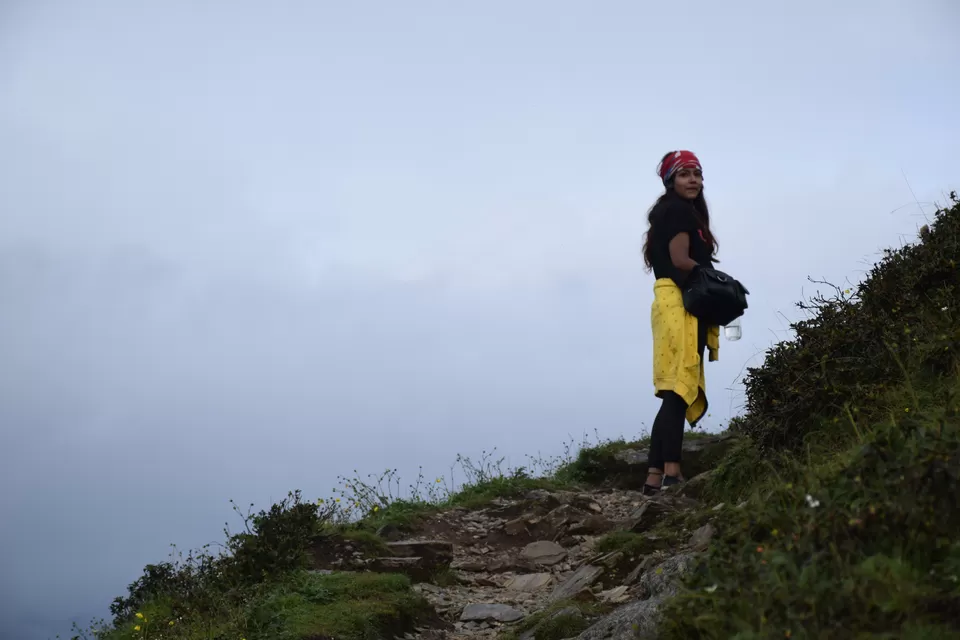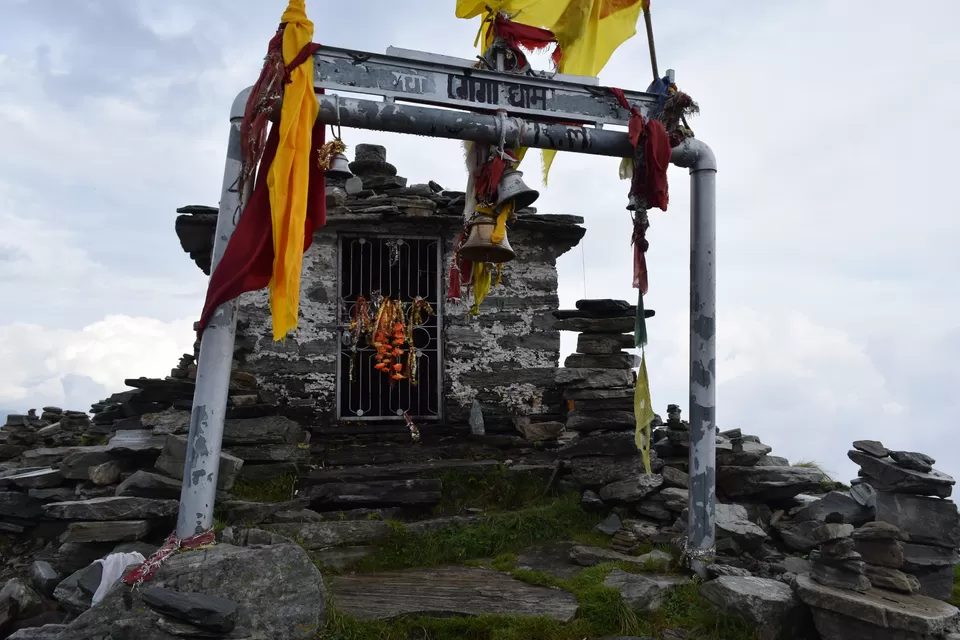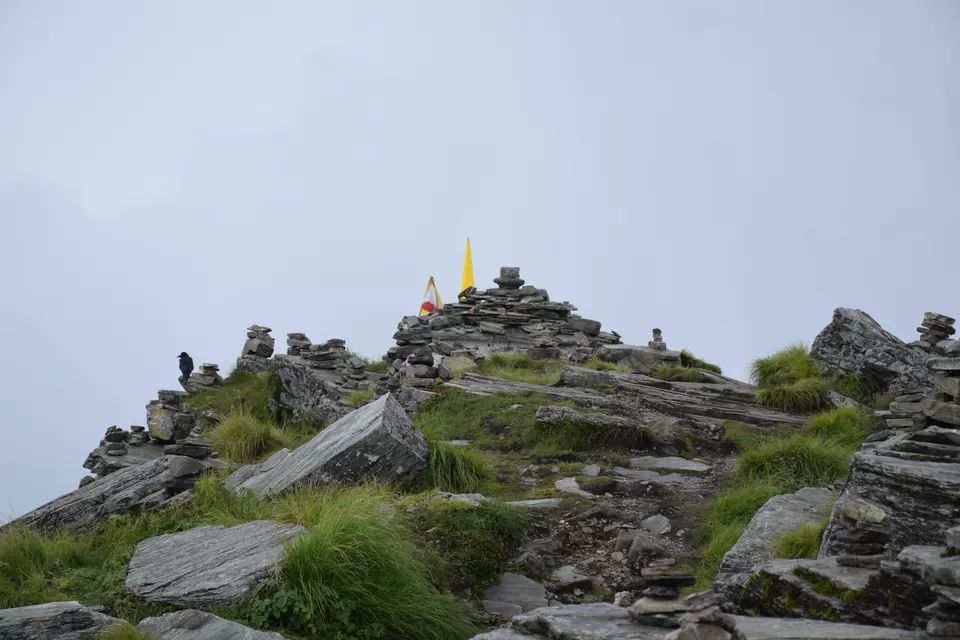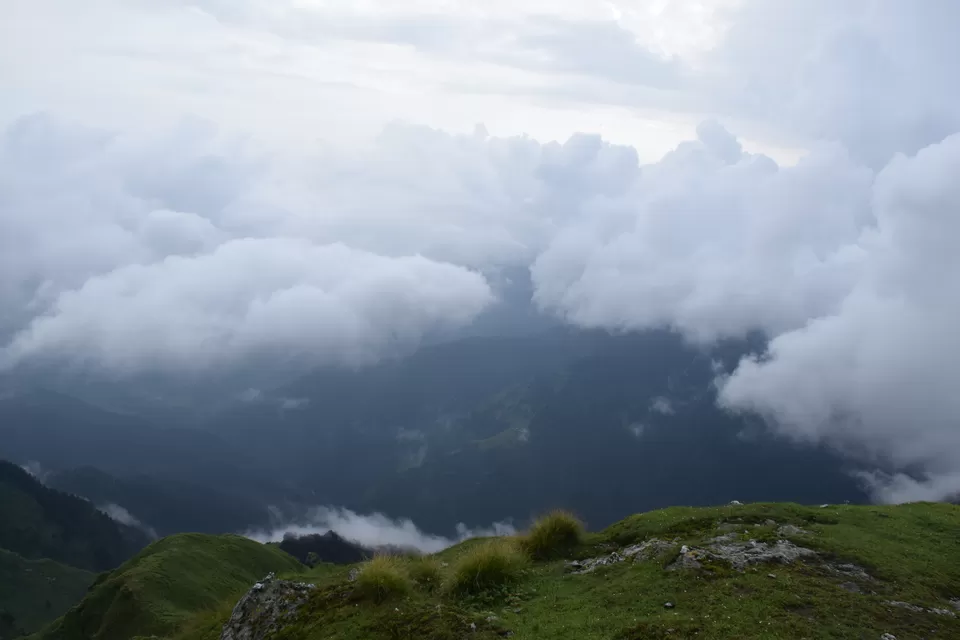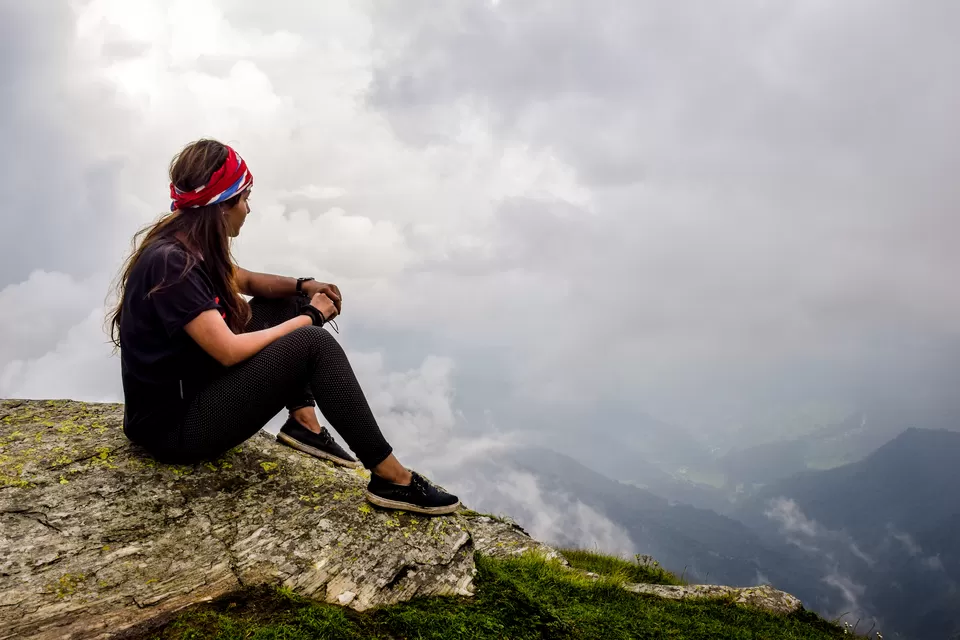 The adventure actually starts from here, thundering and rain made the way more difficult to trek back to Tungnath, but nonetheless, I enjoyed risking life for beauty, it was worthy of course.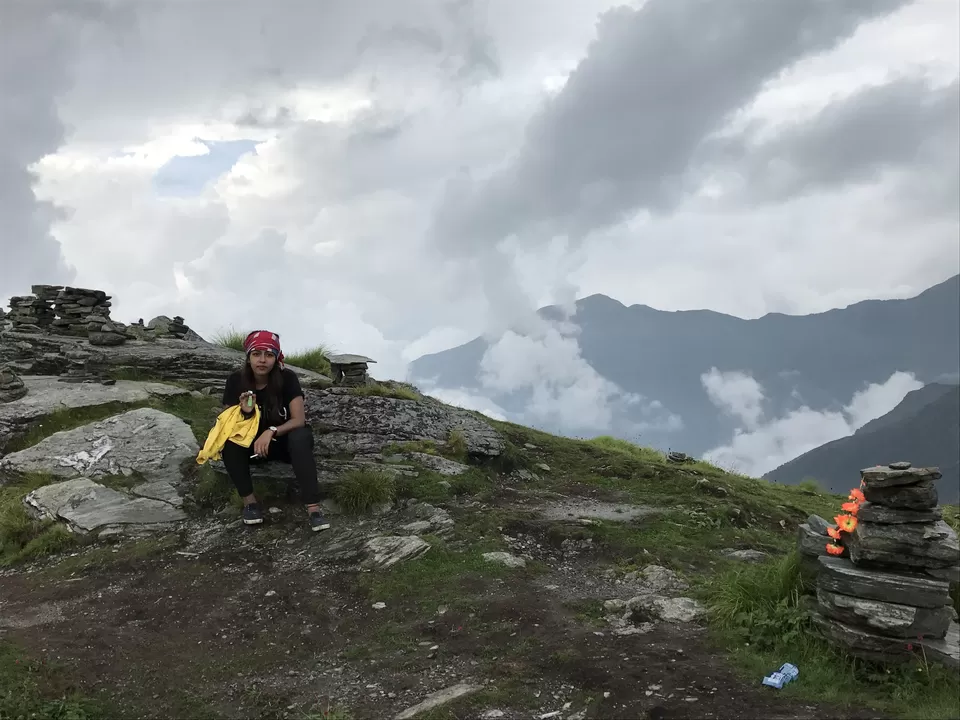 All I learned from the trek was sometimes taking risk of life is worthy, go take it. And like this, my expedition to Chopta has come to an end.
When we trek back it was pitch dark, darker than our soul :/, we are drained in the mud and rain, shivering, scared of the wilderness, chanting religious prayers, yeah I am well aware of the urban legends of Pahad :D. Nothing happened we came back around 9pm, safely, and that is the wrap for the amazing Chopta-Tungnath-Chandrshila-Chopta trek.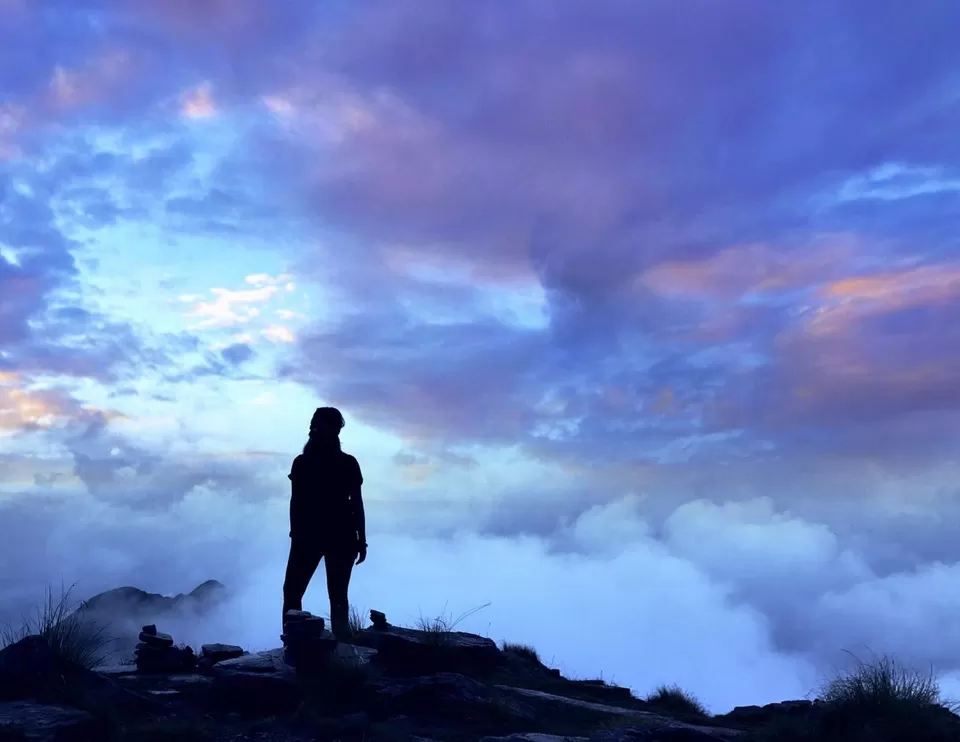 Next day we woke up at 6 am and enjoyed the beautiful sunrise of Chopta, today we were heading towards Deoria Tal.
We had our best Aloo Parathas of life, oh god we have no cash with us but the hunger of course, so we asked if we can eat and pay you afterwards and guess what, they agreed and I almost cried :D jokes apart, Big Heart Guys. Anyway, we did pay them for the meal afterwards.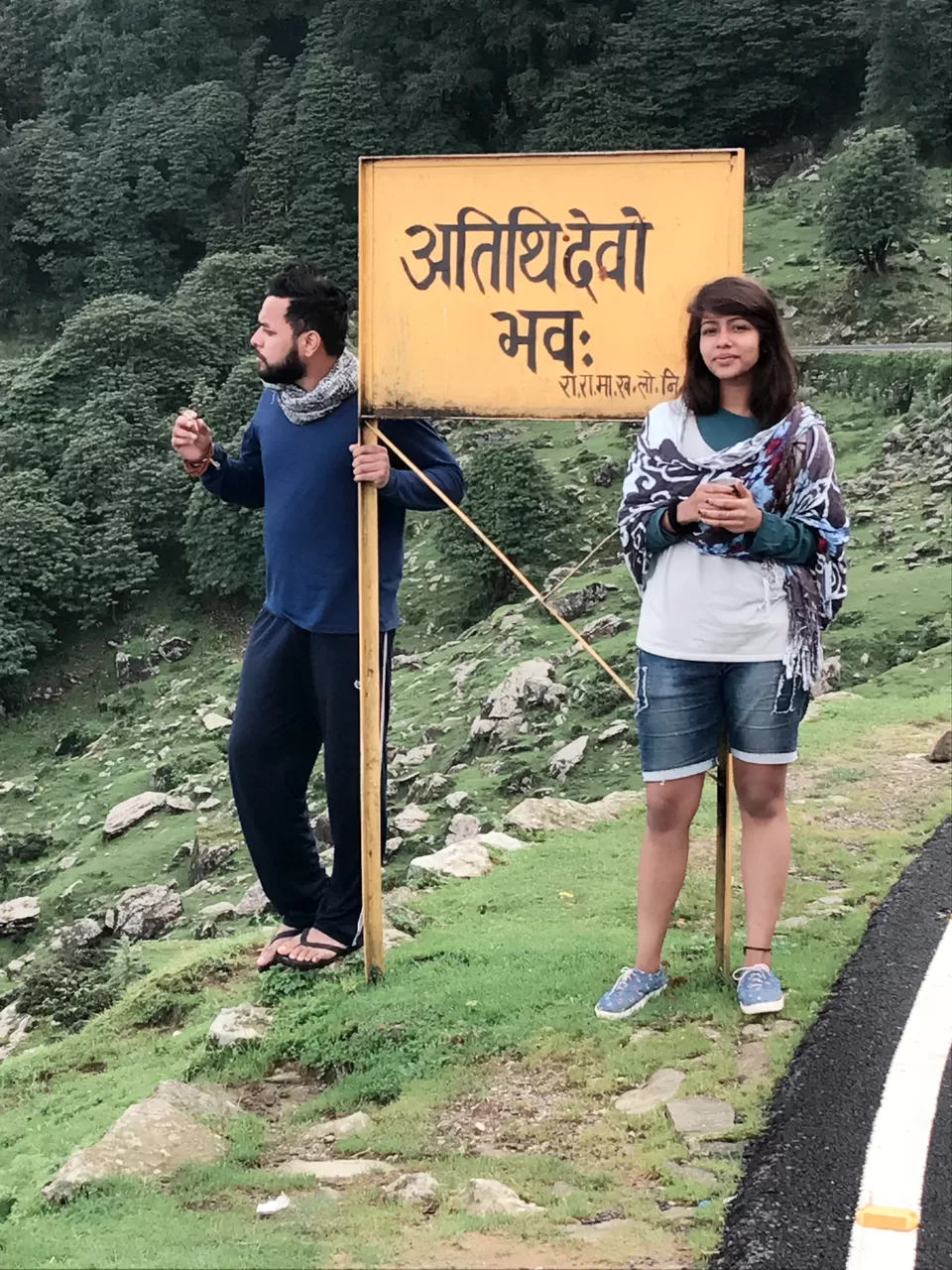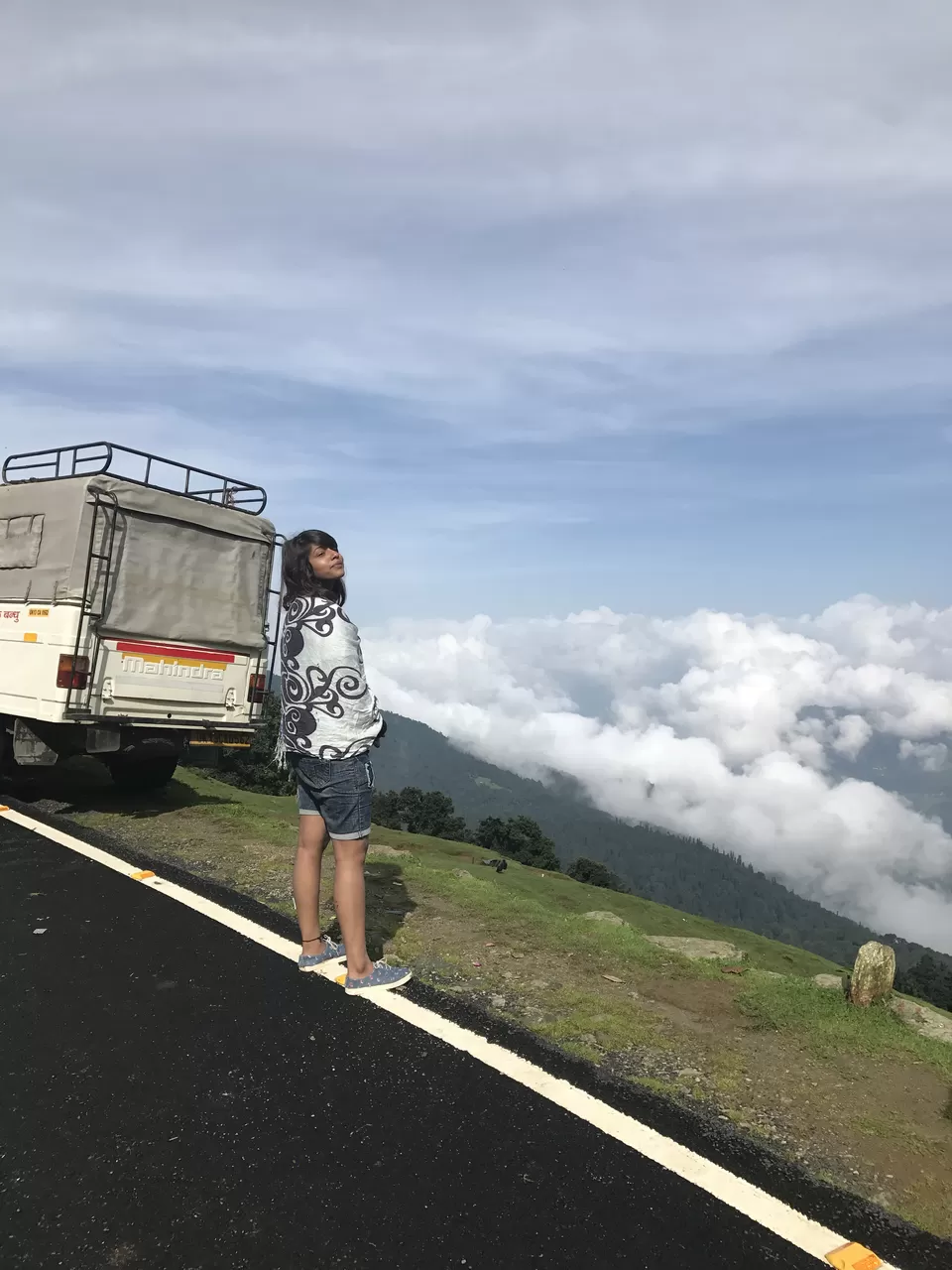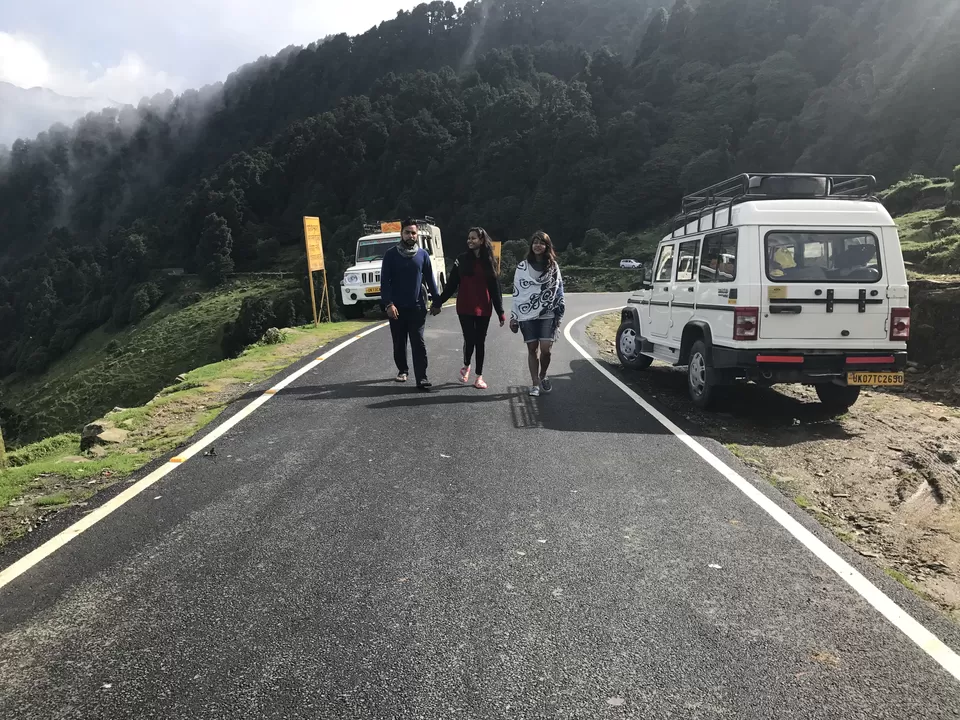 It's a 3km trek from Siri village to Deoria Tal, it was fun and refreshing but yes we were exhausted from the previous day-long trek but who can stop a vagabond when she is in her expedition right.
I was wearing some fancy loafers and that was the biggest mistake because Deoria Tal trek is not so easy one, the unsettled stones in your pathway will give you a chill if you are not wearing a good sole shoe.
There are few snaps of our trek journey.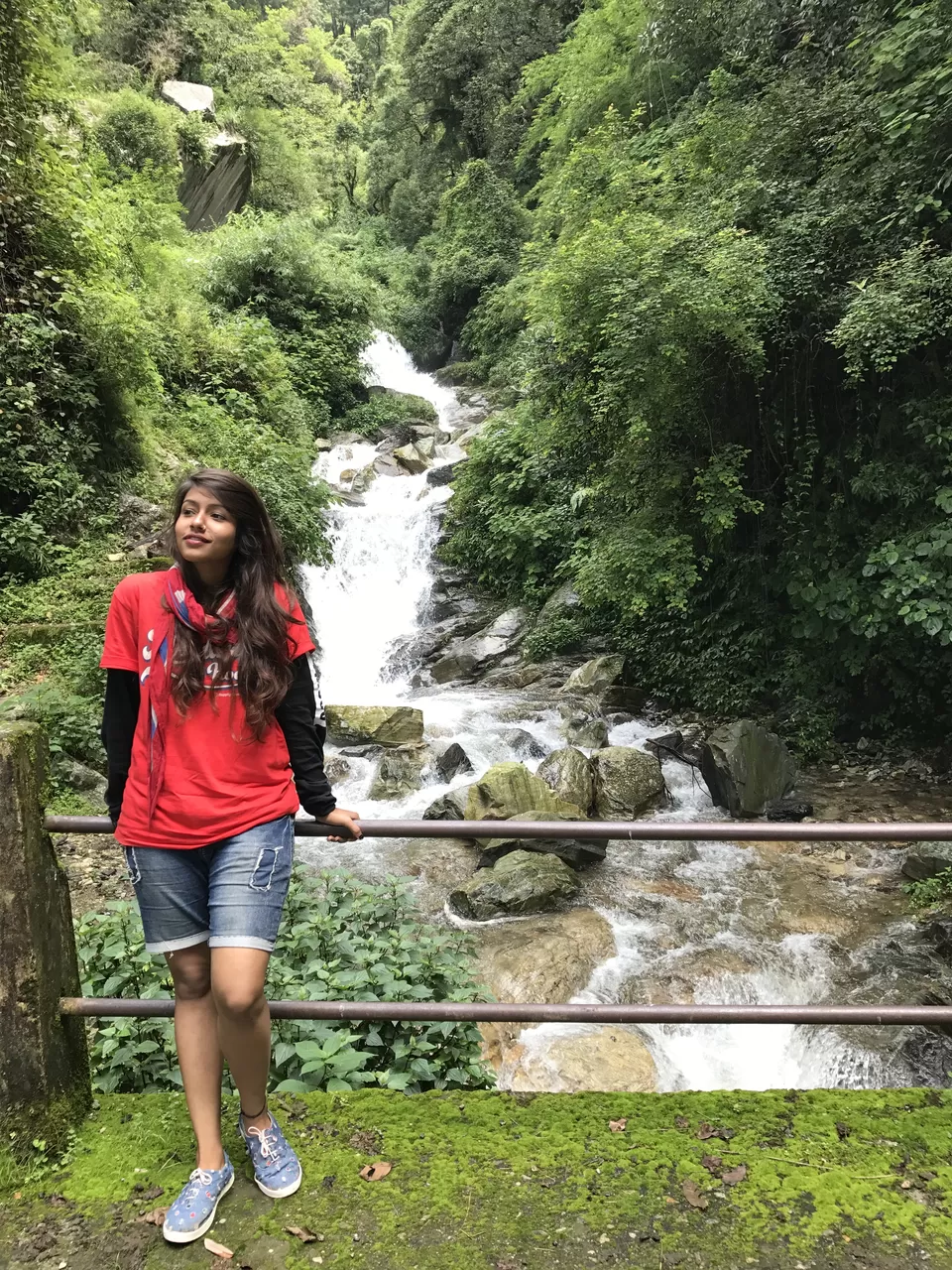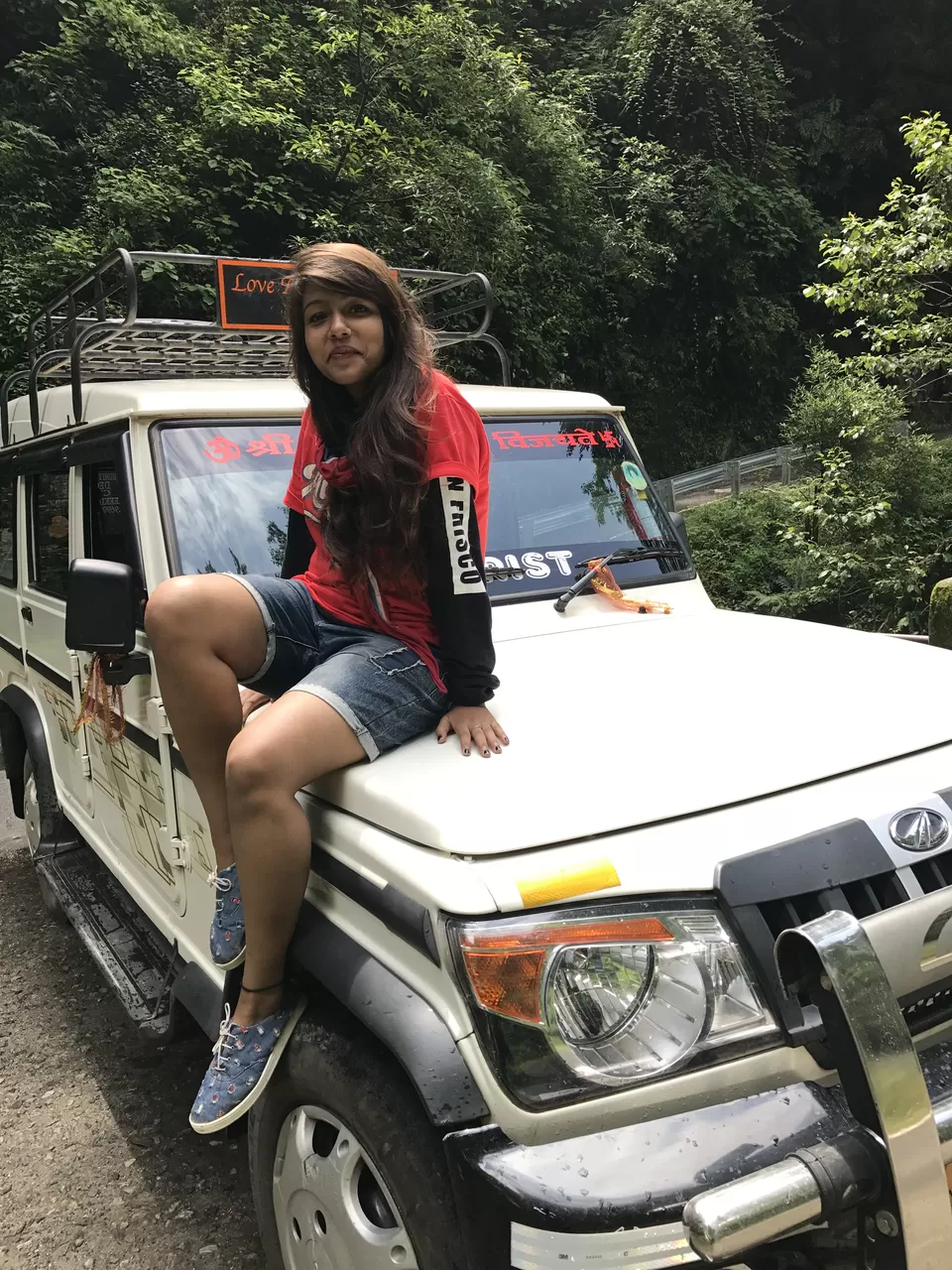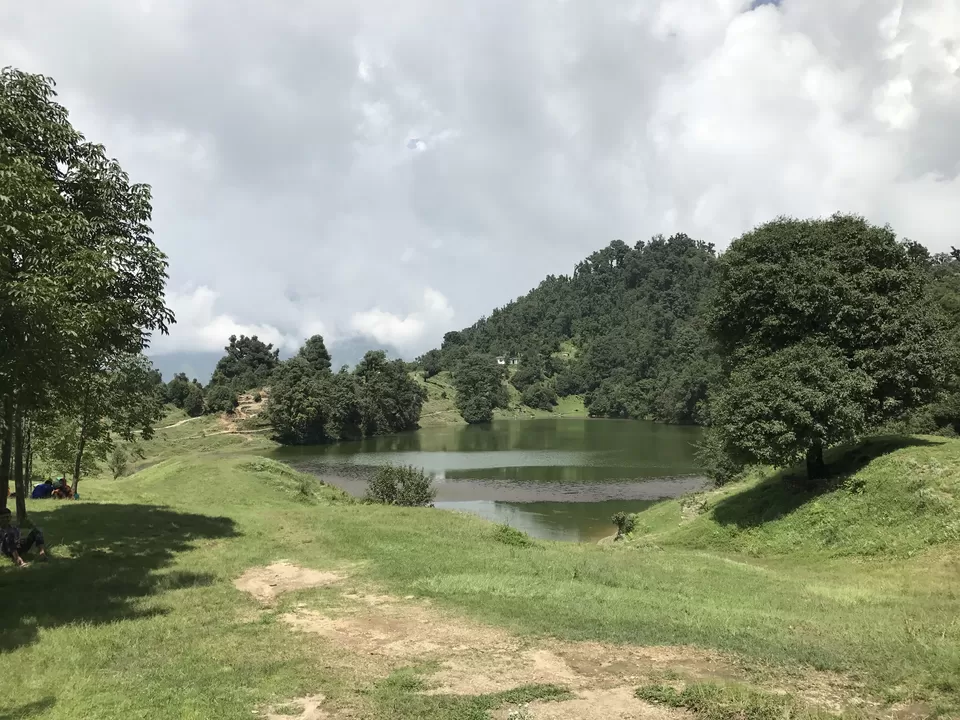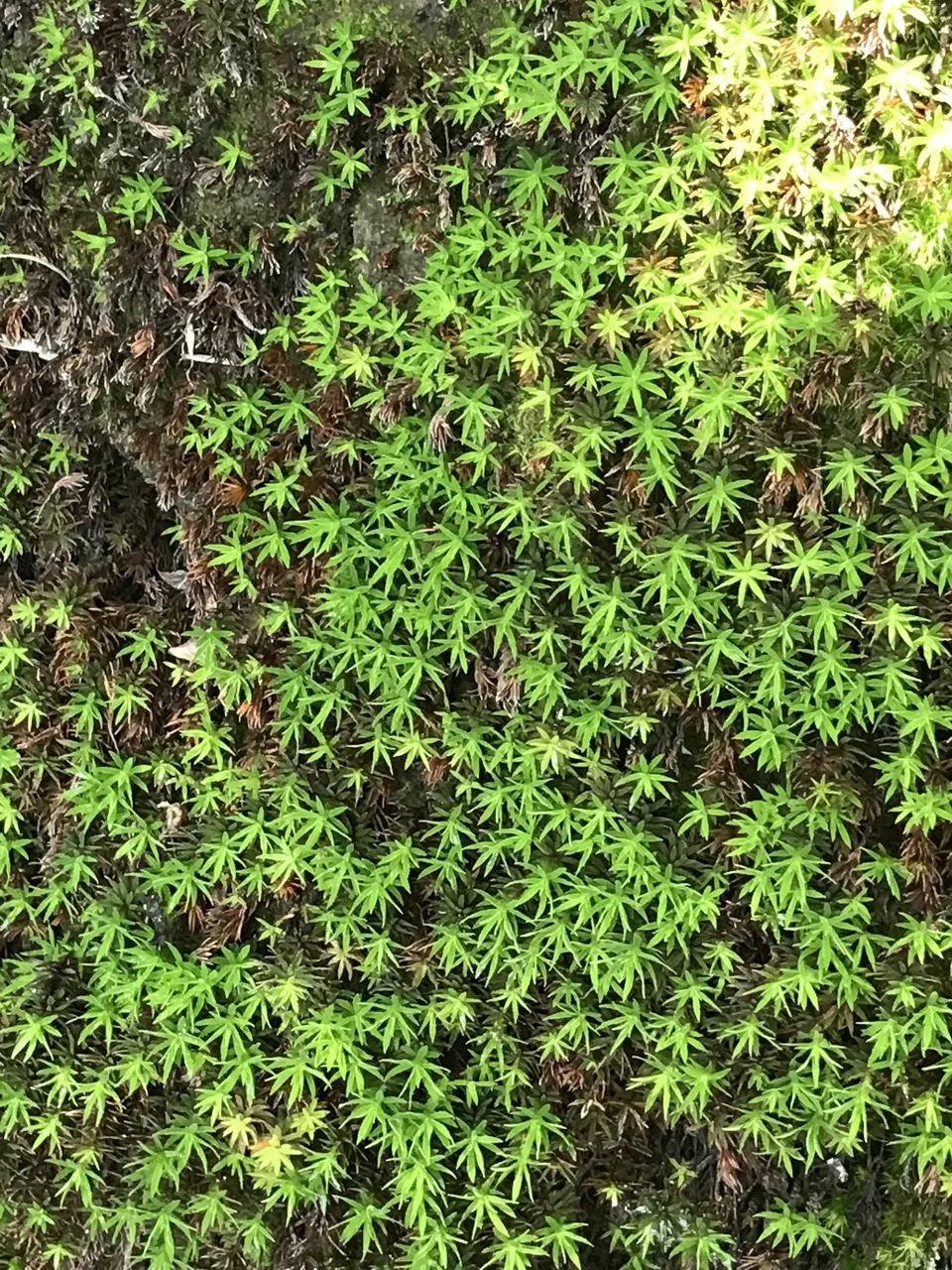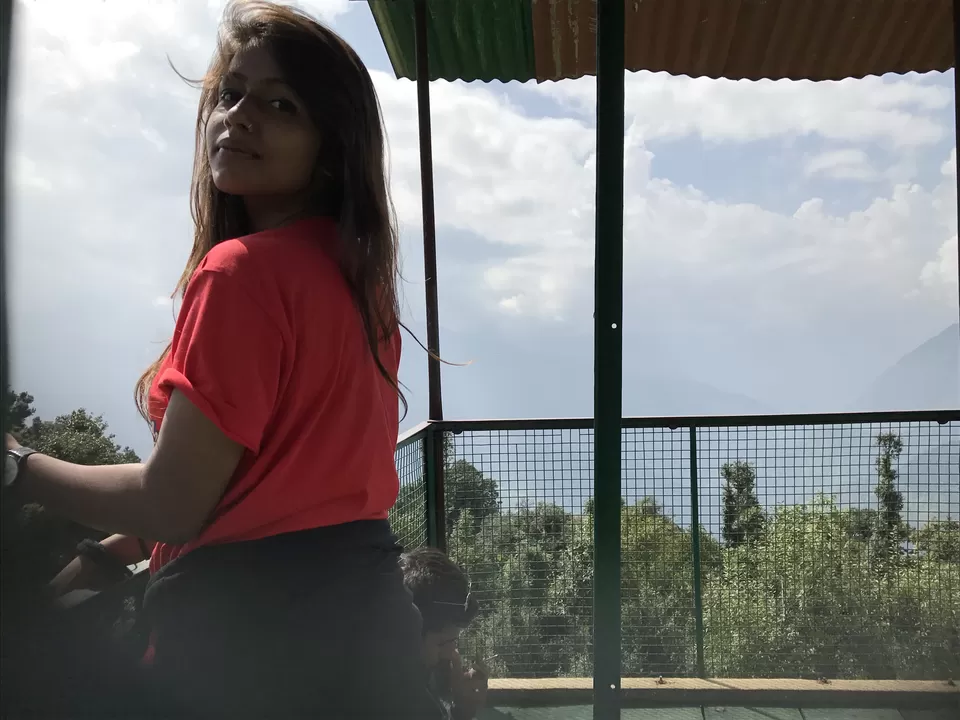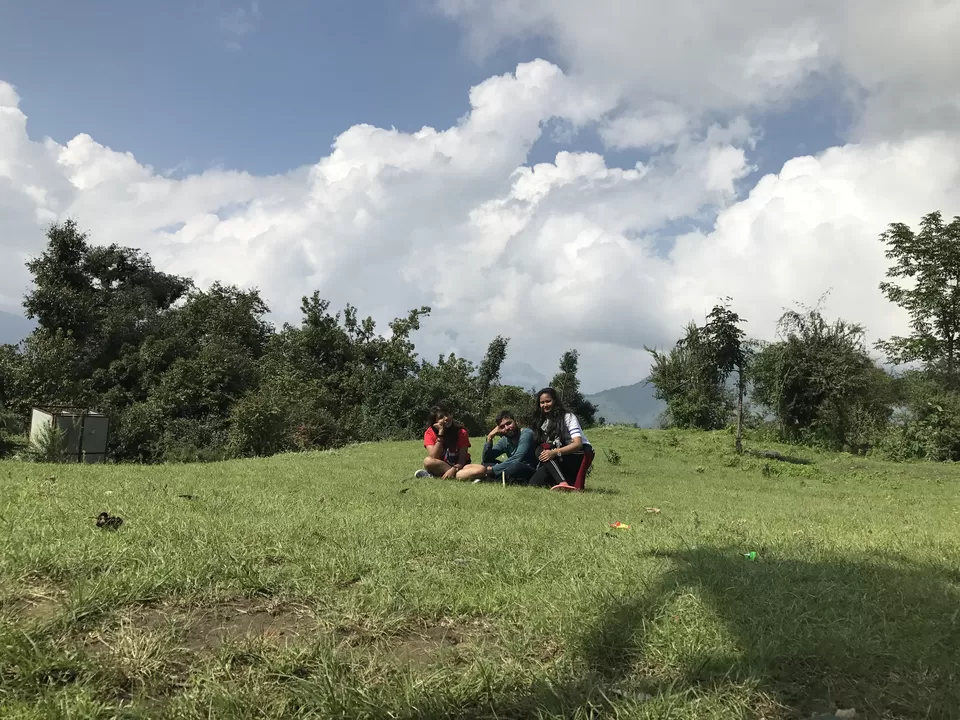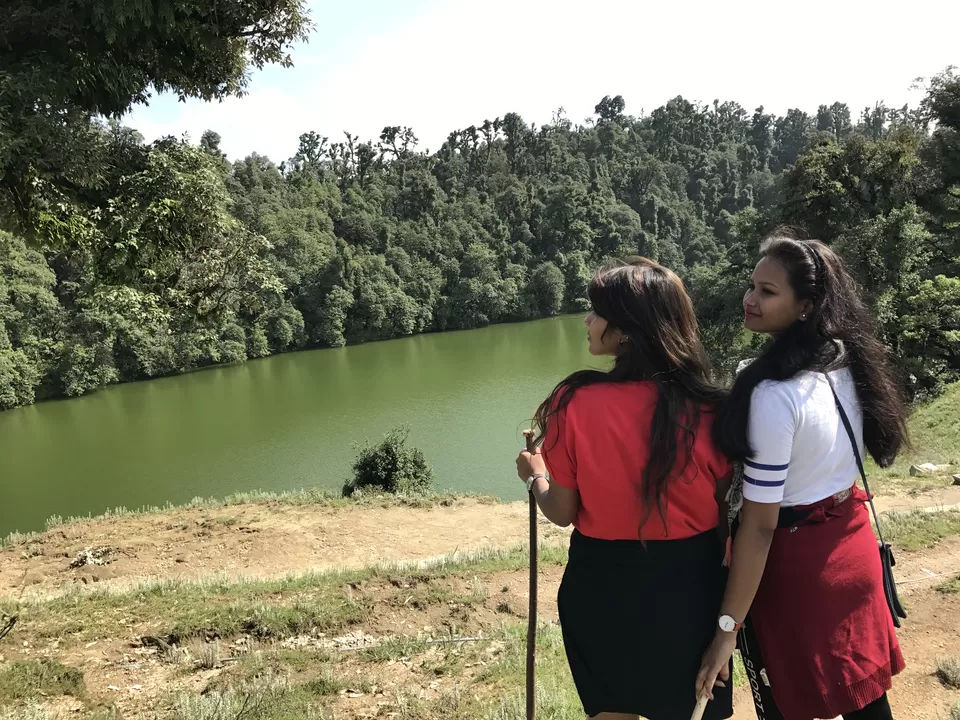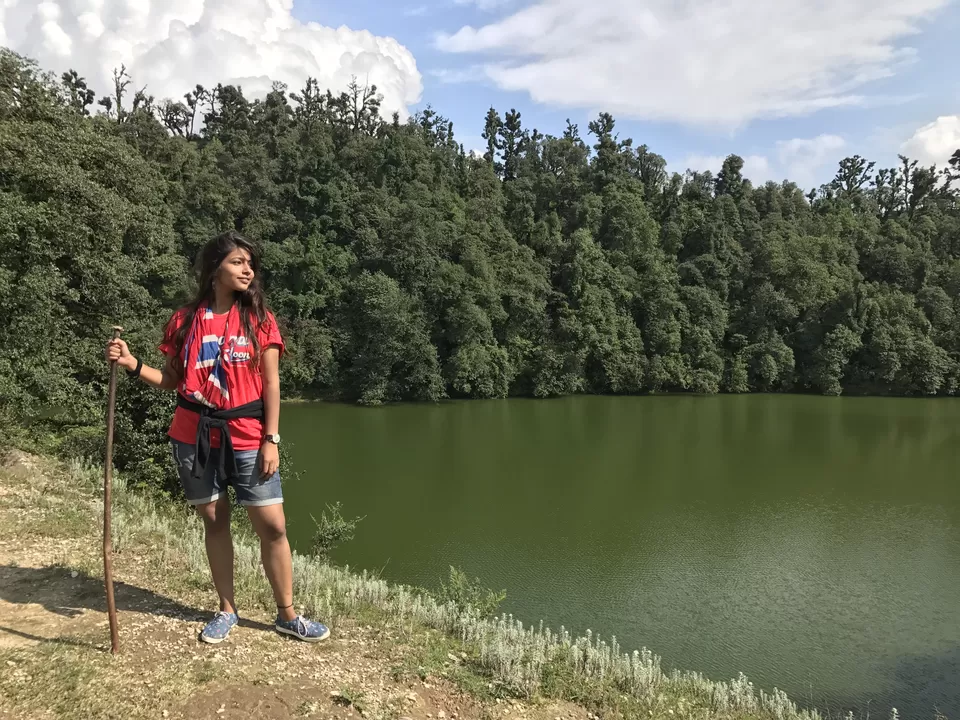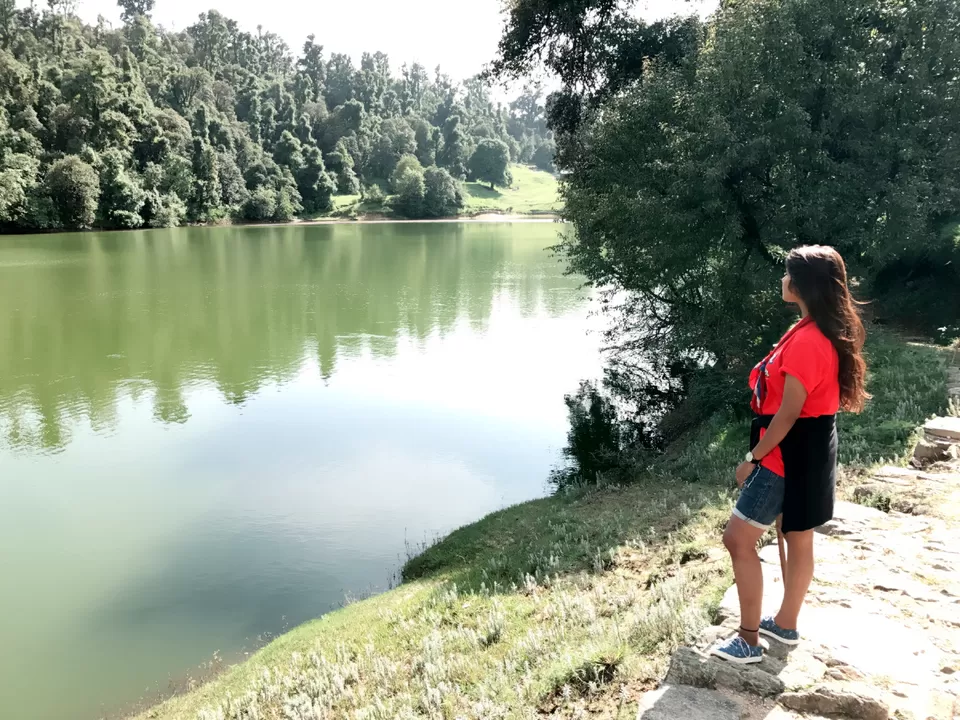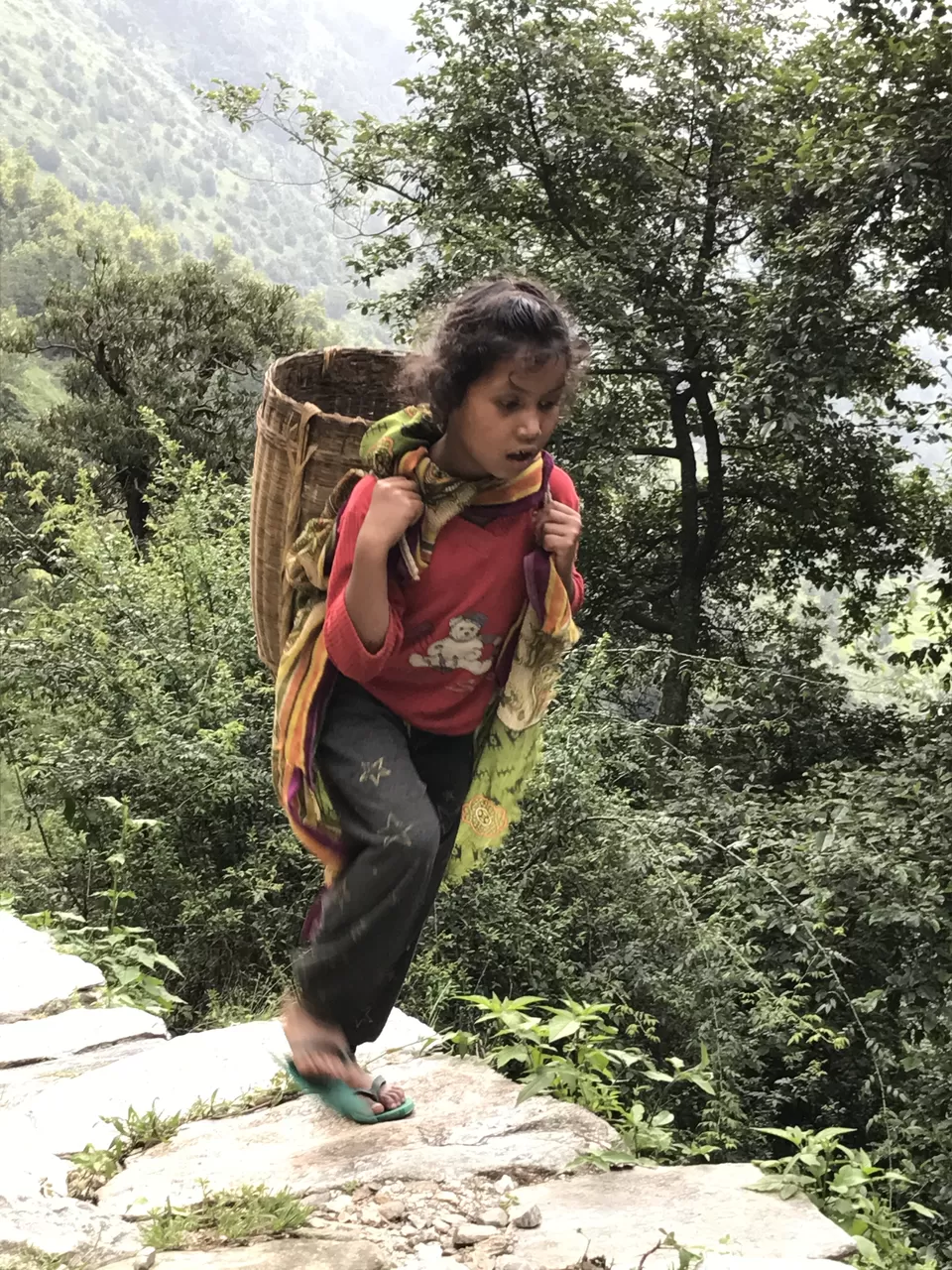 The crowd has ruined Deoria tal - "Delhi ka crowd, Chandigarh ka crowd, Punjab ka crowd, yeh log aate hai, new year mai, Christmas mai, party karte hai, sharaab wagereh fir tent lagate hai sab jageh aur apne he tent kai peeche apna waste chor jaate hai" - Word from the local caretakers/ticker counter (govt.)
That land is sacred for them and you need to respect that, do your shit where it is supposed to do, there is a place downside the lake for all this purpose. You have to manage a little right, you can not disrespect the land which gave the locals livelihood.
Travelling is an age-old business, let's make it Smart travelling, otherwise, all these places will be banned for humans all over again
Anyway, that's how our trek ended, we came down into the town Ukhimath, we took a hotel for night stay as there was only one bus direct to Haridwar at 5 am in the morning from Ukhimath
That night we had an amazing dinner at some local Bhojanalay, we ate like monsters, the food was so excellent and after literally 4 days we are having some real amazing food :D.
Next Morning, Back to reality, where no one knows the real you, the city life.
Well there is so much to share about my expedition, so many beautiful pictures to share but now I am putting a full stop here, Go now Visit Chopta and live the nature by own.
Thanks & Regards - A Restless Roaming Spirit