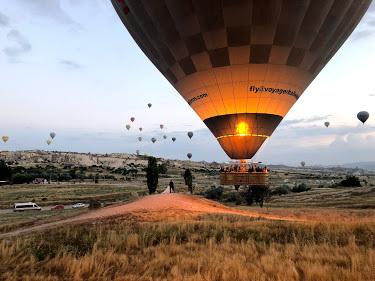 Whether it is the secretly illustrated book for Sultan Murad of 16th century Ottoman empire which Pamuk's miniaturists are killing over or the 30th June LGBTQ parades in Erdogan's capital, Turkey's flirtations with changing mores that often conflict with religion or tradition have continued to enrich a society that is both old and new.
After many years of gestation, the idea of an Anatolian sojourn finally fructified in the summer of 2019. A recently launched direct flight between New Delhi and Istanbul made it evermore realizable and a birthday dinner get-together gave shape to a 10 day long (actually short for a country that is a museum in its entirety) trip with friends to Turkiye.
Although our original direct 6 hr flight turned into a hopping 10 hr ordeal, the company of good friends and red wine in paper cups made it worthwhile. We arrived at the new Istanbul airport on the Black sea which is an understatement for gigantic. Posh terminals, tons of shops and never-ending walkways is a more adequate description in my view. I did some quick online shopping while we waited for our connection to Kayseri. An hour and ten minutes later, we were hailing cabs and collecting our bags at the largest airport of the central Anatolian region, very much in the geographical heart of Turkey. A long day of flying and checking in and out of bags came to a close a little past midnight in Ibis, Kayseri which is less than 5 km from the airport. A fine 3 star hotel with great value for transit tourists like ourselves.
Next morning, we were picked up by our transfer service in a traveller van to bring us to the first proper pitstop on our itinerary. Welcome to Goreme, Cappadocia! A small village/ town in the middle of strange rock formations, Goreme has turned into a tourist hub, thanks to those enormous hot air balloons you see on postcards. Other than the rock formations themselves, the balloon business is the only reason that brings throngs of tourists from around the world to this small town of a little over 2000 residents. The entire municipality is littered with big and small cave hotels which are mostly family run businesses. These so called cave hotels are usually extensions of the original caves left behind all over this region by Christian minorities of a different era who used them as shelters during times of war, invasion or persecution by the new Islamic rulers of Turkey. Our first lesson in the grim history of religious persecution that this country has seen so much of. Today, there are tours designed around the different land formations and underground cave cities, named after colors and led by a state certified tour guide who takes you through glimpses of this sordid past with humor and subtle demands for tips.
Emerging from Derinkuyu, the deepest underground cave city in the region, you will notice an old derelict church in the middle of the village plaza that nobody has bothered to enter in hundreds of years perhaps. The windows are boarded up and the gong is missing it's bell. Surrounded by overgrown grass and bush this little stone structure serves as a reminder of a time gone by as well as the futility of a place of worship. After all, who needs a Christian altar in Derinkuyu today. The gods of Derinkuyu rest elsewhere.