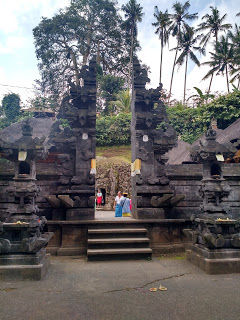 Ubud, the cultural town of Bali is a center for traditional art and tradition. Surrounded with rain forests and rice paddies, the place is a haven for art lovers and nature enthusiasts. Bali tour is incomplete without visiting Ubud. Here are the 5 best things to do and see when you are in Ubud.
1. Ubud Palace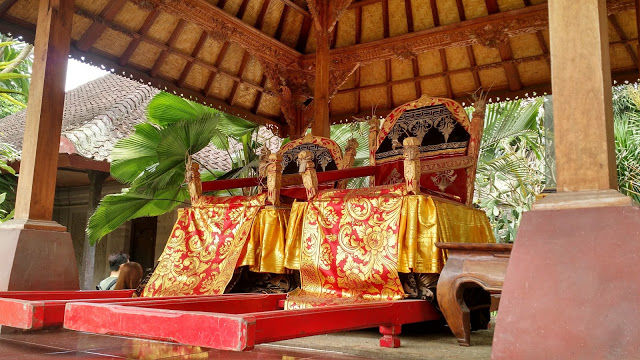 Once the residence of the royal family, Ubud Palace is now a tourist attraction in Bali. The palace showcases the arte facts of the kingdom and spaces which were used for prayer or meetings.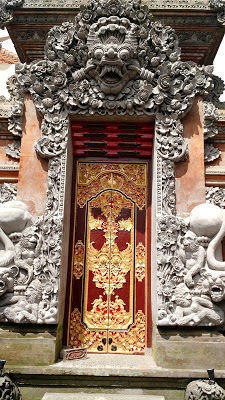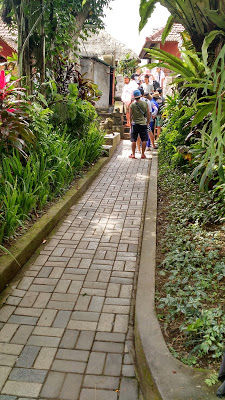 Several portions of the place are not accessible to public for religious reasons. The premise has the royal throne on display which is the most noticeable thing. What gets your attention is the intricate carving on the doors. Visitors are not allowed to cross the threshold of the door, leaving you wondering what's behind those doors? In an opportune moment, one of the doors swung open and revealed a statue of goddess Saraswati . It was truly divine!
When the door flung open and reveled the idol of goddess Saraswati
Dotted with colorful garden and well-built pathways, the Royal Palace lets you peek-a-boo into the glorious relics from the past.
Location-Ubud Market, 15 minutes walk from monkey forest
Time spent- The place is small, so you can spend thirty minutes at the max here.
Parking- You can park your bike in the market. They charge around 2000-3000 IDR. If you are lucky, you may find a free parking spot.
2. Sacred Monkey Forest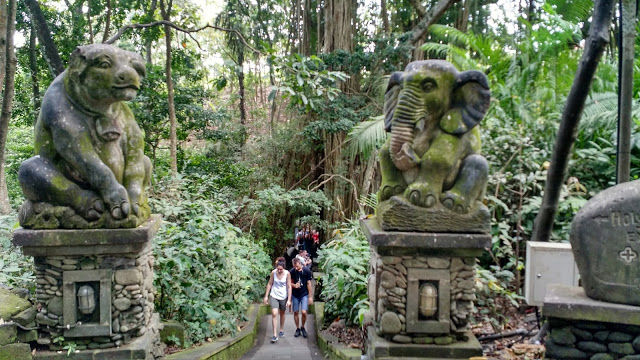 This dense forest dedicated to the monkey god would leave you with deep respect for Indonesian culture. Imagine an entire forest for the monkeys! Inspired from the ancient culture and Ramayana epic, Balinese declared the 12.5 hectares forest land sacred and protected.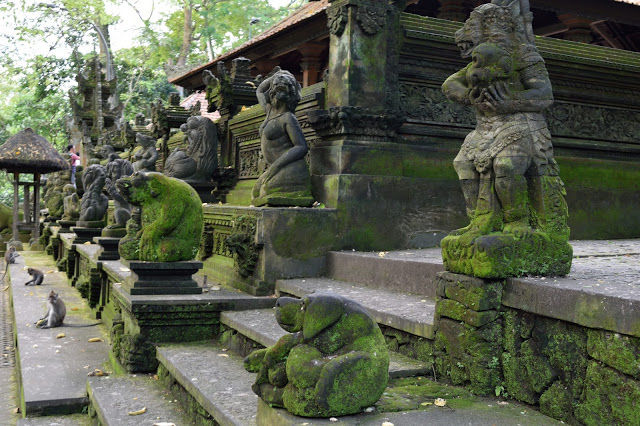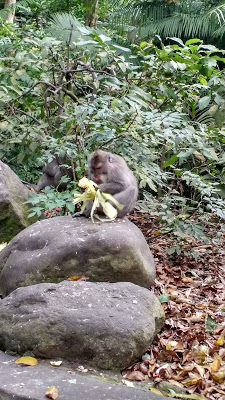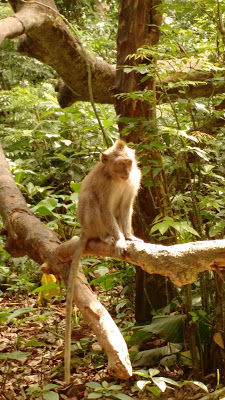 You not only get to see a large number of primates in the forest but also ancient temples and magnificent structures that marvel you. The monkeys are harmless, and friendly most of the times. In case a primate crawls onto your back, give it a banana treat. Should any of these threaten you or turn notorious, the forest guards are there to help you. The lush greenery, lovely architectural structures and huge variety of flora silently make your senses happy. Fill your lungs with oxygen, walk and burn our calories and have fun in the sacred forest in Ubud. Read here is why Monkey Forest a must visit.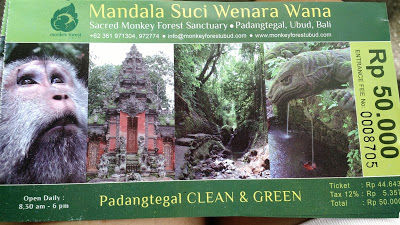 Location-15 minute walk from Ubud Palace
Entry fee-50,000 IDR
Time spent-You can cover the huge forest place in 2-3 hours.
Parking- You can park your bike in the parking lot for free.
Dress code- None. Wear comfy shoes or flats. Avoid heels.
3. Ubud Art Market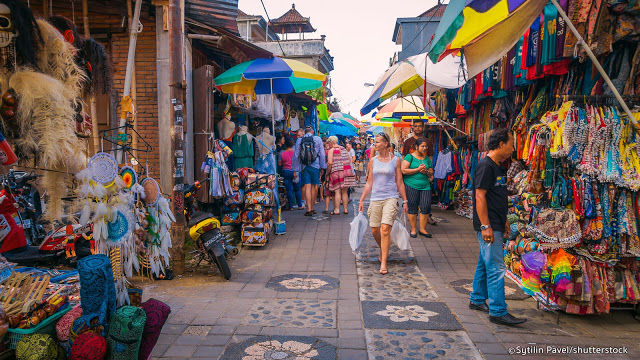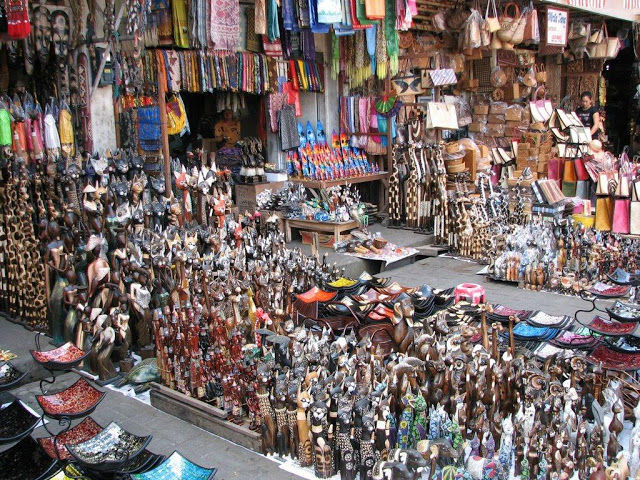 Balinese culture oozes of art and beauty. The colorful market dazzling with Balinese art would surely delight your senses. From old paintings to hand made home décor, the art market is nothing short of a heavenly experience. The rich culture and beautiful tradition embedded in the hearts of the residents' uplifts your mood, cajoling you to buy something and cherish the memento. Dotted with uptown cafes, restaurants and resorts, the art market would paint a picture of a modern yet peaceful place from somewhere in the lanes of Europe or Goa. Before you reach Ubud, the refreshing rice paddies on the way give you various photo opportunities.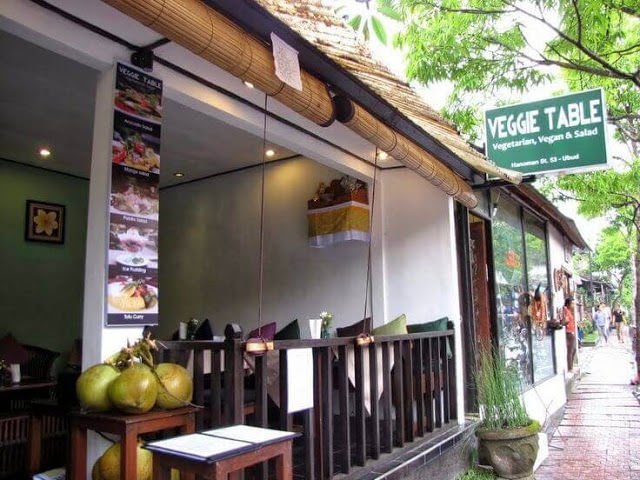 Vegetarian food is so rare to find in Bali, forget about vegan. So, when we passed by Veggie Table, a vegan restaurant with unlimited buffet, it immediately caught our fancy and we dashed in without wasting a single minute. Soft Hindi music greeted our ears, taking us by surprise. The staff told us about the owner's love for Indian culture and his influence on on the cuisine which he curated to cater to Indian taste buds. Do give Veggie Table a try for simple yet delicious and filling vegan lunch.
Location- In the heart of Ubud, barely 10 minutes from Monkey Forest
Entry-Free
Time spent- You can spend the whole day without restriction. If you are staying in Ubud, there is nothing like it.
Parking- 2000-3000 IDR. If you are lucky enough, you can find a free parking spot. Just keep your eyes open.
Dress code- None
4. Goa Gajah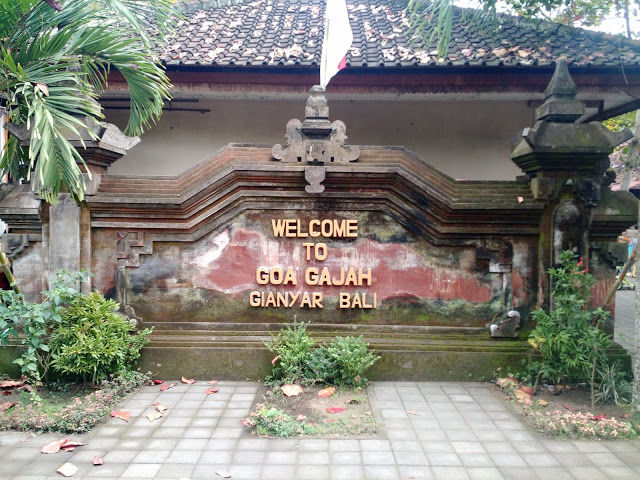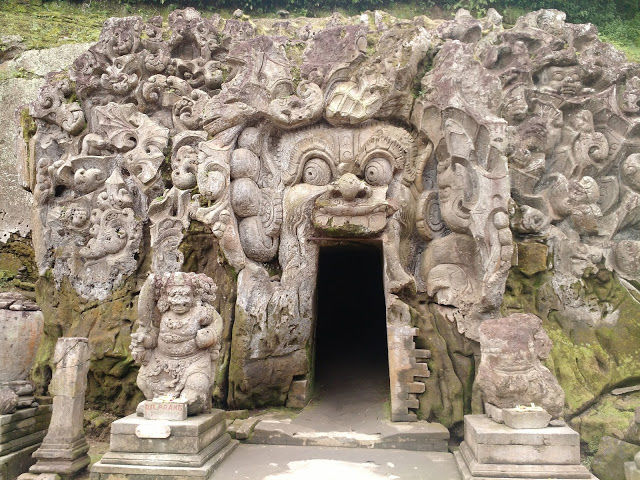 People also call this place "mini monkey forest". Honestly, both places have no comparison. The star attraction in Goa Gajah is the 9 th century elephant cave, housing Ganesha and Shiva idols. The ancient cave temple has dark interiors with simple and bare minimum decoration. It's the grand entrance with demon and god carvings that attracts tourists for photos. Often wrongly perceived as a dwelling place for elephants, Goa Gajah made it to the UNESCO world heritage site in the late 90's. Apart from the cave, the whole area has several small temples, royal thrones, sacred bathing tanks, Buddha temple, beautiful gardens, holy monk cemetery, gorgeous waterfall and tiny art shops. It is a visual treat to be in this place.
You cannot afford to wear heels or tight shoes as you need to walk a lot in Goa Gajah. Explore the well maintained site flanked by sacred places throughout the forest and feel at peace.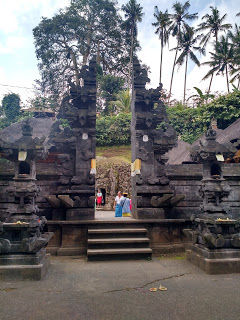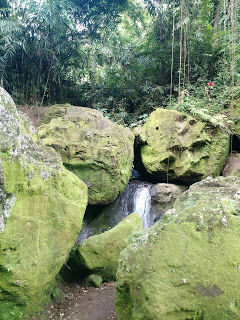 Location- Goa Gajah, Bedulu, Gianyar. Around 4 km from sacred monkey forest.
Entry fee-15000 IDR
Time spent- 2 hours
Parking- Free
Dress code- None. A sarong is compulsory if your bare legs show. Sarong is provided at the entry counter.
5. Pura Taman Saraswati Temple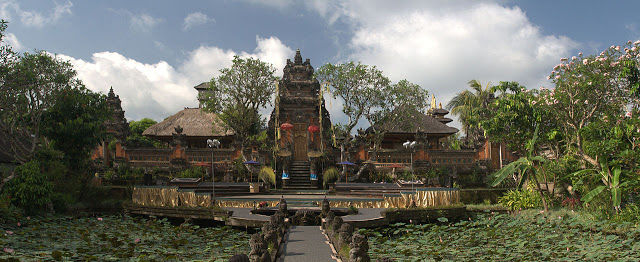 You cannot afford to miss this beautiful water temple in central Ubud. Boasting of lotus filled ponds and classic architecture, Pura Taman Temple is dedicated to the goddess of arts and knowledge, Saraswati. This is great stopover through the town of Ubud. The large premises and amphitheatre gets your attention immediately. From the moment of seeing the temple to entering the site, fills you with a sense of calm and tranquility. At night, the temple is a prevalent location for cultural performances. There are regular dance performances in the evening, except Friday, at cost 80000 IDR. Pura Taman Saraswati Temple is a prominent landmark which you would cross on the way to Monkey Forest in Ubud. The beauty is awe-inspiring.
Location- Jl. Kajeng, Ubud, Kabupaten Gianyar, Bali
Entry-Free
Time spent- 30 minutes
Parking- Free
Dress code- Cover your legs with sarong which is provided at the entrance.
P.S- I had taken the trip to Bali in August 2017