Bali, the island of Gods, one of the 19,000 islands of Indonesia, has been popular for all the right reasons, more so amongst the Indian millenials! This tropical paradise has a lot to offer in terms of pristine beaches, picturesque landscape, hidden waterfalls, culture and food.
Bali is also a hippies' hotspot, with a lot of creativity and yoga blooming in Ubud, the heart of Bali. The island has world class beaches with some of the best surfing spots, its crystal clear water and rich flora and fauna has made it a snorkeling paradise as well. Thus, with growing popularity and being Instafamous for its heavenly locations Bali now vibes with a backpacker like me, and not just Indian honeymooners.
And, I had to be there, experience it all but obviously on a shoestring budget, I kept my budget at low as INR 40k, and did it under INR 35k, like a boss! Here's how you can do it too!
Flights and Commute
It is universally known that if you have to travel, plan well in advance and you'll get flights for dirt cheap prices, both domestic and international. I Got mine for INR 20k, I booked it one month before my trip, you can get it for as low as INR 14k if you plan optimally.
For traveling within Bali, I mostly used GoJek and Grab (INR 20-70 for traveling local), they were the cheapest and most convenient. Even for going back and forth to the airport, I used GoJek which cost me around INR 40. You can also hire a scooter or a bicycle as per your needs. A scooter would cost you around INR 300/day on an average.
Stay
The best thing about Indonesia is that it offers a comprehensive range of everything, meaning from the cheapest to the most luxurious, so it indeed lives up to every kind of traveller's and tourirst's expectations. Since I was traveling solo, I chose to stay at backpackers' hostels everywhere. These were very social and great amenities, and I hung out with the coolest people from around the world. A dorm bed would cost you somewhere between INR 100 - 1200 in Bali, yes you read it right, INR 100!!
Food
Indonesia deserves a separate piece on its food! The most sumptuous, authentic and delicious cuisine ever! And, again it has so much variety, from beef serving warung to Insta-worthy vegan cafes. You get everything to suit your needs and taste! I found several Indian restaurants as well, didn't step foot in one because I was so in love with the local warungs. They serve rice, chicken, pork, curry and sauces for lunch for as low as INR 50.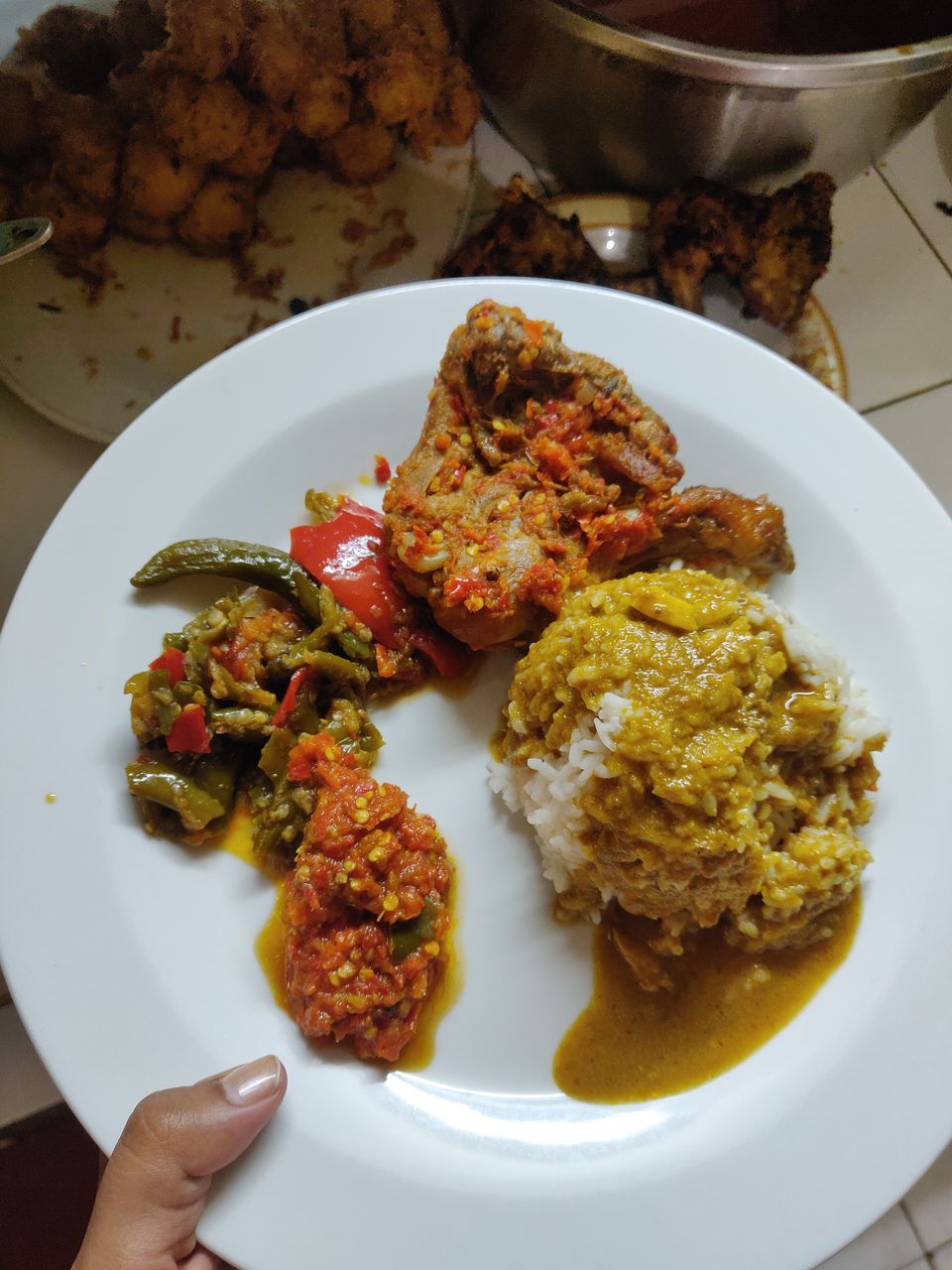 Island Hopping
While visiting Bali, many enjoy island hopping as there are several scenic and untouched islands around. Gili Islands and Nusa Islands are the most famous, whether you're looking for a peaceful, romantic getaway or for the craziest nightlife. Ferry boats cost somewhere between INR 5oo - 1000, depending on which island you choose to visit.
Other Activities
You cannot return fro Bali without experiencing its nightlife, which of course is free at most places, my favorite is La Favela in Seminyak, and beachclubs like Potatohead and La Plancha in Seninyak and Old Man's in Canggu for sundowners! The entry is free, the alcohol is not!
Snorkeling and Scuba diving is the best in Nusa Lembongon, where you can swim with Manta Rays! It can cost you somewhere between INR 1000 - 2000 depending on your time and choice of dive.
At all of these places it is useful to remember that you can bargain a lot, if you have the skill you can get everything for half the price and the vendor will still be making profits! Which bring me to souvenir shopping in Bali, for which Ubud Art Market is the best place. A vibrant and huge market that has on display everything you could possibly imagine and beyond! Buy or just look around, but it is a must visit!
Balinese spa is also a specialty, I took one on my last day to relax my muscles after all the hiking, it cost me INR 500 and was the best one and a half hour I ever spent money on!
While most of the good stuff in life is free, when in Indonesia you might wanna make some donations while visiting waterfalls, temples and even secluded beaches like Diamond Beach in Nusa Penida (for their development and maintenance). This will cost you somewhere between Rs 10-100 per visit.
So this is how I did my nine day trip to Bali in 35k, have you been there already? Tell me in the comments below!
Get travel inspiration from us daily! Save our number and send a Whatsapp message on 9599147110 to begin!
Think we missed out on something? Tell us about it in the comments below. Or write about it here on Tripoto and earn Tripoto Credits!