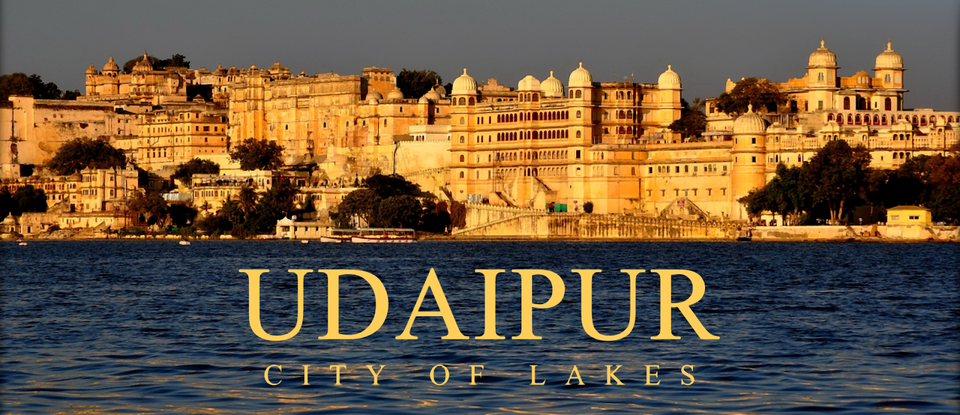 There was upcoming long weekend and was certain to go somewhere then to spend the time at home.
Friday, at 11 am was uncertain of going to Mt. Abu or Udaipur. But then bus tickets were available for Udaipur and hence booked 10 pm bus for it.
Udaipur - a.k.a The Venice of the East or the City of Lakes, is famous for its History, Culture and Scenic Beauty.
Not knowing much about the place, I browse for top 10 places to visit in Udaipur and made the list.
Have finished all the day work at office before time, went home, packed bag pack and rushed towards Bus stand.
Being my first solo trip was bit awkward to me.
The bus was on time and was about to drop me at Udaipur by 8 am.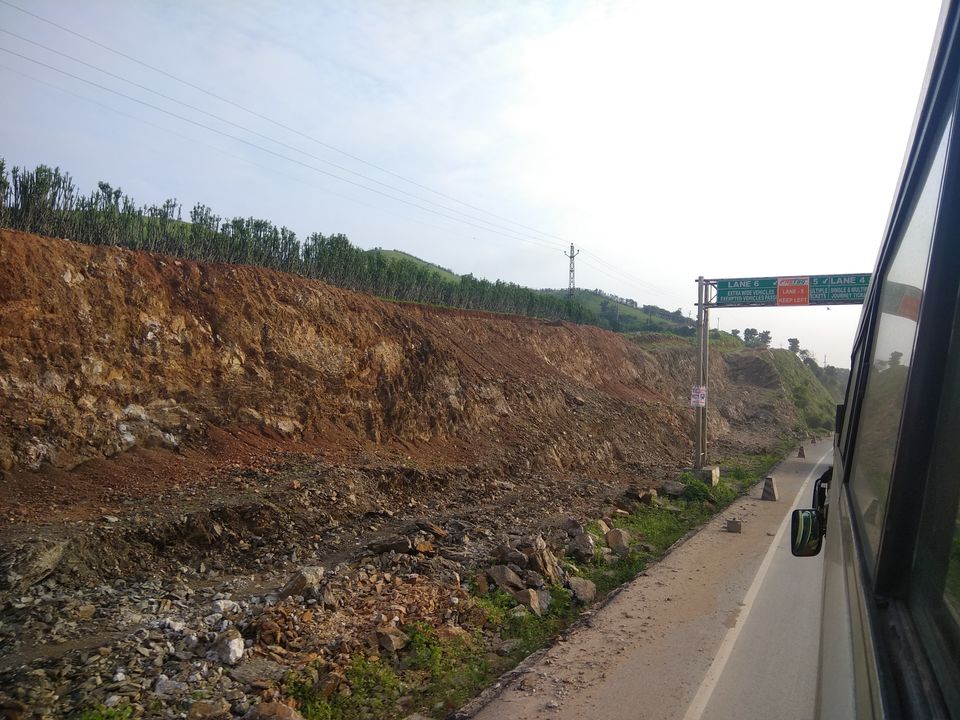 Day 1 : Reached Udiapole by 9 and had Ola auto towards my hostel.
I stayed at Backpackers Panda Hostel near Fateh Sagar Lake. The host was 24 yr young. Very friendly but a chain smoker, show my bunk bed. I freshen up, had some light food and moved towards to see some nearby places.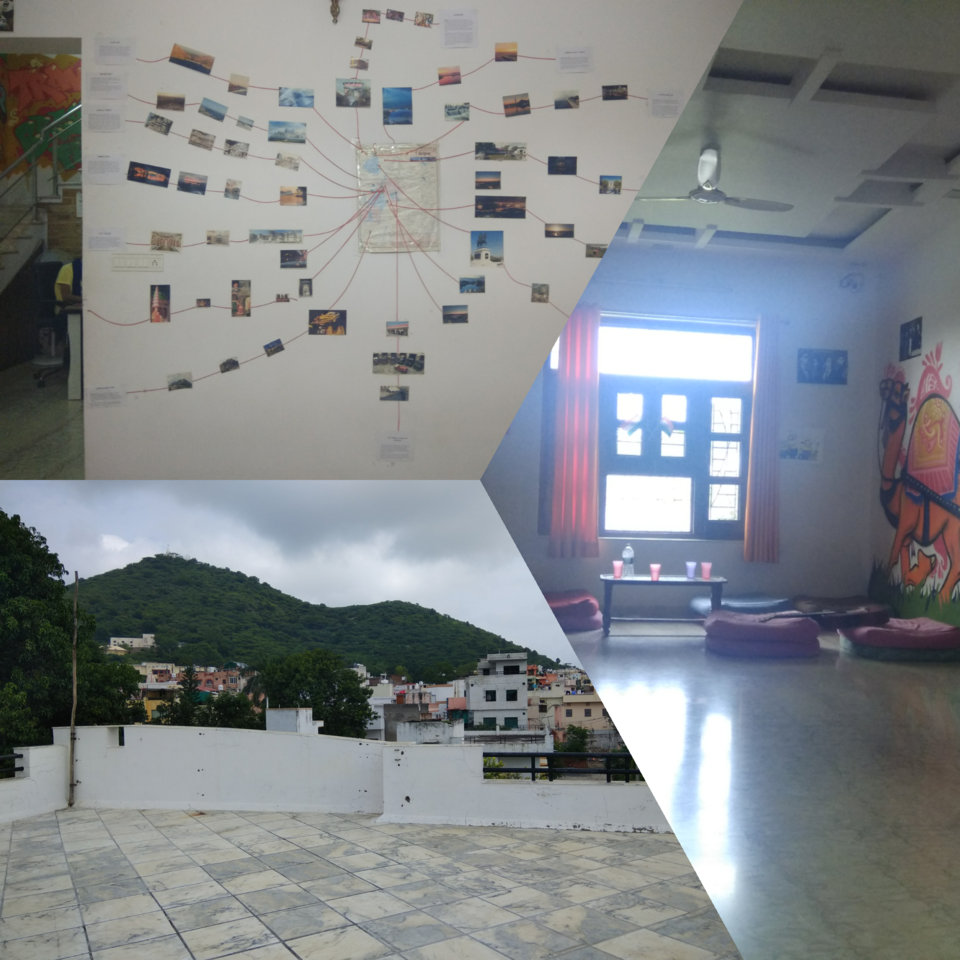 On the way, found a bicycle store. MyByk. It had a amazing feature to access the cycle and lock it or unlock it through mobile app. It was a GPS based cycle and was really cheap.
My first visit was at Saheliyon ki Bari. Built by Rana Sangram Singh in 1710 to 1734. It is one of the most beautiful gardens in India.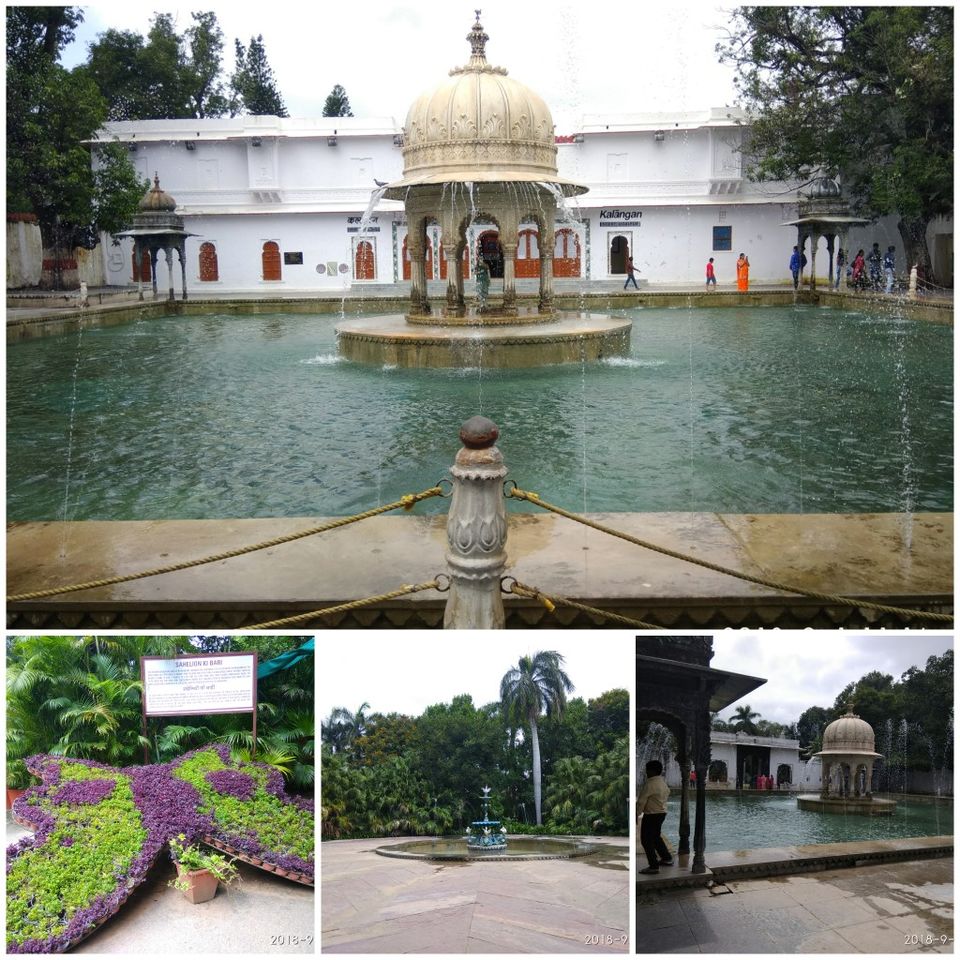 Had an amazing time there and then moved towards Gangaur Ghat.
Gangaur Ghat is a main ghat situated near the waterfront of Lake Pichola. This place is popular destination for celebrating cultural festivals. Gangaur is one of that most impt festivals of Rajasthan.
Just next to it was Bagore Ki Haveli. It was built by Amarchand Badwa, Prime Minister of Mewar from 1751 to 1778. Today, folk dance event is held daily in haveli performed by the local. The show being performed at 7 pm, I moved towards Jagdish Temple near Jagdish Chowk.
Jagdish temple was built by Maharana Jagat Singh in 1651 and its one of the most marvelous architecture and a major monument in Udaipur.Temple was originally called Jagannath Rai but is now called Jagdish Ji.
Fortunately, I got to attend the arti there in the afternoon.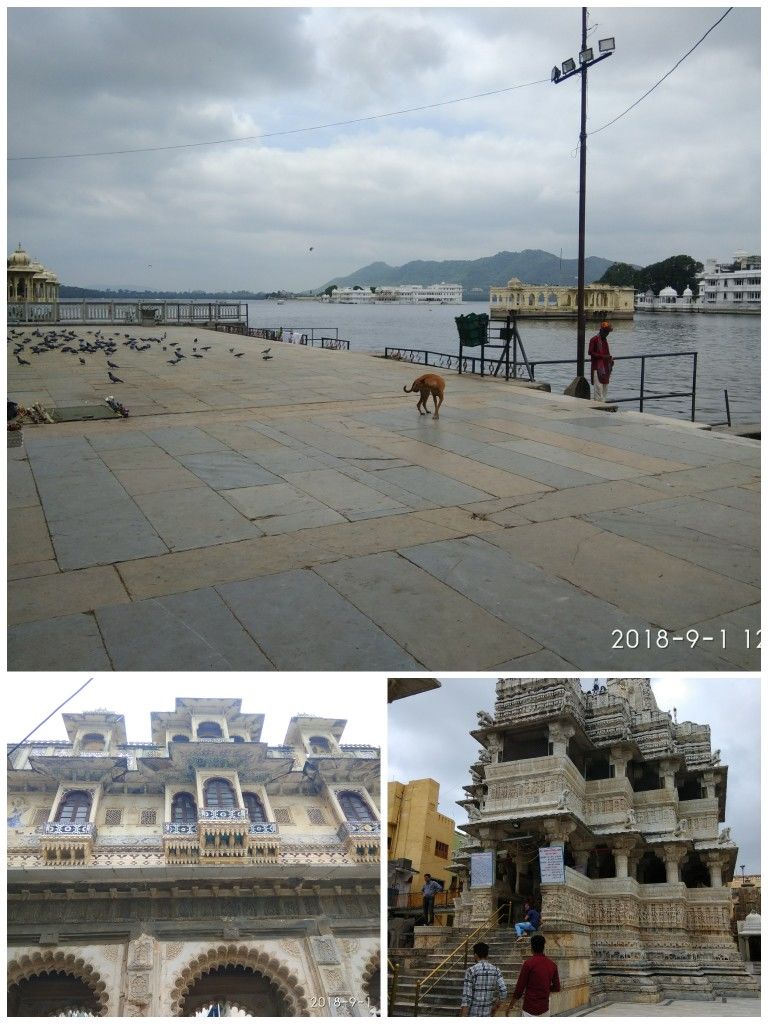 Next location was the heart of the Udaipur, The City Palace.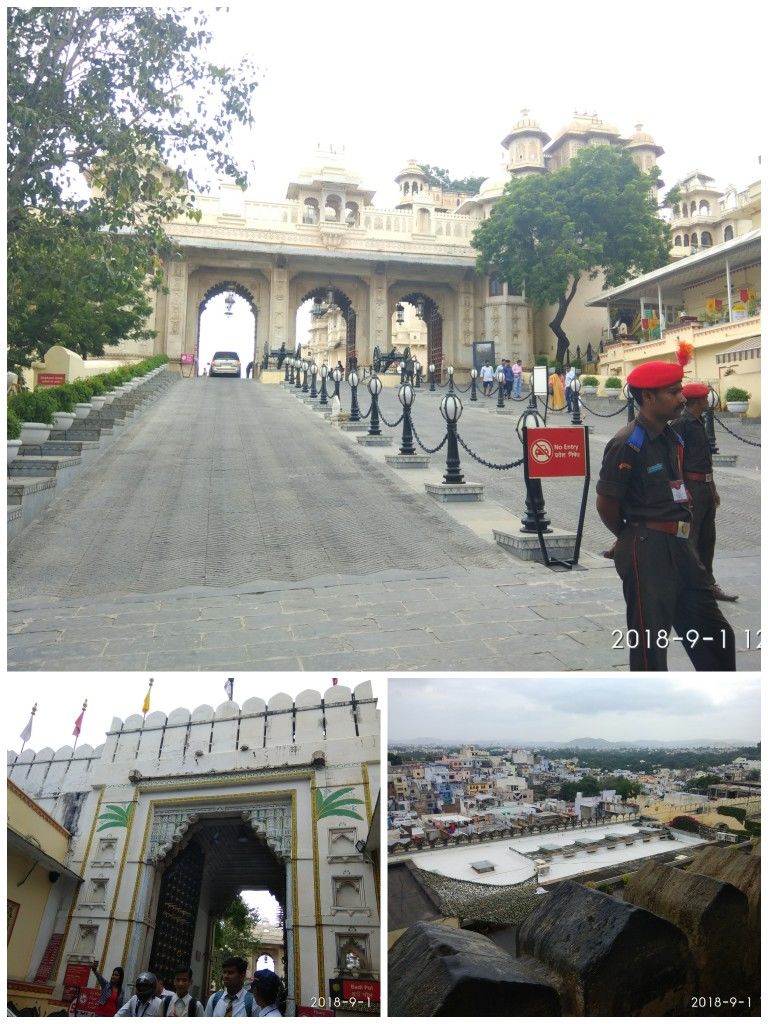 The construction of The City Palace was begun in 1553 by Maharana Udai Singh II, after whom the city was name Udaipur.
Even today, the entire complex is the property of Royal Mewar family with various trusts maintaining it
There are several structures within the complex.
To name the few are: Badi Pol, Amar Vilas, Badi Mahal, Bhim Vilas, Dilkhush Mahal, Fatehprakash Palace, Manak Mahal, Sheesh Mahal, etc.
Every structure is unique in itself with an astonishing architecture.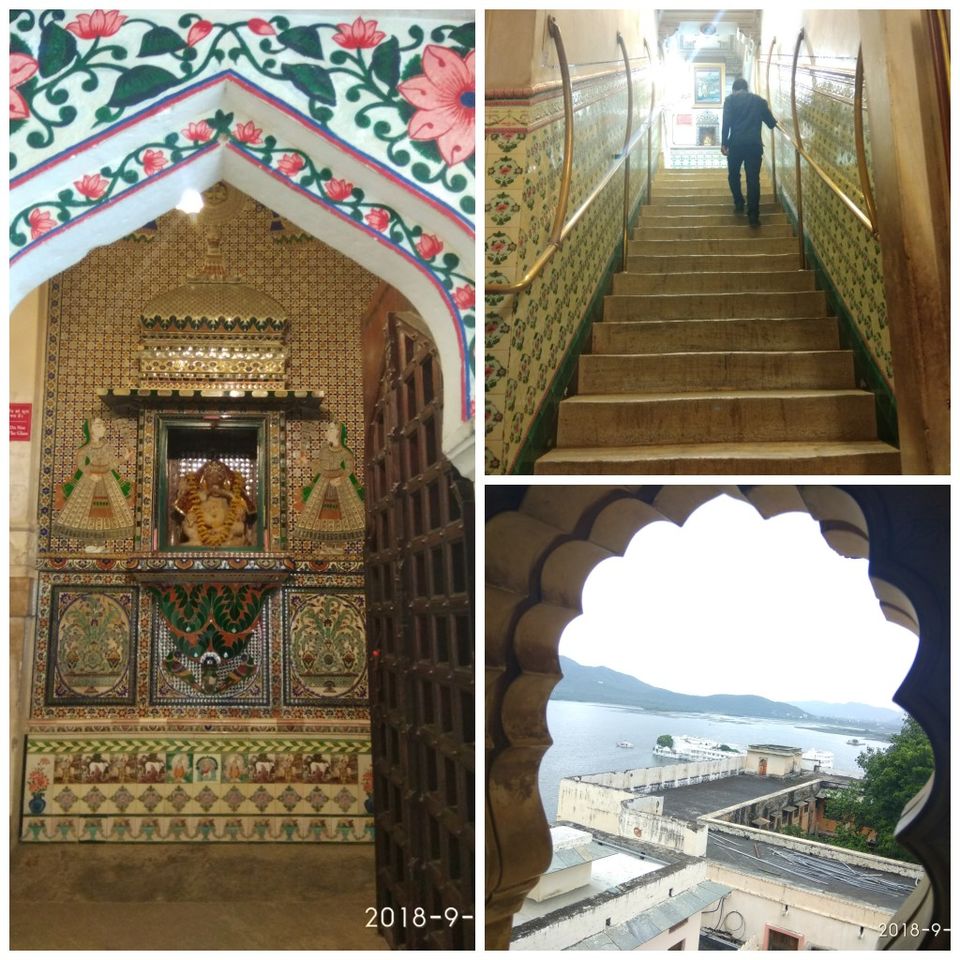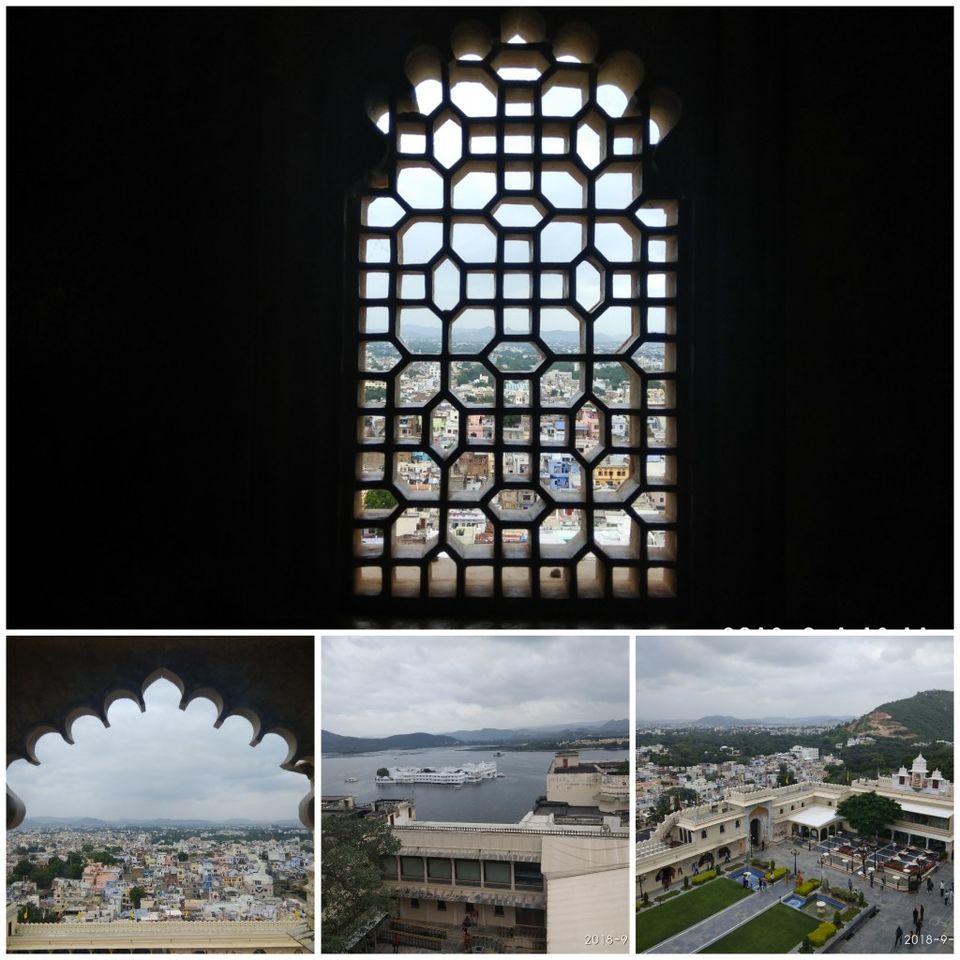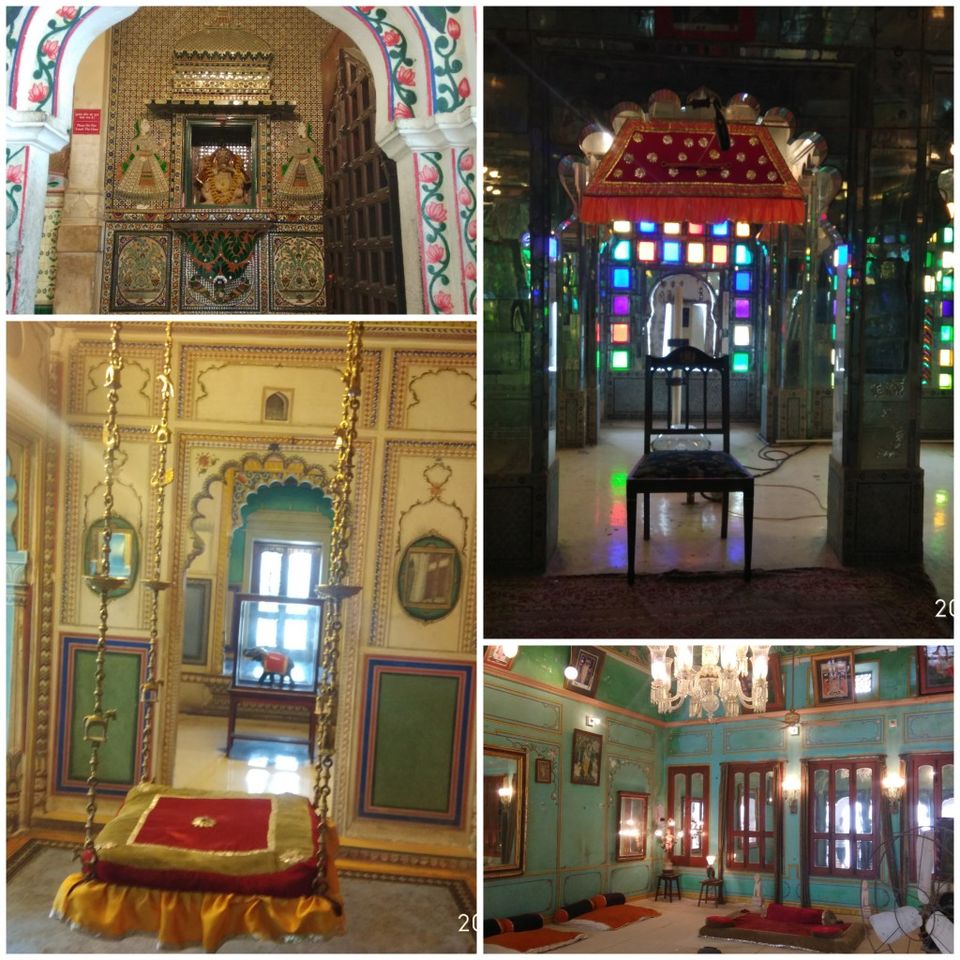 In the middle of the Lake Pichola are two structure, the Lake Palace and Jag Mandir
Lake Palace was built by Maharana Jagat Singh II in 1743 to 1746 as a winter palace. It was initially called Jag Niwas . Now the palace is converted into Hotel and is now maintained by Taj Group. Hence known, Taj Lake Palace.
Jag Mandir , also called Lake Palace Garden , constructed by 3 Maharanas of the Sisodia Rajputs of Mewar, Maharana Amar Singh, Maharana Karan Singh and Maharana Jagat Singh I. The construction begun in 1551 and was completed in 1652. The royal family used the palace as a summer resort and pleasure palace for holding parties.
The Jag Mandir is approached only by Boat from the Bansi Ghat jetty. It has a restaurant inside managed by HRH Group of Hotels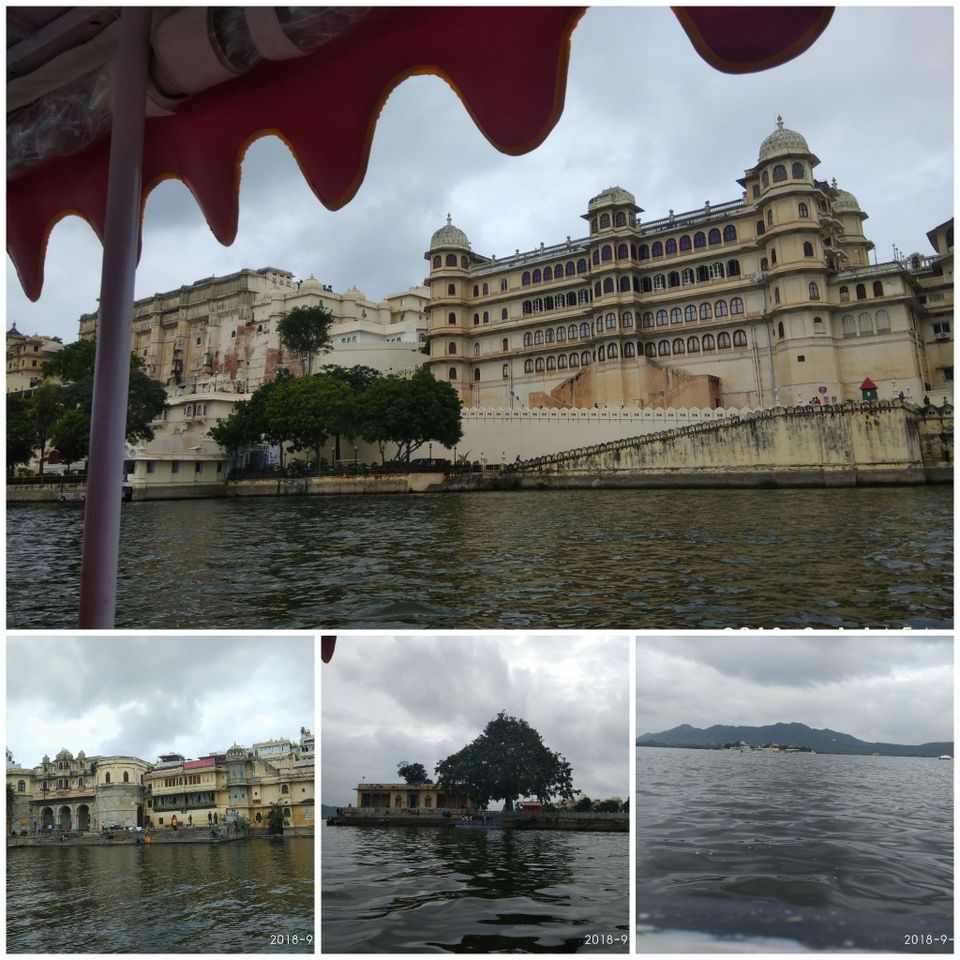 While in the boat ride, I met Sunil from Delhi, who was also travelling solo.
A minute ago, he was unknown to me and a minute after we were ready with our 2 days schedule. This is the beauty of travelling where you meet people and be friends.
Coming back to the Palace, we both headed towards Karni Mata Temple. He took auto and I was behind him on my cycle. The temple is located on the Machla Magra hills and can also be accessible from Ropeway. This place offers a very beautiful view of the whole city and its lakes.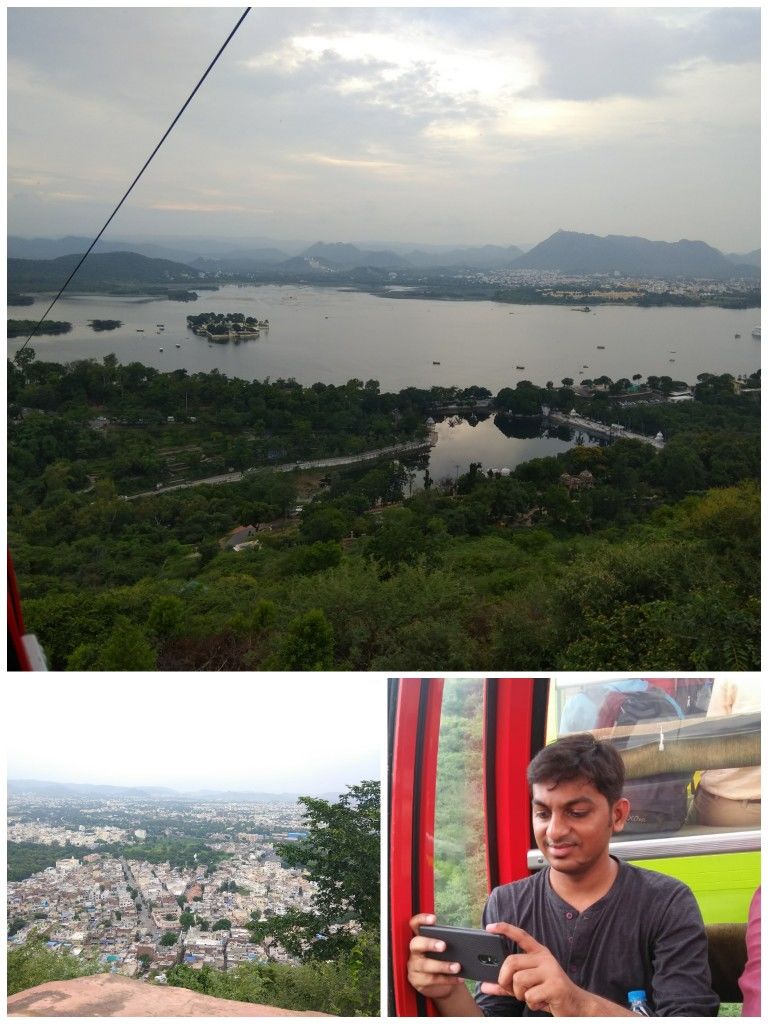 It was already 6 in the evening here and we rushed towards Bagore Ki Haveli for the folk dance show.
Being a weekend, there was huge rush and the tickets was already sold out by 6:15.
We then move towards Fateh Sagar Lake and had our dinner.
Spend few hours there, dropped my bicycle to the store and were back to the hotels.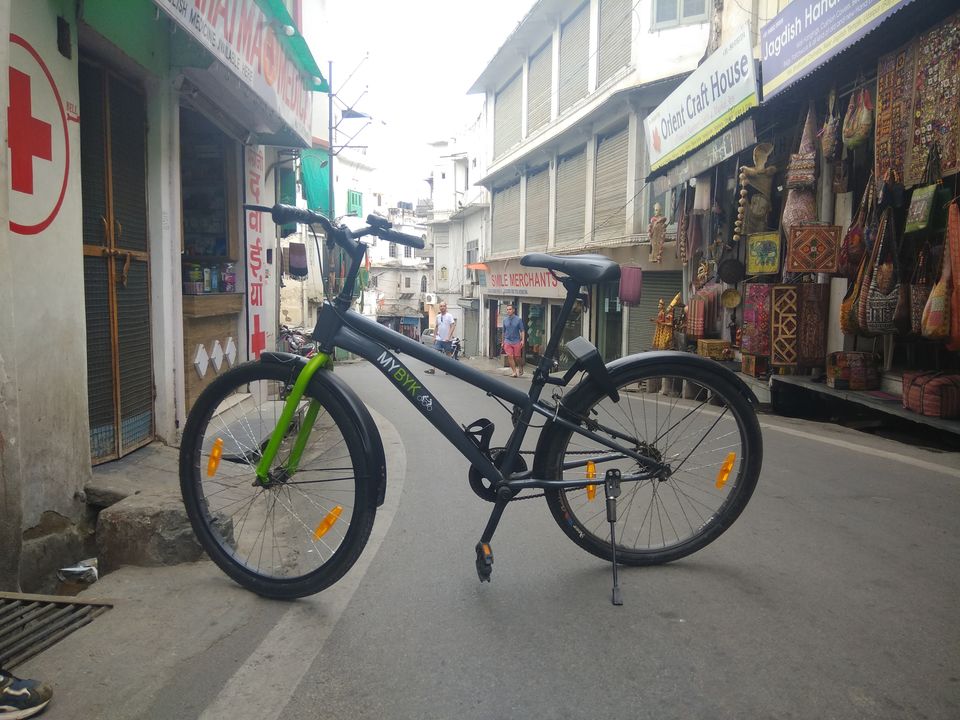 Day 2:
Picked Activa from one of the Travel agency on rental and move towards Haldi Ghati.
40 kms from Udaipur, its a mountain pass in Aravalli Range. It's the site where battle was fought in 1576 between Kingdom of Mewar and Mughal Army . Army forces of Kingdom of Mewar was led by Maharana Pratap and of Mughar Army was led by Akbar's general Mansingh.
Maharana Pratap's horse Chetak played a vital role in this battle and was fatally wounded and was dies. The cenotaph of Chetak still exisits today at Haldighati.
Today there is a museum here on Maharana Prataps life history.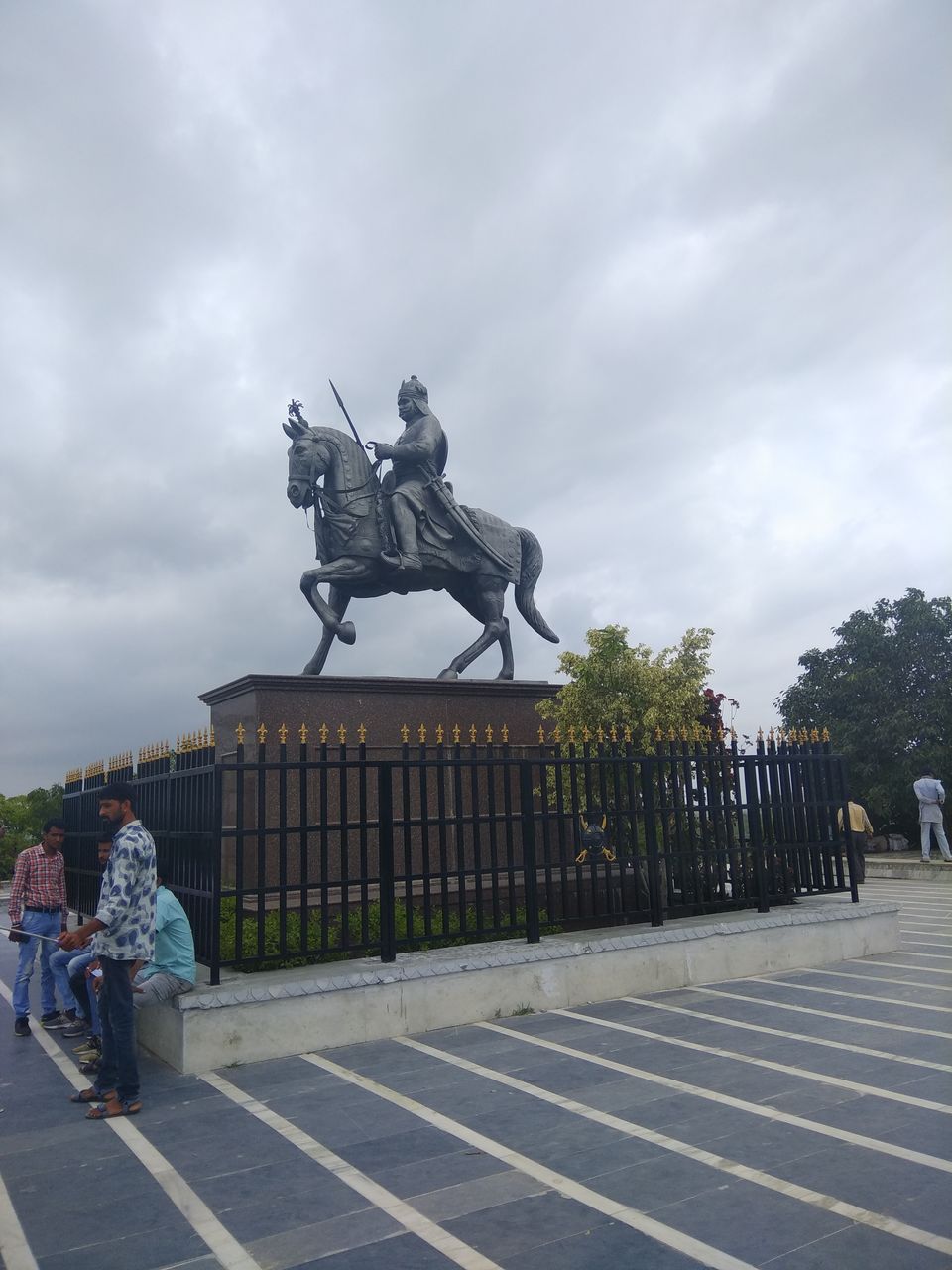 We then move towards Eklingji temple. We missed the visit inside as temple closed by 1:30 pm and we reached there by 2. Eklingji temple was built by ruler Bappa Rawal in 8th Century.
Near to it was a not so known temple, Saas Bahu temple at Nagda.
Nagda was found by Nagaditya, the forth Mewar King and was served as the capital of Mewar.
Saas Bahu Temple is given a national Importance by Archeological Survey of India and is located near Bagela Lake.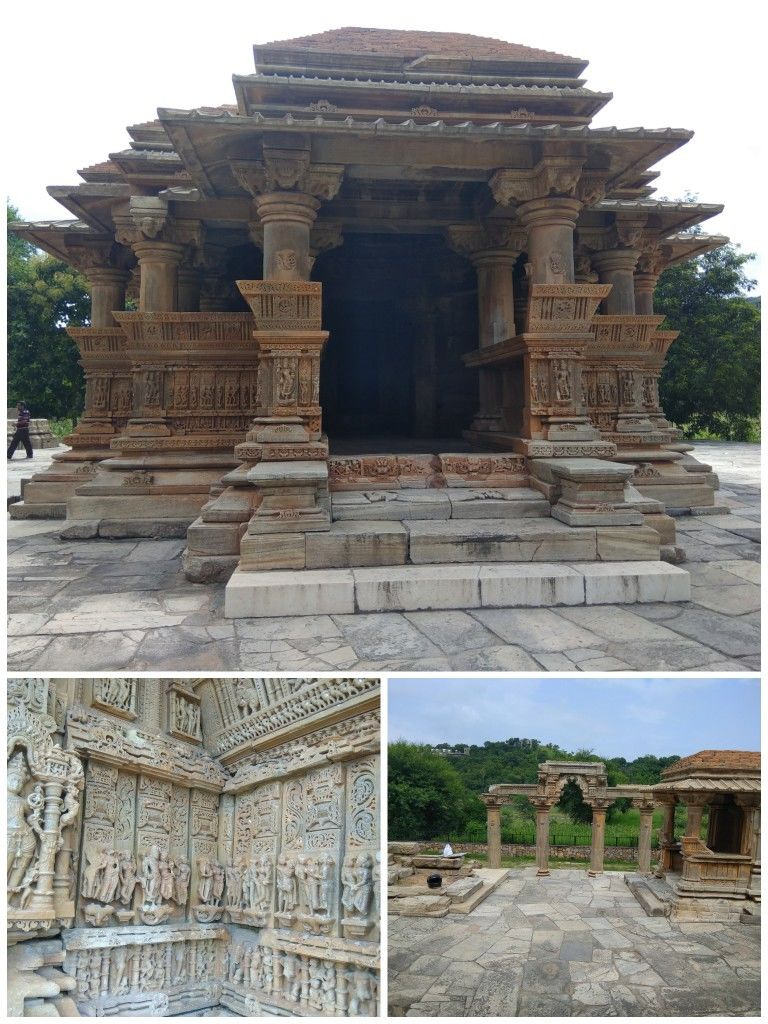 We held back towards Udaipur and planned to visit the Monsoon Palace. Monsoon palace also known as Sajjan Garh Palace was built by Maharana Sajjan Singh in 1884. This palace offers the panaromic view of the city lakes, palaces and surrounding. It was built to watch the monsoon clouds and is completely made up of white marble.
After spending a quality time there, we move towards Ambrai Ghat.
A heritage walk was organized by Sahapedia Group and was hosted by Ms. Poorvi.
She introduced herself and gave a brief history on the Udaipur. The walk was accompanied by other fellow travelers.
We walked towards Gangaur Ghat. On the way she explained about the Gangor festival, the uniqueness of the structural work of the buildings there, importance of the miniature paintings or the creativity of the artists carving beautiful sculptures from the piece of stone.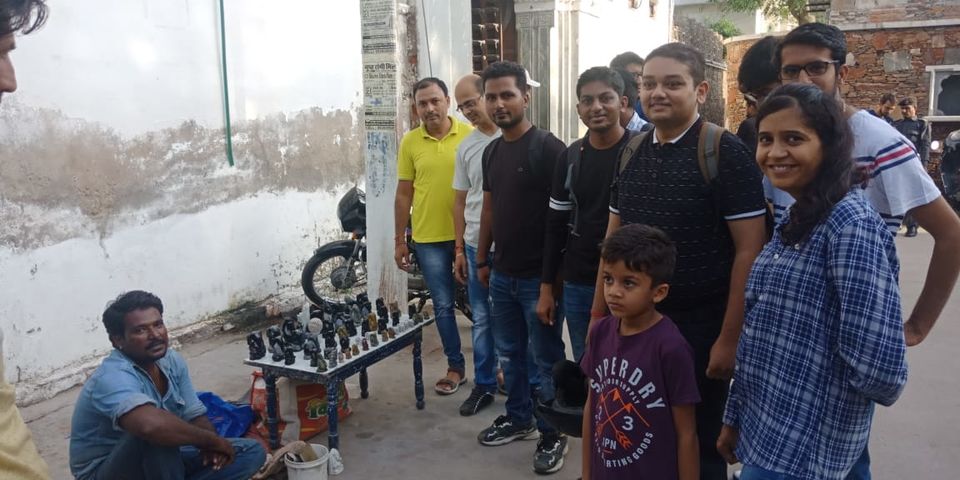 We move towards Bagore ki Haveli. Tickets to the folk dance show were already arranged by her.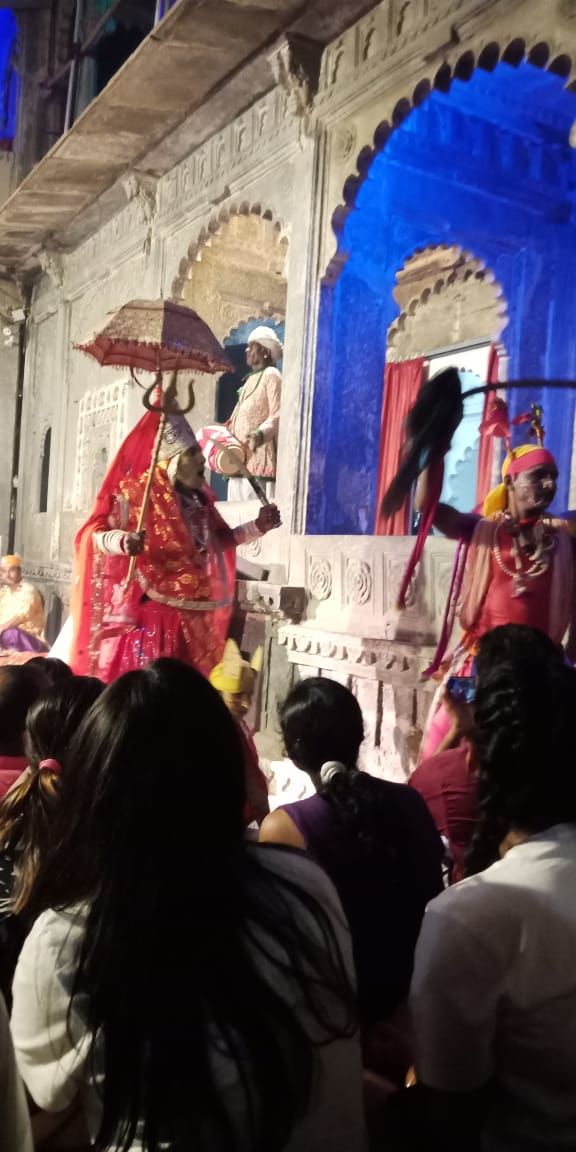 Post show we move towards Jagdish Mandir. The mandir was beautifully decorated because of Janmasthmi next day. Poorvi and Dhruv shared us the history behind the construction of the mandir.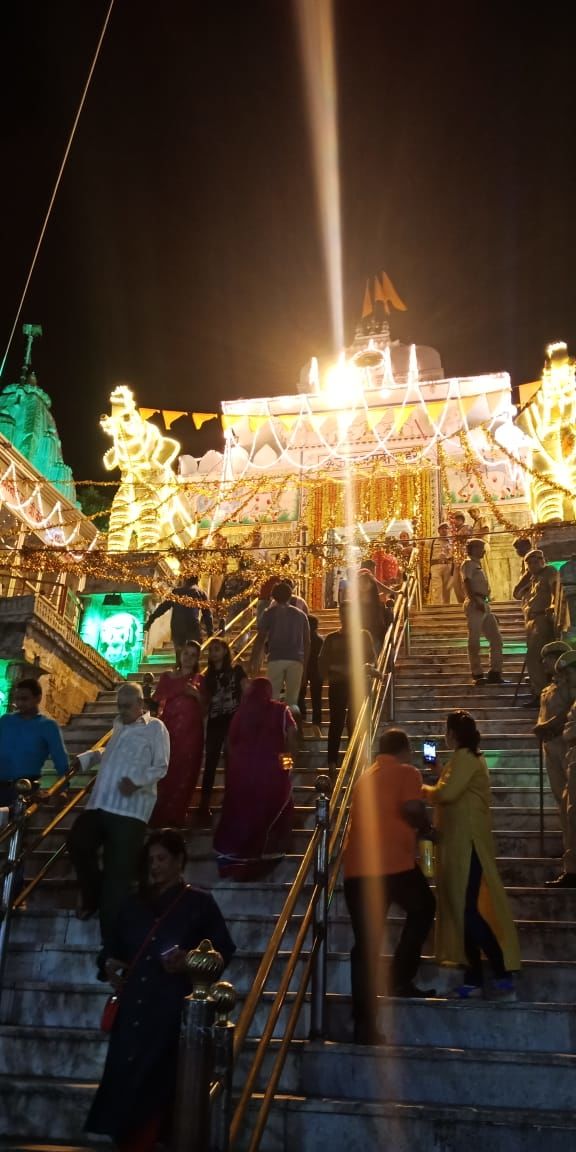 With the final goodbye and a happy memories and talks , the group dissembles here and we held back towards Ambrai Ghat as Activa was parked there.
The group people got so connected to each other in a moment of time like if we were known to each other from years.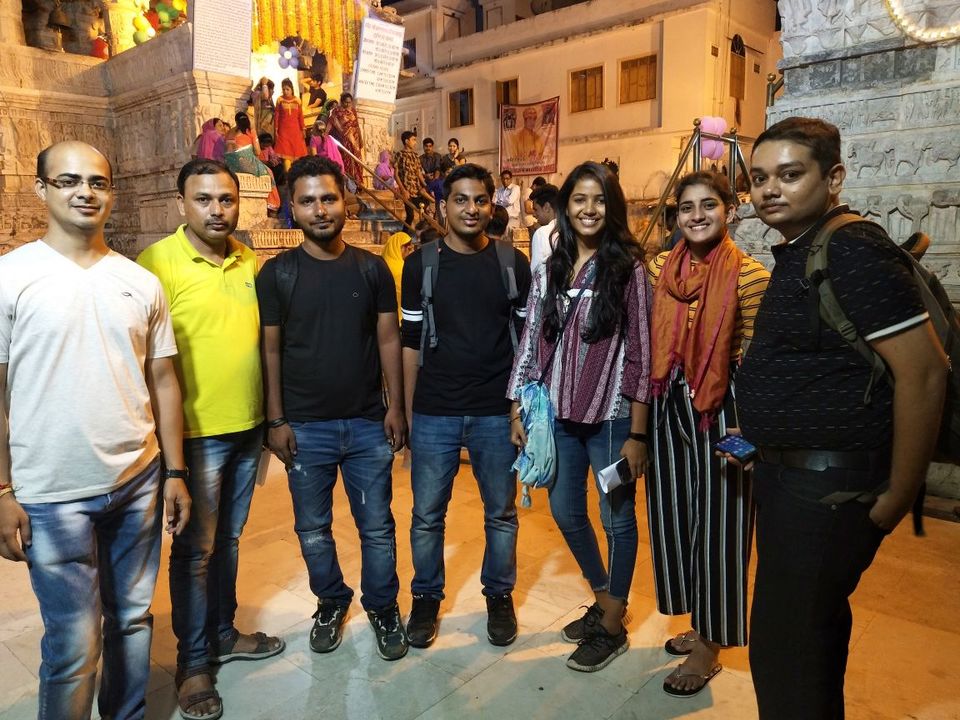 I dropped Sunil to his hostel, handed over the scooter to the owner and move towards my hostel. This night I had a stay at The Hostel Crawls near Ambrai Ghat.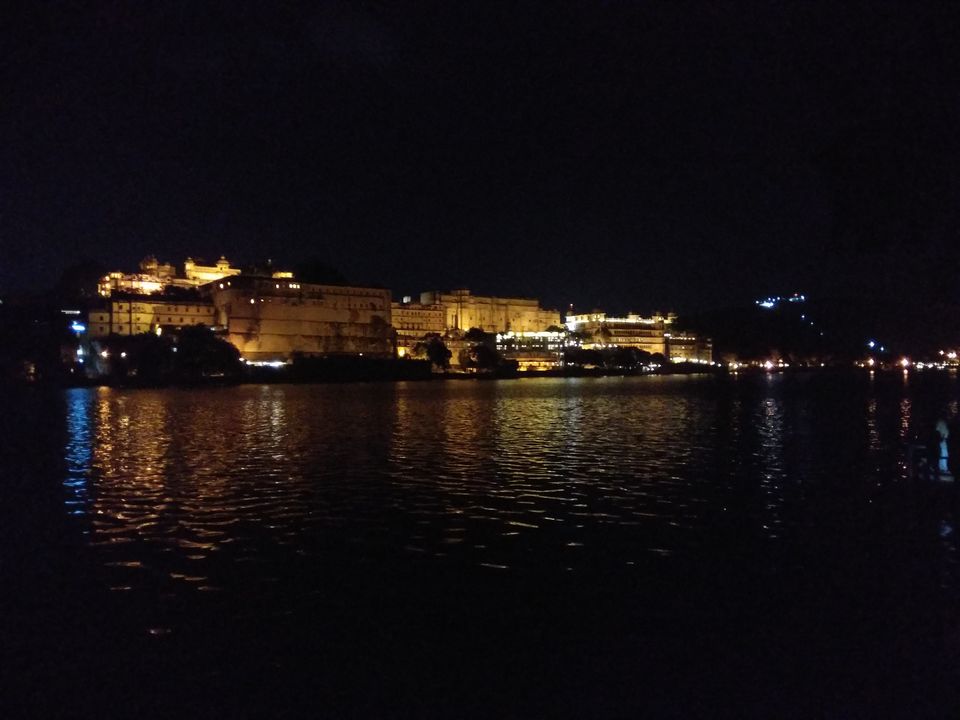 The view of the complete Lake Pichola and City Palace and Lake Palace from the rooftop of the hostel astonished beautiful.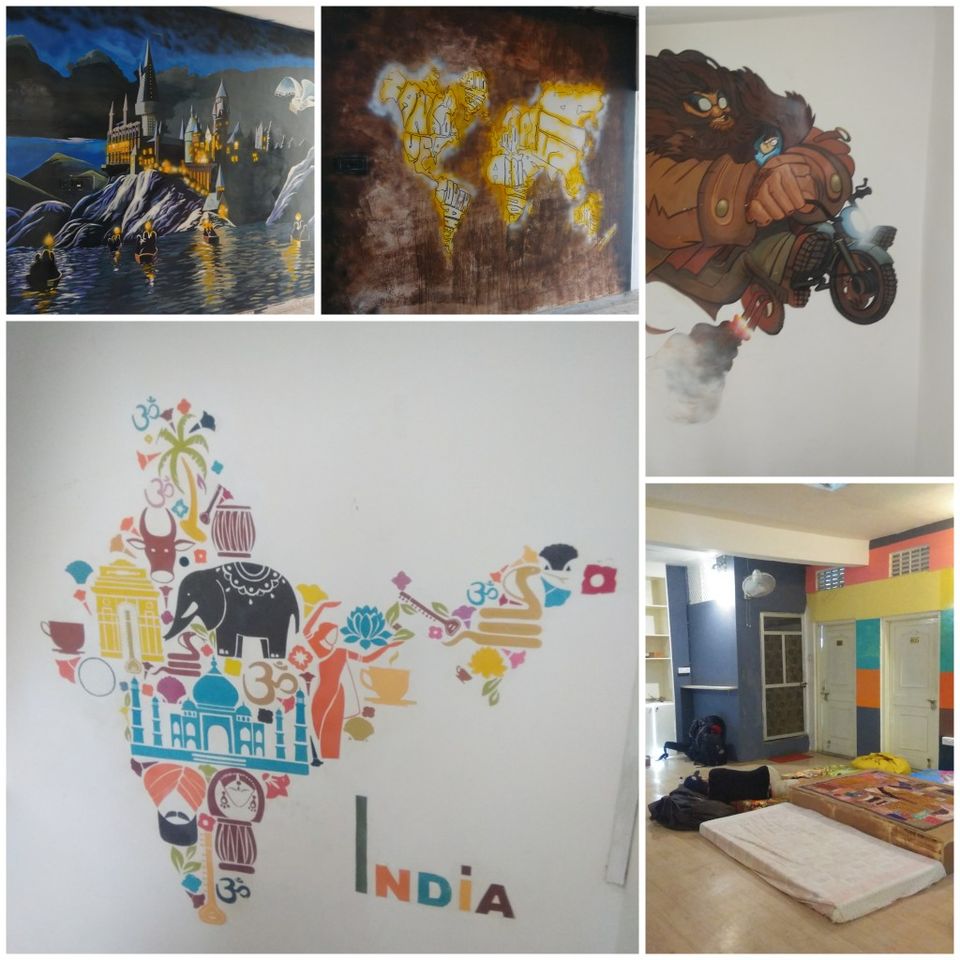 Day 3 :
I booked bus tickets back to Surat and bus was about to leave by 4 pm.
I had a half day with me.
Every street in Udaipur resonates the ethnic values. Udaipur is known for the amazing handicrafts.
I walked down the streets of Udaipur to buy myself something unique.
I walked down towards Jagdish market, Hathi Pol, Bada Bazaar, Chokla Bazar, Dhan Mandi, Delhi Gate Circle.
Being not so good in shopping, I ended up buying nothing.
I went to Gulab Bagh and spend rest of my time in the garden.
Gulab bagh is the largest garden in Udaipur spread across 100 acres.
It was built by Maharana Sajjan Singh in 1881.
The garden also features a library in middle now called Saraswati Bhawan Library and Navlakha Mahal.
Gulab Bagh draws its name due to presence of nearly 70 varieties of roses.
It was nearly 3 pm and I headed towards Bus depot. The bus was arrived on time and that was how I spend Two and a Half day in Udaipur.
Arrived Udaipur alone, but was returning back with the bunch of friends and memories.
Cost of the trip :
1) Surat to Udaipur and back by bus : 1070 Rs
2) Hostel Stay : Backpackers Panda : Rs 210 and The Hostel Crawls : Rs 430
3) Entrance Fees :
The City Palace: Rs 300
Lake Pichola Boat Ride : Rs 450
Ropeway to Karni Mata Mandir : Rs 120
Maharana Pratap Musum entry : Rs 100
Bagore ki Haveli Folk Dance Show : Rs 90
Saheliyon Ki Bari : Rs 10
4) Cycle rental for Day 1 : Rs 30
Activa Rental with Petrol for Day 2 : Rs 350 per head
5) Food for the trip : Approx Rs 1250