Hyatt Delhi Residences is located in Aerocity at a close proximity to the airport. The residences are connected to Andaz Delhi and provide a scintillating experience of a better life. The property is situated right opposite Worldmark, a bustling shopping centre with multiple wine and dine options.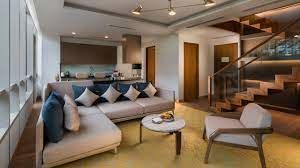 The lobby of Hyatt Delhi Residences is designed with hanging structures from the ceiling which gives it an angelic feel. The expansive room opens up to views of Aerocity and a distant airstrip is visible. The bustling streets of Worldmark and a light fountain are visible from the window. Overall, the feel of the place is not what you expect when you think of Delhi. It is different from Lutyens Delhi with its vibrant red, and yet more different from the streets of Chandni Chowk. Hyatt Delhi Residences is located in one of the best parts of town with modern architecture and design.
The Room
The room at Hyatt Delhi Residences has a feel more like an apartment in Dubai. The living room in our apartment was expansive with modern interiors. I fell in love with the place instantly. The couch was a perfect reading spot with a lamp on the side. The bedroom had a cozy bed with a great view from the window. I enjoyed sleeping with the shades open at night because I could see city lights and distant lights on in other rooms in the area. The experience made me feel like I was in a safe city which had a lot to offer. This is a part of Delhi which I would choose to live in permanently if I ever moved to Delhi.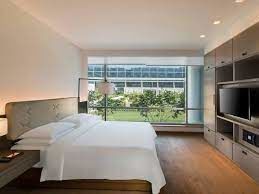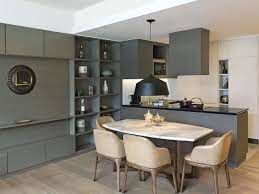 The room was also fully equipped with a kitchen and cooking amenities. However, since Andaz Delhi is interconnected to Hyatt Residences, we decided to have our meals there.
Proximity to Andaz Delhi
Hyatt Delhi Residences' interconnectedness to Andaz Delhi only adds more value for the residents. Juniper Bar at Andaz is an experience worth devouring. With its in-house gin infusions which are prepared after taking inspiration from flavours across the world, Juniper Bar has much to offer for locals and travellers alike. Juniper Bar has a modern purple architecture with floating lights from the ceiling. The ceiling lights are inspired by London ceilings in modern restructured parts of Oxford street. We tried around 10 different gin infusions at Juniper Bar. There were many different flavours inspired from across the world. I spent around 3 hours at the bar trying out different gin infusions. I also had some delicious tandoori broccoli at the bar along with my drinks.
There was a cricket match going on when we were at the bar. We watched the match and enjoyed a sporty evening with drinks. I think bars are really the best places to enjoy watching sports because everyone at the bar is watching the match intently, discussing it and cheering for their favourite teams.
Though, the rooms at Hyatt Delhi Residences are fully equipped with a microwave, oven, stove, and all other equipment required to cook, we decided to not cook in the room and try food at Andaz. The dinner was at their restaurant called AnnaMaya which had a buffet meal offering a mix of Asian, Italian and Indian food. The interiors at the restaurant were modern and the service was impeccable. I enjoyed having their Aglio Olio Pasta and Oriental noodles. They also had an expansive dinner counter with cakes and ice creams at the end. I picked from the ice creams and enjoyed them on my way back to the room.
Enjoy a late night drive around Aerocity
Aerocity is brightly lit during the evenings with lights and bustle everywhere. We went out for a drive in the evening and enjoyed the views of the city. It is also a safe area with much to explore. Worldmark being right near the hotel, was a great place to experience in the evening with happening nightlife scenes and food. We drove around in our car and got back to the room.
The space feels like home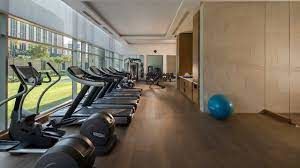 In the evening, after coming back from our drive, we connected our phone to the television and enjoyed some light soothing music. We then retired to the room. The room had a perfect ambience where everyone could chill and relax. It was a perfect room for people there for business or over an extended duration with their family. Hyatt Delhi Residences has everything you need to feel at home. It's interconnectedness with Andaz Delhi only makes it better and adds a wide arena of experiences which people staying at Hyatt Delhi Residences can explore.