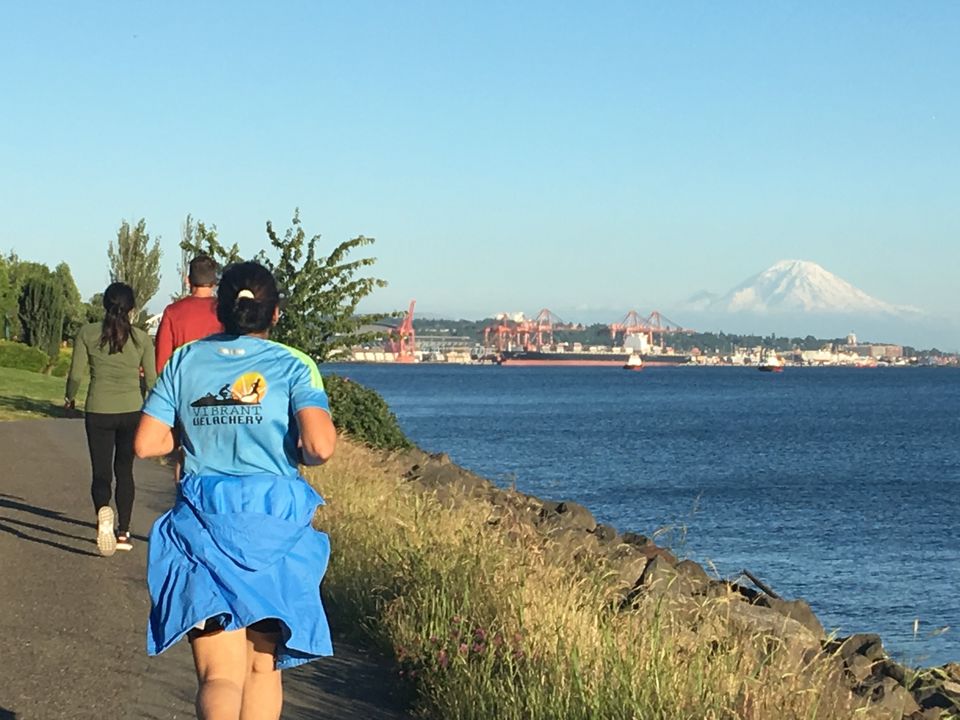 Seattle is known for its gloomy weather but when it's summer, it's time to make the most of those two months! There's something about summer in Seattle when every sunset seems different, every day is a new adventure and experiencing it is like a perfection of one's thoughts. I am not a huge fan of the heat but it has some power of making you suffer at the same time making you fall in love with it. Summer is the time to explore the places you have been waiting for, the things you have been wanting to do and most importantly a time to finally get your fancy shades on that have been fogging in the gloom!! Its been one incredible year of exploring the city and scouting for fun activities to do in summer. Here is my list of 30 fun things to do in the summer in Seattle.
1.The number of festivals
Seattle has a variety of festivals through out the year. However, the most amazing one's are in summer and thats what we truly wait for. The lantern festival in Everett, kite festival in Long beach, Sea-Air Fair near Lake Washington and much more. visitseattle.org has a comprehensive list of the festivals year round. However, you can check the link here for summer specific festivals.
2. Seattle Pride Parade and After Party in Queen Anne
You will see a number of Organizations participating and giving away freebees in this colorful pride parade. The best part about the parade is the after party near Space Needle. We came to Queen Anne for lunch after the parade and on our way back stumbled upon this kickass after party offering food, drinks, dance floor, souvenir stalls and music.
3. Go Hiking
Summer is definitely a good time to explore those inaccessible trails. Snow Lake trail is my favorite. Usually during winter the trail is covered with snow making it difficult to hike and the lake is frozen. During summer you can truly enjoy the calmness of the lake in the wilderness. There are many such hikes - Mt Rainier, Northern Cascades and The Enchantments being some of them!
4. Swim in the Lakes
Lake Washington, Lake Sammamish, Green lake, Lake Diablo or Lake Wenatchee there are plenty of options where you could take your floats, tubes, kayaks and savor the perfect balance of heat and water.
5. Barbecue at the Beach Parks
If you don't feel like taking a dip in the water, the number of beach parks that the state has is perfect for a picnic, barbecue party, reading a book or relaxing in your hammocks. Golden Garden Park, Denny blaine Park (its a full nude beach), Madison Park beach, Lincoln Park are some of my favorites!
6. Rent a cycle or a kayak or skates or learn scuba diving near Alki Beach
Go cycling, skating, kayaking on Alki Beach and get a beautiful view of the skyline and Puget Sound. There are plenty of bars and restaurants right in front of the beach to quench your thirst and hunger. You can read more about the things to do on Alki Beach here. You can also learn scuba diving in Seattle Dive Tours located near SLU. I took a Padi course for $400 and we had our open water sessions near Alki Beach. It is a great school to get your Padi certificate and to get a glimpse of the under water world of Puget sound!
7. Watch a movie in dine in theaters
Dine-in theaters in Seattle are very classy affair and perfect for a date. Cinemark Reserve, IPic, Big picture, Cinerama are some amazing dine in theaters to have a good time. We saw Mission Impossible: Fallout in Cinemark Reserve, they have good Tapas options and drinks. Truffletini with some patatas bravas and shishito pepper fry made the whole experience worthwhile.
8. Take a cruise to Alaska from Pier66
I stay on elliott avenue and I know its the beginning of summer when I see a cruise right outside of my apartment near Pier 66. Norwegian bliss cruises to Alaska, a 7 day trip! We have contemplated walking out of our apartment and jumping on the cruise a couple of times :p
9. Seattle Seafair Weekend
The Seafair Weekend is the Pacific Northwest tradition where you get to see the Boeing Air show by Blue Angels, Hydroplane racing, a variety of food trucks and other activities. You can find more details on it here. We enjoyed the show in bits and parts from Madison beach park where we could see the Blue angels make donuts in the sky!
10. Tillicum village, Blake island
Tillicum Village on Blake Island is a perfect way to experience the Northwest Native American Culture. Argosy cruises take you for $91.50 per person which includes buffet, storytelling show and you can explore the island later. You can find more information and buy your tickets here.
11. Rooftop Party
What I love the most about Seattle among many other things is the apartment rooftops, which feels like a privilege. On a day when I don't feel like doing anything, I take some food, drinks and my speakers to the rooftop that has an expansive view of Elliott Bay. Reading a book up here is like a therapy!
12. Crystal Peak Point near Mt Rainier & Reflection lake
Take the Gandola ride up to Crystal Peak Point and have an amazing brunch or lunch with spectacular views of Mt Rainier right in front of you. Summer is also the best time to view the reflection lake near the Mt Rainier.
13. Enjoy brunch or lunch or dinner in the patio
With the most amazing options for brunch places in Seattle going outdoors and sipping mimosa's in the patio is my motivation to get out of the house on weekends. You can check out my blog for some amazing brunch places in the city. Seattle also has a couple of patio bars and restaurants to choose from.
14. Enjoy a variety of artists in Pikes Market
It is the peak time when various artists come out on the streets and perform in pikes market. Music, dance, art and more. Get yourself a piroshky or eclairs from La Panier or yoghurt and enjoy the show!
15. SLU Block Party
This is a huge festival showcasing local community booths and food trucks. It's perfect to meet people from the city, get to know more about local businesses and also venture into the variety of food from different food trucks. You can find more details about the party here.
16. Watch a movie in Rodeo Drive-in Theater
I love drive-in theaters in terms of privacy, with a good location and movie it can't get any better. Rodeo drive-in theater in Bremerton is a great option. There are a couple of outdoor movie parks as well if you don't own a car.
17. Enjoy the Farmers Market
Enjoy a variety of farmers market in the state. Issaquah, West Seattle, Ballard, Pikes Farmers market and many more. Issaquah Farmers Market has a few options of stalls serving decent Indian food and is open only on Saturdays from 9:00AM to 2:00 PM. Don't forget to try a Zesty lime popsicle from Seattle pop stall here.`
18. Picnic in the beautiful parks in Seattle.
Seattle is blessed with a number of parks open to public and easily accessible via public mode of transportation or at walking distance. You can check my blog here to get an idea on which parks to choose from. Sculpture park and Gas Works park are my personal favorite. Taking a stroll in Scultpure park after work is my routine. You can get some chicken masala burger from Kabob and Burger Hut and sit in Gasworks park while watching the sunset.
19. Ride the monorail through the Museum of Pop Culture
Seattle Center Monorail is the commercial monorail system in Seattle and runs between downtown Seattle and Seattle Center which houses Space Needle, Key Arena, Pikes Market, Chihuly Glass Garden and MoPOP. It leaves from two stations Westlake Center on 5th and Pine street and Seattle Center station next to Space Needle. It's a fun experience riding the monorail as it enters the Museum of Pop culture. Museum itself is very educational and engaging.
20. Waterfall Garden Park with Salumi sandwich
I remember having a bad day at work, my friend took me to Salumi Sandwich for lunch in the International District serving delectable sandwiches and are open from Monday-Saturday from 11:0PM-3:00 PM. We took our delicious sandwiches and walked to the Waterfall Park Garden near UPS. It definitely cheered me up!
21. Go whale watching
San Juan County is famous for whale watching. You can go to San Juan islands or Orcas Island. There are a number of tours that take you whale watching. We did the kayak tour near Lime Kiln Lighthouse, however we couldn't spot a whale ???? You could get lucky!
22. Explore the Lavender Farms
Sequim hosts a couple of charming Lavender Farms. You could drive here or take a ferry and spend the whole day in the farm, grab some food or coffee in Port Angeles. You could choose from Purple Haze Lavender Farm or Jardin Du Soleil. In San Juan Island, Pelindaba Lavender Farm is my favorite. They have a small store inside where they sell everything lavender. Do try their Lavender ice-cream, its unique!
23. Tulip Festival in Skagit
Skagit Tulip festival is the most famous and much awaited festival in Washington state. Tulips are in full bloom from April. After you are done soaking every bit of the fun and taking dozens of pictures here, have a relaxing coffee or drinks in La Conner waterfront close-by. You can read more about it on my blog here.
24. Nibble on some delightful Dessert
Cool down to the amazing dessert places in Seattle. Blank Space, Shugs Soda Fountain, Molly Moon's, Full tilt ice cream, Hot cakes, Salt and Straw are some of my favorites. We love to grab some ice cream from Molly Moon's and walk to the Kerry Park to view the skyline at night!
25. Take the duck tour
Take the amazing duck tour from Westlake center or Seattle center. It is a 90 minute tour and takes you through downtown, SLU and gives good information on the city, its history and much more.
26. Enjoy the 4th of July fireworks from the most amazing locations
Enjoy the 4th of july fireworks at SLU. You get an uninterrupted view from Gas works park. However, you need to get here early as it gets crowded and packed. Alternatively, you could see them from Hamilton viewpoint park, Amazon buildings (if you work here ;)) and Alki Beach.
27. Take a scenic drive to Palouse to view the beautiful rolling plains.
June is the perfect time to view the beauty rolling plains of Palouse and Palouse falls which is one of the seven wonders of Washington state. It is about 4 hours drive away from Seattle and totally worth the ride! I absolutely love this place and can't get enough of it! You can read more about it on my blog here.
28. Enjoy gorgeous sunset everyday!
Like I said, every sunset feels different at the beginning of the summer in Seattle. You won't get tired of the breathtaking colors. You can read more on the places to see sunset from here.
Sunset from Pier66
29. Go star Gazing at some exquisite Locations
Snoqualmie falls by far is my favorite spot for star gazing and is also one of my favorite fun thing to do in the summer in Seattle as you can stay outdoor for as long as you want without getting cold or wet. However there are plenty of other locations where you can sit/sleep under the sky and view the beautiful twinkling stars! You can find more information on the spots here.
30. Snoqualmie Falls
You cannot forget Snoqualmie falls and this should be one of the first things to do if in the city. The falls are bat their peak in the the beginning of the summer and looks stunning. You can grab some lunch/dinner at Salish lodge overlooking the falls or drive a little further to Aahar which is an Indian restaurant serving authentic Indian Food.
Hope you guys enjoy these activities, let me know what do you think?