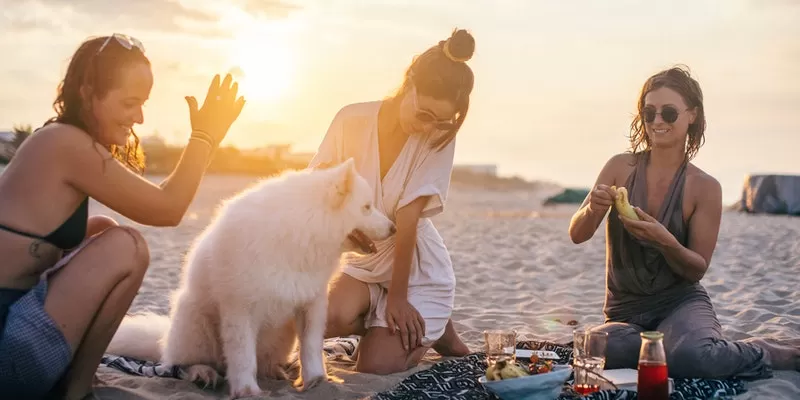 Going on vacation is usually exciting and fun for the whole family. Most people wait all year for vacation time to arrive. However, when you have pets that are just like your own children, vacation time can sometimes get a little stressful. Many places aren't exactly pet-friendly when it comes to vacation options. While it may be somewhat difficult to plan a pet-friendly vacation, it's possible. Here are seven pet-friendly vacation ideas that are sure to set your summer up for success.
Go Camping
This is perhaps the easiest pet-friendly vacation as most campgrounds or nature areas allow pets to visit. This is a great option for the family who enjoys the outdoors and would have a good time spending time by the lake or the river. Many pets also enjoy this style of vacation, as it allows them to get out, get wet and have fun. Whether traveling far or staying near home, camping is a great pet-friendly vacation option for a variety of people and pets.
Plan a Road Trip
Planning a road trip is the easier vacation option when you have pets to bring along. This is especially true if you have big dogs or are hard to travel with pets. Not only does planning a road trip take the stress out of planning transportation with a pet, but it allows for greater customization of the trip as well.
A road trip allows for multiple stops and ease of travel. Not only that, but you'll be able to plan a multi-destination trip if you'd like to, which sort of makes it like taking multiple vacations in one.
Rent a Cabin
Renting a cabin as part of your trip's destination is a great way to make your vacation pet-friendly. There are many gorgeous cabins to rent throughout the country. Whether you're looking at one of these excellent Gatlinburg cabins, or a cabin somewhere else, you're sure to find something luxurious and pet-friendly.
Renting a cabin makes enjoying your vacation with your pet easier, as you'll have your own space, and no neighbors to complain about if sometimes things get a little noisy. Not only that, but most cabins are just as relaxing and luxurious as hotels are, without excessive rules or space constraints.
Rent an RV
Renting an RV is a great pet-friendly vacation idea. This is because it allows you and your pets to be in your own space, without any anti-pet regulations. This also allows you to travel easily with your pet and allows for a lot of different destination options, whether you choose one or multiple destinations.
Many RV rentals will allow pets, as long as you agree to a cleaning fee in most cases. This fee is usually fair and isn't always instated, to begin with. An RV allows for a more comfortable trip, without all of the transportation stress.
Choose a Pet-friendly Hotel or Airbnb
While it's not always easy to find, there are plenty of pet-friendly hotels in the world. If you're looking to vacation in a certain city that is otherwise dog-friendly, such as Seattle or Grand Junction, then finding a hotel that is also pet-friendly may be the option for you.
There are plenty of hotels that will allow pets, while some may require a fee, many also don't. Consider where you'd like to visit, and then look in the city and nearby.
Consider a Staycation
While not as exciting as traveling somewhere new, a staycation can also offer a lot of fun without the hassle of traveling with your pet. Consider if there's anything near your city that you haven't experienced yet, and see if you can plan on doing it with your pet. Ignore all normal duties at home, and treat your own space like you would treat a vacation space. Treat yourself and your pet to different food, and go see different places near your home. While not a jet-setting vacation, this option is still a lot of fun.
Stay with Friends and Family
If you're lucky enough, you may have friends or family who would be willing to let you and your pet stay with them during your vacation in their city. While this is best if you have people in new, exciting places, this method could work just about anywhere. Ask your friends and family in cities you'd like to visit if they'd have you and your fur-baby for a few days. This avoids the struggle of finding suitable places to stay and makes the trip even nicer with a reunion and visit.
There are many ways to have a pet-friendly vacation. From renting a nice cabin to camping or finding a pet-friendly hotel, there's probably an option for every type of person, and every type of pet too. Consider what you and your pet like most, and go from there. Most importantly, enjoy yourself.