Not one but there are so many places which for sure give us a glimpse of what heaven would be like. The amazing geographical features and the just perfect human touch makes Greece no less than a Paradise.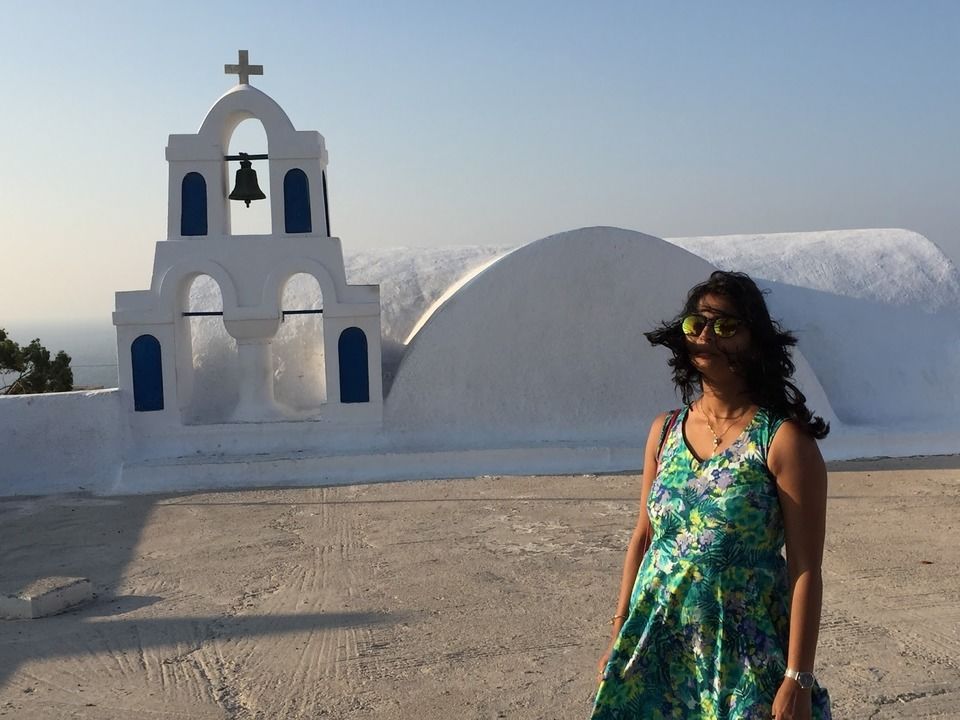 It becomes difficult to make out where the blue sea meets the sky. Both the blues mingle perfectly and give an illusion of the sky kissing the deep blue beneath. Yes, such is the captivating view one witnesses in Greece and particularly in Santorini.
Ours was a short trip to Greece in the summers of 2016 which included the islands of Mykonos, Santorini and Athens in the itinerary.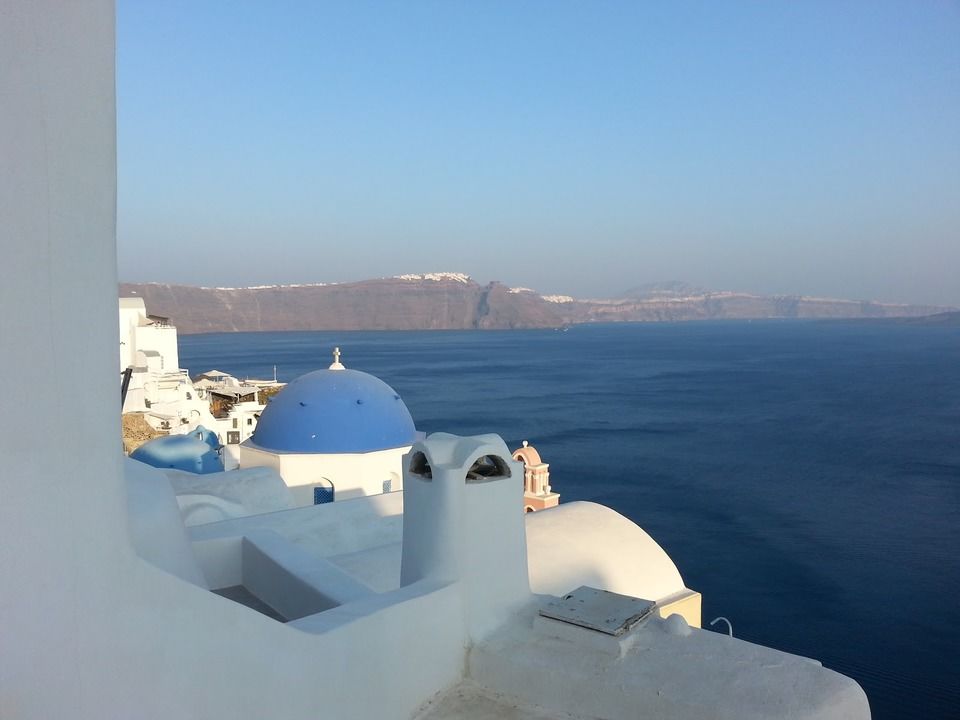 Athens is a beautiful city which still keeps alive its culture. Although a bit damaged by the natural forces, the Acropolis stands tall and is still the highest point of the city. It is such a glorious sight from any part of the city. Every bit of the area near Acropolis and Parthenon speaks of its glorious past. Once there, it transports us back in history and we could literally visualize the Greeks in their traditional attire and soldiers clad in all armour near their temple of victory- The Parthenon.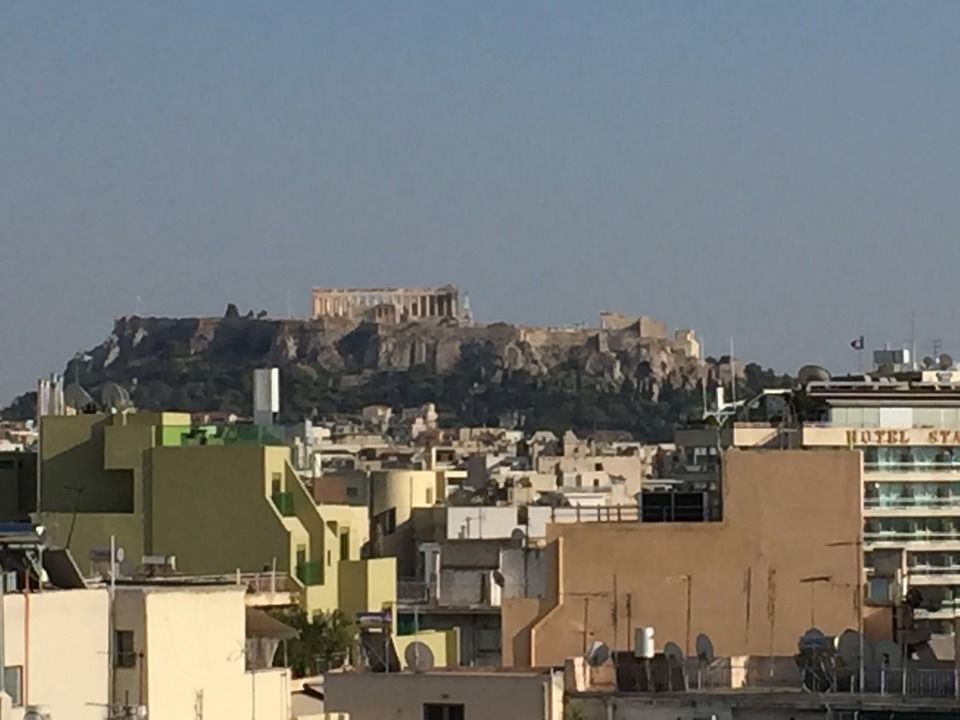 Efforts are being made to restore this cultural heritage.
Rest of the city seems quite similar to other European cities with clean cobbled pathways and the unique architecture. Few places have narrow streets full of tourists and souvenir shops bustling with life.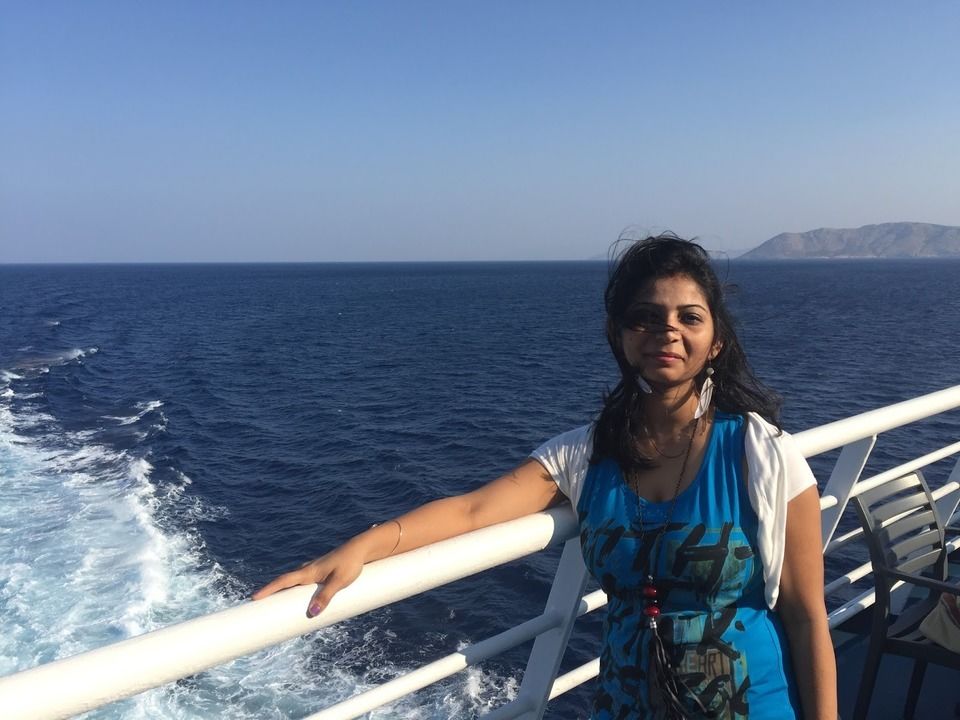 We got an opportunity to see the Greek folk dance and belly dance in one of the Restaurants. The artists were so friendly and were inviting the guests to groove on their tunes of folk music. It was a wonderful evening with some new experiences.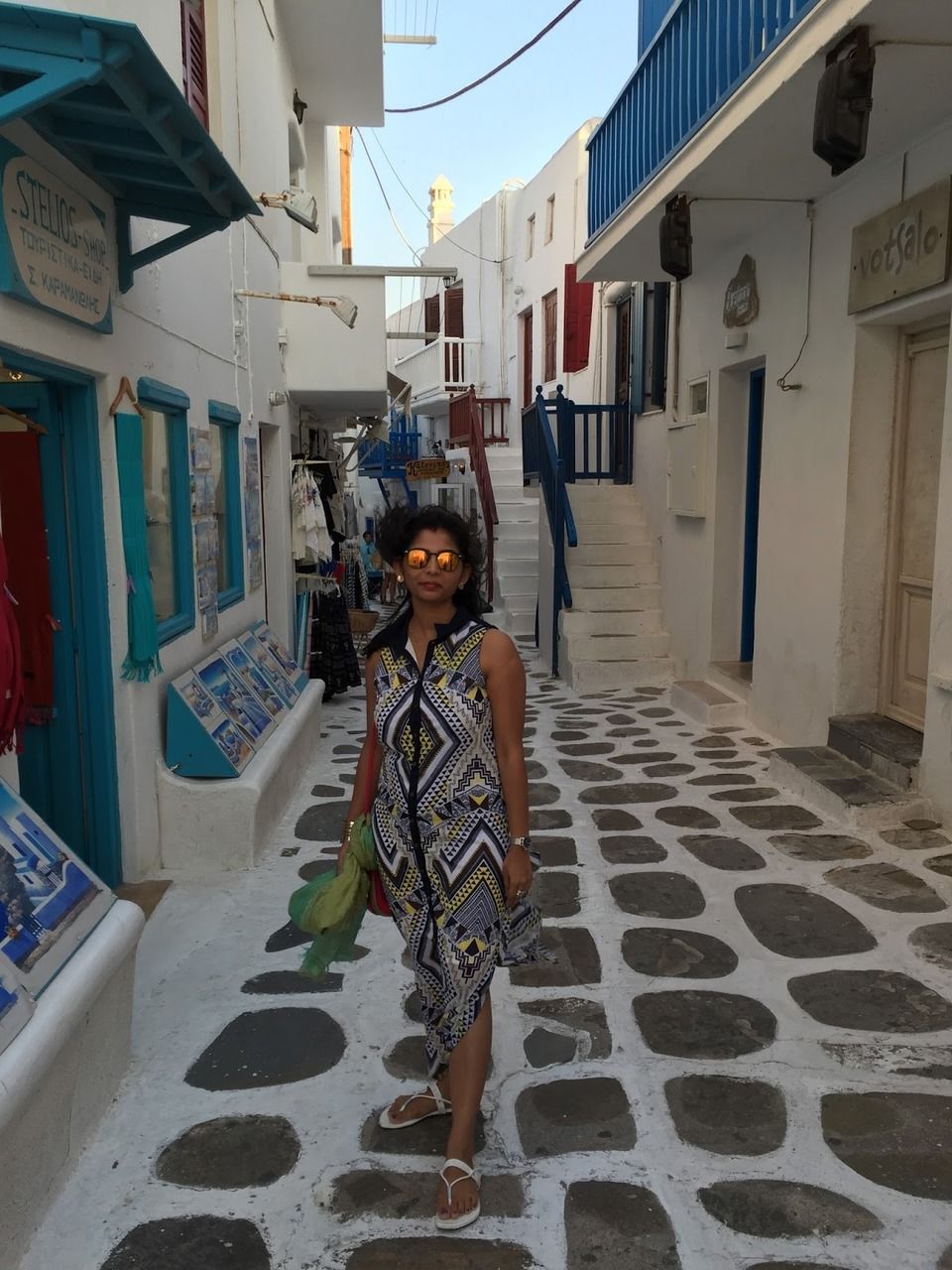 I was very excited about our journey to Mykonos that begun from Athens the next morning. Our mode of transport was a ferry via sea route. We waited for some time before our ferry arrived. To my surprise it was gigantic. By ferry, we usually visualize a large motor boat but here this was comparable to a ship.
This certainly was going to be one of the most adventurous journey of my life. We were lucky to get a comfortable spot near a large window in the ship. The outside sea was right here just beneath us with its striking blue water on which the rays of the sun were spread like diamonds.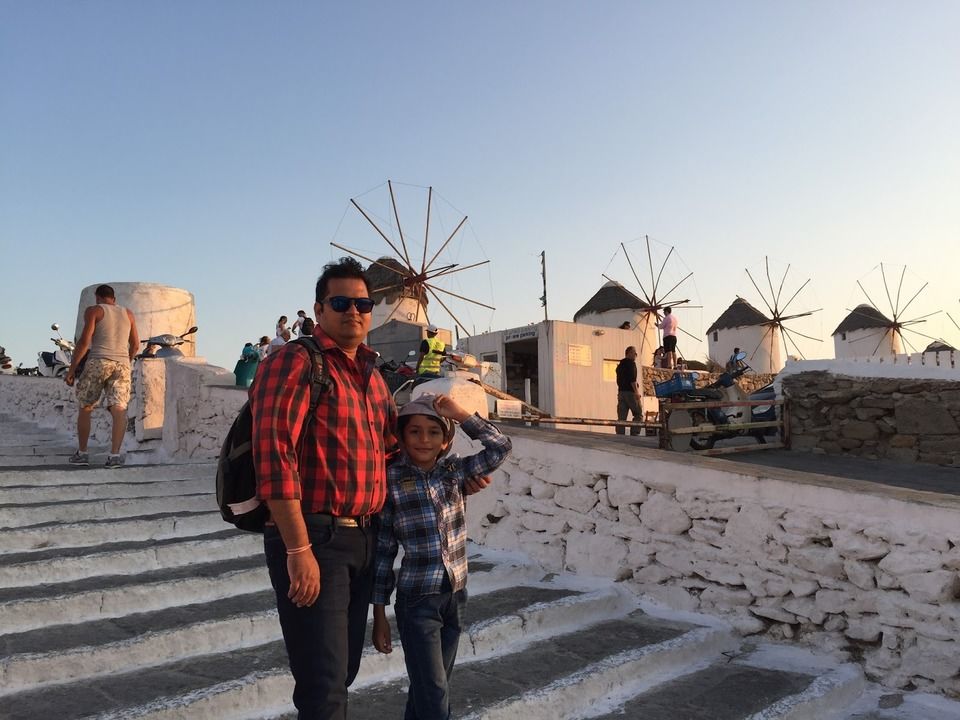 Soon enough, the ship started moving and we did bid adieu to the Greek capital. The journey was around 6~7 hrs long.
During the journey, we explored the entire ship. It had 3 levels and everything inside it- Restaurants, shops, book store, kids'play zone, movie theatre and what not. It was an entire city moving on waves.
This was a unique experience for me. From the deck we could see the clear blue waters under the shining sun. the cool breeze made the experience incomparable.
I was still in the awe of the grandeur of the gigantic ferry and the mesmerizing blue waves all around that we reached Mykonos, a town bubbling with life and its famous beaches.
Mykonos is a small town with large wind mills all over. It is one of the Cyclades islands in the Aegean sea. Today there stand around 16 windmills which at some point of time were used to mill the local agricultural products, mainly wheat and barley. These wind mills mark the existence of very first manufacturing industries and the innovative eye which Venetians had(most of the windmills being constructed by Venetians in 16th century). The strong force by which wind blows here is enough to blow away a human which probably triggered the idea of leveraging these forces through wind mills.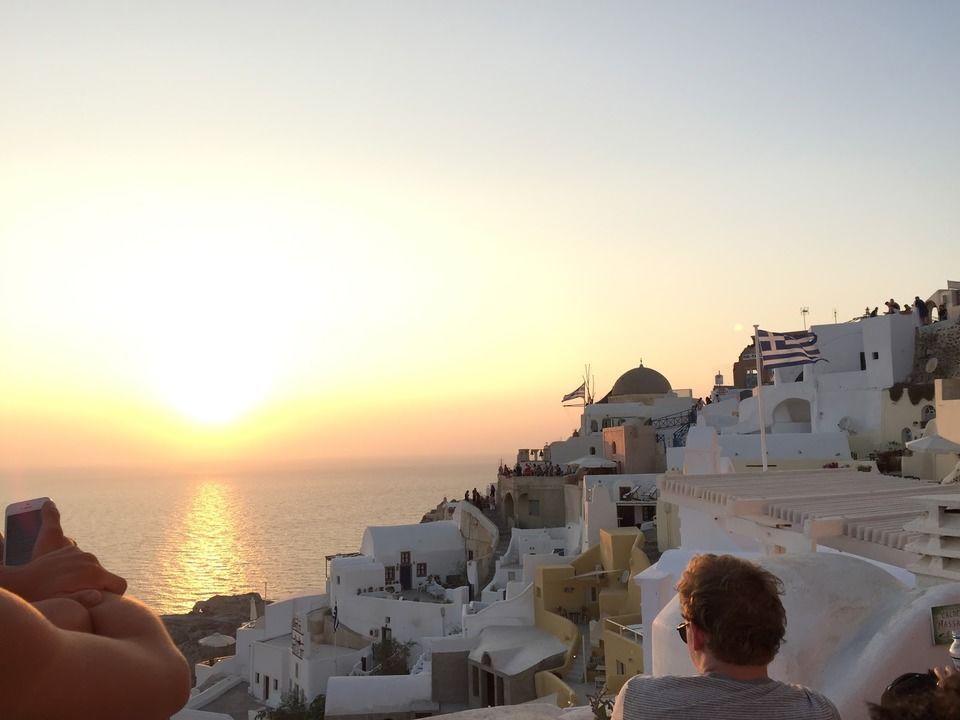 Because of these strong winds, the town is planned in a such a way that there are walls all around and narrow streets take us to the inside of the town where everything seems so peaceful and calm. One remarkable thing about this town is its impeccably white washed cute houses having blue doors and windows with cobbled pathways. The entire town looks like one big house as the streets are so neat and tidy. Flower laden creepers falling from above add to the beauty quotient.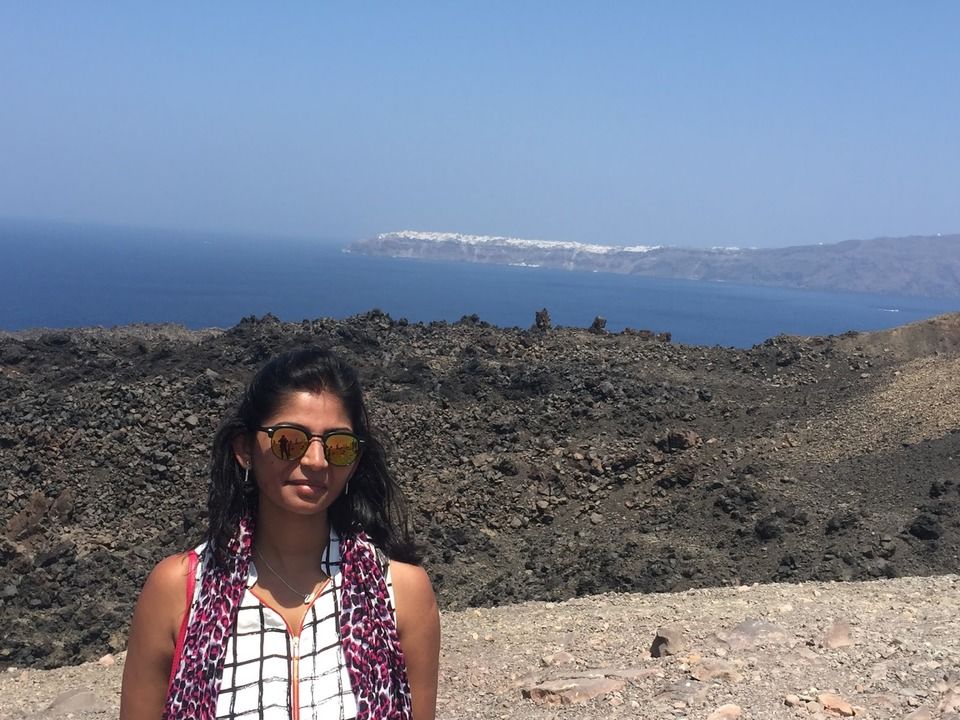 Fuchsia bougenvillea planted in large planters are a common site here and act as perfect accessory. Strolling in these narrow streets was like exploring a fairyland. Due to narrow streets no vehicle can enter here which again add to the serenity of this place making it a zero pollution zone. In the evening the entire place looked like a twinkling star with colourful lights everywhere. One of the most enthralling experience it was to explore this place.
Next day we went to Elia beach, one of the most popular beaches of the world. It was at some distance from the Old port and we took a bus to reach there. Throughout, the houses which I could spot were white and built with that specific architecture. I just couldn't stop wondering how this protocol was maintained all over this small island.
Elia beach showed us an entirely different part of Mykonos. It was a gorgeous beach with crystal clear waters and brimming with life with beautiful people soaking in this natural wonder. Couples from different parts of the world were basking in the glory of July sun at this picture perfect beach.
Perfectly chiselled faces and elegant structure, everyone here looked like a model figure. We had a pretty good time at Elia beach playing with the waves and we had some delicious pizza at the beach side restaurant. We continued our journey to another beach here which is very popular among youngsters. It is called Paradise beach. This beach looked like a large disco theque right at the shores. The entire surroundings were resonating with large music volumes and the place was full of meagrely clad party people.
This certainly wasn't my type of place and so we soon moved back to our peaceful Old port to get drenched again in the beauty of this fairyland. Next in our itinerary was Santorini-Thira as it is called. After a sea voyage of 6 hrs we reached Santorini. Thira again is a beautiful island which often represents Greece all over the world.
Our hotel was in the Caldera area from where we can clearly see the entire island forming an arc around the active Hellenic Volcano sleeping at the centre of blue sea. From this point a moving steamer seems to be flying in the sky as the blue above and the blue below blend just perfectly. Witnessing such a beauty is a feeling which cannot be put into words.
The popular Red beach was nearby our hotel. This beach is very different from other conventional beaches It is a small beach beside Red Black high cliffs covered with black pebbles which is actually lava scattered all over as a result of volacanic eruption thousands of years ago.
Nature surprises us in so many ways. From the beach we headed towards the town of Oia(Ia), which undoubtedly is one of the most beautiful towns I've ever seen.
We took a car and drove to Oia as it was around 25 kms from our hotel. From Caldera, Oia looks like a pearl necklace rather a pearl crown at the zenith above calm blue sea. Yes, the sea here is calm :)
Oia is a lovely town built much above sea level on top of sea side mountains. I was dumbfounded looking at the beauty this place has. I did not even want to blink my eyes and capture as much of it as possible from the natural lenses.
Attractive sea facing hotels with cute little swimming pools were lined up at one side and souvenir galleries at the other side of the Oia street. The entire town was glowing in white with churches having bue domes and large bells. Churches in Greece resemble temples and they were actually called temples in earlier times.
Evening came and the entire town got bejewelled with colourful lights. It appeared to be an exquisite piece of art with stars scattered over the sea.
We had one of the best dinners of our lives with an experience which I sure am going to cherish forever. I was in a paradise with the apples of my eye and my soul fully contented. What else can one want from life?
Next day we had a guided boat tour to the Hellenic Volcano and Hot springs. Reaching to the top of the volcano in scorching sun was definitely a tiring task but it was all worth it because the view from top was unparalleled. We saw the crater of this active volcano from which fumes oozing out could be seen.
To get an indication of the exact time of volcanic eruption, large seismic equipments were mounted there which track the activity of this sleeping giant everyday. These can give the signal around one month in advance about the coming danger and then the entire town will have to be evacuated.
We had an amazing time riding the boat on sea. The sea is so pristine here that we were able to see clearly the fishes much below the sea surface. In some time we reached the Hot Springs which is no less than a miracle. Warm greenish waters with medicinal properties could be seen along with cold sea water here. People readily dived in this water from the boat and swam to their hearts content like mermaids playing in the hot springs.
After Santorini we went back to Athens and boarded our flight to back home.
This was an awesome holiday with unforgettable memories.
This post was originally published on Mind Uncovered.