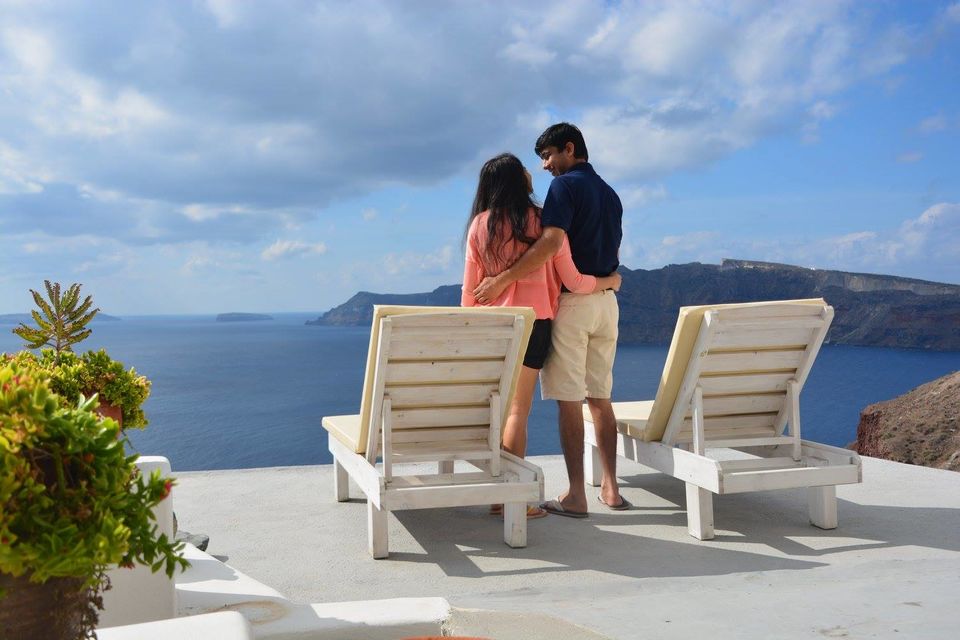 News of Grexit was in the air. EUR was at its bottom. My husband and I quickly completed booking of our tickets and accommodation in flat 7 days for our travel to Greece in Sept. 2015. The special occasion was our first anniversary and what could be a better place than Greece to celebrate. We spent 12 days and didn't rush through the itinerary. Our first stop was Athens.
Athens:
We were staying for 3 days and booked an accommodation closer to Acropolis. The booking was through airbnb. This was the first time we tried Airbnb and were very happy with the entire experience. The kitchen set up provided a great flexibility in terms of meals as I am a vegetarian. We started early next day with Acropolis as it gets very hot and crowded later in the day. Acropolis is a UNESCO world heritage monument. Walking around the monument makes you realize the grandiose and splendour of the palace in its time. We didn't hire a guide so couldn't understand in detail the significance and history of the place. The ticket was 12 EUR each for adults and discounted for students and senior citizens. By the afternoon, we were very tired and walked back to our place, just 500 meters away for a nap. We then ventured out only in the night and sight of Acropolis under all lights was to behold. We had dinner in a restaurant with a great view of Acropolis in the background and live music. The next day, we arranged some bread and bakery items from Takis Bakery, located in front of our accommodation. This bakery features in one of the top 10 bakeries of Athens as per Tripadvisor. We explored Plaka area and bought some jewellery (silver "Eternity necklace"), Kalamata olives, and some cotton shirts. The area becomes quite lively in the evening with music and great food. We also visited Acropolis Museum. On 3rd day of our stay, we took a bus from Syntagma square and went to Cape Sounion, which is 1.5 hours away from Athens. The ride was a treat to the eye with great views of emerald coloured sea and stunning beaches. The day was Sunday and hence entry fee was exempted. The top of Cape Sounion gave a 360 degree view which was the highlight of the trip. We came back and bought our tickets for a ferry ride to Mykonos for next day. The ferry started at 5 am and took around 7-8 hours to reach.
Mykonos
We were staying in Argo hotel, which was on the Platys Gialos beach. The beach was though small, but lovely and quite clean and clear for a swim. Since, we arrived in late Sept., all the party places were closed. But we roamed around the streets in main area which were quite picturesque with houses and shops painted white and blue. We had Souvlaki in lunch at Pepper, Mykonos (one of the signature dishes) and fell in love with it. I made sure to eat Souvlaki (veg.) in lunch for next 2 days to save the taste. We also did Little Venice and Windmills and clicked some selfies. Next day, we visited Delos through a ferry for half day trip. All I can sum up is that Mykonos, though is famous for its party vibes, it has great sand beaches and crystal clear water with little waves and gentle slope, so ideal for swimming. And it is great to explore through roads, you may not know what view will turn out turning around a corner.
Our next stop was Santorini for 4 days. They say about Santorini:
"Our Santorini there are
More Donkeys than Inhabitants
More Churches than Houses
More Wine than Water"
And we were to realize that all of the above was true. We booked an airbnb in Oia for 2 days and requested our host to pick us from the ferry port. The view from his place was so breathtaking that we didn't venture out except for having meals. It was perched on a cliff and had a view of all the five islands formed in a circle. The sunset of Santorini gets mentioned in many romantic novels and I realized the reason when I saw one. It was so spectacular that tourists from other areas come to Oia to watch the sunset. It was so peaceful and serene. We shifted to Fira then to stay in a hotel. From here, we made day trips to volcanic island and Thirassia (nearby island). It is an active volcano and you can see sulphur fumes coming from the ground. We also visited Akrotiri, which is a settlement destroyed by volcanic eruption but preserved and reopened as archaeological museum. The beaches of Santorini are also nice but we just visited Red beach, adjoining Akrotiri. In the evening, we roamed around the streets and bought many souvenirs. We took a flight next day from Santorini to Athens as ferry takes anywhere from 10 to 11 hours. We did a night stop-over in Athens nearby Airport and took 11 am flight next day to Mumbai.
We spent about 12 days in Greece and all I can say that even those were not sufficient. We missed Meteora, Delphi, Zakynthos and Crete islands, which could be an excuse to visit again;). The memories of the trip are so engraved in my mind that I sat today after 4 years to pen down my experience.