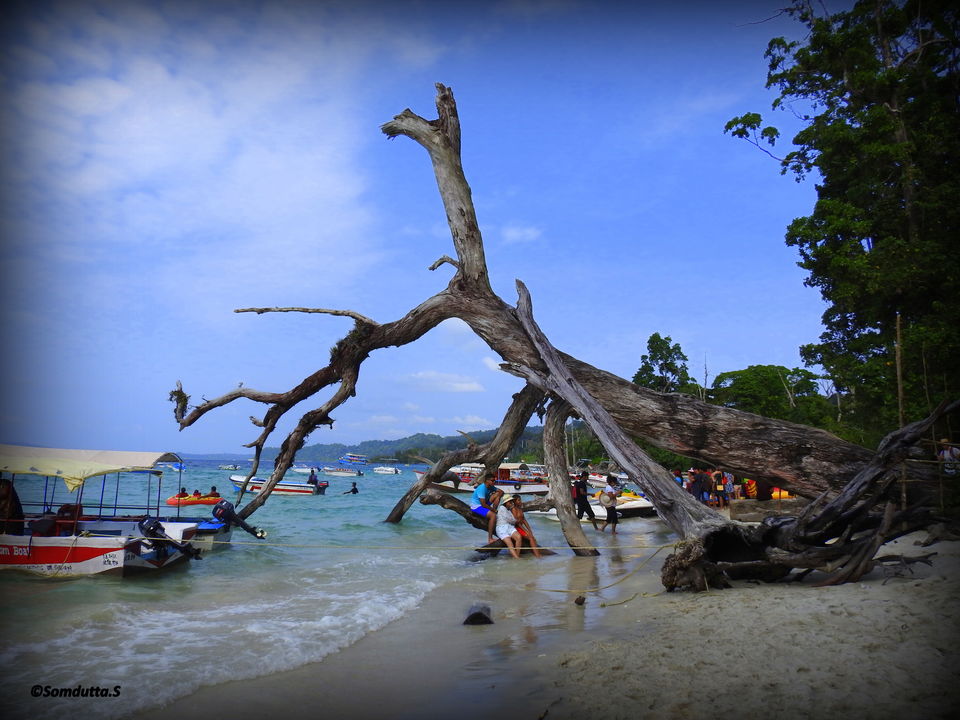 The final section of this single trip to Andamans – Havelock Island. The stay was at El Dorado. The cruising from one island to the other was done by Makruzz cruise liner. Neat and clean, well seating with snacks options, entertainment(TV) and exceptionally punctual – all the short cruise journeys were really smooth.
In Havelock we stayed for 2 days. The resort El Dorado was really big, again with a private beach. There are numerous cottages of various types – deluxe, standard, etc. Breakfast was complimentary. The food as usual was delicious!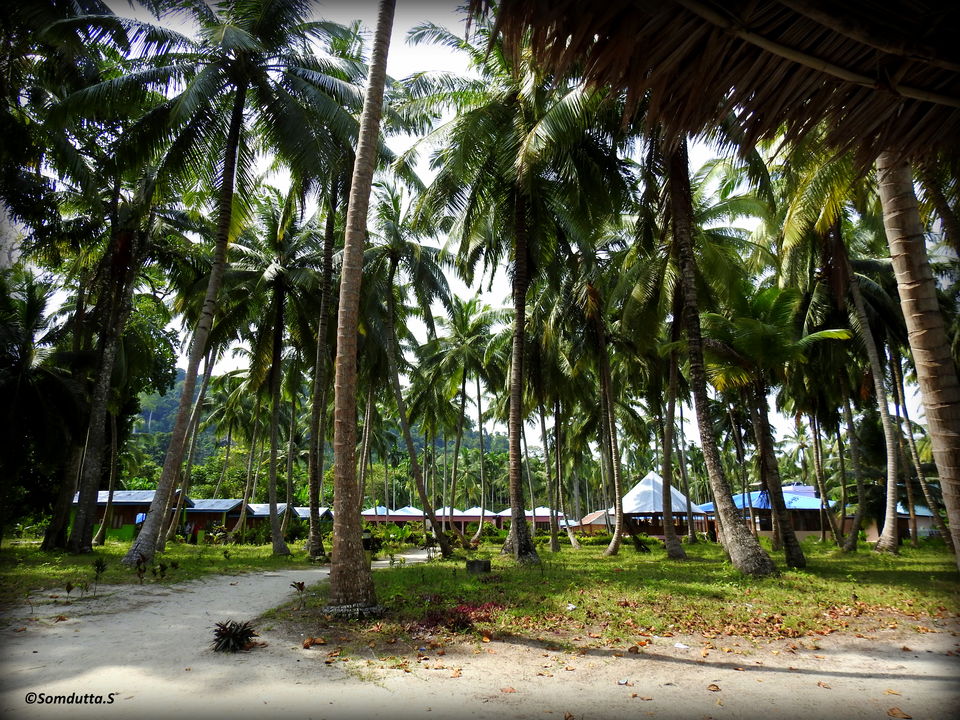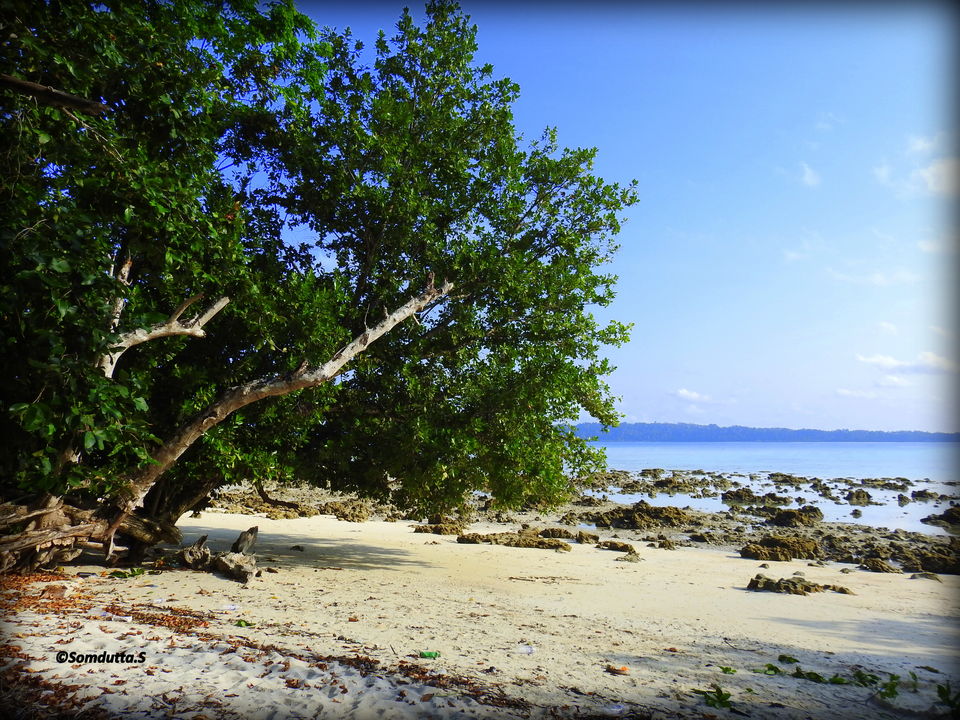 There's an Elephant Beach where you are taken in speed boats for Snorkeling activity. The scenic beauty, the soothing greenery all around and the deep blue water were like some kind of charm working on us. There were few in-between islands while going towards Elephant Beach which were not allowed to be visited by tourists to protect the flora and fauna and biodiversity. That sounded nice and gave a hope that the Government there was trying to protect the natural aura of that place by any means.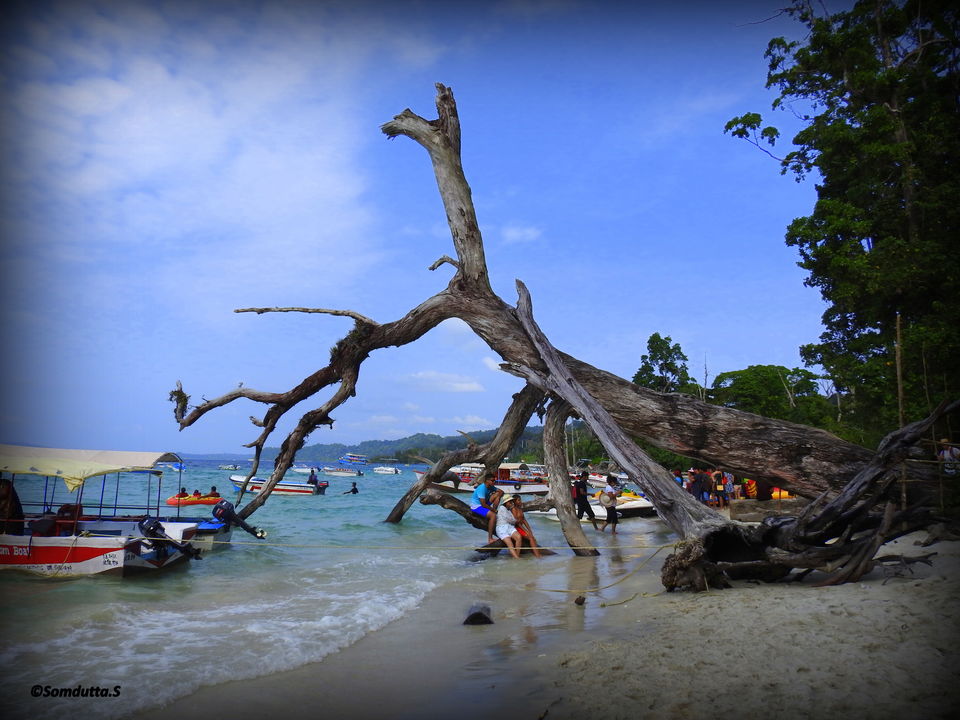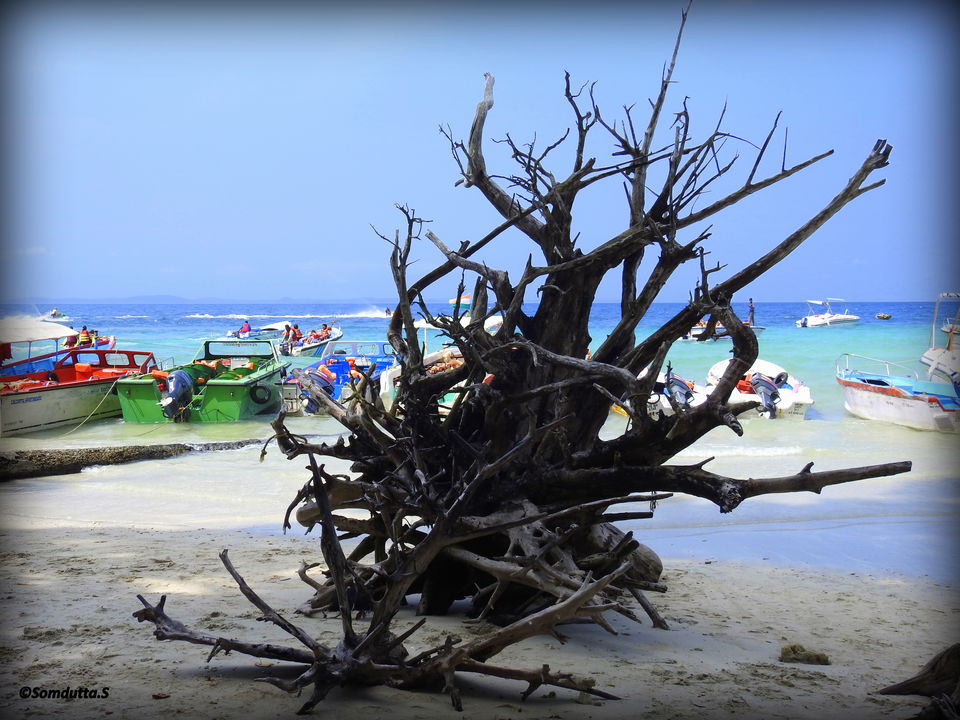 Snorkeling was amazing! You can either take the mask and go snorkeling yourself or if you are the first-timer, there would be an instructor to guide you. The corals and fishes were so near the surface that by just entering few meters into the water, you will get a clear glimpse of those aquatic wonders! It was fun, relaxing and blissful!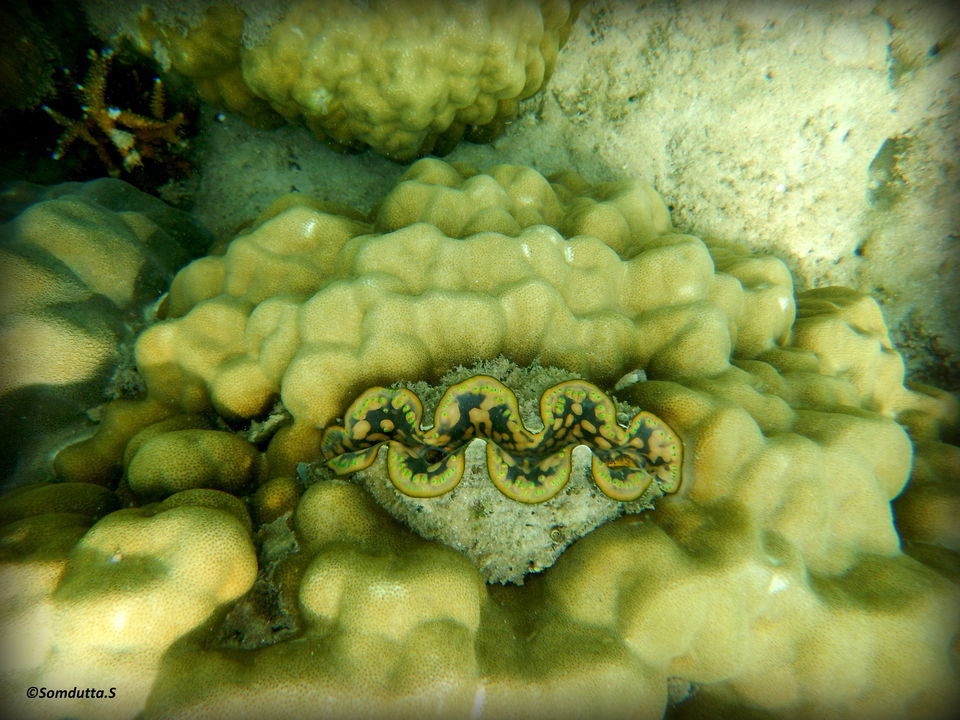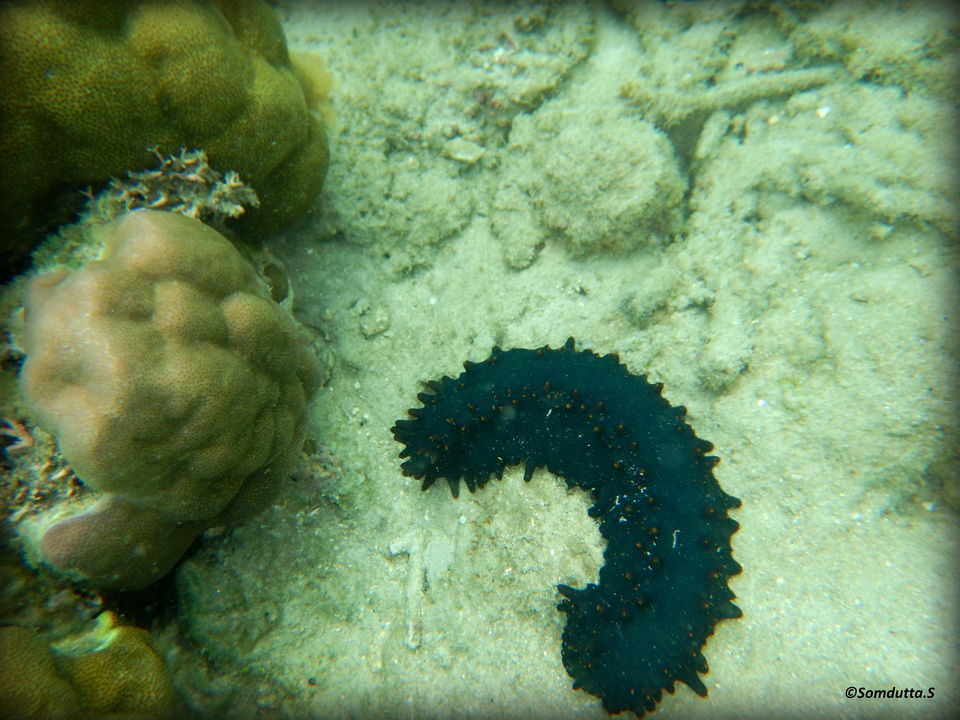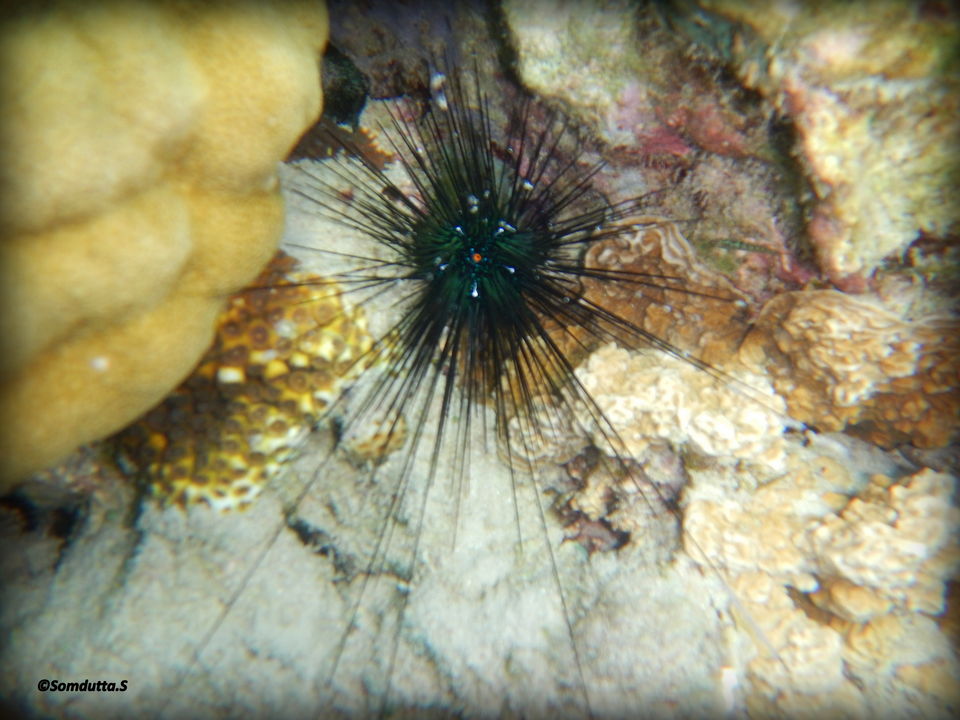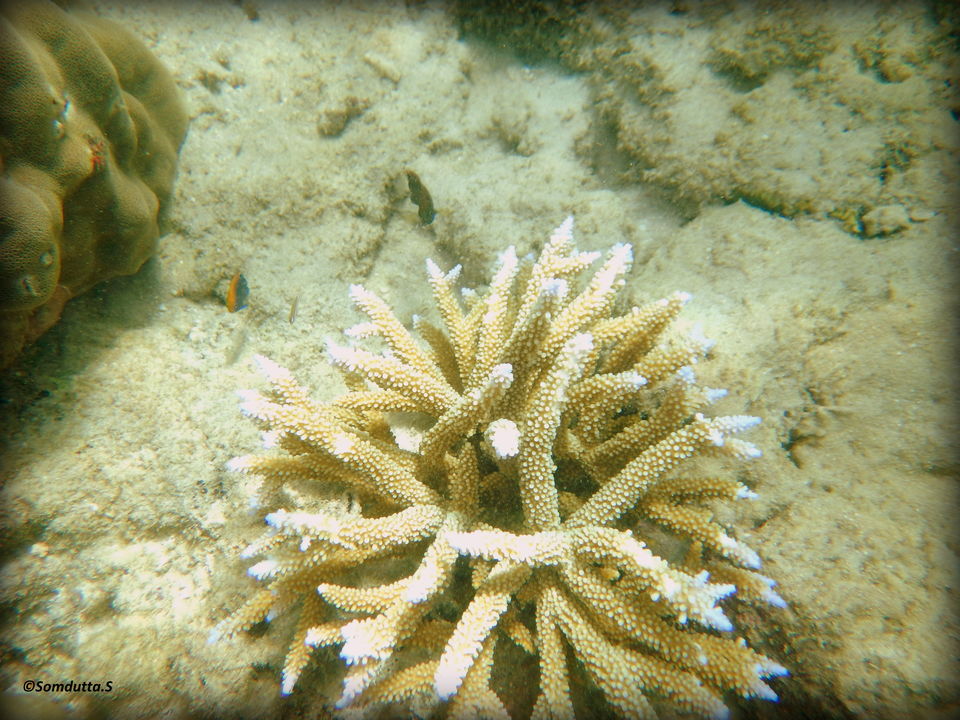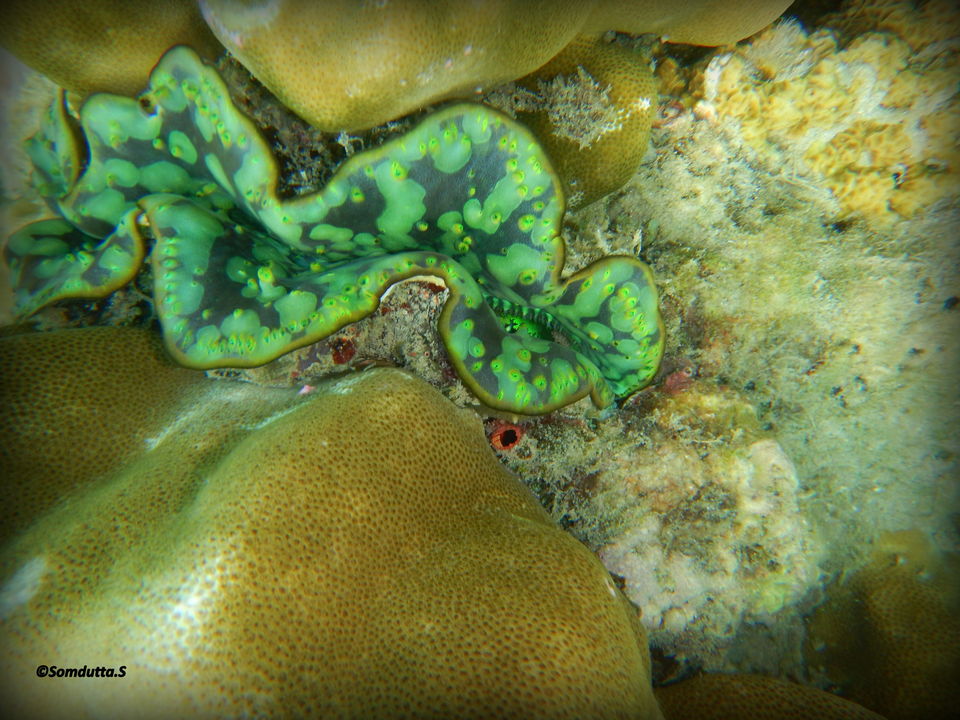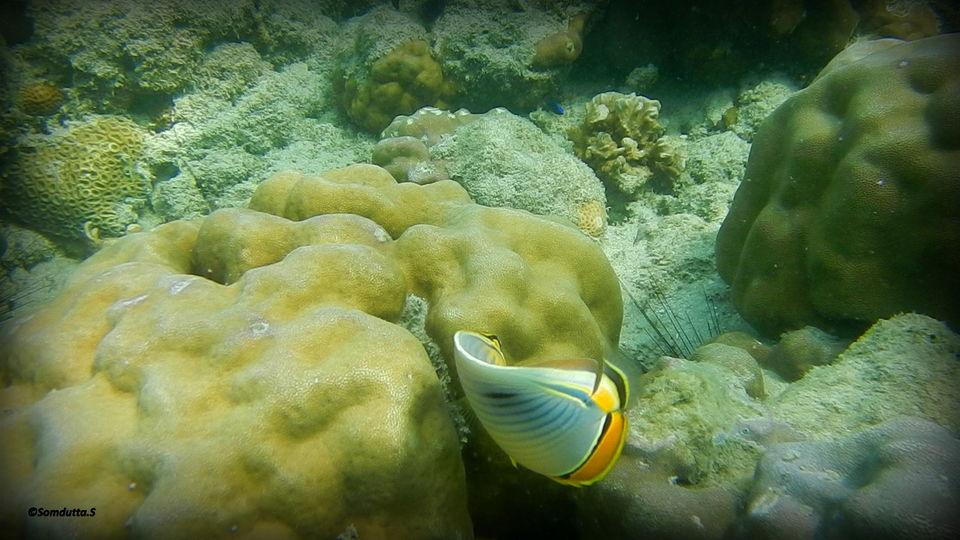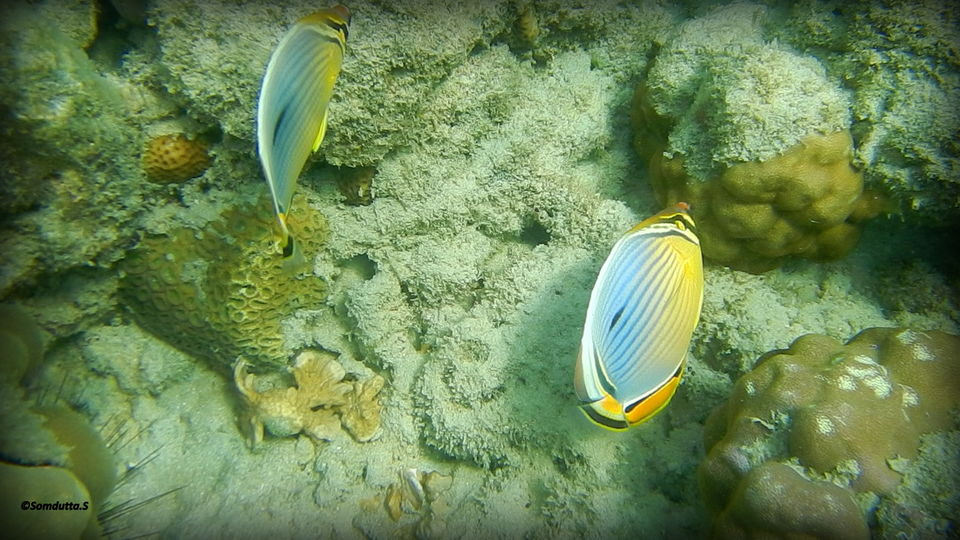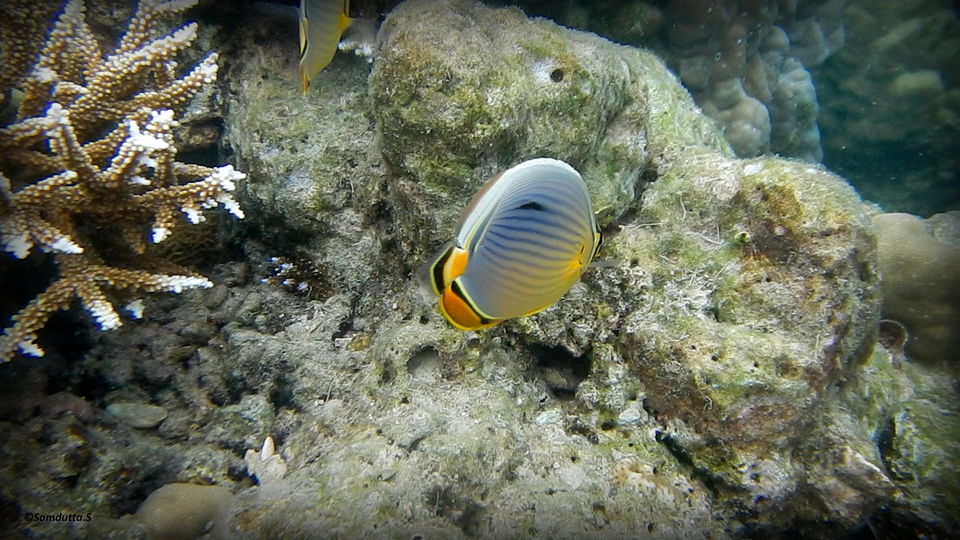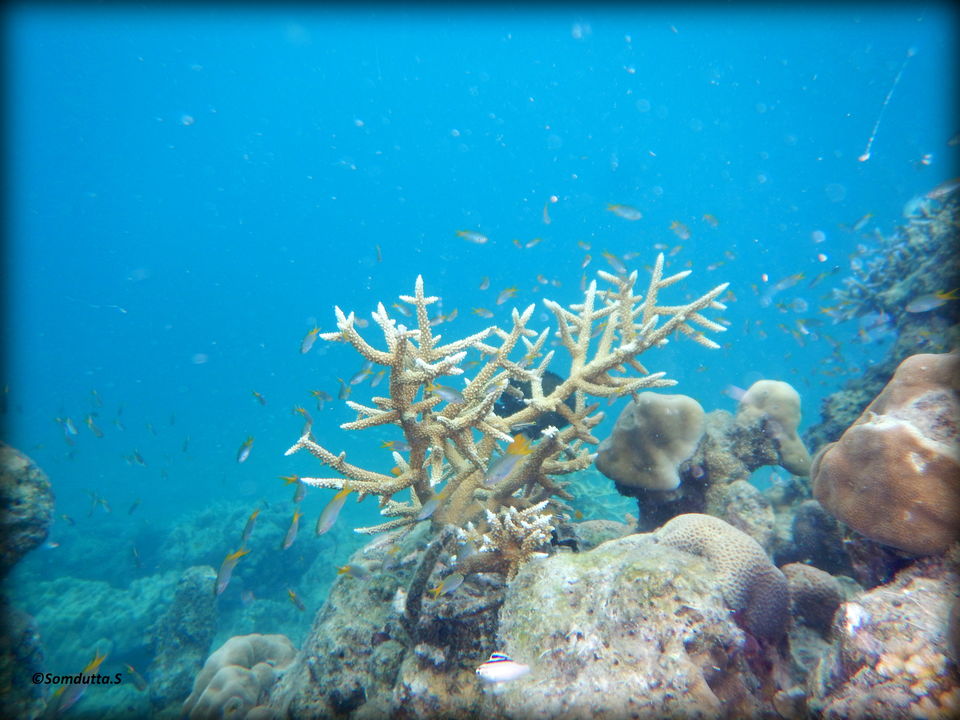 After that I went for a short swim for sometime since the water was so clear and alluring. The Elephanta beach closes down by 3 pm and everyone near to clear that spot all together.
The lunch at B3 Restaurant, located at the ferry point of Havelock for the Elephanta Beach, was delicious and yummy!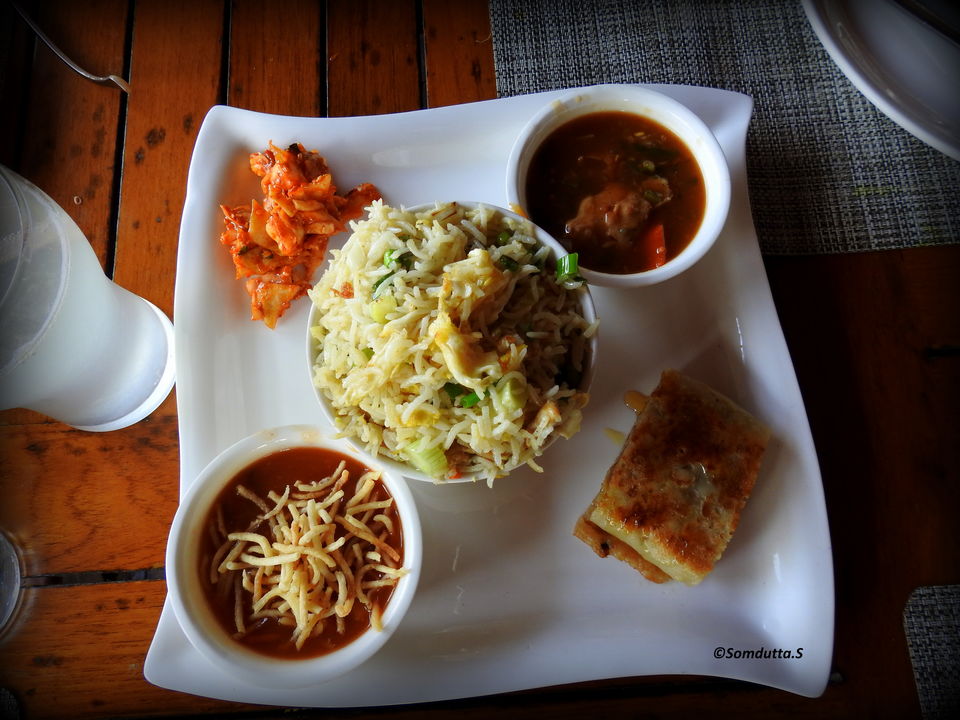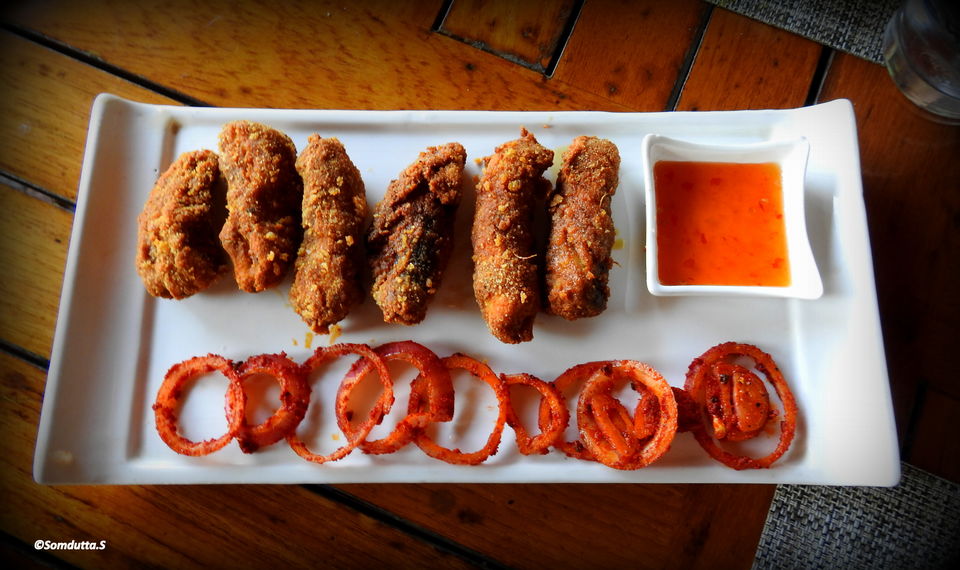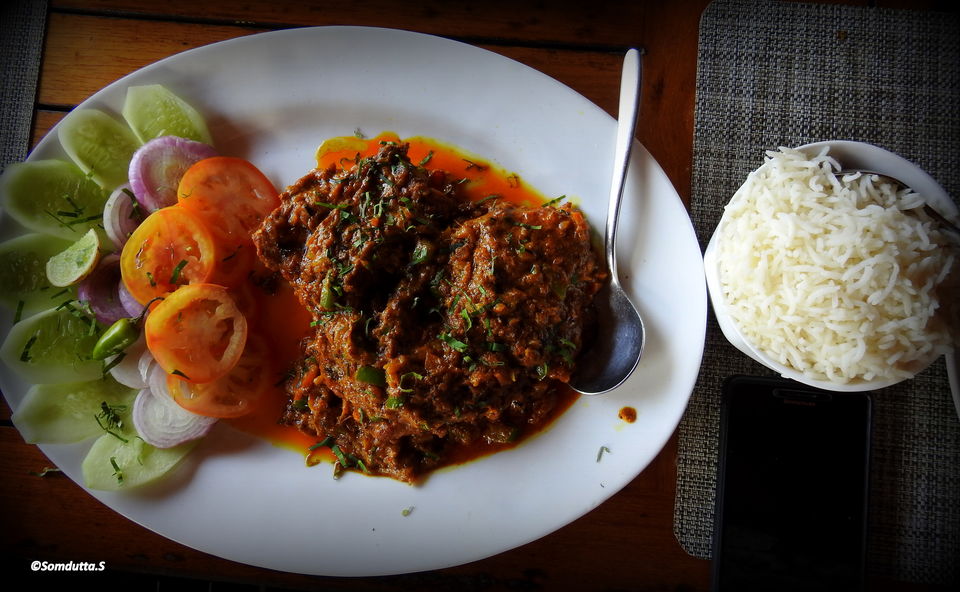 At night went to Full Moon Cafe, at a walkable distance from El Dorado. Mostly frequented by travelers and Foriegn tourists, this place offers some of the amazing sea foods. There's also a small section of mini library from where you can take books and read and also contribute from your own collection.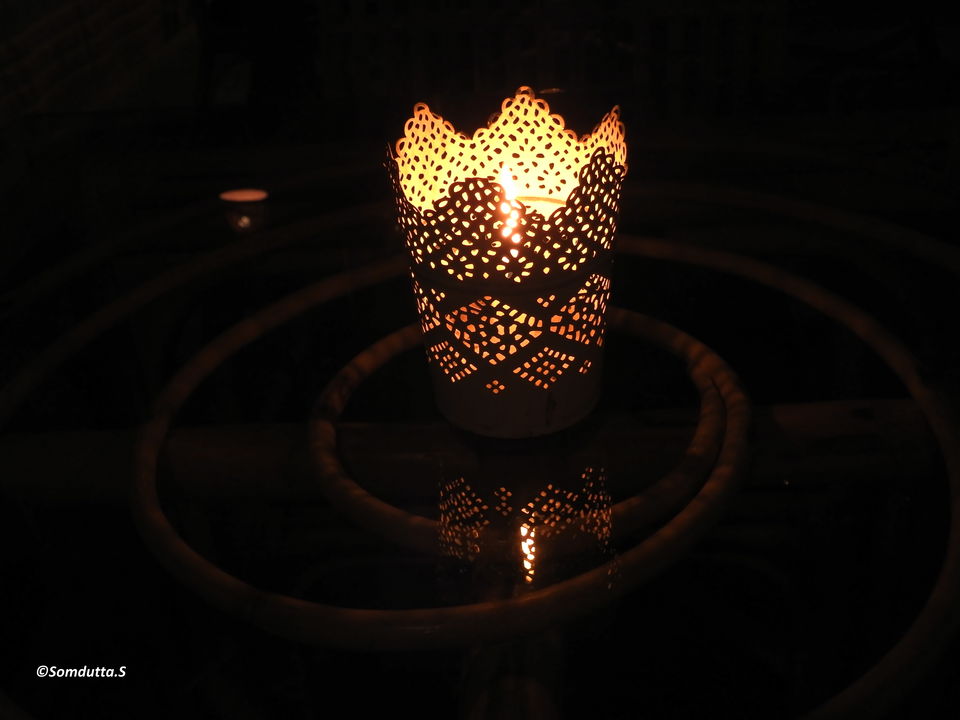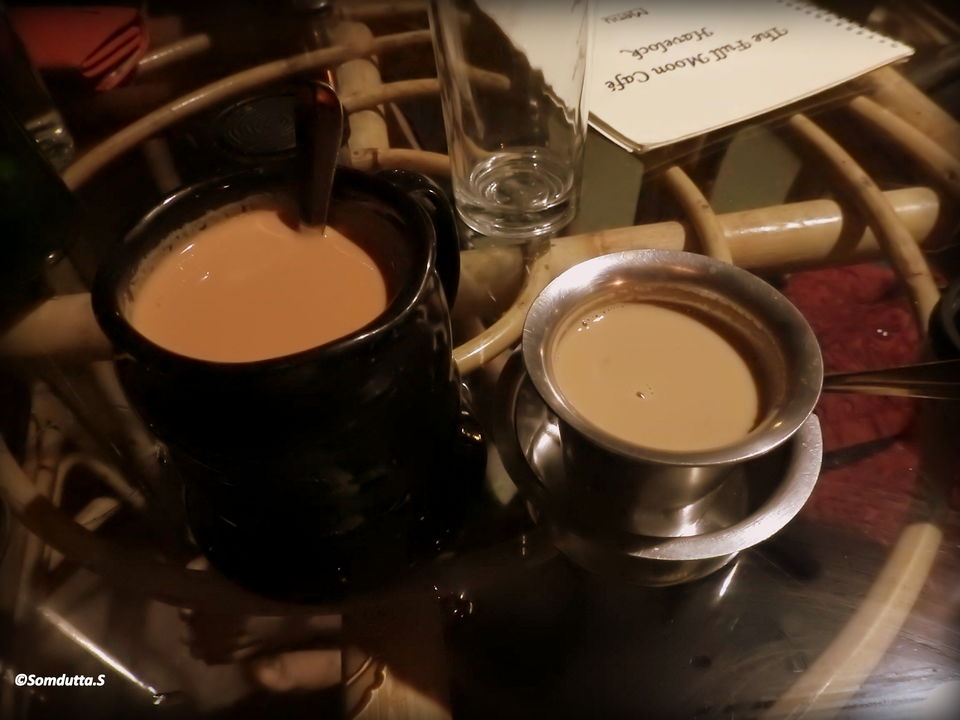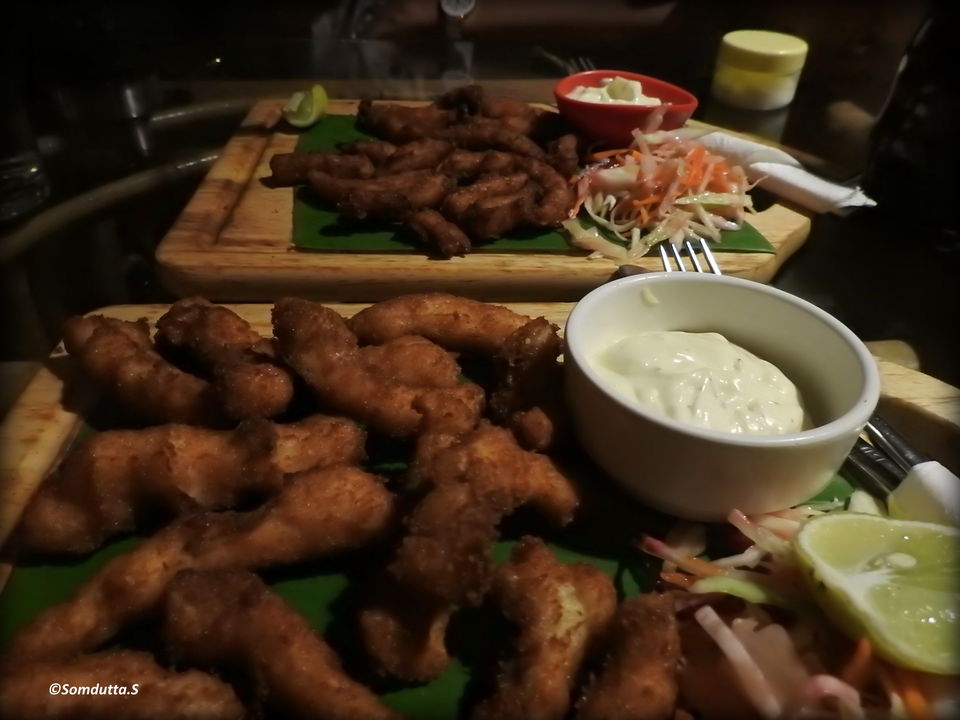 Next was the Radhanagar beach. This is an official beach for swimming and having fun in the water. There are Life Guards around and small utilities have been created for public convenience.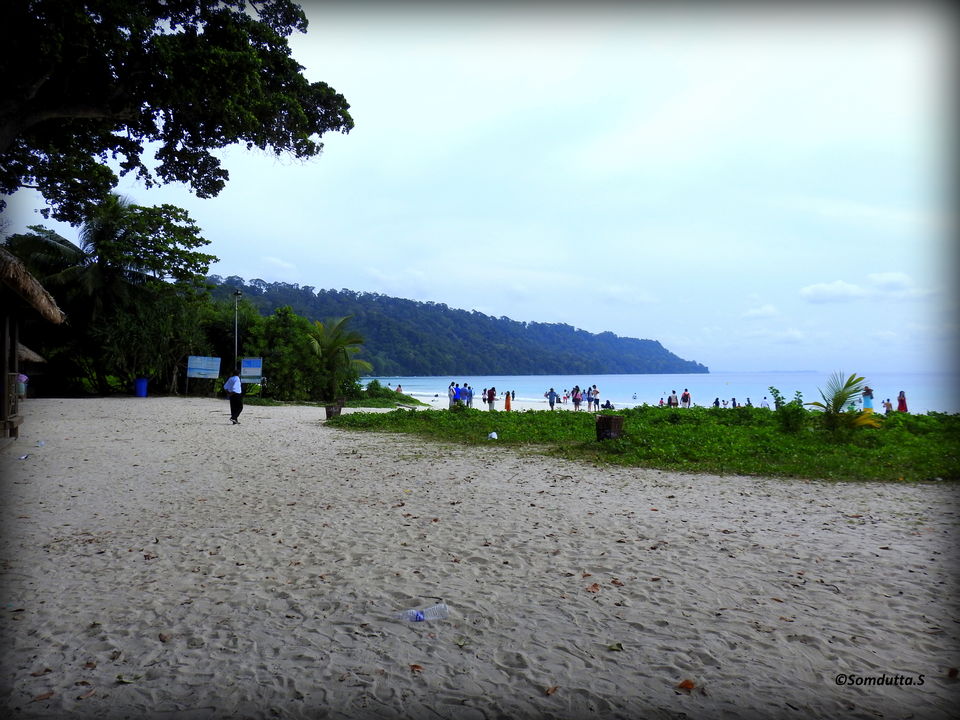 But what struck me at Radhanagar was – a small tiny path which led to the woods. The tall straight numerous trees, green grass, no specific road in that, melody of only the bird chirps and the waves breaking on the shores. We went inside and kept walking. There was no human sight but only peace! It was so beautiful and relaxing to just sit there in the woods without uttering a single word and just absorbing the calmness. A dense sort-of-forest area just few feet away from the deep Ocean was totally amazing. Although 'amazing' is just a tiny word to describe the experience. Didn't want to leave that moment and come back.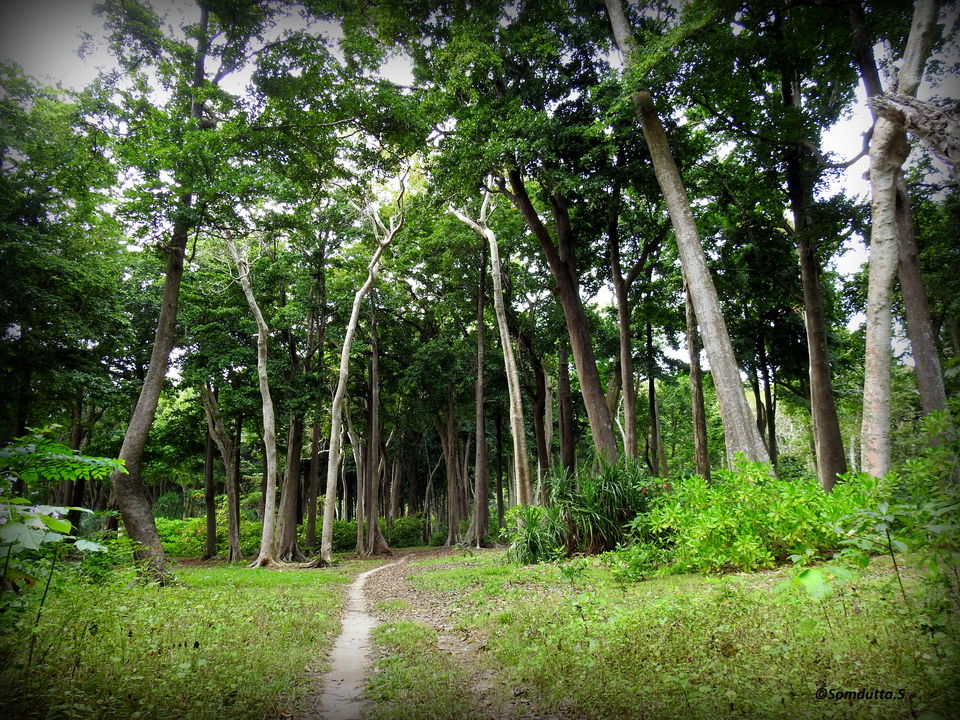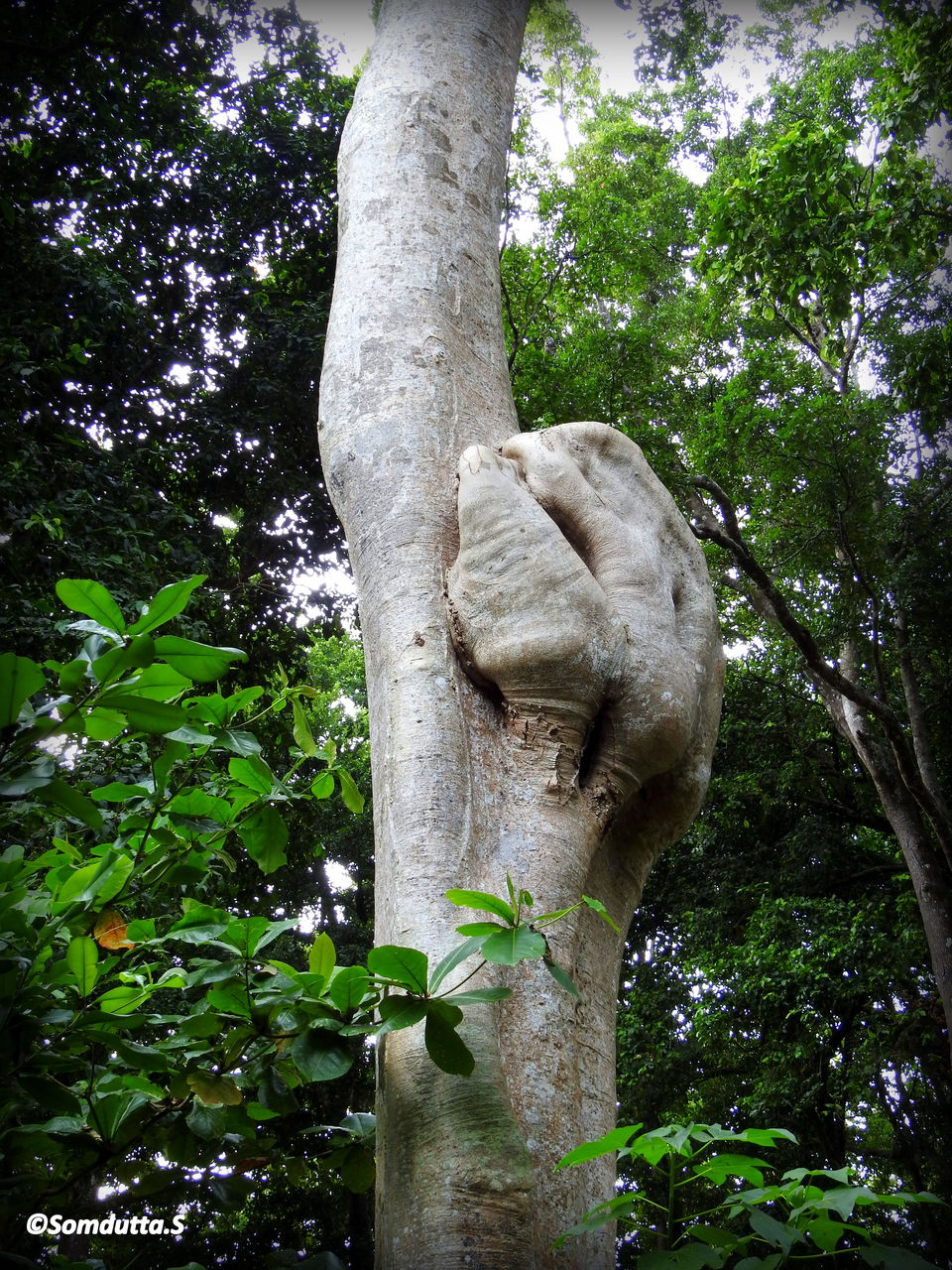 Havelock was mostly relaxing. Infact this whole trip was sort of relaxing and little bit of adventure unlike my other trips. Apart from taking any tour package, one can easily explore Andamans at his or her own pace. Rent option for 2 wheelers are also available. There are lots more to see and explore on one's own way. There are certain trek routes which one can explore and enjoy.
From Havelock we headed to Port Blair the next day from where our flight was scheduled. Andamans – an experience, a memory and most importantly the Nature's wonder treat for the soul! A must to have in your travel list. Happy traveling :)
Frequent Searches Leading To This Page:-
scuba diving in andaman cost, best resorts in andaman and nicobar islands, andaman nicobar holiday package, andaman and nicobar hotels for honeymoon, andaman and nicobar islands hotels and resorts