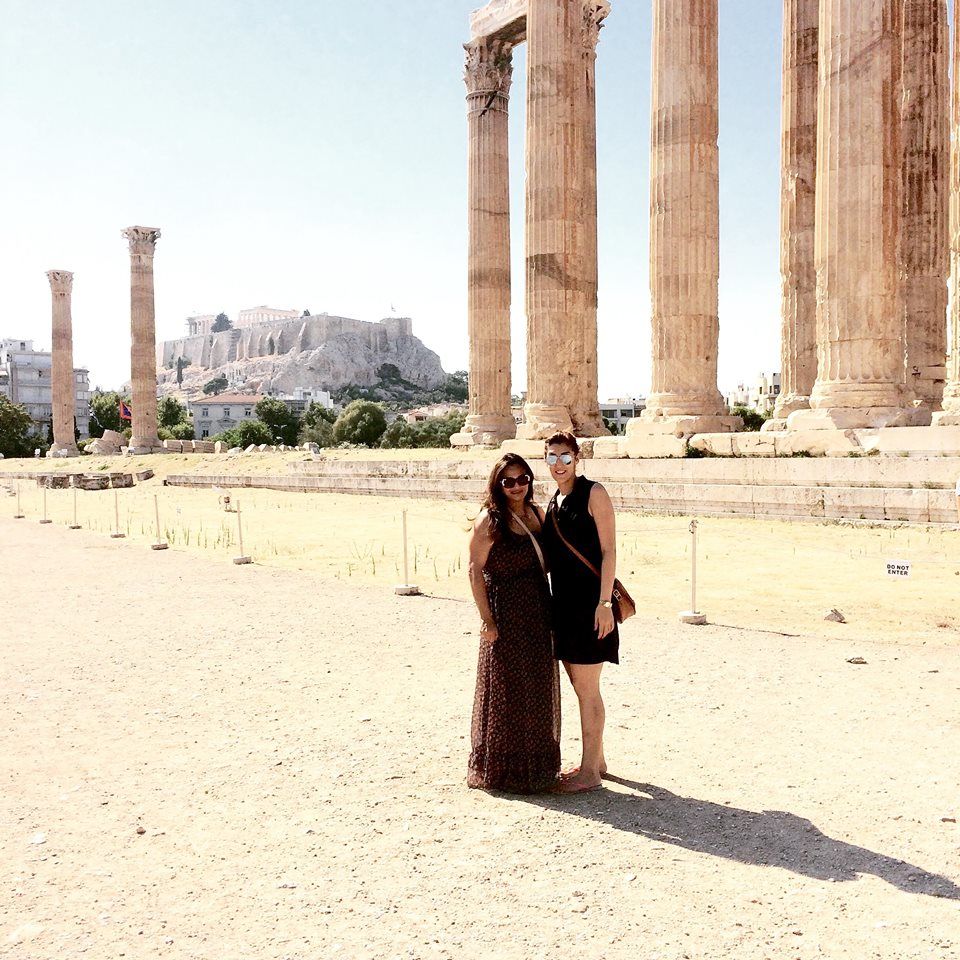 "You have got to be kidding me", is what I was told time and again when I made the plan to visit Greece in the summer. "The country is down to the doldrums!!! , there will just be a crazy crime rate at this moment, JUST DON'T GO!!!" were a few more that were thrown at me. I was almost convinced to cancel my trip and try and go elsewhere but thanks to my economic travel sense, I already had non-refundable fully paid flight tickets and hotel reservations. (Those are always the best deals)… Anyhoo, I braved… I lived… I loved… I conquered and I returned…That's how I felt in Greece and this is how my experience ensued…
ATHENS
Come 22nd July 2018, I was all set to go with a close girlfriend of mine expected to be joined by our third girlfriend who was coming directly from Tomorrowland (One of the biggest music festivals of the world). Despite some apprehension, we were going to brave the allegedly economically collapsing Greece! Our adventure had just begun…
After a long but fun flight (due to fun company and a good airline), we made it to Athens. On the way to our beautiful hotel located in the bustling Plaka area, I was looking out the windows and was almost judgmental about everything. "That guy looks shifty… That building looks so run down… That ATM is unguarded!!!" It was silly really as I found out shortly after. For starters our welcome at the hotel was absolutely delightful. The ever so helpful reception at Acropolis Select hotel made our check in extremely comfortable and the long flight there didn't seem as as bad. On an additional note, this was one of the best locations to stay at in Athens. Walking distance to Plaka, Syntagma square, Acropolis, Monastiraki, Temple of Zeus, etc. The metro station is also lesser than a 1 min walk. It couldn't get better than that for a first time Athens visitor.
Out and about as soon as we were settled in, we headed out to the vibrant Plaka area. Full of quaint little outdoor restaurants and small bars, it was a delight to walk around there and take in the vibe. After grabbing a yummy gyro, we made our trek uphill to the much awaited Acropolis. Got to admit, I was a tad disappointed… I guess that happens to any over hyped place. Seldom lives up to it's craze. It was an extremely hot and sunny too which may have added to the fact that we made a whole uphill trek to go see some banal looking pillars. I have enjoyed so many more monuments all over Europe that have been far richer in history. Anyway, After we did the whole general tourism thing which included the Temple of Zeus, Tomb of the unknown soldier, Acropolis Museum,Parthenon, etc. we went up to a roof top bar of a hotel called A for Athens which had a whole view of the Acropolis. Now this I could get on board with… ???? Met a bunch of locals, had a couple drinks and went to some other recommended bars in the area. If you are ever visiting Athens in the months of July-August, roof top bars are the best option. We went to a bunch of them in Monastiraki and Plaka. Once we were done for the night, we headed back to our hotel with lots of local information, some local friends and a guideline to figure our expedition the following day…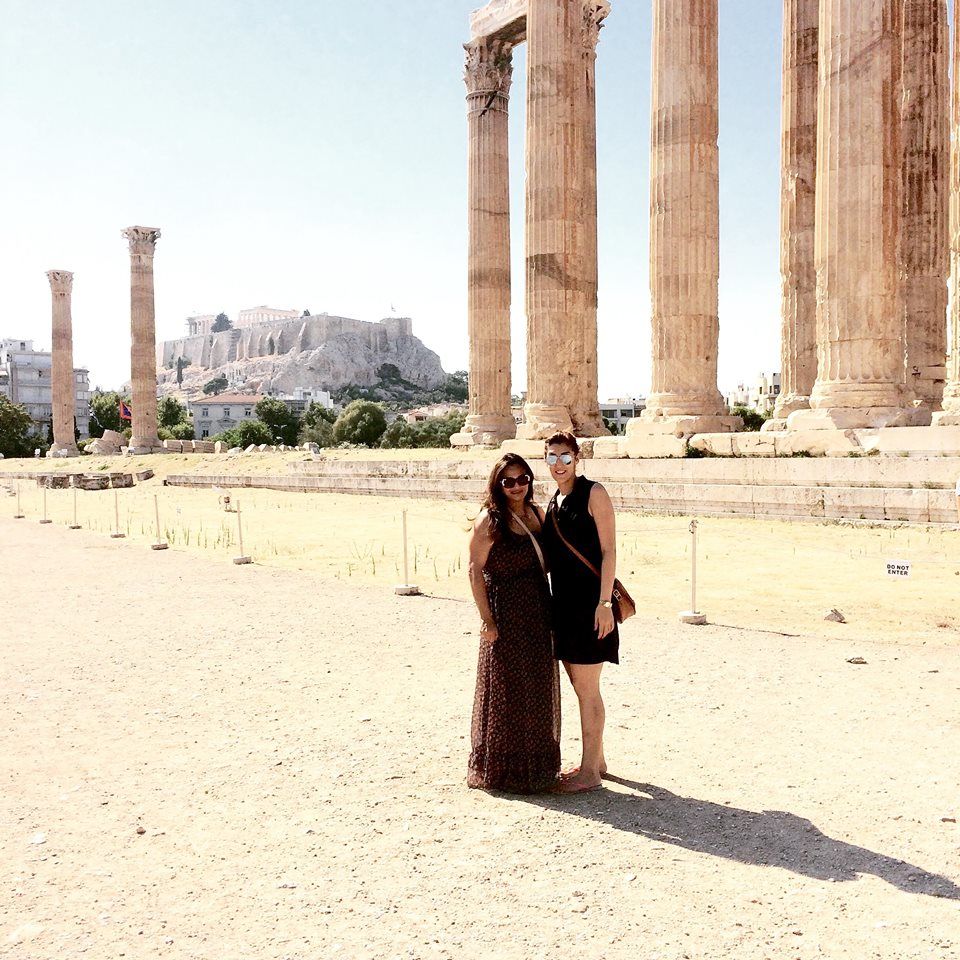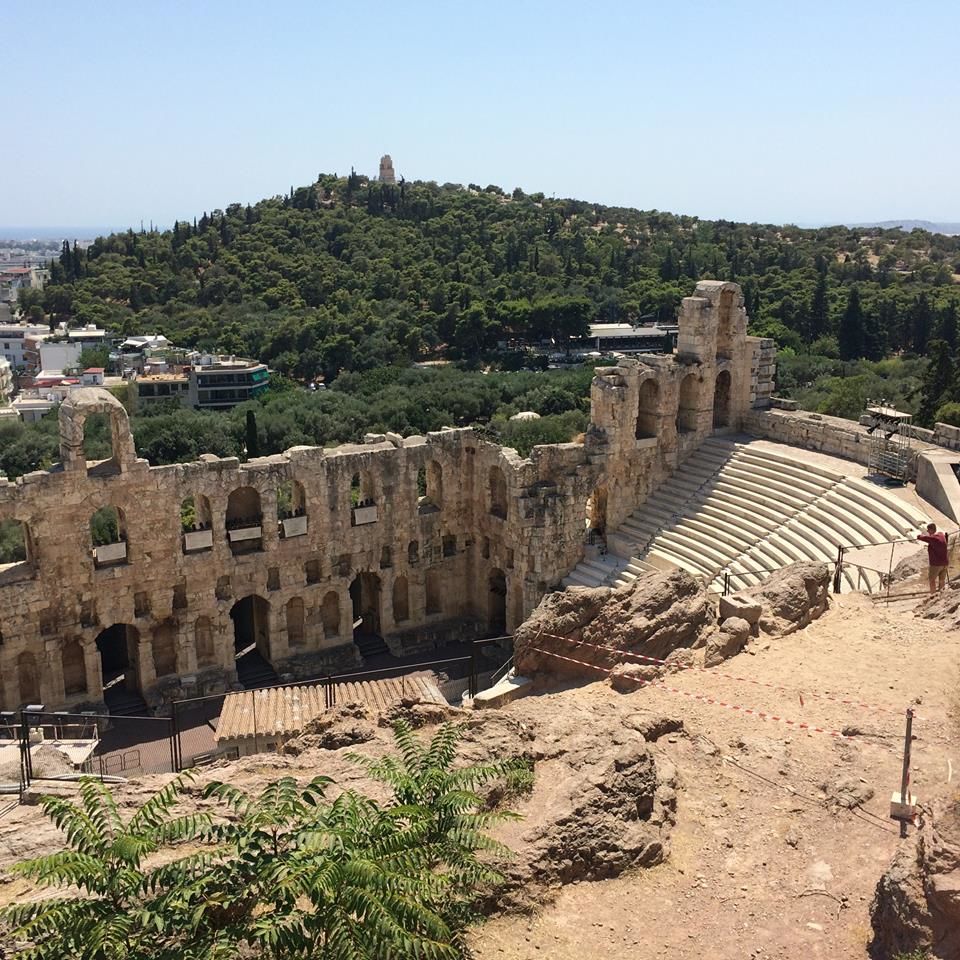 Gazi is such a spirited and exuberant place. I am so glad we met some helpful people the night before who offered to show us around. Traveling through the eyes of a local is the best way to do it. Moment we got off the train and walked into Gazi it looked lively. Lots of bars and restaurants. We went bar hopping to a couple of bars there. The owner and bartender of one of them was so nice to us. He not only got us free drinks and gave us tips on what we should do while here, but also introduced us to a new local drink called Ouzo. It was yum and he set us on our way to more of the night. A bunch of drinks, a couple of clubs and some crazy dancing later, we hobbled our way back to the hotel and called it a night… or morning was it?!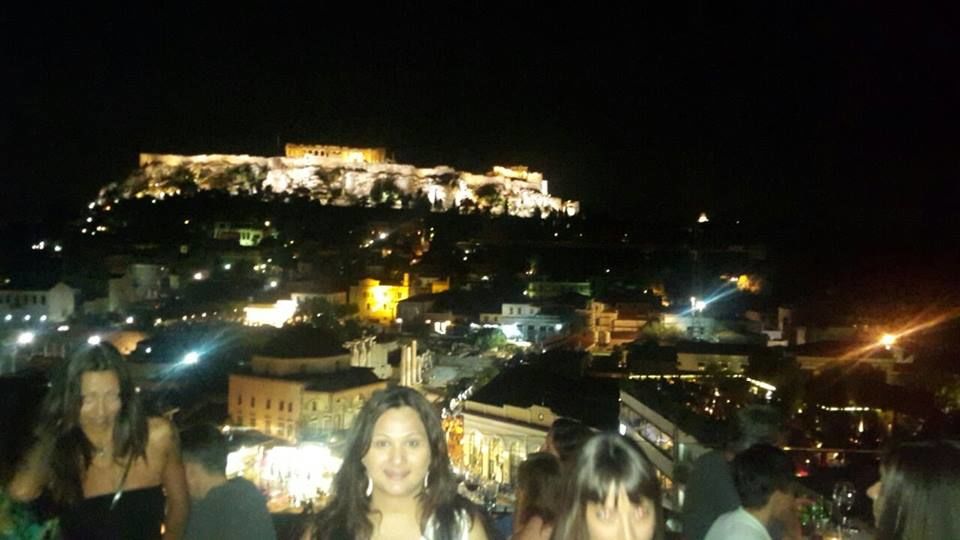 The following day was reserved for shopping. It was a lovely shopping district near Monastiraki and Syntagma square called Ermou street. Hoards of shoppers and a massive variety of shops were all over on both sides of the street. Lots of cafes as well as bars and restaurants made that area extremely lively and busy. There is shopping for all kinds of people… the high end stores as well as the more reasonably priced stores. One of the biggest and nicest H&Ms' I've ever been to in addition to all the cute little local boutiques. From stylish clothes, shoes, accessories and bags to artifacts and home decor items, it was all housed on that one long street. Once done, we walked our way back to the hotel and got lost a few times in between… We didn't mind that one bit… Getting lost in a new city always brings new experiences… we stumbled across a bunch of nice cafes by the waterfront overlooking the acropolis and decided to stop for a coffee. More locals, more friendly Greek cuisine and some additional replenishment later we made our way to the hotel via Plaka and left the rest of the evening to explore the rest of the city before our next morning ferry to Santorini.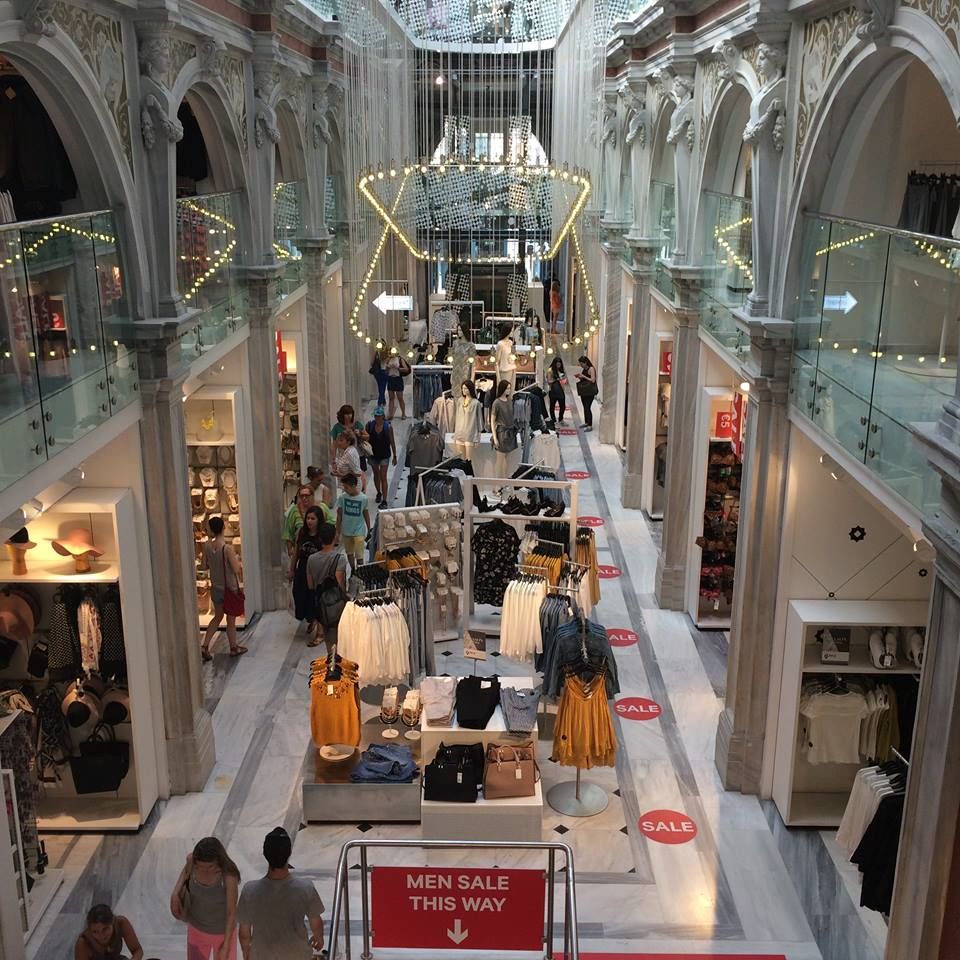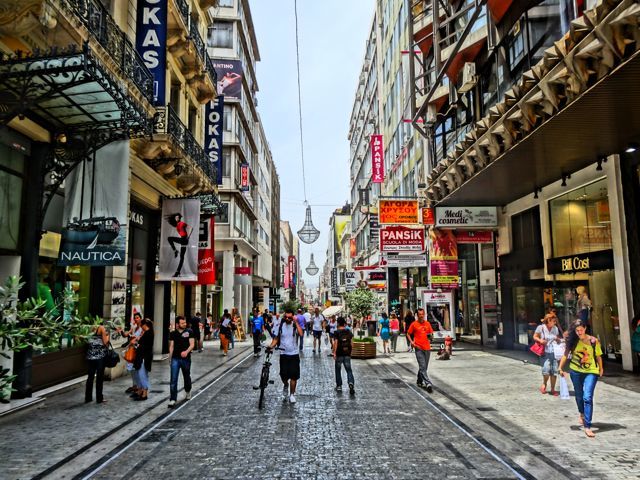 FOOD
Before I conclude Athens and head to Santorini, I would like to give a special mention and small description to the food I ate there… Greek food is tongue tingling tasty. One must try the local souvlaki and gyro in addition to the more fine dining options like fried calamari & octopus served with lemon juice. The dips like Tzatziki, Hummus & the plain Greek yogurt are finger licking good.(I might have licked a finger or two without any shame while devouring these items). The small little bakeries also host some delicious pies and smoothies. And lastly, no Greek food is ever complete before the famous Greek salad. Add that to any meal and it automatically becomes wholesome.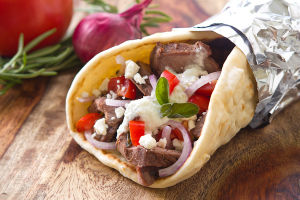 In addition to the above mentioned activities, one must visit the coastal waterfront area along the sheltered Saronic gulf. It is about 10 miles south of the city and roughly a 30-40 minutes drive. It boats of some beautiful beaches, some exquisite waterfront hotels, exclusive restaurants and raging clubs. It hosts activities for people of all ages, race & class. A must visit given one has adequate time.
Not once was the economic crisis a hindrance to tourists in any way. The shopping districts were packed, the bars were full and there was no discounts and sales anywhere. Even the ATMs' worked even though every article said otherwise.Was it just my luck or has this Greek downfall been over hyped, I will never really know… All I do know is that the city is absolutely beautiful, rich in culture and has food coma worthy delicious cuisine to offer. I was all set and more confident now to head to my next expedition… Santorini…