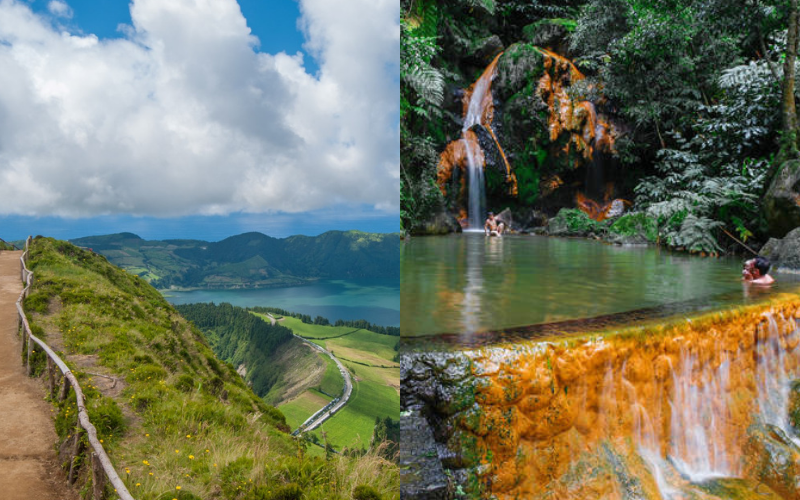 Low population, gorgeous landscapes, hidden natural wonders — and tons of hot springs!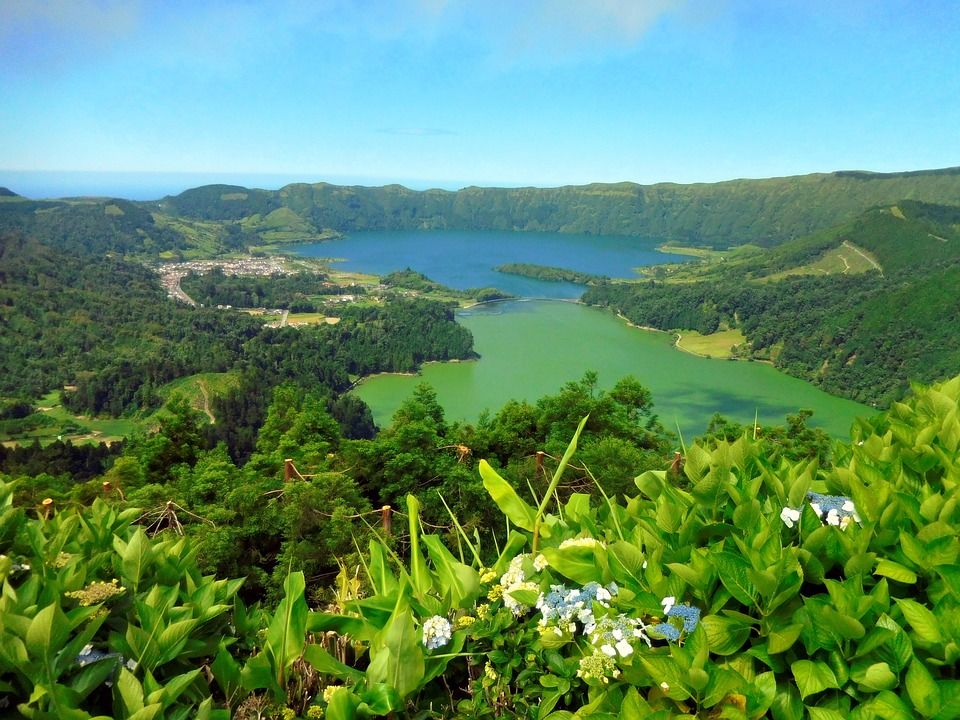 The Azores are an archipelago (a sea or a stretch of water having many islands) of nine Portuguese islands out in the Atlantic, they are characterized by dramatic landscapes, fishing villages, green pastures and shrubberies of blue hydrangeas.
Being touted as the New Hawaii by international tourists, Indian travelers still know little, or nothing about this far-flung archipelago in the middle of the Atlantic.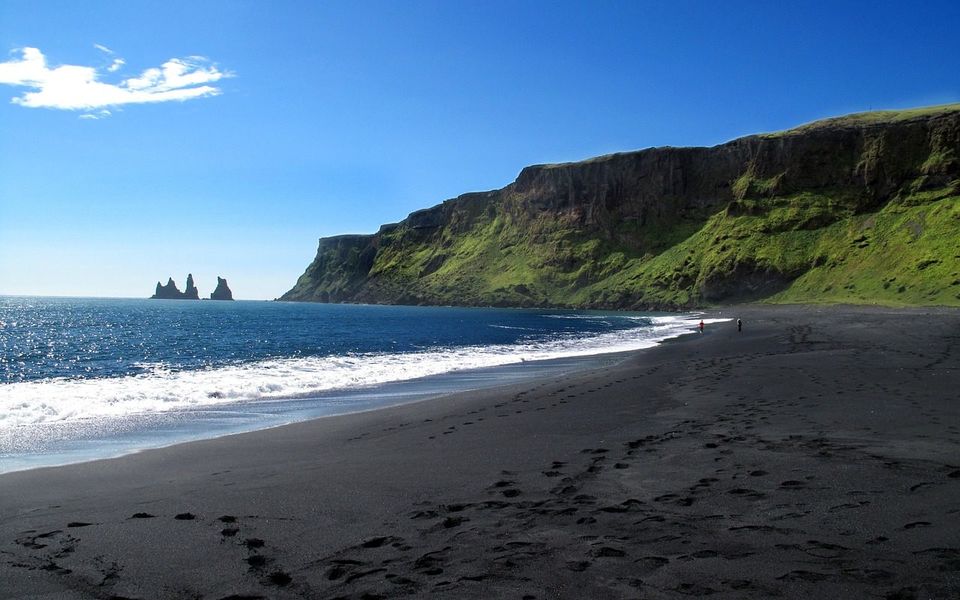 Where: Across the mid-Atlantic, about 1,500 km west of Portugal and 4,000 km east of New York, the Azores are about 2 hours from Europe and 5 hours from North America by flight.
An important mid-ocean refueling and pit-stop for commercial airlines, cruise ships, international shipping, and private yachts, the Azores are a part of Portugal and the Azoreans speak Portuguese.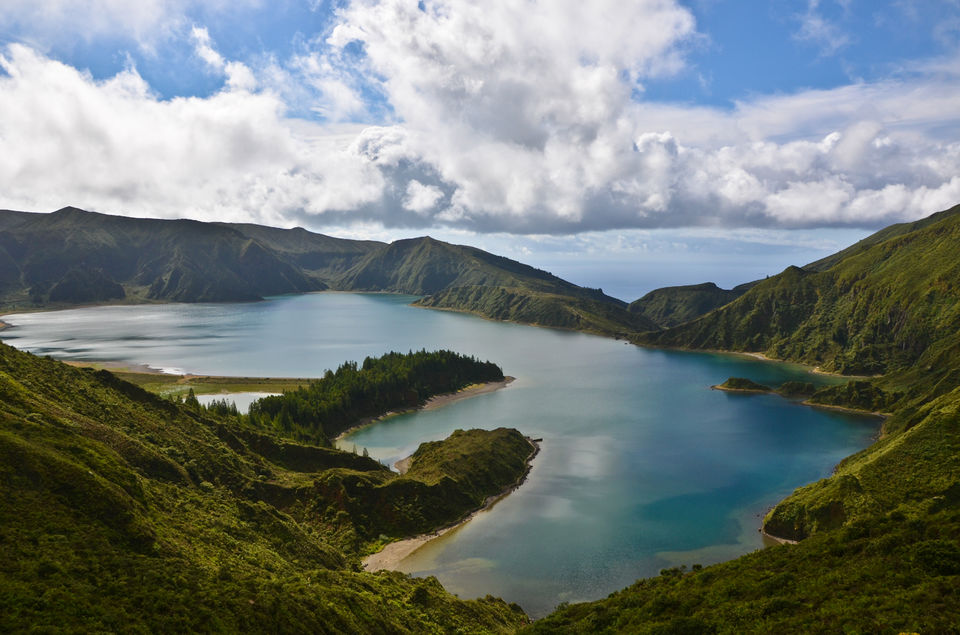 Packed with volcano craters, lagoons, small rivers, waterfalls, magical hot-springs, and dark-sand beaches, the biggest island of the Azores São Miguel is the current obsession – Europeans and Americans tourists. alike are crazy about!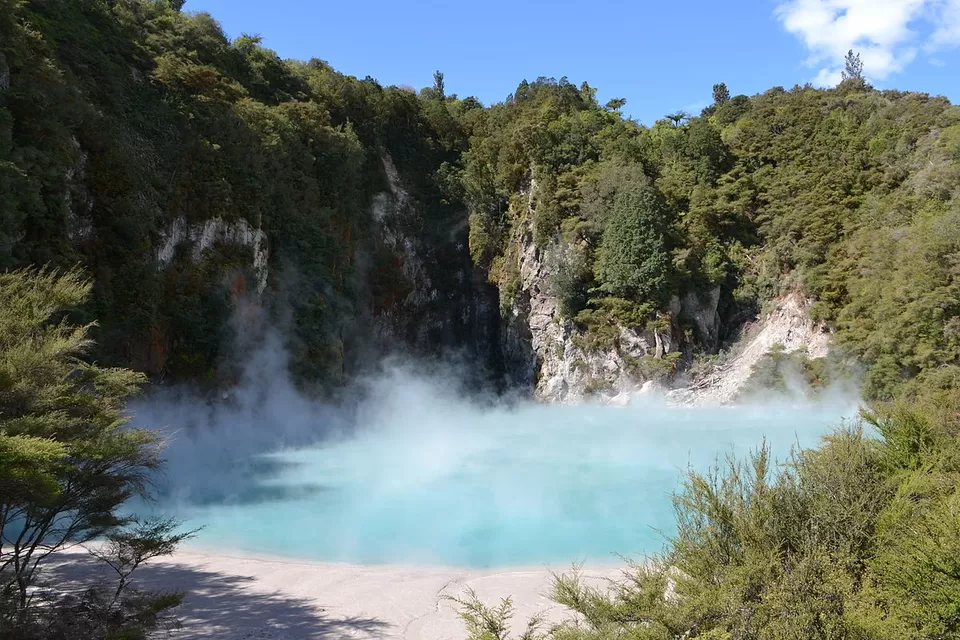 Who can travel here:
Luxury travelers, explorers, thrill-seekers, couples on honey-moon and anyone looking for some down-time surrounded by unadulterated natural wonders.
Highlights/Why Should You Visit The Azores:
1. Dark black sand beaches.
2. Geysers in Furnas where hot steam literally comes from deep under the ground, where one of the most active volcanoes in the islands is located.
3. Food cooked underground.
4. Capelinhos volcano where you can literally walk on the apocalyptic lava remains of a recent eruption (the closest you'll get to walking on the moon!).
5. Swimming with the dolphins.
6. Oh and of course: the hot springs!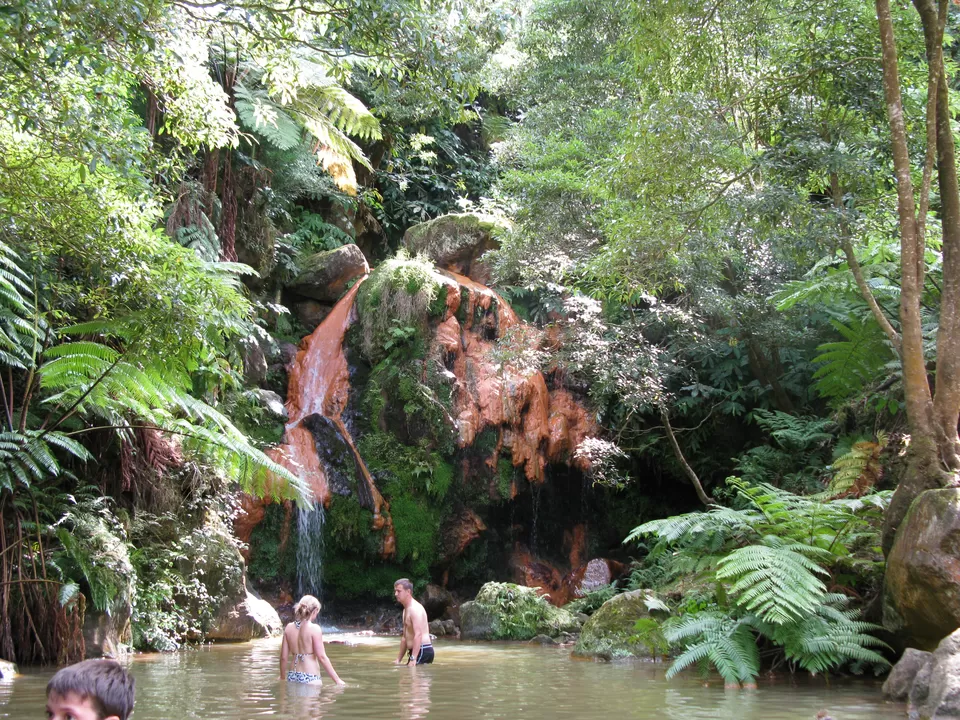 Currency: The Azores are an autonomous region of the Portuguese territory and the official currency is the Euro (€).
Things To Do In Sao Miguel:
1. Swimming With The Dolphins and Whale watching
The Azores are almost an international mecca for whale and dolphin watching; the archipelago is home to about a third of the world's species of cetacean.
Year-round residents include sperm whales, common dolphins, and the cutest bottle-nose dolphins. Many other species (including blue whales – the largest animal in the history of the planet) pass through on migration routes.
Well-organized tours run from the larger islands and there are many companies in Sao Miguel where you can book a tour like this.
Imagine yourself floating in the deep blue Atlantic ocean, watching and hearing adorable dolphins in their natural habitat!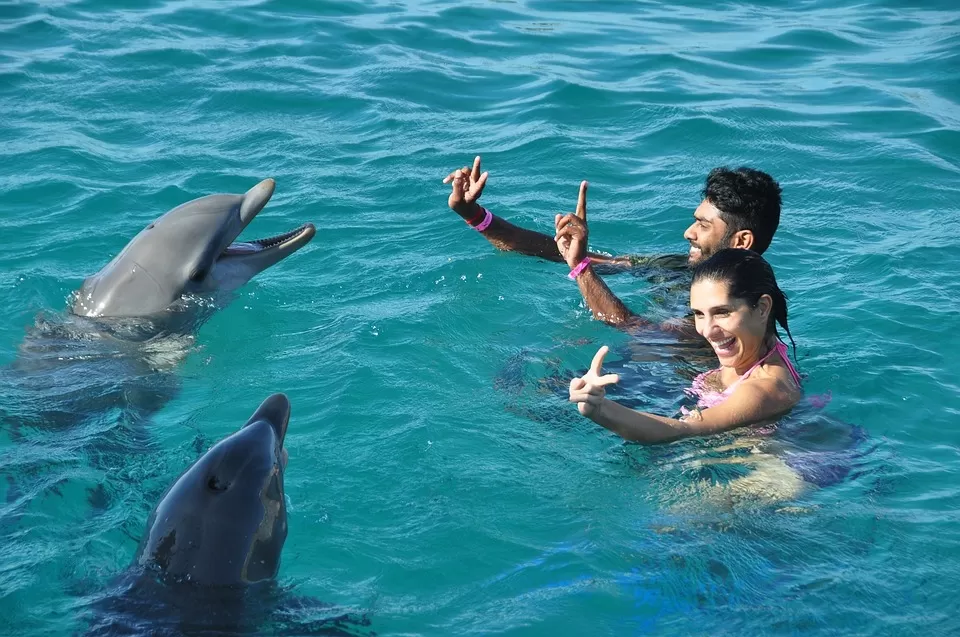 You can also have the ultimate experience of swimming with a dozen to fifty wild dolphins in the clear blue waters of the Atlantic Ocean here.
Cost of whale watching: Around 50 EUR (4,000 INR)
Cost of swimming with the dolphins: 70 EUR ( 5,675 INR-including masks, snorkels, and wet-suits for this activity.)
2. Diving
Diving experience in the Azores is incredible, unlike anything you've done before. Caves, shipwrecks, rocky shores, and clear waters create the perfect place no matter if you're a pro or you're about to do your diving baptism! (oh yeah, they call it that)
Between 17 C and 24 C warm, the seas are literally like a kaleidoscope of colourful species – from yellow-mouth barracuda to devil rays, loggerhead turtles to wrasse and moray eels dwell in the coast's jade-green bays and the shipwrecks cluttering the seafloor.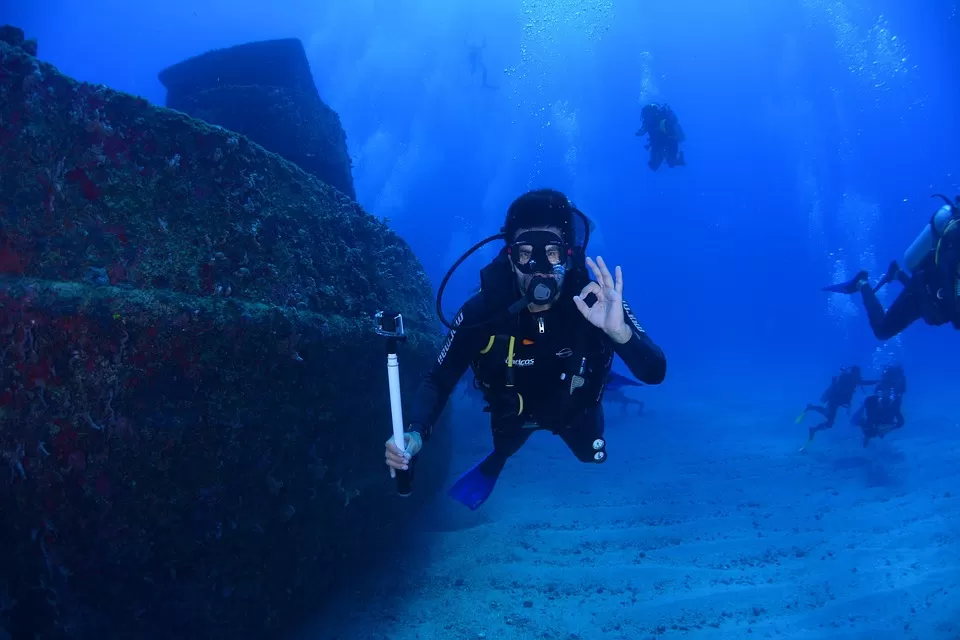 Among the many coastal dive sites, the 'Dori' shipwreck is undoubtedly the highlight. This Liberty ship from World War II rests on a sandy seafloor at an ideal depth for diving, just a few minutes away from the city of Ponta Delgada.
There are many accredited dive centers offering excursions and equipment, you can choose a package from here or here.
Cost of the experience: 75 EUR – 90 EUR ( 6000 INR – 7300 INR)
3. Hiking in Sao Miguel
The Azores are well-connected by a network of footpaths and hiking trails, each of these footpaths goes through extraordinarily gorgeous areas, linking almost all of the corners of each of the islands, both along the coastlines and in the uplands.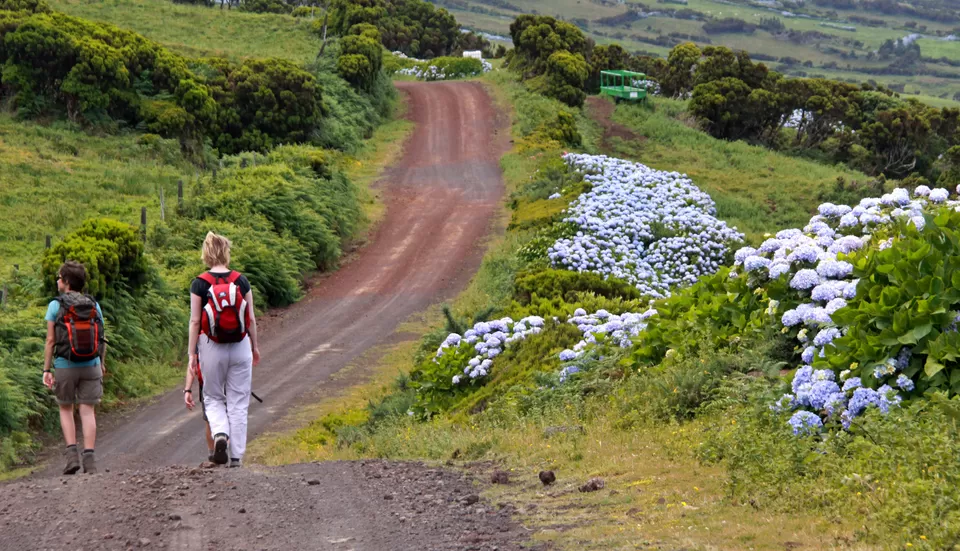 Salto do Prego goes through one of the most remote areas of Sao Miguel and leads to a mesmerizing secret waterfall in the middle of a lush forest.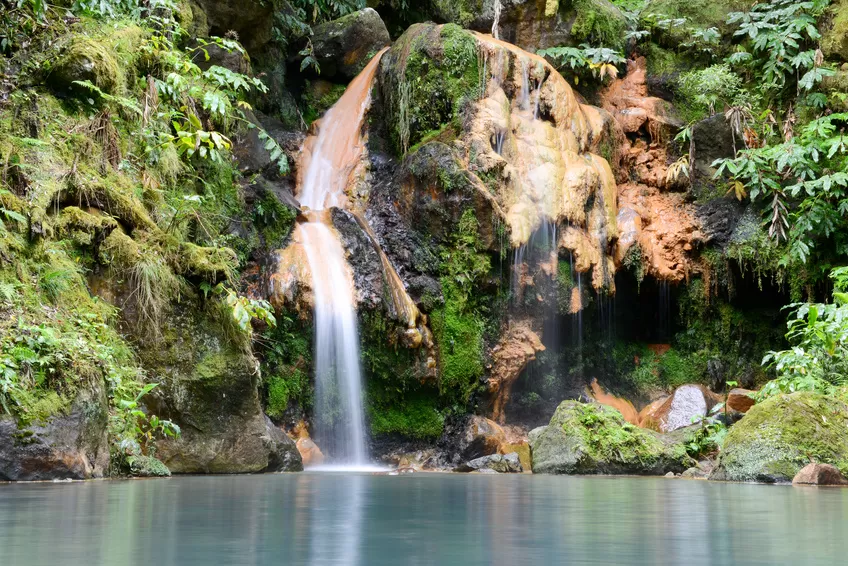 Gorreana, Janela do Inferno and Praia da Viola offers panoramic views of the island and the ocean.
Serra Devassa offers an eye-catching hike around the Lake District in Sete Cidades and returns to the start next to Lagoa do Canário.
You don't need anything for a hike just a water-bottle, some comfortable shoes, snacks and lots of enthusiasm.
4. Canoeing
The mild weather, warm water and variety of the coastline make the Azores a year-round destination for water-sports. Sea canoeing is one of the most popular options to row until reaching Ilhéu de Vila Franca do Campo (Vila Franca islet) which doubles up as a summer bathing site.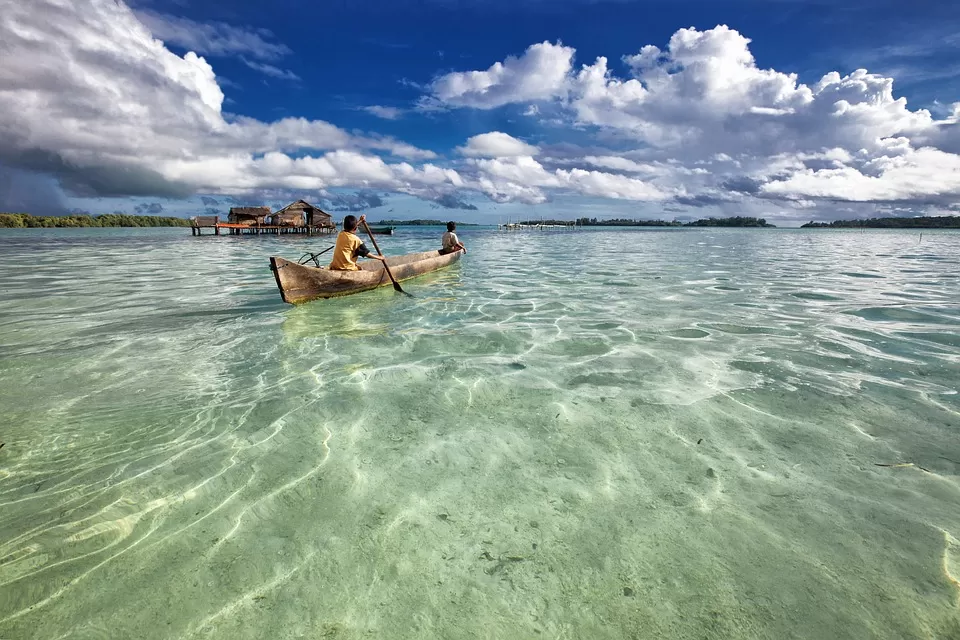 One can just head to the shore of Sete Cidades lagoon and you'll find stalls there with canoes to rent at an hourly rate.
Thrill-seekers might want to try other spots on the shore with free access to caves and small hidden beaches. You can book a day trip with agencies like this and this.
Cost for Canoeing: Canoeing can be as low as 30 EUR (2,430 INR) for a day to around 8 EUR (650 INR) for an hour.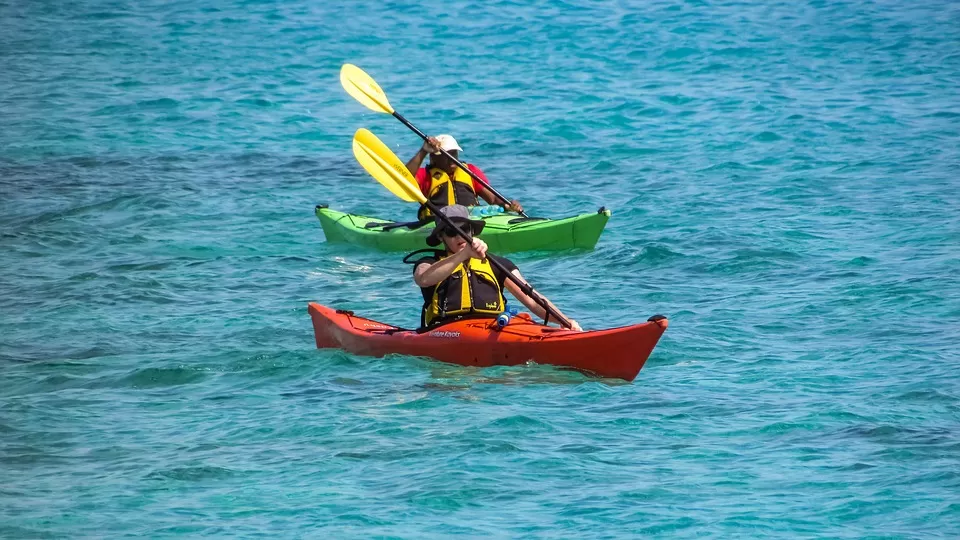 5. Sunset Cruise
When the evening sun starts dipping towards the vermilion horizon, you can take a soothing boat trip that allows you to unwind and appreciate the beauty of the sea and coastline.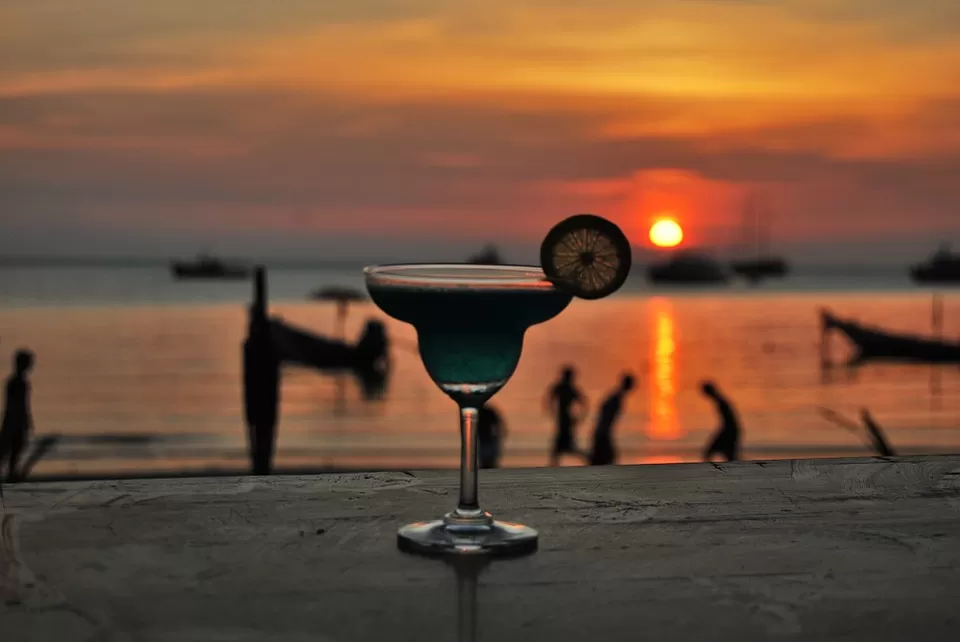 The duration of these tours is usually two hours where you can sail towards the south coast with great views of rock and lava formations while sipping on Pico wine and relishing Azorean cheese.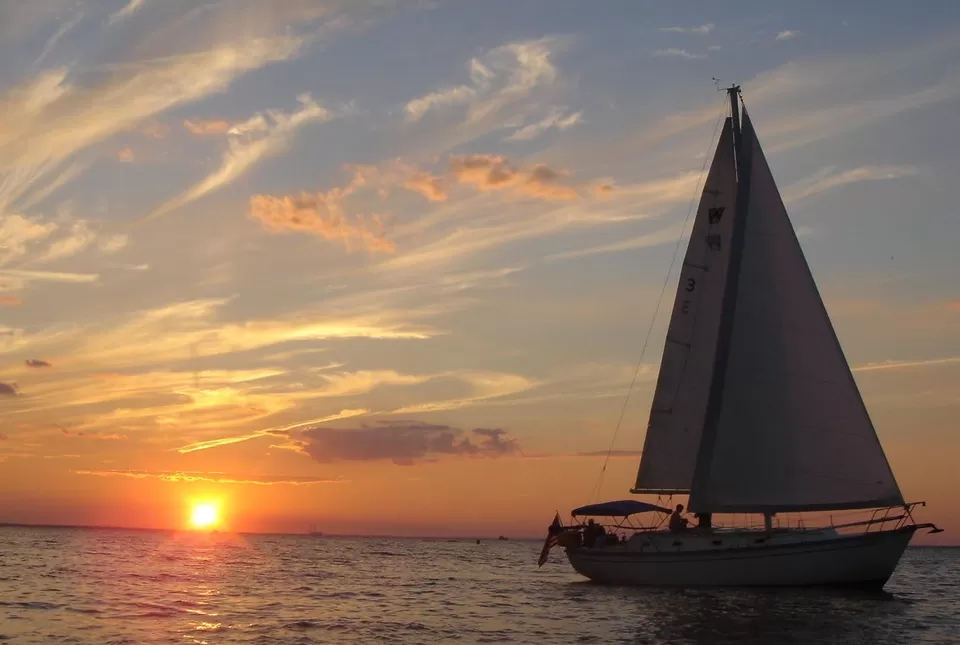 Click away at the beautiful cliffs of Rocha da Relva, a particular location with summer houses accessible only on foot. You can check this one here.
Cost of the experience: 45 EUR ( 3,600 INR)
6. Bathing in hot-springs
A surreal landscape perfect to relax after a long day of sightseeing accompanied with a soothing dip in mineral-rich natural hot springs! Sao Miguel is the best island for hot springs surrounded by a wild forest of palms and conifers.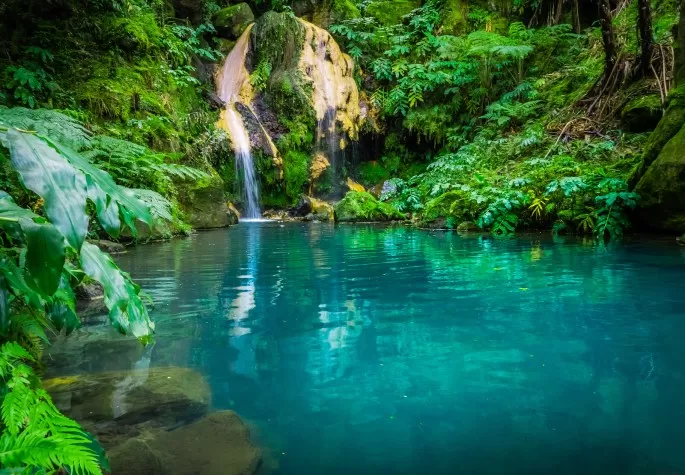 There are three main places where you can enjoy a mineral-enriched bath on the island:
Caldeira Velha: A waterfall of warm, iron water where you can take a dip, it is located on the north slope of the Fogo Volcano.
Poça Dona Beija: a set of thermal pools and waterfalls in the village of Furnas with waters reaching 37 degrees Celsius.
Terra Nostra: This thermal pool in the Terra Nostra park in Furnas is one of the postcards places of the island.
You can also try other activities here like Paragliding (where you can fly over the volcanic craters of Furnas and Sete Cidades in São Miguel island) kayaking, trekking, surfing and more. The island offers a plethora of unexplored and cool adventure activities.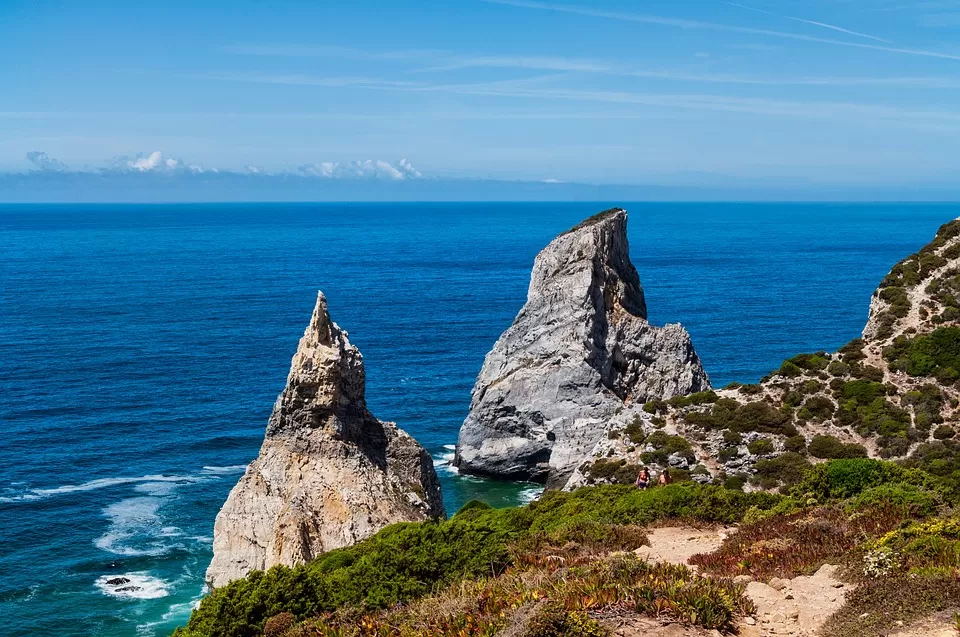 Getting around within Sao Miguel and to other neighboring islands:
In the Azores, for centuries, the easiest way to travel from one place to another within the same island was by sea. You can quickly and easily catch a boat to another location or city within the archipelago – so explore the most popular trails, or others less traveled, when you visit!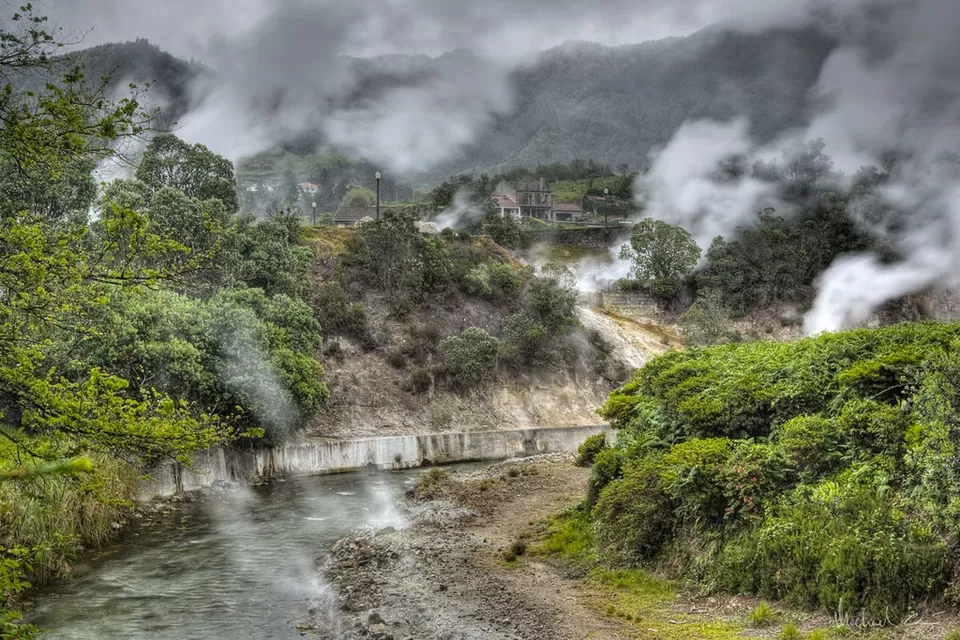 Bikes
Biking in a volcanic crater along lagoon shores is a super-fun experience that is super affordable too.
Most adventure tour companies rent bikes there and they now even have stalls at all major tourist attractions. The hotel you're staying at can also get bikes on rent arranged for you.
Cost of renting a bike: Approx 8 EUR per hour (650 INR)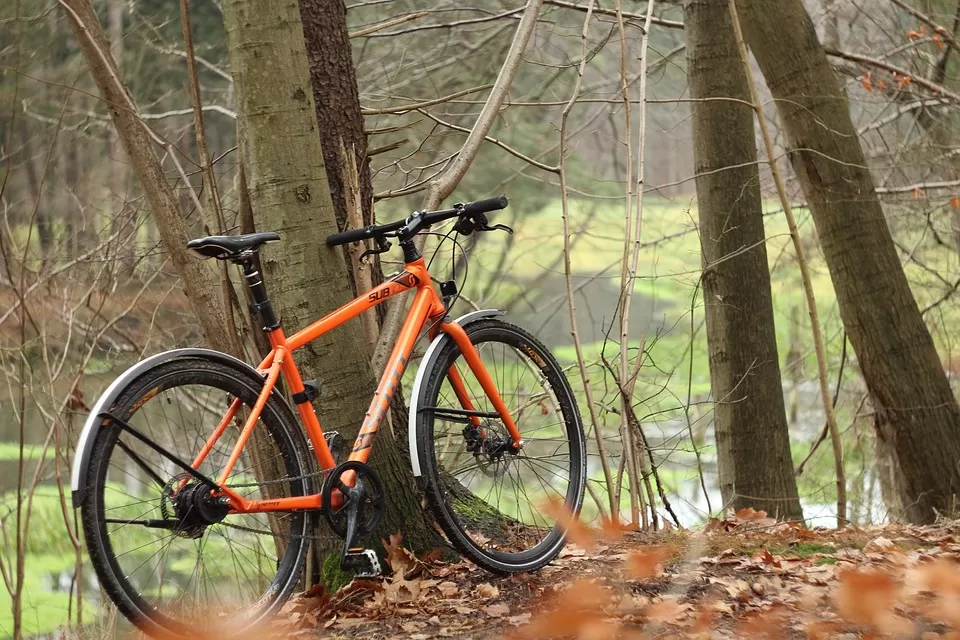 Flights
The easiest way to get from one island to another is to fly; each island, even tiny Corvo with its single village, has its own airport. Inter-island flights can be booked through SATA .
Ferries
Although there are some sub companies operating inter-island ferries in the Azores, they all belong to the same parent company: Atlântico Line. It provides a full service (including vehicles) between all the 9 islands.
There are daily sailings from mid-June to mid-September. Though the sailing times vary; the crossing from Terceira to Sao Miguel, for example, takes six hours.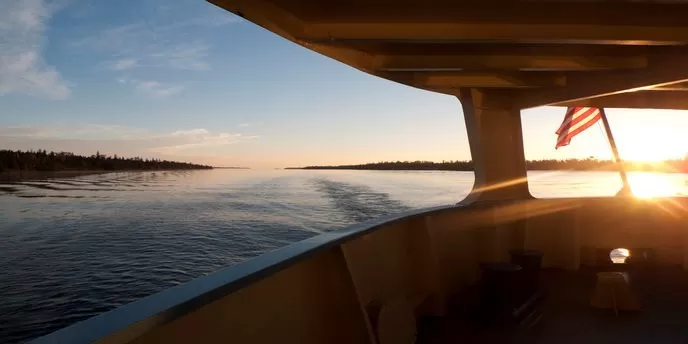 You can check Atlântico Line's schedule page for detailed info, but this is what you can expect:
Eastern Group – São Miguel and Santa Maria. Only available during summer months, the trip takes roughly 3 hours.
Central Group – São Jorge, Pico, and Faial. The service runs several times a day the entire year and given the proximity of the islands, it's very reliable. You can book with Atlântico Line or Transmaçor.
Western Group – Flores and Corvo. Atlantico Line runs the only ferry to Flores. There is a very small ferry that runs between Flores and Corvo and it may hold 10-15 passengers.
Cost: You can check the different tariffs here. (It may get a little intimidating to understand, but once your itinerary gets ready, you can easily break it down.)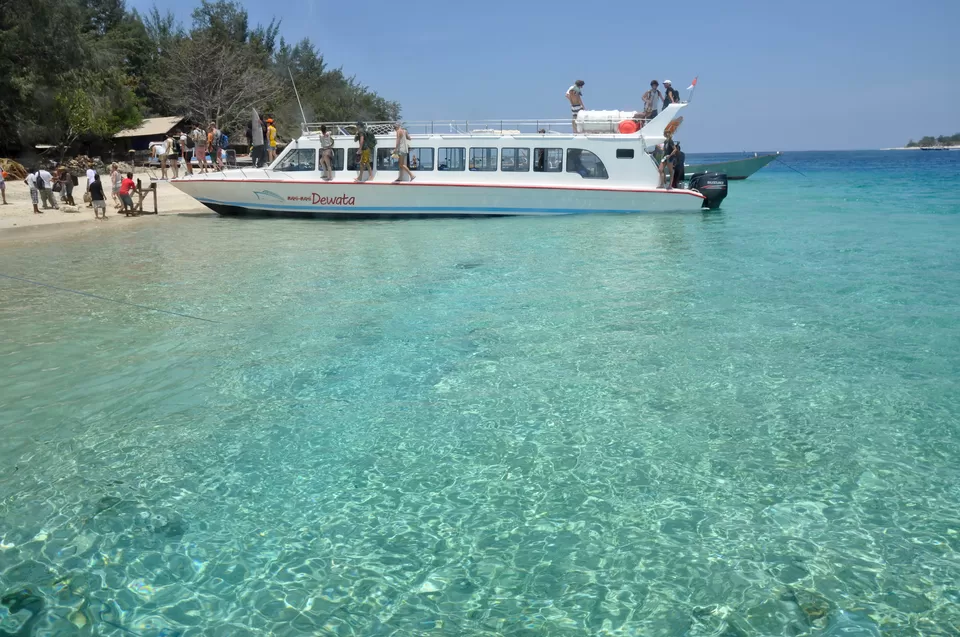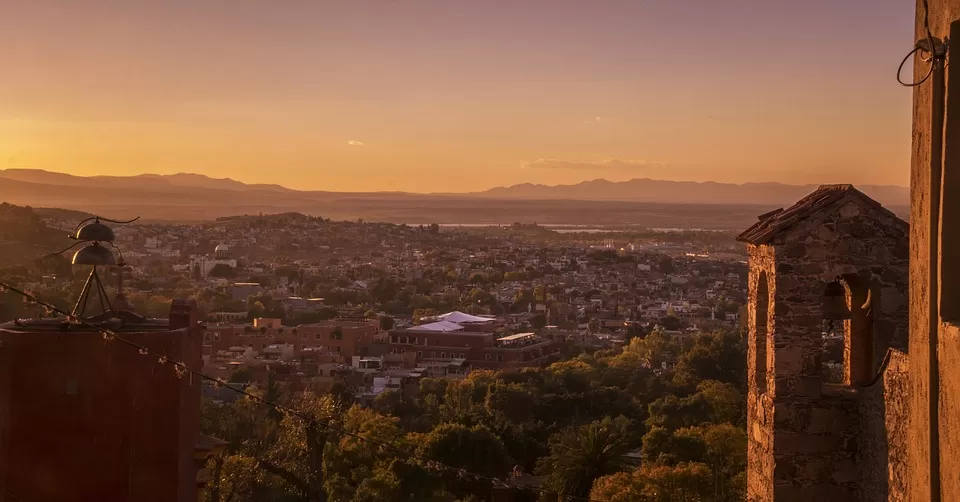 Tip: Booking in advance will give you a better price. There are not a lot of cars on the islands and so it never gets busy on the roads. The most used roads are of good quality on every island, but always keep in mind that you'll probably also have to navigate on a few bad roads (no big deal for those who have driven on Indian roads).
Weather:
The Azores are remotely located in the middle of the Atlantic which causes the weather to be truly unstable, the weather can change dramatically any minute. Having a clear blue sky in the morning and showers in the afternoon is not uncommon!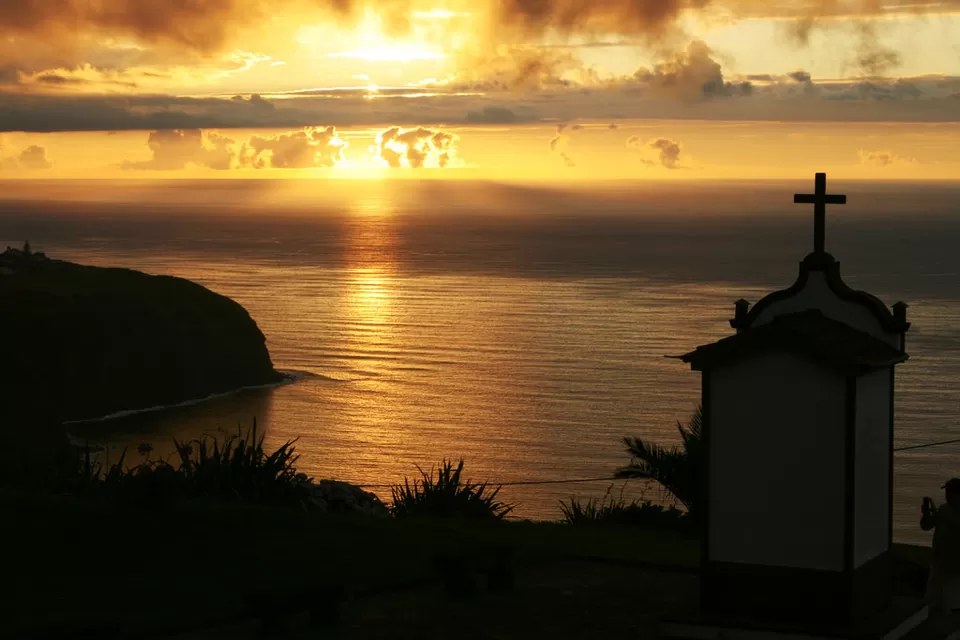 This unpredictability adds a certain charm and thrill to the destination. You never know what you'll find encounter makes the whole experience more adventurous and memorable.
Best time to visit: The best months to visit the Azores, weather-wise speaking, are from April through November, June through August are the busy tourist season.
Azorean Food:
Food and beverage at Sao Miguel are inexpensive and you'll be amazed at the variety of food.
Dotted with quaint, pretty restaurants, tourists get a very warm reception and are served very traditional food, all cooked in-house, including the bread baked in the wood-fired oven that is in the center of the dining area in Sao Miguel. The connection of Portugal to Italy results in restaurants serving delicious pizzas.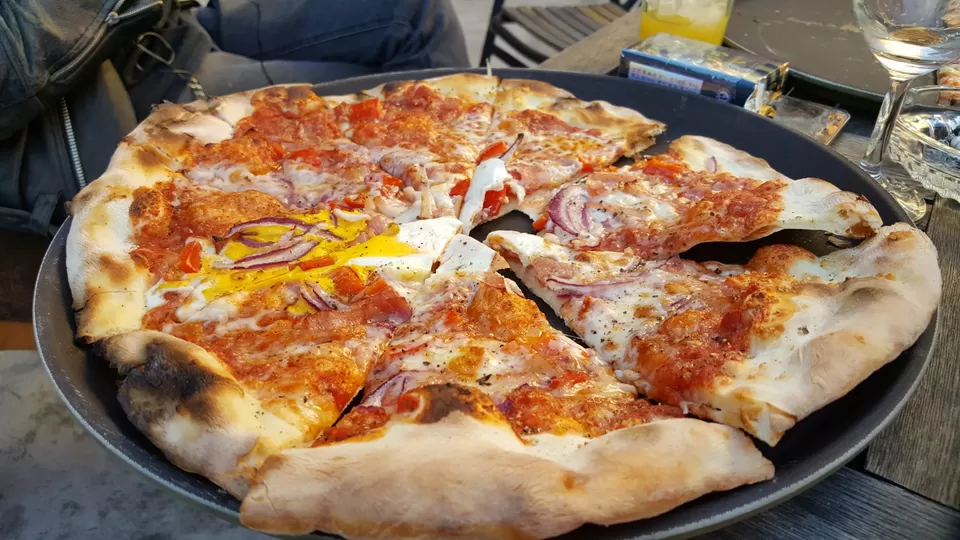 You can enjoy a typical Portuguese meal, wine and taste delicious vegetarian and non-vegetarian dishes here.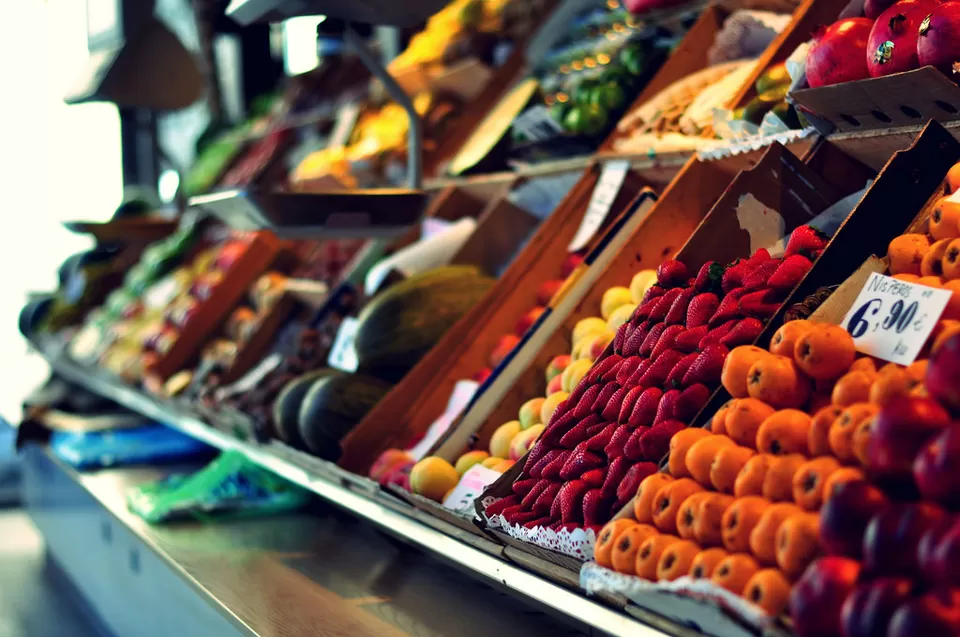 Don't forget tasting the wines of the Azores–they are interesting and inexpensive. Trying the Sao Jorge cheese is recommended, it is amazing!
How to get there from India:
From India, a good way to connect would be to take Turkish Airlines to Lisbon and then fly from there. Azorean airline SATA flies direct from a dozen destinations in Europe and four in North America. Budget carriers Ryanair and easyJet shook up the local industry by introducing flights to the Azores earlier this year. Flights to the Azores are considerably cheaper from Porto or Lisbon (in Portugal) or London.
Ponta Delgada airport (on Sao Miguel) has the highest number of flight connections.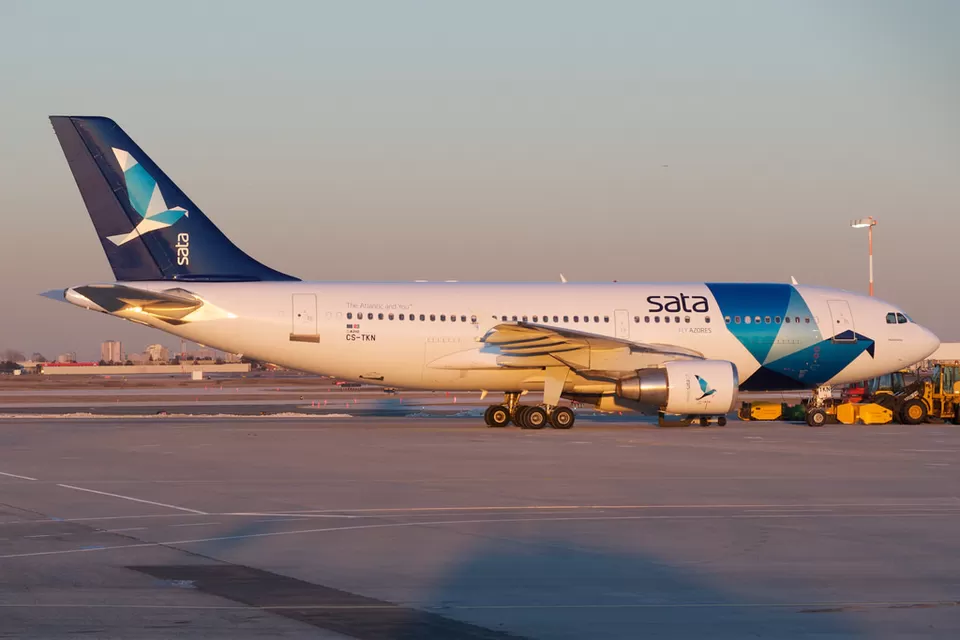 Cost of the airlines: One-way flight from Mumbai to Lisbon costs 25,000 INR and then from Lisbon to Ponta Delgada airport of Sao Miguel will be 6,000 INR, thus totaling up-to 31,000. Check this and this.
Though the costs may fluctuate based on the dates and airlines you choose. Booking six months in advance and round trip flight tickets are a great way to save on flight expenses.
Tip: It's a great idea to include a trip to the Azores if you are travelling to Europe or the USA because then you can save up a lot on the flight costs.
Visa for Indians:
Indian Nationals require a Portugal Visa to visit the Azores. You can check out all the documents required and the fees here.
Cost of the Visa: 13,000 INR for adults.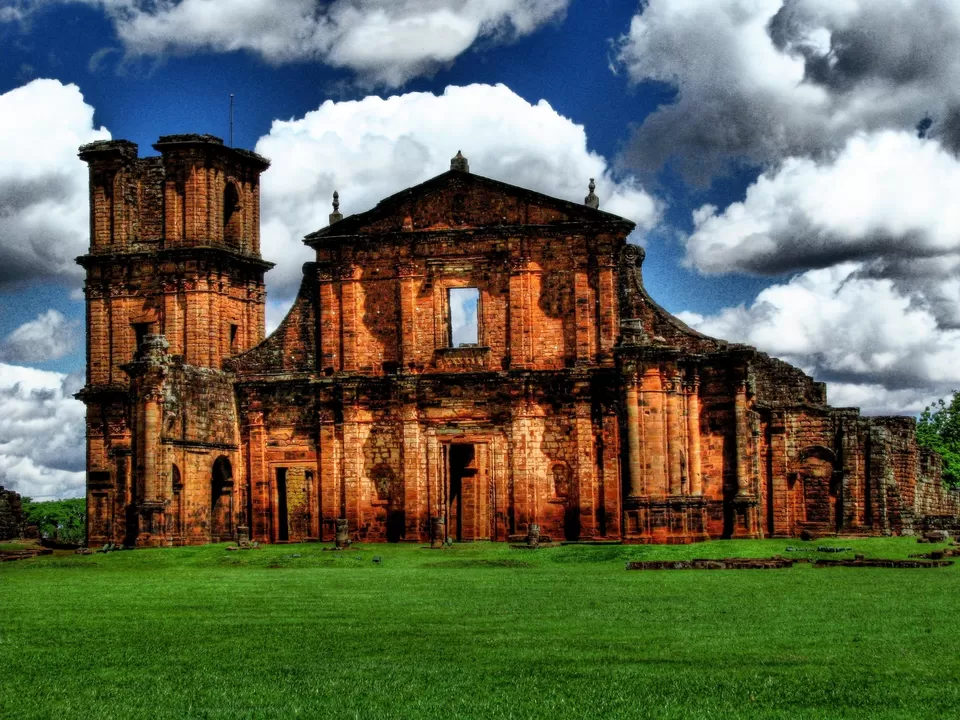 Total Trip Cost: You can get a lot of great deals here that include round-trip flights (from Boston), accommodation and transportation which costs you around 549 EUR (40,000 INR) for one person.
If you're looking for accommodation options in Sao Miguel, you can browse here. Let me know if you want me to do a write-up on beautiful budget-friendly stay and food options in Sao Miguel or the Azores.