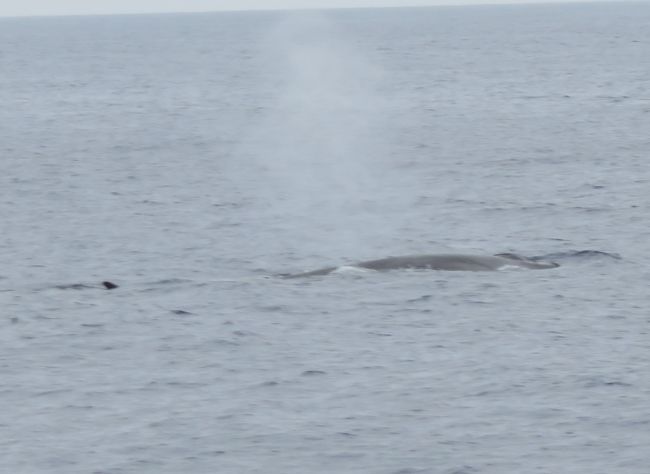 CNN, Fodor's, Huffington Post and multiple blogs rank the Azores as one of the best places in the world to see whales. Our family has a fascination with sea life, particularly whales and dolphins. Since our son was about four, we have studied books and watched Blue Planet videos at any opportunity. Our Disney Cruise Line Transatlantic cruise stopped in Ponta Delgada, Azores. We jumped at the chance to see these magnificent animals.
Futurismo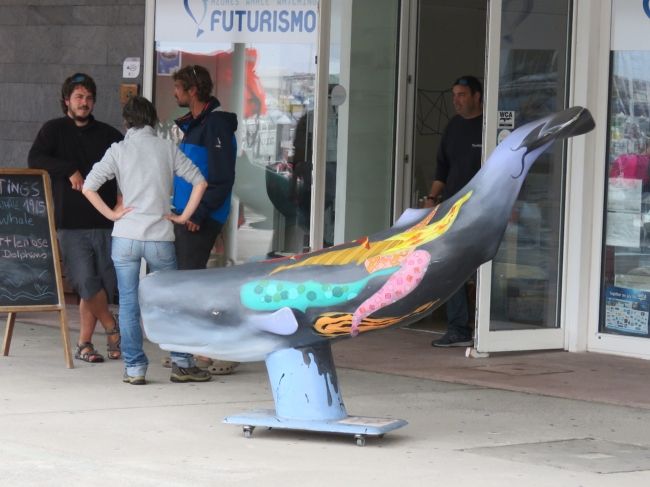 We booked our whale watching excursion privately with Futurismo. They had received good online reviews. Our questions were answered promptly by email. Everything went smoothly. The price was reasonable, also. We paid only $55 per person. This was as excellent choice.
Ponta Delgada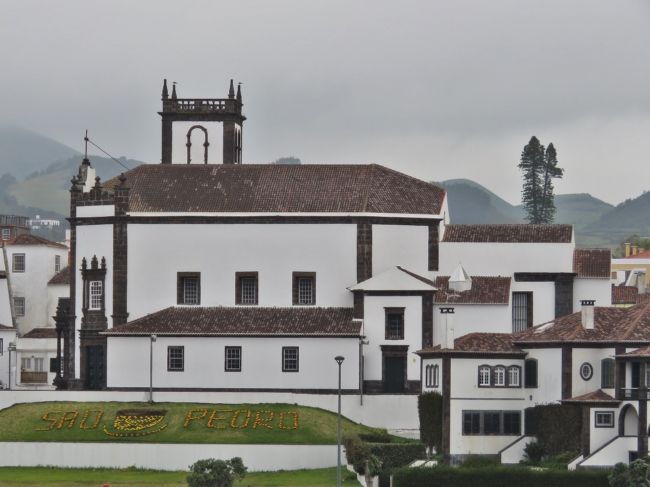 Our ship docked on a cool, wet morning in beautiful Ponta Delgada. White washed homes and buildings with a deep, green background of the hills and mountains are absolutely stunning. A light drizzle did not diminish the beauty.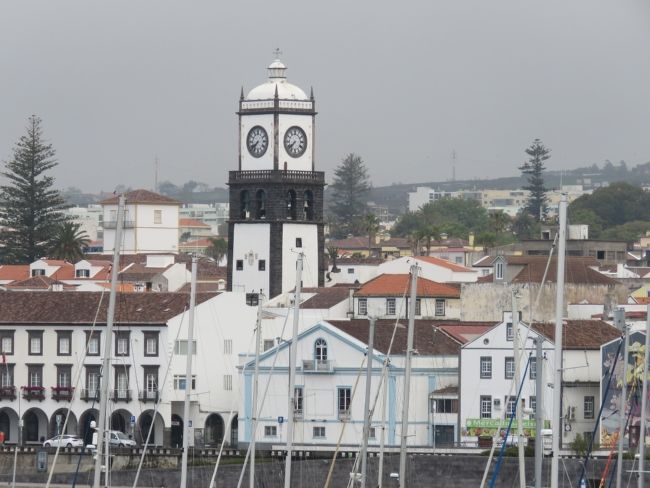 We arrived on a Sunday morning. Most shops and restaurants were closed. We were unable to enter the churches as they were in use. This was okay, though. The streets were uncrowded. We could roam and explore much easier.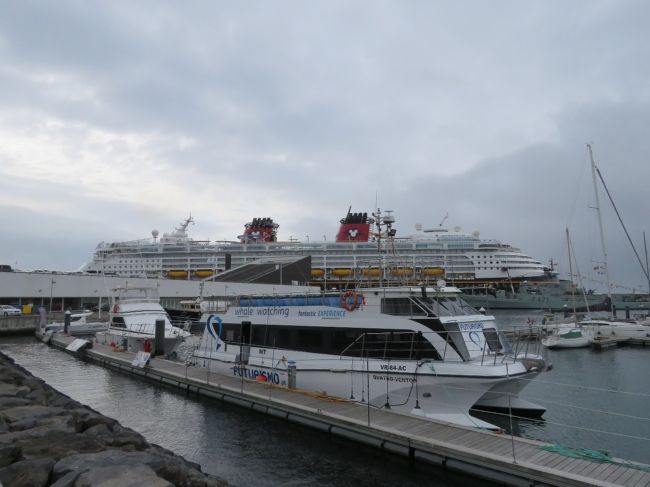 Futurismo is located at the end of the cruise line dock. Other tour companies, shops and restaurants also line the harbor.
Whale Watching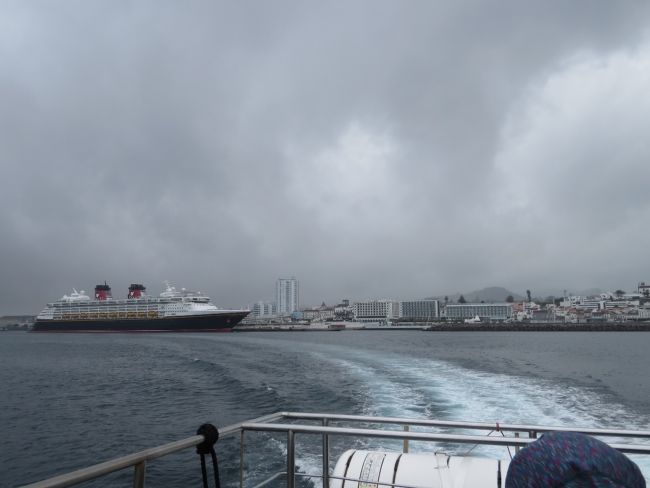 We were offered two options to whale watch: on a boat with an open upper deck and a covered lower level or on a rigid, inflatable raft. We chose the boat and were glad that we did. The Atlantic was choppy and the air was chilly, 64 degrees (18 C). A cool mist persisted throughout. The raft would have been cold and wet for our cold natured family.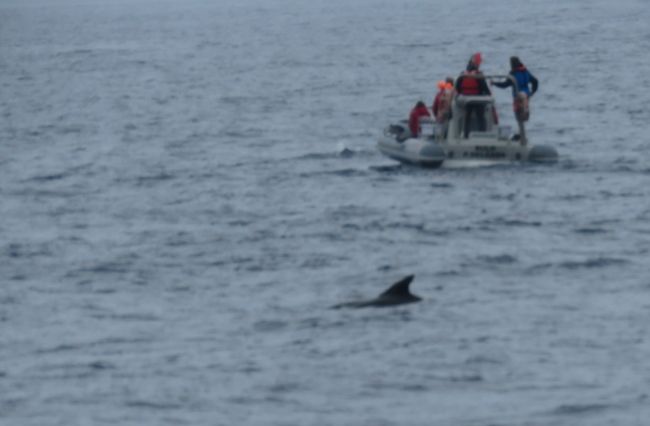 Futurismo spots whales and dolphins from outposts on the land. They then direct the vessels where to go. We were concerned that poor visibility would make this method futile. Fortunately, it was not. Not long after embarking, bottle nosed and common dolphins began jumping all around.
Dolphins!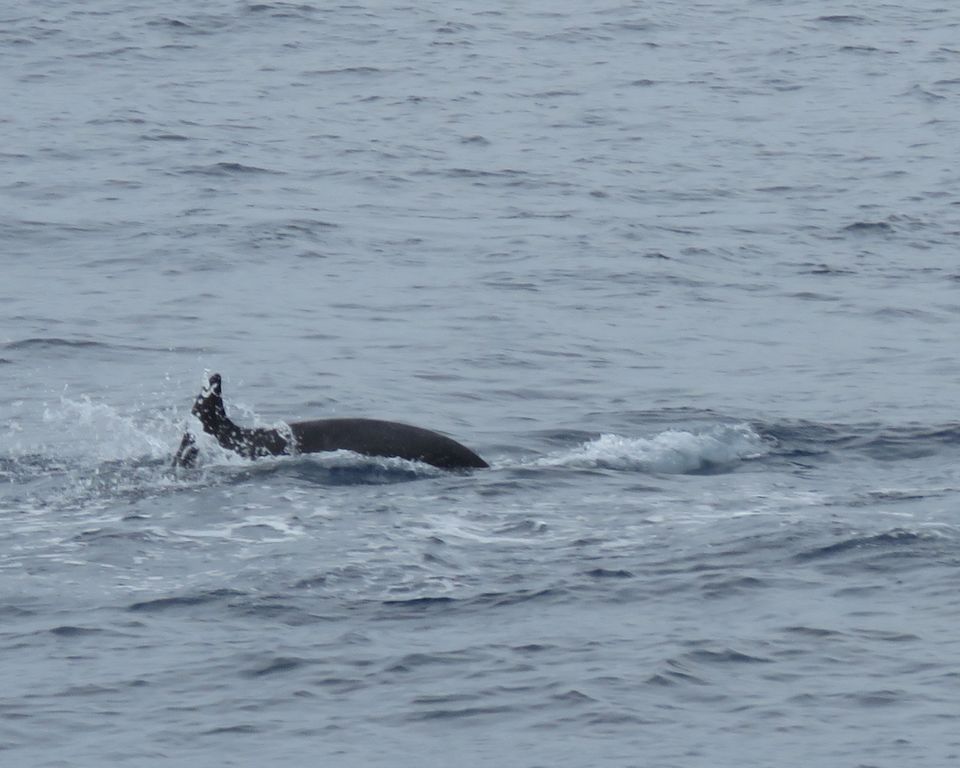 Bottlenose dolphins are solid grey. They are lively and curious. I had seen them multiple times in the Gulf of Mexico. Bottlenose dolphins come to mind when most of us think of dolphins.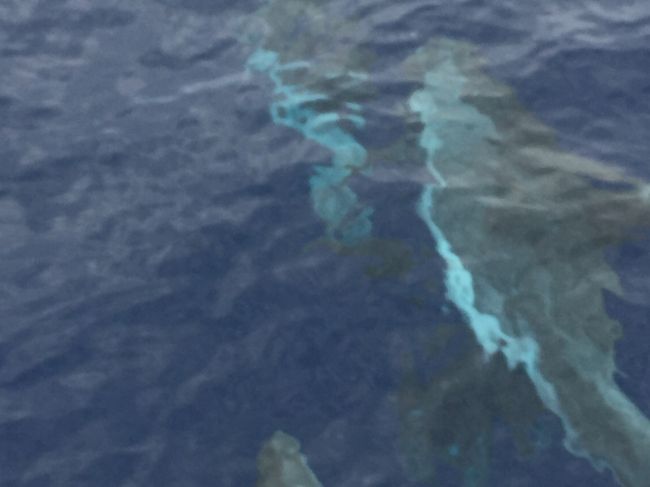 Common dolphins have grey back and upper flanks but have white lower sides and abdomens. They too bounce and play through the waters. Both are as fascinated by humans as we are by them. This makes them easy to find.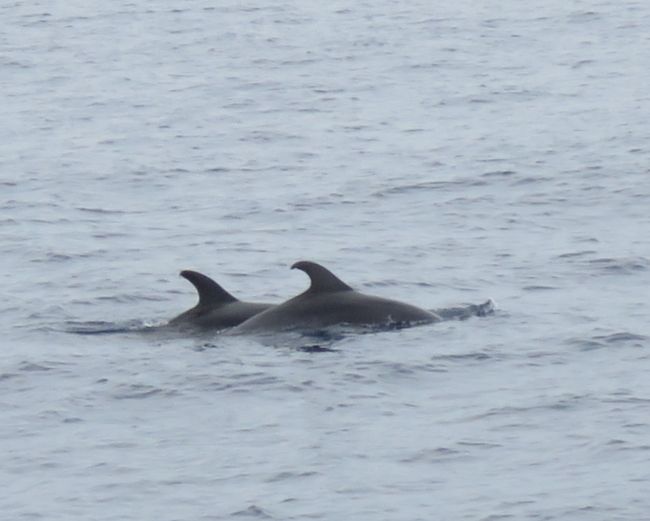 The dolphins put on quite a show. We stayed in one spot for 20 -30 minutes watching them. This was the first time any of us had seen common dolphins. We were thrilled.
Whales!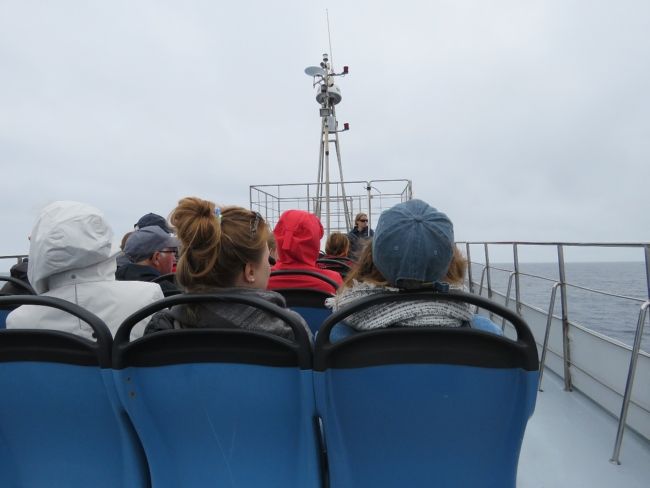 Once we had our fill of the dolphins, we set out to find more sea life. After about 30 minutes, we came upon a cluster of whales: blue whales, fin whales, and sei whales all swimming together. We were able to make out the blue and fin whales, but honestly could not distinguish the sei whales.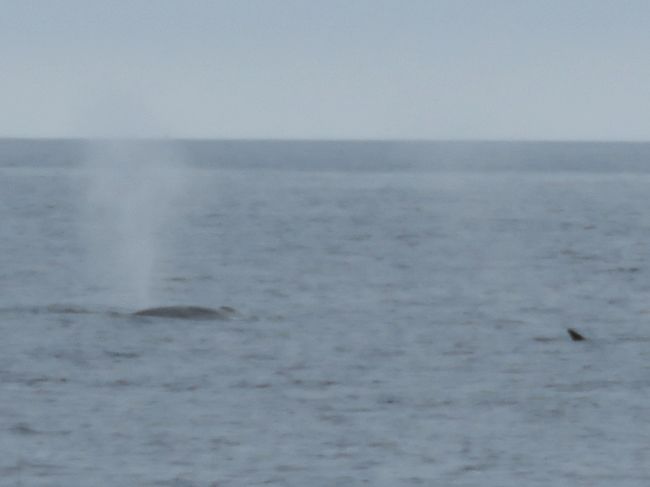 The Azores are known as the best place in the world to see blue whales. Blue whales are the largest animal to ever live on earth, over 100 feet long; larger than elephants or dinosaurs! These gentle creatures dive deep to feed on krill and small fish. Briefly, they emerge for air every 5-7 minutes. An area of water would smooth out and then their massive back would emerge.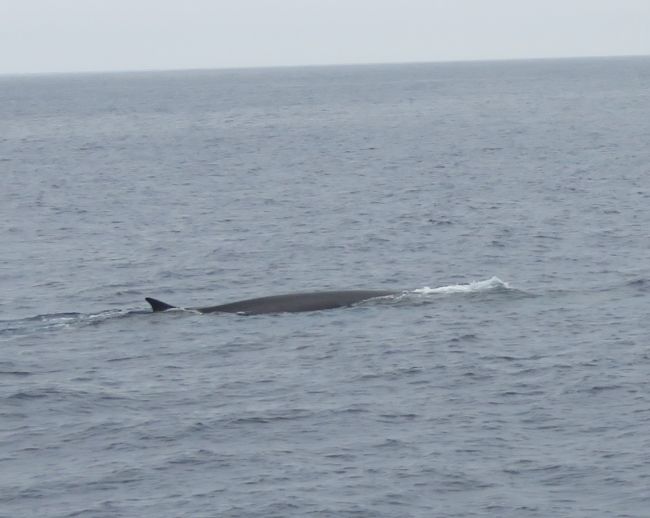 Once, one unexpectedly surfaced about 15 feet (5 m) from where I was standing on the side of the boat. We all let a gasp of amazement. No thought of taking a photo entered my mind. I was awe struck.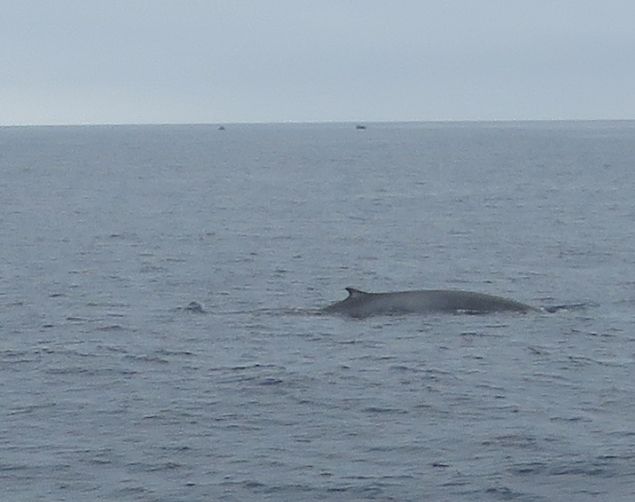 Our knowledgable guides helped us distinguish between the whales. Of these three largest whales, the larger the whale, the smaller the dorsal fin. So, the blue whale has the smallest fin. The dorsal fin of the fin whale curves at a more acute angle, too. The color of the head can also be used to identify the species. Blue whales have uniformly grey heads. Fin whales have grey left, lower jaws, but white ones on the right. V shaped patches of lighter grey also mark the tops of the head.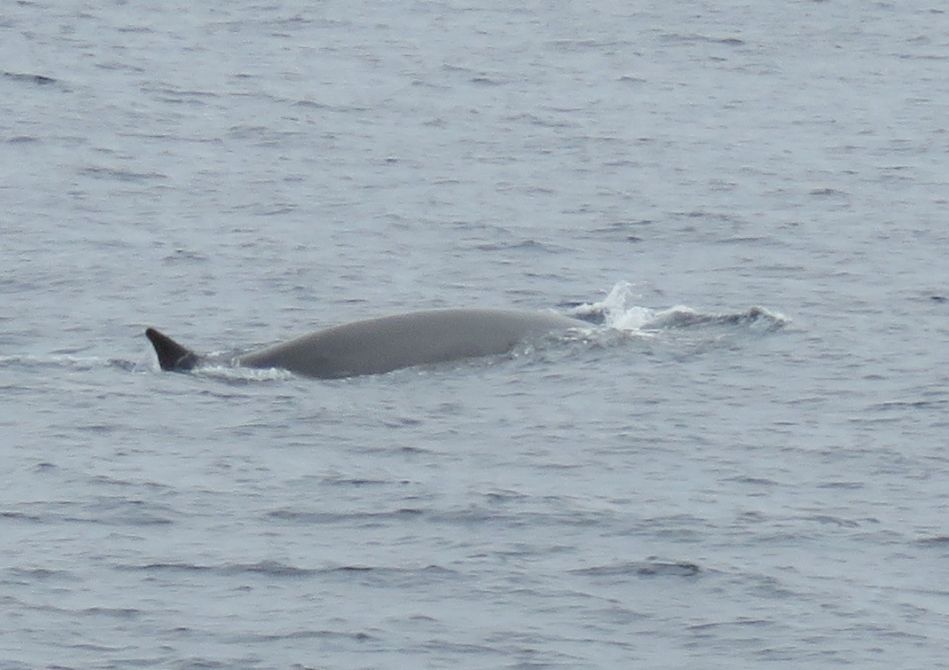 One little girl yelled out, "best whale watching ever!" as the whales surfaced all around. We all concurred.
Back to Shore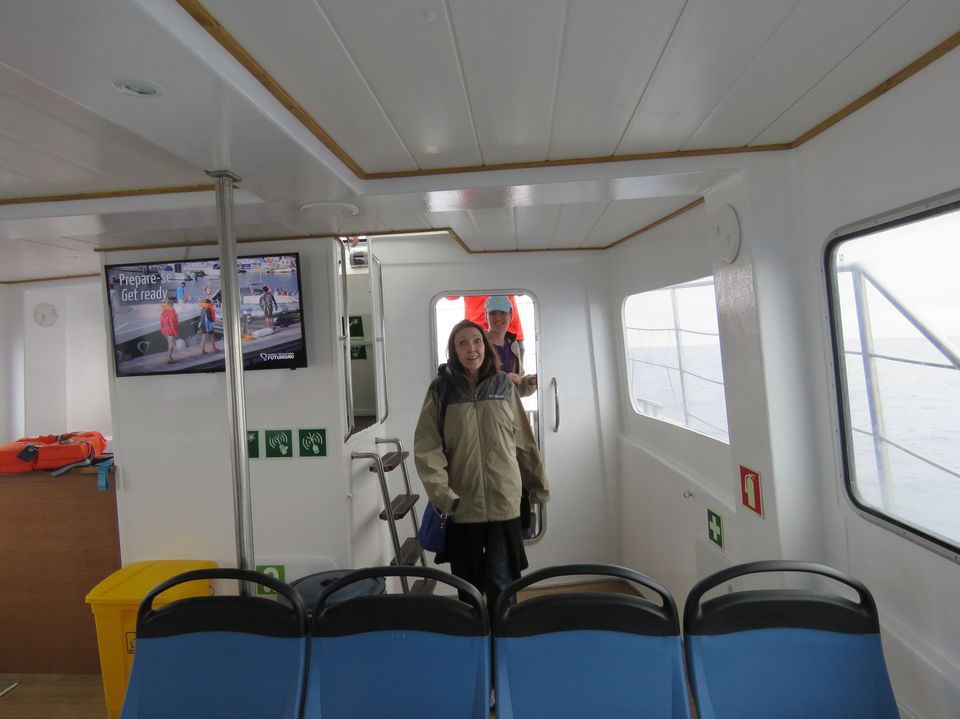 We watched the whales for about 20 – 30 minutes. Then, our boat left to allow them peace. Our family retired to the lower, covered level. Overjoyed, we perused our photos and discussed our experience in relative warmth without wind and mist.
Final Thoughts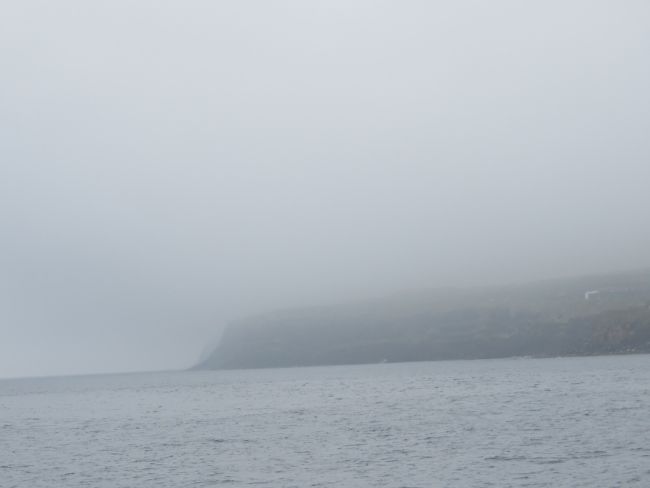 Whale watching in the Azores was a once in a lifetime experience. Observing the most rare of whales, which is also the largest animal that ever lived, in the middle of the Atlantic Ocean is such a rare and amazing experience. Our family is blessed to have been able to do it.
If you ever have a chance to visit the Azores, do not miss it! Whether on a cruise or regular vacation, you will not be disappointed. Ponta Delgada and the rest of the Azores are beautiful and there is much to see and do. In my opinion, our whale watching experience tops them all, though. The cost was just $55 per person which was a true bargain.