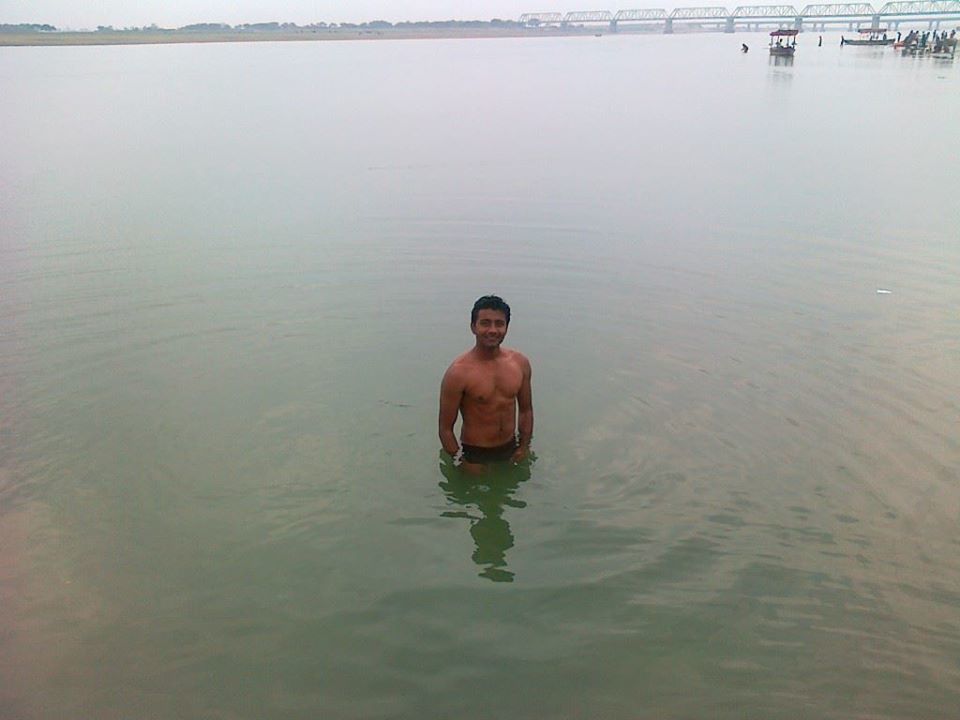 Ayodhya trip was one of the dream trips for me when I started traveling. I always wanted to visit there and experience the atmosphere. This city has a special place for people in India. Every religion especially Hindus have sentiments attached to this place. It is considered as a holy city because of Lord Shri Ram. Ayodhya is considered as birth place of Lord Shri Ram. Ramcharitmanas, has complete description about this place and importance of this place.
"As usual this trip was unplanned and I have to sacrifice my job for this trip but it totally worth it."
One of my friend lives in Gonda near Ayodhya. He was getting married in the month of June 2013. I was told that the function would take place in his hometown "Gonda". Since it was a golden chance for me to complete the trip of Ayodhya I started planning. I applied for the leaves but didn't get the approval for 10 days leave. I told my office mangers that I won't be able to come back before 10 days but they didn't agree on this. They allotted 3 leaves which were not enough for me.
I was told that if I would not come within 3 days, I have to leave the company. Since it was my first chance to visit Ayodhya, I took the opportunity to visit there instead of continuing with the job. I believed in myself I know I have enough talent to get a new job so I resigned immediately and start making plans with other friends to explore Ayodhya.
The trip was complete fairy tale and looks like a script of movie. Let's begin the adventure.
So We made a reservation in Train from New Delhi Railway Station to Faizabad Railway Station. In order to reach Gonda (Ayodhya) it is the best option to reach Faizabad. We all left our house at 5.30PM on May 31st 2013. It took approximately 22 hours from New Delhi Railway Station to Reach Ayodhya by Train. The Train was scheduled to depart at 7:30PM and everything was fine.
Suddenly one of our friend started feeling unwell while we were going to Railway Station. We immediately took him to doctor where doctor told that he is having food poisoning and he advised him not to carry on with the journey in this condition. But he was not ready for this as it was an important function to attend. Doctor gave him medicine and told him to rest for few hours and continue only if see any improvement in his condition. We all agreed to take a rest for 1 hour as we have plenty of time available to catch the train. Unfortunately it didn't go well. Instead of feeling well, his condition went down.
We have to admit him in a hospital and we did that. We also informed his family to take care of him and left the hospital to continue but all this incident took a lot of time and we missed our train. We reached the station at 7:50PM and by that time, the train was left. But we didn't give up. There's always an alternate option.
We come up with alternate plan. We decided to get a bus from Delhi to Kanpur or Lucknow. There are multiple options available from both the locations to reach Ayodhya. We rushed towards ISBT (Anand Vihar Delhi) to catch a bus. We waited at Koshambi Bus stand and suddenly we spotted a guy who was providing bus from Delhi to Lucknow. There were seats available for all of us. It was a private charted bus. We immediately got the bus. We were happy that finally our alternate plan worked. But since it was the day of adventures, we saw something which none would like to see.
After traveling for 4 hours, we got to know that this bus driver has cheated everybody. They took the amount from Delhi to Lucknow but they were actually dropping the travelers in a village near Kanpur. The distance between Kanpur to Lucknow is around 115KMS and it require good amount of time to cover that. We were 8 guys and we thought we could get our money back but we were shocked to see that the driver was having a rod in his hand and around 35+ people outside the bus who was favouring him.
He deliberately stopped the bus at a hotel where all of the guys were known to him. Whoever was protesting or talking against them, they were beating them. We have to attend the function so we were not in a situation of any fight. We quietly came out of bus and find public transport to reach Kanpur Railway Station. We reached the station and found that all the trains are either late or have no seats available. It left us with no choice but to get a private cab. Since we had horrible experience with private transports, we decided to take a government bus from Kanpur bus terminal. We immediately left form Kanpur Railway Station to Kanpur Bus Terminal and got a bus till Lucknow. No direct bus from Kanpur to Ayodhya was available at that time. It was 6:00AM of June 1st 2013 and we have to reach Ayodhya by evening as the function was scheduled at that time. We had no choice but to get the option available at that time.
We got the bus which took another 4 hours to reach Lucknow. From Lucknow the distance between Ayodhya is around 140KMS which can be covered in another 5 Hours. We thought we would make it on time. We were right, we reached Lucknow bus stand around 10:30AM in the morning. Express Trains & Super fast trains are usually better than bus so we decided to go with train. We immediately reach Railway Station and get the train to Ayodhya. This time we were lucky that we got tickets in one superfast train which was going to Ayodhya.
It took 3.5hours to reach ayodhya and we were about to reach at the venue but we completely forgot that Gonda is more than 50KMS from Ayodhya which means we have to invest another 2 hours. While suffering this much everyone gave up on this and called our friends father to send a cab. We were not at all ready to get the private vehicle due to past horrible experience. Finally we reached the place just before 5 minutes of celebration.
Everything was just like a movie but at the end we reached and had a great time.
After attending the marriage function for 2 days, we got some time to explore the divine city. Our plan was to explore the local culture and some places near Ayodya. First Destination was Saryu Ghat and Hanuman Garhi.
On 5th of June we visited Saryu ghat and explored the area.
It was a memorable trip which I could never forget. I loved the people, culture and surroundings. When it comes to journey, it was full of twists which created so many memories in my head. I will never forget this trip. It was one of the most special trips.
Regards,
Ravi Kumar Rana
Frequent Searches Leading To This Page:-
Ayodhya trip from delhi, religious places near delhi, Best pilgrimage sites from delhi, Temple places near delhi, Pilgrimage and Religious places in Delhi