Taj Mahal is the most beautiful tombstone which i have ever seen in my entire life. The first look of Taj Mahal gives an pleasant smile on your face and sudden word come out from your mouth "wow" It's gives a very divine feeling. I have started my journey from Mumbai to Agra. I reached at 3pm near Taj Mahal. Taj Mahal opens at morning 6am and closed at 6.30pm. It's closed on every Friday for maintenance.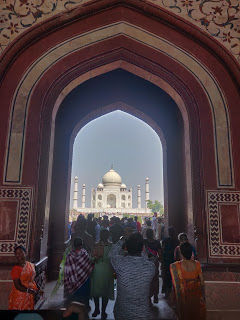 Dwar (Gate) of the Taj Mahal
I took Auto from station to Taj Mahal which cost me Rs.40/- and on main gate you will get Toto auto (electric auto) which cost 10 rupees per person from main gate to Taj Mahal is nearly 2km. Toto auto will take you from Meena Bazaar (market) where you get a pure leather shoes, sandals which starts from rupees 1200, you will also get there variety of sarees which made with peel of banana which cost rupees 2750 with a 5 years of guaranty and you can return it to any handicrafts and hand-loom centre all over India and get half rate back.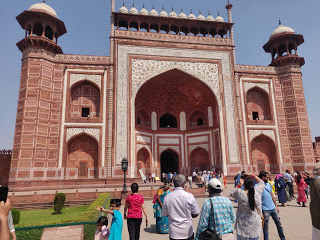 I have book my ticket online on http://asimustsee.nic.in just to rescue from huge ticket counter queue, if you wanna do same then copy the above link and start your smart journey. This link also cover monument of all over India. Taj Mahal entry fee is rupees 50 and for visiting mausoleum has to buy additional ticket of Rs.200/- Inside the Taj Mahal you will find kabra (Graves) of Mumtaaj and Shahjahan inside the Taj Mahal photography/videography is strictly prohibited, you can take pictures from outsides Drone is stricktly prohibited inside the Taj Mahal. Tourist must have to carry hi/her identity card.You have to keep your shoes/sandles at shoe rack which is free of cost.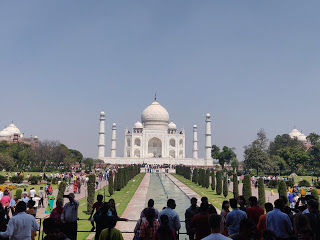 While entering into Taj Mahal you can see four dwars (Gates) from each gate you can see Taj Mahal. There is around 20 fountains and the Bagh (garden) Mehtab Bagh garden which was created along side the river of Yamuna. So the Taj mahal is at one side and the Mehtab Bagh is at another side, in the middle is river Yamuna. This Bagh is also famous as the Moon Light garden, because on fine full moon nights, the view is beautiful.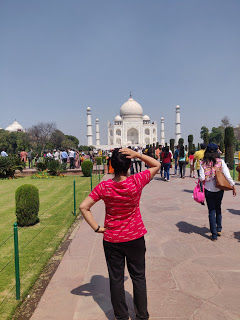 Yes, the first view of Taj and first touch gives a good feeling and being optimist girl I'm gona visit this place again and again. Outside the Taj Mahal you will find restaurant or a food court where you can get food. There are also present mini hawker, which offers you loads of stuffs which actully looks very fascinating, but please bargain hugely before you plan to buy them. A 500rs/- is actually Rs.200/- Few Horse carts and Camel carts are tere, which would give you good ride as well.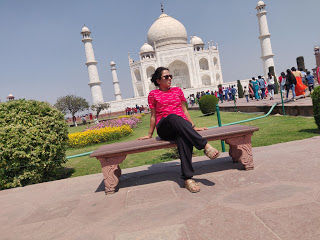 This pose is mandatory when you visit Taj Mahal
There are many places to visit in the city wich could easily be covered in a day (Agra Red Fort, Jama Masjid, Tomb of Itimad-ud-Daulah, Fatehpur Sikri ect, ect.) use Google for more search on places.
That's it, hope you like my blog as it's my first blog. If you have any questions, suggestions or anything, feel free to connect on facebook Id karve.bhagyashree@gmail.com or follow me on Instagram with a name shreebanjaran.