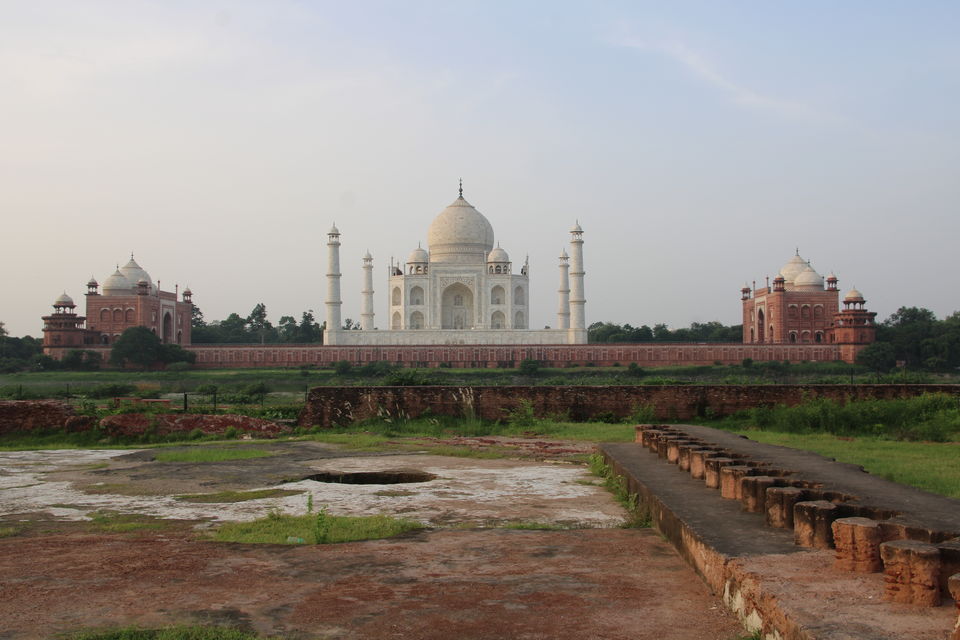 Work from mountains became a rage with the new normal after covid. I wanted to try it too, but being a solo female traveller, it always takes you by scare to travel to such places alone. After lot of plans here and there, I decided to give a short trip to Agra a try.
I booked my stay in Moustache Agra for 3 days. The best thing about it is the location. It is walking distance to the Eastern gate of Taj Mahal(~1km). You will find many other hostels on the same road as Moustache. I started early morning from Gurgaon via shared cab. It costed me around 400/-. I reached Agra by afternoon, had lunch and continued office for the day. As I was staying in dormitory, I met two other fellow travelers. A dorm costs ~600/- per day.
The main issue with covid situation in Agra was the missing cafes. Only a few were open(eg Bamboo cafe). Even the hostel where I stayed used to have a lovely restaurant which was closed. Thanks to food app service, at least delivery was easy.
I booked online ticket for Taj Mahal. You can get tickets for all places in Agra at https://asi.payumoney.com/#/. The place opens at 6am , so to avoid crowd and get best pictures, I woke early next day and reached the Eastern gate by 6am. The online tickets are just scanned and you can easily enter the premise. There are many guides available outside the gate, you can choose to take it or explore on your own. The Western gate lies on the other side and is closer to Agra fort.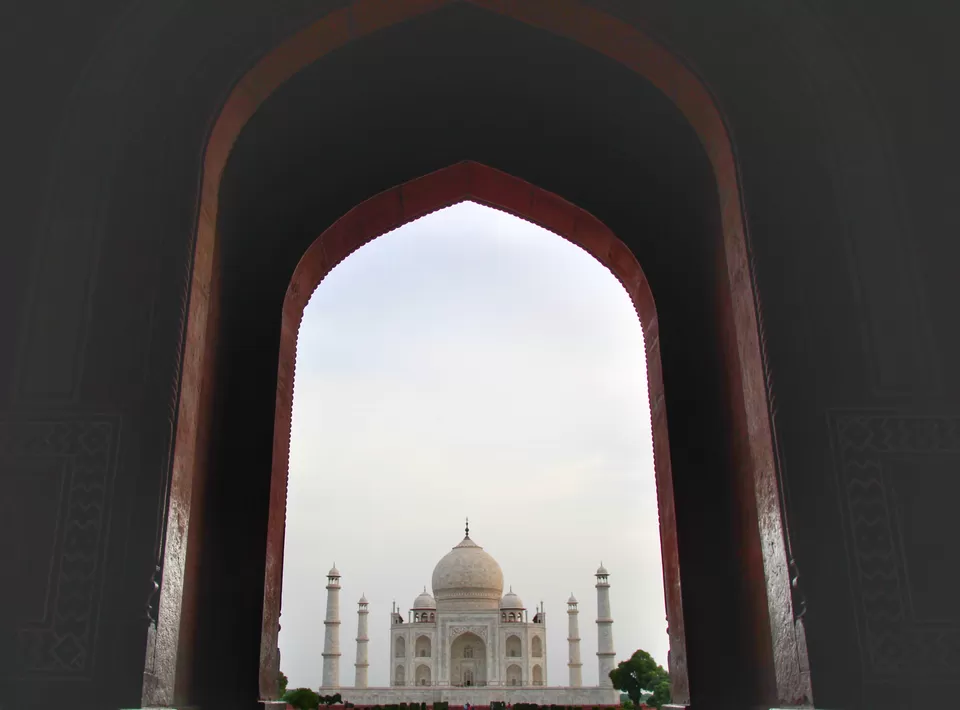 As you enter, you can see the beautiful monument on the right. On either side of the monument, you have two buildings - the Mosque and the Mehmaan khana (dining hall). You will definitely be amazed by the symmetry of the whole structure. The garden on both sides, the water in the middle, the symmetrical Mahal from all the sides. It is really amazing to know how people of that era were able to create such a master piece at that time, it really is a wonder. On the opposite side of the Mahal is Yamuna bank.
As I was early to visit, I was able to take some beautiful shots of the marvelous monument. The monument looks so bright and shiny when the rays of the sun fall onto it.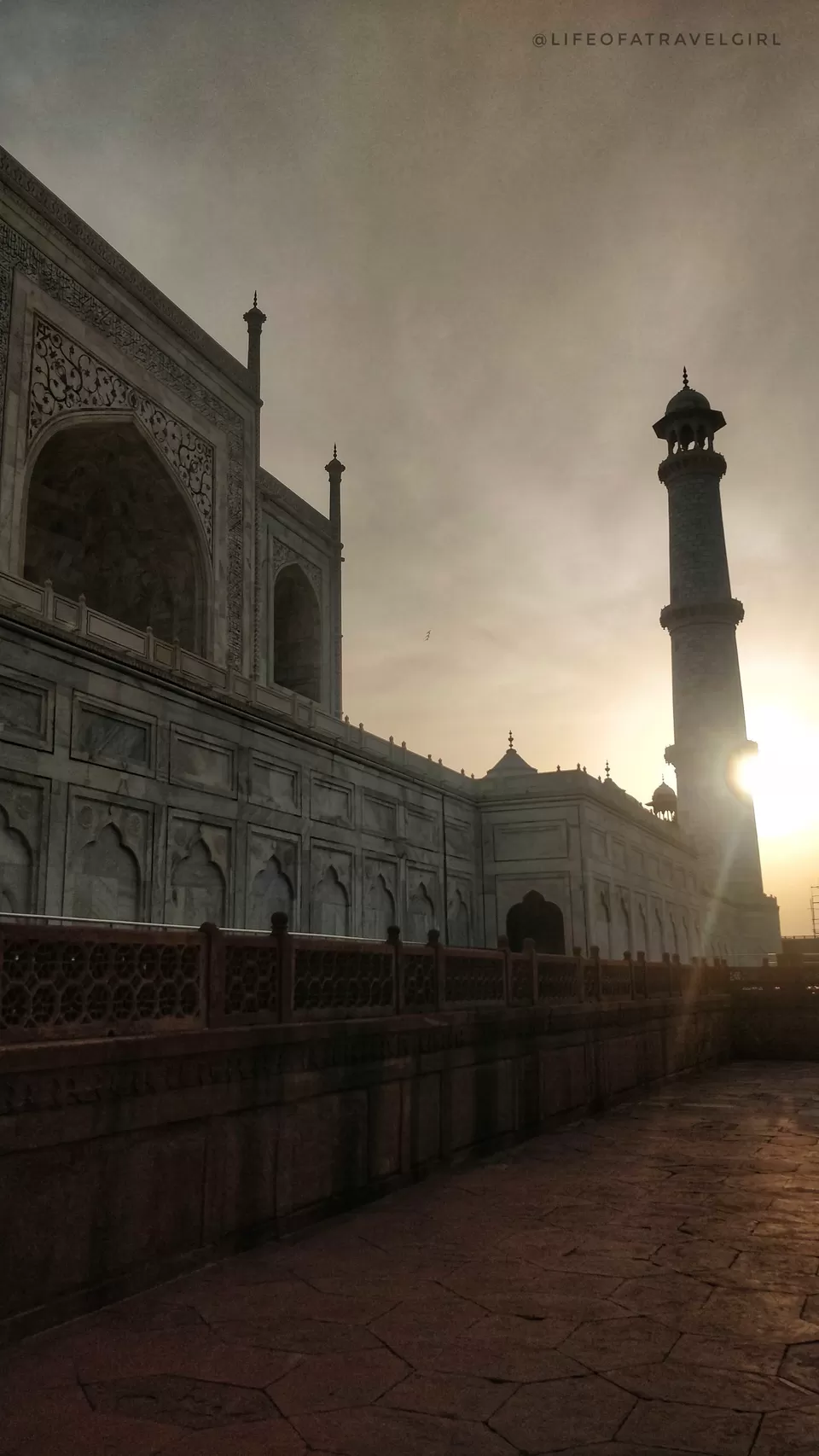 After spending around 2 hours, I returned. The whole road to eastern gate is filled with shops selling marble items mostly home decoration items or replica of the Taj. You can shop for some leather stuff too. There are many eateries too.
One thing to note about coming to Taj - if you are traveling by your own vehicle or taking a local auto/rickshaw ; they do not take you to the end of eastern gate. You have to keep your car in parking. From that point, electric vehicle takes you to the main gate. But I will recommend you to prefer walking if you can, as it is not that far. And please don't get fooled by their over pricing, the auto should not ask you more than 10/- per person.
After breakfast, I continued to work for the day as I work as a full time IT developer. In the evening, I took an hour break to visit sunset point. I had heard a lot about the view of Taj at sunset so I did not want to miss that opportunity. To find the sunset point, simply follow the route to Eastern ghat. Once you are at the end, instead of moving left, turn right. After walking for some distance, you will find a middle point, continue walking straight or lets say, turn left. After few minutes, you will reach the Ghat. There is also a temple at the Ghat. Try and reach atleast 15mins before sunset to get the best experience. The temple prayers and the view of Taj gives an excellent mix of the atmosphere. There are usually a lot of people here so no need to worry.
This is the exact same spot people choose to go boating. The boating starts at 6:30 am morning till sunset. Sadly, they do not cross the river but take you somewhere in the middle of the river and then back. It costs around 200/- per person.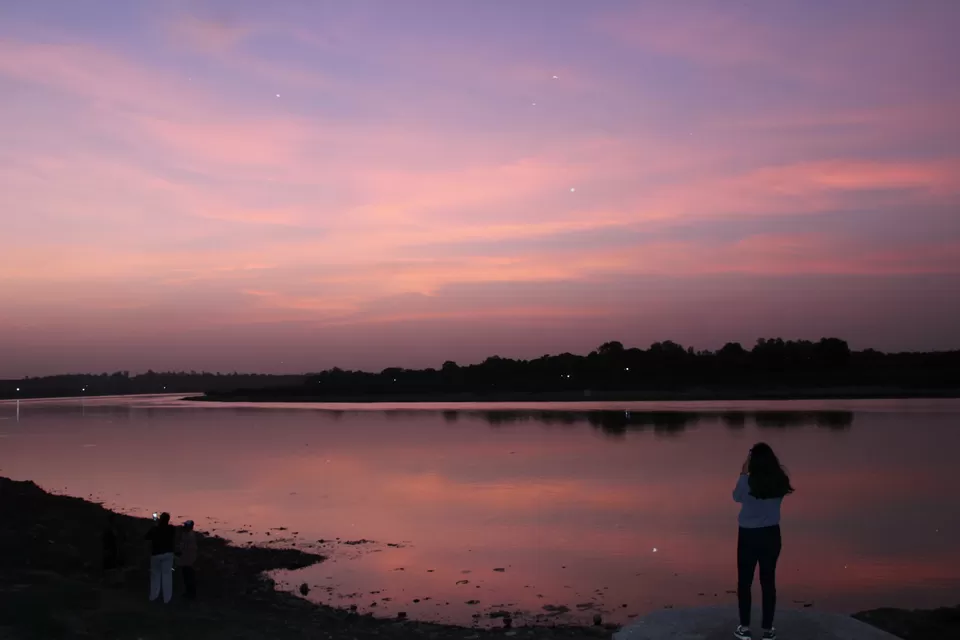 After sunset, I had dinner at hostel and booked ticket for next day at Mehtab Bagh. Even the garden is just across the Yamuna bank, you have to cross all the way to reach. You can book ola/uber as per you convenience. A local auto will also cost you almost the same(~120/-).
I started at 6am in the morning. It takes around 20mins to reach Mehtab Bagh. The beautiful garden is filled with shrubs and trees. The shrubs were filled with flowers in this season. It is also aligned with the Taj. From this viewpoint, you can get a full glimpse of the Taj. You can also find peacock and other birds in the garden. It is prohibited to go to the banks of Yamuna. The sight is amazing.
I also went around to try the famous petha of Agra. You get many varieties ranging from - Mango, Strawberry, Chocolate, Sandwhich, Paan. 'Panchi Petha' franchise goes all around the city and it is nearly impossible to find the original ones. To be honest, I liked the ones I got from Cantt area.
Another place that was in my list was Sheroes cafe run by acid attack survivors. It is 750m from Moustache cafe and just across the goStops stay. Unfortunately that was also closed. But do try it in case you run around the area and find it open.
For the last day of the trip, I went to Agra fort. It is on the same route as Mehtab Bagh. It is actually a collection of various palaces and forts. Guides are available around this area too to walk you through the different palaces and their relevance. There is also a beautiful garden inside the fort. The fort also gives a another wide view of the Taj Mahal.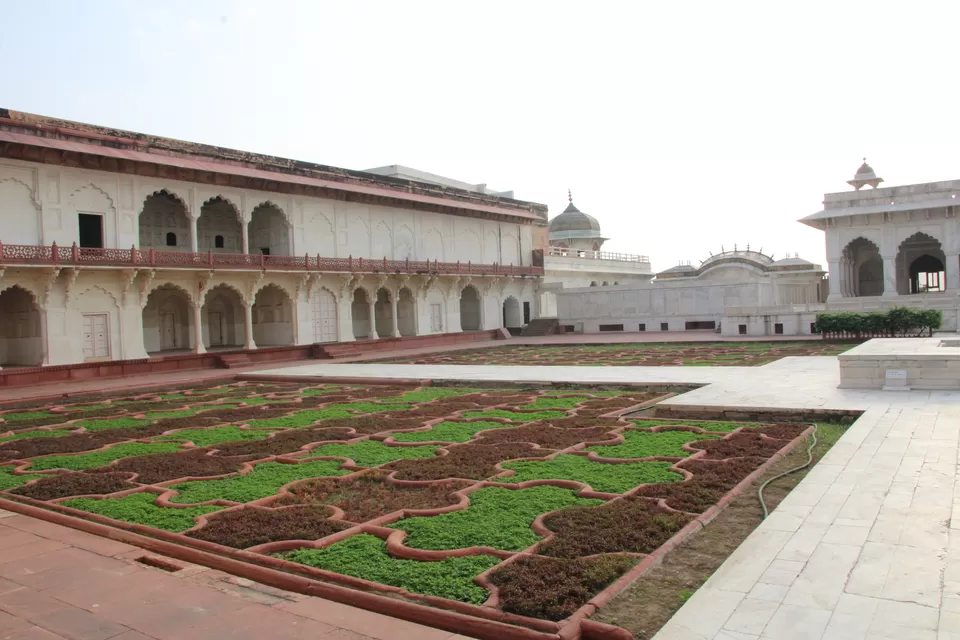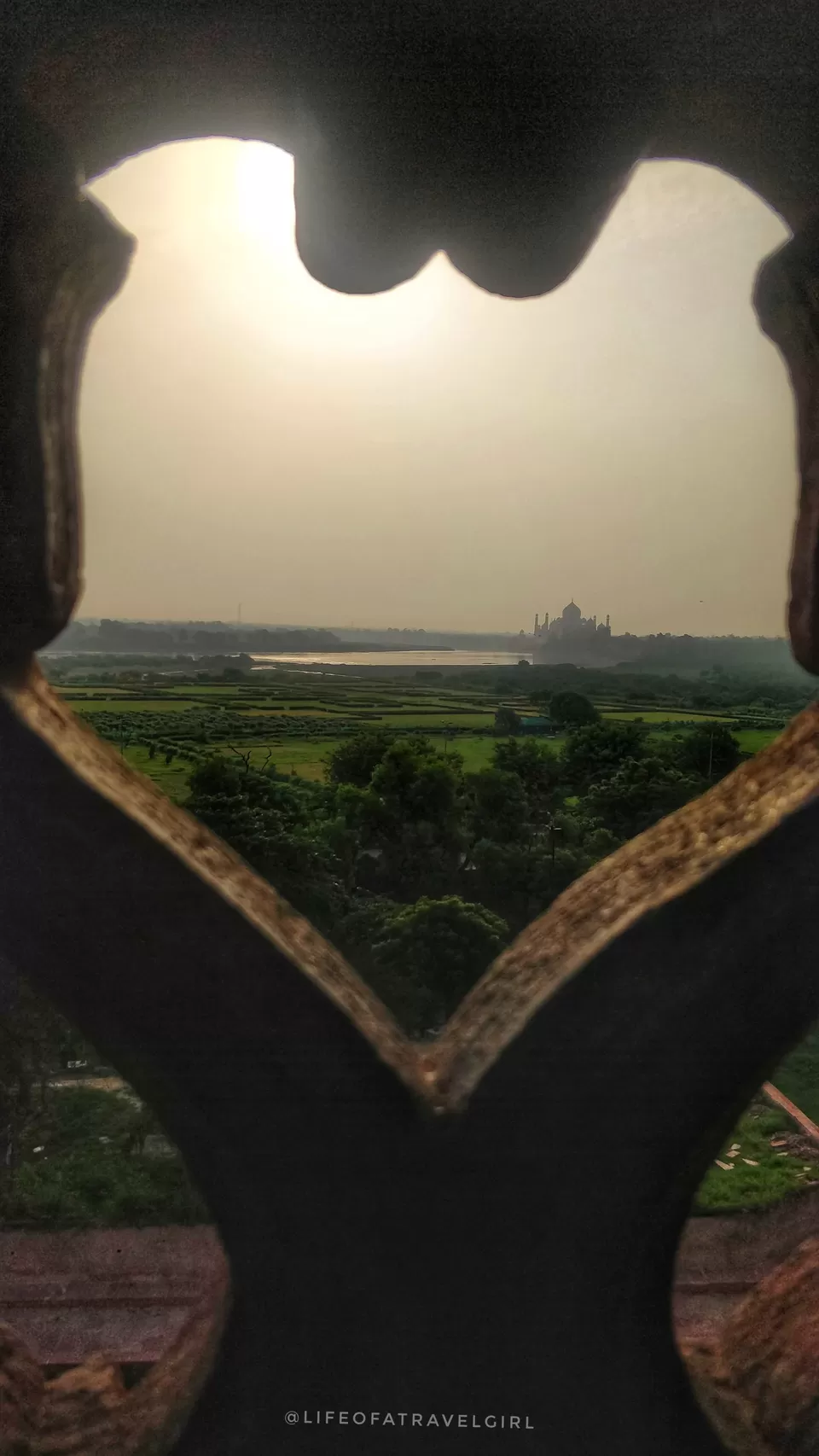 After this visit, I moved back with lot of memories.
Tips:
1. Taj mahal is closed on friday. Everything else is opened all days.
2. . Make sure to book hostels for stays if your traveling alone. It is actually much safe.
3. Fares :
- Taj Mahal : 45/-
- Mehtab Bagh : 20/-
- Agra fort : 35/-
4. Use public transport as much as possible. They can be cheap to travel around with 10/- or 20/- fare.
5. Taj Mahal is well maintained. Even the public toilets are super hygienic and clean. Food is not allowed in any of these places.
6. You can also go to Chatt wali gali in Sadar Market. It opens after 3pm.