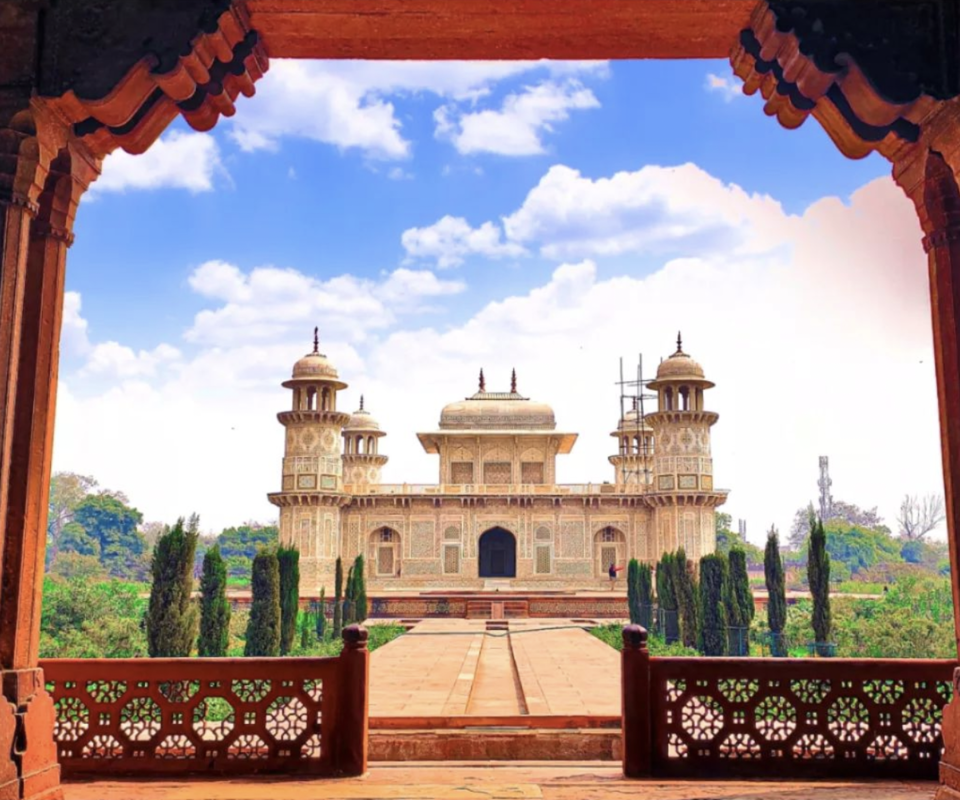 Agra is a city that offers a glimpse into the beauty era. Agra has a rich history, which is reflected in the numerous monuments that dot the city. "Ptolemy," the famous geographer of the second century A.D., was the first to refer to Agra by its modern name. Sikandar Lodi, ruler of the Lodi dynasty in the 16th century, founded modern Agra. When Shah Jahan ascended to the Mughal throne, Agra reached its pinnacle of architectural splendour.
Agra was always on my list of places to visit while living in Delhi, and it was only a two-hour train ride away, but I didn't get there until it was too late.
I caught a train from New Delhi to Agra, arriving around 9:30 a.m. I had planned to visit Taj Mahal first, then other places, because I had read that the sunset at Taj Mahal is spectacular, but I was unable to get there at that time, though once there, I was simply lost in the beauty of Taj Mahal.
It was built in memory of Mughal Emperor Shah Jahan's wife Mumtaz Mahal, with construction beginning in 1632 AD and finishing in 1648 AD, with the mosque, guest house, and main gateway on the south, and the outer courtyard and its cloisters added later and completed in 1653 AD.
After visiting Taj Mahal, I spent nearly 3 hours here admiring its beauty. There was a large crowd on the front gate, but there is another gate where the crowd is smaller. I entered from here and saw every corner of the Taj Mahal.
The Taj Mahal opens 45 minutes before sunrise and closes after sunset. However, if you plan to visit on Friday, please keep in mind that it is closed to the general public on Friday. For an Indian citizen, it is Rs 50 and an additional Rs 200 for visiting the Mausoleum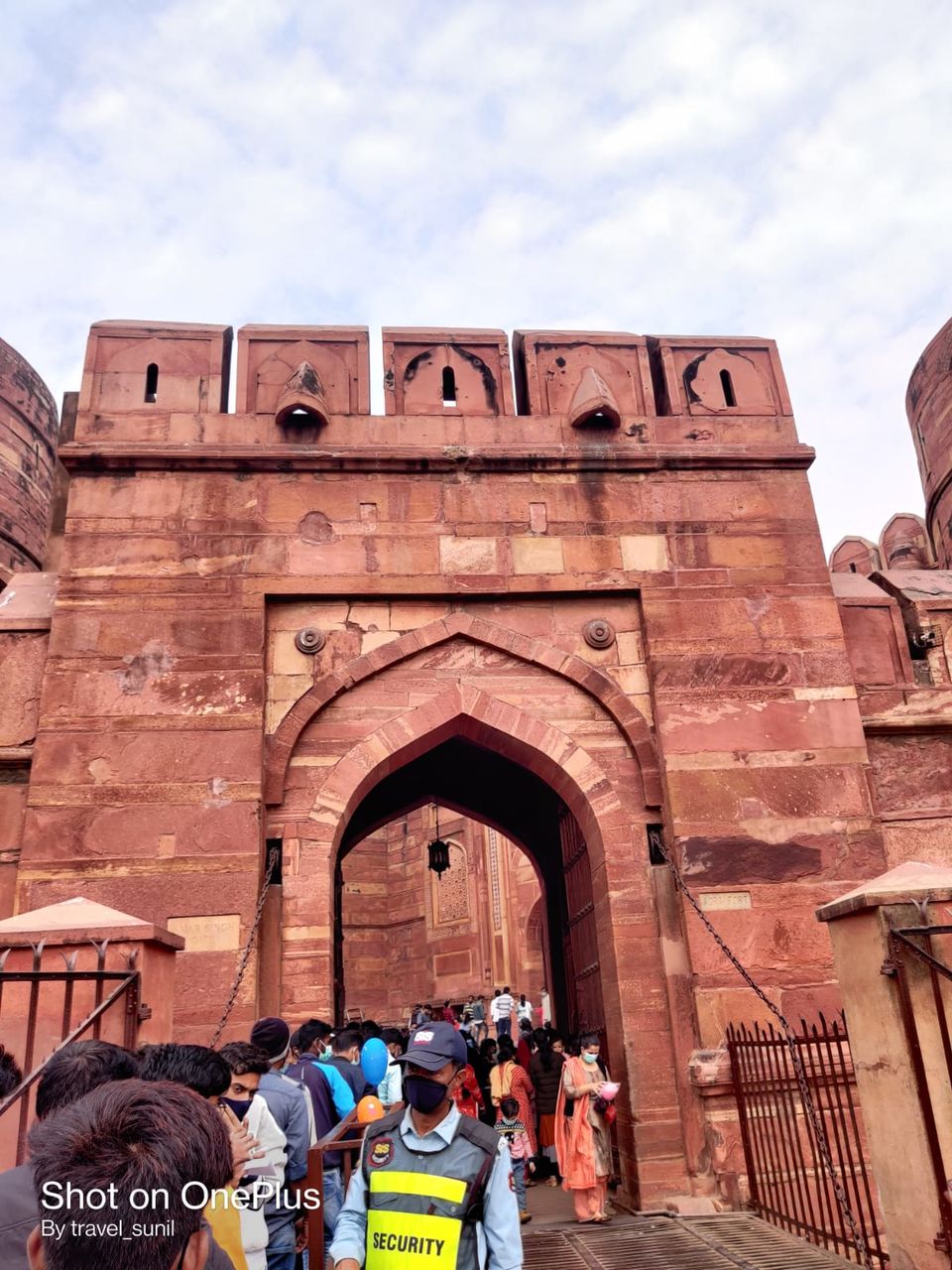 The Agra Fort was my next stop. Agra Fort is a historical fort in the Indian city of Agra. It was the main residence of the Mughal emperors until 1638, when the capital was moved from Agra to Delhi. The Agra Fort has been designated a UNESCO World Heritage Site. It is located approximately 2.5 kilometres northwest of its more famous sister monument, the Taj Mahal. The fort is more accurately described as a fortified city.
At the end of his life, Shah Jahan was deposed and restrained in the fort by his son, Aurangzeb. Shah Jahan is said to have died in Muasamman Burj, a tower with a marble balcony overlooking the Taj Mahal.
There was a large crowd outside the fort, but after a 10-minute wait, we were inside. It's a massive fort. I didn't get to see the entire fort, but after wandering around the Taj Mahal, I was exhausted. I was just enjoying and relaxing with a friend on the fort's walls in front of a beautiful garden, and that feeling is fantastic when you're tired.
We were tired and hungry after visiting the fort, so we went for lunch. We finally decided on a restaurant near the fort after searching for so long, as we were also tired. The restaurant was good, but the food was only mediocre and reasonably priced.
We decided not to visit any other monuments in the evening. Instead, we went to the Agra market-sadar bazaar, which is famous for its Agra Petha (a sweet dish) in various flavours. If you haven't tried it yet, please do so. When we arrived at the market, we noticed a large crowd and that there was everything from shopping to eating evening snacks. I bought some Pethas and ate some other things.
After that, I switched to hostels because I didn't want to spend too much money on lodging rather than on exploring the city.
My hostel was close to the Taj Mahal and charged 300 rupees.
I had to cover Itimad-ud-Tomb, Daulah's Mehtab Bagh, and Akbar's Mausoleum, so I planned accordingly and woke up early in the morning, checked out of my hostel, left my bag in their luggage room, and began exploring all three places one by one by public transportation and some times hired auto, and I was able to cover all three places by 4 pm in the evening.
Another of Agra's magnificent structures, Itimad-ud-Tomb, Daulah's can be found on the banks of the Yamuna River. Mirza Ghiyas Beg, a Persian official who served the Mughal empire, and his wife are buried in the mausoleum.
According to legend, this jewellery box-like tomb was the inspiration for the Taj Mahal, earning it the moniker "Baby Taj."
It is located in the Agra suburbs of Sikandra, on the Mathura road (NH2), 8 kilometres west-northwest of the city centre. The tomb of his favourite and most influential wife, Mariam-uz-Zamani, is about 1 km away from the tomb.
After Akbar's death, his son Jahangir planned and built his father's tomb between 1605 and 1613.
During Aurangzeb's reign, the Jats rose up in rebellion, led by Raja Ram Jat. When Jats ransacked Akbar's tomb, plundering and looting the gold, jewels, silver, and carpets, Mughal prestige suffered. The late king's bones were burned after the grave was opened.
My next stop was Fatehpur Sikri, but I couldn't go because I had some unfinished work in Delhi, so I returned to Delhi in the evening.
for more updates follow me on Instagram
https://www.instagram.com/travel_sunil/