As a former capital city of the region, Agra is a must-visit Indian location, with the climate suiting winter visits best. It offers an urban landscape filled with fantastic sights and experiences. The majesty of Agra's past still lingers and is evident in the culture and surrounding architecture, including the famous inlaid marble and red sandstone buildings. Modern luxuries are also available to all visitors, delivering a wonderful balance of the classic and contemporary amongst the city's beautiful settings.
There is a wealth of delectable delights for all your senses. Agra is famous for its sweets, which are devilishly delicious and a real treat for your tastebuds. The beautiful sights across the markets will capture your attention too, but be prepared to barter when buying from local craftsmen, who specialise in leather goods, rugs and gold embroidery.
Taj Mahal and UNESCO World Heritage Sites
There is a reason the Taj Mahal is one of the seven wonders of the world, with people travelling miles to see it. The beauty of the foundation is incredible and it has a captivating story behind it. There are tales that the Emperor planned to build an exact copy of the Taj on the other side of the river in black marble as his own tomb. However, he is buried within the Taj Mahal, sharing it forever with his late wife. In poetry, the Taj has been called 'a tear drop on the cheek of eternity'. The detail is intricate, with lustrous marble inlaid with gems and plenty of awe inspiring views to enjoy. No visitor to Agra should risk missing out on this.
P.S. Arrive at the location (especially the Taj Mahal) before sunrise to avoid crowds. Check the weather – when do you get better colors? Pack only things you require. There might be multiple gates; find the least frequented one. Keep these tips in mind and get the perfect shot.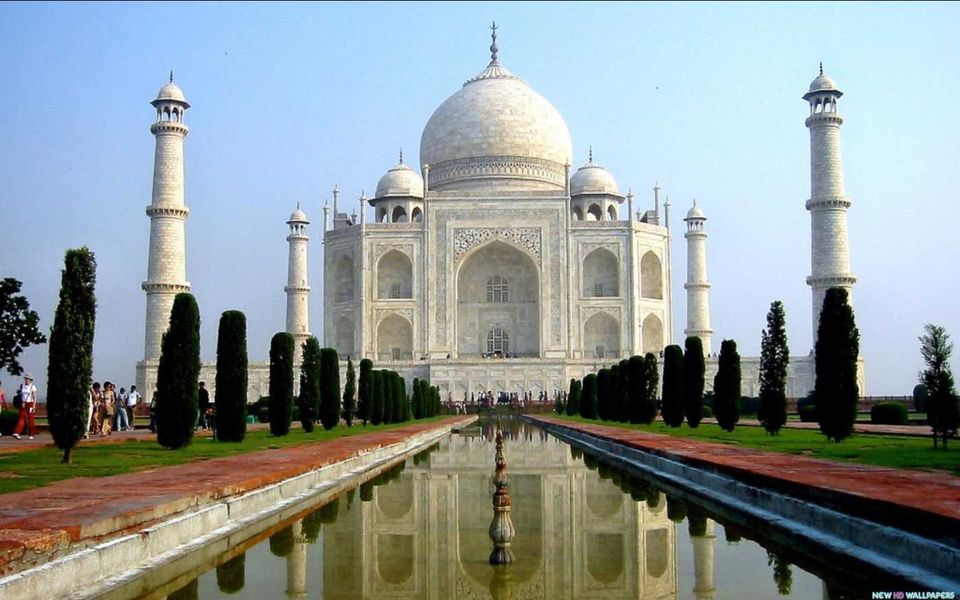 Agra Fort
The building is made mostly out of red sandstone and is truly stunning. The Fort was added to by the Emperor Shah Jahan, and is a short distance from his more famous building work, the Taj Mahal. Ironically Shah Jahan was also kept as a prisoner there, by his own fratricidal son. It has good views of the Taj Mahal, which may have comforted the deposed Emperor, and there is the option to pay for entrance to both sites at the Taj Mahal.
Fatehpur Sikri
It is a stunning walled red sandstone city and features the horse shoe gate, where horse shoes have been nailed for many years as a sign of good luck. The Mosque is impressive, designed with a huge entrance way. Within the city is a square that is inlaid to serve as a huge board game, a precursor to Ludo, which was played with people as the pieces. Myth has it that three palaces were built here for the Emperor's three favourite wives, one Hindu, one Muslim and one Christian. The red sandstone is especially stunning at sunset.
Mehtab Bagh
These gardens are located across the Yamuna River from the Taj Mahal. The beautiful botanical gardens provide a reflective atmosphere, with fresh scents and floral life. They also deliver uninterrupted views of the Taj Mahal, away from the bustling crowds. If you're an early riser, the best time to visit is at sunrise, when you can capture incredible images of the temple to take home with you.
Tomb of Itimad-ud-Daulah
This tomb has many connections to the Taj Mahal and has even been nicknamed the Baby Taj. It is the tomb of a Persian nobleman named Mizra Ghivas Beg, who was the grandfather of Mumtaz Mahal, who the Taj Mahal was built for.
The Tomb of Itimad-ud-Daulah was constructed from 1622 to 1628 and was an innovative structure that puts the Taj Mahal through its paces in terms of decadence and intricate design. It is the first Mughal structure to have ever been entirely built from marble and features mosaics, marble lattice screens and ornate inlays throughout.
Akbar's Tomb, Sikandra 
In the centre of a large, luscious garden lies Sikandra, the last resting place of Akbar the Great, a Mughal Emperor. Akbar started the construction, but it was completed by his son, Jehangir, who put his own touch on the design to reflect his father's personality. The pyramidal tomb features four red sandstone gates, representing Akbar, along with Islam, Hinduism and Christianity. Delicate carvings are visible throughout the red-ochre sandstone structure, along with the inscription of Allah's 99 names.
Along with the various tombs, Agra is also home to a number of temples. From Balkeshwar Temple and Kailash Temple, both temples to Lord Shiva, to Mankameshwar Temple, a favourite for local worshippers, these establishments are steeped in religion and give a good taste of the local culture.
Agra Art Gallery

This charming art gallery is surrounded by greenery and is home to a selection of carefully handcrafted items. Opened in 2004, the art gallery has amassed an incredible collection of jewellery, dazzled with precious stones, silver, gold, platinum and pendants, in modern and oriental designs. There are also impressive wooden handicraft items along with stunning marble inlaid products to marvel at. 

Mughal Bazaar
If you are an avid shopper, then Mughal Bazaar is the best place to go. Located on the Taj East Gate road, it offers a much friendlier shopping experience than smaller stores, with better quality products and more competitive prices.