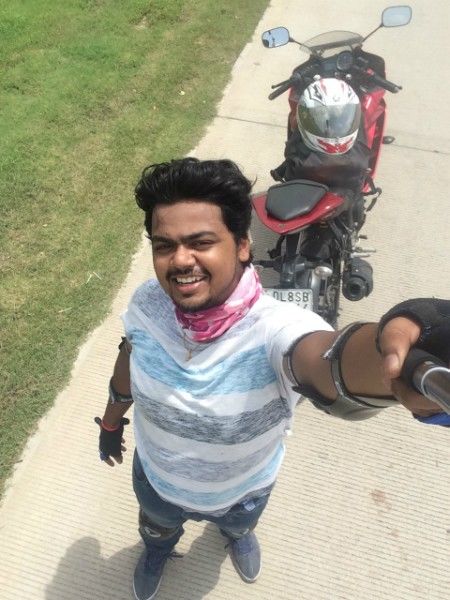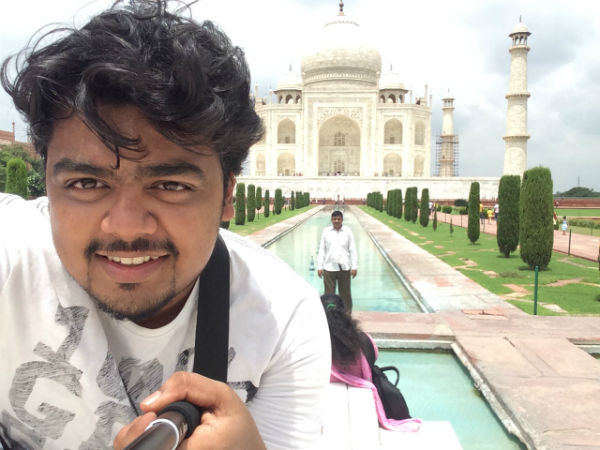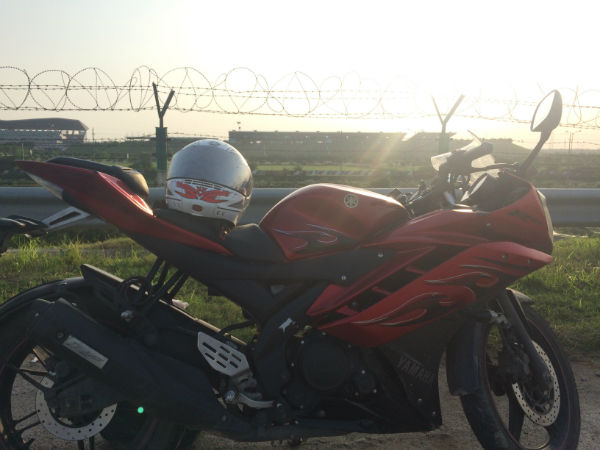 Well hello everyone! Greetings to fellow bikers and pillion riders. This is the first time I am blogging so I apologize for all the errors I know I am going to make from here on so please be patient and understanding, thanks.
That being said, let me start by introducing myself. My name is Tushar Sundaram Sen. I am 21 years old residing in Delhi and have graduated this year with a bachelor's degree in civil engineering. Just like my fellow engineers of this country even I was in dependent on my college for a decent campus placement and after giving a few interviews I was waiting for a call back.
With the stress and pressure of finding a suitable job I had lost interest in my favorite hobby - Biking!!! I am a proud owner of a YAMAHA R15 V2.0 2012 MODEL. Like every Indian parent my parents too were not very keen on purchasing me a 2 wheeler, let alone a 1.3 lacs bike, but I managed to convince my mom and like every Indian household (almost most of them), "jab mummy ne haan kar di toh bas sabki haan samjho" ( when your mom has agreed then no one can disagree)
My temporary address was Jaipur because of my college so whenever I would visit Delhi I used to go on short rides all across the city to enjoy my bike rides. The wind blowing through your hair, the speed pumping your blood and the zeal to go even faster. I LOVE IT!!
It has been my lifelong dream to go on an interstate ride, but my mom just wouldn't agree. "Ek laute ladke ho" (you are my only son) is what my mother used to say, every time I would start a discussion on this.
Planning and executing
Gradually she moved on to say that if you arrange someone to travel with you then its fine. Now anyone I knew around me did not share the same enthusiasm for bike like I do and whoever did would not prefer to ride with me. Now of course you are an amateur rider you have never done this before, you have never been associated with such rides and your friends find it too risky. After a lot of groundwork and searching by me, I finally found someone who was ready to share the risk and the ride with me whooo!!! I quickly called up my mom and gave her the good news! Finally I could see myself getting closer to living my dream, it was such a good day. I started planning and strategizing what to pack for the ride which destination to pick how much it would cost. Now I am not earning and solely rely on my pocket money so budget was a critical issue for me, I knew such trips don't come very cheap so I had to save wherever I could
I finally picked Agra as the destination, it's a 4 hour drive - 200km, the not so new yet so amazing Yamuna expressway is a great road to stretch your bike, one of the 7 wonder Taj Mahal is in Agra, the place is famous for petha which my mom loves.
The solo idea
Agra it is I said to myself! I immediately called up my friend to share this news, and then all my dreams came crashing down, my friend was not keeping well and couldn't ride with me. And as it's well known, "that a man who goes alone can start today, but he who travels with another must wait till that other is ready". I was tired of accommodating other peoples change in itinerary, or last minute cancellations in travel plans.
I couldn't sleep all night thinking on what to do. So, I finally decided and took a deep breath and said to myself screw it! I am going to Agra and it may as well be alone. Somehow I do believe one of the main reason why I decided to travel solo was because to challenge myself and see how far can I expand, to try something different which was out of my comfort zone.
Solo traveling on bike is an opportunity to explore your personality, to test the limits of your bike and to spread your wings on the open highways. And as you explore the world, away from all the stress and hustle of daily life it gives you the perfect opportunity to break-free from a monotonous routine, and introspect on your thoughts, dreams, strengths and limitations. And as many bikers would agree it is the cheapest and the best form of therapy your mind and body needs.
I quickly sent a text to my mom saying that I am leaving. I took a bath, got ready and geared up with my safety pads. Packed a T-shirt, deodorant, hand towel and most important, my selfie-stick. And off I was on my way to Agra with no GPS or Internet connection, but only a will to reach Agra.
So it begins…
While I was driving I realized my petrol tank was almost empty and running on reserve I decided to fill my tank at the first petrol pump I find I spent around 580 for 9.5 lt. Somehow I managed to find my way to Yamuna expressway from ashok vihar. Now I took some shortcut with the help of fellow dilliwalas (delhites) I skipped Noida and the infamous peak morning rush with it. I found myself at the starting point from where greater Noida begins. After surviving the maddening office rush, I reached the amazing Yamuna expressway. Wide roads (6 lanes) open air amazing weather just encouraged me to push my bike to its maximum potentials and race that throttle.
Vroom Vroom and there was no stopping me! By 10:15 I reached my first stoppage which was in front of BIC for some of you who don't know BIC stands for its Buddh International Circuit, It's the first of its kind pure racing track for formula one racing and also superbikes.
During this time I got a call from mom, I was scared to pick up at first but then I did, surprisingly mom didn't say much other than ask me if I had breakfast before leaving and to keep myself hydrated and call her whenever I stop. Phew! that was over so now I could focus on riding first 1 hour was amazing covered almost 85 km. I reached my first toll, the person sitting in the booth asked me for my destination (Aligarh, Kanpur, Agra, Mathura each having different toll) I said Agra and took a both way pass, costing me about 280 INR. Just 2km after crossing my first toll I saw a food joint with all basic amenities and approved by Yamuna expressway authority.
I decided to make a quick stop and refresh myself and have something to eat. I had a sandwich and coke. The prices are very nominal at this place and if you feel like a spa they even have a foot-fish-spa facility available. I continued from there towards my destination, during this course at one point I reached a maximum speed of 145 km/hr. that is record breaking speed for me and even Yamaha, my bike is neither modified nor fitted with the Daytona kit despite that it reached this mark.
I crossed the second toll and the third, by this time my back had started aching and my knees were feeling all numb. I slowed down in between to straighten my back and then again resume the sporty posture. Throughout the ride I maintained a speed of 125 - 135 km/hr.
Touchdown, I repeat the eagle has landed
It was almost 12:15 pm by the time I reached the parking lot of Taj mahal. I quickly changed my T-shirt, removed and packed all my safety gear, washed my face and started walking towards the ticket counter. The ticket is only for 20 rupees for Indian passport holders for other nationalities the price is slightly higher but is also considered a VIP pass the significance of which I have no idea about.
I entered the magnificent Taj through a big red door, there were a lot of people clicking pictures and walking towards the Taj, the sun was shining bright and I could see the most celebrated structure and a symbol of rich Indian history - Taj Mahal. On the either side of Taj Mahal were 2 mosques. As I entered I was told to remove my shoes or wear cover. Now for all first timers buy a cover sold outside it will only cost you 5 bucks with a guarantee that no one will steal your shoes. I walked around, saw the Taj and clicked a few pictures, the guards inside were very sweet and helping in explaining me through the inside of Taj and the history about its construction and materials used during that time. I paid him 50 bucks and took a few suggestions on places where I can go shop and buy the famous Agra ka petha from. Its sadar bazaar which the famous one in all of Agra for all your shopping needs but the only thing being that it opens around 3 pm. I was on a clock and I had to hit the highway by 4 pm max I couldn't take the risk of going and exploring the city so I decided to shop from around. Just as you exit the Taj there is a huge market, I quickly saw the famous shop and bought petha, now the interesting thing here is that you can taste all verities before you decide to buy the one you like, I hadn't had lunch so the tasting session covered that part for me.
Au revoir! Agra
It was almost 2:30 by the time I was done with shopping, so I left from there and headed towards the parking. I quickly geared up and paid the parking charges I was on the road from there. Now as you leave from parking there is a road that leads straight to the expressway which also happens to be the shortcut, I missed that turn. So I headed straight asking for direction towards Delhi. I could see sign boards showing me Delhi 200 km and I kept driving towards it, after almost 15km I felt the need to stop and again ask for direction towards the expressway to my nightmare I was on the old Delhi Agra highway.
I was angry, upset and confused. I took a U-turn and then headed back towards the city, now confirming the way for expressway I finally reached the expressway and I was so happy! It was almost 4 pm by then I had lost 1 hour because of this confusion. I gave some throttle to the bike and started driving. I reached my first toll and there was small refreshment point there, I had sandwich and coke, poured some water on my tires and splashed some on my face and there I was back on the highway in no time.
Challenges and learnings
I didn't fill petrol from Agra and I had lost few liters back due to the confusion in Agra city. I had only 2 bars left approximately another 3lt and there were no sign of a petrol pump on the expressway I was so scared and thinking of all the bad things that could happen right now if I couldn't find a petrol pump in the next 15 – 20 km. I couldn't go back and wasn't sure how far I would have to drive towards Delhi to find one. I slowed my bike to increase the average and was just praying god throughout while driving.
Finally I saw a board, petrol pump in 2km!!!! Yay finally thank god. I raced my bike towards it. By this time my bike had hit reserve. So I stopped filled for another 500 bucks (7 lt) after that it was a smooth stress free ride back to Delhi. The sun had almost set and there were cool breezes hitting you. I completely enjoyed my ride back home.
Saddi dilli!
So there I was back to Delhi. I faced a lot of heavy traffic in Noida, ISBT and Shakti nagar extension, by 8 I was back home. It took me almost 4 hours to reach back home due to peak hours rush I faced, I wasted a lot of time in getting through the heavy traffic.
So that was my first solo interstate trip. I have finally done it! 486km was what the trip meter read when I parked my bike. My back was hurting my neck was paining I couldn't feel my knees and wrist, but if I could I would do it again!
Handful of tips and learnings
A few tips for future solo trip planners:
1. Always have an active internet connection GPS
2. Keep extra cash over and above the budget you have planned for the trip.
3. DON'T rely on finding an ATM ALWAYS carry cash.
4. Carry a bottle of water, driving makes your throat dry.
5. Carry a selfie stick. Much better if you carry a sports action camera (e.g. HERO4)
6. Always and always have backup petrol you can fill one in a bottle and keep.
7. Don't drive on expressway at high speeds without a helmet, flies are not very friendly and they hit your face like a bullet.
8. Use your side mirrors extensively when switching lanes
9. Use biking gloves of good quality not only they look awesome but provide great comfort while riding.
10. Get your bike thoroughly checked and serviced at least a week before you leave for your trip.
If you find yourself planning to go to Agra:
1. Avoid the morning rush/traffic by leaving early morning between 5 and 6 am.
2. The Yamuna expressway has no street lighting so avoid driving during night time.
3. All sign boards in Agra are in Hindi, so it's best to ask for direction.
4. Don't be fooled by guides they may charge exorbitantly high if you are a foreigner, always go by government approved rates and guides.
5. Go to sadar bazaar for shopping for a more hassle free shopping.
6. There are 3 petrol pumps while driving from Delhi to Agra, and 2 while going back.
7. Agra locals are very helpful so don't refrain yourself from asking for help if you ever needed
8. In case you are on a tight budget, petrol is approximately 10 rupees higher in Agra than the rates in Delhi.
9. There is a lot more to see in agra than just Taj mahal, we have red fort/agra fort, tomb of itimad-ud-daulah, tomb of akbar, jama masjid and the list goes on.
10. Agra is popular for leather products, petha (sugary white pumpkin sweet) and dalmoth (dried snack made from lentils)
A word full advice to fellow travelers, travelling alone initially leaves you speechless, then it makes you a storyteller.