The first thing people associate Idaho with is potatoes. That's cool. I grew up eating a lot of potatoes grown out of my grandpa's garden along with many other yummy things. People may also connect Idaho to snow and mountains but not much else.
It may be a surprise for people to know that Idaho has many beautiful waterways, and north Idaho in particular has some of the most spectacular and easily-accessible waterfalls you will ever see, although unless you've heard of these places or know someone who has it isn't likely you will know where to look.
There are in fact many beautiful waterfalls across the state of Idaho, but for my summer 2015 travels I decided to branch out near my hometown of Sandpoint and find what I could in or near the Idaho Panhandle. Sometimes I would find random lists of waterfalls online which were only about 50 percent reliable. Other times I would ask my dad who would point them out on old Forest Service maps in his office. And sometimes I would even just hit the road with little idea of what I wanted to see for the day other than something new.
Shadow Falls, Idaho
Shadow Falls is actually the second of two waterfalls in a short series, the first being Fern Falls which is amazing in its own right, just smaller. These two waterfalls are deep in the Coeur d'Alene National Forest in north Idaho. It's only about 70 miles from the nearest city of Coeur d'Alene but will take you about two hours to drive there as you have to navigate a windy river road, steep single-lane dirt roads over the mountains and several creek crossings that may become impassable during heavy rains.
But the trip is worth it. Once the road ends in a small gravel parking lot the two waterfalls are just down a small trail that is an easy five-minute hike. First you will find Fern Falls while crossing a wooden bridge.
Shadow Falls is on the same creek, just behind Fern Falls. It will take another few minute to take the trail around and behind Fern Falls to get there, but again the trail is maintained and easy to hike.
Now Google Maps and my phone's navigator did know how to reach these falls, mostly. A few times my phone told me to turn onto roads that either no longer existed or had been filled in decades ago. Luckily there are signs to reach the falls that confirmed my route when I decided to ignore my phone.
Char Falls, Idaho
Char Falls is again deep in the mountains of north Idaho. It is deep in the Kaniksu National Forest about 29 miles from Sandpoint but will take you over an hour to get there. The first part of the drive takes you across the northern edge of Lake Pend Oreille before turning into mountains where cell phone coverage becomes spotty at best.
Although you won't be able to immediately post pictures to your Facebook account your phone's navigator will be able to track your journey across the mountains. The return journey is going to be up to you though, because once you reach Char Falls your phone won't be able to connect to anything and won't know how to navigate you back off the mountain. Don't worry, the drive is relatively easy, just slow.
Remember to check the satellite images of the area before heading out. Google Maps told me to stop on the road about 500 yards from the falls. From the overhead images I could see there was a small side road about 100 yards away that went further into the woods that lead me to a parking lot only 100 yards from the falls.
When you arrive to Char Falls you approach a nicely maintained area for viewing the falls and Lightning Creek, but you are actually on top of the falls rather than the bottom looking up. To see the actual falls from the bottom you have to find what I always call "the secret path" which is another path that is smaller and unmaintained, often goes unnoticed but leads to the best view and experience. When I described the falls and this path to my parents my mom asked if she would be able to make it down. I said she had better bring a rope.
Grouse Creek Falls
I first heard of Grouse Creek Falls through an obscure list online of waterfalls in north Idaho someone had compiled a decade ago, and their photographs looked like they were from the seventies.
Again, Google maps can get you to these falls for the most part. Your phone's navigator will get you to within 500 yards of the falls on some dirt road, but best to check the satellite images before you venture out to see that another side road branches off the main road to a parking lot where the hike is much shorter than the arrival point Google gives you.
The falls are roughly 20 miles from Sandpoint and will take you about 45 minutes to drive to. It's good for a last-minute trip, as I found these falls just hours before I headed off to see a concert in nearby Spokane, Washington.
The path to the falls following Grouse Creek upstream for about a quarter of a mile. The path is relatively easy except for the last 100 feet.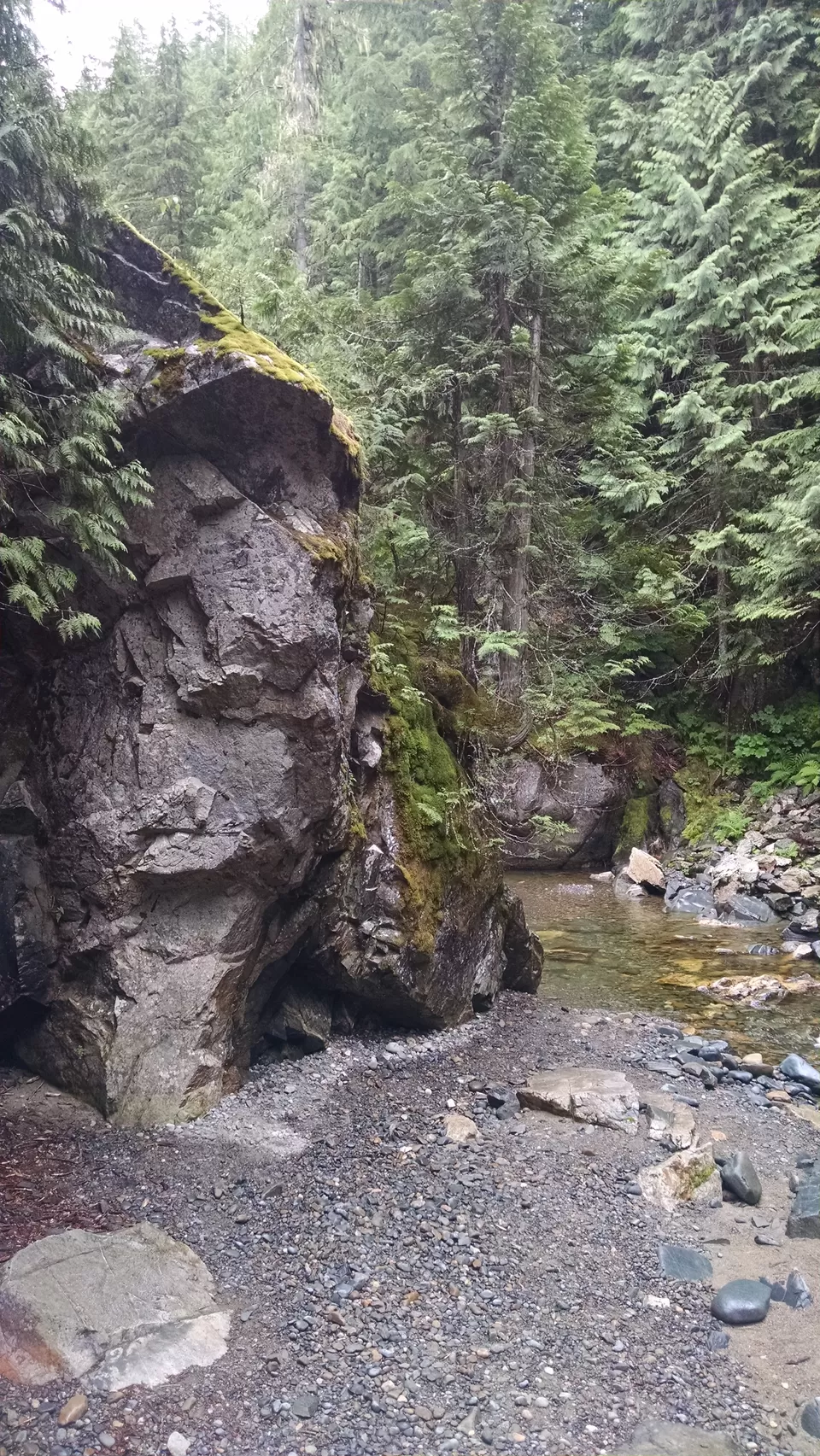 The path eventually leads to a bit of a wall where the most direct route seems to go straight up and over a massive rock formation with an incline rivaling that Mount Everest, minus the snow. If I had more time to think about the route or dressed better for the occasion I would have realized that the easiest way to see the falls right around the corner was straight through the water, no matter how cold it was.
Although the trip into the forest was impromptu it was one of my favorites and one I would love to share with friends and family. These falls are truly a hidden gem in north Idaho.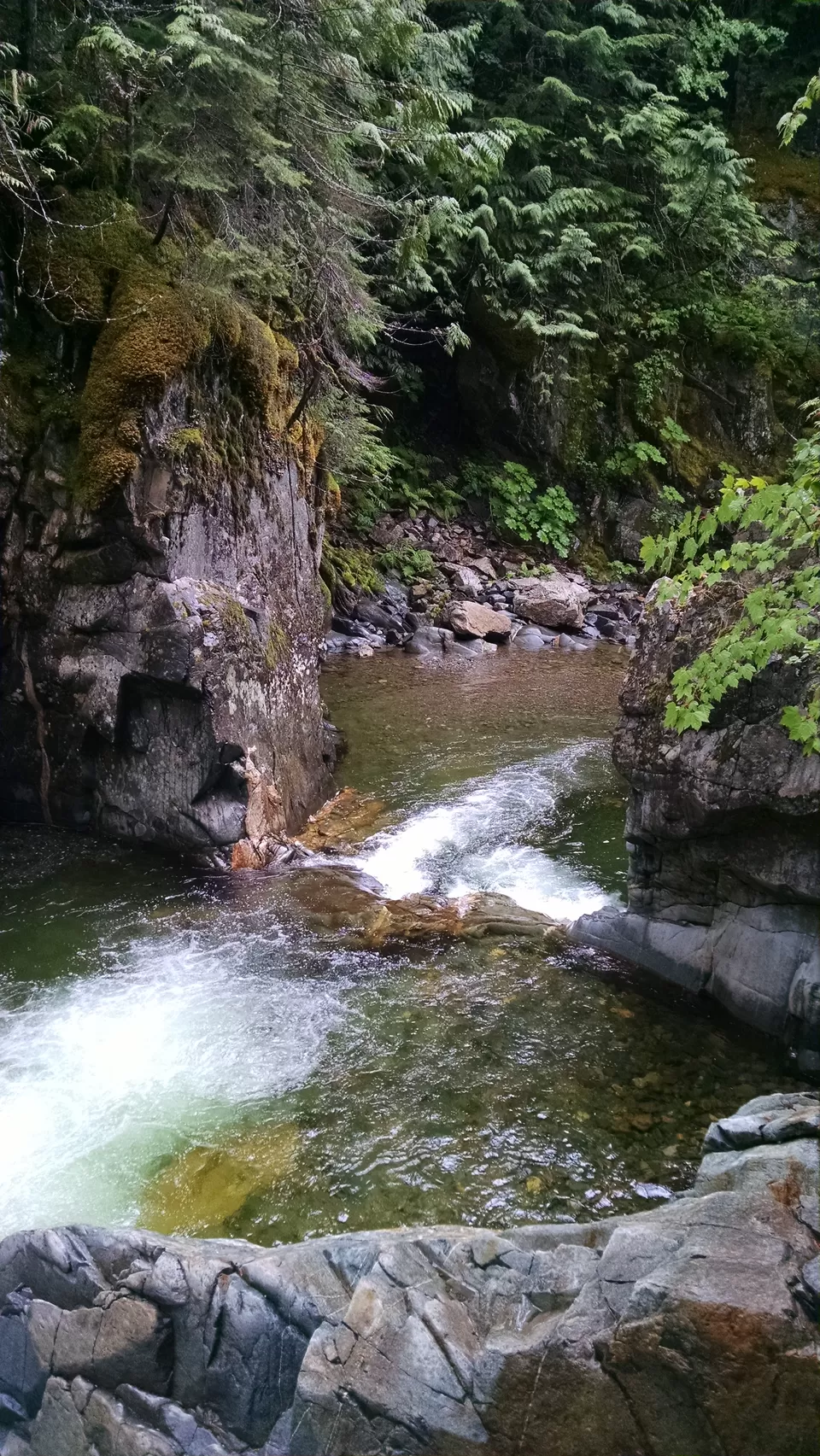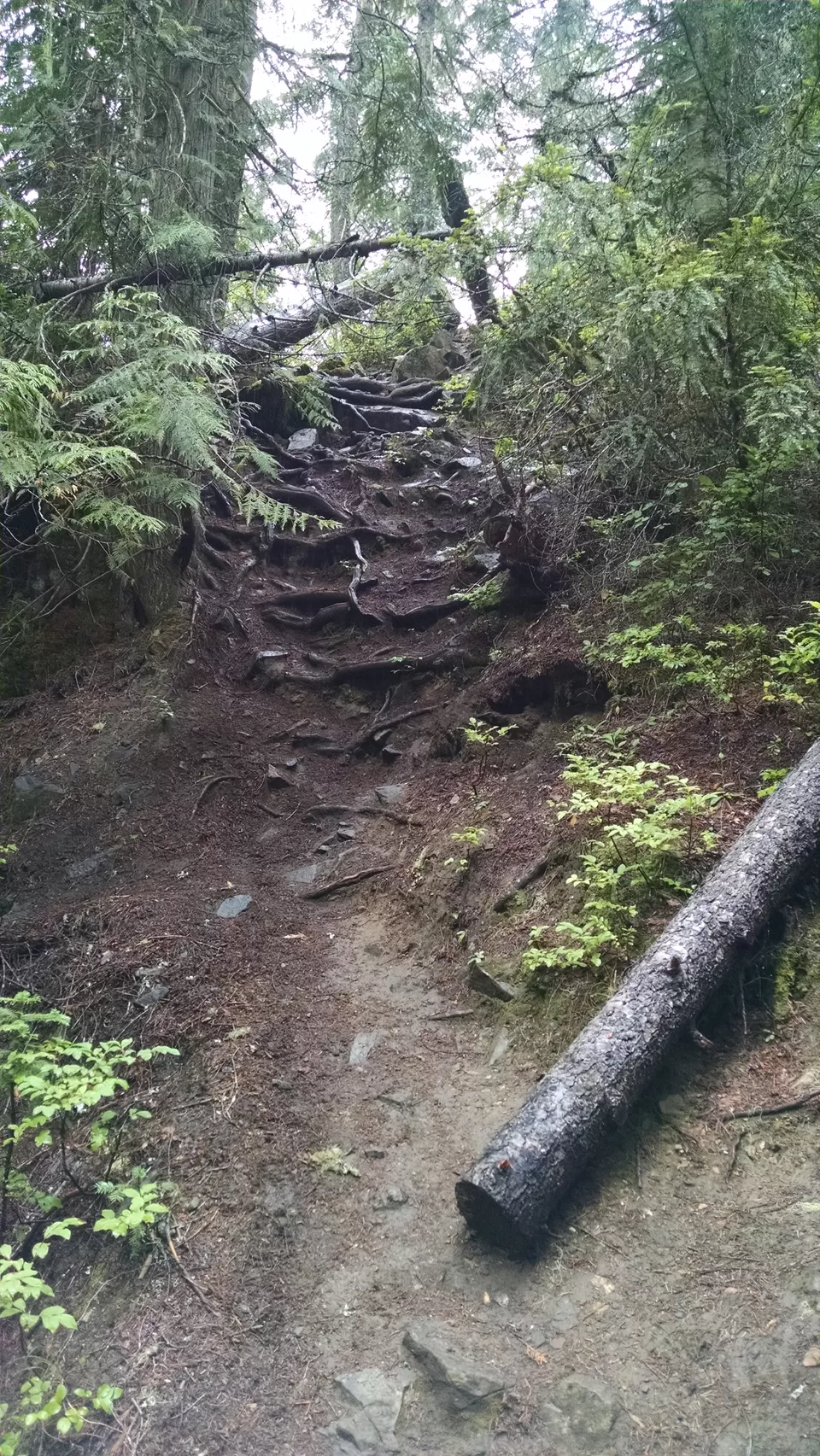 Granite Falls, Washington
Although not actually in north Idaho, Granite Falls is just a short drive into Washington state that is most accessible through Idaho than anywhere else.
After find a few other waterfalls listed on north Idaho on yet another obscure online article I decided to venture north from Sandpoint to the area surrounding Priest Lake, another large lake about 55 miles north of Sandpoint surrounded by mountains with an unlimited number of waterways feeding the lake year-round.
After striking out on my first few attempts into the forest I found myself at Elkin's Resort on the west side of Priest Lake. After a flat bread pizza and a few beers I found that Granite Falls was only about 16 miles away in Washington on an old Forest Service dirt road that followed part of Granite Creek.
The route to Granite Falls is surprisingly easy, and Google does actually know the most efficient route to take. If you encounter any traffic along the way the drive will be extremely dusty, but well worth the trip.
The immediate reward for driving out into the forest is finding Lower Granite Falls. The trail from the parking takes you immediately to the lower falls where an impressive display from nature is free to behold.
Of course if you have some more time to spend here and daylight isn't ending soon then there is another path to take that leads above the lower falls and deeper into the forest along Granite Creek.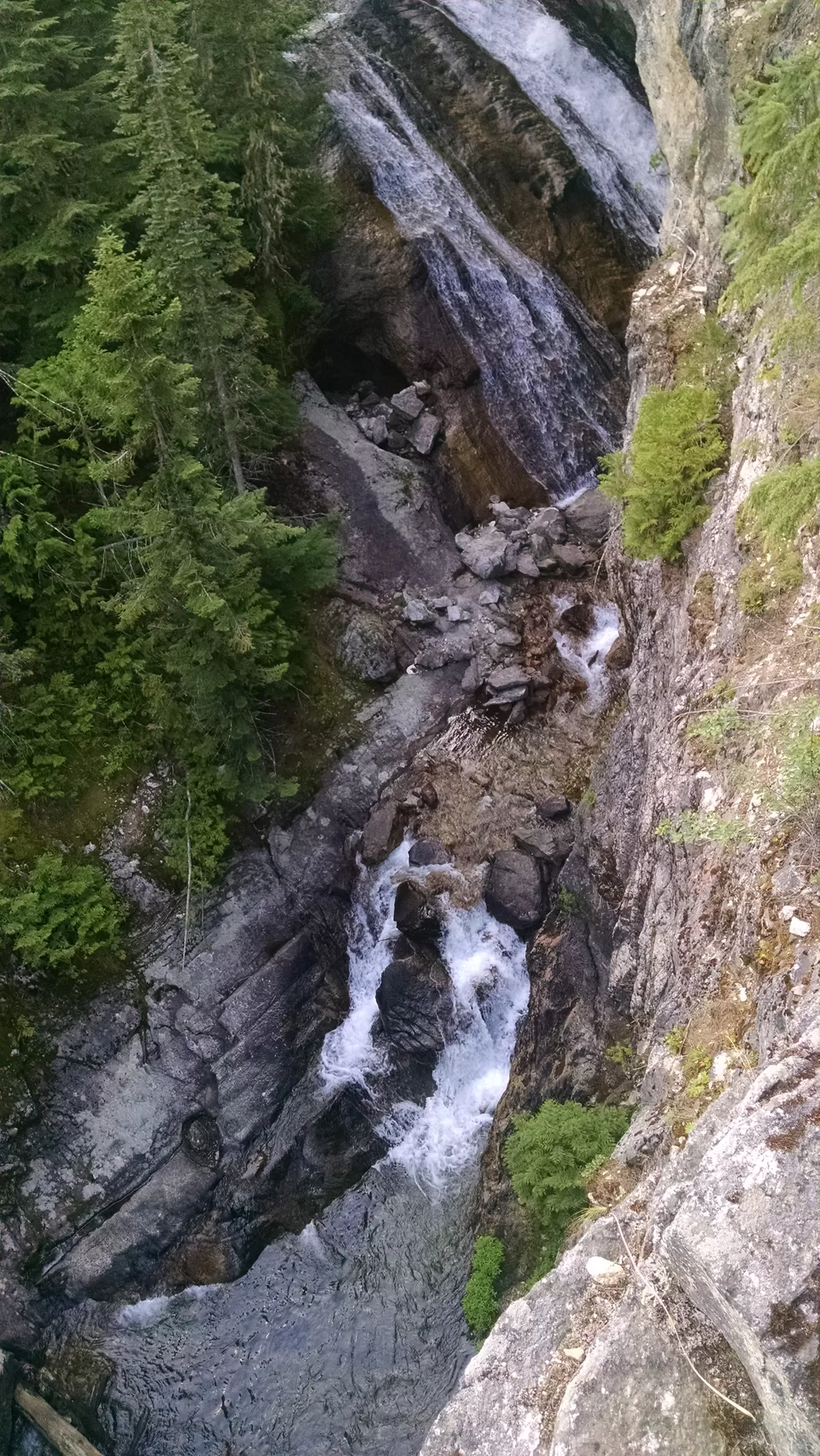 There is a very defined and well-kept path that leads through the forest. I didn't have time to find where it eventually lead, but I did notice another "secret path" that darted down toward Granite Creek that I decided to follow.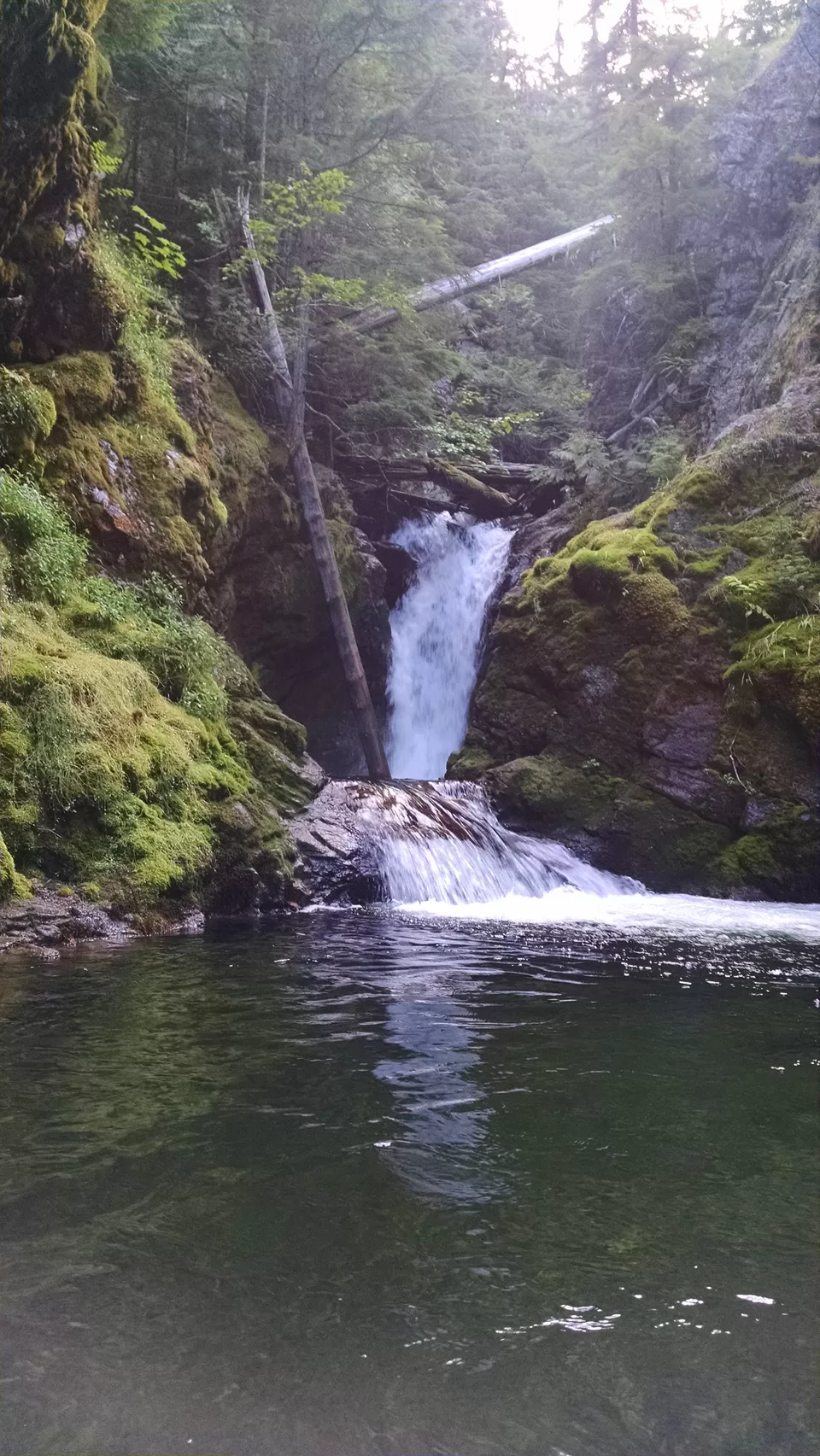 This time I packed a little better before going out into the forest, just in case I needed to venture into deep, cold water to find the gem and take the picture.
A Few Tips
Ask the locals. When I drove north of Sandpoint it was a bar owner off the side of the road an old dive bar that told me the waterfall I was looking for didn't actually exist. Sometimes the locals won't know where to find the best experience, but they can steer you away from spending hours driving through the forest for something that may not exist.
The best time of year to see these waterfalls are in late spring to early summer. During this time the roads will have opened back up after the snow has melted, yet there will still be snow pack in the mountains feeding the rivers and creeks that run into these falls. In the last summer or fall some of these falls may even dry up, or in the winter they may freeze up altogether. Also the roads leading to them are not major highways so they aren't maintained, which means they will be impassable.
Pack smart. If you think you may need to walk through freezing waters to get a good photo then you probably should pack some shorts and flip flops, even if it's the middle of May in north Idaho (which will be cold!!!). It's better than making the same walk in jeans and freeze the rest of the day.
Do it! You will never remember the hours you spent at your job watching the clock waiting for the day to end, but you will always remember the time you wandered into the forest alone to find the same waterfall your parents found thirty years ago. Even if it takes all day and a few tanks of gas do it!