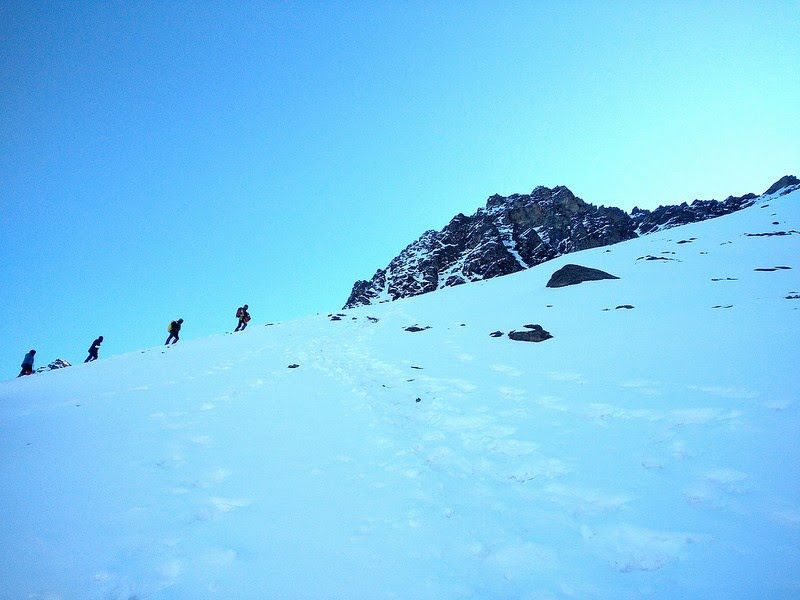 Hey guys, this might be a long read but hey, it'll take you just a few minutes to finish reading, it took me days to finish writing. So do give it a try. When I started writing about this trip, it took my like an hour to just come up with a decent title. I couldn't come up with a decent beginning, hence this is how it goes. Trekking had always been on my bucket list, since I watched Yeh Jawani Hai Deewani. Although the trek made me realize that trekking in real life is definitely not how it's shown in the reel life. Girls don't wear skirts on a trek, you don't have parties on a trek, and most importantly you don't leave your campsite and go explore a mountain all by yourself in the middle of the night. The above things apply if you are going on a real trek ( i.e. High altitude, minimum 3 days) and also if it's your first one. The real trek is not different than the reel trek in just the above mentioned ways. The real trek (especially if it's your first one, it was mine) will give you a much better feeling/experience than what it does in the movies. The trek will surprise you, mesmerize you, get you closer to nature like never before, and sometimes might even get you emotional (it got me). Other than for clicking pictures and letting your family know that you're alright, trust me you won't feel like taking your cell phone out. Surprised? Well so was I.
For those who don't know about Roopkund, this one's for you. Roopkund is one of the most known treks in India. Your destination is The Roopkund Lake. Now you might be wondering about "The Mysterious Lake" part in the title, well let me tell you, I didn't just simply type it. The Roopkund Lake is well known as The Mysterious Lake. This is because years ago, people had found human skeletons near the lake. Now all around the world people have different theories regarding it, but nothing has been proven for sure. The research is still on.
We wake up and find ourselves in a dilemma. Till last night we had comfortable bathrooms with us, but today we didn't even have a bathroom. I am not going to describe the whole bathroom process here, but just so you know, it ain't a pretty sight. After we freshen up and have our breakfast, we set off to trek. Everyone was pretty excited today because we were going to be trekking in lush green meadows half the time. So everybody was pumped up while trekking, which ultimately helped us finish the forest part of the trek pretty soon. Today I was among the first ones to come out of the forest. That sight, oh that beautiful sight of the meadows is non-describable. It is pretty, it's beautiful, it's windy, but moreover it's soothing. We went a little further to reach Ali Bugyal. Here 'Ali' is the 'name of the meadow' and 'Bugyal' means 'Meadow'. The view from over here is something I cannot put in words. I can show you pictures but even that won't give you the feel it would give if you were actually there.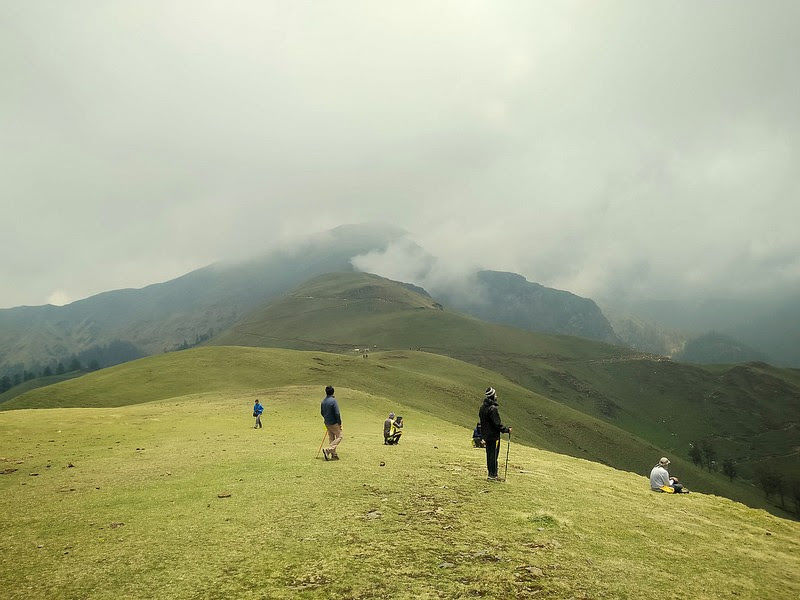 This day we go for an acclimatization walk to Bedni top. Acclimatization typically means to get used to a changed environment, in our case high altitude and changing weather. Before heading over to Bedni top, the Indiahikes team introduced us to their Green Trails Initiative ( for more details check out their website ) and assigned us a task to pick up any sort of garbage lying around Bedni. Everybody heartily did it, after all we are the ones who should be saving our mountains because it is some of us who choose to destroy them. Anyway, after the task we head over to Bedni top.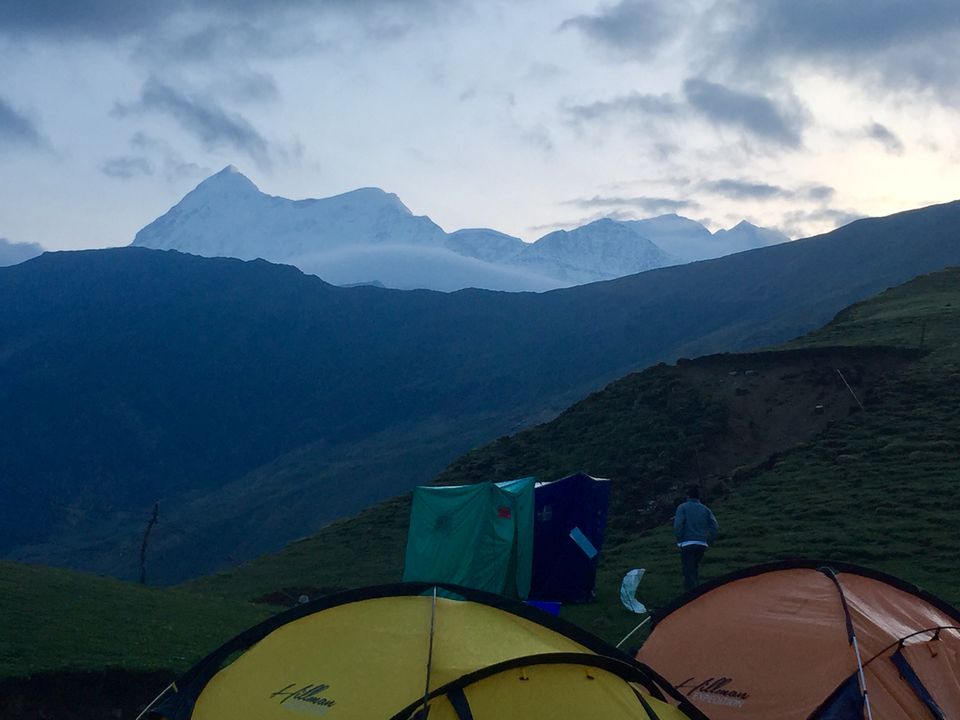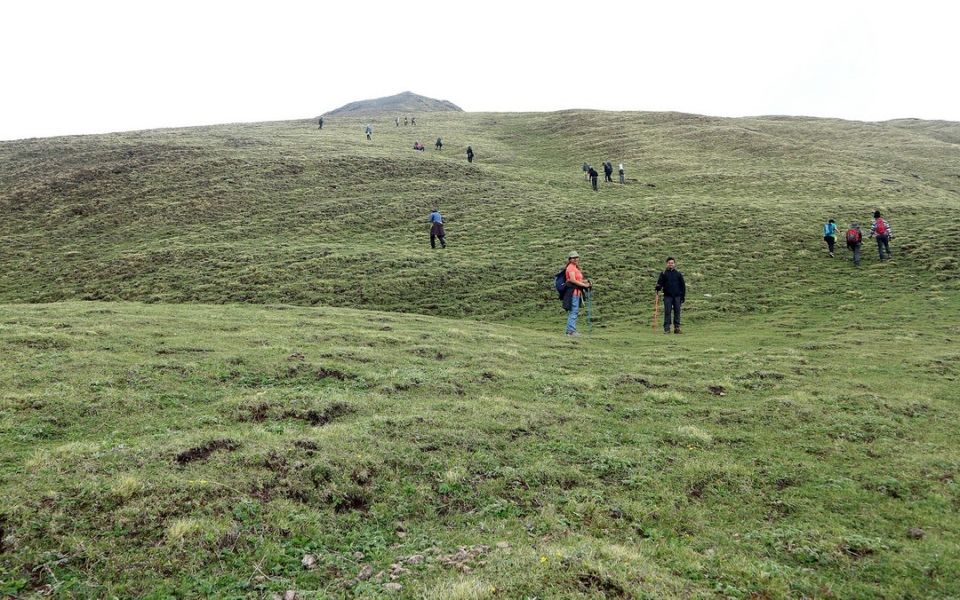 We wake up and realize that the trek has really come to an end because we have bathrooms to ourselves. Again it was a mixed feeling. A feeling of pride, happiness, joy, and sadness. We said our goodbyes to the Indiahikes group, to the local guides and to the most amazing trek leader. We hopped on to our jeeps and headed towards Haldwani. From here most of us headed to Delhi and from there everybody parted their ways.
This was my experience of my first high altitude trek. I had read and researched a lot about treks before going to this one. I had also come across articles saying that these treks are just hyped, that it's not that great an experience. After the trek I realized that it's very untrue. Your first trek is going to be amazing, trust me. You just have to choose the right one. I have been following trekkers and travelers for a long time. The reason I took so long to go for a trek was that I didn't have courage to ask my parents. One day when I was surfing through the web, my mom saw my laptop by accident. She saw that I was checking out treks. She asked me if I wanted to go to one, I said duh yeah. She had no objection at all. She just asked to me to take dad's permission, typical Indian mothers. I somehow slipped the trek thing into conversation when my dad was in a happy mood. And to my surprise he said yes. So you see it's always about confidence and courage. And I suggest if you're going on a trek, go with Indiahikes. They will give you a memorable experience. Trekking is mostly about will power. The urge to reach the top will help you reach the top. Just maintain a decent amount of fitness so that you enjoy the trek as much as possible, or it will give you a hard time.
To all those who actually made time to read such a long article, thank you very much. I appreciate it.
Day 2 is where the trek begins. We have breakfast, take our snack provided by Indiahikes and set off to a one hour drive to Wan. This is where we start trekking, our destination for the day - Ghairoli Patal. For me the first day was the hardest day of the trek although it wasn't a lot of distance to cover neither was it very steep. I probably found it hard because it had been long since I last went for any trek. The first day we were in the forests all the time. We were surrounded by oak and rhododendron trees. We crossed a small stream of river where we sat down and chilled for some time and had the snack provided to us.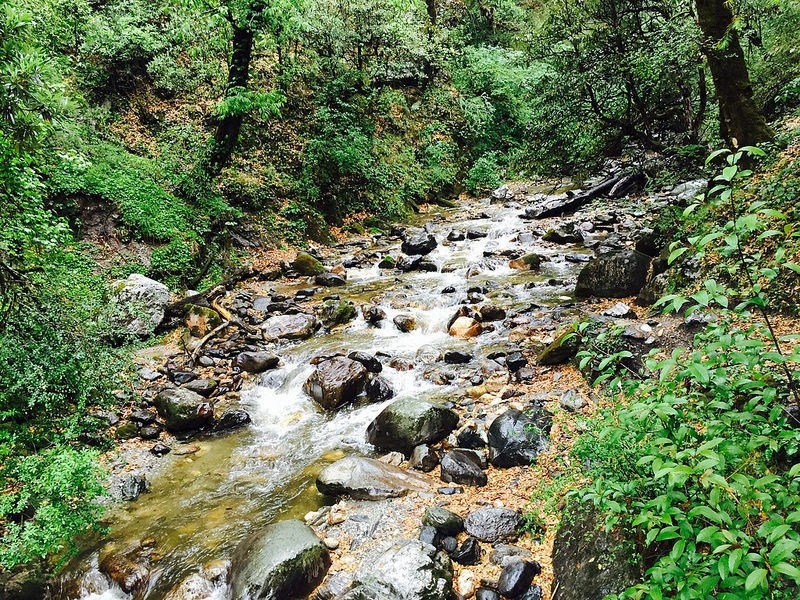 The next morning to my surprise I found one of our fellow trekkers doing push ups in that chilling cold. It was 6 in the morning for god sakes. When I asked him why he was doing it, he told he was warming up, and I went like WHAAAAAT!!! And for his so called warm up he hit like a 60 push ups at one go. I can't even go 16 at a stretch. Hats off to that guy. Once we were all warmed up ( not push ups ), we began our trek to Patar Nachauni. The trek was decent. In fact all the days other than the first one were decent for me. A few hours of trek and we reach a beautiful campsite.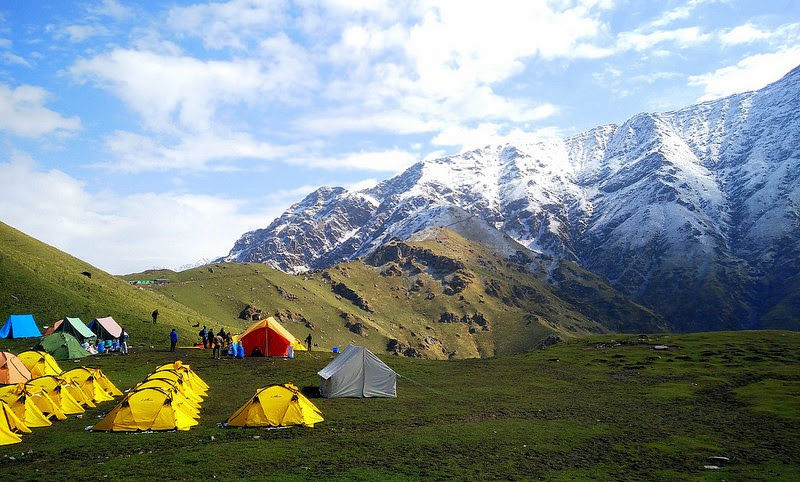 The last day of the precious trek is here. I don't want want it to end, but it has to. We start ourselves towards Bedni, then not taking the long route to Ali we take a shortcut and reach Gharoli Patal. We have lunch here and while we are eating, the Gods decide that it is their time to rain. It rains, rains hard, for a long time. We wait for it to stop, but no that ain't gonna happen. Then came a point where we couldn't wait any longer. We had to descend or it would be dark and along with the rains it would be difficult to descend then. So our trek leader asks us to advance when he saw the rain slow down a little. It was okay in the beginning but then the rains came down heavily. The ponchos had stopped helping by this time. My pants and shoes were completely drenched because I am tall. We make our way down slow and steady, the rains aren't slowing down. We finally see ourselves in the beautiful little village Wan. The rains have stopped now. We make our way to the taxis that'll take us to the base camp Lohajung. We reach Lohajung, freshen up and wear some dry clothes. We get our certificates, everybody gives a short speech about the trek and we go to the dhaba to have dinner. One of our fellow trekkers had insisted on making dinner for us. She made loads of delicious food. We had a sumptuous dinner, lots of talk and a good sleep.
So day 1 began at Haldwani, Uttarakhand. We reached Haldwani at around 6 am. We were to be picked up by Indiahikes through a tempo traveler at 7, our destination being Lohajung ( base camp ). It is usually a 10-11 hours drive. But I remember us taking almost 13 hours to reach, probably because we stopped a lot on the way. The drive is very scenic. We go through Bhimtal, catch a glimpse of Nainital, and one of the most beautiful villages I've seen Kausani. As you start getting closer to Lohajung, you start seeing a whole lot of rhododendron trees. Till you are in Uttarakhand, you will be seeing them a lot. As you approach, the roads get narrow and are surrounded by rhododendrons everywhere making the drive blissful. So we reach Lohajung at around 8pm which is very late ( we were the last ones to arrive ). The Indiahikes group welcome us and brief us about the trek. We have a good dinner and doze off.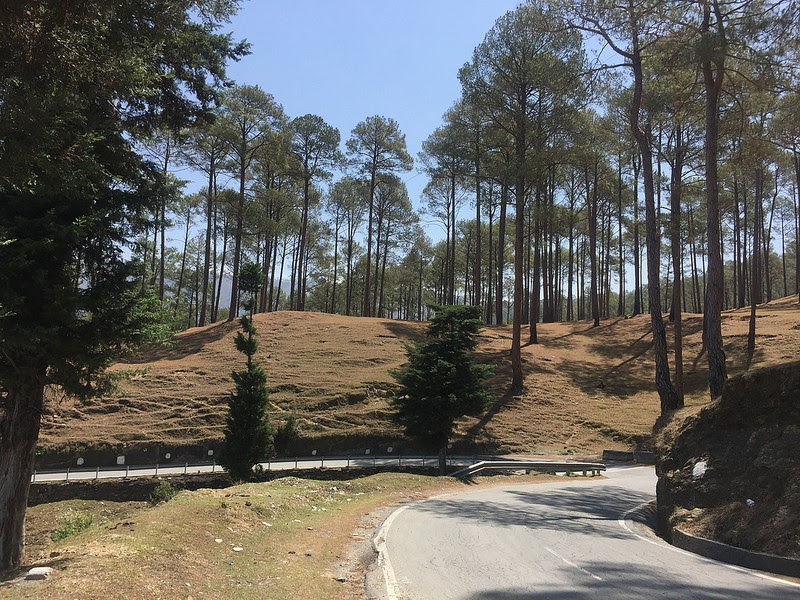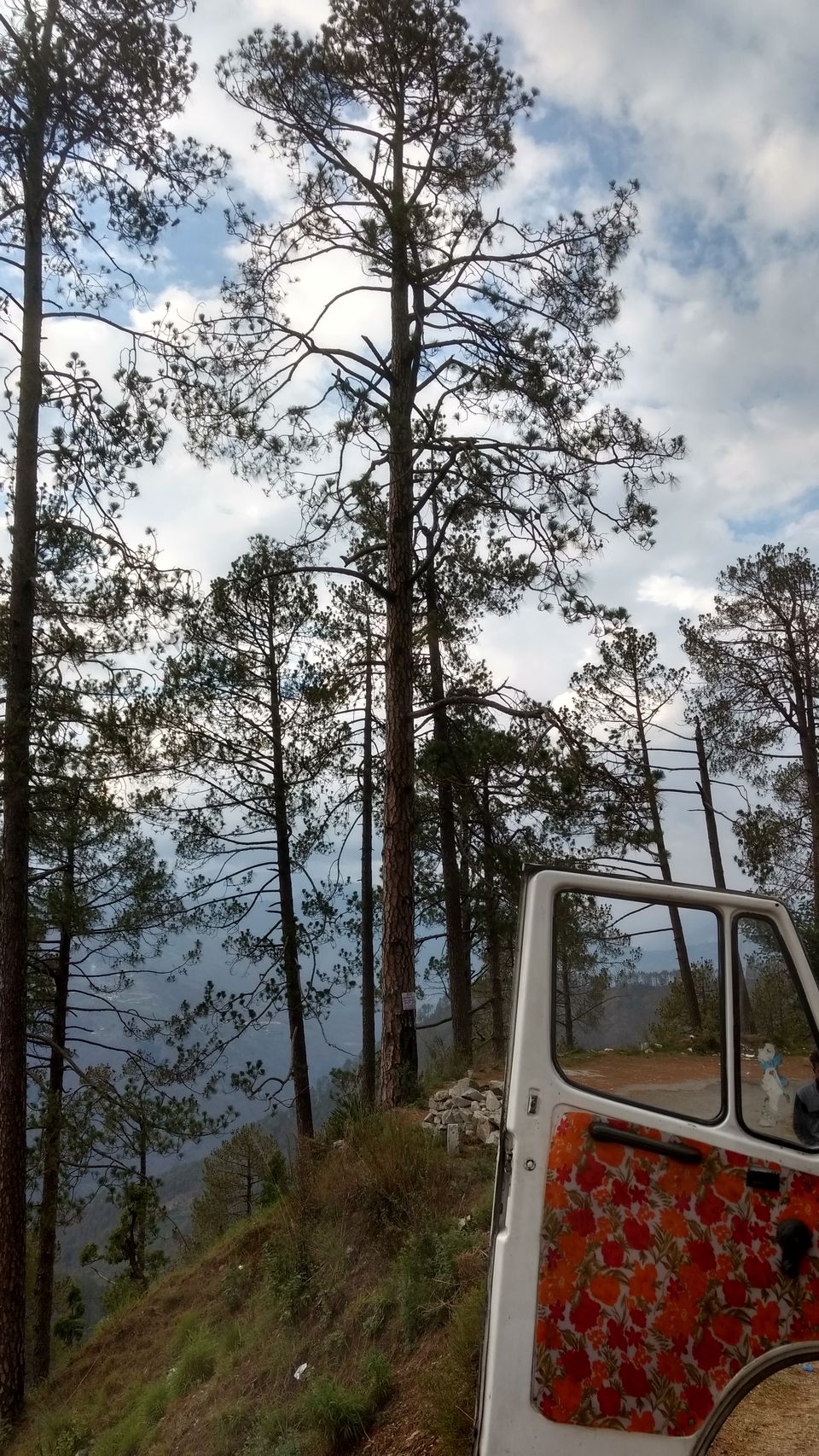 Today, is the big day. Today we trek to Roopkund. We woke up at around 3:15. It was extremely cold. I had never experienced such cold before. I usually love the cold weather, but this was painfully cold. The reason we began trekking this early was the unpredictable weather conditions. The one thing locals knew for sure was that the weather is usually clear the whole night and in the early mornings ( hence the amazing stars ). But once it's 10 am, anything can happen. We begin our trek early so that we reach as soon as possible and return without experiencing bad weather. So we begin our trek at exactly 4 am. It is cold and dark.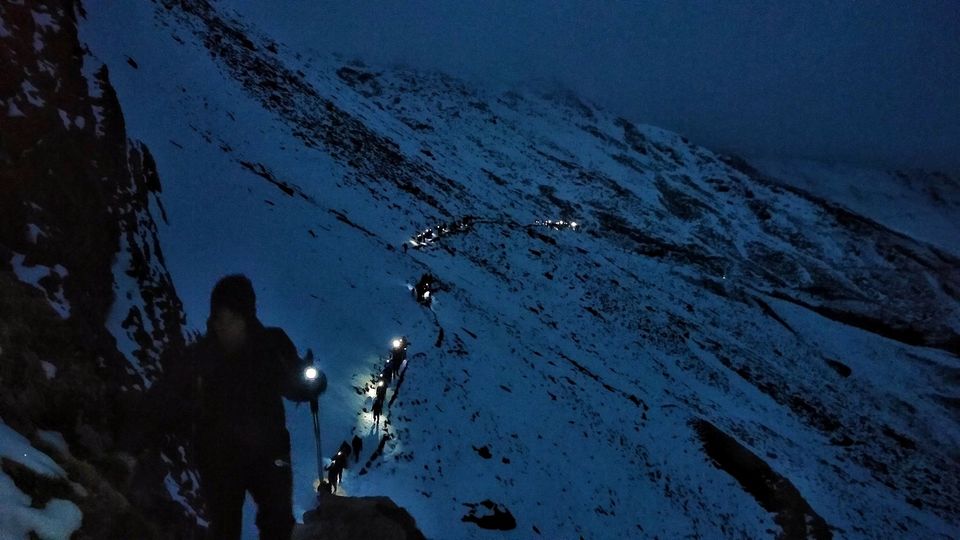 For all the forest and the green lovers, this day is your day. We reach our campsite, have lunch and just wander around. To our surprise we encountered a small baraat in our campsite. Listening to the live dhol music people couldn't control themselves, almost everybody started dancing. It was probably the most beautiful place to get a baraat, and also the most difficult one. All in all the day went peacefully, each one of us said our good nights and went to sleep .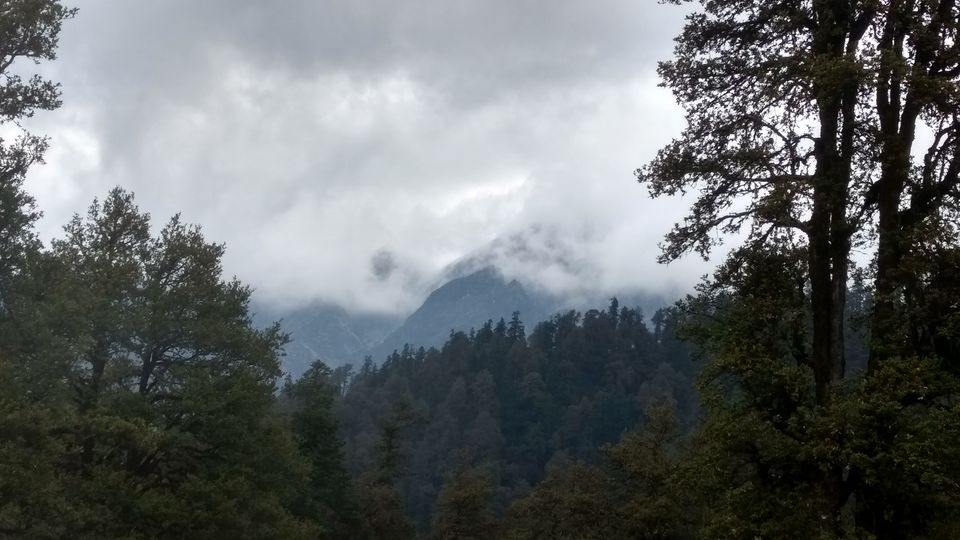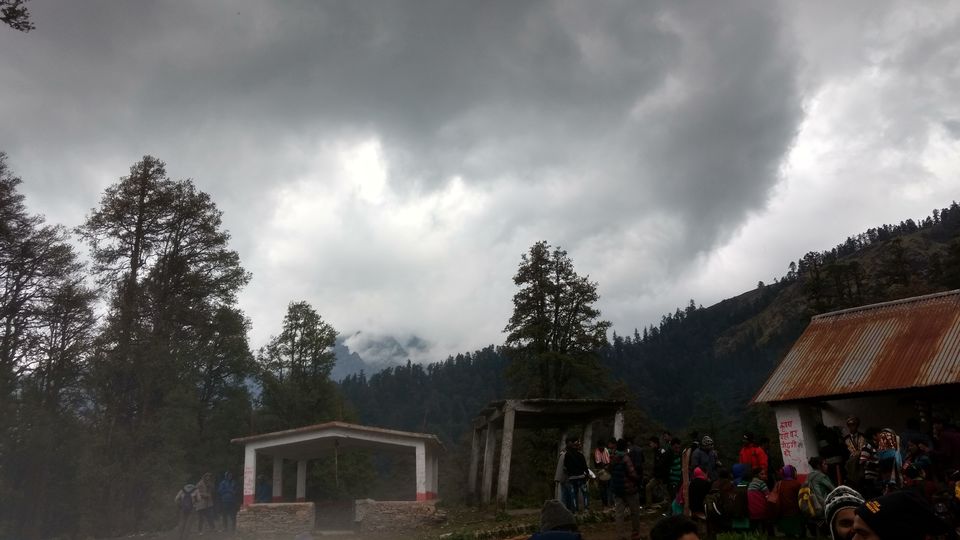 We had some maggi and omelettes in the local dhaba ( although our trek leader advised us against it for health reasons ), also chai, oh how can I forget chai. We wandered around Ali Bugyal for a long time till our local guide suggested we leave because the weather at such high altitudes is unpredictable. We started for Bedni Bugyal ( our campsite ) and the view throughout was amazing and filled with huge mountains and meadows. We reach Bedni and the campsite here is prettier than the previous one. One thing to notice, the campsites keep getting prettier as you keep going higher. So we reach our campsite, have lunch, chit chat, play games till the night is here and as usual go to sleep.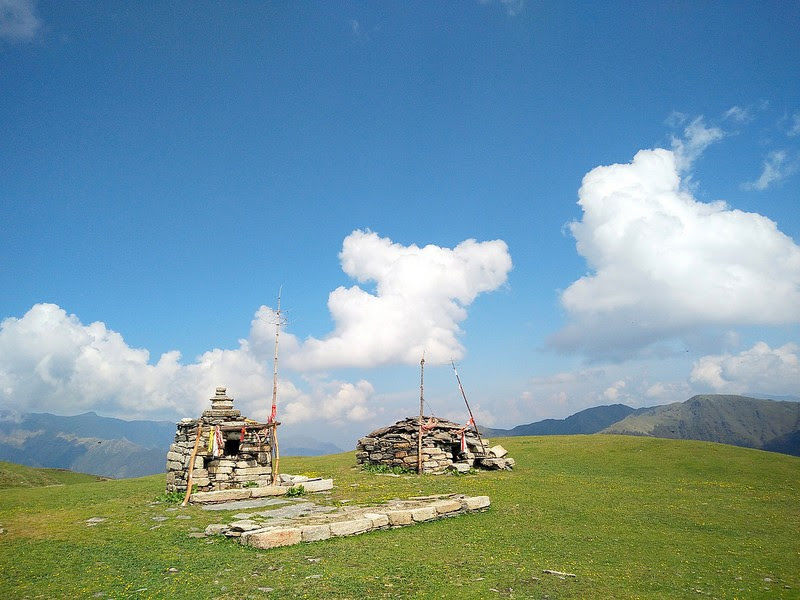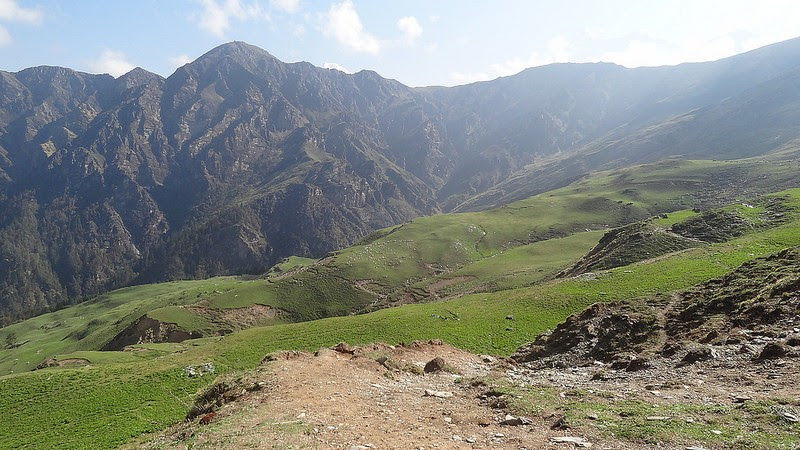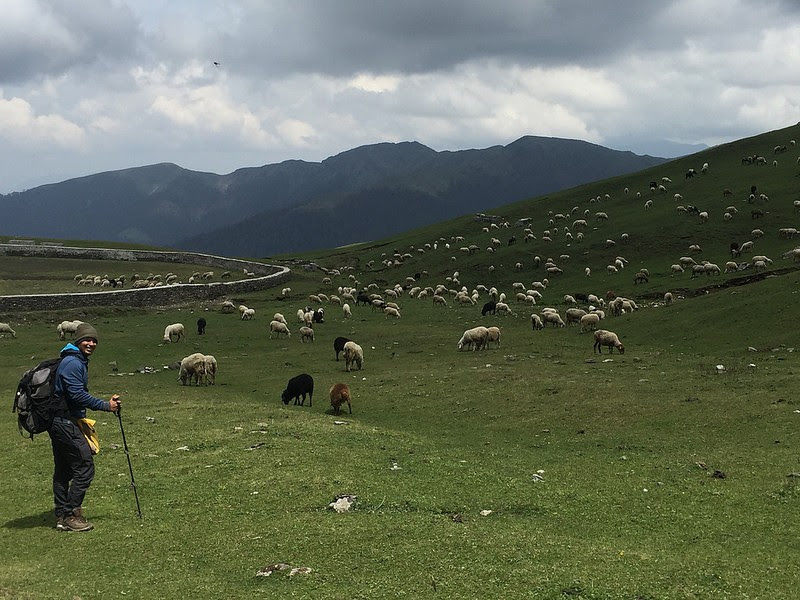 Again this time I was among the first ones to reach ( second to be precise ). The view that you get from the top is simply out of the world. I took advantage of reaching early and went on to find myself a place for some me time. I enjoyed the solitude for quite a while and then slowly people started coming my way. Because from where I was chilling, you got an insane 360 degree view of the meadows and mountains.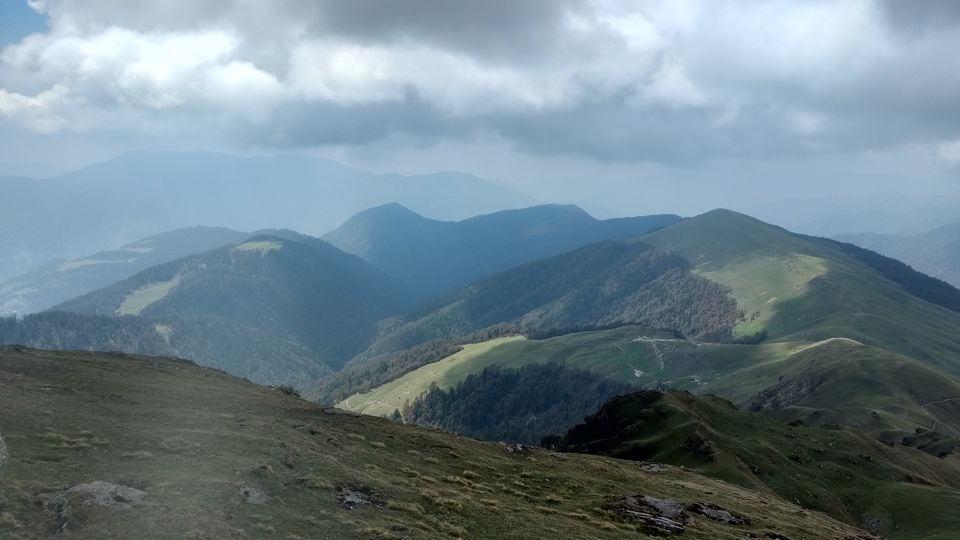 We had a fun time on the top and just when it was the time to descend, guess what, HAILS. It was raining hails all over us. Thankfully though the hails were very small in size but damn they were coming down fast. The poncho protected us but the rapid rate of it's fall would hurt your ears now and then. Thankfully the hails did not affect our descend. We descended just to realize that the hails had stopped as soon as we reached the camp. Mother nature is super unpredictable. We spent our evening again chit chatting and playing games and before you know it, it was bed time.
The sight from our camps were majestic. Huge mountains in front of us. And guess what, the next day we have to trek to the mountain shown in the above picture, cross it and trek a little more to reach our next campsite. Frankly, I got pretty scared. A few minutes into reaching our campsite and we experience the hails again. The hails went on for quite a while. But slowly, the hails turned to snow. I couldn't believe my eyes. I was looking at a snowfall. My first snowfall and that too on my first high altitude trek. The sight and the feeling was memorable. It snowed for like 15 minutes just enough to put some white patches on the ground. Snow in this campsite is pretty rare they say, but we were lucky enough to experience it.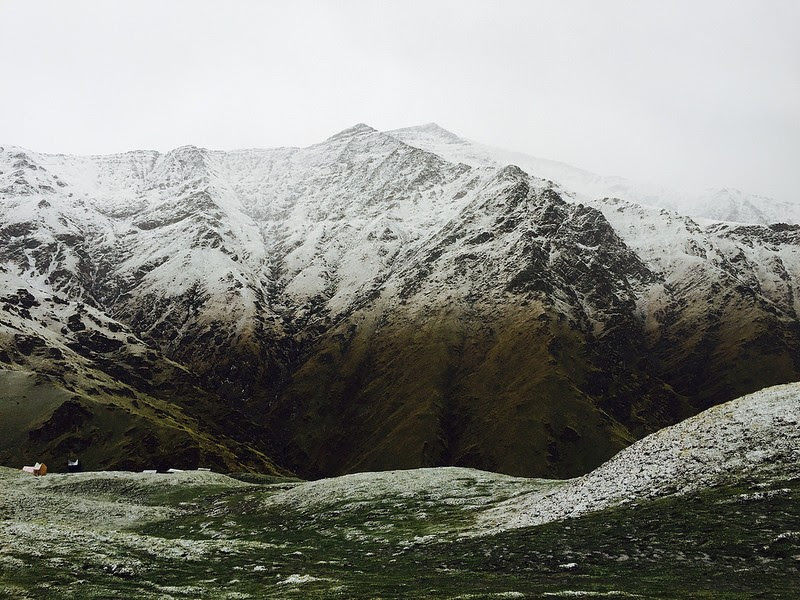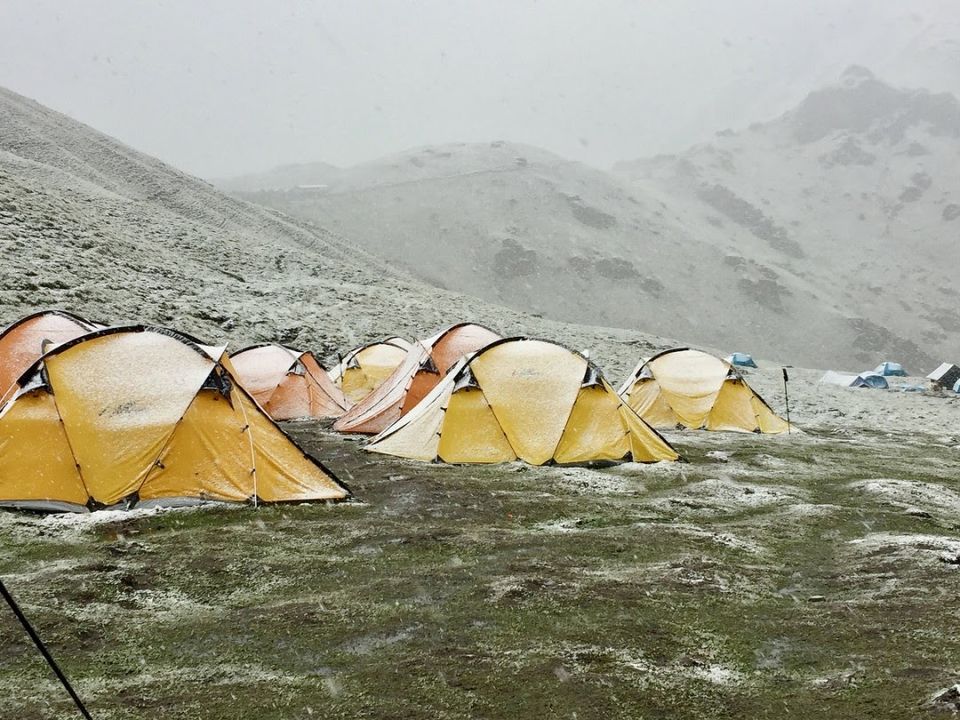 In the evening when the clouds cleared a little bit we went to a dhaba, not for chai or maggi, but solely because you get phone signals over there. Oh yeah I forgot to mention. We did not have phone signals after Lohajung. This is where finally some of our trekkers got signals and everybody let their family/acquaintances know that they were okay. The dhaba area was filled with people talking on the phone. Once everybody was done, we headed back to our camps. We packed and geared up for the next day and went off to sleep.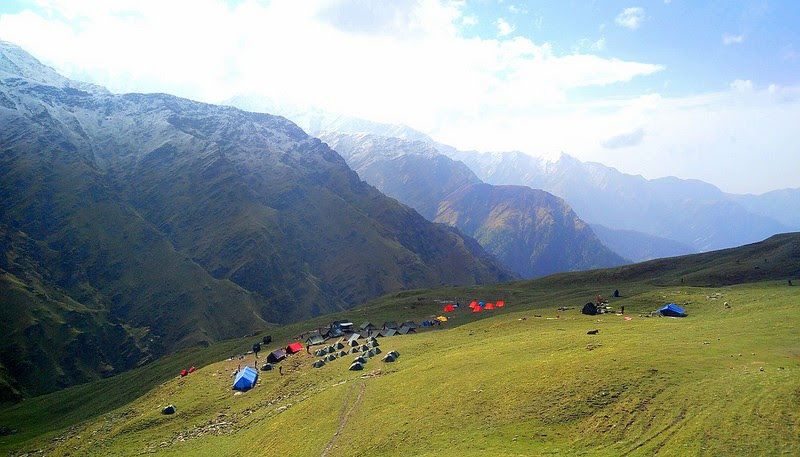 So we wake up and warm ourselves up with some basic exercises and the push up guy being the supervisor. The weather had turned pretty chilly overnight. We begin our trek to Bhagwabasa. We started off pretty easy and peacefully, but as time went on the weather turned against us. First it started to rain a little bit which eventually transformed to hails which eventually transformed to snow. This time the snow was falling at a good speed. It wasn't hurting us, but it definitely slowed us down. It was a pretty sight but definitely not a pretty trek. Trust me you'll love snowfall as long as you're stalling at a place, not while you are trekking. With good effort we reached the mountain top to be crossed. We caught our breaths for a little while, had some tea in the dhaba, took blessings of Lord Ganesha and took some pictures too as the snow had lowered it's pace.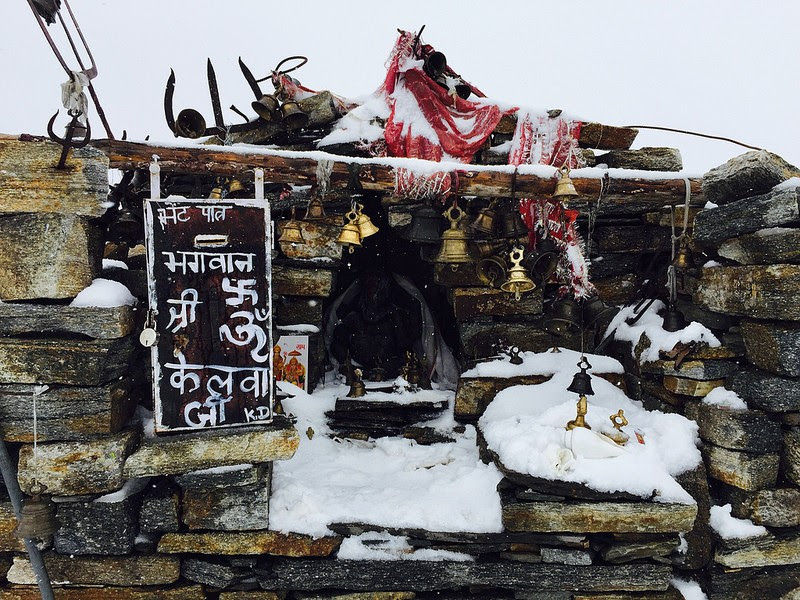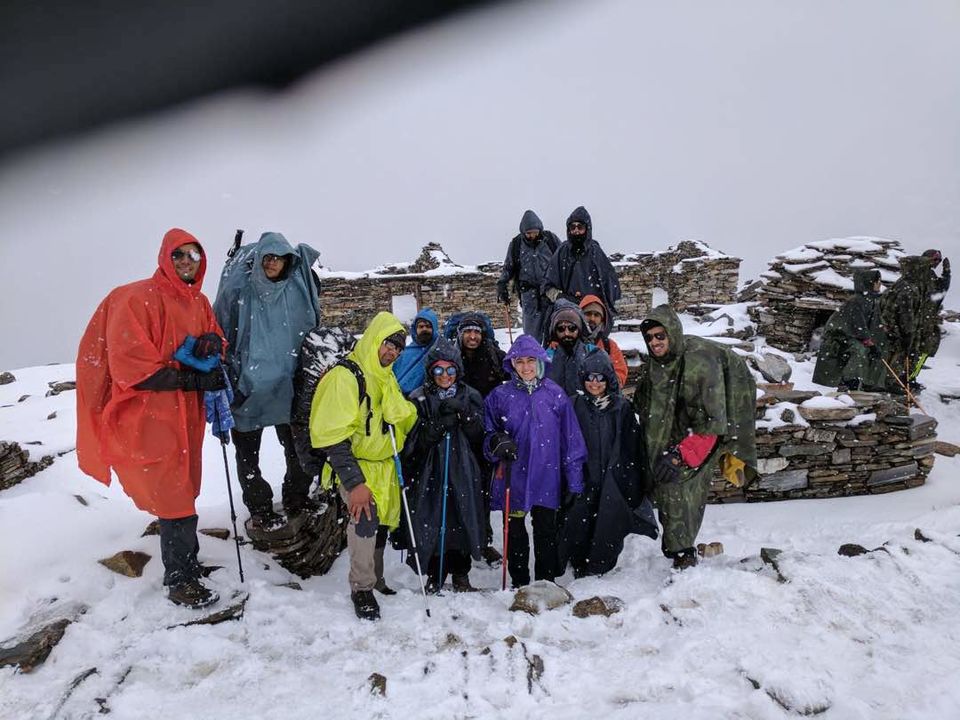 After spending some time here we started off to Bhagwabasa. Thankfully the snowfall had come to a halt. But we didn't risk taking our ponchos off because getting those ponchos on is a pain in the ass. Bhagwabasa campsite is the prettiest of them all. Surrounded by majestic mountains all over and covered in only snow and rocks. It was a sight to remember. As they say, the harder the climb, the better the view.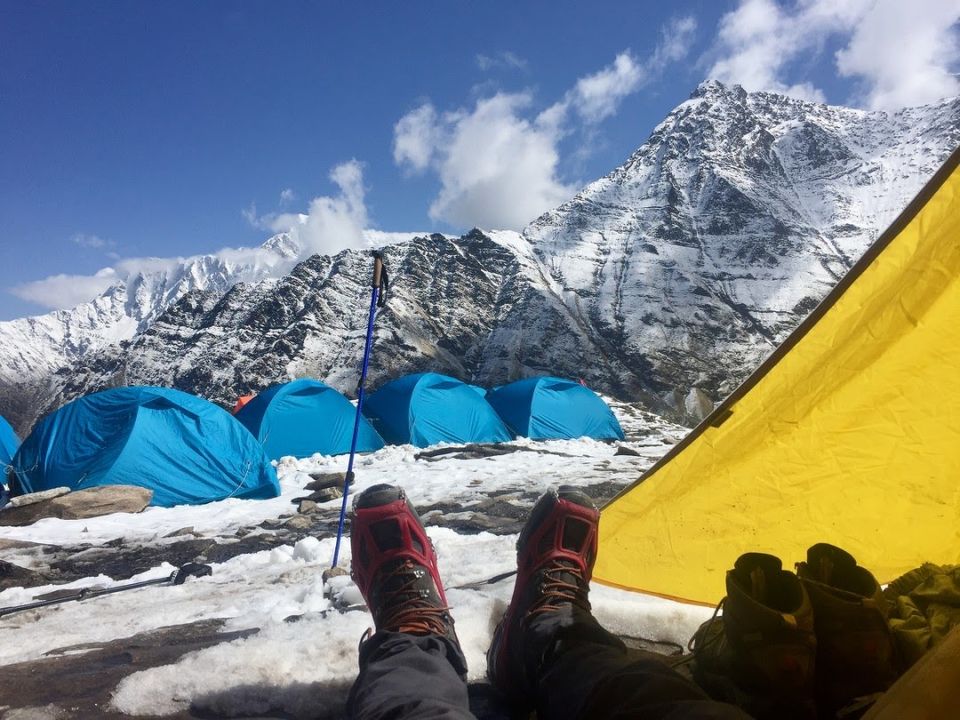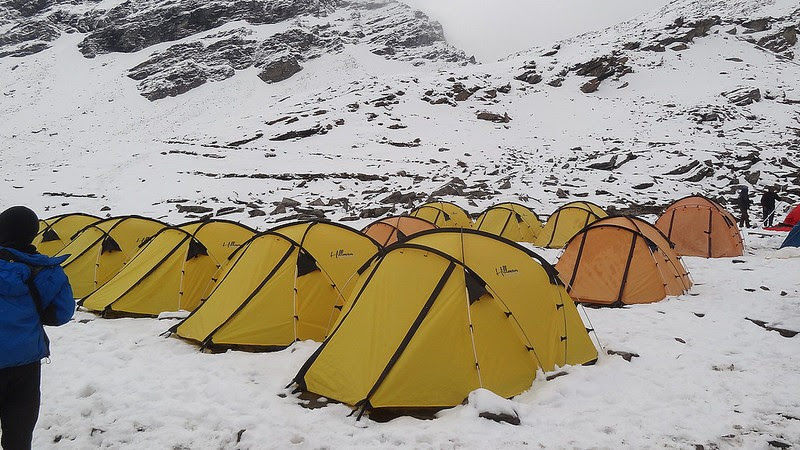 We rested ourselves for a little while, had our lunch and went for the briefing of the big day, the day we summit Roopkund. We were briefed by the first woman trek leader of Indiahikes, Anuja Gupta. Just by the way she spoke you could tell that she was a leader. When she spoke, everybody listened. She is a very strong woman, it was an honour to meet her. The briefing was I would say, a scary one. I mean Anuja and the technical group literally scared us for the next day. Scared us enough that some of my fellow trekkers lost the confidence to trek. It was evening by the time all the briefing was done, and we encountered a beautiful sunset.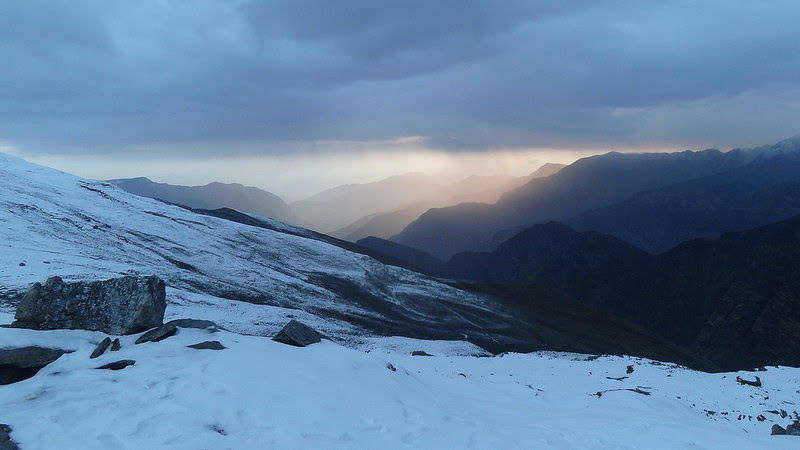 We had to sleep early this night as we were supposed to start trekking at 4 in the morning. This itself scared most of the people. So we dozed off earlier than usual today. I was woken up at around 1 due to some commotion outside my camp. I was in no mood to go out and check what it was because it was too freaking cold out there. But I decided against it, and I am glad I did. I went out and saw many people out of their camps looking at the sky. I looked up and man, I have never seen so many stars in my entire life, combined. It was magical, like truly magical. But we couldn't stay there for long for 2 reasons. One, it was too freaking cold and two, we had to be ready by 4. So I looked at the stars for 10 minutes and went back to sleep.
I had one t-shirt, one sweater, one jacket, 2 gloves, woolen socks, a trek pant, and a woolen cap on. Even after all of this, I felt cold. Everybody had their torches lit up because we could barely see anything. There is usually no trek formation as such among the group. It's just one local guide leading the way and one local guide at the very end. We stay between them and the trek leader keeps moving everywhere making sure everybody and everything is okay. But this would lead to fast trekkers reaching very soon and the slower ones falling back. This lowered their confidence. To avoid this kind of a situation our trek leader came up with a formation. He made all the slower ones stay in the front and the fast guys at the back. And he did not let anybody overtake the other ( unlike other days ) not just because it would break the formation but also because the trail was very very narrow and slippery. We trekked at a decent pace. We weren't fast but neither were we slow. Whenever any of the trekkers in the front would get tired or exhausted, we at the back would cheer them up.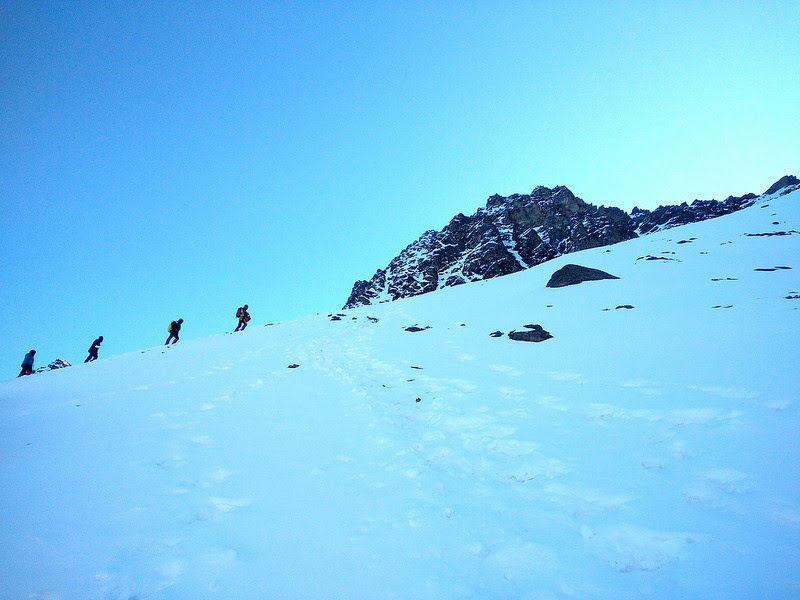 Step by step, we reached The Mysterious Lake in exactly 3 hours. It was an amazing feeling. To know that I finally completed the trek that many thought I was unfit for, to finish what I had been planning since Yeh Jawani Hai Deewani, and to complete it with no problem at all even after certain warnings given to us the previous day in the briefing made my first trek the most amazing trip of my life.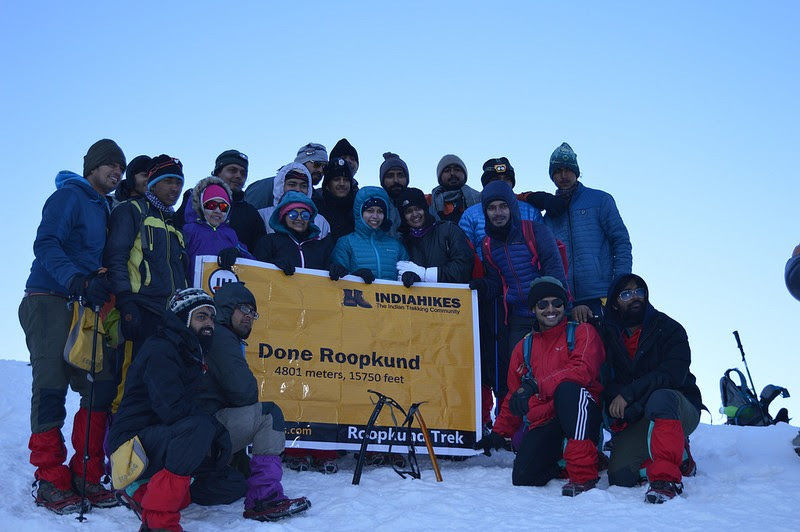 We were told before by the Indiahikes group that there are no skeletons to be seen now and that's exactly how it was. Some of us were still hoping to see some skull. While we were trekking we didn't feel very cold because the walking heated our body up. But once we reached the lake and sat down to rest the cold hit us again. It majorly hit our palm and feet. The rest of the body was fine. My palms were swollen and I couldn't feel my feet. It wasn't a good feeling. Anyway we were looking for our trek leader so that we could trek further up to Junargali. Junargali is a mountain peak next to Roopkund that gives you some amazing views of Mt. Trishul. Our trek leader was nowhere to be seen. Some time later he shows up and tells us that the we won't be able to trek Junargali due to bad weather conditions. We suggested that let's at least start trekking and if it seems really difficult, we'll return. To our surprise he says he already went up there, enjoyed the view and returned just to give us the bad news. He said only professional trekkers could trek Junargali in such conditions. So that was a bummer. It's been around 45 minutes and everybody was super cold. It was high time we descended.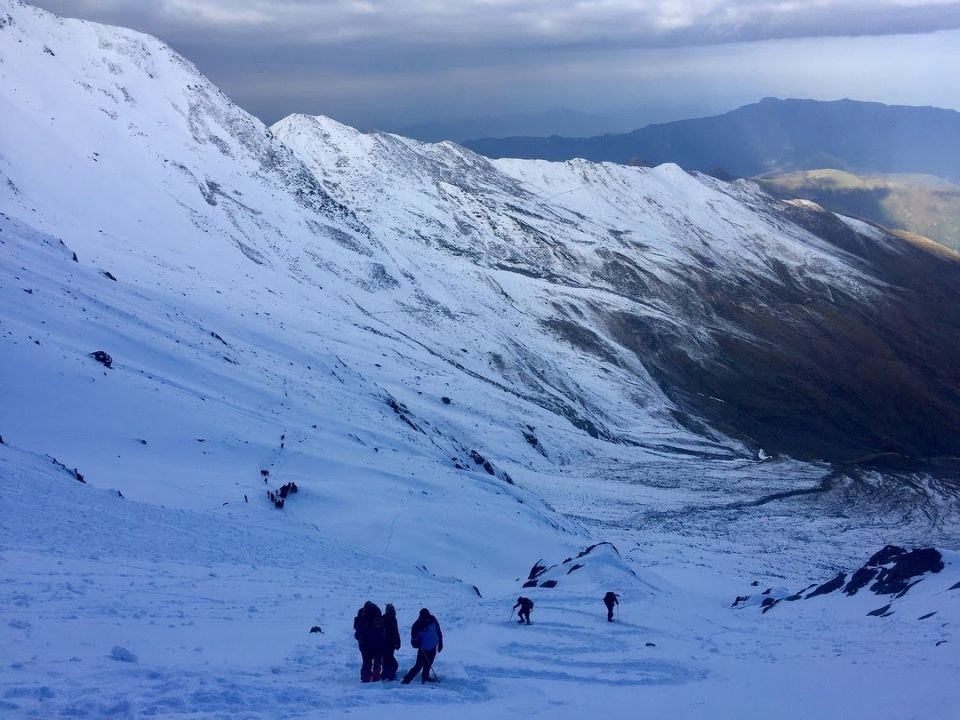 We begin our descend with pride. We had successfully trekked Roopkund, one of the most prestigious treks of India, with no problems whatsoever. But a part of me was sad that the trek was over. I didn't want it to end. I wanted to stay in those mountains forever. The fact that I had to go back home and attend those crappy engineering classes again made me really sad. But that's life. So we descend ourselves to Bhagwabasa and get a very clear view of the Himalayas unlike the previous day ( it was cloudy ).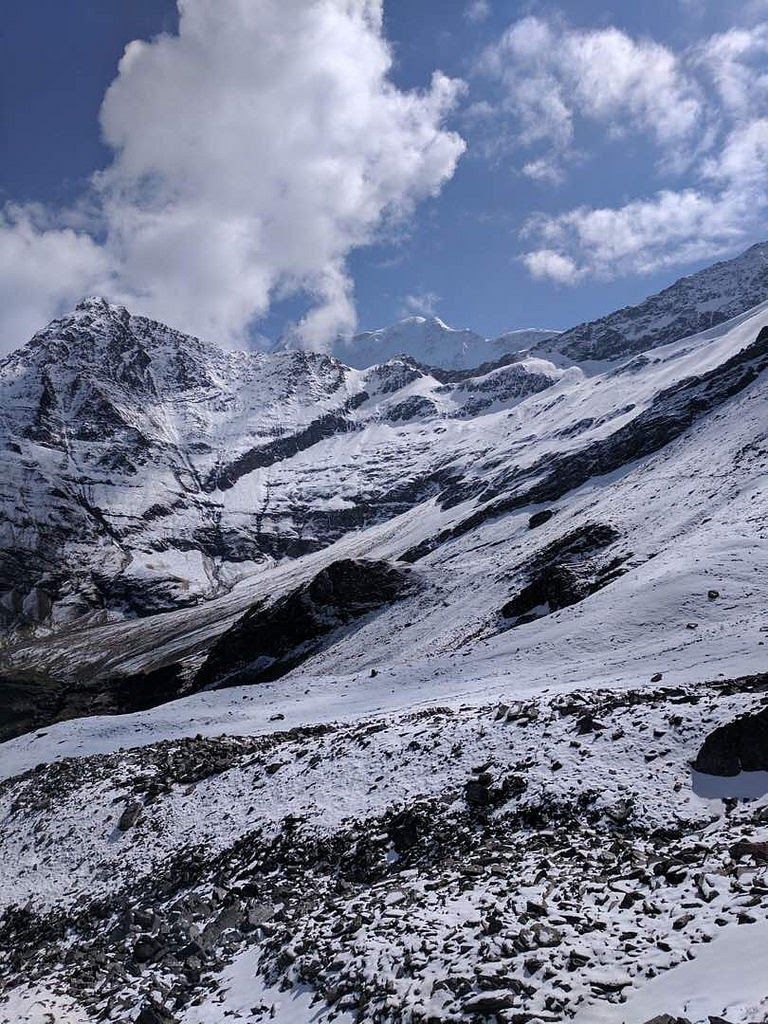 We stay at Bhagwabasa for a few hours and descend back to Patar Nachoni. On our way back people were congratulating us for the summit, it felt really great. And in return we would wished them good luck for the summit. We camp at Patar Nachoni for tonight.